Content marketing has come a long way in the last decade, with nearly every company engaging with it in some way or another. And content marketers like myself are in high demand.
With that demand comes the need to be able to judge a content marketer's worth before engaging with their services. Hence, content marketing portfolios are in vogue.
It not only allows the buyer to gauge what they're buying but also gives the seller – the content marketer – a chance to showcase their skills.
A content marketing portfolio differs from a writer's, a journalist's, or even a designer's or developer's portfolio. There are many types of content marketers, some who delve into social media, others who work for marketing and advertising agencies, and even those who ghostwrite content.
This article will outline how to create the ideal online marketing portfolio website for exactly the type of content marketer you are.
📖
What you'll get out of this article:
• What content marketing is & why you need a content marketing portfolio
• Different content marketers & their ideal portfolio
• Aspects of the perfect content marketing portfolio
• How to create a content marketing portfolio that displays your unique skills & industry experience
• Why Authory might just be the portfolio builder that gives you everything you need — automatic content importing AND automatic backup of all your content

What is content marketing?
You probably know this, but it's best to start with the basics. A fair few content marketers aren't fully aware of the content marketing process and funnel as they might be involved in only specific parts of the marketing funnel such as creating (writers and content creators) and distributing (like social media marketers and certain content marketers). So let's go through the fundamentals.
Content marketing is a process of marketing using content as the basis for attracting customers into making a buying decision for a product or service. This is done by taking the prospective customer through different stages in the buying journey, segmenting the content into various funnel stages that finally result in a purchase.
The content can be in the form of the written word, like website pages or blog content, or it can be video content, audio content, social media content, and more.
The different stages of the funnel are as follows.
Super Top of the Funnel or Super ToFu: When the prospective buyer isn't even aware of the problem they're facing.
Top of the Funnel or ToFu: When the potential customer is now aware of the problem, but they aren't aware of the solution. Usually described as the "Awareness" stage of the buyer journey – content marketing efforts focus on making the consumer aware of the solution.
Middle of the Funnel or MoFu: When the prospect is aware of the solution to their problem. Also called the "Consideration" stage of the buyer journey – where content marketing endeavors to educate the consumer on the existence of the specific product they're marketing.
Bottom of the Funnel or BoFu: When the potential buyer is aware of the product and is now taking the final steps to purchase it. Also known as the "Decision" stage of the buyer journey, content marketers urge the customer to choose their product over others.
An approach like the above can be beneficial when making your content marketing portfolio — think about presenting work examples from each of those stages (if you have covered them). Plus, prospective clients are also going through these stages when they're thinking of engaging with you. So keep that in mind when designing your portfolio — what are your prospects seeing first, second, third, and so on? How are you taking them down the funnel of your work?
Do you need a content marketing portfolio?
In a word, yes. How else would you showcase what your marketing services are capable of? How else do you point to your successful projects and say "I can do that for you since I have done it before."
As mentioned earlier, content marketing has exploded in the last few years. That has led to many professionals working in this space. It's crowded, and you need to stand out. Hence, your content marketing portfolio page is the perfect way to separate the wheat from the chaff.
Prospective clients and employers will want to learn about your skills and competencies, and an online portfolio is an excellent vehicle to showcase said skills.
Different types of content marketers & their ideal portfolios
Content marketing covers a wide range of channels and there are many roles in the space. Each content marketer will have their own needs when it comes to building their portfolio. This section is for seeing which type of content marketer you identify with the most — for example, I do all of the things below! — and how that should affect your thinking when designing a great content marketing portfolio.
Content writers
The first kind of content marketer is just a content writer, pure and simple. Content writers are typically focused on writing blog content though some may also be involved in website copy and content. They concern themselves with metrics around the quality of content and blog traffic. Content writers are primarily focused on executing a lot of this content through research and, well, writing.
Amongst content writers – freelance, agency-based, or in-house staff – are subject matter experts and generalists. For example, in the developer tooling industry, content writers who are technically proficient typically do the bulk of the writing. You can contrast this with content that's not as technically oriented, say for the pet care industry, where generalist writers can also fill in.
The ideal content writer's portfolio: If you fall in this category, you should consider dividing your work by industry, topic, or publication. And then share the relevant collection with a prospect depending on who they are. For example, in my case, I would point them to examples of content that I've worked on that showcase my writing.
Content marketers
Content marketers focus on the broader picture around content marketing. They're involved in content strategy, where they map out content that will go into the various stages of the content marketing funnel – ToFu, MoFu, and BoFu content. Content marketers plan out the content calendar and figure out content distribution: on relevant subreddits, Slack channels, social media, or other channels. They also syndicate content – the process of placing the same content verbatim on another website but letting search engines know where the original piece resides – which is another form of content distribution.
The ideal content marketer's portfolio: As a content marketer, you'd be better off divvying up your portfolio into sections that make sense from a content marketing angle: channels, funnel stages, or industry. The collection that you should share with a prospect should be the one where you drive the most results, whatever metric that they apply for. For example, I might choose to share my DZone content first because that has over 26K views.
Content creators
Content creators are folks who create content that's not limited to writing. Such creators make video content, audio content like podcasts, social media content, content using imagery, and more. Many are influencers in the space they cater to, usually marketing a product or service, while some look into building their personal brand.
The ideal content creator's portfolio: If you're a content creator, you should look to share your most creative work front and center. Everything else can come afterward. For example, I'd probably opt for going with my music compositions.
Social media marketers
As the name suggests, social media marketers focus on social media, and their metrics are engagement (likes, shares) and follower count. Social media marketers work as freelancers, are agency-based, or are a part of the in-house staff. They also deal with social media ads on platforms such as Facebook, Instagram, LinkedIn, and even Twitter.
The ideal social media marketer's portfolio: As a social media marketer, you'll need to put up content from your socials: examples of popular posts, content pieces that were really popular, etc. For example, I'd have to go with the videos I made while running an agency, as they got a ton of love on my personal social media account.
SEOs
SEO stands for Search Engine Optimization. People who work in SEO (called Search Engine Optimizers or SEOs for short) contribute to the content strategy through keyword research which is the process of finding keywords for content marketers to target.
Besides this, SEOs work on technical SEO, on-page SEO, and off-page SEO. Technical SEO ensures that the website is crawlable and indexable by search engines. On-page SEO involves optimizing the page for search engines by working on aspects like meta titles and descriptions, internal linking, and more. Off-page SEO is the process of getting backlinks to the website, which is done via various methods such as finding unlinked branded mentions, employing the skyscraper technique, etc.
The ideal SEO portfolio: SEOs may not think they need a portfolio but they're sorely mistaken. Showing examples of work that has done very well on search engines is a great way of exhibiting skill and nous. For example, I'd rely on this collection of selected content & SEO wins that I made on my portfolio. If one were to Google keywords related to the topics, they're likely to find content that I've worked on.
Aspects of the perfect content marketing portfolio
1. "Good" content
What is "good" is in the eye of the beholder, but in my book, good content refers to content that has been written or created with care, drives results, and appeals to your audience – they're interested in your content and find it engaging.
Your content marketing portfolio needs to have "good" content in the form of excellent work samples.
2. ALL your content
Your content marketing portfolio has to have ALL your content. This is advice that goes against the grain of what others may say, which is to have just your best content in your portfolio. I disagree, and my argument is this: how can years of work be reduced to four or five content pieces? It can't. Résumés already try to condense one's entire life into a single page, and let's be honest, nobody is that boring that just one page will suffice. And the same thing applies to having just your "best work" on your portfolio.
That's why your content marketing portfolio has to go above and beyond what an approximation of a résumé does. After all, a portfolio can showcase your skills in a way that will actually impress your potential clients and employers. A portfolio with all your content showcases the breadth and depth of your work, showing off your expertise and experience across various channels, industries, and more.
Hence, you need a method to get all your content onto your portfolio. That leads me to the next point.
3. Collections, for organizing your content
Your content marketing portfolio must be well-organized so potential clients and employers can easily navigate through it. And that's where collections – the ability to divide your work into sections – are an essential feature. Remember, you're adding all your content to your portfolio.
Let's take a look at Marijana's portfolio. Marijana is a freelance writer for leading B2B SaaS companies like ConvertKit, Shopify Plus, Hotjar, CoSchedule & more.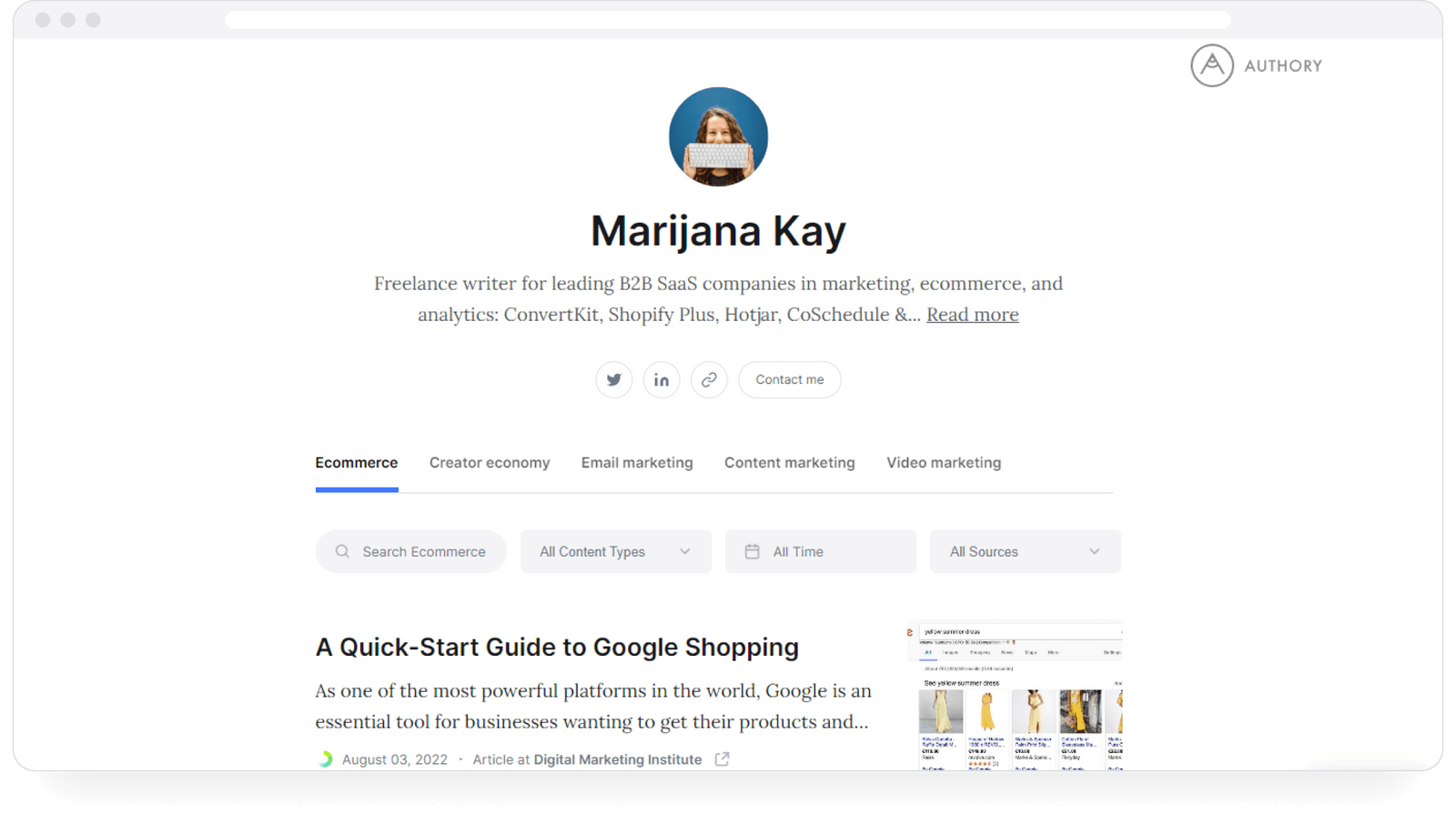 You can see she's split her portfolio into collections: e-commerce, creative economy, email marketing, content marketing, and video marketing – which is an excellent way of portraying her body of work. She also has all her content uploaded, but since she has divided it into sections, it's simple for her audience to peruse.
Taking a leaf out of Marijana's book, you also need to display aspects of your work in your portfolio cohesively but in a way that is easy to navigate. This becomes especially true when it comes to ghostwritten content.
Ghostwritten content
Ghostwritten content is hard to portray in your portfolio, and content marketers often don't get their names associated with their created pieces. Ghostwriting happens in bizarre ways: instances where the author's name is "Company name" come to mind.
Let's look at Rebecca's portfolio to learn how to tackle this. She is an editor and writer for companies such as G2, Sales Hacker, Nextiva, and Databox.
As you can see above, Rebecca's "Ghostwritten articles" collection is a great way to showcase ghostwritten content. She also has a section for "Guest Blogs."
🗒️
Bonus tip: On a portfolio builder like Authory, you can privately share ghostwritten content so that it doesn't violate your contract terms.
Agency content
I used to run an agency, and we created a ton of content for websites and companies across industries around the world. It's hard to showcase all this content because it's under the names of those respective companies.
But there's a way! Let's look at Scott Baradell's portfolio. Scott is CEO of the unified PR and marketing agency Idea Grove, a Top 25 technology PR agency in the U.S.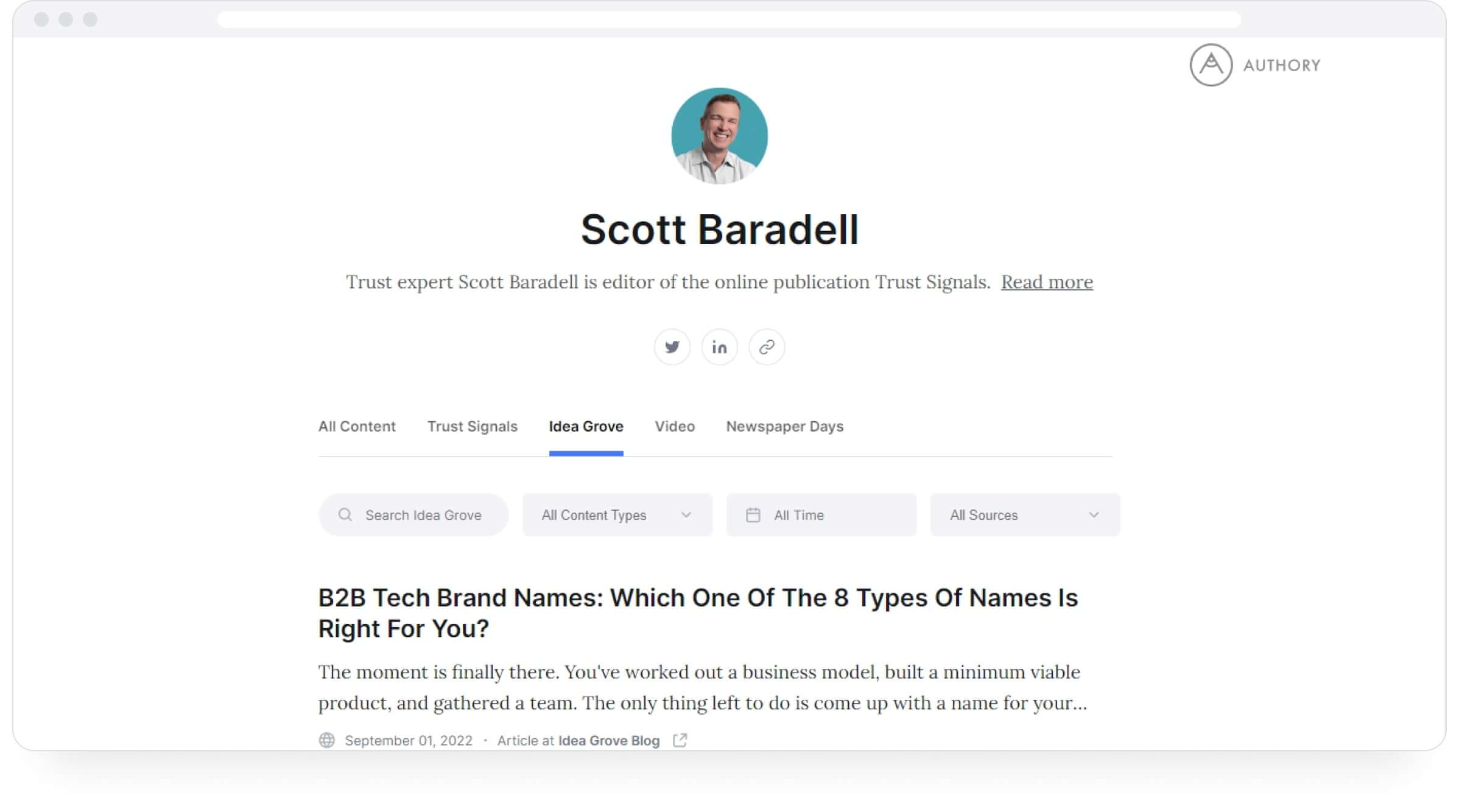 As you see above, under the Idea Grove section in his content marketing portfolio, he's uploaded all the relevant Idea Grove content to showcase it easily for prospective clients.
4. Search and filter functionality
Collections are not enough, especially when you're uploading years of content onto your content marketing portfolio. Hence, an excellent portfolio builder like Authory offers search and filter functionality for visitors to your portfolio. It can be a vital component in your toolbox — making it easier for your audience to navigate your portfolio.
5. A great "About" section
The "About" section in your portfolio needs to encapsulate your career and, more importantly, speak to the offerings that you can provide.
A good template (something that I use) is as follows:
Open with a title;
Next, speak about your current work;
Then detail a bit of your recent work;
And finally, round it off by talking about your past work.
Here's a great example from Liz Fong-Jones.
6. Self-updating
Keeping your portfolio updated is vital to attracting clients. But between content strategy, creation, distribution, and repurposing, content marketers have precious little time on hand. And updating your portfolio is the last thing that comes to mind.
Elise Dopson says it best here and this is what Alyssa Towns has to say:
Authory is a content marketer/freelance writer's dream! One aspect I dread about having a website is manually updating my portfolio to ensure it's recent and showcasing my best work. Now, Authory does that for me, saving me time and headspace while allowing me to maintain my brand. My portfolio has been a great swap, allowing me to send relevant content samples to prospects quickly, and it works great as a supplement to a writer's resume.
So, look for a solution like Authory that self-updates and hence works for you instead of working against you.
How to create a content marketing portfolio that works for you
We'll use Authory to make a portfolio from scratch because Authory has both collections and search functionality — something that's essential for a content marketing portfolio. Also, as mentioned above, Authory self-updates, making sure your portfolio is always up-to-date!
Step 1: Add your sources
The first step is to sign up for Authory and add your sources, as shown below. Authory will then import all the content from those websites, whether they're articles, videos, podcasts, or even your social media posts – it doesn't matter what the format is – all of the content that you've created from there will be added to your Authory account. This is excellent for backing up your entire life's worth of articles, your YouTube channel if you have one, podcasts, social media accounts, or any content you've created in various formats.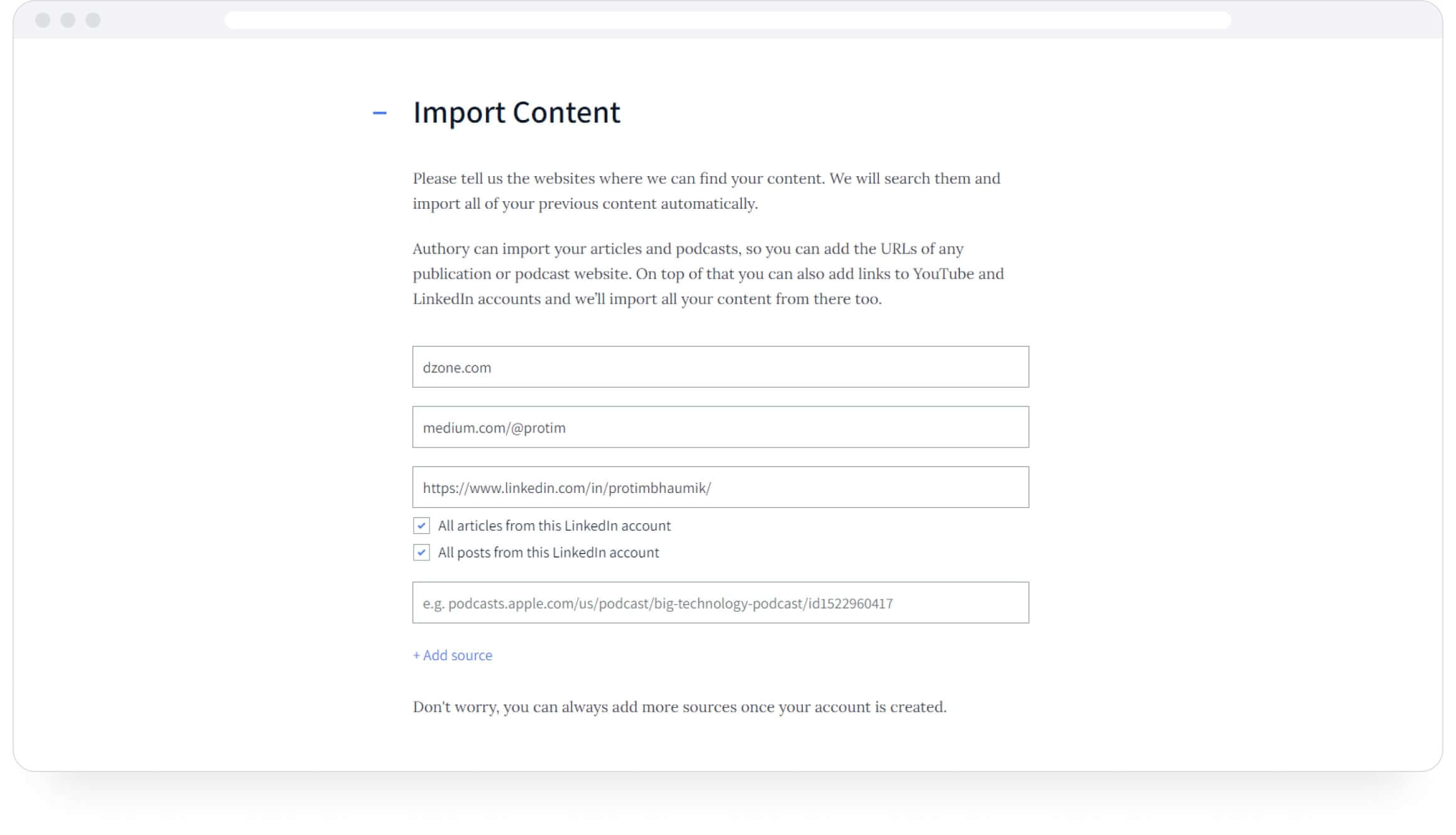 And once it's all imported, it will look like this.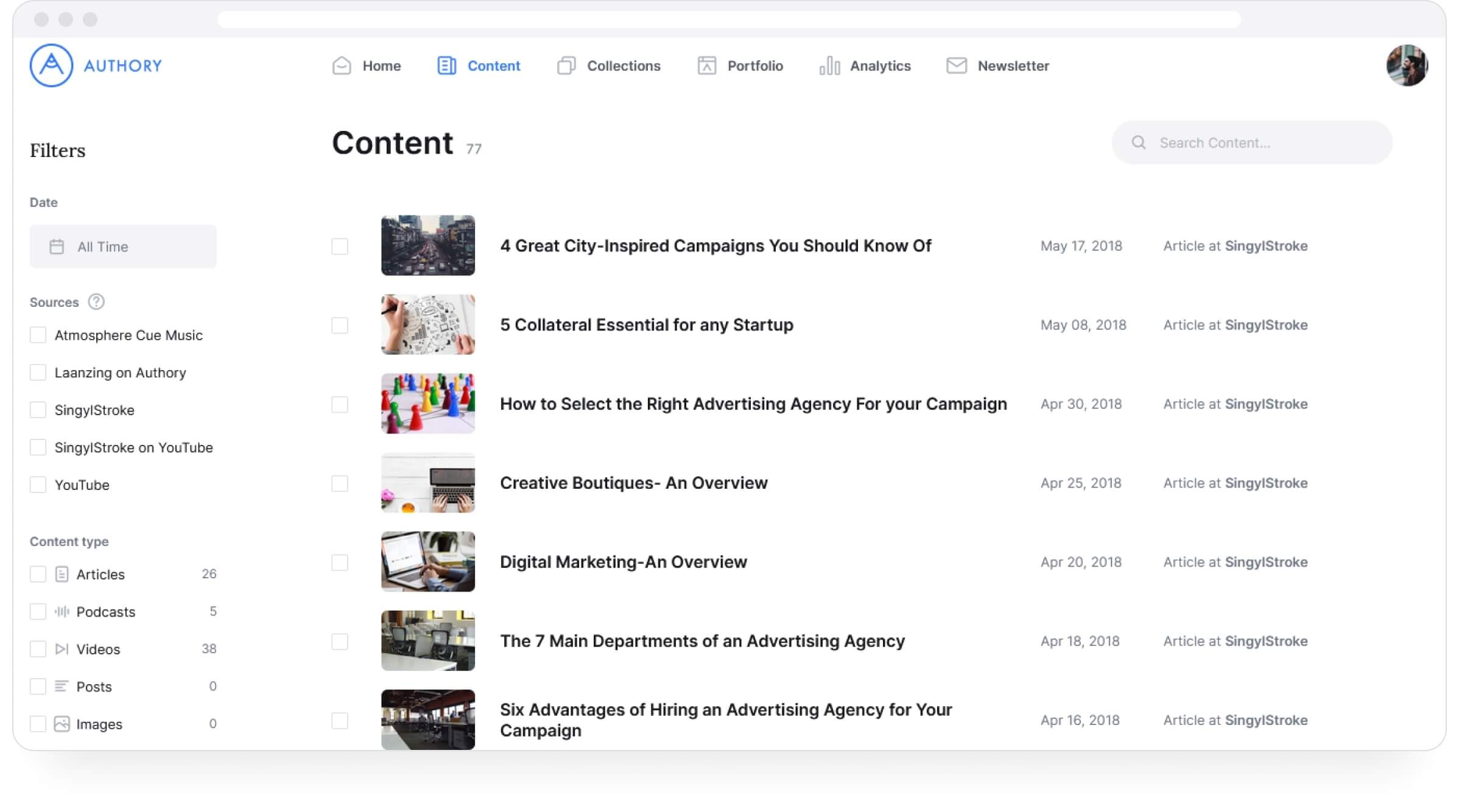 Your Authory Content inbox will have all your content across all the different websites on which you've published content.
Step 2: Create collections
Navigate to the collections tab and create a collection, as shown below.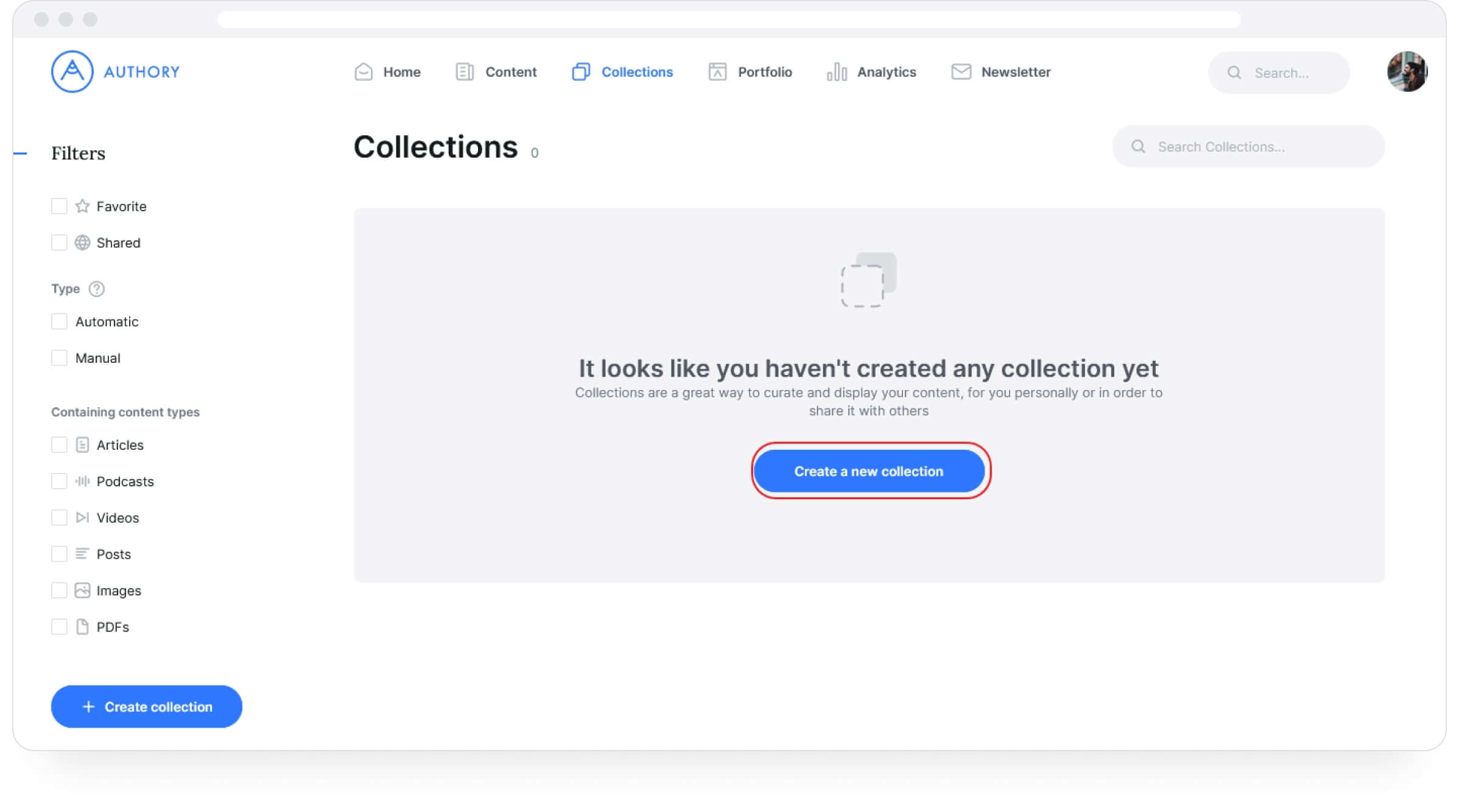 Let's create a collection called "Content Marketing."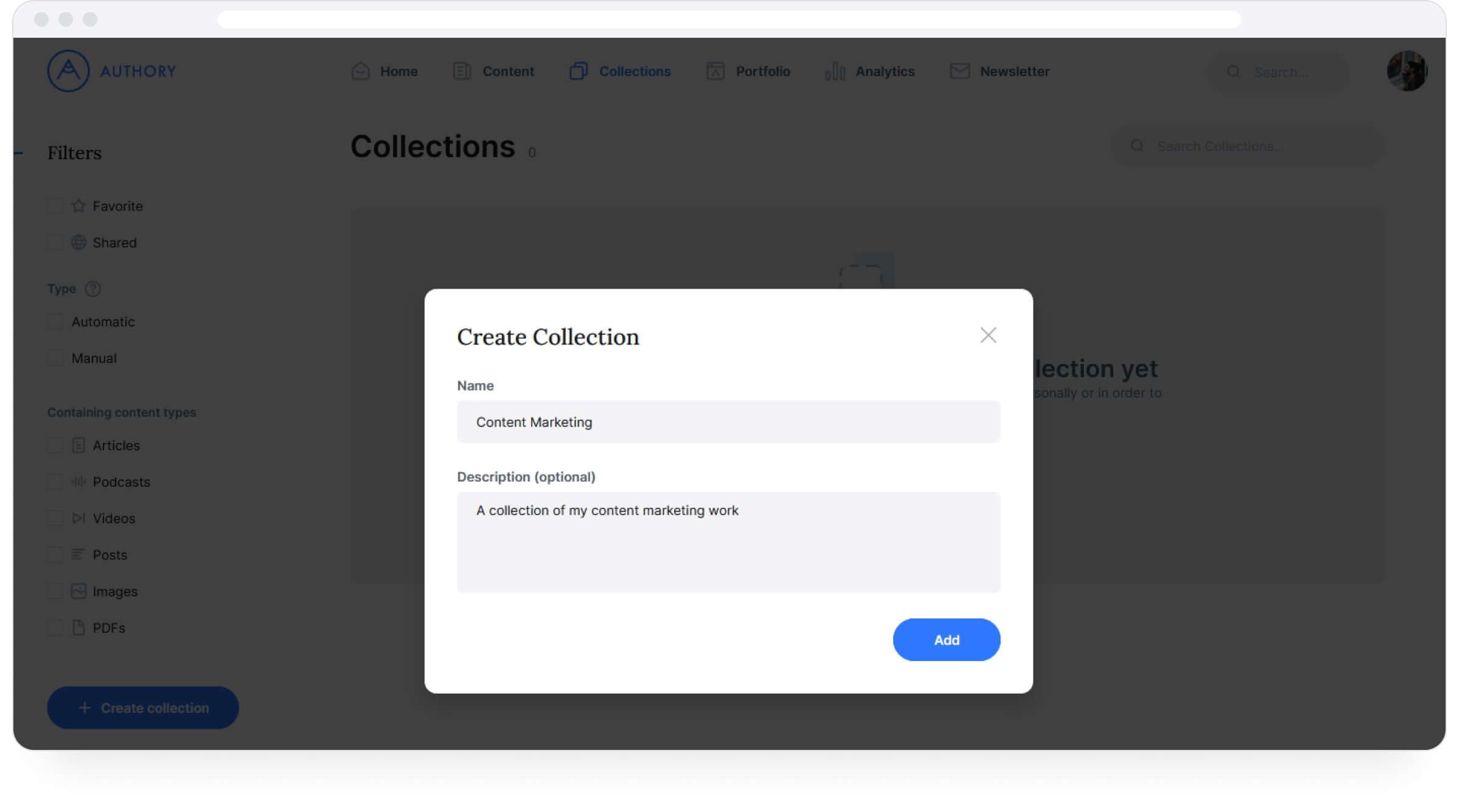 You'll be taken to your collection which is empty at the moment. You can use either "Set Rules" to import content into your collection or you can do it manually. Let's choose the "Set Rules" option.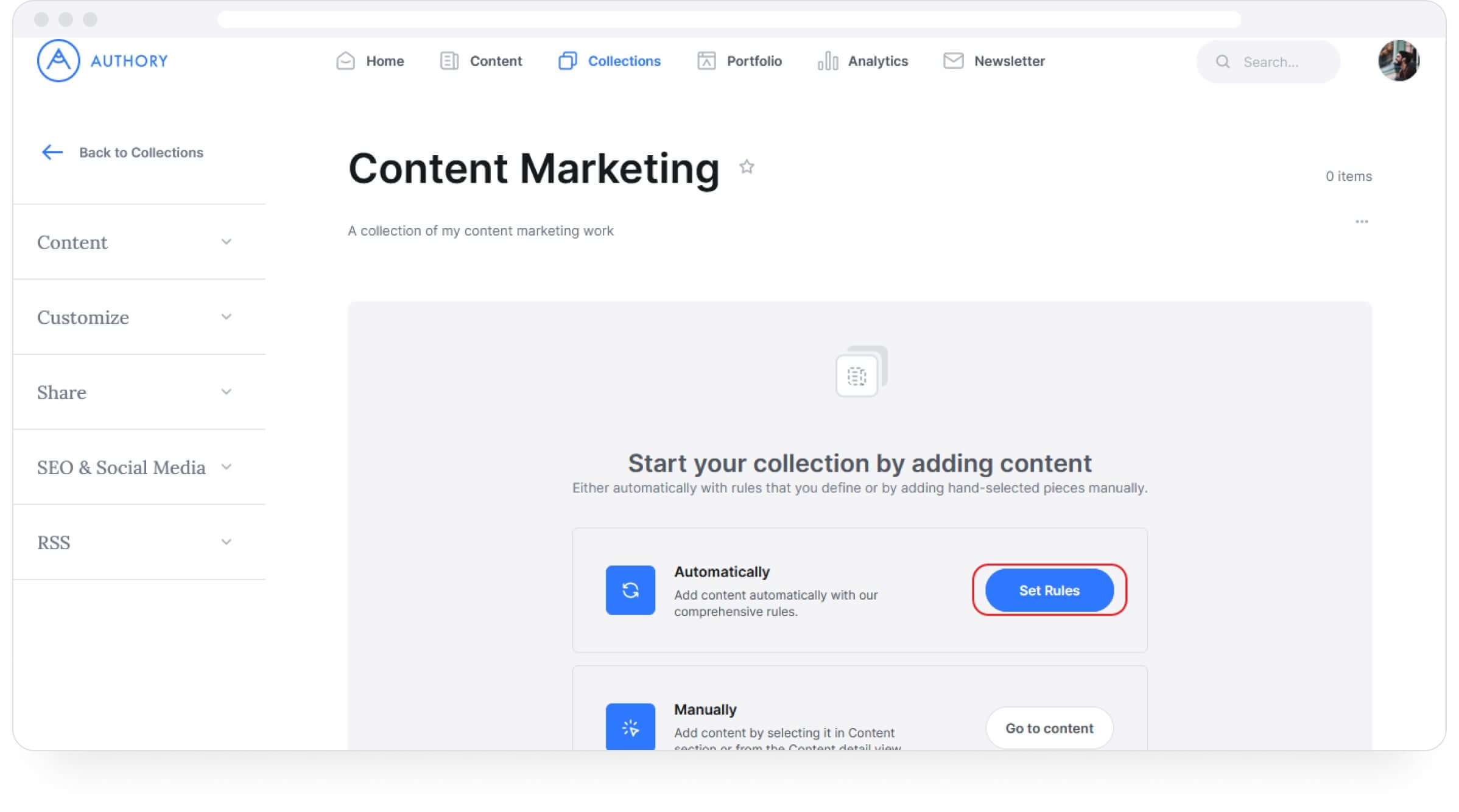 In the screenshot below, a single source has been selected. Multiple sources are also an option available to you if you need them.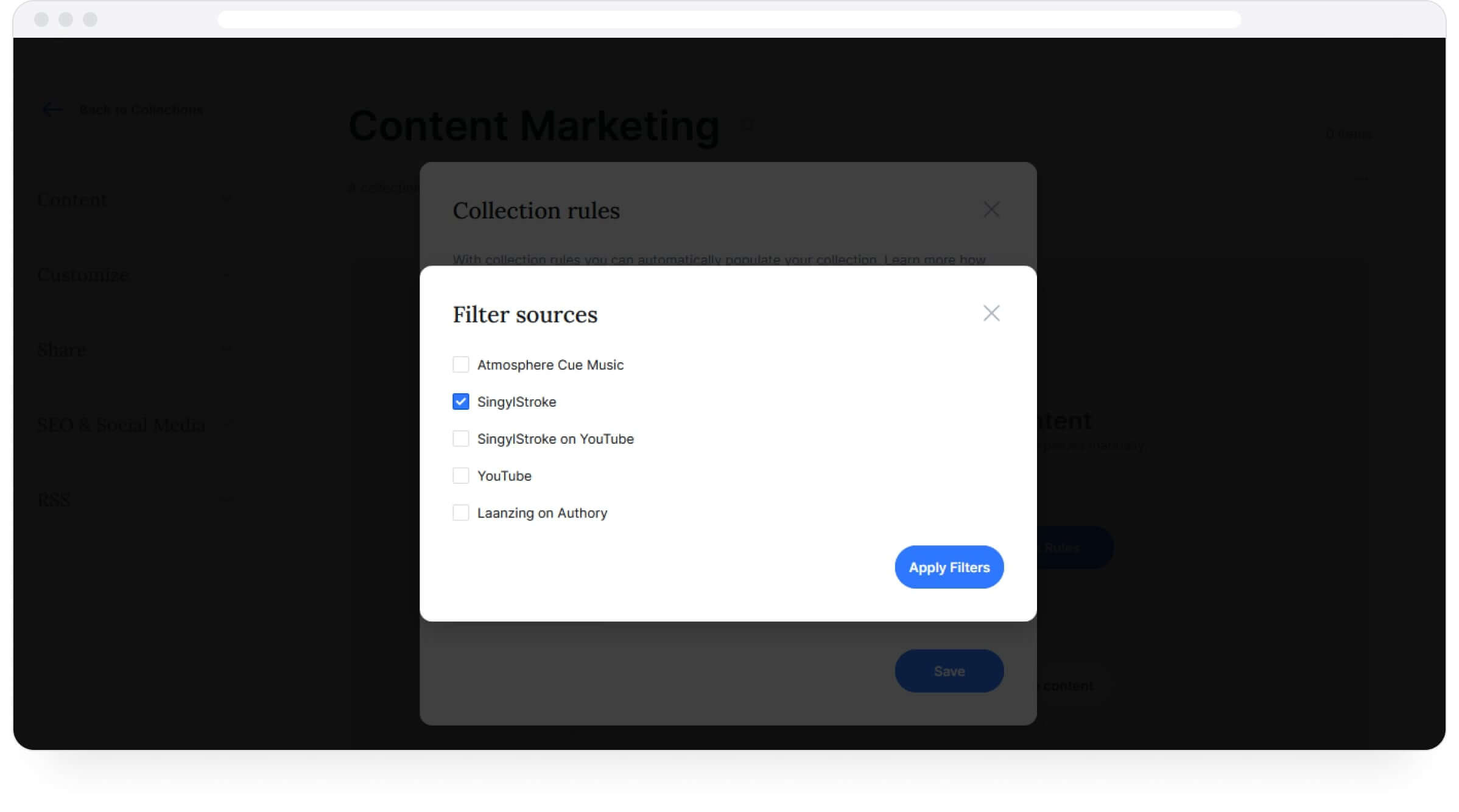 Your "Content Marketing" collection will look like this.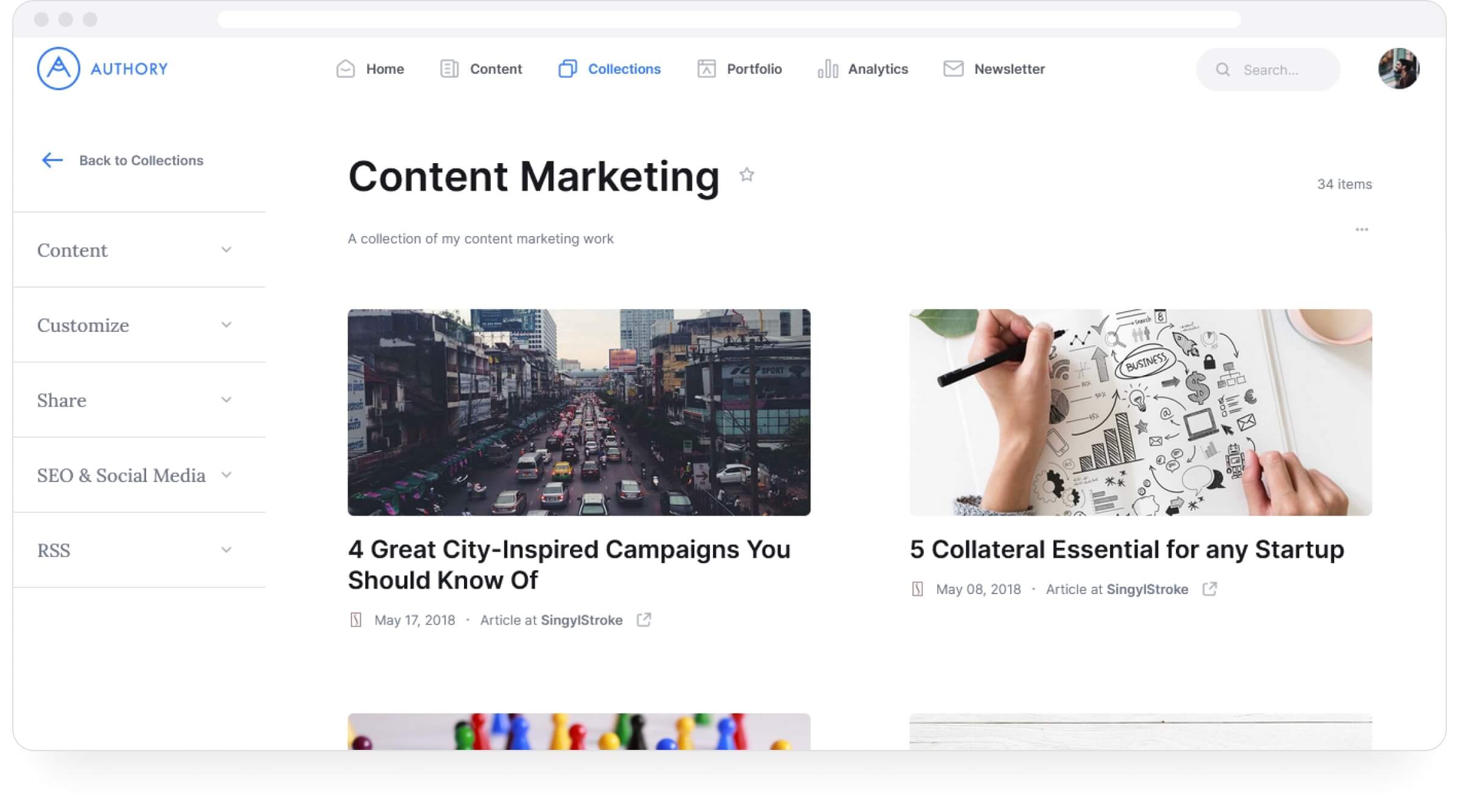 Step 3: Connect your collection & beautify your portfolio
The next step is to add your collection to your portfolio so that it is visible there. And then design your portfolio using the customize tab. First, let's add an existing collection as shown below.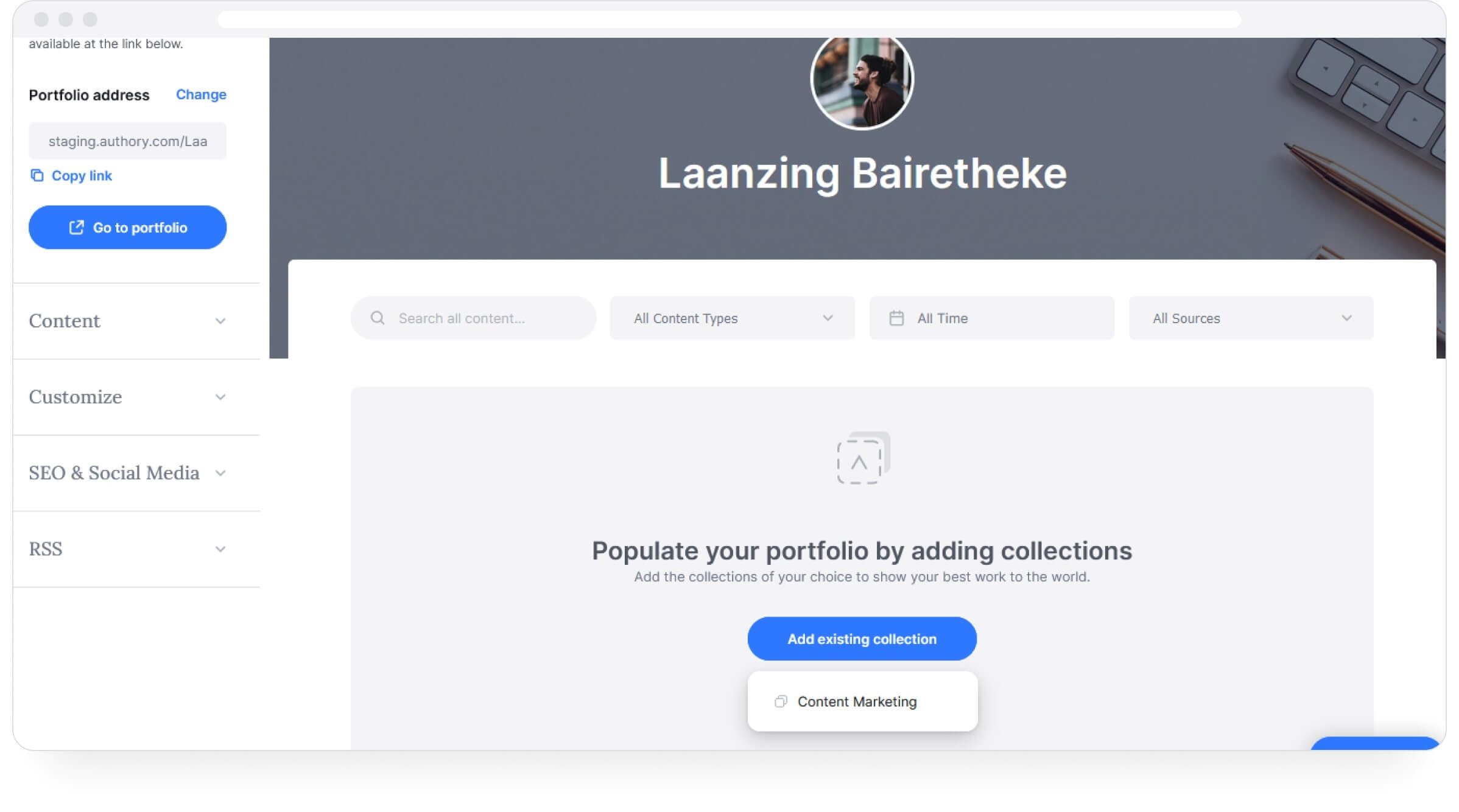 Only once this has been connected will the collection show up on your portfolio — hence, if you don't want it to show up, you need not connect it — something that can be super useful for ghostwritten content (explained later on).
Here's how your portfolio looks when the collection has been connected.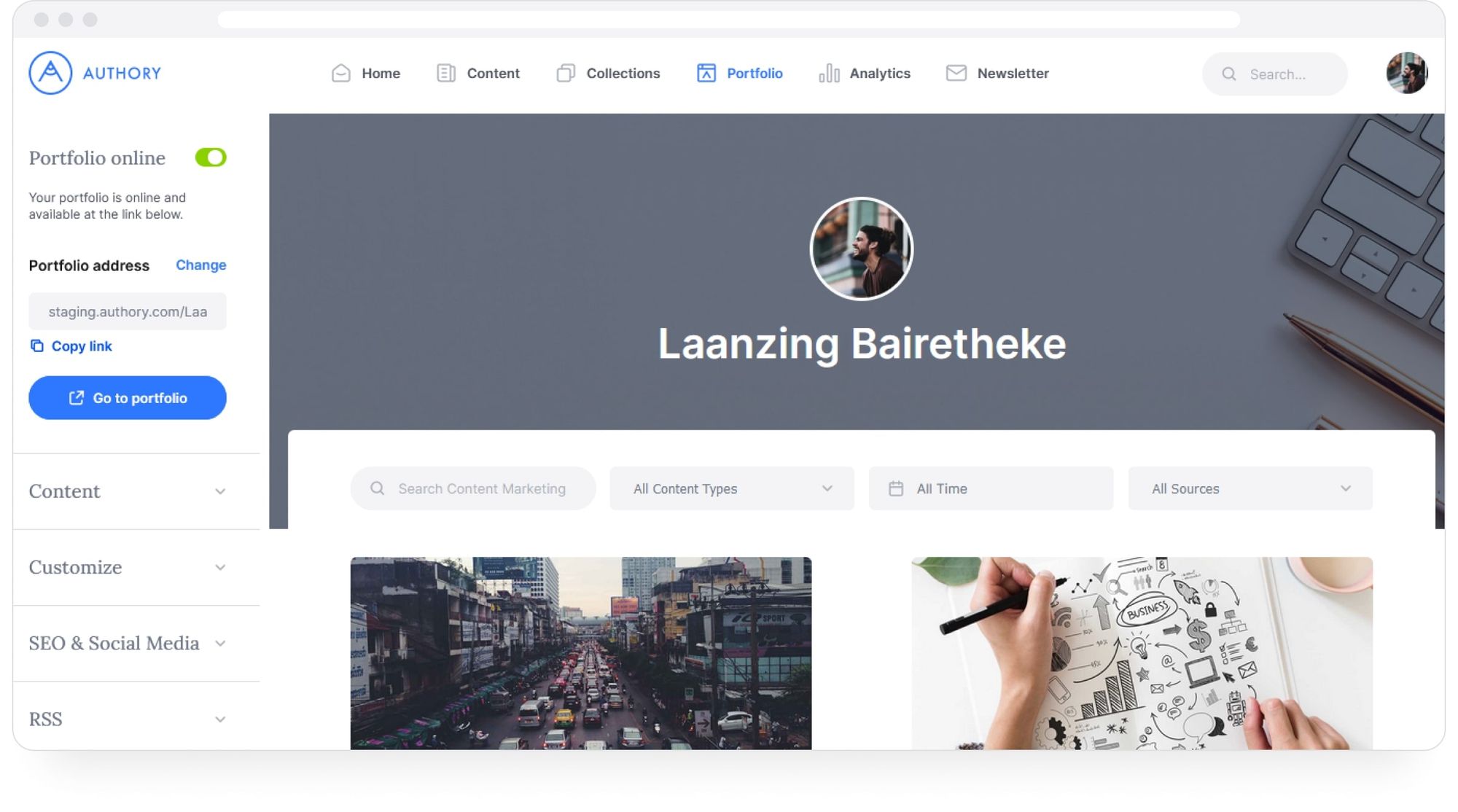 Now let's customize the design of your portfolio. Use the "Customize" tab on the left to fiddle around with the portfolio cover, header layout, content layout, social media icons, highlight button, and email subscribe button.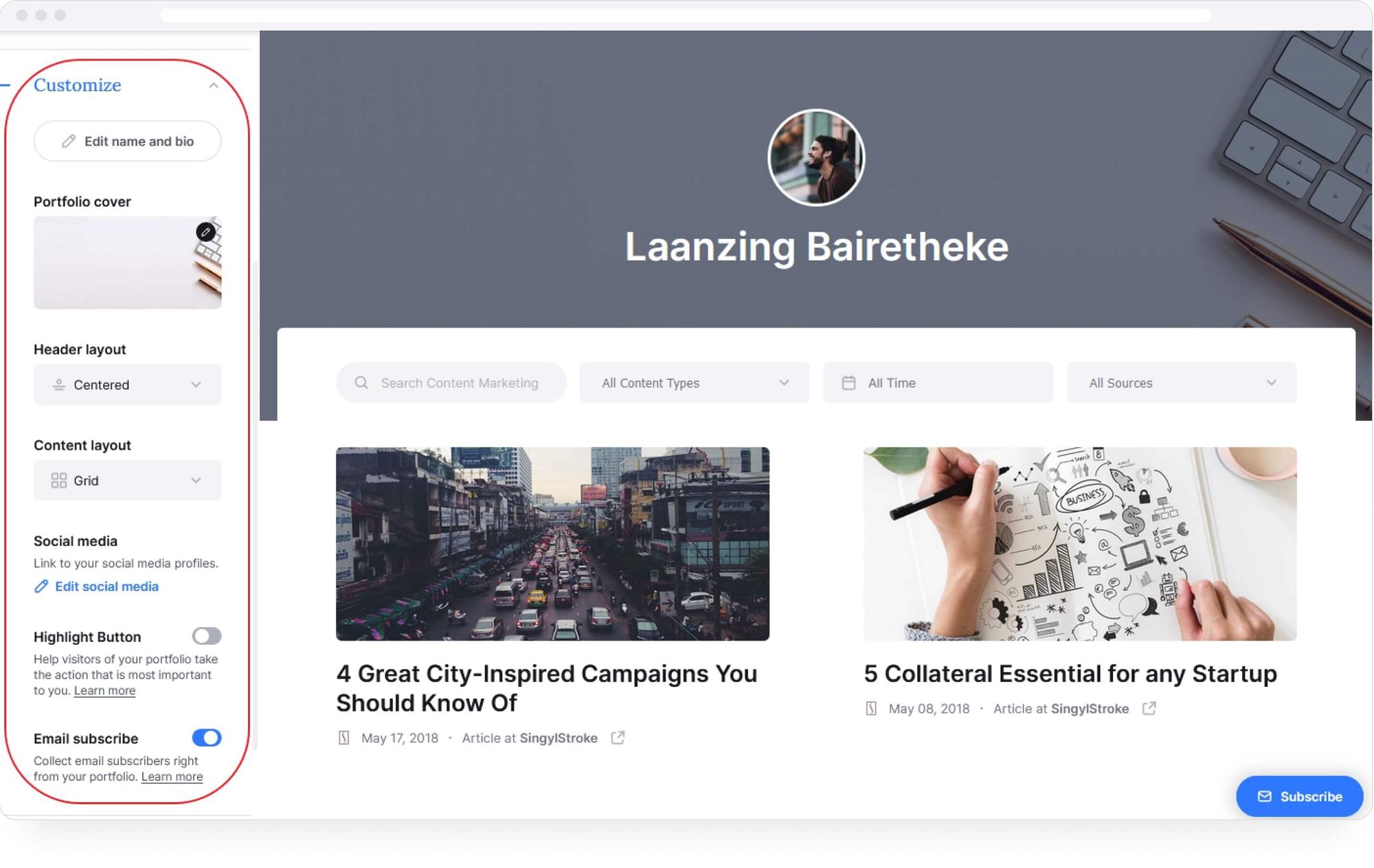 For this example, let's left-align the header, go for a list layout, and use a solid color for the background for a minimalist look. (You can play around much more if you'd like!)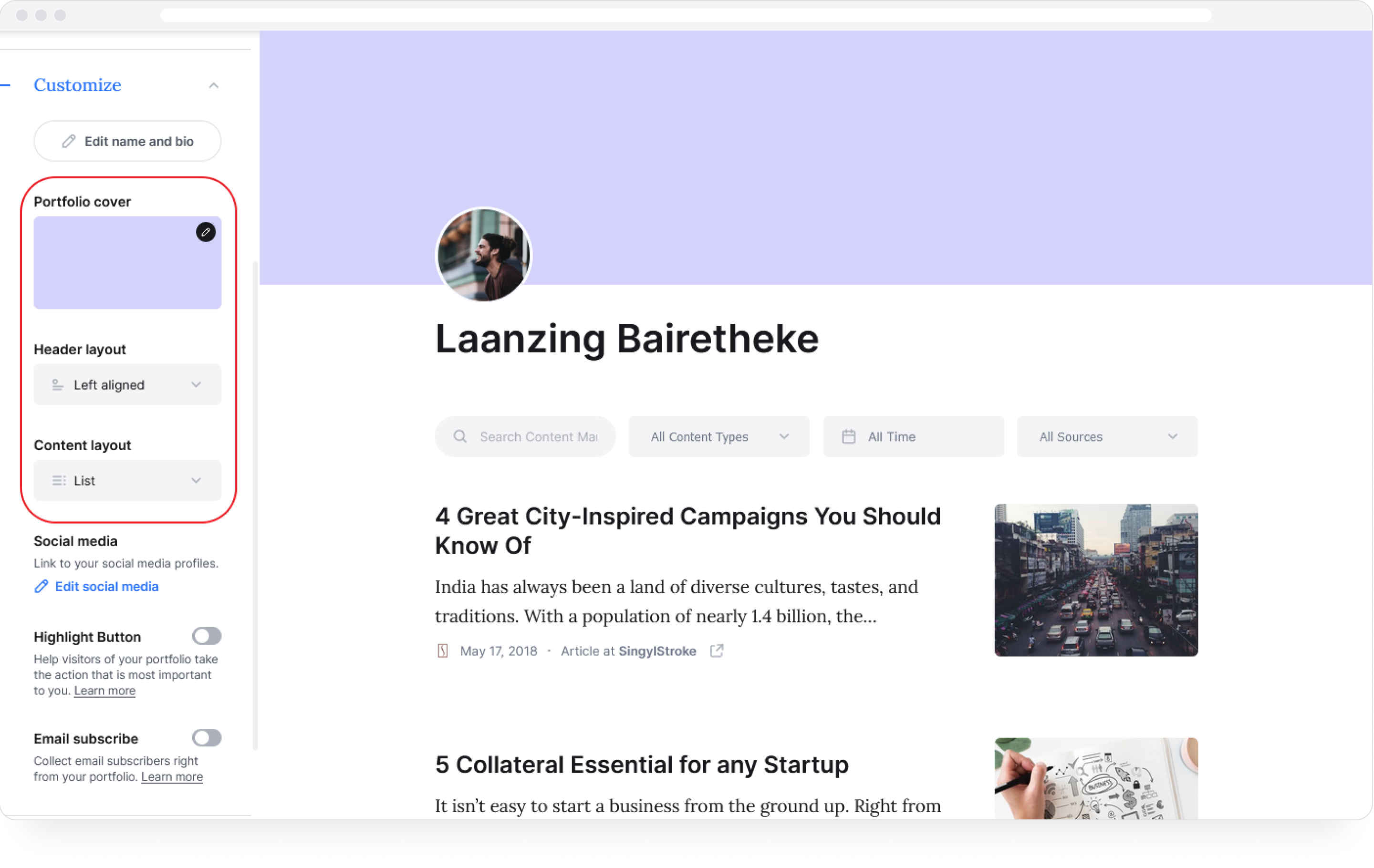 Step 4: Write a great "About" section
Now, write about yourself. You can use the earlier advice mentioned in this article as a starting point. Go to the "Customize" tab on the left — it's right below the "Content" tab where we've been working — and then enter your "About" content.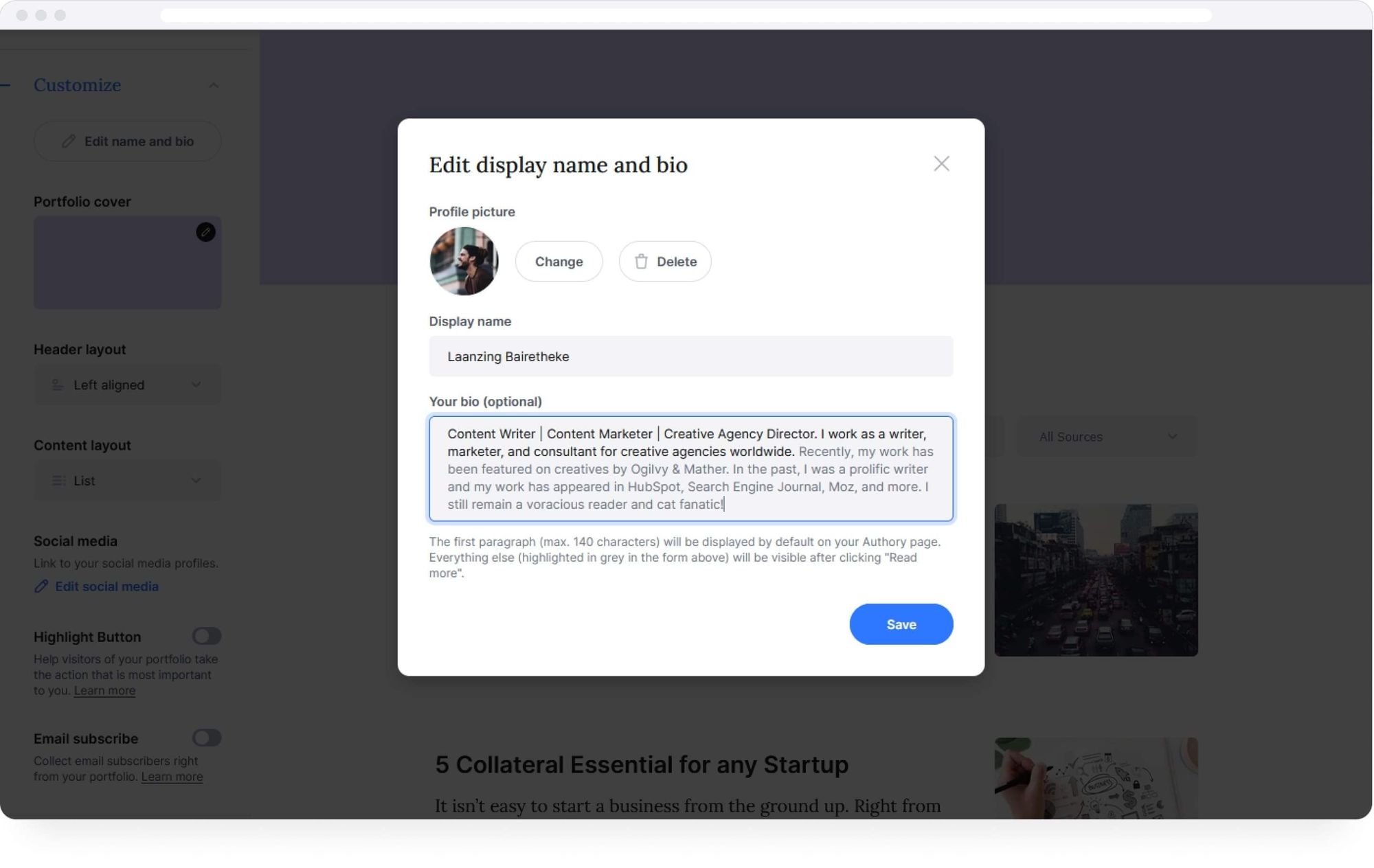 Step 5: Share your portfolio
Finally, share your perfect content marketing portfolio with prospective clients and employers.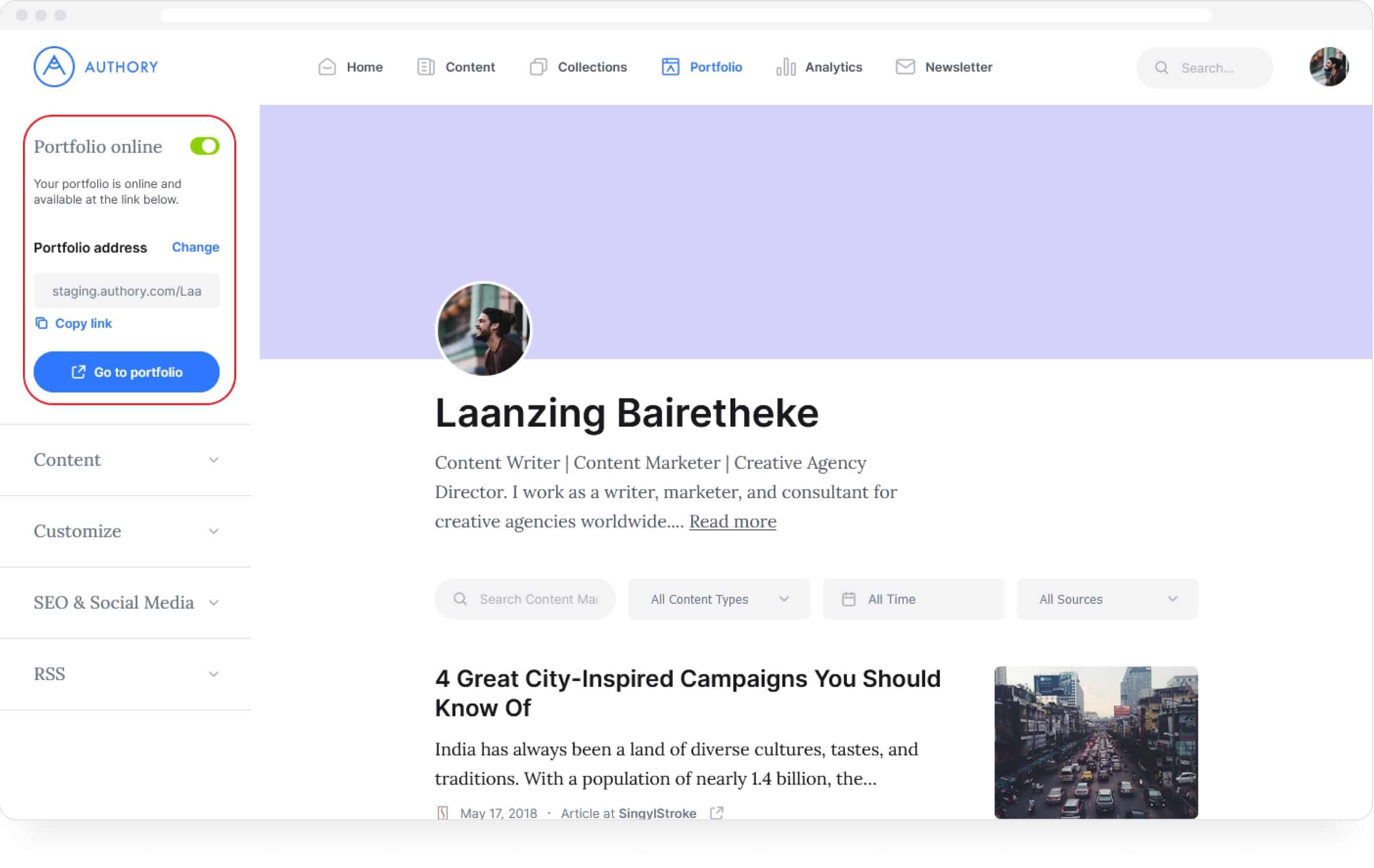 The final version of the portfolio looks like this: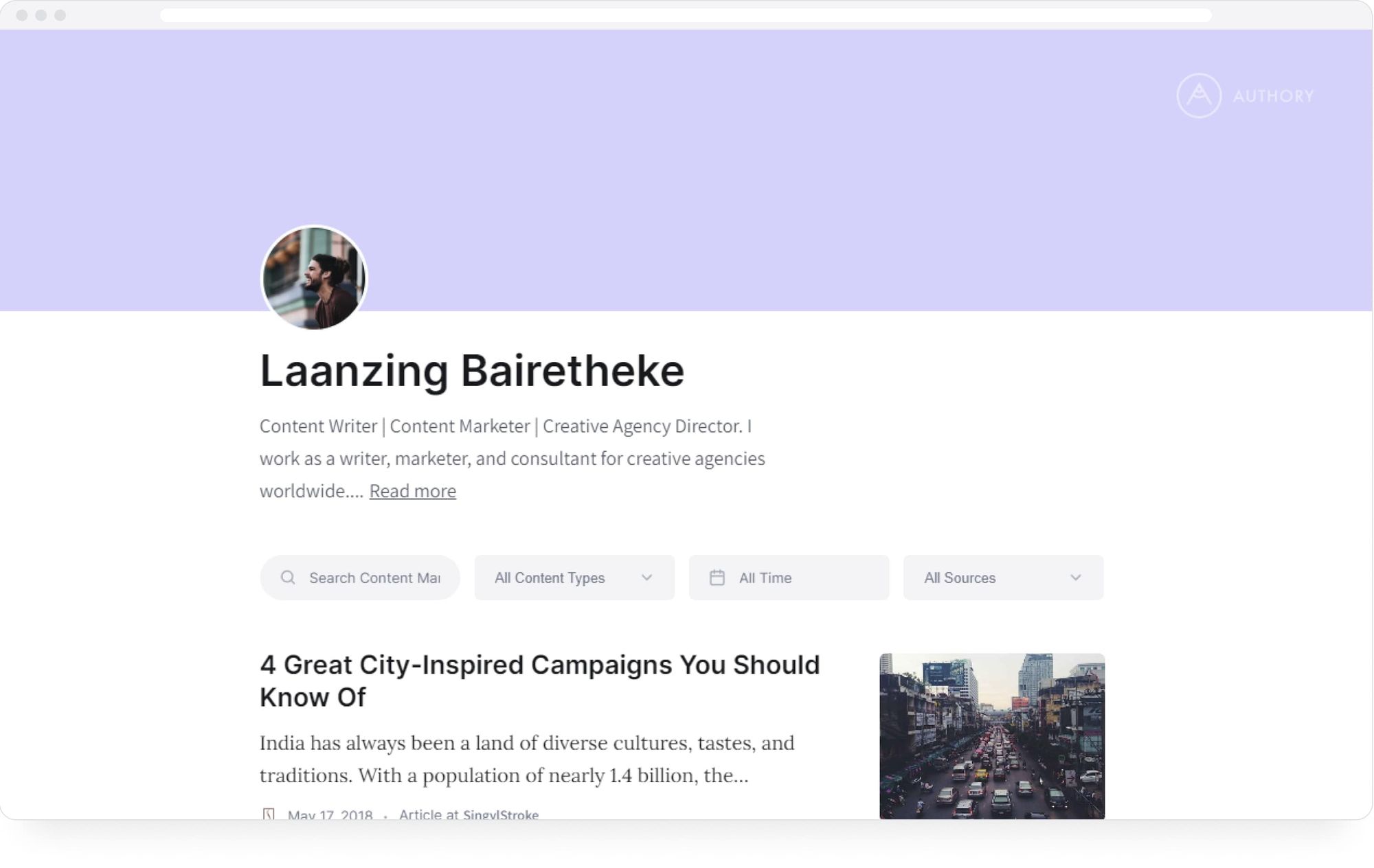 🗒️
It's very rare to find a content marketer who hasn't done some ghostwriting. But it can be notoriously hard to share ghostwritten content with potential clients because of privacy issues. With that in mind, let's see how Authory makes adding and sharing ghostwritten content super easy.
Bonus: using Authory for ghostwritten content
Start by creating a collection and naming it "Ghostwritten Content."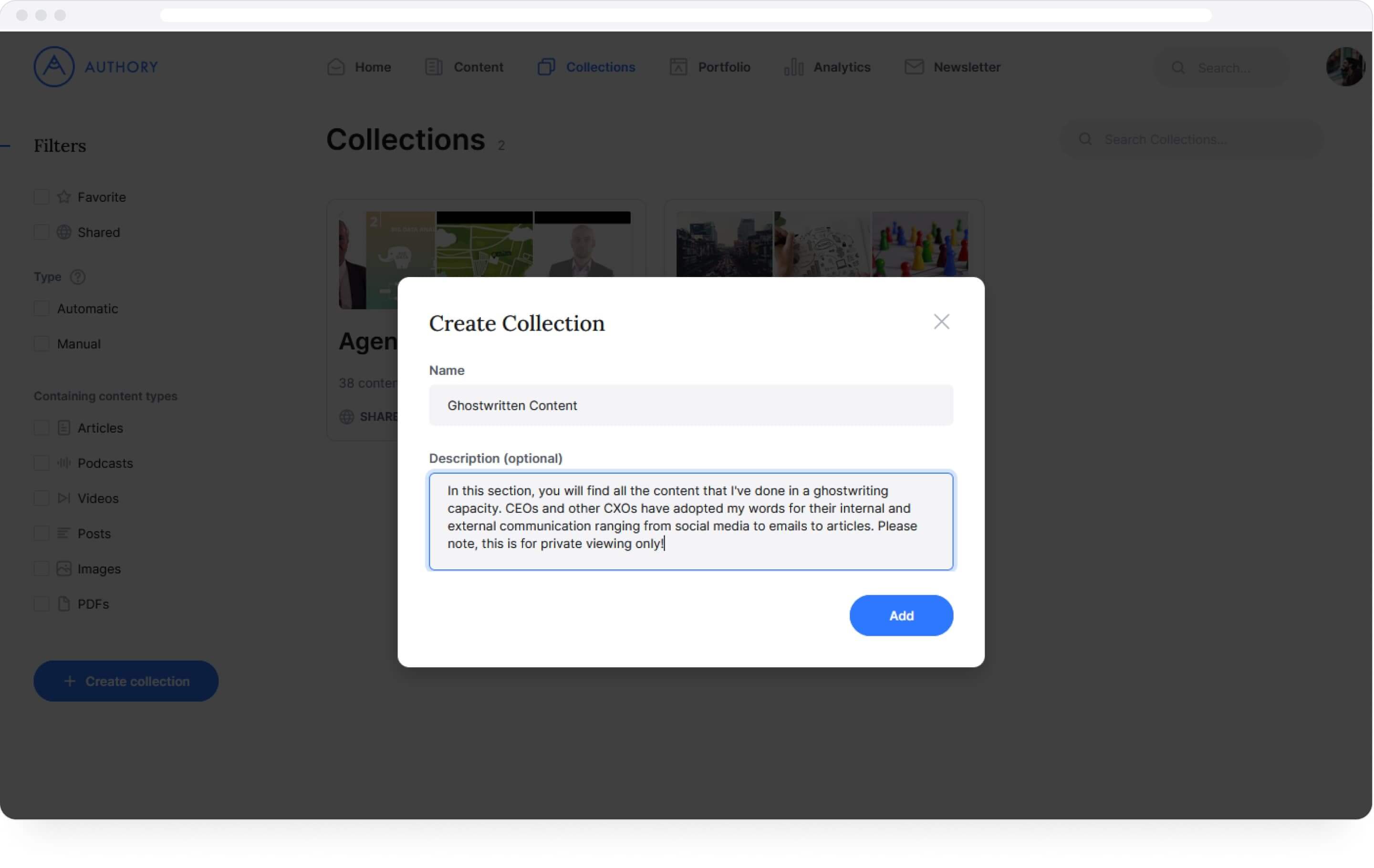 In the "Content" tab, select the pieces of content that you want to add to your "Ghostwritten Content" collection. These can be from already existing content in your inbox (as in this example) or you can upload content anew if needed.
🗒️
Note: Bylined content can be found by Authory automatically; when you add a website URL, Authory will go and find all the content under your name on that website. This isn't possible for ghostwritten content because the content isn't under your name but it isn't a big deal because you can simply copy and paste the respective URLs to add them to your Content inbox.
For the purposes of this example, we have selected three content pieces for the "Ghostwritten Content" collection.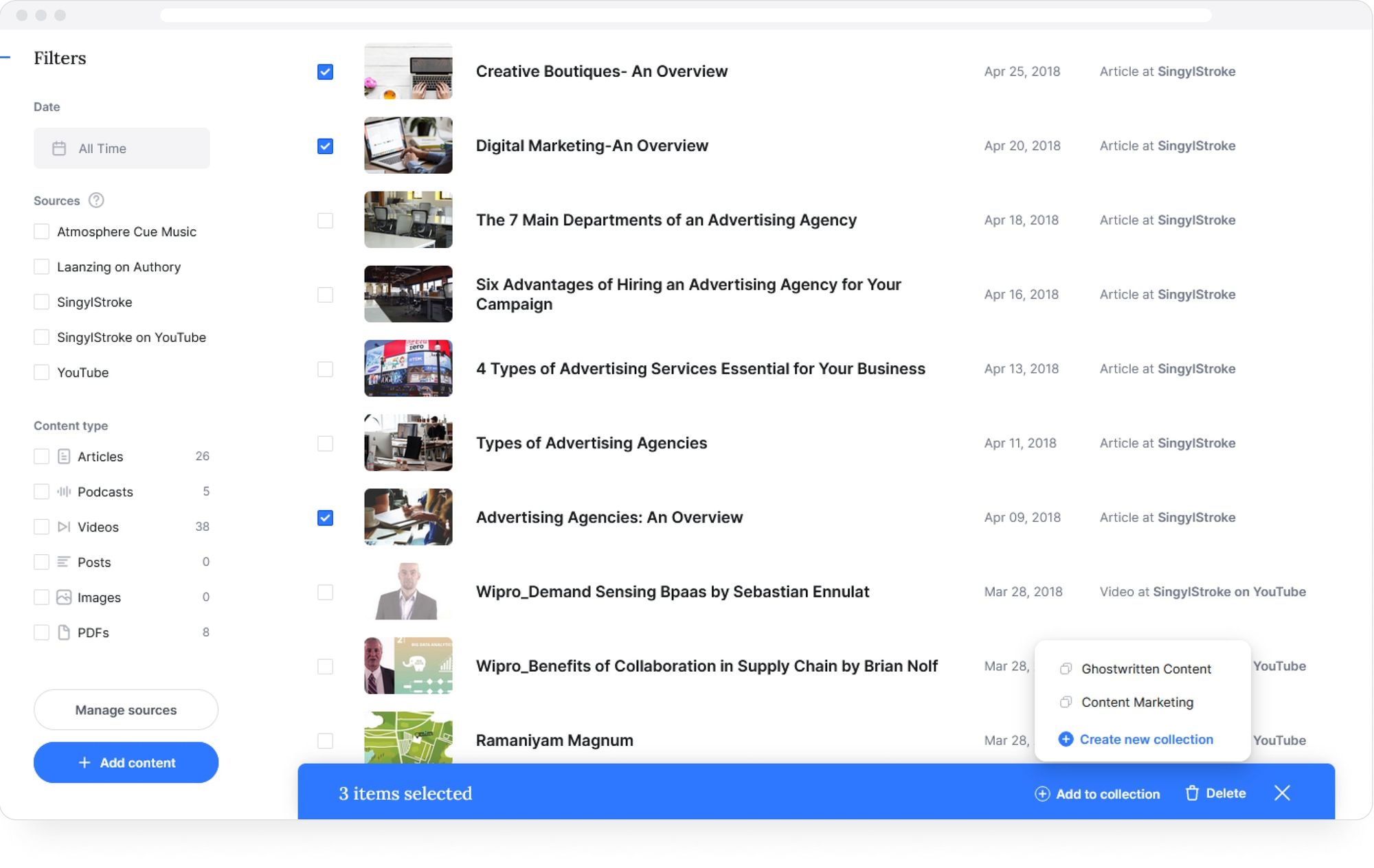 🗒️
Note: In essence, so far, this process is exactly what you would do to build any collection as shown in Step 2. The only difference is that this time, you won't connect the collection to your portfolio.
Once, the collection has been created, you can head to the "Collections" tab and find it under there. At present, it looks like this: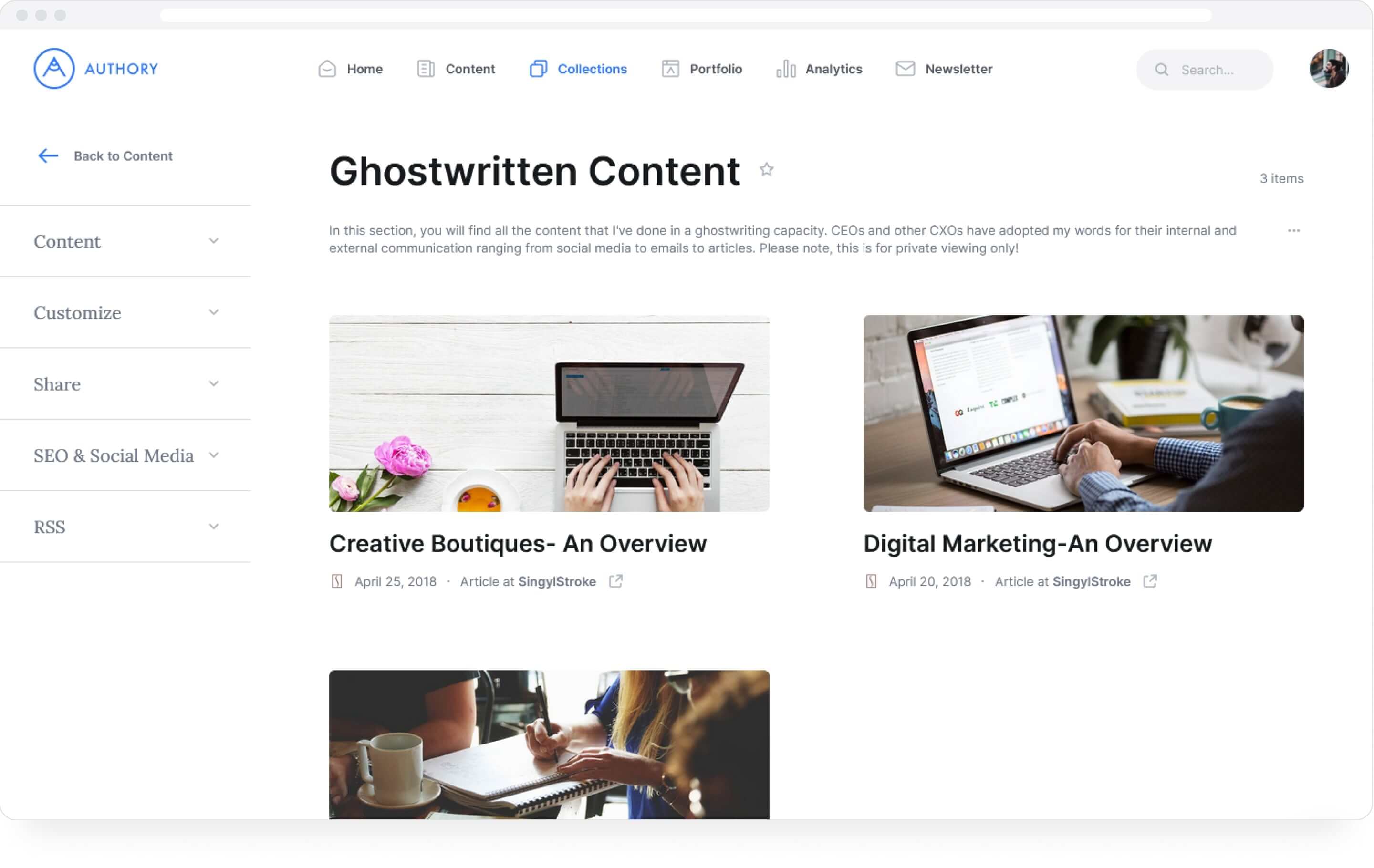 Next, let's customize the "Ghostwritten Content" collection. Click on the "Customize" tab on the left.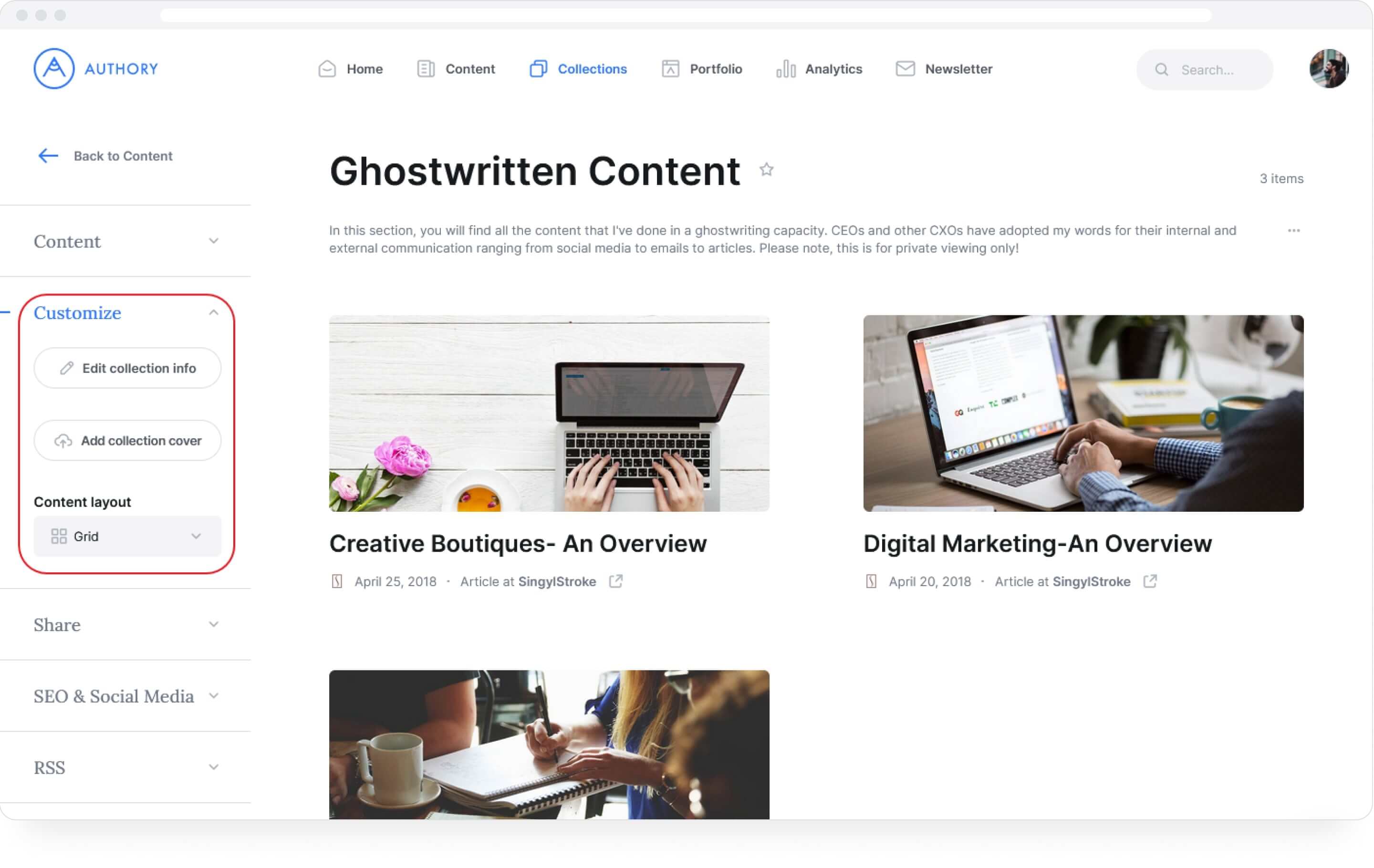 For the collection cover, you can choose from Authory's library, upload an image yourself, or opt for a plain color.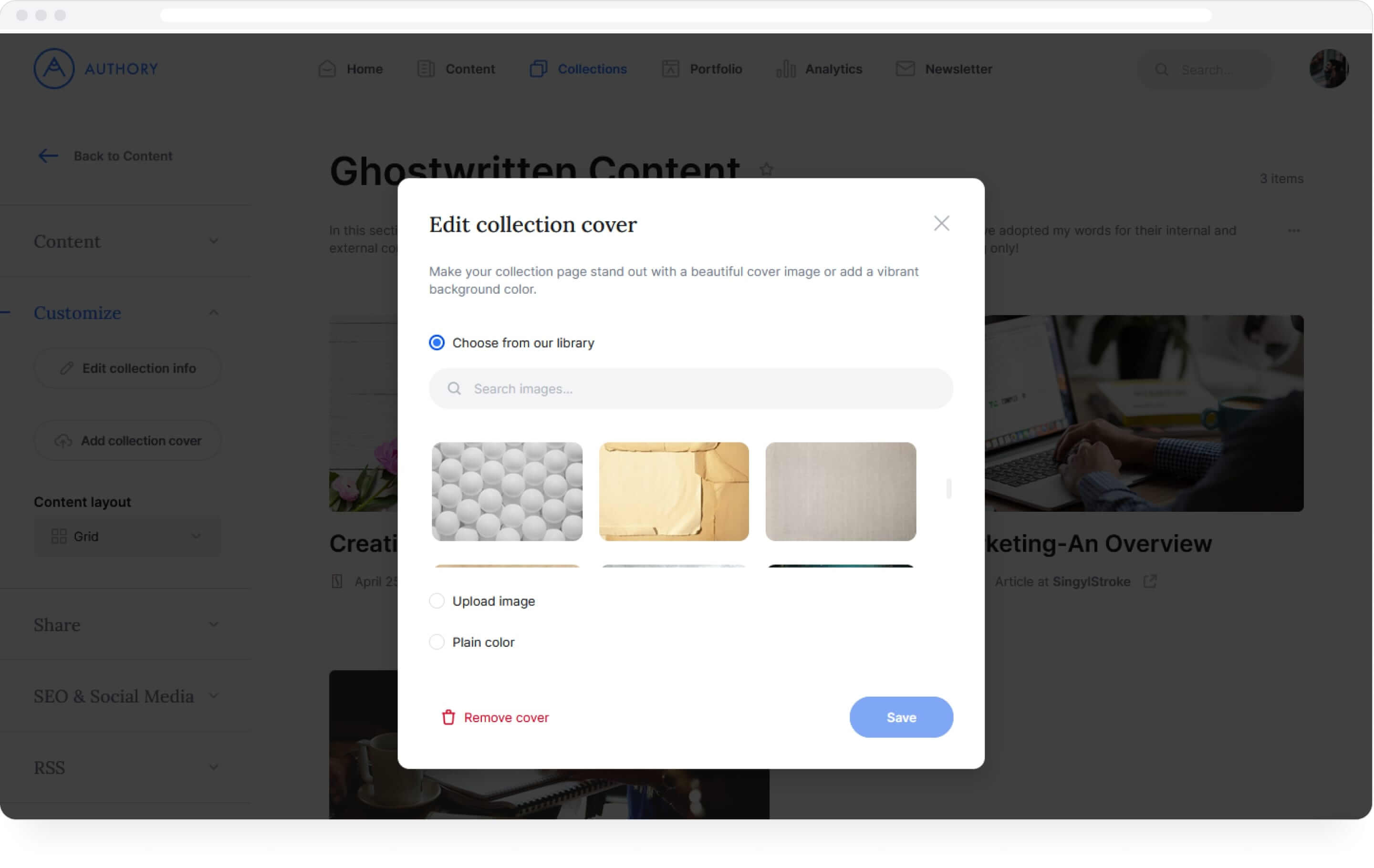 You can also customize the content layout; there are four options: grid, stacked, list, and text.
And finally, you can share the collection privately by going to the "Share" tab on the left and copying the link.
And this is how the collection looks when shared with a prospect: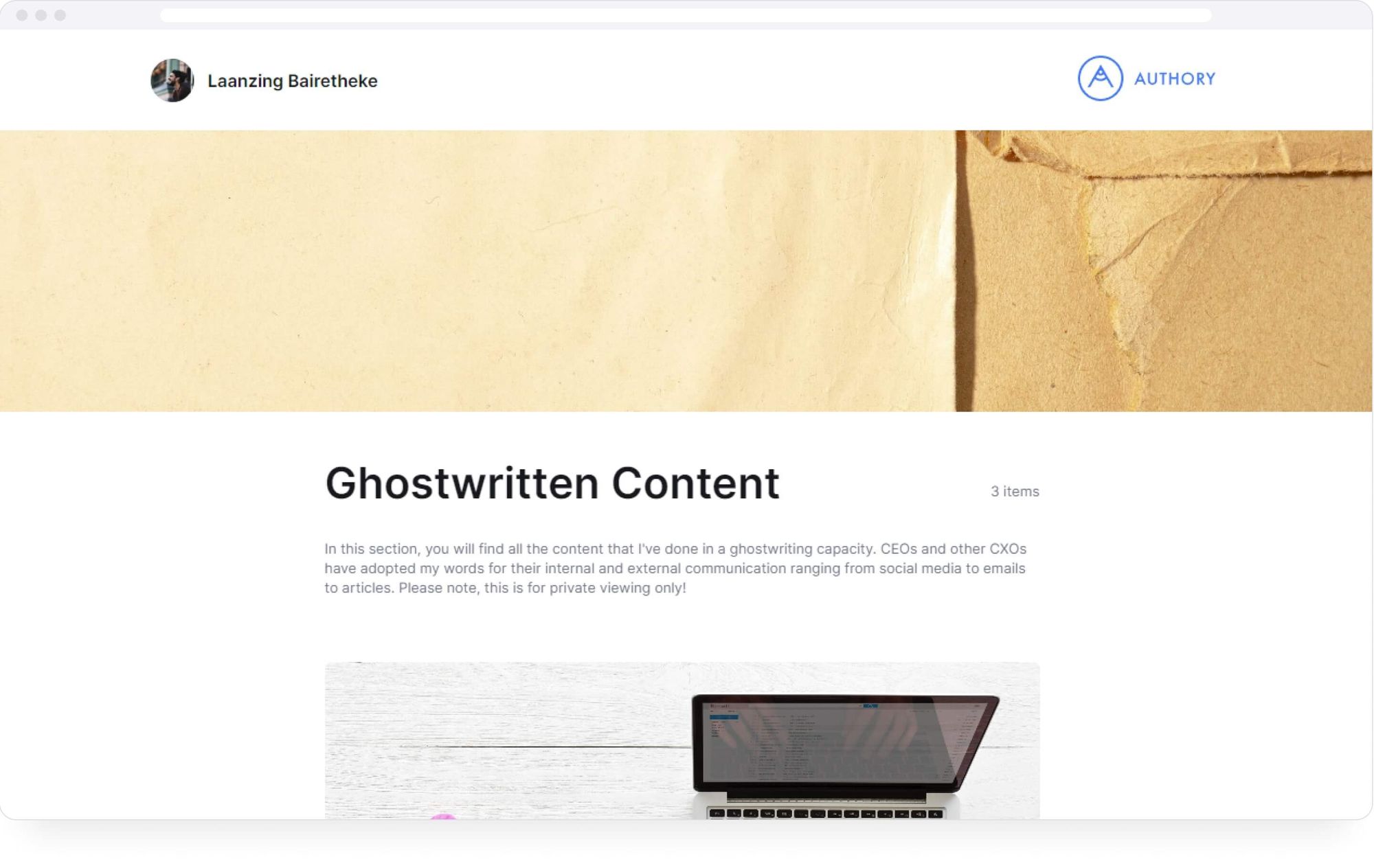 Content marketing portfolio examples
Now that we've learned how to create a marketing portfolio, let's take a look at a few marketing portfolio examples.
Deb Mukherjee
Deb is a marketer working in the DTC and B2B SaaS space and is currently the Marketing Lead at Staytuned Digital. He has opted to use collections to section out his portfolio website by content topics.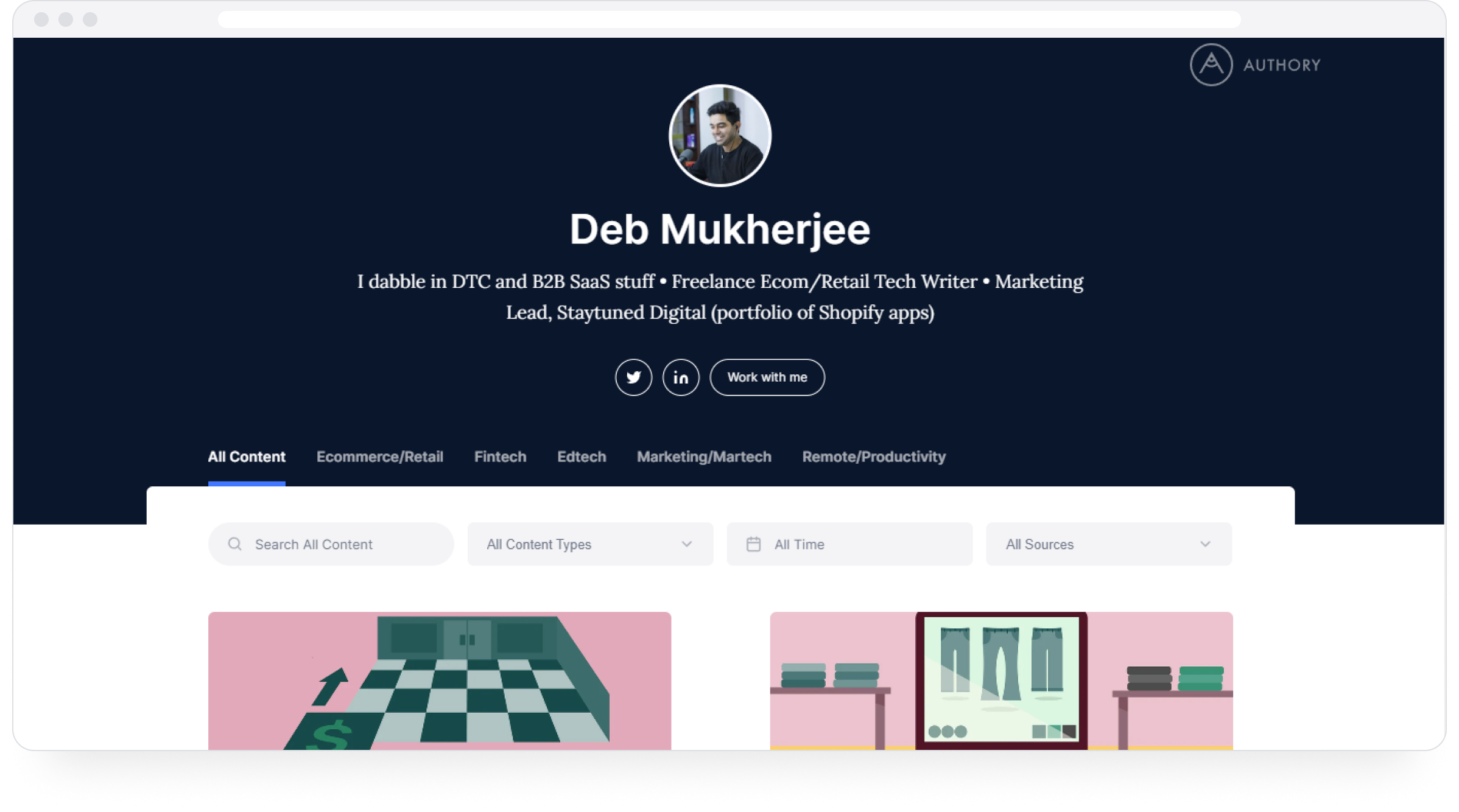 Carrie Cousins
Carrie is a content marketer with more than fifteen years of experience. She is also a designer and writer. The "Most Loved" section on her portfolio website is what really stands out!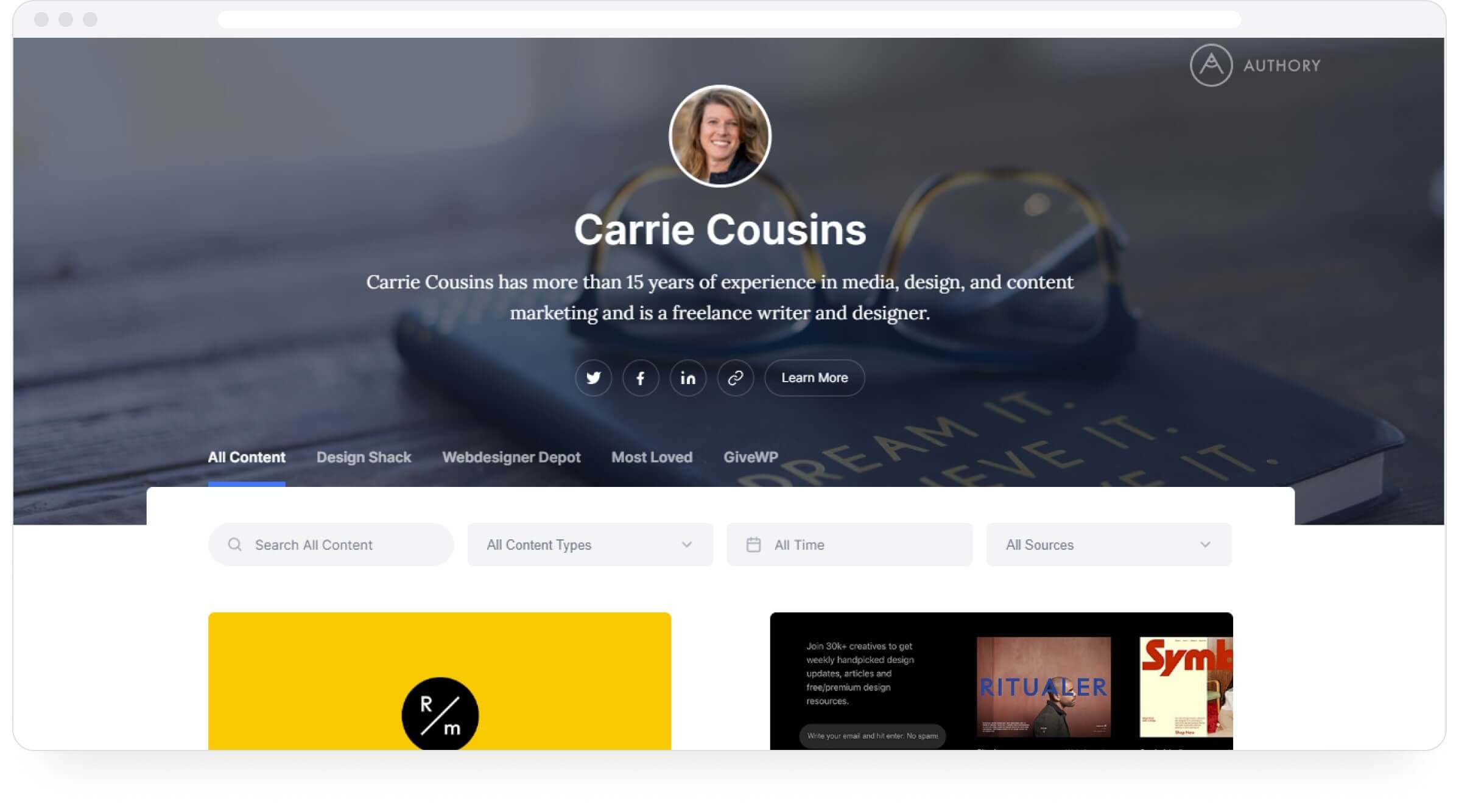 Jessica Fleming
Jessica is a writer and content marketer and her work has been featured in The New York Times, Runner's World, and more. She has gone in for a minimalist look for her portfolio website and divided her work samples into two simple sections: "Essays" and "Content Marketing."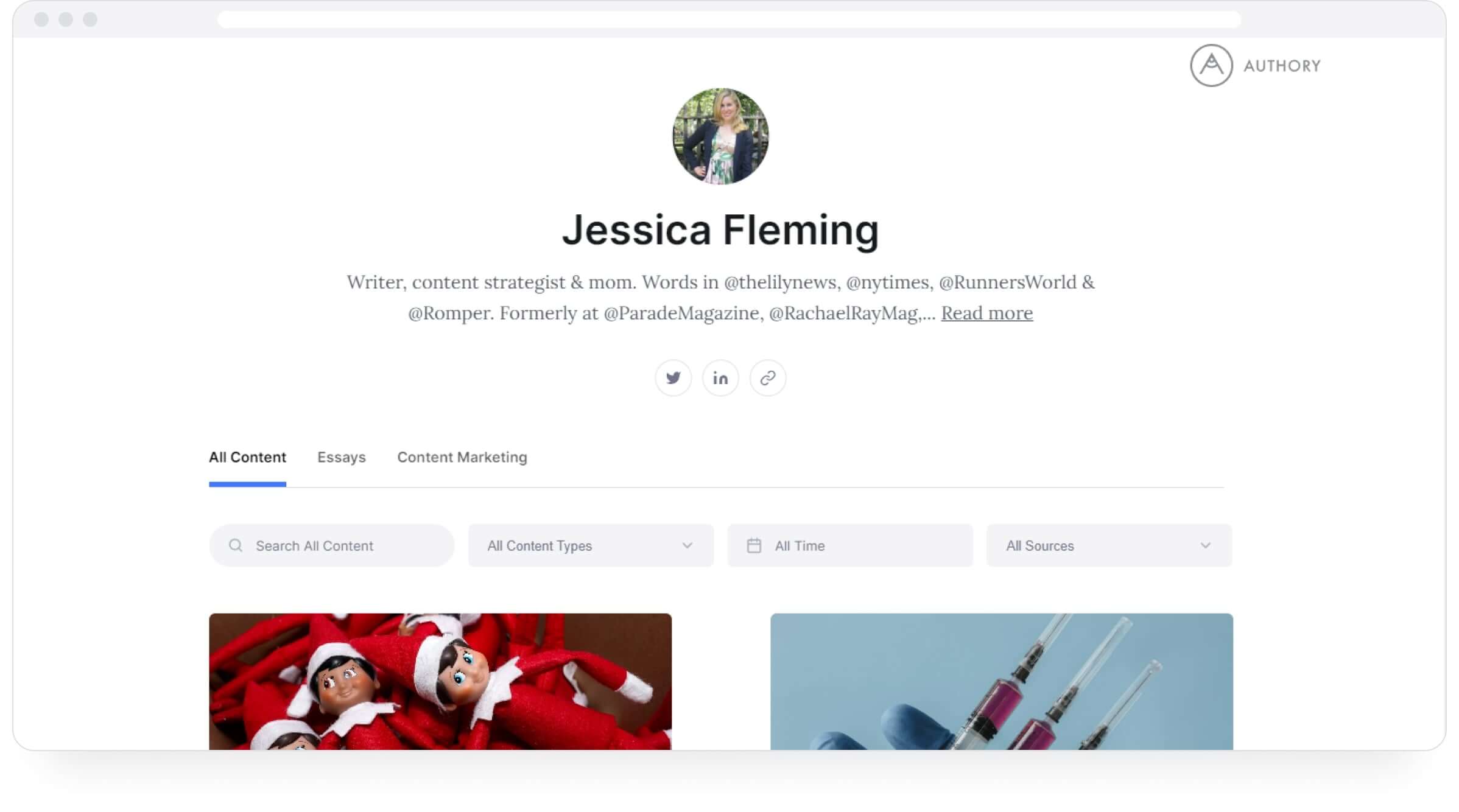 Pam Moore
Pam is an award-winning freelance health and fitness journalist and content marketing writer with over ten years of healthcare experience regularly contributing to The Washington Post and has also written for Time, The Guardian, Forbes, and many others. Her digital marketing portfolio has numerous sections and she's made full use of Authory's collection feature.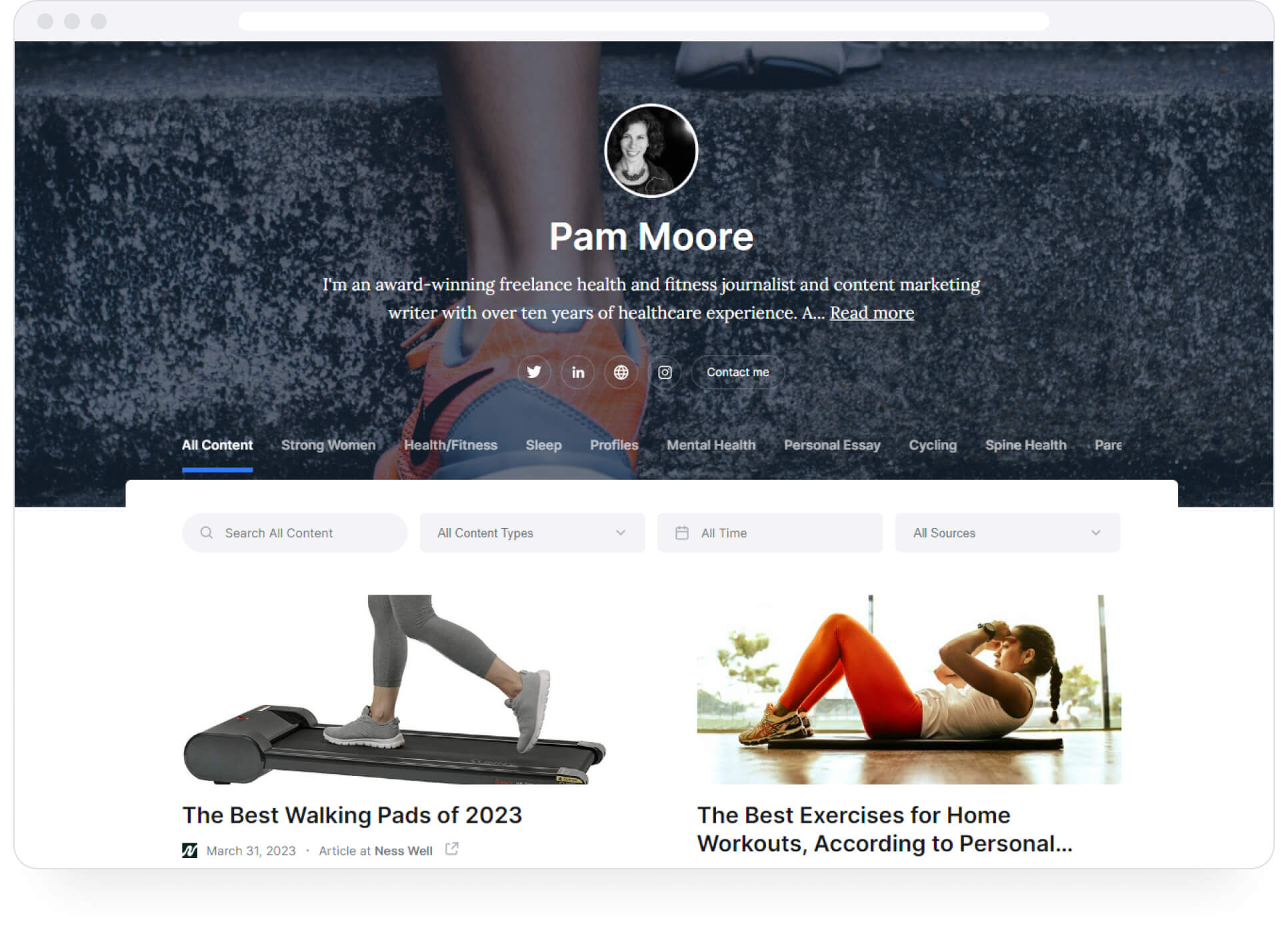 Keith Reid-Cleveland
Keith is a writer/editor with over seven years of experience working with content marketing, content strategy, and copywriting. Keith hasn't used any collections on his digital marketing portfolio, instead relying on Authory's search and filter functionality for easy access.

Content marketing portfolio FAQ
What is the purpose of a content marketing portfolio?
The purpose of a portfolio website is to solicit work from potential clients and employers. It's also a record of all the work you've done in your career.
What should go in a content marketing portfolio?
An online marketing portfolio page should showcase not only your best work but also all your work. It should have a great "about" section, collections for organizing your content, and search functionality. It's vital to consider this when choosing an online portfolio builder.
What are the tips for developing a great content marketing portfolio?
Depending on the type of content marketer you are, you'll want to showcase work samples to that effect. Thus, your portfolio should showcase social media posts if you're a social media marketer, videos if you're a YouTube marketer, and so on. That said, you must have all your content on your portfolio website organized such that it's easy for your prospects to go through it.
How do I create a marketing portfolio?
Use a portfolio website builder like Authory. Authory will not only give you an eye-catching portfolio out of the box but will also back up all your online content. Authory has features like collections, search & functionality, built-in; which are essential for building the perfect portfolio page.