In my efforts to become a freelance writer after quitting my last full-time job, I discovered a few things:
Most recruiters won't get to the second page of your résumé.
Don't drink 2 cups of coffee before an interview (online or offline).
Your portfolio is your primary identity to prospective clients.
The third realization, in particular, drove me to look for the best tool for a professional portfolio website that would attract most recruiters' attention. I went through quite a few options before I chose Authory.
Those research nights (again, with too much coffee) have led me to write this piece, in which I lay out a few options for anyone googling "Journo Portfolio alternative". If you want to create an online portfolio that stands out to the right people, you might pick a portfolio maker from the list below.
📖
What you'll get out of this article:
• A quick overview: What is Journo Portfolio?
• 10 Journo Portfolio alternatives you should consider
• A glance at Authory — a self-updating portfolio builder that will also back up ALL your published content
A quick overview: What is Journo Portfolio?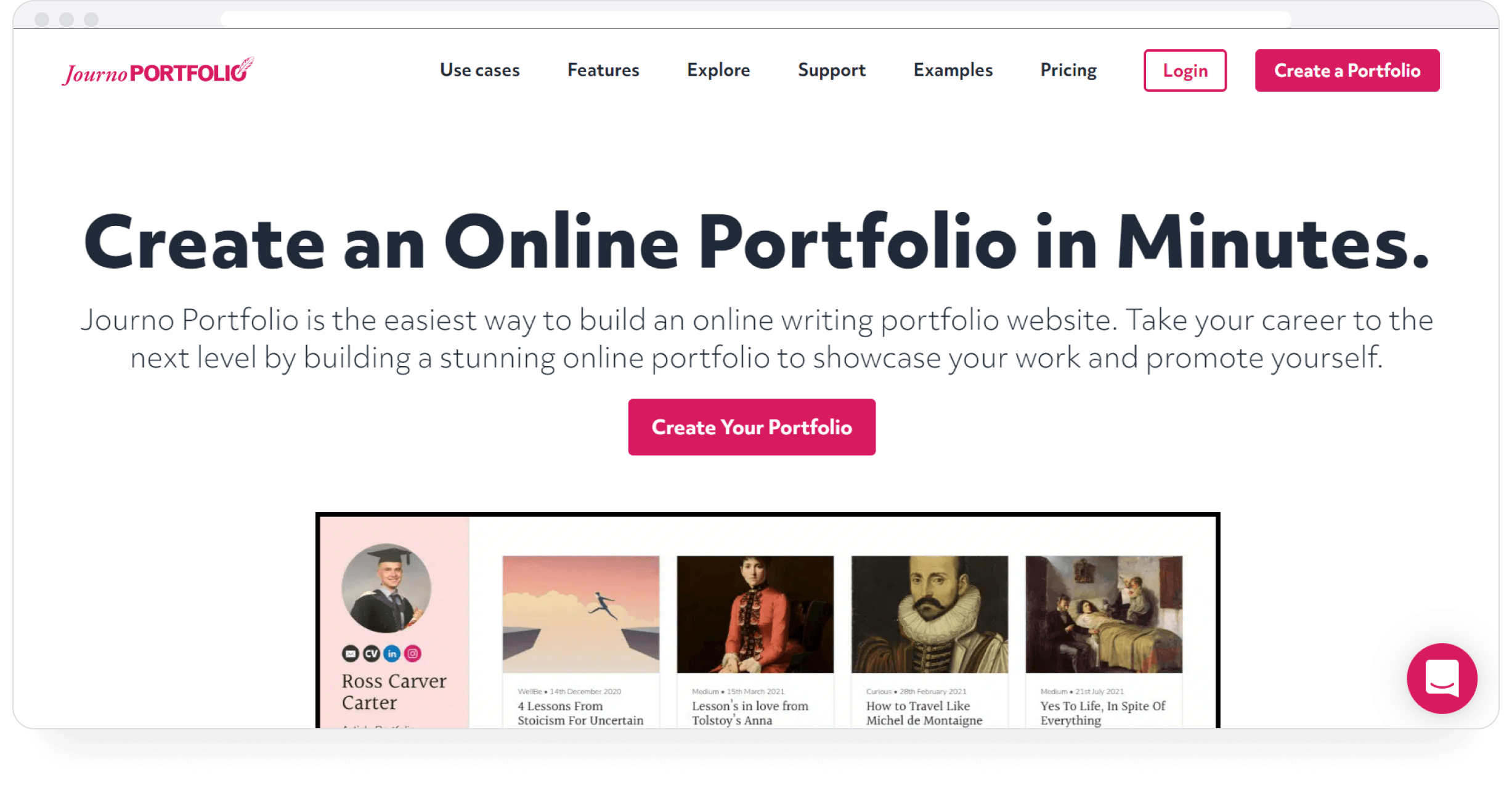 Despite having "journo" in the name, you can use this portfolio builder to create portfolio websites fit for most professions — writers, journalists, copywriters, photographers, artists, illustrators, designers, etc. According to their site, over 250,000 people have used Journo Portfolio to create their online portfolios.
Standout Features of Journo Portfolio:
You can import your work in multiple formats: images, PDFs, online pieces, YouTube SoundCloud, Vimeo, Twitter, Facebook, Instagram, etc.
When creating an online portfolio website, you can choose from a library of pre-design sections. Combine them, play around with different elements, and you can put together a portfolio you (and your clients) will love to look at.
Good design options to customize your online portfolio websites. For example, present your work in a column or a grid, or within a blog or an image gallery.
All imported work is automatically backed up, but these backups are in the form of screenshots, not the original text/media format.
You can use password protection or use secure-link privacy options to limit access to your portfolio — either a single page or the whole thing.
You get analytics support — the tool tracks visits and engagement with your page.
You can add a contact form and social media links.
You can link with Mailchimp and your social media accounts to use Journo's blogging and newsletter creation abilities.
10 Journo Portfolio alternatives you should consider
Authory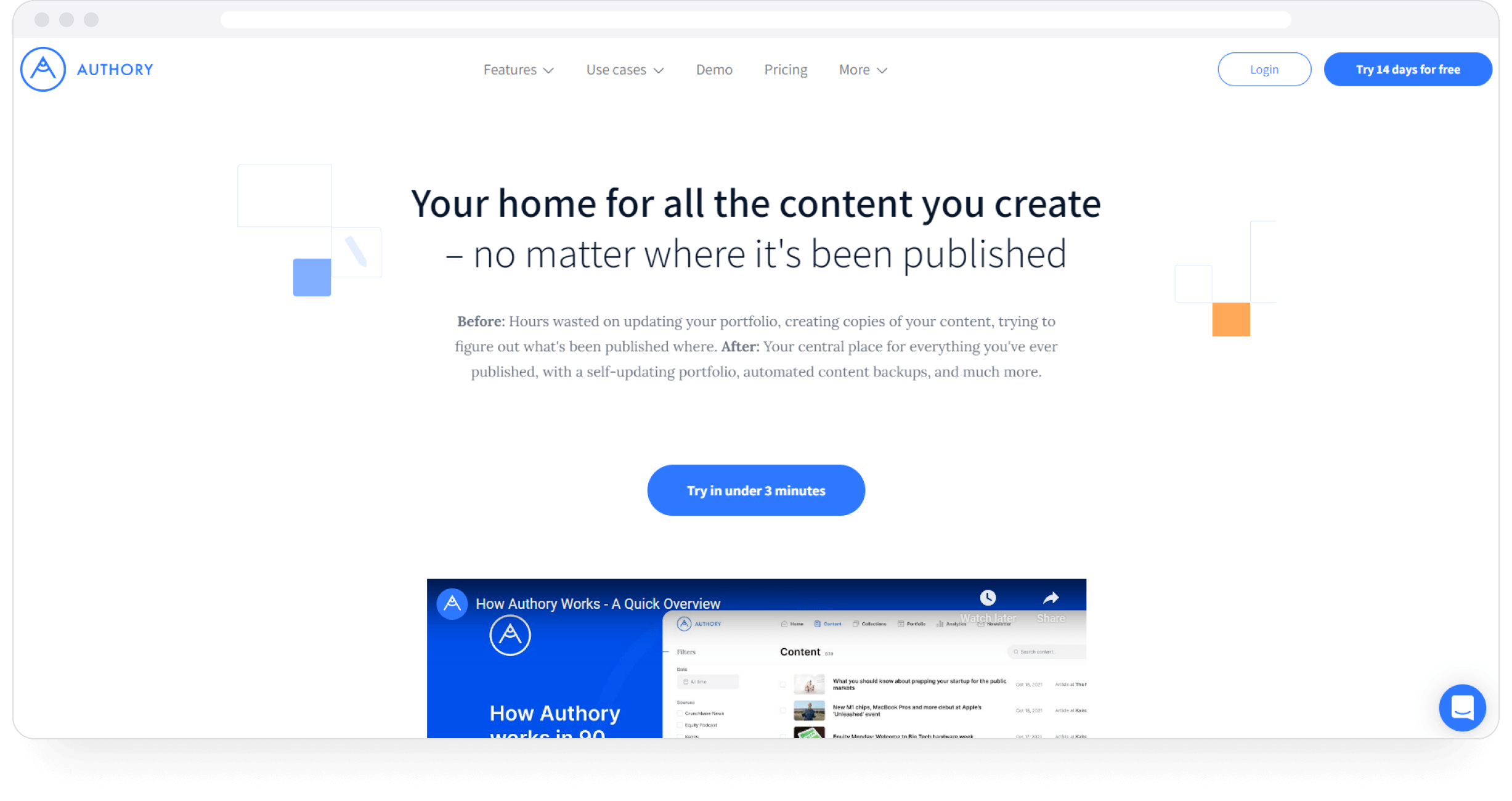 I'll start with Authory since this is the tool I chose to create my online writing portfolio. What stood out was its central feature: automatic importing of all your bylined content (text, audio, video) from any website.
Essentially, you enter the URL of the digital source of your publications/uploads, and the tool will automatically import everything published under your name. No more copy-pasting links and/or uploading files manually; Authory builds your portfolio for you.
All imported content is automatically backed up. You'll never lose your work, even if the source URL dies, is redirected, or is defunct for any reason. Unlike Journo Portfolio, the backups are in the form of the original text/media format in which it was originally published.
The cherry on top is Authory's analytics support. You get updates on how all your content fares across the internet, including popular social media sites. You can see the number of social share shares of your content every 30 days, and you don't even need to link your social media accounts for it.
Needless to say, all Authory pages are SEO-optimized and fully responsive, especially for mobile device screens.
Price: $8 per month
Example of an Authory portfolio: authory.com/DavidPogue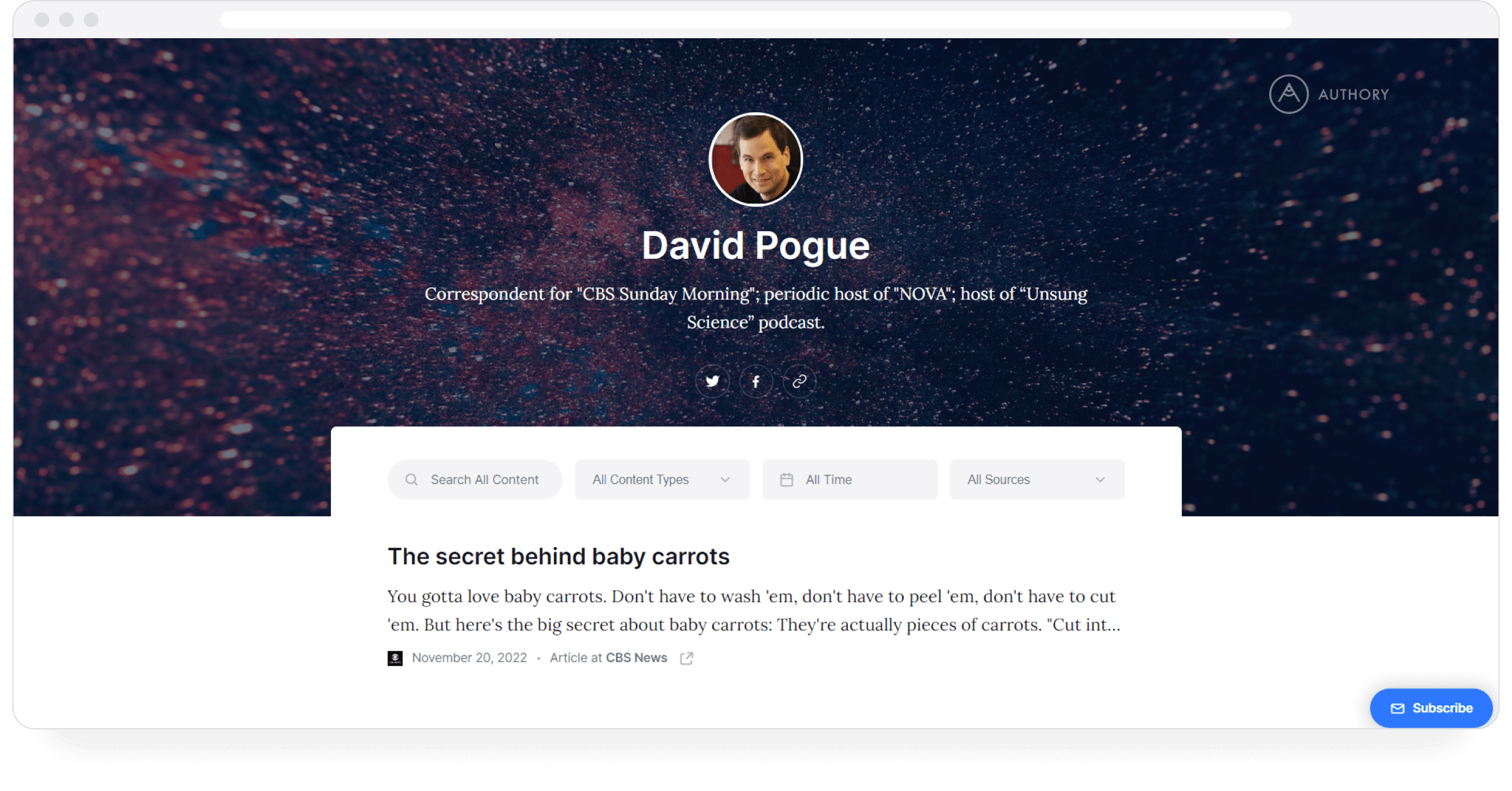 Squarespace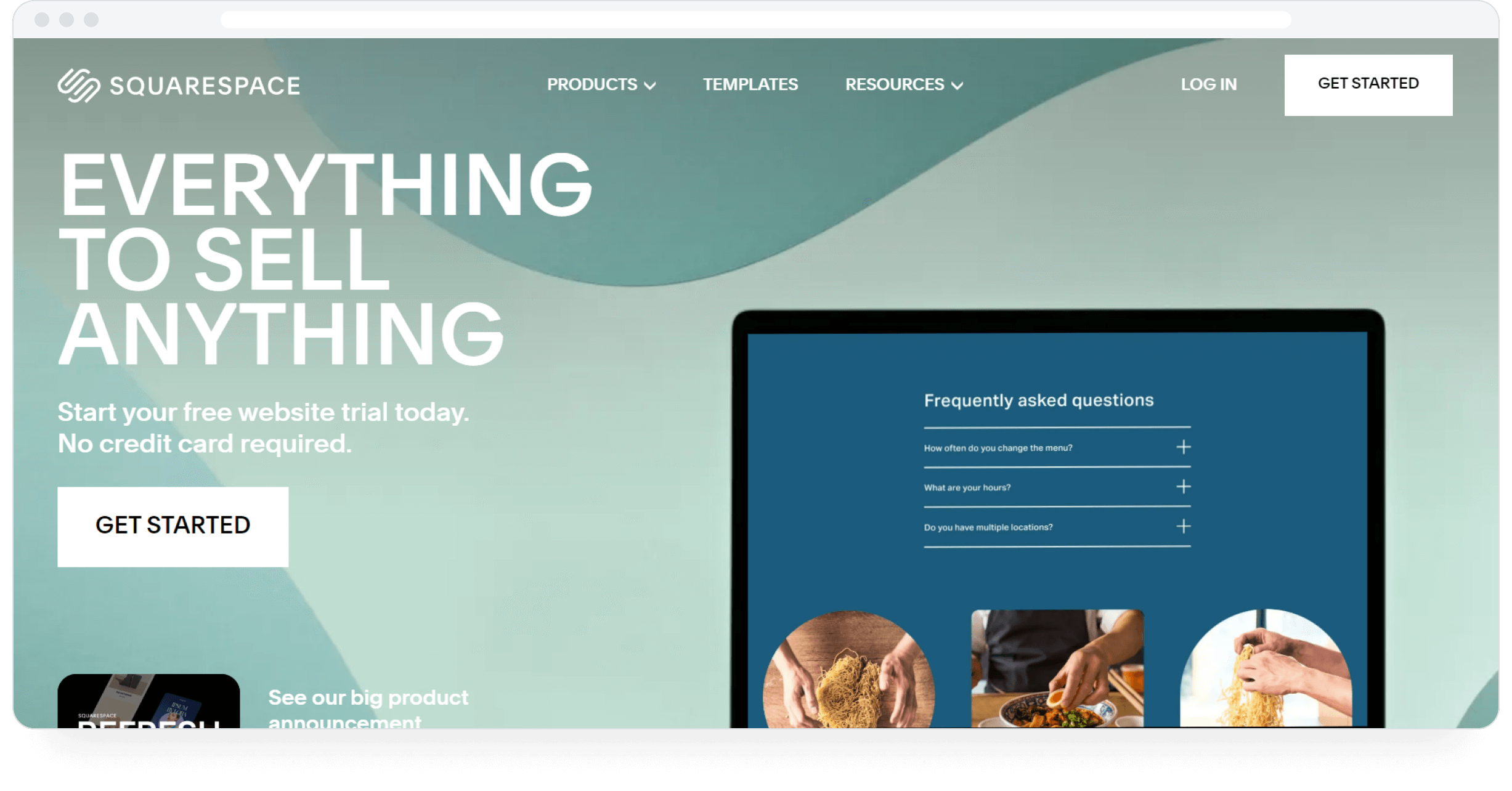 You've probably seen Squarespace feature on every "best website builder" list so far. This portfolio builder stands out because it provides some stunning templates, including online portfolio website templates.
You'll be spoilt for choice among Squarespace's minimalist, memorable designs. Each template is responsive, optimal for mobile screens. Other than displaying your work in any format you choose, you can take advantage of an in-built blog section, pre-set "About me" sections, and insert contact forms. The tool is relatively easy to use, making it ideal for creating personal websites.
You also get reasonably advanced search engine optimization features, and the ability to sell products and services right from your portfolio website.
When I tried Squarespace, it did seem like too much work to display the work of freelance writers. All I wanted to do was showcase my work over six years. I didn't need an online store, collect subscribers or any of Squarespace's advanced features.
Price: $16 per month
Example of a Squarespace portfolio: www.fuktmagazine.com
Format
If your work is visual, or you want your online portfolio to look memorably stunning, give Format a go. The tool provides templates that feature award-winning designs, and are meticulous about using white space. Quite similar to Squarespace in this regard.
All templates are optimized for mobile devices. Photographers, in particular, will get excellent use out of Format since it provides features to protect images from unauthorized usage as well as cloud storage for photos. You also get solid social media integrations.
It's quite easy to switch between templates. You can even write blog posts instantly within the portfolio itself. There are also some project management features that tend to be quite helpful.
Price: $3.50 per month
Example of a Format portfolio: www.ngareinio.com
IM Creator
IM Creator has all the essentials for building a professional online presence vis-à-vis your work samples. As with most of the previous tools, you get adaptive site templates to start with, and an intuitive editor that lets you drag and drop design elements and site sections to get the structure and appearance you want for your online portfolio.
Quick note: all IM Creator portfolio templates are optimized for mobile screens, as well as smartwatches and the Oculus. A set of handy SEO tools are also at your disposal.
There are no limits on the number of pages you can add to your portfolio, be it 1 or 1000. If you're willing to pay for the right premium plan (on the higher end of the price tag), you can get unlimited licenses, domain, hosting, and bandwidth.
Price: $8 per month
Example of an IM Creator portfolio: www.girishmenon.com
Strikingly
The builder allows quick and easy creation and publication of website portfolios. It generates all sites with HTTPS automatically, which improves data security, boosts SEO, and ends up being trusted more by browsers & actual visitors.
You can write & publish blog posts, including contact forms and e-Commerce services. You also get a view of website traffic analytics via simple charts. Run-of-the-mill features like media sliders, galleries, video backgrounds, and password protection come as part of the package.
Price: $16 per month
Example of a Strikingly portfolio: www.remijousselme.com
WordPress
Any list of website builders will include WordPress. This applies equally to portfolio website builders.
You can use WordPress to build literally any kind of website, including your portfolio. I didn't go for it because I don't need most of its features to simply showcase my work.
But if you're looking to create a rich layered portfolio that accommodates aspects like an online store, spam protection, calendars, a comment-enabled blog, role-based access management, password protection, publication schedules, and the like, WordPress is an excellent option.
You get thousands of portfolio-aligned templates to choose from, and it takes a few minutes to set up your professional portfolio with text, images, forms, testimonials, Yelp reviews, maps... the list is close to endless.
The tool provides an excellent library of easy-to-install plugins. Leverage them to collect leads, create automatic backups of your work, collect subscribers, use Google web tools, etc.
Note: WordPress does have a Free plan (with limited features), which you can use to create a free portfolio website.
Price: $4 per month
Jimdo
Jimdo is a good option to create and host your first portfolio. While its design options are more limited compared to some other tools on this list, they are more than enough for writers, journalists, and thought leaders. As long as your work isn't primarily in a visual format, you'll get what you need from Jimdo.
The templates are appealing enough, but definitely don't stand out as much as those provided by Squarespace or Format do. You can switch between templates, and use Jimdo's mobile editor and ADI builder to configure and set up your portfolio.
Jimdo's SEO tools aren't the best in the domain, but good enough to start with. But there's an 'automatic SEO' option that will fill in basic information (SEO related) for you. You also get a free logo and a free custom domain for your first year on Jimdo.
Last but not least, Jimdo portfolios can integrate easily with popular social media sites.
Price: $9 per month
Example of a Jimdo portfolio: katjakemnitz.de
Writer's Residence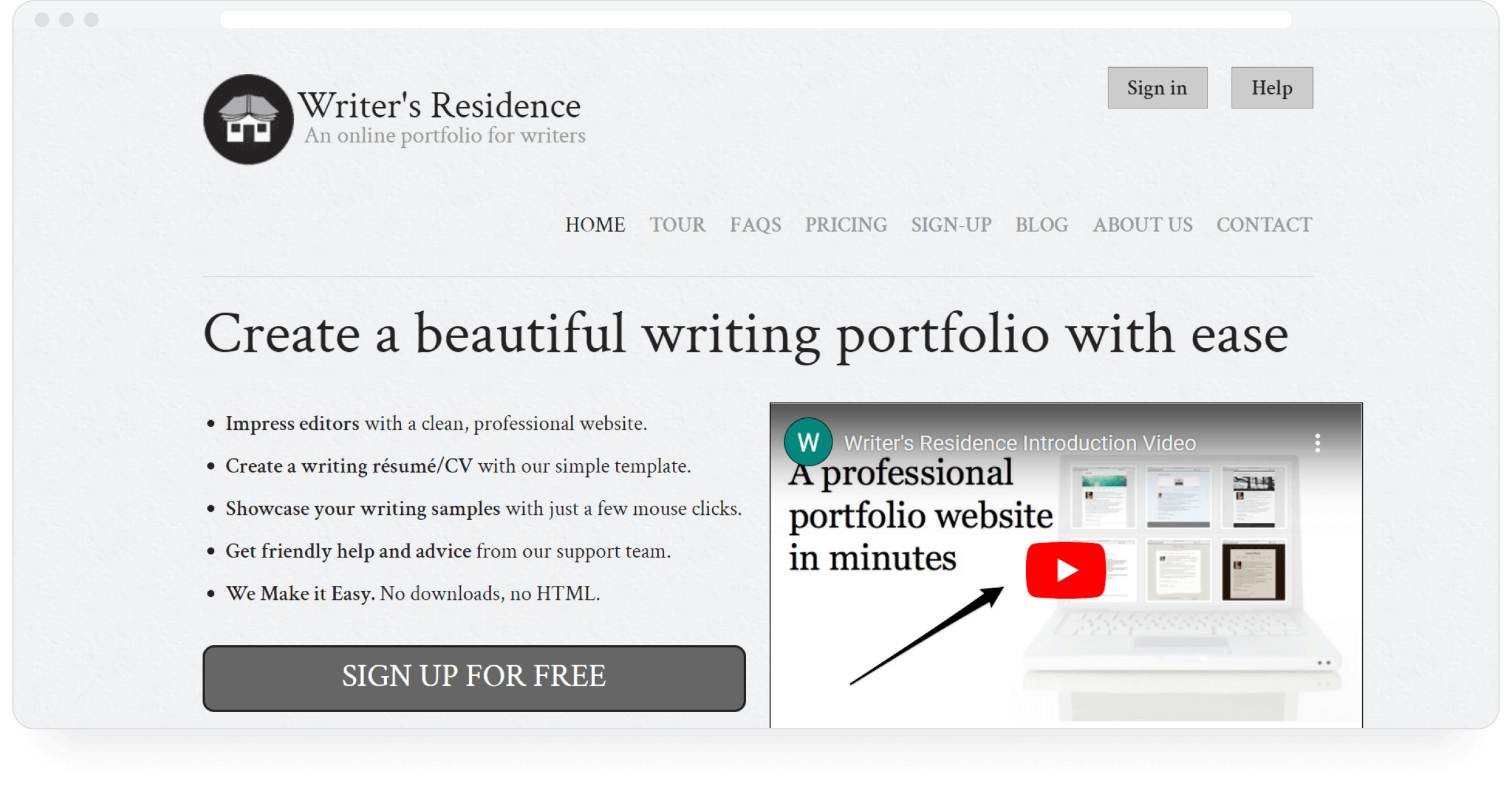 When freelance writer Monica Shaw found that existing portfolio builders didn't offer the features necessary for creating her niche, she took matters into her own hands and launched Writer's Residence.
While there are multiple portfolio builders available now, this one is still a good option for your first profile. You choose one of the tool's own themes out of its theme library or pick one of your own images. Then, copy-paste/upload your work, categorize or arrange them as you see fit, and you have your portfolio website.
Price: US$8.99
Example of a Writer's Residence portfolio: lauradavis.writersresidence.com
Writerfolio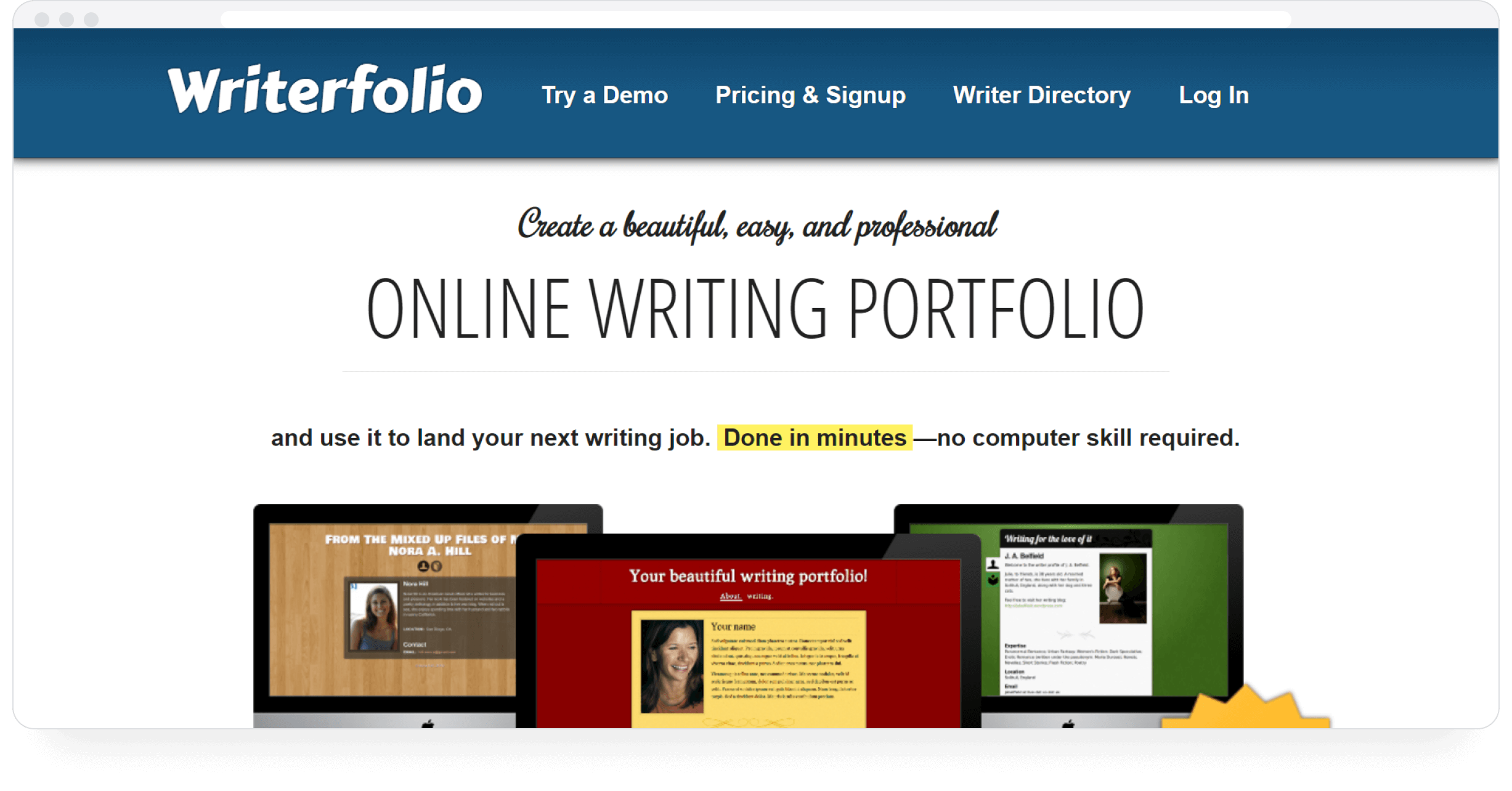 Used almost exclusively by writers, Writerfolio is another portfolio builder ideal for creating your first portfolio website. It is the very definition of "straightforward." You get very few features and design elements to work with, but you can upload an unlimited number of attachments as work samples. You also get quite a few themes, and the setup process is quite simple.
Quick note: You can try a free demo of the tool without having to sign up.
Price: $4 per month
Example of a Writerfolio portfolio: jeanniegraham.writerfolio.com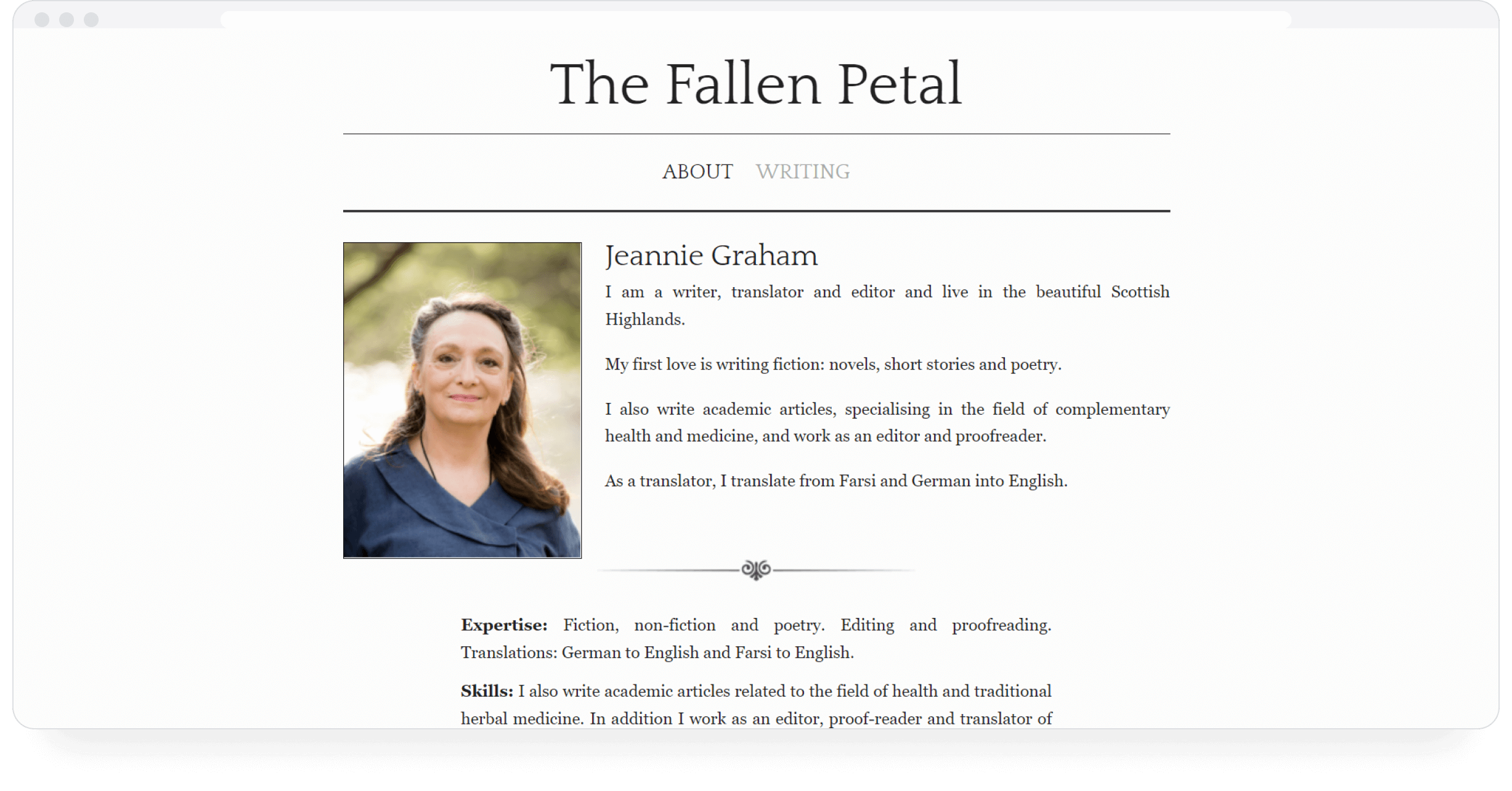 Portfoliobox
Designed to create portfolios alone, this tool comes with an impressive range of design options & elements, including a fairly intuitive drag-and-drop editor that lets you play around with said options.
Portfoliobox is adequately customizable and offers additional abilities like password-protection of individual pages, watermarking apparatus, intuitive gallery sections, and a blog you can launch with a single click.
I'm not too sure about the SEO and marketing capabilities of this portfolio builder, so I'll also add this under the "great for your first portfolio" header.
Price: $3.50 per month
Example of a Portfoliobox portfolio: www.creatureintl.com
Why I chose Authory — a tool that automatically imports all my work online and backs it up permanently?
I kinda answered the question in the question itself, didn't I?
Honestly, when I realized Authory would build my portfolio while I drank my 5th coffee of the day (yes, I have a problem), I didn't see a reason to look further. While a tool like Journo Portfolio could do the same, I also preferred the fact that Authory backs up my work in the original format it was published in, not as screenshots.
It's also great to be able to see how my work is received, interacted with, and shared on social media, via Authory's analytics feature.
A few other features I didn't mention above:
Simple but dynamic customization options to customize your portfolio's aesthetics. Yes, there are pre-set designs (you can upload your own banner image), but whatever you do with them ends up looking really good.
Download your content as high-quality PDFs. No lock-in period.
Export your content as HTML files if you choose.
Email notifications every time Authory imports a new article.
A newsletter creation tool that automatically sends out newly published content to your subscribers.
Widgets to display your portfolio on other websites (such as your personal website if you have one).
All this for $8 a month. Needless to say, it turned out to be a great deal.
If you're curious, here's my portfolio on Authory: authory.com/shreya-bose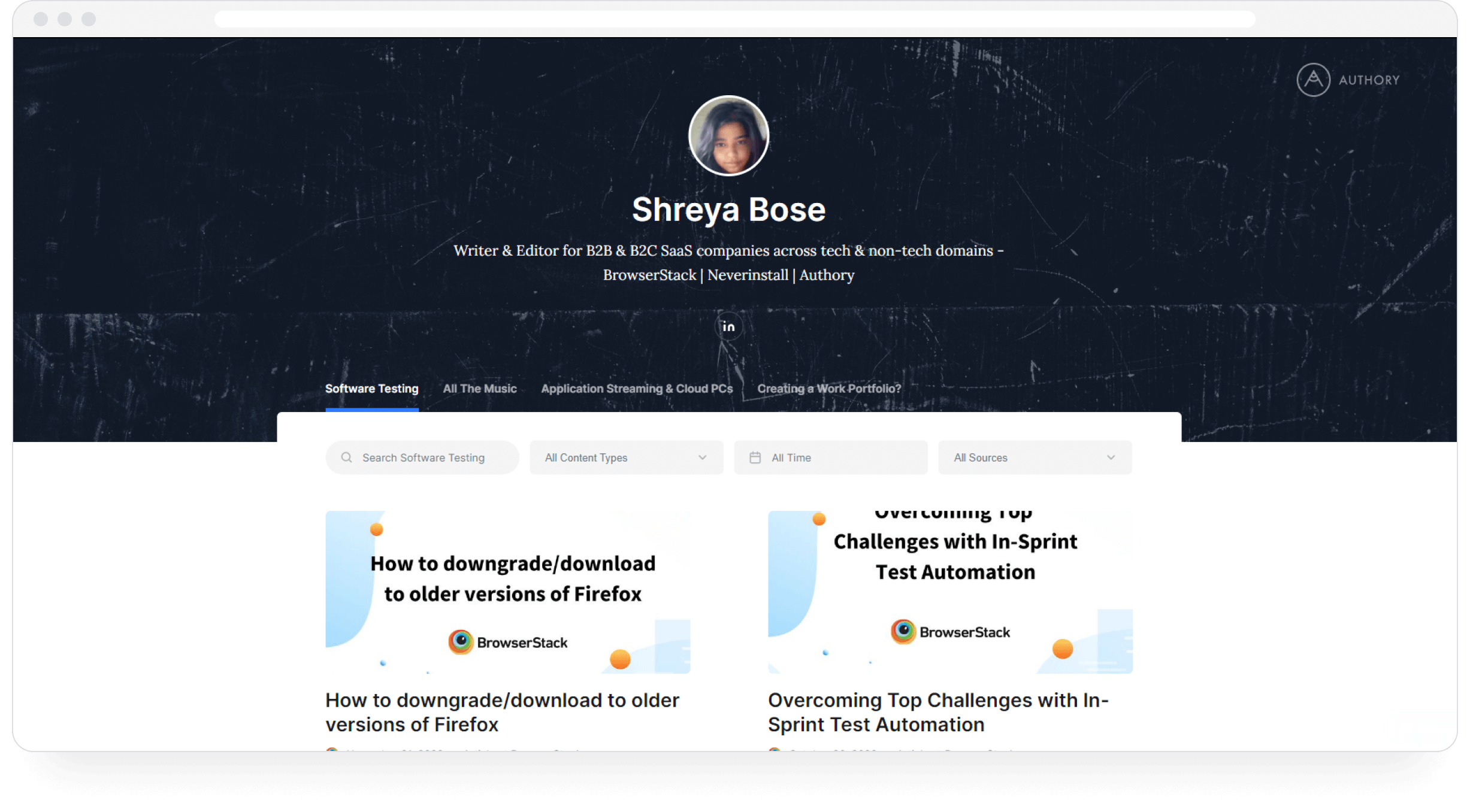 Of course, it's natural that you'll still have doubts. I certainly did when I came across Authory. So, I tried their 30-day free trial, and only when I was convinced that the tool met all my needs did I sign up for a paid plan. Why not try the same?