Content creators come in all forms: writers, journalists, social media influencers, video creators, artists, graphic designers, musicians, podcasters, and more. And in 2022, content creators will have the tools and platforms to shine even more.
And with so many folks with access to computers, software, and content creation solutions, there's far more competition than ever before.
Hence, to have a sustainable career doing your art, you must stand out from other equally talented creators. And that's where a résumé — just a list of your accomplishments — cannot go into the details of your work to showcase what you're really about, the quality you possess, and the creative brilliance behind your achievements.
That's where a content creator portfolio puts your creations — whether it's your writing, video, podcast, art, or more — front and center, making it possible for prospective clients to learn about your expertise and thus making it easier to solicit work.
Let's dig deeper into what makes a great portfolio and look at our handcrafted list of six brilliant content creator portfolio examples.
Why should I make a content creator portfolio?
Showcase your work
An online portfolio is a vehicle for showcasing your work to potential clients and employers. Say, if you're a writer, you may want to demonstrate the various niches and publications you've written for. If you're a journalist, you may like to feature the vast volume of content you've created over the years. And if you're into content marketing, your portfolio is an example of your work samples, your current knowledge of algorithm trends, and the results achieved.
Whatever your medium of choice, a content creator portfolio unites all your work in one coherent, comprehensible format for clients to peruse.
Source clients and projects
The main reason to showcase your skills in an online portfolio is so that you can get more work. Portfolios are an excellent method of flaunting your creative projects and services to potential clients and employers.
Build your professional & personal brand
Building a portfolio is also an exercise in building your professional and personal brand. This can be important because the better your brand, the likelier you are to attract the right kind of clientele for your services.
For example, recognized journalists have a wider readership, which lets them put their writing in front of more people.
Protect your work
Creators worldwide have lost access to their projects overnight when a tool or platform deems that their work has violated some inane rule of theirs. Video creators have lost access to their YouTube channels, and marketers have found their personal Twitter accounts suspended. It's important to remember that even if you've been creating content for these channels, these mega corporations ultimately hold the keys to all your content.
That's why it's super important to back up your work. And portfolios can be an excellent way to secure, protect, and safeguard your career. A solution that lets you exhibit your skills and insulate yourself from the vagaries of the web is ideal.
You spend so much time on content creation which is the bread and butter of your trade, that you need the free headspace to create and be creative. Backing up needs to be automatic and off your head. More on this later.
---
🖱️
Authory is, amongst other things, a portfolio builder & content backup service, used by thousands of top professionals worldwide.
Get started for free now.
---
Where can I create a content creator portfolio?
A portfolio needs to look aesthetically pleasing (read: have excellent design sense), load quickly, present all the information in an organized and professional manner, and be easy to parse through.
Depending on your industry, there are various online resources to consider. Sites like WordPress, Notion, Medium, and Wix are great if you want free no-code options. That said, these can take time to set up.
If you're a designer or someone who works in web design, Behance, Dribbble, and Adobe Portfolio are great options.
For writer portfolios, there is Muckrack and Authory. Along with a self-updating portfolio, Authory also backs up your work!
But first, let's look at some stunning portfolio examples for inspiration.
Content Creator Portfolio Examples
Curating a list of fantastic content creator portfolio examples is a joyous but arduous task, as there are so many wonderful creative humans on the planet!
To that end, we've endeavored to cover various creative industry folks from writing, journalism, social media, videography, content & digital marketing.
Geoff Whiting's Writing Portfolio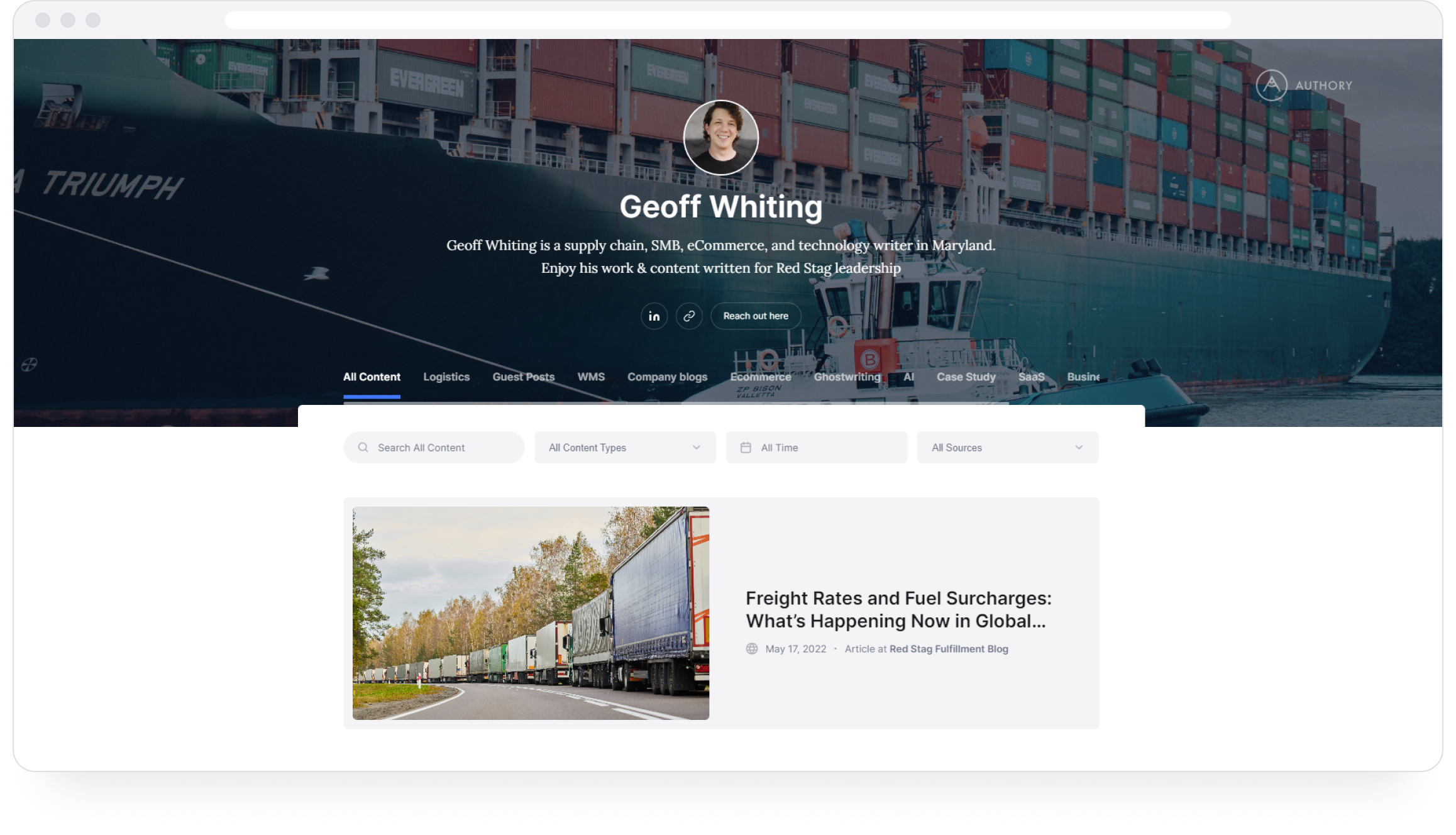 Geoff Whiting is a supply chain, SMB, eCommerce, and technology writer. He has curated his portfolio into collections that really showcase the range of the work he does. Notably, he has collections called "Guest Posts" and "Ghostwriting" — something many freelance writers will be looking to add to their portfolios. What's more, he has a collection of case studies (appropriately tucked under a collection called "Case Study").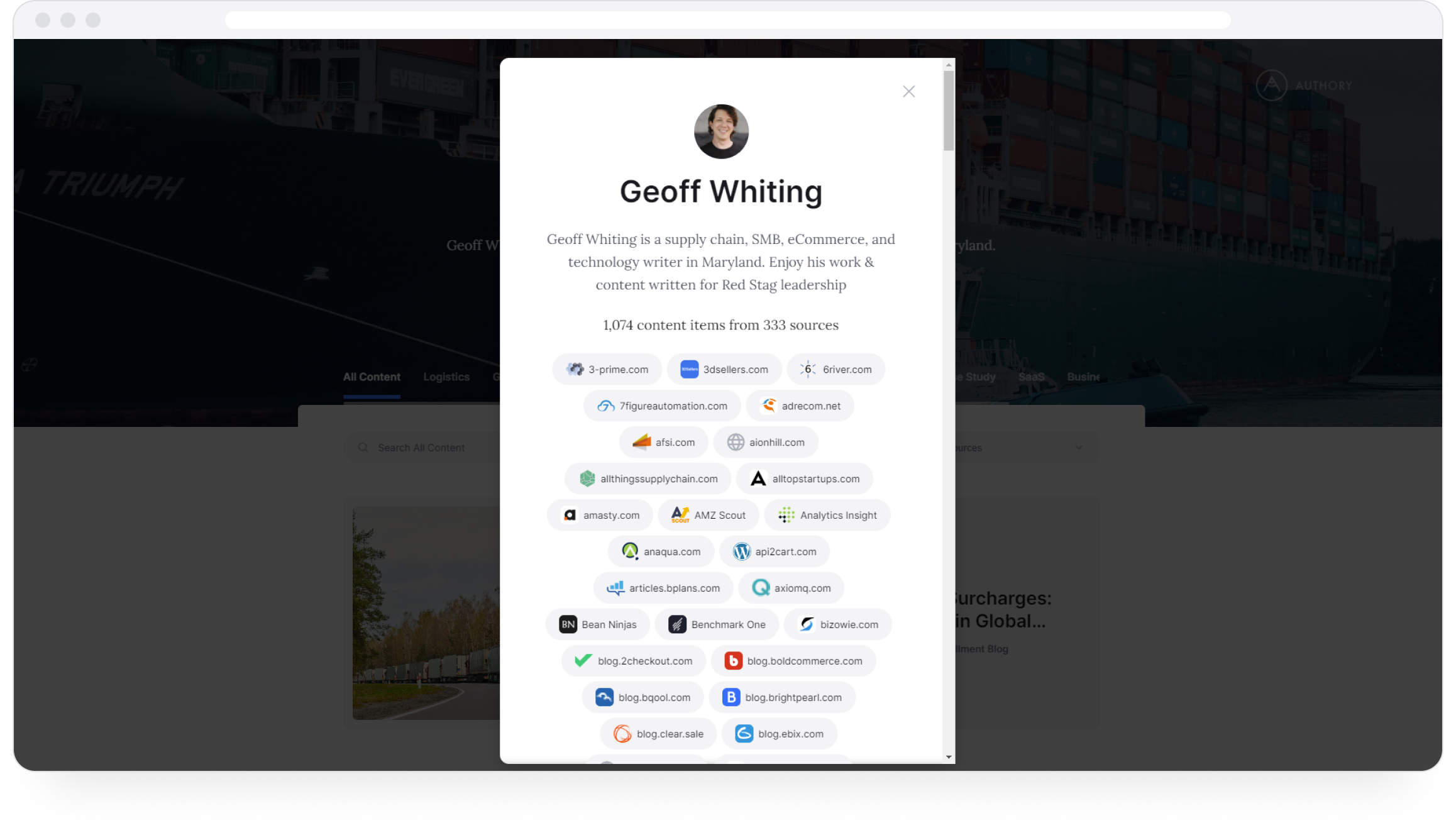 Geoff also has uploaded writing from 333 sources — another excellent representation of how you can showcase your entire career via a portfolio.
To learn more about how to make a writing portfolio, read this extensive guide on the subject.
To see more examples of writing portfolios, check out this in-depth collection of the top writing portfolios from around the world.
💡
Key Takeaway: Divide your portfolio into organized well-thought-out collections so that it's simple for your audience to traverse through your work. Also, don't be afraid to include ALL your work as long as can display it in an easily parsable format.
David Pogue's Journalism Portfolio
David Pogue, a renowned tech journalist, and best-selling New York Times author, has written or co-written more than 120 books. He had a weekly tech column for the New York Times for thirteen years, and among his many honors and accomplishments are his six Emmy wins.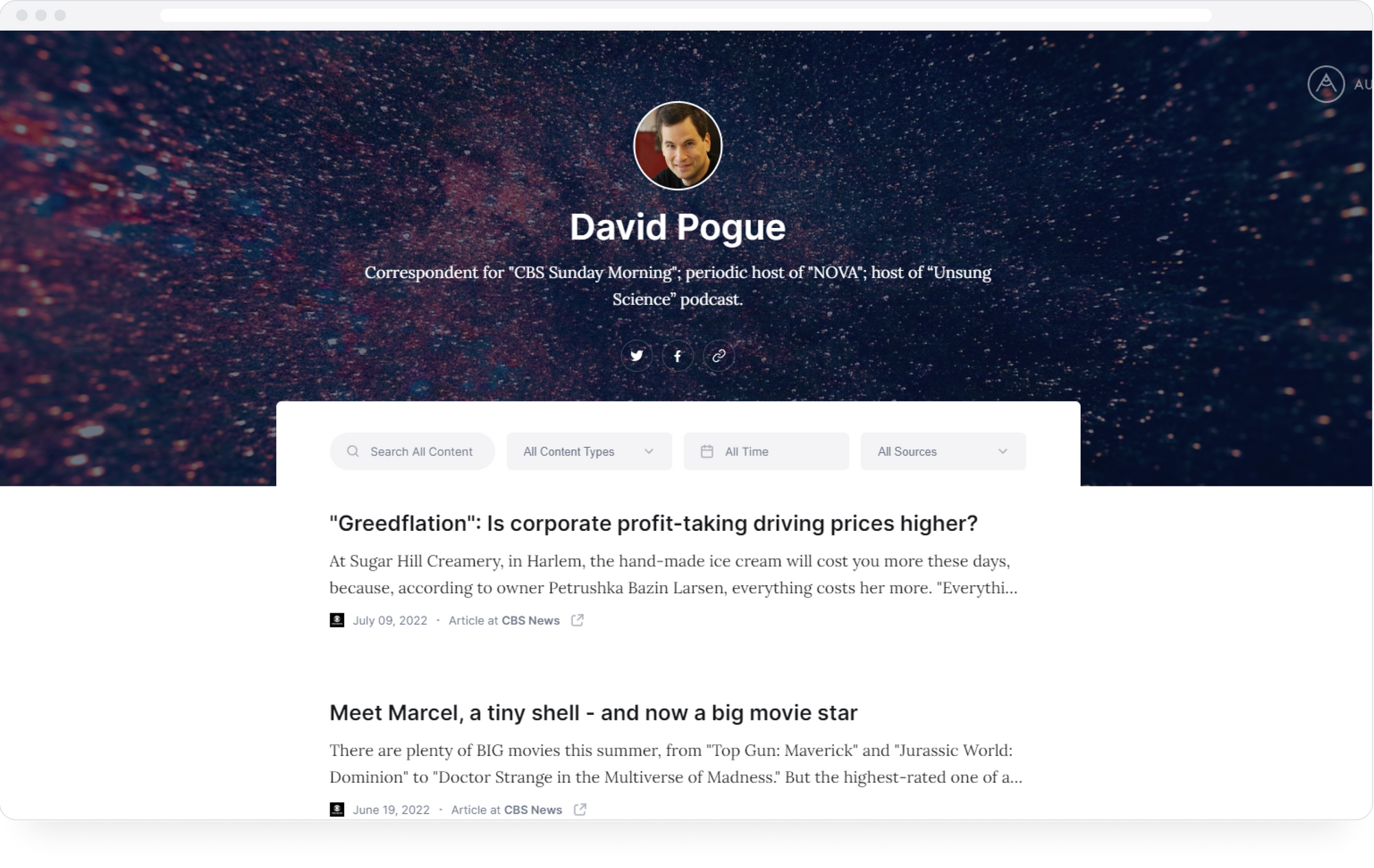 David required a solution to notify his followers on the different platforms where he is active that he had published new content. He uses his portfolio to send out newsletters to his audience — a brilliant way to build on his already impressive personal brand!
---
🖱️
Authory is, amongst other things, a portfolio builder & content backup service, used by thousands of top professionals worldwide.
Get started for free now.
---
Read our comprehensive guide here to learn more about making a journalism portfolio.
💡
Key Takeaway: Use your portfolio to enhance your brand reputation by connecting with your readers.
Bruce Kasanoff's Social Media Portfolio
Bruce Kasanoff is a social media ghostwriter for leading entrepreneurs and a LinkedIn Influencer with over 850,000 followers who appreciate his grounded tips on "doing well by doing good."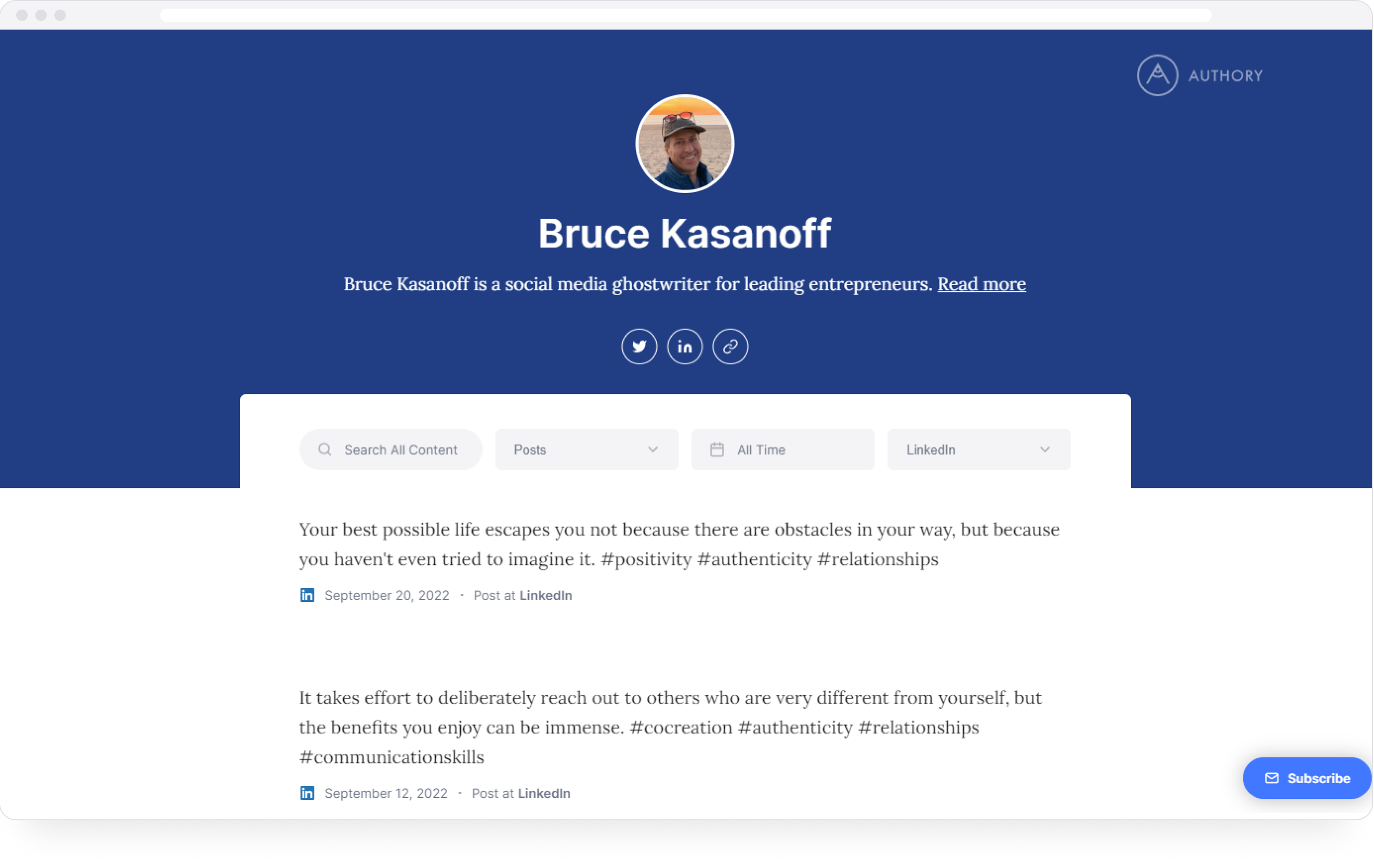 Bruce's portfolio primarily showcases his LinkedIn and social media work, and he also has work from Forbes and Medium on his portfolio.
For more information, read this guide on how to build the perfect social media portfolio.
💡
Key Takeaway: It's a great idea for social media marketers to create a portfolio even when it's for ghostwritten content.
Marijana Kostelac's Digital Marketer Portfolio
Marijana Kostelac is a digital marketer who has worked for ConvertKit, Shopify Plus, Hotjar, CoSchedule, and other top B2B SaaS firms covering marketing, e-commerce, and analytics. She's also the founder of the Freelance Bold library of tools for aspiring independent authors.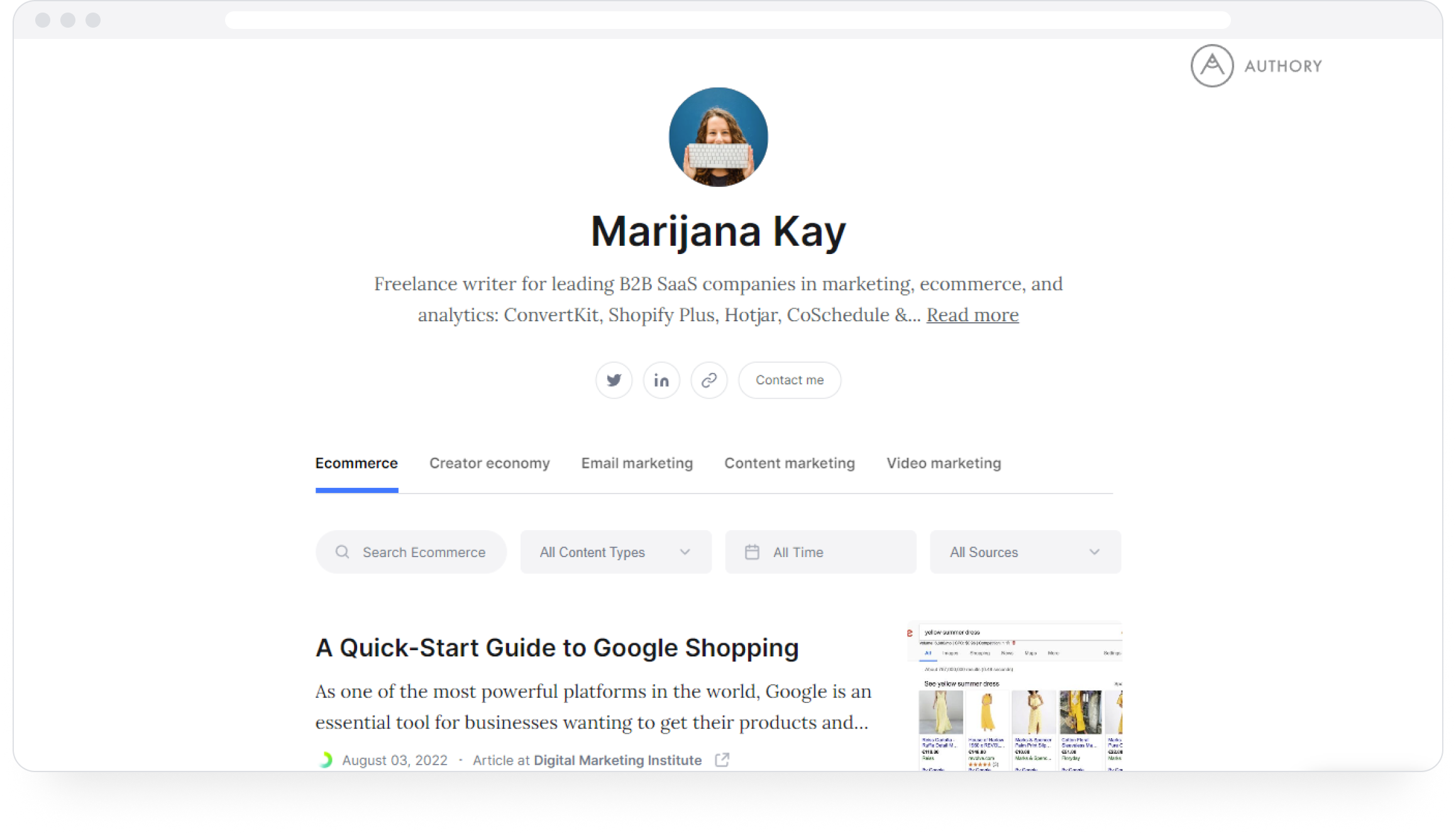 Note how Marijana has divided her portfolio into sections that a marketing professional should definitely consider, especially email marketing, content marketing, and video marketing.
This exhaustive guide on building the perfect digital marketing portfolio is an excellent resource for further study.
💡
Key Takeaway: An excellent portfolio must be curated into collections relevant to your audience. It gives you the option to share specific collections with prospects.
Jorden Makelle's Video Portfolio
Jorden Makelle is a YouTube influencer with 51.8K subscribers. She talks about freelance writing, creative writing, entrepreneurship, books & reading, and creativity & self-development. She's also a musician!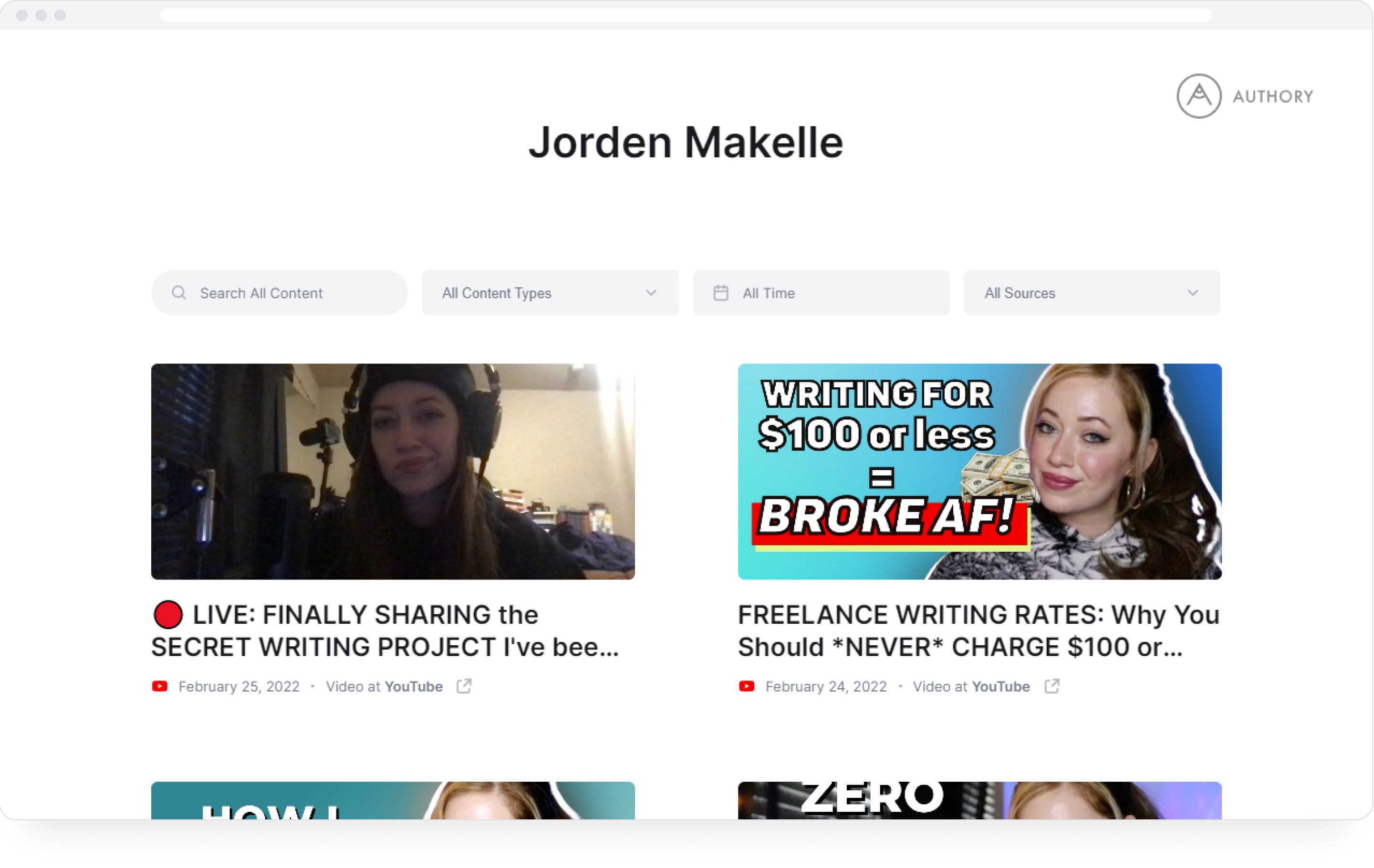 Jorden has used Authory's content backup service to back up her YouTube channel. So, along with a portfolio, she has peace of mind!
💡
Key Takeaway: You don't own the content on platforms like YouTube, LinkedIn, Twitter, Vimeo, Facebook, Instagram, etc. and hence, you must look to back up these channels if you're a social media marketer.
Deb Mukherjee's Content Marketer Portfolio
Deb Mukherjee is a content marketer in the DTC and B2B SaaS industry and also works as a freelance e-commerce/retail technology writer.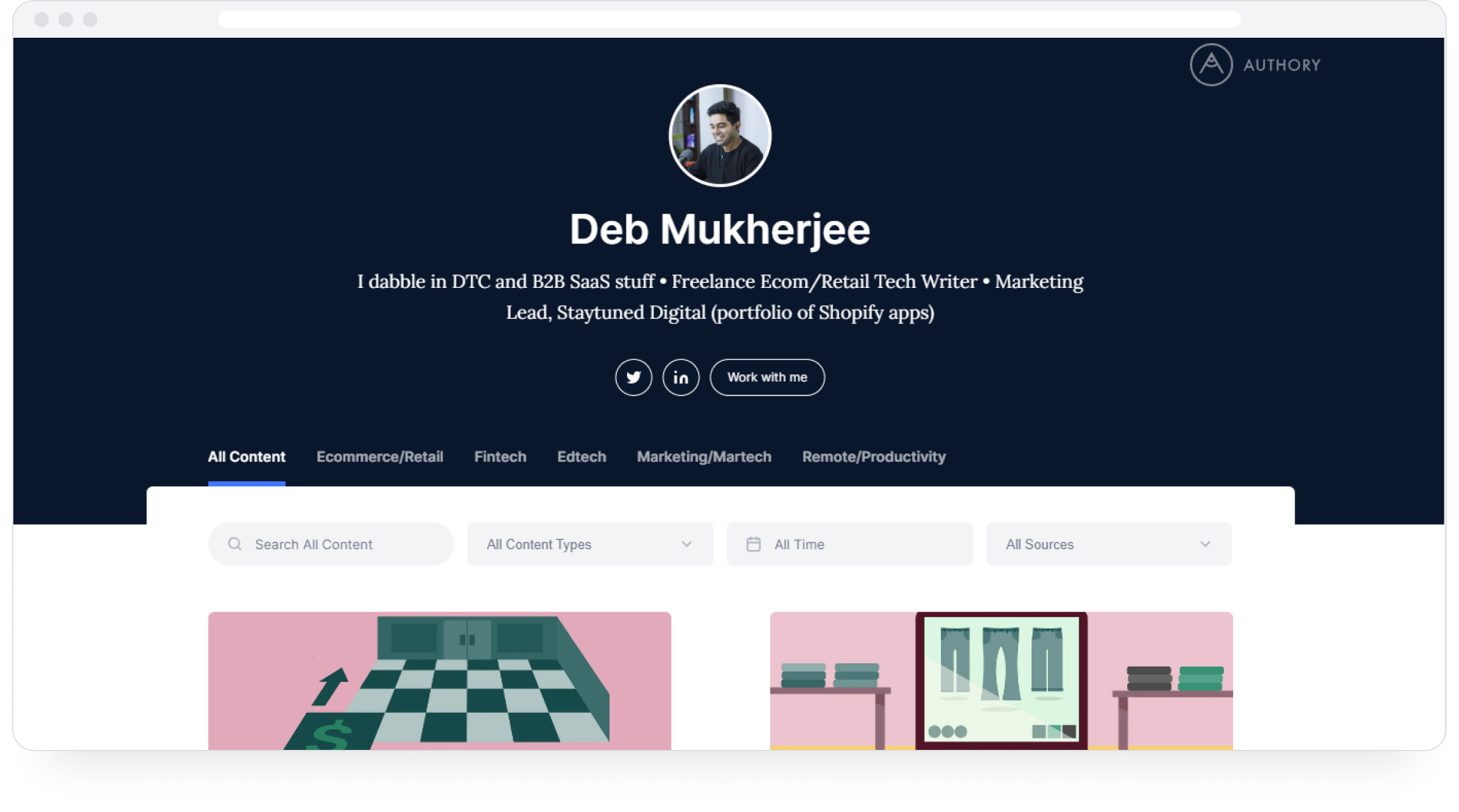 Deb has sectioned his portfolio by industry: e-commerce/retail, fintech, edtech, marketing/martech, and remote/productivity. This allows him to showcase all the various brands he's worked for.
Read this article for a deep dive into creating a stunning content marketing portfolio.
💡
Key Takeaway: As a content marketer, it's advisable to show off the brands you've worked for along with showcasing your content creation.
---
🖱️
Authory is, amongst other things, a portfolio builder & content backup service, used by thousands of top professionals worldwide.
Get started for free now.
---
Content Creator Backup
As mentioned before, though you may be creating content that resides on channels like YouTube, LinkedIn, or on websites where you've published content, you always risk losing access to this content.
Websites get shut down; content is re-bylined, YouTube decides your channel has violated an obscure rule, etc. Hence you must back up your content!
That's where a solution like Authory, which automatically backs up all your online content, has to be a vital part of your toolkit. With Authory, you can back up YouTube, Vimeo, Twitter, LinkedIn, Medium, and other writing you may have done and back up audio content like podcasts.
To learn more about how to do this, read this detailed guide on saving all your content forever.
Are you looking to create a portfolio?
There are many tools online that let you create a portfolio, but there's only one that also backs up your content forever. And that's Authory.
With Authory, you can quickly build a portfolio website that caters to various types of portfolios — writing, video, audio, and social media portfolios are all doable. And it's self-updating — just add your sources, and Authory will find all past and future content from those sites so that your portfolio is always up-to-date.
As mentioned earlier, Authory is the only solution that backs up all your online content regardless of where it has been published and irrespective of the format it is in — PDFs, written word, audio, video, and social posts, are all supported.
Authory gives you the ability to build curated collections that let you segregate and organize your portfolio by topic, industry, geography, publication, content type, and more. This facility makes it simple for potential clients and employers to look through your work.
Authory also has an intuitive search & filter functionality that makes it simple for the viewer to find the content they're looking for.
Authory has excellent SEO and has an outstanding domain by following world-class SEO practices. Hence Authory portfolios typically show up on search engines.
Moreover, with Authory, you can distribute your content by easily building a newsletter audience as well as setting up an RSS feed.
You can also find out the true reach of your content by using Authory's social media analytics which gives you the reach from not only your account but also others as well.
And finally, as touched upon before, Authory supports multiple content types suitable for any kind of content creation.