Creating a writing portfolio is challenging. To that end, I've written an extensive guide on how to create the perfect writing portfolio.
For now, let's get you inspired by a collection of writing portfolio examples that I've carefully curated. These contain examples from writers, authors, copywriters, and content marketers built on a variety of portfolio builders or websites.
For each example, I have highlighted my favorite aspects — something that can be used in your writing portfolio when you create yours.
With that in mind, let's look at the top writing portfolios.
The top twelve writing portfolio examples
Gari Cruze
Gari Cruze is an associate creative director and copywriter. His online portfolio website —which uses a grid layout with all his work — is filled with humor, and I love it! He's divided his portfolio into sections called "About" (fairly normal), "17 Random Things", and "Oh Yes, They're Talking" instead of the usual "Get to know me" or "Testimonials."
Moreover, even in the About section, he uses copy that brings out his creative writing — words such as "the full blah blah" and "pink squiggly stuff in people's skulls" strike a chord. He also has a "testimonial" from his dad that finishes with "... Gari's like one of the slower primates."
So, all in all, it's an excellent representation of his work and who he is!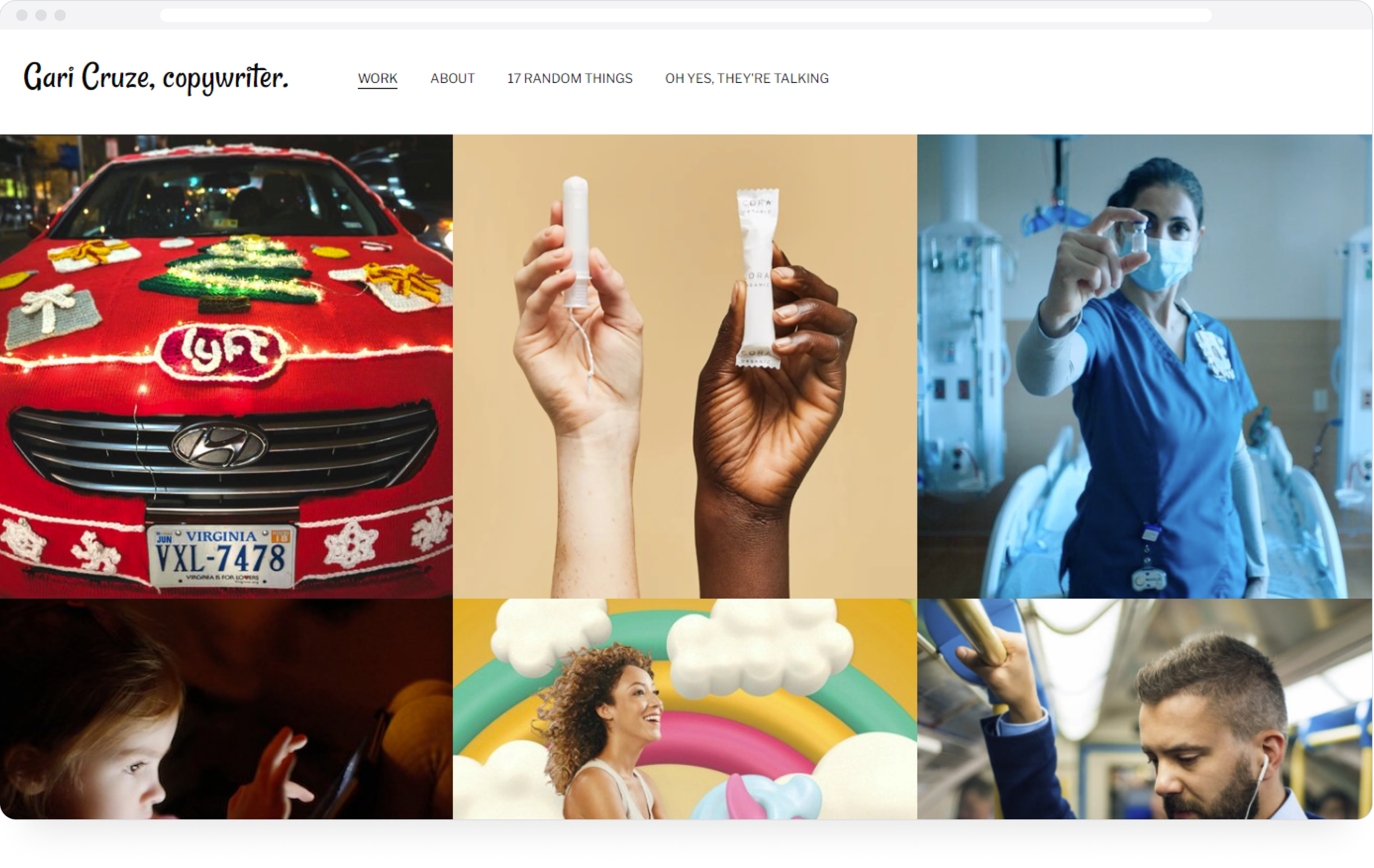 Kayla Lewkowicz
Kayla Lewkowicz is a writer, content marketer, and teacher. Her writer website landing page is about who she is and what she does — like "turning great ideas into compelling stories" and, more importantly, "arguing about the finer points of the Oxford comma." Hear, hear!
When you scroll down on her landing page, you see various photos of her travels accompanied by client testimonials and service offerings. The portfolio section has been categorized by topic and what's great to see is that each topic has three posts highlighted for the reader to look at first.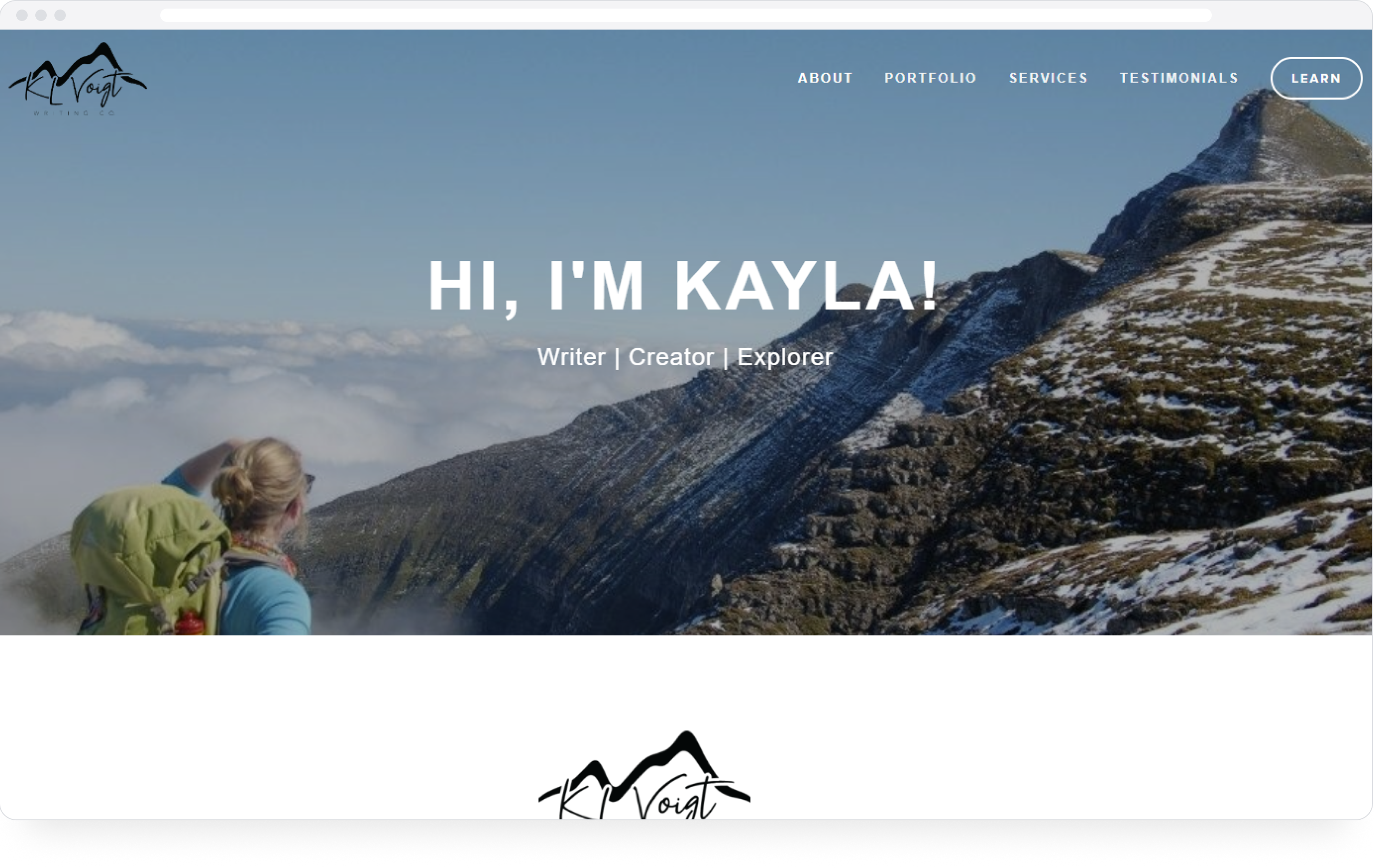 Jennifer Fernandez
Jennifer Fernandez is a writer and editor on staff at Architectural Digest, Travel + Leisure, and Martha Stewart Weddings; her work has also appeared in The Wall Street Journal, Elle Decor, House Beautiful, Afar, Departures, and more.
Her beautiful writing portfolio follows a super minimalist style, and her writing samples are divided into three sections so that it's easy to navigate.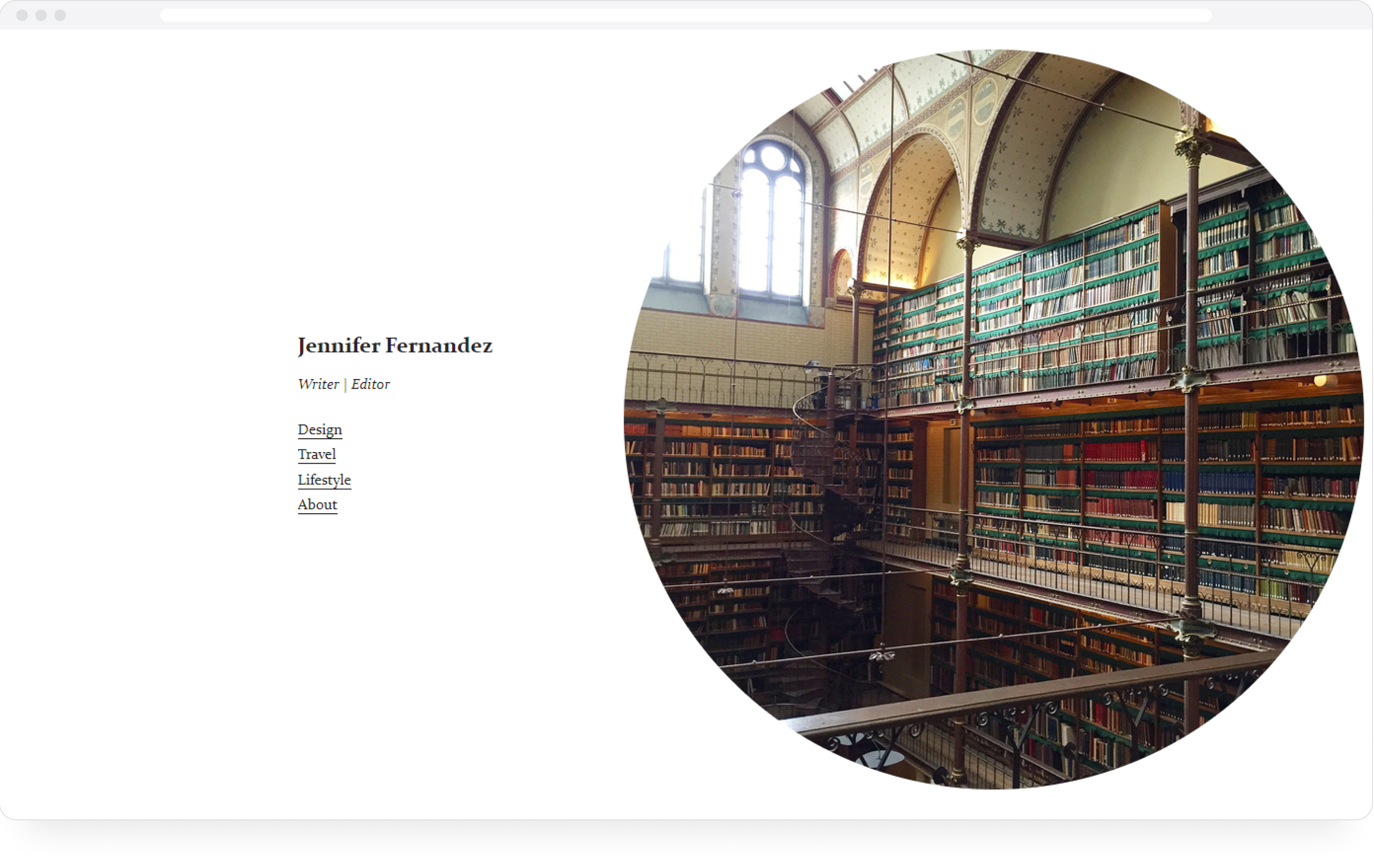 Qin Chen
Qin Chen is a Beijing-based writer, journalist, and news editor at TechNode and has spent the past two years helping English readers make sense of the top news from the world's second-largest economy.
Her portfolio opens with a quaint picture of a riverboat that's both calming and intriguing. From the off, her work is collected into two sections: writing and video. And her writing samples are arranged into an easily parsable format divided by year.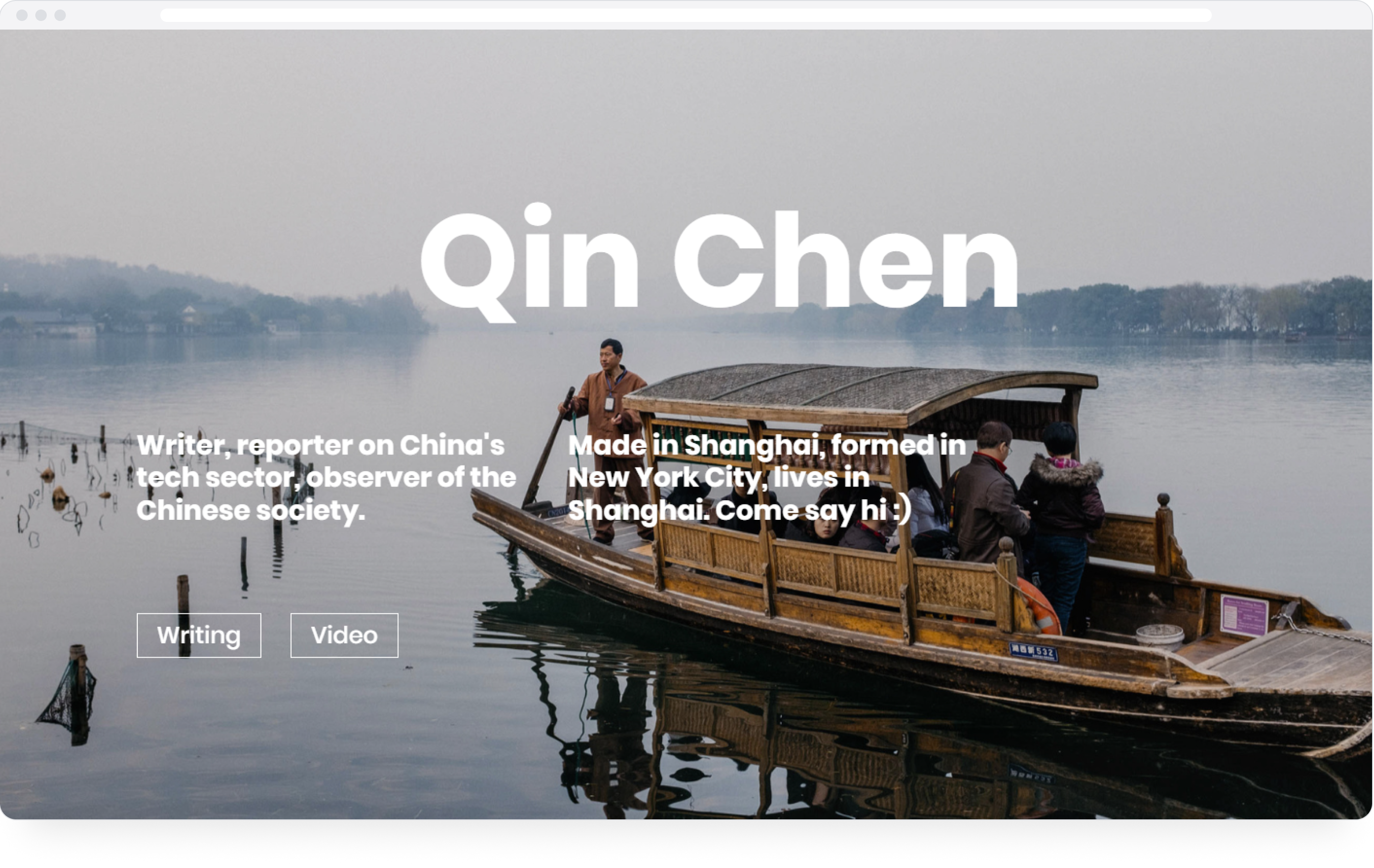 Ann Friedman
Ann Friedman is a journalist, essayist, and author and currently a contributing editor to The Gentlewoman, having written for places like The Cut, The Los Angeles Times, The New York Times, ELLE, and The Guardian, and has co-written the best-selling book Big Friendship: How We Keep Each Other Close and co-hosts the pioneering podcast Call Your Girlfriend.
Her portfolio is a favorite of many lists like these because of its minimalist, friendly vibe. Her writing samples are collected under headings such as books, essays, interviews, and more, making it super easy to go through.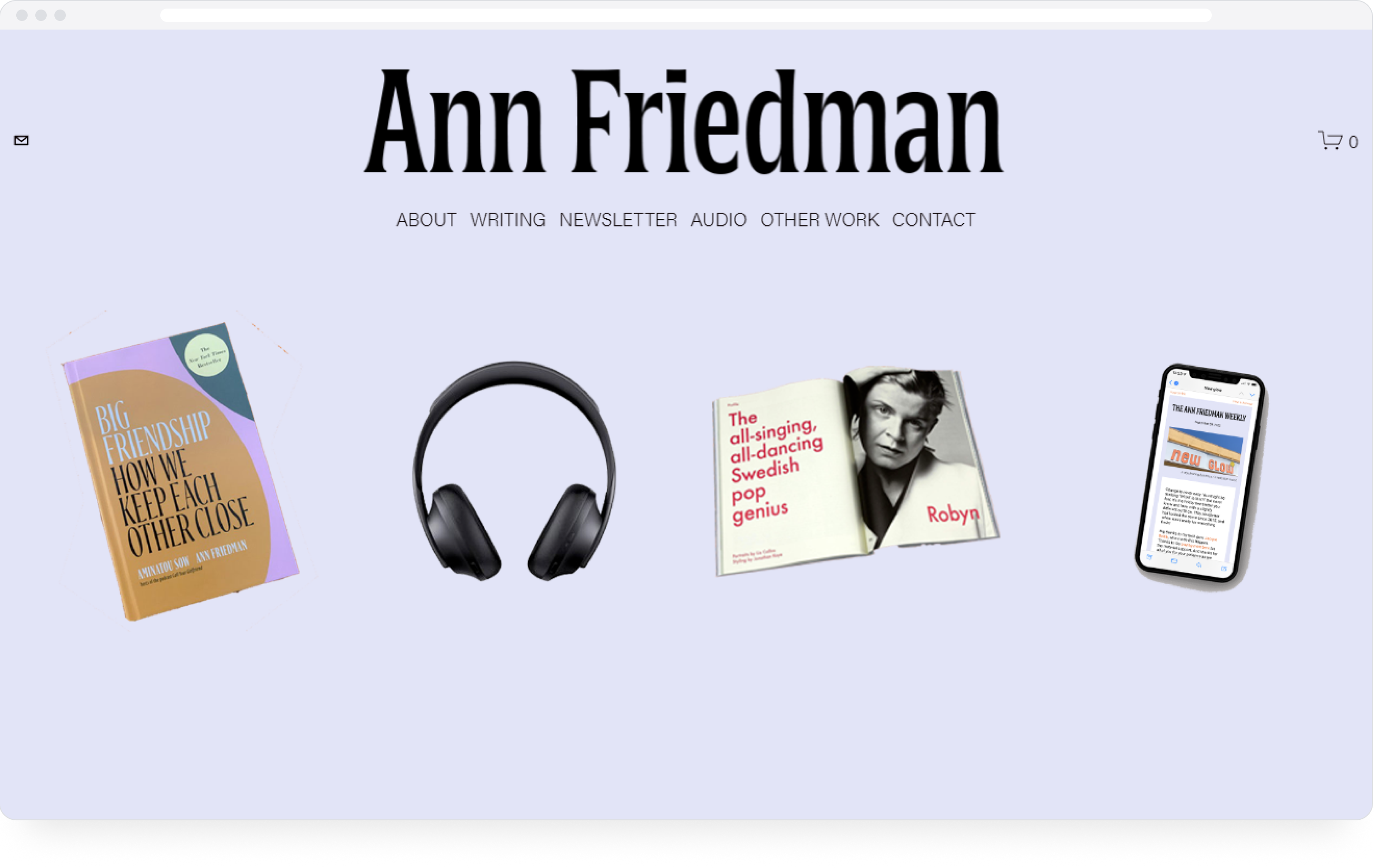 Tyler Koenig
Tyler Koenig is a copywriter and content strategist living in the Bay area after having traveled the world copywriting for various brands. He's currently the content lead at CapitalG, Alphabet's independent growth fund.
His portfolio is clean and straightforward, and his main landing page says who he is and what he does through both the visuals and the copy, while his work is tucked under the "Content" section.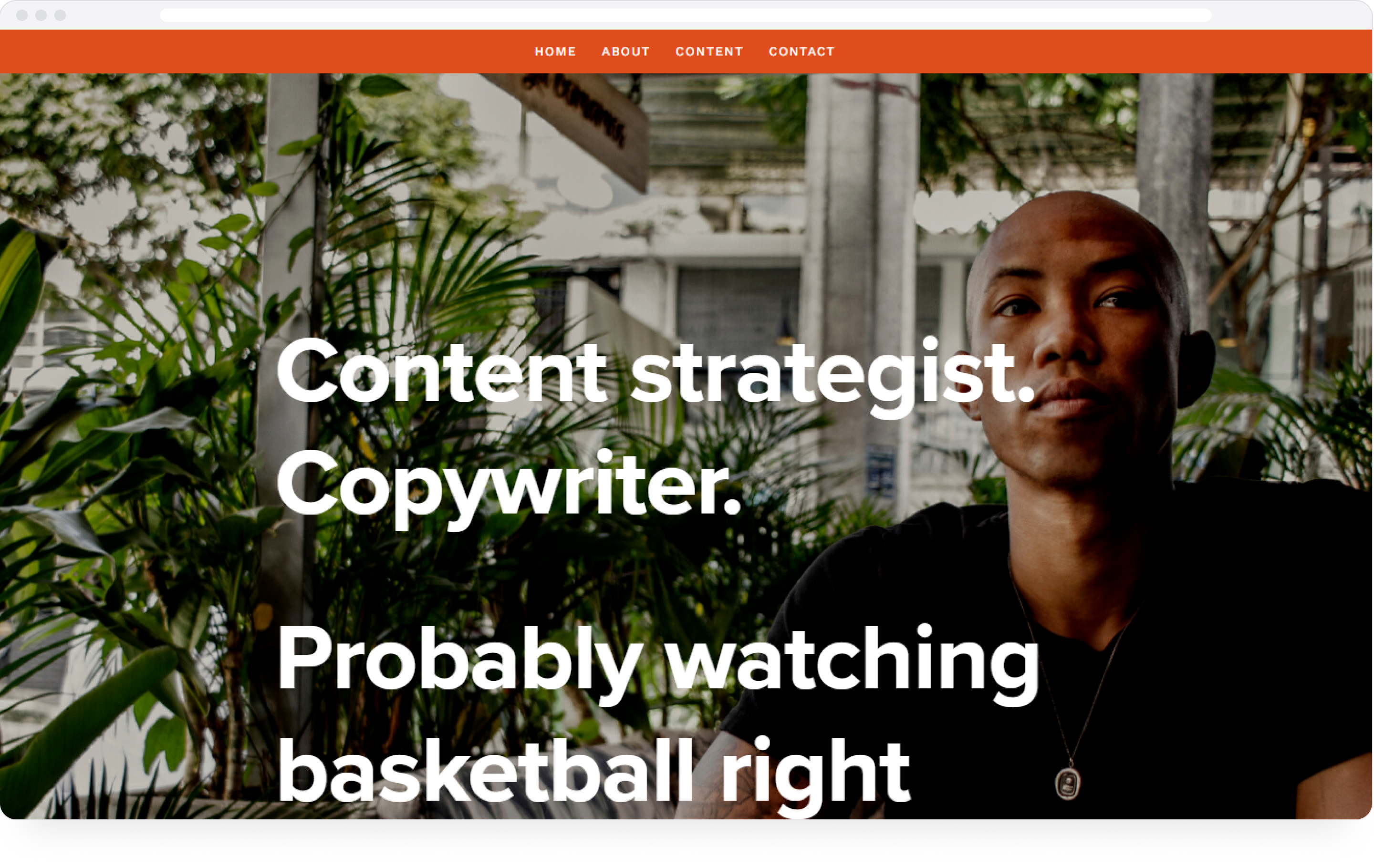 Alice Lemée
Alice Lemée is a creator, freelance content writer, and copywriter who writes on freelancing, the creator economy, and personal development.
Her portfolio page is an excellent example of how a single landing page can accomplish a lot — intelligent copy coupled with beautiful imagery and call-to-action buttons interspersed in just the right areas.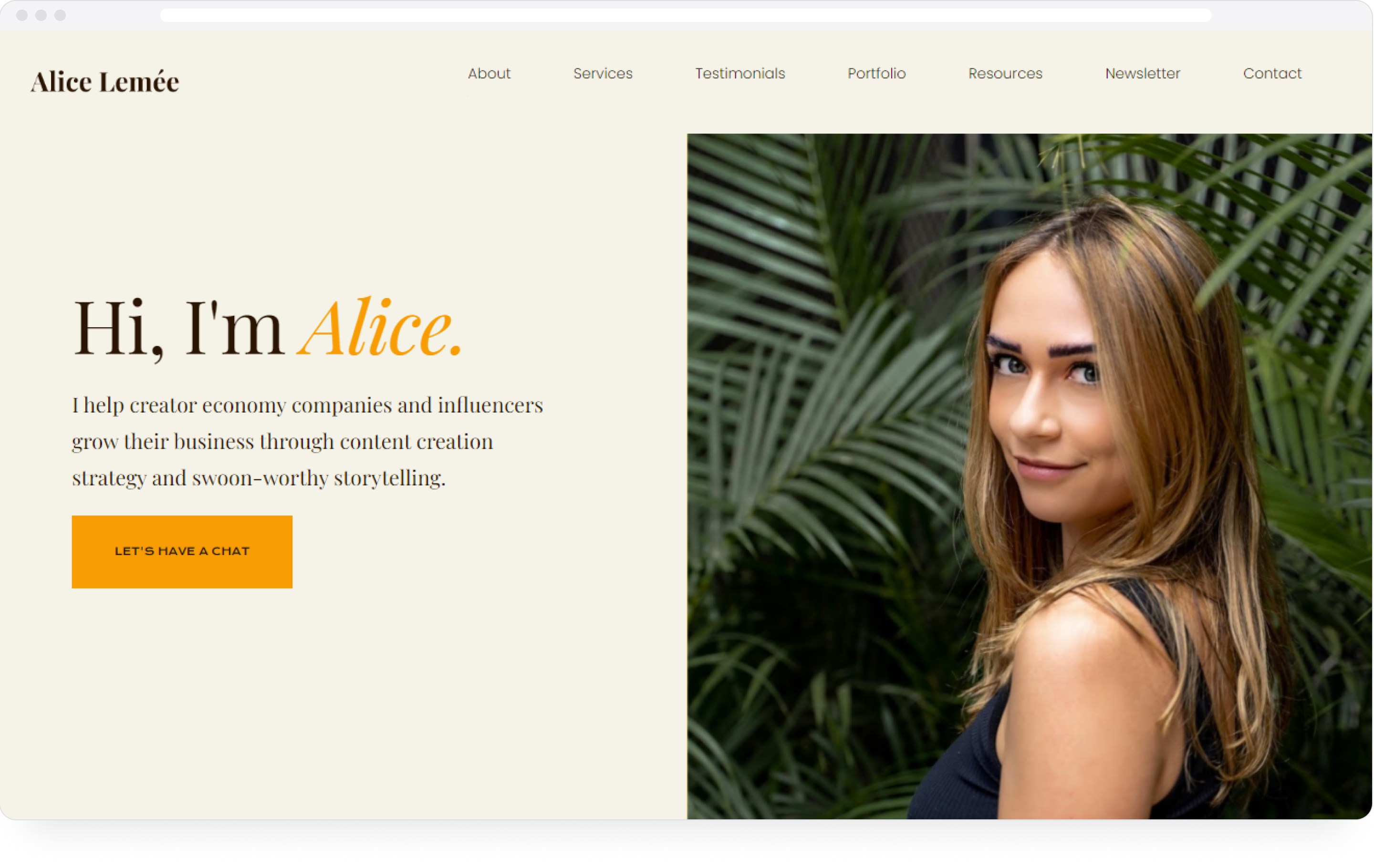 Muriel Vega
Muriel Vega is a writer and editor living in Atlanta, writing about tech, culture, and food with bylines at Delta Sky Magazine, The Guardian, Apartment Therapy, Eater, VICE, Splinter News, The Washington Post, Atlanta Magazine, The Bitter Southerner, Outside Magazine, and more.
Muriel's clever use of colorful icons in a simple white background for her portfolio evokes a sense of friendliness, approachability, and creativity. Also, her creative writing has been astutely collected under relevant topic headings for easy perusal.
Hank Herman
Hank Herman is an award-winning author, humorist, and writing instructor whose memoir, Accept My Kid, Please! A Dad's Descent Into College Application Hell has led to speaking engagements throughout the Northeast, and his 15-book series of basketball novels, Super Hoops, is read by grade-schoolers everywhere.
His is one of the few portfolio sites to use a comic (of him and a beagle zooming around on a car!), which certainly lends an air of whimsy to an excellently organized website.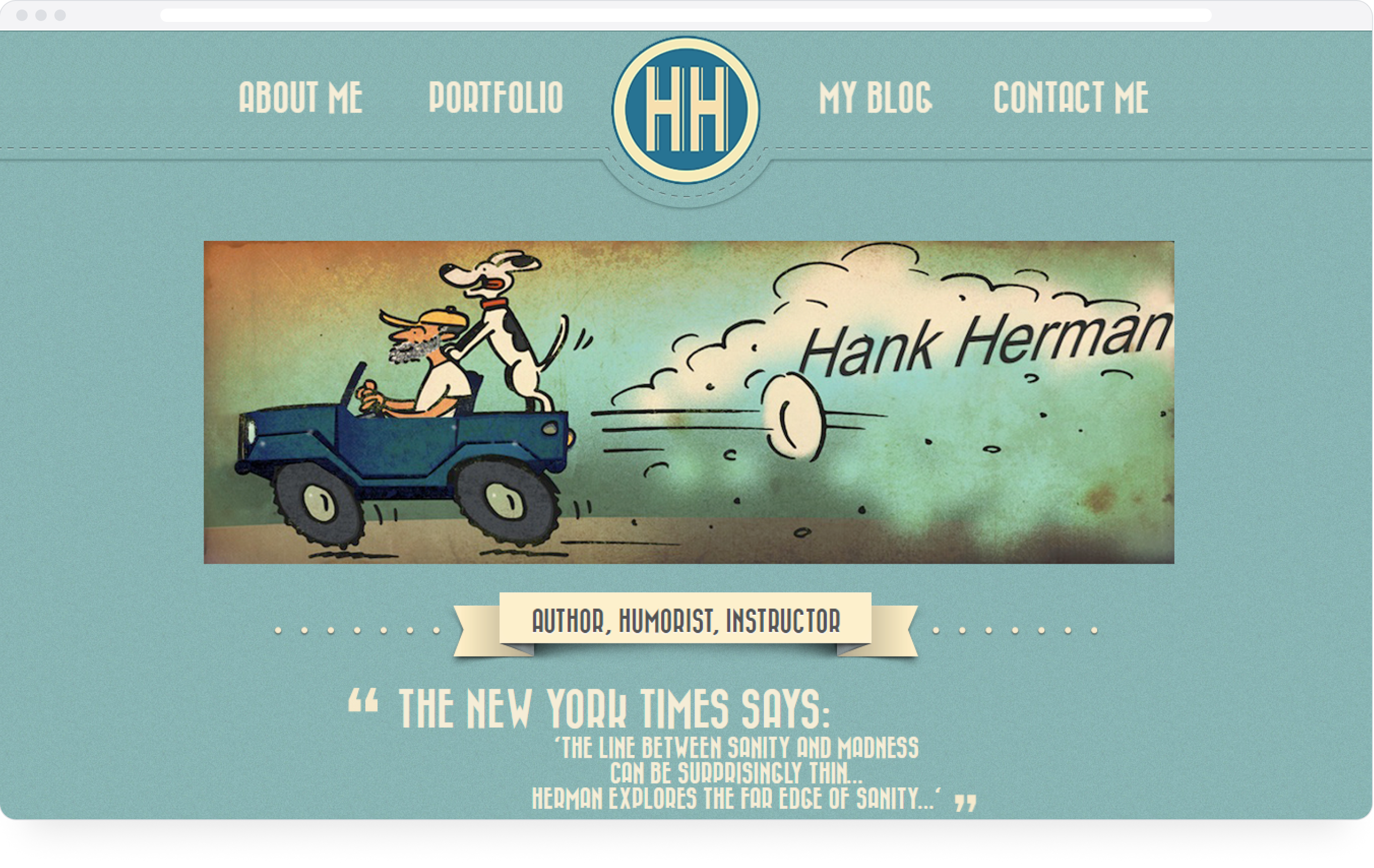 Shayna Condé
Shayna Condé is a writer, model, and actor who looks to create spaces that build community, share valuable information, and foster discussions behind brands.
Her beautiful portfolio website is a collection of photos of her, as well as sections for her writing, modeling, and acting.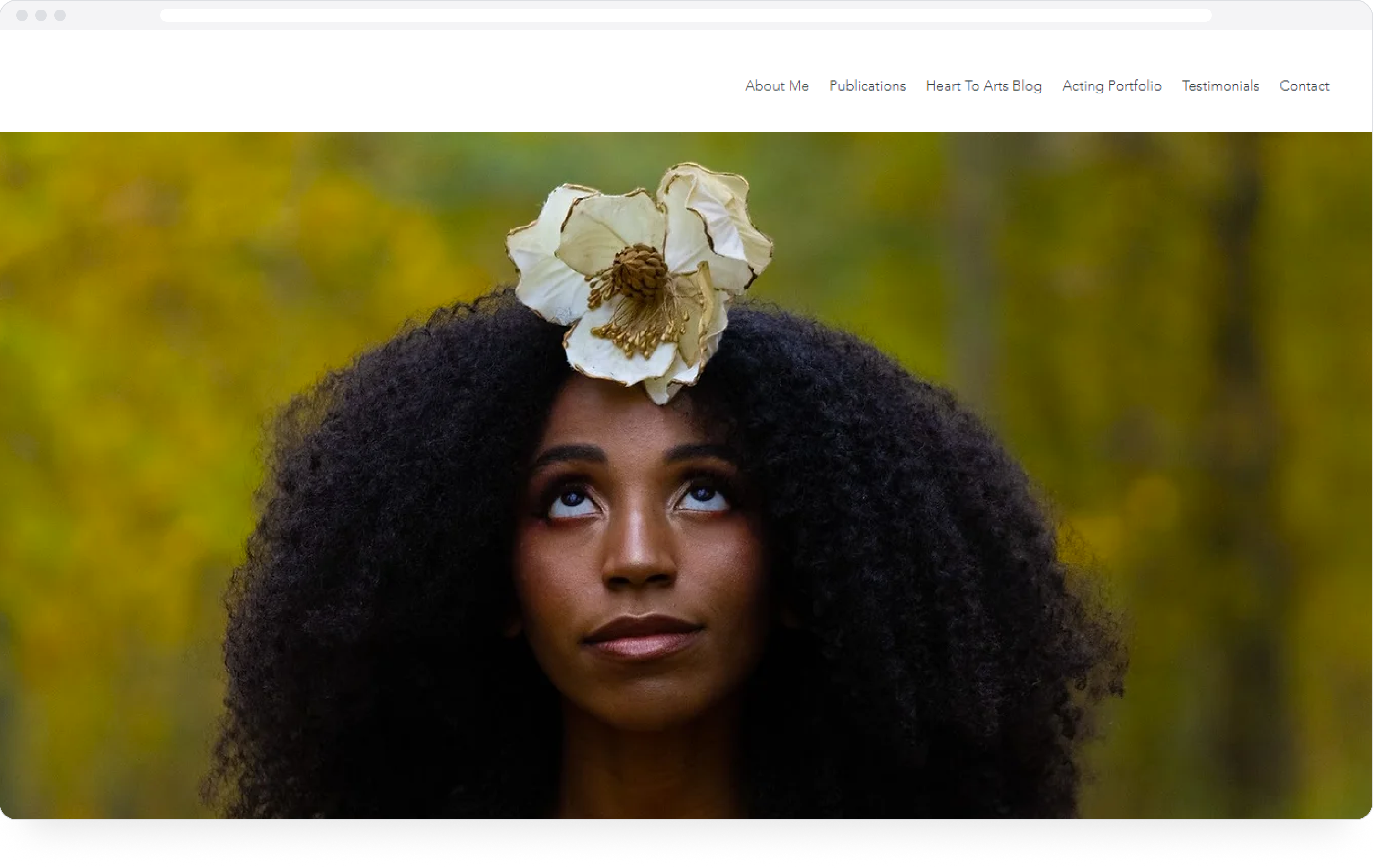 Colleen Fisher Tully
Colleen Fisher Tully is a content writer & editor working in the health, food, cannabis, nutrition, finance, and family spaces.
Her minimalist portfolio has been separated into easy-to-read collections on the numerous topics she writes on.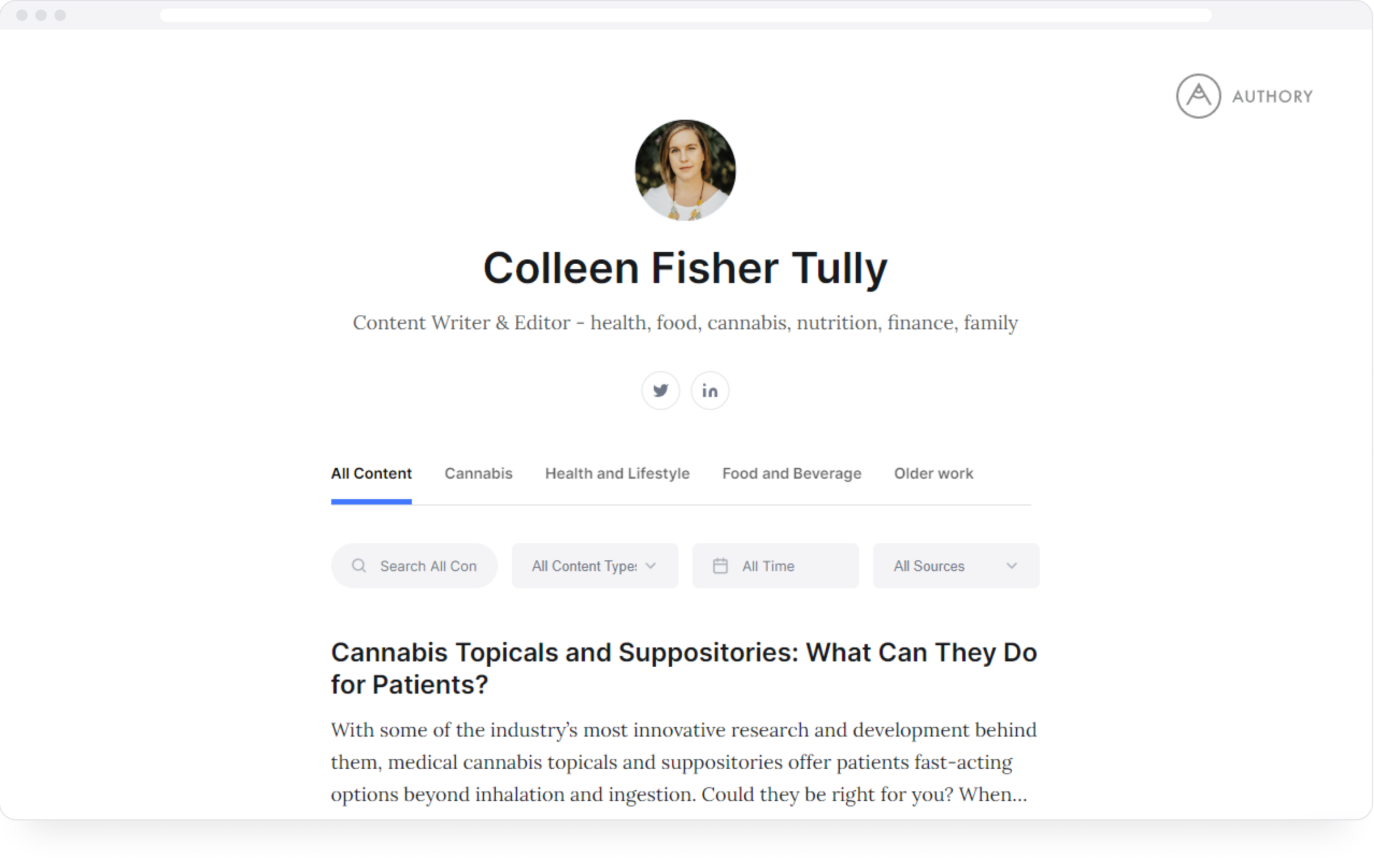 Pamela Rosen
Pamela Rosen specializes in creating long- and short-form content for B2B and B2C audiences.
Her portfolio is divided into the various types of content that she writes.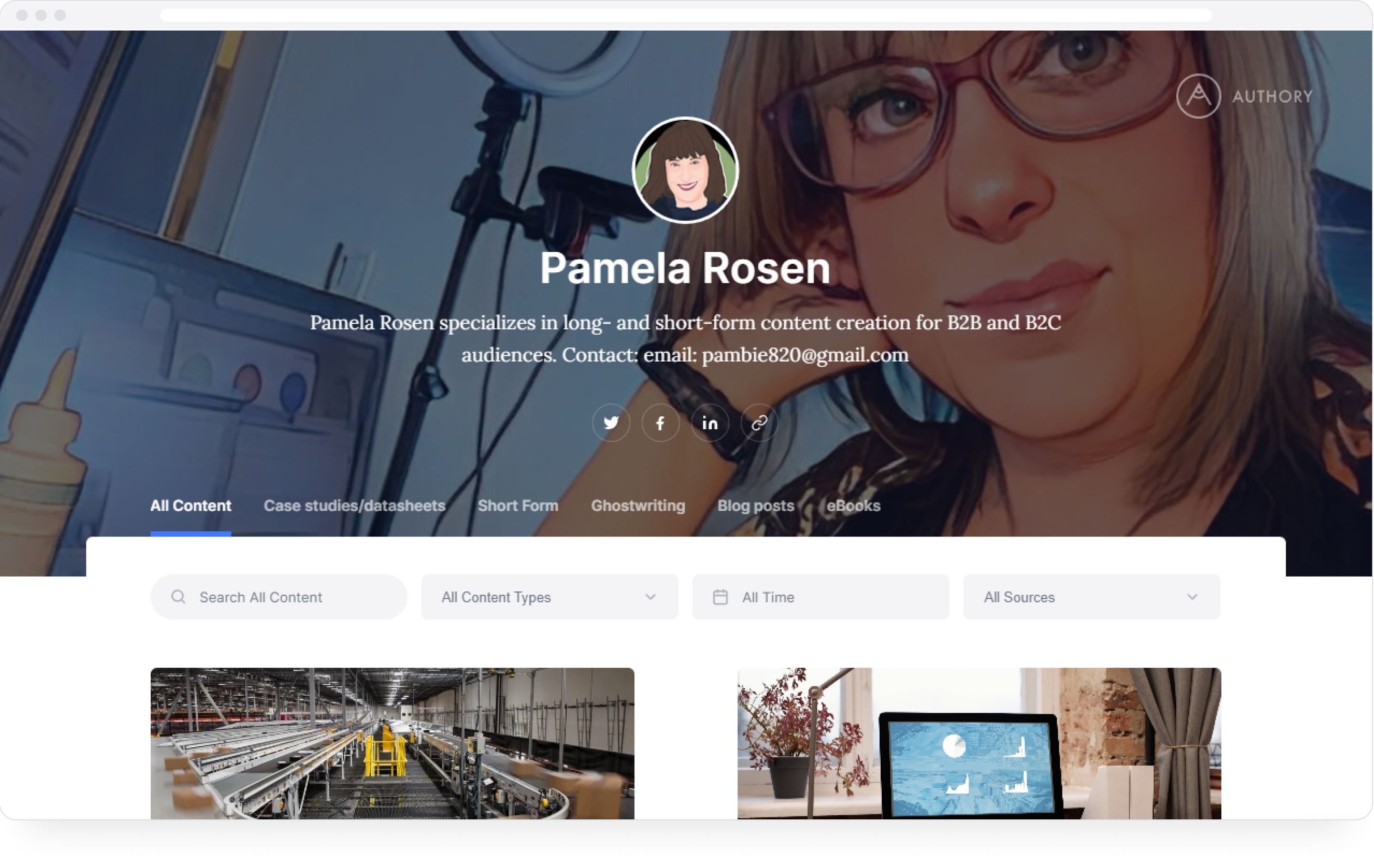 How to create an online writing portfolio with ease
Now that you're adequately inspired let's learn how to create one of these portfolios easily. We highly recommend reading our guide on creating a writing portfolio from scratch.
What we've seen above has been created on an eclectic mix of builders for portfolios, website builders, and more. A lot of these solutions are time-consuming and quite complex to set up.
Authory for all your content needs
And that's why a portfolio builder like Authory makes so much sense. It's super simple to set up, is good-looking, and gives you a portfolio out of the box. Not only that, Authory is self-updating, which means that you don't have to keep track of all your work actively — Authory does that for you! Authory also backs up all your content forever — there's no need to fret about losing access to your work if a site goes down — Authory has it all locked down.