As of 2022, we've been spending about 142 minutes (2 hours, 27 minutes) each day on social media.
This shouldn't be a surprise, considering how often we check our Insta, Facebook, TikTok, Snapchat, and what have you. Brands have long picked this up and meticulously curated their image on social media for maximum impact and ROI.
Naturally, this has led to the rise of social media marketers and specialists who work on projecting desired brand images on all social media channels. This involves everything from content creation, monitoring brand mentions, or replying to users.
Like any other profession, social media marketers need a professional portfolio. A social media portfolio reflects your skills, achievements, and insight into the domain. It also showcases that you're up-to-date with current best practices (nothing is more fickle than social media trends), and you have the results to back up your claims of excellence.
This piece will give you a quick overview of social media portfolios and offers a list of social media portfolio examples to get your creative juices flowing when you're creating your own.
📖
What you'll get out of this article:
• A definition of 'social media portfolio'
• Quick tips for building the ideal social media portfolio
• 5 social media portfolio examples for inspiration (if you're building your own)
• A case for why you should build your social media portfolio on Authory
What is a social media portfolio?
Simply put, a social media portfolio shows everything you've done as a social media marketer, whether as a freelancer, consultant, or full-time employee.
It displays your expertise in the realm of social media marketing. It should convey to potential employers that you're consistently up-to-date about the latest workings of social media platforms and that you've brought about real-world results.
Be it numbers, testimonials from employers, or the actual campaigns that you've run, an impressive social media portfolio will clearly convey that you know what you're doing. It makes the clearest case for the value you will bring to a team or organization as a social media manager and/or marketer.
Quick Tips for building the ideal social media portfolio
When creating a social media manager portfolio, be especially mindful of the following:
NDAs, ghostwritten or agency-owned content
Social media managers often have to work with clients who don't want them to showcase your work on their profiles on your portfolio. This is especially true when you have signed an NDA (non-disclosure agreement), if you're a ghostwriter, or if you've worked with a social media agency required to keep their workings with a certain client confidential.
You'd think there is no way to get around this, but there is if you use certain tools. Of course, if you'd rather go the long way, you can reach out to get the client's consent or obscure their name from the testimonials/text/images, etc.
The easiest way, however, is to display this content within a private link. Build a portfolio site that doesn't showcase this work to everyone but allows you to create a private collection to be shared with potential clients' confidence.
🗒️
Note
: Not every portfolio maker will allow the creation of private collections, but
Authory
will. Build private collections comprising NDA, ghostwritten, or agency content, and forward them to possible employers without suffering any breach of contract.
Demonstrate both quality and quantity
It's common wisdom to place only your best work on your social media portfolio. In fact, this is the recommended tactic for any portfolio — writing, journalism, content marketing, thought leadership, graphic design, etc.
However, the times, they are a'changin. Increasingly, employers want to see consistency along with quality. It doesn't matter if you've got four or five great content pieces or campaigns if they're spaced out over 5 years. Employers want to see that you can produce good work frequently because that's what they need.
Therefore, modern portfolios should feature all or most of your work. In other words, you need to showcase the quality and quantity of your work to ensure clients that you are good at what you do every day, not some days. It will also show them that you didn't just luck out with a few campaigns.
Again, you could either painstakingly add all your work samples manually to your portfolio website, or you could pick a portfolio maker that does it for you.
🗒️
Note: Authory automatically imports all your content from your social media profiles, so you don't have to. Just enter the source site URL and it'll build your portfolio website for you.
Organize, Organize, Organize
Now that you've put all your work on your portfolio website, you need to organize them so that prospective employers can navigate through them effortlessly. There are multiple ways to categorize your content, but I'll discuss what I do.
I use Authory to build and update my portfolio (well, Authory does the building and updating while I drink too much coffee). On Authory, you can group your pieces into collections, name said collection, and add them accordingly to your portfolio.
For example, here's my portfolio website on Authory: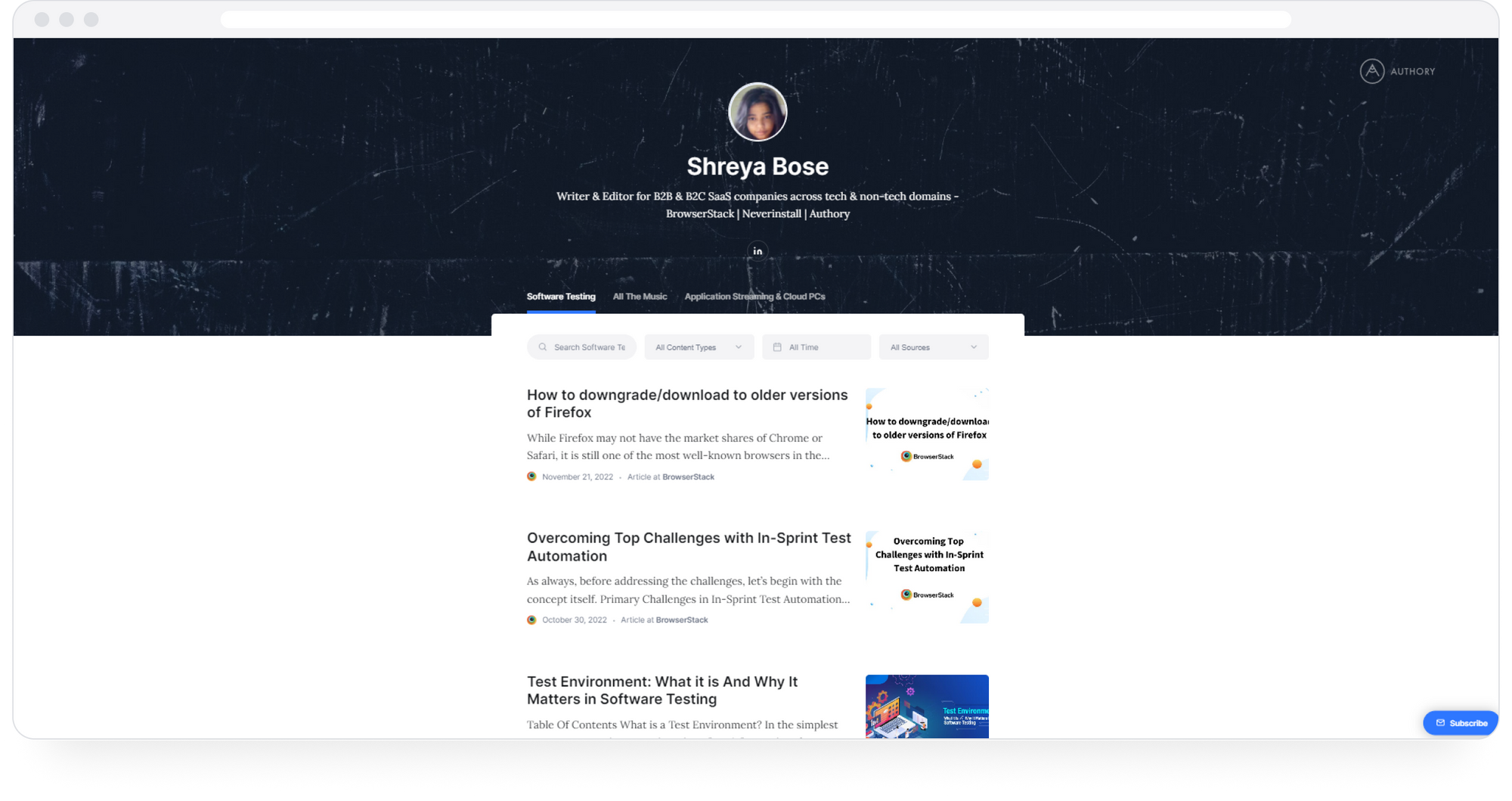 You'll see that right underneath my bio and the LinkedIn icon, there are three clickable headings: Software Testing, All The Music, and Application Streaming & Cloud PCs. These are my collections, the first being everything I've written on software testing, the second being my music journalism pieces, and the third comprising pieces on application streaming and cloud-native desktops.
For a social media portfolio, you could use categorize campaigns into separate collections. Or, you could group your work samples by the client, agency, or format (text, audio, video, etc.)
Either way, Collections are an excellent way to bring structure and order to your portfolio and enable easy exploration by whoever looks through it, especially recruiters and/or managers.
Alright, now that we have covered the basics, let's move on to the good stuff.
5 social media portfolio examples (PDF) to give you some great ideas for your own
Kirsty Price's social media PDF portfolio
Kirsty's social media portfolio is pretty straightforward, with no frills, just data. As you scroll through, you'll see that she lists out her clients, projects, achievements (hard numbers), work samples, and client testimonials. In short, she gets straight to the point. You know why you should hire her within the first few scrolls.
Here's Kirsty's social media PDF portfolio.
Mohammed Shehu's social media PDF portfolio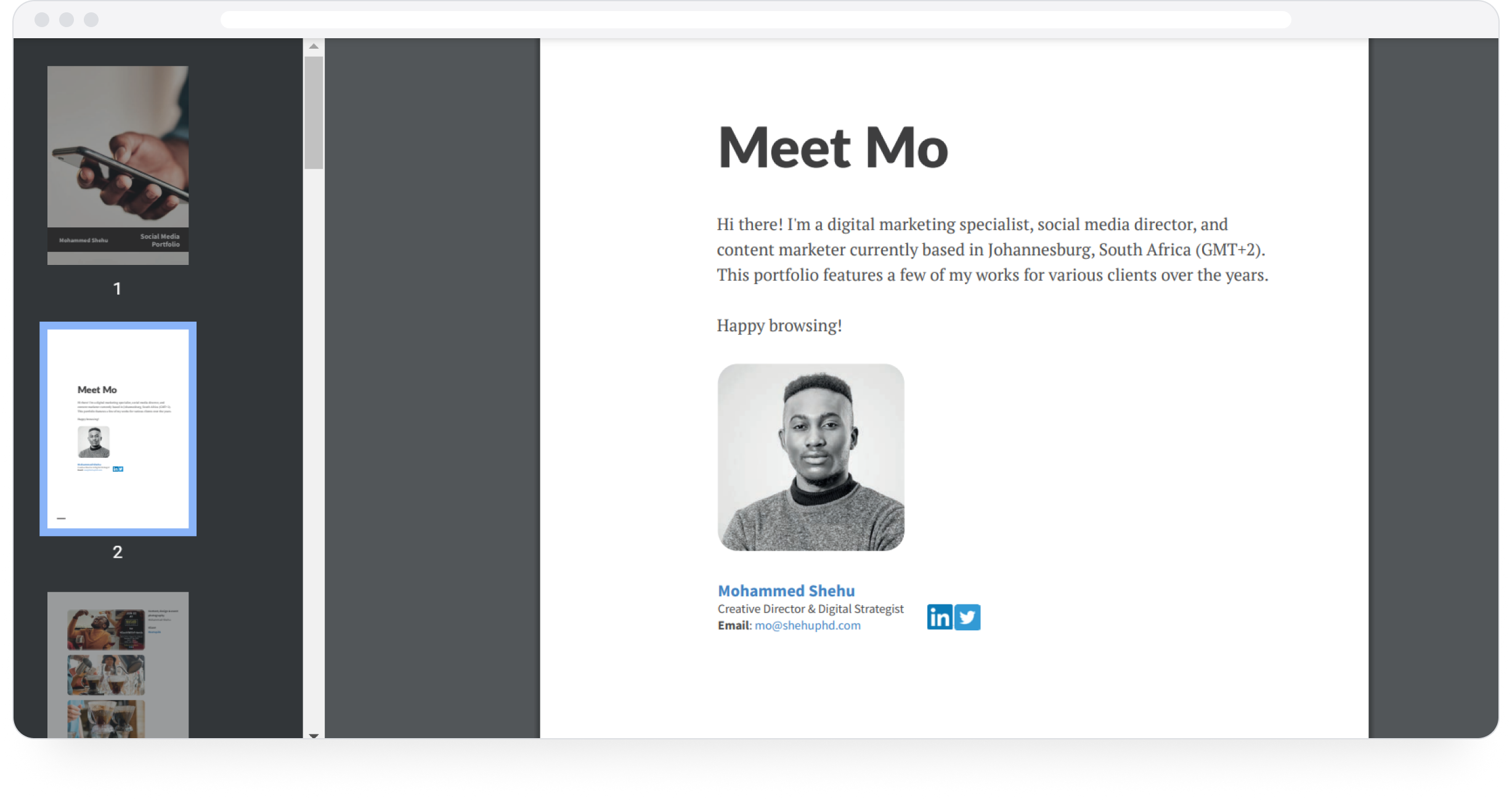 Mohammed Shehu, or Mo, as he calls himself, is a social media director, digital marketing specialist, and content marketer based out of Johannesburg.
Like Kirsty, he keeps his PDF portfolio to the point. Unlike Kirsty, however, he only showcases his work samples. You don't have client testimonials or number-driven achievements, but he clearly defines his own role within each client/brand's ecosystem.
Here's his social media PDF portfolio.
Lacey J. Heels's social media PDF portfolio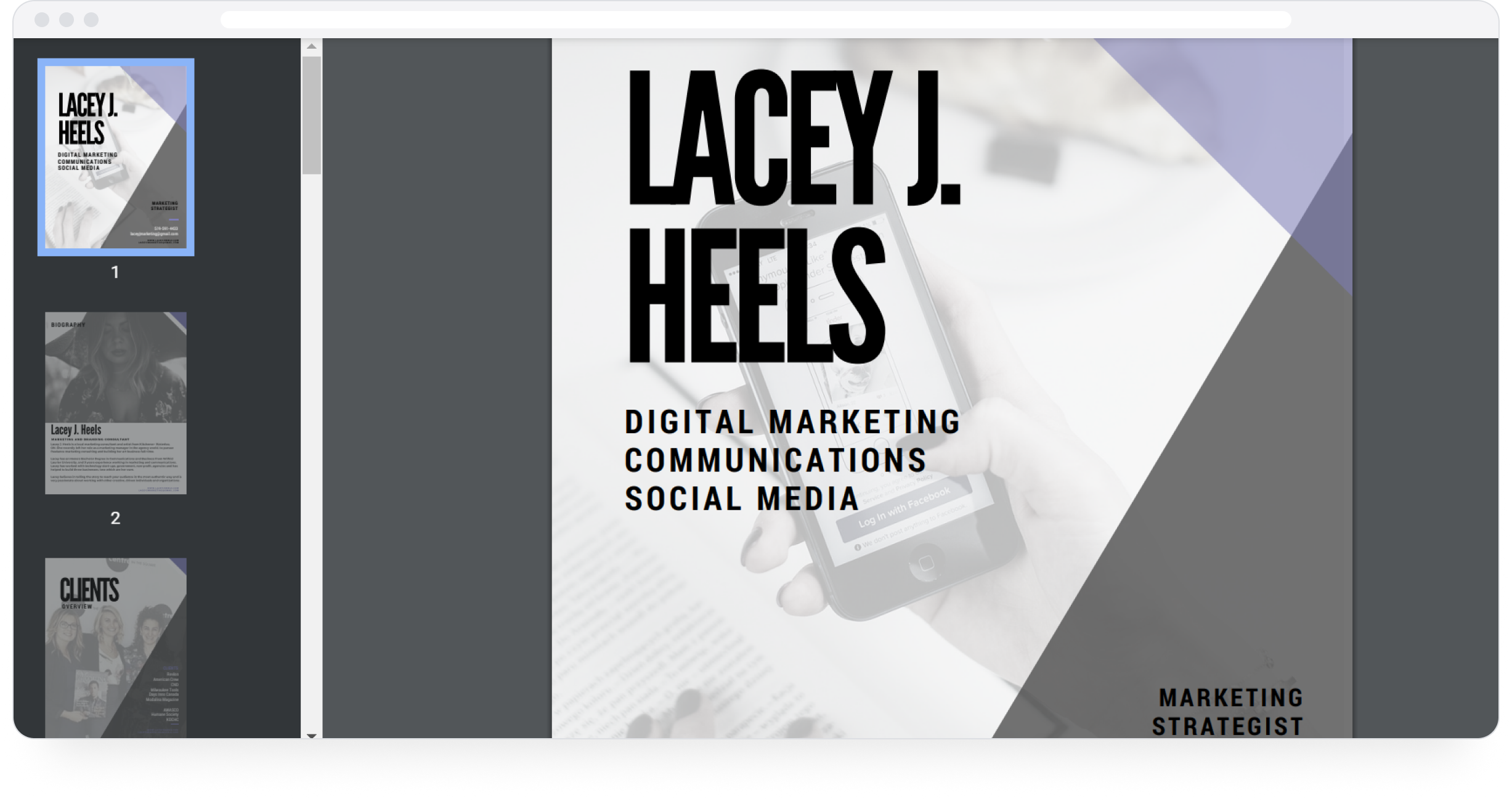 While Lacey is primarily a freelance marketing consultant and artist, her work samples depict that she has also acted as a social media marketer and social media manager for several of her clients. A quick look-through gives you an ample idea of her capabilities and the quality of the work she has driven.
Here's her social media PDF portfolio.
Madhatters Media's social media PDF portfolio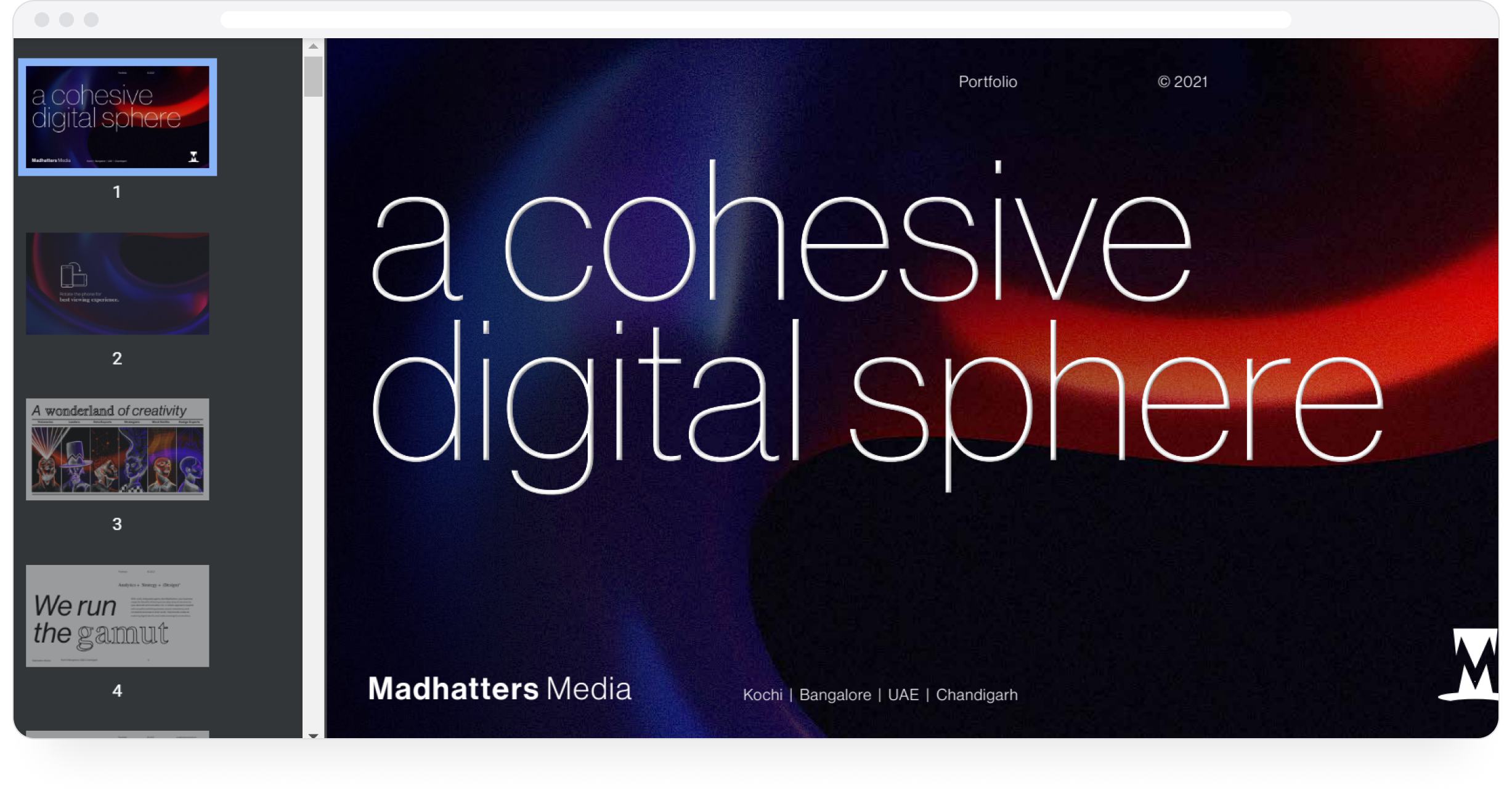 Madhatter Media provides the entire gamut of digital content manager services, including social media marketing. Primarily working with Indian clients, they've provided comprehensive social media branding and marketing strategies for brands in different domains.
Here's their social media portfolio website.
Kayla Machlica's social media PDF portfolio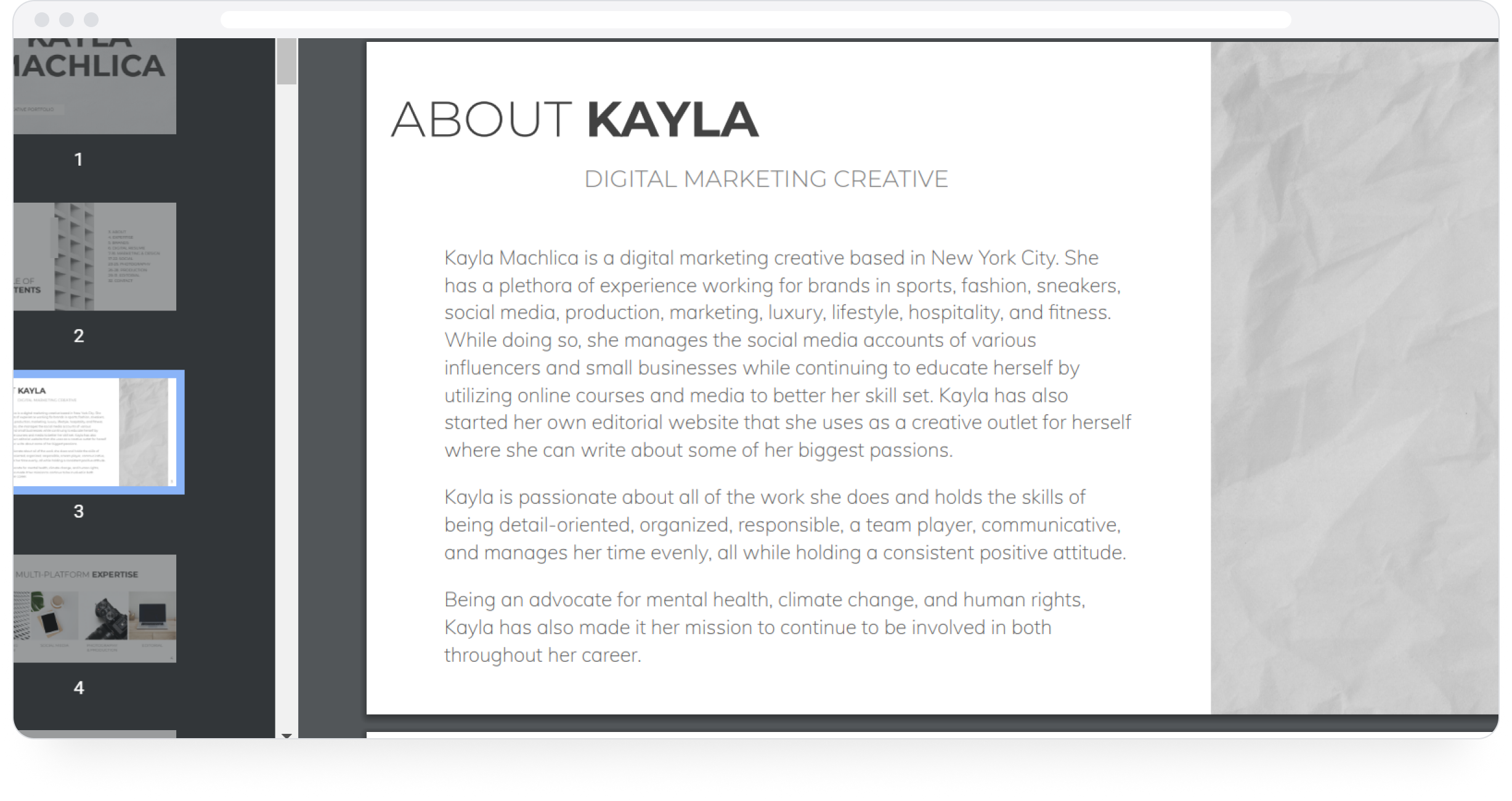 New Yorker Kayla is a digital marketer who, among other services, manages the social media accounts of small businesses, influencers, and the like. Since 2016, she has provided a wide range of social media services and strategy ideation for her clients.
Here's her social media manager portfolio website.
Why use Authory to build your social media portfolio (PDF or otherwise)?
To start with, the social media portfolio examples above all have to be updated manually with the individual's recent work. As mentioned before, employers look for consistency and quality. In the realm of social media, this is especially important since related trends and best practices keep changing in accordance with algorithms, consumer preferences, and whatever's going viral.
With Authory, you don't have to keep copy-pasting campaigns and content links. You enter a digital source (website URL), and it automatically imports all your bylined content. If there is any non-bylined content you'd like to add, you also have the option to add it manually.
With Authory, as long as your content is bylined, you don't have to do a thing beyond entering a source URL. The tool builds your portfolio for you by importing all past and future content.
Once the content has been imported, you can segment it into collections and add it to your portfolio with a few clicks. It takes less than three minutes to set up a professional portfolio website.
Additionally, you'd get regular updates on how your content is faring across popular social media sites — numbers for readership, viewership, engagement, shares, etc.
Additionally, everything Authory imports is backed up forever... again, automatically. And we're not talking screenshots. All backups are in the original text or media format. Even if the source site goes down or the link dies, your work is safe, sound, and perpetually accessible.
Last but definitely not least, you can upload content in multiple formats: text, audio, and/or video. Since the examples here are of PDF portfolios, let me mention that you can effortlessly upload PDFs and showcase them on your portfolio.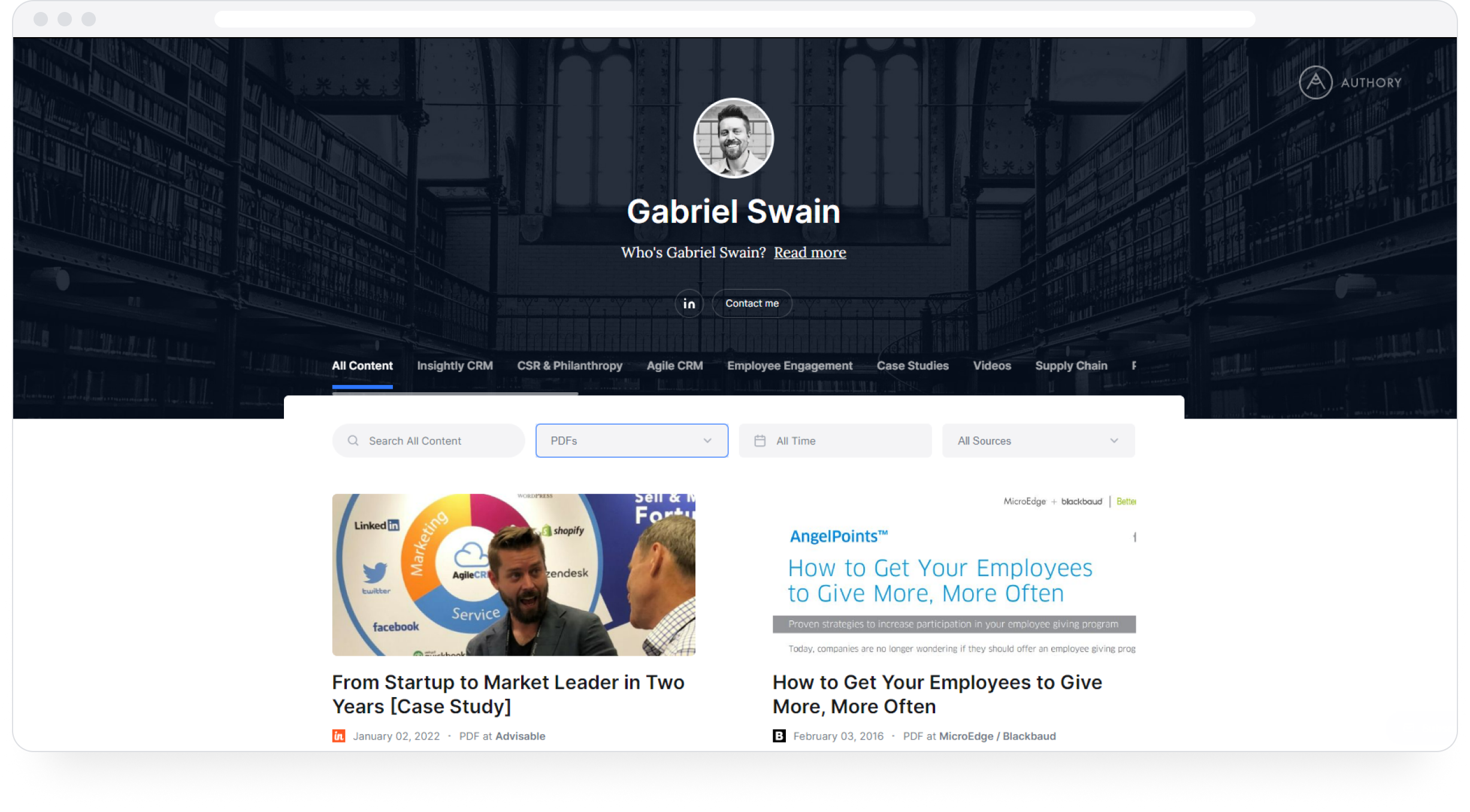 As always, I encourage you not to take my word for it. Sign up for Authory for free, and you'll know exactly how it can build an industry-best portfolio while you lean back and grab that much-needed cup of chamomile after another long day.