I'm a writer, and words are not just my passion; they're also my paycheck. But I'll also be the first one to admit that for most people, video captures attention in a way no other media does. Even for those of us who prefer the book over the movie, video content tends to engage faster and better because… science.
"Psychologist Albert Mehrabian demonstrated that 93% of communication is nonverbal… we process visuals 60,000 times faster than text… the human brain deciphers image elements simultaneously, while language is decoded in a linear, sequential manner taking more time to process."
This applies equally across all human experiences, from high art to job searching. When it comes to portfolios, you'll inevitably get more attention and better results when you convey your accomplishments visually. In particular, well-made video portfolios stand out and stay memorable longer than text or static art.
You probably already knew everything I just said, but creating a sleek, memory-worthy video portfolio isn't exactly a walk in the park. So, in this article, I've put together a list of 10 video portfolios that should give you solid ideas to get started. Of course, you'll need to personalize these ideas to reflect your unique work ethic, mindset, and achievements, but going from point A to B is much easier when you have point A locked and loaded.
But first, a quick overview of the what and why.
📖
What you'll get from this article:
• Definitions of video portfolio & video portfolio website
• 10 exceptional video portfolio examples that will inspire you
• A step-by-step tutorial on how to make your own video portfolio (on Authory)
• A quick overview of Authory: an online portfolio builder that also backs up ALL your content
What is a video portfolio?
Simply put, a video portfolio displays your work samples, accomplishments, skills, and work style in video format. While this is a clear necessity for video editors and graphic designers (ones who work with video), other professionals like writers, journalists, content marketers, and thought leaders can also leverage video to present their expertise. Even music videos can become video portfolios for a musician (professional singers, jingle writers, music directors or producers, etc.)
My favorite example of this is John Green, an NYT bestselling author whose portfolio website largely consists of YouTube videos and podcasts. Despite being a wordsmith, he introduces himself in content formats that are most likely to engage visitors and get them to stay.
What is a video portfolio website?
There's not a massive difference between a video portfolio and a video portfolio website, but they still need to be distinguished for clarity.
Technically, all video portfolios are websites as long as you host them on the internet. So, a video portfolio hosted on Authory (one that you've made live) is also a video portfolio website because it's a webpage that serves as a portfolio (I did say technically…)
However, when potential clients hear "video portfolio website", they usually tend to think of uniquely designed websites that also showcase your work. In other words, the entire website should reflect your creative inclinations and look fully customized to do so.
Portfolio builders like Squarespace and Wix allow this. They are essentially website builders you can utilize to exhibit your work without having to deal with any preset-unchangeable elements. Sure, these tools have preset templates, but you can play around with colors, design elements, and placements, as well as text fonts and positions. All this contributes to creating a more curated browsing experience.
A video portfolio website doesn't just show off other work samples; it serves as a work sample itself.
Why use a video portfolio?
I've already mentioned the benefit of using video to engage prospective employers. Outside of that, video portfolios deliver a few other benefits:
Displays professionalism and effort: If you're putting in the work to create sophisticated videos, as well as a video portfolio site, you're clearly a hard worker with an eye for details. These are highly sought-after qualities.
Showcases future-forward mentality: Video is the most popular content format in use right now. If you've used this format to present yourself, no matter your industry, it shows that you move with the times. This adaptability is a big advantage in your favor.
More opportunities for personalization: As mentioned above, video portfolio websites give you plenty of space to play around; you can transform it into an expression of your creativity and expertise. This is especially useful for visual artists of any kind.
Better social media presence: On social media, video samples of your work will grab more attention and generate more engagement (likes, comments) than text or audio. High engagement numbers will inevitably turn an employer, business, or brand in your favor.
---
🖱️
Authory is, amongst other things, a portfolio builder & content backup service, used by thousands of top professionals worldwide.
Get started for free now.
---
10 Video portfolio examples that will give you great ideas for your own
Video portfolio example 1 — Jarrod Kimber
On Jarrod's website, he describes himself in a way that immediately justifies his success. He starts with, "When I was young I wrote alternate Shirley Temple scripts. My mum always assumed from then on I would become a writer. I kind of assumed I would become a serial killer. I chose writer, even though it probably pays less."
His witty verbosity goes on (I really wish I could paste it all here), and this former ESPN writer (who continues to write) is a true credit to his craft. But his excellence is not confined to text. As his portfolio does showcase, there is ample video evidence of his expertise.
He knows what he is doing — whether he is writing or providing verbal analysis and commentary on sports. His portfolio website immediately shows off the versatility of his projects and the depth of his skills. Anyone that can afford Jarrod's employment rates isn't likely to overlook him for assignments.
Here's his video portfolio website.
Video portfolio example 2 — Scott Baradell
Scott calls himself a "trust expert". He's the CEO of Idea Grove, public relations and marketing firm. He has also written a book called Trust Signals: Brand Building in a Post-Truth World.
When you look at Scott's video portfolio website, you immediately get the sense that he is a man deeply interested in the idea of trust and how it affects people as well as businesses.
The first video on the portfolio looks like the trailer for a film (short or feature) delving into ideas of trust — a very interesting way to establish his authority in the domain. Videos titled "The Tao of Thought Leadership" and "Don't Get Canceled..." are also immediate eye-catchers that will get at least some of its viewers to contact him for further discussion, if not a contract.
Here's his video portfolio website.
Video portfolio example 3 — Giselle Keena
Brooklyn-based Giselle Keena is a photographer and director whose video portfolio website is the absolute definition of minimalism. I am particularly enamored with how she mentions exactly a single line about herself in the info section — "Giselle Keena is a photographer and director based in Brooklyn, New York.". The rest is just her exceptional work.
Check out the "films" section in the menu. She has this fuzzy, dream-like aesthetic that makes the actors seem like they're out of a somewhat otherwordly, head-in-the-clouds plane of existence. You long for the kind of worlds she builds in her productions.
Here is her video portfolio website.
Video portfolio example 4 — Secret Wood
Secret Wood is a collective of filmmakers and videographers with a wildly creative portfolio website. To start with, their "About" page is in the form of a script.
The homepage hosts a set of video snippets over a monochromatic layout — a simple but exceptionally effective aesthetic choice. The snippets are deeply fascinating, a couple of them perhaps a bit scandalous, even. Either way, they instantly capture attention and get you scrolling.
Don't miss the helpful list of industries on top. Depending on the domain or company they represent, a client can quickly click through to the relevant category.
Here's their video portfolio website.
Video portfolio example 5 — Custom Production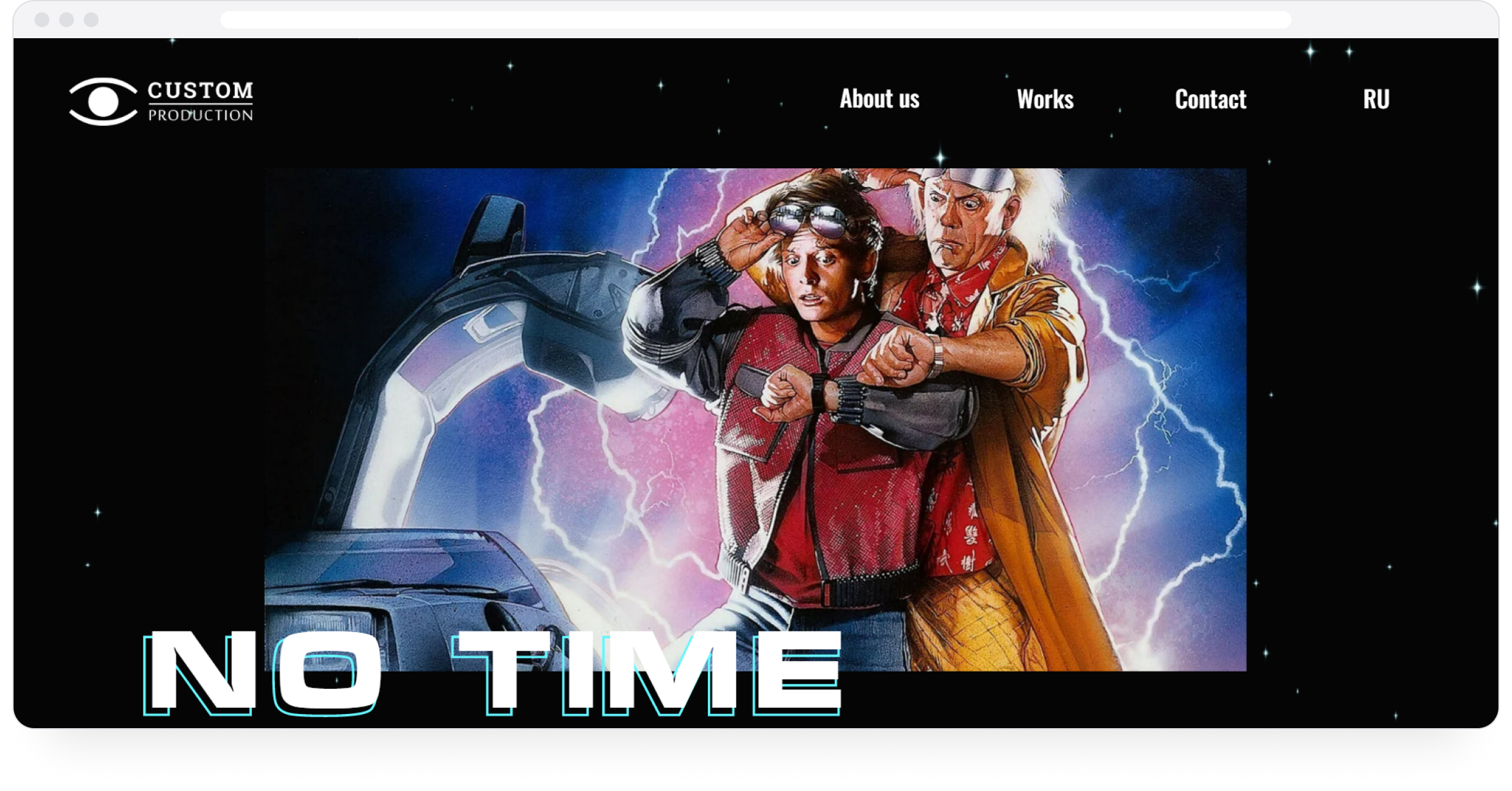 This production house focuses on TV promos, though it claims to have prior experience with producing TV shows and adapting foreign media to appeal to local audiences.
They're associated with some big names, as the portfolio depicts — The Big Bang Theory, Ghostbusters (the original), House of Cards, The Grand Budapest Hotel, etc. You see these promos right within the homepage, along with images and illustrations that will excite any pop culture fan.
Here's their video portfolio website.
---
🖱️
Authory is, amongst other things, a portfolio builder & content backup service, used by thousands of top professionals worldwide.
Get started for free now.
---
Video portfolio example 6 — hyogen
I am thoroughly obsessed with the manicured messiness of hyogen design's homepage. This creative production team displays a gaggle of attention-arresting images and videos on its one-fold homepage.
Given that it's a Japanese team, the carousel of videos actually moves from right to left, as Japanese writing is read in that order. The fact that they have preserved this, as well as the stylized kanji, all over their video portfolio website, causes it to stand out effortlessly.
Here's their video portfolio website.
Video portfolio example 7 — Jacob McKee
Freelance colorist Jacob McKee uses a minimal, slightly block-ish design to display his videos. Having worked with the likes of Apple, Adidas, Reebok, Joji, Khalid, and more, he clearly has a wealth of experience and industry approval on his side.
This is amply revealed in his unique layout. With two clicks, you can watch his best work. No images or snippets are necessary on his homepage since his clients are so iconic that their names are all he needs to distinguish himself.
Here's his video portfolio website.
Video portfolio example 8 — Khoa Le
Montreal-based filmmaker, stage director, video designer, and filmmaker Khoa desires to "create objects that blur the limits of the sacred, the banal, the real, and the imaginary".
His video content, as presented in his portfolio, does a marvelous job of demonstrating this idiosyncrasy. Everything from his musical films to music videos to promotional campaigns plays with the line between the unfamiliar and the intimate. His eye for the variant agonies and joys of the human experience shows through in the delightful singularity of his videos and portfolio layout.
Here's his video portfolio website.
Video portfolio example 9 — NOWNESS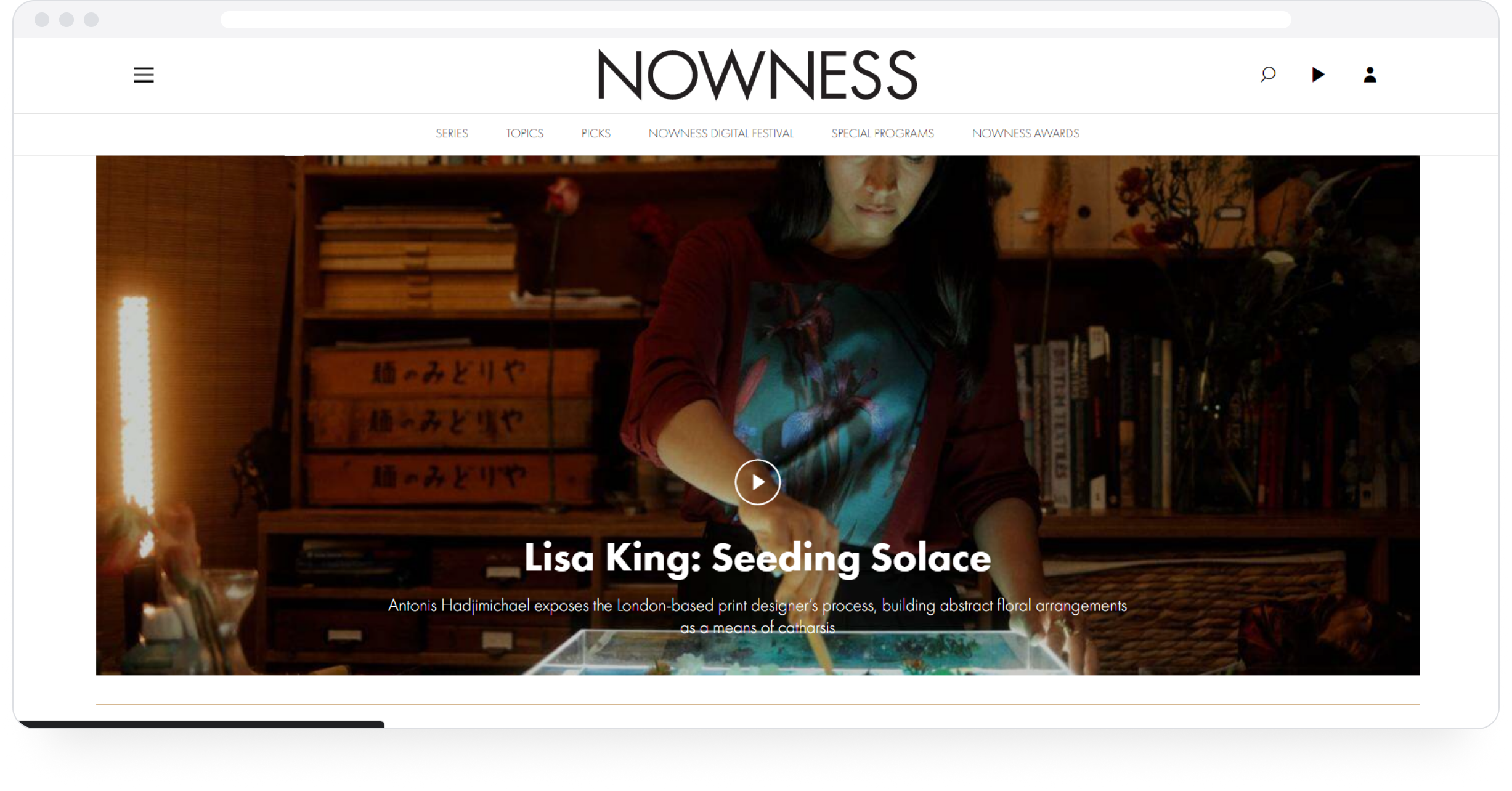 This video channel presents the best of global art, culture, food, fashion, beauty, music, food, and travel with unique storytelling approaches. Since beginning in 2010, NOWNESS has won multiple awards for its curatorial eye and the exceptional talent they seek out to feature in their videos.
Their portfolio layout is more predictable than the last few profiles on this list, but it's still very pleasing to the eye, intuitive, navigable, and scroll-friendly. Despite showcasing multiple videos, the portfolio still has a clean, organized feel that encourages you to keep looking through it.
Here's their video portfolio website.
Video portfolio example 10 — Eastern European Movies
Guys, when I tell you this site made my day... I mean it. For £5 a day, you can watch Eastern European movies all the way from the 1930s. You can filter films by country, decade, subtitle language, and genre. I've been trying to watch more films lately, and this discovery couldn't have come at a better time.
The first fold features a perfectly paired color and graphic duo that speaks volumes about the kind of creative attention you can expect from the site's film catalog. Scroll down, and you'll see these out-of-left-field movie posters; click one, and you'll be taken to the movie.
The meticulous use of color over a gray background and smartly placed imaged/dynamic graphics make this profile an absolute delight for perusal. You won't get tired of scrolling here, and I promise you that you'll be tempted to get a paid account.
Here's their video portfolio website.
---
🖱️
Authory is, amongst other things, a portfolio builder & content backup service, used by thousands of top professionals worldwide.
Get started for free now.
---
How to create a video portfolio website (with Authory)
Step 1: Sign Up for Authory (for free)
Step 2: Import and add your videos
Navigate to the "Content" tab on your dashboard. Then, click on "Add Content" at the bottom left.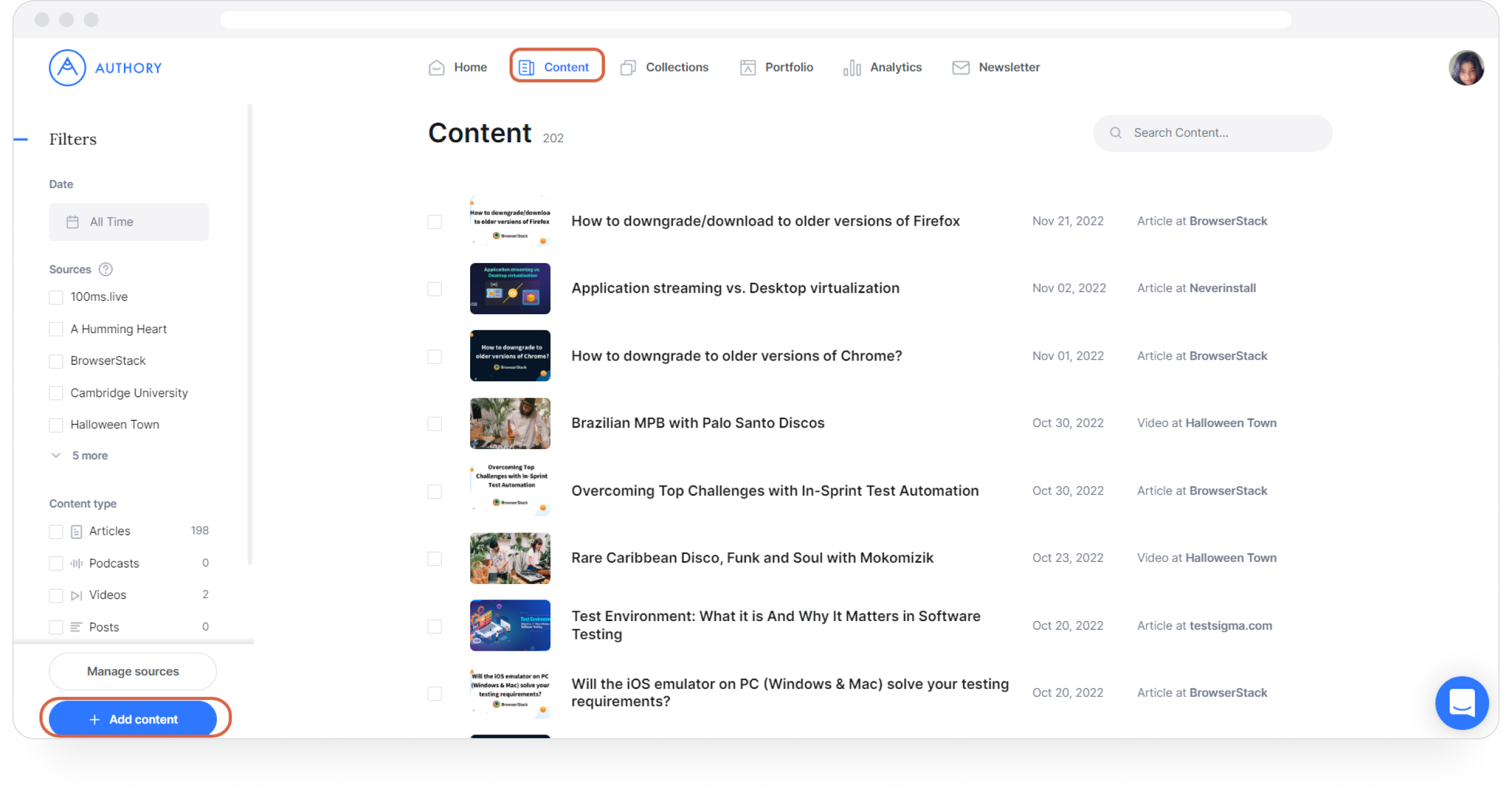 Once you click on "Add Content", you'll get the option to provide a source site from which all your videos will be automatically imported. You'll also be able to manually add videos by simply pasting the URL.

For automatic importing, click on the "Automated import" option that shows up when you click "Add Content".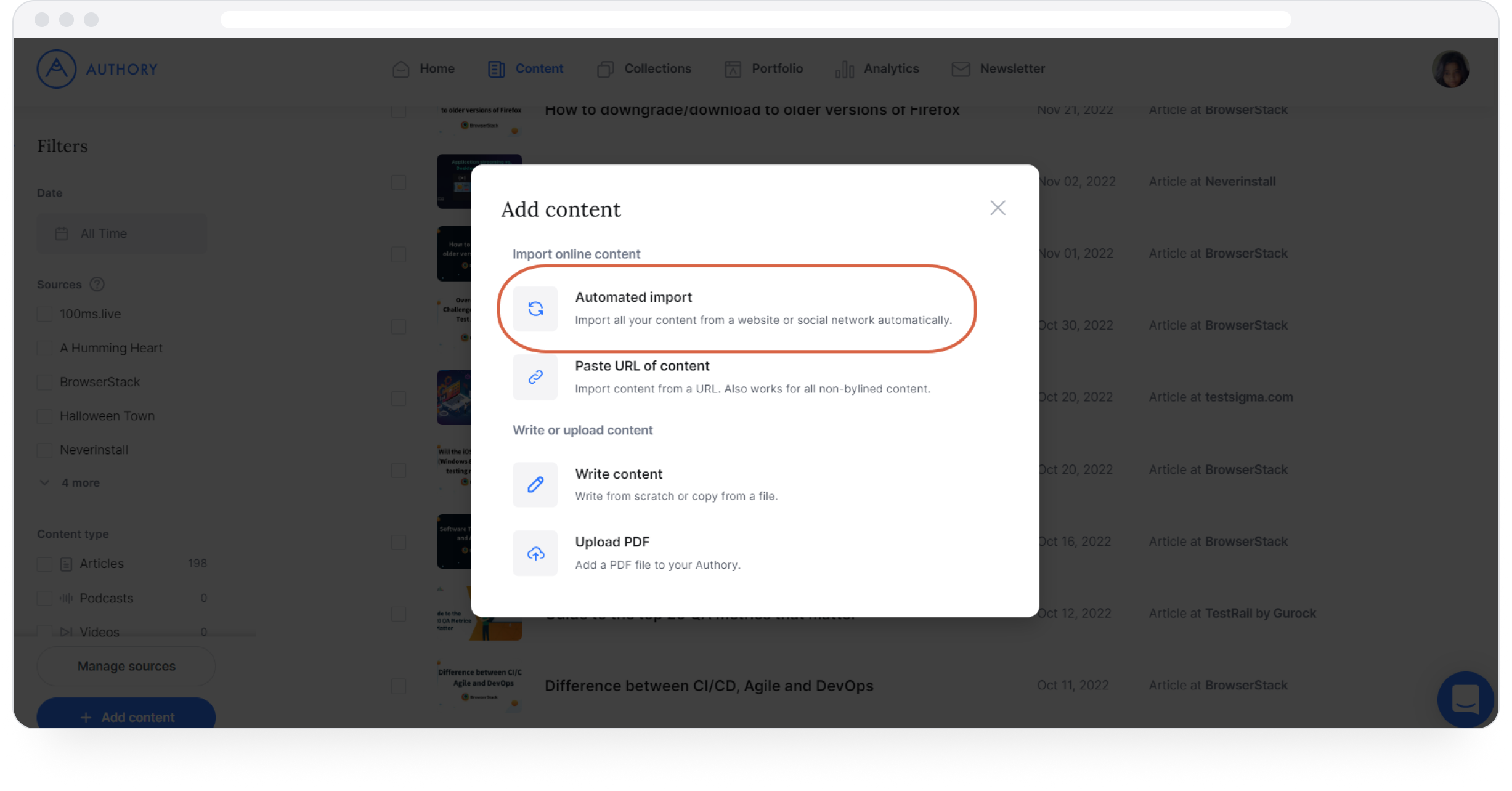 Click on "Add Source" to insert the digital source where your video is published.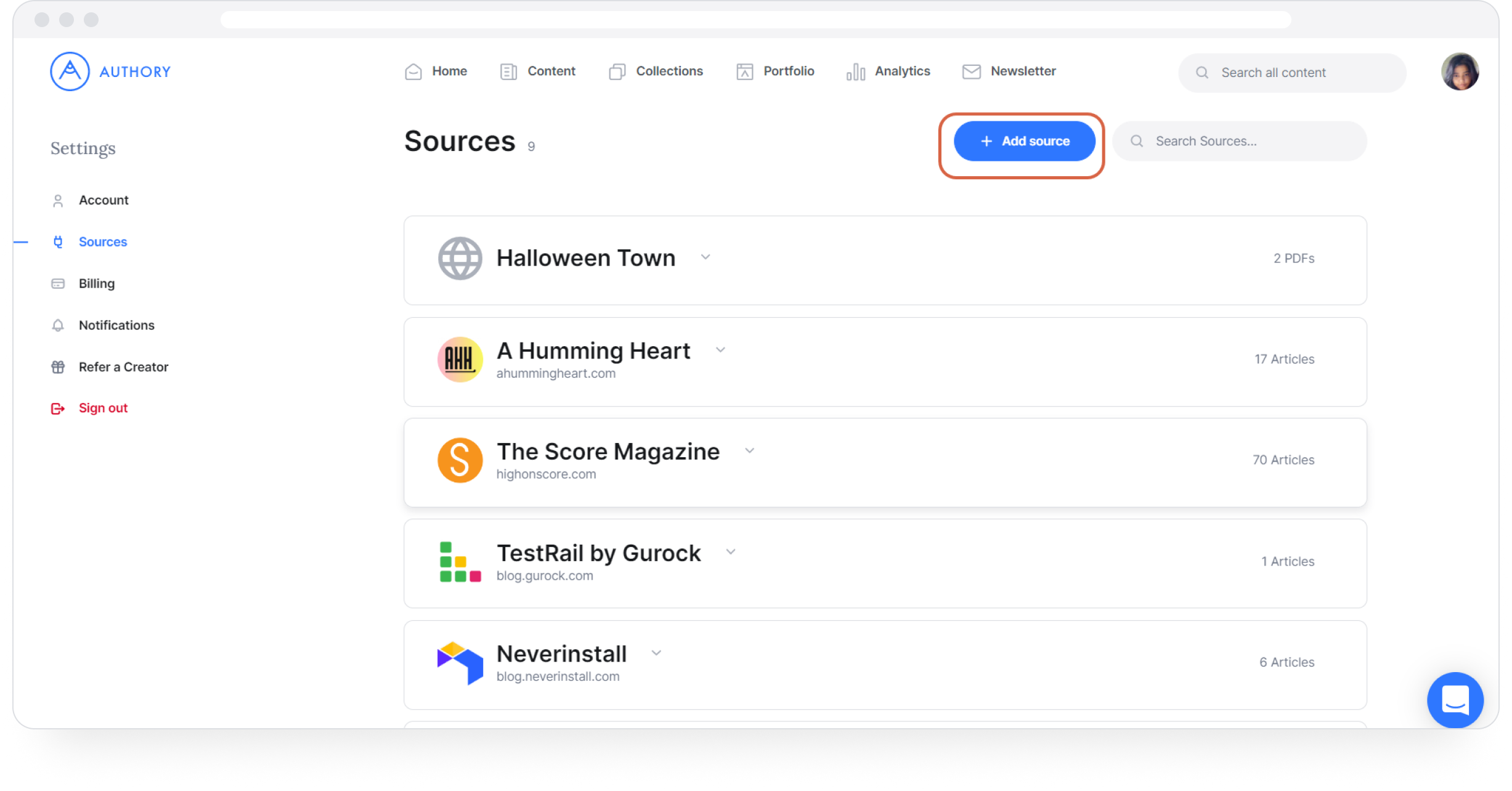 I'm choosing YouTube as the source for importing videos.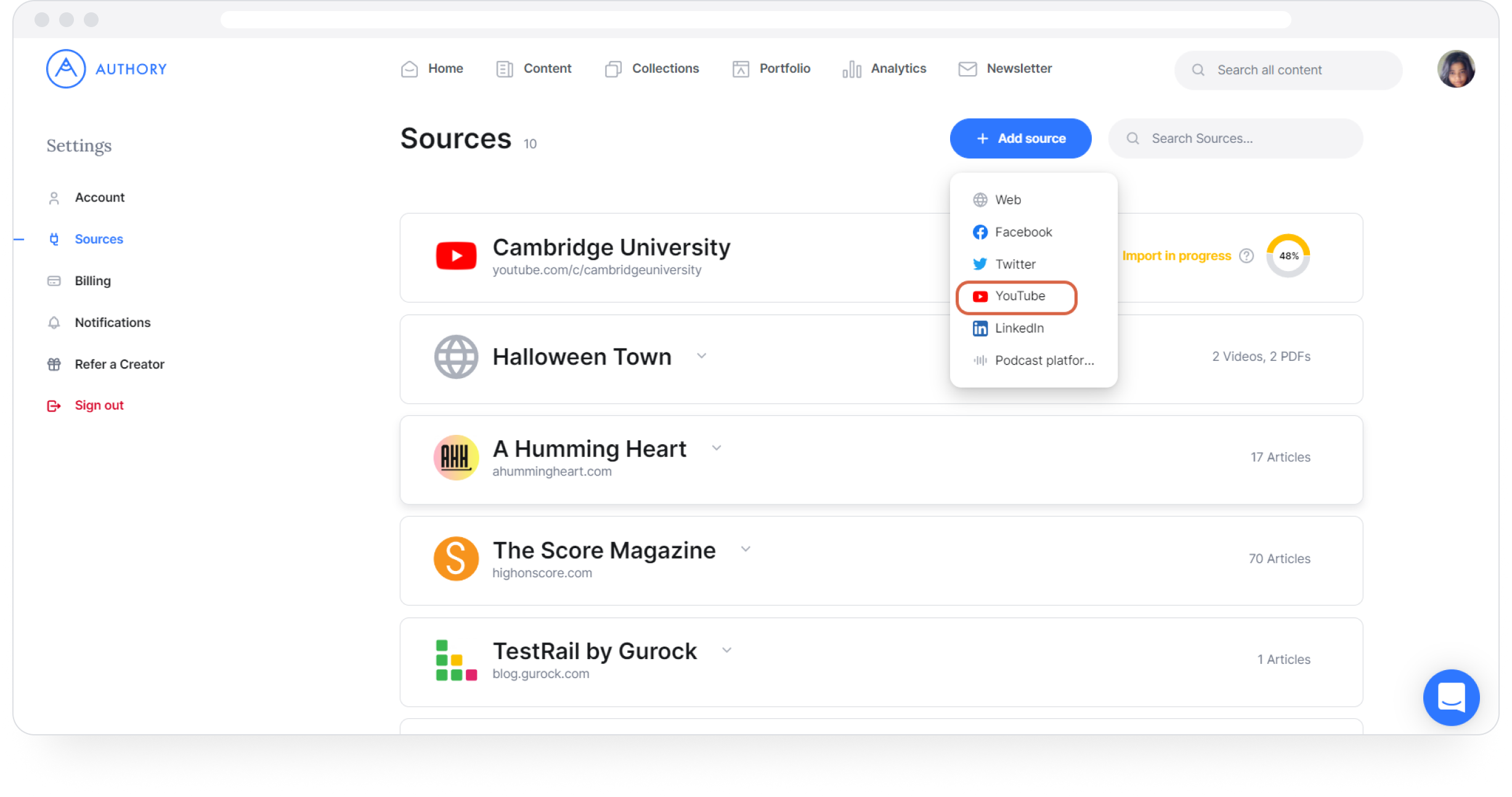 Click on YouTube. After that, enter the name of your YouTube channel and its URL.
🗒️
Note: Since I do not have any published video content, I'll use an existing YouTube channel to demonstrate the process. Please note that none of this video content is mine. I am simply using it as an example for this tutorial.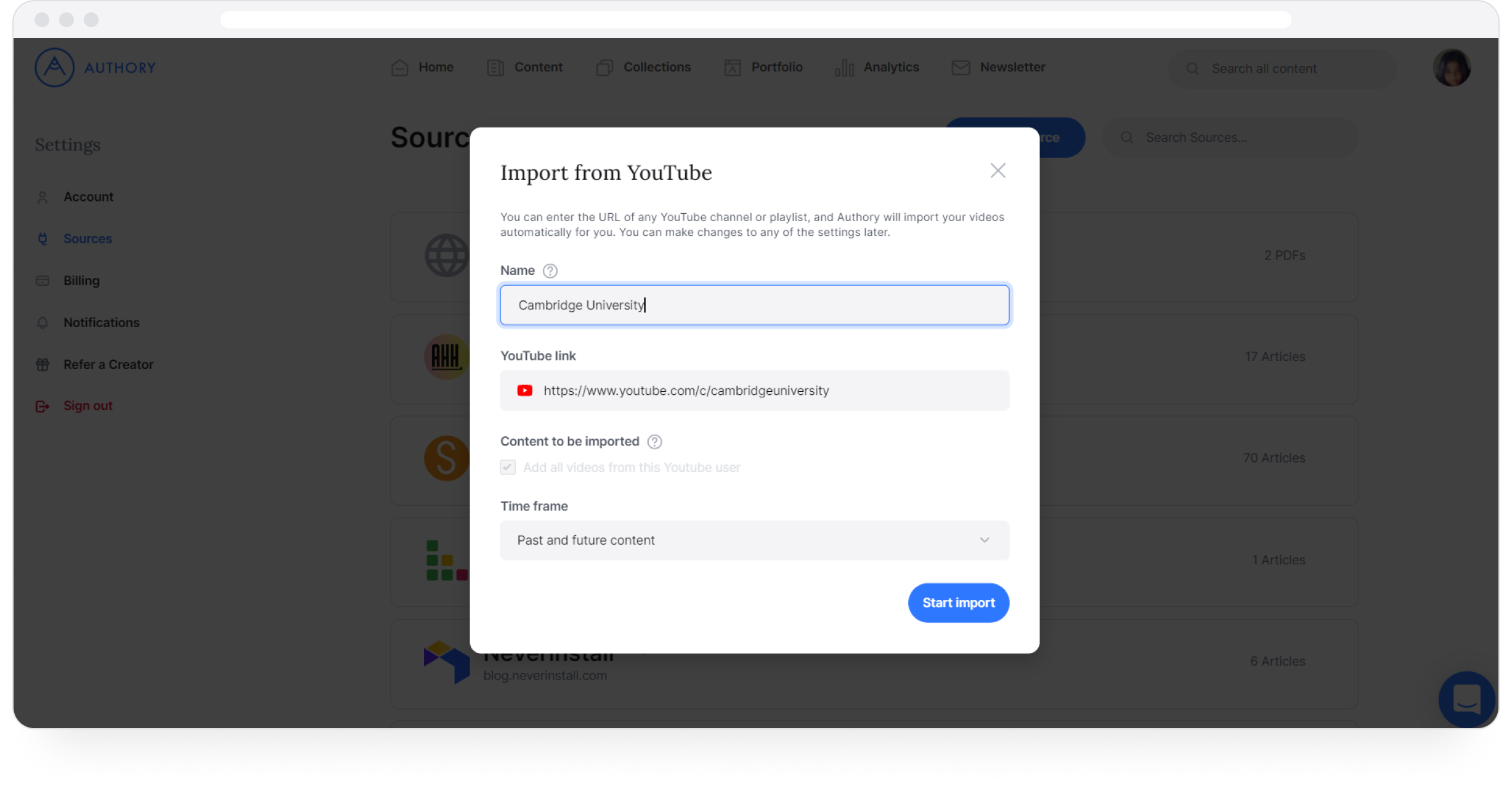 Click on "Start Import". You'll see that the YouTube channel has been added as a source to your list of sources on Authory.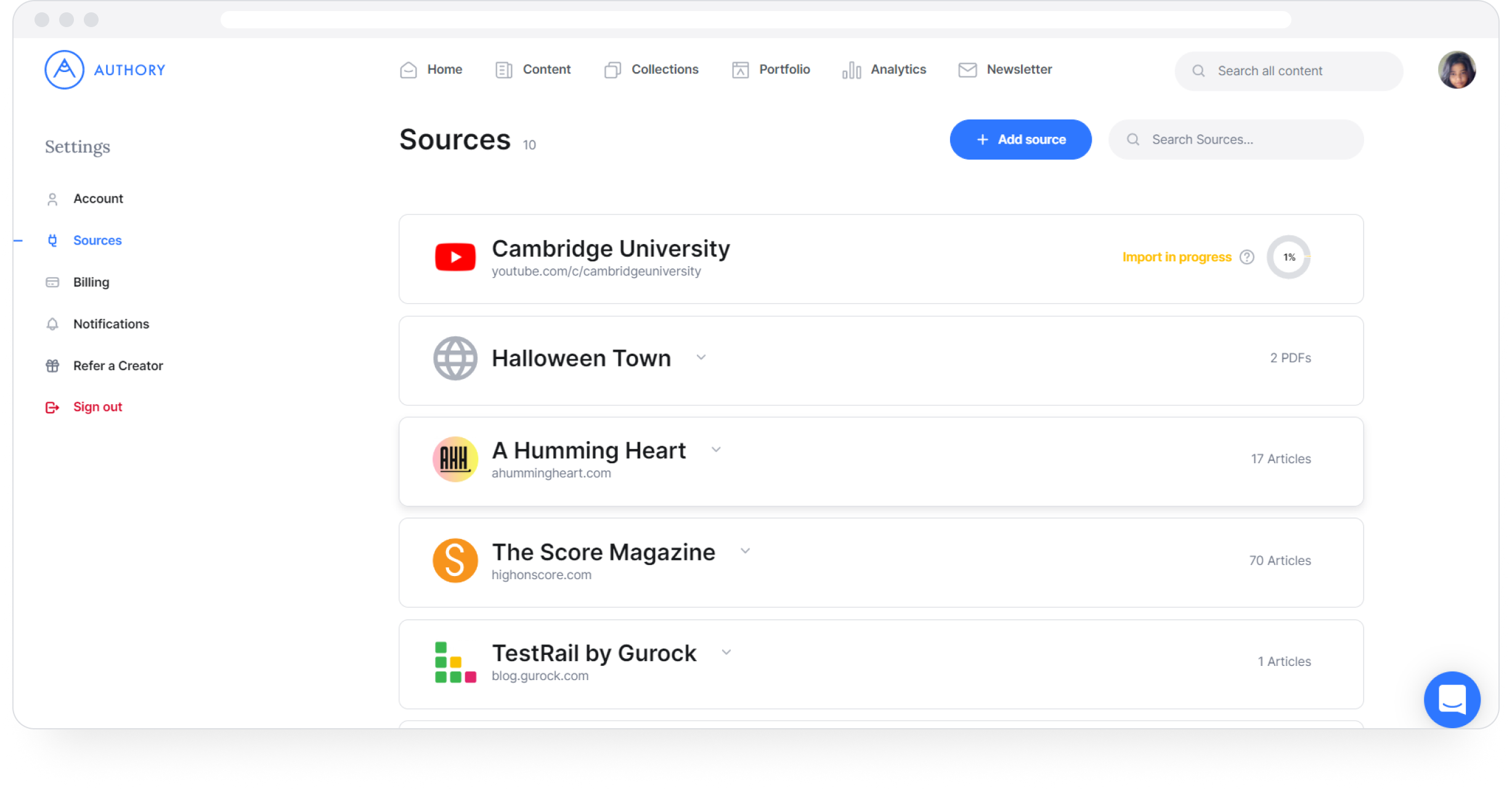 🗒️
Note: It takes about 48 hours for Authory to import all your existing content from a new source. After that time, all new videos you publish will be imported instantly.
To add videos manually…
Go back to the "Content" tab, click "Add Content" and click on "Paste URL of content".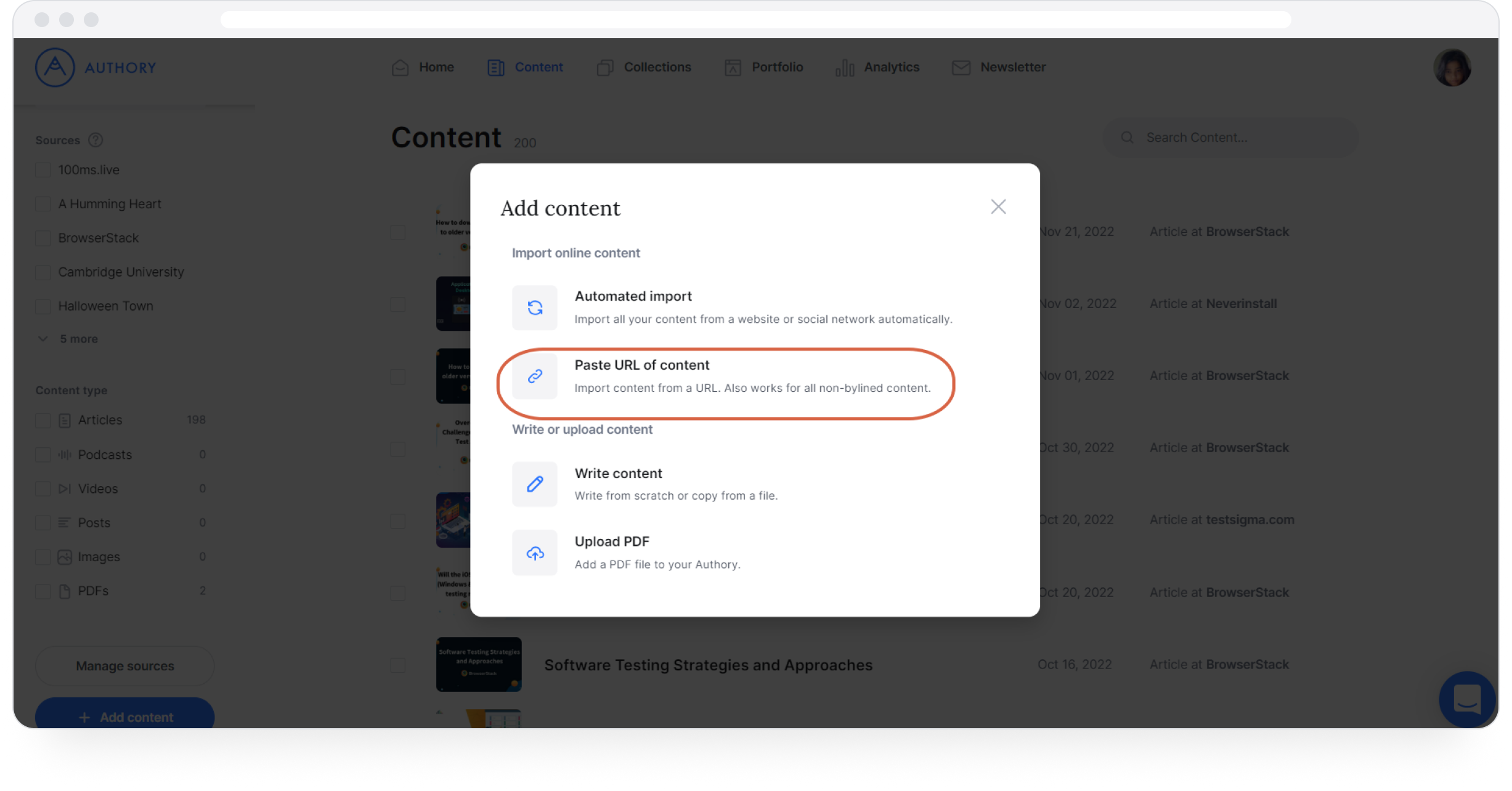 Enter the URL of the video you wish to add. Click "Add".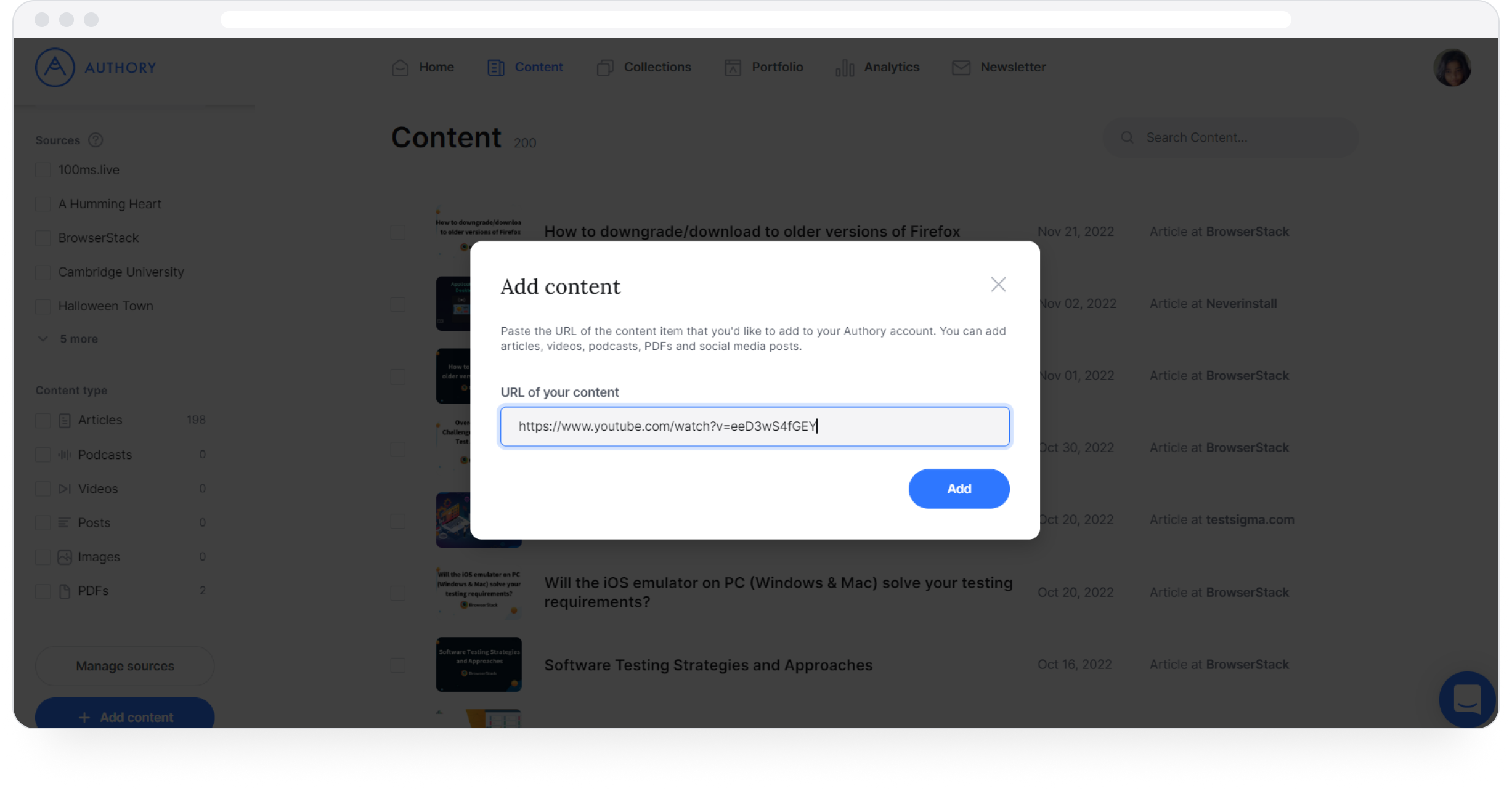 Select the source of the video. If it's from a new source, click "Content is from new source" and add a new source.
In this case, I'll select an existing source on my dashboard — Halloween Town.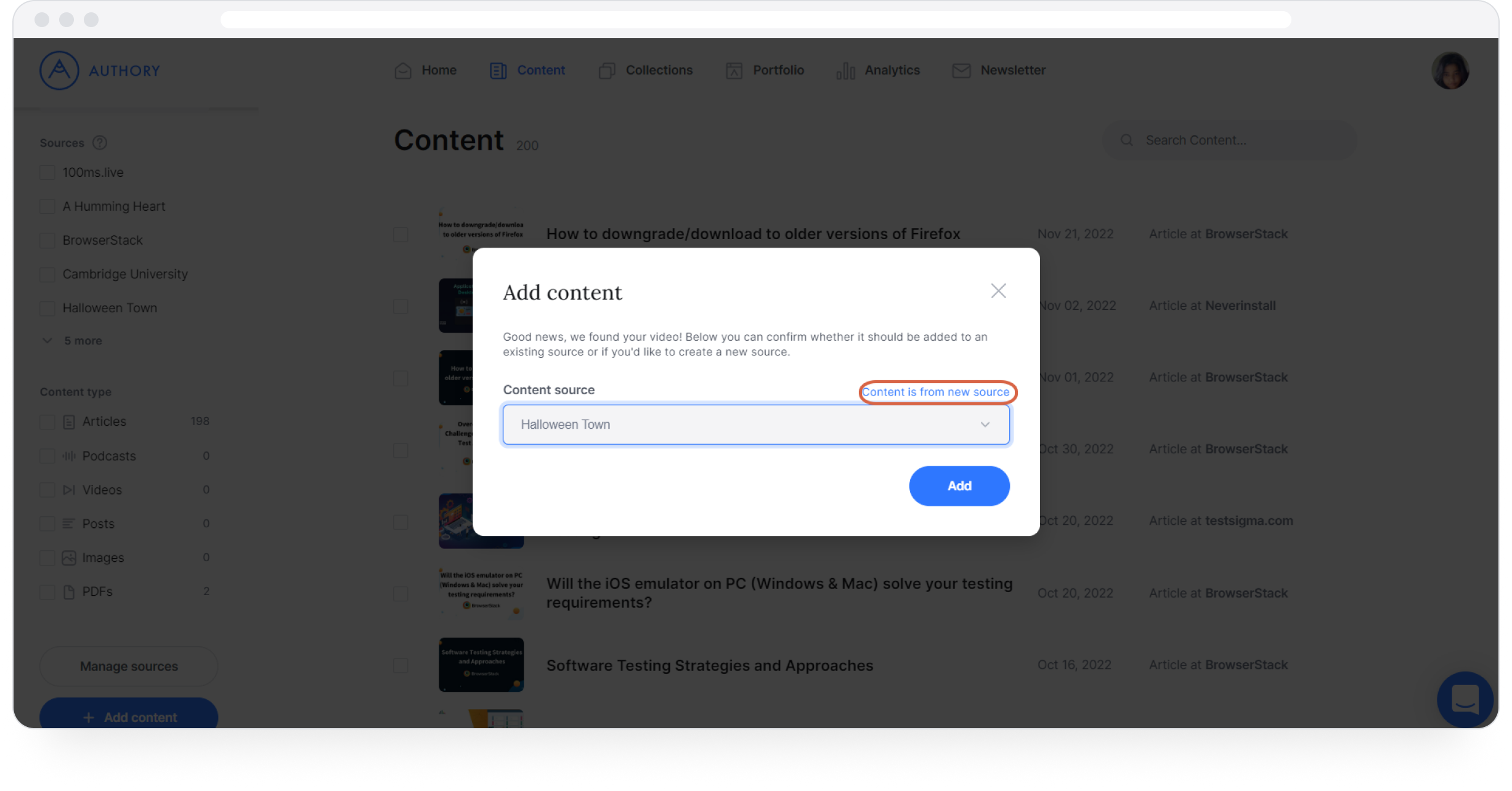 Click "Add". The video will be saved as part of your repository on Authory. You can keep adding more videos by following the same steps. Just click "Add another item."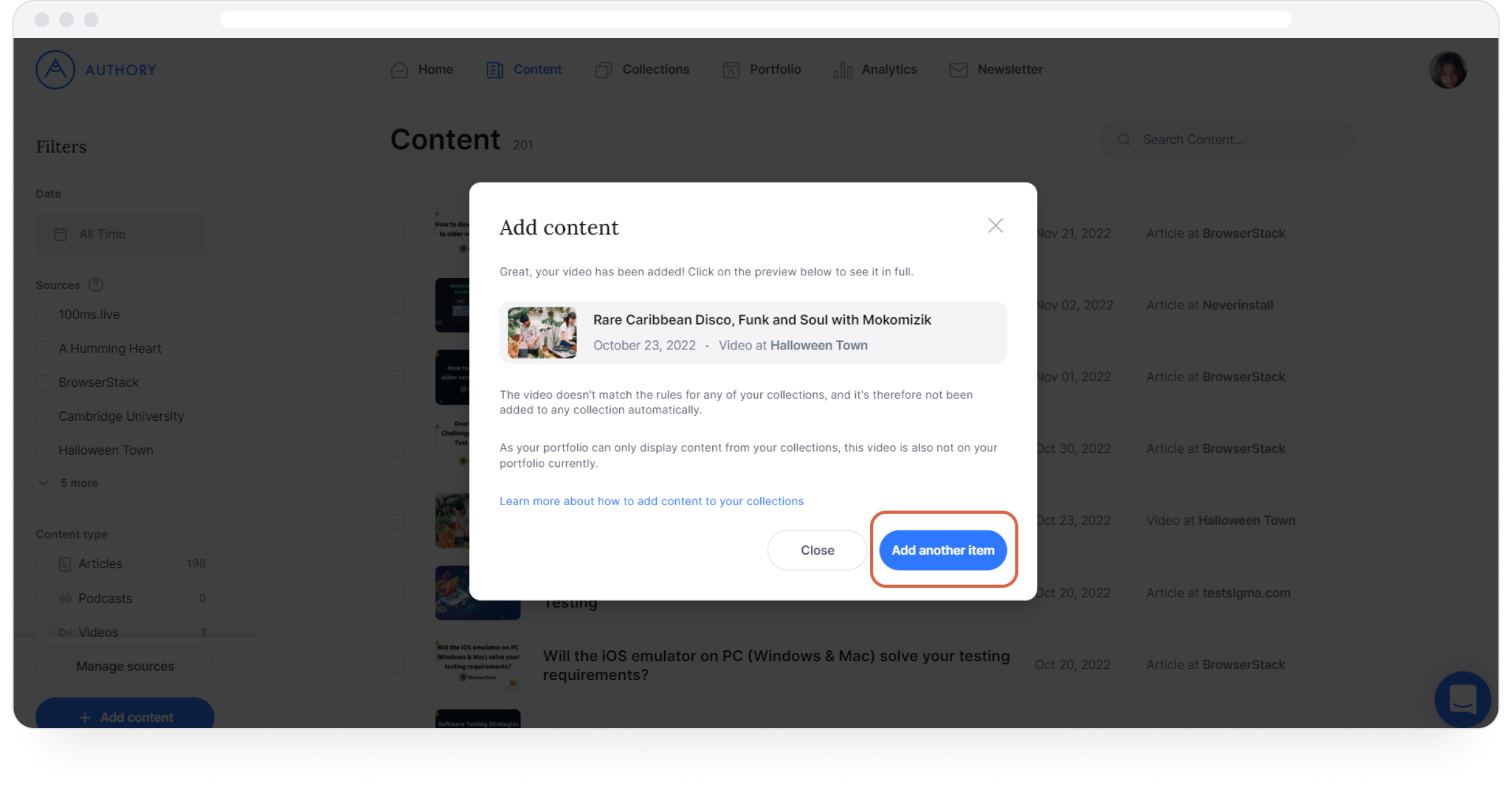 Step 3: Add videos to a Collection
🗒️
Note: From here on, the steps below remain the same whether you're automatically importing videos or adding them manually.
Go back to the "Content" tab. Click on the "Videos" filter to the left of the page. All videos (imported or manually added) will show up. Then, click on the "Create automated collection" option at the top right.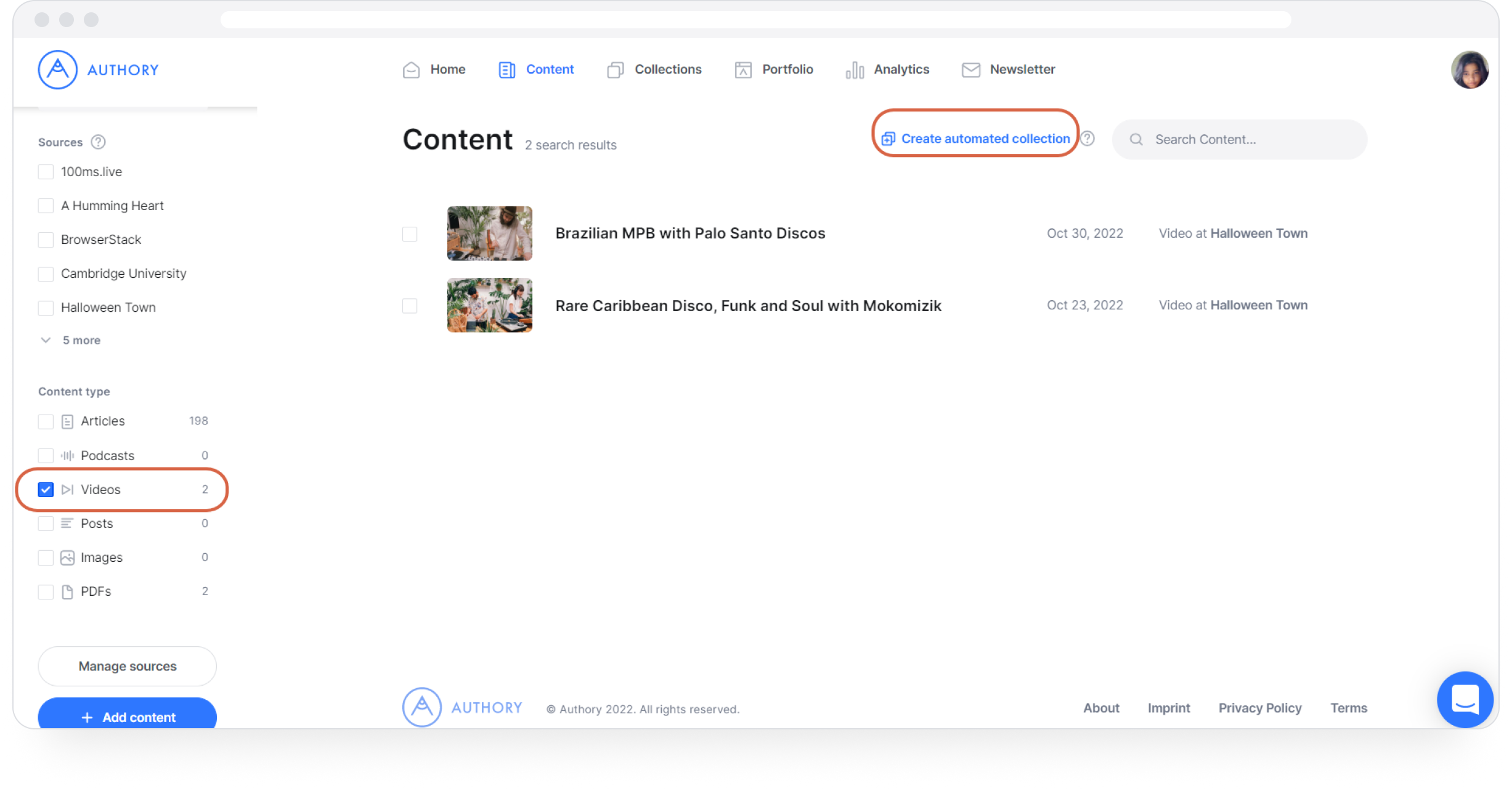 Select the video you want to put in a collection. Then create a new collection by clicking "+ Create new collection" at the bottom right. You can also add the videos to an existing collection if you have one.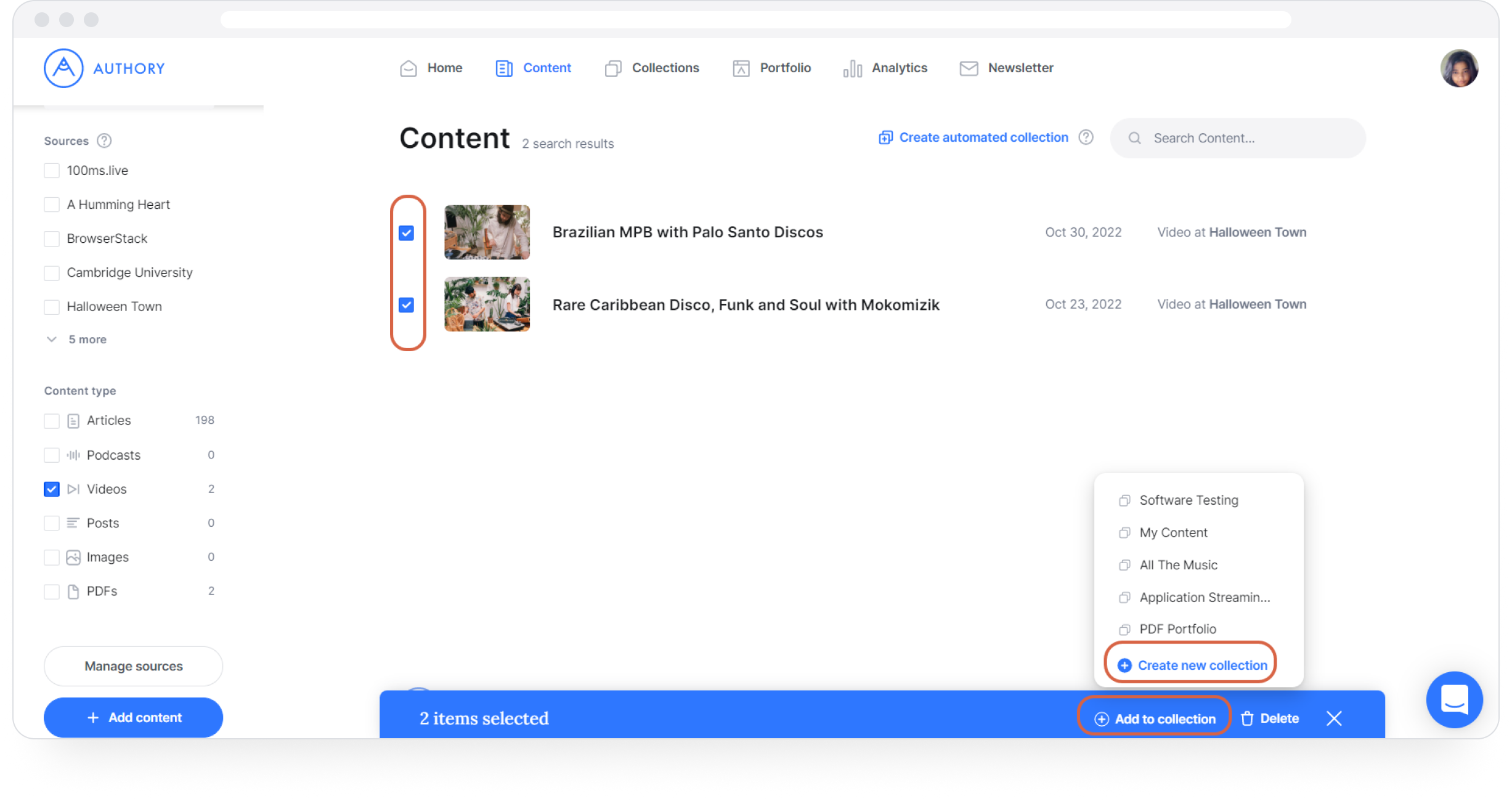 Add a name and description of your video collection. Then click "Add".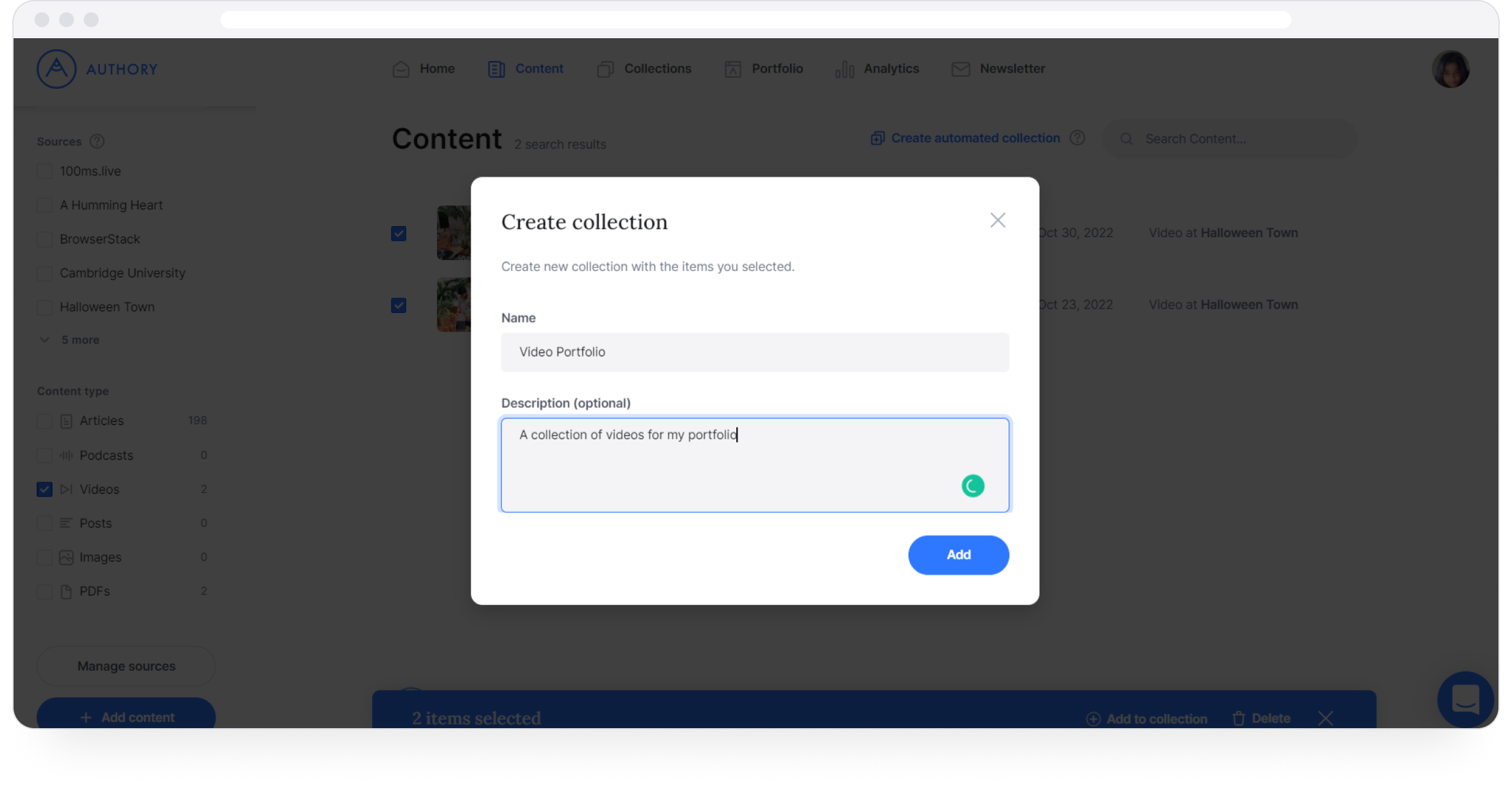 Go to the Collections tab to see what your video collection looks like.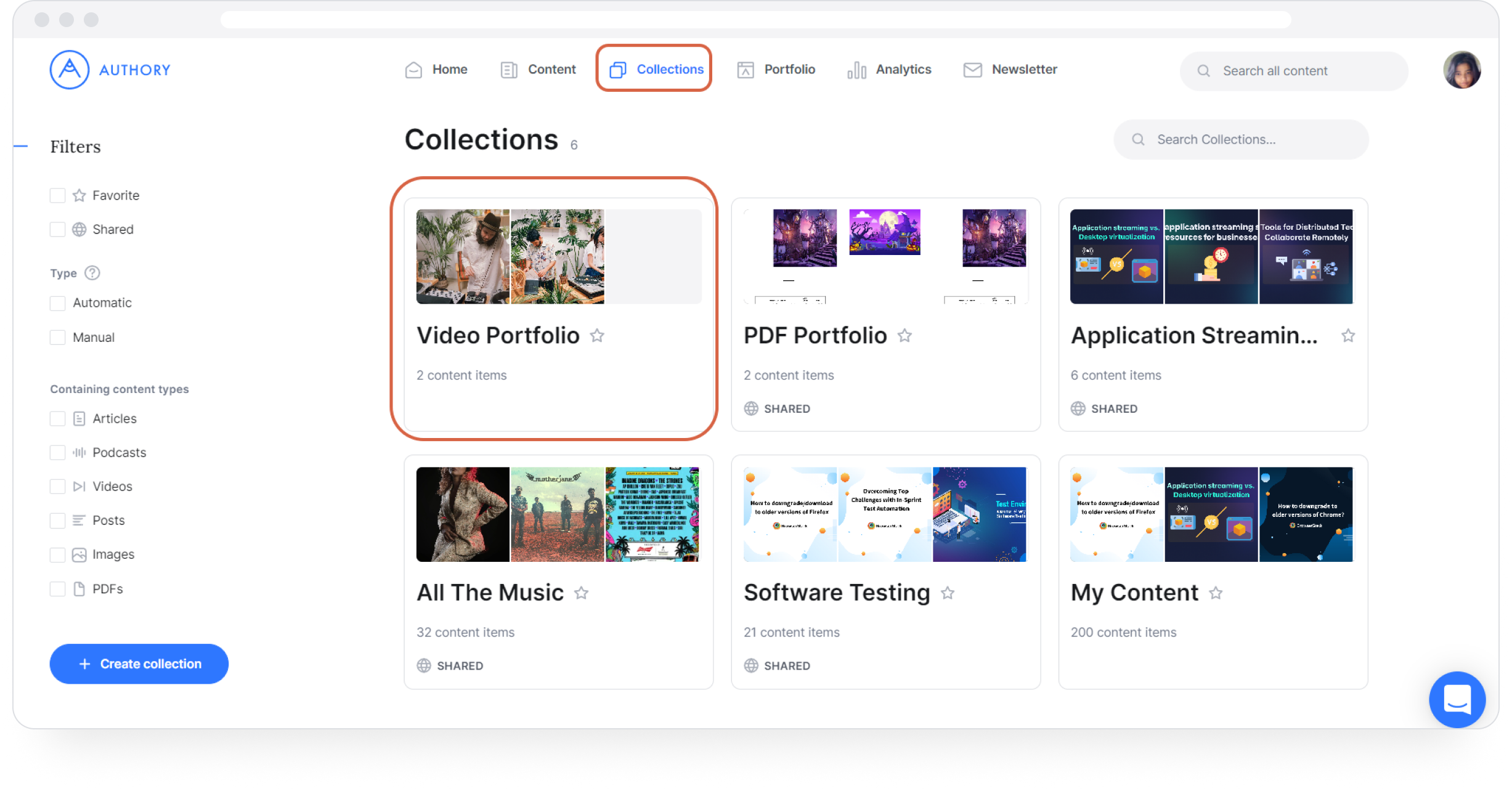 This is what my video collection looks like on Authory.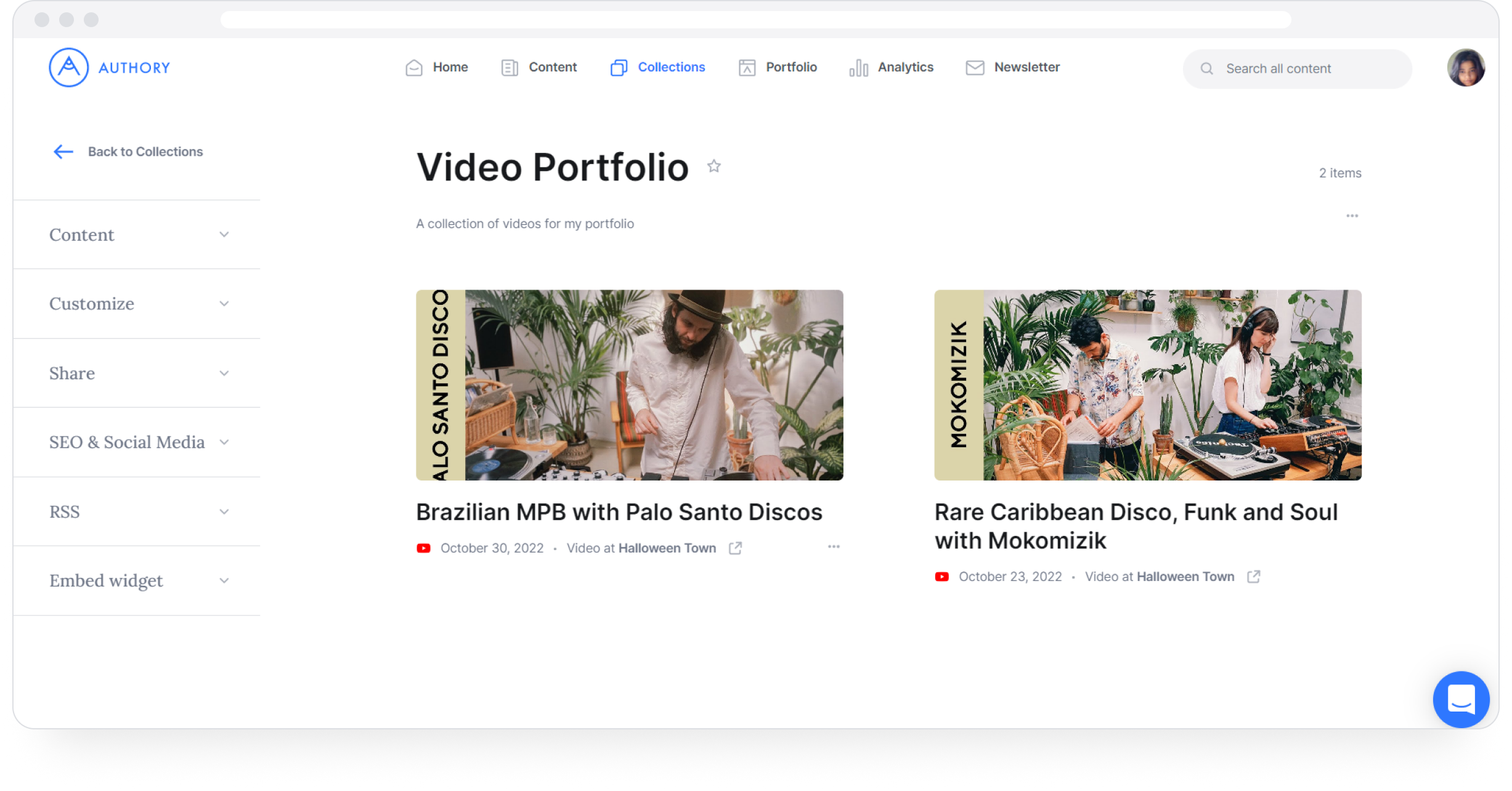 Step 4: Add video collection to portfolio
Go to the "Portfolio" tab on your dashboard. Click on "Content" to the left of the screen.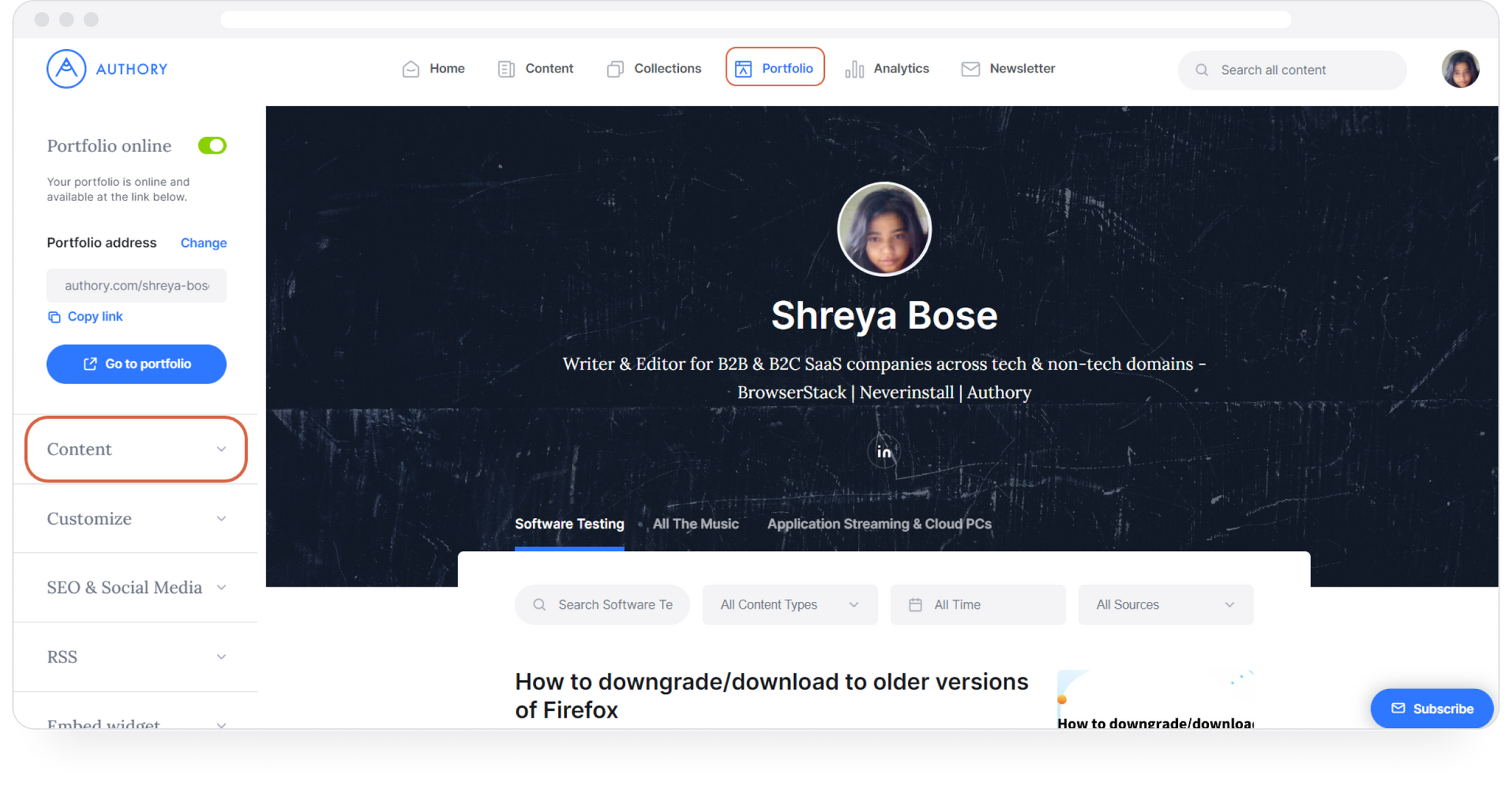 When the Content menu opens up, add the "Video Portfolio" collection we just created.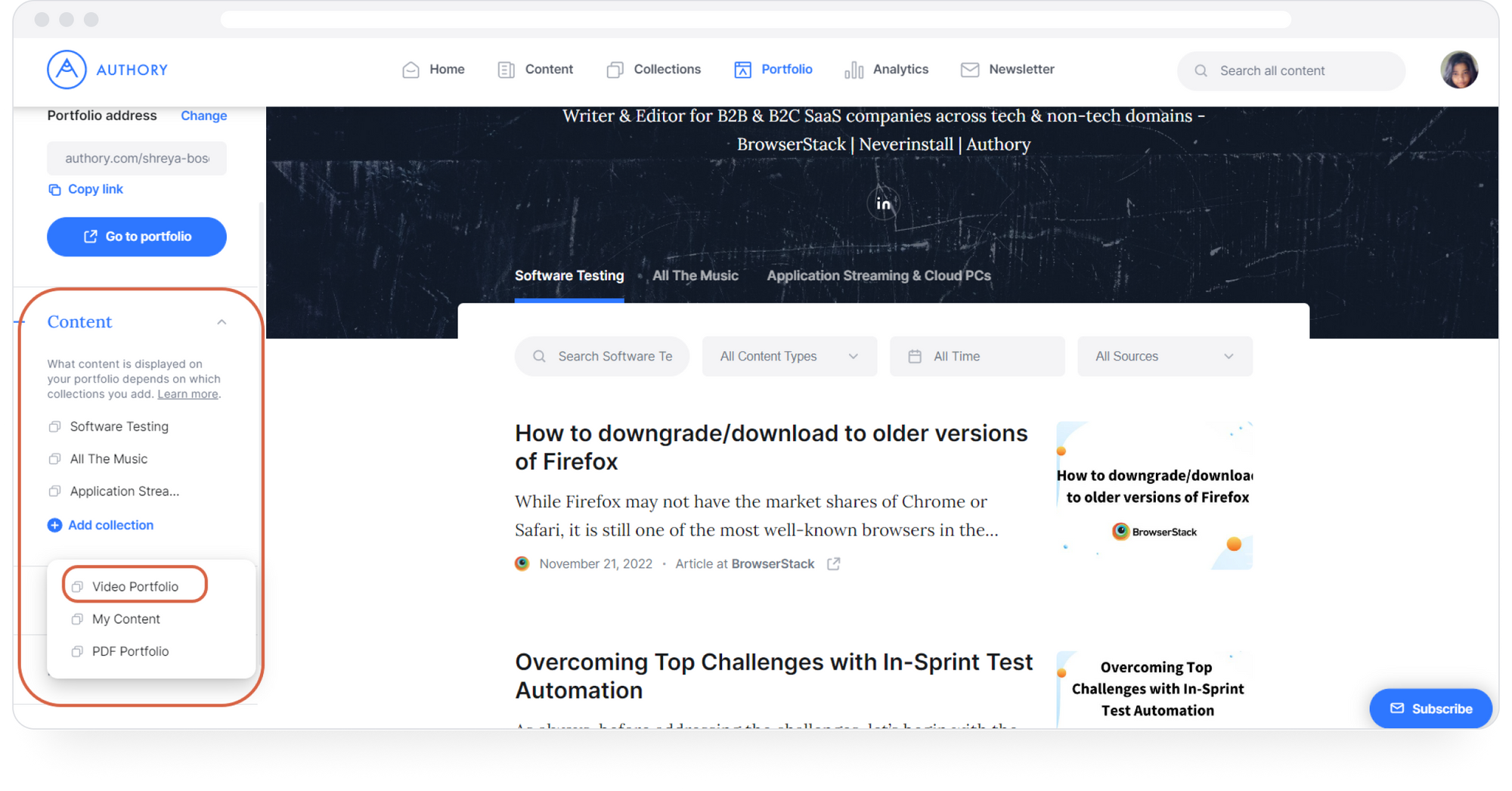 Once you click on the collection name ("Video Portfolio" in this case"), it will instantly be added to the portfolio.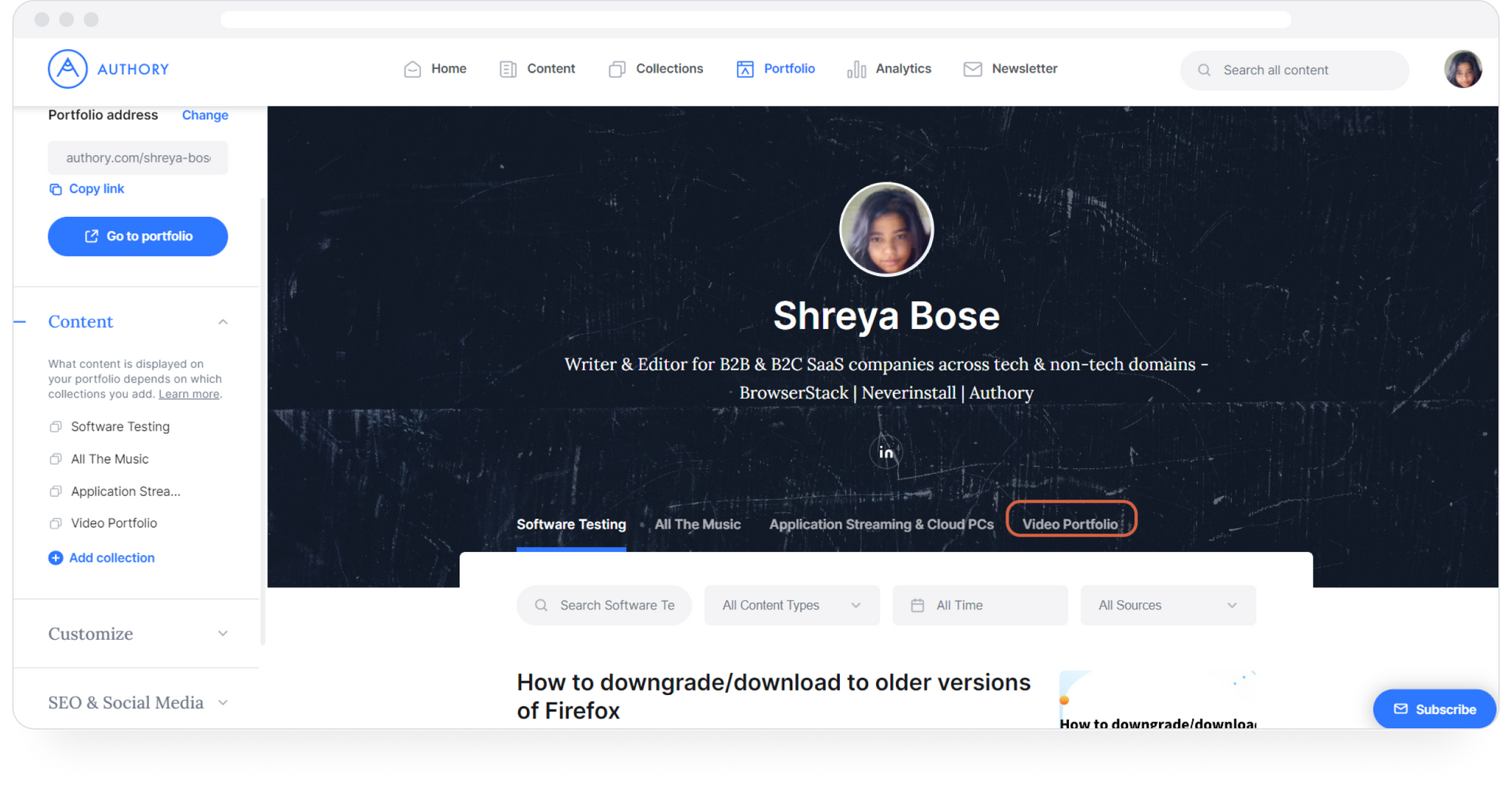 Click on "Go to portfolio" to the left to see what the final portfolio looks like.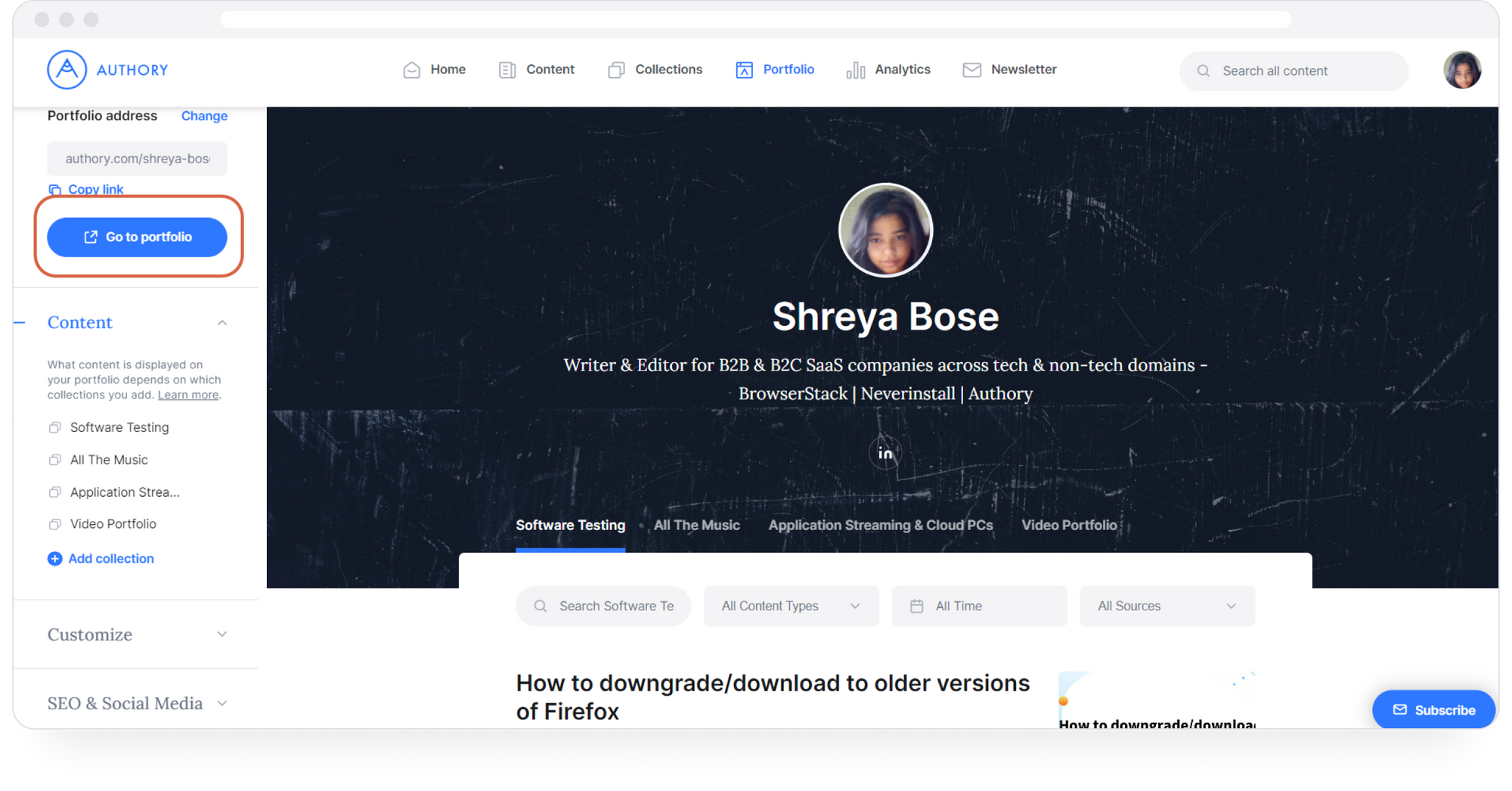 This is what potential clients will see when I send them my portfolio link.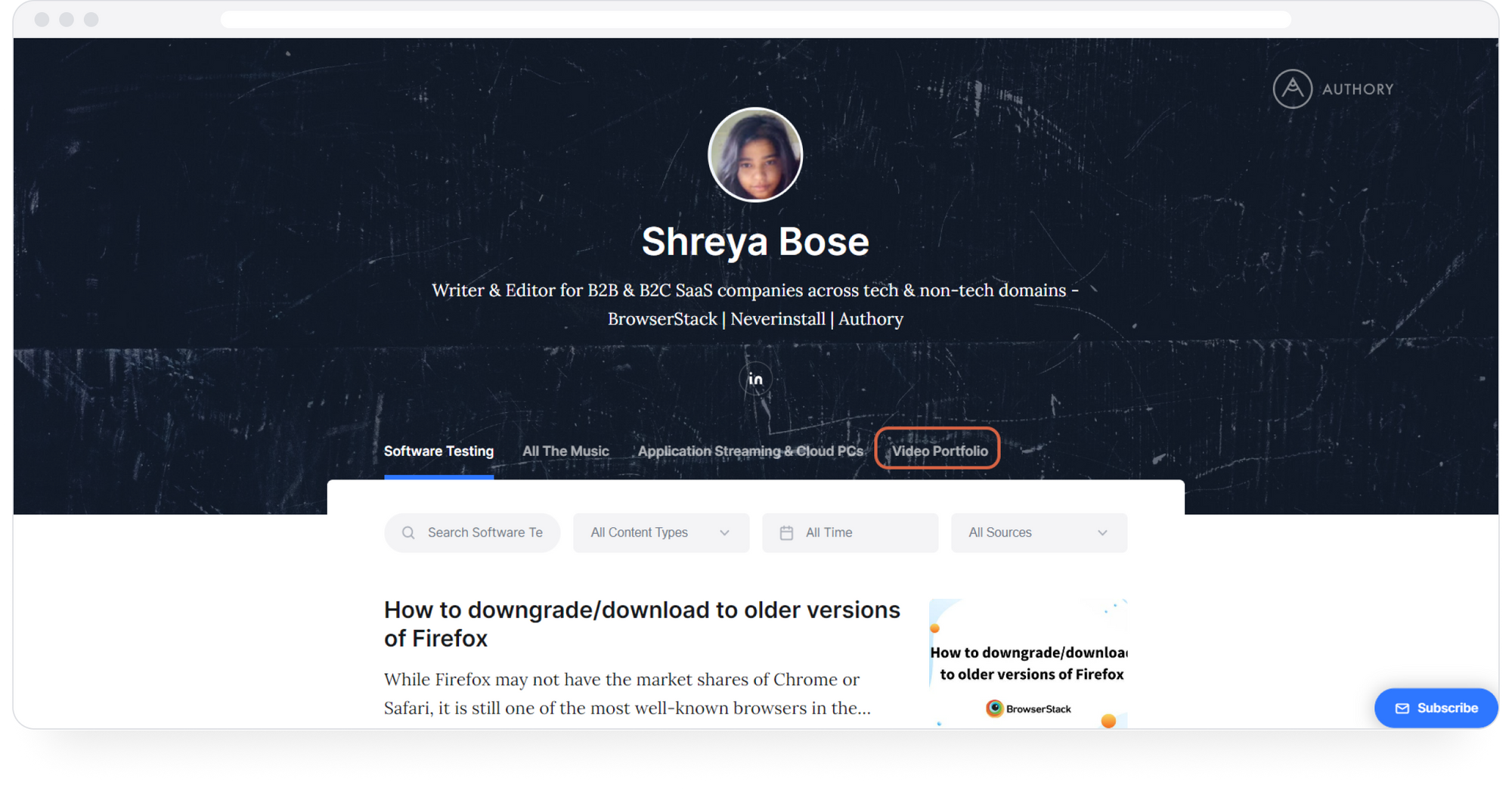 Why use Authory to create a video portfolio?
Simply put… because Authory is far more than a portfolio builder.
If you're importing your videos to Authory, you'll be able to create a professional portfolio with minimal effort, as well as be able to leverage the following features:
Automatically import all bylined content from any digital source you enter — past and future publications (including your videos)
Permanent backup of all imported content. This applies to your videos too.
Content remains available on the Authory database, even if the source website becomes unavailable or removes your videos
Analytics support for your content; see how videos are performing on popular social media site
If you're curious, just do what I did — sign up for free. All you have to do is enter your sources, and the tool will do the rest.