You should be here because you want to learn about creating a writing portfolio on Clippings, learning about Clippings' pros and cons, and discovering an alternative portfolio site builder.
Well, you're in luck!
I'll review what Clippings is and what it can do for you. Then I'll show you how to create a freelance writing portfolio, step by step, on Clippings using my writing samples to illustrate. Then we'll see some Clippings portfolio examples, delve into the pros and cons of using Clippings, look at a Clippings portfolio alternative called Authory, and learn why Authory is arguably better than Clippings.
📖
What you'll get from this article:
• Learn what Clippings is and how to create online writing portfolios on Clippings
• Check out some top Clippings portfolio examples
• Learn about the pros and cons of Clippings
• Read a review of an alternative called Authory, and see why Authory is better than Clippings
• Check out some top Authory portfolio sites
What is a Clippings portfolio?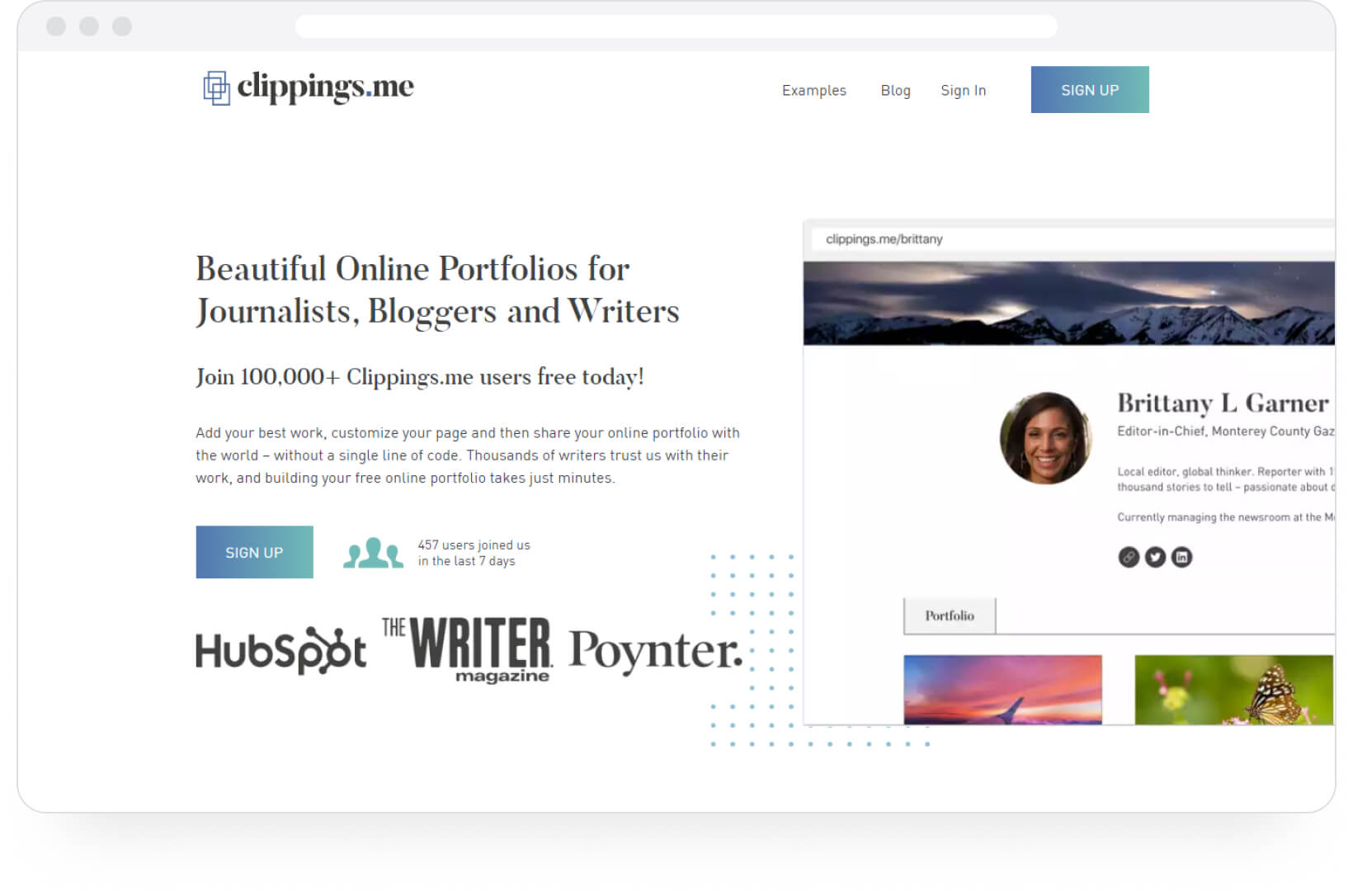 Clippings is an online portfolio builder primarily used by freelance journalists and freelance writers. It was initially made for journalists, as exhibited by the journalist directory on the site.
Clippings has a useful free version, but that limits you to just ten pieces of content. That said, this version supports online articles and lets you upload PDFs and multimedia files like video and audio clips. The design is customizable (to an extent) and responsive (adapts to your screen size). There's no free custom domain — your portfolio will be housed at clippings.me/yourname.
The premium version costs $9.99/month (at the time of writing) and gives you a few more options to make your portfolio into something resembling your own website. In this version, you get to add as many pieces as you like, your portfolio is unbranded (as in, "Clippings" is removed, making it look like your personal website), and you can use a custom domain name of your choosing. On top of this, you get Google Analytics integration, a password-protected portfolio, a spam-protected contact form, and priority support.
How to create an online writing portfolio website on Clippings
If you're a freelance writer or content creator of any sort, follow the steps below to create your free Clippings portfolio.
Step 1: Sign up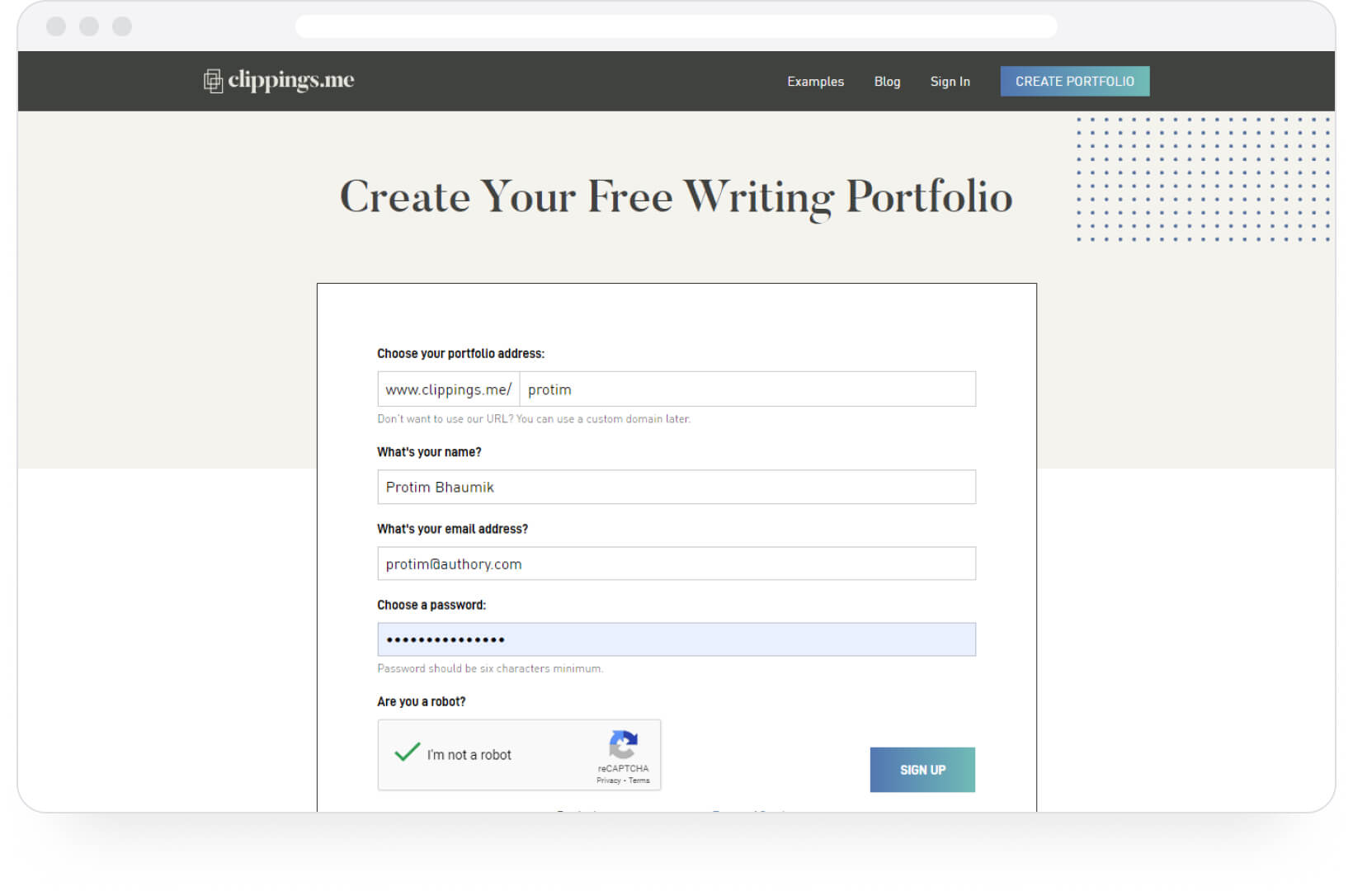 Sign up for Clippings and enter your details as seen above.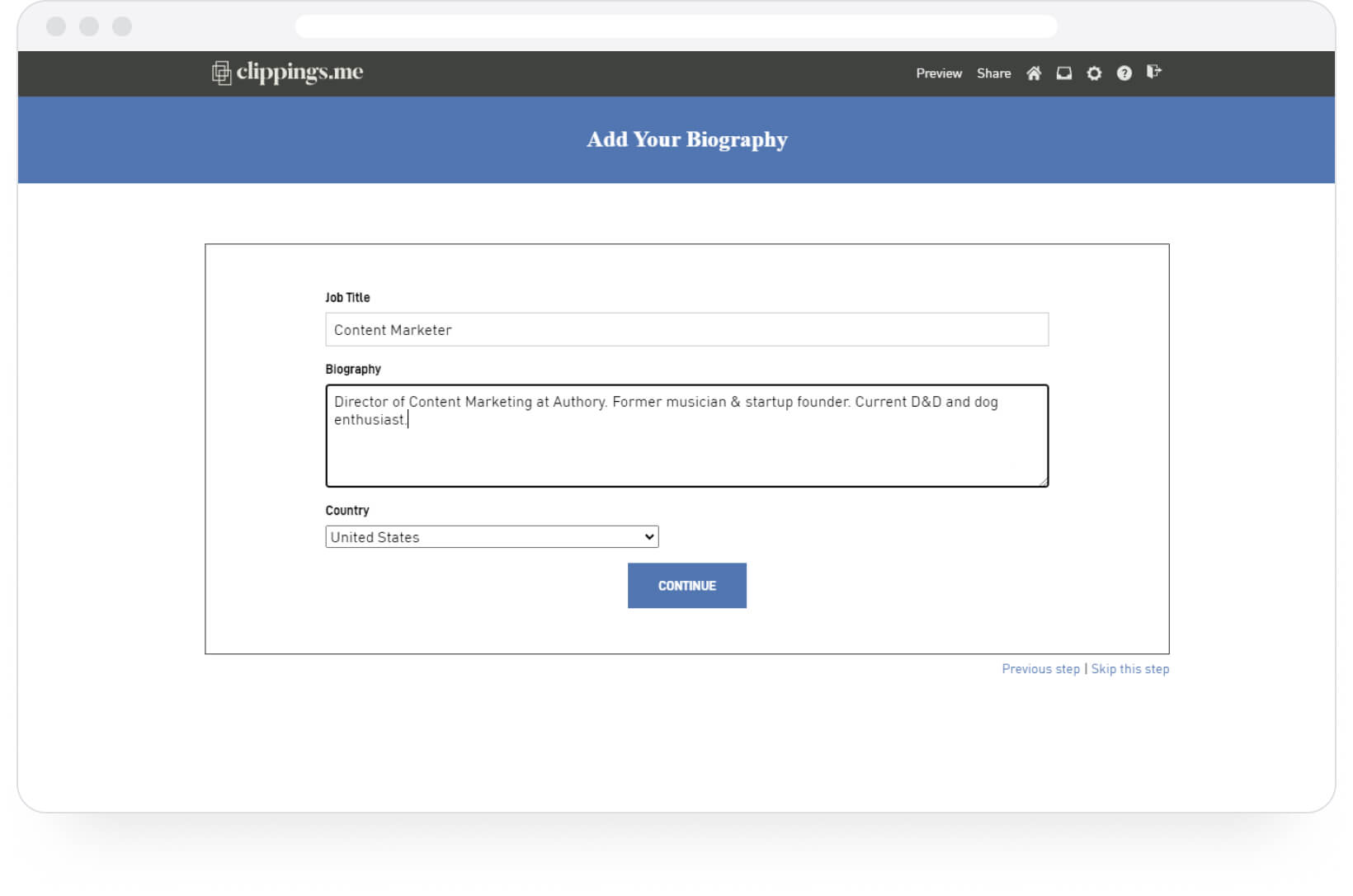 Next, you'll get the option to add your biography or an "About me." If you're unsure what to fill here, read our guide to creating the perfect "about me." You can also choose to fill this in later.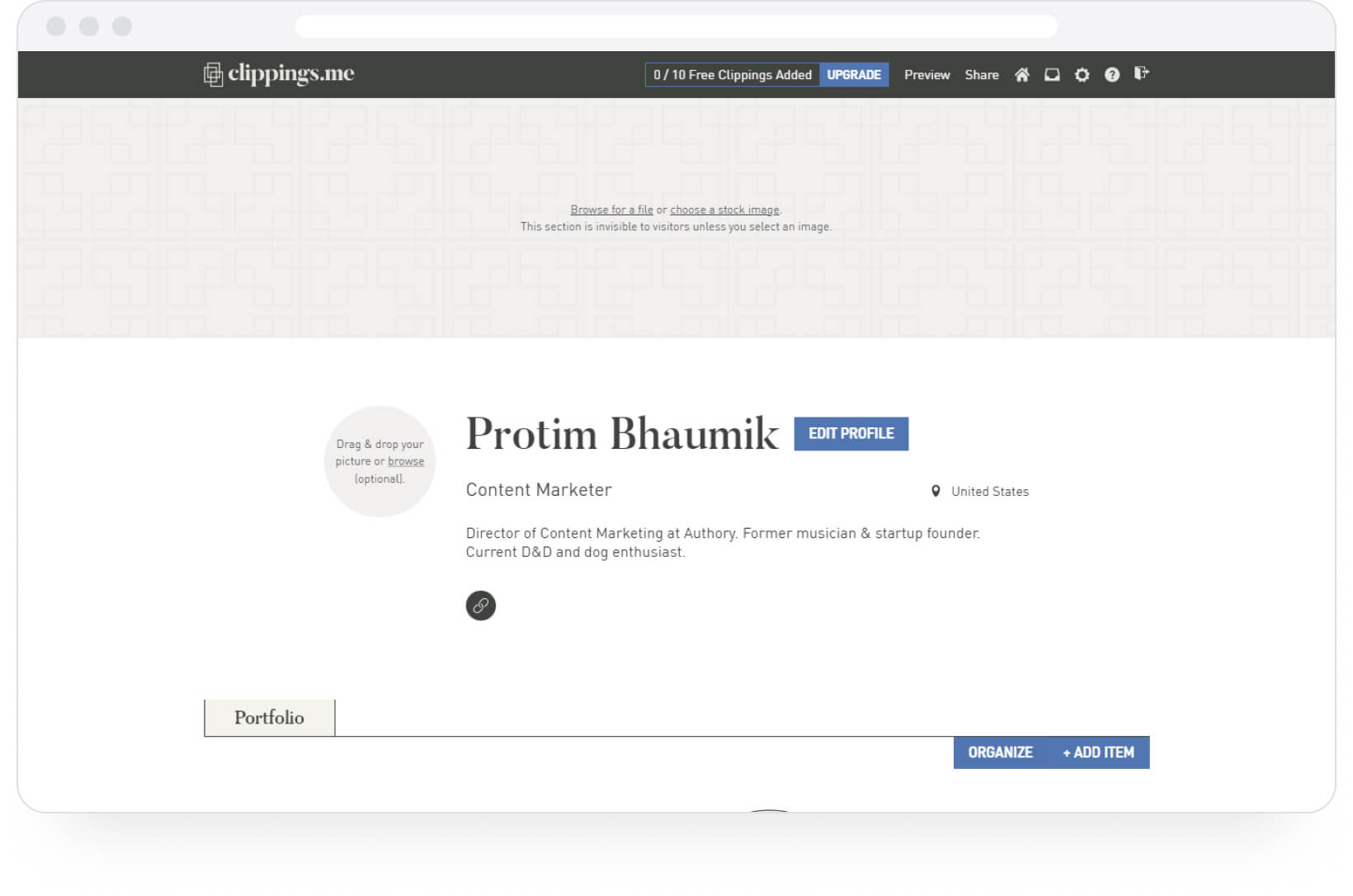 Now, you should be in your portfolio proper. You can add a cover image, edit your profile here, and add a display photo.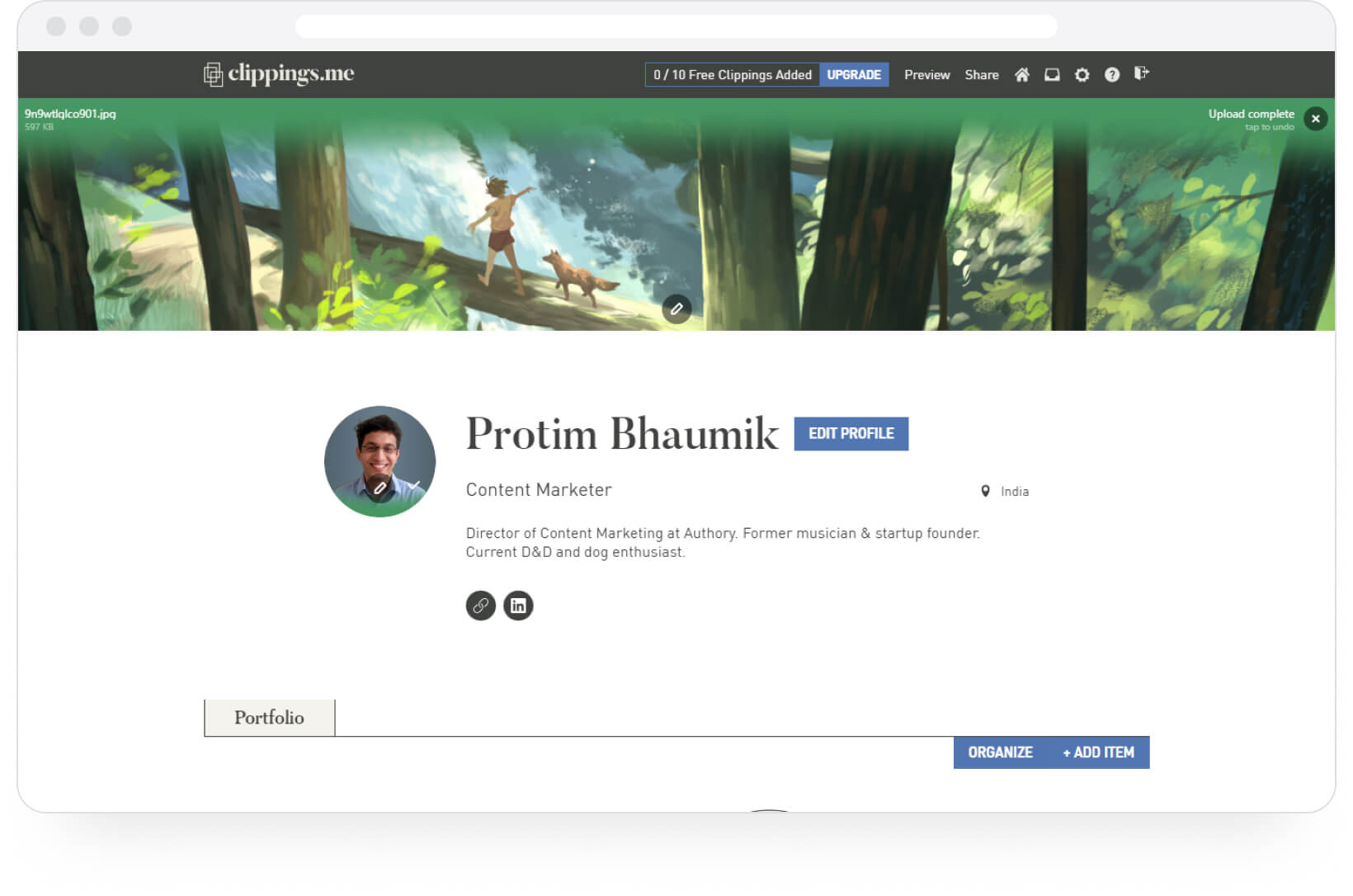 This is how it looks when done.
Step 2: Upload your content
Next, you need to add your content to your portfolio.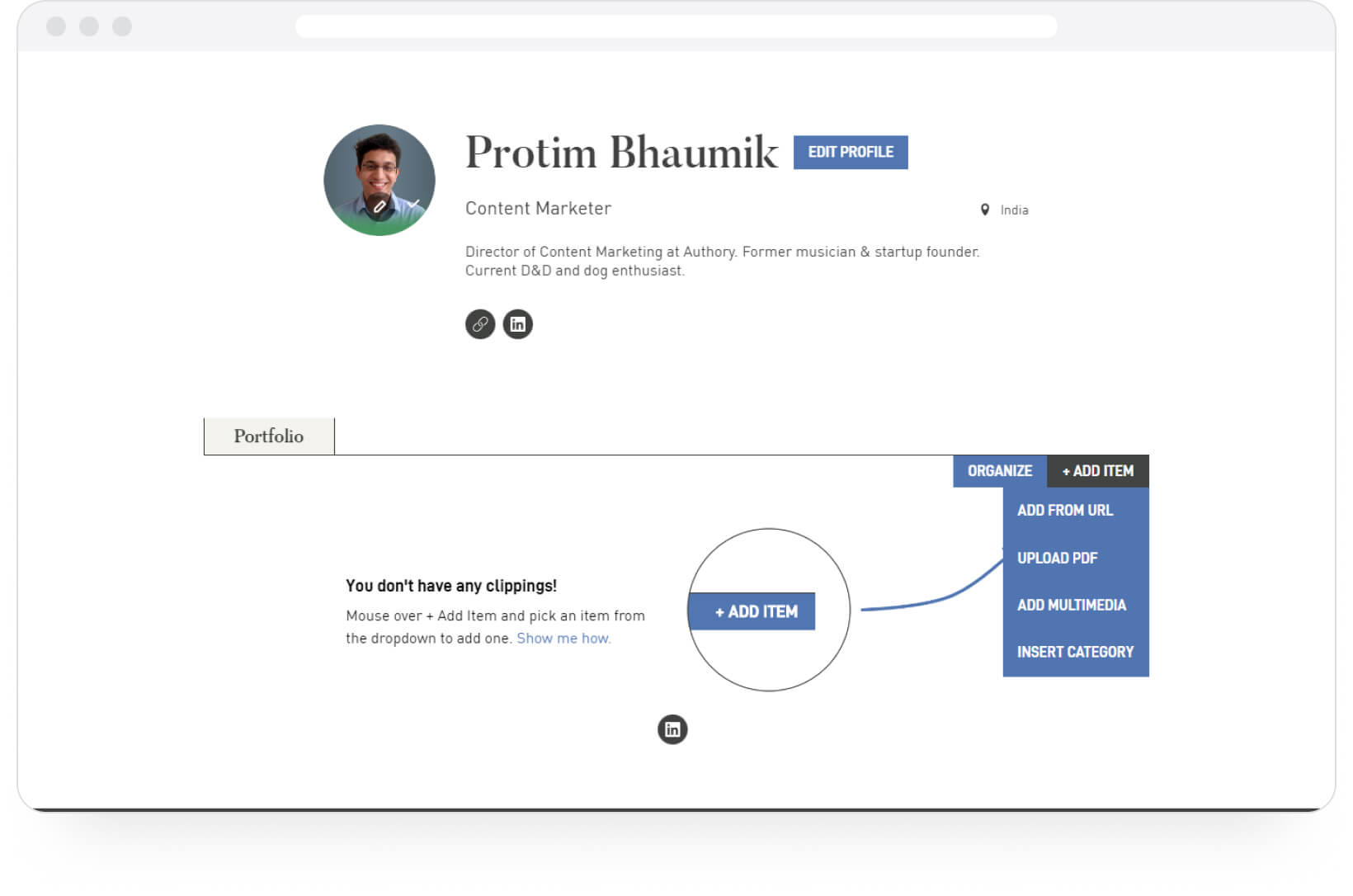 Click on the + ADD ITEM link. Let's start with a URL.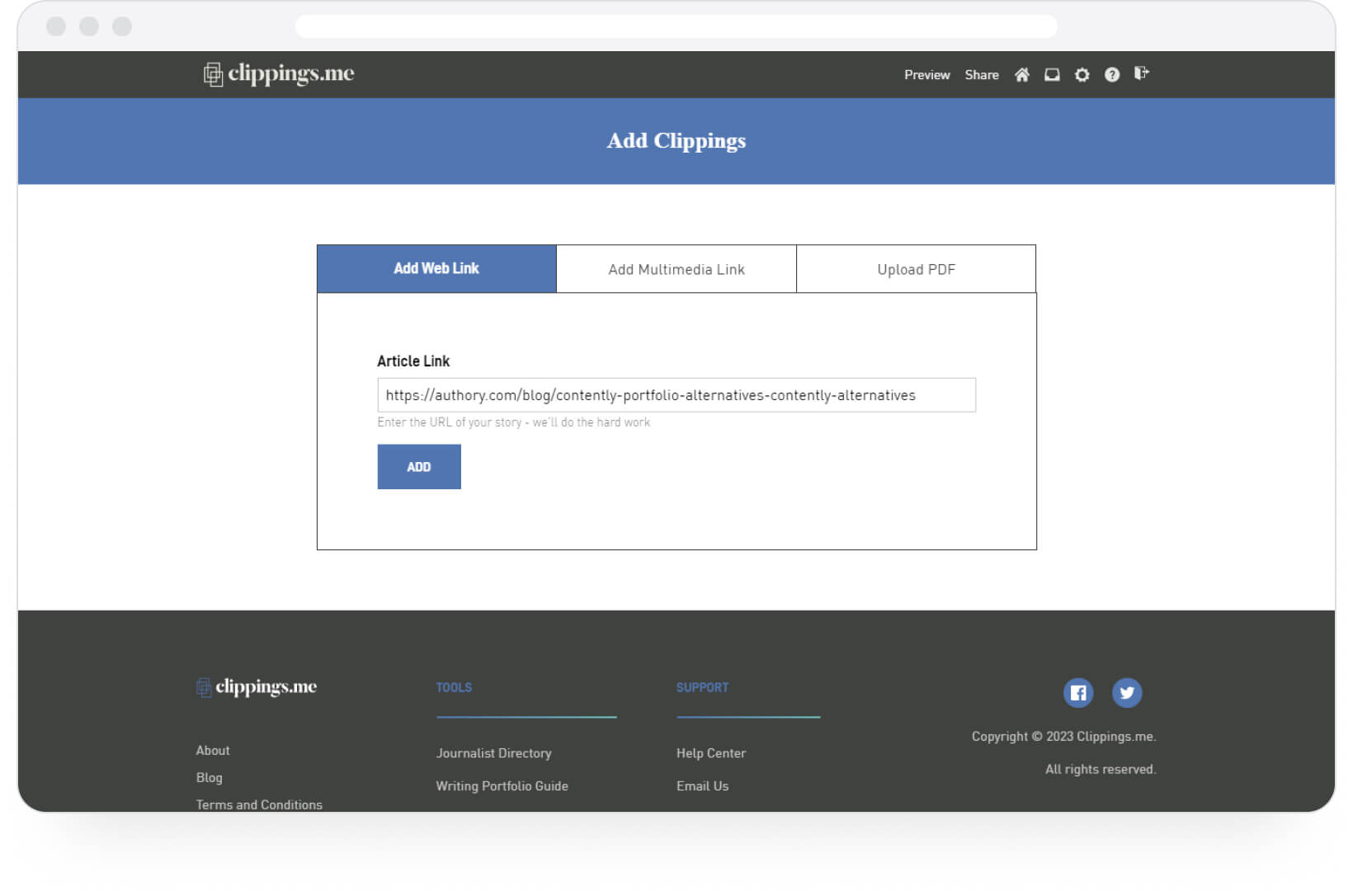 As shown above, I've added a URL to one of my articles. Now, let's add a YouTube video.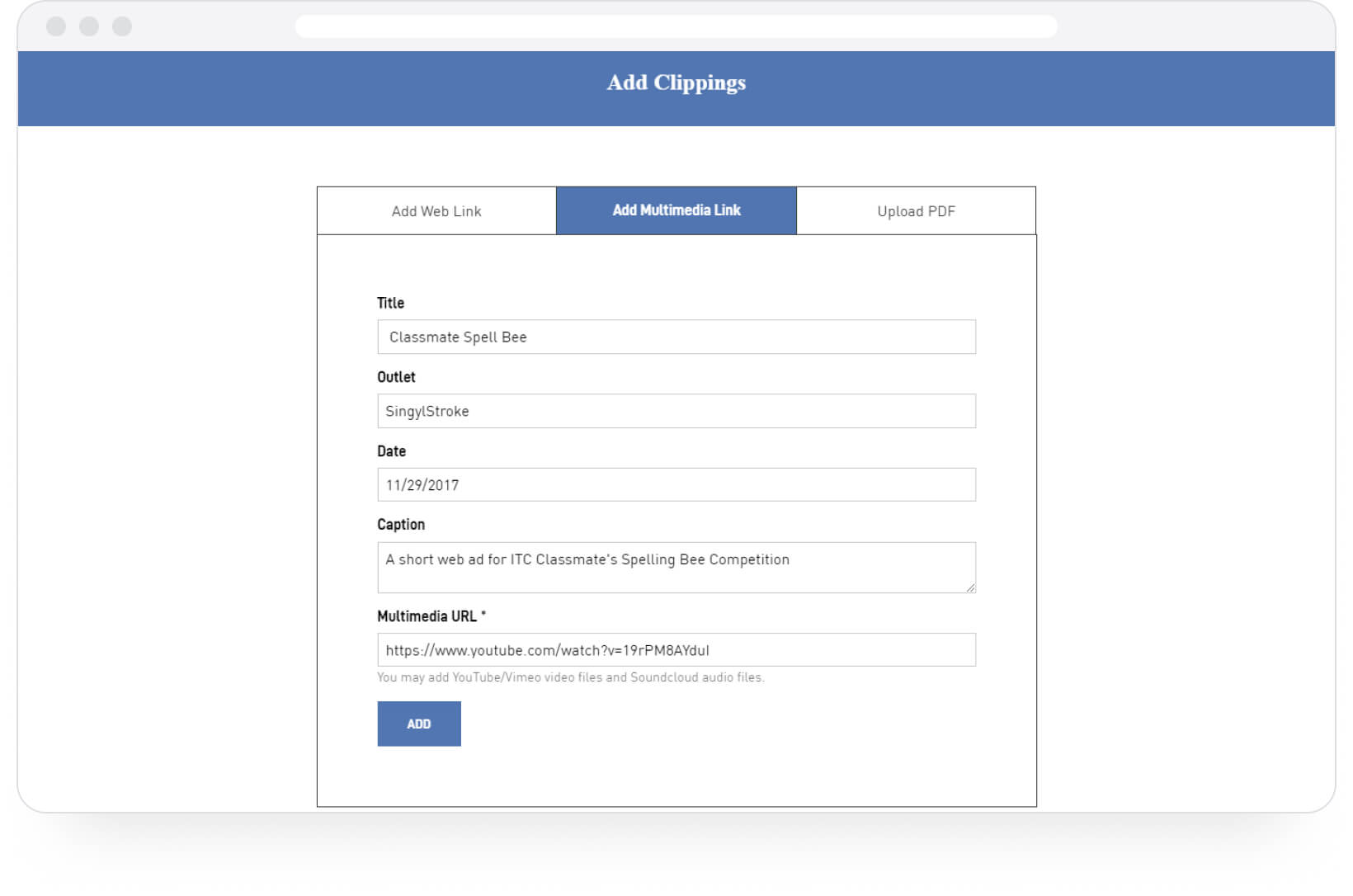 You can see how to add a YouTube, Vimeo, or SoundCloud link to Clippings. I didn't have a PDF handy on me, but I imagine the process is identical.
I'll now go ahead and add a few more content pieces.
Step 3: Organize your online writing portfolio
The final step is to organize your portfolio.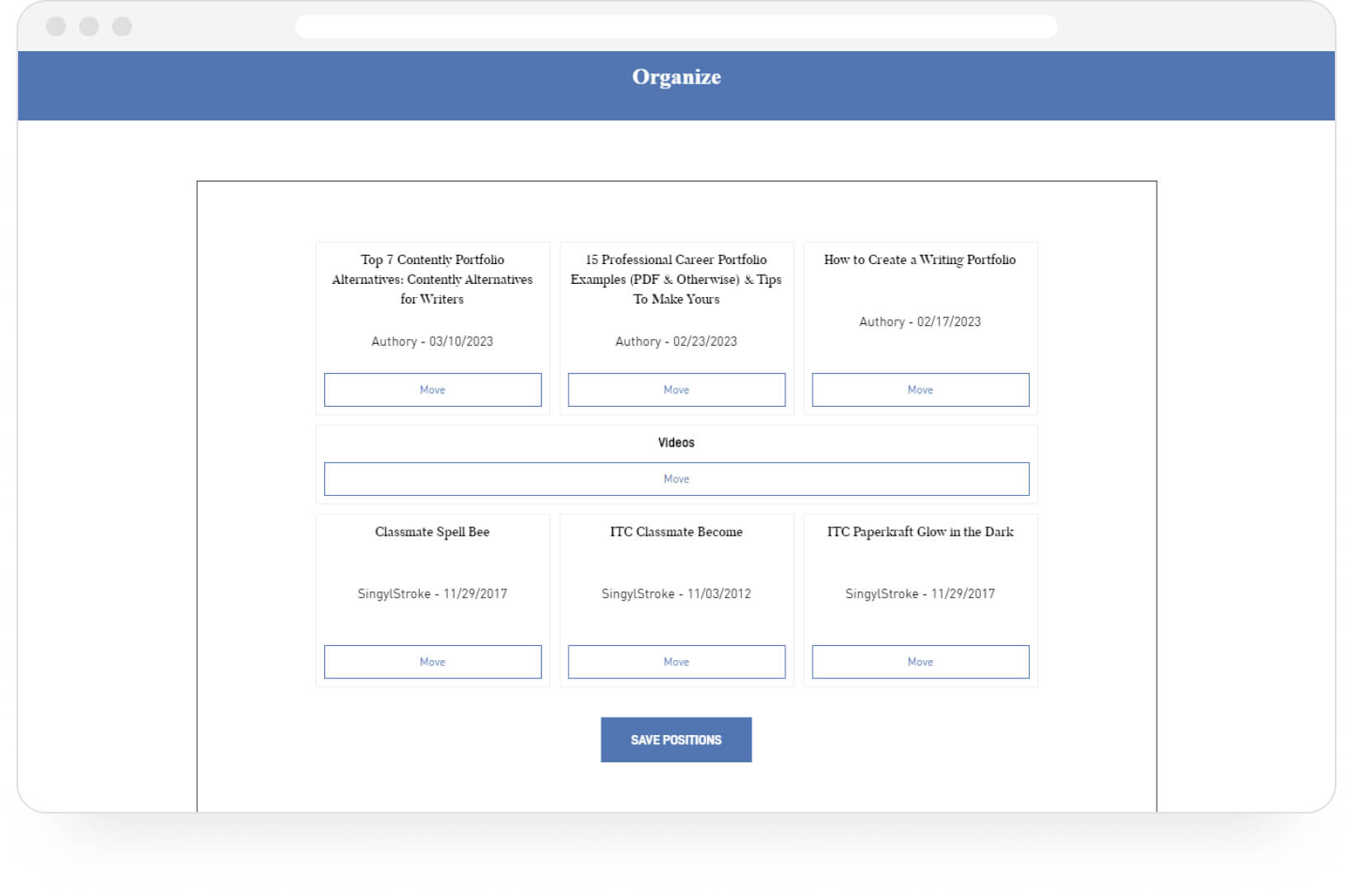 I created a couple of content blocks, namely "Writing" and "Videos," and moved the content around to suit my needs.
I also edited the "about" section for each piece. Unfortunately, Clippings didn't give me the option to edit these as I uploaded them.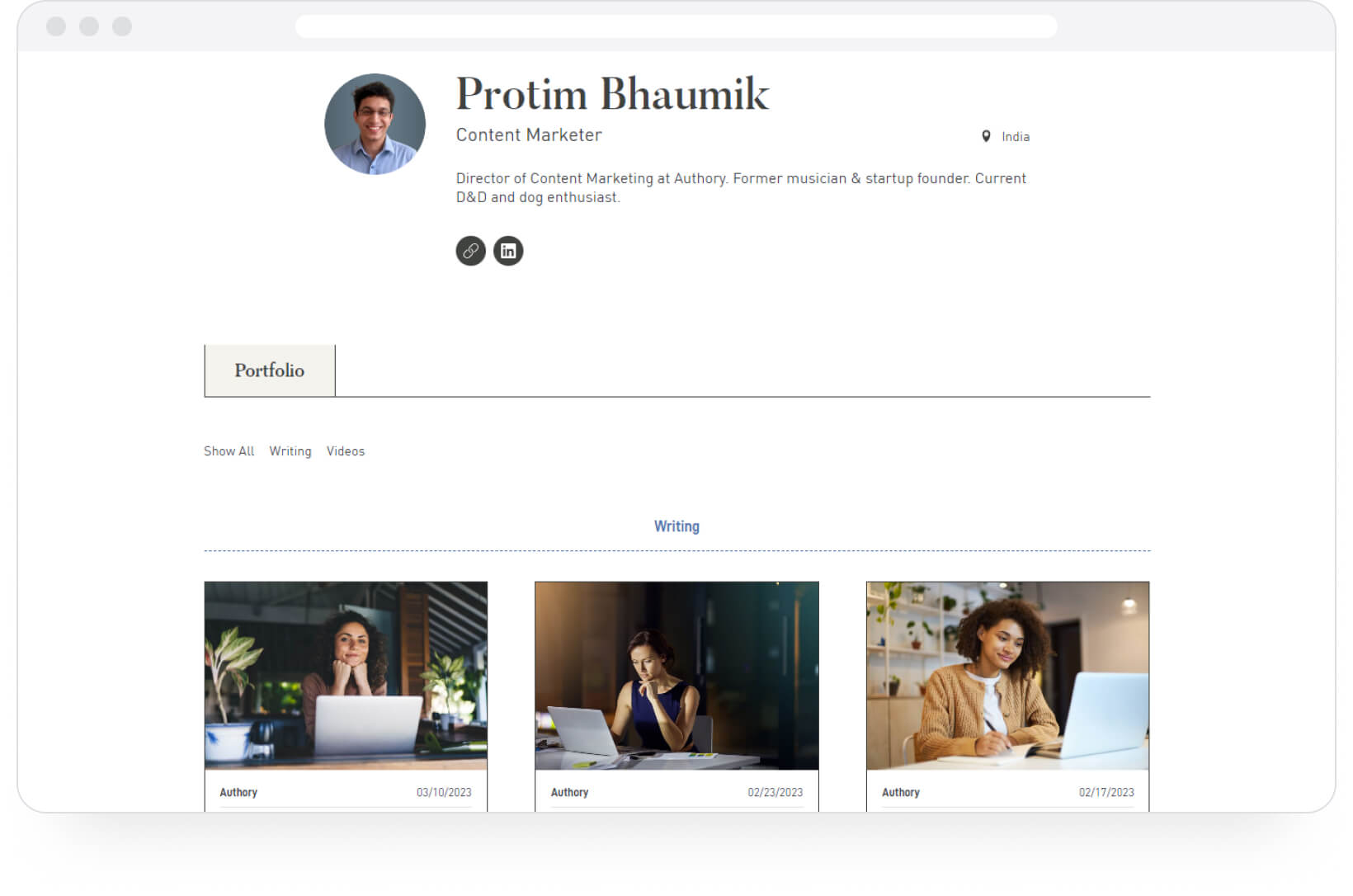 Here's my final Clippings portfolio: clippings.me/protim
I uploaded only six pieces because it took a while to set up. That said, I am limited to just ten pieces on the free plan.
Clippings online portfolio examples
Let's look at some examples that are made on the premium plan.
Clippings portfolio example 1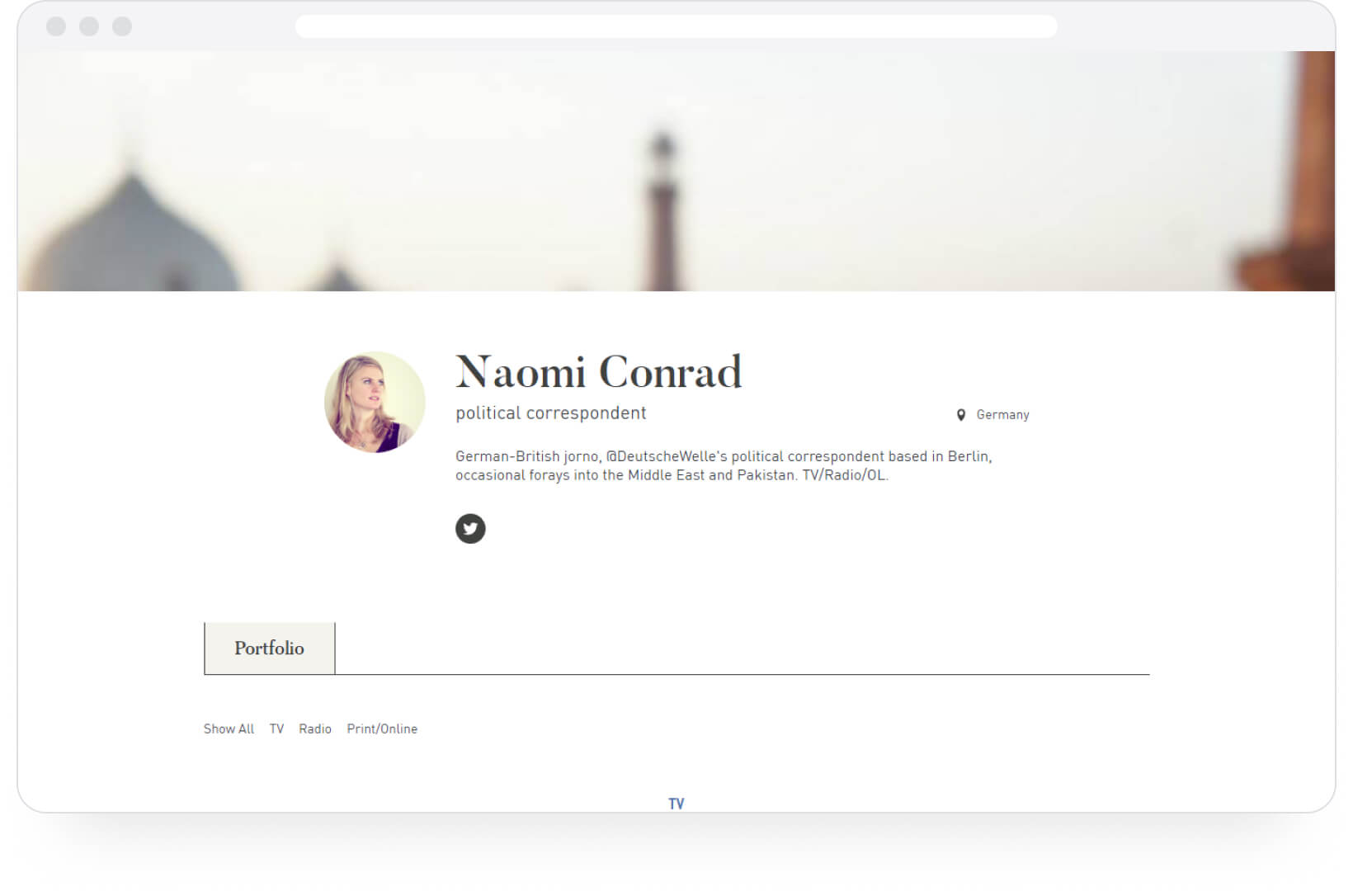 Naomi Conrad is a political correspondent for Deutsche Welle, based in Germany.
Clippings portfolio example 2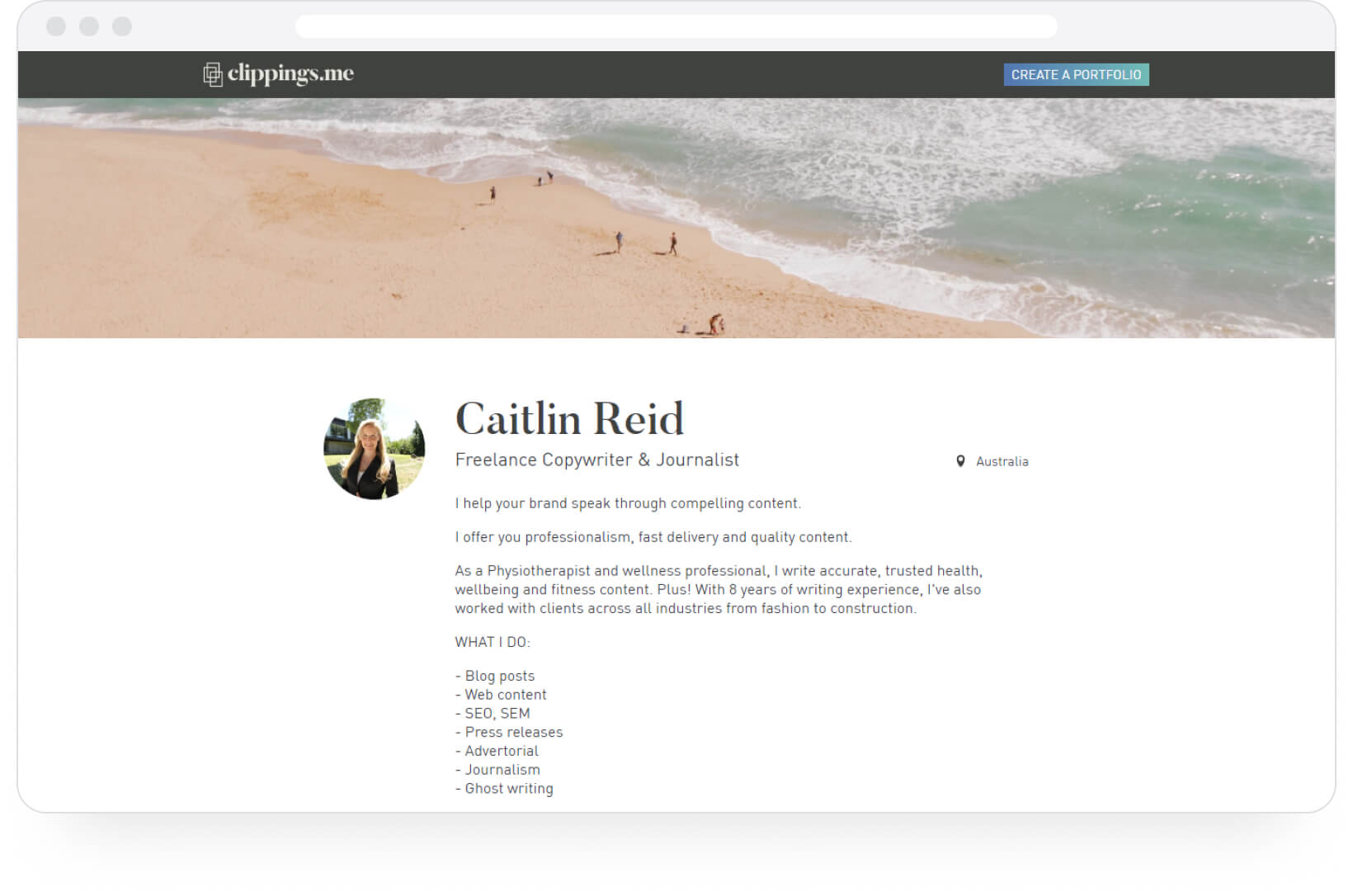 Caitlin Reid is a physiotherapist, wellness professional, freelance copywriter, and journalist working in Australia.
Clippings portfolio example 3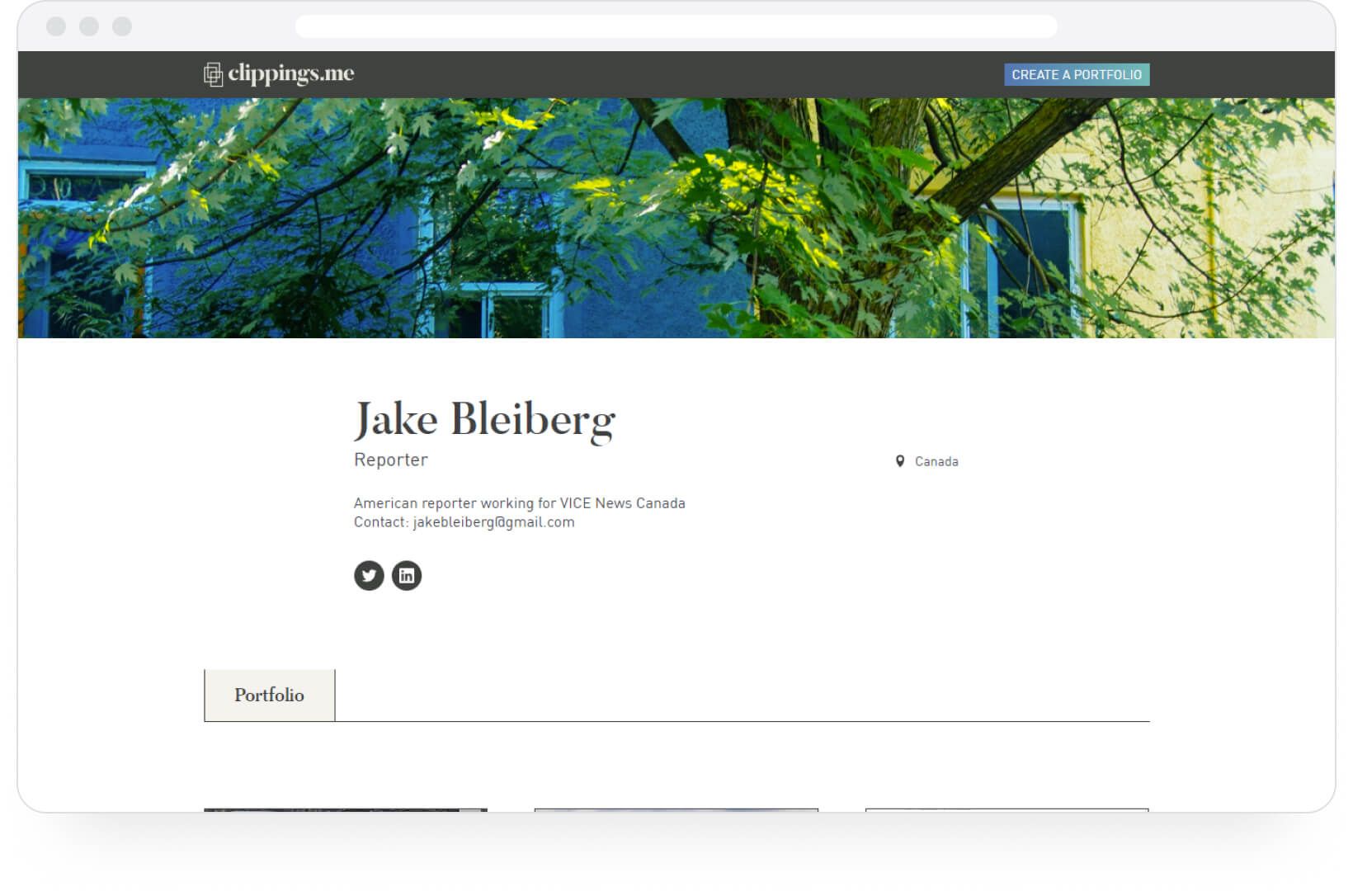 Jake Bleiberg is an American reporter working for VICE News Canada.
Pros & cons of Clippings.me
As with anything in life, there are pros and cons. If you're thinking of using clippings, then this section could be useful.
The pros of using Clippings portfolio
Here are the pros of using Clippings:
It's easy to set up
It has a free version, which some portfolio builders don't
It loads quickly, which is a must in this day and age when over 60% of web traffic is via mobile
The cons of using Clippings portfolio
Here are the cons of using Clippings:
The free version only allows for ten pieces, which is only good for beginners and not serious professionals, especially journalists who put out tons of content every week and are judged on their consistency of output as well
You need to upload each content piece individually, which is time-consuming
Even the paid version isn't all that aesthetic — it gives you a very basic, minimalist look, which is great for quick loading
The premium version costs $9.99 per month, and for that much money, there are far better alternatives
A Clippings alternative: Authory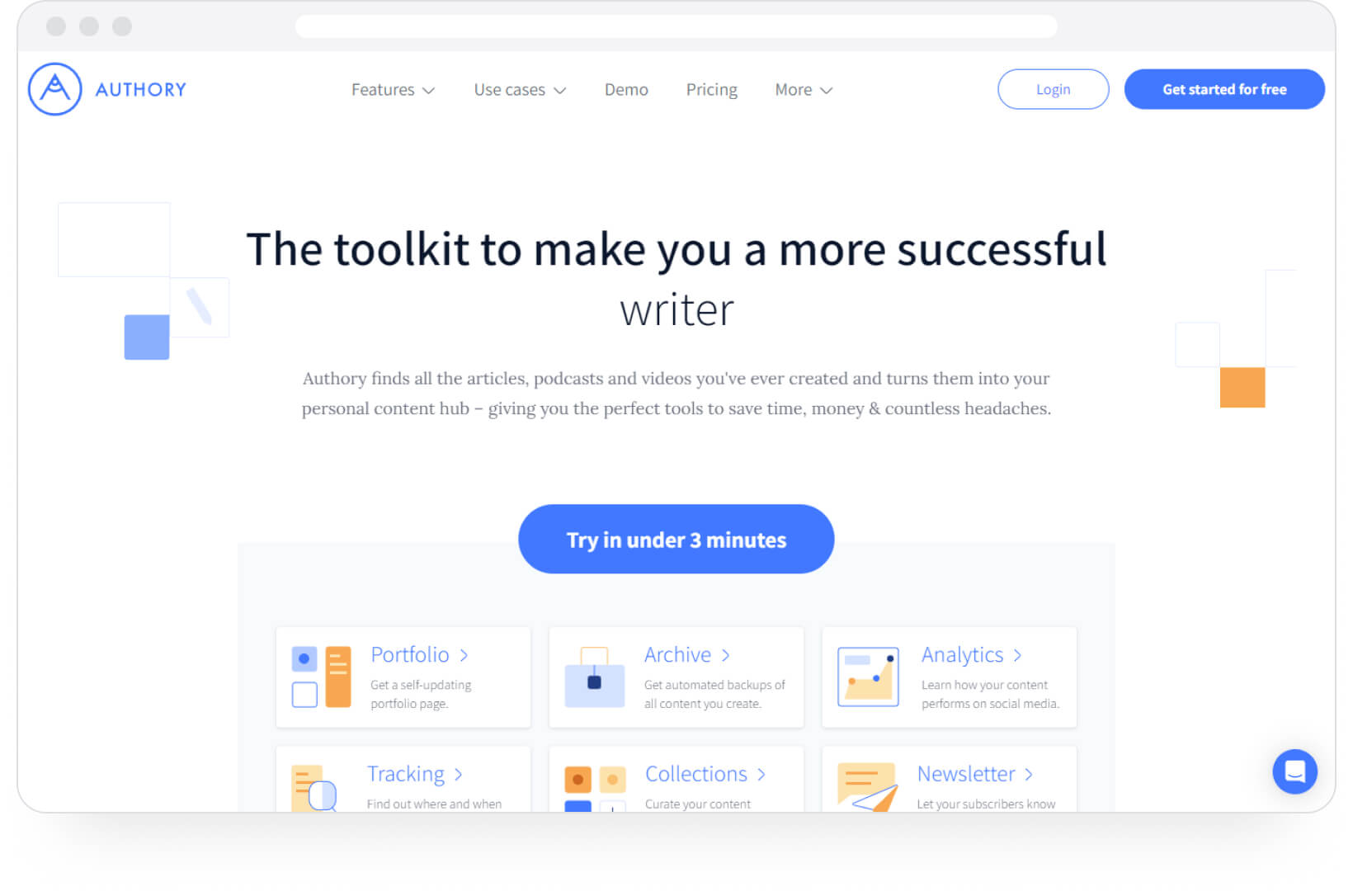 Authory is a self-updating portfolio builder that has automated backups, analytics, and a whole bunch of valuable features.
Authory will automatically find all the articles, podcasts, videos, images, and even social media posts you've created, turning them into a stunning self-updating portfolio. In addition, you'll get the option to create private collections to make custom job applications, full-text backups of all of your content, social media analytics, and much more.
Authory is a paid solution ($10/month), but it has a 14-day free trial with all the features included so you can try it out to the fullest extent.
Authory is used by some of the top professionals in the world, like David Pogue (six-time Emmy award winner), Elise Dopson (founder of a massive content marketing community), and Dwight Silverman (renowned tech columnist at the Houston Chronicle).
See their testimonials:
Authory testimonials
Elise Dopson talks about on Authory:
Hands up if you always forget to update your portfolio 🙋🏻‍♀️

SAME. I'd let weeks go by before I remembered to update my portfolio with new articles. (Potential clients must've been put off if they saw content bylined from 2019.)

...That was before I started using Authory.

I rarely shout about software on here because they're largely the same. But I've never seen anything like Authory before.

With it, you can:

💻 Automatically add newly-published posts to your portfolio, no manual copy/pasting necessary

📝 Filter articles by topic, client, tag, date published, etc.

🗑 Save backups--great for if your content is changed/deleted

🏆 Track social stats to show concrete results (without asking your client for sensitive data)
Why Authory over Clippings
If you're just starting as a freelance writer and looking for a free solution, then Clippings is a good bet. But if you're a serious professional, then I recommend using Authory over Clippings because, at the same price (~$10/month), you get so much more with Authory:
Self-updating portfolio
It's super important to showcase the breadth and depth of work nowadays to stand out. You can't just showcase ten pieces and hope that a prospective client selects your portfolio — you want to show consistency across a period of time.
That means keeping your portfolio updated. And most folks struggle with maintaining their portfolios. Hence, Authory's self-updating feature is a godsend. Just set it up and forget it.
Automated backups
Websites go down, content gets re-bylined, CMS shifts get botched, and generally, nothing is safe unless you have a copy of your work.
Hence, it's super important to have article backups, and, generally, backups of all your content.
Authory automates this process for you — you never have to worry about losing a piece of content ever again. Authory backs up content in nearly all forms and file types: online articles, PDFs, videos, images, social media posts, and podcasts
Content archive
On top of all this, Authory gives you a searchable content archive. This is basically an archive of all the content you've ever created and will ever create in the future.
It's extremely useful to have such an archive because it can be used for research; you can search and filter to your heart's content and leverage it in a number of different ways. After all, you now have all your content, past and future, in one place, easily searchable.
Collections
Authory lets you organize your content like never before: by publication, file type, topic, or whatever you decide. You can even create self-updating collections with a wide set of rules,
Collections can be used for ghostwriting: create private collections shared only with prospective clients. Collections can also be used to apply to gigs — create a collection specific to that job posting.
Analytics, tracking, newsletter, RSS, and more
Authory gives you social media analytics that let you know the true reach — so all the likes, comments, shares, and engagement across Twitter, LinkedIn, and Facebook, and not just from your account or your publisher's account
You'll never have to keep track of when a new piece has gone live; Authory will let you know immediately via email.
You can easily build a newsletter for your followers in just a few clicks and can choose different collections for different newsletters.
You can build an RSS feed for your articles, your Twitter, YouTube, and LinkedIn, as well as for separate collections.
The Authory widget can be embedded on other sites. And more features like Zapier + Notion integration are coming soon.
Finally, in my opinion, Authory looks much better than Clippings. It looks professional and is super customizable without being overwhelming.
Authory portfolio examples
Here are some Authory portfolios from folks at the top of their fields.
Authory portfolio example 1: David Pogue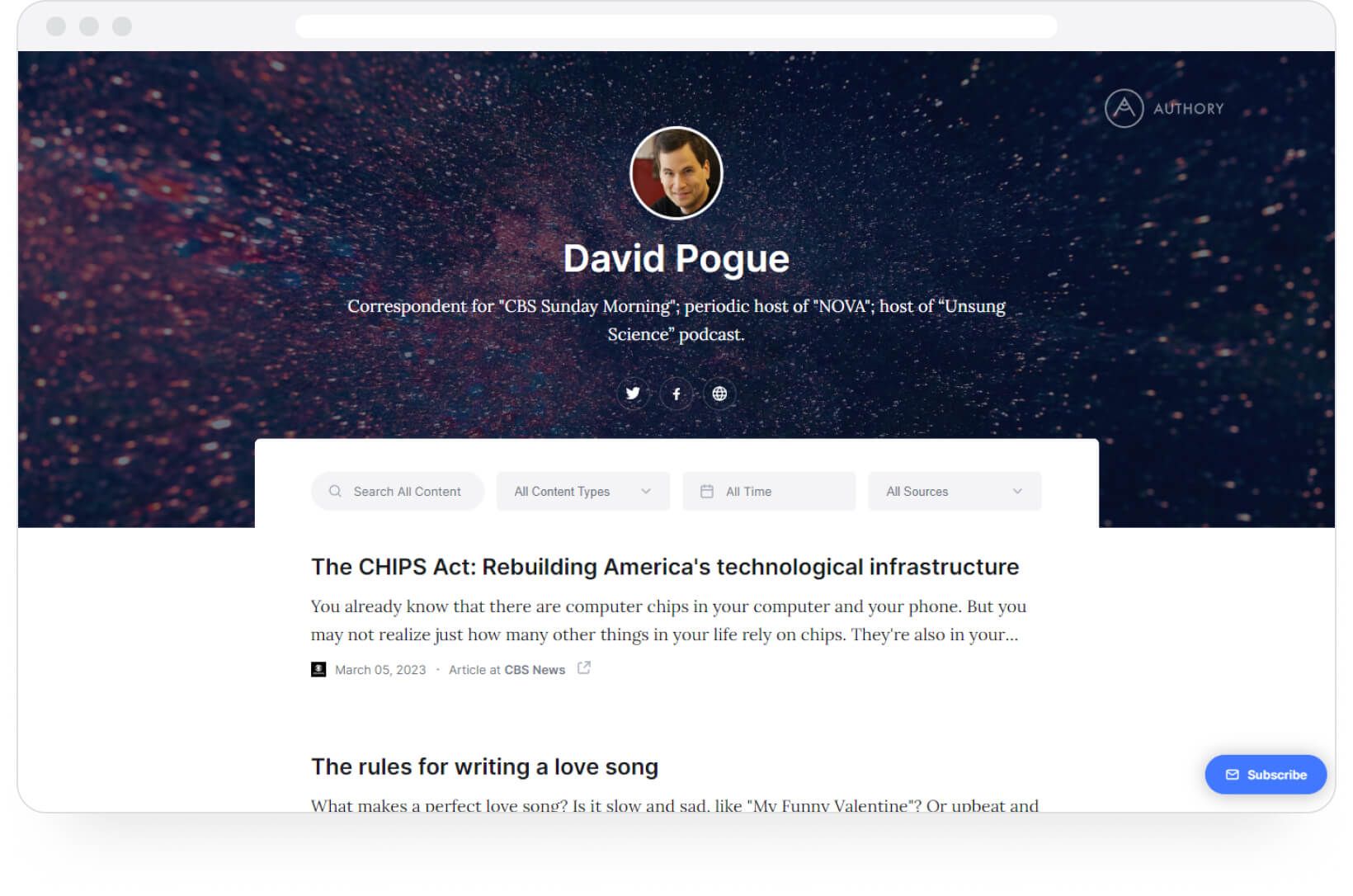 David Pogue is a six-time Emmy winner for his stories on CBS Sunday Morning, a New York Times bestselling author, and a five-time TED speaker,
He is the host of 20 NOVA science specials on PBS and creator/host of the CBS News/Simon & Schuster podcast Unsung Science.
Authory portfolio example 2: Steven Levy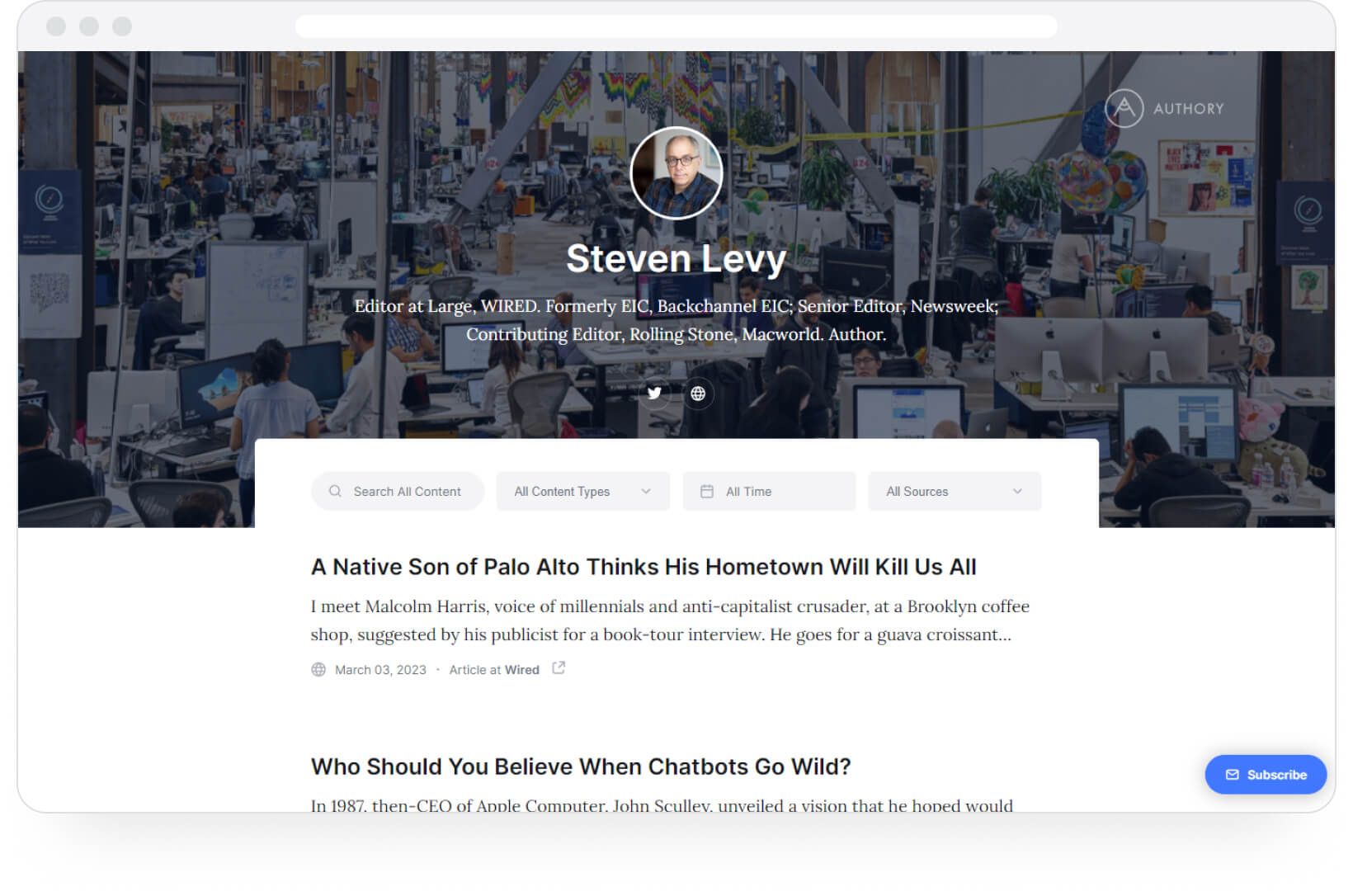 Steven Levy is Wired Editor-at-Large. The Washington Post says he is "America's finest technology journalist."
He is the author of the definitive books on Facebook, Google, Macintosh, and the iPod. He has been documenting the digital revolution, its influence on humanity, and the people behind it for four decades.
Authory portfolio example 3: Pam Moore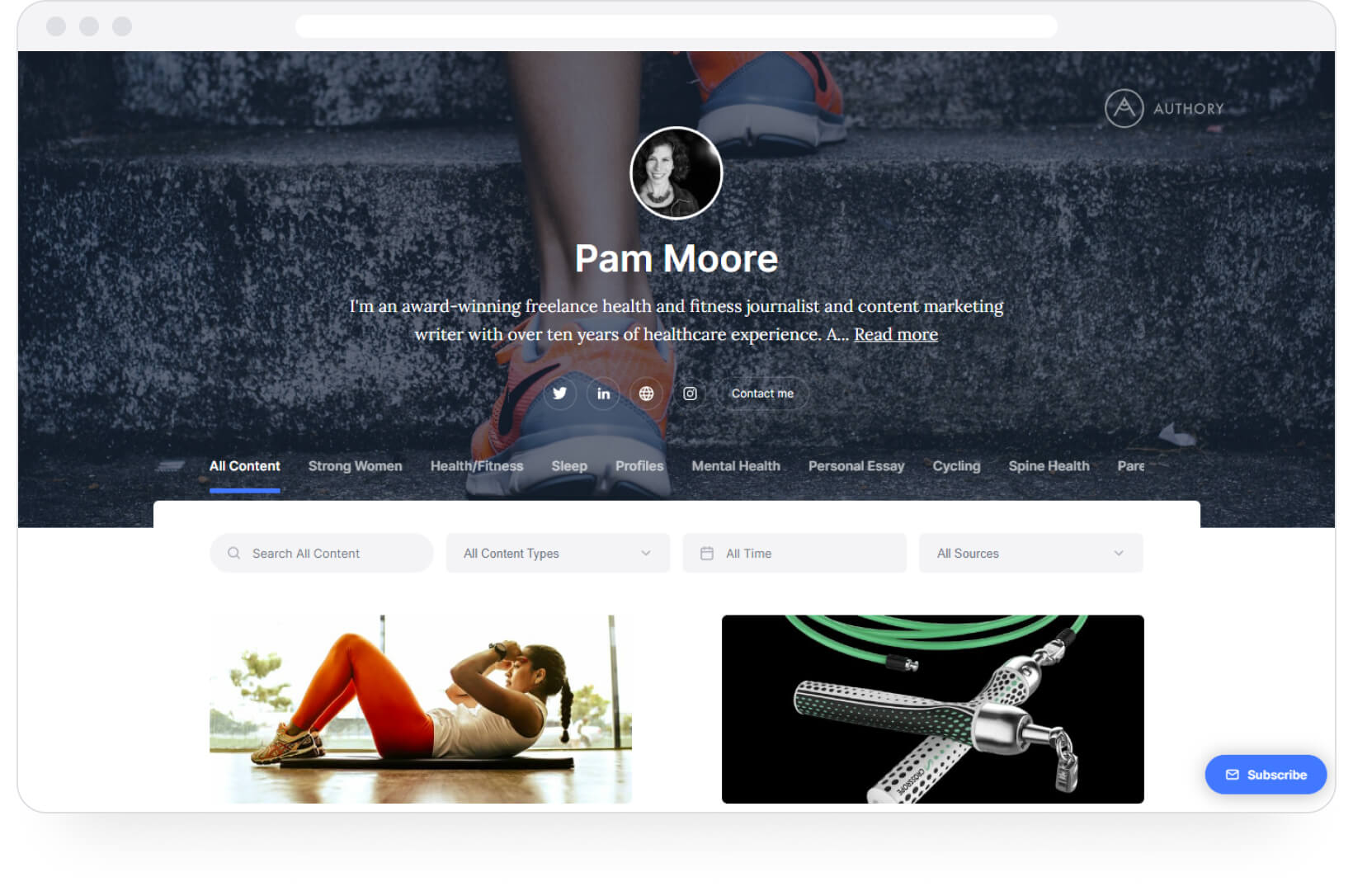 Pam Moore is an award-winning freelance health and fitness journalist and content marketing writer with over ten years of healthcare experience.
She regularly contributes to The Washington Post's Wellness section and has written for Time, The Guardian, Runner's World, SELF, Outside, and Forbes.
Try Authory, build your portfolio today
There are many portfolio builders in the market. Like Clippings and Authory, Journo Portfolio also accepts URLs (just add the URL, and Journo Portfolio will import the content in). And other portfolio sites like WordPress offer unlimited premium themes.
In fact, our team has written about these options in detail. Here are some links:
That said, Authory is a complete toolkit to ensure you're more successful in your career.
Sign up for Authory's 14-day free trial with all the features.