You probably use your Facebook account to stay connected with friends and family or for professional reasons — many people (like me) are a part of Facebook groups for work.
With LinkedIn, Twitter, and Instagram taking over our lives, Facebook has fallen behind. That said, here are some Facebook usage statistics.
With roughly 2.96 billion monthly active users as of the third quarter of 2022, Facebook is the most used online social network worldwide.
Whatever your reasons for staying on Facebook are, it's a good idea to backup Facebook in case you lose access to your Facebook account (either nefariously via hacking or otherwise) because a lot of your personal data, including photos and videos, are on the platform.
I'll show you how to use Facebook's own backup system, the limitations therein, and how to use a third-party tool like Authory to get a self-updating Facebook backup.
📖
What you'll get from this article:
• Learn why you need to backup Facebook
• Learn how to download your information from your Facebook account and the limits of Facebook's system
• See how you can create an automatically-updating Facebook backup with Authory
Why you need to backup Facebook
1. Your data is not really yours:
Your Facebook information resides on Facebook's servers, and though you may technically own it, it's not really yours. Hence, the need to backup your Facebook account from time to time.
2. External factors:
A fair few folks are leaving social media platforms like Facebook because it's:
distracting them from their daily lives;
owned by people with different ideologies from their own;
a den of misinformation if you're not careful.
3. To protect yourself:
Unfortunately, social media platforms have become subject to numerous hacking attempts, cases of impersonation, and bots. Facebook tries to keep this to a minimum, but that said, it's good to back up your Facebook data before you're a victim of such activities.
How to back up your Facebook account on Facebook itself
Step 1: Navigate to the "Download your information" section on Facebook
Click on your avatar to bring up the drop-down menu, and click on "Settings & privacy."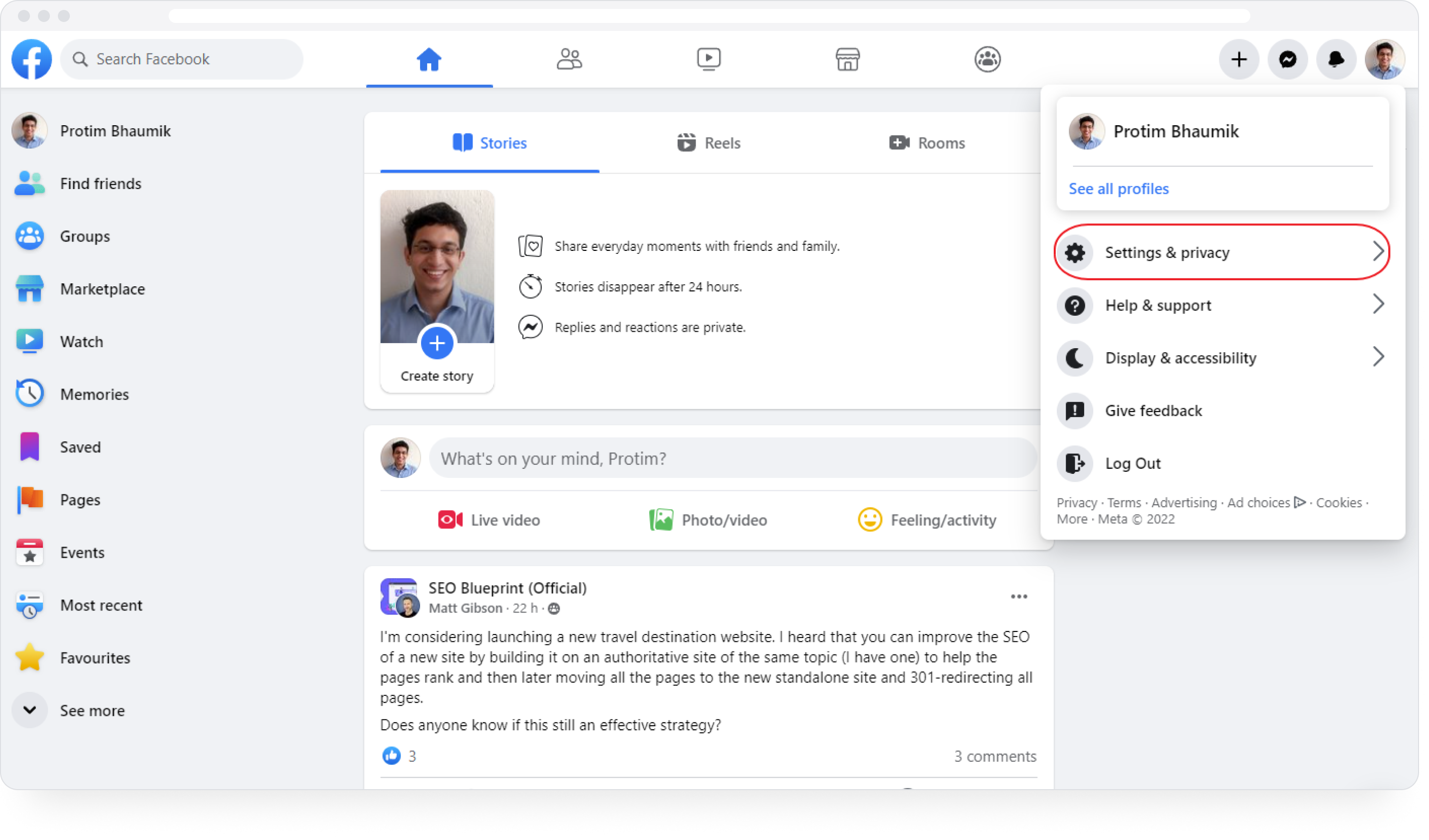 Next, click on "Settings."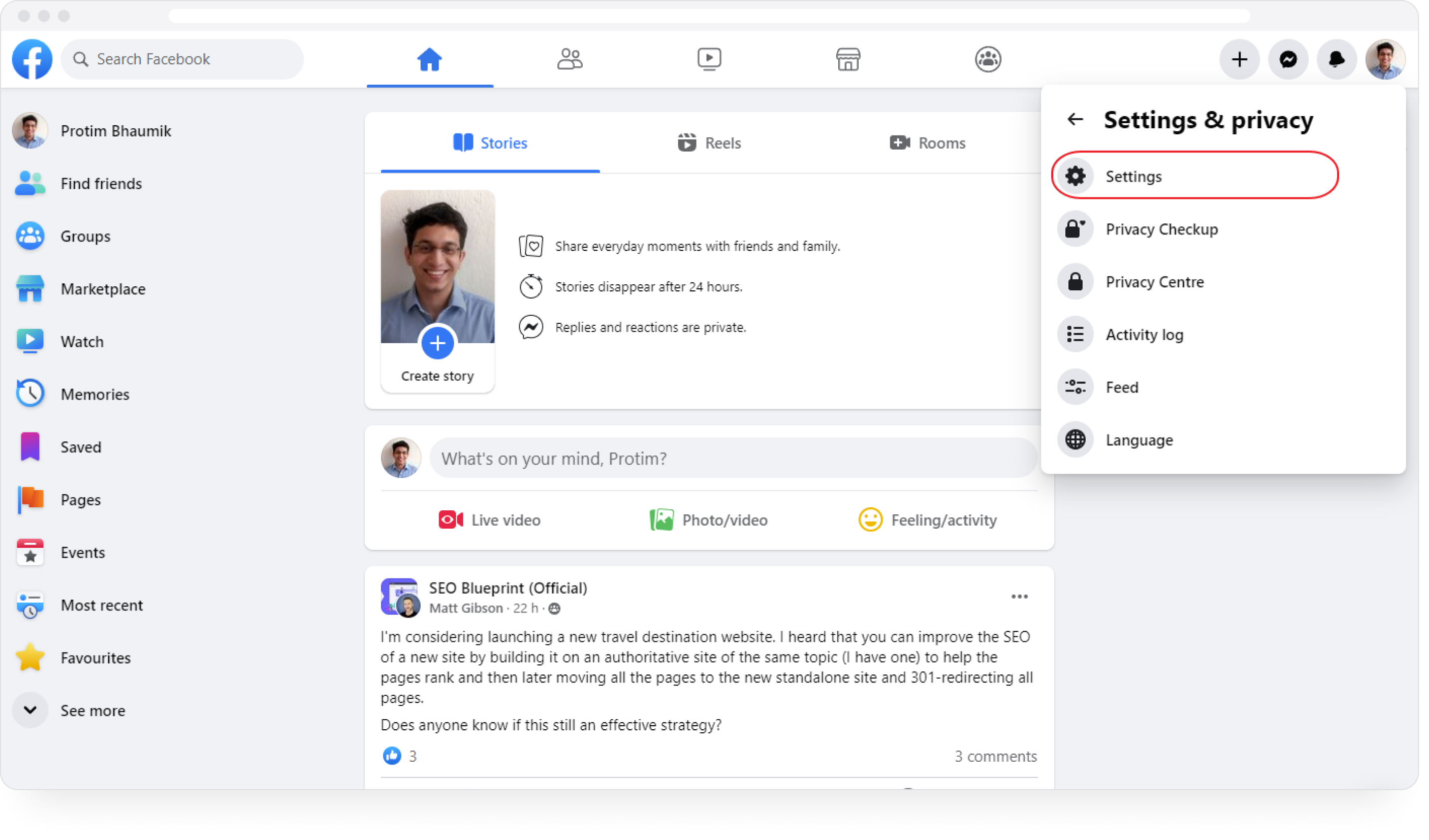 Once the full "Settings" page opens up, click on "Your Facebook information" in the left-hand side menu.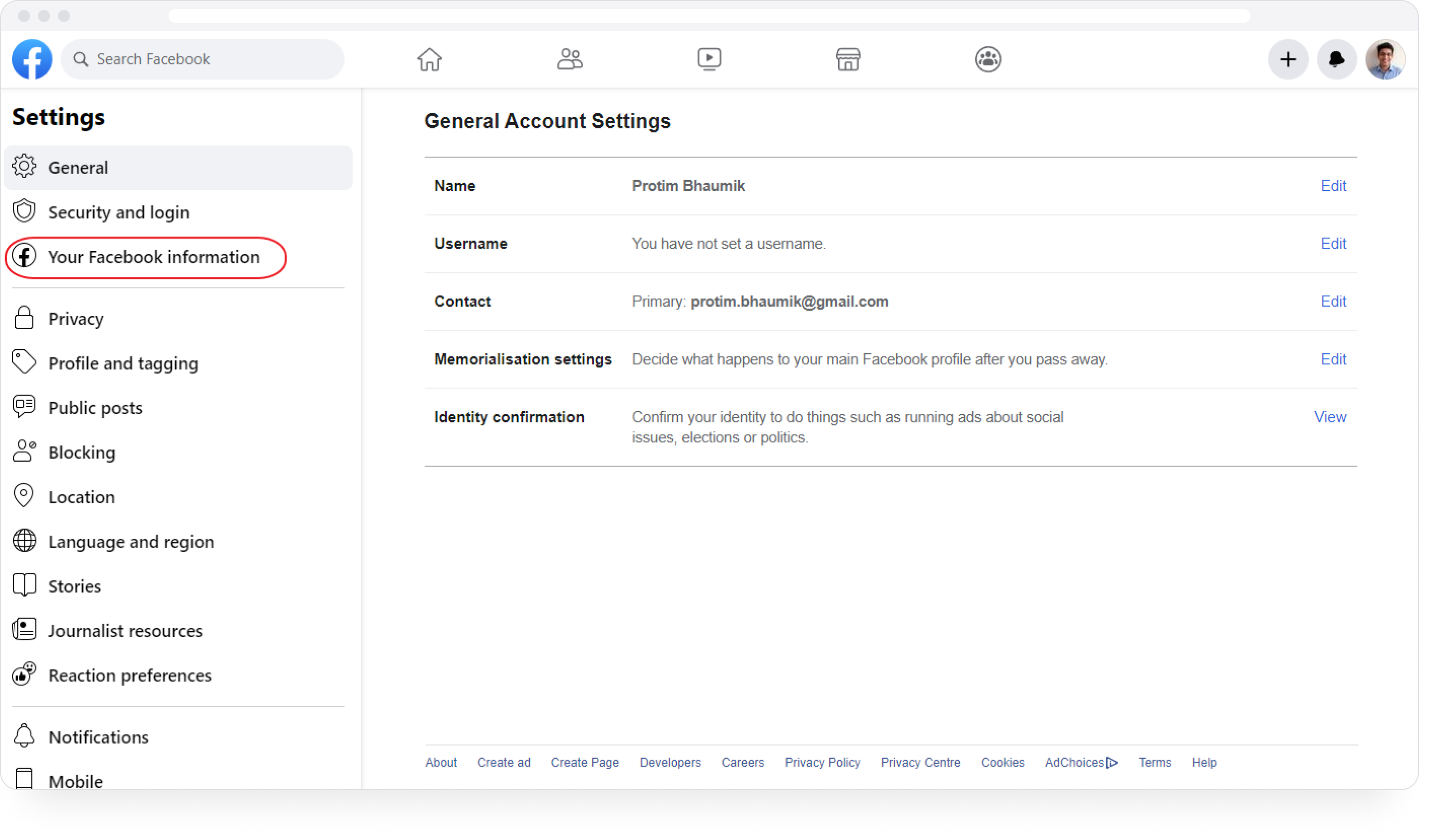 And finally, click on "View" in the "Download your information" section.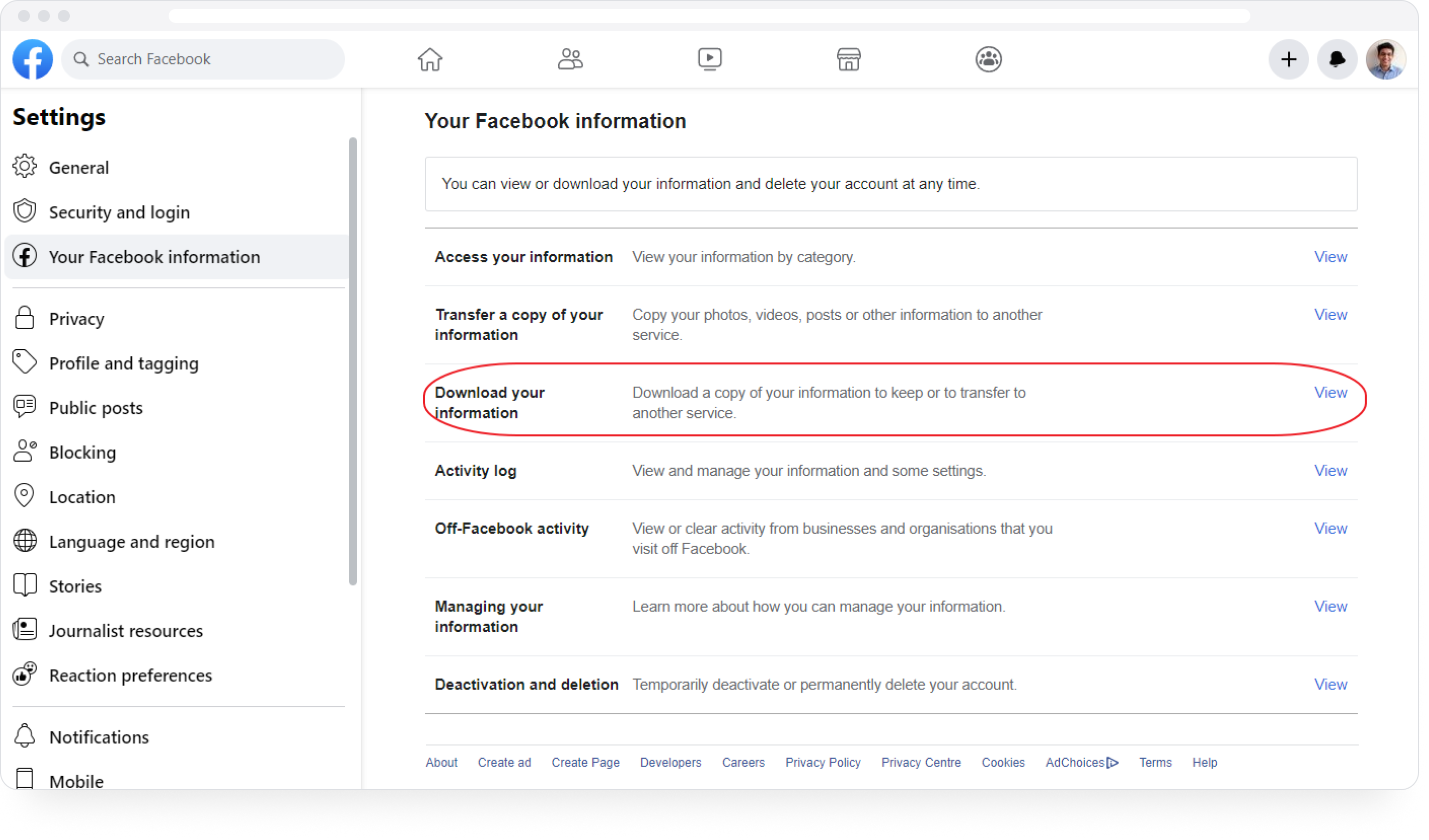 Step 2: Selecting file options & information to download (like photos and videos)
First up, you can choose your Facebook backup format: HTML or JSON. HTML is useful when accessing the backup file via a browser. And JSON is a machine-readable format that is useful if you're looking to upload your Facebook account data to another service.
Next, you can select the media quality for your download: high, medium, and low are the options.
And then, you can specify the date range for your backup file. The options are: last week, last month, last 3 months, last 6 months, last year, last 3 years, all time, and custom.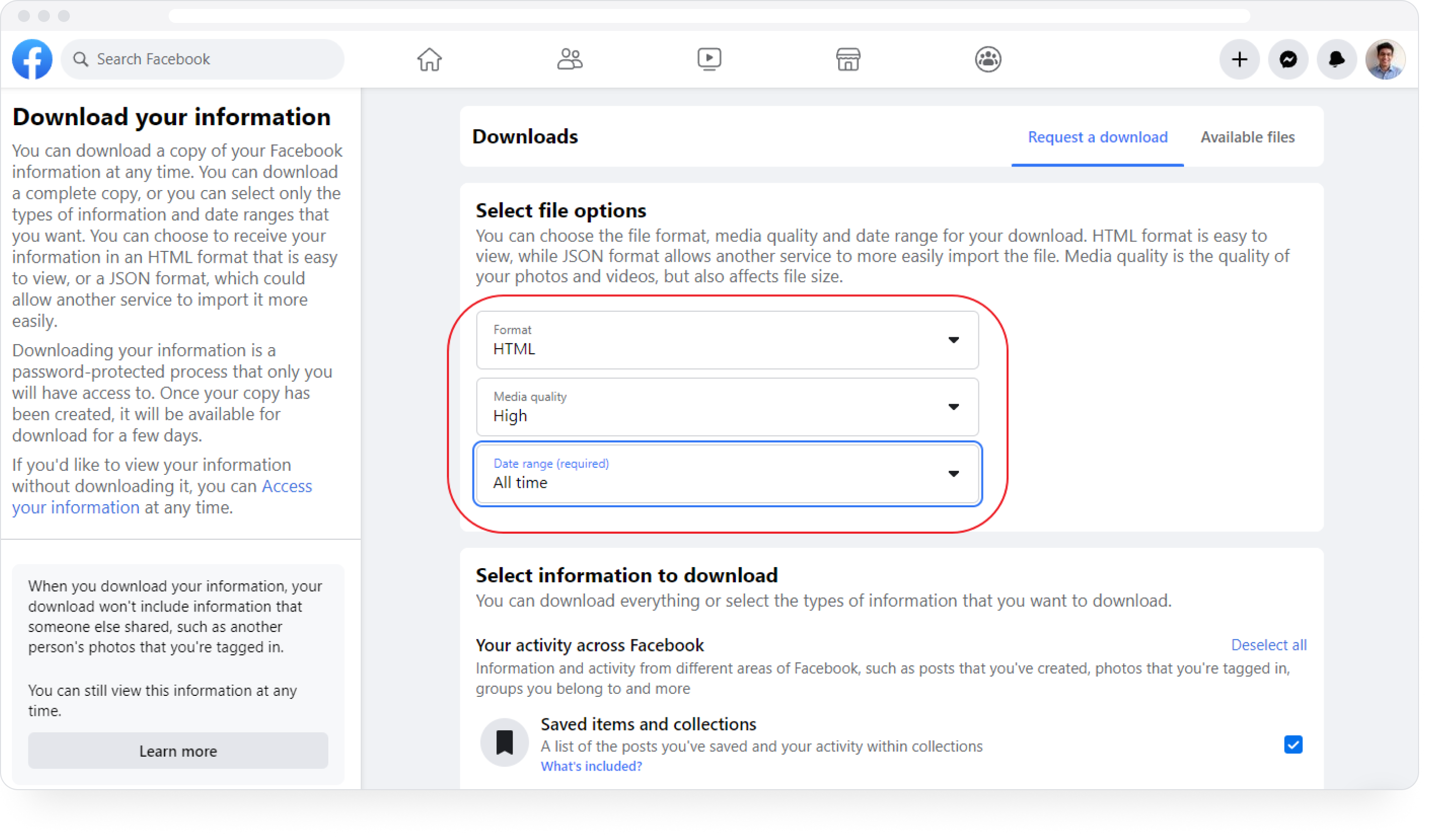 When you scroll down, you can also select the Facebook information you want to download, such as messages, posts, photos, and videos, etc. — in fact; there are a ton of options to choose from collected under a few sections, namely: "Your activity across Facebook," "Personal information," "Connections," "Logged information," "Security and login information," "Apps and websites off Facebook," "Preferences," and "Ads information."
Select or deselect as you see fit.
Once you're done with this process, at the bottom of the page, click on "Request a download."
🗒️
Note: You cannot request a download unless you specify a date range.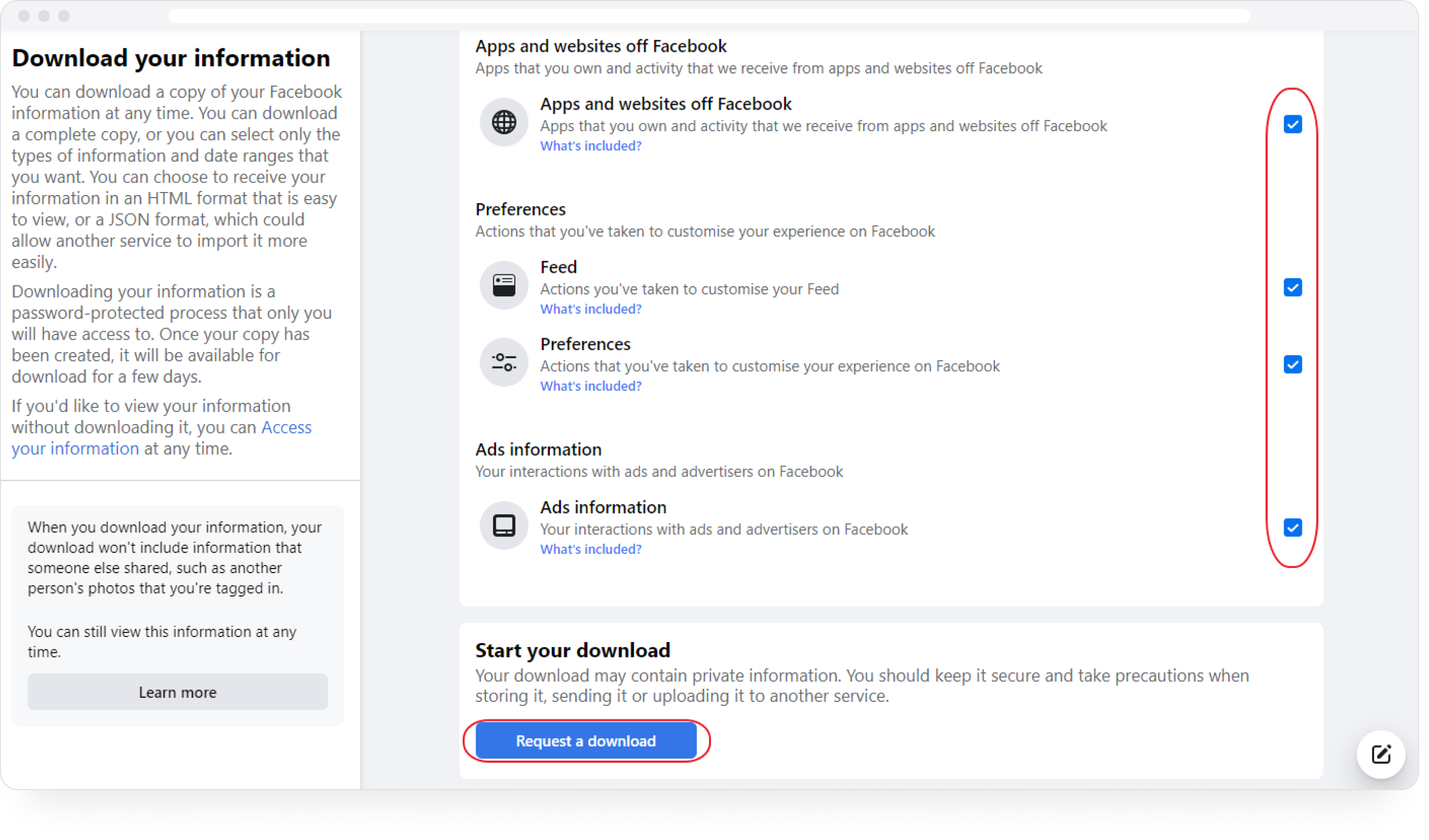 Step 3: Downloading your Facebook information
You'll be notified via email when your Facebook backup is ready for download. Navigate to the "Download your information" page by going into your account settings as before, and now click on "Available files" to access your backup.
Then click on "Download."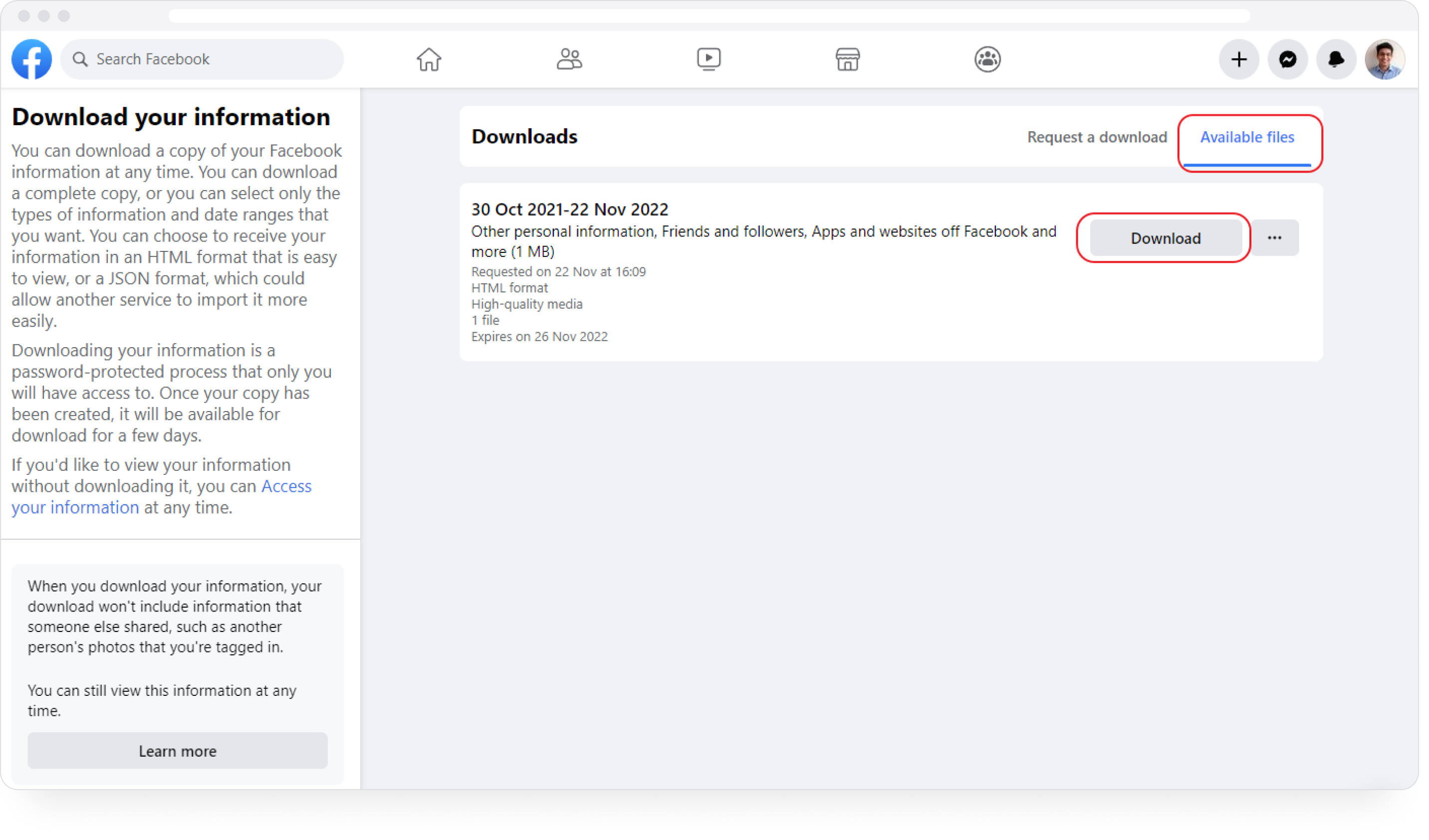 You'll be prompted to re-enter your password. And then, you can download your Facebook backup onto your computer.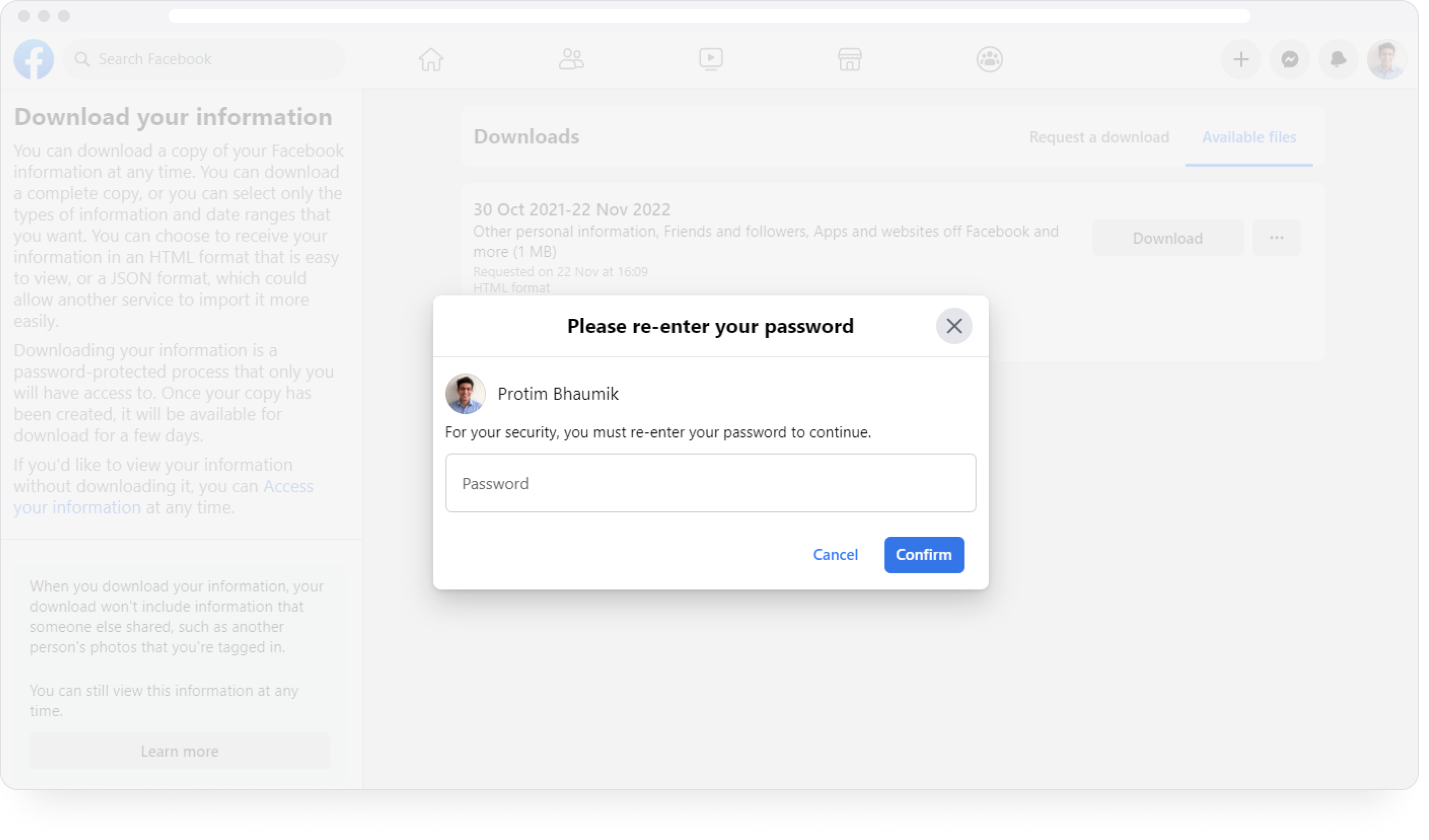 ---
🖱️
Authory is, amongst other things, a portfolio builder & content backup service, used by thousands of top professionals worldwide.
Get started for free now.
---
Limitations of Facebook's own backup system
1. Is a static snapshot
Your Facebook backup from Facebook doesn't auto-update. You'll have to regularly back up your Facebook to keep it up-to-date. This isn't a realistic solution and is the main drawback of Facebook's own archive system.
2. The search isn't the best
When you download your Facebook backup to your system, you'll get a .zip file. Included in the set of files (once unzipped), you'll find an index.html file that can be used to access your local backup. But the search features are not intuitive — you'll have to resort to searching on the browser by using ⌘ + f on a Mac and Ctrl + f on Windows to find what you need.
3. Overall analytics data isn't presented
Analytics data is present, but it's tough to see what your top-performing post was.
Setting up an auto-updating Facebook backup using Authory
Step 1: Create your Facebook backup using Authory
Create a free Authory account.
It's possible to add your Facebook account while signing up. Instead, you can also go to Content > Manage Sources (authory.com/app/settings/sources), then click "+ Add source" and select "Facebook" from the drop-down menu.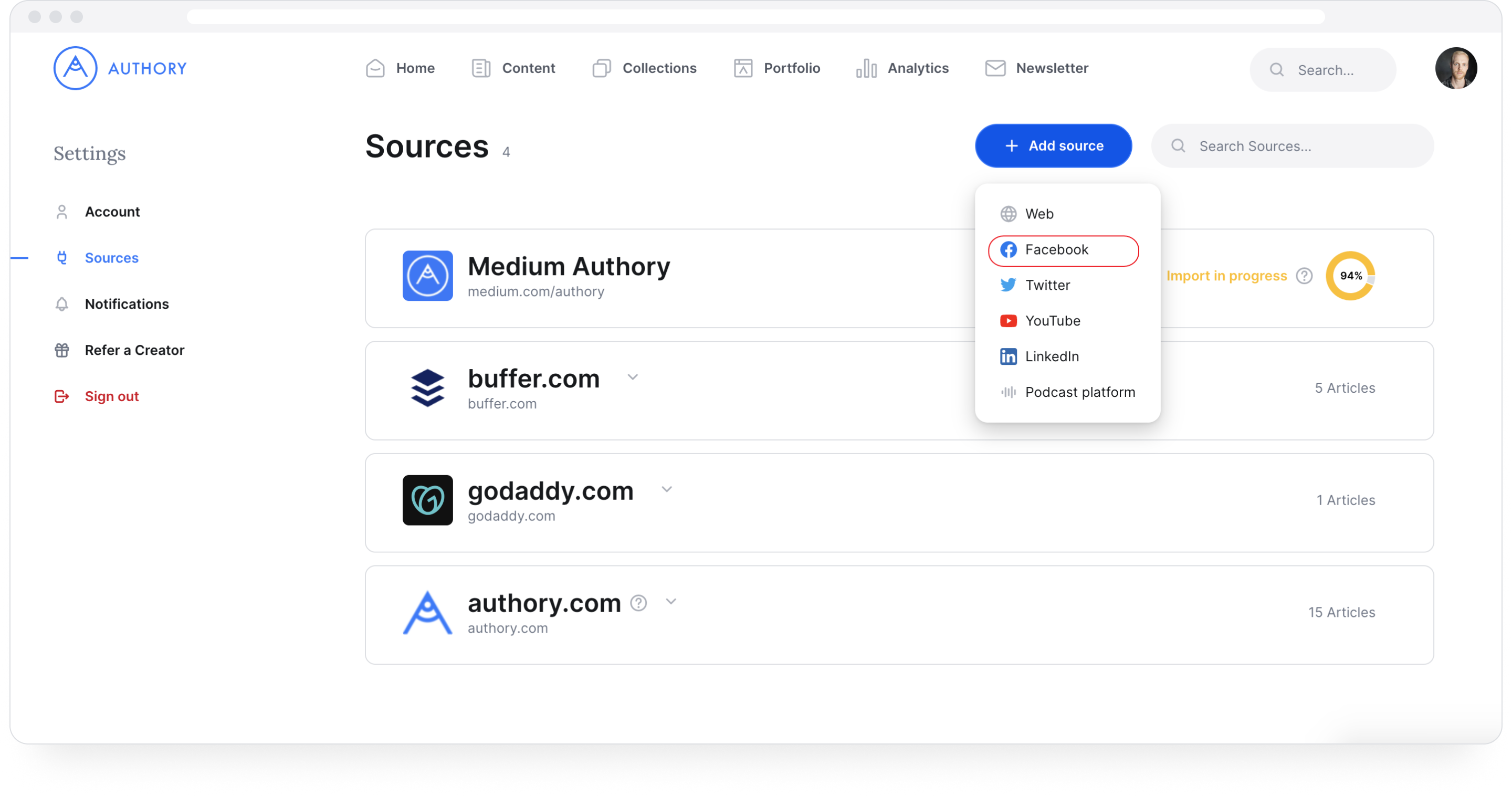 At present, you can back up your Facebook pages. Authorize Authory's import to access them.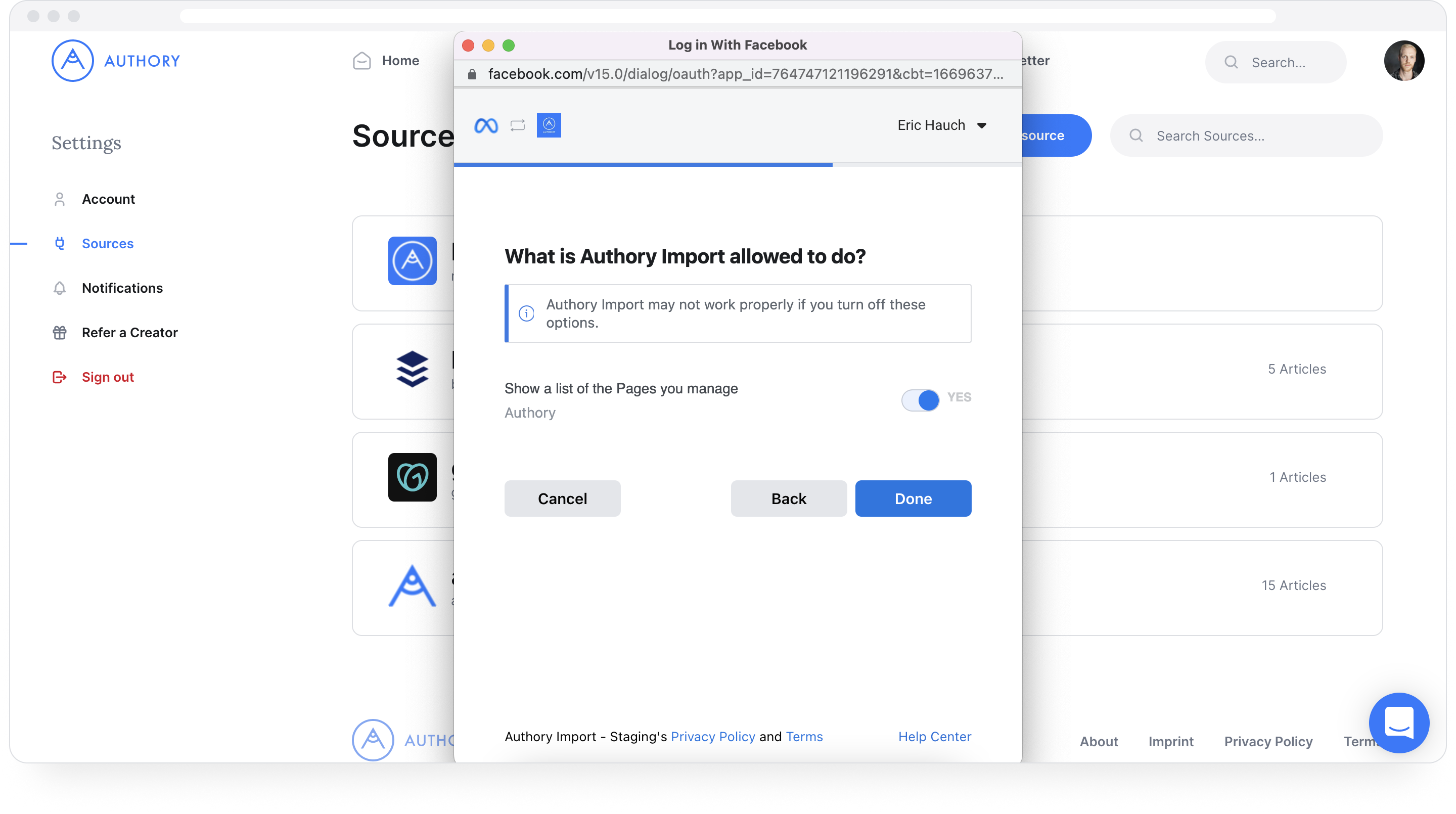 You'll get a message confirming that Authory has been linked to Facebook.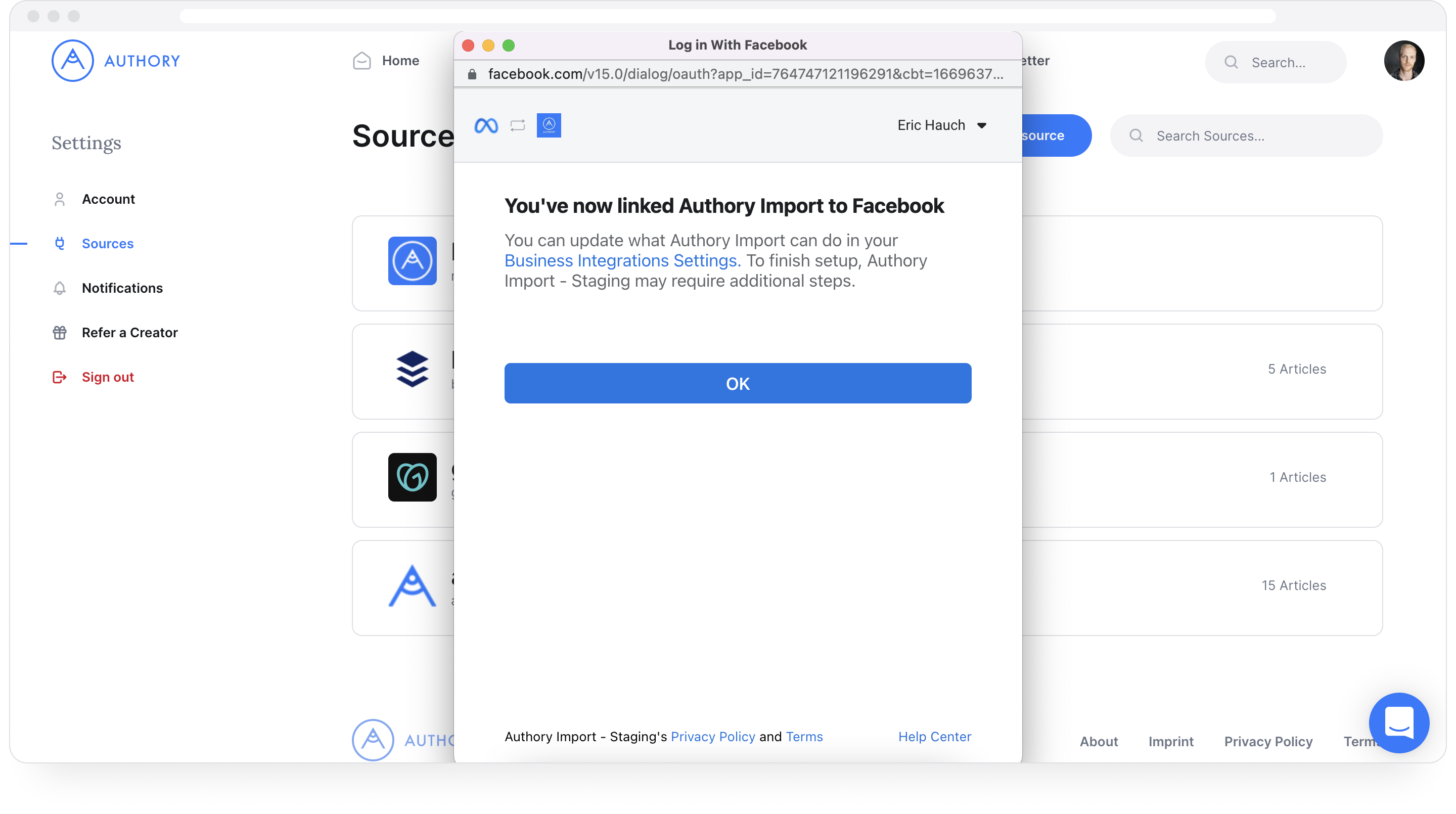 Once you hit OK, a pop-up will show up, as seen below. Select the Facebook pages that you want to back up.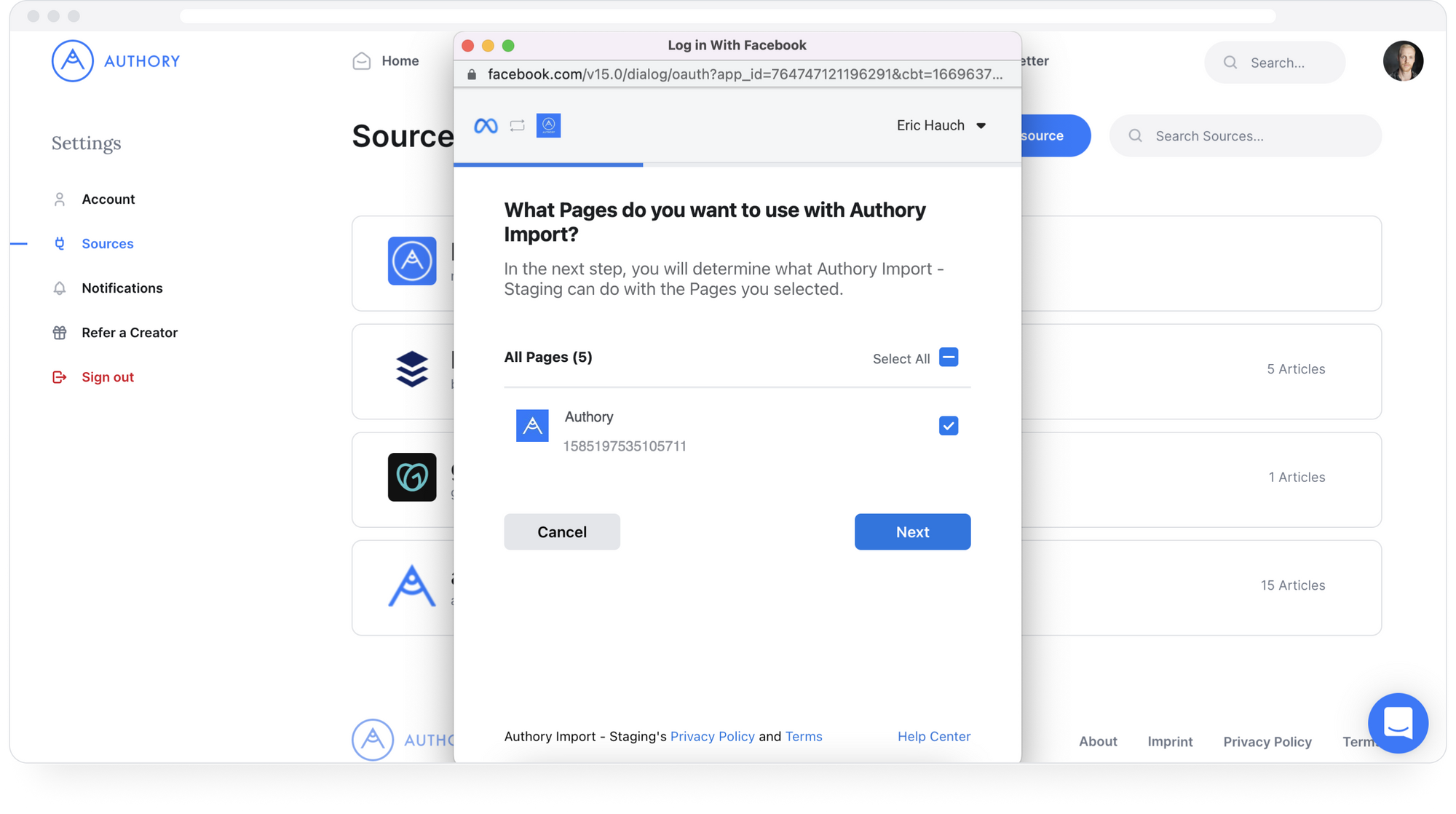 Remember to select "Past and future content" to make it an auto-updating Facebook backup.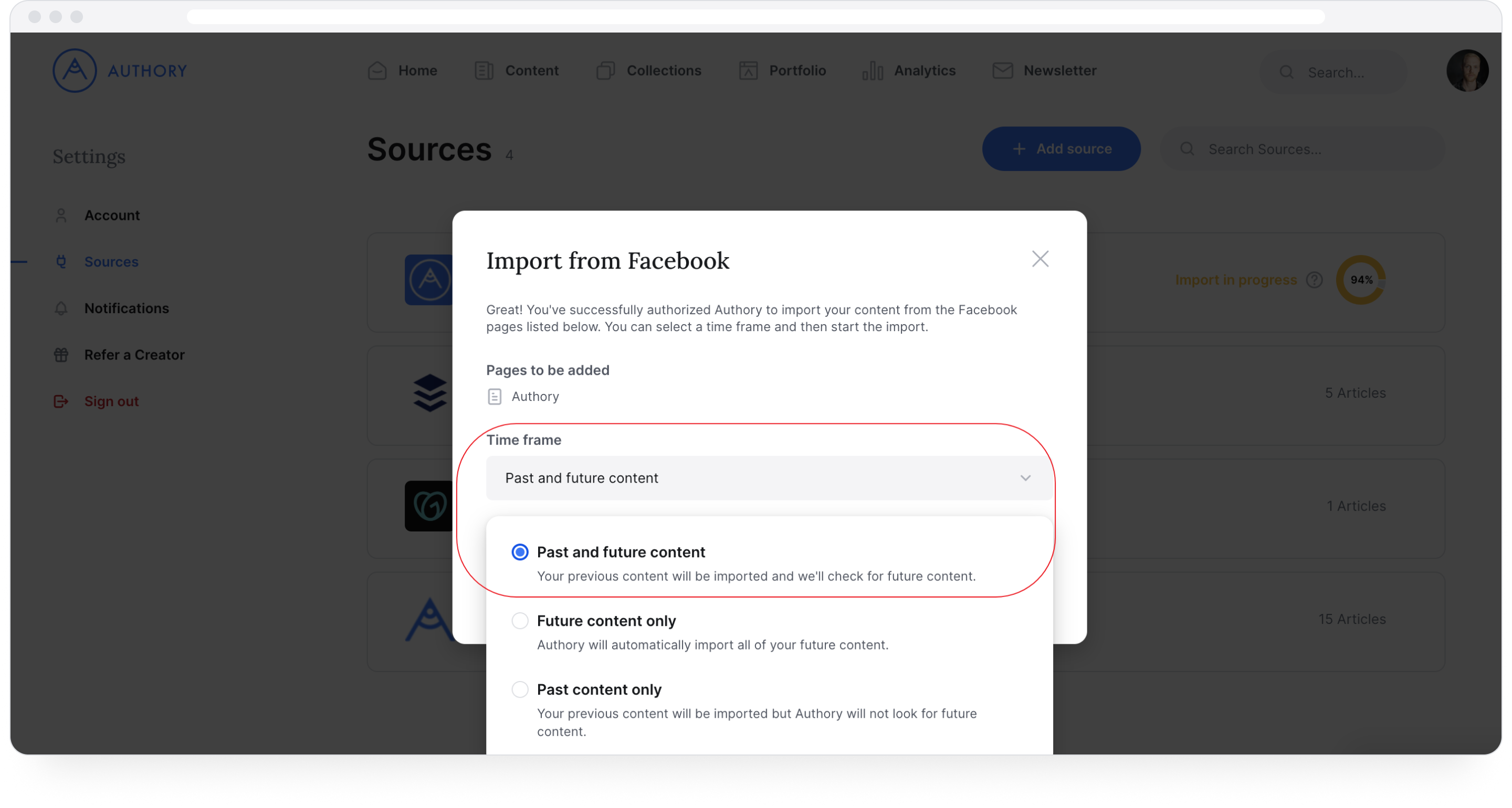 And that's it! Now, wait a bit, and your Facebook backup will be ready — you'll be notified via email after someone from Authory's team has personally checked that everything is kosher!
Step 2: Check out your Facebook backup
To access your archive, go to the "Content" tab in your Authory account and select Facebook as the source from the left-handed menu.
Bonus: Fuzzy search in your Facebook backup
You can use Authory's fuzzy search in the top right to look through your Facebook backup quickly. Fuzzy search doesn't just restrict your search to exact keywords but can interpret what you're looking for (kind of like what Google does) and then throws up those results. This advanced search functionality is super powerful when looking through your Facebook backup that might have years of content.
---
🖱️
Authory is, amongst other things, a portfolio builder & content backup service, used by thousands of top professionals worldwide.
Get started for free now.
---
Advantages of using Authory when you backup Facebook
1. Auto-updating, living, breathing, Facebook backup
As mentioned before, Authory's Facebook backup is auto-updating, unlike the one you get from Facebook's native system. On top of that, all your data is stored in full, i.e., all the text, media, etc., is stored completely so that no information is lost.
2. Fuzzy search and filters that helps you find that exact post
Authory's incredible search and filter functionality means you can find that exact post from college years ago. If it is an image or a video, just use the filters available to narrow down your search in conjunction with keywords.
3. Analytics for TRUE reach
Your entire analytics data is preserved under Authory's "Analytics" page, which is not possible using Facebook's own archive system. To find out how particular postings have done in the past, you can look them up.
Additionally, the information provided here is more accurate than what you would see on Facebook. Authory's analytics displays the overall amount of interactions a post has had across all of Facebook, not simply on your account.
For instance, if my buddy Tara shares one of my posts, I can view the overall statistics of what happened on both Tara's and my accounts. As a result, I can see a more accurate picture of how my post did.
4. A Facebook portfolio if you need one
Authory is also an auto-updating portfolio service. So, if you want to create a Facebook portfolio or a more extensive portfolio, it can be easily done!
Here are some resources on how to create a portfolio using Authory: