Contently is a number of things: a content marketing platform, a content marketing service, a job board for freelance writers and clients and employers to find each other, and also a portfolio builder
The focus of this article is on the Contently portfolio and the alternatives that exist in the market today
But first, we'll begin by covering what makes for the perfect portfolio solution, then briefly look at what Contently provides, and finally study seven top alternatives to the Contently portfolio solution.
📖
What you'll get from this article:
• Learn which aspects go into making a strong portfolio builder
• An overview of the Contently portfolio builder, with examples
• A collection of the best seven Contently portfolio alternatives
Aspects of a great portfolio builder
A professional portfolio builder will ensure that you get work by making it super simple to create and maintain your portfolio. For most folks, getting more work is the biggest reason for having a portfolio, though some others will look to maintain one to build their personal brand — again, this will directly or indirectly help them in their careers.
So, what do you need in your portfolio builder to guarantee that your best and brightest shines?
Design: looks good & is easy to organize
A modern portfolio that engages potential clients and employers' interests needs to be aesthetically pleasing to look at while having great UI/UX design. So, an excellent portfolio builder will be easy on the eyes while also letting you easily organize your portfolio into separate buckets via collections.
Also, a good portfolio needs an excellent "About Me" section with call-to-actions, including your contact details. Hence, the facility to do this must be present in the portfolio builder you pick.
Easy to update
New writing samples or other work samples need to be continually added to your portfolio. Some folks publish nearly every day, others create content weekly, and some professionals post social media content multiple times a day. The ideal portfolio will be updated with all this content so that it's up-to-date. Prospective clients and employers will not be happy to look at content that's many months old.
So, the perfect portfolio solution will, ideally, auto-update. So, that should be something to keep an eye out for when looking out.
Backs up your content
Websites go down, content is re-bylined, and generally, entropic forces can result in loss of access to published work. So, it's vital to safeguard your work.
To that end, if your portfolio solution can also back up your content, then you're golden.
Not only will you have an archive of all your work stored forever, but you'll also be able to use this database for future research to enhance your content going forwards.
Has in-built search engine optimization
Your content needs to get indexed on search engines. Hence, the perfect portfolio solution must have solid search engine optimization principles. For example, technical SEO should be on point, i.e., ensuring content is indexed and done quickly. On top of this, on-page SEO should be sorted, i.e., aspects like loading speeds, including CLS and LCP issues, being taken care of.
An overview of Contently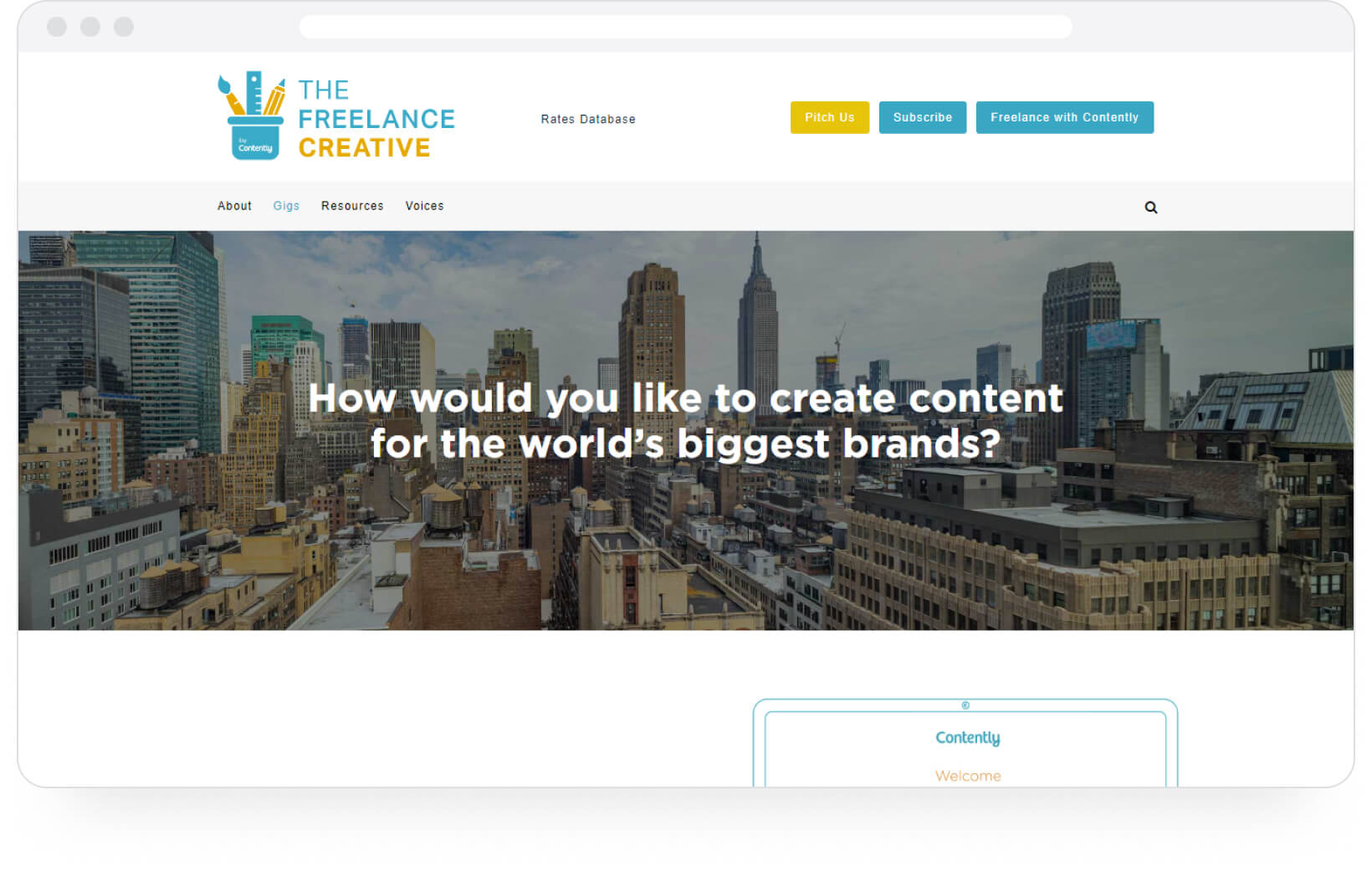 As mentioned earlier, Contently provides a content marketing platform for marketers to launch content marketing campaigns. It also has a content marketing service.
But for the purposes of this article, we're focused on the portfolio service. But truth be told, Contently's portfolio solution is ancillary to its job database for freelance writers.
The steps to using Contently's job database are as follows:
As a freelance writer, you create a free portfolio when you sign up
Next, you shape your minimalist, no-frills portfolio
Then the Contently team will review and match you with jobs
On approval, you'll go through a tutorial, and then you're in the Contently network
Contently gives you a basic, run-of-the-mill online portfolio. But it's helpful to have a Contently portfolio to leverage the job database, especially if you're a freelance writer.
That said, it's better to use one of the alternatives listed below to create a complete portfolio website.
Contently's pricing plans
Setting up a basic online portfolio on Contently is free. The portfolio is super minimalist and doesn't offer most of the features you'll get in the other alternatives in this article.
Examples of portfolio websites using Contently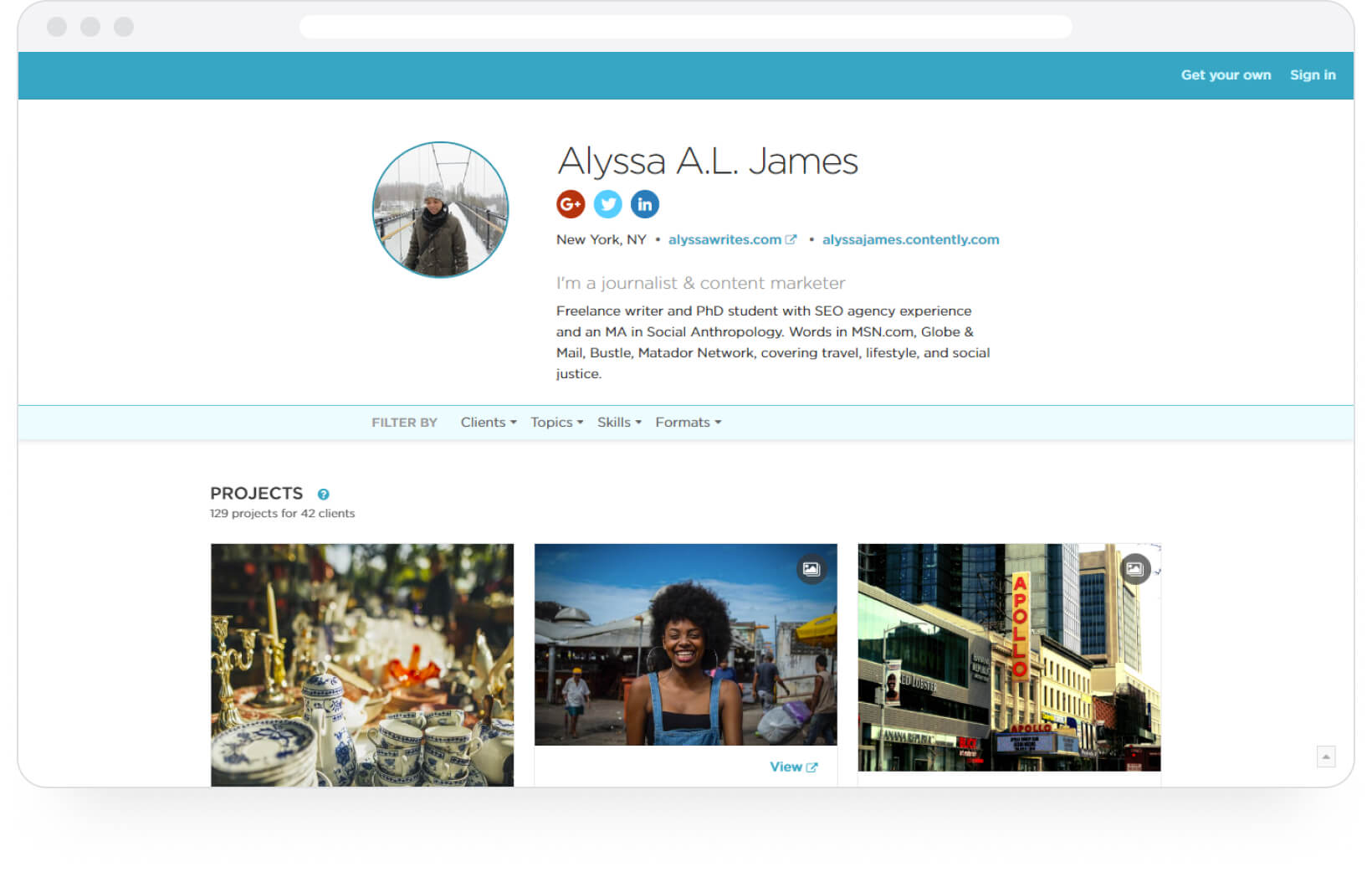 Alyssa A.L. James is a journalist, content marketer, and freelance writer, with words in MSN.com, Globe & Mail, Bustle, and Matador Network, covering travel, lifestyle, and social justice.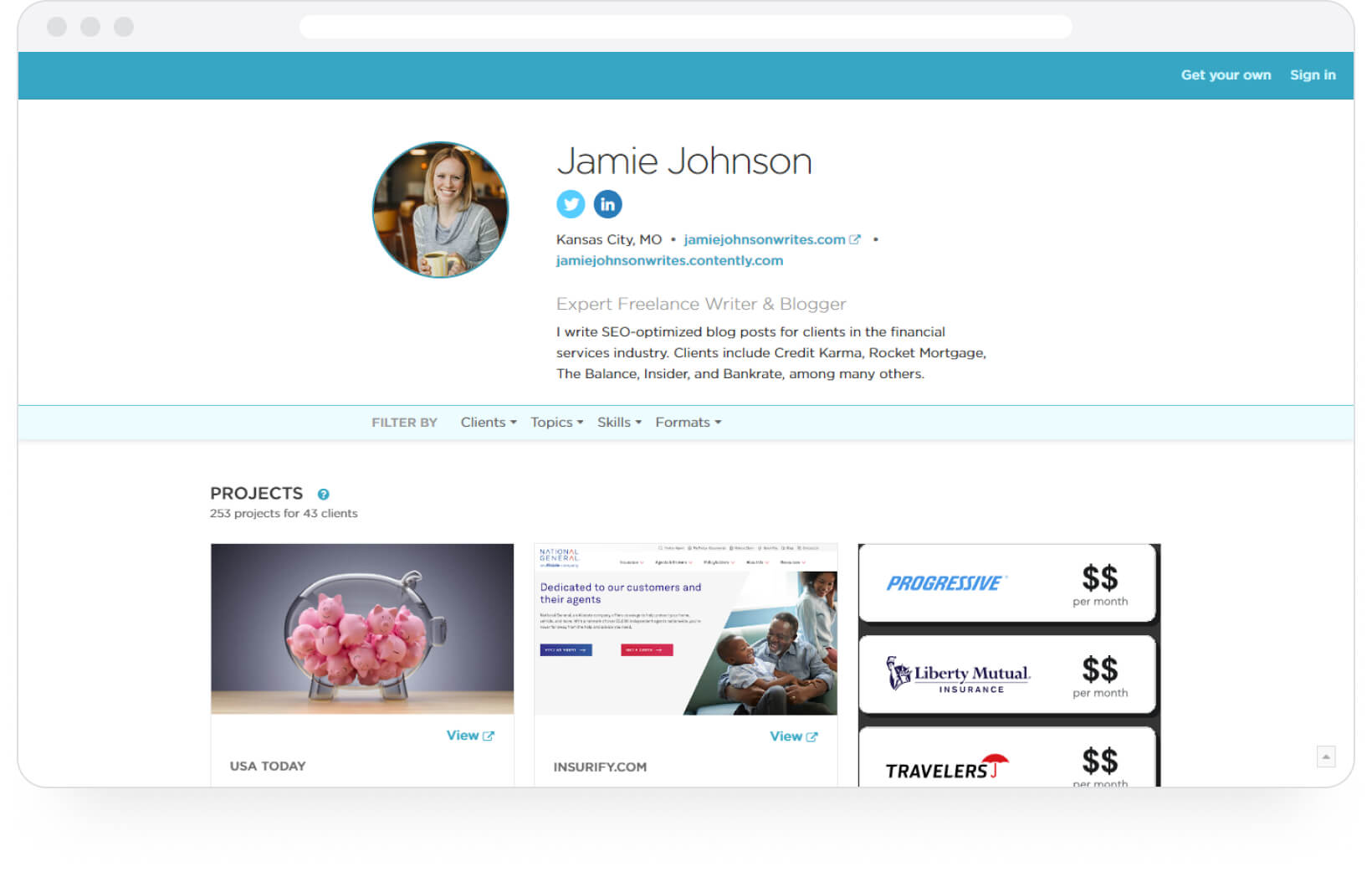 Jamie Johnson is a freelance writer and blogger in the financial services industry. Her clients include Credit Karma, Rocket Mortgage, The Balance, Insider, and Bankrate, among many others.
The top 7 Contently alternatives
These Contently portfolio alternatives are great for online writing portfolios and other types of portfolio websites as well. Some of these also let you use your own domain for your portfolio site.
Authory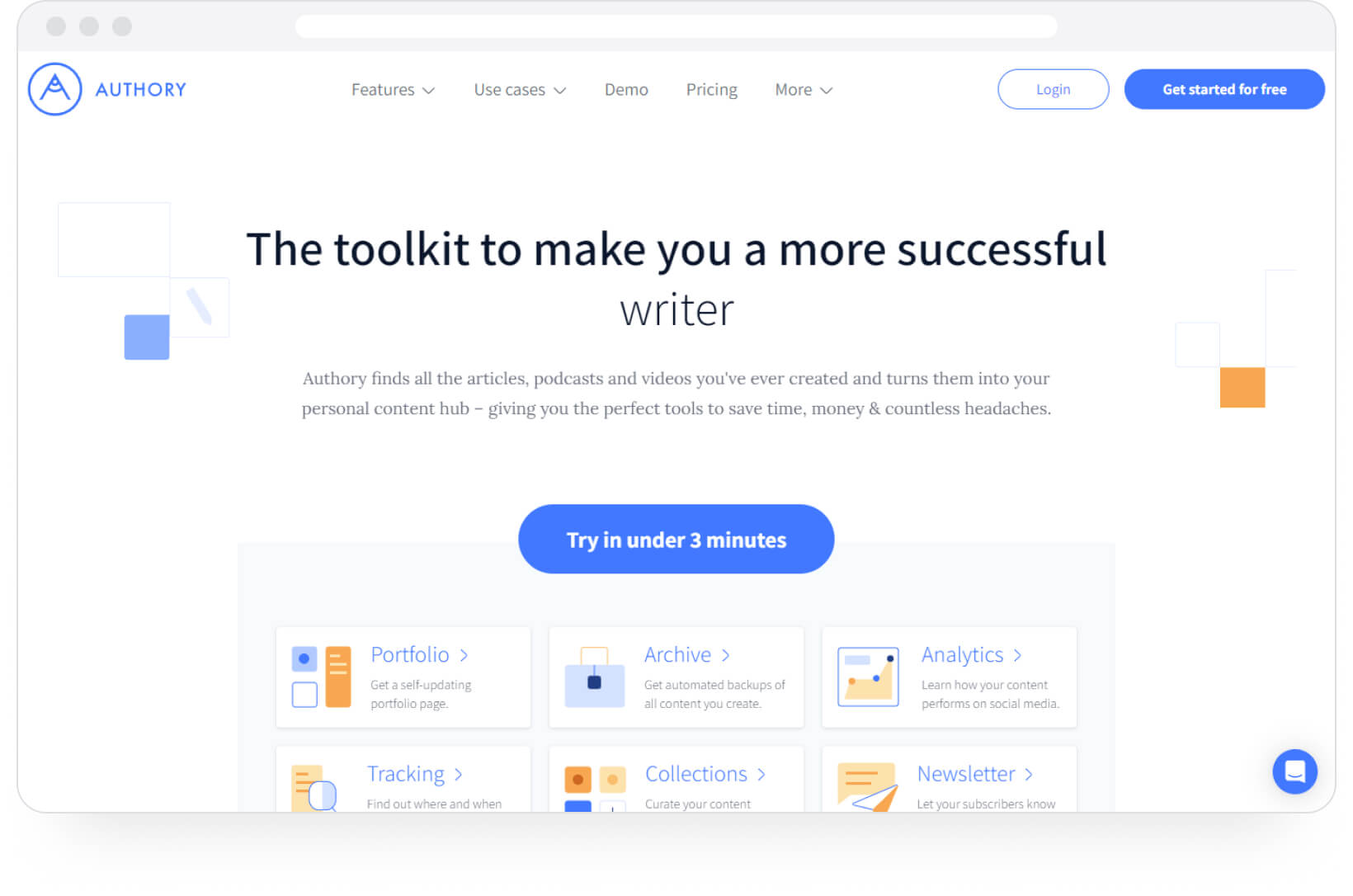 Authory is arguably the best portfolio solution in this list because it automatically imports all your content, enables you to create private collections to apply for jobs, archives and backs up your content in its original format, and even has analytics. Moreover, Authory is automatically updating — once you've entered your byline URLs, Authory will import all your past AND future content, ensuring that you don't need to keep your portfolio updated because Authory does it for you.
Authory works for articles, social media posts, PDFs, videos, images, and podcasts. You can organize your portfolio using the Collections feature, which allows you to create multiple buckets to group your content into. You can use this for ghostwriting, applications, and general usability so that prospective clients can easily find what they need.
Authory's primary features
ALL your content is automatically imported from any website (including social media profiles)
Your content is safeguarded forever. An archive is created where you can go through all your past content for research. And this is all saved in the original format — not screenshots — so you're good even if the original website takes it down.
Authory is search engine optimized and ensures all your content is indexed and loading correctly.
The analytics feature gives you the TRUE reach of your content on social media platforms — see the total shares from not just your account but on the platform as a whole.
Authory's pricing plans
Standard plan: $12/month
Self-updating portfolio page
Automated import of all past and future content created by you
Searchable content archive with backups of all your content
Detailed social media analytics
Integrated blog and newsletter
Professional plan: $18/month
Everything in Standard, plus:
Custom domain support
Automated import of all content created about you
Highest update frequency
Zapier integration and full-fledged API access
Sign up for the 14-day free trial here.
Examples of portfolio sites using Authory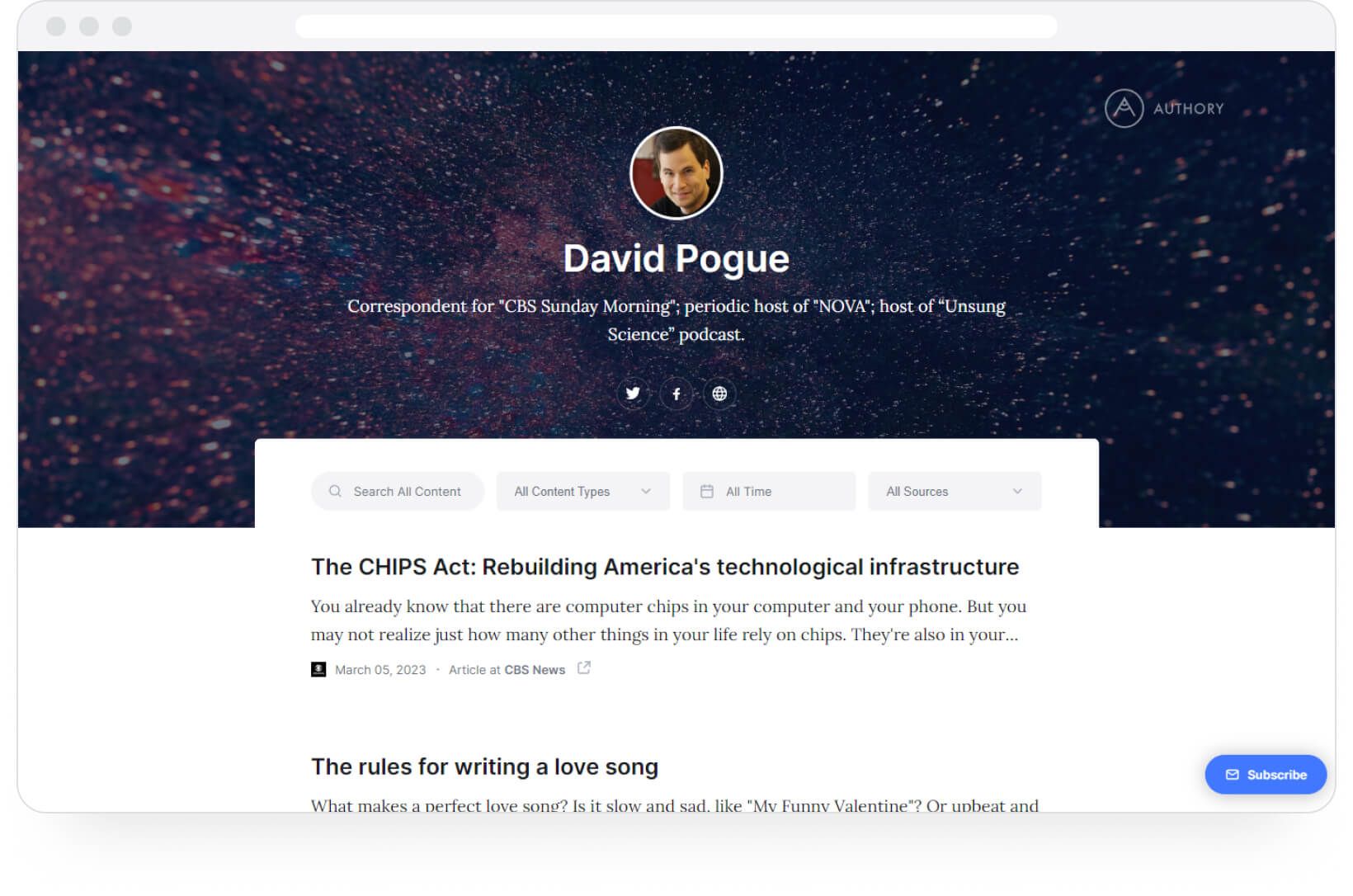 David Pogue is a six-time Emmy winner for his stories on CBS Sunday Morning, a New York Times bestselling author, a five-time TED speaker, host of 20 NOVA science specials on PBS, and creator/host of the CBS News/Simon & Schuster podcast Unsung Science.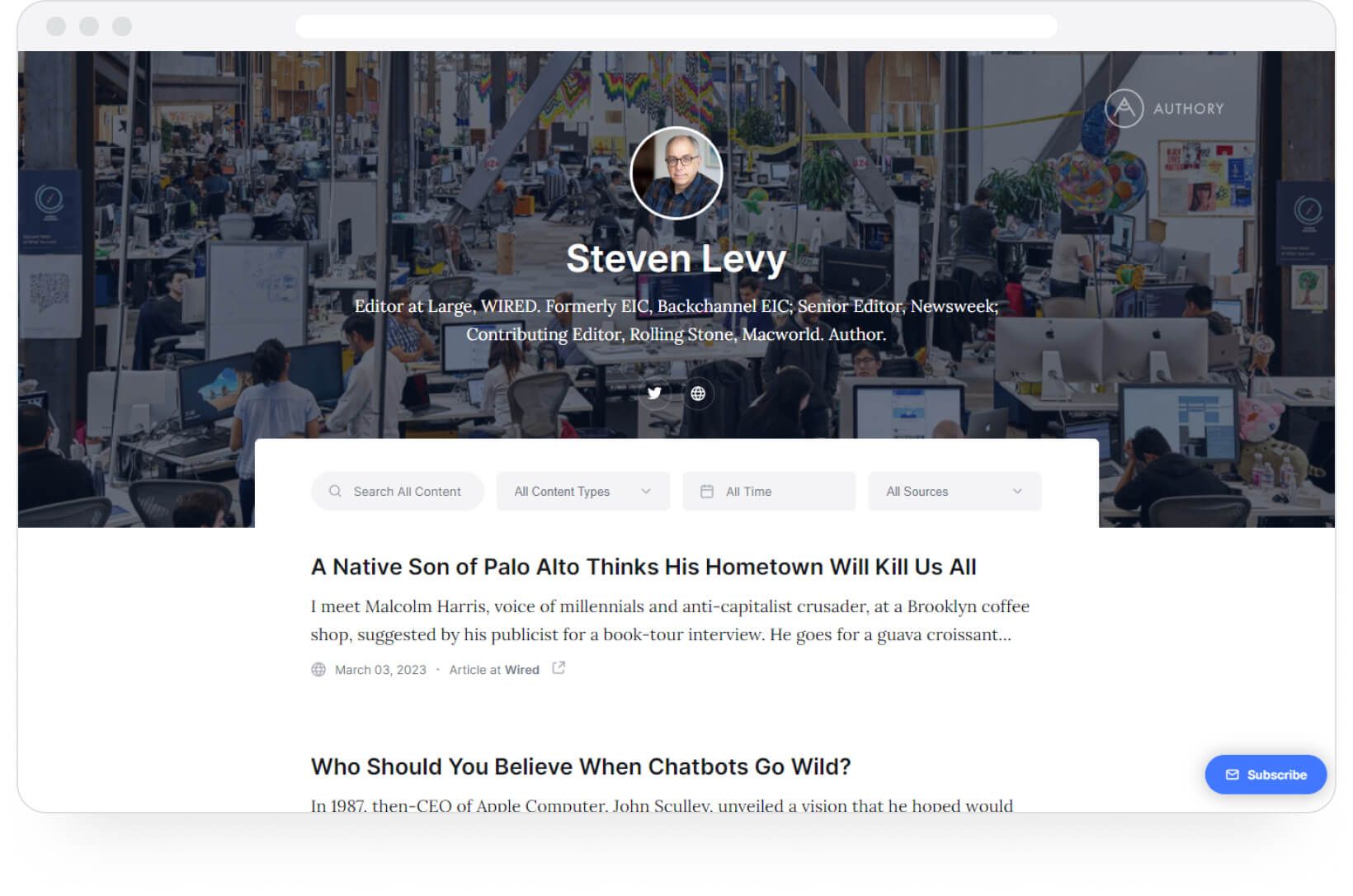 Steven Levy is Wired Editor-at-Large. The Washington Post says he is "America's finest technology journalist." He is the author of the definitive books on Facebook, Google, Macintosh, and the iPod. He has been documenting the digital revolution, its influence on humanity, and the people behind it for four decades.
Journo Portfolio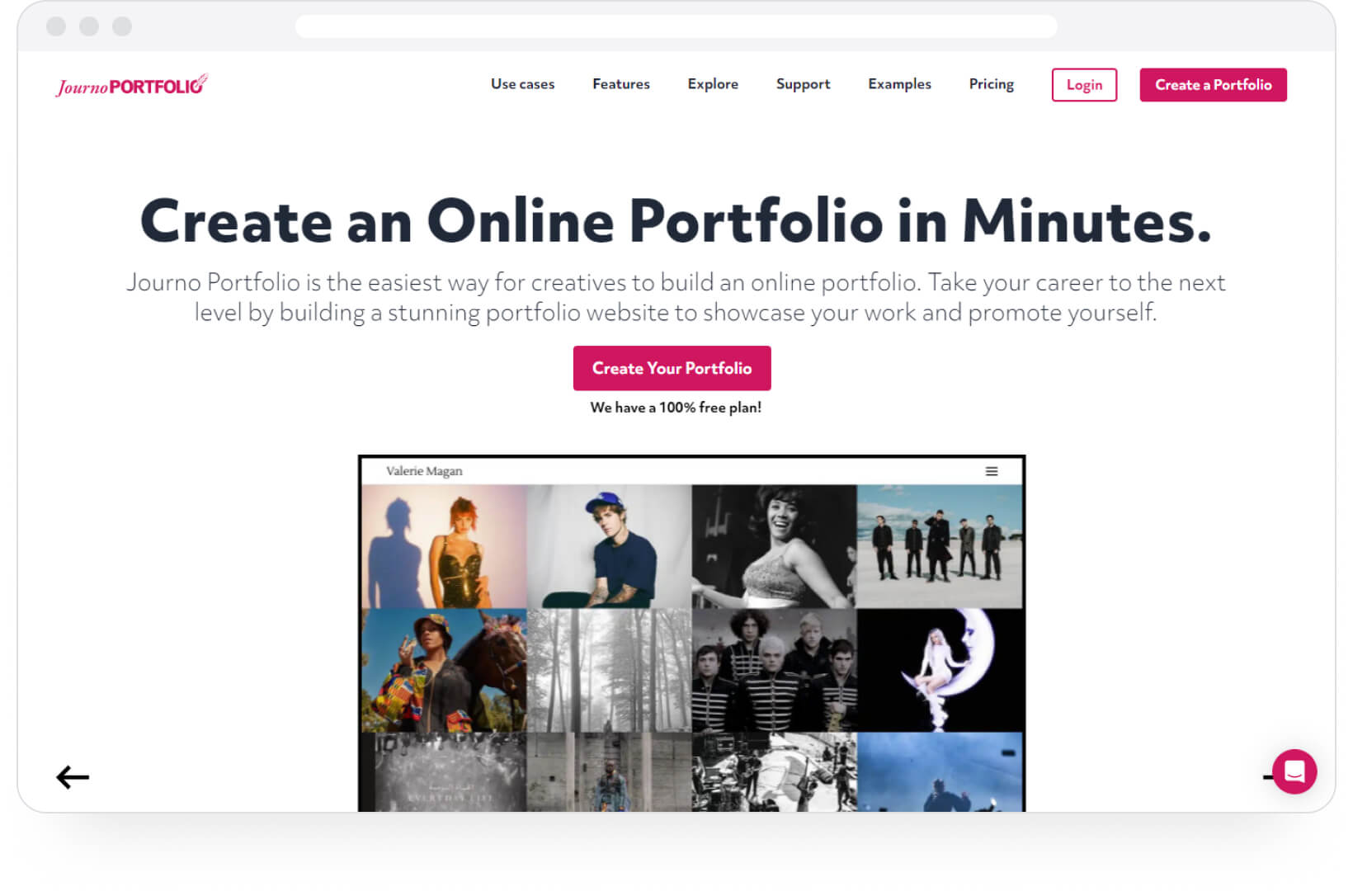 Like Authory, Journo Portfolio allows you to import your content in several formats. On top of this, it also backs up your content, but unlike Authory, this is only in the form of screenshots. Hence, it isn't possible to search through your archive.
Besides the eleven themes the tool offers, you can also pick from a repository of pre-designed sections.
It's possible to create a password-protected portfolio if you so choose, and there's access to analytics to see the number of people who visited your portfolio.
Journo Portfolio's pricing plans
PLUS plan: $8/month
PRO plan: $12/month
A freelance writing portfolio using Journo Portfolio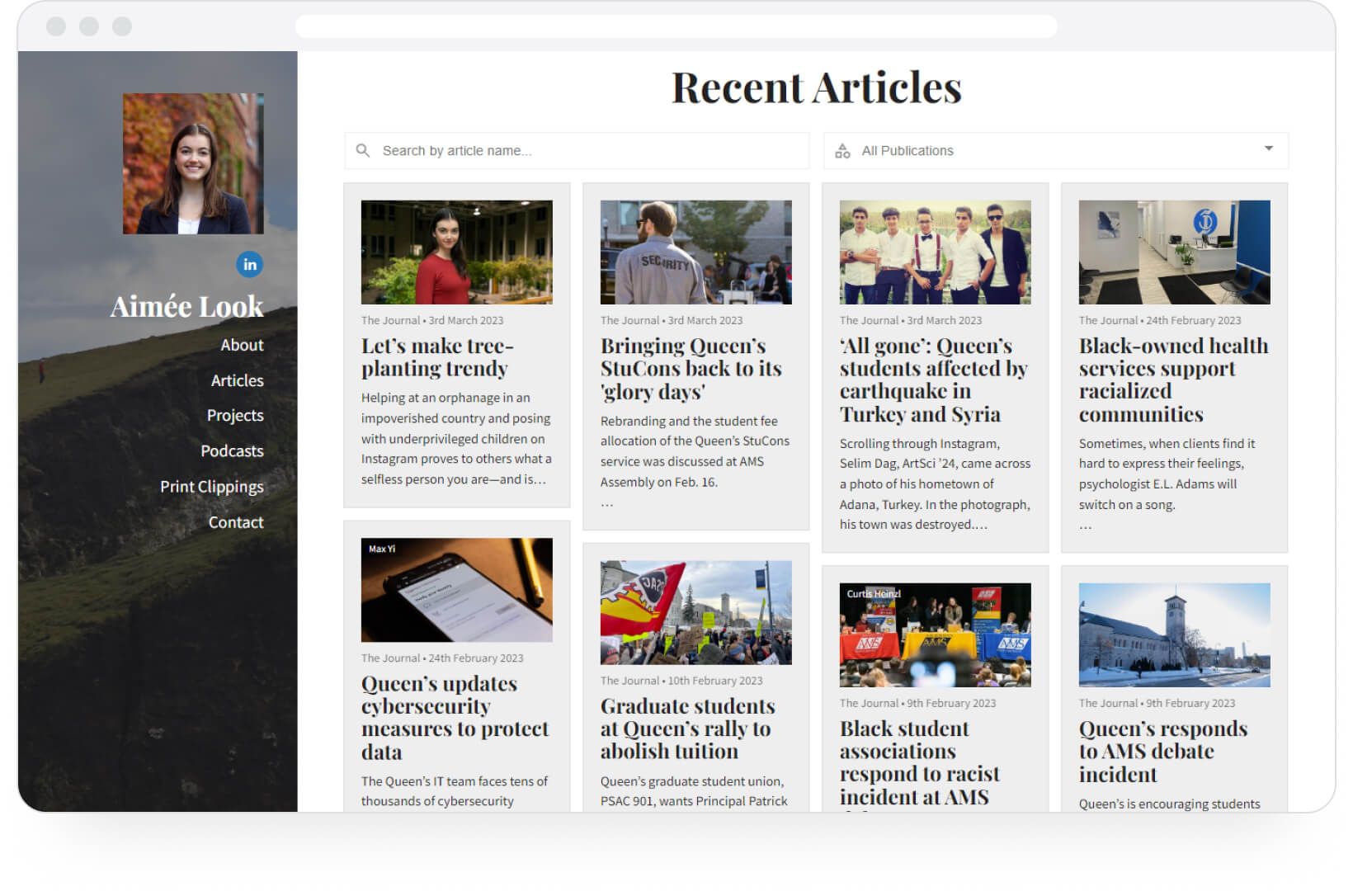 Aimée Look is a student writing about financial technology, journalism, and analytics.
Clippings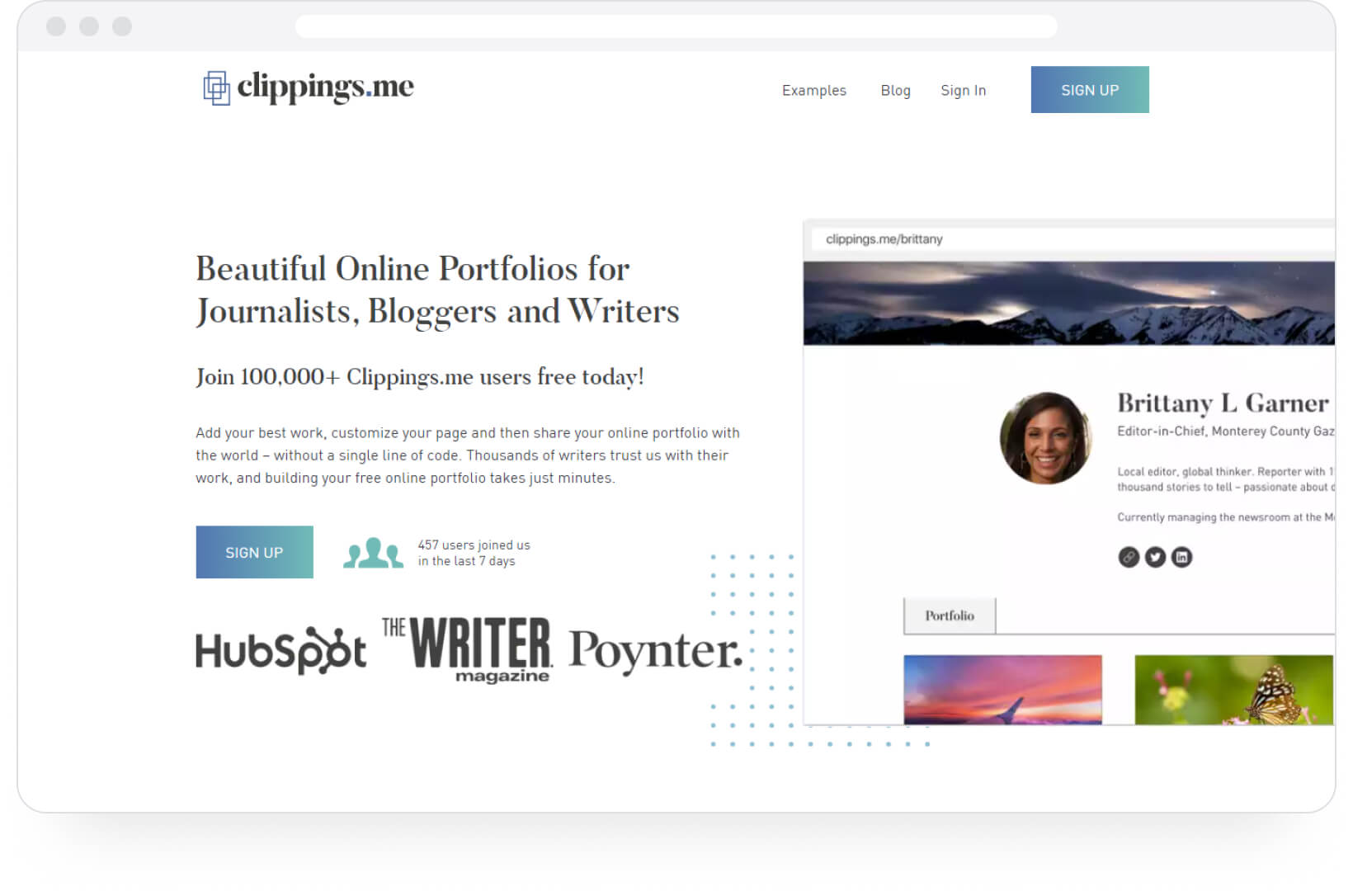 Clippings gives you a really basic portfolio, as you can see in the example below — there isn't much design customization like the other portfolio builders in this list.
Clippings lets you add images, articles, PDFs, and YouTube, Vimeo, or SoundCloud files to your portfolio. It has Google analytics integration and an international PayPal fee calculator, which is useful for freelance writers to figure out what to charge
Clippings' pricing plans
The free version is free forever but has extremely basic features.
Premium plan: $9.99 per month
A Clippings portfolio example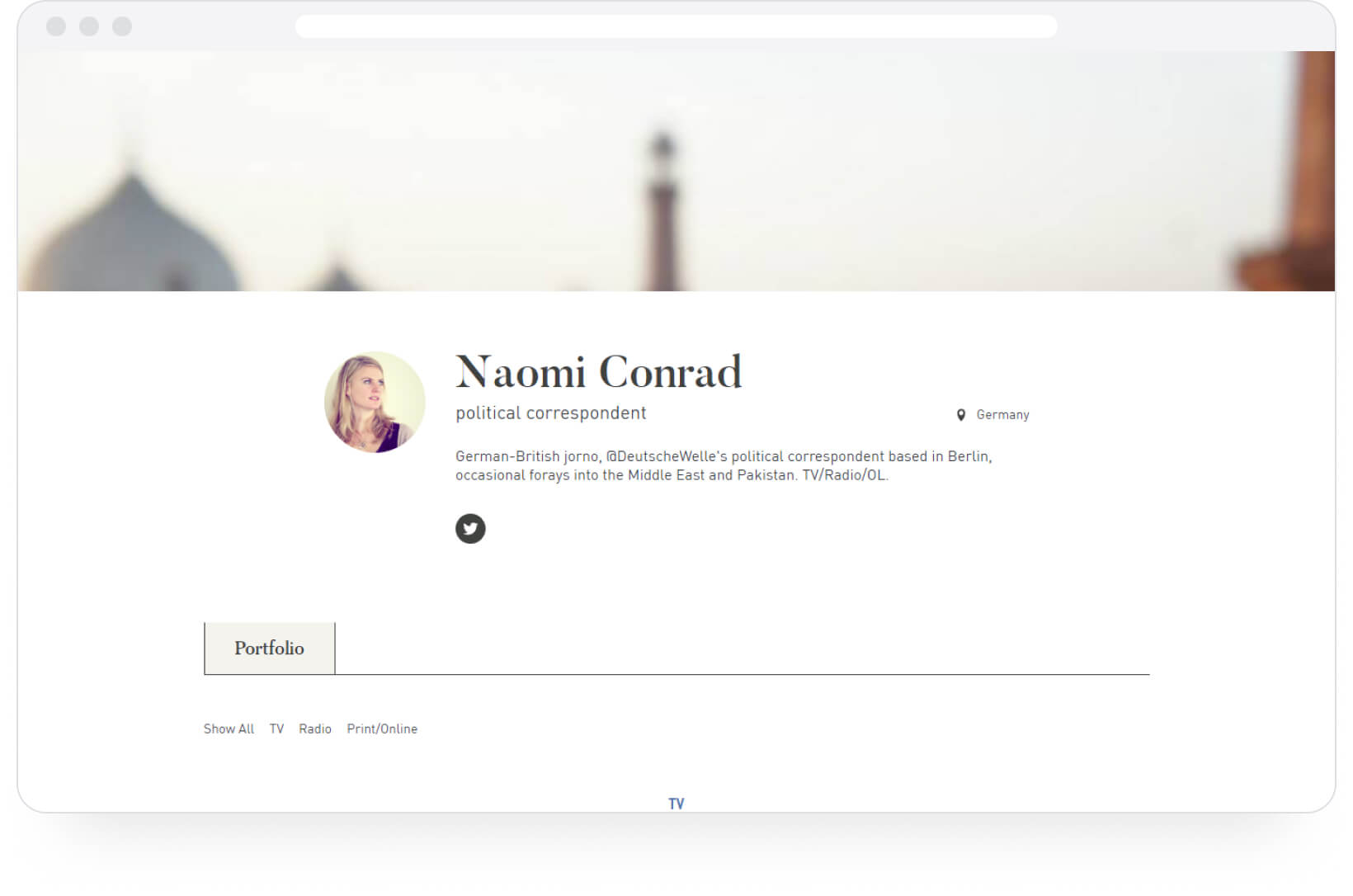 Naomi Conrad is a journalist working as DeutscheWelle's political correspondent based in Berlin, with occasional forays into the Middle East and Pakistan.
Muck Rack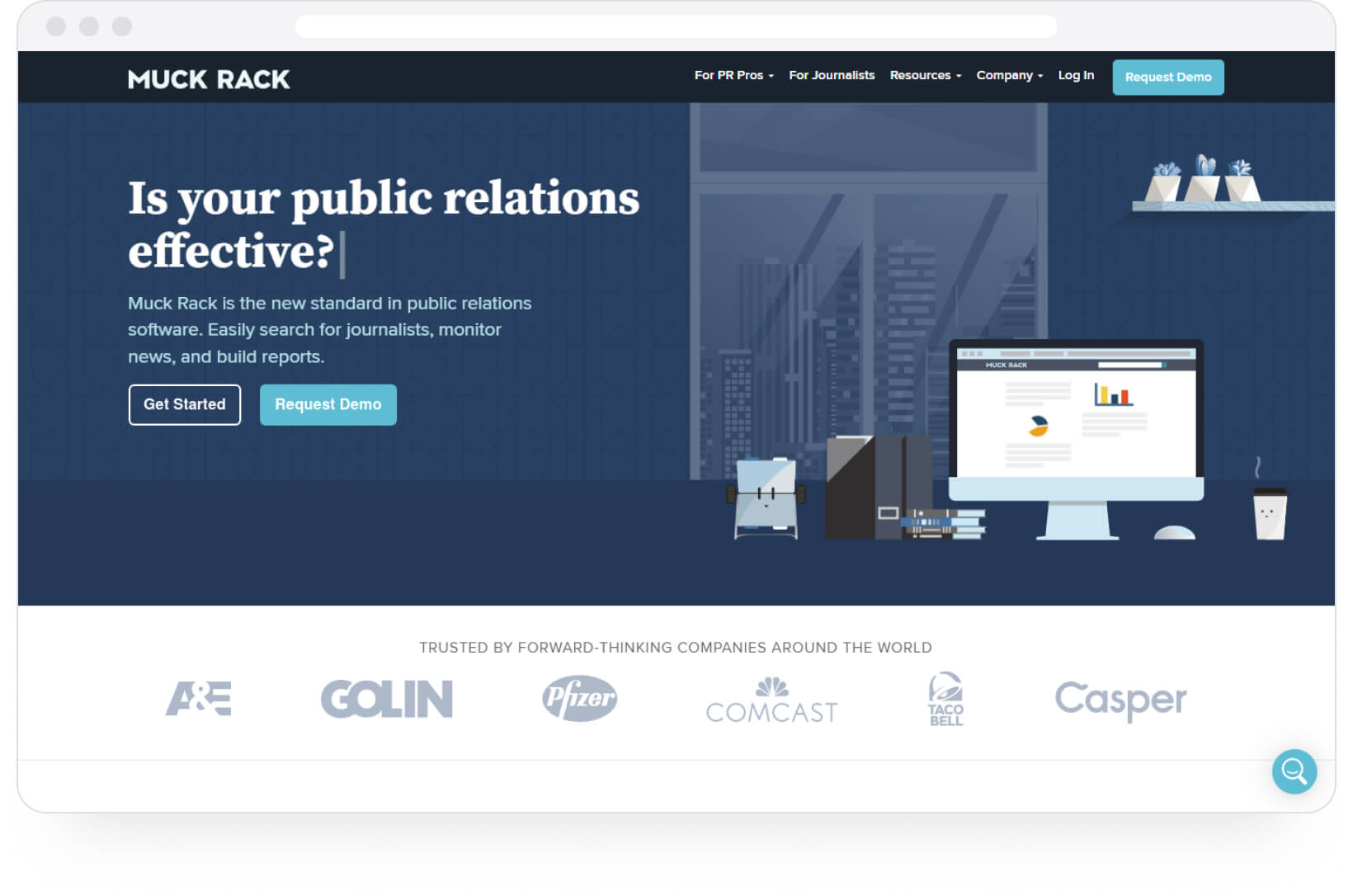 Muck Rack serves as a media database primarily for PR experts, staff, and independent journalists. It also provides a service for developing online writing portfolios.
Standout features of Muck Rack
If you're a journalist, Muck Rack compiles and displays your portfolio websites without charge.
You can track the results of your story, stay current on pertinent news, and look for ways to expand your online presence.
You have access to other journalists, newspapers, media outlets, and the automatically compiled information database maintained by Muck Rack.
Get notifications when your pieces are tweeted or picked up by other publications.
Muck Rack's pricing plans
Muck Rack is free for journalists.
Premium features, such as media lists, alerts, and database searches, are available to verified journalists. Pricing is available on request.
A Muck Rack portfolio example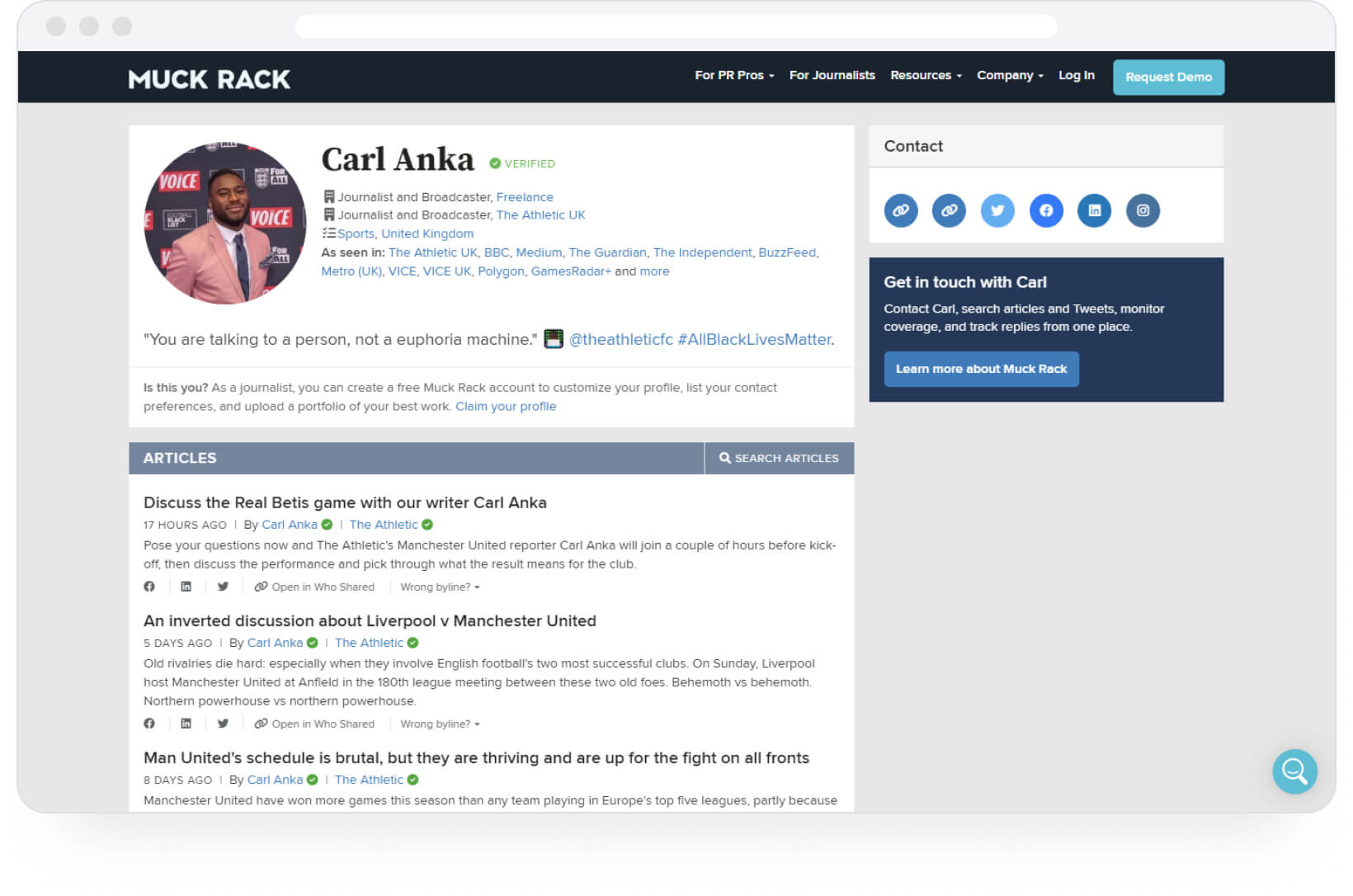 Carl Anka is a football journalist and broadcaster working for The Athletic, primarily covering Manchester United, as well as England and Ghana's national football teams.
Squarespace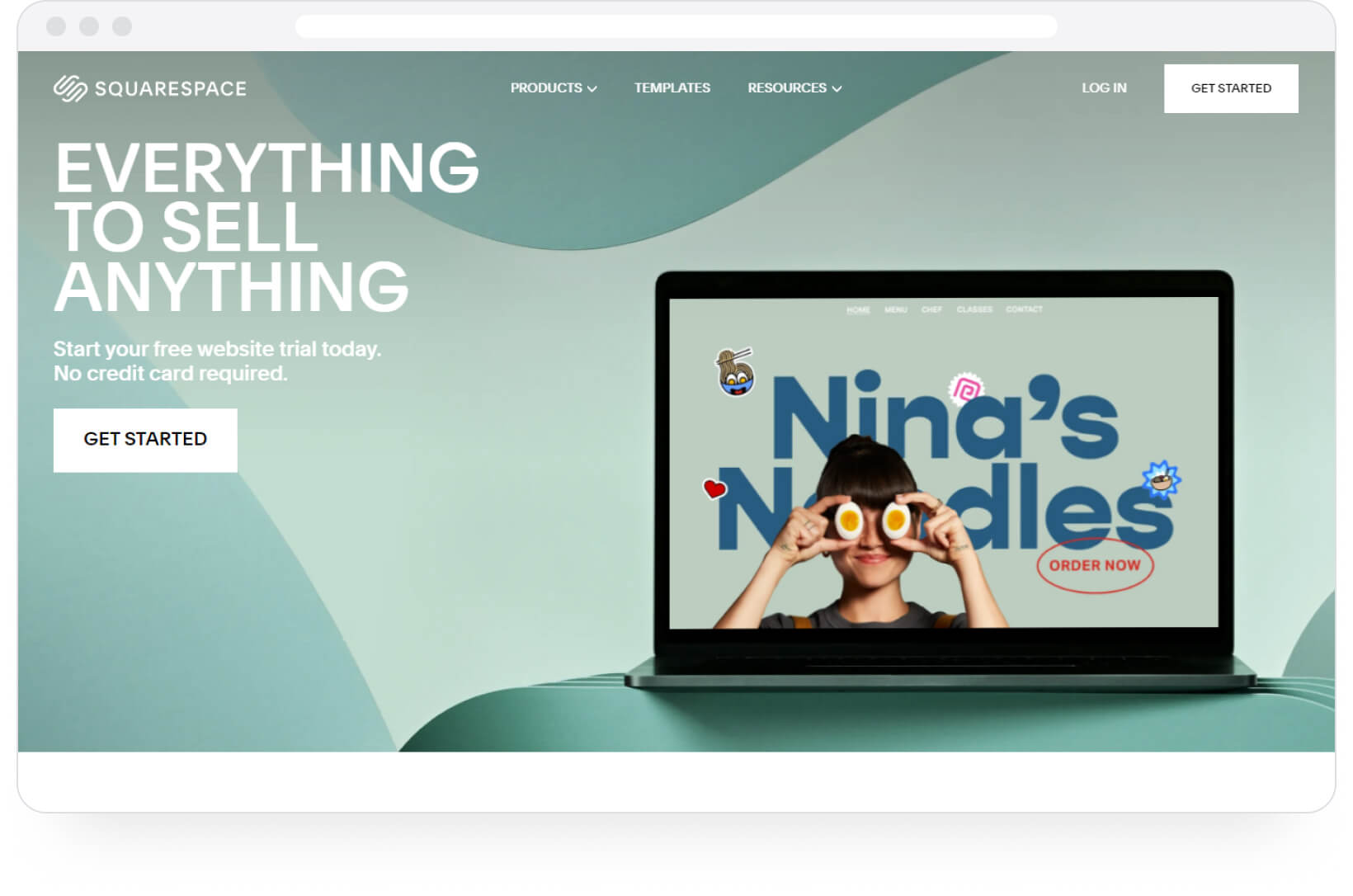 Squarespace makes sure you have a ton of options when creating your freelance writing portfolio using the tool with more than 230 layouts.
Having said that, you receive nearly every feature you might want when creating your own portfolio site, including an automatically optimized website for search engines, a free custom domain on all yearly plans, marketing tools, an infinite number of pages, etc.
Squarespace's primary features
For numerous lines of work, there are more than 230 attractive, editable templates with responsive design.
In essence, Squarespace is a website builder allowing you to construct different sections with various content and page features.
Has built-in SEO, password protection, and a drag-and-drop editor for simple customization.
Although it includes numerous extensions for integrating external services that handle marketing, finance, etc., a Squarespace website can be improved without plugins.
Squarespace's pricing plans
Personal plan: $23/month
Business Plan: $33/month
Commerce Basic: $36/month
Commerce Advanced: $65/month
A Squarespace portfolio example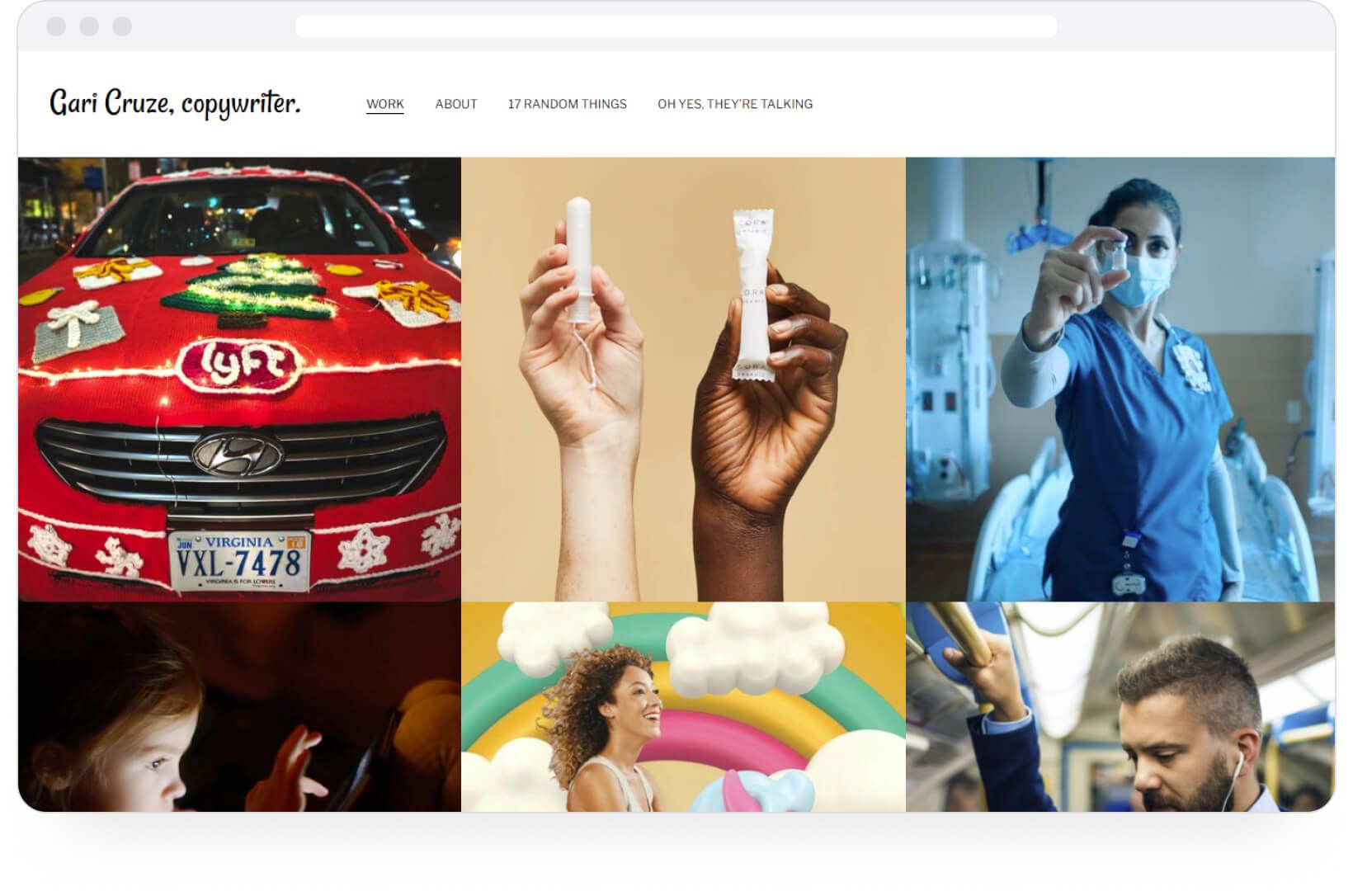 Gari Cruze is an associate creative director and copywriter, having worked at agencies like  Huge and AKQA, along with brands like Slack, Lyft, iRobot, Google, M&Ms, SmileDirectClub, The Home Depot, NPR, Sunglass Hut, P&G, Sotheby's International Realty, Cracker Barrel, Folgers Coffee, and more.
Wix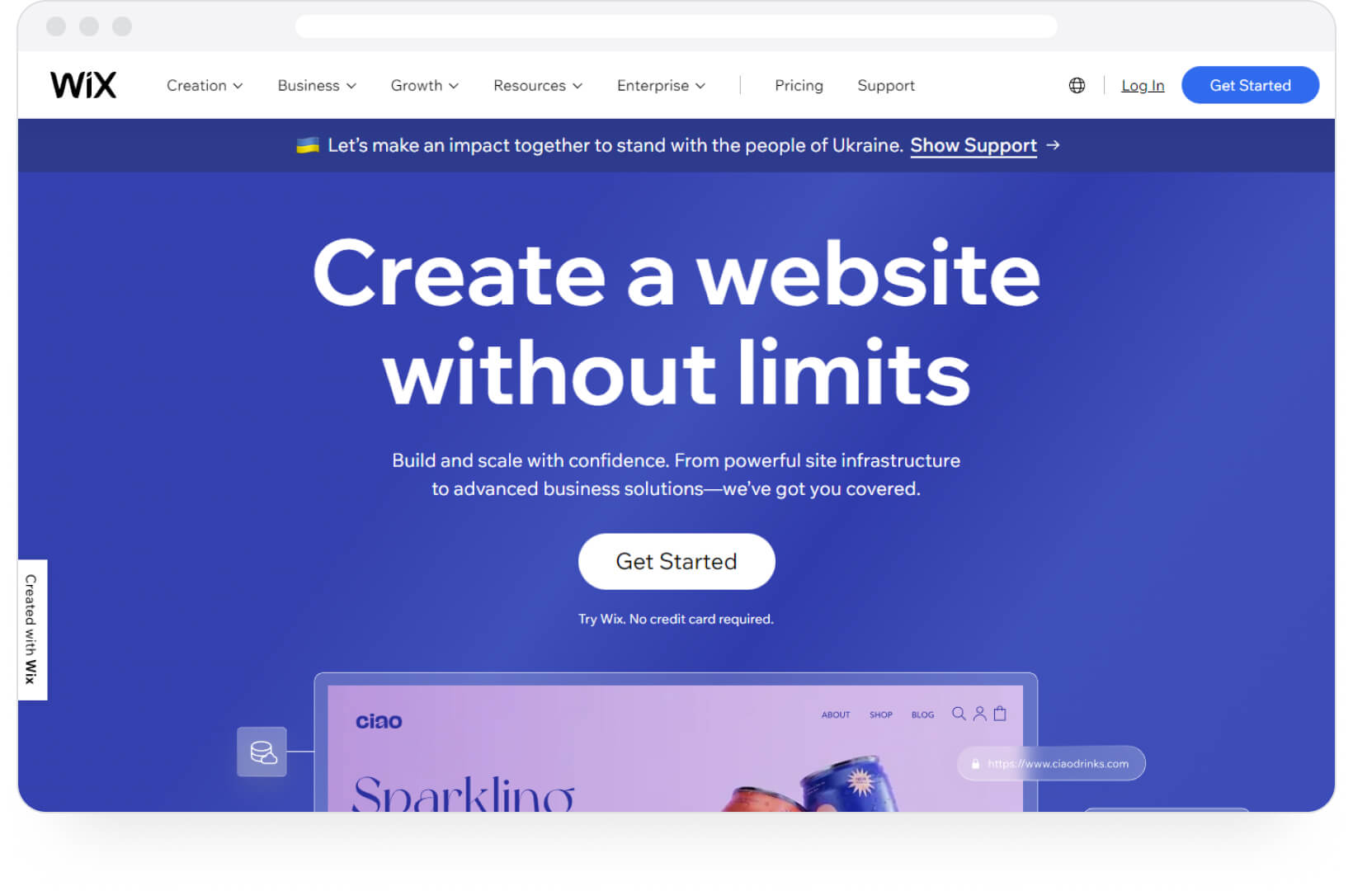 You can quickly design your portfolio site using one of the more than 500 templates. In contrast to some of the other tools on this list, Wix's drag-and-drop editor is particularly user-friendly for beginners.
Wix can be used to create any type of website, but there are plenty of templates to create a portfolio that meets your requirements — for example, one with photographs, video, audio, and contact forms.
Wix's primary features
More than 500 templates with incredibly detailed designs.
Comprehensive influence over the ability to customize a website.
Industry-leading in-built SEO tools.
With the app market, you can enhance the functionality of your website by, for instance, integrating Google Analytics.
Free web hosting, a custom domain name, built-in analytics, SSL certification, and social media integration are all available.
Wix's pricing plans
Combo Plan — $16
Unlimited plan — $22
Other plans exist but are targeted toward businesses.
A Wix portfolio example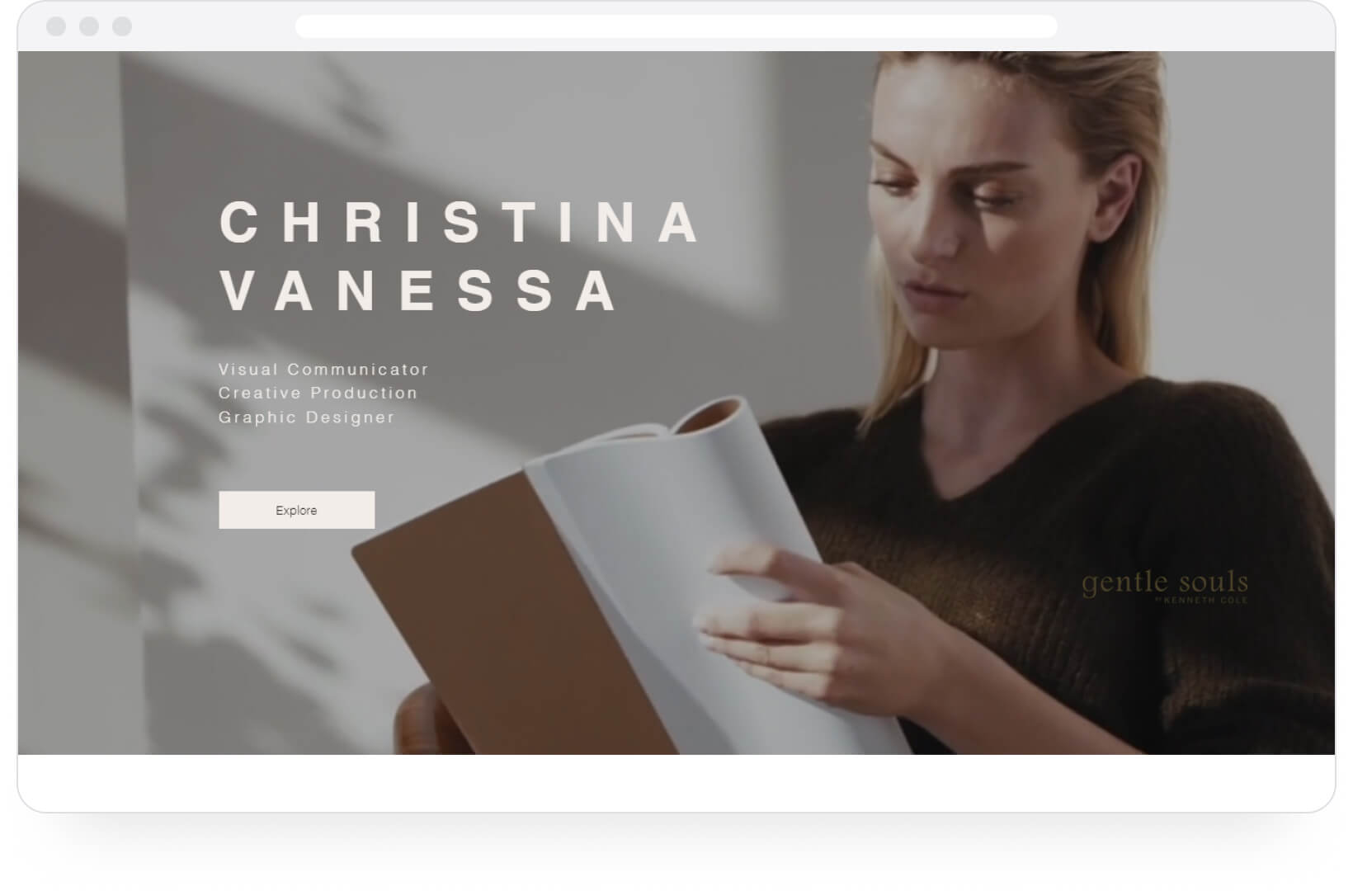 Christina Vanessa is a Fullbright scholar, artist, and designer.
WordPress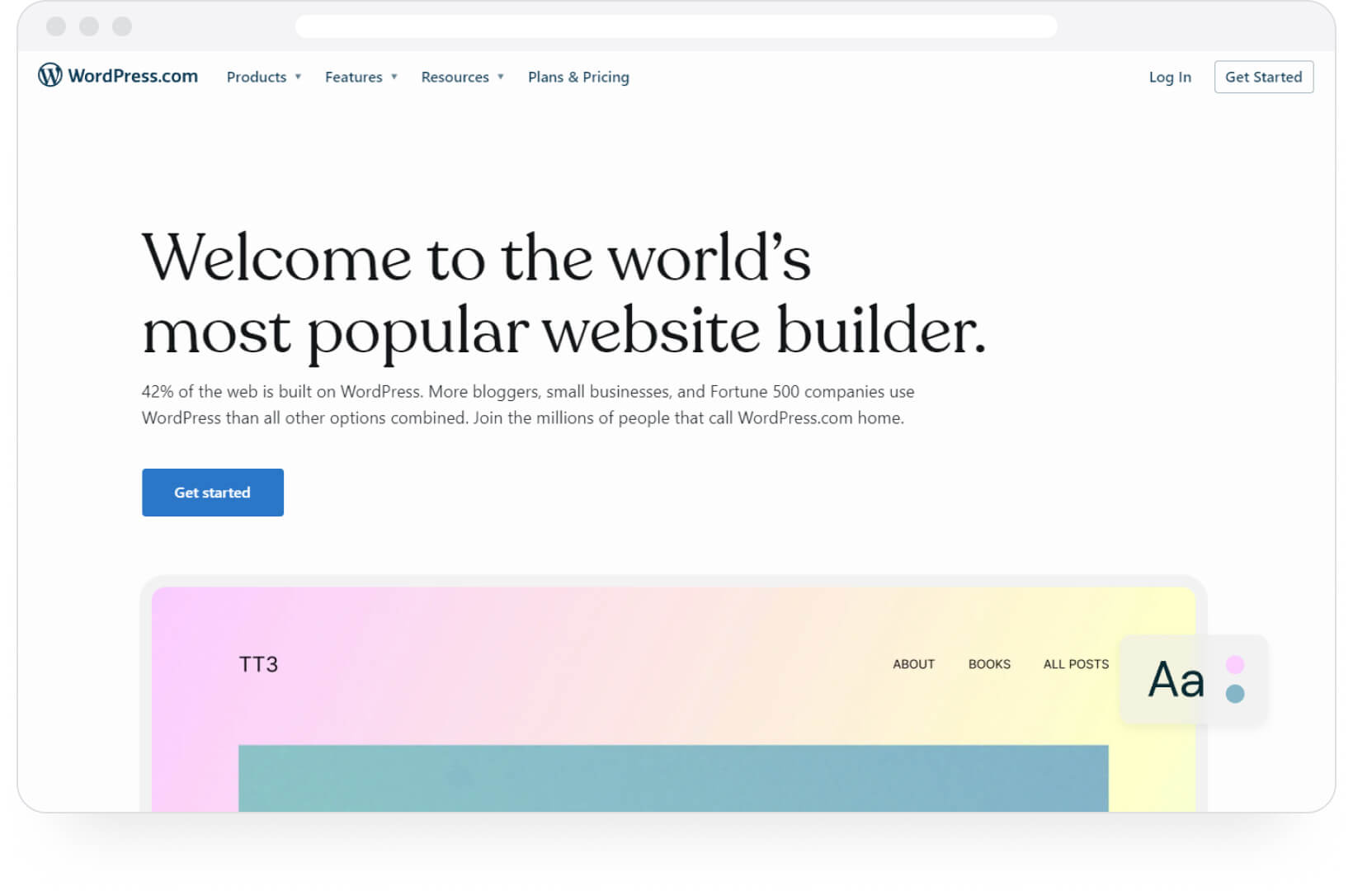 The most well-known website builder, WordPress, can be utilized to create your portfolio. You get access to an unlimited number of paid themes in addition to the default WordPress portfolio themes, providing you the complete creative freedom to design a polished portfolio.
With limitless storage, you may create as many pages as you want or have a single page listing all of your projects along with a brief description of each one. Everything depends on you. In essence, you are building a website for yourself. And while that's fantastic, it can be challenging to start. Nonetheless, there are a ton of tutorials online that will serve you well.
WordPress' primary features
Thousands of gorgeous templates
Super customizable
A plethora of options for add-ons
In-built SEO, custom domain name, and more.
WordPress's pricing plans
Personal plan: $4/month
Premium Plan: $8/month
Business Plan: $25/month
eCommerce Plan: $45/month
A WordPress portfolio example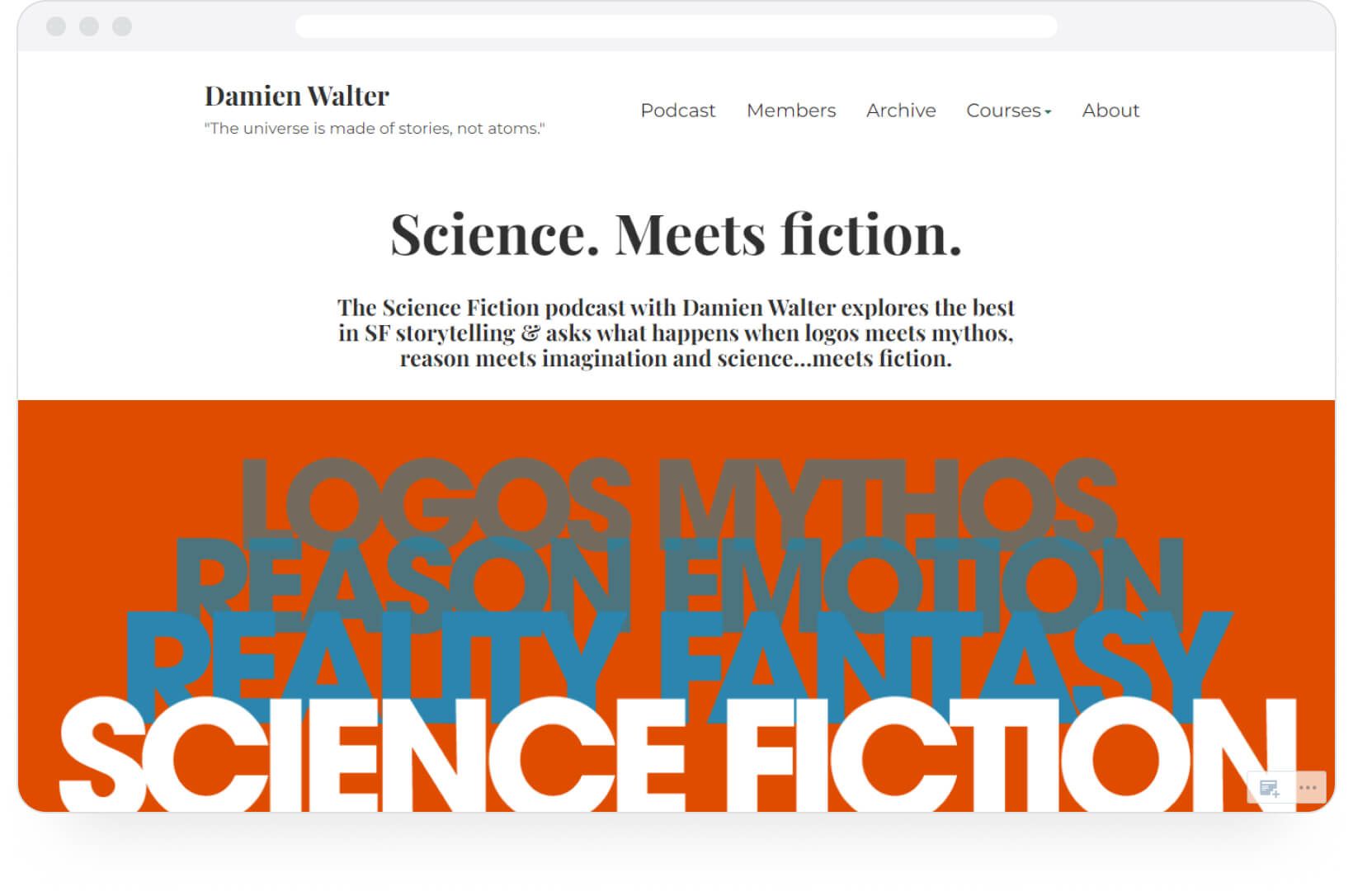 Damien Walter is a writer and storyteller with words in The Guardian, BBC, Wired, Independent, Aeon, and OUP.
Our pick: Authory
If you harken back to the beginning of this article, I outlined the most important aspects of a great portfolio builder, namely:
it should look great and be easy to organize
it should be easy to update (ideally auto-updating)
it should back up your content
it should be SEO optimized
Authory ticks all these boxes because it gives you an auto-updating portfolio that backs up all your content in its original formats while looking fabulous. Also, via the use of Collections, you can organize your portfolio in ways that other tools just can't. Authory is also SEO optimized, has robust analytics, lets you create newsletters easily, and has many more features.
Authory is also used by the best in the business. Here's what David Pogue, a six-time Emmy award winner, says about Authory:
To learn more about Authory, go here.