As a freelance writer, the best advice I ever received (well, second-hand advice) came in the form of Chase Jarvis' quote, "Portfolios are everything, promises are nothing. Do the work".
Even though Jarvis is a famed photographer (among other things), his advice rings just as true for writers. You are known by your writing, and your writing is known by your portfolio.
In the age of professional portfolio builders, there's no excuse not to have an immaculate portfolio. Your prospective employers are hyper-aware of this. When asked for work samples, you can no longer get away with a list of links in a Google Doc or an email body.
A portfolio's quality, design, and navigability reflect the writer's personality and work ethic. If they won't take the time to build an attention-gripping portfolio (the thing that represents who they are as an employee), how serious would they be about their assignments?
Don't worry — it's not all gloom and doom. There are many portfolio builders that you can use to showcase your work in a few clicks. Some of them will even go beyond simply displaying articles; they will automatically update your portfolio and even back up all your work.
In this article, I've picked out 20 of the best portfolio builders available for writers in 2023.
📖
What you're going to get from this article:
• A list of 20 online portfolio builders
• A glance at Authory — a self-updating portfolio builder that will also back up ALL your published content
A list of 20 best portfolio builders
🗒️
Note: Most of these builders have a free-to-use option. But, they tend to lack some essential features. Here, I've mentioned the cost of the lowest-priced plan, i.e., the basic paid plan.
I've chosen to include a mix of tools — some specifically for building portfolios and some that writers can use even though they might not be the target demographic.
#1 Authory
Price: $8 per month
Best Features:
Automatic importing of past & future content on the internet
Automatic & permanent backup of all imported content
Ability to showcase articles, videos & podcasts
Authory users don't just get a platform to copy-paste their links — they get one that automatically imports all their digitally published work the minute they sign up.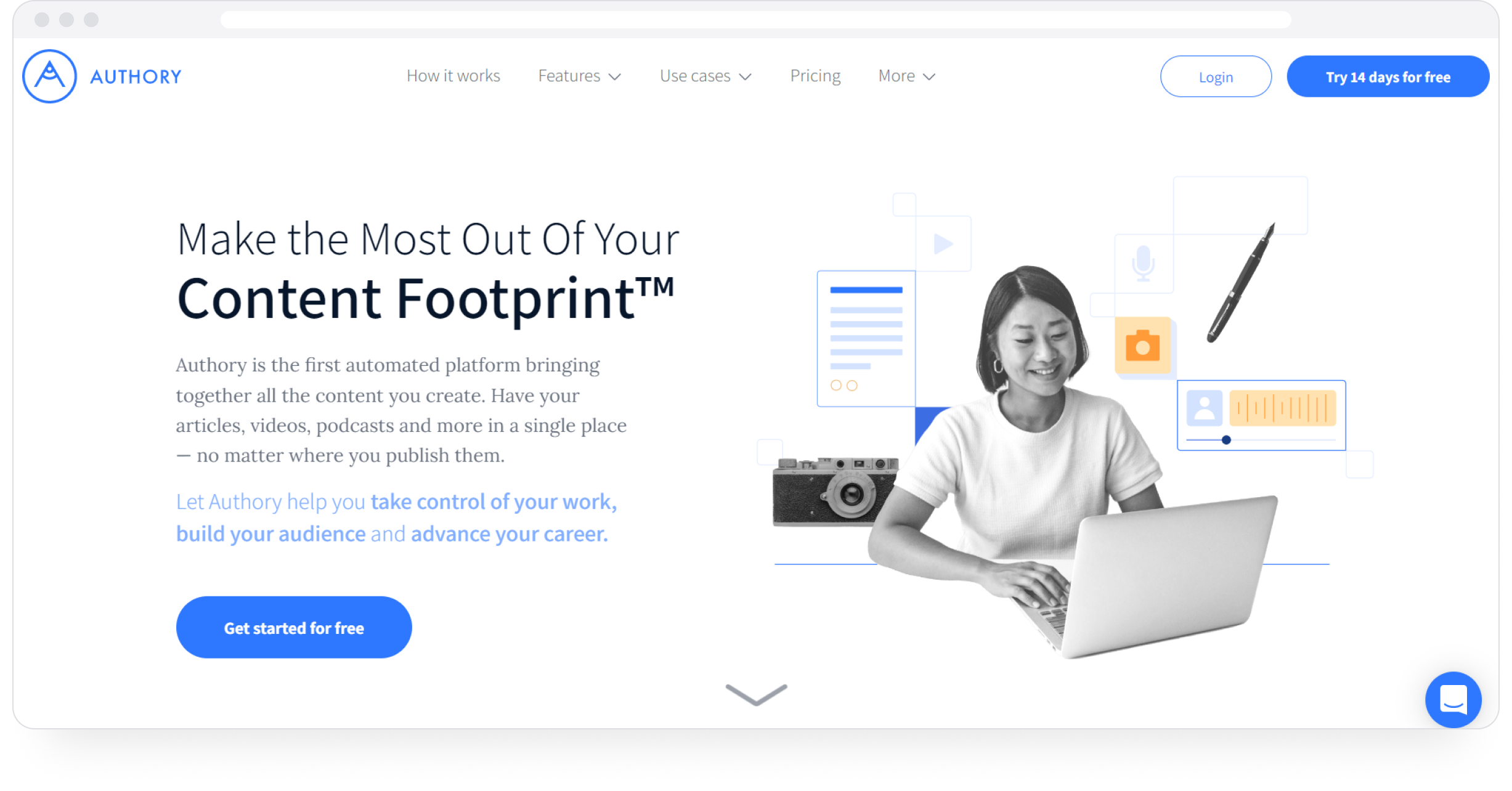 When you sign up and simply enter the sources where your writing is published, the tool will import every piece of writing ever published on that site under your name. Moreover, it will continue to import all future bylined pieces from that source, forever.
Apart from written pieces, you can also import and back up video and podcast content. The entire process is very user-friendly.
Additionally, all your content is backed up forever, and you can download it if you choose. The tool also provides in-built analytics for all your pieces, showcasing the number of social media shares over 30 days.
This one definitely deserves consideration if you're looking for the best portfolio website builder.
Example of an Authory portfolio: authory.com/DavidPogue
---
🖱️
Authory is, amongst other things, a portfolio builder & content backup service, used by thousands of top professionals worldwide.
Get started for free now.
---
#2 Squarespace
Price: $16 per month
Best Features:
Sharp, minimalistic templates to choose from
In-built SEO optimization
In-built marketing tools
Unlimited storage on all plans
You've probably seen many gorgeous portfolio websites created on Squarespace.
Favored by artists and designers, Squarespace is mainly known for eye-catching templates to create website portfolios. Essentially, it lets users create portfolio websites without any coding experience.
Squarespace templates are responsive by default, especially to mobile screens. For writers, it comes with in-built blog sections as well as an about me page and contact forms. It's also quite easy to use, thanks to section-based drag-and-drop features.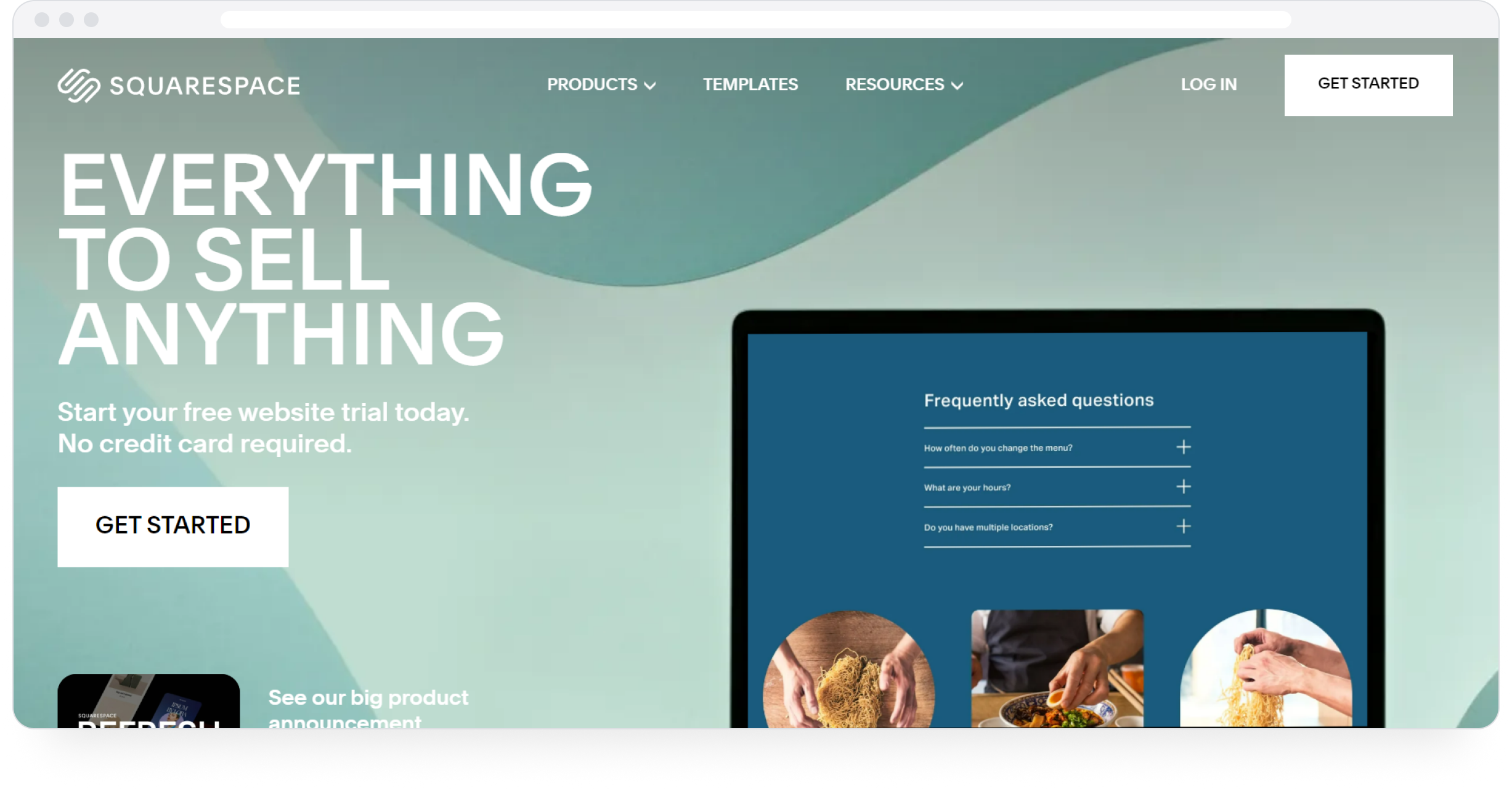 Despite being preferred for its design-first approach, Squarespace can be quite the tool for writers or marketers looking to showcase their work. It has multiple options to present text in creative formats beyond the simple article title-article link approach.
Example of a Squarespace portfolio: www.fuktmagazine.com
#3 Wix
Price: $16 per month
Best Features:
Multiple templates tailored for portfolios
SEO guidance tools for beginners
App library for extra functionalities
Wix is among the best portfolio website builders out there. Like Squarespace, it is also no-code and easy to use. There's a drag-and-drop editor, and there are no section-based limitations. You get complete control of your portfolio's design. Despite this customizability, the tool is very beginner-friendly.
You can use Wix's app library to add new functions and use third-party services such as making content shareable on social media. In case you actually do know how to code, this portfolio website builder gives you full-stack dev tools for deeper customizability.
Example of a Wix portfolio: www.sophiebritt.com
#4 Zyro
Price: $8.90
Best Features:
No coding required
Responsive templates
Templates tailored for multiple industries
Zyro is a younger player in the game and lacks some of the customizability of more established contenders. Certain base templates cannot be changed, but that shouldn't be a problem for writers/marketers/journalists/thought leaders. You don't need your design elements to be unique like designers.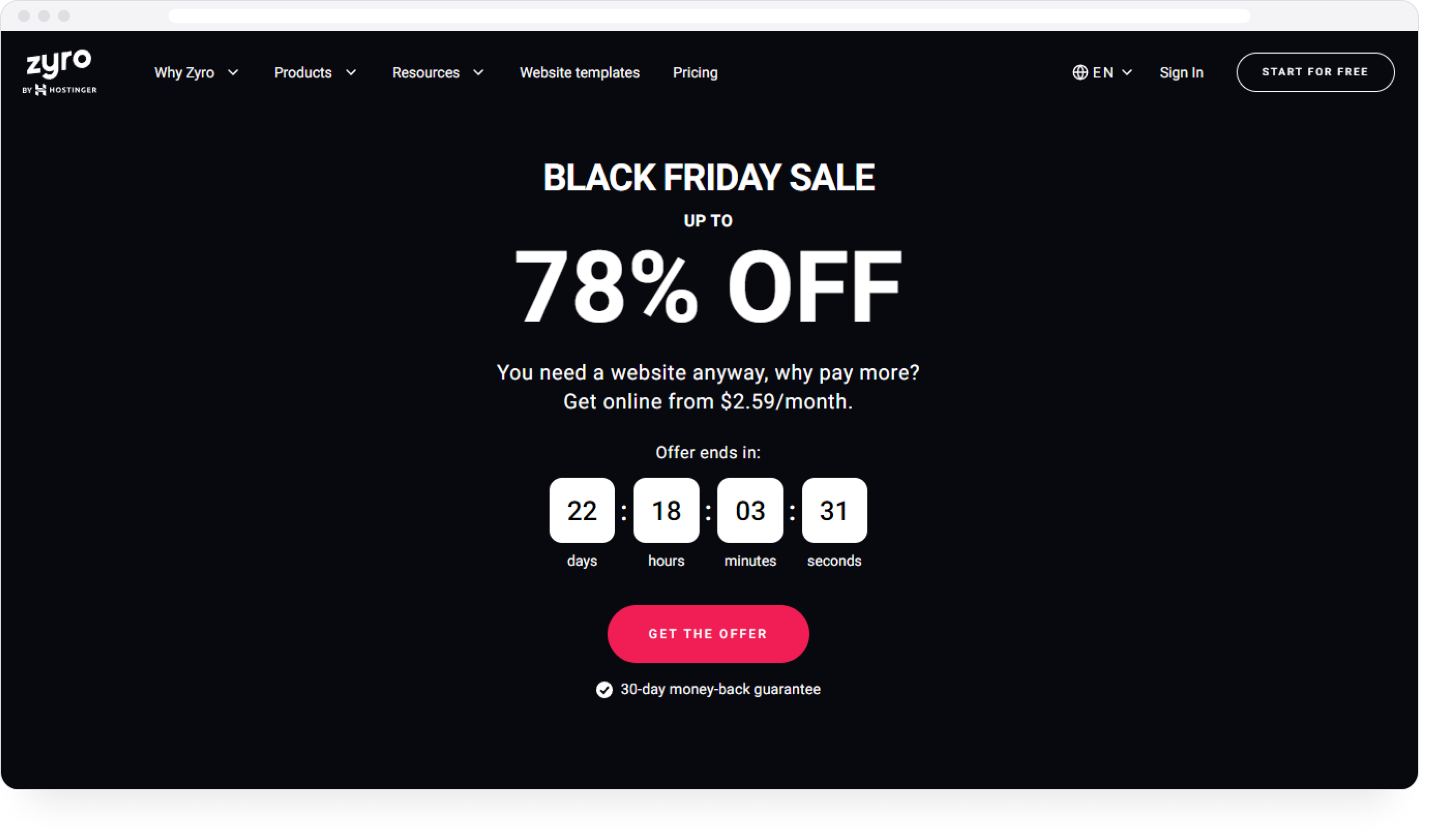 Zyro does lack in the area of SEO and marketing tools, but it has been rapidly updating itself with advanced features. It has a grid-structure drag-and-drop editor that is perfect for beginners. Again, writers don't need exceptional control over design, so Zyro's features are often more than enough to get started with.
Example of a Zyro portfolio: www.johngreenbooks.com
#5 Portfoliobox
Price: $3.5 per month
Best Features:
No restriction to any standard themes
Free domain included with all plans
This portfolio builder takes its name literally. It is designed to only build portfolios for creative individuals. It provides an extensive set of design tools, including a drag-and-drop editor, which can be used to present ideas and perspectives in thoroughly unique ways.
It offers all features required for a portfolio website to function. You also get password-protected pages, intuitive galleries, watermarking tools, and a blog section.
Example of a Portfoliobox portfolio: www.creatureintl.com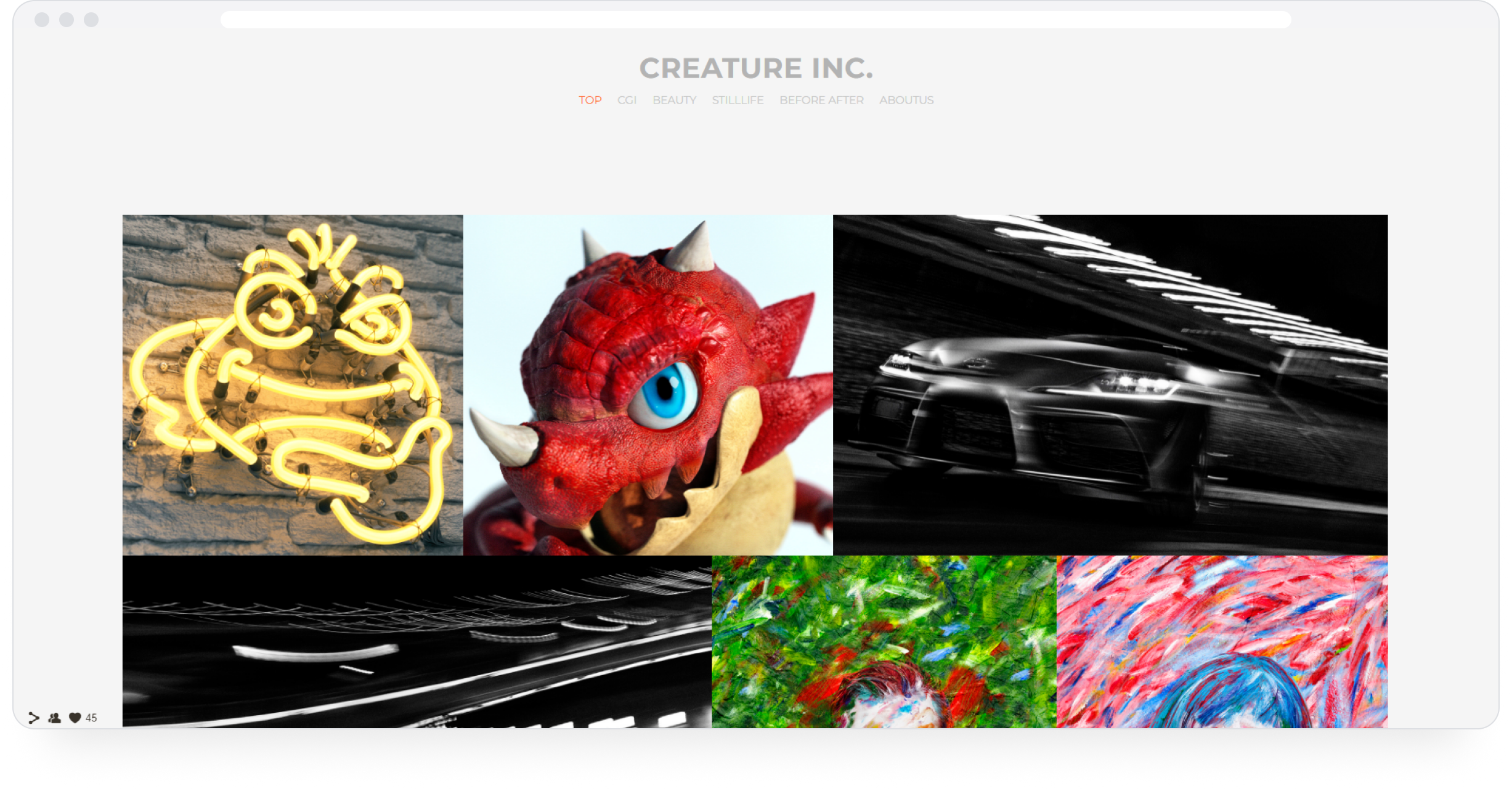 ---
🖱️
Authory is, amongst other things, a portfolio builder & content backup service, used by thousands of top professionals worldwide.
Get started for free now.
---
#6 Clippings.me
Price: $9.99 per month
Best Features:
The free tier remains free for life
Solid SEO optimization
Optimized for mobile
Dedicated to writers, journalists, and bloggers, Clippings serves a specific niche — a major reason for its popularity. Like all other tools on this list, it requires no coding to set up a solid portfolio. Just add your work, customize the layout with your own image or one of Clippings' own, and you're good to go.
You can add online articles and PDFs as well as YouTube, Vimeo, or SoundCloud files to your online portfolio. You can also integrate the portfolio with Google Analytics for deeper insights into how your pieces are faring in terms of readership and shares.
Since it is meant specifically for writers, Clippings doesn't offer much in the way of design customization (outside of images). This shouldn't be a problem for most writers, since our priority is to showcase work in an organized, visually pleasing manner.
Clippings does provide an international PayPal fee calculator at the bottom of their page, which is a handy tool for freelancers working with overseas clients. However, the calculator only covers a few currencies.
Example of a Clippings portfolio: www.clippings.me/naomiconrad
#7 Journo Portfolio
Price: $5 per month
Best Features:
Allows imports of work in any format: written, audio, and video
Flexible content builder
Screenshot backups of all imports
Password protection and secure-link options are available
Journo Portfolio caters to writers, though its features are also ideal for photographers, designers, illustrators, and artists to build their portfolios. It allows for automatic imports of bylined content from digital publication sources, which is a step up over copy-pasting links manually.
This portfolio builder offers quite a few customization options — you can showcase your work in a grid, a column, a blog, or an image gallery. It also grabs screenshots of all imported work so that, even if the source link degrades for some reason, you have some form of content backup. Of course, screenshot backups are not ideal, but they are certainly better than nothing.
Job-seekers can use Journo's privacy protection options to restrict their portfolio from their current employer. They can use password protection and secure links to deny access to their entire portfolio or to a certain page. They can also hide their portfolio from search engines.
Example of a Journo Portfolio portfolio: blackwoodd90.journoportfolio.com
#8 Muck Rack for Journalists
Price: Free
Best Features:
Automatically updating profile
News analysis
A monthly roundup of top media outlets
Muck Rack mainly serves as a database for PR personnel and journalists, but it also provides options for building a portfolio. The tool mostly caters to journalists, but if writers need a quick, free & basic profile, they can use it too.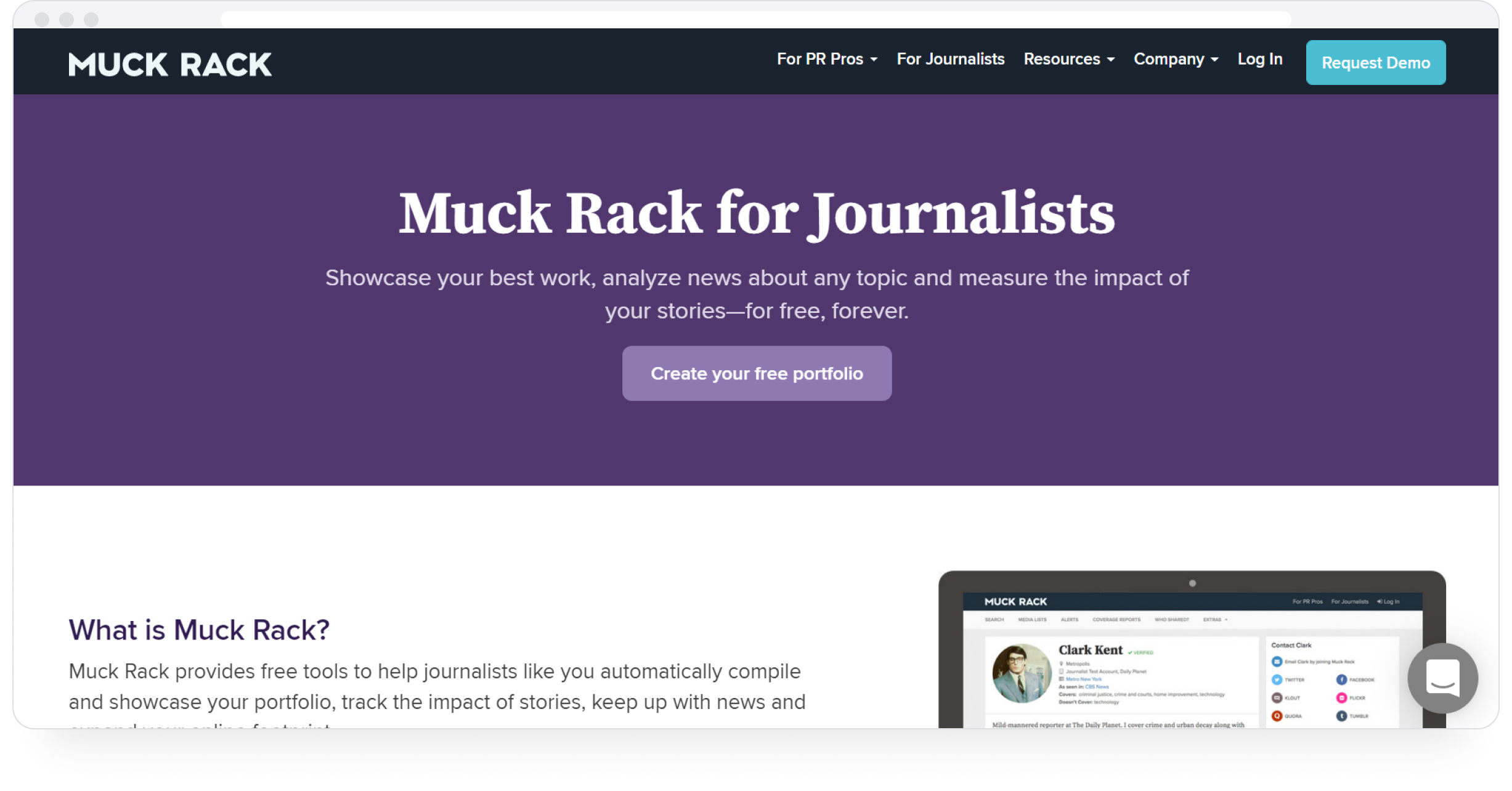 However, most of Muck Rack's standout features are best for journalists — analyzing news coverage of chosen topics, the number of journalists sharing a certain article, collating lists of top media outlets, industry job updates, etc.
While most of these features are free, there are some premium features — database searches, media lists, and alerts — available to verified journalists.
Example of a Muck Rack portfolio: muckrack.com/zsniderman/portfolio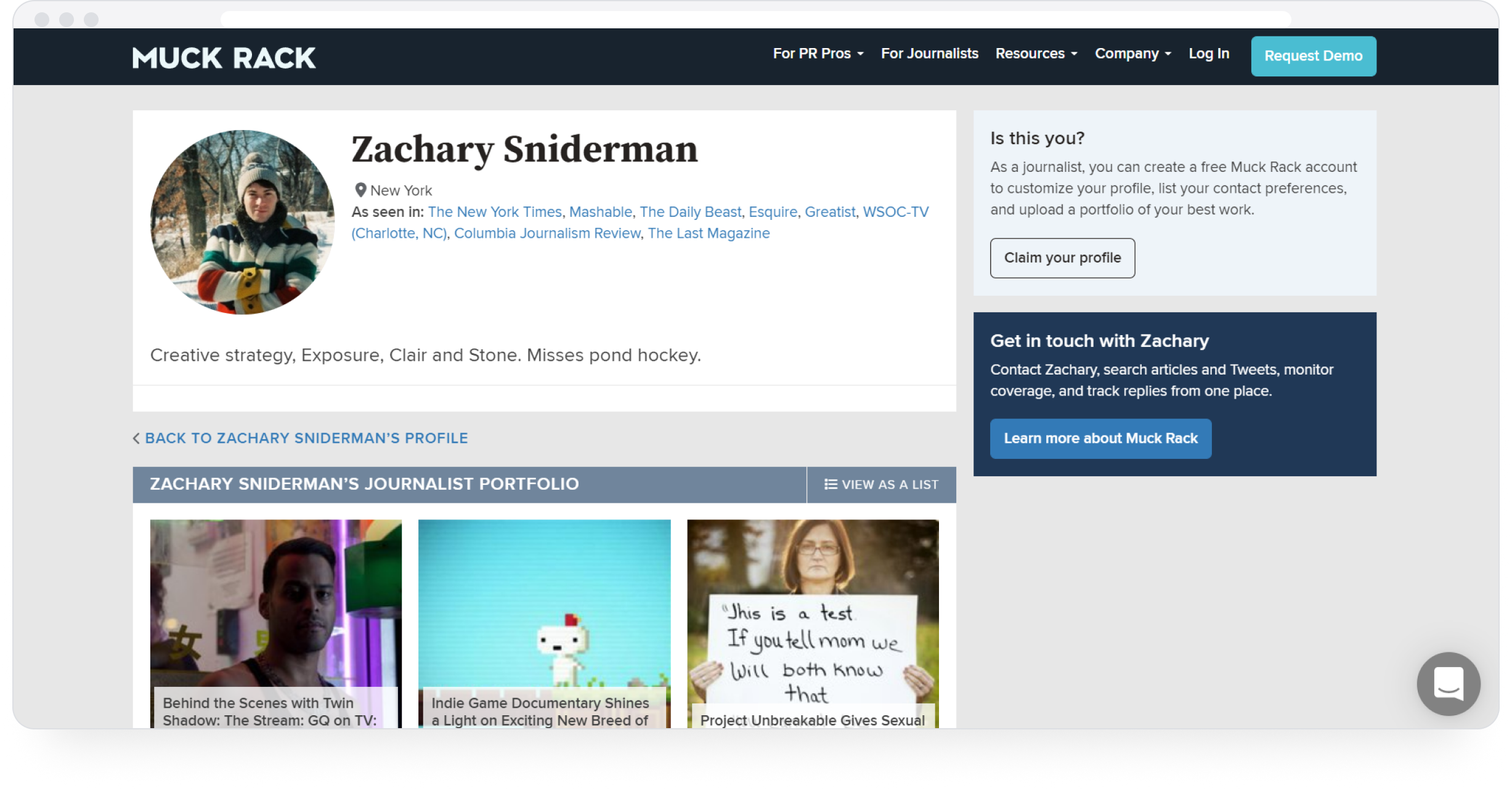 #9 The Freelance Creative by Contently
Price: Free
Best Features:
Quick & easy portfolio building
Connected to a global database of freelance jobs
Much like Muck Rack, The Freelance Creative is not primarily a portfolio website builder. However, I'm still mentioning this here, as it's useful for quickly whipping up a portfolio connected to a job search database.
Your portfolio can include an unlimited number of articles, videos, photographs, and design elements — anything that honestly represents your expertise. Once you finish, Contently's internal team will review it for fitness with client requirements.
The portfolio provides basic features like an 'about me' section and images, but there's no mention of advanced features like backups or automatic importing from sources. Then again, the portfolio is primarily meant to be connected to the Contently job network and not the larger employee pool on the internet.
Example of a Contently portfolio: ellensheng.contently.com
#10 Weebly
Price: $5 per month
Best Features:
Strong SEO tools
Easy-to-use editor
Weebly stands out primarily because of its affordability. It doesn't have the visually arresting templates of Squarespace, but its library of portfolio templates is expanding rapidly. It is also exceptionally easy to use — perfect for beginners.
Weebly is still somewhat lacking in customization options. So, if you are looking for highly sophisticated portfolio websites, we wouldn't recommend this. But it has a robust onboarding workflow, which makes the best sense if this is the first time you're building a professional portfolio.
You also get solid SEO tools & guidance, a decent measure of storage, and quick and easy eCommerce features — in case you are selling books or other merch.
At its reasonable price point, this is not a bad deal at all.
Example of a Weebly portfolio: yuanxu.weebly.com
---
🖱️
Authory is, amongst other things, a portfolio builder & content backup service, used by thousands of top professionals worldwide.
Get started for free now.
---
#11 Pixpa
Price: $3.60 per month
Best Features:
More than 150 responsive templates
24/7 customer support
Pixpa is designed to build creative portfolios. This no-code tool is well-suited to building an online repository of your completed projects. You can even set up an online store if you choose. If you happen to be good with HTML and CSS, you can play around with editing and overriding them for further customization options.
You can take advantage of Pixpa's all-in-one visual website builder to create professional-looking portfolios fast. In particular, the tool's robust e-Commerce capabilities let you sell images and create client galleries. You can also expand your profile's functionalities via integrations with over a hundred apps — SoundCloud, Spotify, Twitter, WhatsApp, Instagram, YouTube, Shopify & much more.
Example of a Pixpa portfolio: www.rosymartinez.com
#12 Writer's Residence
Price: US$8.99
Best Features:
Clean, straightforward format
No downloads, no HTML
Allows custom domain name
Simple, solid, and gets the job done. That's the definition of Writer's Residence. You don't get the frills, bells, and whistles, but you get to showcase an unlimited number of writing samples on a clean, professional interface.
What's unique about this portfolio builder is that it was created by a freelance writer, Monica Shaw, when she noticed a lack of such options for writers specifically. Of course, you do have multiple options now, but this simple tool is still a great choice for building your first portfolio.
Note that the website doesn't mention SEO or marketing tools.
You can pick a ready-made theme or use one of your own images. No knowledge of HTML is necessary. The system is built to cater to technically inexperienced individuals, so all you need are a few clicks.
Example of a Writer's Residence portfolio: lauradavis.writersresidence.com
#13 Writerfolio
Price: $4 per month
Best Features:
Quick setup
Trial available without signup
Writerfolio is another cheap and simple option to spin up your first portfolio. It's primarily meant for writers and journalists — not too many design elements to play with.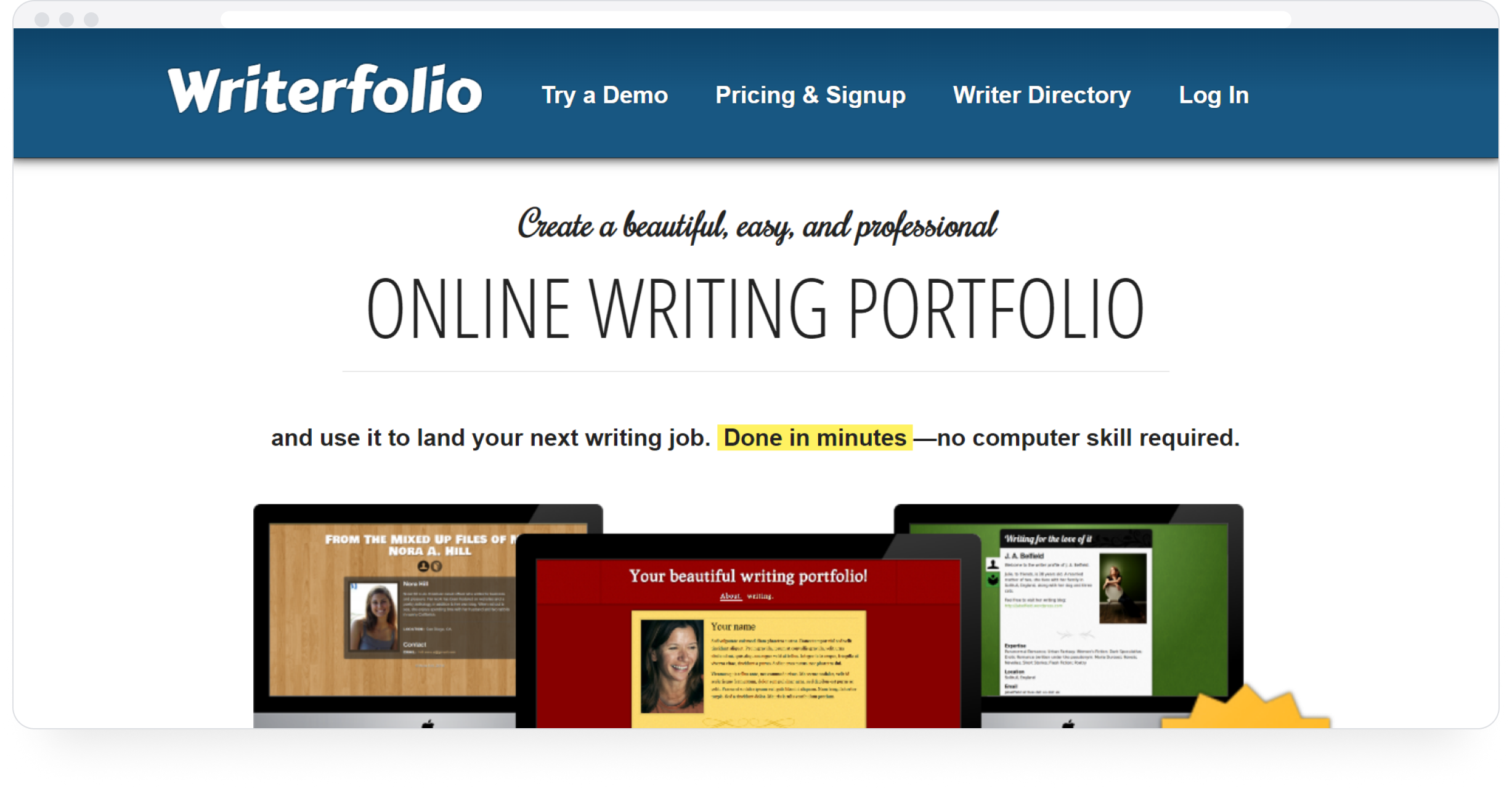 Plenty of authors have their portfolios on Writerfolio. The pages are as straightforward as it gets, with little scope for audio-video content. You get to upload unlimited attachments as writing samples, can choose from a variety of themes, and get a step-by-step setup process that takes only a few minutes.
Example of a Writerfolio portfolio: jeanniegraham.writerfolio.com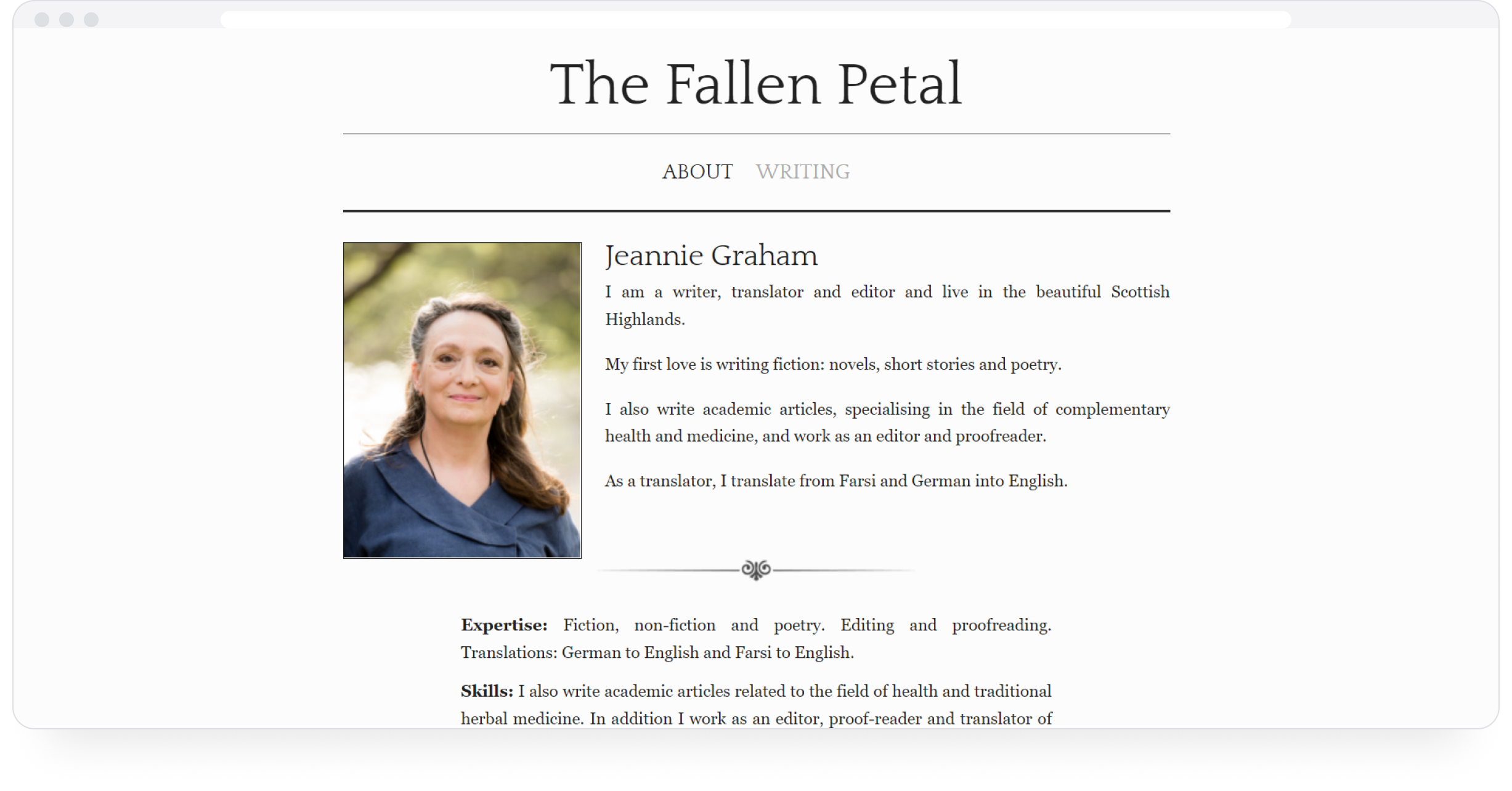 #14 Jimdo
Price: $9 per month
Best Features:
Flexible layouts
All templates optimized for mobile screens
Jimdo is another good option for beginner portfolio makers if they're satisfied with limited design options. Jimdo's website designs are adequate but aren't exactly known for being unique. But it allows you to switch between templates, work with a mobile editor, and build a sophisticated online presence for your work that looks good on all screens.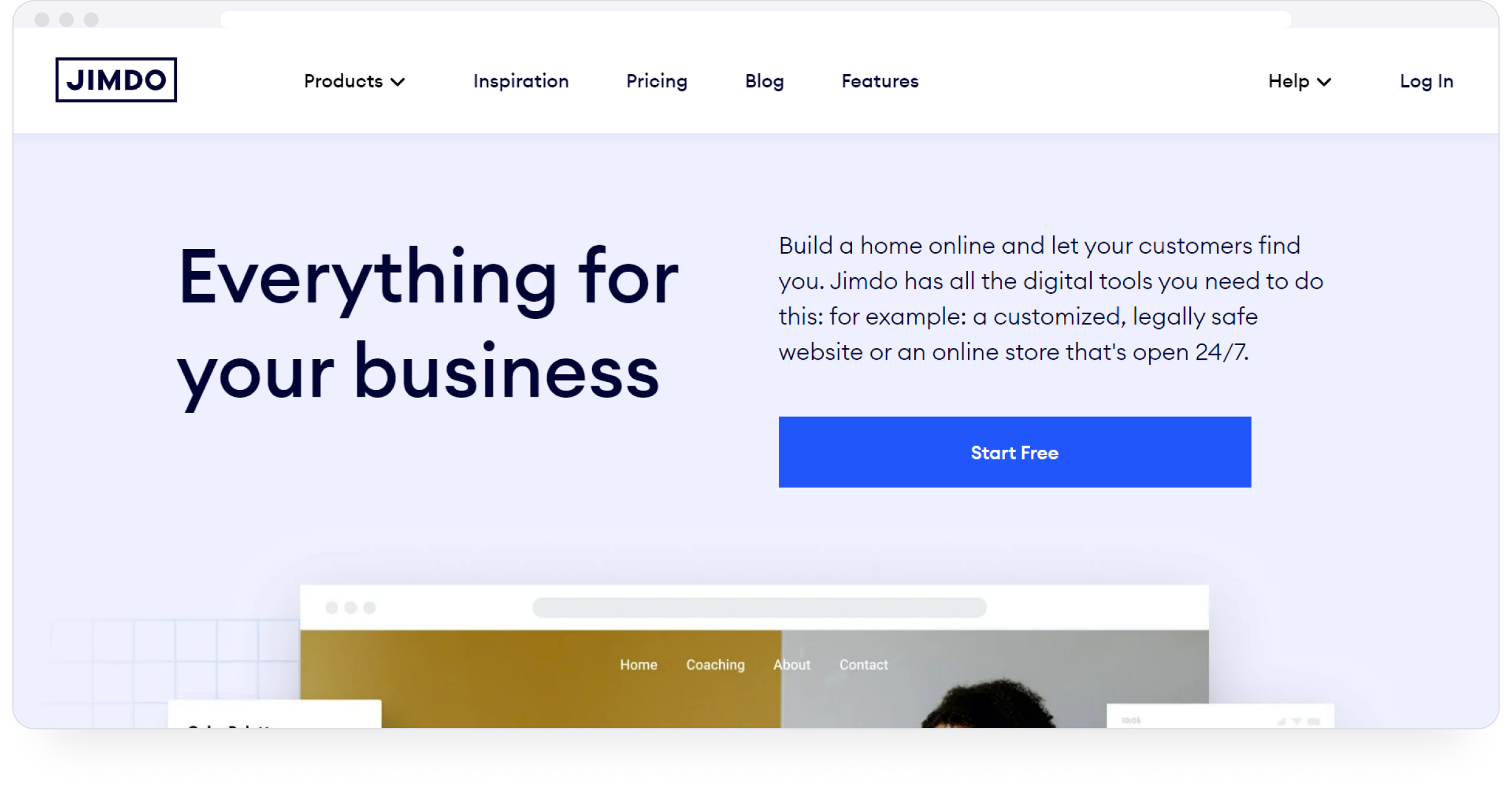 This tool's SEO and marketing tools are not the industry's best, but they take care of the basics. There's even an 'automatic SEO' feature that fills in SEO settings for faster setup. Its ADI builder helps create portfolios within a few clicks, and you get a free logo to boot. You also get a free custom domain name for the first year of signup.
While it doesn't have many app integrations yet, it connects well with social media sites.
Example of a Jimdo portfolio: ristorante-geranio.jimdosite.com
#15 Format
Price: $3.5 per month
Best Features:
Exceptional designs
Video hosting available
High-quality image rendering
An absolute front-runner for the "best portfolio website builder" position.
Format is ideal for creating a professional portfolio with templates featuring award-winning designs. The use of white space is especially striking. Like Squarespace, it's known for strikingly aesthetic templates, all of which are optimized for mobile.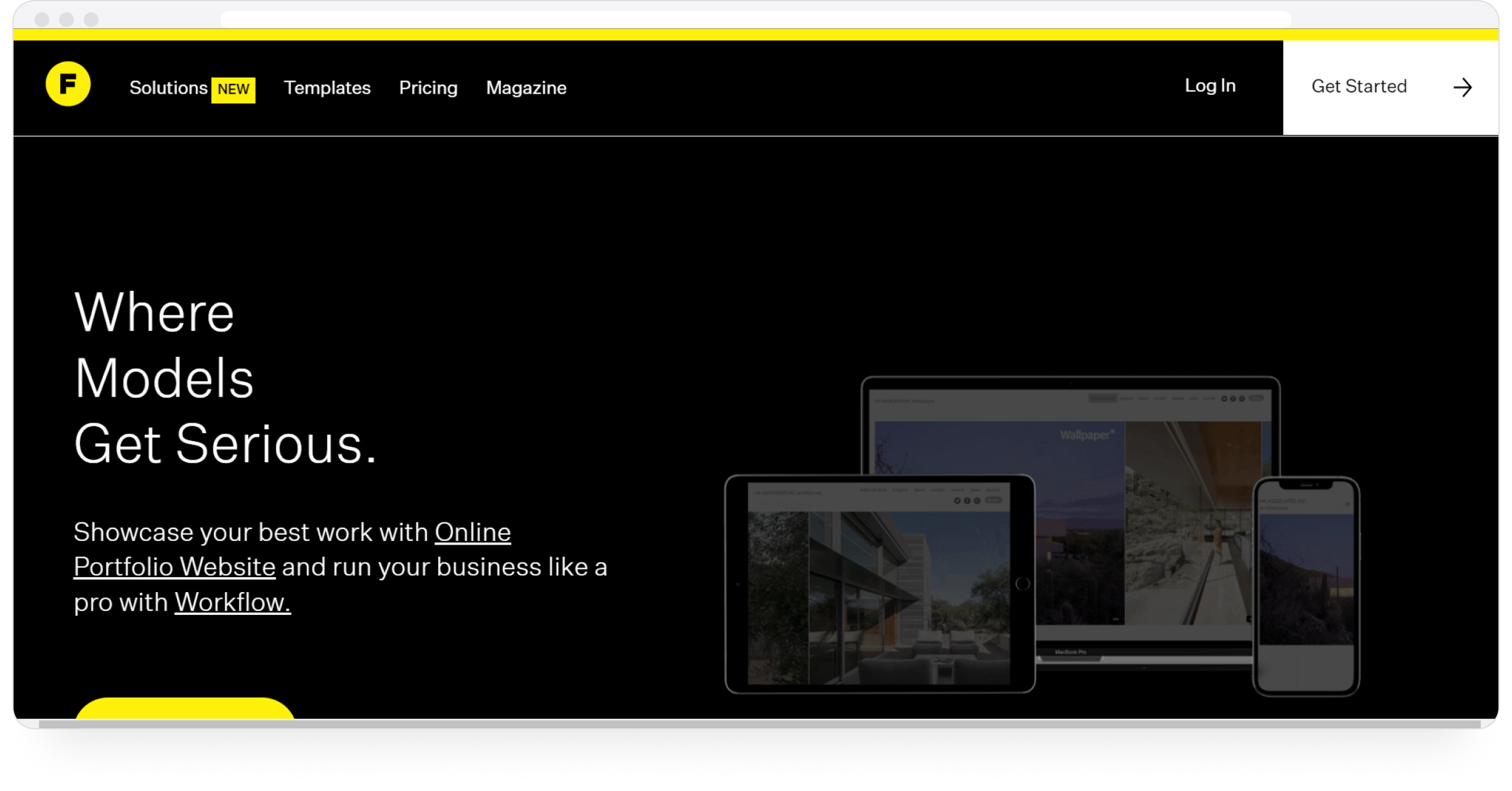 It's best suited for photographers since it provides services like protecting images from unauthorized distribution and cloud storage for photos. Robust social media integration also comes with the territory.
You can also switch between templates easier, and write blog posts on the go. Everything is optimized for a mobile-first experience, which helps since more people are browsing the internet with their mobile phones than ever before. The tool also offers decent project management capabilities.
Example of a Format portfolio: www.ngareinio.com
---
🖱️
Authory is, amongst other things, a portfolio builder & content backup service, used by thousands of top professionals worldwide.
Get started for free now.
---
#16 IM Creator
Price: $8 per month
Best Features:
A white-label website builder with unlimited licenses & domains (but at a much higher price)
Unlimited hosting & bandwidth
Highly scalable
IM Creator is for building expert-level website portfolios, but you don't need any coding or even design knowledge. You just need an eye for what looks good and reads well.
This portfolio builder comes with an exceptionally fast, intuitive editor that lets you move elements around until something looks good. You're also getting stunning base templates to build your portfolio.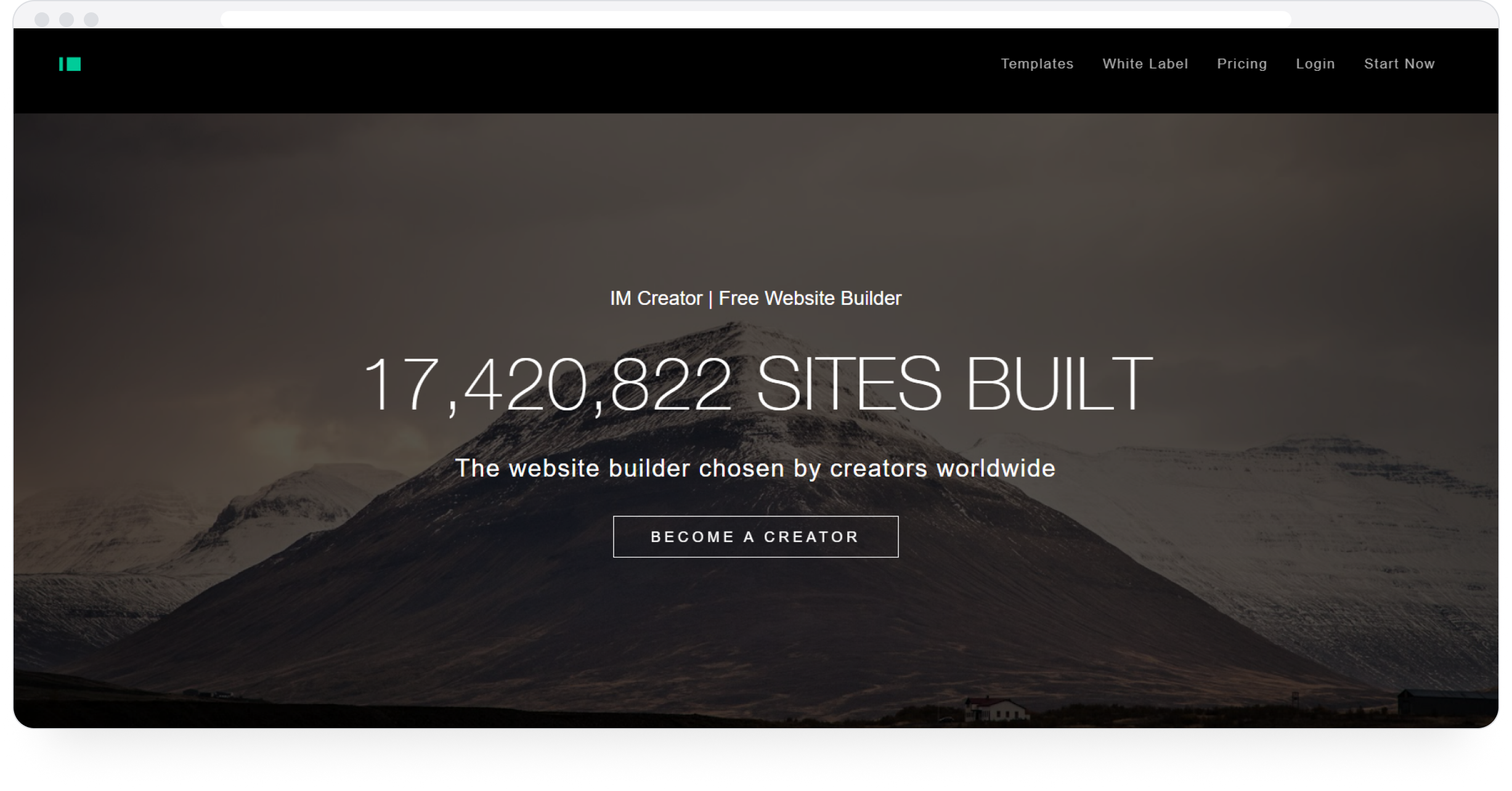 Not only are the templates responsive, but all the content you add is also automatically optimized for different screens, including smartwatches and the Oculus. Comprehensive SEO tools are available out of the box.
The builder is also highly scalable, allowing you to build 1-page or 1000-page websites as required.
Example of an IM Creator portfolio: www.girishmenon.com
#17 WordPress
Price: $4 per month
Best Features:
Literally possible to create any kind of portfolio website
Advanced features like photo carousels, maps, forms & much more
WordPress is the world's most popular website builder. It's not a portfolio builder per se, but it can be used to create any kind of online presence, including stylish, informative portfolios.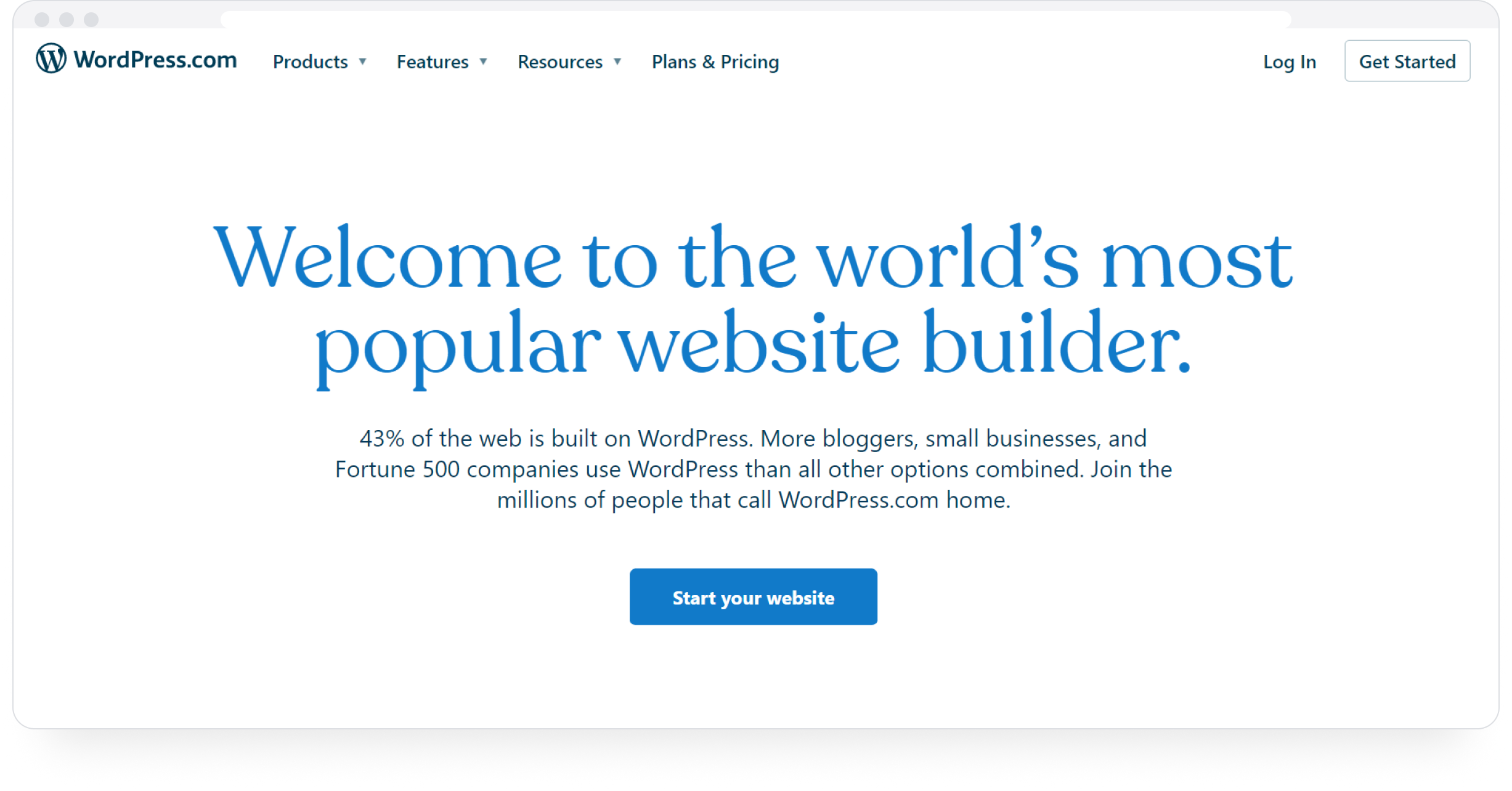 You have thousands of templates to choose from — just Google WordPress portfolio themes. You can set up a professional portfolio in about 3 minutes, with text, images, forms, Yelp reviews, testimonials, maps & everything else you might need.
It also offers thousands of easy-to-install add-ons, allowing the addition of new capabilities to your portfolio, be it collecting leads, creating subscription lists, triggering automatic backups, etc.
Example of a WordPress portfolio: manjulamartin.com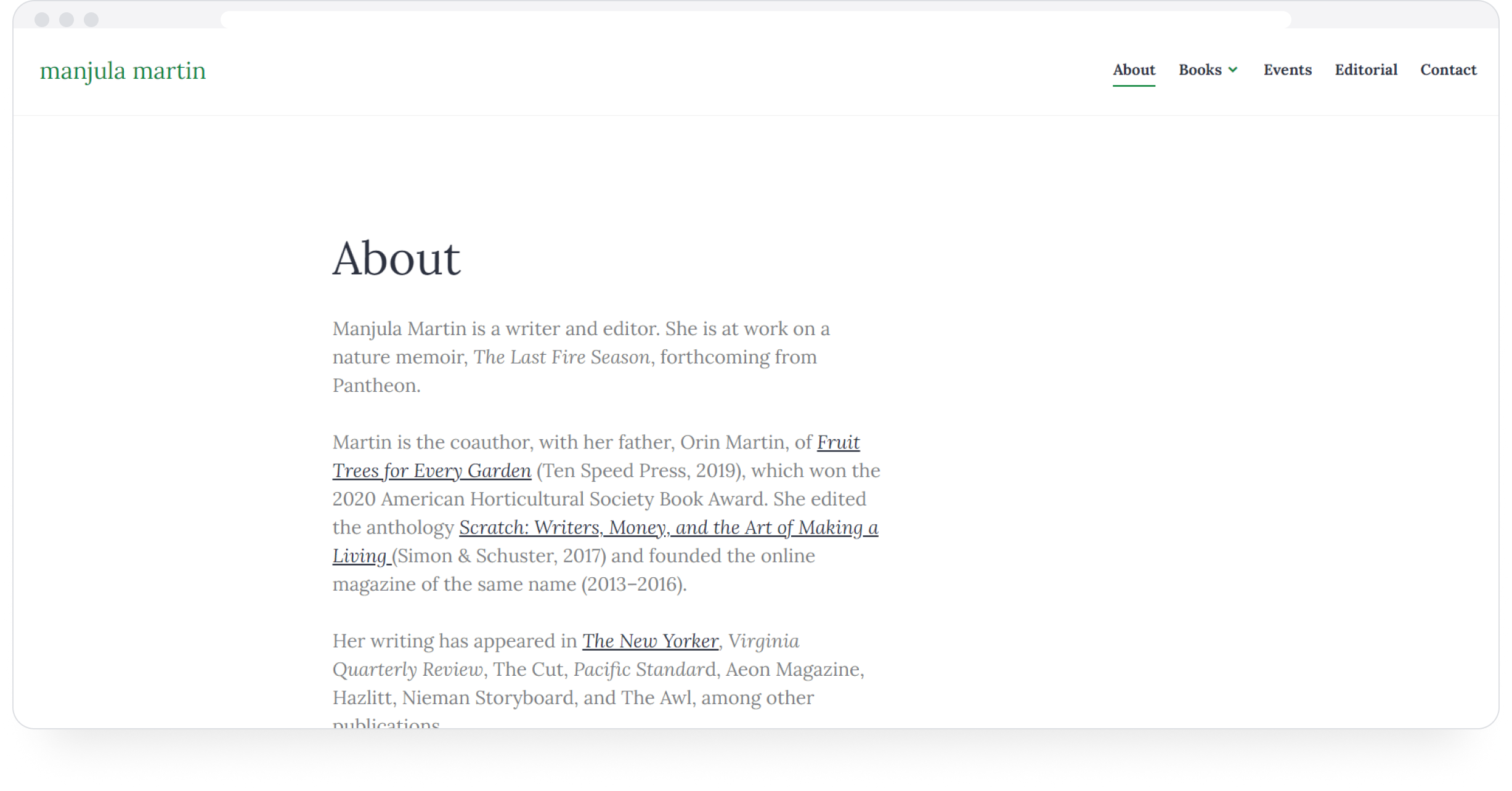 #18 Carbonmade
Price: $9 per month
Best Features:
No layouts (you move things around until you like the look)
Unlimited high-res uploads
Serious customization features
Carbonmade definitely stands out because of its refusal to provide layouts. The website calls templates "so 2004" and lets you mix and match elements to create a unique online portfolio.
If you're just starting out, you do get some layouts tailored for your profession. But it is far more interesting (and fun) to play around with design elements. Everything is automatically responsive and makes your profile accessible via all devices. You also get unlimited image and video uploads.
Here's the kicker: Carbonmade has a customizable video player, so you can actually drag and drop 4K HD videos straight into the tool. No more embedding required.
Example of a Carbonmade portfolio: aranquinn.com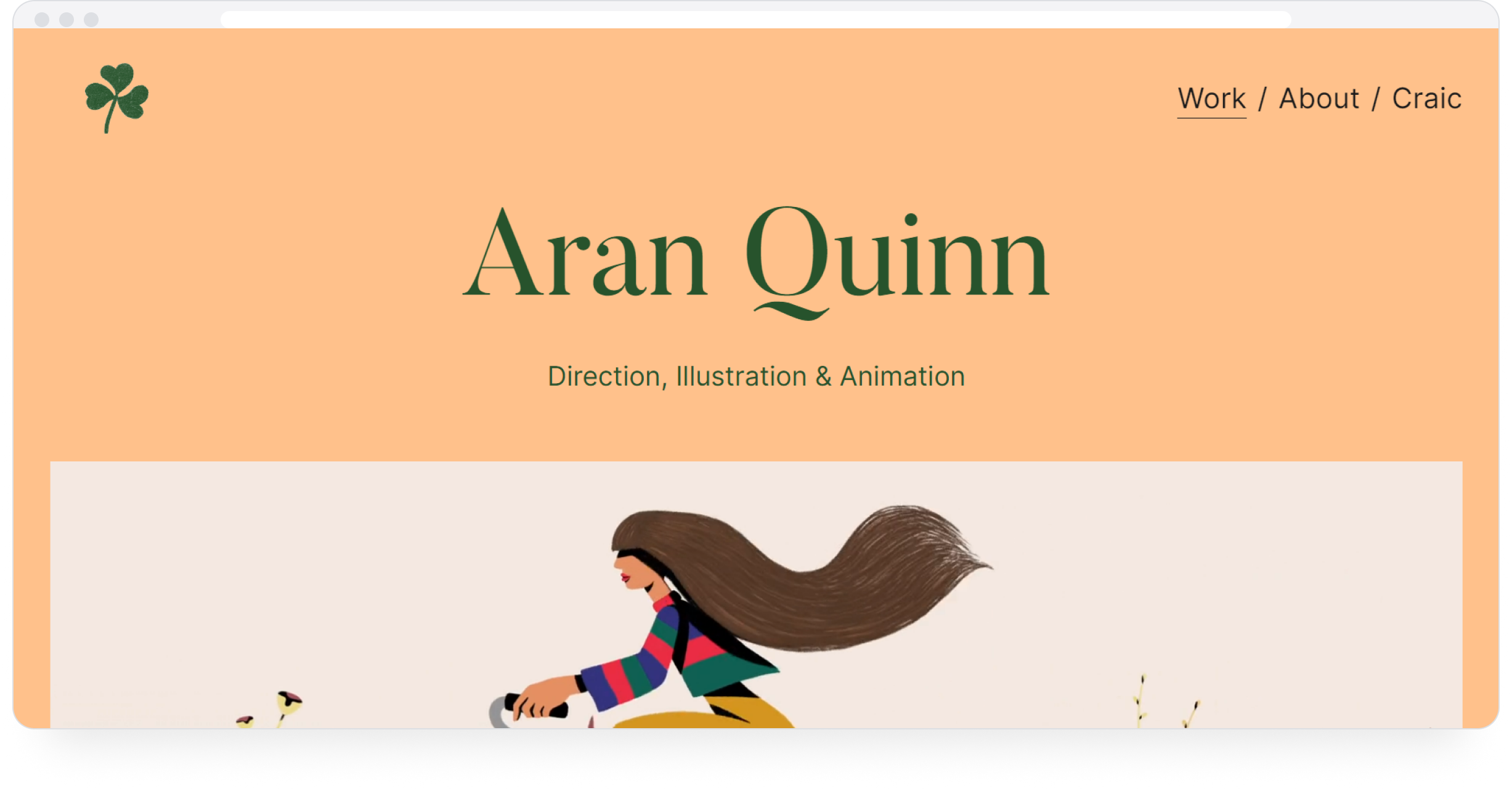 #19 Dunked
Price: $8 per month
Best Features:
HTML and CSS-level customizability
Fully responsive, retina-display-ready templates
Dunked is another portfolio builder providing cool, eye-catching templates. Like most other contenders on this list, it gives you the ability to play around with the design, place text strategically, optimize for mobile (automatic), and put out a profile within a couple of minutes.
You can embed audio and video content from YouTube, Vimeo, Flickr, SoundCloud, and 500px. There's a drag-and-drop editor you can use to move around elements until you get the visual appearance you want.
The builder offers plenty of control over the layout, colors, and typography. If you're good with code, you can even work with the site's HTML and CSS elements.
Example of a Dunked portfolio: maximedesmet.com
#20 Strikingly
Price: $16 per month
Best Features:
HTTPS built-in
Able to showcase social media feed directly within a finished website portfolio
Strikingly doesn't have the most stylish templates; some of them can actually come across as a bit "done." But it's remarkably easy to use and comes with lots of support resources (articles, videos, a knowledge base, responsive support staff) that won me over.
The builder allows quick and easy creation and publication of website portfolios. It generates all sites with HTTPS automatically, which improves data security, boosts SEO, and ends up being trusted more by browsers & actual visitors.
You can write & publish blog posts, including contact forms and e-Commerce services. You also get a view of website traffic analytics via simple charts. Run-of-the-mill features like media sliders, galleries, video backgrounds, and password protection come as part of the package.
Example of a Strikingly portfolio: www.remijousselme.com
---
🖱️
Authory is, amongst other things, a portfolio builder & content backup service, used by thousands of top professionals worldwide.
Get started for free now.
---
Authory — a self-updating portfolio that does more than showcase your work
In the strictest definition, a portfolio is meant to display your work to potential clients and employers. However, Authory does far more than that, making your life as a content creator infinitely easier.
Here's a quick look at what Authory offers:
Automatic importing of all your bylined content from any digital source you enter — from past and future
Ability to download all imported content to your device
Ability to manually include non-bylined content
All imported content is backed up forever
All backups in the content's original format, not as screenshots
Analytics support for all imported content
There's a lot more you get with Authory, and the best way to figure it out is to sign up for free today. Just enter your sources, and the tool will do the rest.
I came across Authory when I typed "best portfolio website builder" into Google. My life as a writer has undoubtedly been easier since I started using it, mainly because I no longer have to run around frantically googling for an article of mine published five years ago.
If you're curious, here's what my portfolio looks like: https://authory.com/shreya-bose