With new ownership and general unrest, many are looking for a way to back up their Twitter accounts or leave the social media platform altogether. That means you need to download your Twitter archive, either via Twitter's own system or via a third-party solution, like Authory.
Why you need to have a Twitter archive of your data
1. External factors
Elon Musk just bought Twitter and immediately fired most of the top management. His vision for the platform has also made many folks uncomfortable, leading to people looking to get off Twitter.
Besides the above, it could be that you're just done with the platform for a variety of reasons:
it takes up too much of your time
it's distracting you from work
there are too many bots, etc.
2. You don't own the content on your Twitter account
That said, most Twitter users are likely to choose to stay. And that may further necessitate requiring an archive of your data. This is because you don't own the content on your Twitter account — Twitter does, it's on their servers, and they can take it down anytime.
That leads us to the next point.
3. You can get banned by Twitter anytime
There are millions of bots on Twitter, and Twitter continually works on trying to remove these. And your Twitter account can get caught in the purge. Yes, it's possible to restore your account, but the algorithm is quite fickle.
Losing access to your account can be quite a blow for many writers, journalists, marketers, and influencers, who rely on Twitter for their work. Hence, a Twitter archive is needed.
Download your Twitter archive using Twitter's own system
On a mobile:
Step 1: On the phone, open the Twitter app and tap on your profile photo, or swipe right from the left edge of the screen, to bring up the side menu. Then go to Settings and privacy, as shown below.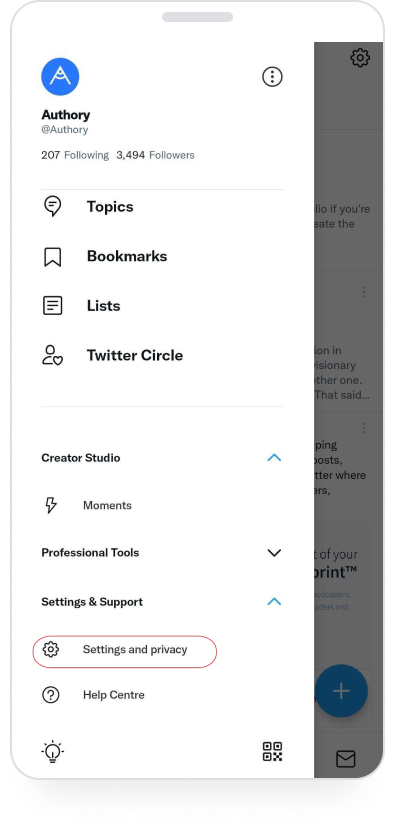 Step 2: Tap on Your account as shown below.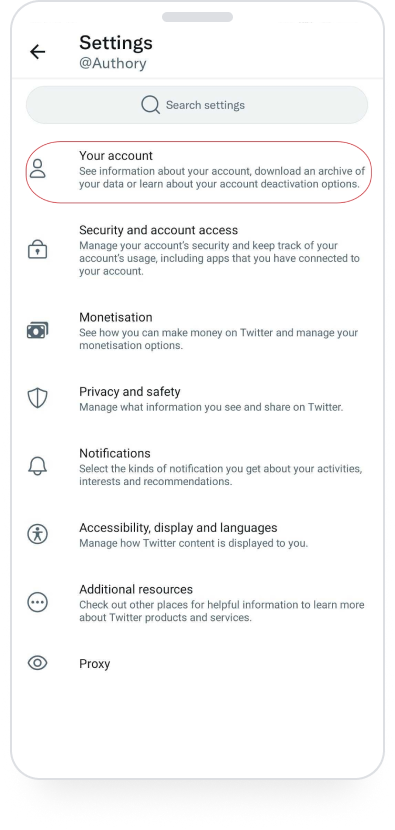 Step 3: Finally, tap on Download an archive of your data.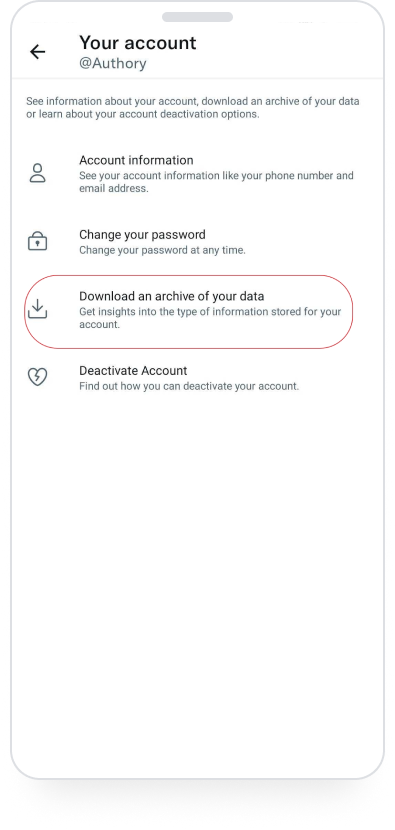 You'll need to enter your password on the in-app browser that'll pop up and click on Request archive.
On a desktop:
Step 1: Go to Twitter and click on More on the left menu, and under Settings and Support, click on Settings and privacy.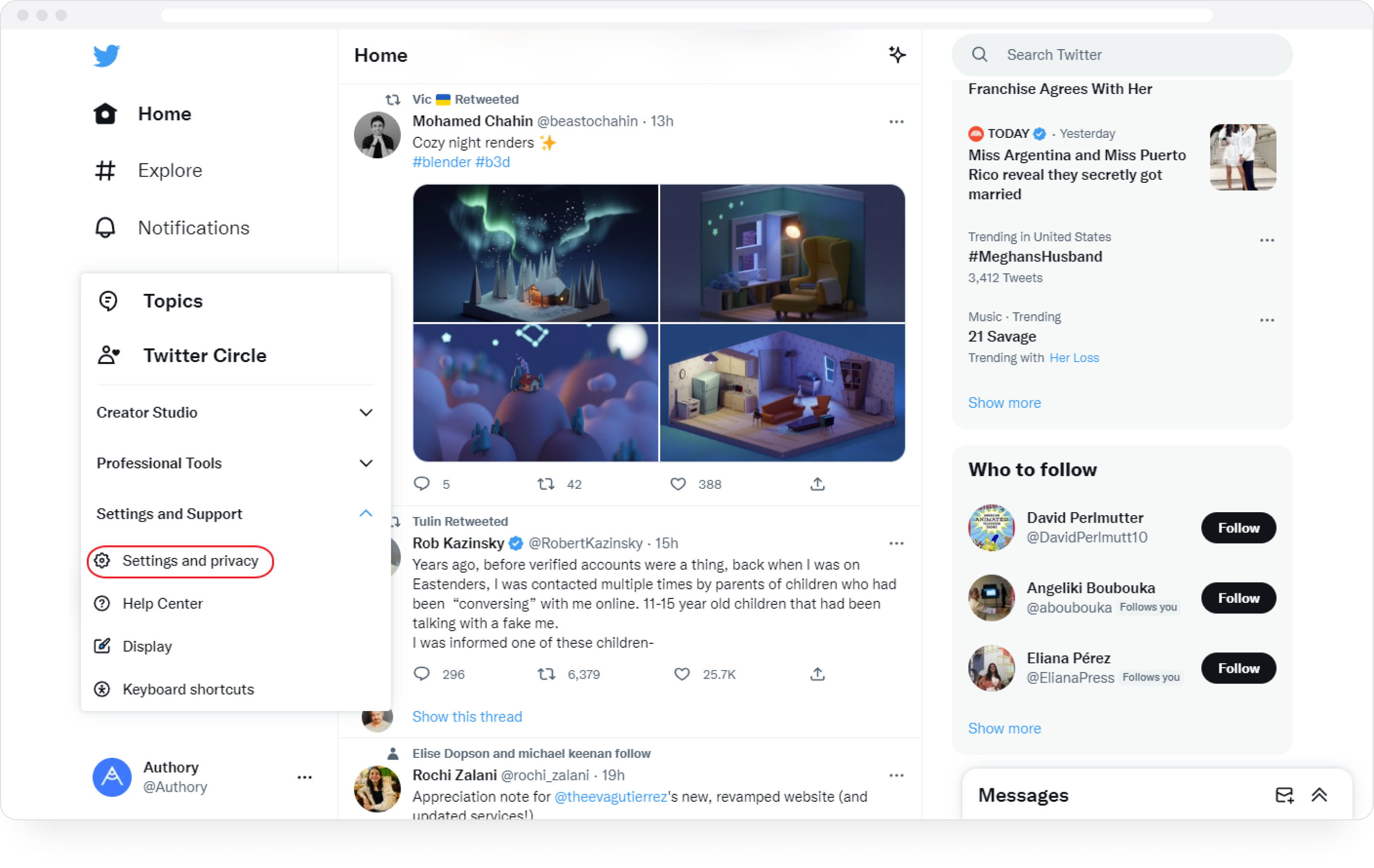 Step 2: Next, click on Download an archive of your data, as shown below.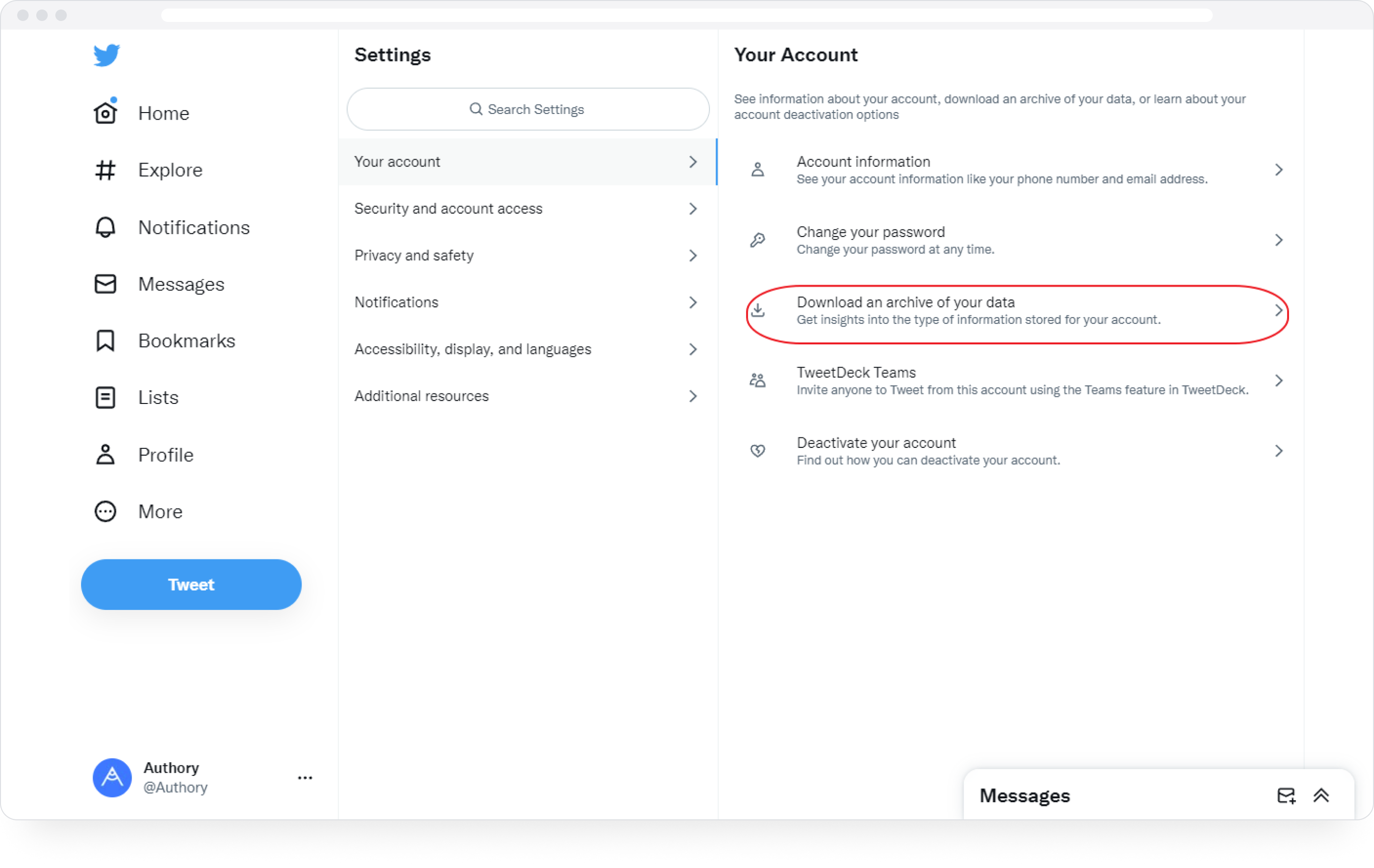 Finally, enter your password when prompted and click on Request archive.
---
---
What to do once your Twitter archive is ready for download
Twitter will notify you via the app and an email once your archive is ready. Click on the notification or the link in the email to find your archive. The zip file you download will need to be unzipped to access the content.
Open the HTML file named Your Archive in the folder, which should open up in a new tab in the default browser you're using. This isn't an actual website, but just a local copy of your archive made easily accessible via the web browser.
You can now search for specific posts, as well as deleted tweets. You can also go to your data in your local folder, where there'll be media folders containing photos, videos, and GIFs that you've received or sent, including direct messages.
Limits and issues with Twitter's own archive
1. Doesn't update
Twitter's own archive system is limited — it's static — there's a message when you open the HTML file that says: "Your archive includes all the account data created up to the moment it was generated." So, unless you're leaving Twitter forever, you'll need to redownload your archive again.
For some of us, this may not be an option. Say you're a marketer, thought leader, or influencer who relies on Twitter for work; you'll have to stay on the platform. But you'll still want to protect yourself from the vagaries of the whims of a billionaire. Hence the need for a Twitter archive that updates automatically.
2. Isn't easily searchable
Search on Twitter is notoriously hard, and though the search on the archive is a tad better, it's still not easy to find what you're looking for. You'll need to specify time durations and exact keywords to get what you need. And this is a cumbersome process for those who have thousands of tweets.
Auto-updating Twitter archive with fuzzy search
Enter Authory: a content backup service (amongst other things) that lets you easily create a Twitter archive but is also auto-updating and has "fuzzy search," which makes for a far better experience. Let's dig into how.
Step 1: Creating a Twitter archive using Authory
Create a free Authory account. You can either add your Twitter account (twitter.com/username) during signup or navigate to Content > Manage Sources (authory.com/app/settings/sources) and click on "+ Add source," and the dialog box shown below will pop up. Ensure that the time frame is "Past and future content" to make it auto-updating.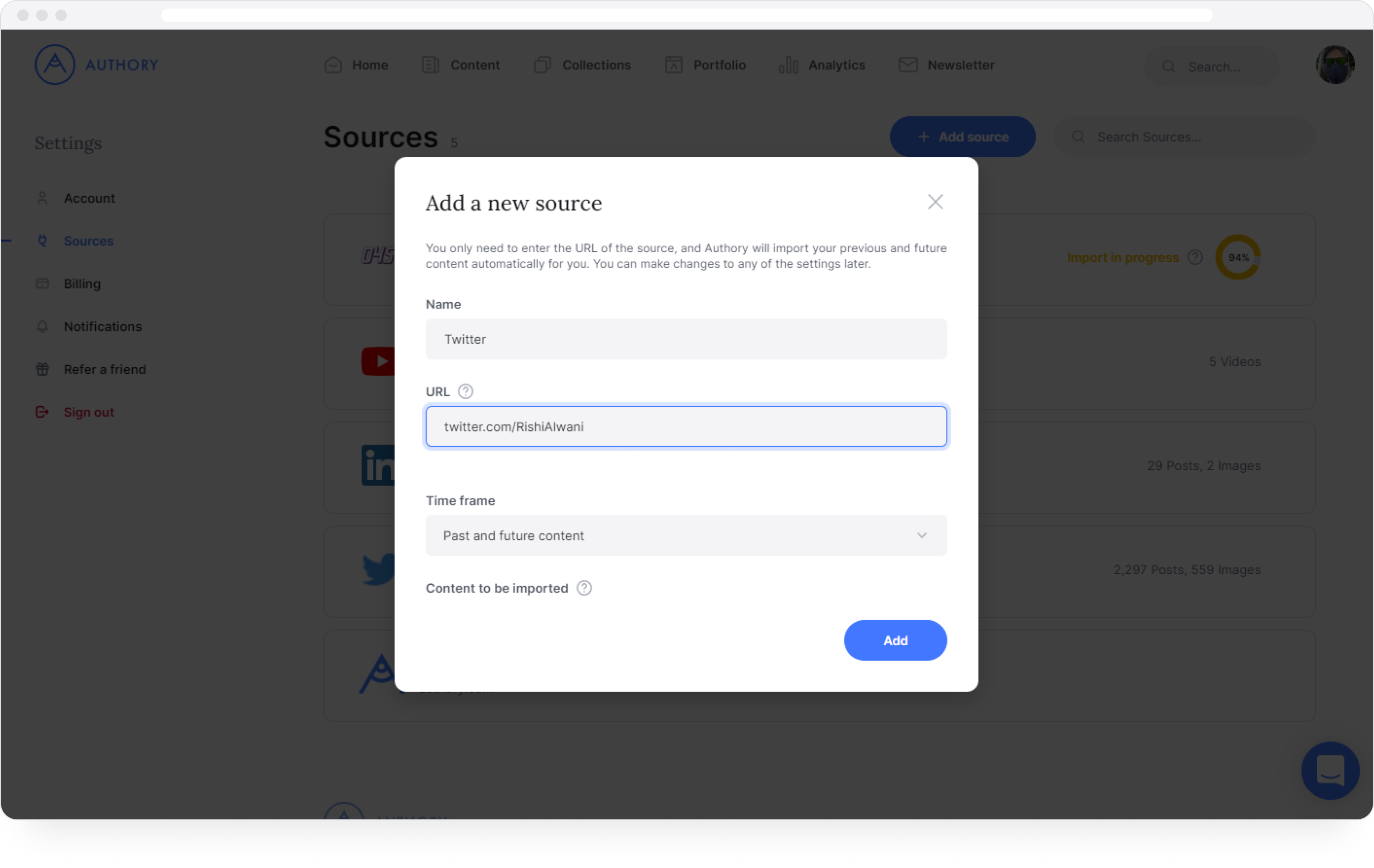 Wait 24 hours for your Twitter archive to be ready. Someone from Authory's team will personally check if everything is good. You'll be notified via email when your archive is ready.
Step 2: Check out your auto-updating archive
To access your archive, go to the "Content" tab and select the Twitter source as shown below.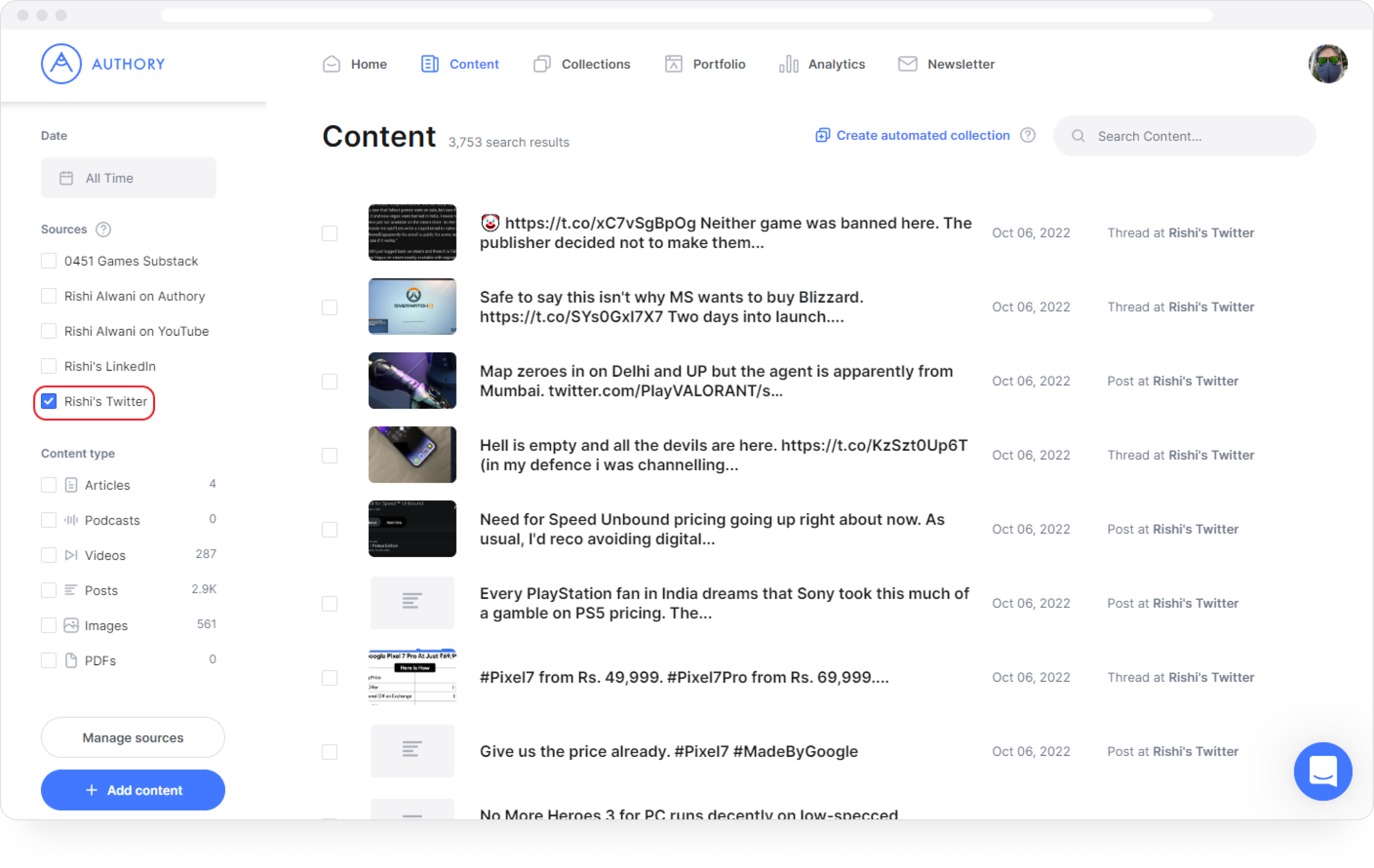 Bonus: use fuzzy search to look through your archive
If we search for "gaming," we see the results throw up related keywords like video games, games, Xbox, controllers, etc. That is how fuzzy search works — it allows you to look for what you want without being specific.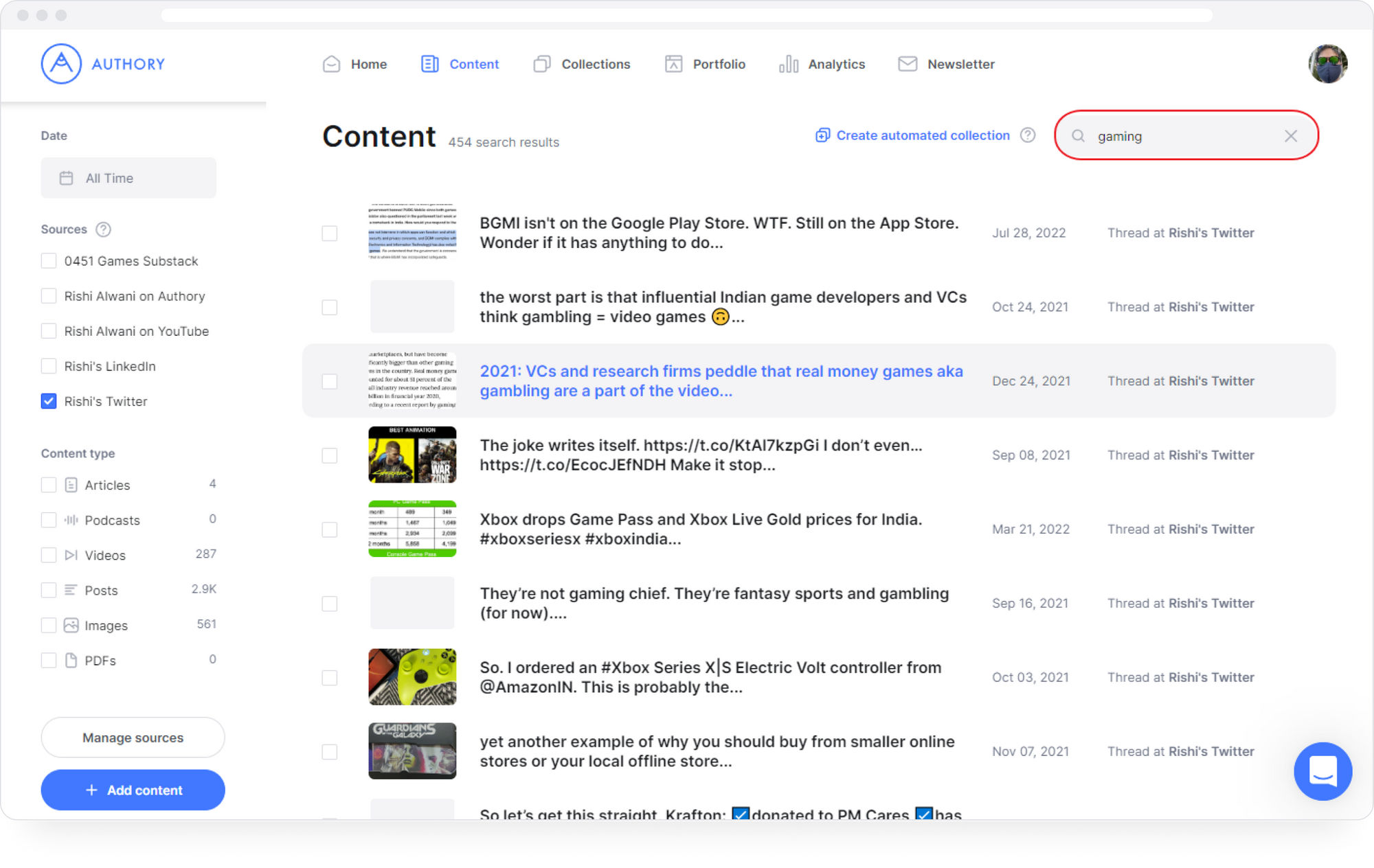 ---
---
Advantages of Authory over Twitter's system
1. Auto-updating, living, breathing, archive
With Authory, you get a self-updating archive, which is super useful if you're planning to stay on Twitter for work or personal reasons, but still want to protect yourself.
You get a living, breathing archive of your tweets (up to 10K tweets and can be extended to more on request) which is not a zip file or data dump but is easily accessible via a browser on both mobile and desktop.
Also, Twitter threads are stored as articles to enable easy sharing.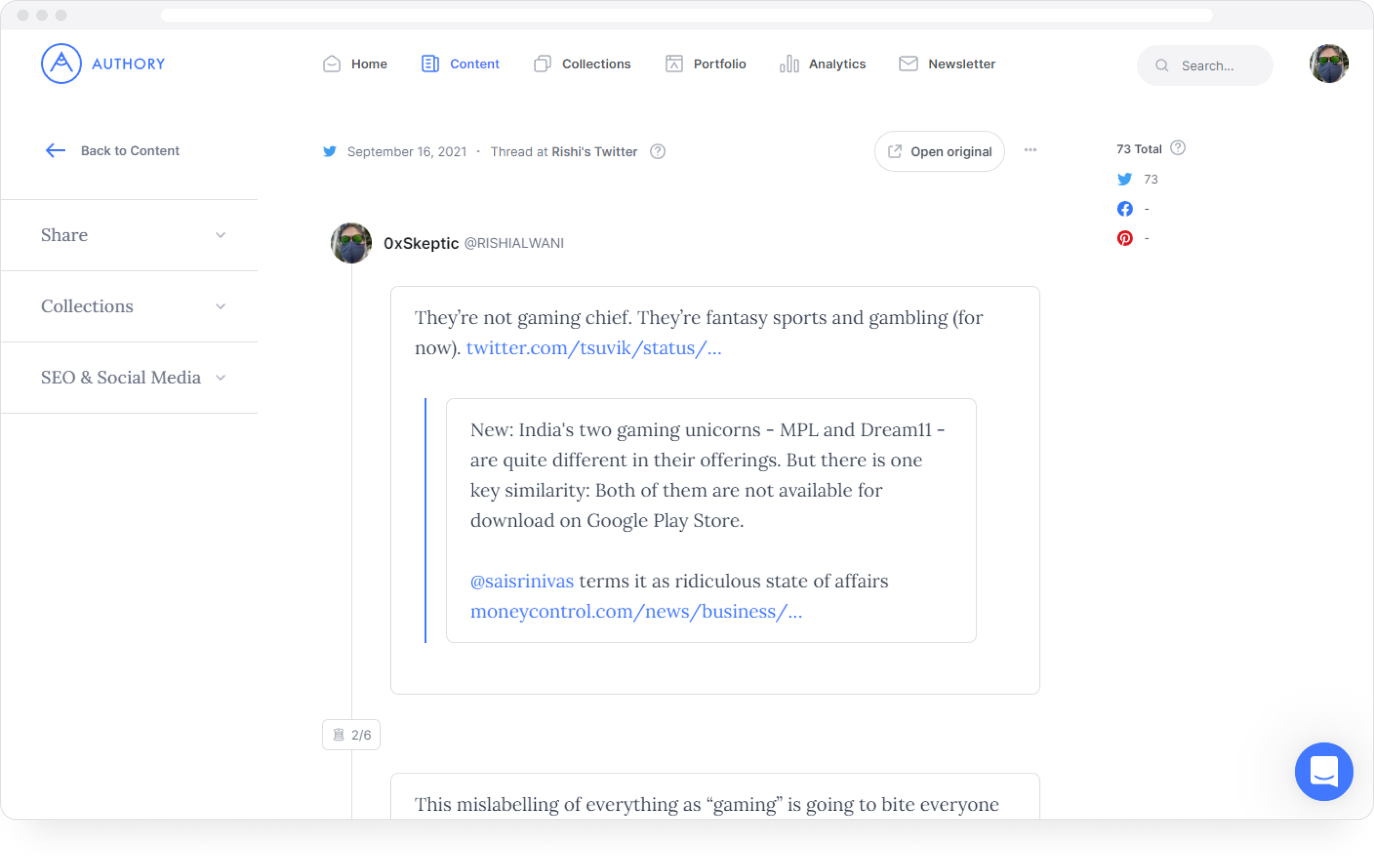 2. Excellent search & filtering functionality
As shown above, you can search for terms like "gaming" and get related posts as well. You can filter down further, if you so choose, by content type, as shown below.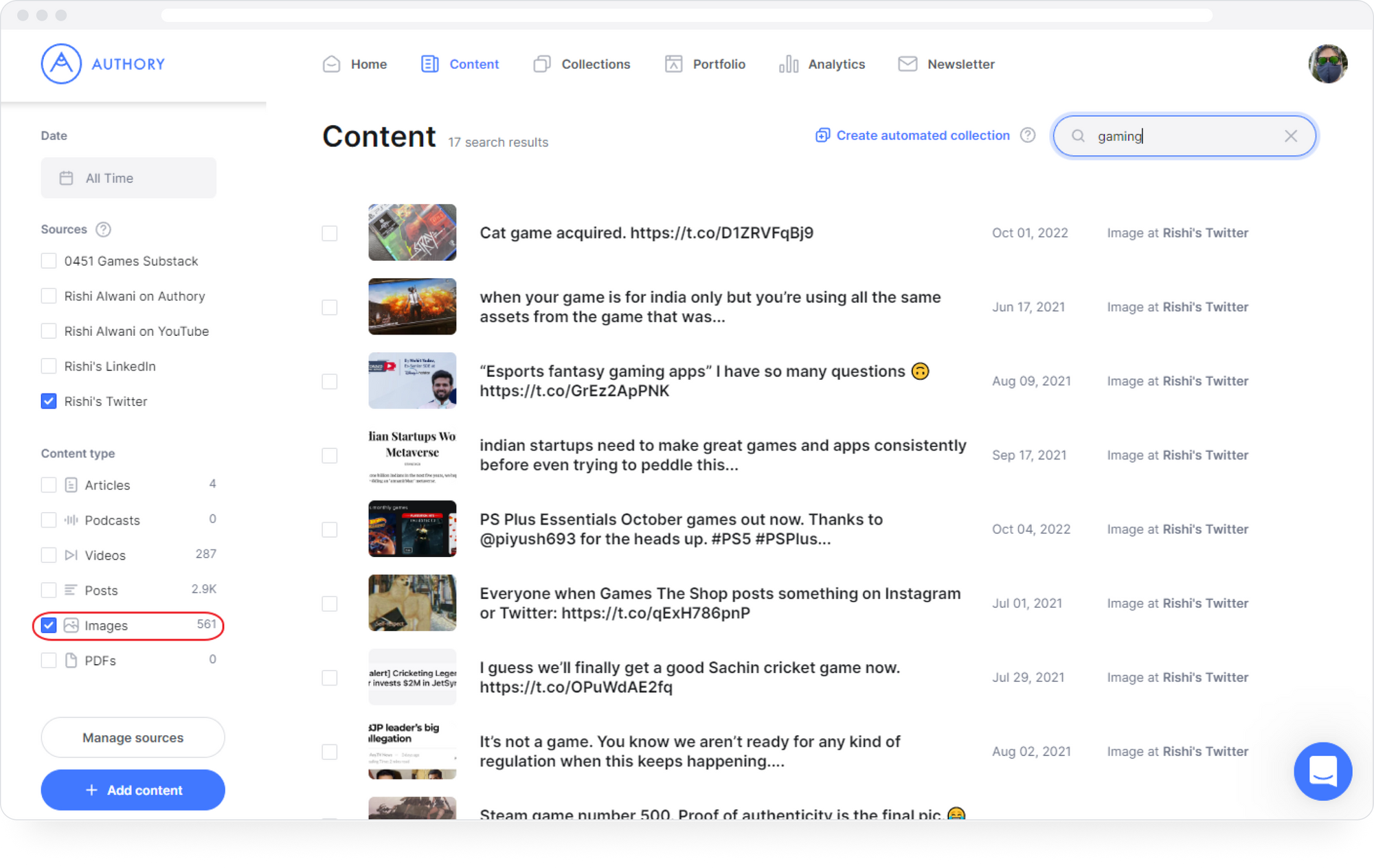 3. Analytics that show true reach
The "Analytics" tab has all your historical data, and you can search for keywords here. The numbers shown here are the true reach, i.e., the total number of interactions a post has received, not just on your account but on Twitter as a whole. Thus, you get a more complete picture of how your post performed.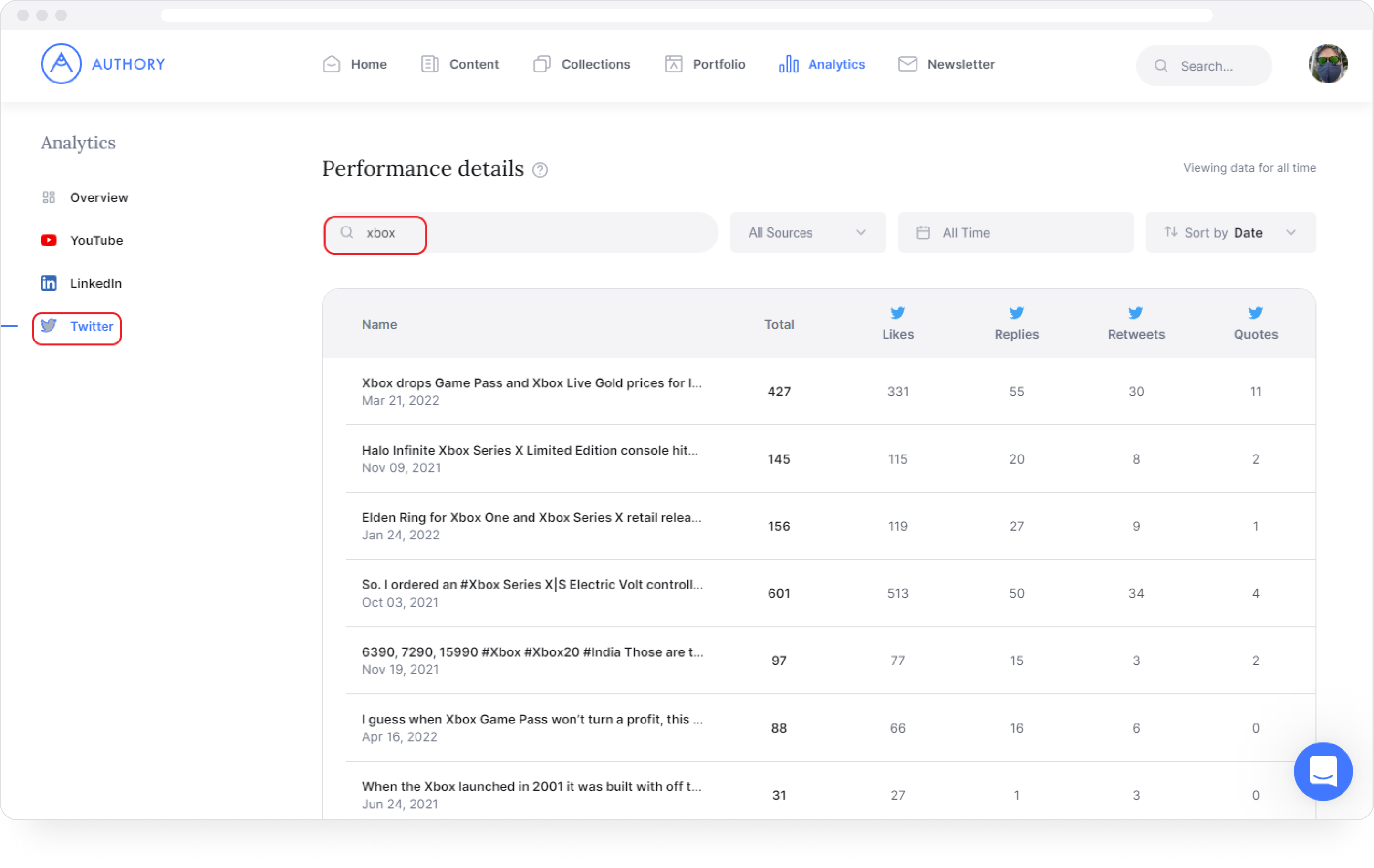 4. A Twitter portfolio if you need one
Authory is also a self-updating portfolio service. And, if you want to create a portfolio for your Twitter activities, or more, you can easily do so.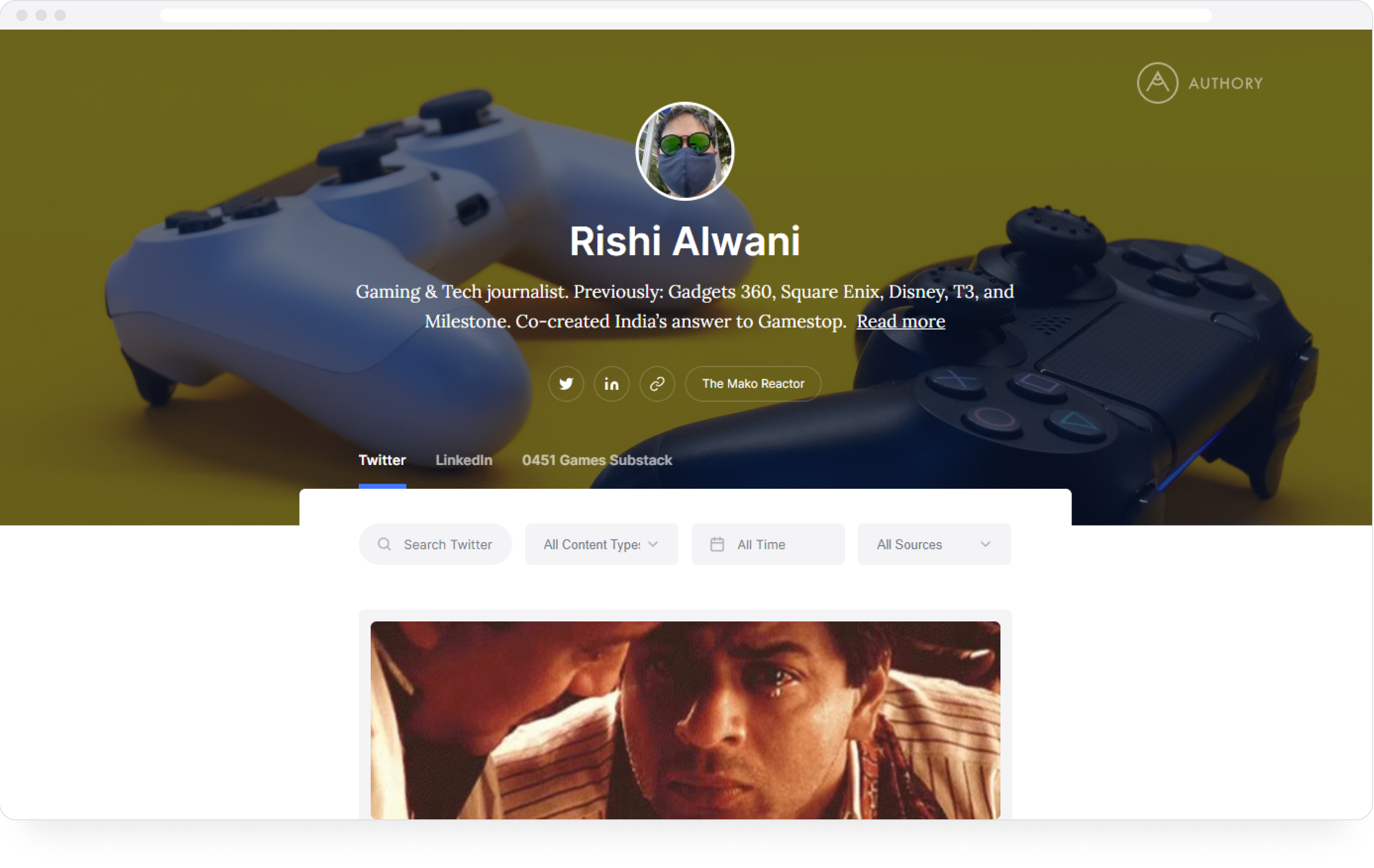 Here are some resources on how to create a portfolio using Authory: