LinkedIn can help you build a professional network, stay in touch with colleagues, create a personal brand, solicit work as a freelancer or independent, apply for jobs, hire candidates, and more. Across industries, it has become THE place to host your professional résumé. While also becoming a hub for content creators.
LinkedIn drives 46% of social traffic to B2B sites and is considered the most credible source of content. So, it is no surprise that 98% of content marketers use LinkedIn for content marketing, especially for B2B marketing and lead generation.
— LinkedIn Statistics and Facts (2022)
As more and more people use LinkedIn, it's important to back up your LinkedIn account in case anything happens to it. This can be done via LinkedIn's own system or a third-party solution, like Authory.
Why you need a LinkedIn Download or LinkedIn Archive
1. You don't really own your data:
LinkedIn specifically says that you do; technically, that may be true, but as long as it resides on their servers, they are the true owners. So, it's a good idea to download your LinkedIn data from time to time so that you can truly own it.
2. To perform analysis:
When you download your LinkedIn data from LinkedIn, the data is in the form of CSV files spread around folders. Hence, you can use Google sheets, Excel, or any other data processing tool to perform data analysis.
For example, let's say you want to analyze your LinkedIn connections to see who is in your network, have up-to-date information on their current jobs, or target them for sales and marketing reasons.
3. In case of extreme circumstances:
Say, if you're hacked, or your LinkedIn account is taken down because of some unfair violation, you'll be secure in knowing that you have your LinkedIn data with you.
How to download your LinkedIn data from LinkedIn itself
Step 1: From anywhere on your LinkedIn account, click on the "Me" icon — usually the one with your face — at the top right of your screen, as shown below.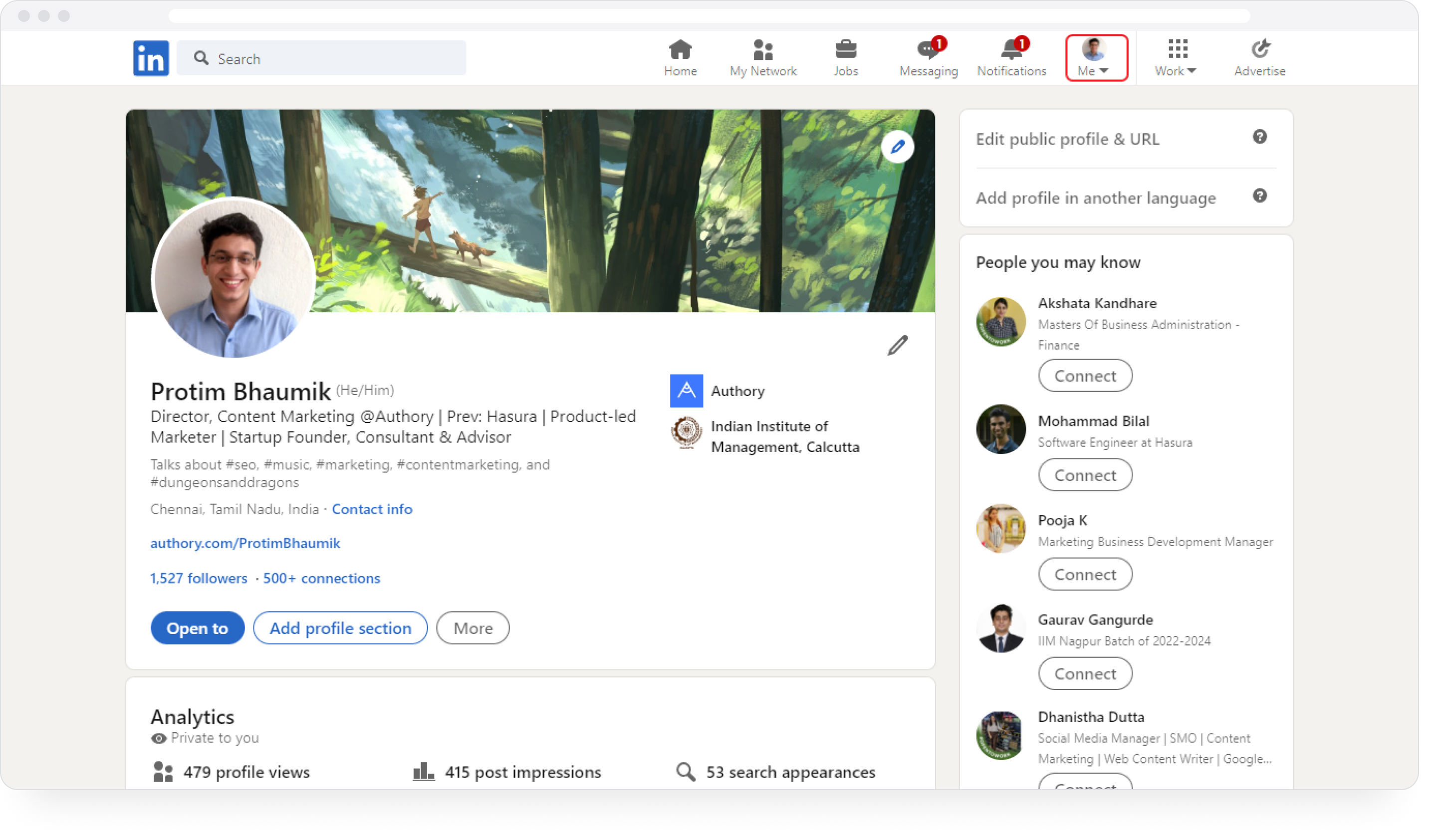 Step 2: From the dropdown menu, click on "Settings & Privacy."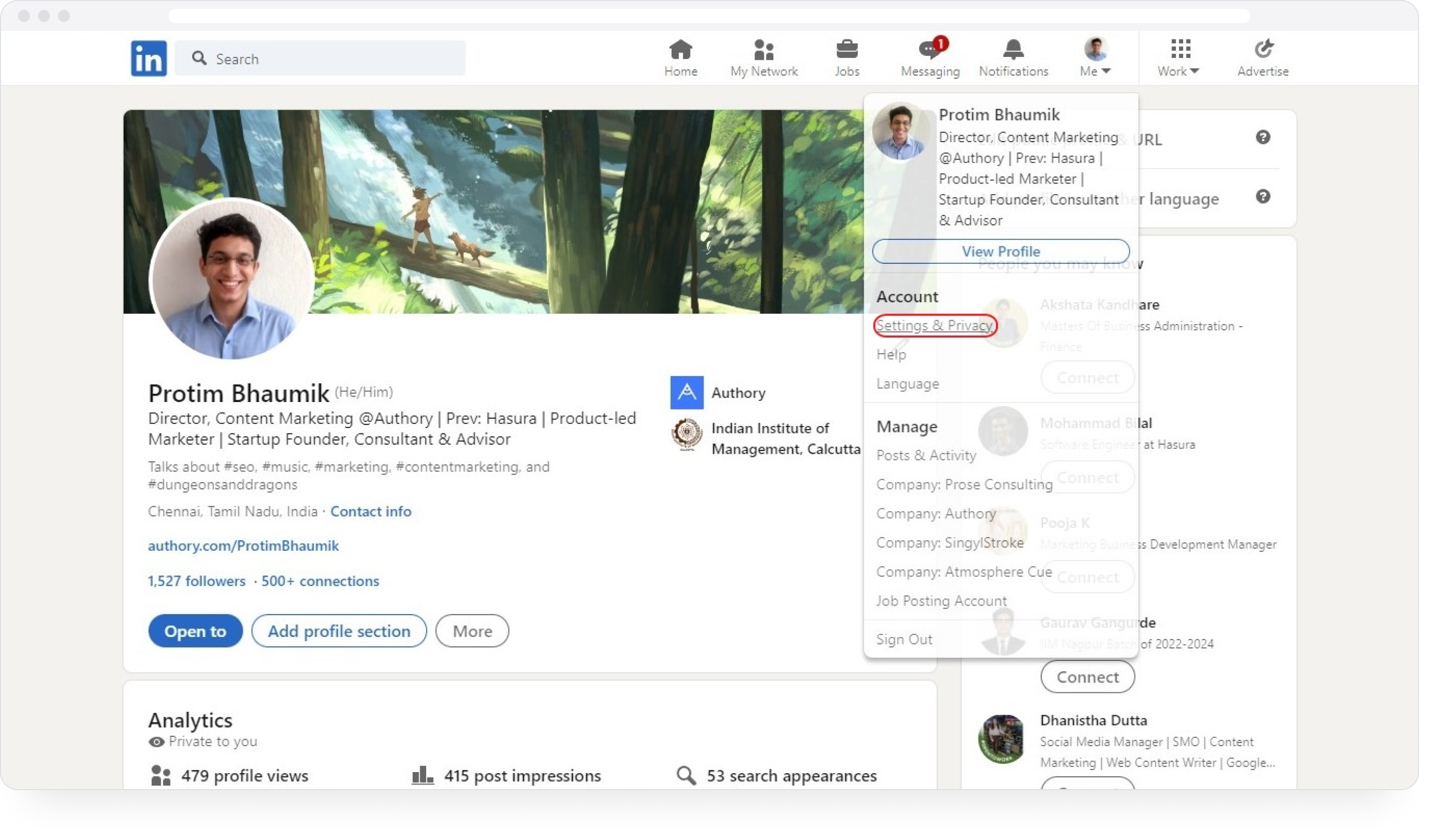 Step 3: A new tab will open in your browser, as seen below.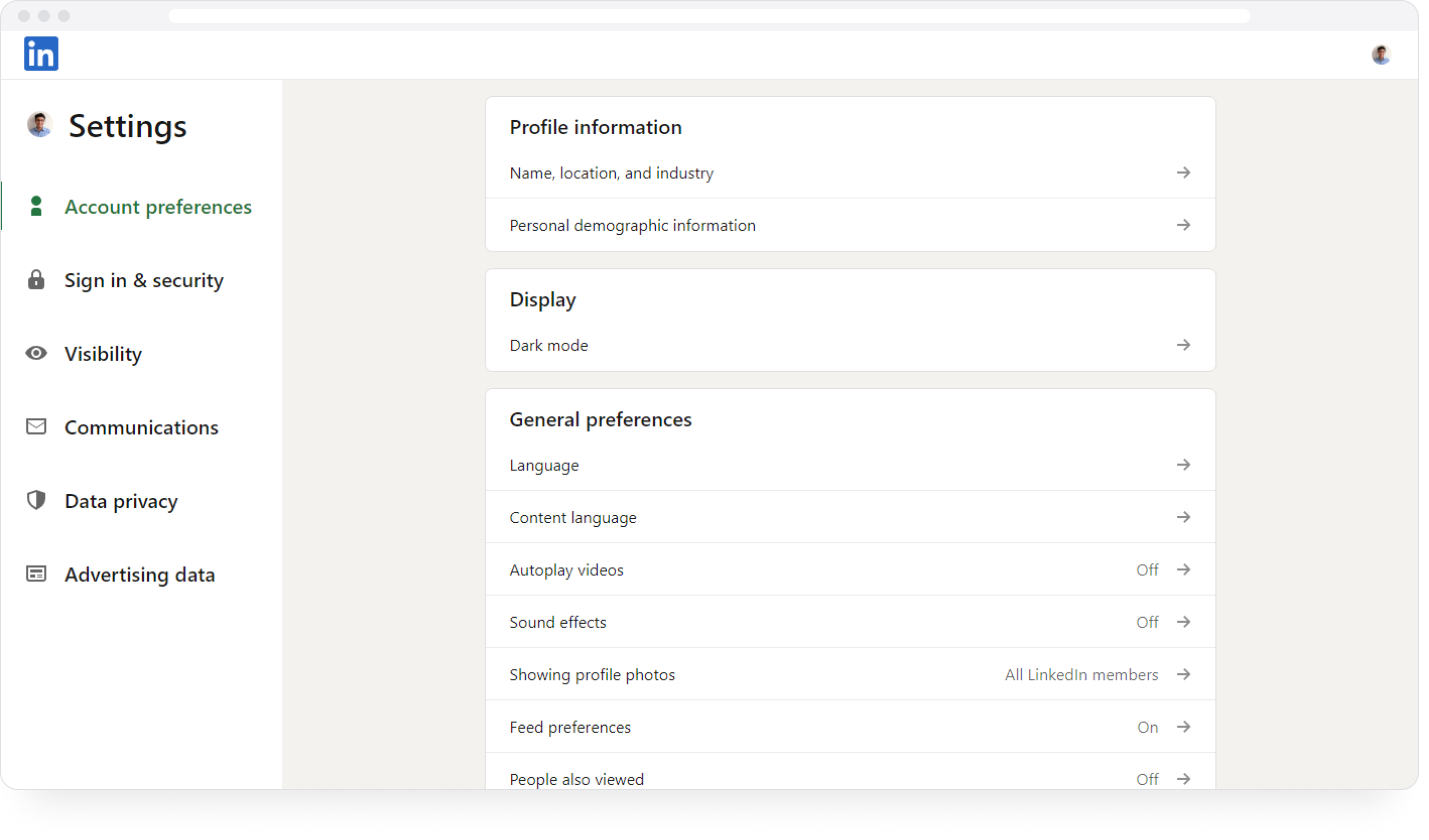 Navigate to the "Data privacy" tab, and click on "Get a copy of your data."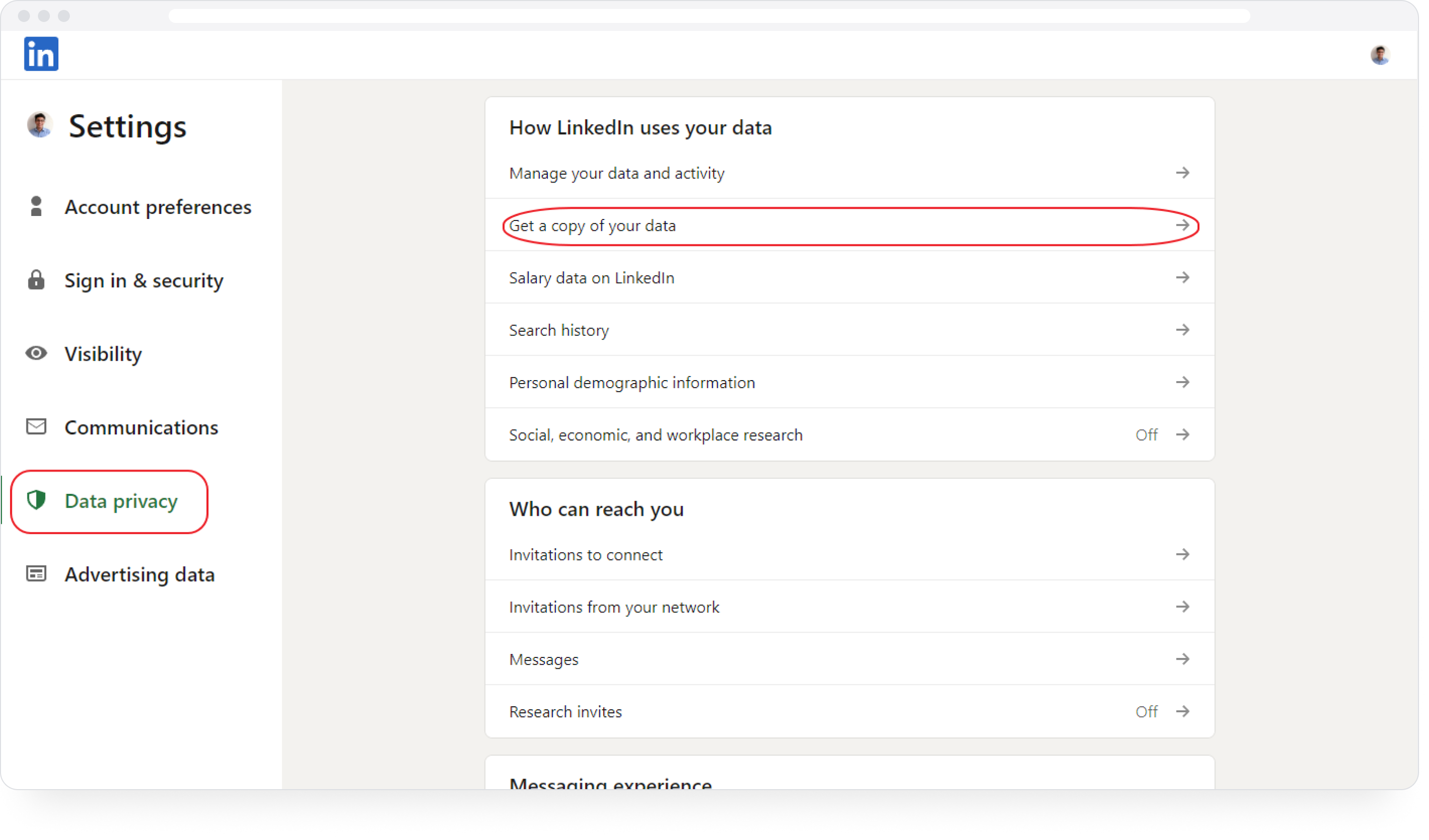 Step 4: You can now download your entire archive from here by clicking the first option and hitting "Request archive." Or you can download just your articles, connections, important contacts, messages, invitations, profile, recommendations, and registration data instead by clicking on the items under the second option.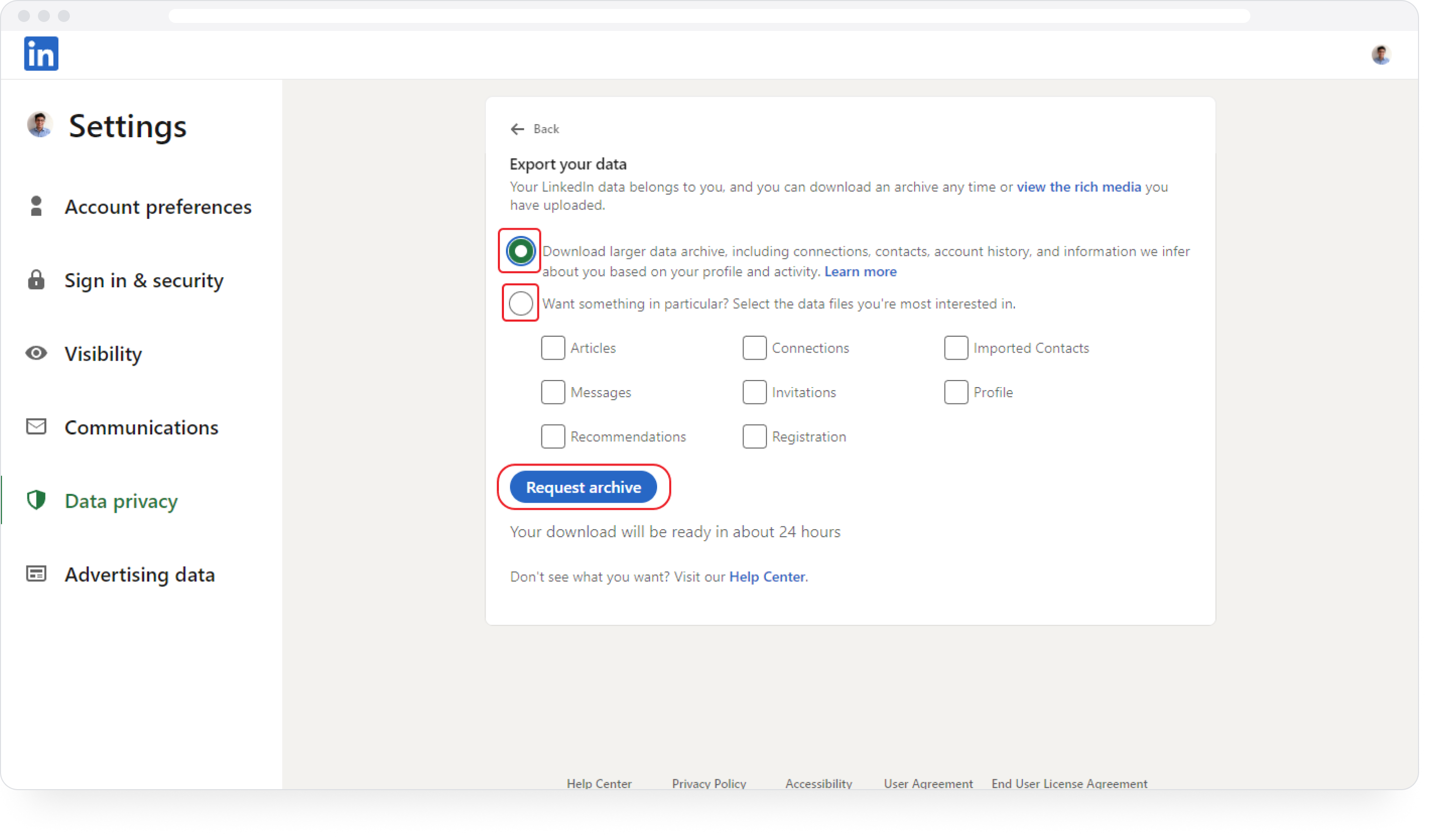 ---
---
Limitations of LinkedIn's own download system
1. Isn't self-updating
If you take an export of your LinkedIn archive through LinkedIn's own system, you will receive all the data up to that point. In some sense, this is a static snapshot of your data frozen in a moment of time. It's good to have, for sure, but if you continue using LinkedIn, it's limiting.
2. Isn't easily searchable
When taking a LinkedIn download via LinkedIn's system, you'll receive a .zip file that contains several CSV files sorted into folders. To search through this, you'll have to then set all this data up in a way that's possible to parse through. And even then, this won't be a perfect process.
3. Analytics data is missing
Analytics data is missing from LinkedIn's own archive process, and there's no way to see how your posts performed. For content creators, this can be a big blow.
Setting up a self-updating LinkedIn archive with Authory
Authory is a content backup service, amongst other things, and you can use Authory to create a self-updating LinkedIn archive/download/export/backup that's easily searchable via Authory's fuzzy search ability, as well as a way to look at all the analytics of all your past posts.
Step 1: Create a LinkedIn download or archive using Authory
Create a free Authory account.
It's possible to add your LinkedIn account while signing up. Instead, you can also go to Content > Manage Sources (authory.com/app/settings/sources) and then click "+ Add source" to open up the dialog box as shown below. Remember to set the time frame as "Past and future content" to make your LinkedIn archive self-updating.
You can choose whether you want to back up your posts, articles, or both.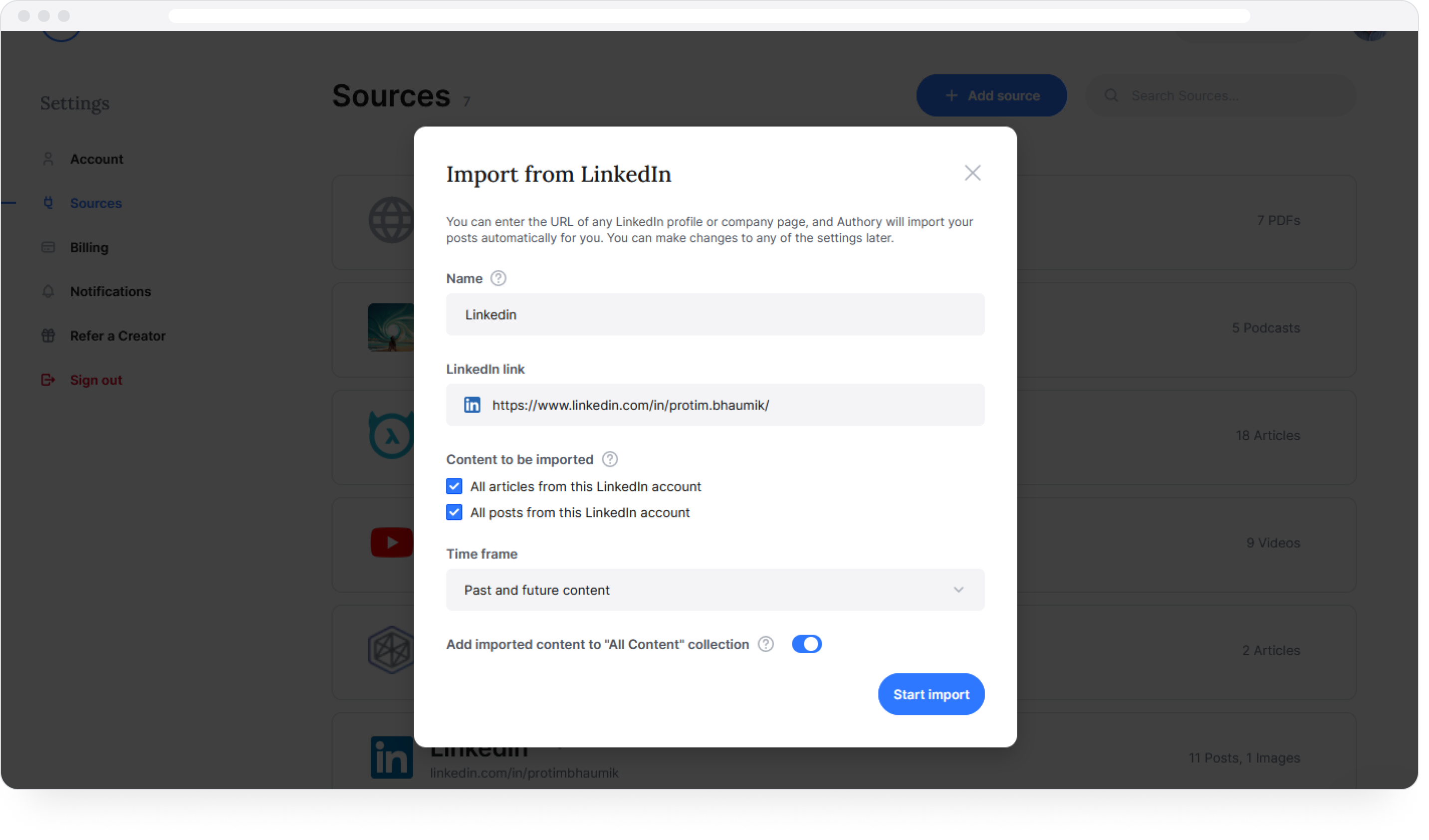 And you're done! Now, just wait 24 hours, and your LinkedIn archive will be good to go. You'll be notified via email once it's ready after someone from Authory's team has personally checked that everything is sorted!
Step 2: Check out your self-updating LinkedIn archive
To access your archive, go to the "Content" tab and select the LinkedIn source as shown below.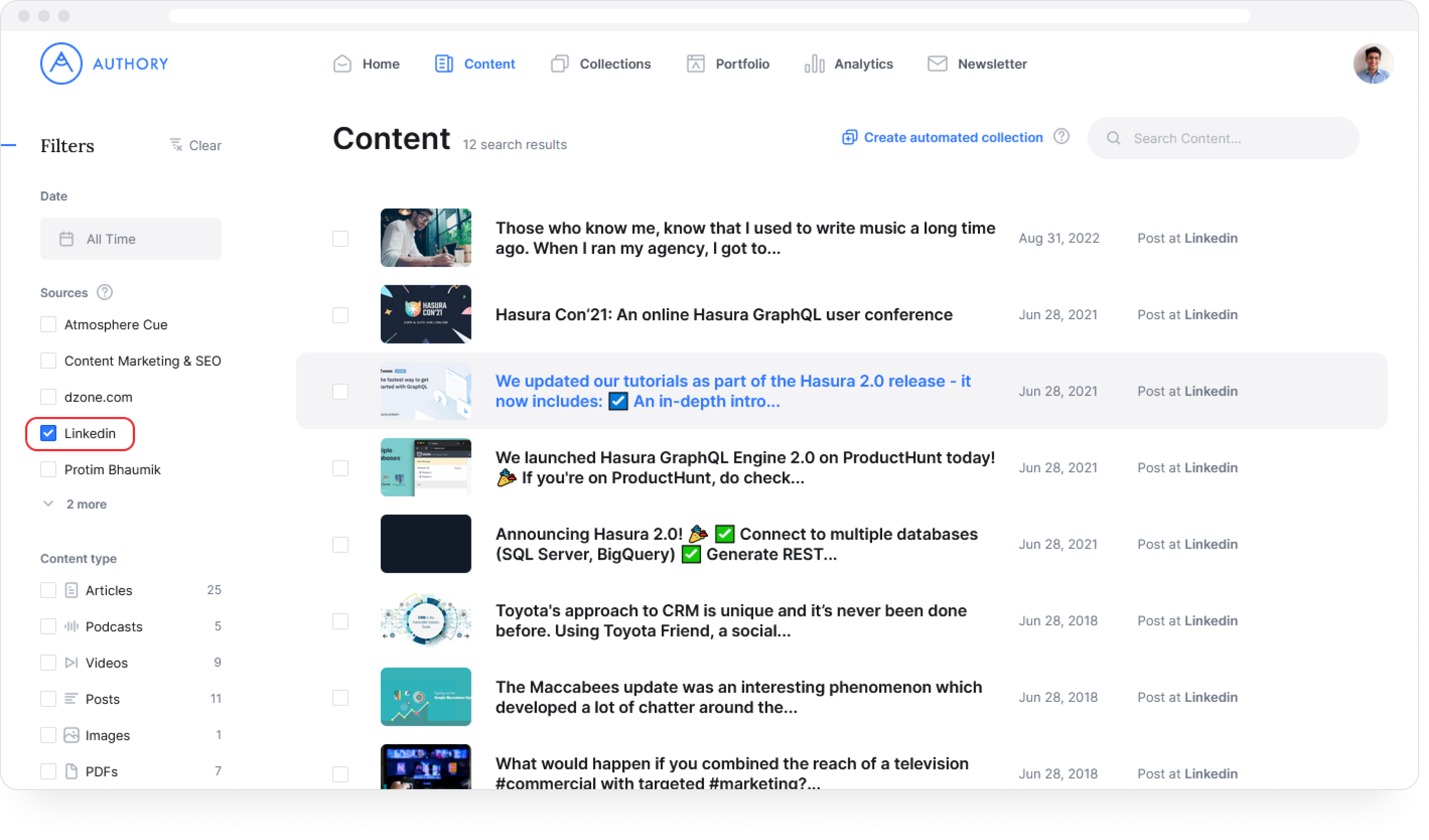 Bonus: use fuzzy search to look through your LinkedIn archive easily
Fuzzy search allows you to look for related keywords quickly. Just type in what you're looking for, and Authory's advanced search functionality will throw up adjacent topics as well — something that's extremely useful when you're looking through an archive where you might be searching for something written or posted long ago.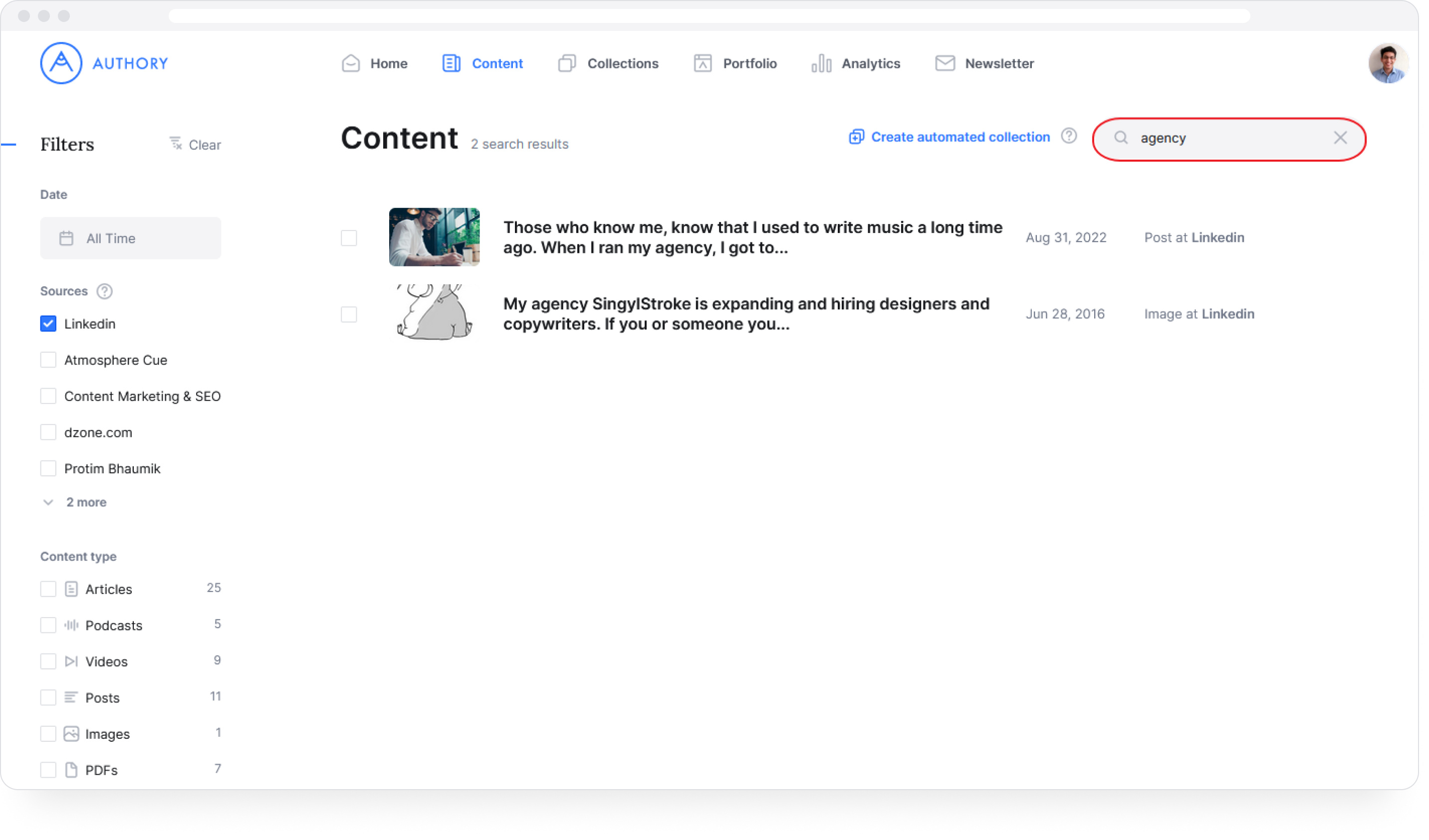 ---
---
Advantages of Authory over LinkedIn's system
1. Auto-updating, living, breathing, LinkedIn archive
Authory gives you a self-updating LinkedIn archive which means that you don't need to redownload your data from time to time. In all likelihood, you'll be staying on LinkedIn for professional reasons, and an up-to-date archive is a blessing.
Each post or article is stored in full, in text format, with all relevant media information, as seen below.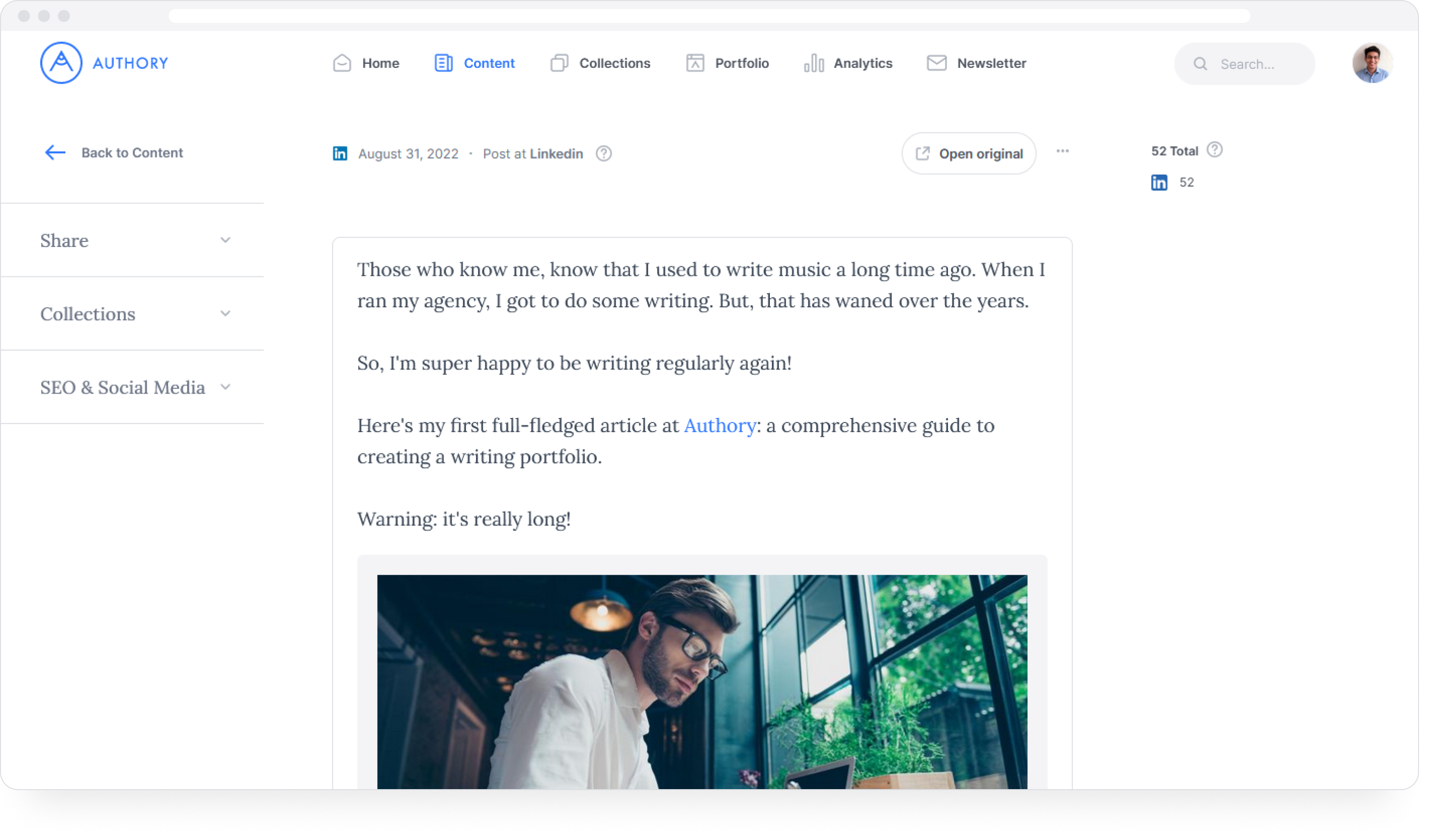 2. Top-notch search & filtering functionality
Along with fuzzy search, Authory also has filter functionality to help you easily find what you're looking for. In the example below, I've searched for "agency" but also filtered by "Images."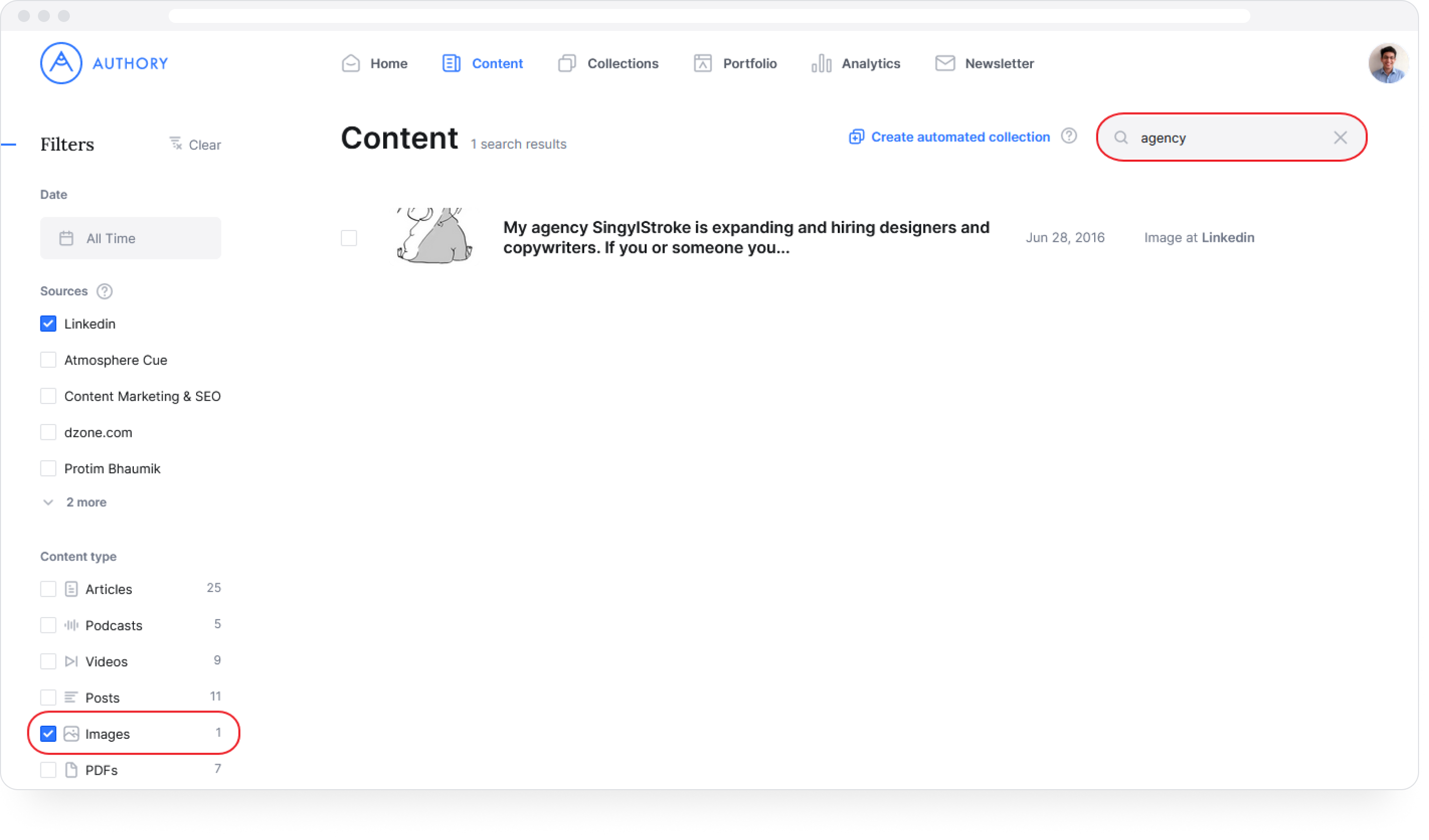 3. Analytics that show true reach
Under Authory's "Analytics" tab, all your analytics data is stored, which isn't possible using LinkedIn's own archive system. You can look for specific posts to see how they've performed historically.
Another thing to note is that the data presented here is a truer representation than what you see on LinkedIn. Authory's data shows you the total number of interactions a post has received, not just on your account but on LinkedIn as a whole.
For example, if my post is shared by my friend Tara, I see the cumulative data of what happened on my account as well as on Tara's. Hence, I get a more complete picture of how my post truly performed.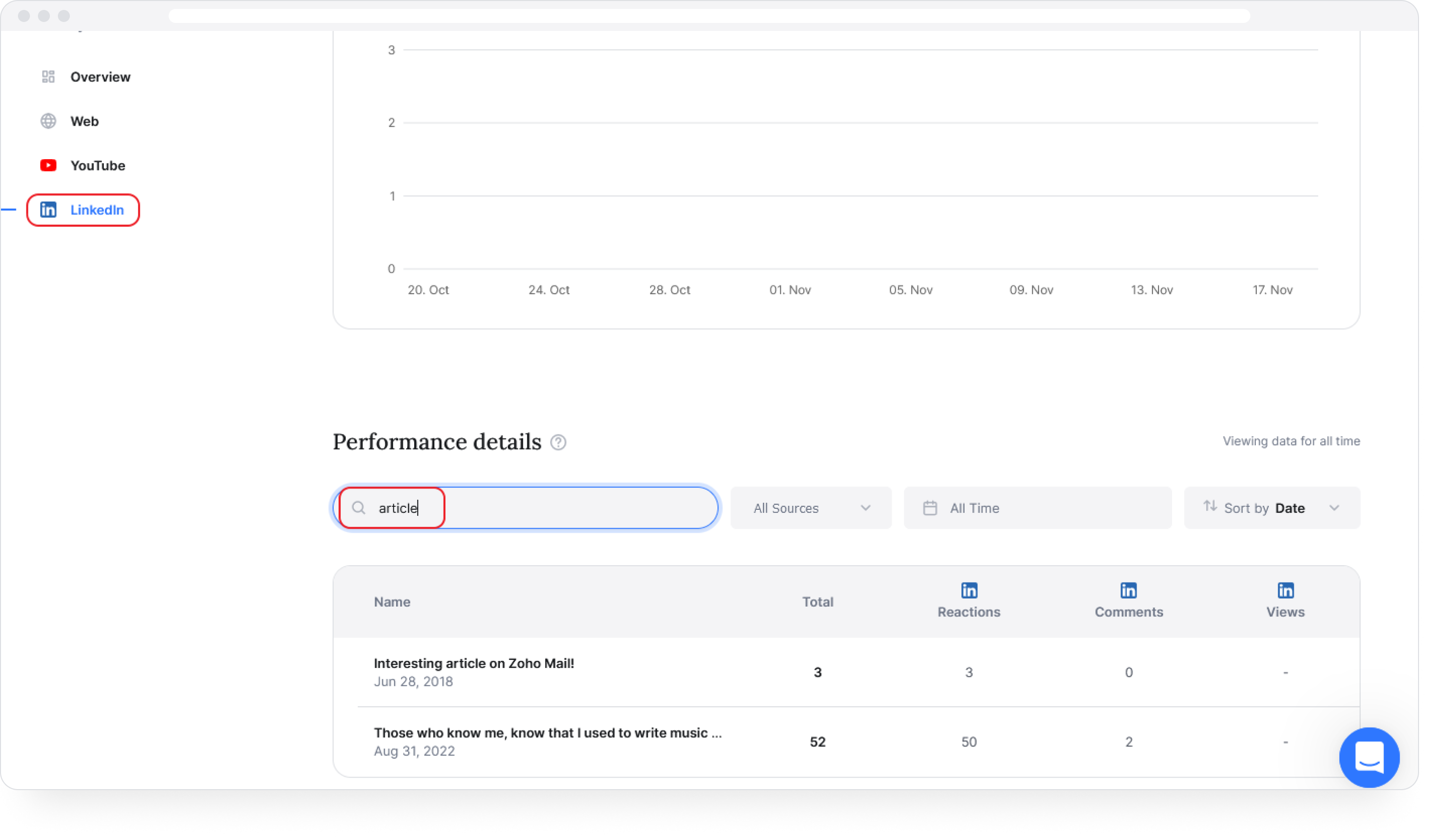 4. A LinkedIn portfolio if you need one
Authory is also an auto-updating portfolio service. So, if you want to create a LinkedIn, it can be easily done!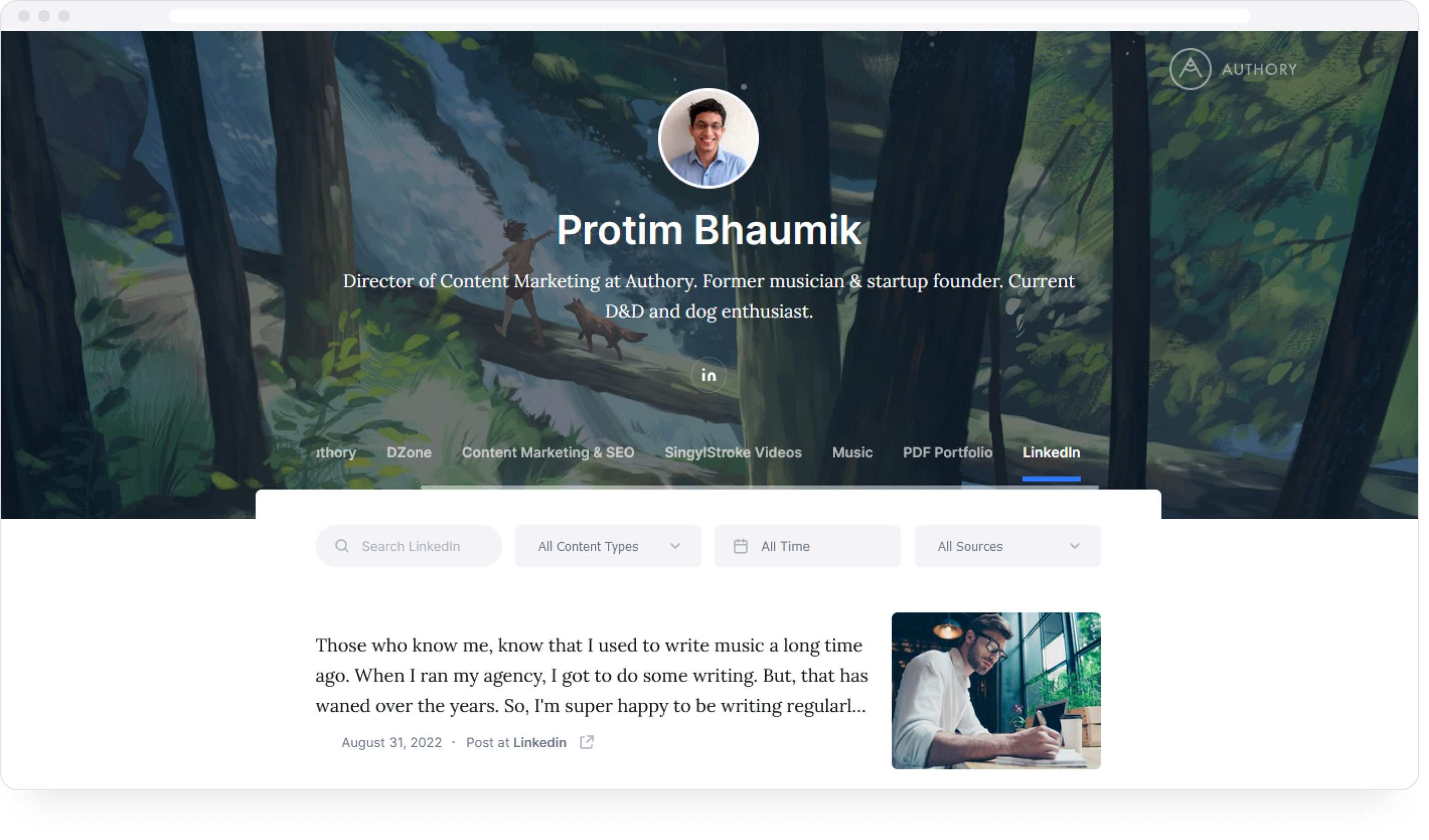 Here are some resources on how to create a portfolio using Authory: