It's 2023, and podcasts are everywhere.
Seriously, I'm not making this up. Just look at a few revelatory numbers:
The majority of podcast listeners (68%) listen to the whole episode
70% listen to almost all of the episodes that they've downloaded
It's anticipated that US marketers will spend nearly $2.2 billion on podcast ads in 2023
Podcasts are decidedly one of the most popular and legitimate content formats in existence right now. Content creators are increasingly hosting or appearing on podcasts to disseminate their ideas.
Thus, when it comes to showcasing your work to potential clients, you'll want to display podcasts, whether you've hosted one or been a guest on one. In other words, you should have a podcast portfolio.
📖
What you'll get out of this article:
• What is a podcast portfolio?
• Why do you need a podcast portfolio?
• How to create a podcast portfolio
• Examples of portfolio podcasts
• A brief overview of Authory — a portfolio builder that automatically imports your content and backs it up permanently
What is a podcast portfolio?
Simply put, it's the same as every other portfolio, except it contains podcasts. You can either create a portfolio comprising podcasts alone (if that's the only form of content you create), or you can include podcasts along with other content formats (like video and text).
Either way, the intent of a podcast portfolio is to illustrate your expertise, as it has been expressed on different podcasts.
As an example, have a look at Ariel Fisher's portfolio: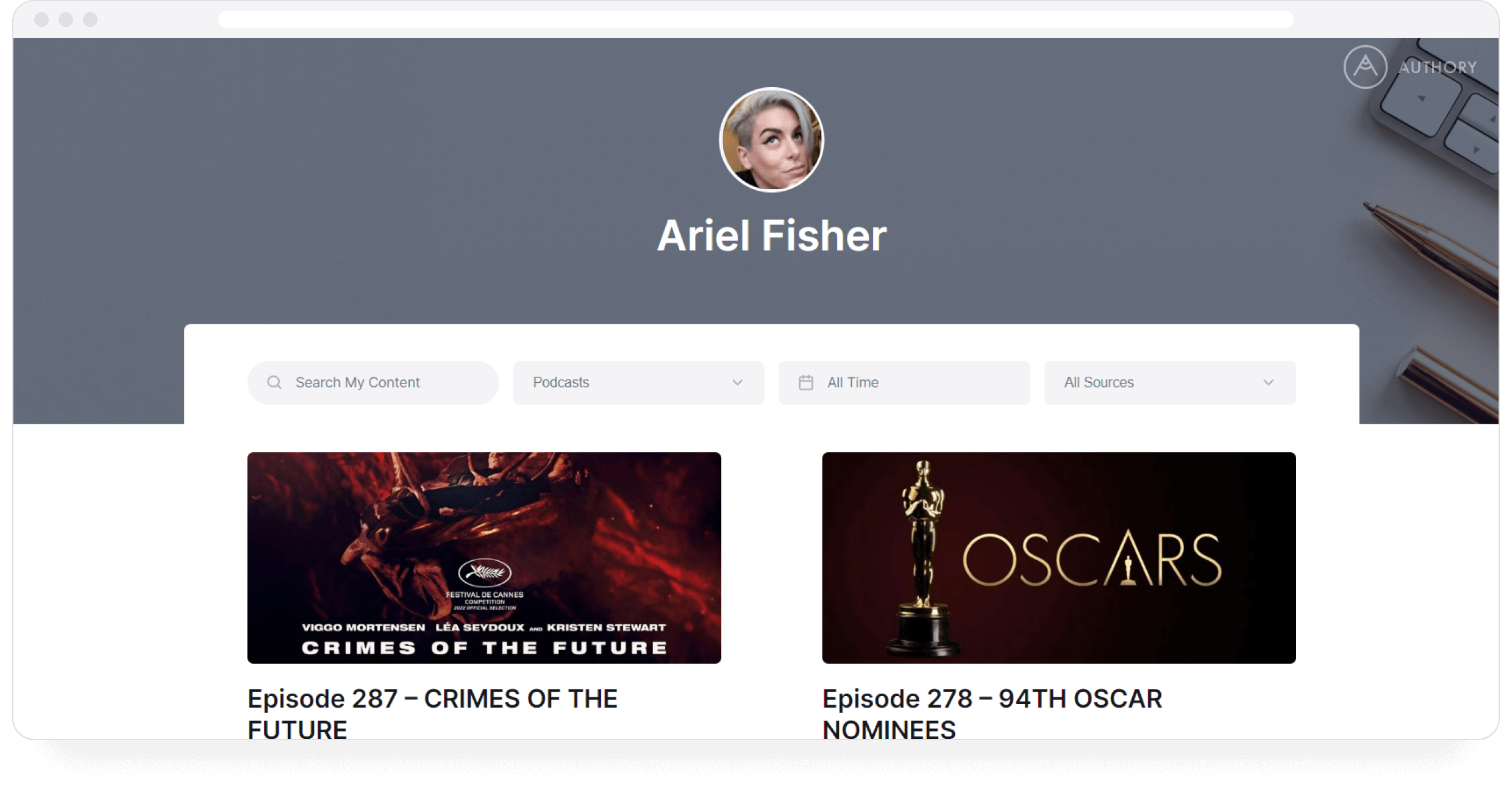 Why do you need a podcast portfolio?
Let's say you write about personal finance and do it very well (sort of like Ben Carlson with his podcast Portfolio Rescue). Now, you've been invited to a podcast series in which financial experts answer questions about the same. You've spoken about your viewpoints and provided helpful information about managing money, as well as how to shape one's career and job to get the best out of your savings and investments.
This is valuable information and speaks to your expertise. Not only are you good at offering advice on wealth and success in text format, but also verbally. You are equally comfortable with two major content formats, making you a valuable asset for clients looking to expand their content base.
In other words, your portfolio should include your appearance on podcasts as well as your writing. This is doubly important if you're hosting a podcast yourself.
Hence, the need for a podcast portfolio. You need one no matter what industry you are in (medicine, food, lifestyle, technology, the start-up ecosystem, etc.) as long as you've been on a podcast.
How to create a podcast portfolio (with Authory)
🗒️
Note: Since I do not have any podcasting content, I am using the Huberman Lab podcast to demonstrate how you can create a podcast portfolio using Authory. This is not my podcast. All rights to and ownership of this podcast series belong to Dr. Andrew Huberman.
Step 1: Sign Up for Authory (for free)
Create an account on Authory for free using this signup link.
🗒️
If you're planning to import your podcasts using Authory, please read this before getting started:

• You can either manually add single episodes or let Authory import an entire series.
• If you add an entire series, Authory will only import all episodes from that series if the series is either hosted by you or if you are a guest on each episode.
• You can add a link to a podcast series where you were a guest, say, 5 times, and Authory only imports those 5 episodes. Authory will also continue to import your future episodes too (as long as you are a host/guest).
• If you are the host, Authory will import all episodes.
• The system is designed to import podcast episodes on which you are either a host or guest. It will not import random podcast episodes without any connection to you.

I was only able to import Dr. Huberman's podcast episodes due to an exception made for the purpose of this tutorial. Please only use Authory to import podcasts on which you are a host or a guest.


Step 2: Import and add your videos
Navigate to the "Content" tab on your dashboard. Then, click on "Add Content" at the bottom left.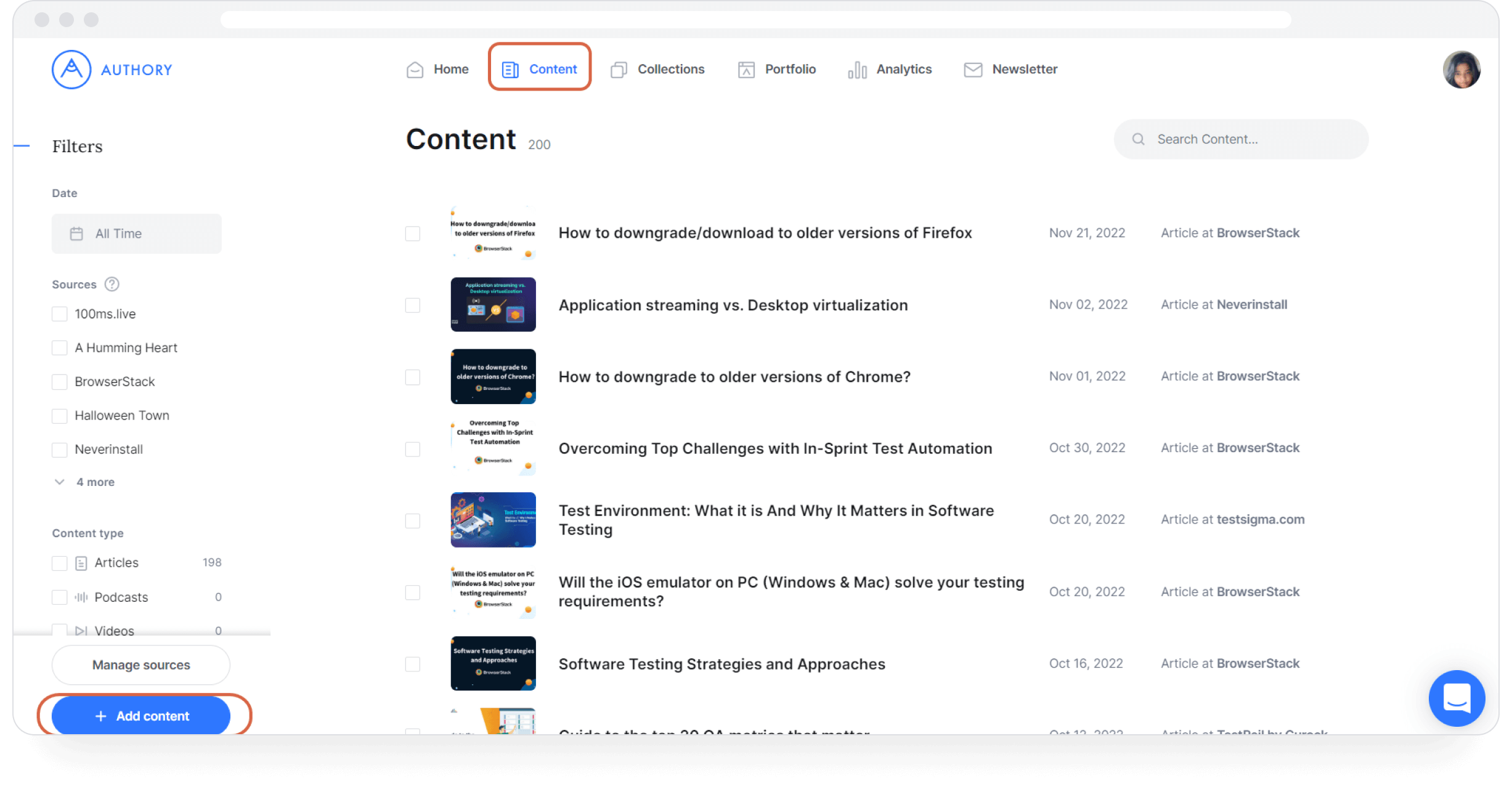 Once you click on "Add Content," you'll get the option to provide a source site from which all your videos will be automatically imported. You'll also be able to manually add videos by simply pasting the URL.
For automatic importing, click on the "Automated import" option that shows up when you click "Add Content."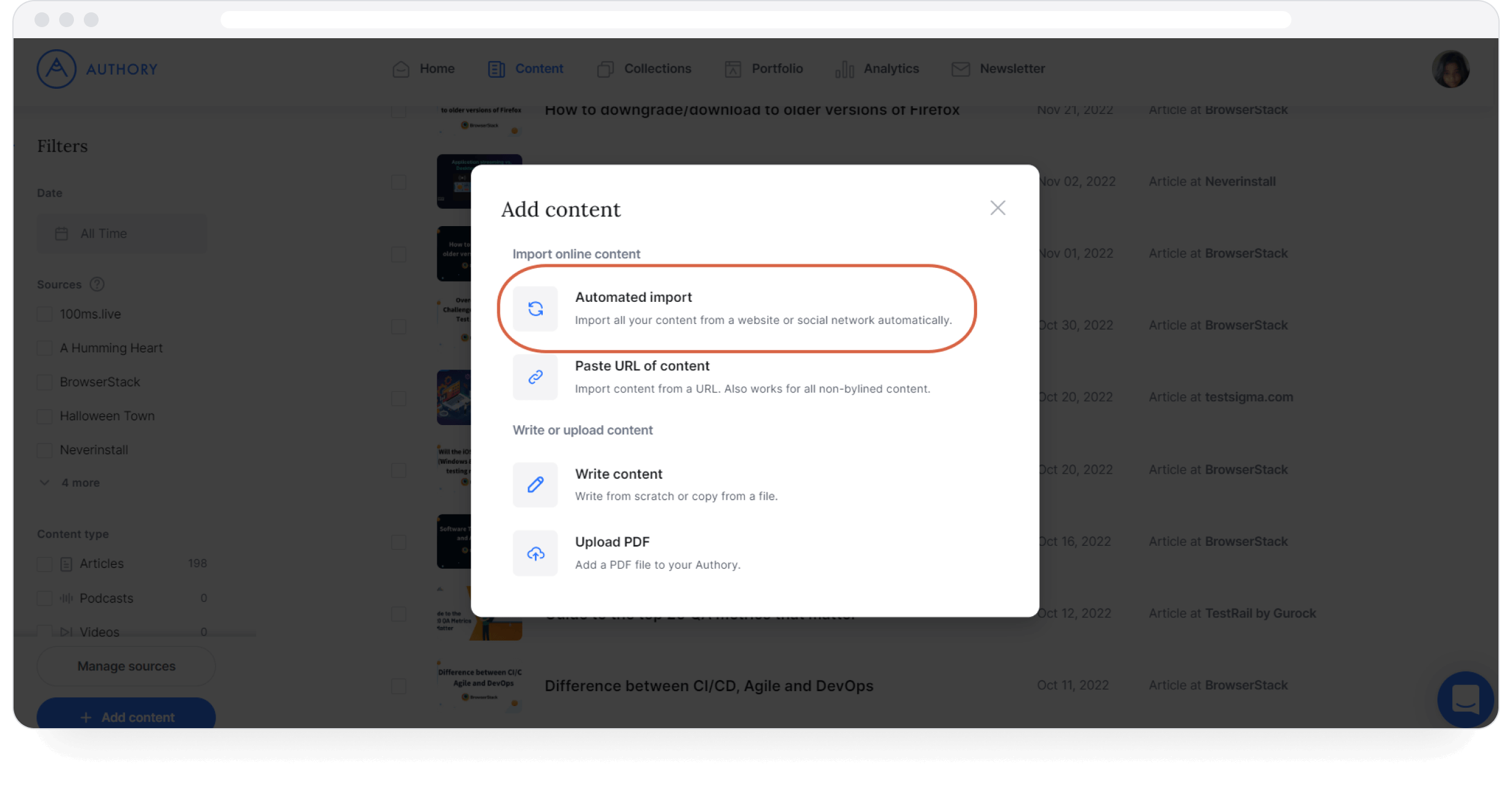 Click on "Add Source" to insert the digital source where your video is published.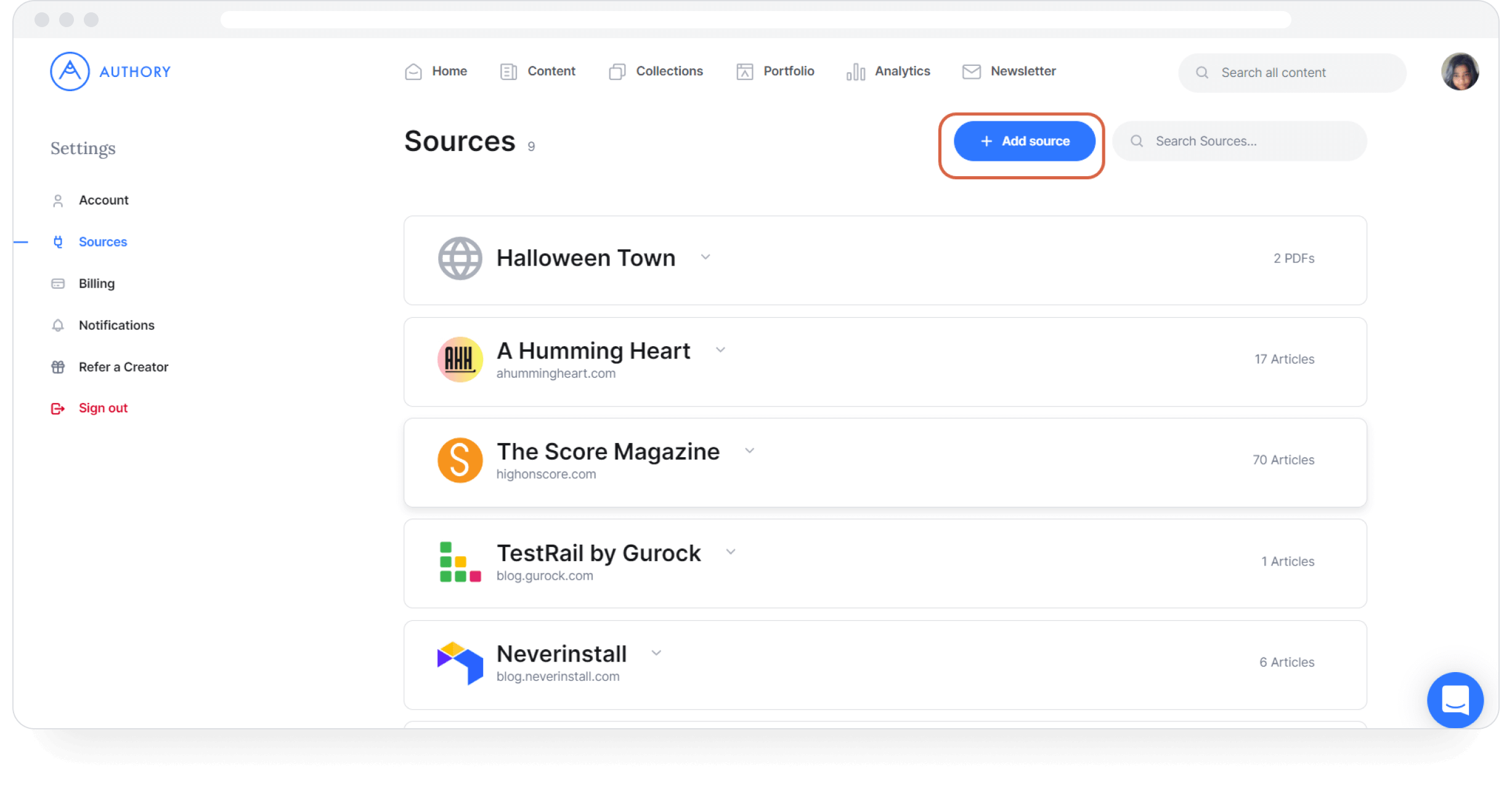 From the drop-down list, I choose "podcast platform" as my digital source.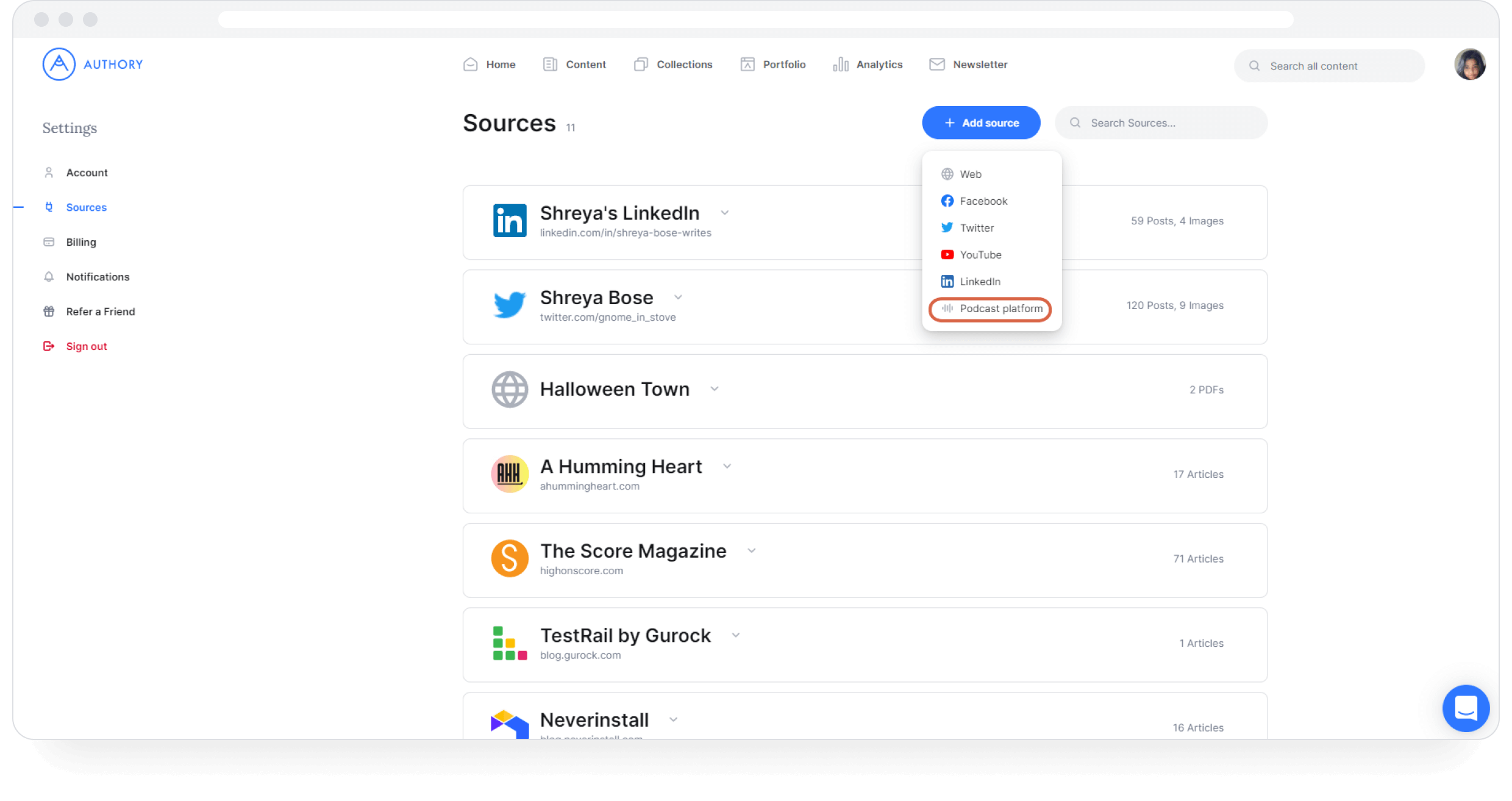 Click on "Podcast Platform." After that, enter the name of your podcast and its link.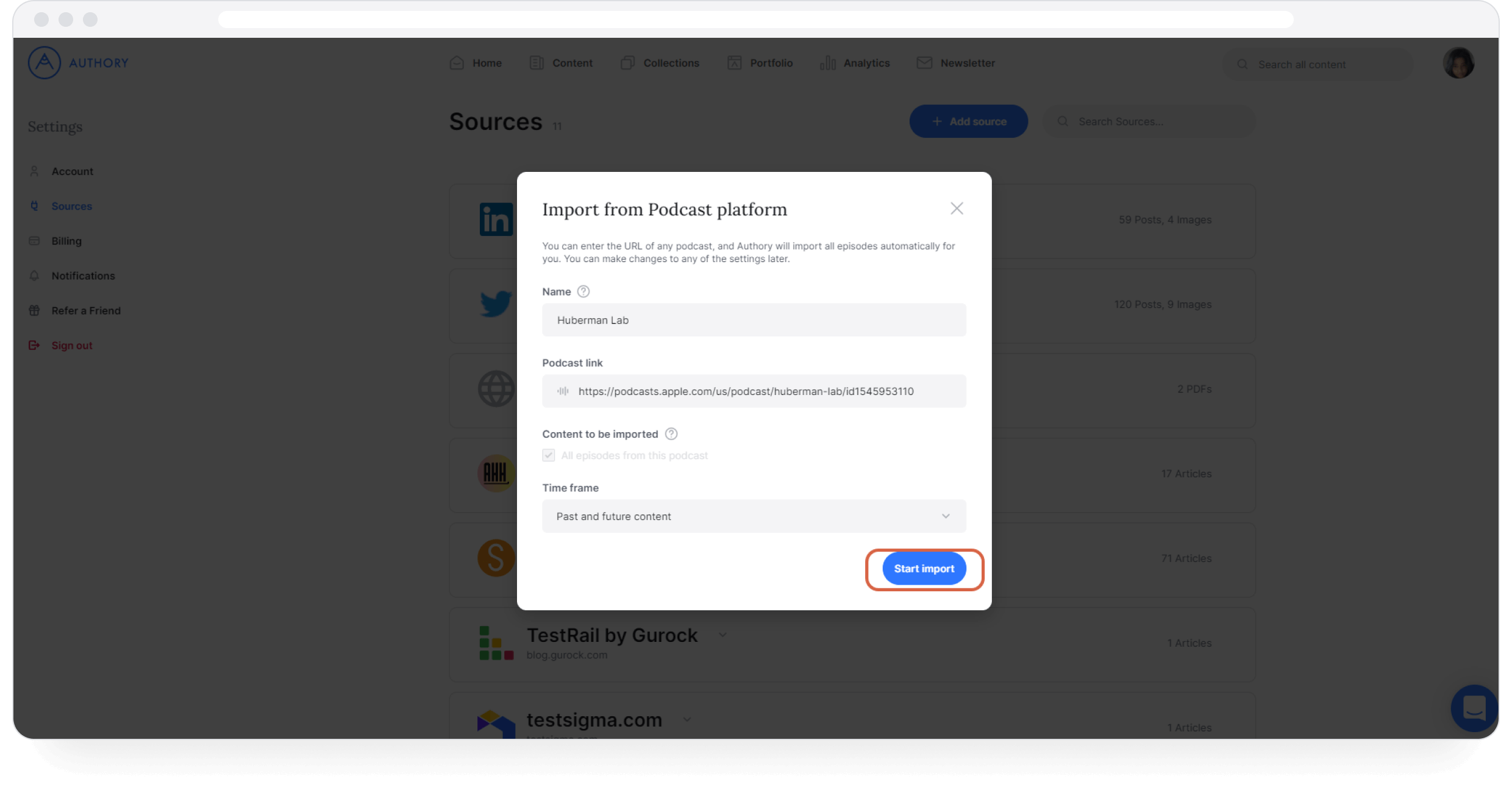 Click on "Start Import." You'll see that the podcast has been added as a source to your list of sources on Authory.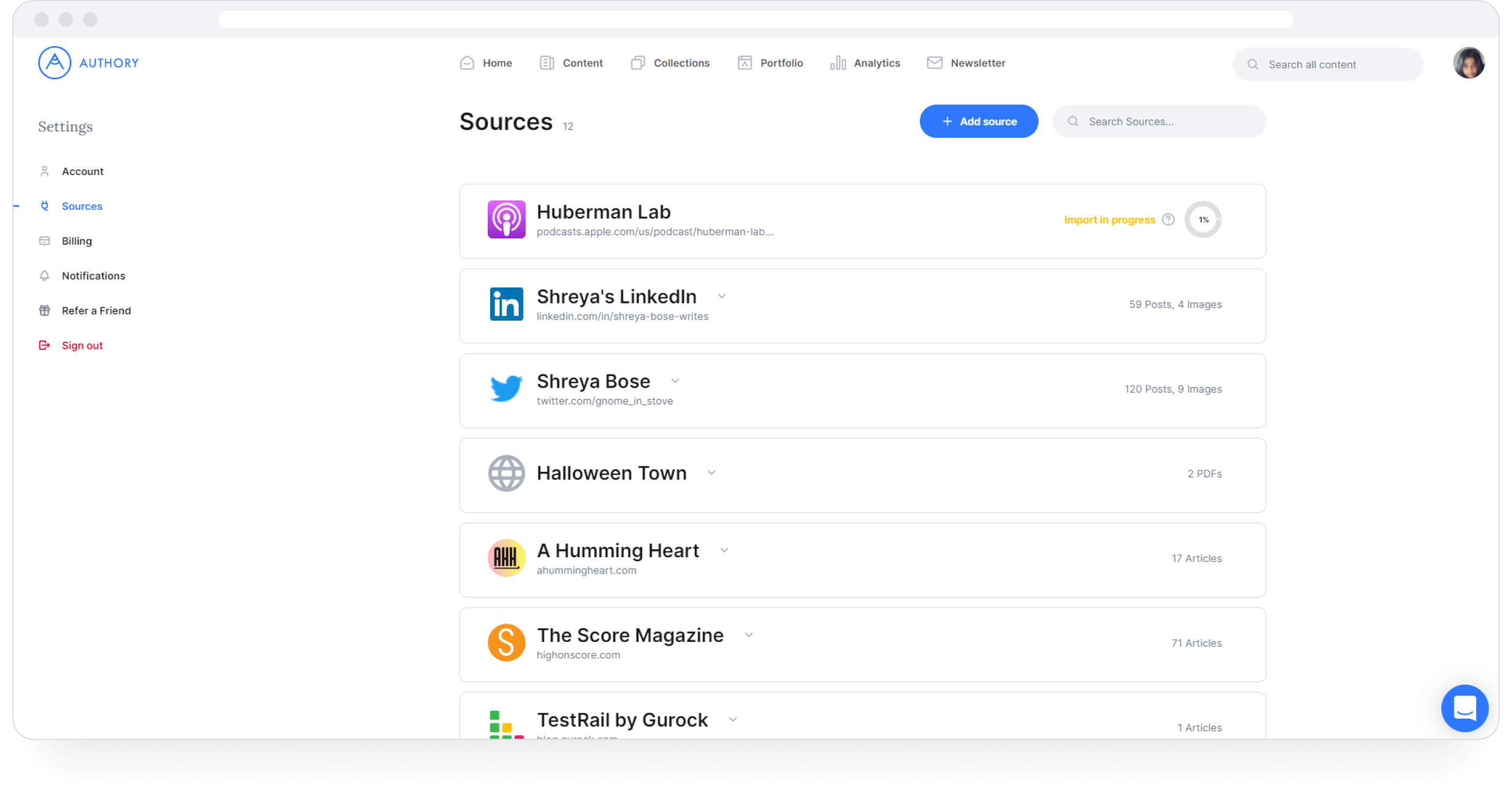 🗒️
Note: It takes about 48 hours from Authory to import all your existing content from a new source. After that time, all new videos you publish will be imported instantly.
Step 3: Add videos to a Collection
Go back to the "Content" tab. Click on the "Podcasts" filter to the left of the page. All podcasts (imported or manually added) will show up. Then, click on the "Create automated collection" option at the top right.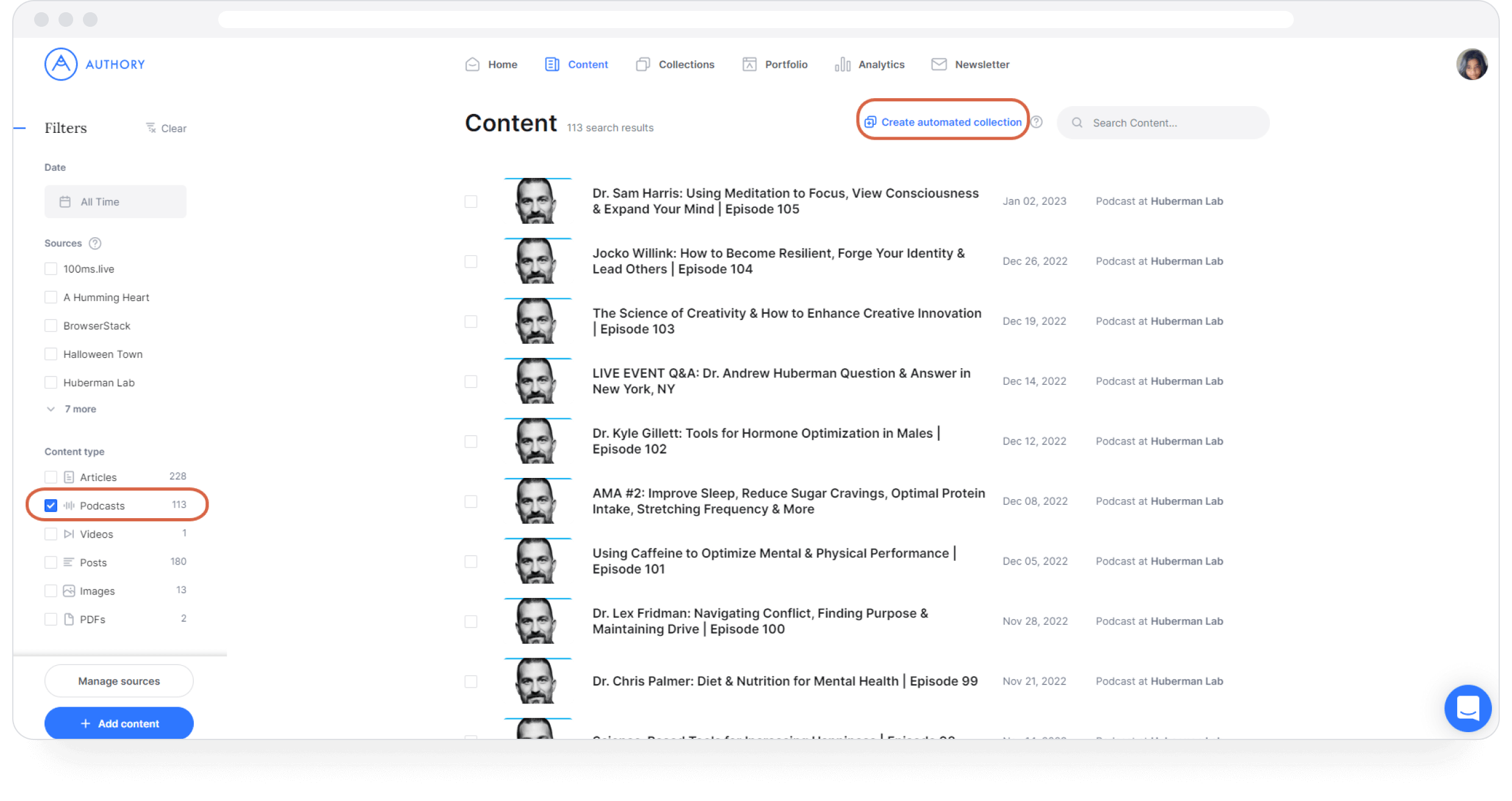 Select the podcasts you want to put in a collection. Then create a new collection by clicking "+ Create new collection" at the bottom right. You can also add the podcasts to an existing collection if you have one.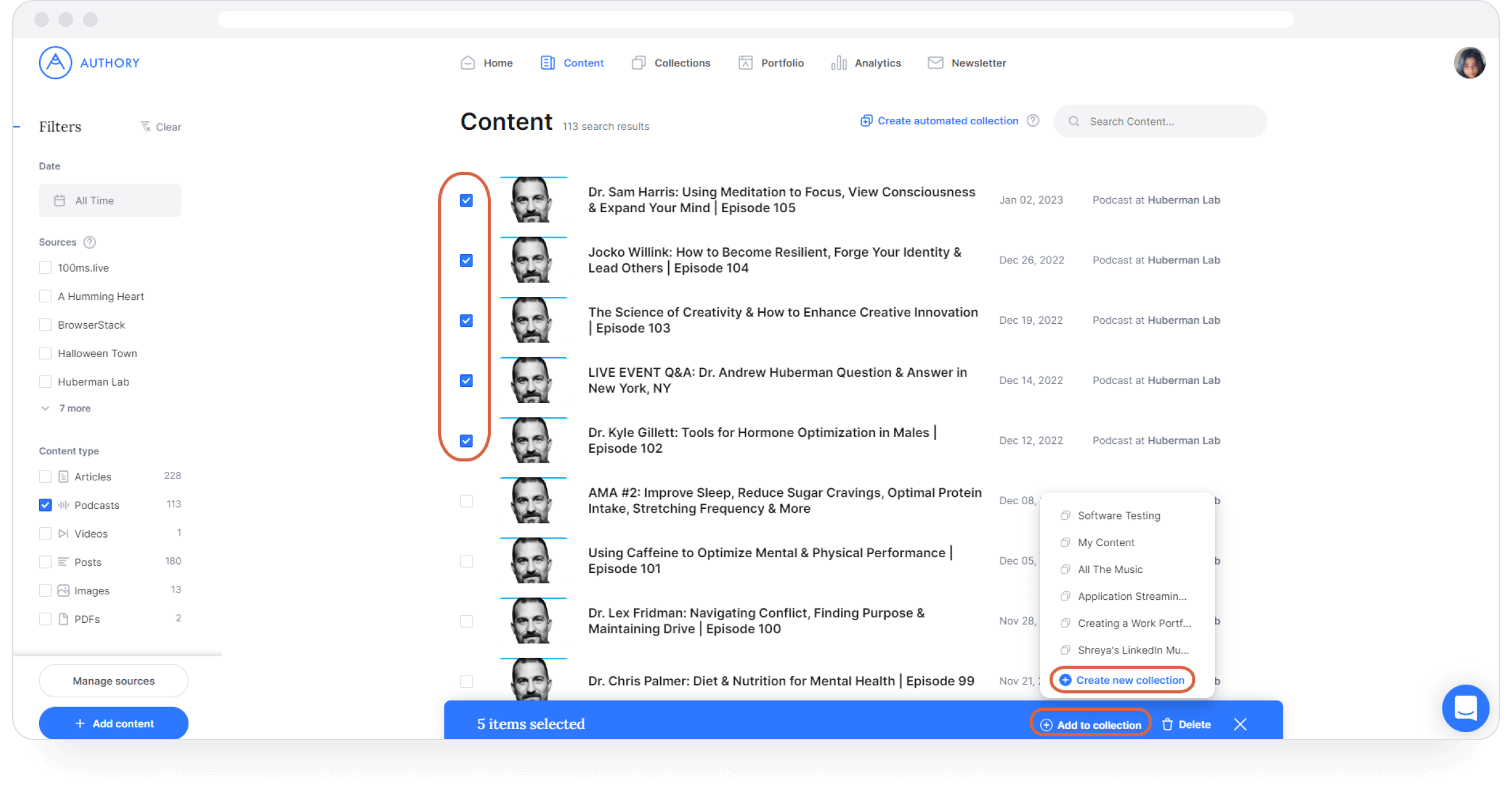 Add a name and description of your podcast collection. Then click "Add."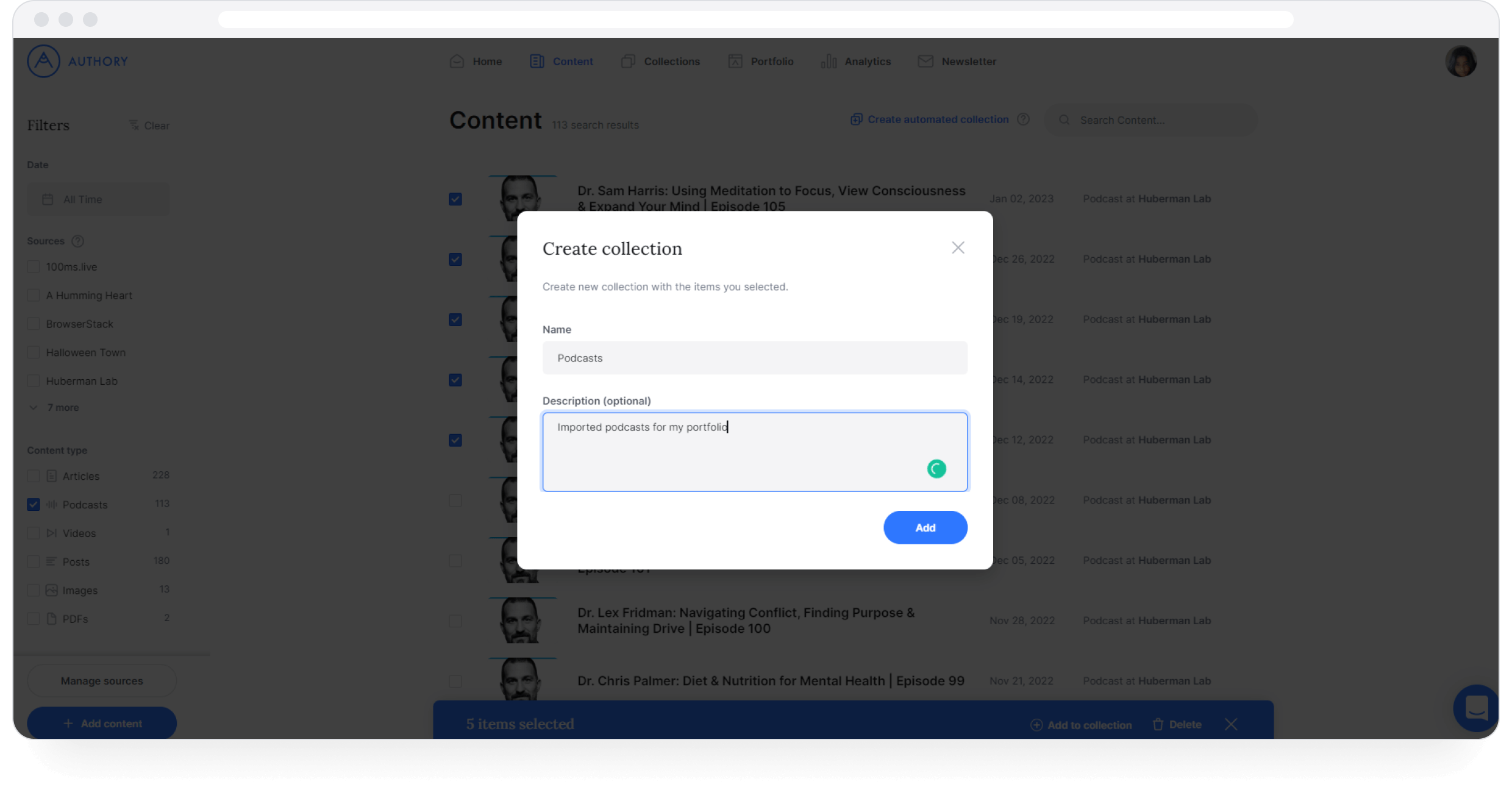 Go to the Collections tab to see what your video collection looks like.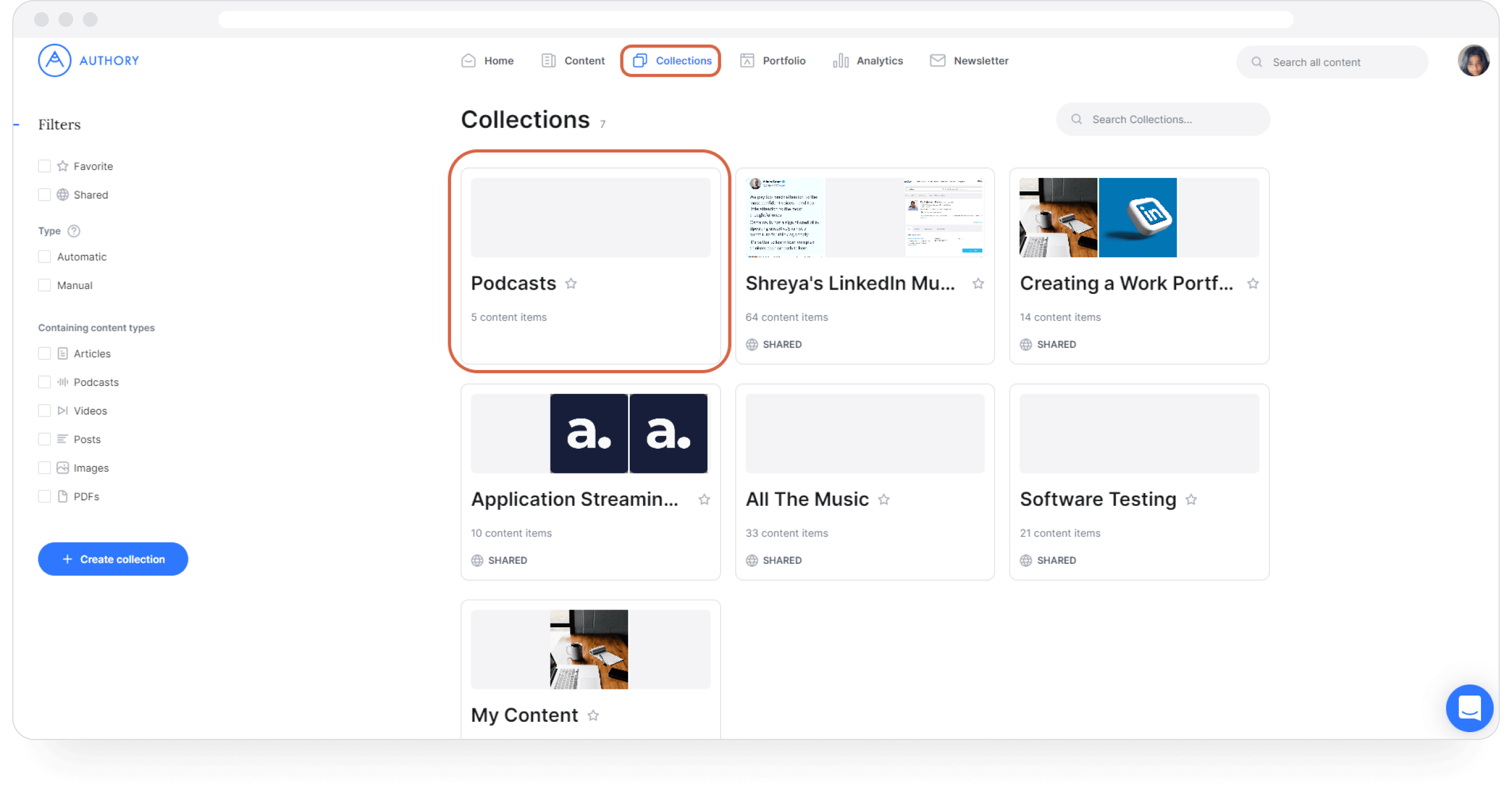 This is what my podcast collection looks like on Authory.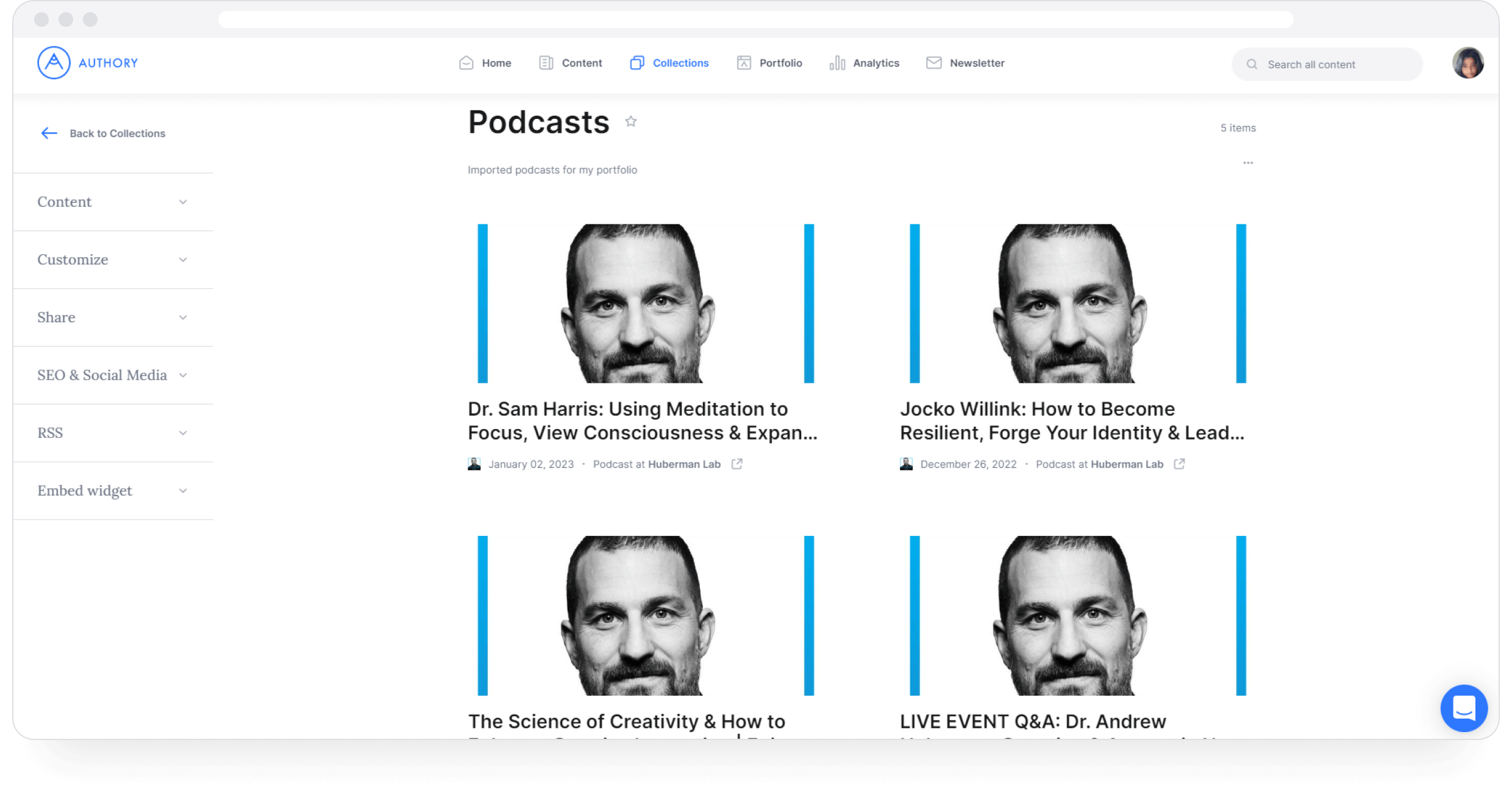 Step 4: Add video collection to portfolio
Go to the "Portfolio" tab on your dashboard. Click on "Content" to the left of the screen.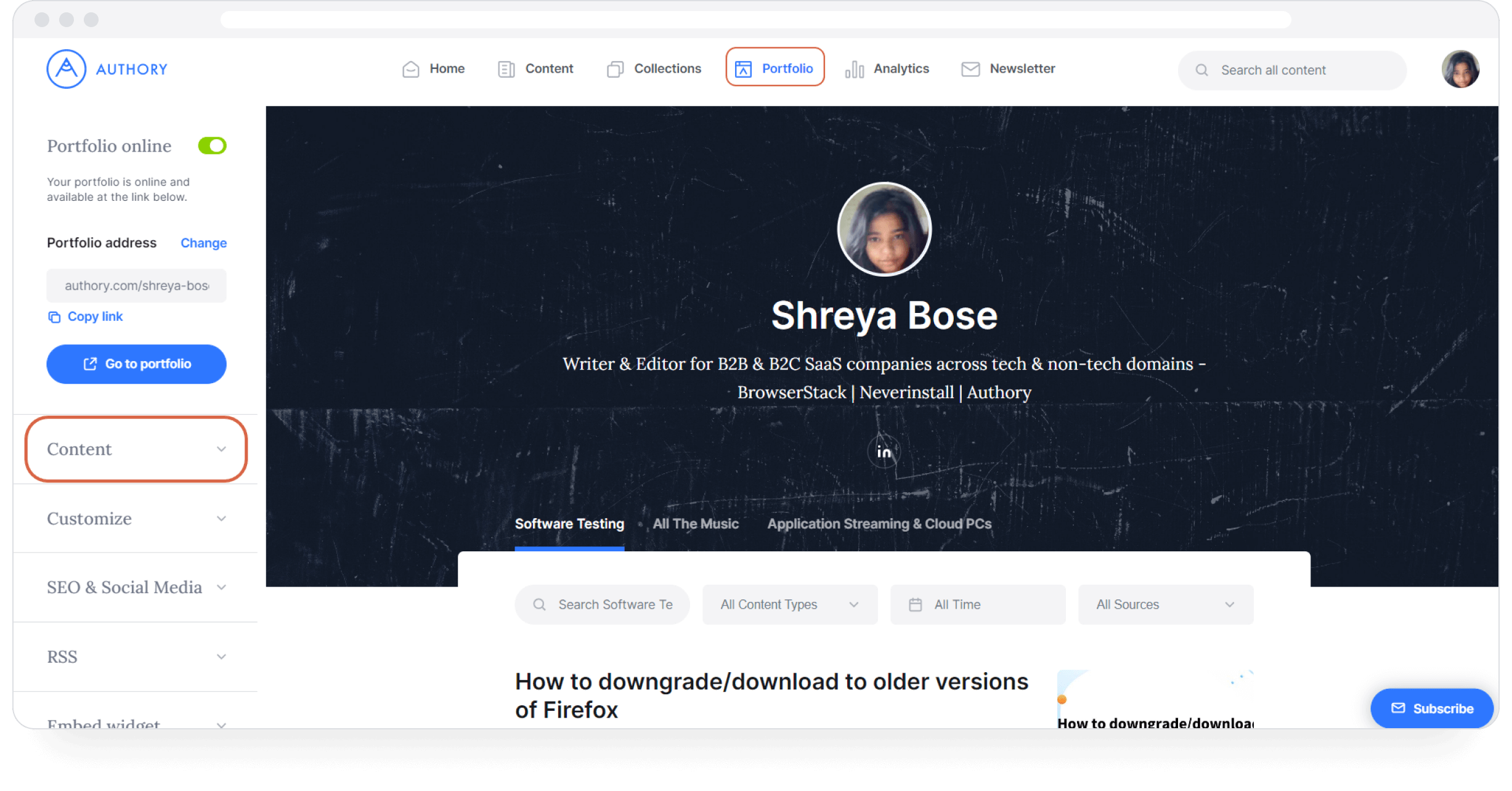 When the Content menu opens up, add the "Podcasts" collection we just created.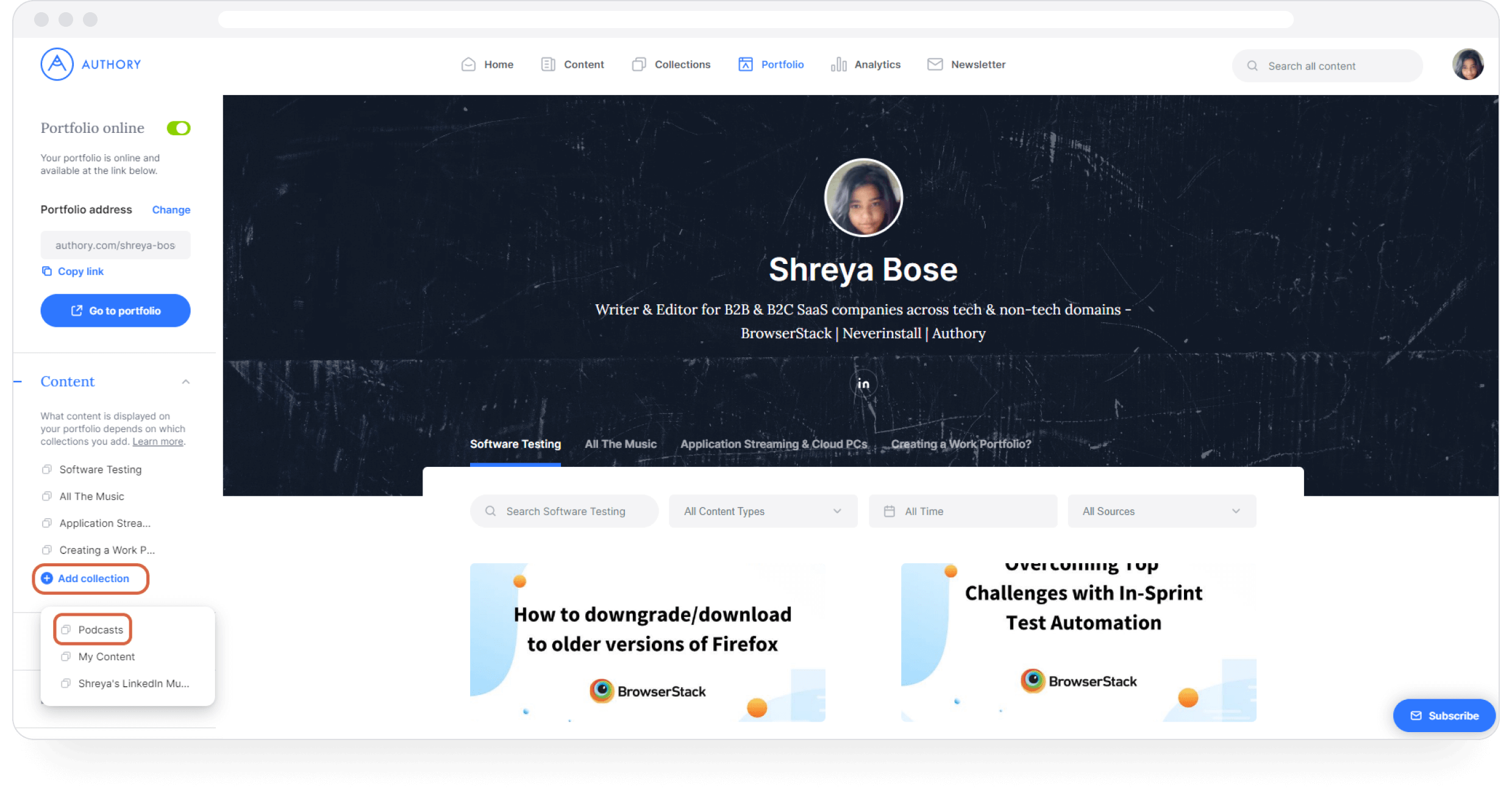 Once you click on the collection name ("Podcasts" in this case), it will instantly be added to the portfolio.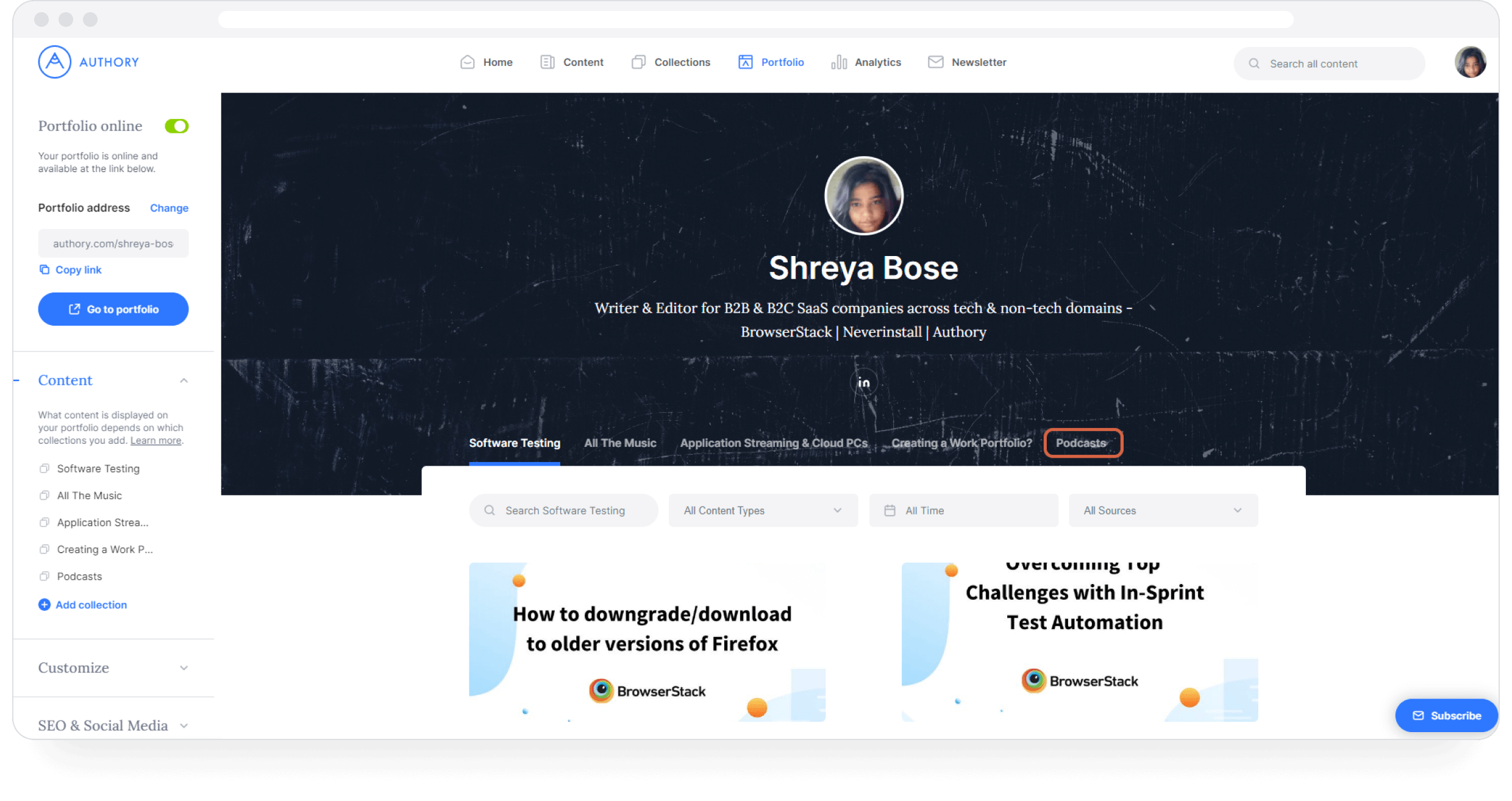 Click on "Go to portfolio" to the left to see what the final portfolio looks like.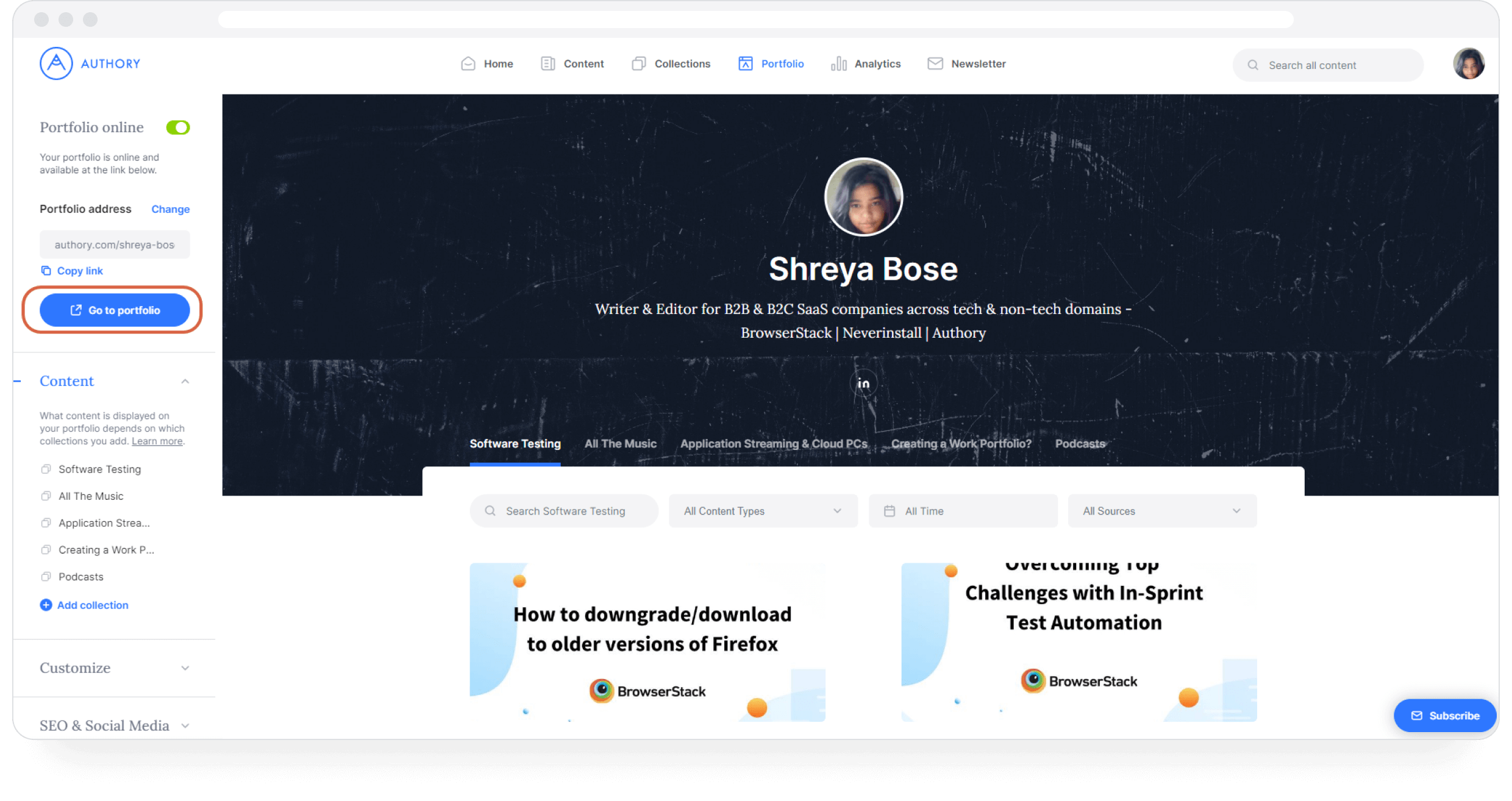 This is what potential clients will see when I send them my portfolio link.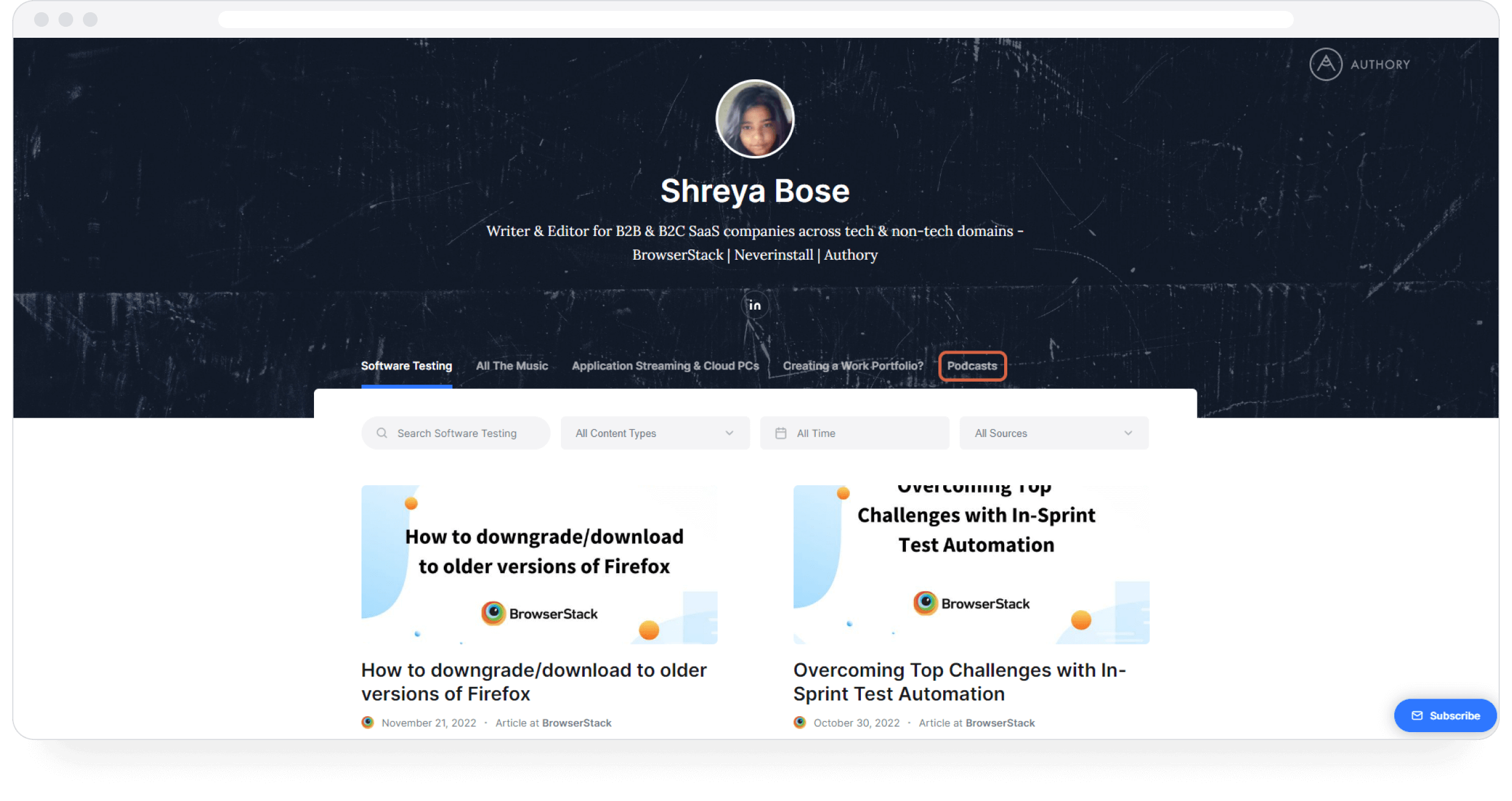 ---
🖱️
Authory is, amongst other things, a portfolio builder & content backup service, used by thousands of top professionals worldwide.
Get started for free now.
---
Examples of podcast portfolios
Here are a few examples of podcast portfolios that should (hopefully) inspire you to create one of your own:
Ana Vanessa Herrero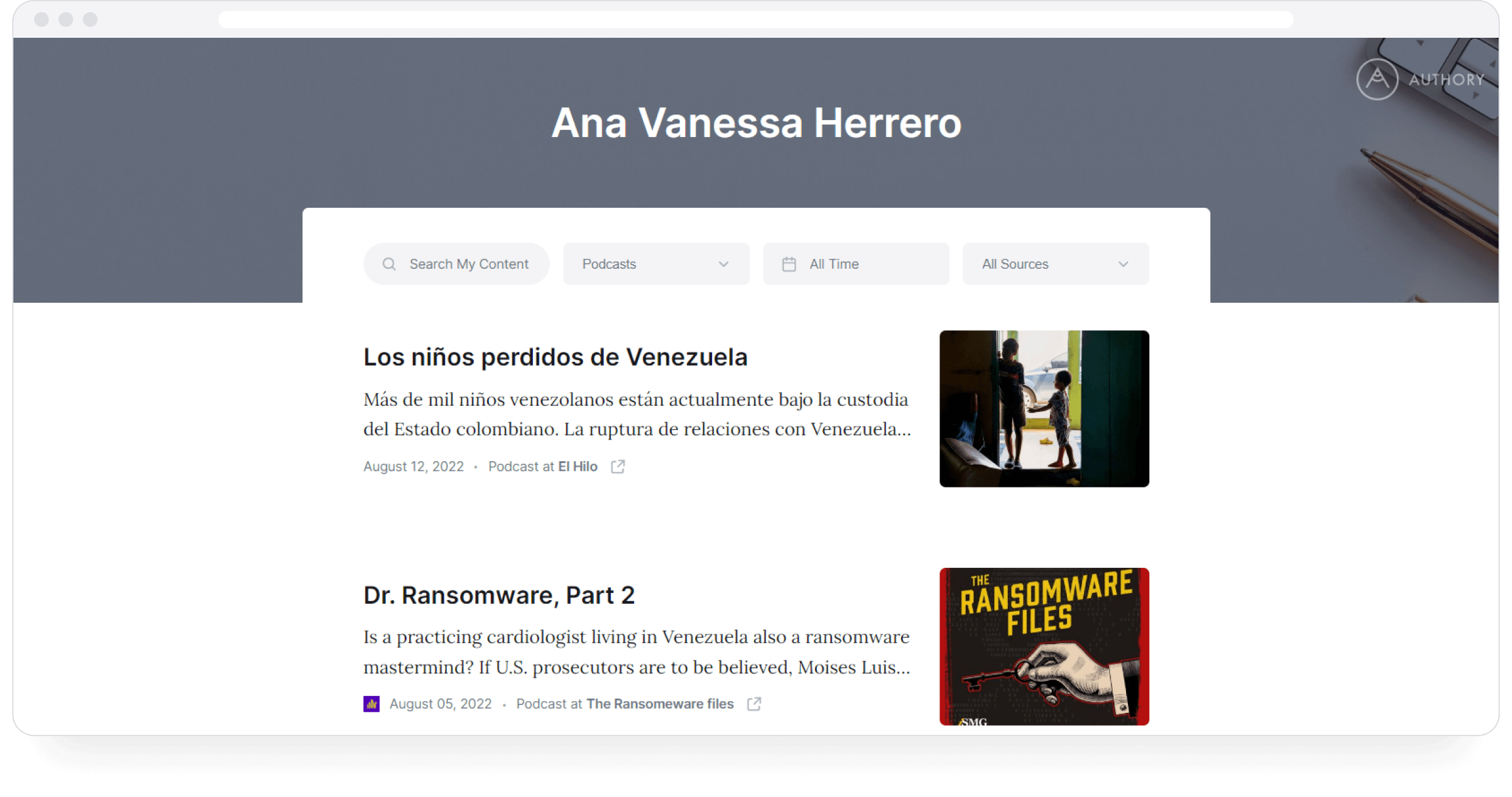 Ana Vanessa Herrero covers and discusses current events in Argentina in both English and Spanish.
Carolyn Hinds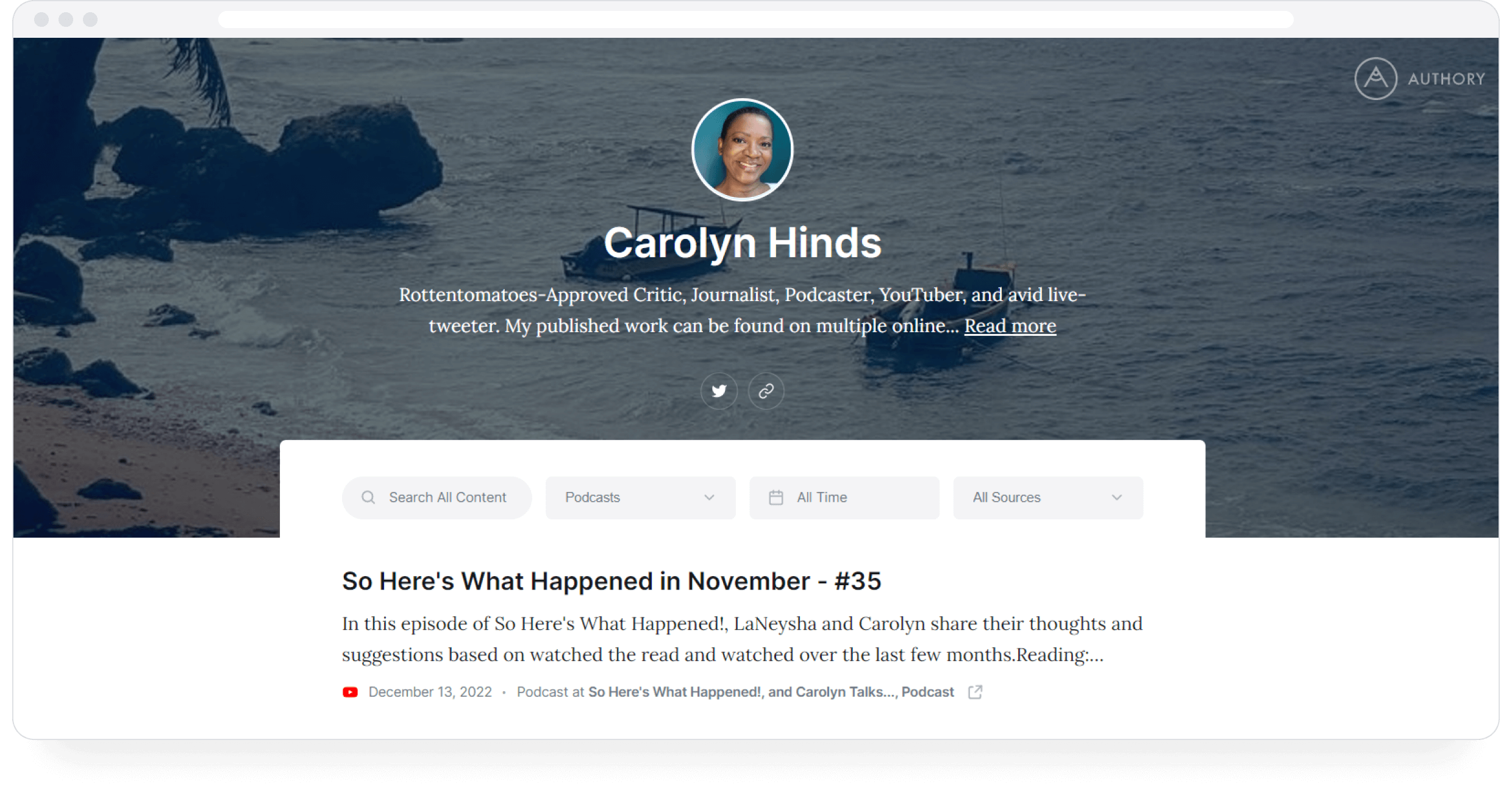 Carolyn Hinds is Critic, Journalist, Podcaster, and YouTuber with publications on ButWhyThoPodcast.com, Shondaland, Observer, Mediaversity Reviews, and others.
Tariq Raouf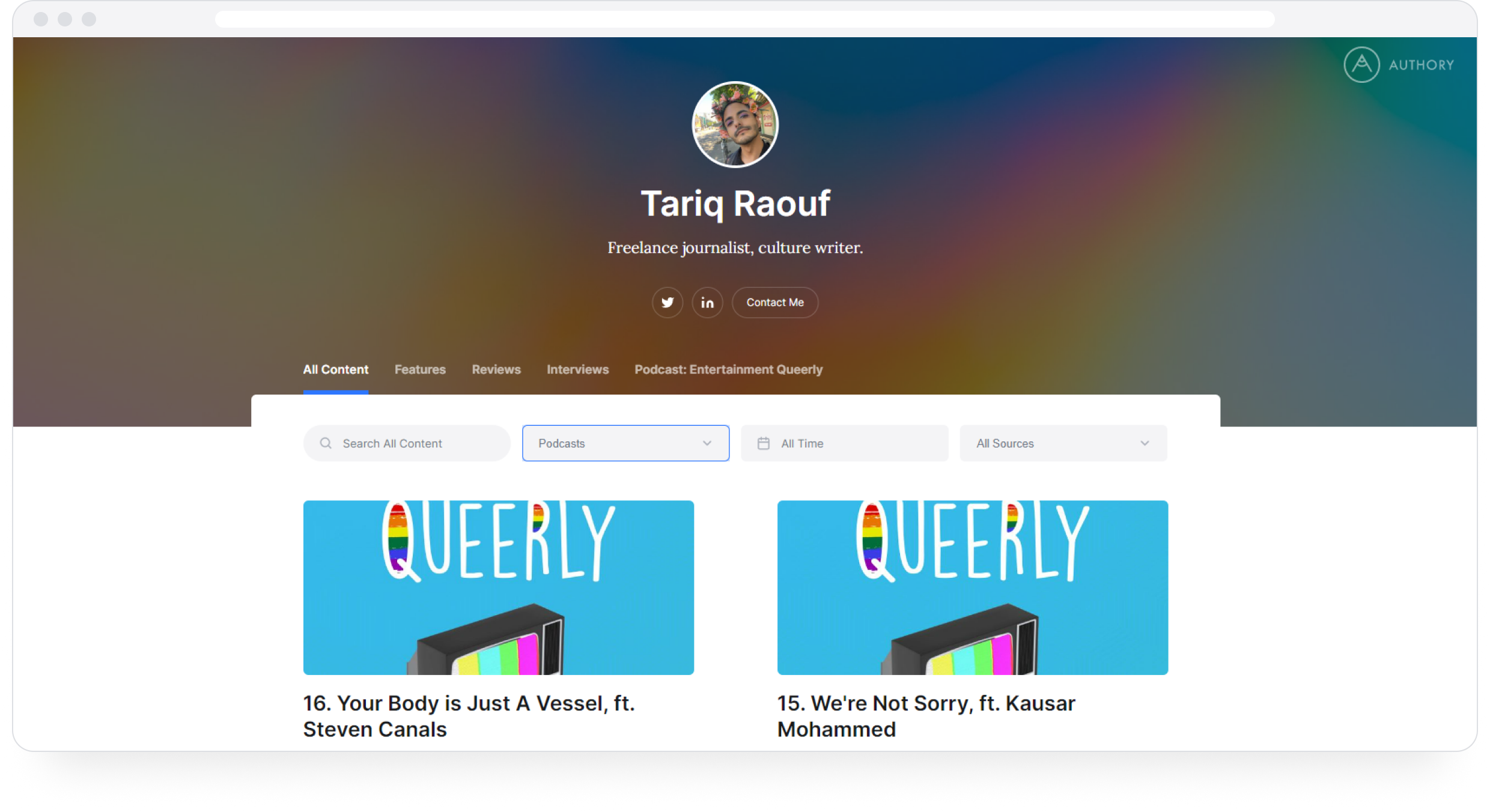 Tariq Raouf is a freelance writer with their own podcast, Entertainment Queerly.
Why use Authory to create your podcast portfolio?
Five words: Automatic imports and automatic backups.
As I demonstrated above, Authory requires you to do very little work. You enter your digital sources and sit back as the tool brings together all your podcasts from all your sources into one place. Then you organize these podcasts into relevant collections (or just a single podcast collection) and feature them on your portfolio.
The process doesn't get any easier than this.
However, I'll still take you through some of Authory's features just to pique your curiosity:
Automatic importing of all bylined content from each digital source you feed into the system. The tool continues to import everything already published, as well as anything published in the future.
All content imported into the database is permanently backed up. You'll never lose an imported piece, even if the original link goes defunct for some reason. No worries about losing the final episode (or any episode) of your portfolio career just because the link died due to reasons outside your control.
The backups are in the original content format: text/media. No screenshots.
Download your content anytime as high-res PDFs or export it as HTML files.
Get email notifications anytime Authory imports a new article.
Your portfolio will be automatically SEO-optimized and responsively adaptive to mobile screens.
Get solid numbers on how your content performs after publication. The Analytics feature shows engagement numbers for your content every 30 days.
Use the newsletter feature to send new content to your subscribers automatically.
Use Authory widgets to display your portfolio on other sites.
Oh, and did I mention you get all this at $8/month? That sounds like a good deal to me, but you should not take my word for it.
However, why not sign up for Authory's 14-day free trial? Check out if my favorite portfolio builder also works for you for free, and I'm pretty sure you'll be tempted to switch to the paid plan like I was.