Why am I comparing portfolio builders? Because when I was looking for one, I was bombarded with options and deeply confused. Squarespace? Wix? Weebly? Portfoliobox? Writer's Residence?
I had other questions too. Should I use a free tool? Should I pay for a portfolio builder? How much can I afford to spend? What should be my primary criteria in choosing a tool to create a portfolio site?
When I finally did find the right fit, I decided to write a few pieces comparing the tools I did consider in the process. In this one, I'll be comparing Adobe Portfolio vs SmugMug vs Authory. I'll also leave links to my other comparison pieces at the end of the article.
Shall we dive in?
📖
What you'll get out of this article:
• My criteria for the "best" portfolio builder
• A detailed exploration of each tool's features
• An examination of why I chose one over the other two builders
What I wanted in my ideal portfolio website builder
An intuitive UI that let me set up my portfolio in minutes.
A completely no-code, no-programming approach. (I cannot even get Python to say "Hello world" these days).
Easy customizability that makes my portfolio site look good. I don't need it to look fit to feature in MOMA, but it has to look sharp, professional, and thoughtfully designed. In essence, I wanted something that didn't require me to have technical or design skills.
Analytics support. I wanted to know how my published articles were performing after publication.
Affordability. I was not going to spend more than $10 a month, especially when I was just starting to freelance.
📖
Note: Honestly, if you are a professional photographer looking to create a photography portfolio, I recommend Adobe Portfolio. If you wish to sell your images, digital and print graphics, consider SmugMug. However, if you are not a photographer but rather a writer, journalist, content marketer, thought leader... basically, anyone working with a non-photography medium, give Authory a thought. I'll explain my reasons below.
Adobe Portfolio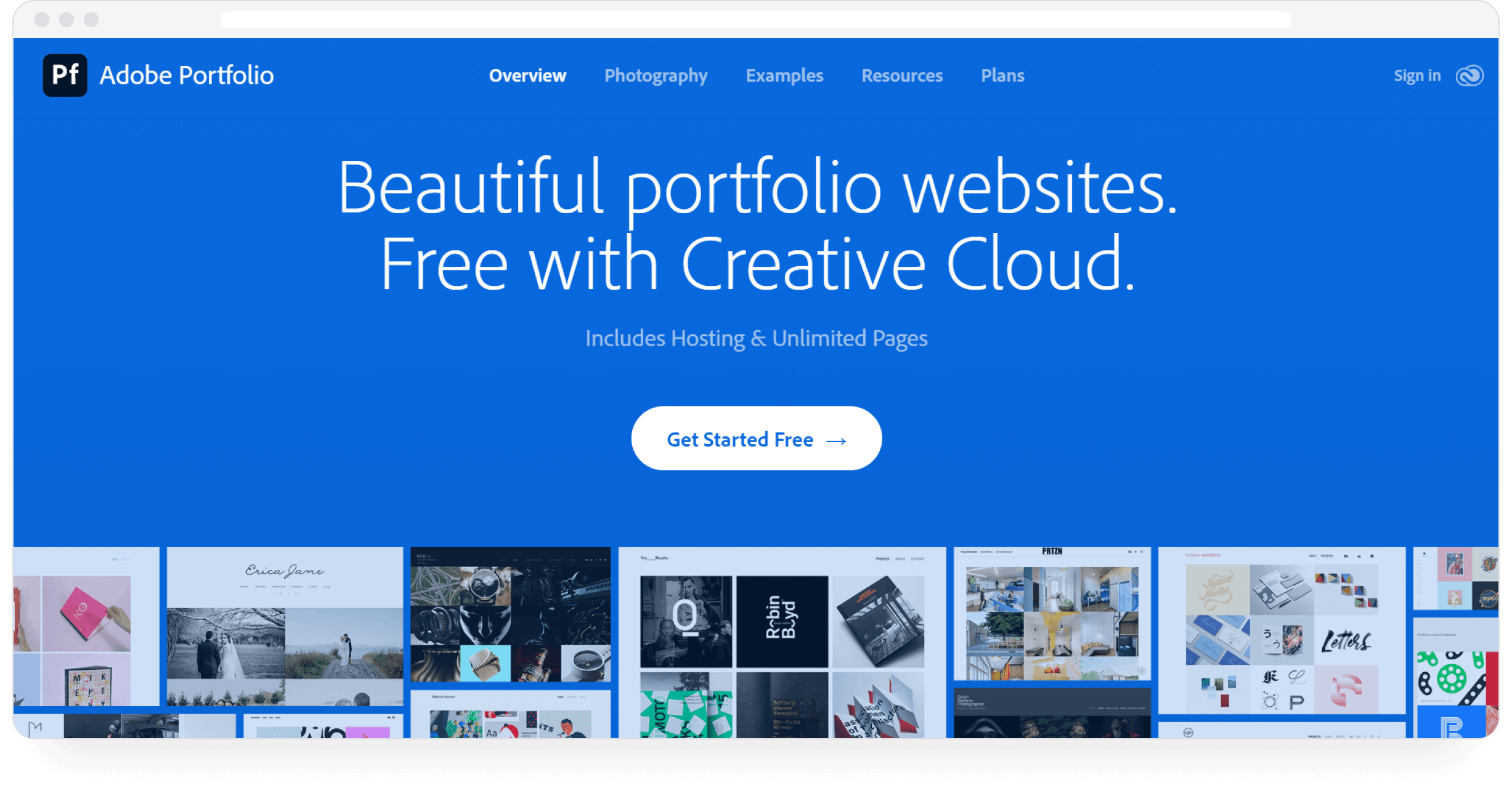 As I mentioned above, Adobe Portfolio is ideal for creating portfolio websites if you are a photographer.
You get it as part of the Adobe Creative Cloud, along with a bundle of other Adobe tools. It stands out because the tool offers specific, unique features that help photographers — such as integration with Adobe Lightroom and Behance.
It allows the creation of a beautiful professional website without requiring much in the way of tech or design skills.
Primary features of Adobe Portfolio
If you're creating a professional website on Adobe Portfolio, expect the following:
If you have a subscription to Adobe Creative Cloud, you have Adobe Portfolio by default.
Offers themes equipped with responsive design, optimized for mobile screens.
Allows building of single and multiple-page portfolio websites.
Adequate customizability with pre-set elements that look excellent as the finished versions.
Easily imports images from Adobe Lightroom and integrates with Behance.
Lets you use Adobe Fonts.
Offers dynamic galleries to arrange photo grids and include photos from Lightroom.
Allows password protection of single or multiple pages of your Adobe Portfolio website.
Allows the use of a custom domain, but you'll have to register and host it manually. Conversely, a domain through Adobe Portfolio and Namecheap will host your site. You'll have to set everything up manually.
Adobe Portfolio's price
Adobe Portfolio comes bundled with Adobe Creative Cloud, priced at:
Creative Cloud — Photography: $9.99/month
Creative Cloud — All Apps: $54.99/month
Portfolios built with Adobe Portfolio
ilustraminacje (Kamila Romaniak) is a freelance illustrator from Poland.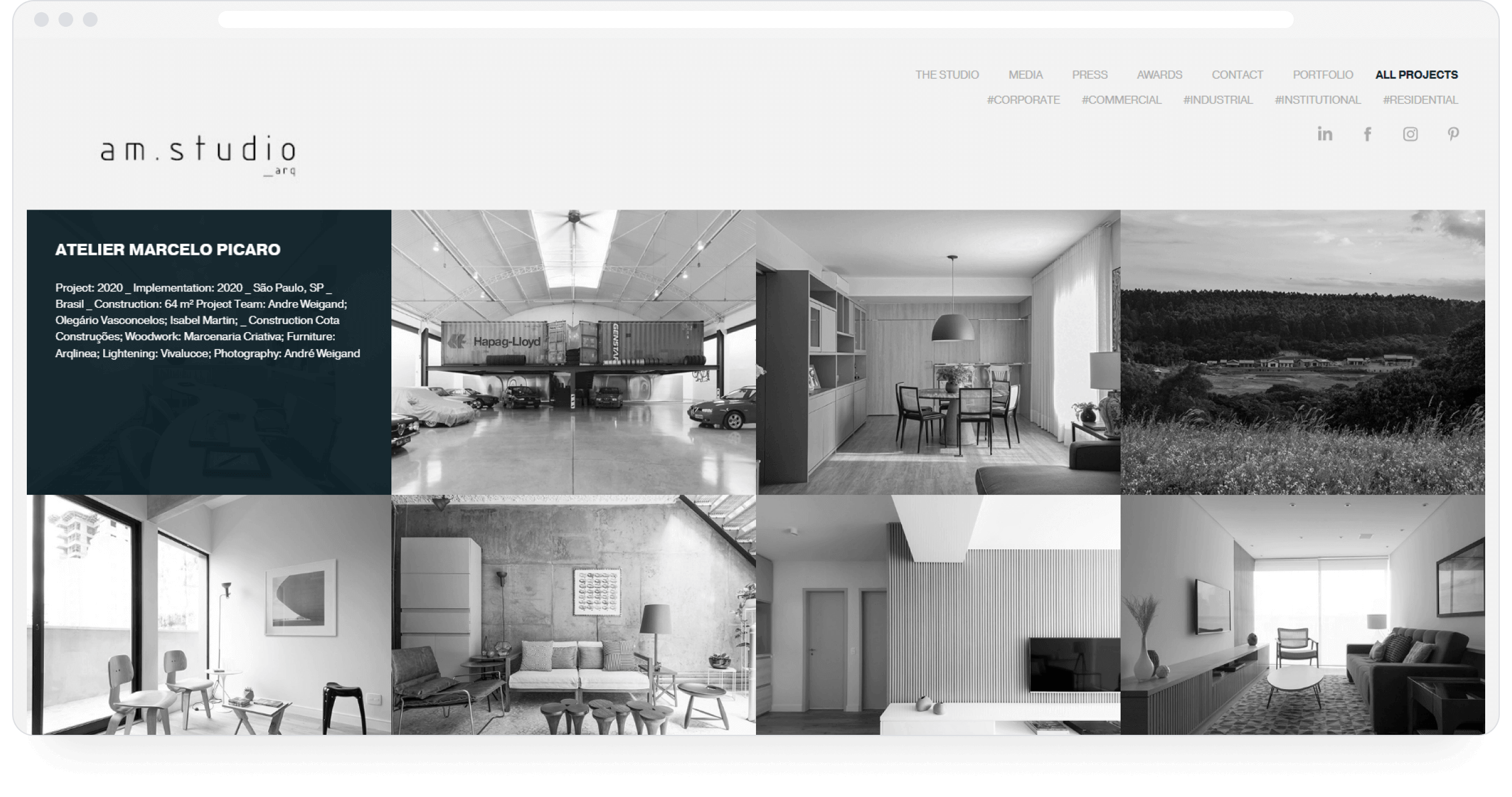 am studio de arquitetura ltda is an architectural studio based in Sao Paulo.
SmugMug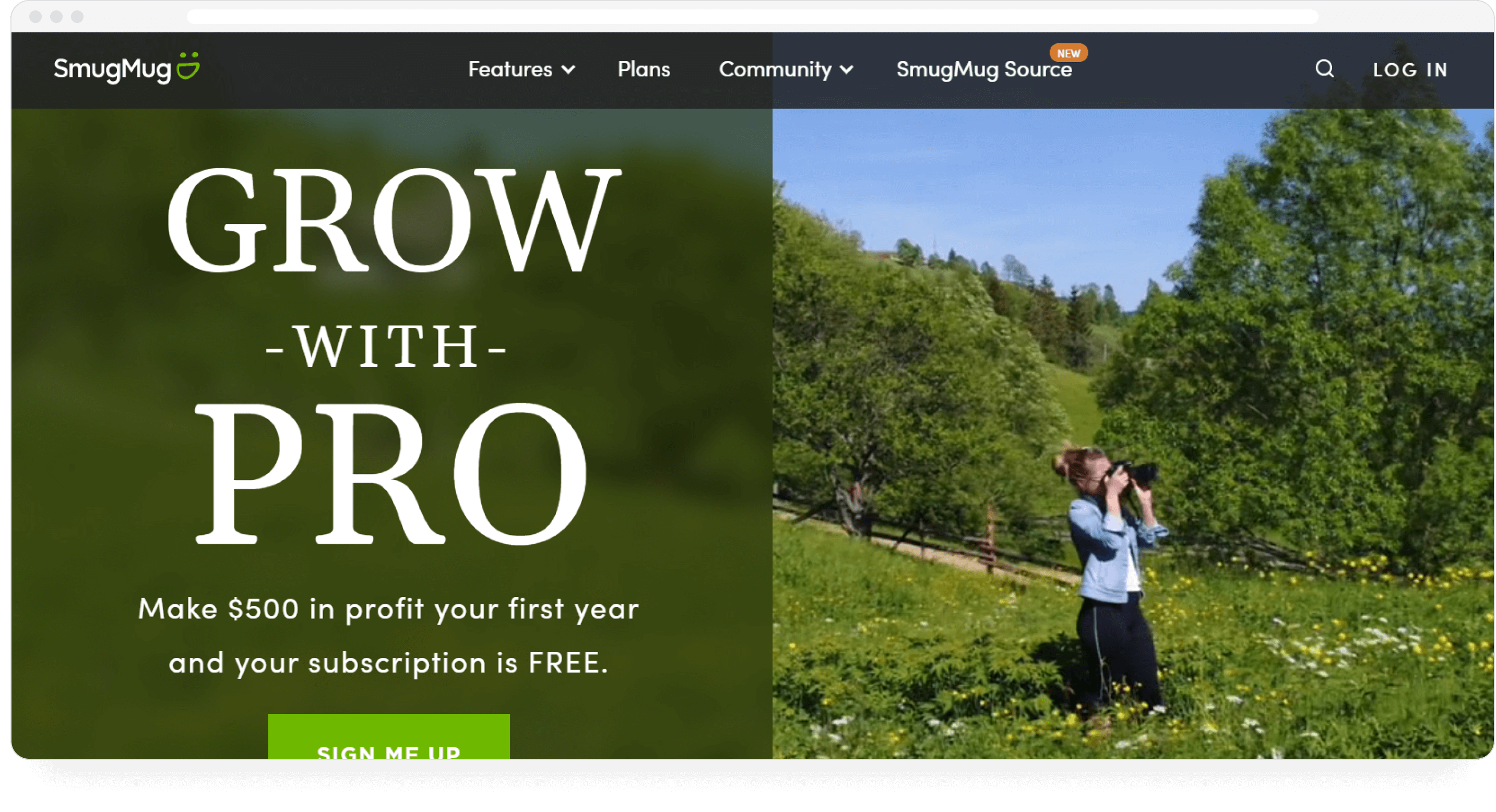 SmugMug doesn't just let you store or showcase your photos; it also helps you sell them via an online store. It gives you the freedom to display your work exactly as you want it to.
Beyond its repository and eCommerce services, SmugMug also comes with an in-built website builder, ideal for building your portfolio. Bear in mind that SmugMug itself calls this tool a "photography website builder," so you know exactly which audience they are catering to.
Primary features of SmugMug
Professionally designed templates built to impress your prospective clients.
Provides a custom domain name with automatic SEO optimization.
Allows HTML and CSS customization for coders. However, you have plenty of options with the builder, even if you don't code.
Easy, stress-free customizability with a drag-and-drop editor for website design.
Allows users to apply their own custom themes on the whole portfolio site or on specific galleries.
Unlimited, zero-compression photo storage.
Extensive privacy controls for all your uploaded/stored images — especially important if you're running a photography business.
SmugMug's price
Power Plan: $15/month
Portfolio Plan: $33/month
Pro Plan: $50/month
Portfolios built with SmugMug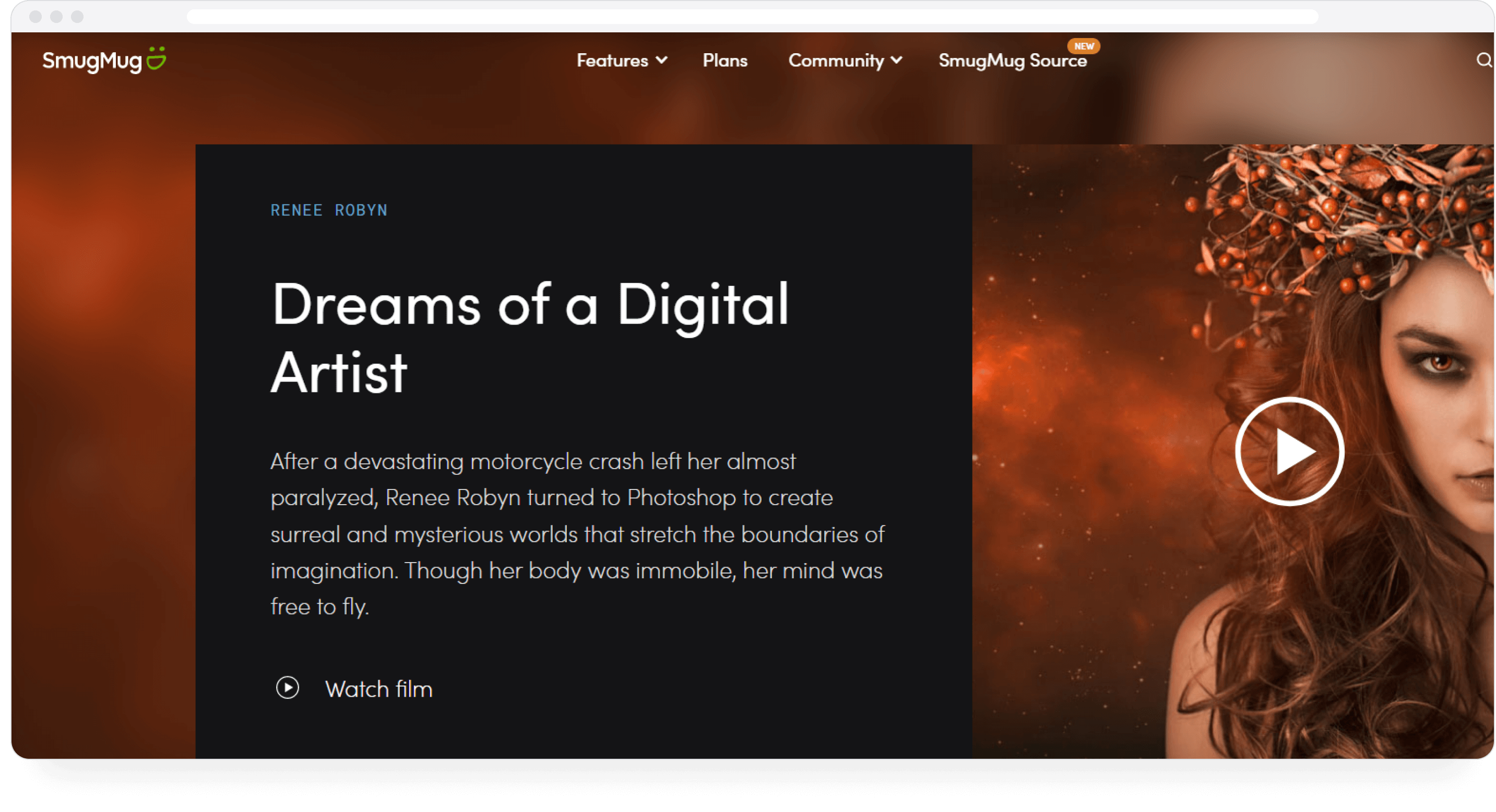 Renee Robyn is a digital artist who started exploring when her body was rendered immobile because of an accident.
Brent Gilmore loves being a dad and uses his camera to showcase exactly how much.
Authory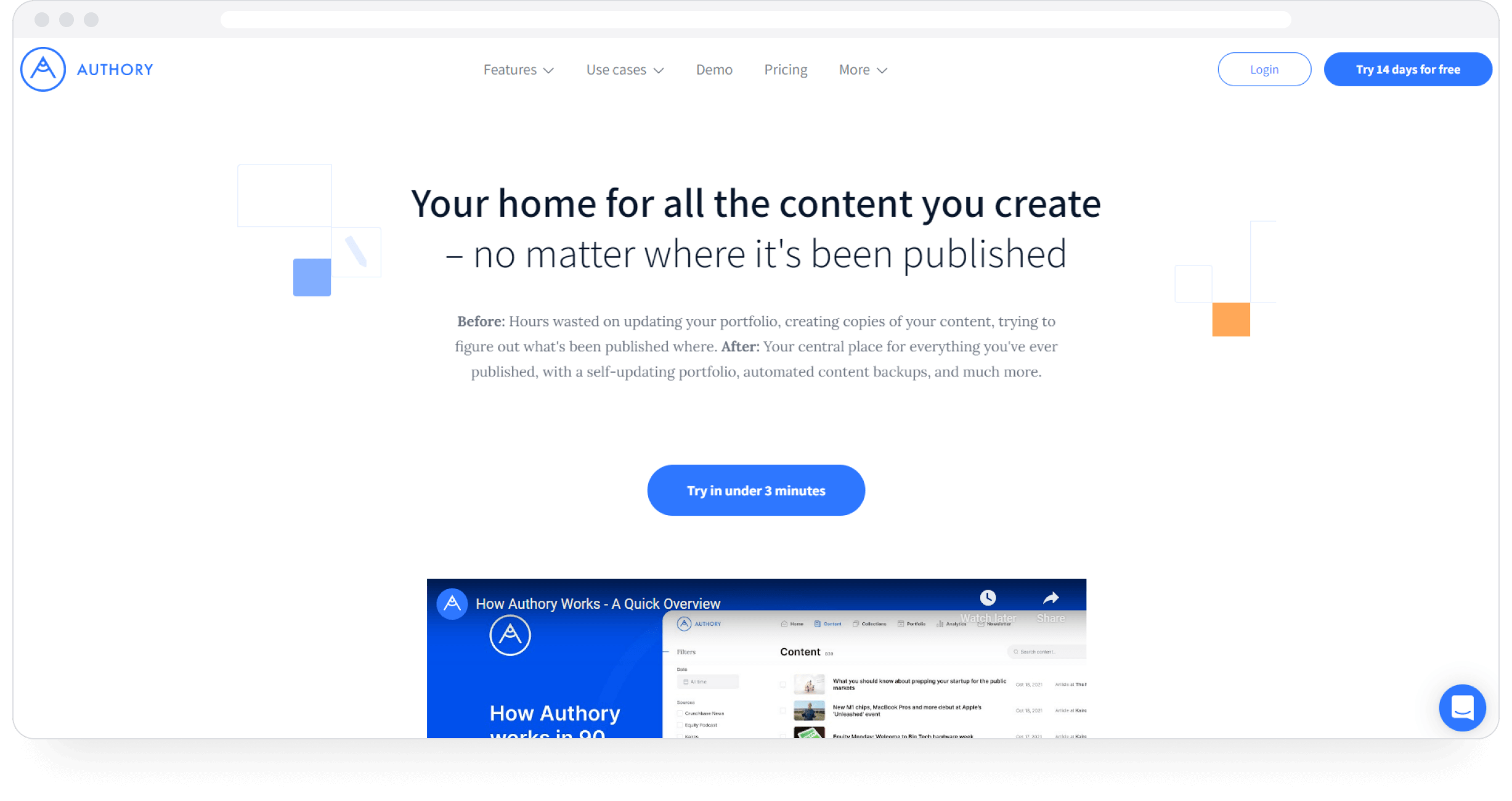 Unlike the previous tools, Authory doesn't exclusively cater to photographers. This portfolio builder serves a wider user base — writers, journalists, thoughts leaders, content marketers, and the like.
The big draw of Authory is that it creates the portfolio for you. You enter the digital source (the URL of websites where your pieces are published), and every bylined article is automatically imported into the database. Then you just organize them, click a button to add them to your portfolio, and you're all set with just a few clicks.
Authory allows importing and adding content in text, audio, and video formats. Many Authory users create broadcast-quality videos, publish them and/or appear in podcasts. They showcase this content on their Authory portfolio just as easily as text-based content.
Primary features of Authory
Automatic importing of all bylined pieces, as explained above. Not only does Authory import your existing content, but it also continues to import all pieces you might publish on those same sites in the future.
Permanent backups of all imported content. Did the source link die? Did it become a redirect? No worries. You still have your content safely on Authory.
All backups are in the original content format, i.e., text/media. No screenshots here.
Customization options that require minimal effort to make the portfolio look great. There is a pre-set design, but you can upload your own banner image. You can also move around profile elements to finalize an aesthetic version you like on your portfolio.
Download your content anytime you want, as high-quality PDFs, or export them as HTML files.
Get email notifications every time a new piece of yours is imported.
All portfolios are optimized for SEO and responsive to mobile screens.
Get solid analytics numbers (readership, engagement, etc.) every 30 days.
If you have subscribers, you can use the newsletter tool (with like two clicks), and Authory will automatically send out all your new content. Two clicks, and your readers/viewers never miss a new post from you.
If you have a personal site, you get a widget that displays your work on said site with, again, a couple of clicks.
Authory's price
$8/month
Portfolios built with Authory
Ali M Latifi is a Kabul-based journalist.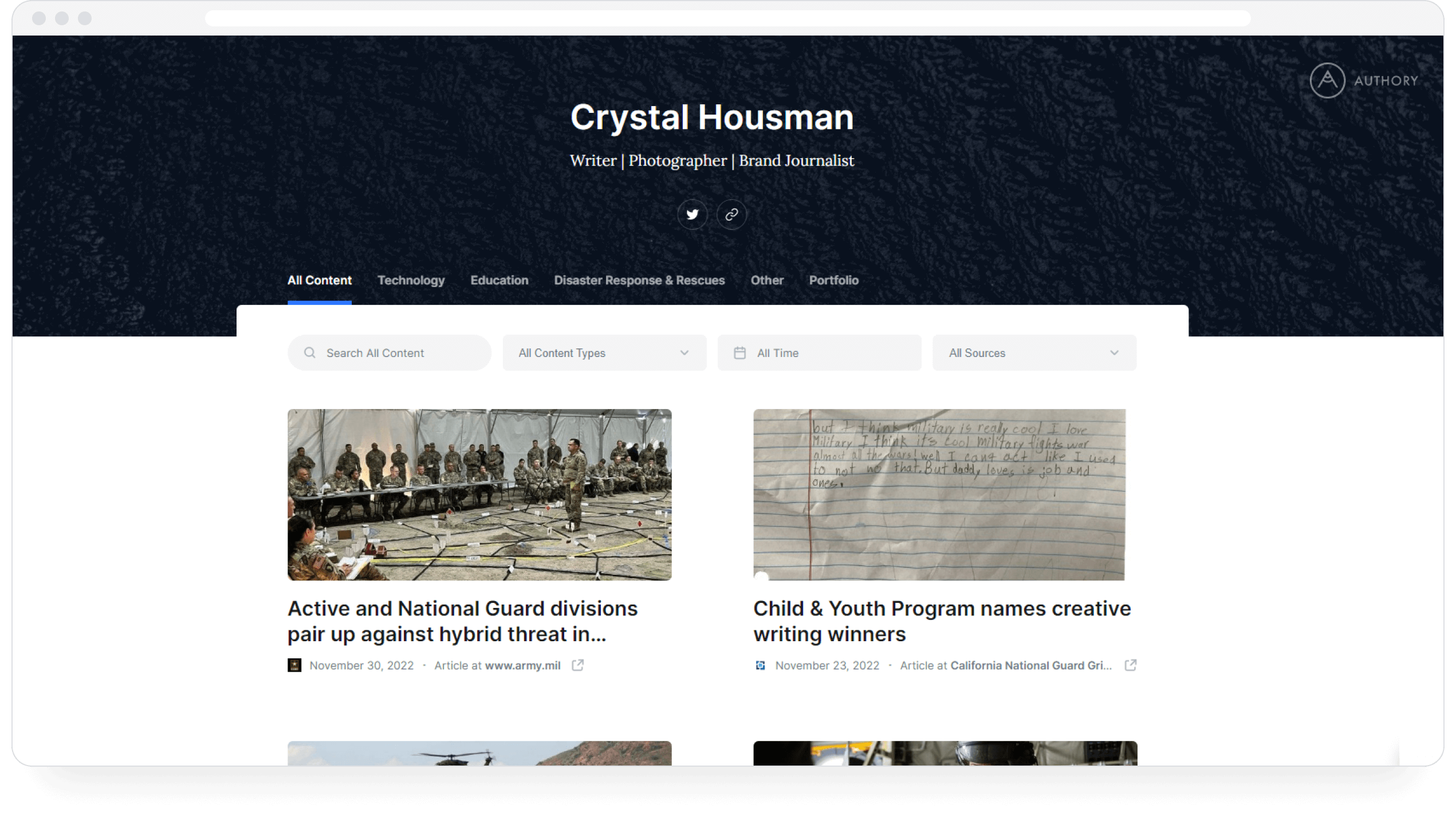 Crystal Housman is a writer and photographer who uses Authory to save and showcase her articles.
My eventual choice: why Authory was the one
I think it's evident by now, but I'll just say it out loud so we're on the same page.
I chose Authory because the other two tools weren't even built for my profession. If I am not a photographer or provide other photography-related services, neither Adobe Portfolio nor SmugMug makes any sense for me. However, if you do something visually arresting or emphatic (like if you design or print graphics), you should absolutely give both these tools a shot.
Authory gave me a feature I didn't know existed, and it made life a lot easier. Automatic importing of all my articles, no matter where they were published (as long as I remembered the website name, of course), made choosing Authory a no-brainer.
It also satisfies my other criteria — user-friendly search interfaces, an affordable price, and analytics support. I don't need much in the way of business functions or online marketing integrations, so I am good to go.
Folks across job markets and domains use Authory. Customers write science books, design social media posts, talk about narcissistic disorder, and the like. Even professional photographers (like Crystal's portfolio above) use Authory to keep their articles, videos, and/or podcasts permanently backed up and updated.
Authory's compliant cloud infrastructure ensures that your work is never lost, be it in the past or future.
And last but definitely not least, Authory is worlds cheaper than the other two tools. $8 every month for a tool that lets me nap precious extra minutes every morning.
If you're curious, sign up for Authory for free!