Earlier this year, I quit a terrible job with only a single contract that paid me about 1/4th of my monthly salary. Yes, the job was that awful.
I had to get work, and fast.
As a freelance writer, I needed an immaculate (or close to such) résumé, and, more importantly, an online portfolio. No matter where I applied, potential clients would want to see what I wrote and published so far.
Now, I couldn't very well send across a list of links on a Google Doc (I've done that before, and I regret it). Thankfully, my ex-manager (one of the few decent things at that awful job) turned me onto professional portfolio builders, as well as a few exceptional portfolio websites I should try to emulate (not plagiarize, but find inspiration).
I went through quite a few of these portfolio builders and decided it's worth making a quick comparison between the three that stood out to me — Journo Portfolio, WordPress, and Authory.
What I looked for in the ideal portfolio builder
The features that I was primarily looking for were:
An easy, intuitive UI that lets me set up a professional portfolio quickly
The ability to upload content in different formats (text, audio, video)
Ability to customize (at least, to some extent)
Some insight into content analytics
A reasonable price point
Now, let's explore each portfolio site — Journo Portfolio, WordPress, and Authory.
Journo Portfolio
It's got "journo" in the name, so I figured this was a tool meant for writers and journalists in particular — something similar to Muck Rack.
However, this tool caters to writers, journalists, copywriters, photographers, illustrators, artists, designers, and individuals in various professions. More than 250,000 people have used Journo Portfolio to build their portfolios, so it's definitely got something working for it.
Primary features of Journo Portfolio
Allows you to import your work samples in multiple formats: PDF, image, URLs, embeds from multiple external sources like YouTube, SoundCloud, Vimeo, Spotify, Twitter, Facebook, Instagram, etc.
If you enter the URL of an online article or any sample to be added to your portfolio, the tool will extract the title, publication date, image, description, and publication name.
An impressive library of pre-designed sections and themes you can combine to craft a portfolio relatively quickly.
A decent number of design options you can use to play around with your profile's aesthetics without much hassle. For example, you can showcase your work in a grid, a blog, a column, or an image gallery.
Imported content is backed up, so you won't lose the work even if the source website dies for some reason. However, the backup is in the form of screenshots.
Availability of passwords and secure-link privacy options helps to limit access to the portfolio — be it a single page or the whole thing. This is helpful if you want to hide your profile from your current employer when searching for a new gig.
Quick and private analytics support that tracks visits and engagement with your portfolio website. You can also integrate with Google Analytics.
Ability to add a contact form and social media links to your portfolio.
Blogging and newsletter features (linked with Mailchimp and social media accounts) to help build a following.
Here are a couple of examples of portfolio websites created with the tool:
Sanskrita Bharadwaj is a writer with a set of excellent pieces for you to peruse.
Kathryn Brudzinski's portfolio displays the work she has done as a student journalist at the University of Central Florida.
David Blackwood grew up in a Christian cult in the middle of nowhere in Northeast Brazil. His online portfolio has pieces on everything from the war in Ukraine to hiring the best software developers.
Journo Portfolio's Price
PLUS plan: $8/month
PRO plan: $12/month
WordPress
This one's a no-brainer, right? WordPress is the most popular website builder in the world, and thousands of people, across literally all professions, have used it to build stunning portfolios to showcase their work.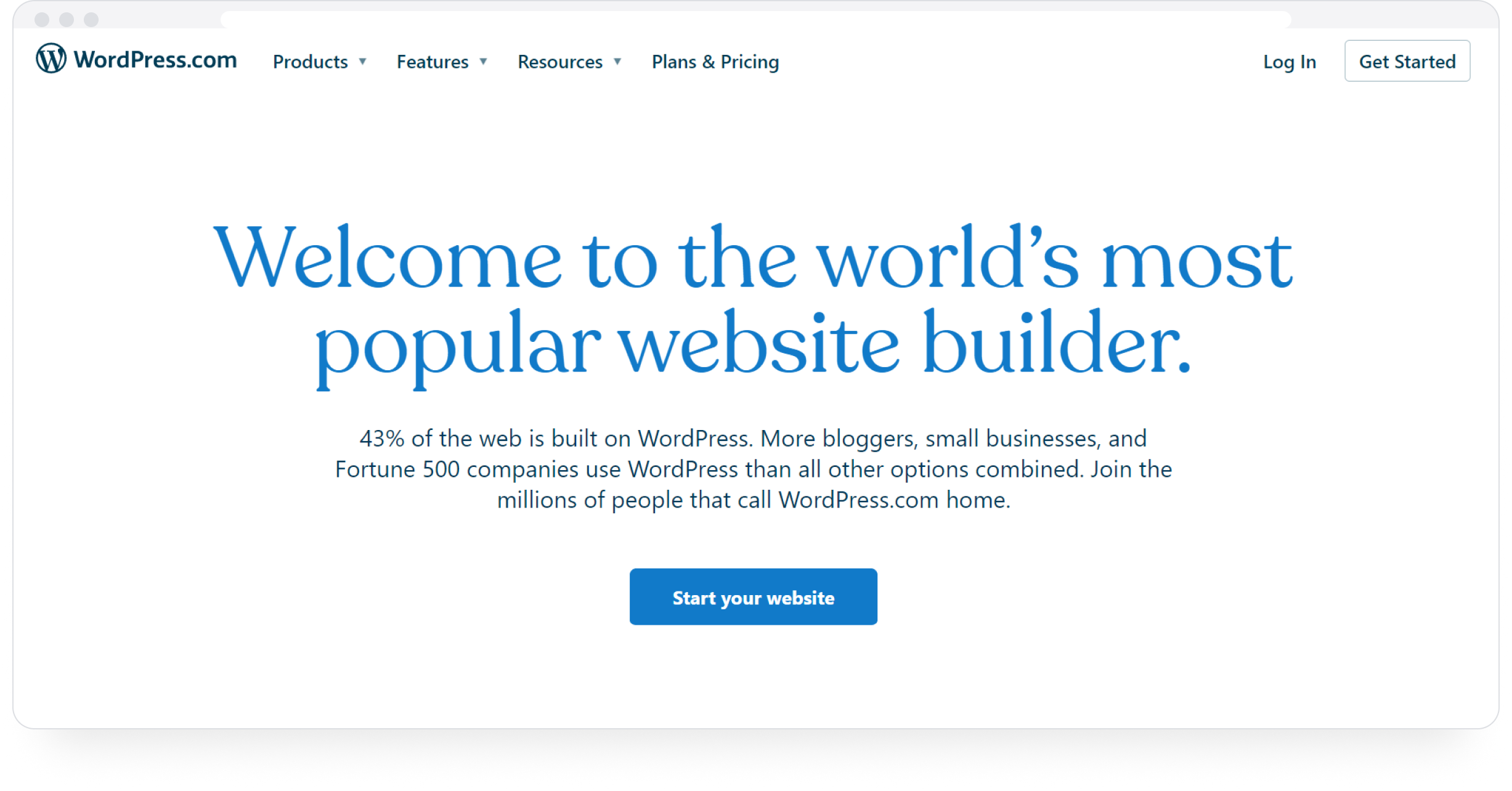 As it is well-known, you can use WordPress to create layered, rich, and eye-pleasing websites with relative ease. Unless you want something exceptionally complex (like custom fonts that require back-end access), you can whip up a solid portfolio site within 20-30 minutes or so (probably faster, but I was moving slowly that day).
Primary Features of WordPress
Build entire sites with no coding.
Massive library of sharp, polished, and aesthetically different layouts.
Ability to launch newsletters with a couple of clicks.
Simplified designing protocols — add everything from photo carousels, maps, tiled image galleries, and forms with a click. You don't need a professional designer to make your site look good.
A wide range of design elements is supported — text, photos, forms, Yelp reviews, testimonials, maps, etc. All these elements are moveable, and you can shift them around until you get the visual effect you want.
Literally, thousands of easy‑to‑install add‑ons to expand your site's functionality — capture leads, insert contact forms, institute subscriptions, automatically backup your site, and do much more.
Ability to sell directly from your site. So, if you're a writer, you can add the option for people to buy your books directly from your portfolio website.
In-built SEO tools.
Availability of custom domain names.
---
---
Now, let's look at a few portfolios built with WordPress: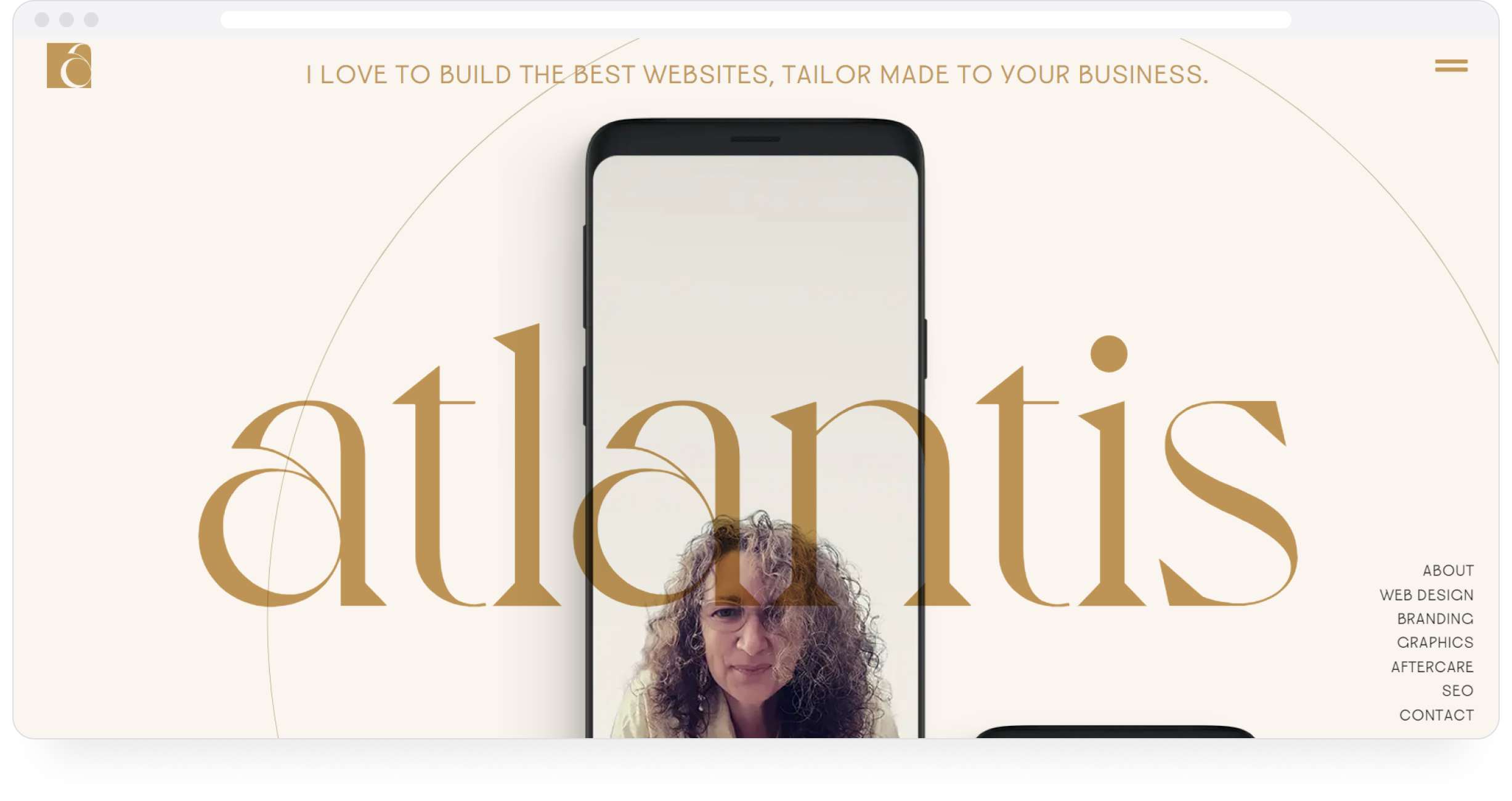 Atlantis is a web designer with a graphic design background. She provides responsive web design, company branding, graphic design, hosting, aftercare packages, and SEO assistance for small to medium-sized businesses and start-ups throughout Ireland. Her portfolio is exceptionally creative and features dynamic templates.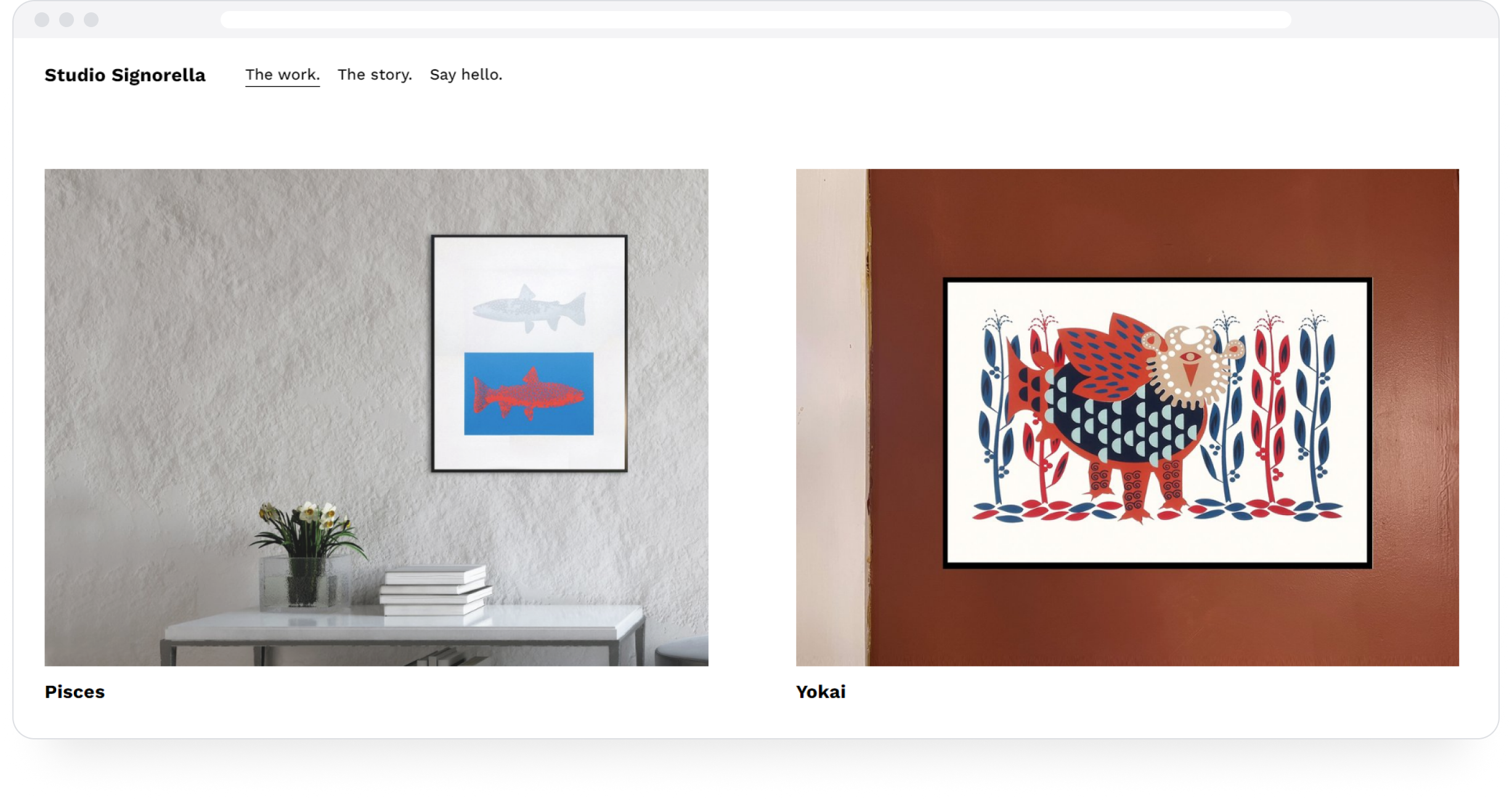 Studio Signorella features unique silkscreen prints, custom-made, including the material and colors. The page features product samples, as well as a very well-written About section (titled "The story").
99% Invisible is a wildly popular podcast about design. Their portfolio site features unique design elements and even an integrated podcast player — courtesy of WordPress add-ons.
WordPress' Price
Personal Plan: $4/month
Premium Plan: $8/month
Business Plan: $25/month
eCommerce Plan: $45/month
Authory
I actually found Authory completely by accident. A friend had made her portfolio on this tool, and she insisted that it was a great resource for freelance writers. I can now say it's an excellent resource for everyone, especially writers, editors, content marketers, journalists, and thought leaders.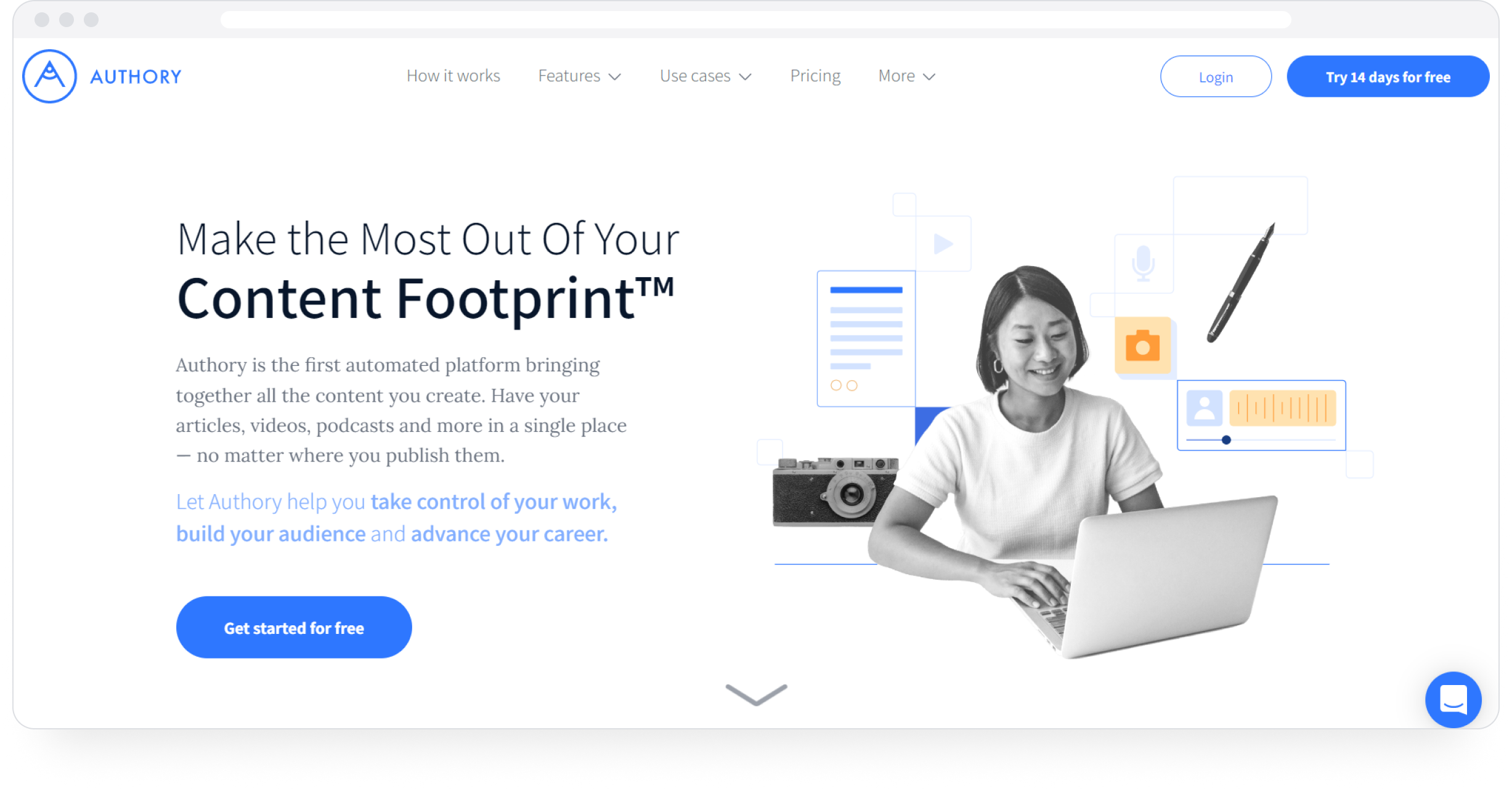 Primary Features of Authory
Automatic importation of ALL your content on any digital source. Simply enter the URL of the source publication, and ANY content pieces with your byline will be imported.
This includes content that has already been published, as well as anything published in the future. Essentially, Authory automatically builds your portfolio for you while you sit back and relax (or nap, like I did).
Once you've entered a content source, anything published with a byline will be automatically imported. In other words, Authory keeps automatically updating your portfolio whenever you publish something new.
All content is automatically and permanently backed up, irrespective of the existence of its publication source. Once again, this applies to both your past and future content.
Backups are not screenshots but in the form of real text and/or media.
Easy customization options ensure that whatever you do with your profile's aesthetics makes it look sharp, sleek, and professional.
Ability to export any of your content anytime. No lock-ins anywhere.
Ability to download any articles as professional-grade PDFs.
Email notification anytime a new article has been imported and backed up.
Mobile and SEO optimized.
Ability to categorize content in the form of "collections".
Analytics support for past and future content, literally anything that has been imported. This feature works without having to access your personal or work social media accounts.
Ability to create automated newsletters that will send out newly published content to followers without any intervention.
Offers widgets to display your content/collections/portfolio on other websites.
Now, on to a few Authory portfolios: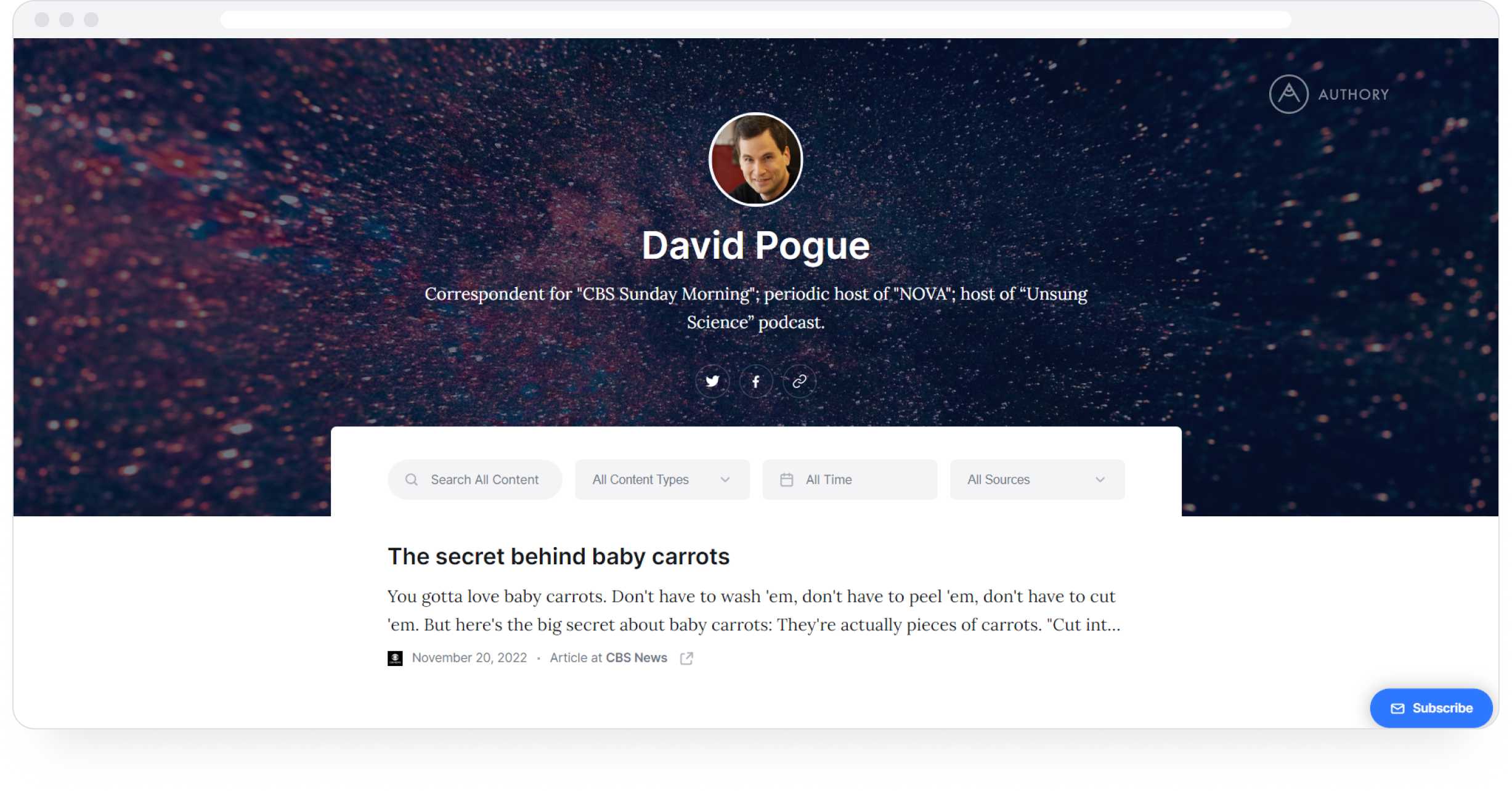 David Pogue is a six-time Emmy winner, a New York Times bestselling author, and a five-time TED speaker. His portfolio features pieces exploring the Titanic, baby carrots, gerrymandering, and more.
Melissa Kalt calls herself a "Solver of Unsolvable Problems," "Master Healer," and "Antifragile Narcissist Survival Expert." Her portfolio contains text and video content with eye-catching titles, to say the least.
Kabul-based freelance journalist Ali M Latifi has contributed to major publications on issues specific to Afganisthan and the Afghan people. His portfolio showcases an impressive range of hard-hitting investigative pieces.
Authory's Price
$8/month
My Final Verdict: Why I chose Authory
I know I write for Authory, which will probably make my choice seem biased. And while I could say that I was impartial when I selected Authory to host my portfolio, I think it's best just to list my reasons.
Automatic importing of past content: I've been writing professionally since 2017, and I definitely did not have a list of everything ever published under my name. So, I'd have to Google and look for older pieces if I wanted to show them to anyone, client or otherwise. But since I got on Authory, my Googling days (for this) have ended. Everything published under my name is in one searchable dashboard.
Zero maintenance: Again, anytime I publish something new, it is automatically imported into my portfolio. Authory finds and imports new pieces all by itself. As long as I have fed the source URL into Authory, I don't have to worry about any of my publications being left out of my portfolio.
Analytics support: Authory's analytics engine monitors how all of my pieces performed on the web and on popular sites like Facebook, Twitter, LinkedIn, and more. It doesn't just check how many people visit my portfolio but tracks the larger interaction of my work with the global digital ecosystem.
Permanent backup: Outside of the demanding deadlines of my daily work, I prioritize naps over most other things in the world. It's nice to have Authory do the hard work of finding all my content and saving it forever while I finish a 2500-word article and get some much-needed shut-eye. It also helps that backups aren't screenshots but actual, editable text and media. Helps keep that sense of control, y'know?
No need for add-ons. Installing add-ons to get the features I started right now (as I would have to do on WordPress) was a bit too much work for me, especially in light of those deadlines I just mentioned. Obviously, I would have done it if I didn't have Authory as an option. But I did, and the minimal setup effort really made it an asset rather than another tool I had to spend my somewhat limited free time on.
In case you're curious, here's my portfolio on Authory: authory.com/shreya-bose
However, I insist that you don't just take my word for it. Sign up for the 14-day free trial, and see for yourself if the tool fits your needs. It certainly did so for me, and I am decidedly satisfied with my choice. No regrets.