After 8 years as a full-timer, I quit my job this year in an attempt to be a freelance writer. For the first couple of months, I couldn't get editors/managers/recruiters to reply to my emails to save my life.
It wasn't because my work sucked (I checked), but because I used a basic Linktree list of a few publications as my portfolio. Editors weren't impressed by a couple of articles published over the span of half a decade. I wasn't projecting consistency, just a few rare instances of quality.
When one of the interviewers was finally kind enough to point out I needed a real portfolio. Naturally, I buried myself in research until I found the exact right tool to build my portfolio website. Along the way, I gathered quite a bit of info about major portfolio builders and a few best alternatives for much.
In this article, I'll list and discuss 10 alternatives to clippings.me, a widely popular tool for writers to create their own portfolio websites. I'll also give you a little glimpse into the portfolio builder I eventually chose to create my online portfolio.
A brief overview: What is clippings.me?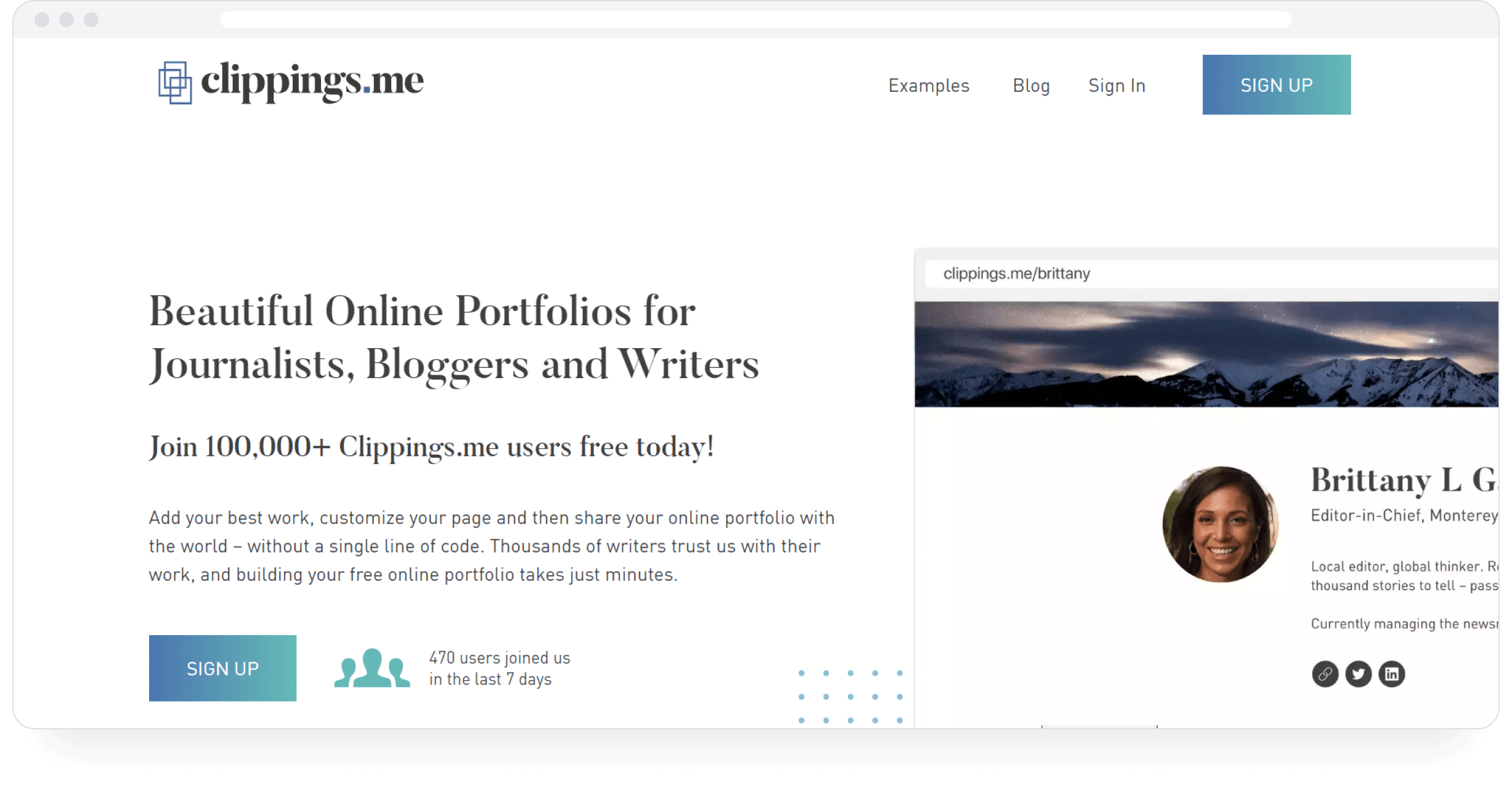 Clippings is specifically designed to help writers, journalists, and bloggers create online portfolios to showcase their publications and work samples. It's largely popular because it serves a specific niche and requires no coding experience to set up a beautiful writing portfolio website.
You just add your publication links, customize the portfolio layout with your own image or one from Clippings' library and go live.
Feel free to add PDF files and online publications to your professional portfolio website built on Clippings, as well as Vimeo, YouTube, and SoundCloud files. It also lets you leverage Google Analytics to get more information about how your publications' large-scale performance online.
If you sign up for Clippings' free tier plan, it remains free for life. You get limited features, but you don't eventually have to pay to keep your portfolio online. The tool also provides robust search engine optimization features. All online writing portfolios built with Clippings are optimized for mobile devices.
Price for Clippings.me Premium: $9.99 per month
Here's an example of an online writing portfolio hosted on clippings.me: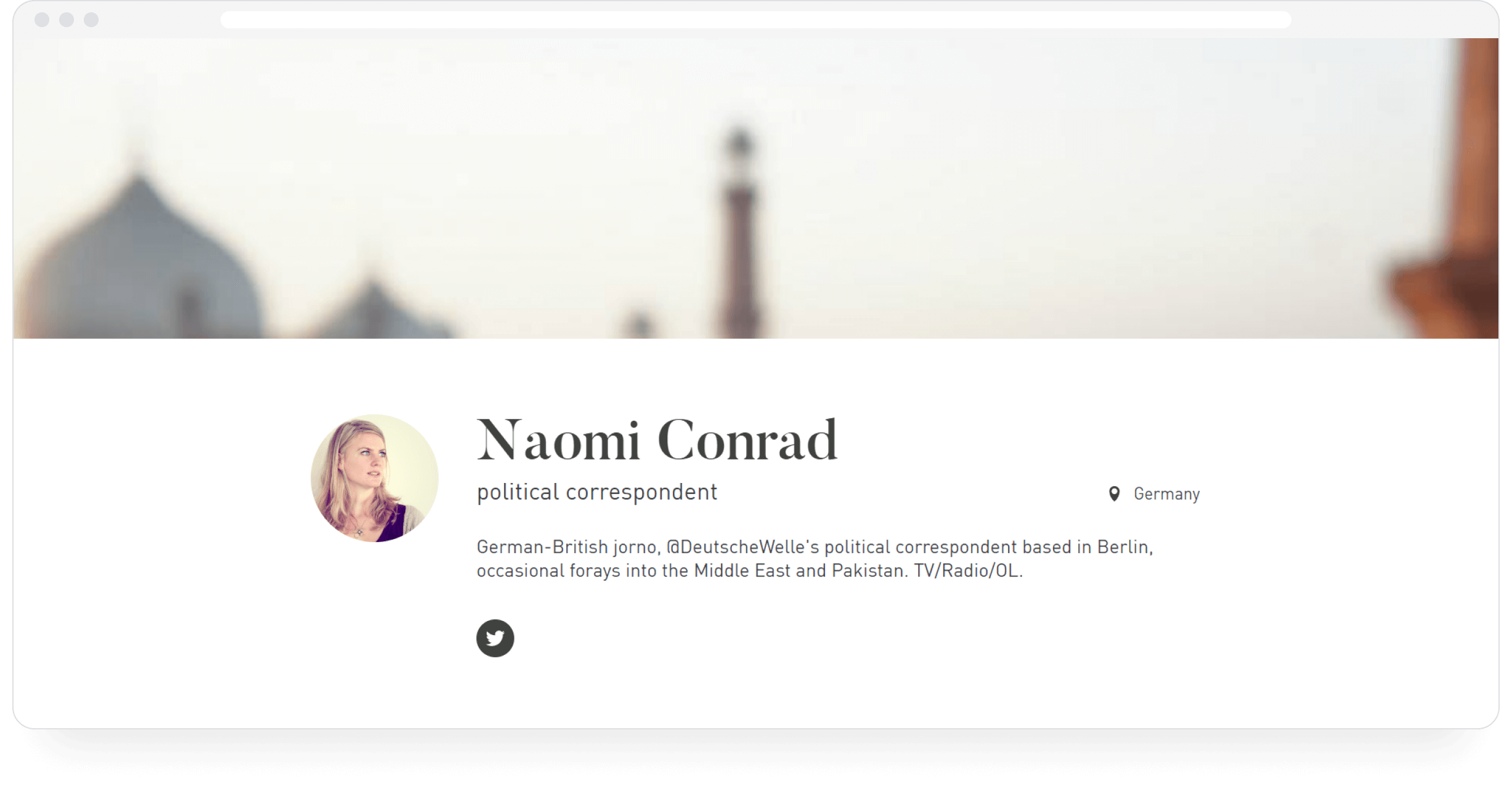 10 Clippings alternatives to research before creating your new portfolio
Authory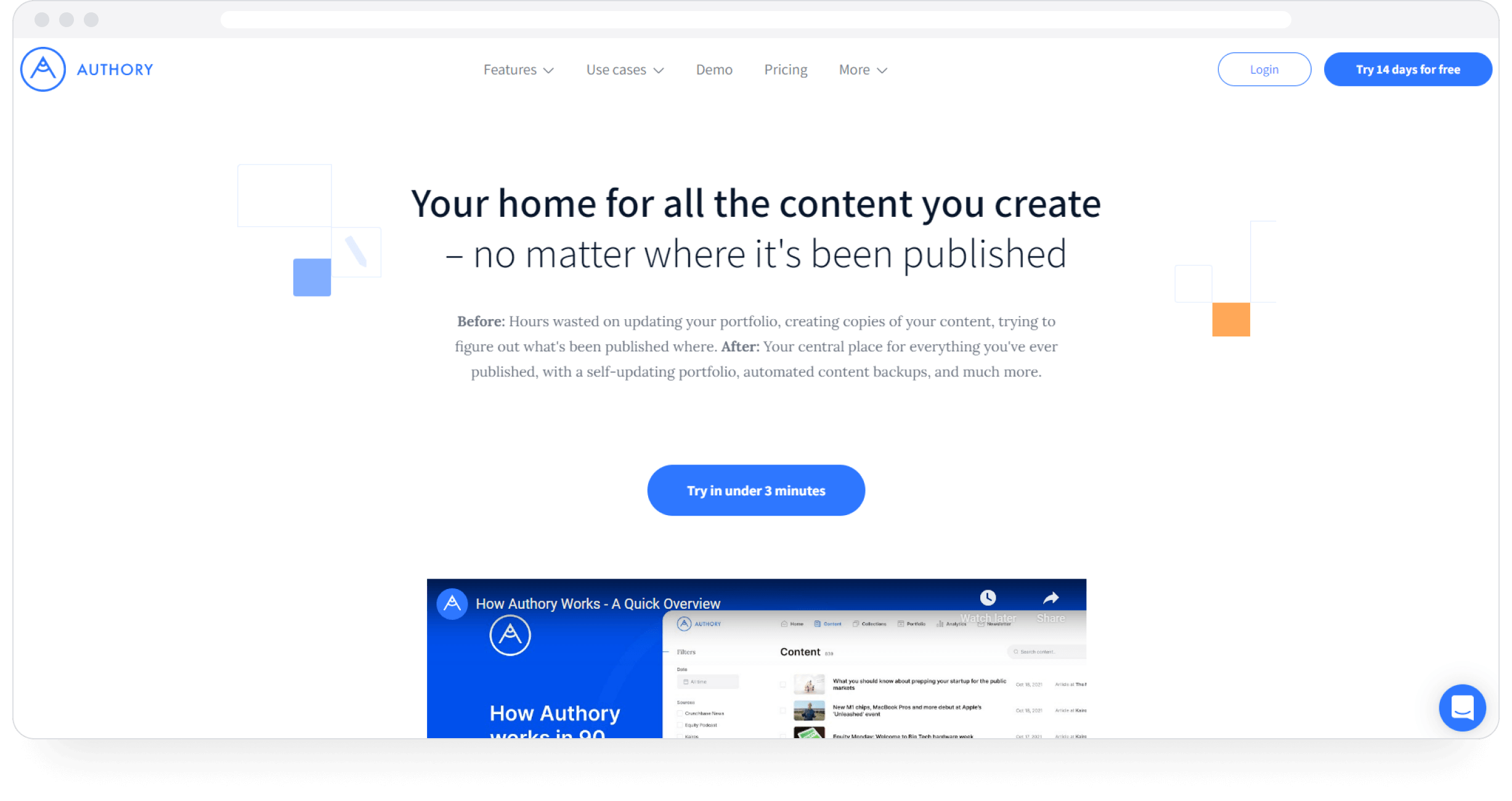 This portfolio builder actually builds your portfolio for you. Enter the URL of the website where your pieces are published, and Authory will automatically import all your bylined content. Do this for multiple sources; your content will be imported and categorized under each source name. If you want to add non-bylined content, you can do so manually.
Once you enter a source URL, Authory will import all your existing pieces and continue to import all future content published under your name from the same source. Automatically. So you never have to worry about manually updating your portfolio.
What's more, all imported content is backed up forever. You can import and back up unlimited articles, videos, PDFs, podcasts, etc.
Don't forget Authory's analytics support. The tool provides insight into how well your content is doing on the internet as well as on popular social media sites. You can see the number of social media shares over 30 days. And you don't even have to link your own social media accounts to use this feature.
Price: $8 per month
Example of an Authory portfolio: authory.com/DavidPogue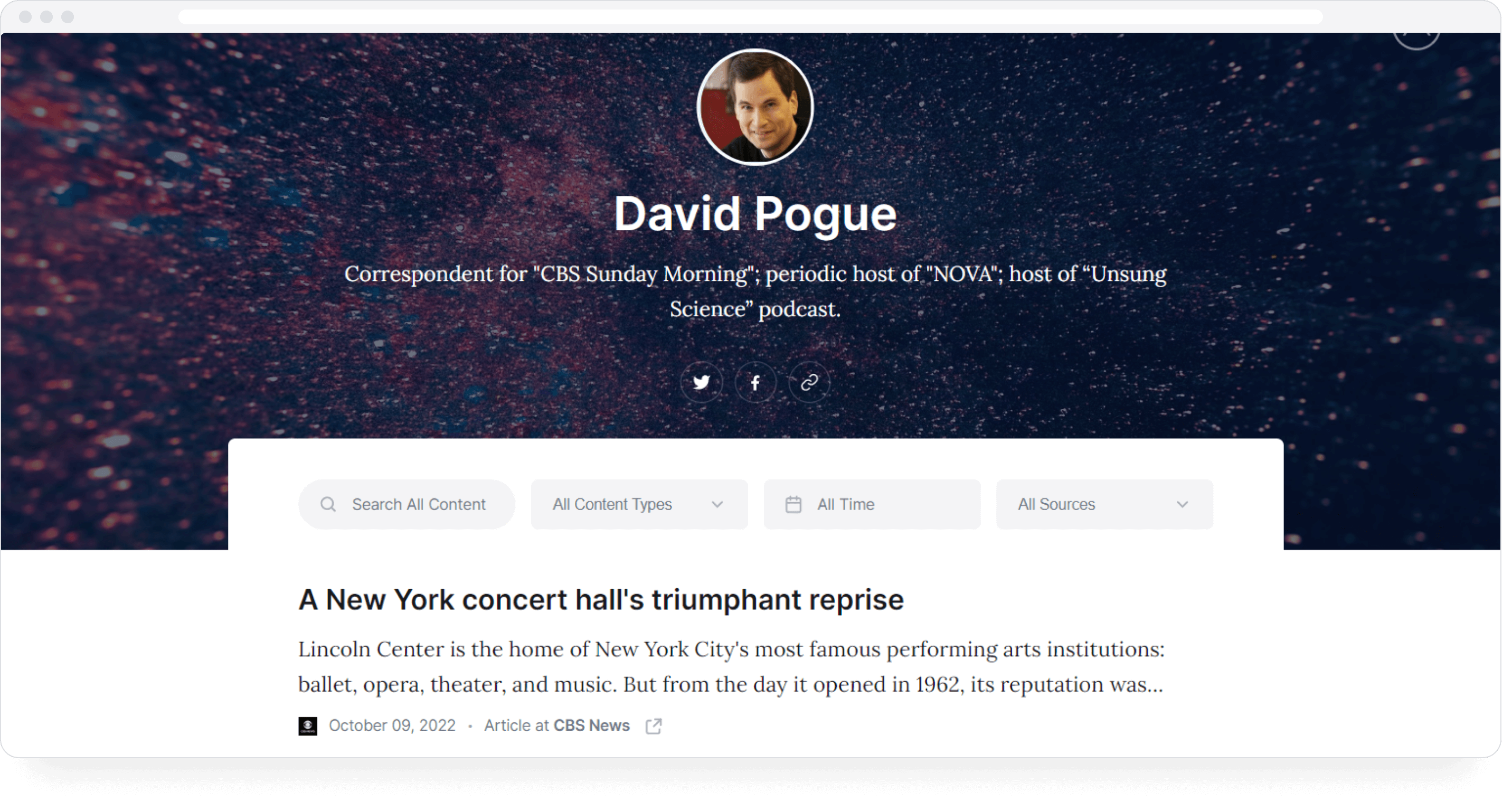 Price: $8/month
Squarespace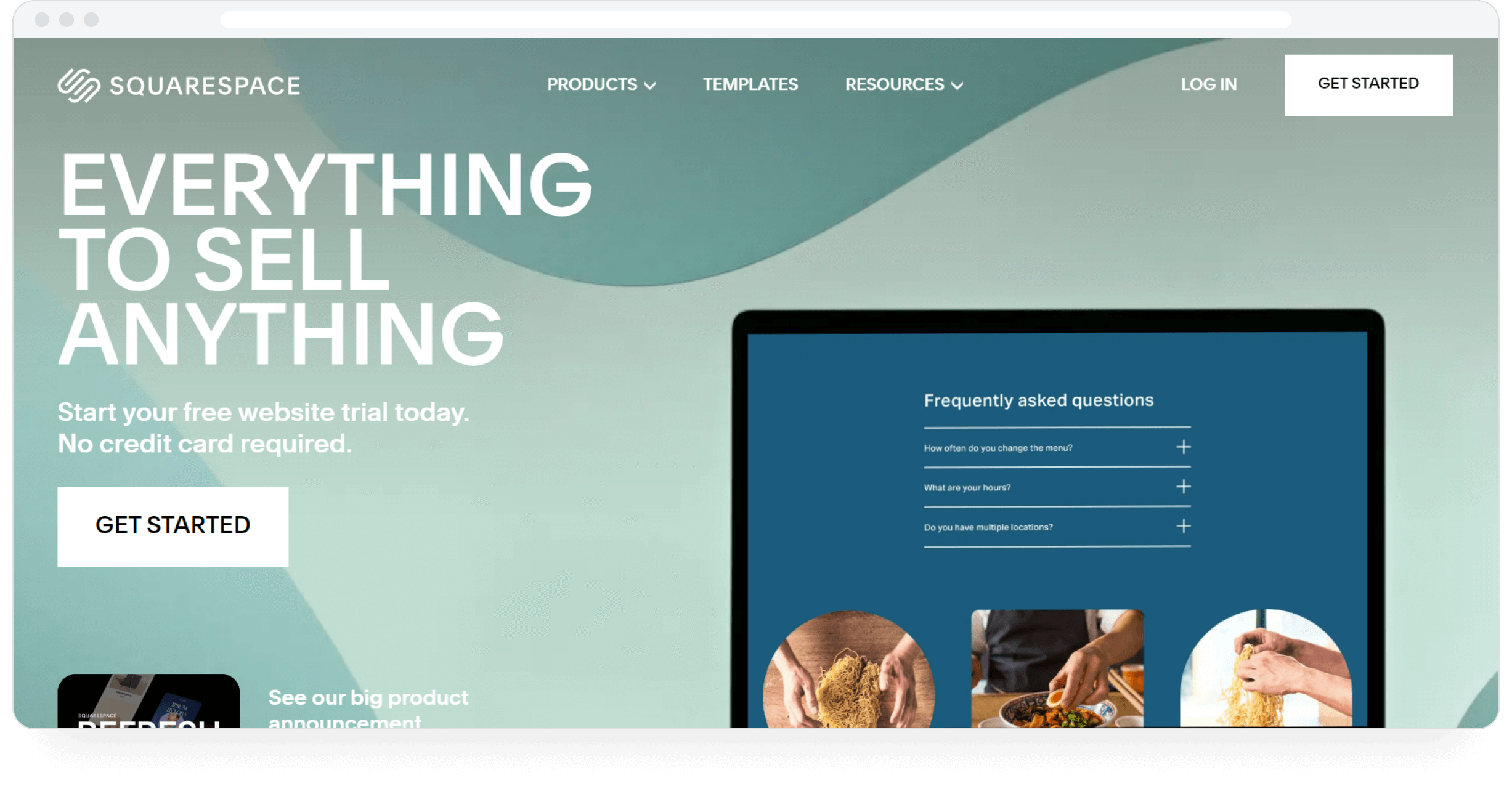 Squarespace is largely known as a website builder, but it provides everything you need to create professional portfolio sites. It's best known for providing hundreds of sharp, minimalist templates, many of which are ideal for creating a portfolio site.
These templates are responsive and optimized for mobile screens. Writers can use an in-built blog section, create "about me" pages instantly, and insert contact forms with a click. They just have to drag and drop these sections to the exact position they want.
However, I'd recommend using Squarespace only if your portfolio must be visually driven (like graphic design or artist portfolios). If you're just looking to present your best writing samples, you don't really need to do the work required to create a Squarespace site.
Example of a Squarespace portfolio: www.fuktmagazine.com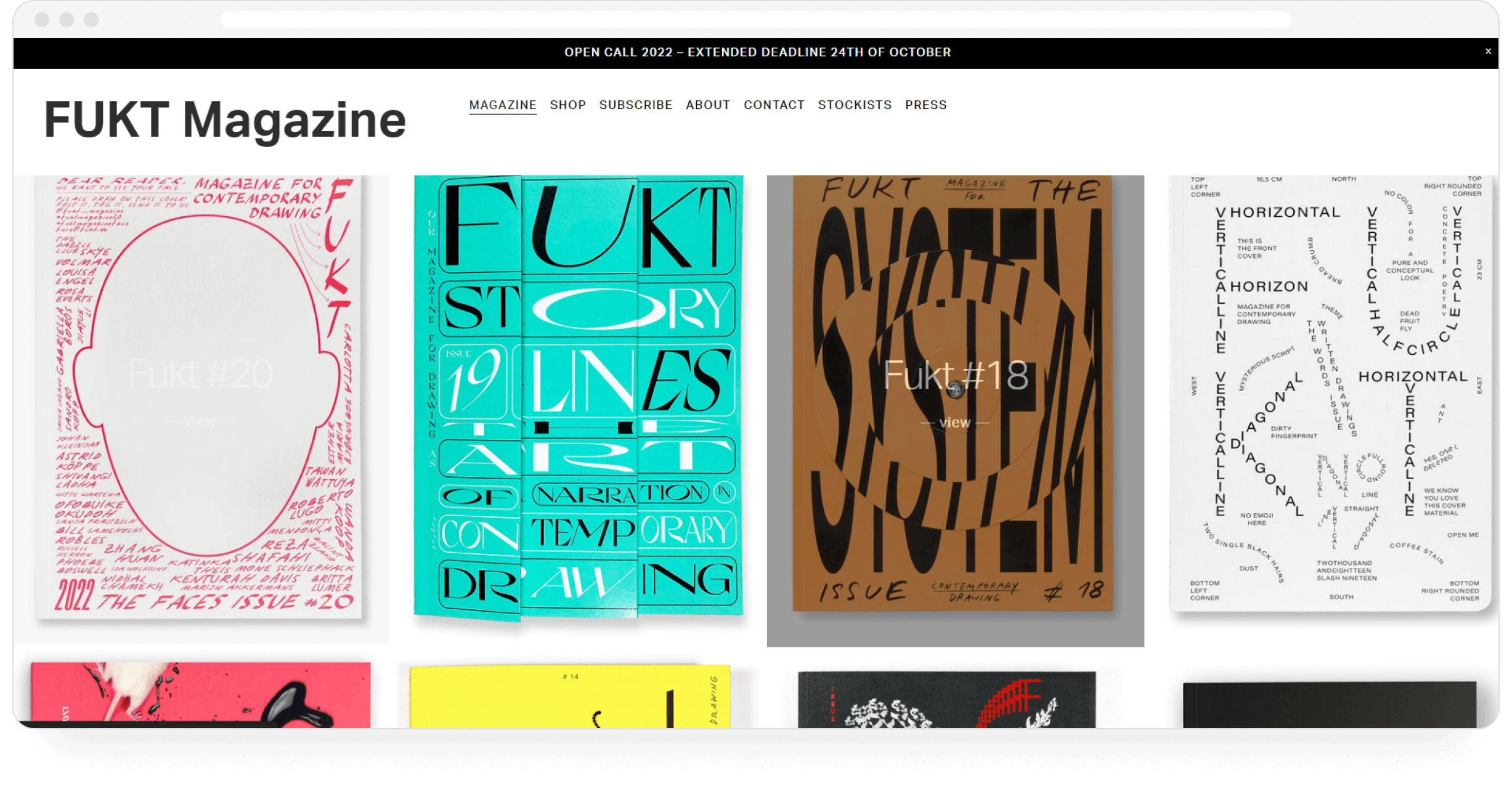 Price: $16 per month
Journo Portfolio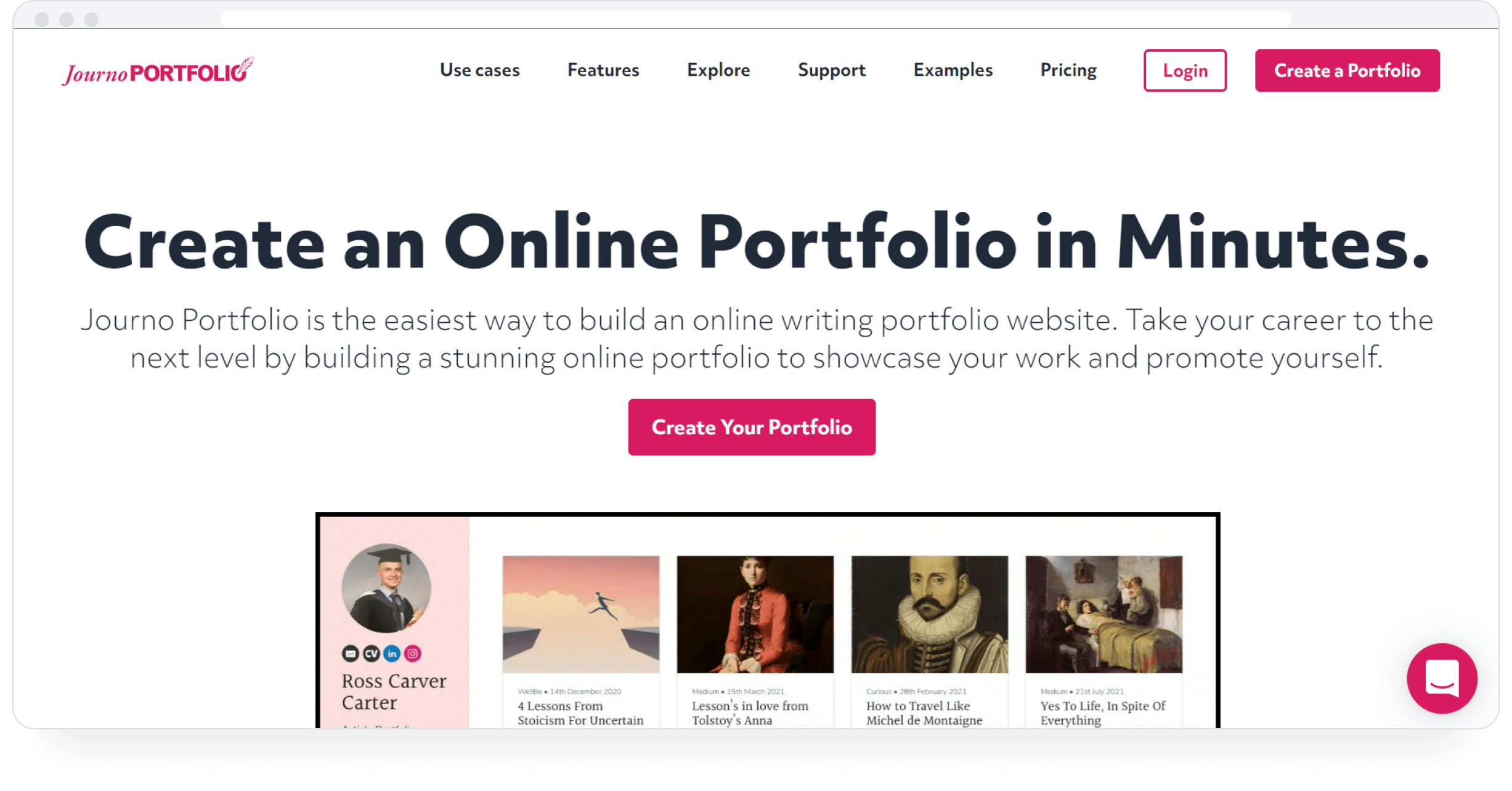 Despite having "journo" in its name, Journo Portfolio caters to writers as well as photographers, illustrators, designers, and artists. It also automatically imports content from digital publication sources and backs them up (but as screenshots rather than the actual text/media).
You can customize your work to appear in grid or column format, as blogs, or as an image gallery. Journo Portfolio also lets you create a password-protected portfolio, whether you want to restrict access to the entire profile or the single page. You can also shield your portfolio from showing up on search engines.
Example of a Journo Portfolio portfolio: blackwoodd90.journoportfolio.com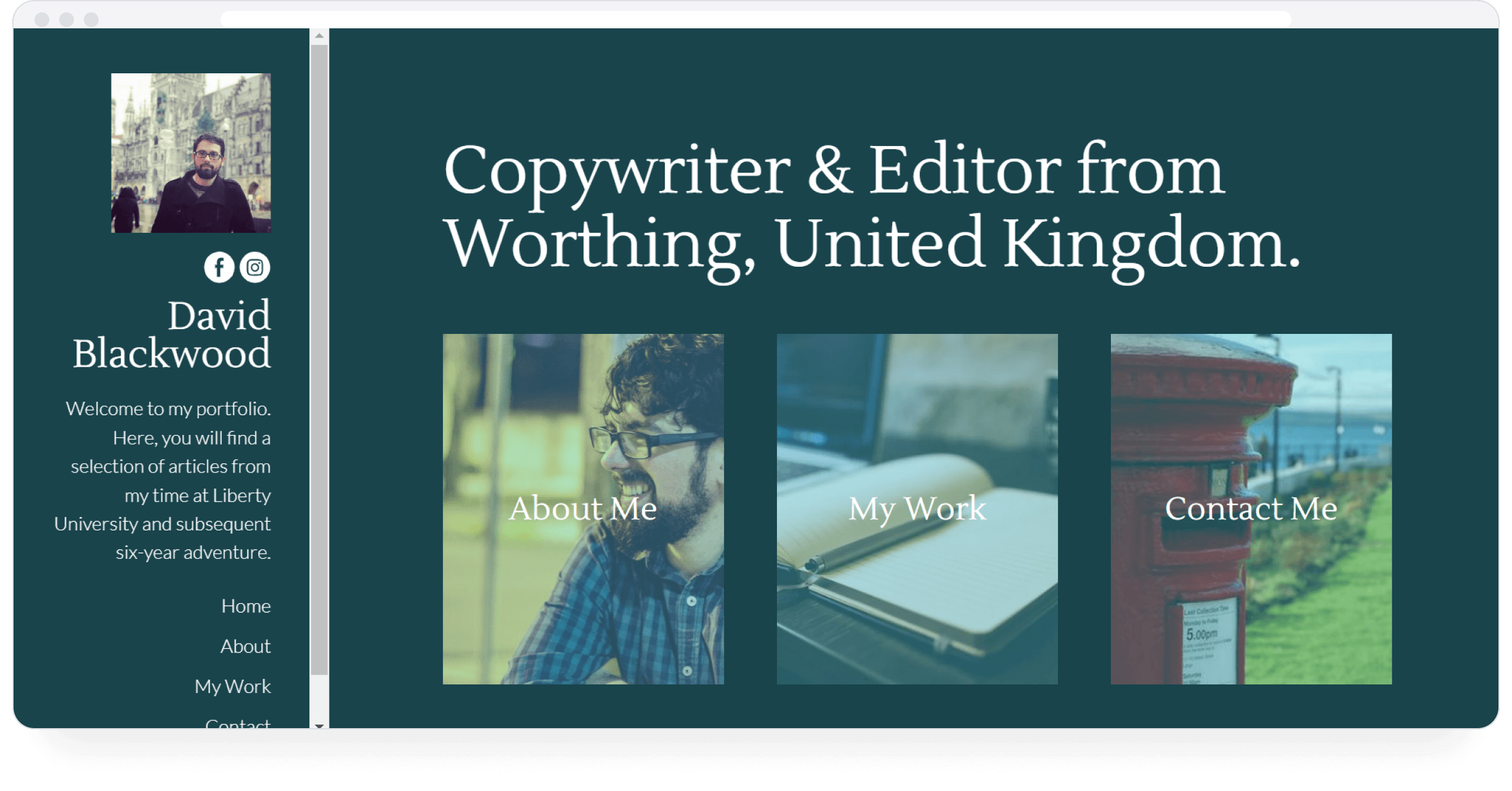 Price: $5 per month
The Freelance Creative by Contently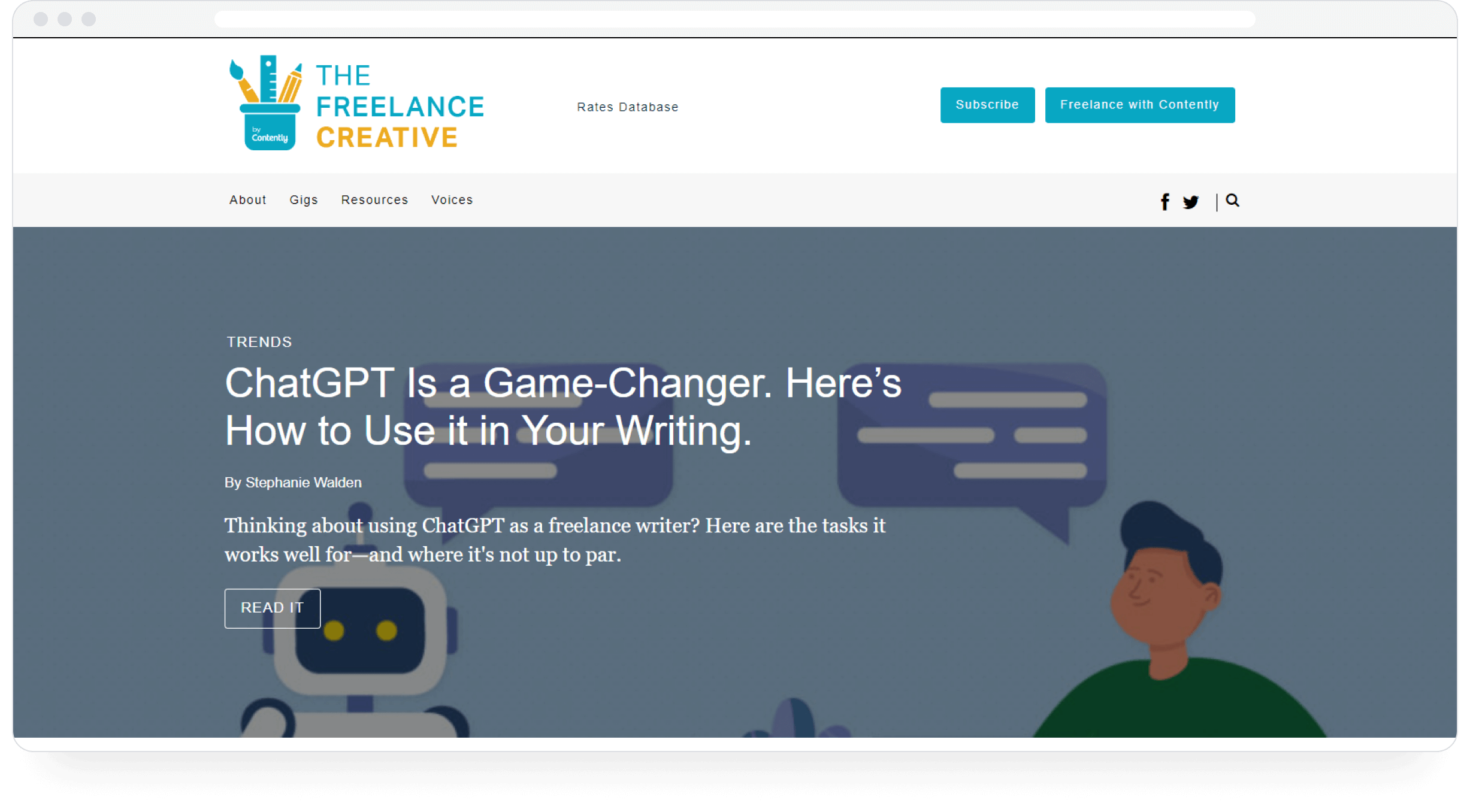 This one's a bit different. The Freelance Creative is largely a job database for freelance opportunities. When you register, you have to create a portfolio that will be viewed by potential clients when you apply for any job on the forum. It's quite similar to another tool called Muck Rack, which largely caters to journalists.
You can showcase unlimited articles, images, videos — whatever is required to substantiate your experience and excellence. After that, Contently's internal team will review the portfolio and make it live if its fits clients' requirements.
You don't get advanced features like automatic content importation or screen for your freelance writing portfolio on Contently. However, since the portfolio is mostly useful for communicating with clients alright on Contently's forum, that shouldn't hold you back.
Example of a Contently portfolio: ellensheng.contently.com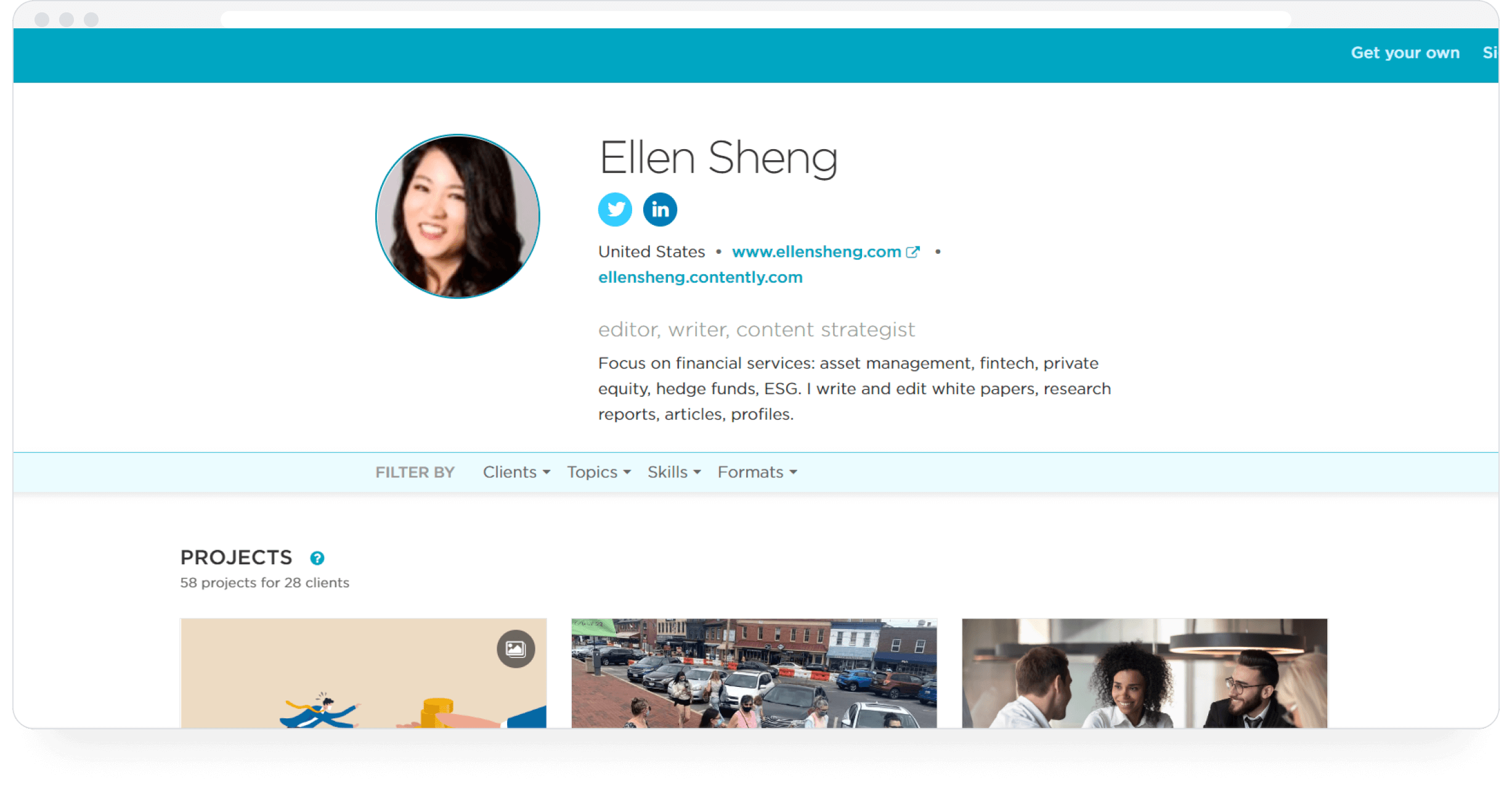 Price: Free
Wix
Wix is similar to Squarespace — a website builder that's also useful for creating portfolios. It also offers templates, some of which are tailored to create portfolios. The tool also offers complete customizability; you can drag and drop all design elements or content sections to get the right look.
Beginners can use Wix's rudimentary but useful SEO tools to optimize their online portfolio. Wix's app library is useful for adding new functions through third-party integration, like an online store or social media sharing capabilities.
Example of a Wix portfolio: www.sophiebritt.com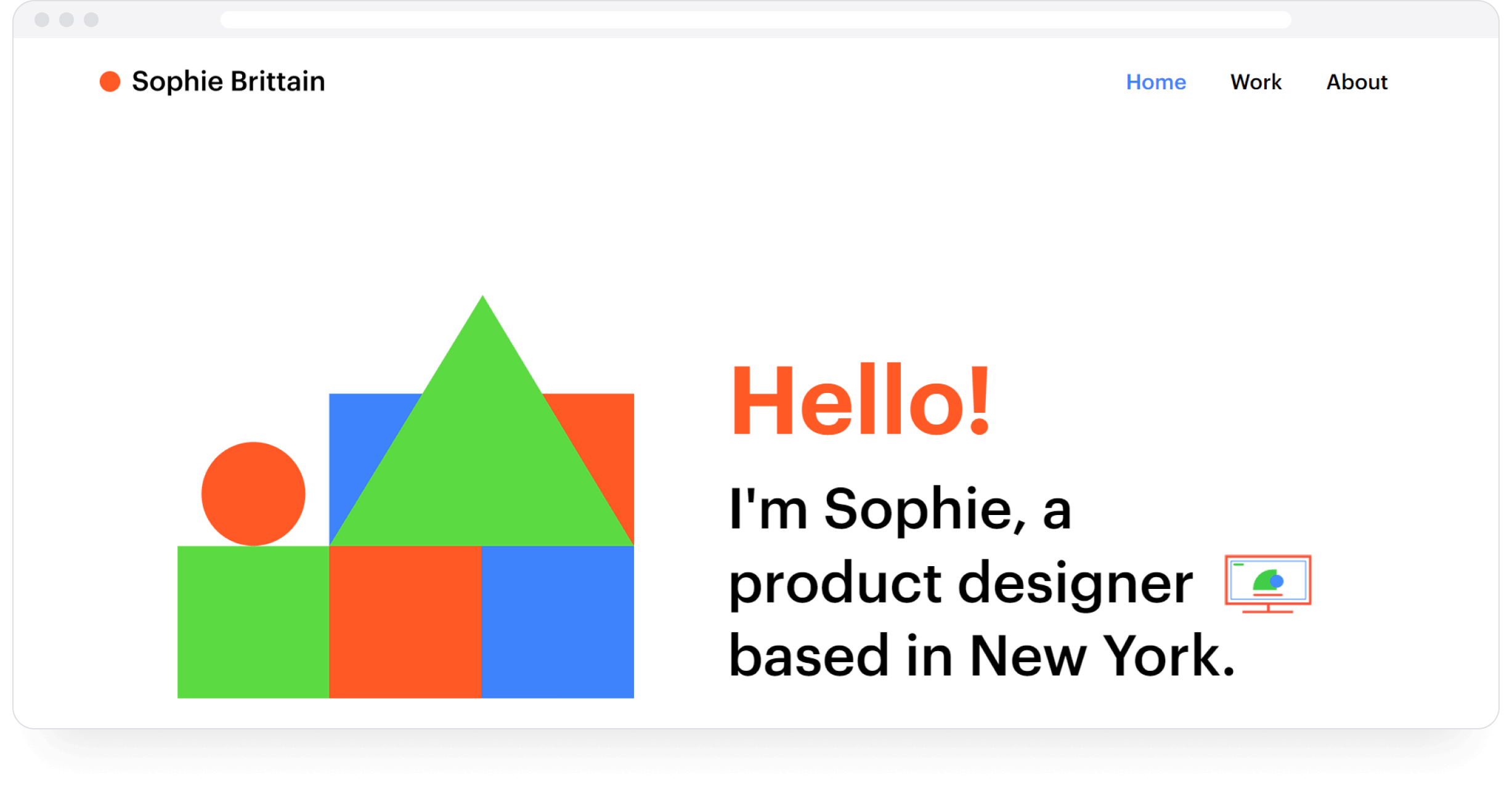 Price: $16 per month
Portfoliobox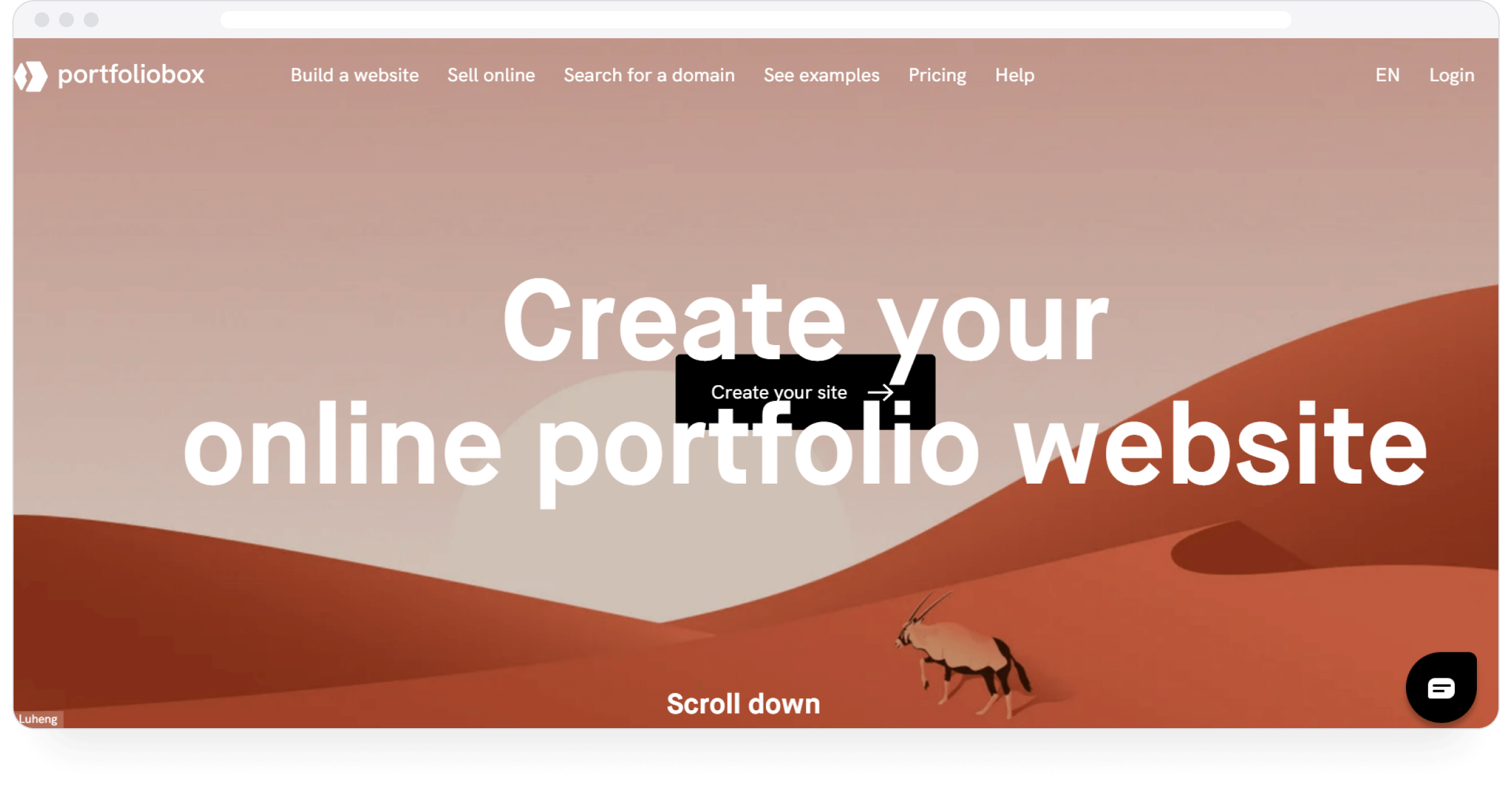 Designed to specifically create portfolio sites for creatives, Portfoliobox comes with a set of essentials. You have a wide range of design tools (a cool drag-and-drop editor included), the ability to password-protect your pages, a watermarking tool, intuitive galleries, and a blog section to write blog posts directly within your portfolio.
Example of a Portfoliobox portfolio: www.creatureintl.com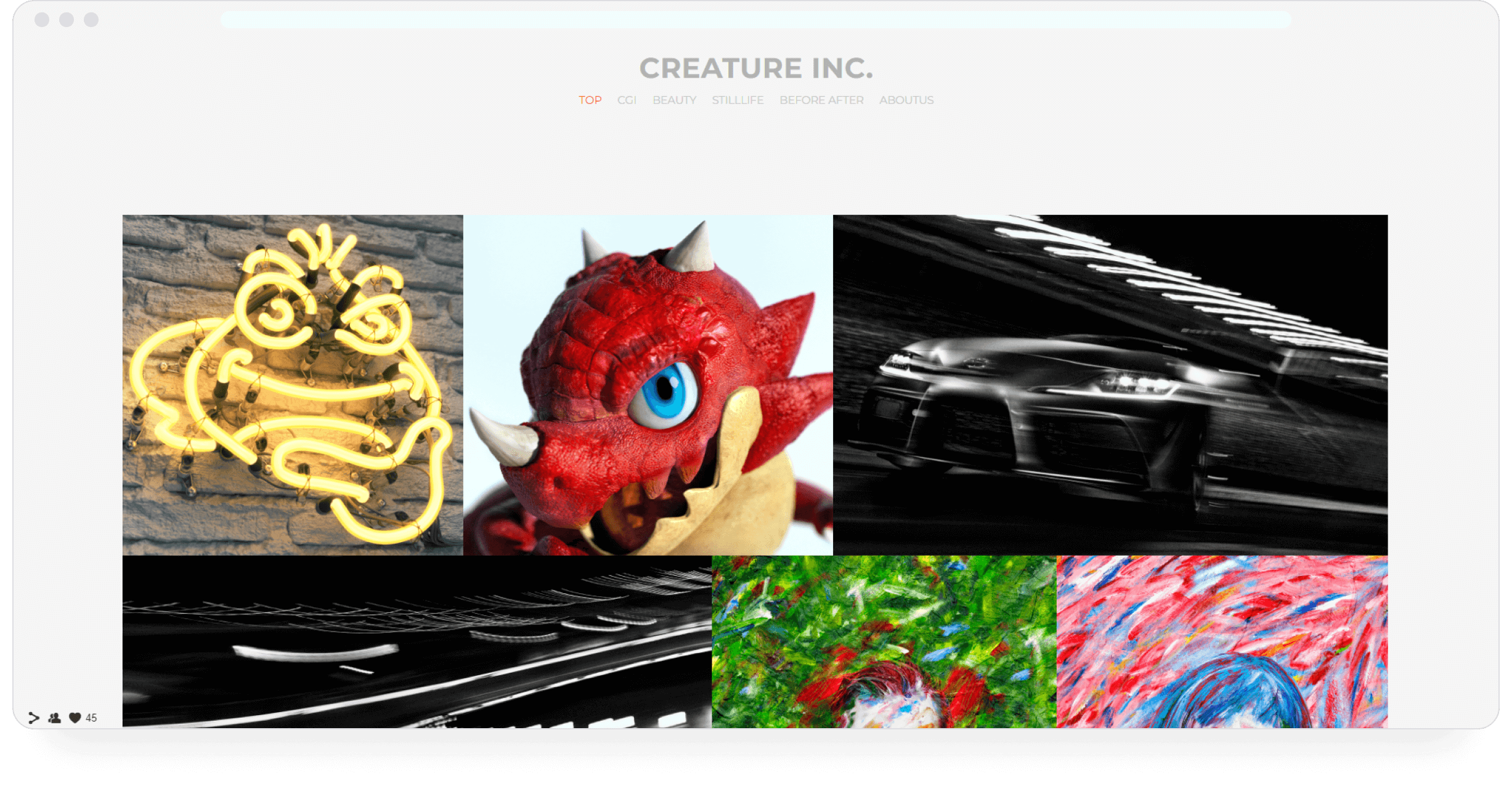 Price: $3.5 per month
Writer's Residence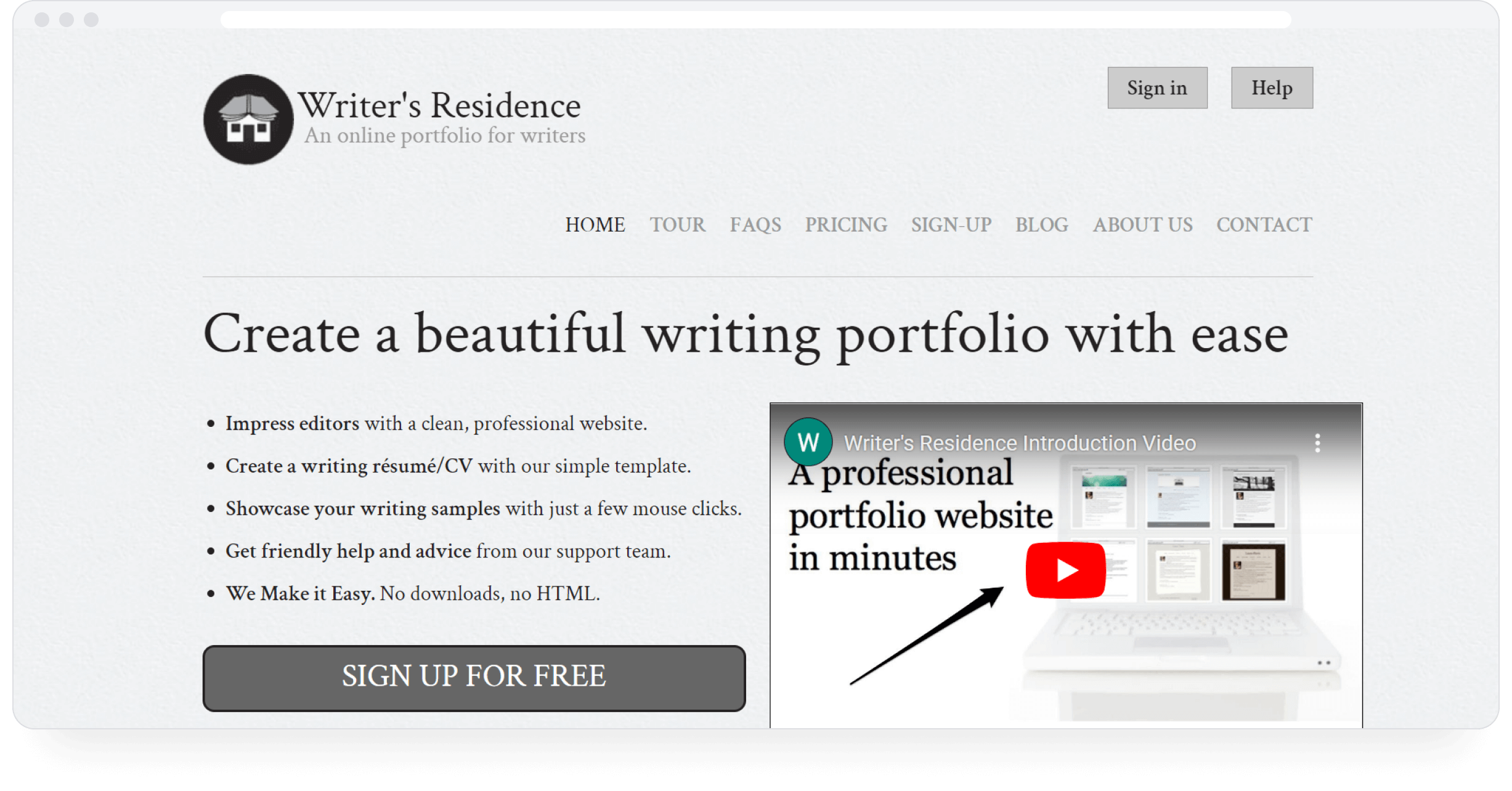 This is a tool created for aspiring freelance writers by a freelance writer, Monica Shaw. She created a portfolio builder with all the features couldn't find when trying to build a portfolio of her own.
You can pick one of the builder's ready-made themes or use an image of your own. After that, you just copy-paste links to your work, and you're done.
Since there isn't much in the way of SEO optimization, this tool is best for creating your first portfolio.
Example of a Writer's Residence portfolio: lauradavis.writersresidence.com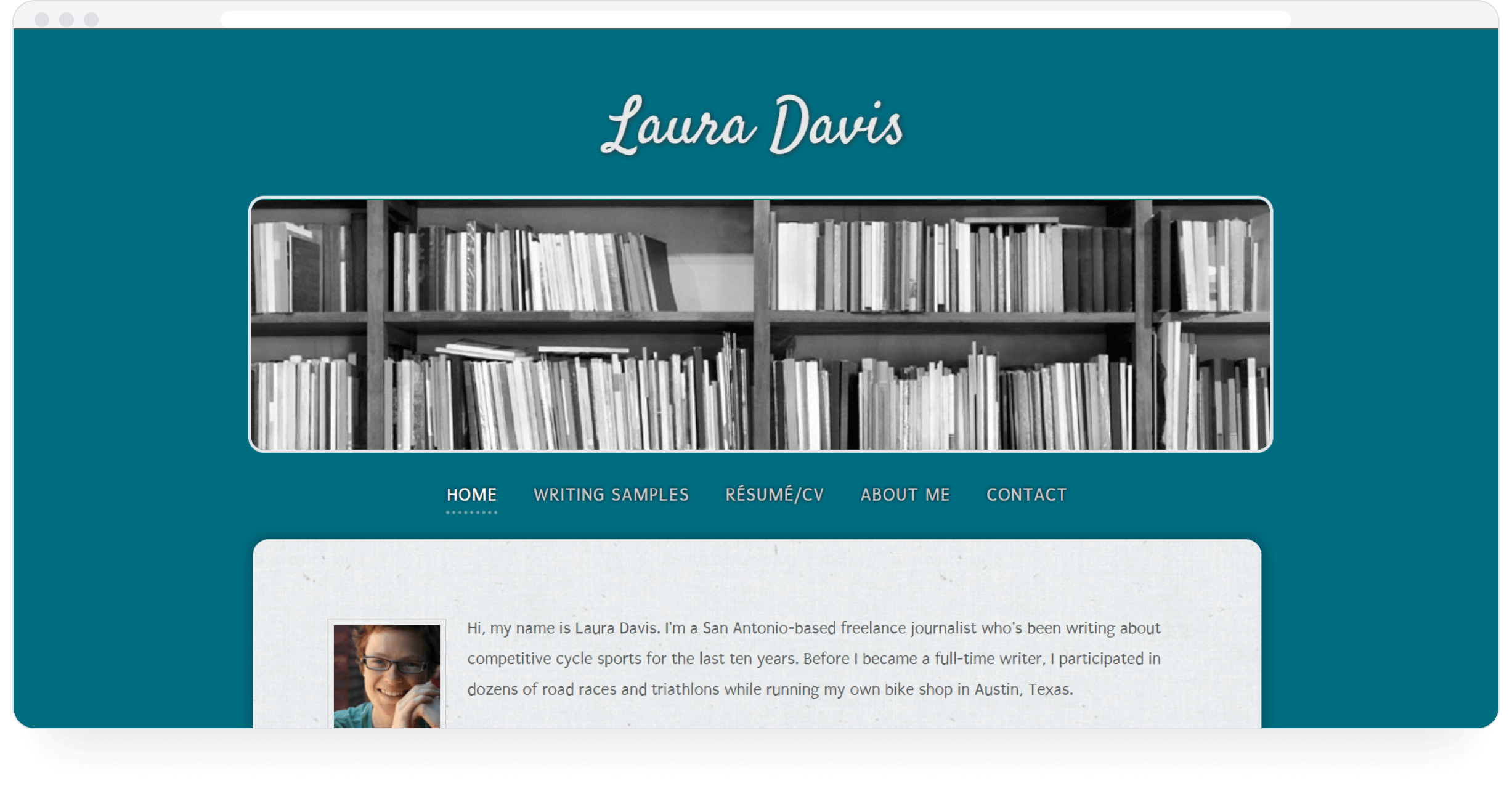 Price: US$8.99
SITE123
Much like Writer's Residence, SITE123 is a good option for creating your first portfolio site. It offers a decent number of fairly appealing templates and an in-built editor that lets you edit sections, aesthetics, and functions on your page.
You can add your work, customize the background as you see fit, add images, buttons, videos, forms, audio files, and implement social media integrations. If you already have a portfolio on this tool, you can edit a section simply by clicking on it. Easy and highly intuitive.
There don't seem to be any limits on how many pages can be on your portfolio.
There is a free version you can use, but ads will play on it. Upgrade to Premium to get rid of them. On the Premium version, you can also connect your own domain.
Example of a SITE123 portfolio: james-movies.com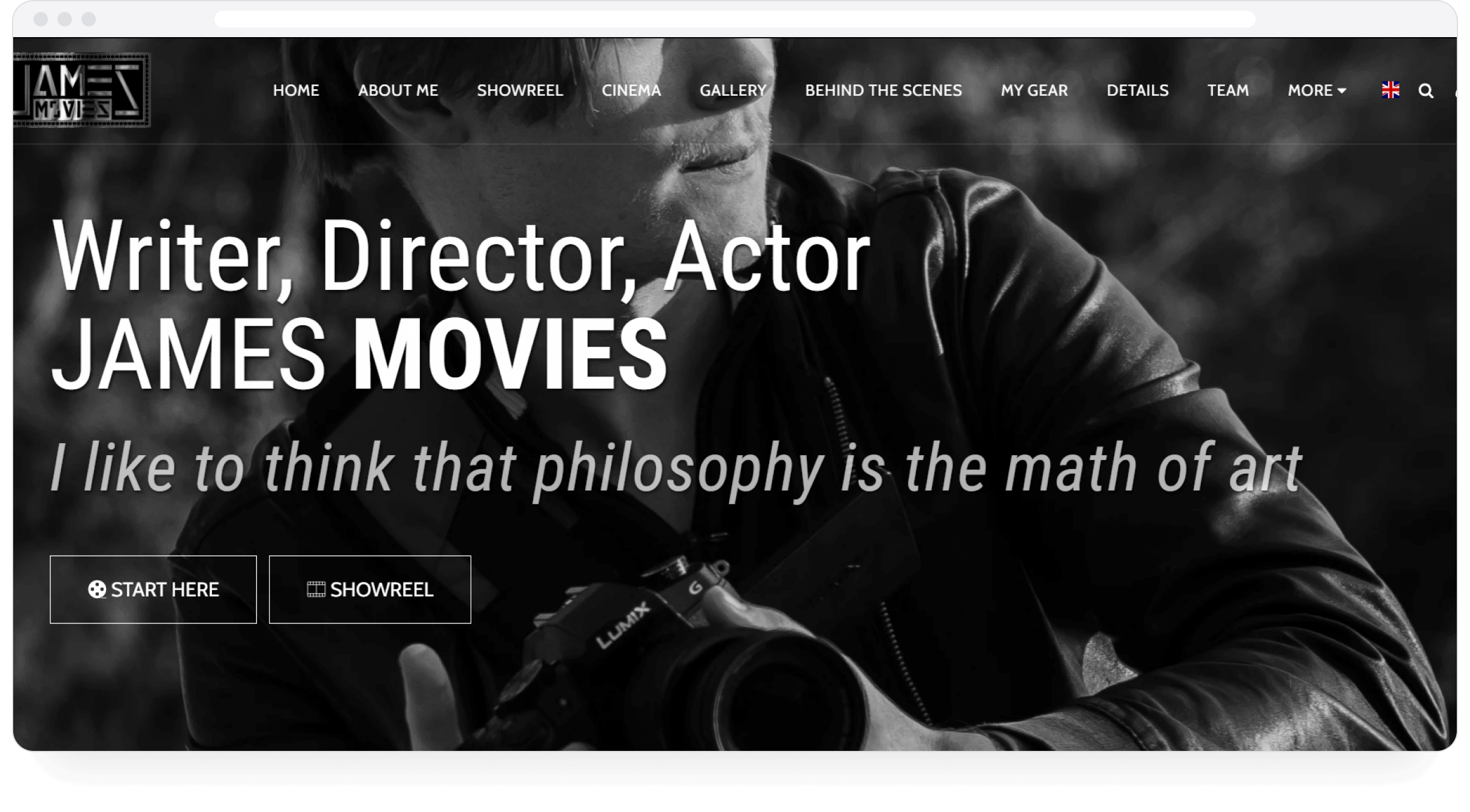 Price: $5.80/month
WordPress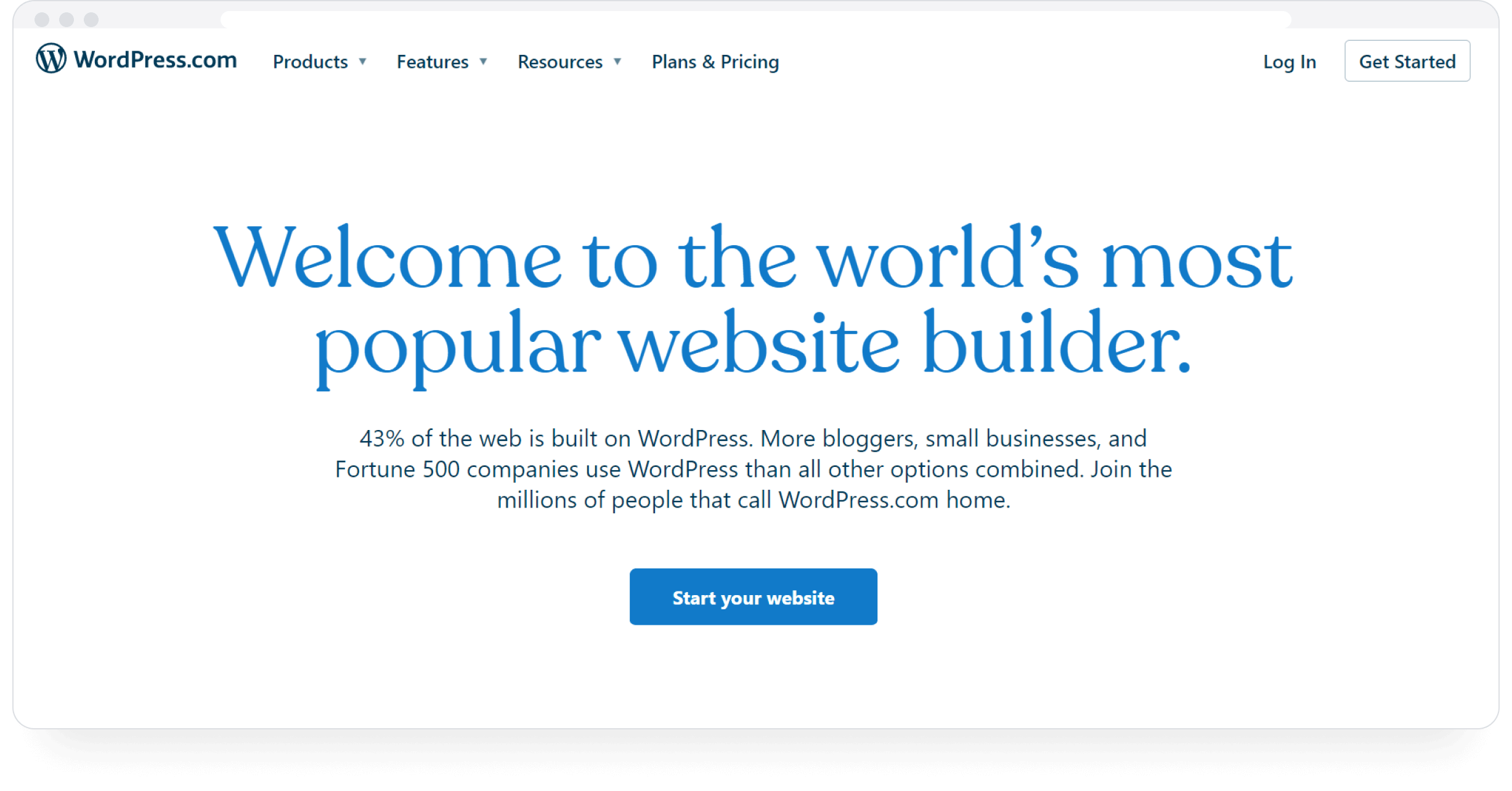 The world's most popular website builder is also quite useful for creating professional portfolio sites.
If you google "WordPress portfolio themes", you'll find thousands of templates to help you get started. In a few minutes, you can add your work... anything from text, images, forms, Yelp reviews, testimonials, maps, music... I mean, anything.
If you really want to jazz up your profile, you can choose from WordPress' thousands of add-ons. They are super easy to install, and you can use them to implement a wide range of functions: collecting leads, building subscription lists, ensuring automatic backups, checking how many visitors your page received, etc.
Example of a WordPress portfolio: manjulamartin.com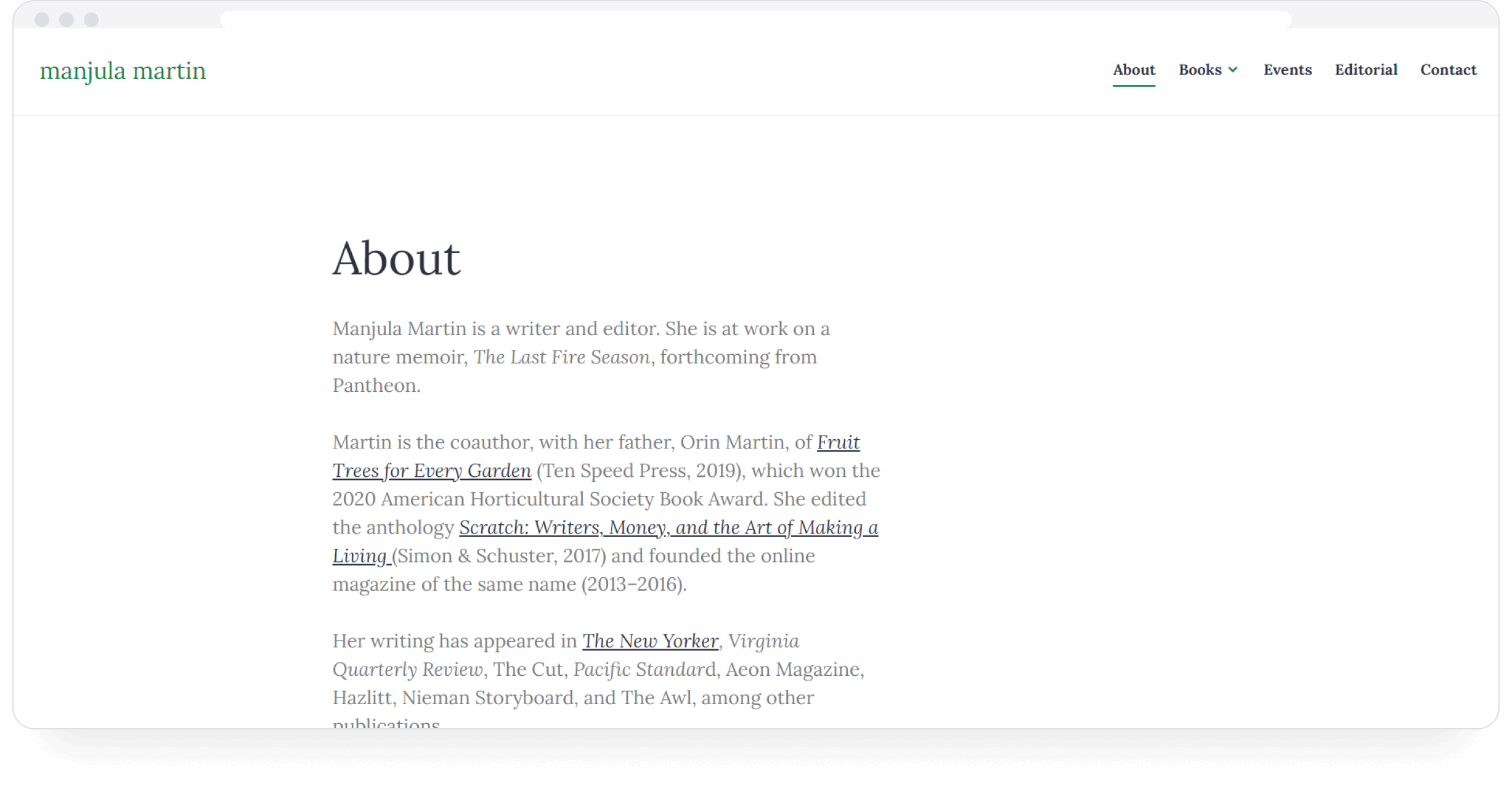 Price: $4 per month
Carbonmade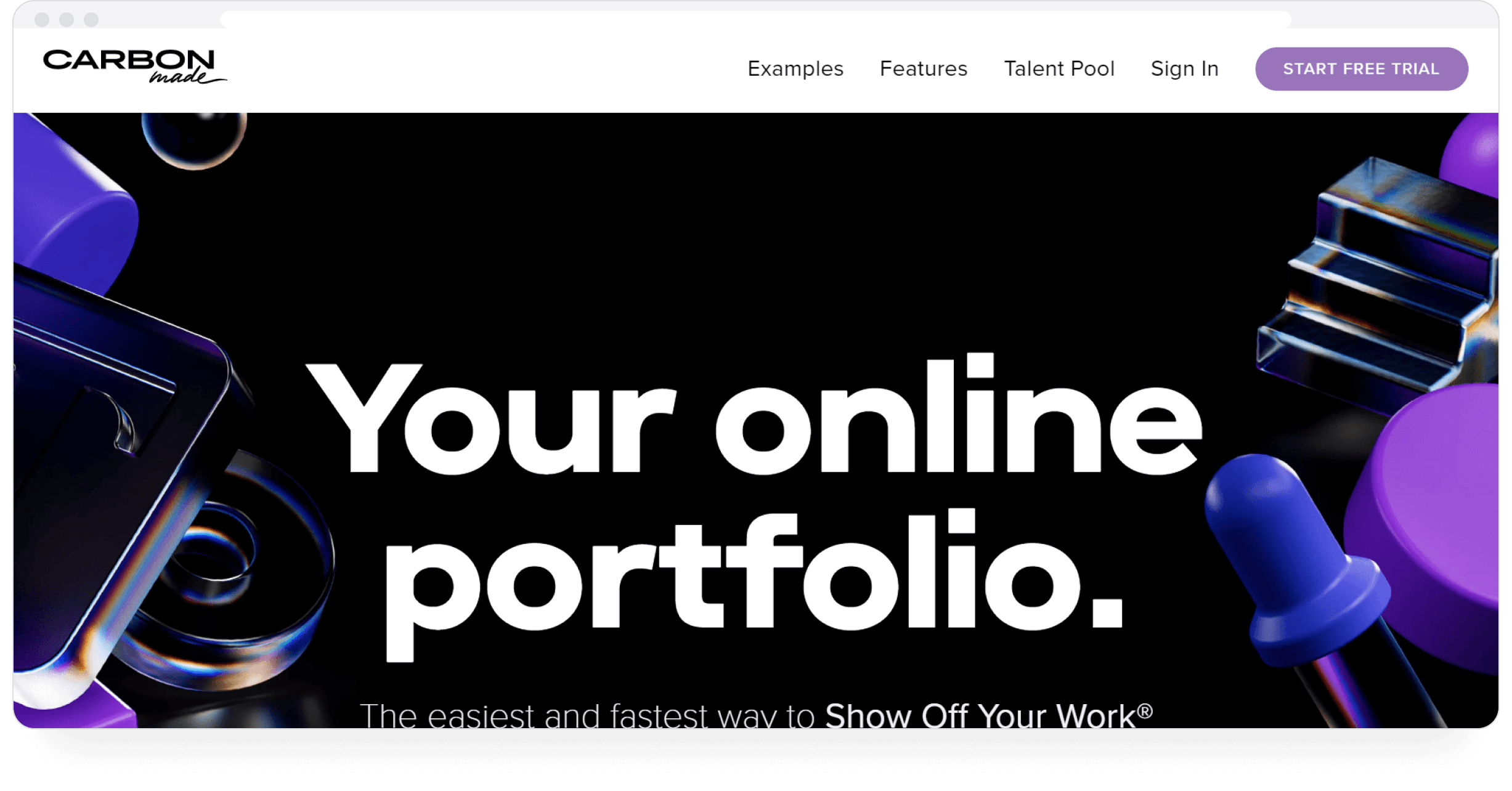 Carbonmade doesn't believe in offering templates; the tool offers a slew of incredible design elements that you can play around with to create a completely unique portfolio.
Now, you do get some layouts if you are just starting out. But I found it far more tempting to work with different design elements and set up your own profile. All profiles built with Carbonmade are automatically responsive, and you can also upload an unlimited number of images and videos.
Unlike the other tools in this list, Carbonmade also provides a customizable video player that lets you drag and drop 4K HD videos into your portfolio without having to embed them from YouTube, Vimeo, or similar sites.
Example of a Carbonmade portfolio: aranquinn.com
Price: $9 per month
Should you choose Authory — a tool that automatically imports all your work and backs it up permanently?
Of all the tools in the above list, Authory is the one I personally chose to host my own portfolio. It's only after I did so that I got lucky and started writing for them, so my recommendation is still somewhat unbiased.
If you're curious, here's my portfolio on Authory: authory.com/shreya-bose
And here are the reasons why I chose Authory out of all the tools I've listed above:
Automatic importing of all your bylined content from any digital source you enter — from past and future
Ability to download all imported content to your device
Ability to manually include non-bylined content
All imported content is backed up forever
All backups in the content's original format, not as screenshots
Analytics support for all imported content
Robust in-built SEO features.
Optimized for mobile device screens.
A newsletter creation tool that automatically sends out newly published content to your subscribers. You don't have to do anything for this to work.
Widgets to display your portfolio on other websites (such as your personal site if you have one).
All this, and much more, at $8 a month.
Of course, you absolutely should not take my word for it. Instead, just sign up for Authory for free, and you'll get to experience exactly why it is the ideal portfolio builder and alternative to clippings.me.