The Wix website builder has made its way to the halls of "best website builders" lists for a while now. Along with Squarespace and WordPress, you'll hear quite a few mentions of Wix as a go-to website builder that prioritizes simplicity and speed.
But not every website is the same, and not every site builder is the right fit for your own website, catering to your unique niche. In this article, I'll explore the process of building a portfolio with Wix, dwell on its pros and cons, and also suggest a Wix alternative that might just make building a career portfolio faster & easier.
📖
What you'll get from this article:
• Definition of a Wix portfolio and how to build one
• Pros and cons of creating/using a Wix portfolio
• Authory: A Wix alternative that builds your portfolio for you
• Why Authory might make life easier for you when building an online portfolio

What is a Wix portfolio?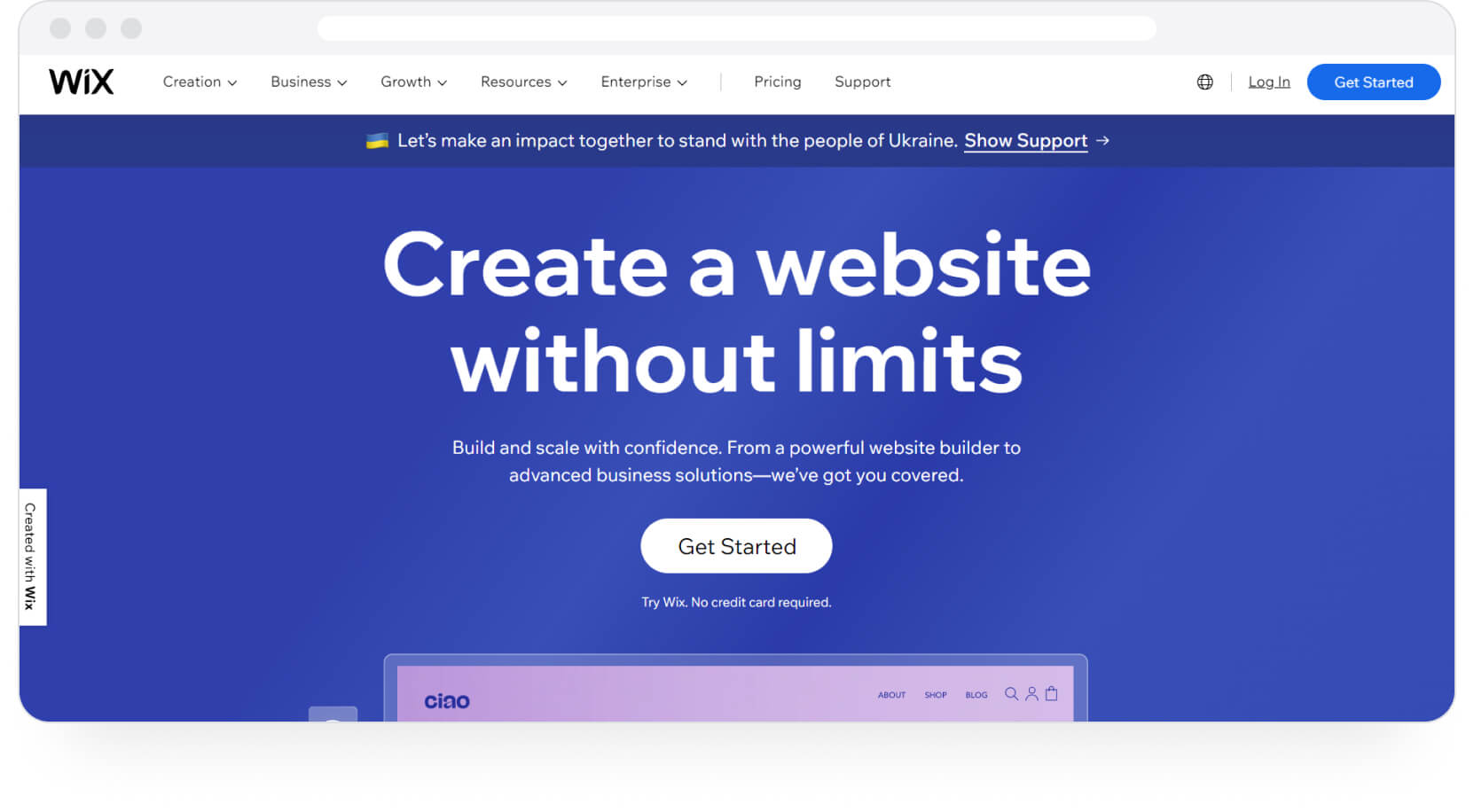 It's simple enough. The Wix website builder can be used to create every kind of site, including personal and company portfolios. Wix sites can be made as functional and aesthetically pleasing as you'd like, but there's a fair amount of work needed to get there.
Now, this work is more than justified if you're an artist, photographer, illustrator, or designer — basically, someone whose work uses visual media, and whose portfolio needs to capture their unique sensibilities as much as their work. It's also quite useful if you want a website with an online store built into it — something to directly sell your products/service from.
But for writers, journalists, content marketers, thoughts leaders, speakers, podcasters, and video creators, using Wix can be more time-intensive than it needs to be (as the Wix review will showcase below).
To make my case, let's go through the basic steps required to create a portfolio with Wix.
How to create a Wix portfolio
Step 1
Sign up for a Wix account here. It's free.
Step 2
Choose a template for your portfolio. There are several Wix templates meant for visual portfolios. Some of them can be utilized to represent writing, speeches, video content, etc.
P.S.: If you want to sell directly from your portfolio, pick a template with an in-built online store.
Step 3
Once you get the website's basic layout, you can customize each section and element. There's a drag-and-drop Wix editor you can use to move elements around and change their appearance and alignment.
Enter basic information such as name and contact information. Summarize your products/services, describe what you do, and why you're good at it.
Step 4
Add your work samples. Once again, Wix users will find a million different options for showcasing visual work, so you can align and position your images/videos in eye-catching ways. Go crazy with background ambiance, animated imagery, and visual effects.
Use special effects (hover effects, parallax scrolling to animation, lightboxes) to make your portfolio visually appealing and draw visitors' attention to specific sections and content.
Add high-quality imagery using the Wix Pro gallery. It will enable you to generate a professional look with customizable layouts, edits, and effects.
Step 5
Don't forget to add user testimonials. Find creative ways to represent them on your Wix websites, such as a carousel.
Step 6
Add relevant content describing your journey, your skills, and the work you're most proud of. This could be the content for your "About Me" page.
My recommendation (based on a protracted job search period in 2022) would be to add as much of your work as possible to your Wix site. Employers want to see that you've been producing good work consistently.
Step 7
Add a contact form, your email, phone numbers, and links to your social media networks.
Step 8
Add relevant elements to improve UX. For example, each project page should include a featured image, header, description, and a few extra images or media features.
Step 9
Choose from the 500+ apps (Google Analytics, marketing, financial and eCommerce tools, tools for collecting leads, interacting with visitors, and more) on the Wix app market to power your portfolio site with the necessary features. You can integrate advanced solutions and business tools into your website and expand its functionality.
Step 10
Use Wix SEO to get guidance on how to optimize and improve your site's ranking on Google search.
Step 11
Launch your Wix portfolio website. It's good to go!
💡
Bonus:
If you want to promote your portfolio on social media, feel free to use
Wix Video Maker
. You can use it to showcase your business and make special announcements, such as a sale or a product release, etc.
The pros of a Wix portfolio
Once you choose a template, you can also choose if you want Wix to automatically create a site using Wix Artificial Design Intelligence (ADI). The latter takes less time, but you'll probably have to customize the ADI-generated site to ensure it meets your exact standards.
The Wix app market lets you equip your website with every required functionality under the sun.
Each template has a demo video, so you can get a feel of the final website even before you get started.
The Wix free plan does allow you to create a fairly decent website. You only need to pay if you want features like ad-free operations, using your own domain (as there's no free domain available with Wix), and access to extra features.
Wix offers an easy-to-use editor. Eight round buttons let you add elements, change background images, access the App Market, see your uploads, and start blogging. You can easily minimize or hide these controls if you need to edit the area under them.
You can embed HTML code, and easily add SoundCloud or Spotify playlists.
You can animate any object, with effects like Bounce-In, Glide-In, and Spin-In.
Wix SEO options are robust, especially for a beginner. Newbies can use the SEO Wizard, while SEO pros can leverage advanced features such as 301 redirects, canonical tags, no-index pages, and more.
Wix provides robust eCommerce features to monetize your designs, artwork, and photography (for example, through its Art Store). You can even get print-on-demand apps that take care of printing and fulfillment.
The cons of a Wix portfolio
You need an ad-free site to appear truly professional with your portfolio website. For this purpose, you'll have to buy a paid plan. A free Wix plan will not allow you to disable ads.
Wix doesn't let you switch templates after you've chosen one. If you want to give your portfolio a fresh look, you'll have to create a separate site and transfer your files over to the new pages.
You'll find plenty of reports stating that Wix's page loading speeds can be slow, especially in comparison to other site builders. That could affect both the UX and SEO rankings, especially for animation-heavy sites, or if you're selling your products online.
Customization options are limited, especially in comparison to a WordPress site or a site you've coded from scratch.
For non-visual portfolios (such as for writers, journalists, thought leaders, content marketers, speakers, etc.), Wix entails quite a lot of effort. For example, you still need to track down all your published pieces, collate them, and upload/copy-paste each piece manually.
You also have to keep manually updating the portfolio every time a new submission of yours is published.
Wix uses absolute positioning, which is not the same as responsive design. Even though Wux claims to provide a few responsive elements, you can't build a completely responsive website with Wix.
To bring responsiveness into your site design, you have to pay extra (a LOT of extra) attention to how you position text/design elements on your site. This is needed to avoid any problems with how your site displays across various devices.
Wix pricing
There is a free plan available with limited features.
Combo: $16/month
Unlimited: $22/month
Pro: $27/month
VIP: $45/month
Examples of Wix portfolios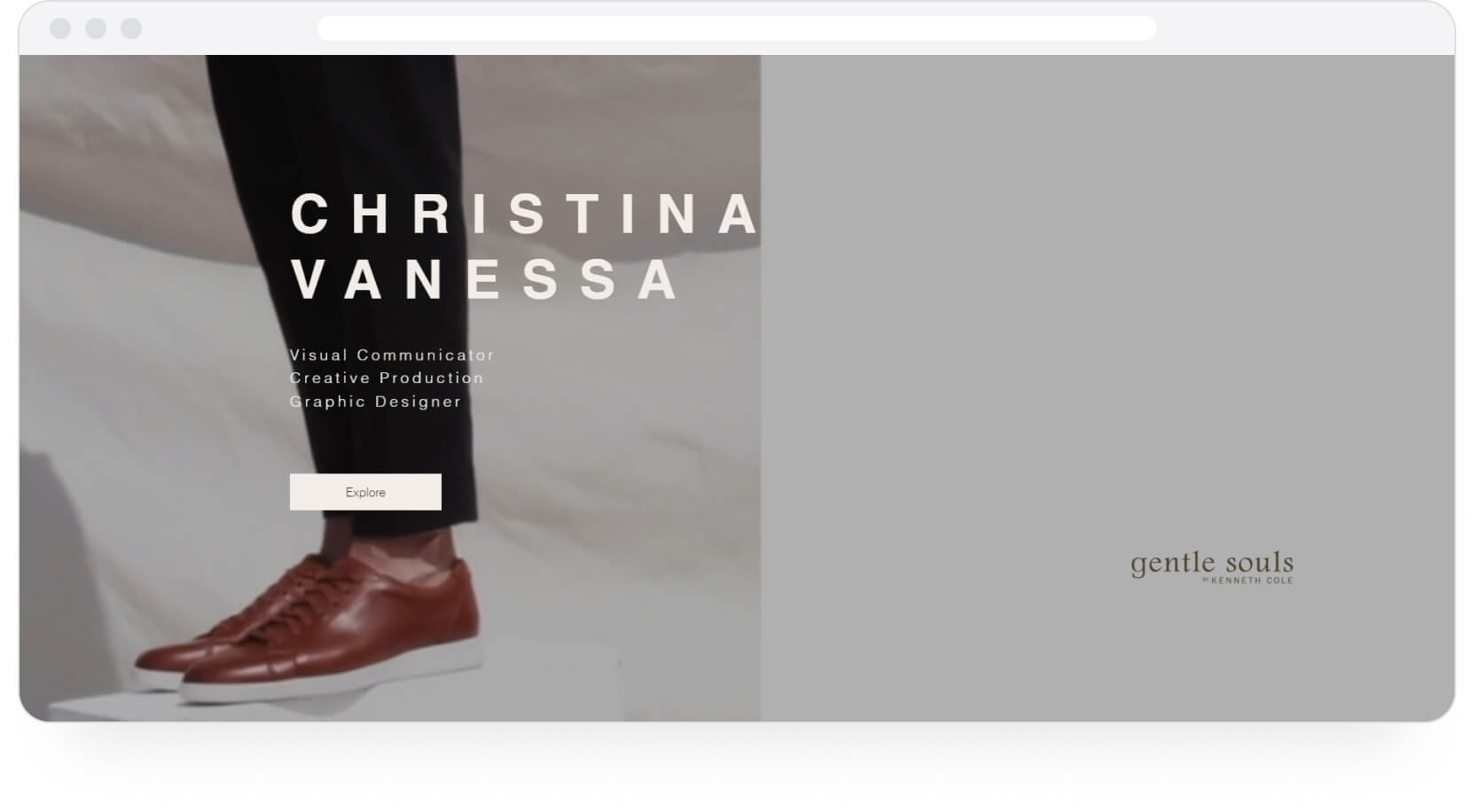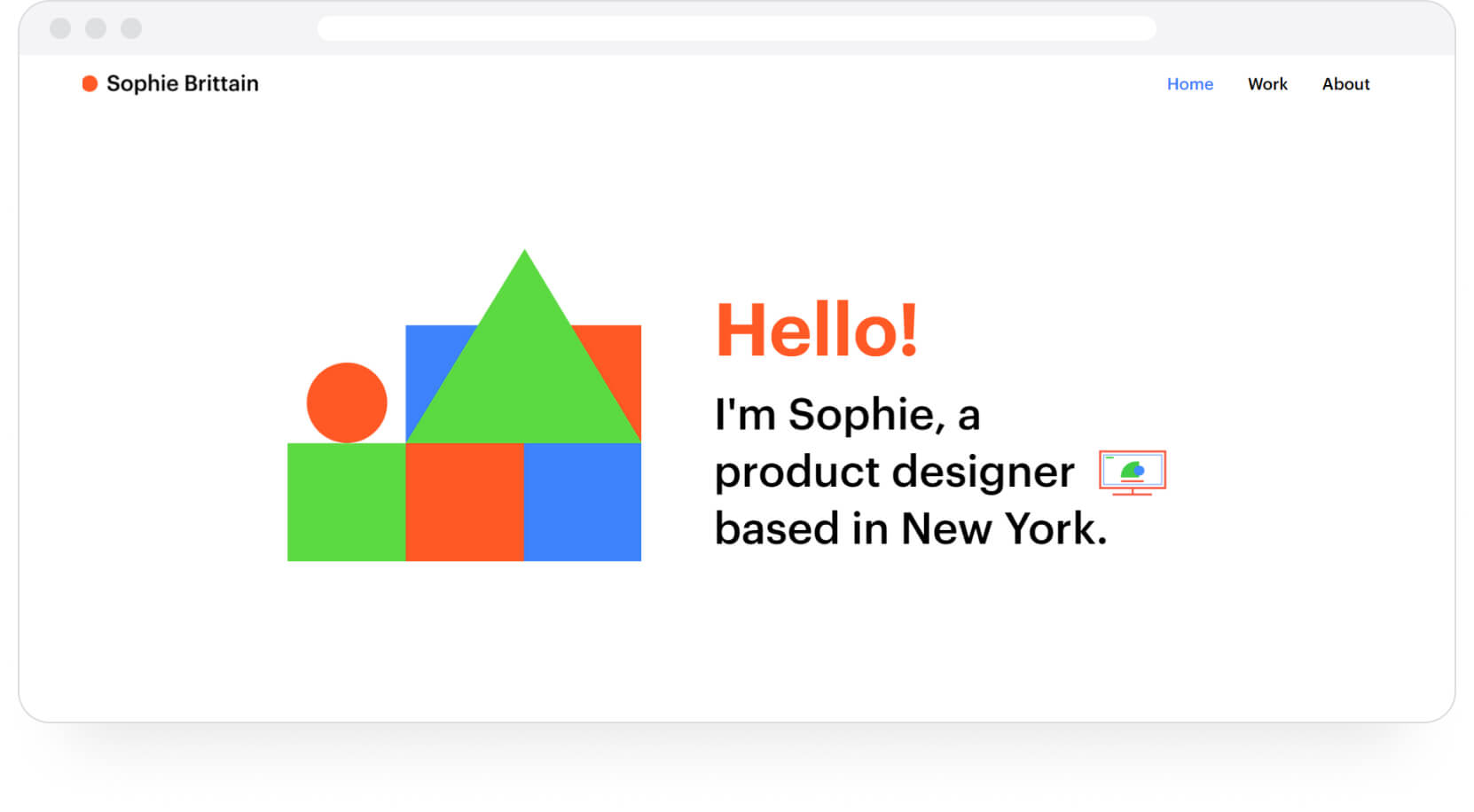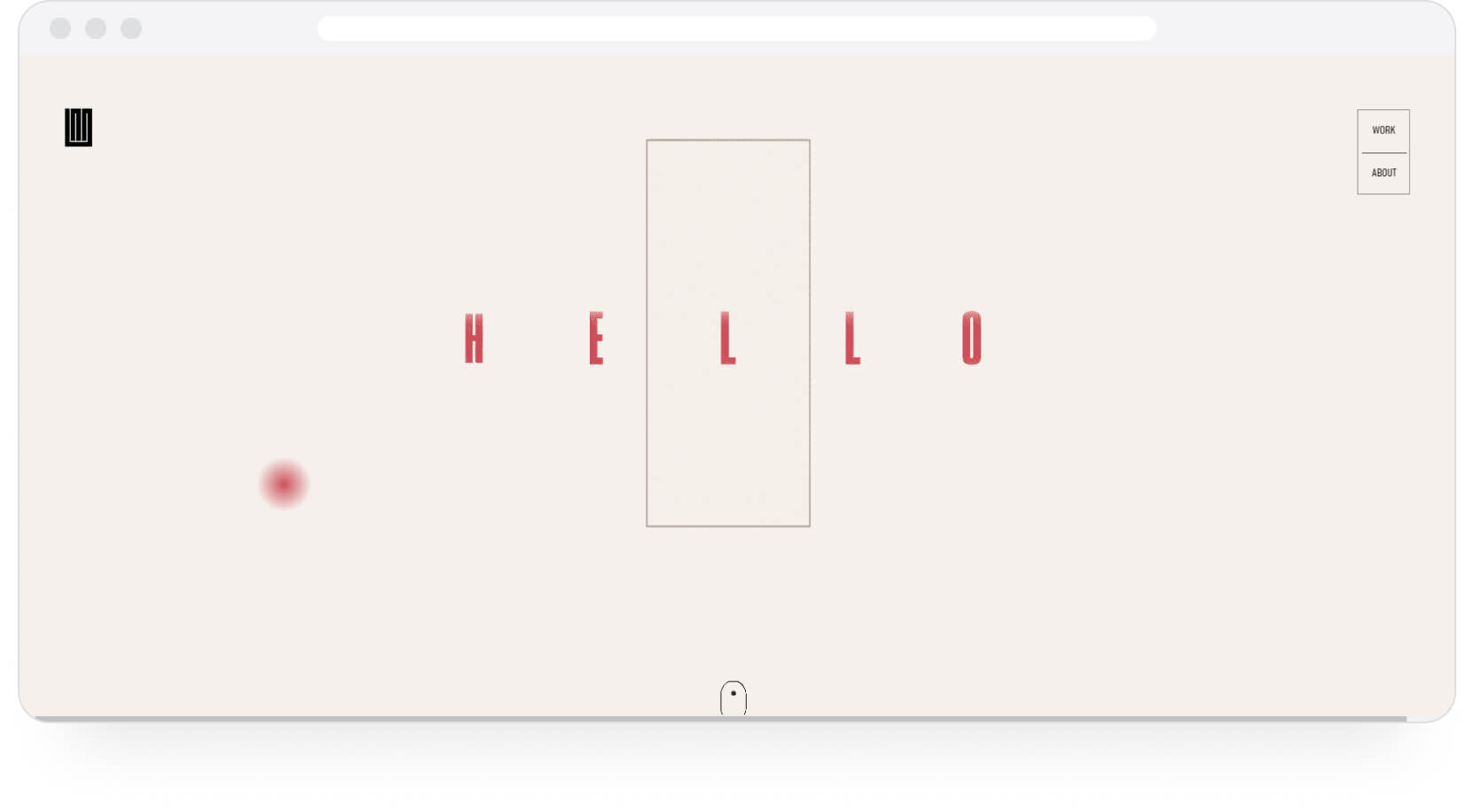 Authory: A Wix alternative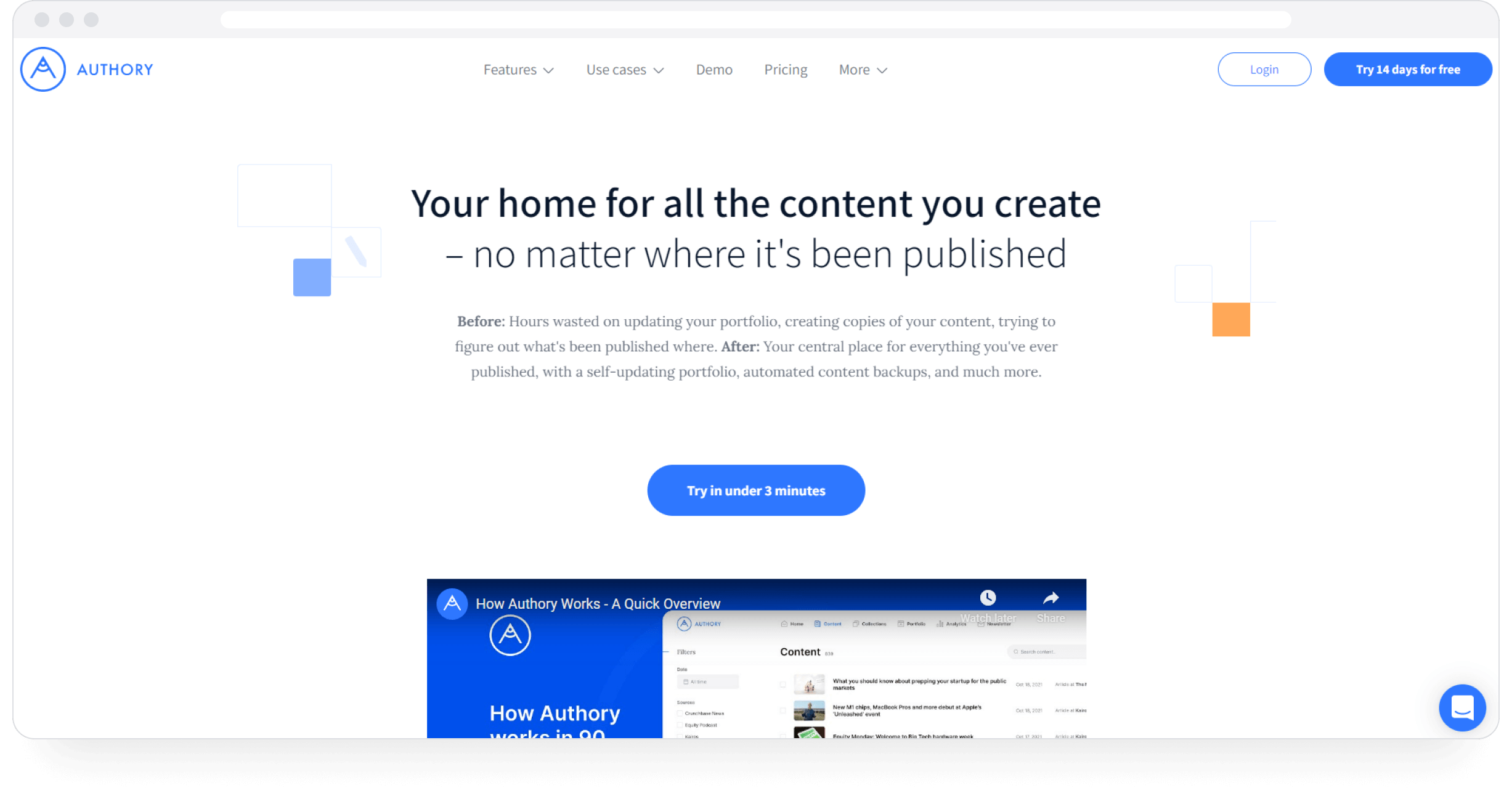 Among all the website builders I tried out when creating a professional portfolio, Wix did stand out for its user-friendly UI, the Wix ADI, all the templates, and most importantly, the well-populated app market that meets the inherent needs of most people building a website.
However, Wix required something Authory did: effort, quite a lot of effort. This was effort I didn't have to put in with Authory. This is because Authory, unlike Wix, is a dedicated portfolio builder tailored to the specific needs of people creating portfolios and nothing else.
I've already mentioned that most of Wix's in-built features and design competencies are ideal for representing visual work like graphic design or illustrations. They don't match the requirements of professionals in non-visual domains like journalism or freelance writing.
✍🏽
On the other hand, Authory serves exactly that niche. Not only is Authory meant strictly for portfolio building, but it also caters specifically to folks like me who don't need intuitive galleries as much as they need a tool to track down their published work and collate it in one place (which is exactly what Authory does).
Because it serves a niche, Authory's features make the process of online portfolio building much easier than Wix. You can literally create your portfolio in less than three minutes after Authory finds all your published work for you (more on that soon).
Authory literally builds your portfolio for you and takes significantly less time than it would take to set up a Wix website. I'll take you through its features, but I thought I'd start with what customers think of Authory.
Customer Testimonials for Authory
Why Authory over Wix
Most Wix portfolio examples above show a visual bend — something to do with art, design, photography, and the like. This is because Wix's best features are tailored to creating websites that prioritize aesthetic appeal, ideal for artist/illustrator/designer portfolio websites. But for a writer like me, it didn't provide certain crucial features that Authory did.
Much like Squarespace, Wix is primarily a website builder. It has templates that can faithfully recreate the appearance of a portfolio, but building it still entails a lot of manual work that you shouldn't have to do.
For example, you have to add all your work to your portfolio website manually. That means tracking down links to your published work and collating it. You might also have to convert the content to PDF format to upload onto your Wix portfolio website. Or, you'd have to copy-paste everything in your "Blog" section.
This is an exceptional amount of work, especially if you've been publishing work for a few years. Let's say that you have been meticulously saving all your work on your device or on the Cloud. Even so, you still have to spend time uploading/copy-pasting everything onto your Wix site.
Authory made my life easier, required much less effort from me, and still gave me an industry-best personal portfolio. Despite Wix having superior website-building options for other domains, Authory gave me what I needed to put a portfolio together in literal minutes.
Some of these features that made Authory my final choice are:
Self-updating portfolio
Authory will AUTOMATICALLY import a copy of every bylined piece from every site into its own database.
These sites are called "sources" in Authory's internal terminology. You add as many sources as you want, and every single bylined piece from every single source will be imported automatically.
You don't have to track down links to your published work (especially older pieces). As long as you remember the URL of the site where your work exists Authory will collate all your content for you in one dashboard.
No need to manually upload/copy-paste your content. Of course, if you have any non-bylined content, you can run a manual upload.
If you're curious, here's my content dashboard on Authory: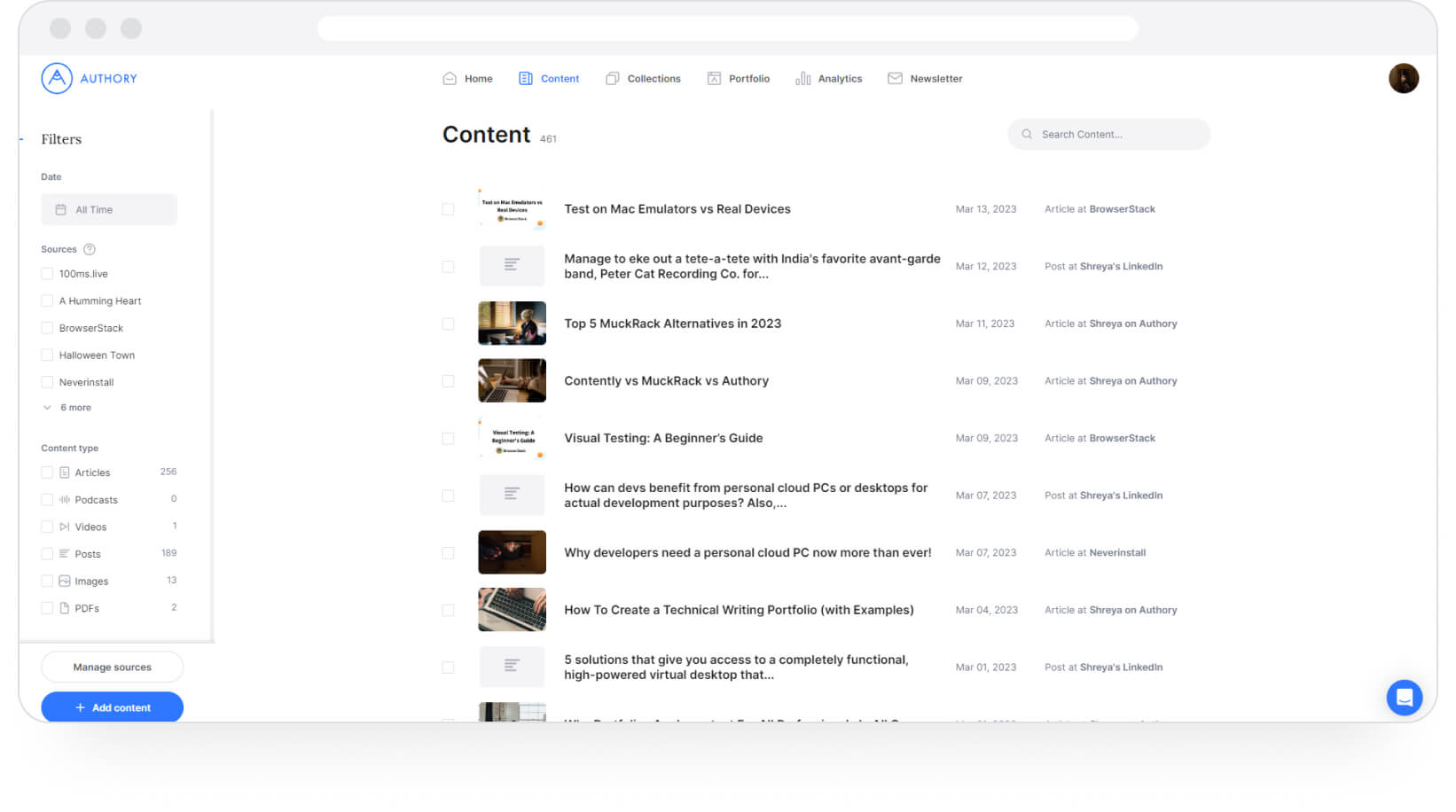 Automated backups
All content Authory imports from different sources is saved permanently. You'll never have to worry about losing any of your published work. Even if the original website where it's published goes defunct for any reason, you'll always have a copy safely stored on Authory's server.
All backups are in the original format — text and/or media. No screenshots.
Continued importing of past and future content (self-updating)
Once you enter a source, Authory won't just import your existing publications. Anything you publish on the same site (after you've fed its URL into Authory) in the future will also be imported automatically. In other words, Authory will import your past and future content.
Authory also sends email notifications for every new piece it imports, so you'll always know if something you submitted has been published.
Many Authory customers have observed that Authory notifications reached their inboxes faster than Google Alerts.
Collections for easy organization
Once Authory imports your content, you can categorize it into folders(of sorts) called "Collections," right within your Authory dashboard. Select the pieces that go into each Collection, name said Collections, and add them to your portfolio with a single click.
On your Authory portfolio, you'll see that these "Collections" show up as headers. They become the categories under which your content is organized for greater navigability and viewing.
Analytics, tracking, newsletter, RSS, and more
Authory doesn't just provide a digital space to display your work. You also get ancillary features like:
Ability to search through both your portfolio and your content database to find articles/audio/video based on keywords. Prospective employers can use this to look for topics on your portfolio, and you can use it to find specific pieces within your Authory content bank.
All imported content can be downloaded as high-res PDFs or exportable as HTML files — no lock-in period.
Get a custom domain and personalize your portfolio even further.
Multiple, low-effort options for customization to make your portfolio visually appealing and easy to navigate.
In-built analytics that provides real numbers on content performance (engagement, readership) across the web and popular social media sites every 30 days. You get to see how your readers/viewers are responding to your work.
Allows creation of newsletters with a couple of clicks. After setup, Authory will automatically send your newly published content to subscribers.
Widgets to display your personal portfolio on other sites, such as your personal website (if you have one).
Examples of Authory portfolios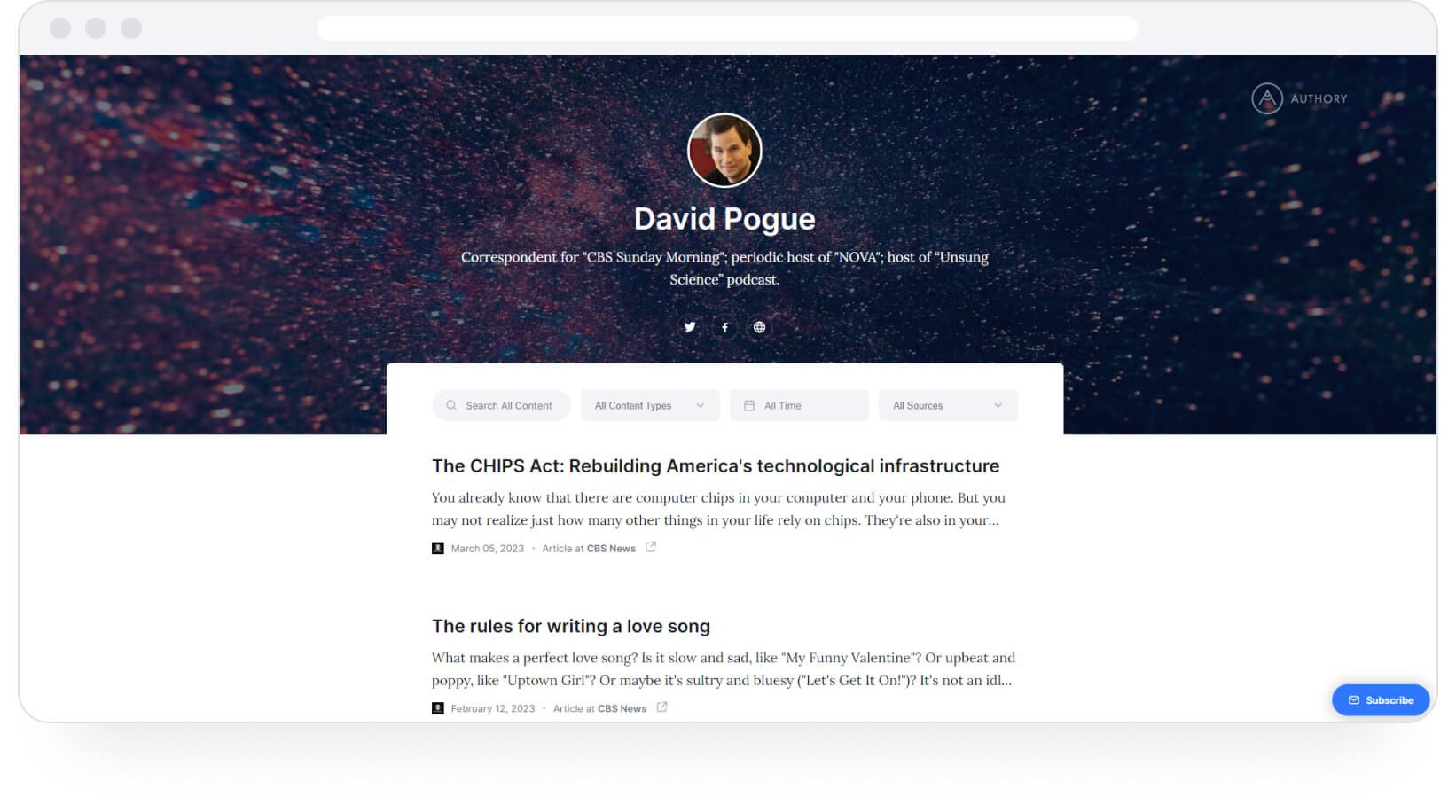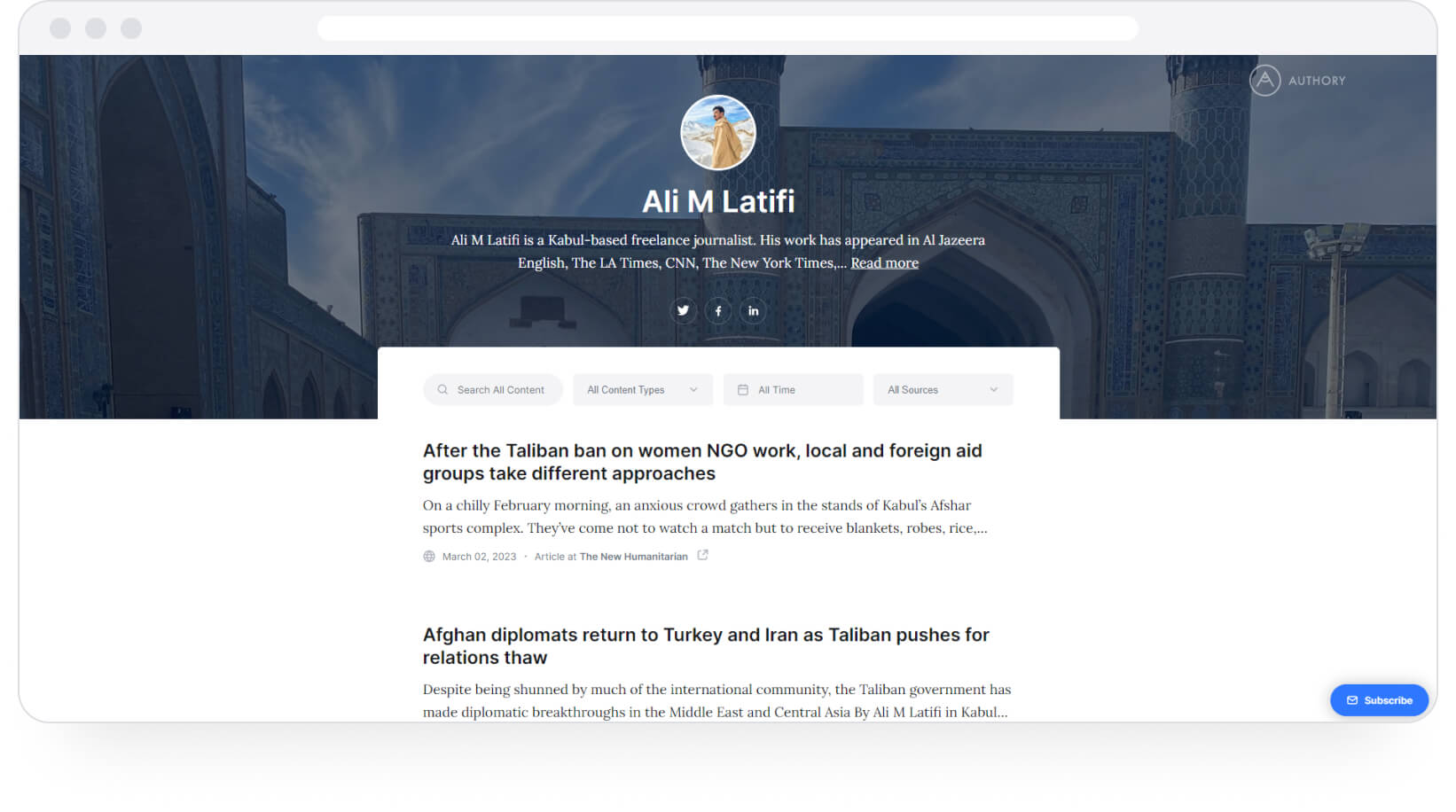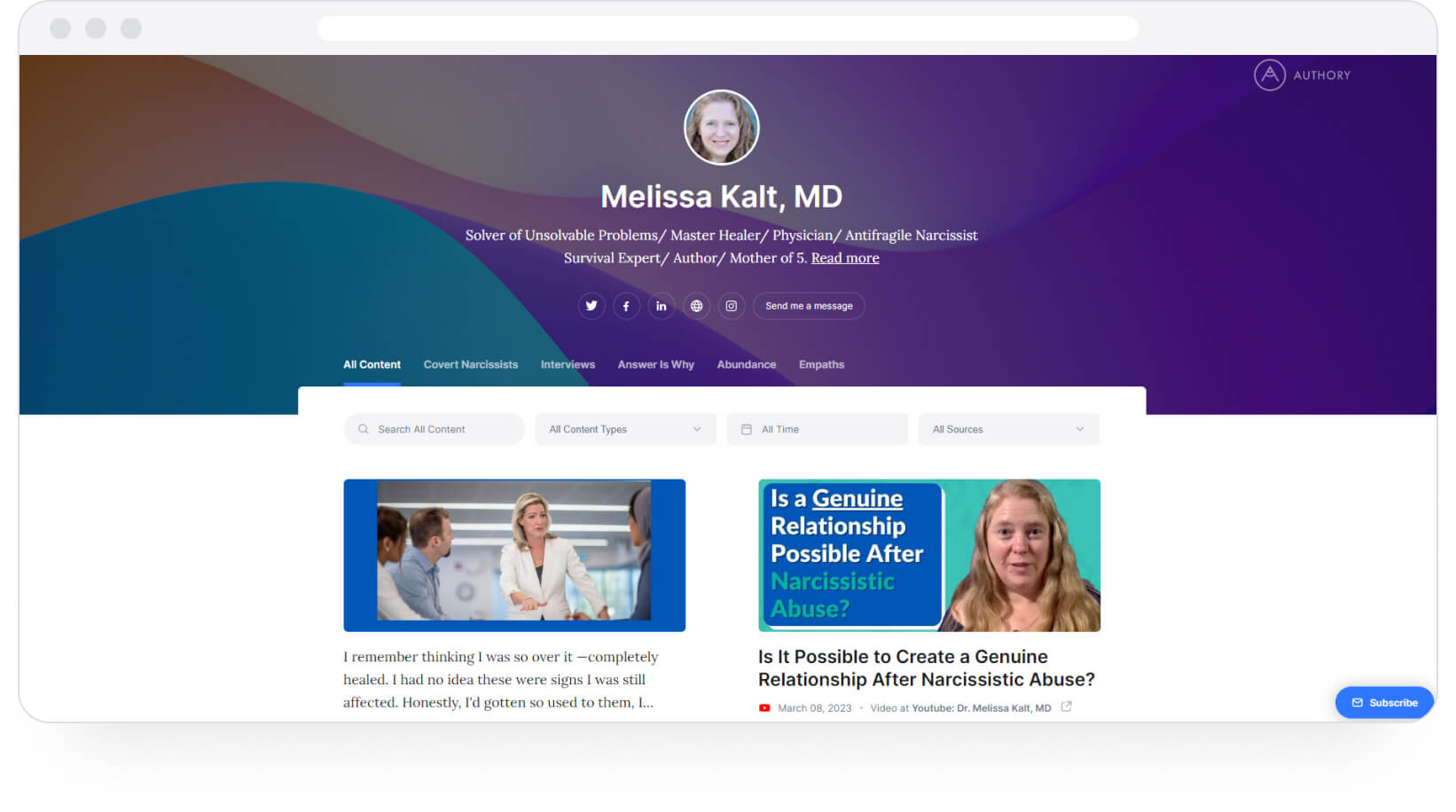 Wix vs Authory: Pick what fits your needs
Should you use Authory to build an art portfolio? No.
Should you use Wix to build a writing/journalism portfolio? No.
The real question isn't "Wix or Authory?" It is: "What do you do, and what are you looking for in your portfolio?" Answer this question, and you'll know which tool will work for you.
Writers, content marketers, journalists, thought leaders, even photojournalists... Authory is used by some of the most illustrious individuals in these domains. There's 6-time Emmy award winner David Pogue, Steven Levy, Editor at Large, WIRED, and Brian Fung, a Technology Reporter at CNN, to name a very few.
Why not just get started with Authory for free and see for yourself what works for you?