If you're a journalist and you don't have a Muck Rack portfolio... why?
Not only do you get a free portfolio, but you also become part of a network of PR professionals. PR agencies and in-house PR departments use Muck Rack to find the right journalists to carry and publish their stories. The Muck Rack database acts like a CRM with pre-loaded contacts — everything a journalist writes and tweets is indexed so that PR folks can look for journalists based on their actual activity.
As far as portfolio websites go, a Muck Rack profile/portfolio is close to mandatory for journalists these days. Not only do you get a free portfolio (it might be more appropriate to call it a profile), you get a built-in network through which jobs actually come to you.
But, nothing is perfect in this world, is it? So, I'll be laying out some cons of Muck Rack, along with its many pros. I'll also be recommending and discussing an alternative portfolio builder, or I should say a complementary tool, that will allow you to create a more future-forward, industry-tailored portfolio for employers outside the Muck Rack ecosystem.
📖
What you'll get out of this article:
• What is a Muck Rack portfolio, and how to create one
• Pros & Cons of a Muck Rack portfolio
• Why Authory is an excellent Muck Rack alternative
• Main features of Authory — automatic content importing AND backup
What is a Muck Rack portfolio?
If you're a journalist signing up for Muck Rack, you'll have to create a portfolio (or a profile) with basic information and work samples. This is necessary so that the PR people who use Muck Rack can search for you via the right keywords. They can also judge if you're the appropriate person to publish their story by looking through your list of published works.
A Muck Rack portfolio basically represents you (in terms of career experience, skills, and position) to the PR agencies/professionals who sign up on Muck Rack to find journalists/top media outlets for their releases.
What Contently is to freelancers (primarily freelance writers), Muck Rack is to journalists.
How to create a portfolio with Muck Rack
Step 1: Sign up
Sign up for Muck Rack. You need to enter basic details like your name, the media outlets you work for, and your email ID.
Step 2: Enter your information
Enter the information required to create your portfolio/profile. You have to feed in your name, profile picture, and the name of your media house. You also have to paste links to your published article/video one by one so that they appear in your profile.
Step 3: Answer a few questions
Answer a set of "interview questions" that offers more information about you to prospective story pitchers. You can also set your pitching preferences if you so desire.
I have a Muck Rack portfolio myself. If you're curious, feel free to have a look: muckrack.com/shreya-bose-1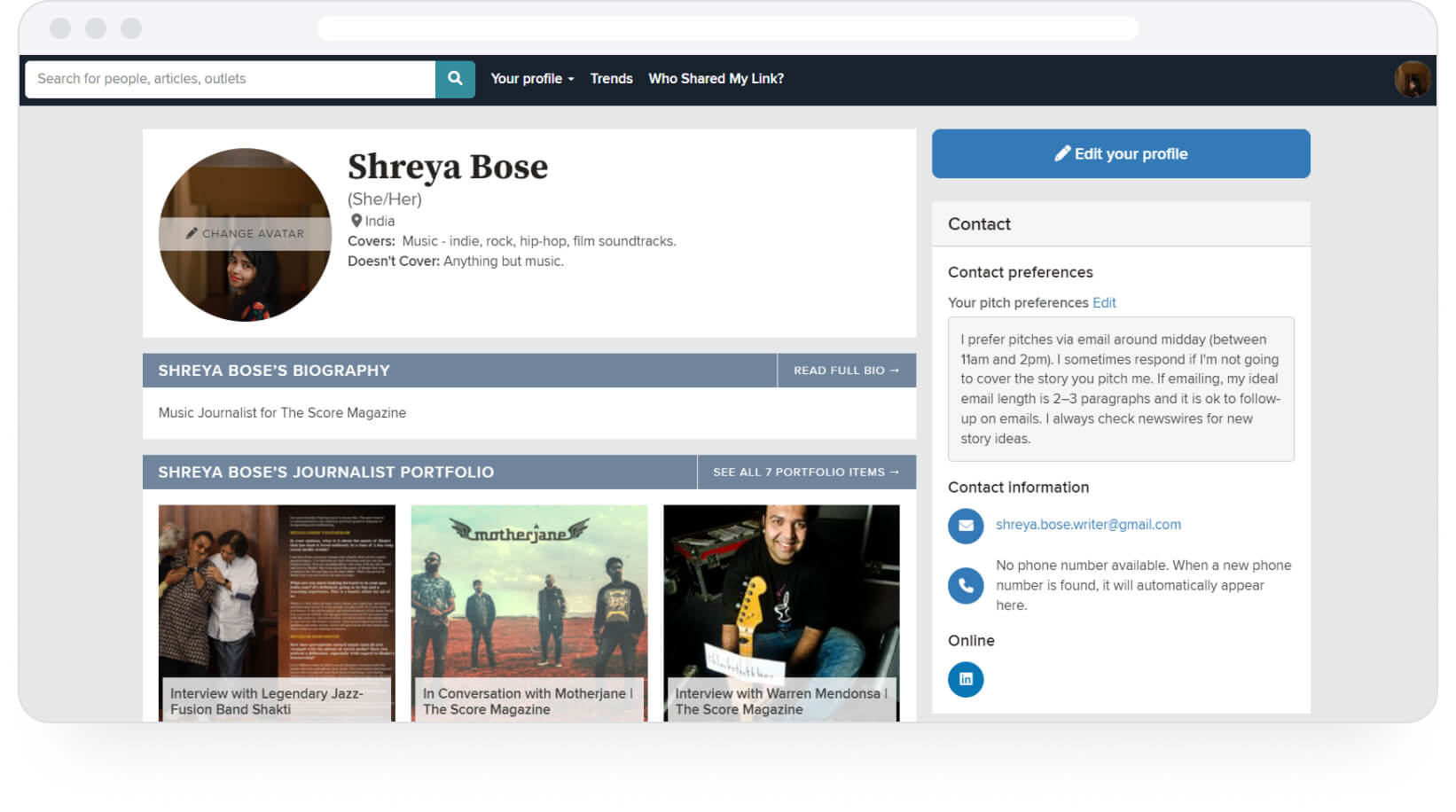 Muck Rack portfolio examples
Muck Rack portfolio example 1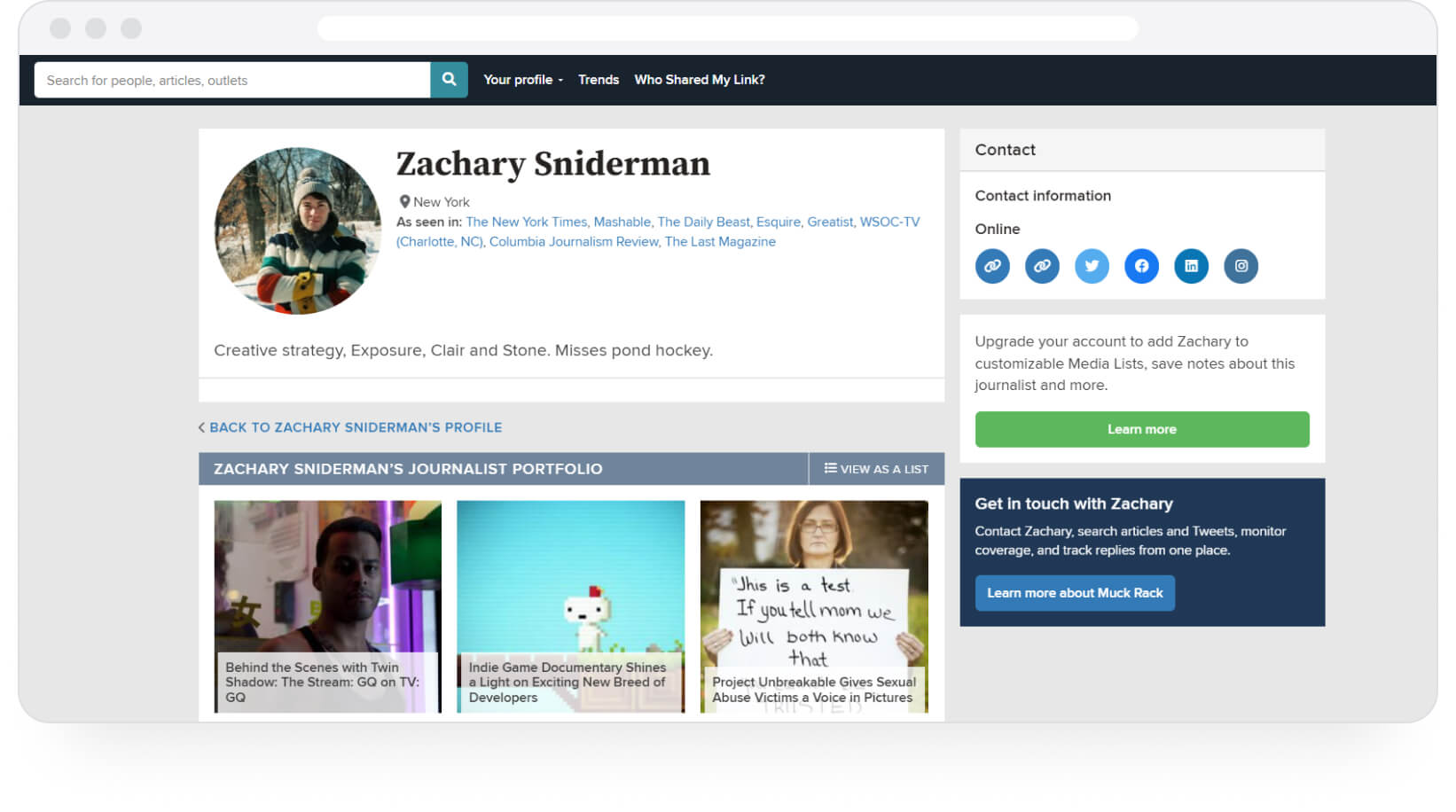 Muck Rack portfolio example 2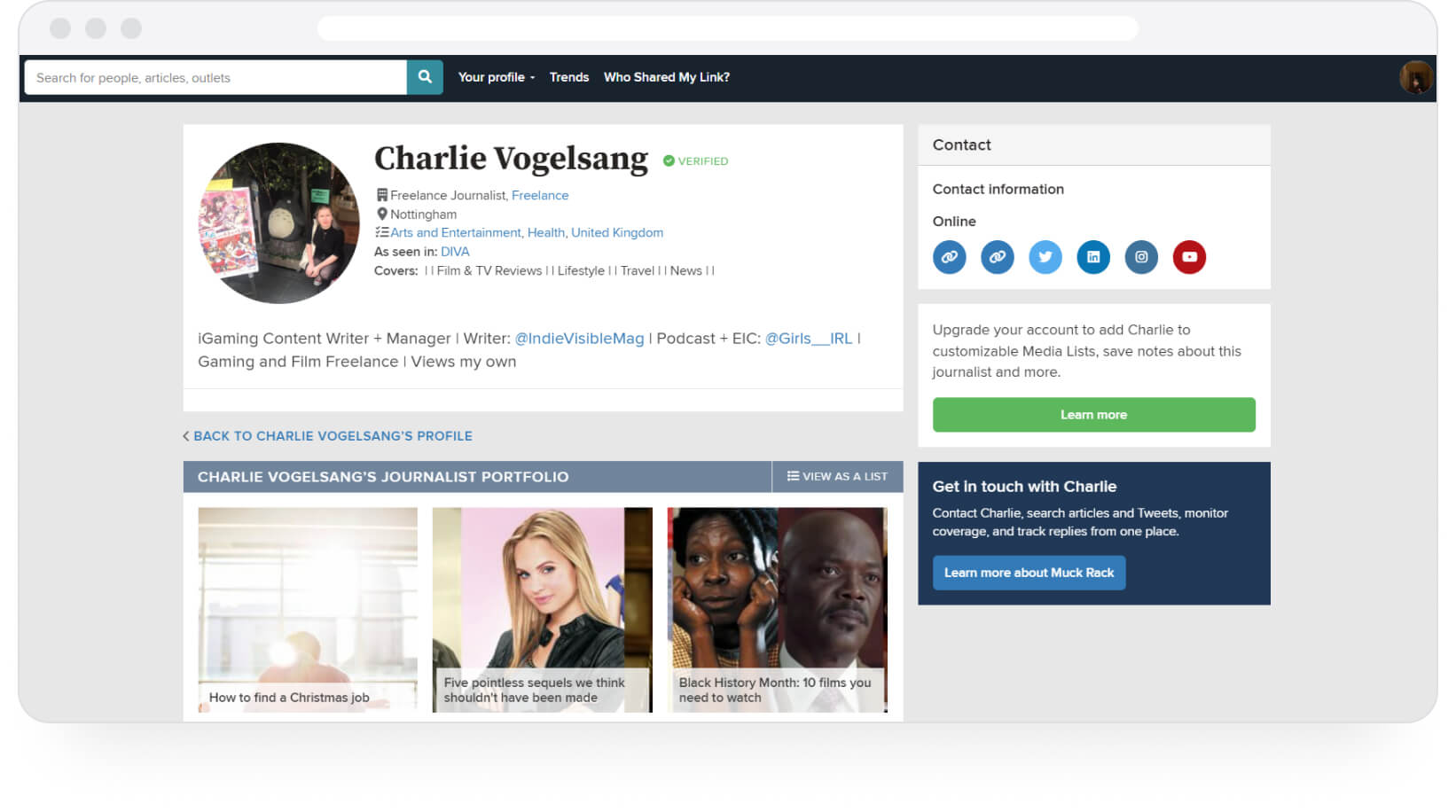 Muck Rack portfolio example 3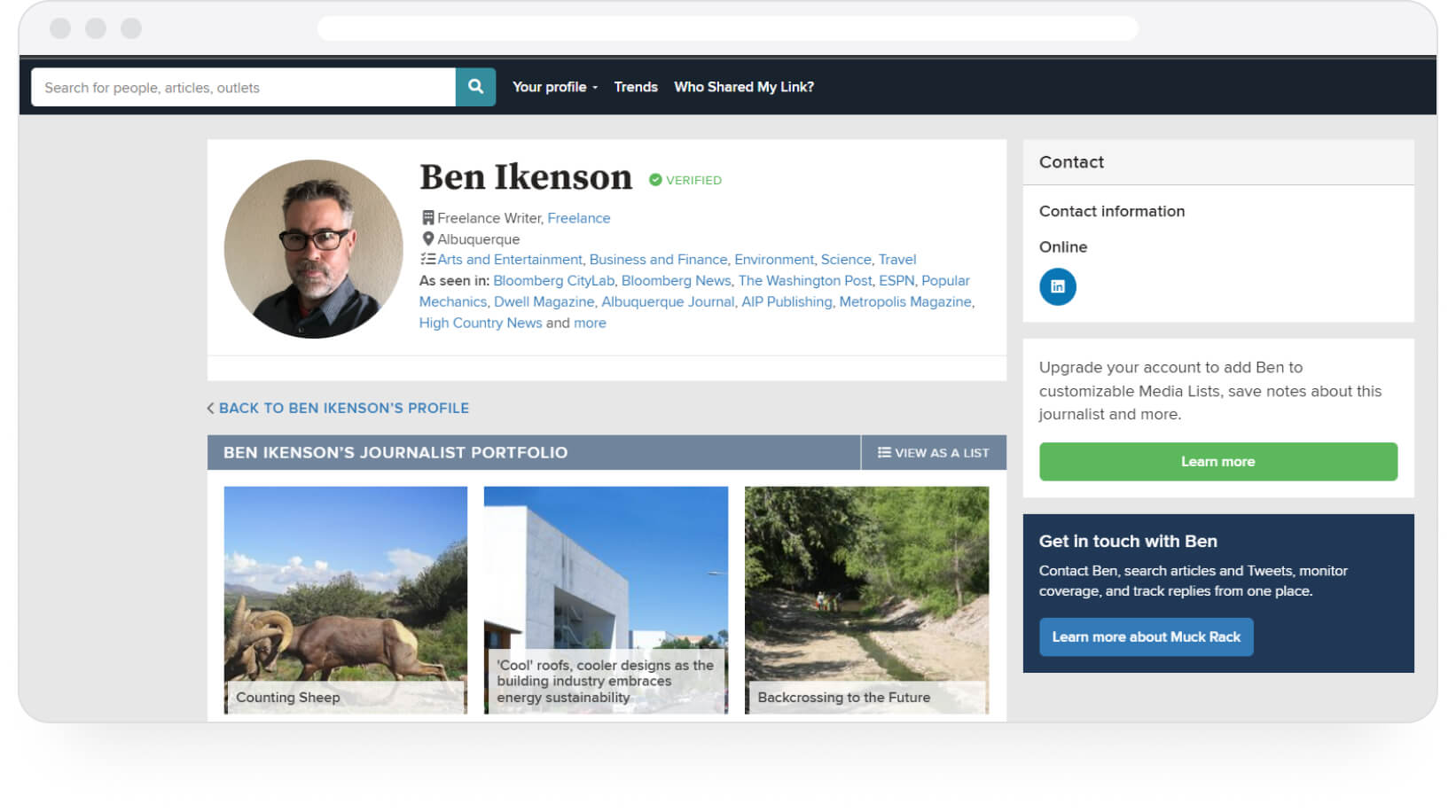 Pros & cons of Muck Rack
The pros of using a Muck Rack portfolio
It's free to use for journalists, and you basically get a free account forever.
Create a profile, and you'll become part of an instant job network.
You literally have to do nothing except create a portfolio/profile. The platform helps PR people find you, so all you do is keep your profile updated, post on social media, and wait for pitches.
Muck Rack updates your profile automatically with your newest articles — they will pull bylined articles from each site whose article/video you've previously added to your profile.
You can monitor news on chosen stories and topics; get numbers on published articles, top media outlets, and journalists. It's not Google analytics, but still reliable data.
Enter the URL of your article, and you'll see how many times it has been shared and which journalists & bloggers shared it.
You can follow other journalists and stay updated on their work.
The cons of using a Muck Rack portfolio
The portfolio is fairly basic. You cannot organize your work samples in any way. You can only reorder them. There is no way for prospective employers to look through your work by topic/date published/content type, etc.
The profile is not searchable. Recruiters cannot search for specific keywords, for example. It's basically a content dump that you, the journalist, can reorder if you want.
There's no mention of a backup feature. That means if the link of your published articles is disabled/dies/gets thrown into a redirect, you've lost your work. To prevent this, you'd have to manually create a copy of your piece.
You can't add "sources" (URLs of the actual site where your pieces appear) to Muck Rack. You can only add specific article links and hope the tool picks up the larger site URL (like the homepage/blog link) and extract newly bylined pieces.
Muck Rack portfolios are functional, and that's it. You can't customize any of the design elements or even upload a banner image. Sometimes, your pieces are showcased as a splotch of text without an accompanying image, which impacts readability in this visual-driven, low-attention-span age. Case in point: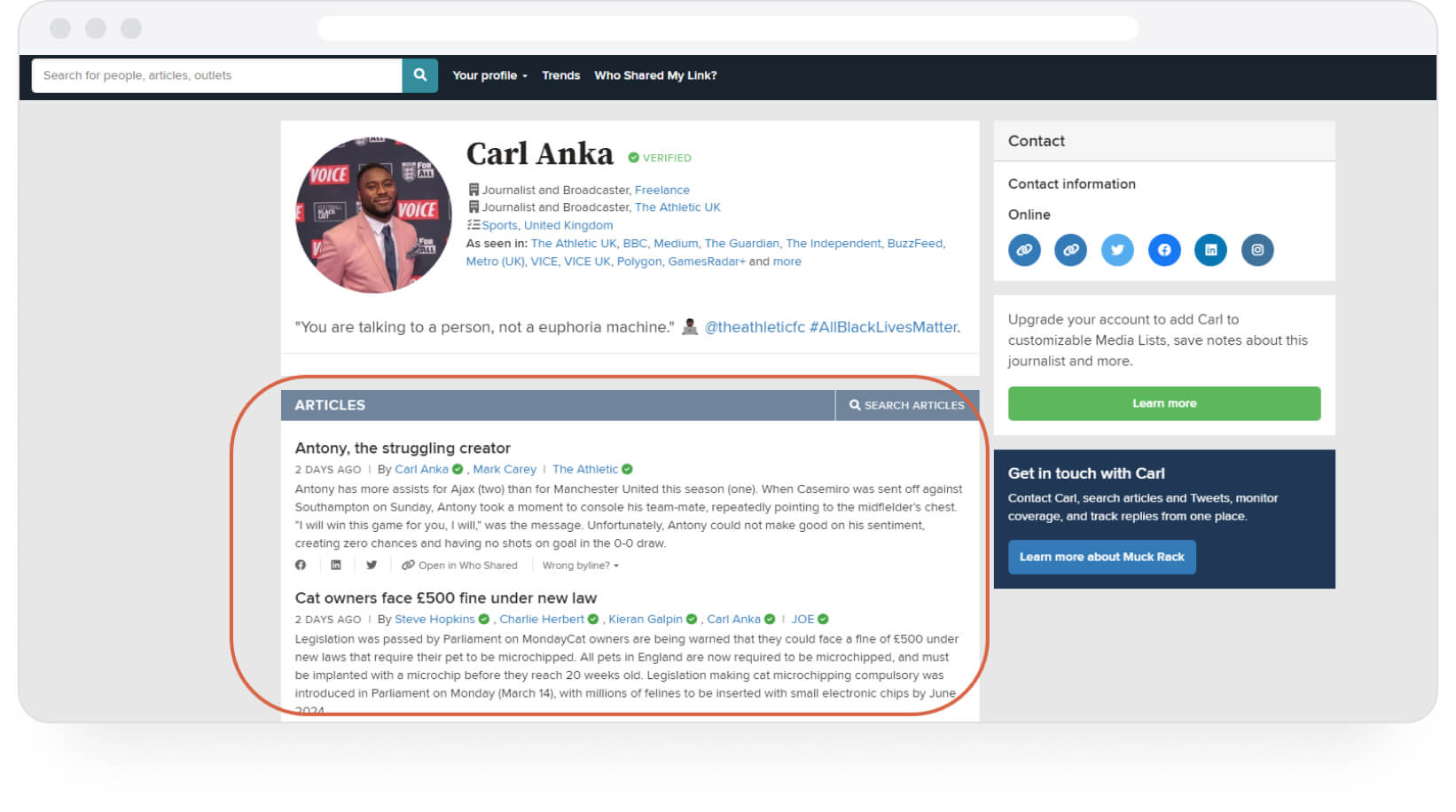 A Muck Rack alternative: Authory
🗒️
Note
: In case you'd like to look at a more extensive list of alternatives (including tools like Journo Portfolio, Squarespace, and the like), have a look at
The Best Portfolio Builder(s) for 2023
.
💡
Pro-Tip: Create a Muck Rack portfolio AND an Authory portfolio. The former is among the best free tools you'll get in the market. It also gives you access to a popular platform frequented by people looking to provide you with paid work.
The major difference between Muck Rack and Authory is that while Authory is a dedicated portfolio builder (that is its primary offering), Muck Rack is, first and foremost, a platform for PR teams to find journalists.
So, your Muck Rack portfolio exists only to make you visible to said PR teams. Giving you a recruiter-friendly, 2023-ready, searchable, aesthetically appealing portfolio is not Muck Rack's first priority.
You've seen my Muck Rack portfolio above. Now look at my presence on Authory: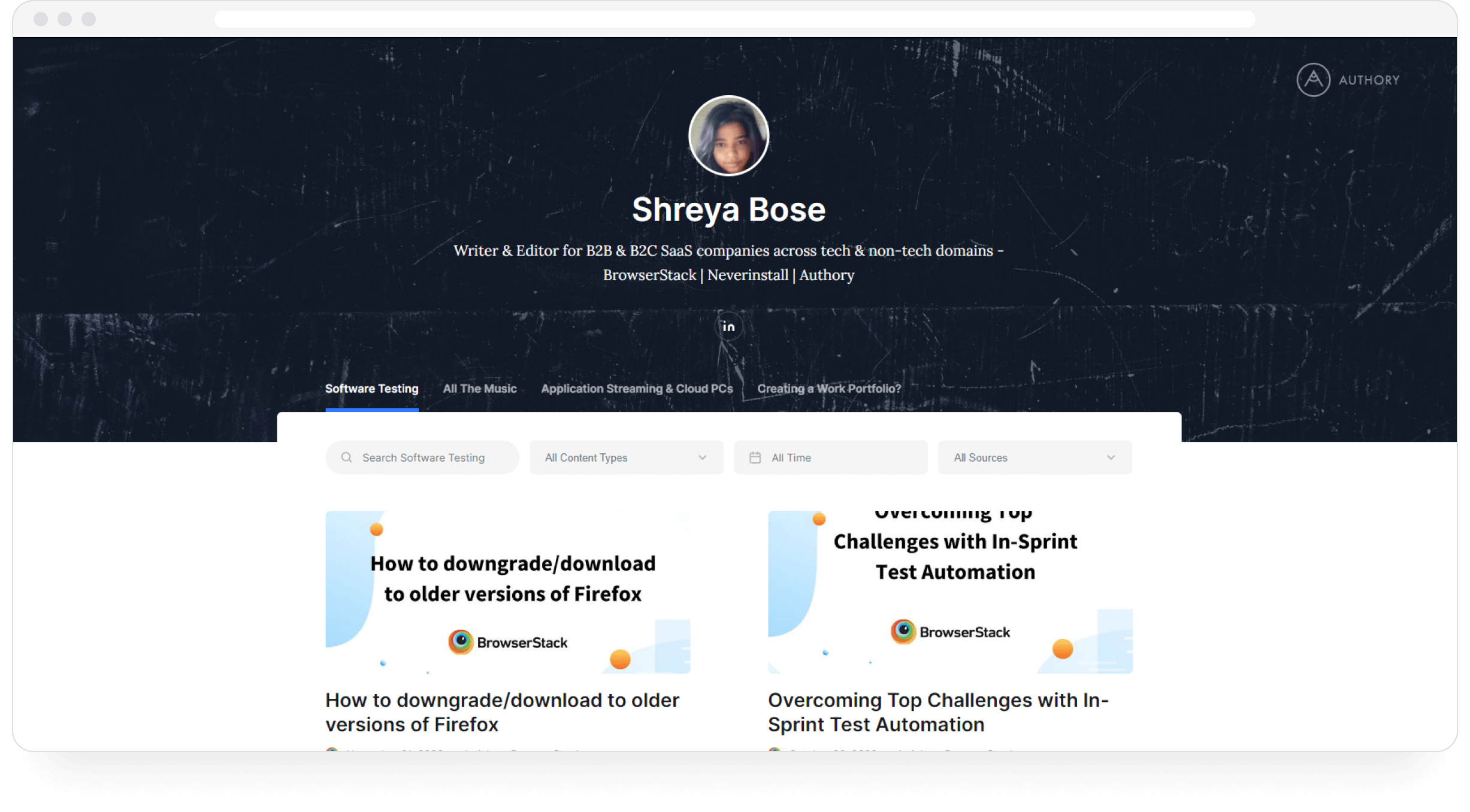 The difference is palpable. It doesn't just look better but is easier to navigate. You can search for specific titles and filter content by type, publication site, and time of publication. You can also customize elements, so your work shows up as a list, a grid, or tiles, as seen above.
I'll dive into Authory's specific features below, but first, some customer testimonials...

Why Authory over Muck Rack
As I stated before, I think it's most beneficial to have both an Authory and a Muck Rack portfolio. But, gun to my head, here's why I would pick Authory if I had to choose between the two:
Automatic importing of bylined content
Feed the URL of every site where your work is published into Authory, and it will AUTOMATICALLY import a copy of every bylined piece into its own database.
The sites of publication are called "sources" in Authory. You can add multiple sources, and ALL your bylined pieces from ALL sources will be imported automatically.
You no longer have to waste time tracking down links to your published work (especially older pieces). Just remember the source URL. As long as you remember that and the source site is still active, Authory will collate all your content for you in a single location.
No need to manually upload/copy-paste your content.
Case in point, my content dashboard on Authory: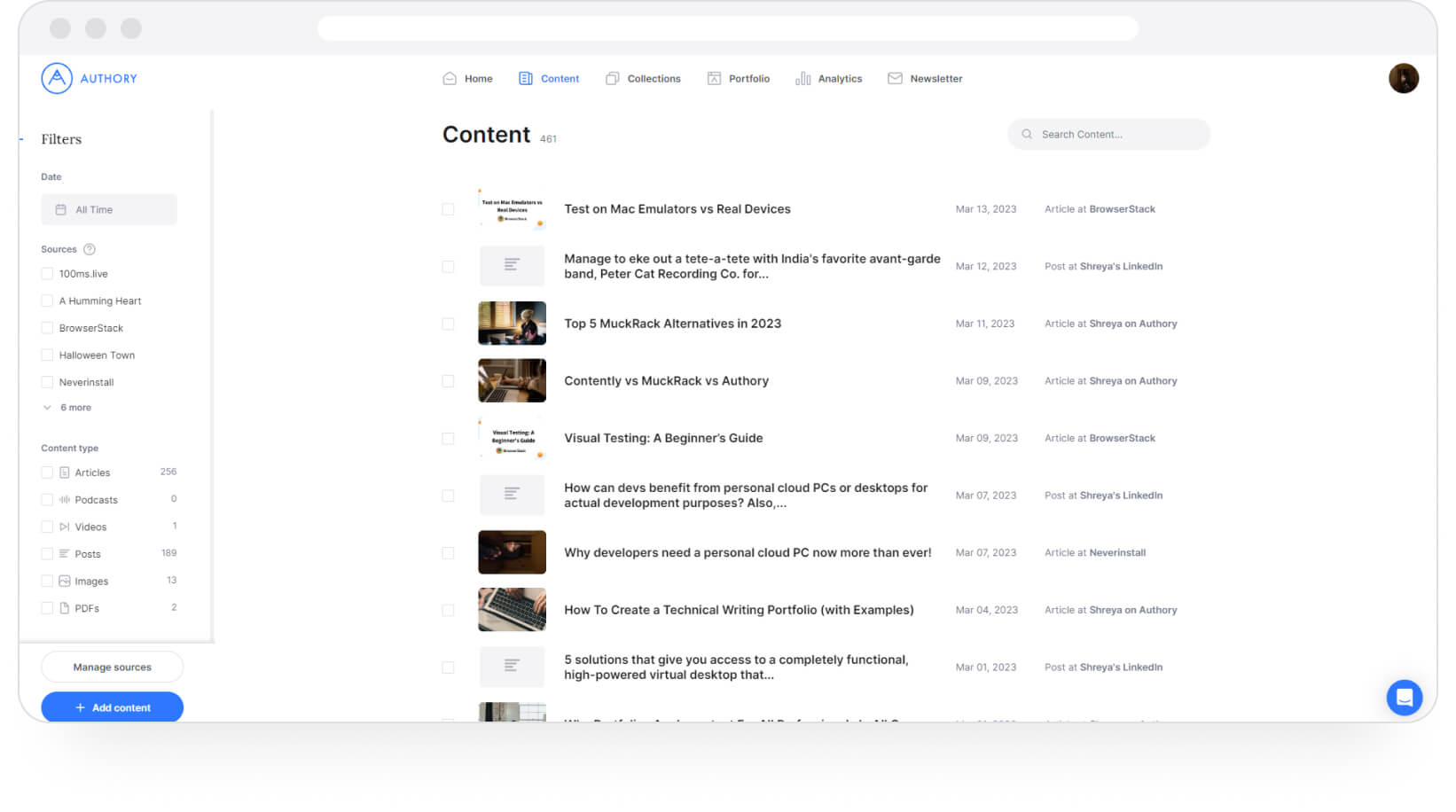 Continued importing of past and future content (self-updating)
Once you enter a source, Authory won't just import your existing content. Anything you publish on the same site after you're fed its URL into Authory will also be imported automatically. In other words, Authory will import your past and future content.
You no longer have to wonder if any submitted content has been published yet. Authory sends email notifications to inform you that your piece has been imported, which is how you know it has been published. Many Authory customers have actually reported that Authory notifications reached them faster than Google Alerts.
Automatic backup
Authory imports your content and saves everything permanently, and any content drawn into its dashboard is protected and saved forever, automatically.
It doesn't matter if the original page dies/is thrown into a redirect. Your backup copy of Authory remains unaffected.
All backups are in the original format — text and/or media. No screenshots.
Collections for easy organization
Once Authory imports your content, you can place it into different Collections. Name these collections as you want, select the pieces that go into each Collection, and add said Collections to your portfolio with a single click.
Unlike the content dump approach of Muck Rack, Authory lets you assemble your content into relevant headers. Needless to say, this offers your portfolio a more professional look.
Additionally, you also get the following features:
All imported content can be downloaded as high-res PDFs or exportable as HTML files — no lock-in period.
Get a custom domain and personalize your portfolio even further.
Multiple, low-effort options for customization to make your portfolio visually appealing and easy to navigate.
In-built analytics that provides real numbers on content performance (engagement, readership) across the web and popular social media sites every 30 days.
Allows creation of newsletters with a couple of clicks. After setup, Authory will automatically send your newly published content to subscribers.
Widgets to display your portfolio on other sites, such as your personal website (if you have one).
A few examples of Authory portfolios: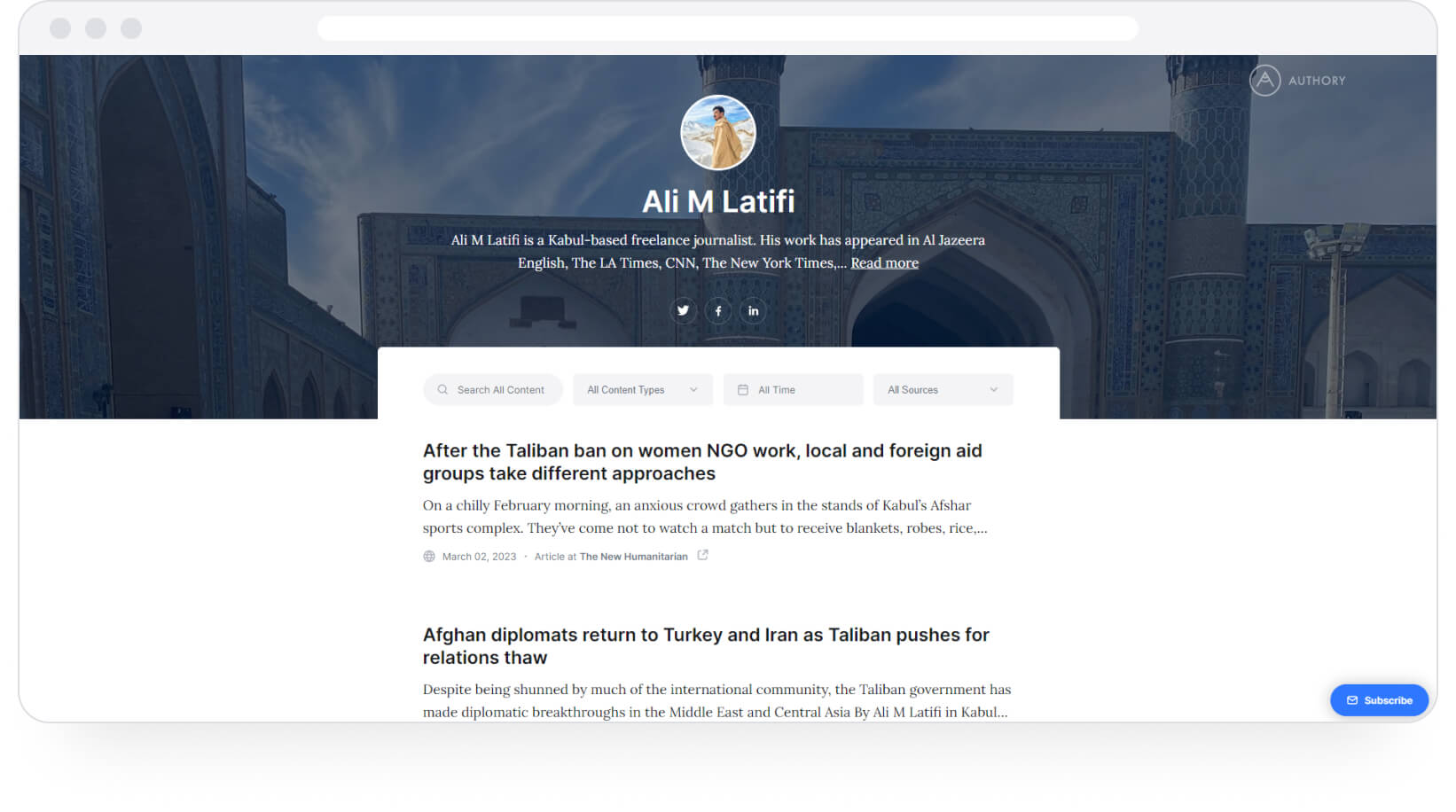 Ali M Latifi is a Kabul-based freelance journalist.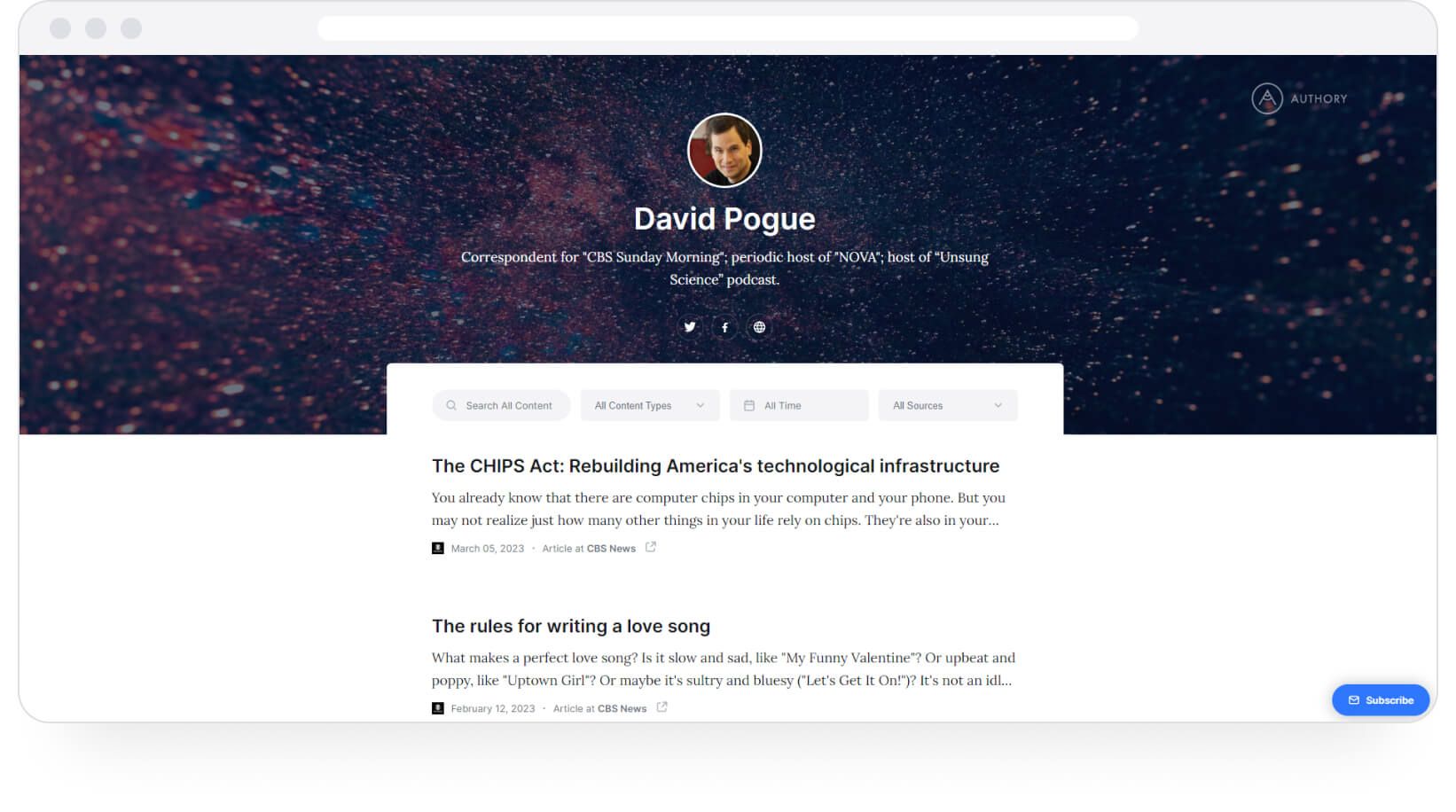 David Pogue is a six-time Emmy winner, a New York Times bestselling author, a five-time TED speaker, host of 20 NOVA science specials on PBS, and creator/host of the CBS News/Simon & Schuster podcast Unsung Science.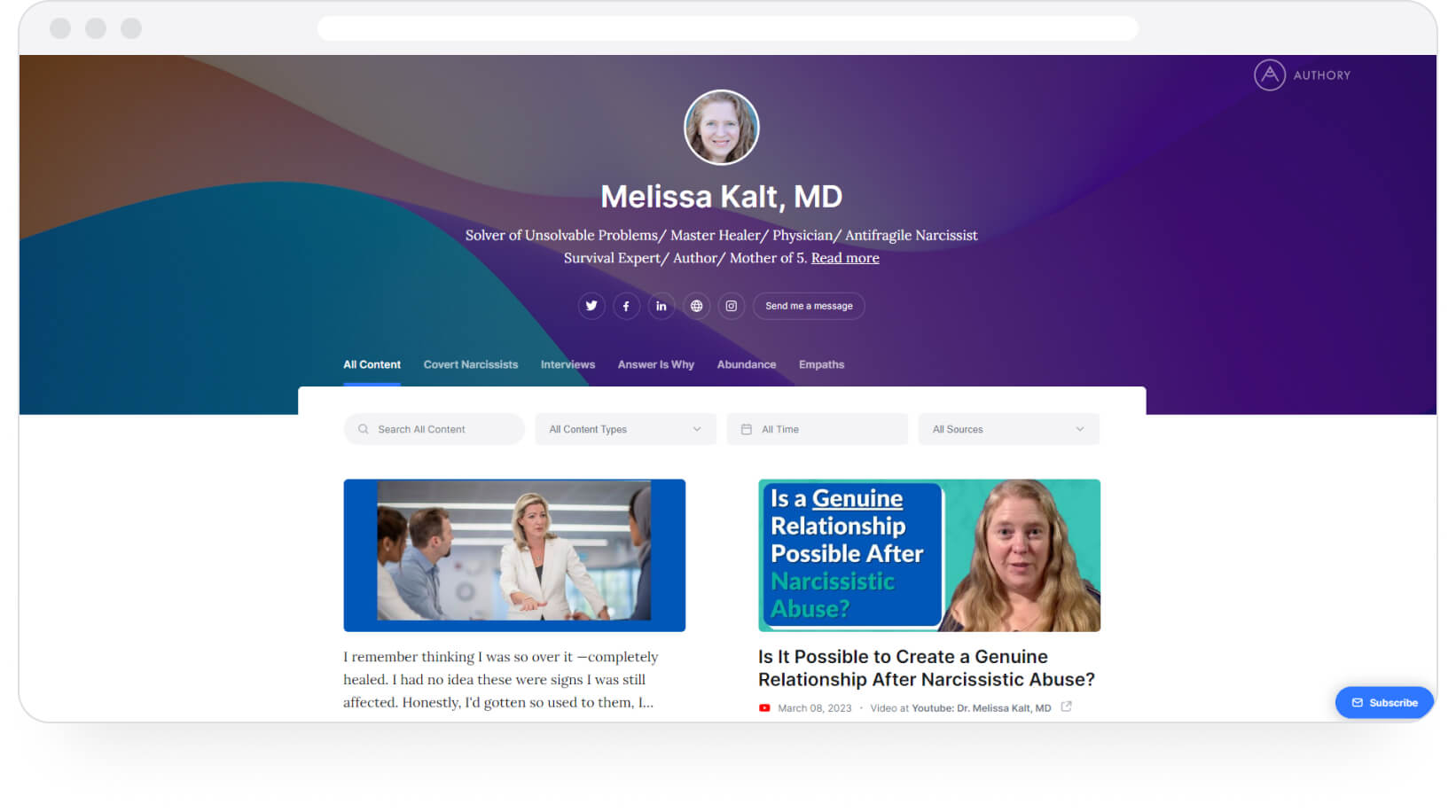 Melissa Kalt is a triple-board-certified MD in Internal Medicine, Pediatrics, and Lipidology.
To Sum Up...
Muck Rack is an excellent tool for journalists, but it isn't sufficient to succeed in the larger job search landscape. Sending your Muck Rack portfolio to recruiters won't give you the upper hand since it has quite a few inadequacies in terms of what employers look for in a portfolio.
A Muck Rack portfolio contains the basics, but imagine competing against this with your Muck Rack portfolio. Who do you think the recruiter/hiring manager/employer is noticing and remembering?
On the other hand, Authory is favored by the likes of 6-time Emmy award winner David Pogue, Steven Levy, Editor at Large, WIRED, and Brian Fung, a Technology Reporter at CNN. These people have the kind of careers I want, so I'll follow their wisdom when picking out my portfolio builder.
If you still need to decide, just get started with Authory for free.