As one of the most popular and powerful website builders in the world, WordPress is undoubtedly one of the most obvious choices to build your online portfolio. A huge part of this is the portfolio theme(s) provided by the tool. Using a WordPress portfolio theme (or, as some writers called it in their reviews, a "portfolio WordPress theme" makes building said portfolio far easier.
I would certainly recommend giving WordPress a try when building portfolio websites. In fact, I'll even lay out a step-by-step tutorial on how to do the same, in this article. Of course, the article wouldn't be complete without a list of the best WordPress portfolio themes, as well as a list of pros & cons you should be aware of before starting on your portfolio site.
However, in case, you're curious about any tools that can help you create a portfolio website faster than WordPress, and with much less effort, I'll discuss a WordPress alternative called Authory (and examine why it might be a better option in this context).
But first, let's give you what you came here for.
📖
What you'll get out of this article:
• A Step-by-step guide to creating a work portfolio using WordPress
• Pros & Cons of a WordPress Portfolio
• 5 Best WordPress themes for building portfolios
• Why Authory is an excellent WordPress alternative
• Main features of Authory — automatic content importing AND backup


How to create a portfolio site/portfolio page with WordPress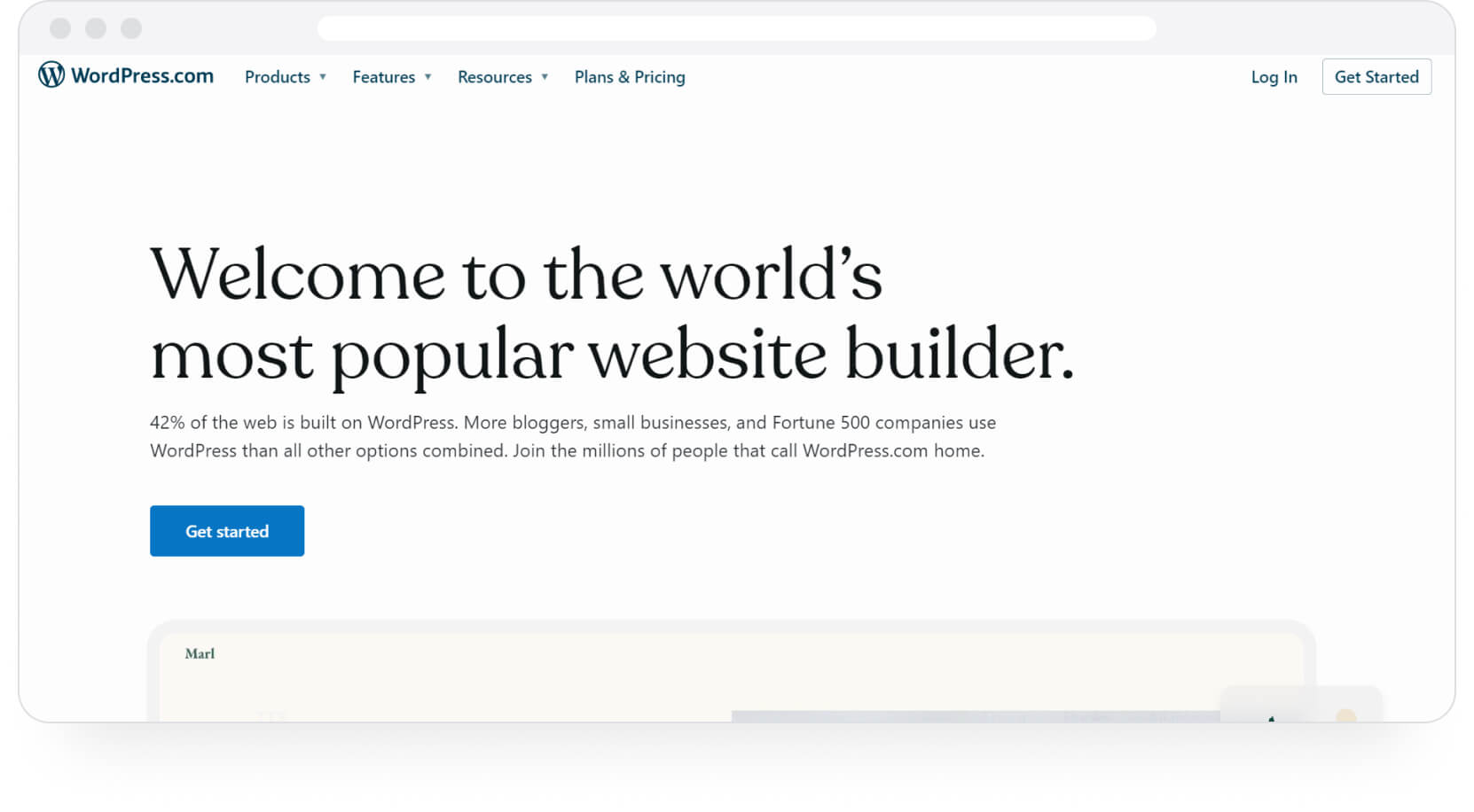 WordPress
Step 1
Choose a unique domain name that reflects you, your work, and the nature of your portfolio. The ideal domain name is short, easy to spell & remember, and kinda catchy.
Step 2
Check if your chosen domain name is available for usage. You can use Google Domains to verify this.
Step 3
Choose a solid web hosting service for your WordPress portfolio. When picking the host, ensure that it is scalable (because your site will grow), takes data security seriously, has robust customer support, and has a proven track record of positive output.
Step 4
Install WordPress. The actual process of installation will differ, but not majorly, depending on the host you've chosen for your site. But whatever the host, it should provide a one-click option for installing WordPress.
You'll have to enter the following details (at the very least): your site URL, site language, administrator username, password & email, your website title and tagline (description of yourself and the site).
You may need to enter other details if your chosen web host requires them.
Step 5
Choose a theme from among the thousands of WordPress themes available online. Ideally, depending on the kind of portfolio you're building, it is best to choose a responsive portfolio WordPress theme or a multipurpose WordPress portfolio theme.
The theme will provide the functional and aesthetic foundation for your WordPress portfolio site. Go with a modern theme that is likely to match employers' sensibilities in 2023 and beyond.
Step 6
Choose and install the necessary plugins to expand your website's functionality. For example, the W3 Total Cache plugin helps ****your site load faster on your readers' devices when they revisit it, the Yoast SEO plugin is necessary for optimizing your site for better Google rankings, and the WooCommerce plugin is great if you want to sell your work directly from your site.
Step 7
Now you have the barebones of your website. Time to personalize it with your information: name, description of services/skills, contact information, bio, etc. Add the relevant headers and descriptions in the right sections.
Step 8
Create a gallery/page dedicated to your work samples. You can create a project gallery in which you upload and/or copy-paste your best publications (audio, video, text, strategy). This is the absolute core of your portfolio site. This is part prospective employers really care about.
WordPress lets you upload your work in every possible format, but the specifics of what can be uploaded depend on the theme you have chosen. For example, certain themes may require you to copy-paste your articles to a "Blog" section, while others will let you upload everything in PDF format.
Step 9
Don't forget to build an "About Me" section and a "Contact Form" so that visitors know who they can work with, and can contact you easily.
Step 10
Give your website a final review. Once you are satisfied with all your customizations, take it live.
You now have an active WordPress portfolio.
The pros of a WordPress portfolio
The WordPress UI is very user-friendly. You can navigate through, edit pages, upload new content and organize it without much knowledge of website management.
You can choose from nearly 54,000 free and paid plugins in the WordPress library. You can use them to add/enhance functions on your site.
Most WordPress themes are responsive, so your portfolio site will look perfect on mobile devices as well.
If you are a programmer, you can access WordPress' backend code (since it is open-source software). You play with the code to tweak your website, work with 3rd party agencies, or even open-source plugins (there are quite a few of those too).
The cons of a WordPress portfolio
If you're building a writer/journalist/thought leader/speaker/podcast/video creator portfolio, WordPress requires more work than dedicated portfolio-building tools like Authory. At the very least, you still have to manually track down all your published articles/podcasts/videos/projects/social media posts, upload them to your site, and also save everything on your drive/the cloud. This is work you shouldn't have to do yourself.
If you want your portfolio site to have obvious features — automatic content importing, automatic content backup, content analytics, and privatization options — you'll need to find and install relevant plugins. This is, once again, an unnecessary time sink.
Certain portfolio WordPress themes carry a fair bit of generic code, which bloats them and makes your website slower to load.
Premium WordPress themes are updated and improved often — necessary to maintain proper security on WordPress websites. However, if you have an existing site using such a theme, some of its current functions may not work after the update actually occurs. In such cases, you'll have to revert your site to a pre-update state, for which you'll probably need a developer's expertise (unless you are a dev yourself).
Even if your pick a flexible WordPress portfolio theme, there are certain customizations you cannot implement easily if you don't have programming experience. This provides you with greater freedom to customize than a generic page builder, but if you aren't a coder, you cannot do much unless you pay to hire a developer.
Examples of WordPress portfolios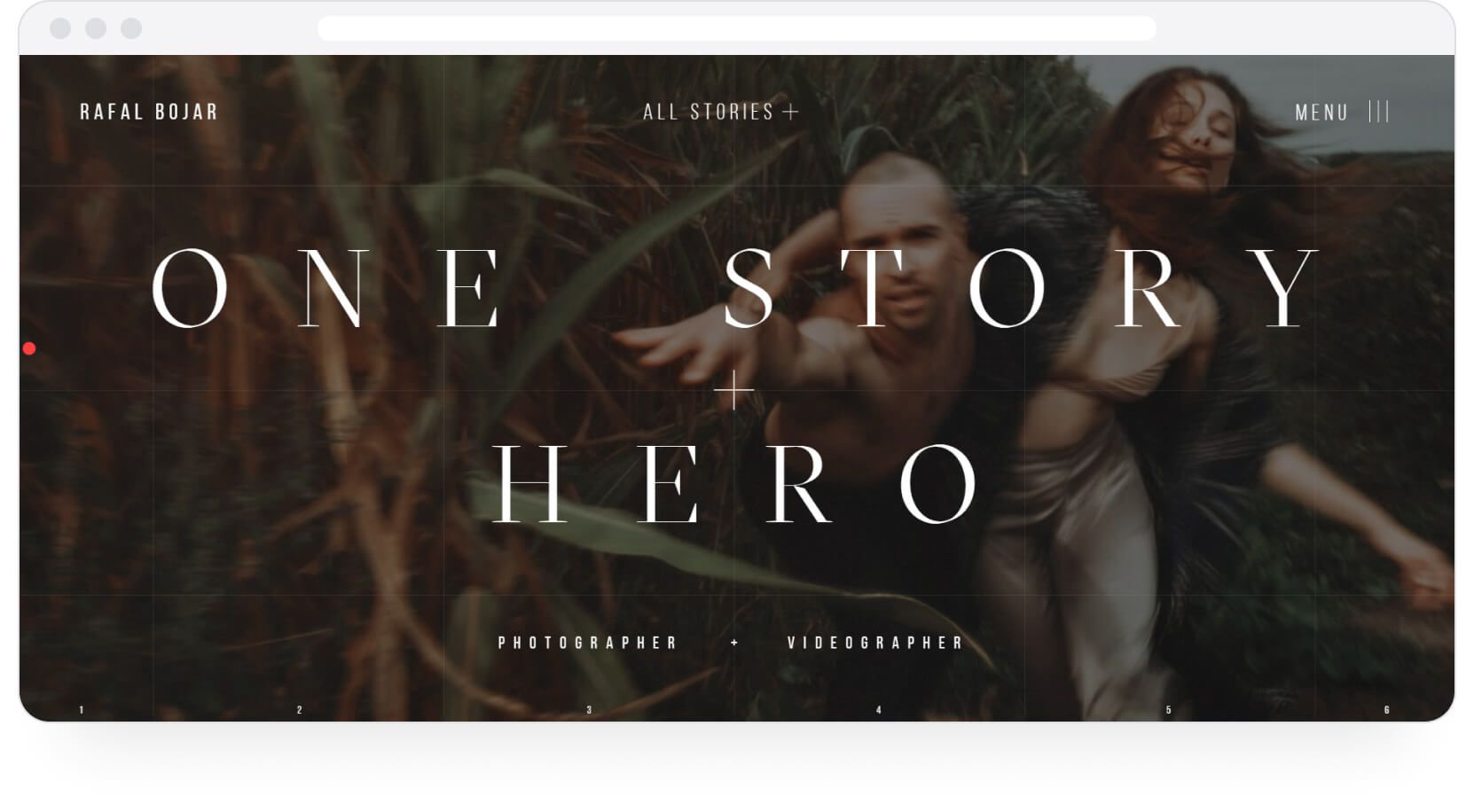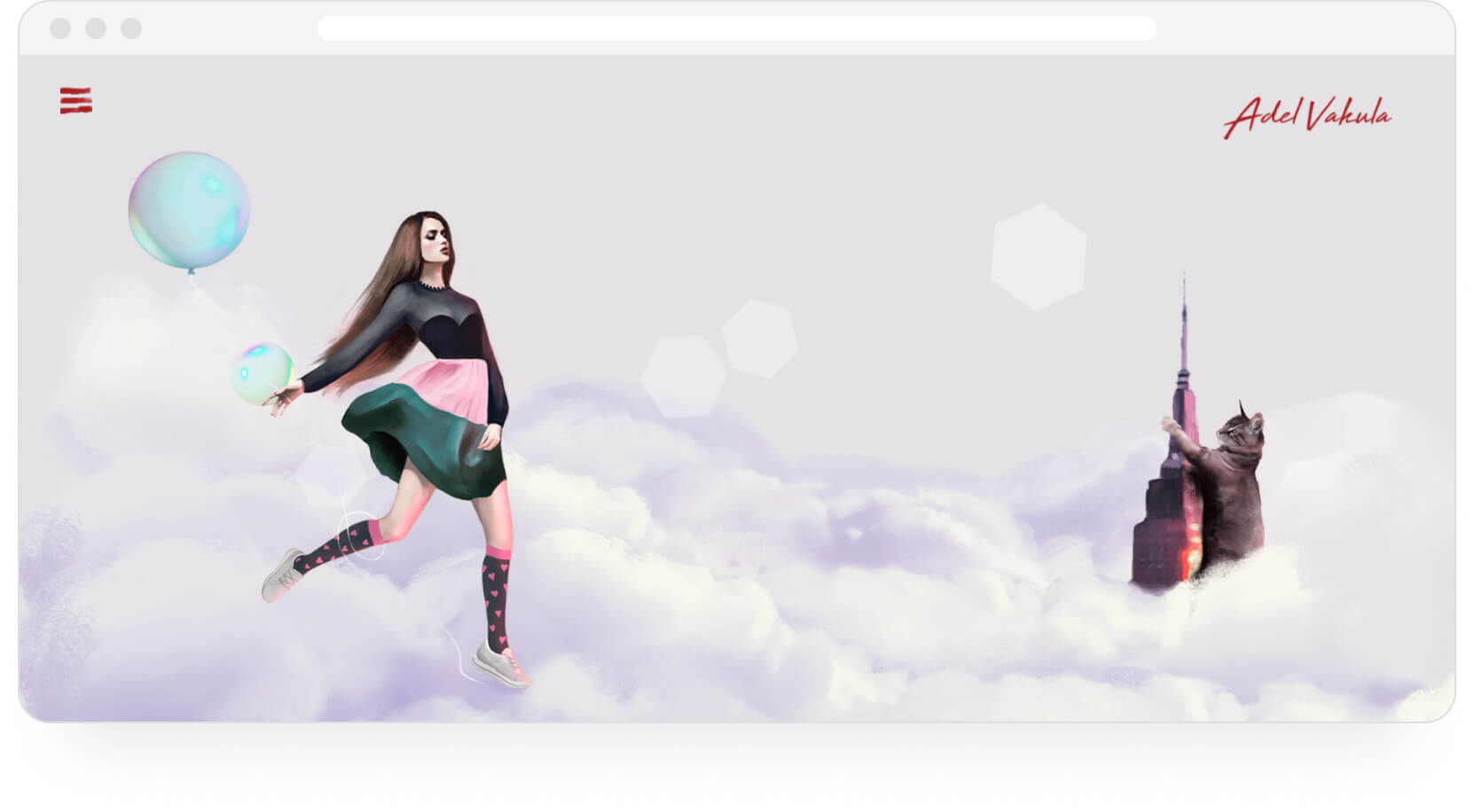 Best Portfolio WordPress Themes
Depending on the portfolio styles you want to use, you can choose from thousands of WordPress-compatible custom page templates. A few of my favorites are listed here:
Astra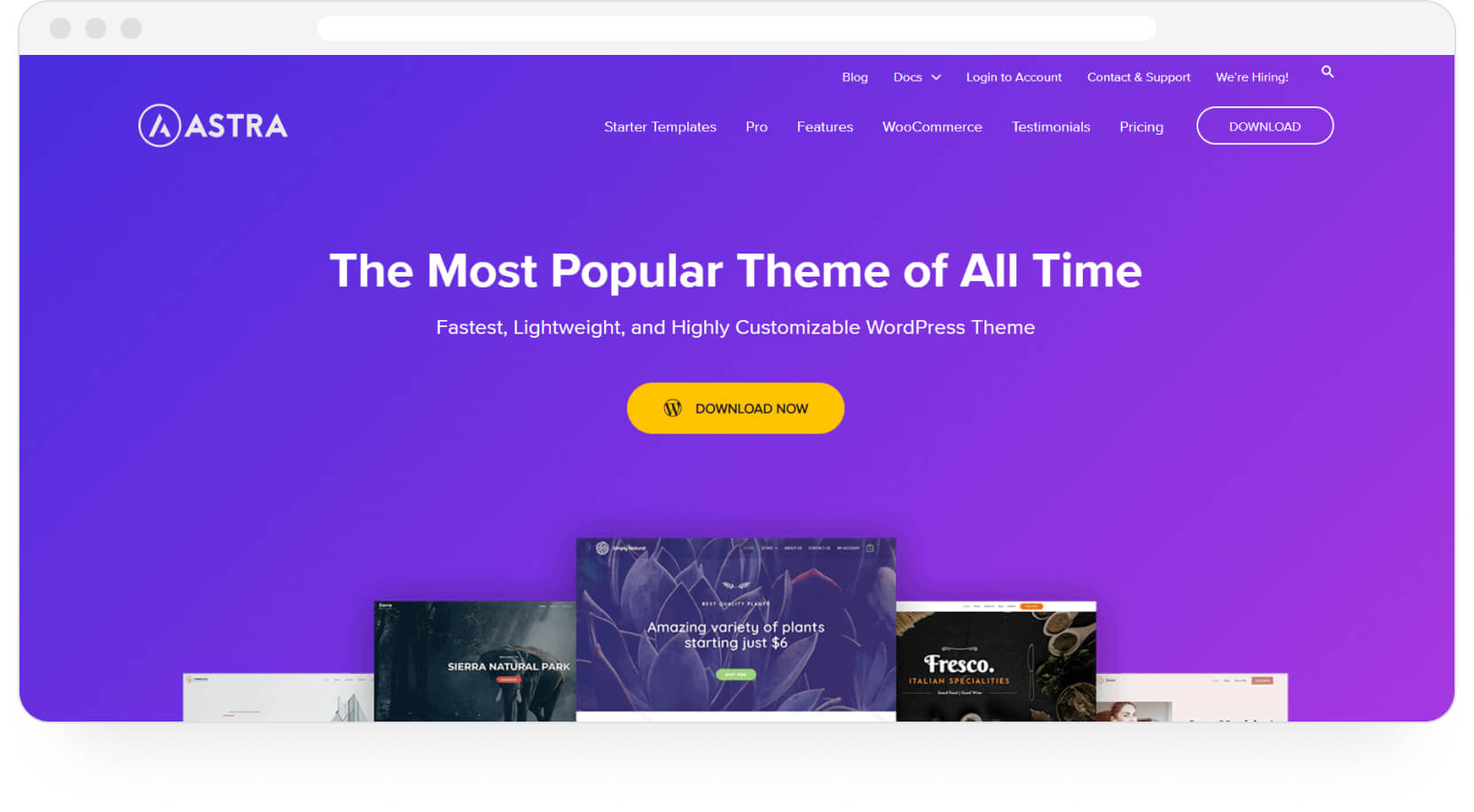 Astra is a well-known WordPress theme ideal for creating portfolios, especially for creative professionals. Offering over 180 ready-made templates, this theme gives you great options for simple profession-specific portfolio building. For example, you can choose a Photography portfolio template or a Design portfolio template... you get the drift.
Astra is also designed to be lightweight and fast, which will make any WordPress site created with it fast in terms of page loading and ranking performance (faster sites get ranked higher).
OceanWP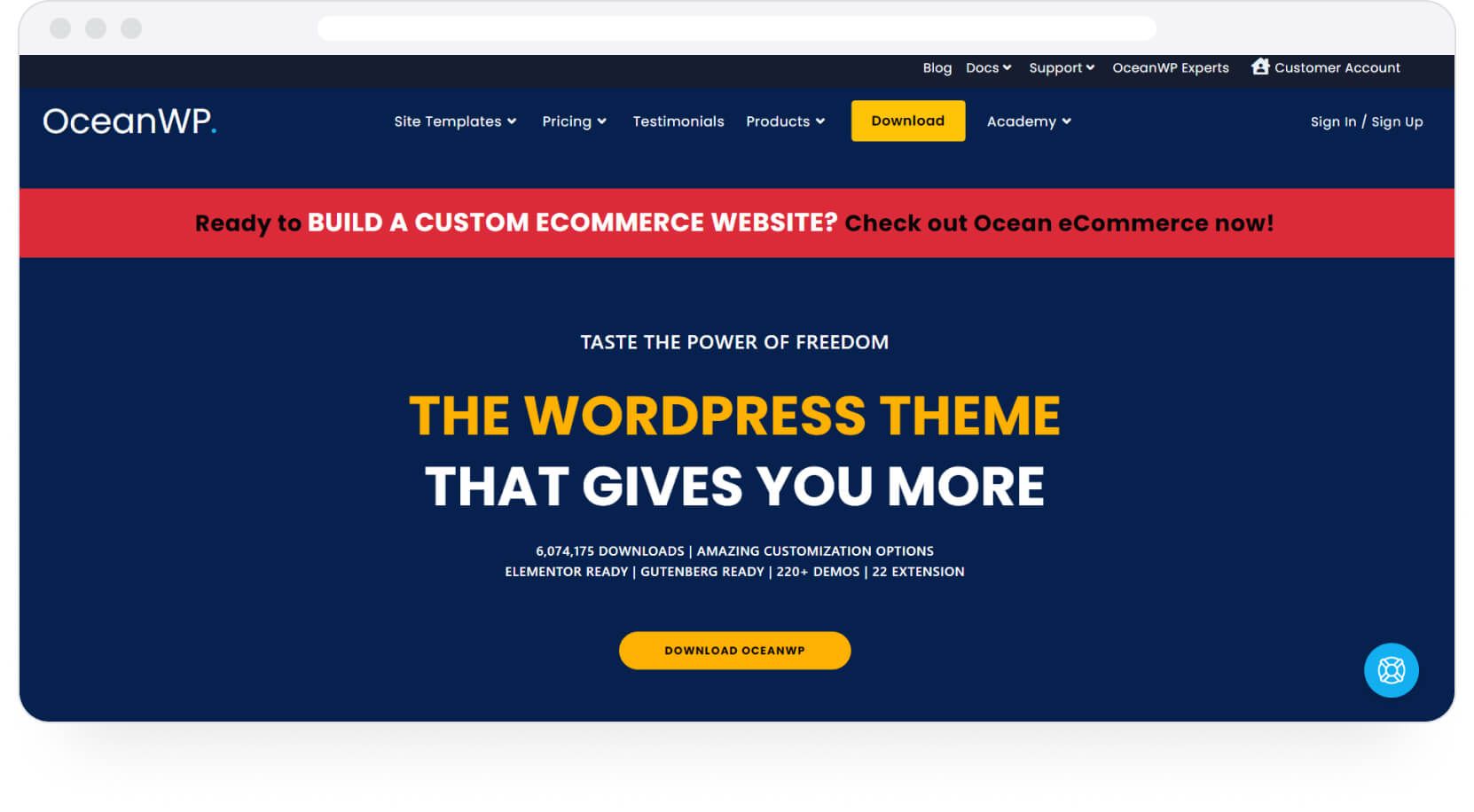 OceanWP is a free WordPress theme with paid and free templates you can use to launch your portfolio website with a single click. It comes with in-built SEO optimization and is easy to set up using page builders like WPBakery.
Pile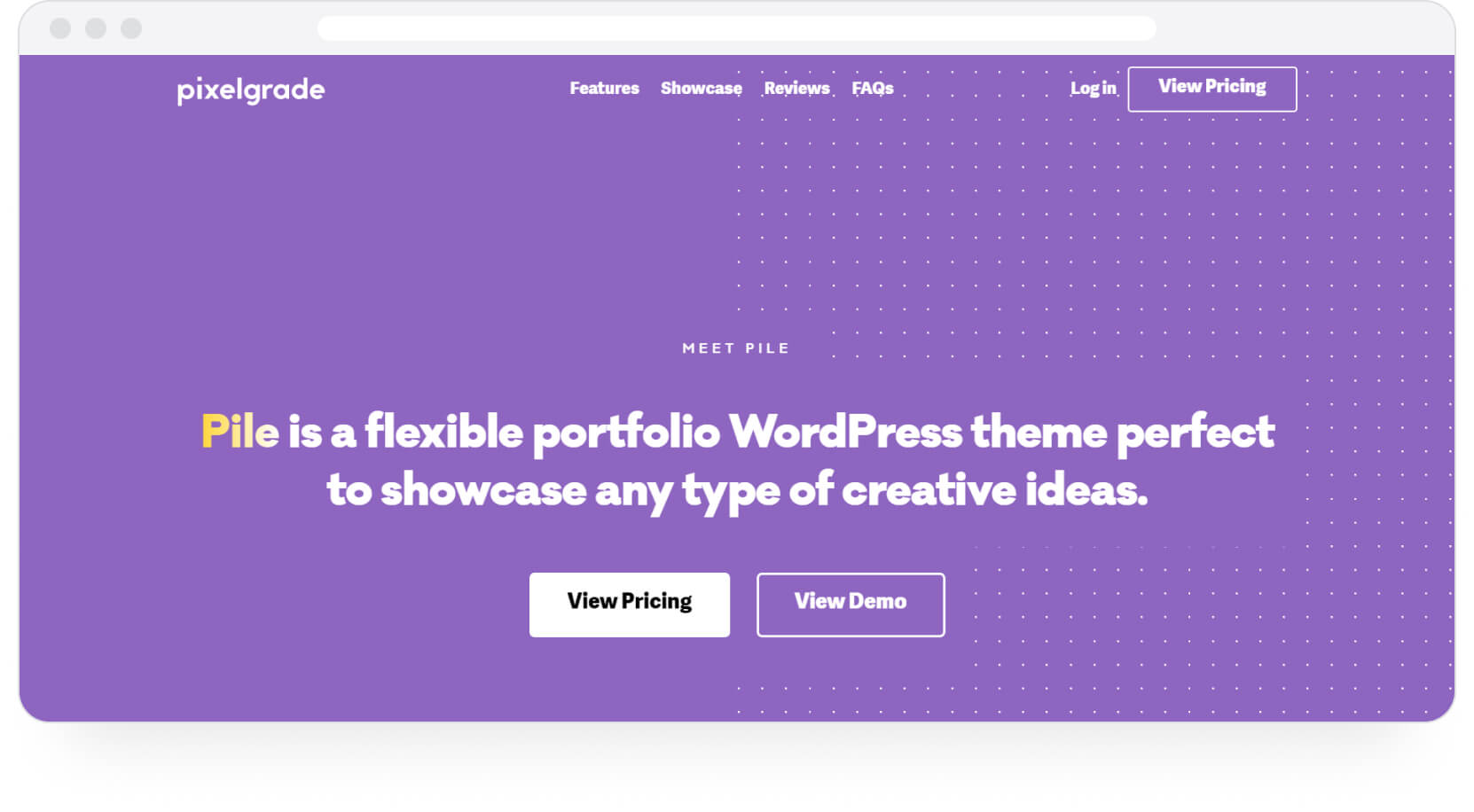 Pile is a WordPress portfolio theme ideal for artists and other creative folks. It is specifically known for interesting color and layout options as well as intuitive image galleries that let you display your work in unpredictable ways.
Peak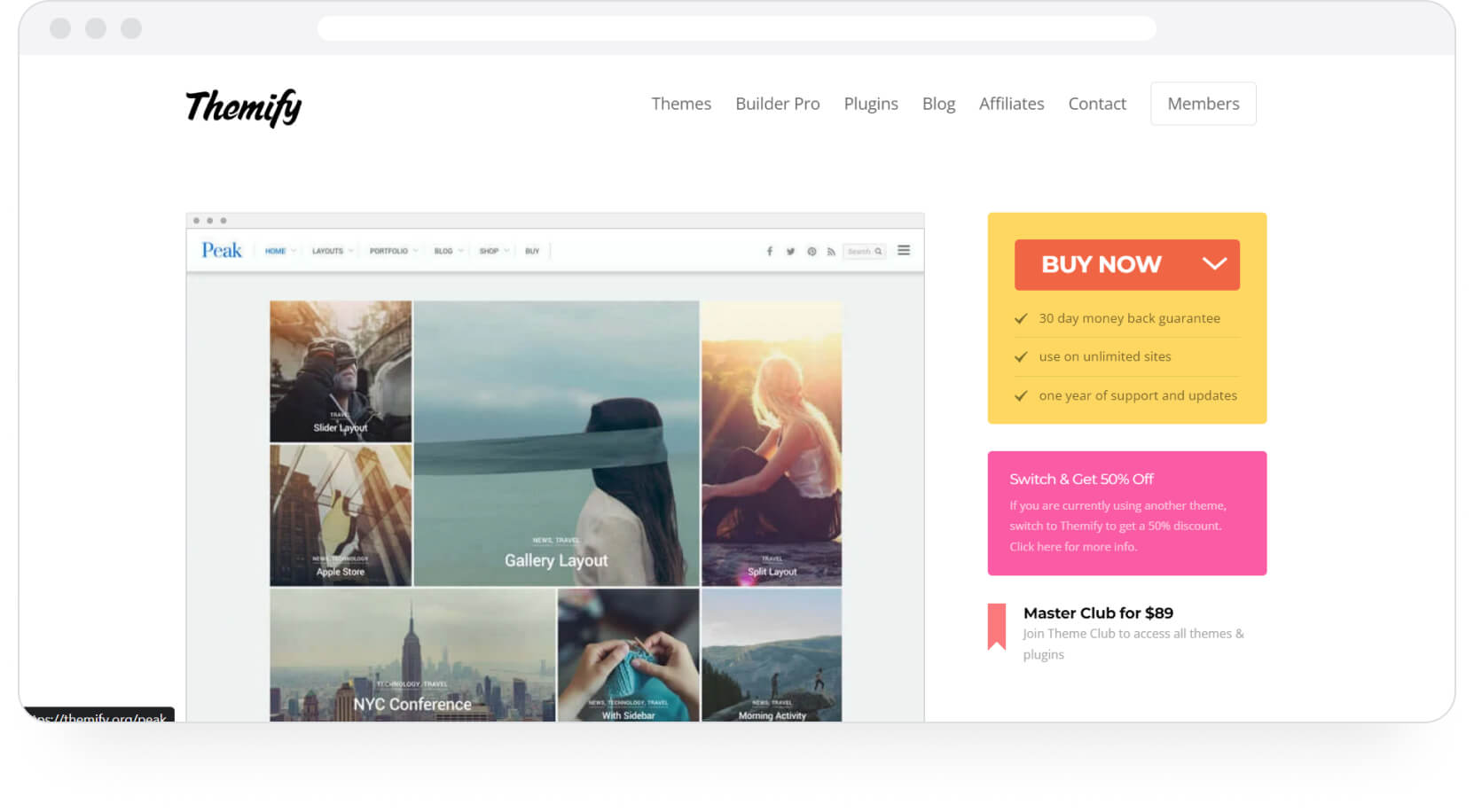 Peak is also an excellent WordPress theme for creative professionals' portfolios. It offers numerous page and blog layout choices. All layouts are inherently responsive, including the masonry-style gallery tiles.
Shapely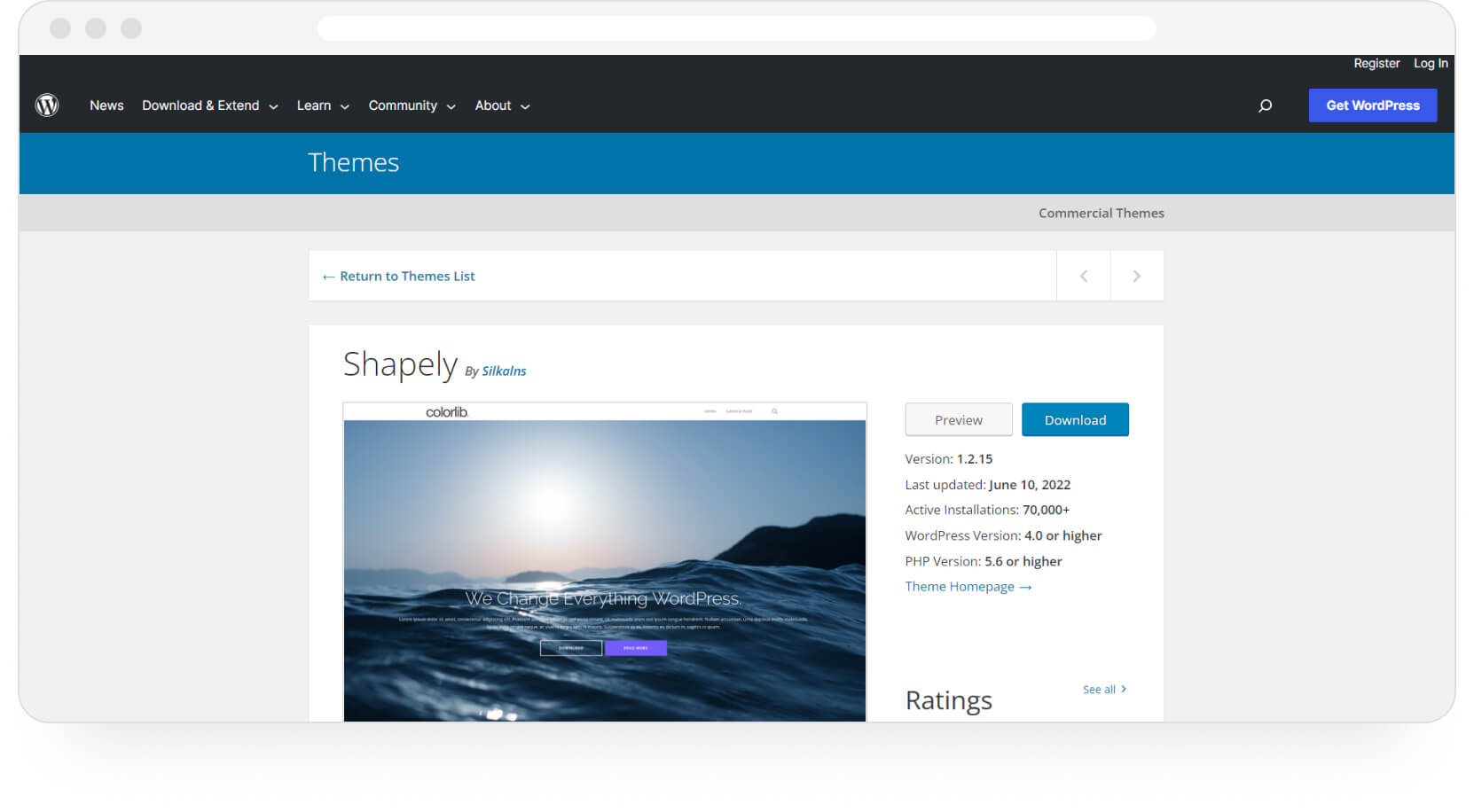 Shapely, a creative portfolio theme, stands out because of its minimalist options. You can use it to create single-page or multi-page websites, depending on the kind of portfolio you want. You can also display featured images and create large custom headers.
Just visit the homepage, drag and drop the widgets, and you can create a portfolio with work samples, testimonials, and parallax sections.
Authory: A WordPress alternative (for building portfolios)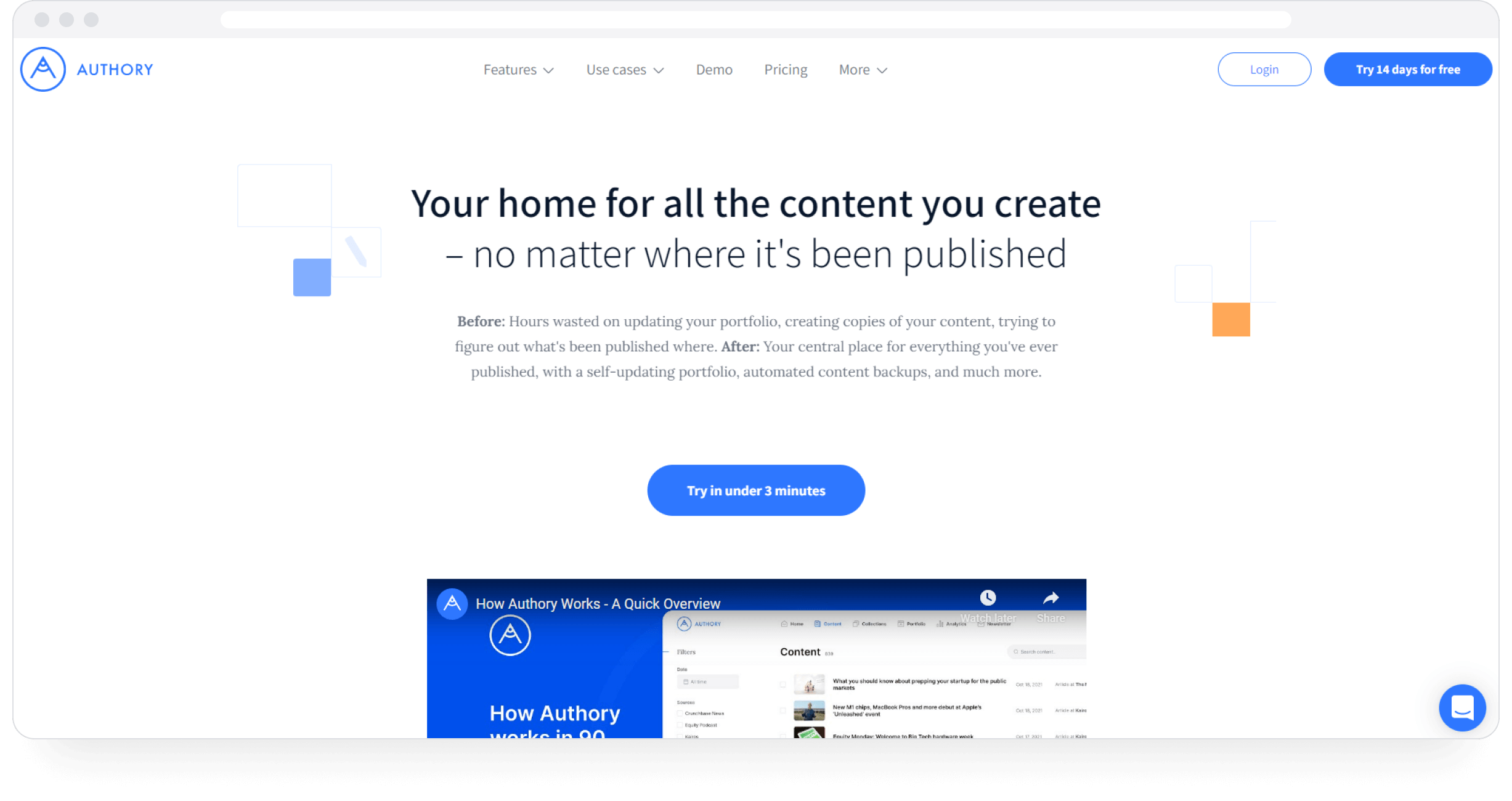 There is absolutely no doubt that WordPress is an excellent portfolio-building tool, but it does miss out on a couple of key features that someone in or adjacent to my domain (freelance writing) needs when building their portfolio.
For example, when building a WordPress portfolio, I still have to manually locate my published articles, gather and save them in one place, and then upload them to a website. This is work I don't want to do and time/effort I don't want to spend. I'd rather be writing a new article, doing research to land better clients, or taking a nap.
With a dedicated portfolio builder like Authory, I can get a WordPress-level portfolio website without having to do said work. I DO NOT have to manually track down my articles and save them. No, seriously, I don't. Authory imports your bylined content for you from anywhere on the internet — all you need to do is enter the URL of the target site(s). It also automatically saves your content, offers a custom domain name, provides analytics-driven insights on your content, and much more.
I'll dive into Authory's standout features in a minute, but first, how about a glimpse of what actual Authory customers think?
Customer Testimonials for Authory



Why Authory over WordPress
Authory is your best option IF you want to create a writing/journalist/content marketing/thought leadership portfolio that showcases your work. If you work with visual media and want a portfolio with unique/memorable visual appeal, or one that also executes marketing functions (selling your work, accepting payments, etc.), you should, by all means, create a WordPress portfolio site.
Within its niche, Authory beats out all its competitors with the following standout features:
Automatic importing of bylined content
Feed the URL of every site where your work is published into Authory, and it will AUTOMATICALLY import a copy of every bylined piece into its own database.
The sites of publication are called "sources" in Authory. You can add multiple sources, and ALL your bylined pieces from ALL sources will be imported automatically.
No longer do you need to manually track down links to your published work (especially older pieces). As long as you have the source website URL and the site(s) in question are still active, Authory will gather all your content for you in a single, accessible location.
No need to manually upload/copy-paste your content to your portfolio, either.
As a preview, have a look at my content dashboard on Authory: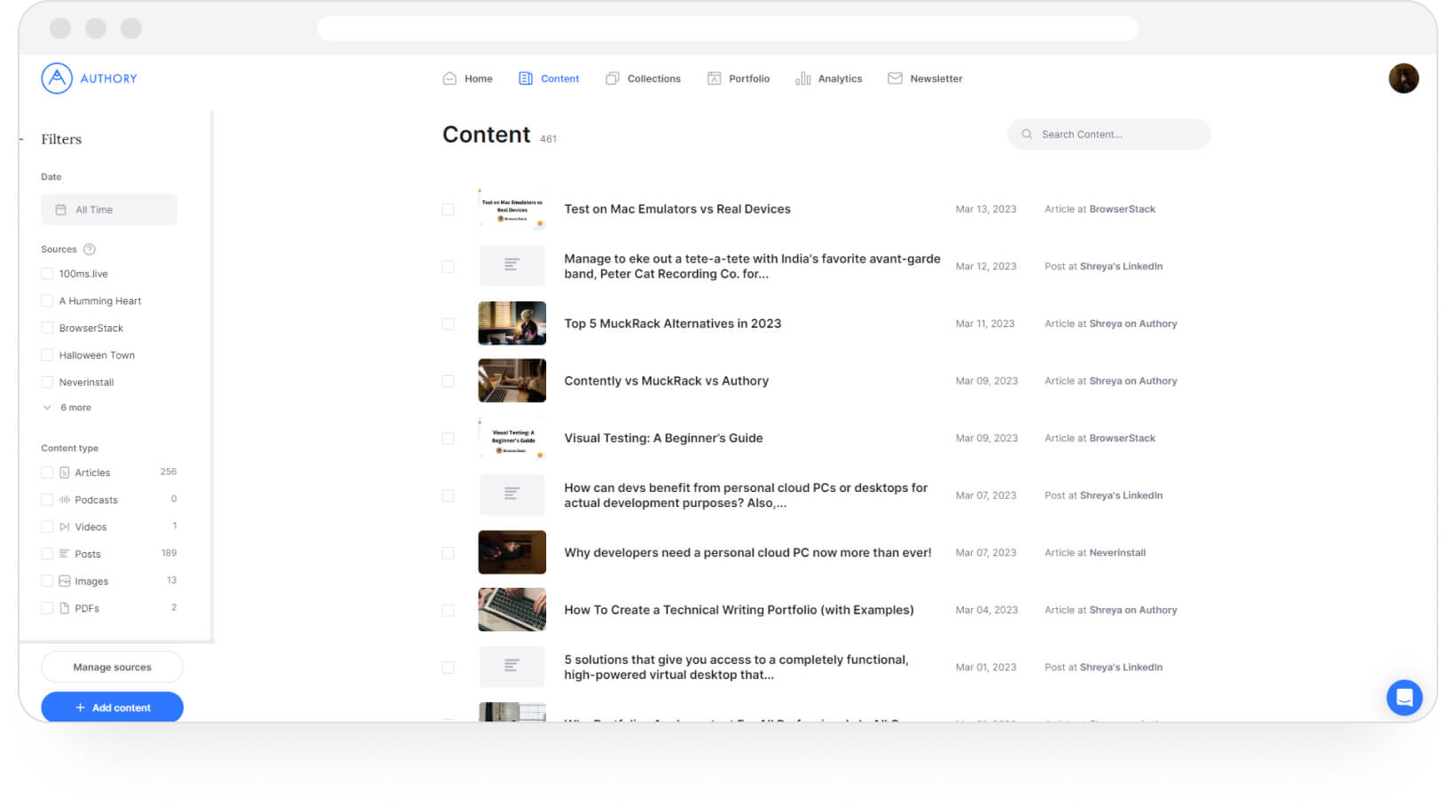 Continued importing of past and future content (self-updating)
Once you enter a source, Authory won't just import the bylined content that is already published on the same. Anything you publish on the same site (after you're fed its URL into Authory) will also be imported automatically on publication. In other words, Authory will import your past and future content.
That means your entire repository of work samples, be it from the past or the ones to appear in the future, will now be identified, collected, and saved by Authory with no intervention from you. Once you enter the source URL, your job is done.
Authory also sends email notifications to inform you anytime one of your articles/podcasts/videos/social media posts is imported. Many Authory customers have actually reported that Authory notifications reached them faster than Google Alerts.
Automatic backup
Authory imports your content and saves everything permanently, and any content drawn into its dashboard is protected and saved forever, automatically.
It doesn't matter if the original page dies/is thrown into a redirect. Your backup copy of Authory remains unaffected.
All backups are in the original format — text and/or media. No screenshots.
Collections for easy organization
Once Authory imports your content, you can categorize it into different Collections (think of them as folders on the Authory dashboard). Name these Collections, select the pieces that go into each, and add said Collections to your portfolio with a single click.
When your Authory portfolio goes live, these Collections will appear as relevant headers under which your content is organized for easier viewing, scrolling, and overall navigability. Take a look at my portfolio, and you'll see what I mean.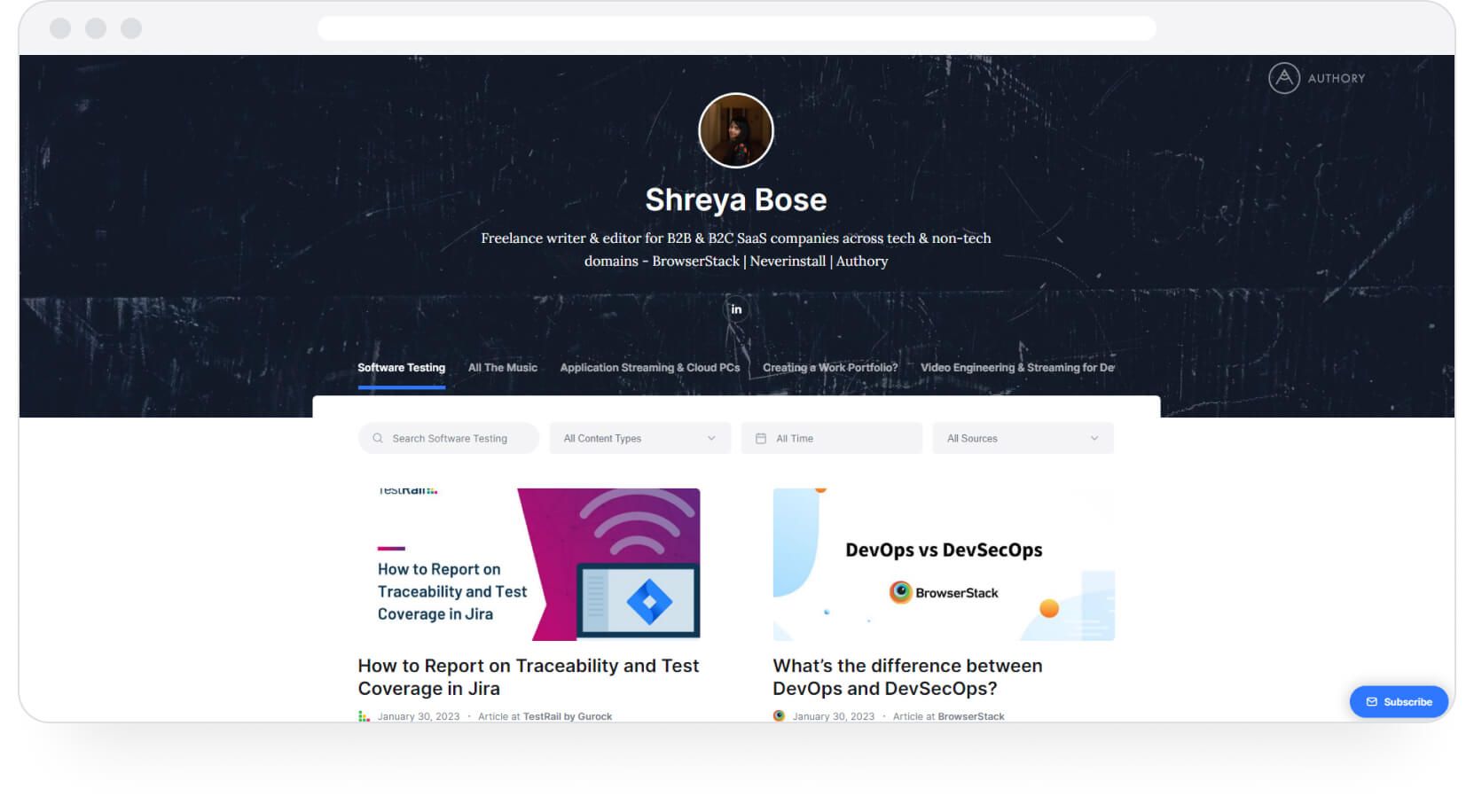 Do you notice the headers: Software Testing, All The Music, Application Streaming & Cloud PCs, etc.? Those are the Collection names. When added to your portfolio, each Collection turns into a clickable category with relevant (as you chose) content stacked within it.
Analytics, newsletter, RSS, widgets & more
Beyond simply hosting your portfolio, importing your content, and saving it, Authory also provides a set of extremely useful ancillary features:
All imported content can be downloaded as high-res PDFs or exportable as HTML files — no lock-in period.
Get a custom domain and personalize your portfolio even further.
Multiple, low-effort options for customization to make your portfolio visually appealing and easy to navigate.
In-built analytics that provides real numbers on content performance (engagement, readership) across the web and popular social media sites every 30 days.
Allows creation of newsletters with a couple of clicks. After setup, Authory will automatically send your newly published content to subscribers.
Widgets to display your portfolio on other sites, such as your personal website (if you have one).
Examples of Authory Portfolios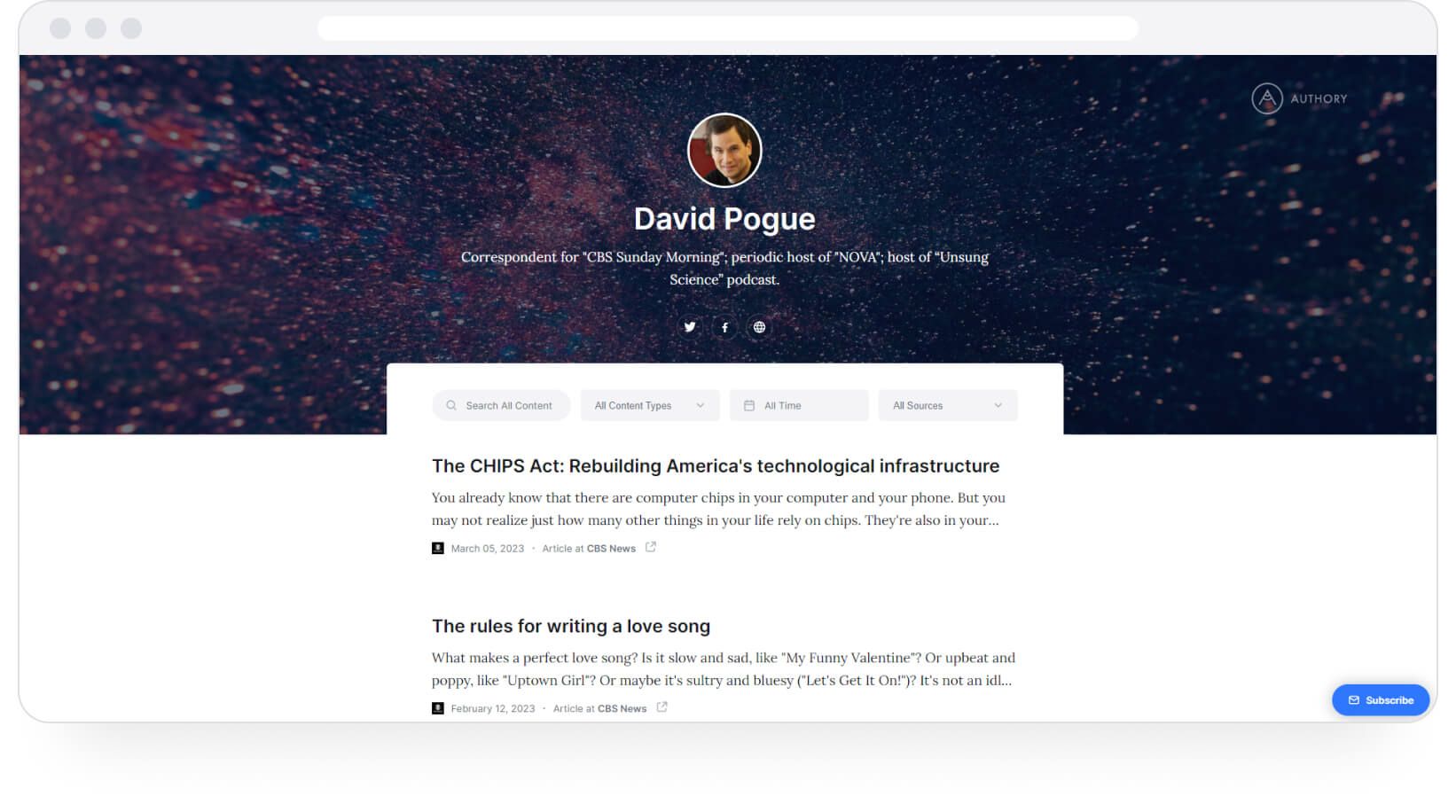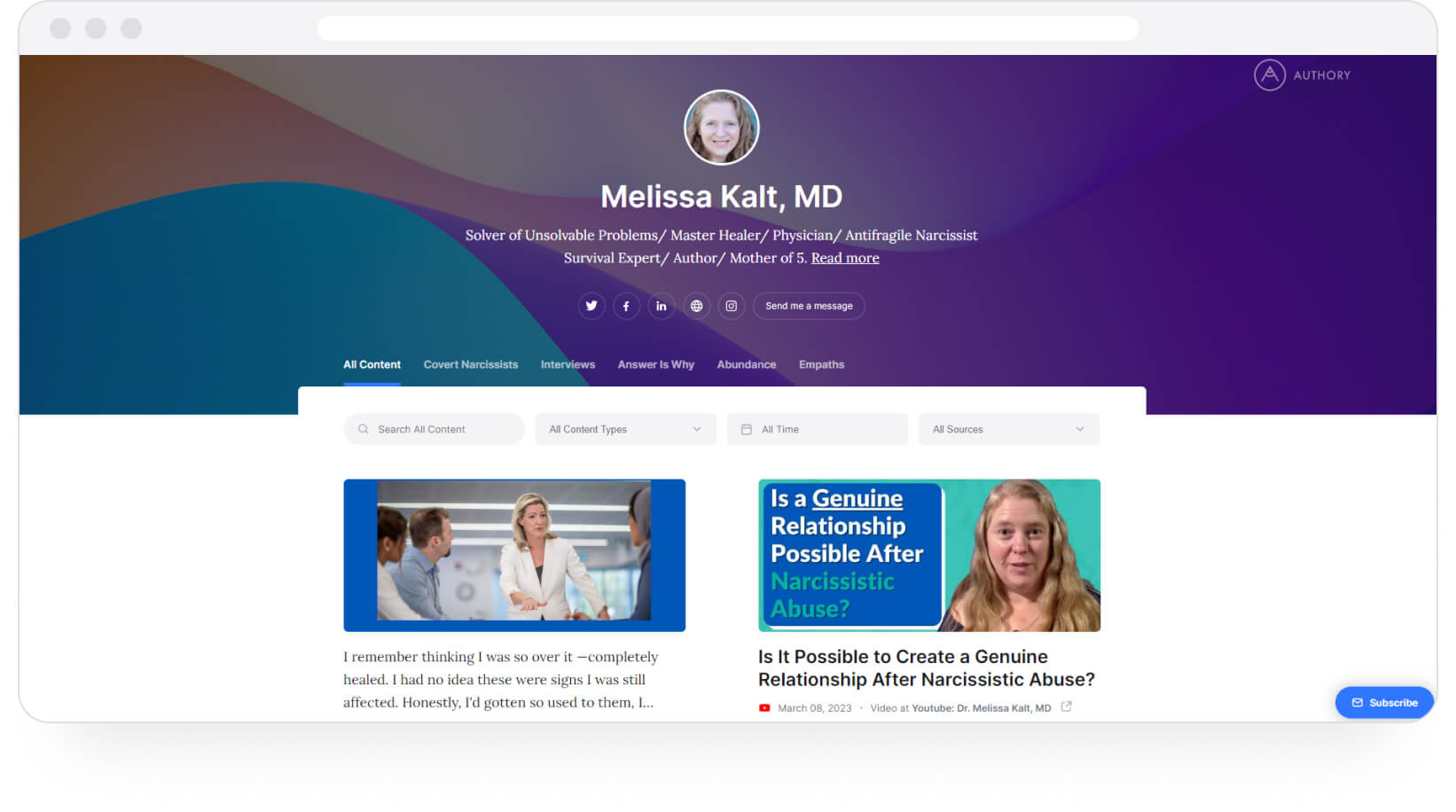 Authory vs. WordPress?
There is no definitive answer to the above. If you want a portfolio builder that does most of the work for you and only showcases your work to the world, choose Authory. Not only will you get an industry-best portfolio by putting in minimal effort, but you'll also get additional perks like automatic numbers on readership/viewership on each of your pieces (text/audio/video) every 30 days.
However, if you want a portfolio site that features unique visuals, lets you sell products/services, let you go into its backend, and facilitates advanced SEO optimization (but you'll need to take the necessary steps manually), choose WordPress. You'll have to put in far more effort, so it makes sense to choose this tool only if it's offering features you cannot find anywhere. But for a regular portfolio site, why make your life harder than it has to be?
Personally, one of the main reasons I chose Authory over every other portfolio-building tool (and I looked at about 20) is because it has been chosen by folks who are living the career success that I want for myself. A few examples are 6X Emmy award winner David Pogue, Steven Levy, Editor at Large, WIRED, and Brian Fung, a Technology Reporter at CNN. If they decided to go for Authory, so will I.
But when it comes to you, all I recommend is that you get started with Authory for free. No hidden costs, no "gotcha" moment. Just sample Authory's features for yourself, build a portfolio for yourself and take it from there.