Let's get this straight: Squarespace is undoubtedly one of the best portfolio page builders out there. If you're planning to create a Squarespace portfolio, you've chosen well.
In this article, I'll take you through the process of creating a Squarespace portfolio. I'll also lay out the primary pros and cons so that you know exactly what you're getting into before you purchase a Squarespace plan.
In case still unsure about choosing Squarespace to create portfolio pages, I'll also suggest an alternative you may want to try out — one with a couple of important features that Squarespace actually misses out on.
Let's dive in.
📖
What you'll get out of this article:
• What is a Squarespace portfolio, and how to create one
• Pros & Cons of a Squarespace portfolio
• Why Authory is an excellent Squarespace alternative
• Main features of Authory — automatic content importing, content backup, analytics & more
What is a Squarespace portfolio?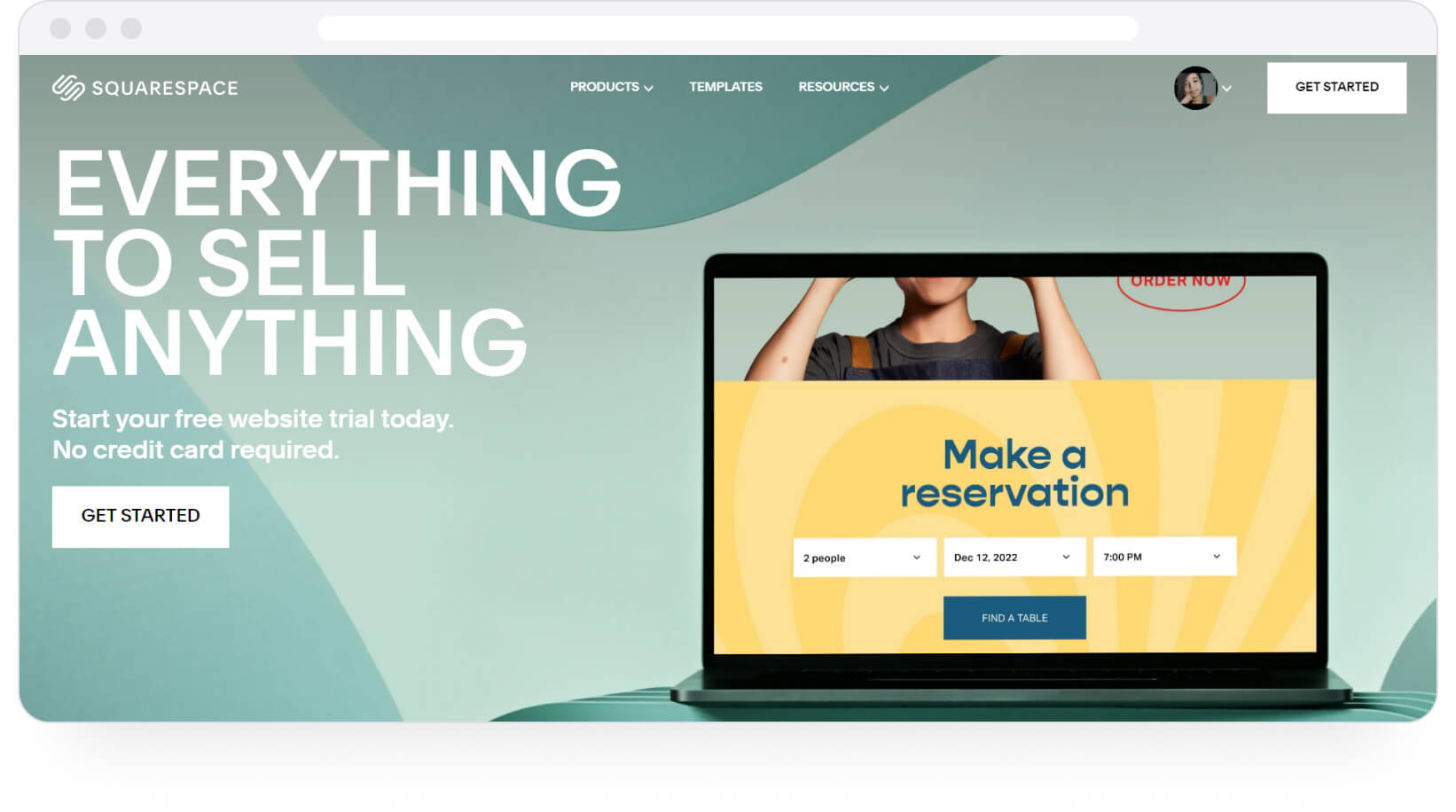 Squarespace is primarily known as a website builder; one of the best in the world. It can be used to create just about any kind of website you'd like to create, including portfolio websites. They are especially known for striking visual appeal, which is why Squarespace is often used to create graphic design portfolios, photography portfolio pages... anything that requires an emphasis on visual media.
In particular, the best Squarespace templates facilitate the easy creation of portfolio sites. You can find a one-page portfolio template just as easily as templates for multiple pages — all on their website.
How to create a portfolio on Squarespace
Step 1
Go to the Squarespace sign-up page. Choose "Portfolio" under "Type," and "Professional services" under "Topic."
Step 2
Pick a template on the same page. You just have to scroll down to the second fold.
Step 3
Enter your site name.
Step 4
You'll be taken through a 4-5 step tutorial that gives you details on how to customize your site's text and design. Click through and study each step.
Step 5
You'll be taken to the portfolio template. Enter the necessary text, upload your work, contact details, and any other relevant information. Each section of the website is customizable. You can reword anything, change design elements, and have complete control over the site's specificities.
Step 6
Once you're done, check what it looks like on desktop and mobile screens by switching between device modes. Don't forget to add links to your social media accounts, including LinkedIn.
Step 7
Once you're satisfied with everything you're looking for, go live. And, you're done. You now have a Squarespace portfolio to showcase to your clients.
Squarespace portfolio examples
Squarespace portfolio example 1: Meiwen See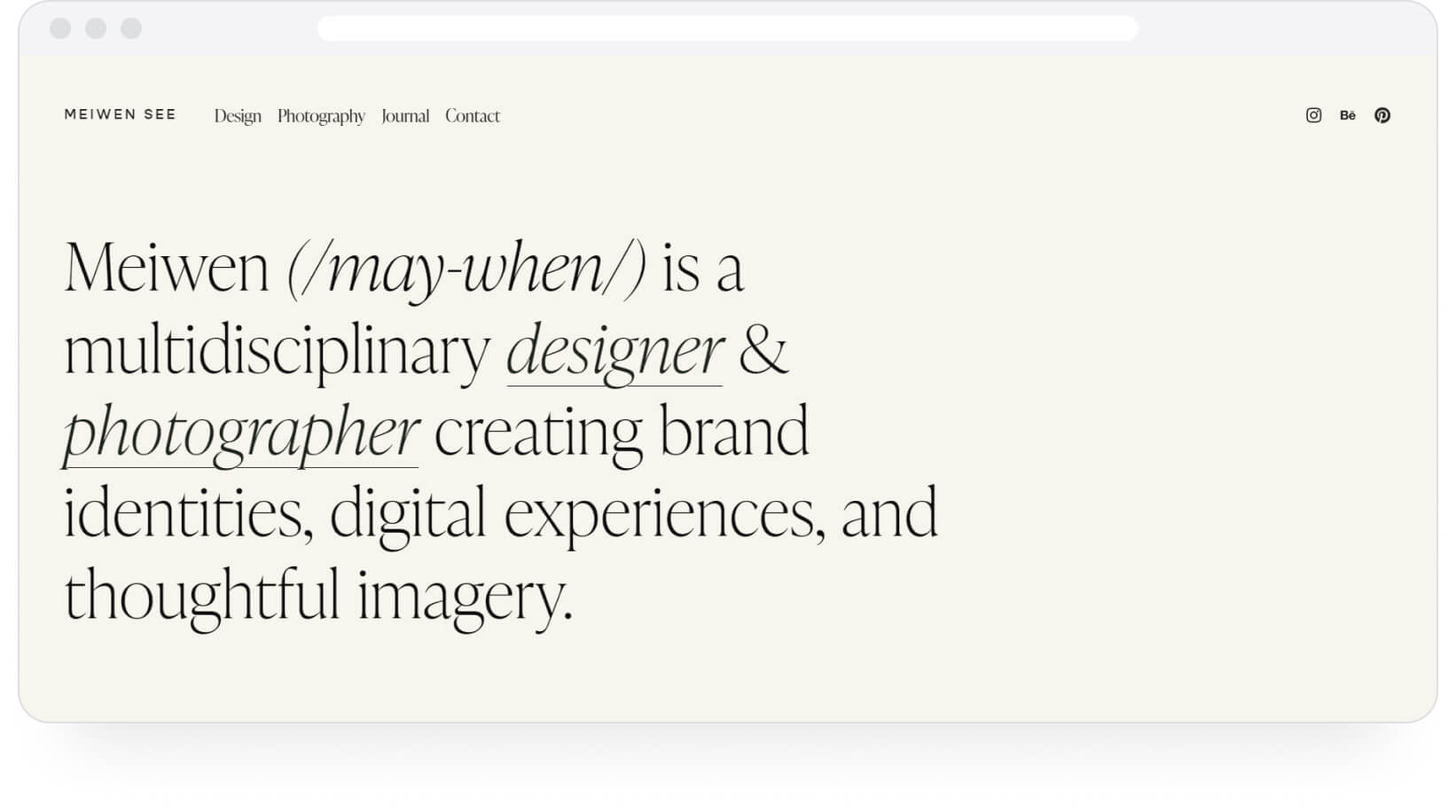 Squarespace portfolio example 2: Rob Jinks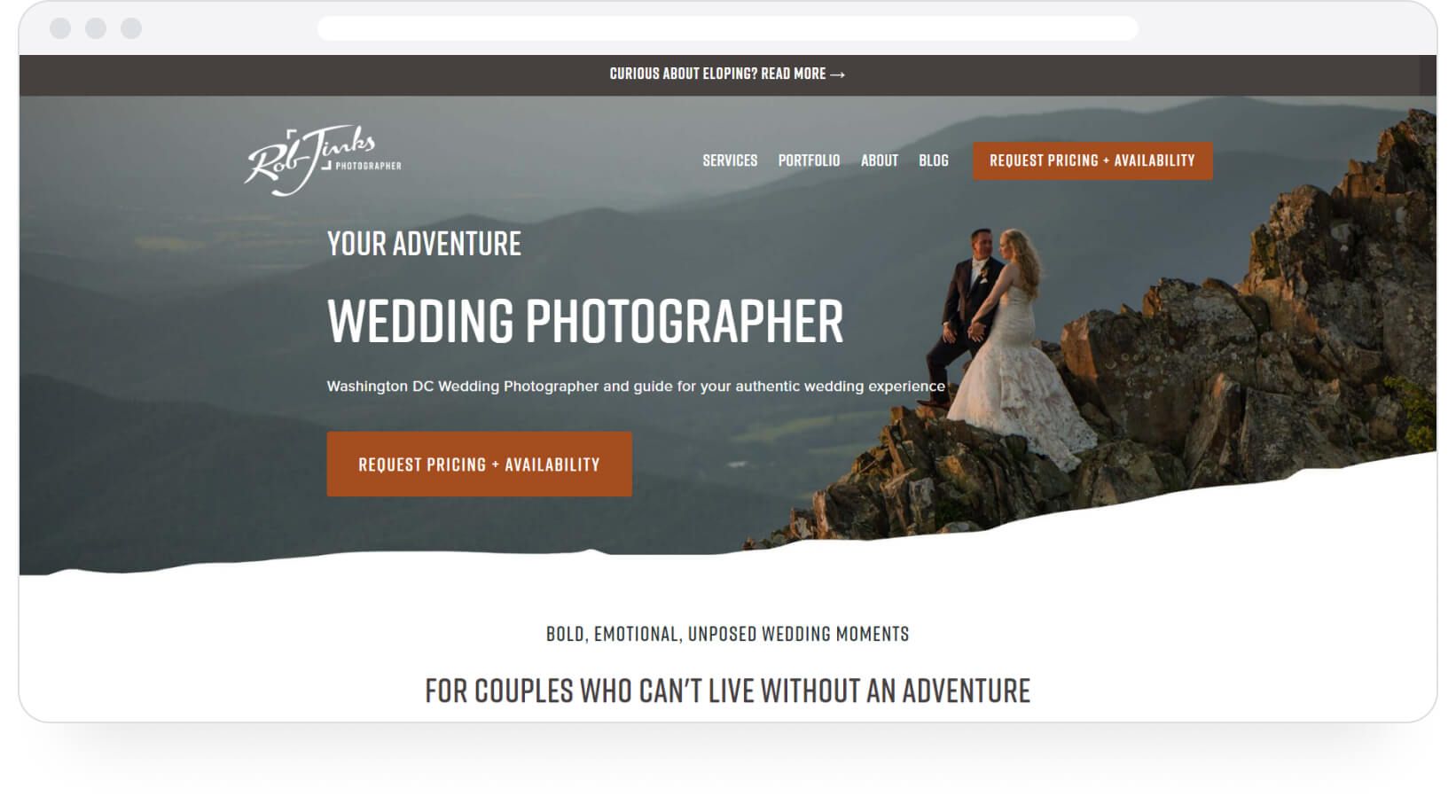 Squarespace portfolio example 3: Emilie Druss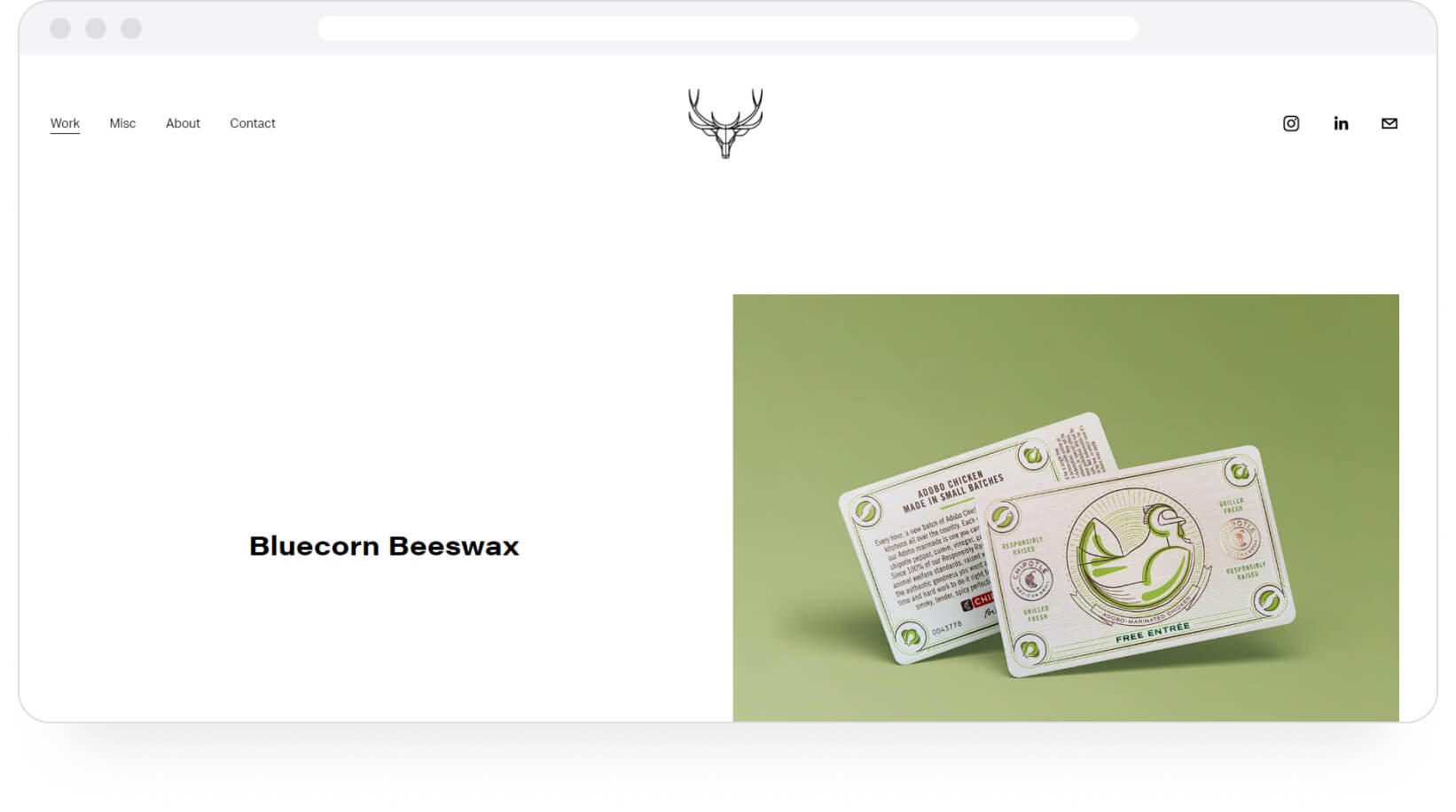 Squarespace portfolio example 4: Anna MacNaught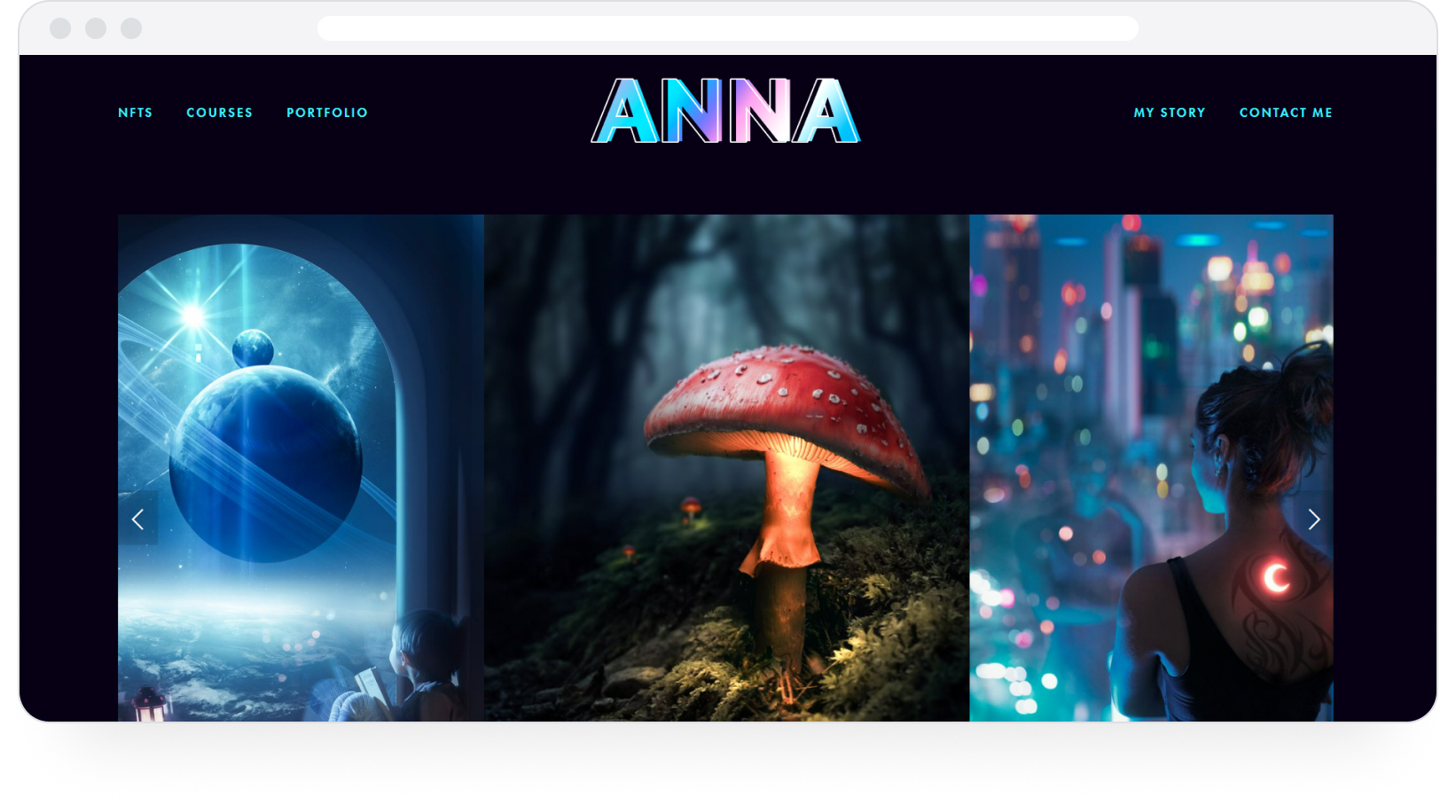 Pros & cons of Squarespace
I tried to create a Squarespace portfolio and noticed the following real-world perks and gaps.
The pros of using a Squarespace portfolio
It's super easy to set up a website. Everything is self-explanatory and user-friendly.
Most aspects of your website are open to customization. You get to choose from an array of templates with remarkable designs, so you can adjust the aesthetics to match your personal style. Of course, depending on the template, there will be certain elements you cannot change.
🗒️
Pro-Tip: Just Google "Squarespace template portfolio," "Squarespace portfolio template," or a variation of this keyword, and you'll find the right templates.
Templates come with specific sections you often see on websites — Contact, About Me, Blog, Products, Portfolio, and the like. Less work for you when setting up.
Allows and accepts multiple content types and page elements: text, photos, videos, audio, galleries, products, newsletter sign-ups, appointments, calendars, tour dates, reservations, menus, forms, maps, links, files, social links, buttons, quotes, custom code, charts, etc.
You can sell merchandise/products/services directly from your portfolio website.
You never need to write a line of code to create/modify/update your website.
The cons of using a Squarespace portfolio
While it's handy to have templates and pre-existing website sections, you still have to click through each header on each page and manually fill in all the text.
You also have to manually adjust, sift through and select the website's visual design aspects. So, there's quite some effort you need to invest. It takes much more than a few minutes to get everything ready.
I wasn't able to add links to my published articles. Squarespace templates include a pre-designed "Blog" section, but you'll have to copy-paste your pieces instead of adding links to their current publication URL. This is more of a time sink.
As mentioned above, some parts of your site will be impervious to customization. This might be a deal breaker if you want complete creative control over your site — often a concern with visual artists.
When you first sign up, you'll find that there is a bit of a learning curve to getting started. Most of the UI is intuitive, but there are certain functions that aren't immediately obvious. For example, it takes too many clicks to change fonts or even change the placeholder text in your chosen template. More effort and time spent.
If you are planning to leverage eCommerce and marketing features, a quick Google search will show that there are multiple reviews pointing out limitations in these offerings.
You still have to find, back up, and add each of your work samples manually. No automation to accelerate the process.
I couldn't find any in-built Analytics support for tracking engagement with your work, i.e., how many people have read your work, how it's being shared across social media, etc. But this might be one of those functions less obviously located (hence, hard to find) in the Squarespace user toolkit.
All Squarespace templates and finished websites have a strong bias toward visual appeal. They are ideal for a graphic design portfolio and such, but for someone like me, a freelance writer, it provides too many features I don't need and lacks the few functions I do need. Things like automatic content importing, reliable backup, and Analytics support (more on these below...)
A Squarespace alternative: Authory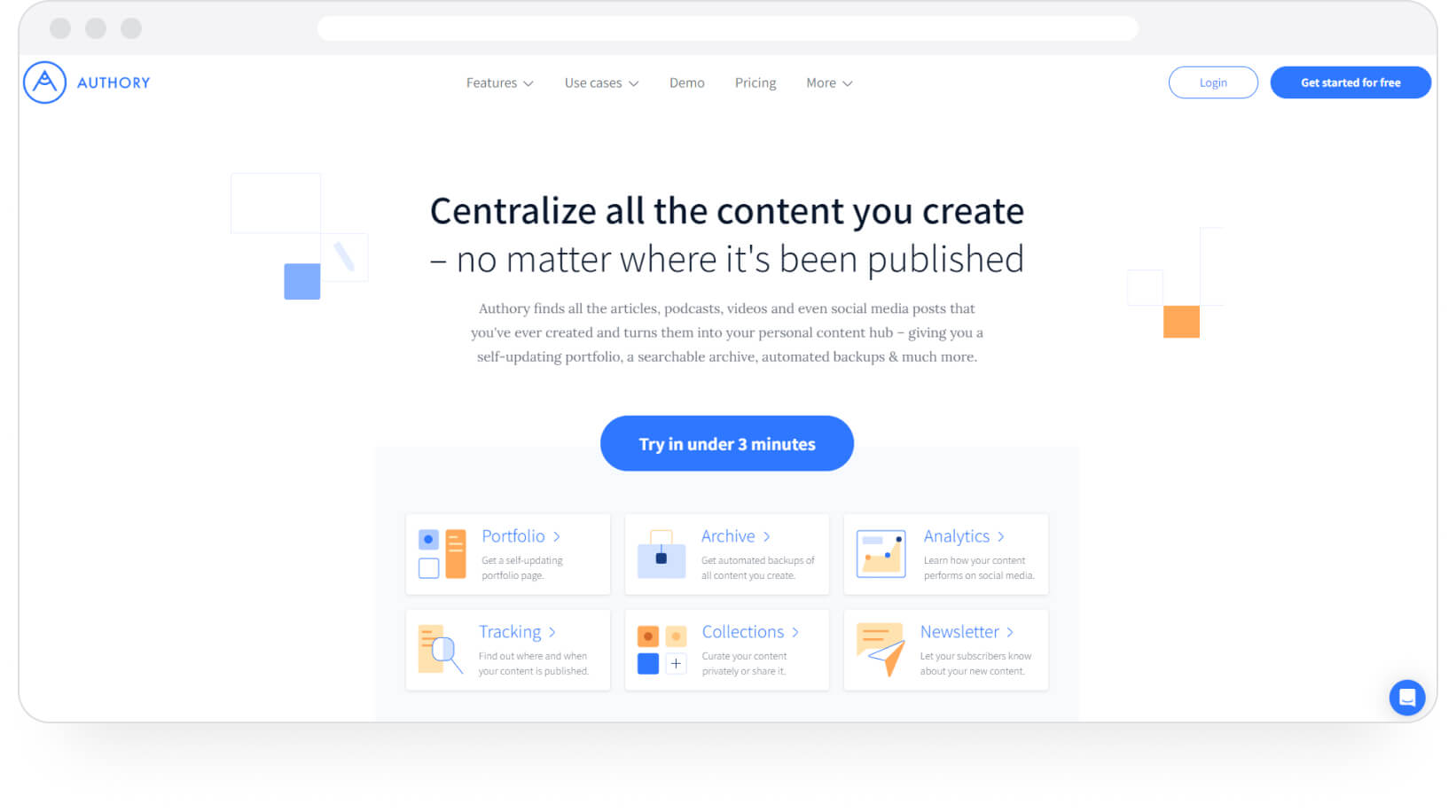 I was quite tempted to create a Squarespace portfolio until I realized it's quite a bit of work — work that I wouldn't have to do with a tool like Authory. Authory is a dedicated portfolio builder tailored to the specific needs of people creating portfolios and nothing else.
Because it serves a niche, Authory's features make the process of online portfolio building much easier than Squarespace. You can literally create your portfolio in less than three minutes after Authory finds all your published work for you (more on that soon).
Authory literally builds your portfolio for you and takes less time than it would take to set up a Squarespace portfolio website. I'll take you through its features, but I thought I'd start with what customers think of Authory.
Authory testimonials



Why Authory over Squarespace
You'll notice that the Squarespace portfolio examples above have something to do with art, design, photography... professionals that lean heavier on visual appeal. This is by design. Squarespace's strength is in creating aesthetically stunning websites, which makes it ideal for creating an artist portfolio. But for a writer like me, it didn't provide crucial features that Authory did.
The thing about Squarespace is that it is primarily a website builder. It has templates that can mimic the imagery of a portfolio, but it doesn't come with the functions you need specifically for a portfolio.
For example, you have to add all your work to your portfolio website manually. That means tracking down links to your published work and collating it. You might also have to convert the content to PDF formats to upload onto your Squarespace portfolio website. Or, you'd have to copy-paste everything in your "Blog" section.
This is an exceptional amount of work, especially if your work goes back many years. Even if you have your work saved on your device or the cloud, you still have to spend time uploading/copy-pasting everything onto the Squarespace site.
The lack of features like the above is what made the choice between Squarespace and Authory fairly easy. Authory made my life easier, required much less effort from me, and still gave me an industry-best personal portfolio.
A few of the features that make all the difference in Authory are:
Self-updating portfolio
As mentioned above, Authory will AUTOMATICALLY import a copy of every bylined piece from every site into its own database.
The sites where you're published are called "sources" in Authory. You can add an infinite number of sources, and every single bylined piece from every single source will be imported automatically.
There is literally no need to track down links to your published work (especially older pieces). All you need is the URL of the site where they exist. Authory will collate all your content for you in a single location.
No need to manually upload/copy-paste your content. Of course, if you have any non-bylined content, you can run a manual upload.
As proof, check out my content dashboard on Authory: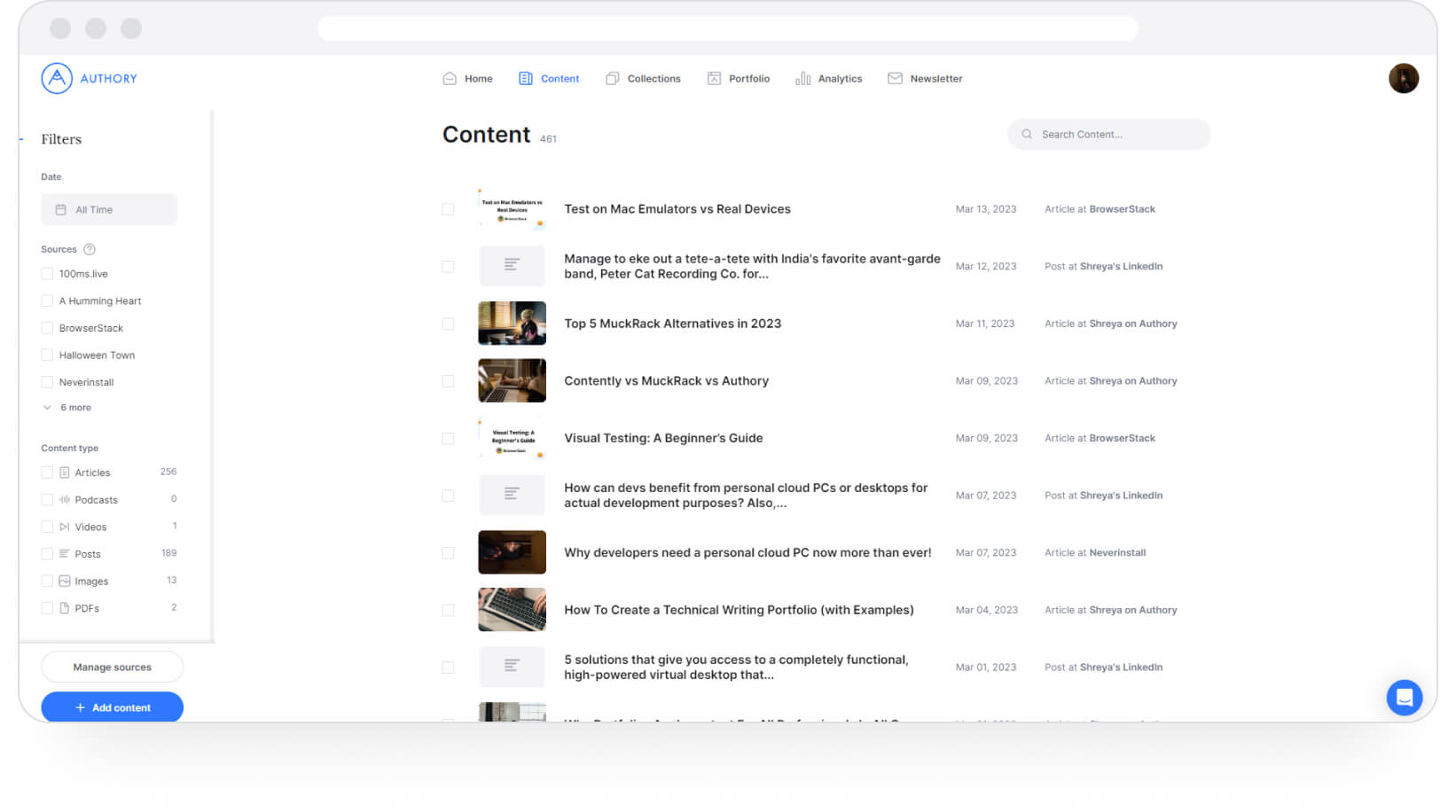 Automated backups
All content Authory imports is saved permanently; you'll never lose your work, even if the original page where it's published goes defunct for any reason.
All backups are in the original format — text and/or media. No screenshots.
Continued importing of past and future content (self-updating)
Once you enter a source, Authory won't just import your existing content. Anything you publish on the same site (after you've fed its URL into Authory) will also be imported automatically. In other words, Authory will import your past and future content.
Authory also sends email notifications for every new piece it imports, so you'll always know if something you submitted has been published.
Collections for easy organization
Once Authory imports your content, you can slot it into folders called "Collections." Name these collections, select the pieces for each Collection, and add said Collections to your portfolio with a single click. Think of them as project pages, project galleries, etc.
In effect, your content is categorized on your portfolio under relevant "headers," i.e., Collection names. With a single click, your portfolio becomes more navigable and user-friendly.
Analytics, tracking, newsletter, RSS, and more
Authory doesn't just provide a digital space to display your work. You also get ancillary features like:
Ability to search through both your portfolio and your content database to find articles/audio/video based on keywords. Prospective employers can use this to look for topics on your portfolio, and you can use it to find specific pieces within your Authory content bank.
All imported content can be downloaded as high-res PDFs or exportable as HTML files — no lock-in period.
Get a custom domain and personalize your portfolio even further.
Multiple, low-effort options for customization to make your portfolio visually appealing and easy to navigate.
In-built analytics that provides real numbers on content performance (engagement, readership) across the web and popular social media sites every 30 days. You get to see how your readers/viewers are responding to your work.
Allows creation of newsletters with a couple of clicks. After setup, Authory will automatically send your newly published content to subscribers.
Widgets to display your personal portfolio on other sites, such as your personal website (if you have one).
Authory portfolio examples
Authory portfolio example 1: Ali M Latifi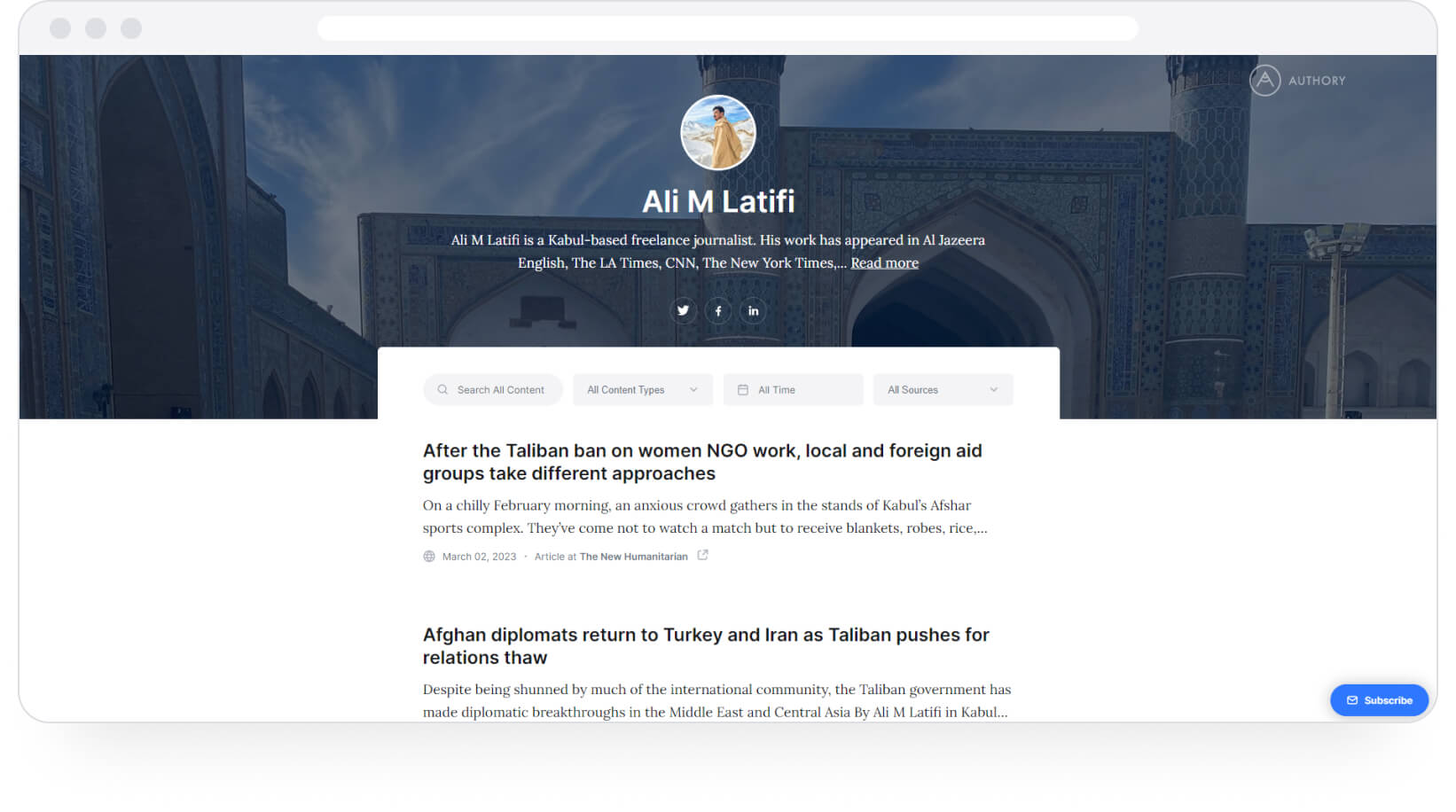 Authory portfolio example 2: Melissa Kalt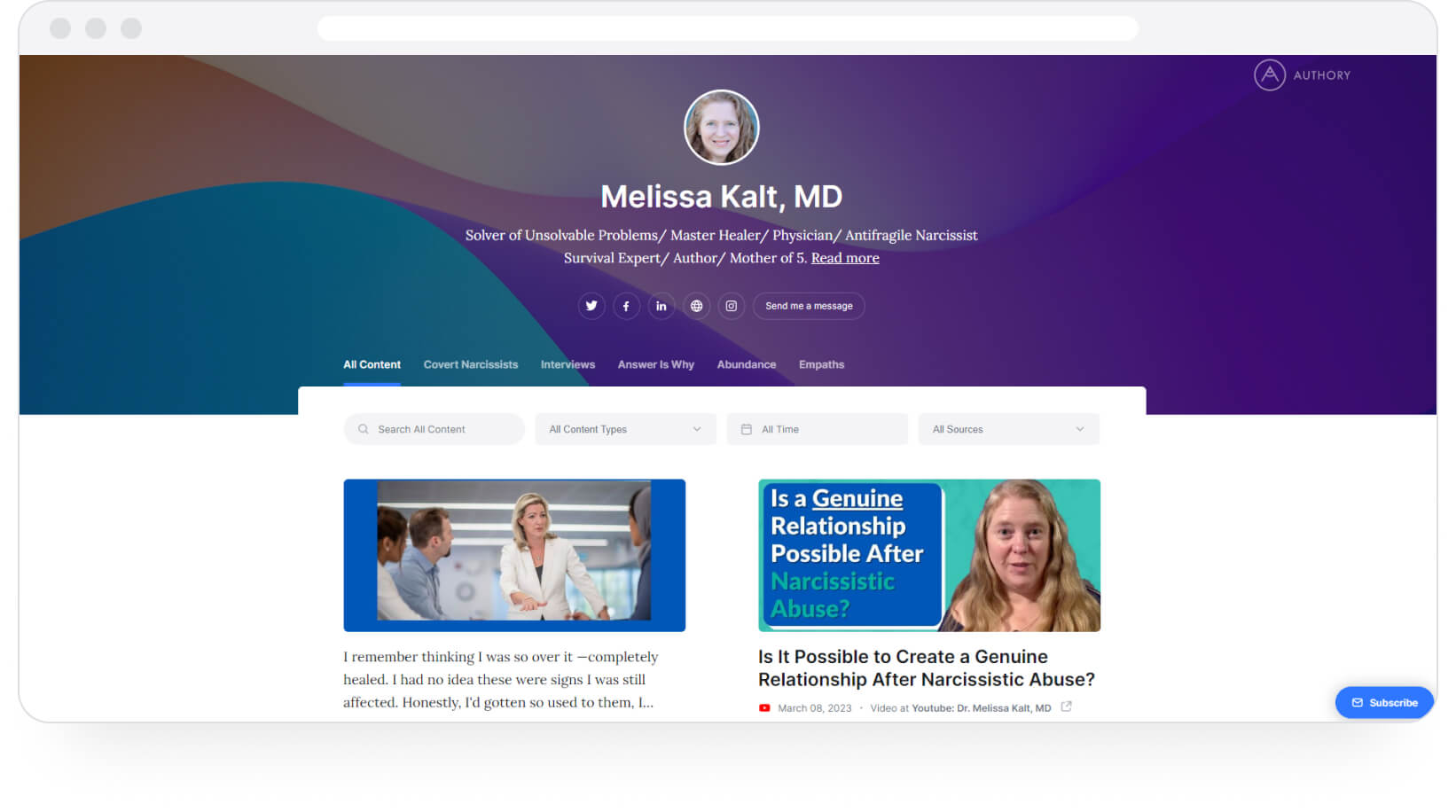 Authory portfolio example 3: David Pogue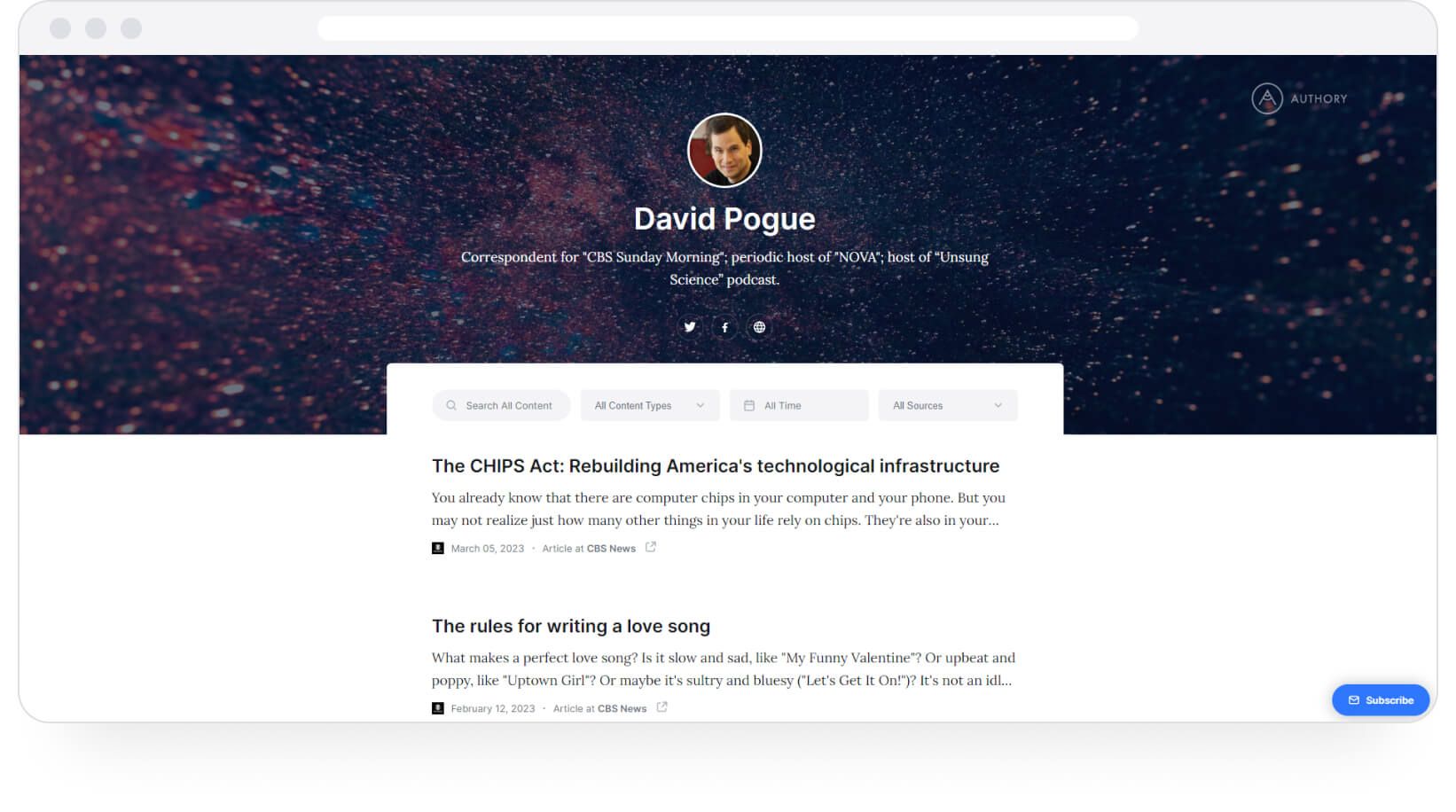 Authory portfolio example 4: Crystal Housman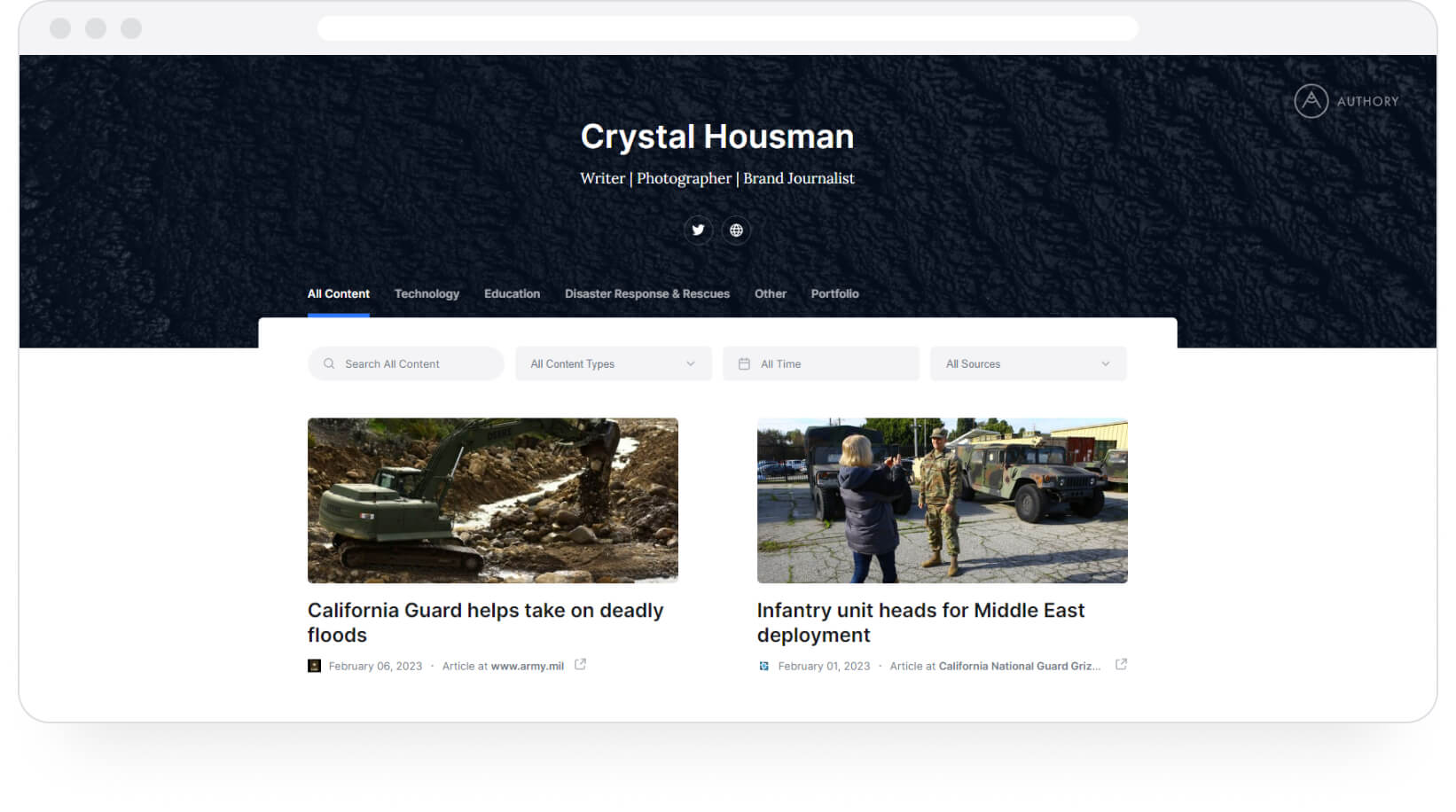 Squarespace vs Authory: Depends on what you do
Neither tool is ideal for everyone trying to build a portfolio. As I mentioned before, Squarespace is best for anyone whose website needs to be immediately and powerfully appealing to visitors' eyes. Think designers, interior designers, dancers, artists, illustrators, video editors... you get the drift.
But for anyone whose work doesn't hinge on visual allure, but rather on them conveying information through text or verbally (like on podcasts), Authory is the perfect option to build their own online portfolio.
Writers, content marketers, journalists, thought leaders, even photojournalists... Authory is used by some of the most illustrious individuals in these domains. There's 6-time Emmy award winner David Pogue, Steven Levy, Editor at Large, WIRED, and Brian Fung, a Technology Reporter at CNN, to name a very few.
Why not just get started with Authory for free and see for yourself what works for you?