You've heard of Contently if you're freelancing (especially freelance writing). No surprise, right? This tool lets you build a portfolio for free and access a marketplace where your skills are matched with client requirements by Contently's in-house team. These are highly desirable features in a portfolio builder, especially for freelance writers.
I'm a freelance writer myself, so I deeply understand the appeal of content as a tool for creating an online portfolio. However, nothing in this world is perfect, and this platform is no exception.
If you're in the market for a new portfolio (freelance or full-time), you might be considering Contently. In this article, I'll present a review of Contently, comprising both pros and cons, so that your decision is as informed as possible.
In case you'd like to keep your options open, I'll also suggest an alternative tool that may better serve your portfolio creation requirements.
🗒️
Note: In this piece, I'll focus on Contently as a portfolio builder. The marketplace it provides is exceptional, but it will not be discussed within the purview of this article
📖
What you'll get out of this article:
• What is Contently?
• How to create a Contently portfolio
• Pros & Cons of a Contently portfolio
• Authory: A Contently alternative for portfolio-building
• Why you should have both a Contently and Authory portfolio
What is Contently?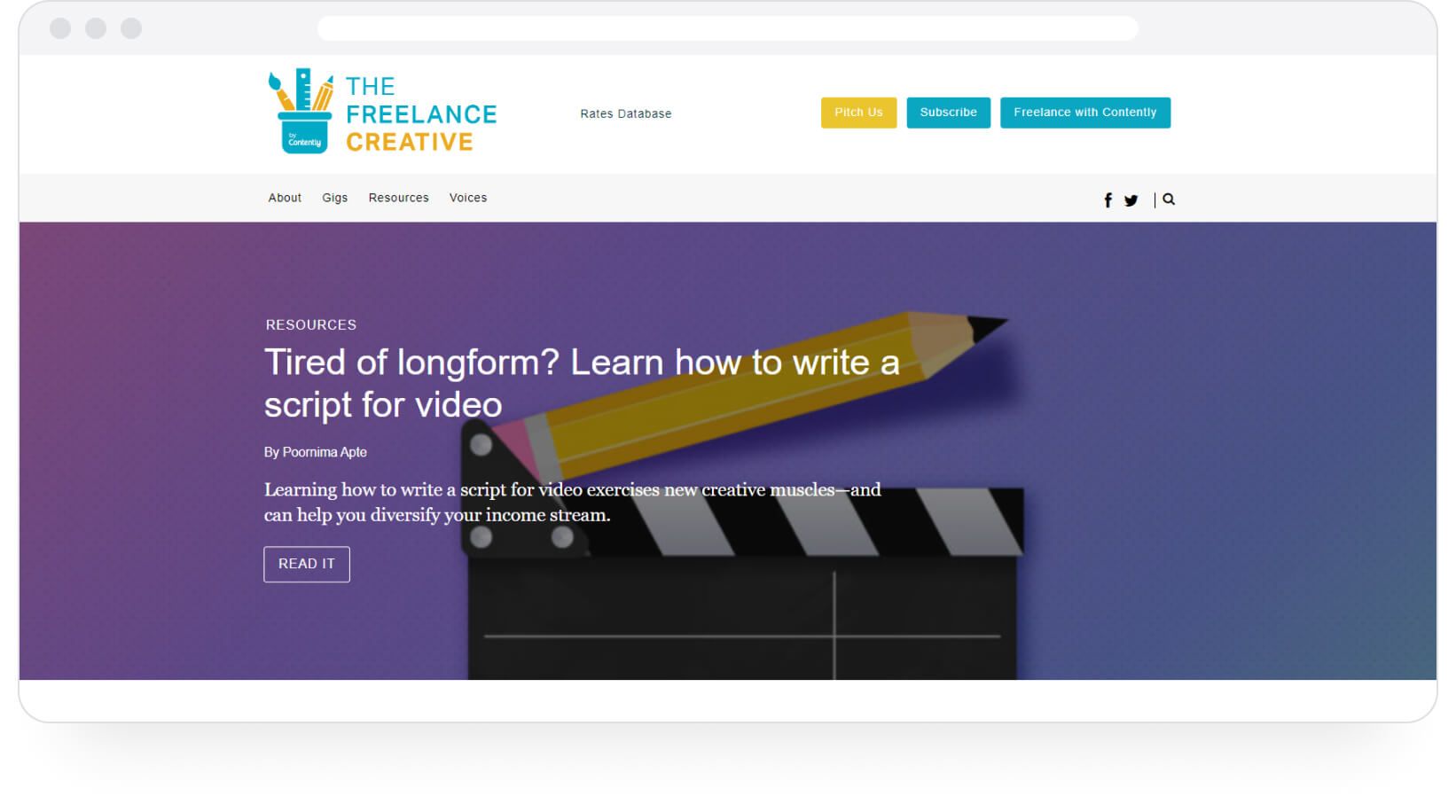 Contently is, as the name suggests, a content marketing platform that also allows you to create and host a portfolio (it seems like most people use it for a writing portfolio). That portfolio is reviewed and validated by Contently's in-house team. The team checks if your skills and accomplishments (as represented by your Contently portfolio) match the requirements of any potential clients who have posted jobs/assignments on Contently.
How to create a portfolio with Contently
Register/sign up, verify your email, and enter your basic details.
Shape your portfolio: add articles, blog posts, copywriting, photography, design, video... whatever you need to showcase your skills. The portfolio is single-page, minimalist, and includes your bio, contact details, and work samples.
Wait for the Contently team to review and determine if your work and skills match the requirements posted by prospective clients posting requests on the Contently platform.
Contently recommends that if you don't find a match immediately, you should continue adding newer work samples since clients always post new requirements.
Once your portfolio has been approved, you'll get a tutorial describing best practices and guidelines for working with clients posting on Contently. Complete the tutorial, and you'll become a legitimate, verified freelance in the Contently network.
Portfolios created with Contently
Contently portfolio example 1: Nicole Dieker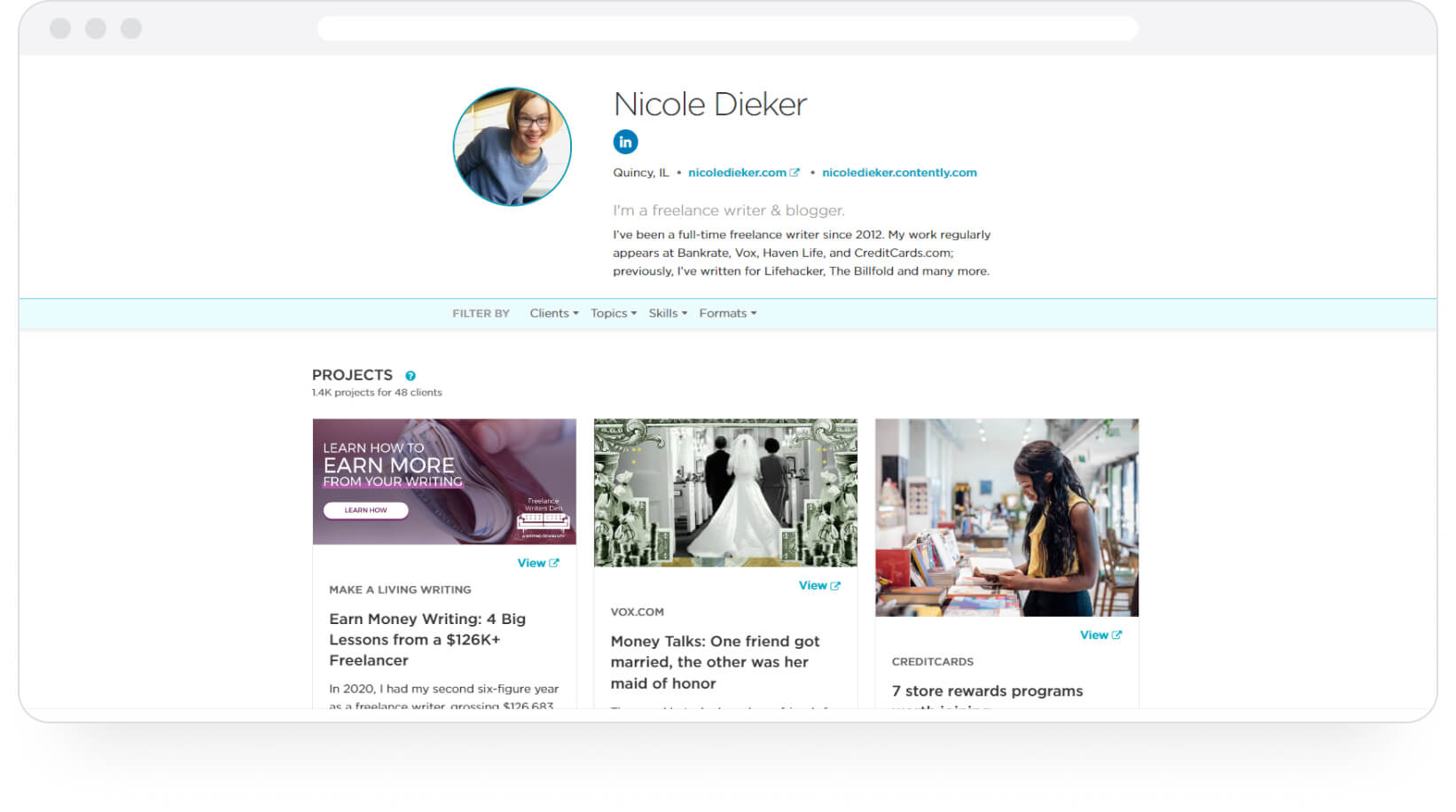 Nicole Dieker has been a full-time freelance writer since 2012. Her work has been published in Bankrate, Vox, Haven Life, and CreditCards.com. She has also written for Lifehacker, and The Billfold, among others.
Contently portfolio example 2: Sharon Hurley Hall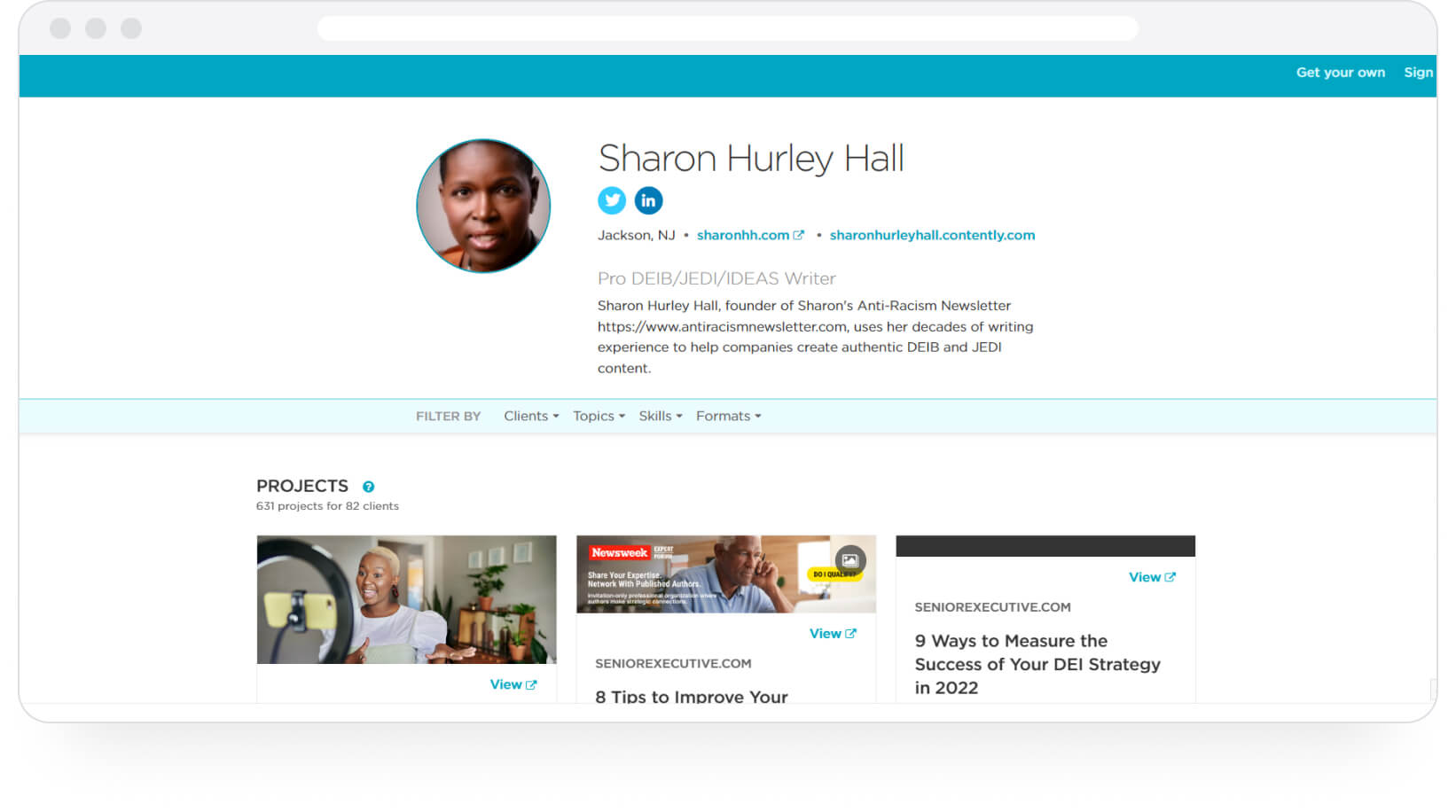 Sharon Hurley Hall writes DEIB and JEDI content for brands and companies. She is also the founder of Sharon's Anti-Racism Newsletter.
The pros and cons of Contently portfolio
Pros of Contently
You get a free portfolio. Contently charges nothing for you to create a portfolio.
Your portfolio becomes automatically visible to a marketplace of people looking for your exact skills.
The portfolio doesn't take long to set up as long as you have links to your published work.
Cons of Contently
The free portfolio is rather sparse, and it's not searchable. There is no way to filter work samples by format, type, date, etc.
Completely non-customizable. You get the same portfolio as everyone else from a functionality and design POV.
You have to keep updating your portfolio manually. In order to grab the platform's attention and get high-value paid work, your portfolio must showcase your recent work consistently.
You have to track down all your published work manually, compile a list of links and paste/upload them one by one. This is fine if you're only looking to upload a few pieces, but employers actively look for consistency of output in candidates these days — which is best displayed by showing a large volume of well-crafted and well-received work.
Collating links to so many pieces is bound to be tiresome; don't forget you'll have to include older pieces to show your professional growth.
The Contently portfolio is really only useful within Contently's ecosystem — it's how the in-house team judges you and connects you to the right clients. It won't do well in the age of Squarespace templates, Carbonmade layouts, and Yelp/Spotify/Maps integrations.
Authory — A Contently alternative to creating your online portfolio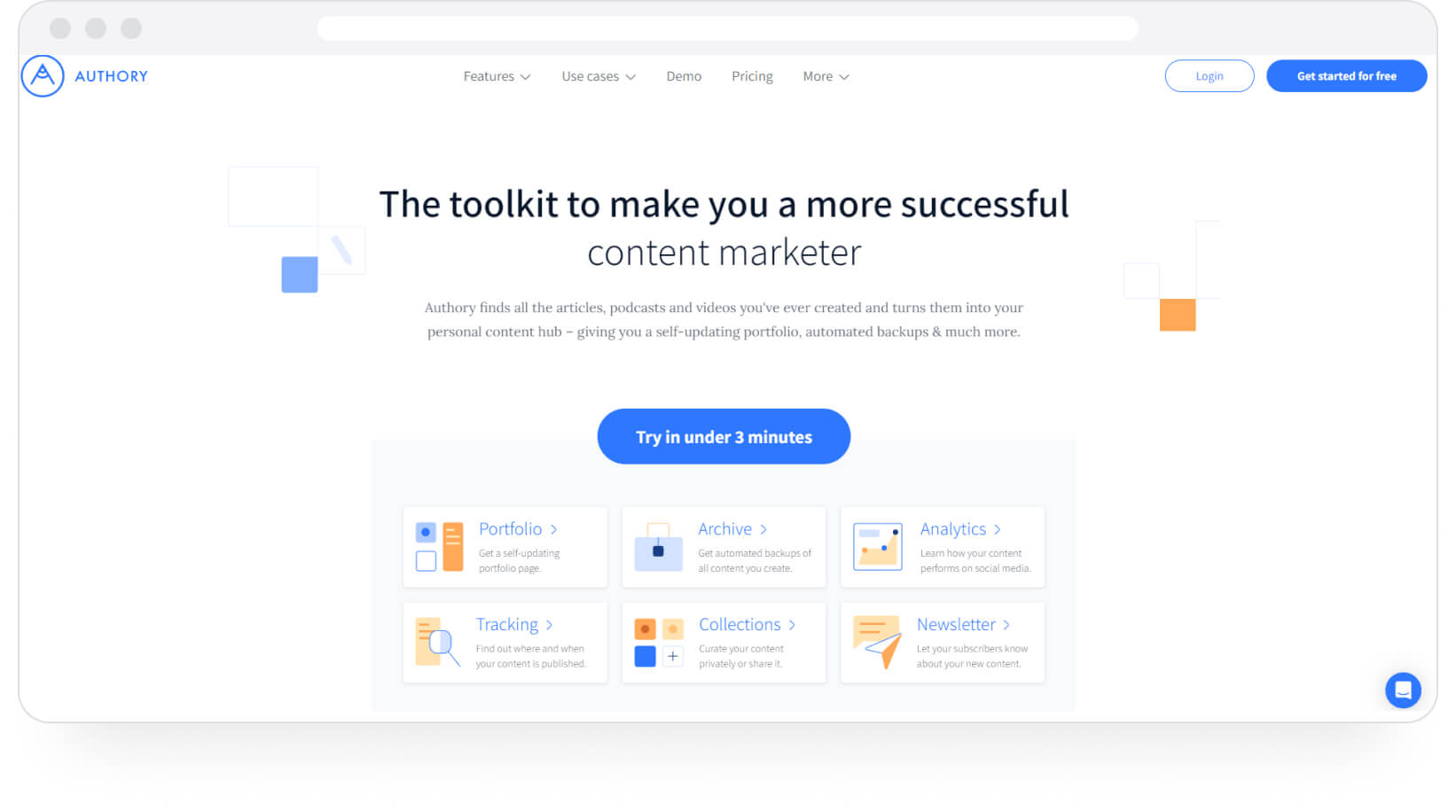 🗒️
Note: In all honesty, I'd recommend that you create a Contently portfolio AND an Authory portfolio. The former is free and gives you access to a popular platform frequented by paying clients looking for people to hire.
Authory is a dedicated portfolio-building tool designed to help you create professional, industry-best portfolios that look good and deliver solid functionality. Now, you might be wondering what I mean by "functionality" since a portfolio's only job is to showcase your own content and get you paid work.
It certainly is, but don't forget that you'll be competing against people with cutting-edge design elements and features in their portfolios. Portfolio builders like Squarespace and WordPress allow them to go wild with their imaginations and create incredibly memorable portfolios, especially to recruiters.
A Contently portfolio contains the basics, but imagine competing against this with your Contently portfolio. Who do you think the recruiter/hiring manager/employer is noticing and remembering?
Why pick Authory instead of any other portfolio-building tool
Authory doesn't just give you a place to put your portfolio pieces together. It builds the portfolio for you. A quick look at some of its main features will establish precisely how it does that.
Automatic importing of your bylined content
You can feed the URL of every site where your work is published into Authory, and the tool will AUTOMATICALLY extract a copy of every bylined piece into its own database. In other words, as long as you know the URL of wherever your content appears for public (sometimes even private) consumption/perusal.
The sites of publication are called "sources" in the Authory ecosystem. You can add multiple sources, and ALL your bylined pieces from ALL sources you enter will be imported automatically.
Consequently, you never have to track down any of your published work (especially older pieces). You only need to remember the source URL, not even the titles of your articles/videos/podcasts. As long as you remember that and the source site is still active, Authory will collate all your content for you in a single location.
No more manual upload/copy-paste jobs for you.
Have a look at my Authory dashboard, and you'll see what I am talking about: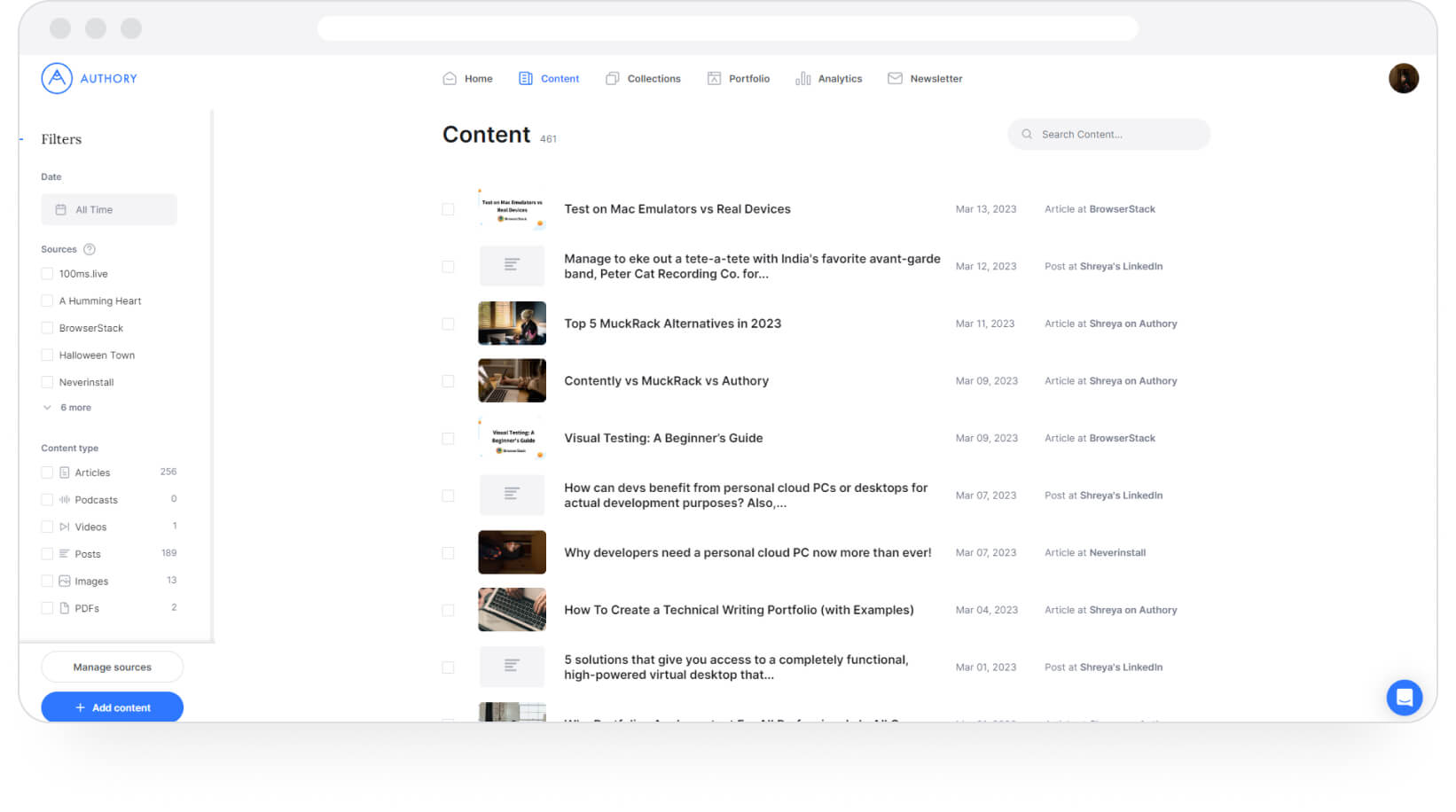 Continued importing of past and future content (self-updating)
Once you enter a source, Authory won't just import your existing content. Anything you publish on the same site after you're fed its URL into Authory will also be imported automatically. In other words, Authory will import your past and future content.
Consequently, you never have to worry about if a piece has been published. You'll get an email notification informing you that your piece has been imported, which is how you know it has been published. In fact, many of Authory's customers have reported that Authory notifications actually reached them faster than Google Alerts.
All your bylined pieces will be automatically collated in a single location, forever.
Automatic backup
Authory doesn't just import your content; it also saves everything permanently. Any content drawn into its dashboard is protected and saved forever, without you having to do anything (seriously, nothing).
It doesn't matter if the original page dies/is thrown into a redirect. Your backup copy of Authory remains safe and untouched.
Additionally, backups are actually in the original format — text and/or media. No screenshots here.
SEO optimization & responsive design
All Authory portfolios are automatically optimized for the best possible SEO value. They are also equipped with responsive design, meaning your portfolio will appear perfect on all device screens, including mobile device screens.
As of November 2022, 60.28 percent of all web traffic came through mobile phones. Naturally, mobile screen-compatible rendering is a non-negotiable requirement of your digital portfolio.
Along with the primary features discussed above, Authory also offers the following:
All imported content can be downloaded as high-res PDFs or exportable as HTML files — no lock-in period.
Multiple, low-effort options for customization to make your portfolio visually appealing and easy to navigate.
In-built analytics that provides real numbers on content performance (engagement, readership) across the web and popular social media sites every 30 days.
Allows creation of newsletters with a couple of clicks. After setup, Authory will automatically send your newly published content to subscribers.
Widgets to display your portfolio on other sites, such as your personal website (if you have one).
Customer Testimonials for Authory
Portfolios created with Authory
Authory portfolio example 1: David Pogue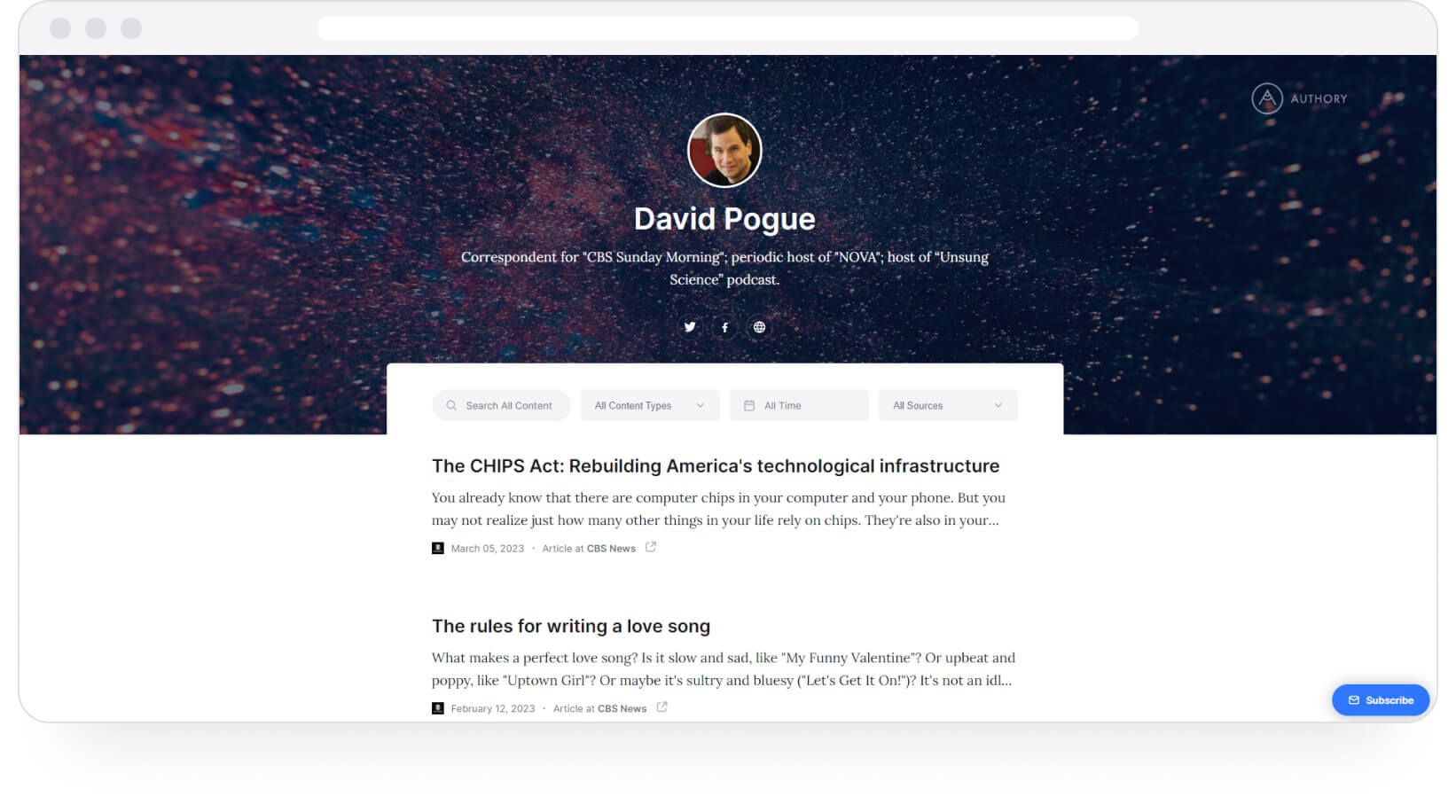 David Pogue is a six-time Emmy winner for his stories on CBS Sunday Morning, a New York Times bestselling author, a five-time TED speaker, host of 20 NOVA science specials on PBS, and creator/host of the CBS News/Simon & Schuster podcast Unsung Science.
Authory portfolio example 2: Ali Latifi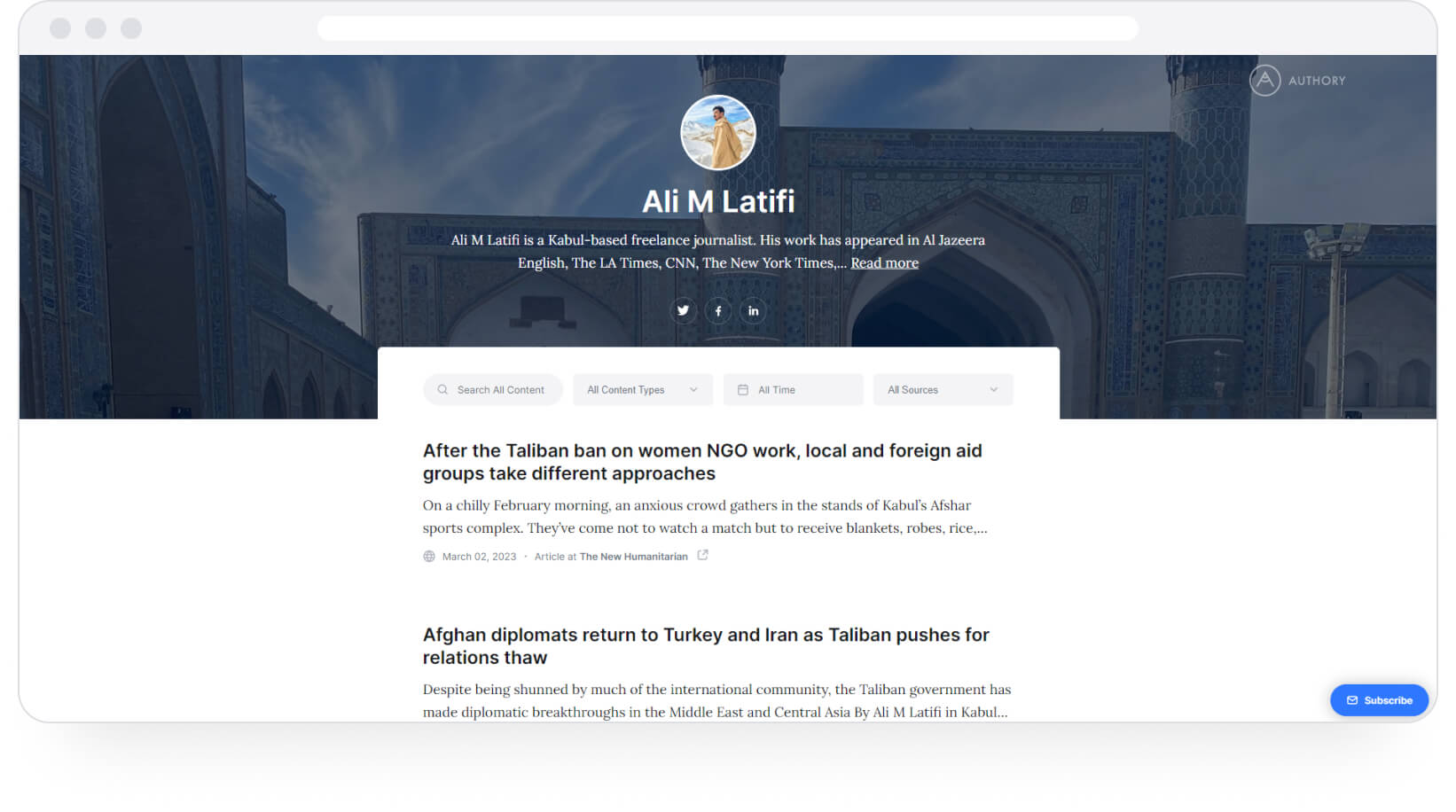 Ali M Latifi is a Kabul-based freelance journalist Ali M Latifi is a seasoned contributor to major journalistic names — Al Jazeera English, The LA Times, CNN, The New York Times, VICE, Deutsche Welle, Foreign Policy, and Business Insider. He has also appeared on TV and the radio for CNN, Deutsche Welle, PBS, Al Jazeera English, and NPR.
Authory portfolio example 3: Melissa Kalt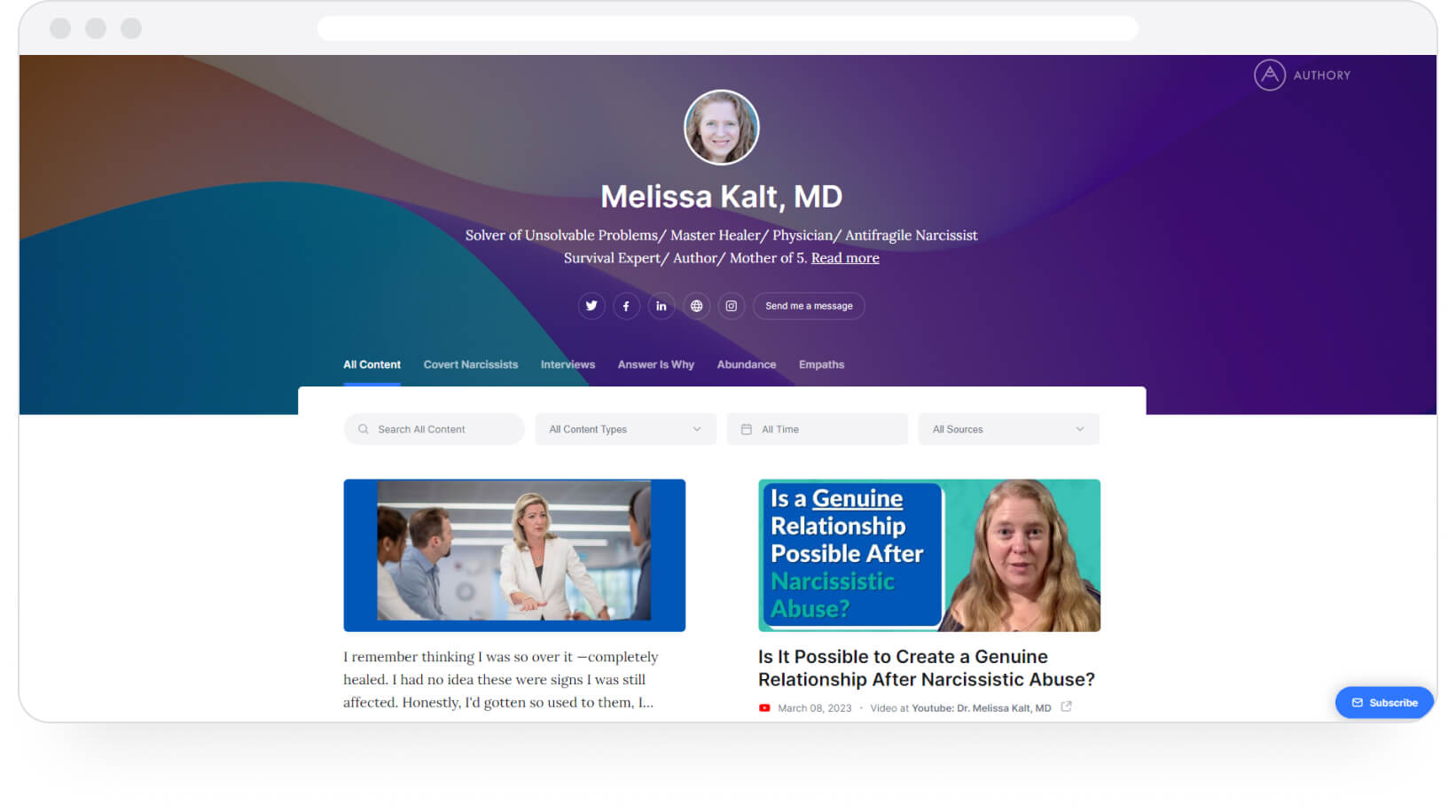 Melissa Kalt is a triple-board-certified MD in Internal Medicine, Pediatrics, and Lipidology. She seeks to help victims of narcissistic abuse through her articles, videos, course, and even one-on-one consultations.
Authory portfolio example 4: Crystal Houseman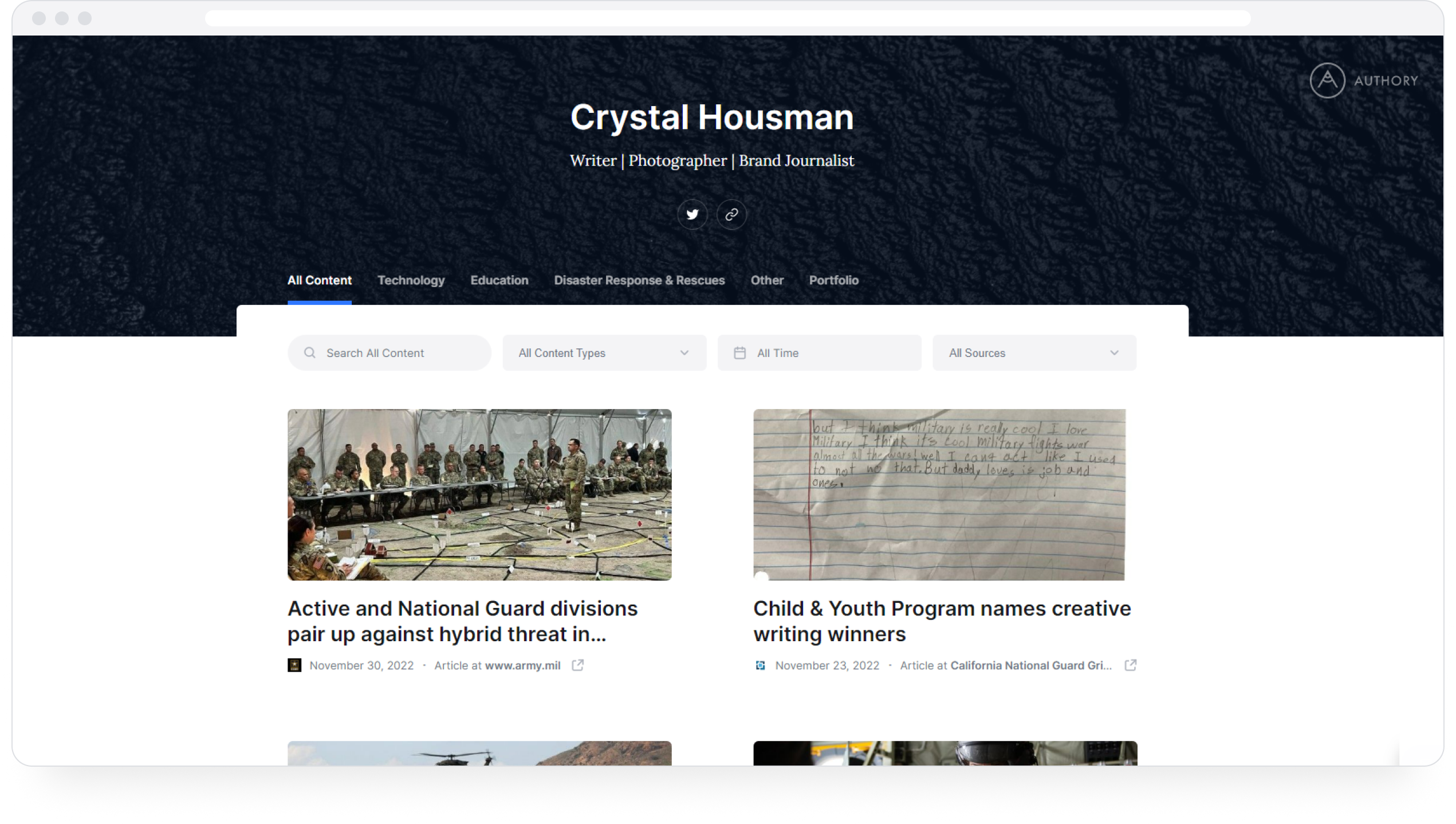 Crystal Houseman is a writer, photographer, and brand journalist.
In Conclusion...
You should absolutely have a Contently portfolio, but it shouldn't be your only portfolio.
When I switched to freelance writing after six years of full-time work, I found myself in competition with other writers who knew far better than I did (about pretty much everything except my area of intellectual expertise).
Recruiters were decidedly unimpressed by my Linktree portfolio. It was a list of articles that couldn't be searched through or filtered; you had to scroll up and down to look for specific keywords in titles.
Before that, I was sending my work samples as a list of links in an email, and... don't do that. Don't be who I was during that time.
Creating an Authory portfolio had a decidedly positive effect on my job search. I got more replies, more interviews were scheduled, and almost every recruiter/hiring manager/content marketer I talked to mentioned my portfolio in a starkly positive tone.
In case you're interested, here's my portfolio on Authory: authory.com/shreya-bose
Convinced yet? Or perhaps a little curious? Why not get started with Authory for free?