I've been using Notion to write since 2019. No surprise, right?
This content and project management tool is a favorite among writers and managers, but it has yet to gain much traction as a portfolio builder. That said, quite a few people have created portfolios built with Notion, and the results are worth some consideration.
In this article, I'll take you through the steps involved in building a Notion portfolio (which is usually a conglomeration of Notion pages). I'll also point out some pros and cons of the tool, and if you're so inclined, discuss an alternative tool that lets you build an industry-best portfolio within a few minutes, with minimal effort on your part.
📖
What you'll get out of this article:
• What is a Notion portfolio, and how to create one
• Pros & Cons of a Notion portfolio
• Why Authory is an excellent alternative to Notion
• Main features of Authory — automatic content importing, content backup, analytics & more
What is Notion?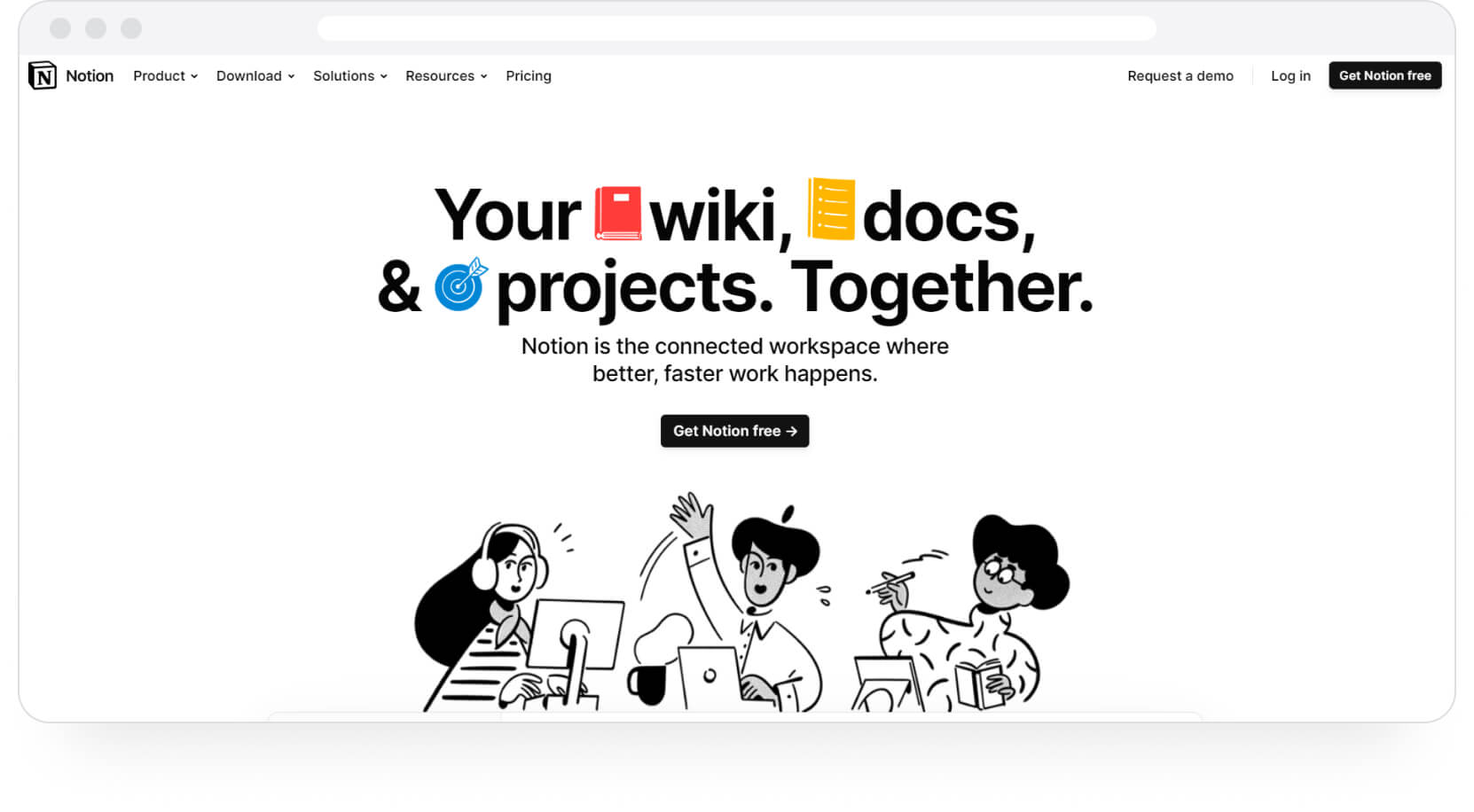 Think of Notion as Google Docs on steroids. You can use it to write entire articles/essays or for note-taking. You can create folders and sub-folders and store documentation in hierarchical systems.
Notion comes with a massive set of design tools so that you can make your content appear as you want — highlights, images, various sub-categories... you can even insert code blocks. Collaborating on Notion is a piece of cake.
Designed as a productivity-boosting application, Notion also provides databases, kanban boards, calendars, reminders, wikis, and so much more. You can play around with these components to create tailored frameworks for data, knowledge, and project management, and it is particularly great for product managers and product design folks.
Now, Notion isn't very commonly used for website/portfolio website creation, but its capabilities in this regard are getting quite a bit of attention now. Google "Notion portfolio," and you'll see what I mean.
So, let's move on to the actual process of creating a portfolio on Notion.
How to create a portfolio on Notion
Create your Notion account if you don't already have one yet. It's free, but you can also choose the paid version for extra features and competencies.
You'll get access to a set of existing templates by default. Choose one.
Rename your "workspace" to your portfolio name.
🗒️
Note: Everything in Notion is customizable at any time. You can always change your mind about altering its visual design in the future.
4. Once you've chosen the template and name, mark your page as "full-width." You'll find this option under the dotted menu on the top right of your screen.
5. Enter all the necessary information — your name, profession, contact information, work samples, customer testimonials... anything you'd require to establish your skillset to prospective clients.
6. You can put everything under headings or create retractable sections. In the case of the latter, the viewer can click to unfold the information under respective headers.
7. Place all information in a single workspace or create new Notion pages devoted to specific sections — work samples, case studies, customer testimonials, etc. You can add links to each Notion page on your "Home Page," so to speak. When sharing your portfolio, just send across the Home Page, which carries links to all other pages.
🗒️
Note: You can add a new page by clicking the hamburger menu at the top left of your workspace. It will expand to provide multiple options, at the end of which you will see "+ New Page."
8. If you want a custom domain for your portfolio, you can set it up yourself on your own systems following this tutorial. If you're crunched for time and effort, you could also pay a third-party service like Host Notion to do the job for you.
9. Go to your Home Page. Find the "Share" option at the top right. Click on it and enable "Share to Web." Disable "Allow Duplicate as template" if you don't want anyone using your structure.
10. Click "Copy Link," and you will have the URL to your portfolio.
And voila! You now have a customizable portfolio on Notion.
Examples of Notion portfolios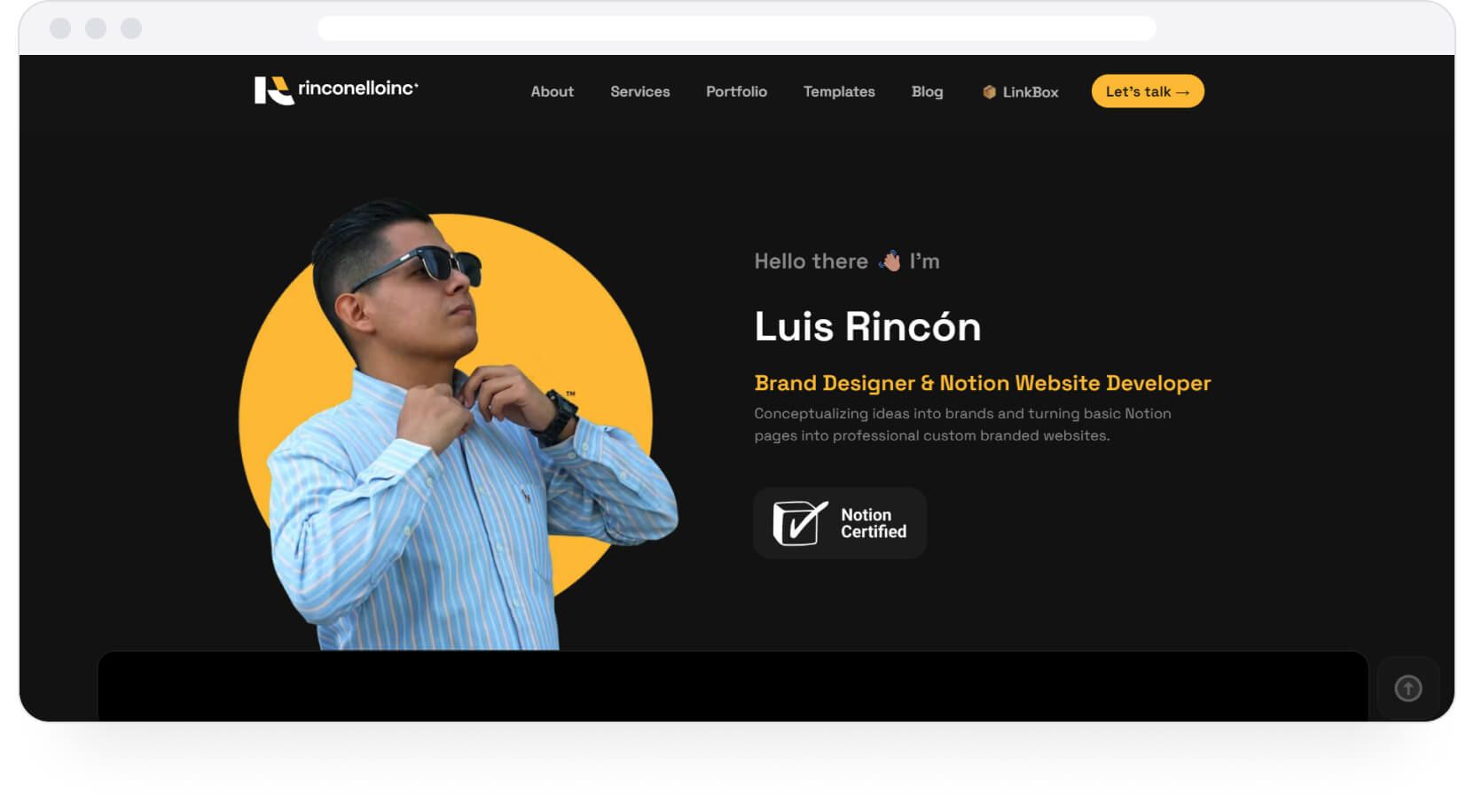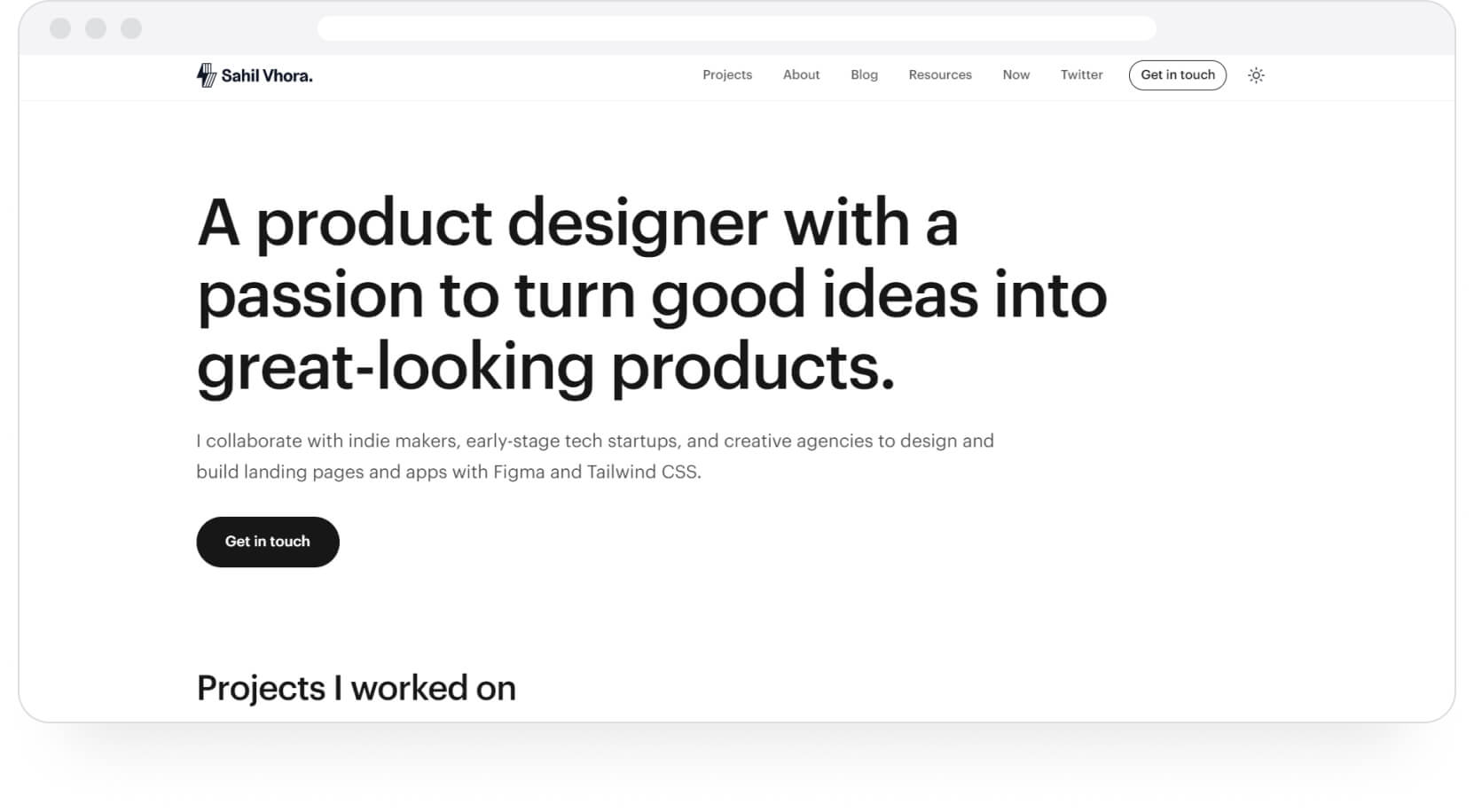 Pros & Cons of Notion for portfolios
The pros of a Notion portfolio
It's a free platform. There is a paid plan, but it isn't required to create your portfolio website.
You need no coding skills or even knowledge of tools like Webflow to set up a portfolio website from scratch.
You can create custom domains for your portfolio, though it takes some work.
You get a lot of templates and in-built elements that let you sit back, relax and focus on the big stuff — structure, content, and story.
You can embed third-party content like images, videos, Figma prototypes, code blocks, etc., with a click — the "text block" concept in Notion is especially useful in this regard.
By creating new pages and linking them back to a single page (or multiple pages), you can create wireframes and complex structures for your portfolio website.
You can use Notion to display content in various formats, systems, and hierarchies. Present your work as a list, a grid, or a gallery with previews. Choose from multiple text layouts to make your portfolio navigable and intuitive to viewers/readers/scrollers. If you want more customizability, you can use third-party plugins like super.so, which lets you implement more visual design elements and optimize for SEO.
The cons of a Notion portfolio
Customization is limited if you want complete control over your portfolio's appearance. You have limited choices concerning font, color, and foundational structure, and you can't add new fonts or colors, either.
If you're creating a portfolio, you still have to manually track down, save and add all your work. If you've been writing as long as I have (about six years now), this entails a lot of tedious effort.
There doesn't seem to be any option to get analytics data on how your work is resonating with its target audience. I'm unsure if you can use a third-party plugin for this purpose, but it still constitutes extra effort even if you could.
There's no in-built option to keep certain pages in your portfolio private. You can only ensure that no one can edit the page. This is a concern if you're trying to showcase ghostwritten content to potential employers.
Setting up a Notion portfolio is a lot of work. You basically have to name/structure/copy-paste/write/add everything you need for your portfolio to look good and do its job (getting you paid work consistently). I created a rudimentary portfolio within a single page that I didn't take live. It still took me a couple of days to set up, mainly because I had to find and paste my articles.
Authory: A Notion Alternative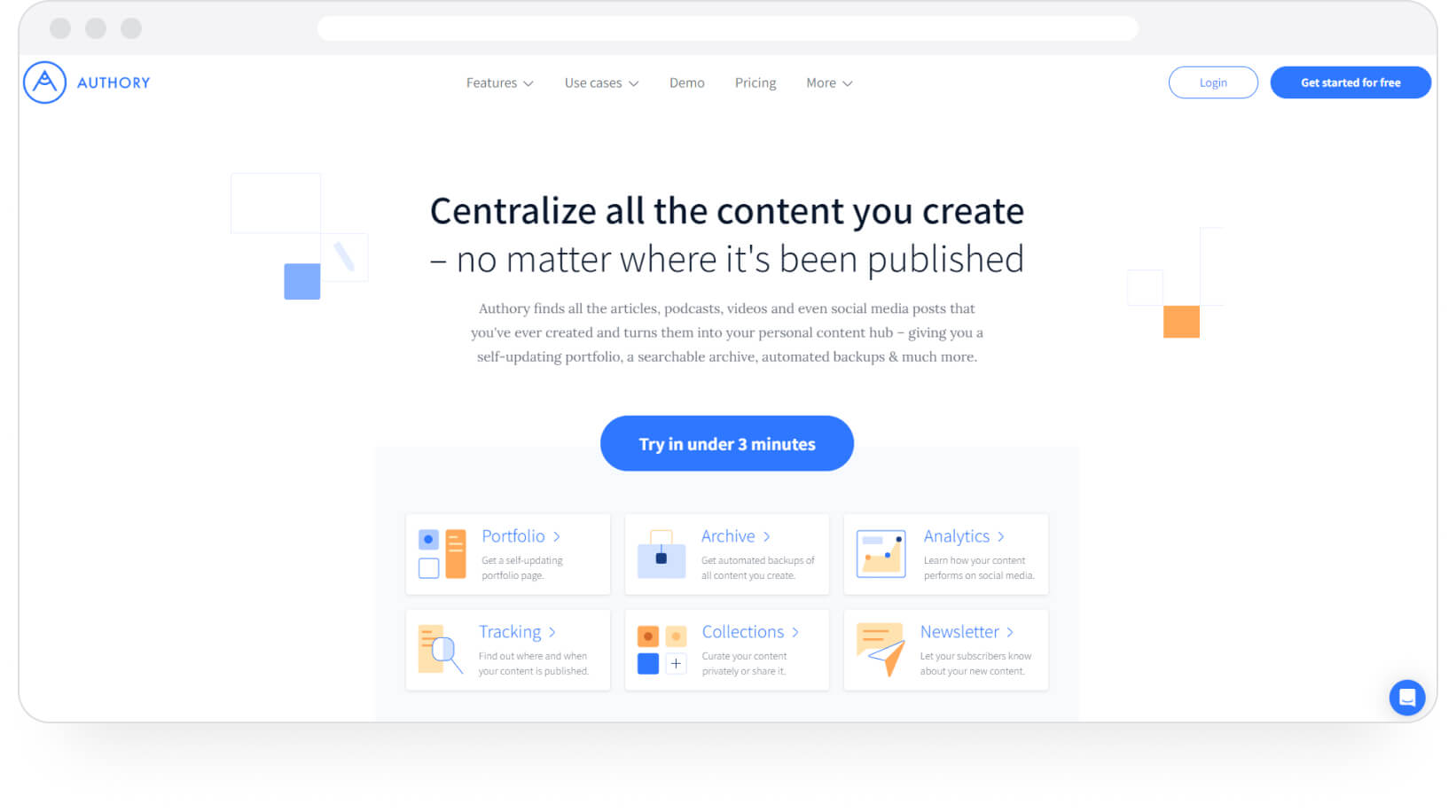 Notion is not, at its core, a portfolio builder. It provides a set of features that are pretty useful in creating a portfolio or any website. But the fact that it isn't designed to build portfolios leaves specific gaps in functionality that end up consuming more time and effort on your part.
As I've already mentioned, it took me an inordinate amount of time to create even a basic Notion portfolio. I appreciated the widespread capabilities of this tool, but I needed something else to fit my requirements.
Authory, the portfolio-building tool I eventually chose, did precisely that. It gave me exactly what I needed by creating my portfolio for me.
Authory's biggest and most irreplaceable feature is the fact that it will find all your published, bylined work on the internet AUTOMATICALLY. I've elaborated on this and other major Authory features below, but first, a few customer testimonials (because no one knows a product better than the people using it).
Customer Testimonials from Authory
You don't need to be or consider yourself a professional writer to take advantage of Authory: you might find it useful if you publish text at any website that identifies the author of an item. All you need is to point Authory to a URL at a site at which you post. That URL can be specific, like an RSS feed that only includes articles you wrote or blog entries you posted, or general, pointing to an entire site—Authory figures out how to scrape your articles from it. Authory can catalog and archive podcasts, videos, and LinkedIn posts. It will even index your videos hosted on YouTube, but not download them.
Authory's name may sound like entropy, but it's the reverse. It fights the link rot that destroys Internet history.
Glenn Fleishman's review of Authory
Why Authory over Notion
Imagine finding all your published work and backing it up yourself. Now imagine shaping your portfolio from scratch by creating pages and sub-pages, linking sub-pages to the home page, managing visual appeal with limited design options, and manually updating everything as and when required.
🗣️
Notion does not offer the visual options provided by tools like Squarespace or Carbonmade. So, it's not a great option if you want to generate a unique visual experience with your portfolio. For writers like me, setting up a portfolio also requires an inordinate amount of work I don't have to do when using Authory.
Though Notion has templates that can mimic the appearance of a portfolio, it doesn't come with the functions you need specifically for a portfolio. The lack of these features made the choice between Notion and Authory fairly easy.
Authory made my life easier, did most of the work, required much less effort from me, and still gave me an industry-best portfolio.
Now, let's have a look at these portfolio-specific features on Authory.
Self-updating portfolio
Authory will AUTOMATICALLY import a copy of every bylined piece from every site you've published, into its own database.
The sites where you're published are called "sources" in Authory's ecosystem. You can add an infinite number of sources, and every single bylined piece from every single source will be imported automatically.
There is no need to track down links to your published work (especially older pieces). No need to manually upload/copy-paste your content either. If you have the URL of the site where they exist, and the site is active, Authory will collate all your content for you.
If you have any non-bylined content, you can upload it manually.
For a quick glimpse, check out my content dashboard on Authory: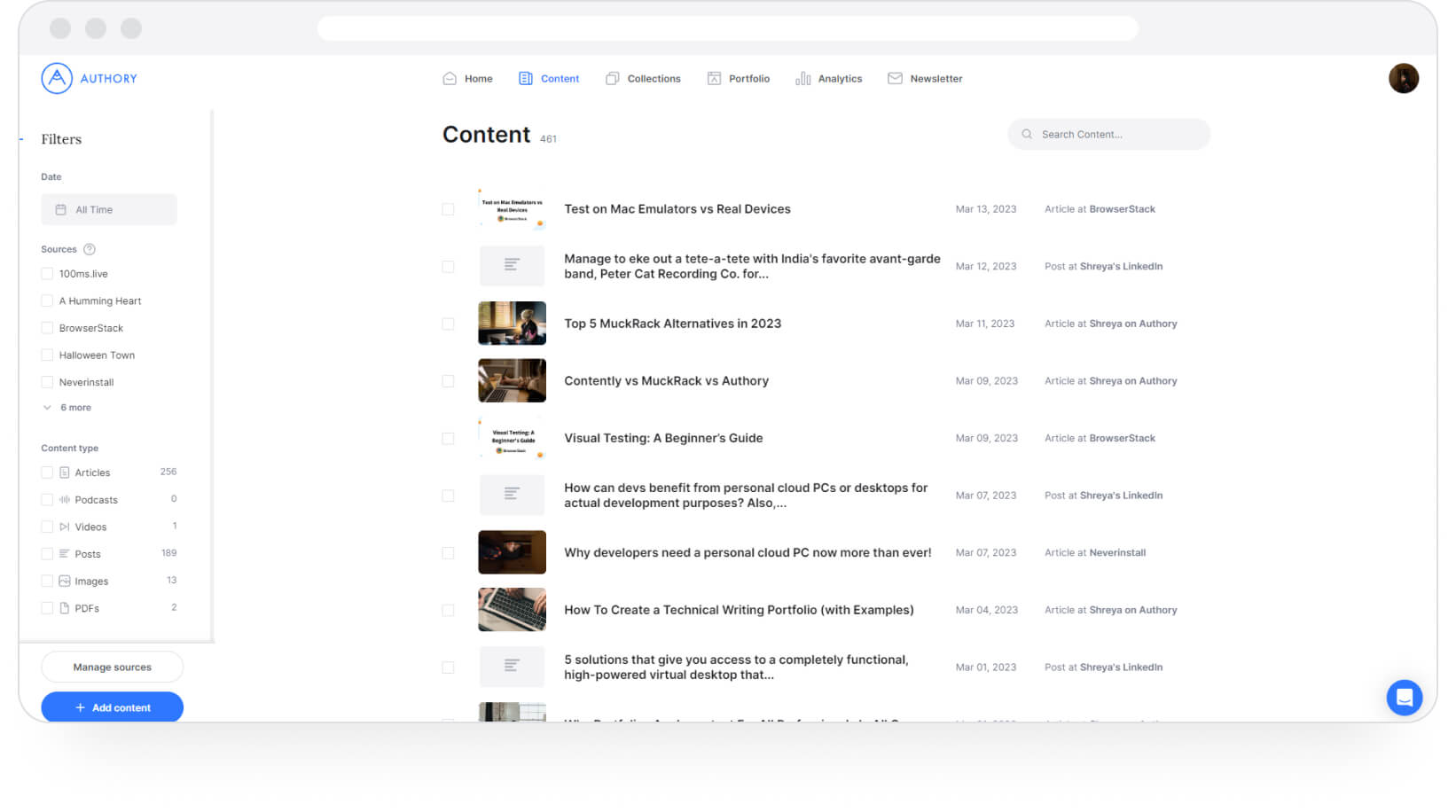 Automated backups
All content Authory imports are saved permanently; you'll never lose your work, even if the original page dies/becomes a redirect.
All backups are in the original format — text and/or media. No screenshots.
Continued importing of past and future content (self-updating)
Once you enter a source, Authory won't just import your existing content. Anything you publish on the same site will also be imported automatically. In other words, Authory will import your past and future content.
Authory also sends email notifications for every new piece it imports, so you'll always know if a piece you've submitted has been published. In fact, many Authory customers have reported that they received Authory notifications faster than Google Alerts.
Collections for easy organization
Once Authory imports your content, you can slot it into folders called "Collections." Name these collections, select the pieces for each Collection, and add said Collections to your portfolio with a single click.
On your Authory portfolio, your content is arranged under relevant "headers," i.e., Collection names. This automatically makes your portfolio site more navigable and user-friendly.
Analytics, tracking, newsletter, RSS, and more
Authory doesn't just provide a digital space to display your work. You can also leverage the following competencies:
Ability to search through both your portfolio and your content database to find articles/audio/video based on keywords. Prospective employers and hiring managers can use this to look for topics on your portfolio, and you can use it to find specific pieces within your Authory content bank.
Ability to create a custom domain with a click.
All imported content can be downloaded as high-res PDFs or exportable as HTML files — no lock-in period.
Get a custom domain and personalize your portfolio even further.
Multiple, low-effort options for customization to make your portfolio visually appealing and easy to navigate.
In-built analytics that provides real numbers on content performance (engagement, readership) across the web and popular social media sites every 30 days. You get to see how your readers/viewers are responding to your work.
Allows creation of newsletters with a couple of clicks. After setup, Authory will automatically send your newly published content to subscribers.
Widgets to display your personal portfolio on other sites, such as your personal website (if you have one).
Examples of Authory portfolios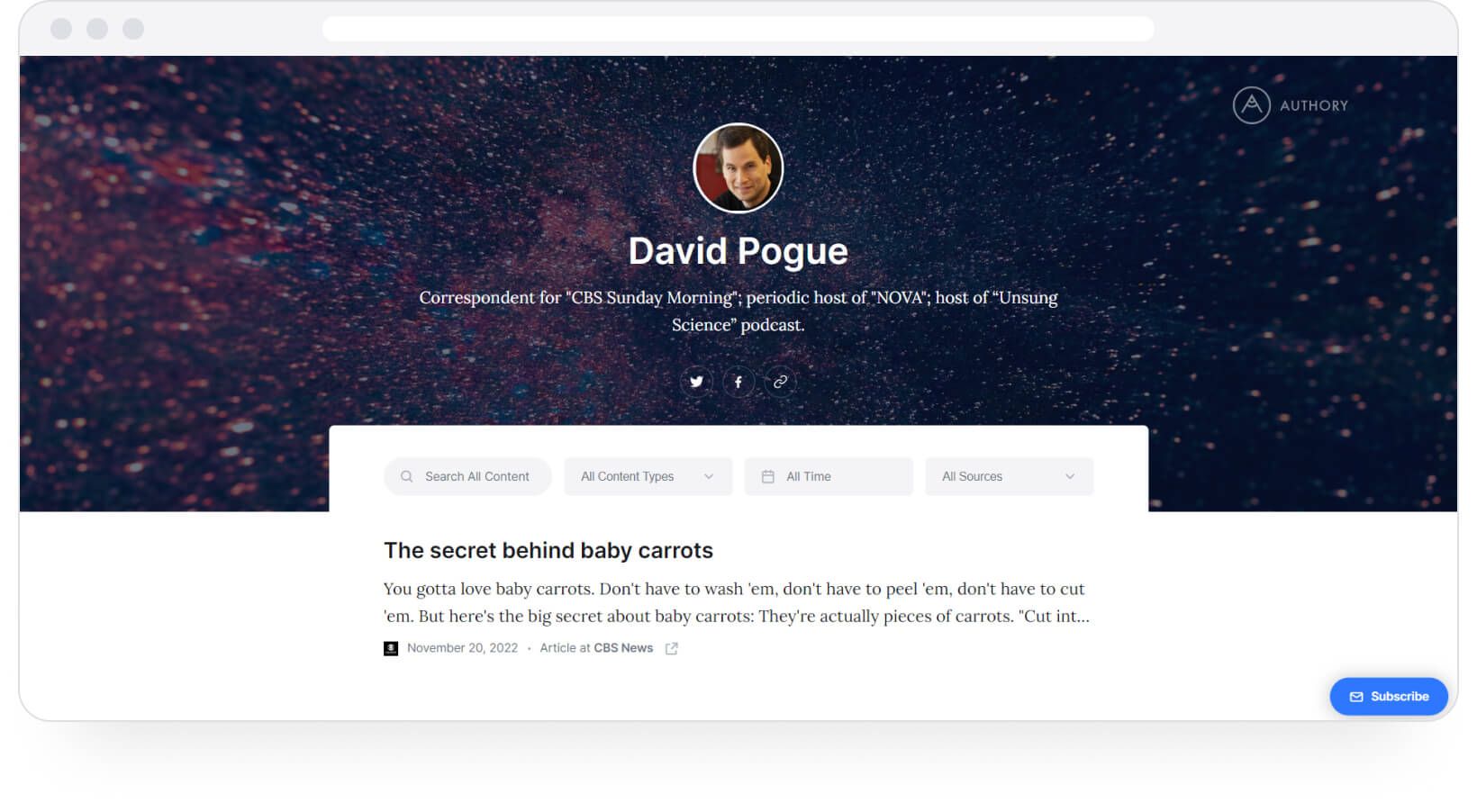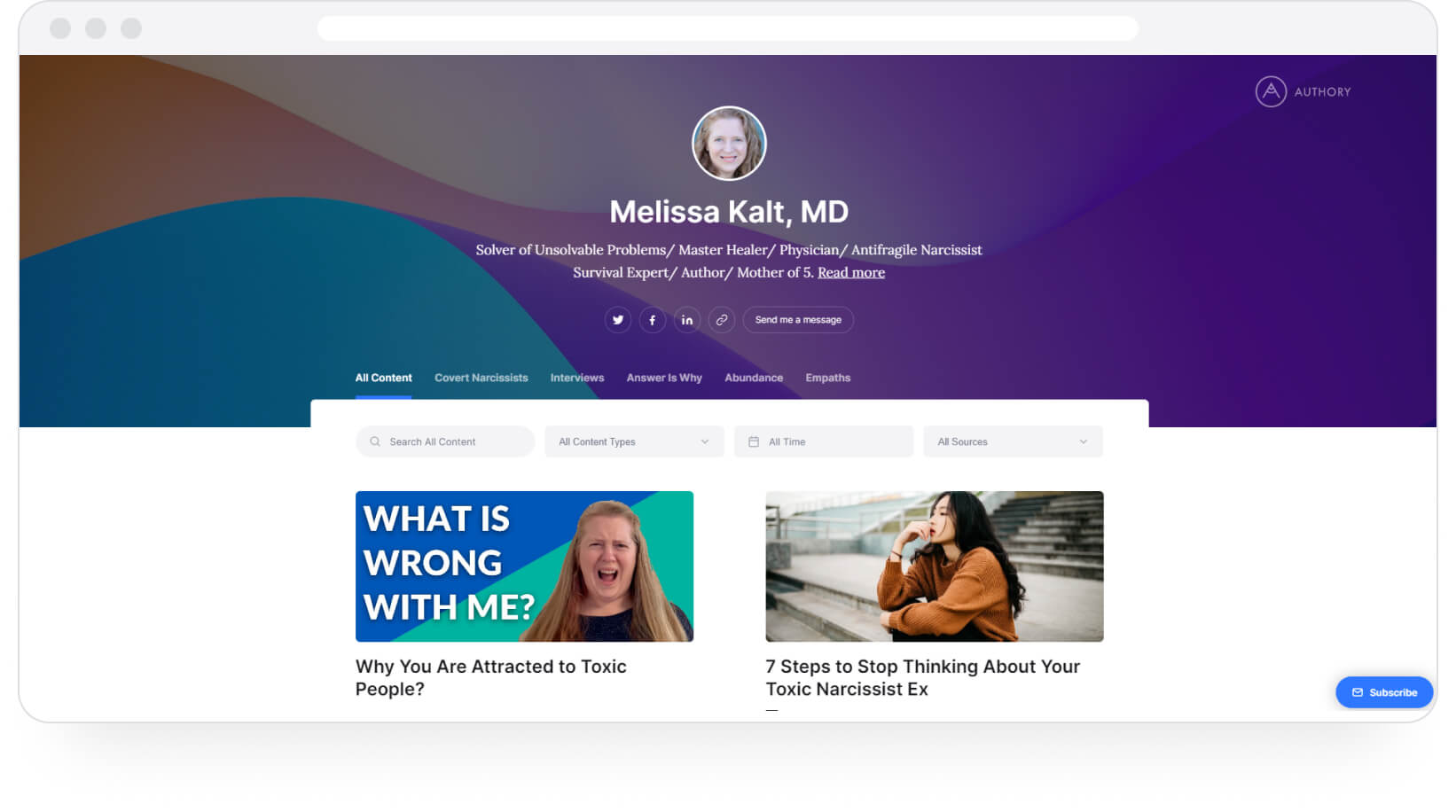 Authory has been chosen by quite a few well-known names in my domain, people who could have picked any tool in the world, but decided that Authory best met their needs. There's 6-time Emmy award winner David Pogue, Steven Levy, Editor at Large, WIRED, and Brian Fung, a Technology Reporter at CNN, to name a very few.
Needless to say, this plus Authory's consistently effective content importing and backup capabilities, sealed the deal for me.
🗒️
Quick Note: Even though Notion is free, the time, stress, and effort Authory helped me save translated to more revenue than Notion could facilitate with its price point (none). I made more money even after paying for Authory than I could have done if I had to manually create, manage and keep updating a Notion portfolio.
Why not just get started with Authory for free and see for yourself what works for you?