It doesn't matter if you're just starting out as a writer or have been at it for a while. It's always a good idea to research and keep up with the newest and best practices within your industry. If you're a writer, this means (among other things), staying up to date with portfolio formats, style, and content being implemented by the best writers in the field.
In other words, you need to keep up with the best writing portfolio examples. These could be freelance writing portfolio examples or portfolios crafted by full-time writers. Either way, the point is to learn from people who are known for their expertise and implement the learnings with your own unique perspectives into your own portfolio website.
📖
What you'll get from this article:
• A look at 10 excellent writing portfolios, some comprising PDFs
• A deep dive into a tool that can help you create an equally exquisite portfolio
10 online writing portfolio examples
Erin Rupp
On her website, Erin Rupp calls herself a "writer and mindful productivity nerd." She mainly writes about productivity, well-being, and self-development. Her work stands out because of her depth of research, as well as insights from her own experiences.
Alex Hargrave
Alex Hargrave is a Reporting fellow at E&E News. Her portfolio page showcases a number of impressive writing samples (some of them in PDF) that are sure to woo and wow potential clients.
Sarah Sparks
Sarah Sparks is an advocate, consultant, writer & media commentator on equity, social justice, and indigenous rights. Her online portfolio is a clear and deep insight into her extensive repertoire.
Kerry Sunderland
Kerry Sunderland has been a literary event organizer, magazine editor, journalist, researcher, film reviewer/critic, social media strategist, online community manager, and digital media producer. She is also a radio host/producer and public speaker/presenter. Currently, she is a freelance journalist and a contributing author, among other things.
Tabitha Potts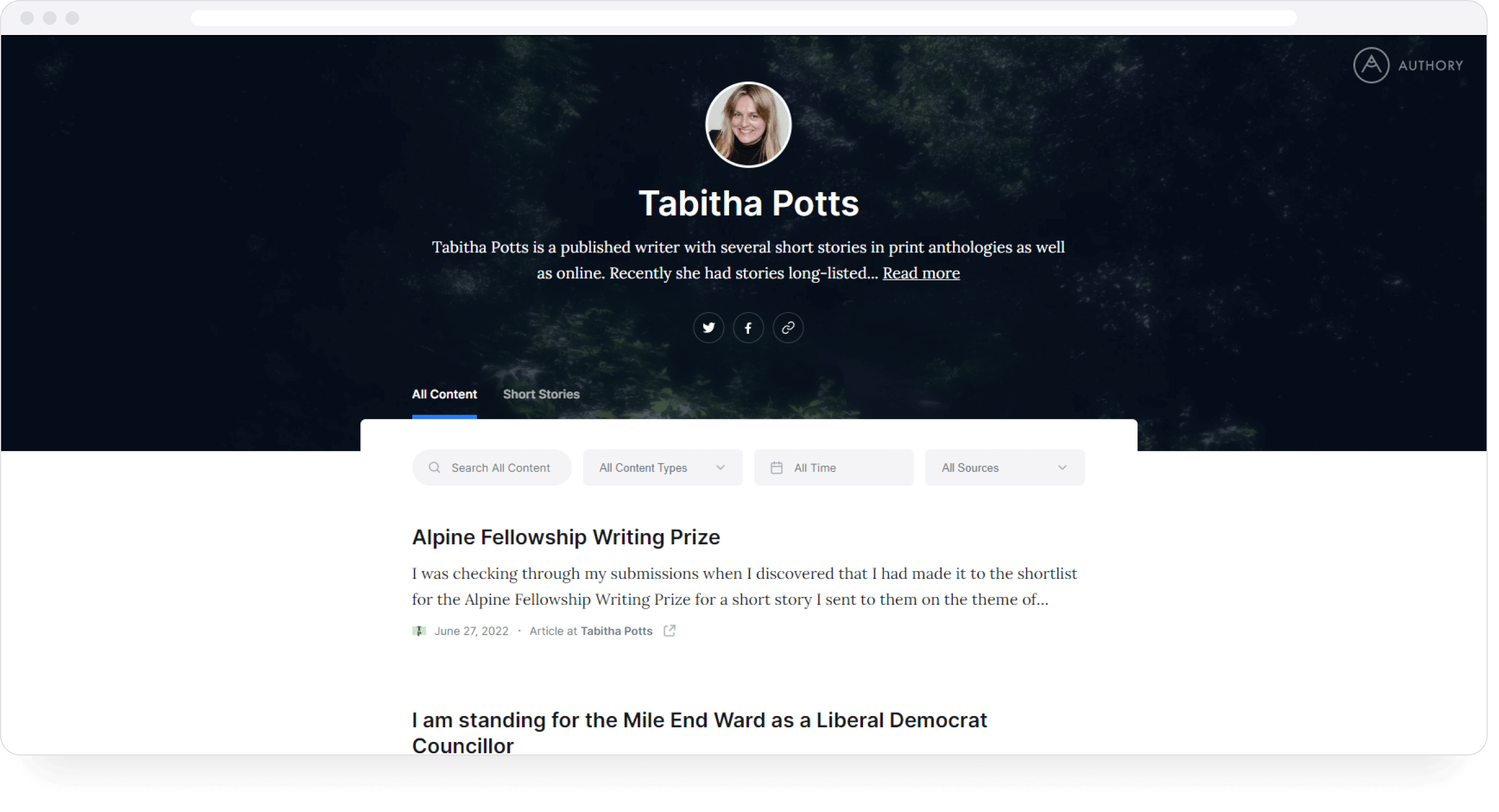 Tabitha Potts is a writer with stories long-listed for the Royal Academy Pindrop Award and the Sunderland Short Story Award.  One of her stories was a Finalist in MIROnline's Folk Tale Festival, and one was Highly Commended in MIROnline's Booker Prize Competition.
If you want to create a writer website, scanning Tabitha's portfolio is almost mandatory.
---
🖱️
Authory is, amongst other things, a portfolio builder & content backup service, used by thousands of top professionals worldwide.
Get started for free now.
---
Mary Ann Gwinn
Mary Ann Gwinn is a Pulitzer Prize-winning journalist and book reviewer for the Los Angeles Times, Minneapolis Star Tribune, Seattle Times, Kirkus Reviews, and other publications. She is also a Pulitzer jurist.
Jenifer Fernandez
Jennifer Fernandez is a writer and editor who has been on staff at Architectural Digest, Travel + Leisure, and Martha Stewart Weddings. Her writings have also appeared in The Wall Street Journal, Elle Decor, House Beautiful, Afar, Departures, and more.
Qin Chen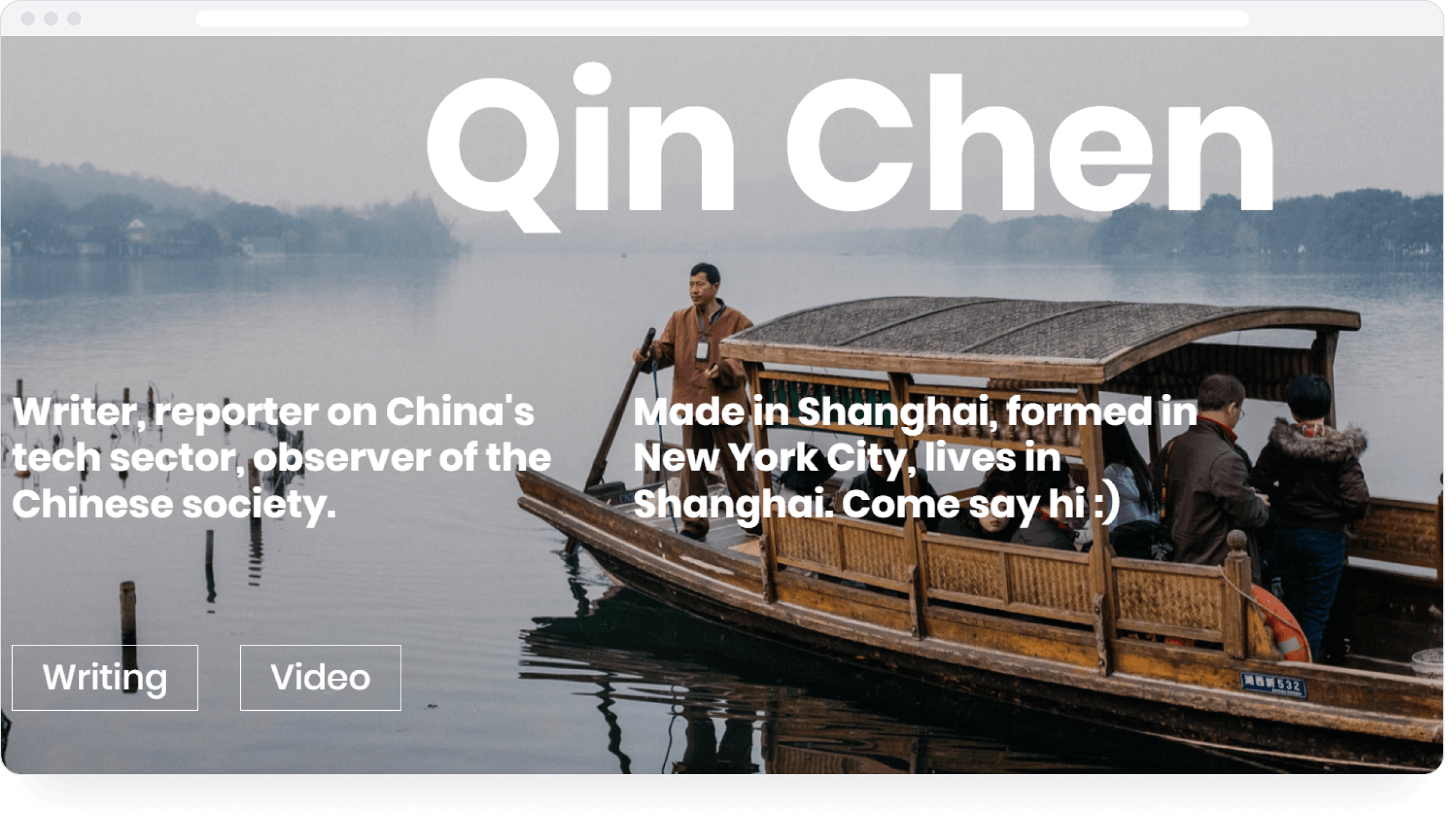 Qin Chen is a writer who reports on China's technological progress and other aspects of Chinese society. She also works with video, as her portfolio reveals. If you're looking up the best freelance writer portfolios, don't miss Qin for inspiration.
Hank Herman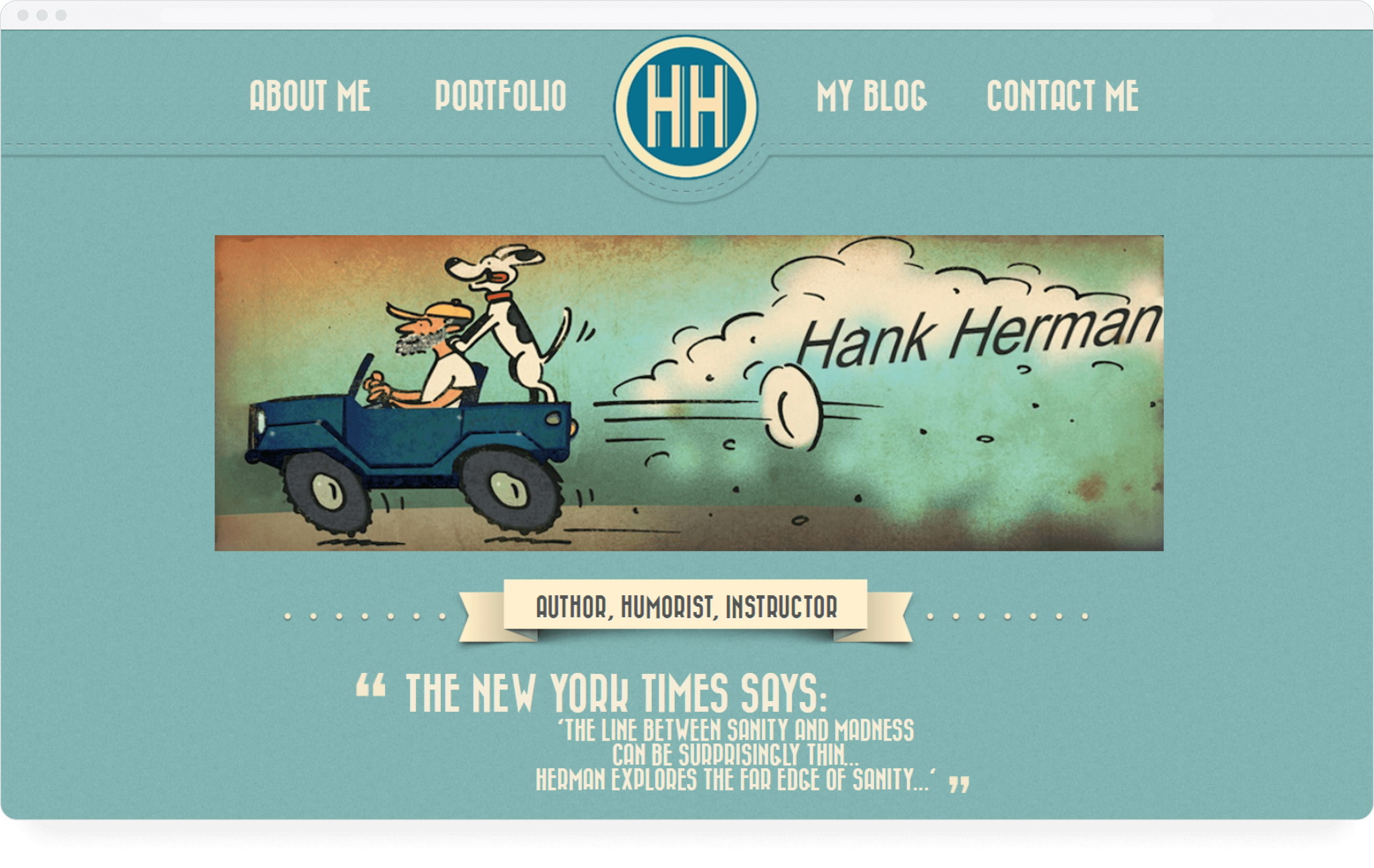 Author and humorist Hank Herman has a page that matches his quirky, hilarious work. Freelance writers can get solid tips from him on how to use words AND visual elements to stand out to clients.
Constance Hanstedt
Constance Hanstedt is an award-winning author, memoirist, and poet. Her poems have appeared in numerous literary journals and anthologies, and her novel was named a finalist in the memoir category at the Pacific Northwest Writers Conference in 2011, and a finalist in the National Indie Excellence Awards in 2015.
A tool to create your perfect freelance writer portfolio
Now that you've seen some writing portfolio examples, it's time to look at the "how." How do you create your perfect writing portfolio? What tool lets you create the portfolio of your clients' dreams?
Allow me to answer that question with "Authory."
Now, you'll find other portfolio builders that may be more applicable to you, depending on your personal requirements. For example, if you want stunning aesthetics within your writing portfolio format, you can use Squarespace, Carbonmade, Portfoliobox, and the like.
But Authory offers an entirely unique feature that I haven't found anywhere else: automation importing of ALL your bylined content from ANY digital source you enter.
Here's how it works: you enter the source website, give the tool 48 hours, and come back to find all your bylined pieces in one place. You can import from an unlimited number of sources. Authory won't just import all existing content from each source, but all pieces published in the future.
That means, you never have to copy-paste/manually upload any of your bylined pieces to your portfolio ever again. Of course, there is the option to manually add non-bylined content, if you want.
Additionally, all imported content is permanently backed up. So, not only does Authory build your portfolio for you by bringing all your content into one place, but it also saves that content forever.
Other prominent features of Authory
All backups are in the content's original format (text/media). No screenshots. You can edit your backed-up pieces in Authory
All imported content can be downloaded as high-res PDFs or exported as HTML files at any time.
Numerous customization options to make your portfolio look sharp and professional.
Email notifications whenever a new article is imported by Authory.
In-built search engine optimization and responsive design to make your portfolio look good on every device.
In-built analytics that offers you real numbers on how your content performs across the web and popular social media sites every 30 days.
Create newsletters with a couple of clicks and let the tool automatically send your newly published content to subscribers.
Widgets to display your portfolio on other sites, such as your personal website (if you have one)
So, if you're trying to create a writer's portfolio and you have pieces scattered all over the internet, consider using Authory to collate them in one place. You can then organize them into Collections, and add these collections to your portfolio.
Needless to say, this is an excellent tool for freelance writers. If you're running a freelance writing business, it's an easy way to have all your content in one place. You can showcase your growth over the year to potential clients, research your older articles, etc.
Authory supports content in all formats — text, audio, and video. You can even add PDFs to your portfolio.
If you're curious, you can get started with Authory for free. Use it to create your portfolio, and get a taste of how it makes your life much easier.