Carbonmade insists that "templates are boring."
Squarespace is known for its gorgeous, attention-gripping templates.
Authory imports and backs up all your content automatically, no matter where it has been published online.
So, which portfolio website builder do you pick among the three above?
When looking for a portfolio builder, I, too, compared Carbonmade vs Squarespace vs Authory. It took me a while, but I finally managed to distill these tools down to their primary offerings and make a decision based strictly on my requirements.
I'm quite proud to say that I'm very happy with my final choice. In light of this small success (not too small considering the tool I chose gave me a portfolio that got me well-paying clients in just three weeks), I wanted to share my own experience and impression while doing the "Carbonmade vs Squarespace vs Authory" dance. Perhaps it'll help you choose and create that perfect portfolio as well.
📖
What you'll get out of this article:
• The primary features I wanted in my perfect portfolio builder
• Exploration of each tool in some detail
• Why I chose one tool over the other two
What I wanted in my perfect online portfolio builder
When choosing a professional portfolio builder, the following features were non-negotiable for me:
User-friendly with an intuitive UI that let me set up a professional portfolio within minutes. No coding skills required, ever.
Allows uploading and showcasing of content in multiple formats — text, audio, and video.
Customizable enough to achieve the aesthetic appearance I wanted without too much work. I'm a freelance writer; I don't need award-winning designs on my banner, but I do want prospective clients to think my portfolio looks sharp, minimal, and navigable.
Some form of analytics that offers me some insight into how my published content is performing on the internet in terms of readership, traffic, engagement, etc.
Affordable for a newbie freelancer like me (I'd been writing full-time until October 2022). I couldn't afford anything more than $10 a month.
Carbonmade vs Squarespace vs Authory: A Comparison
Carbonmade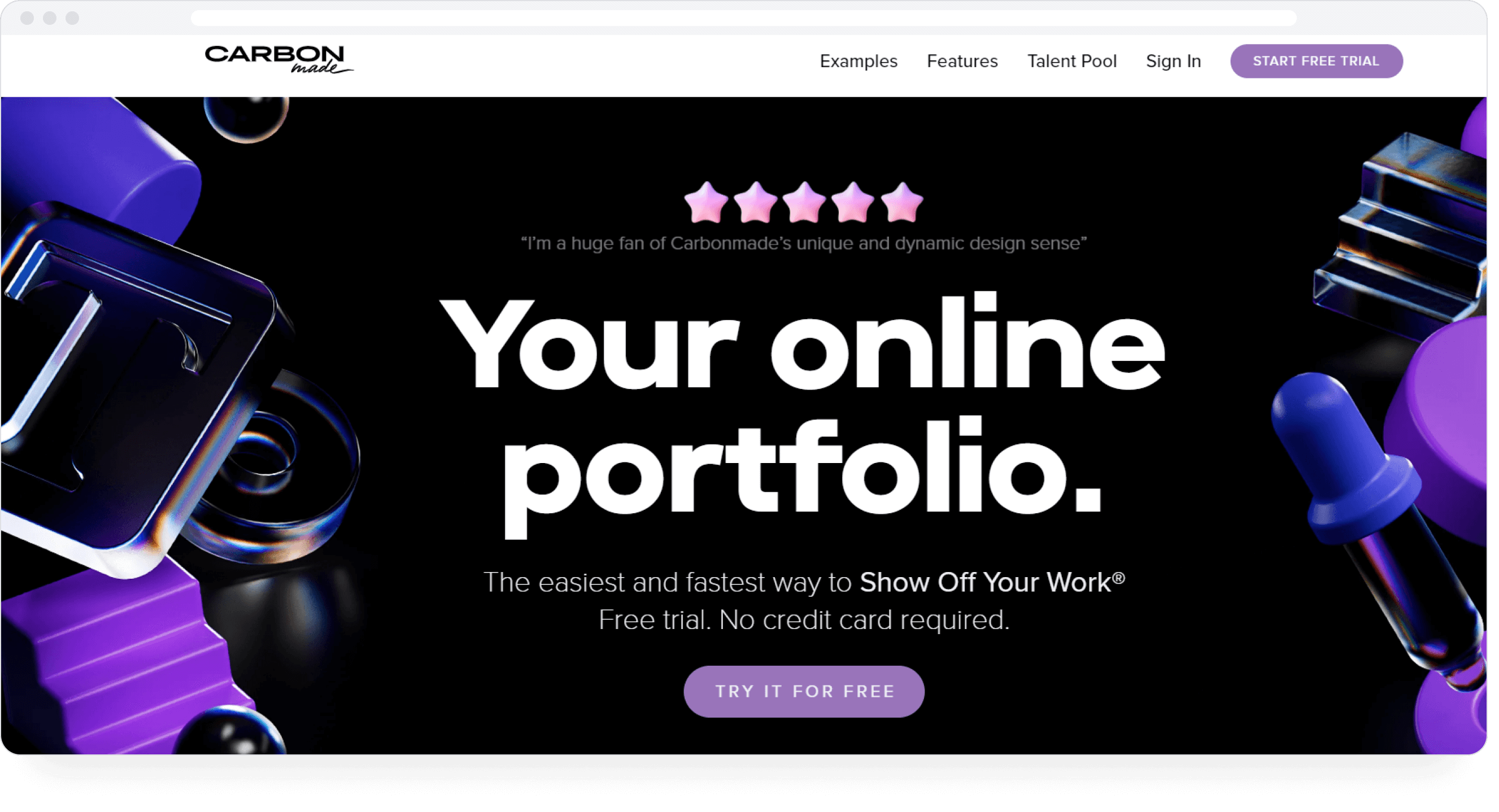 As I mentioned before, Carbonmade doesn't really do templates. Instead, they offer customizable layouts in which every element is drag-and-drop. You can customize everything — portfolio grid, navigation, colors, fonts — all with just a few clicks. You also get unlimited uploads of all file types with no file size limit.
Uniquely, starting a free trial does not require a credit card. You only pay when you go live with your portfolio.
Primary features of Carbonmade
Completely customizable layout blocks with no pre-set designs. Unlimited design possibilities based on what you can imagine.
Unlimited galleries, be they gallery grids, gallery sliders, etc. Galleries support all image formats, videos, and PDFs.
All galleries are optimized for mobile screens.
Animators & videographers can crop and/or loop video within the tool itself.
All videos get full HD support with high-speed loading times.
Easy access to dozens of typefaces.
Custom domain offered in all plans.
Analytics data on how many people have visited your portfolio or which of your projects is most popular.
Carbonmade's pricing plans
Beginner Plan: $9/month
Pro Plan: $12/month
Unlimited Plan: $22/month
Portfolios created with Carbonmade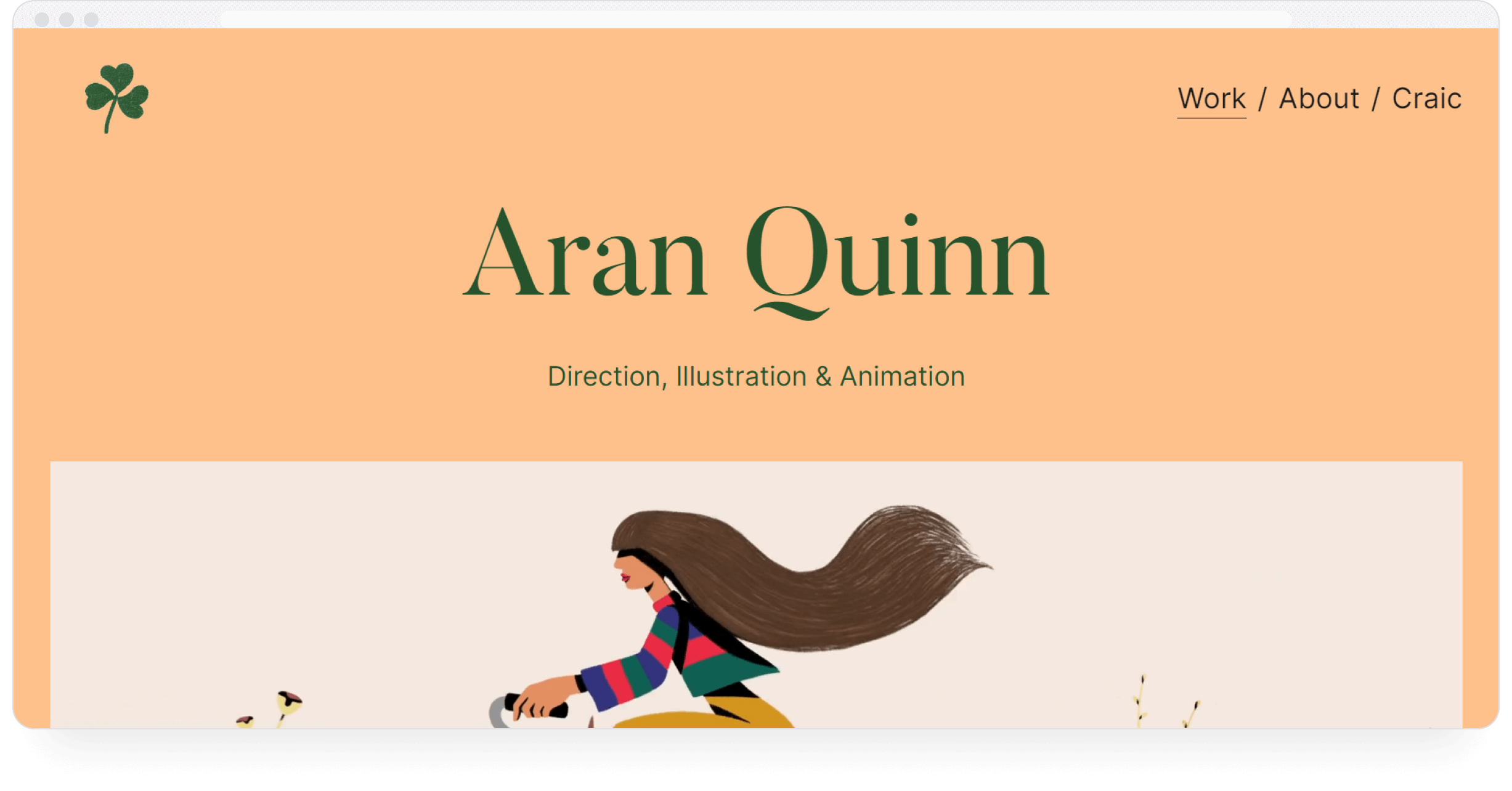 Aran Quinn is an award-winning Irish Animation Director based in New York.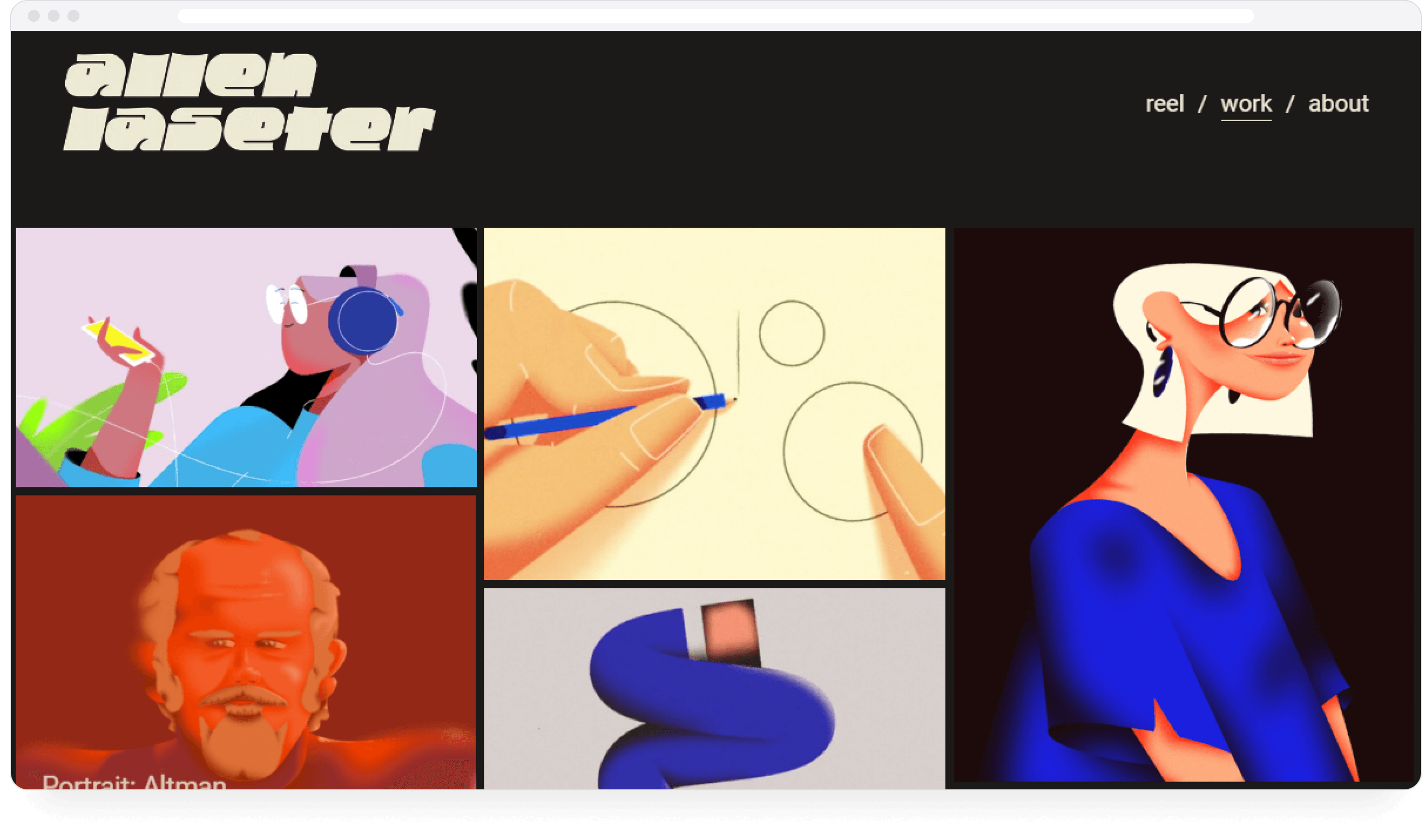 Allen Laseter is an animator, designer, and director based out of Tennessee.
Squarespace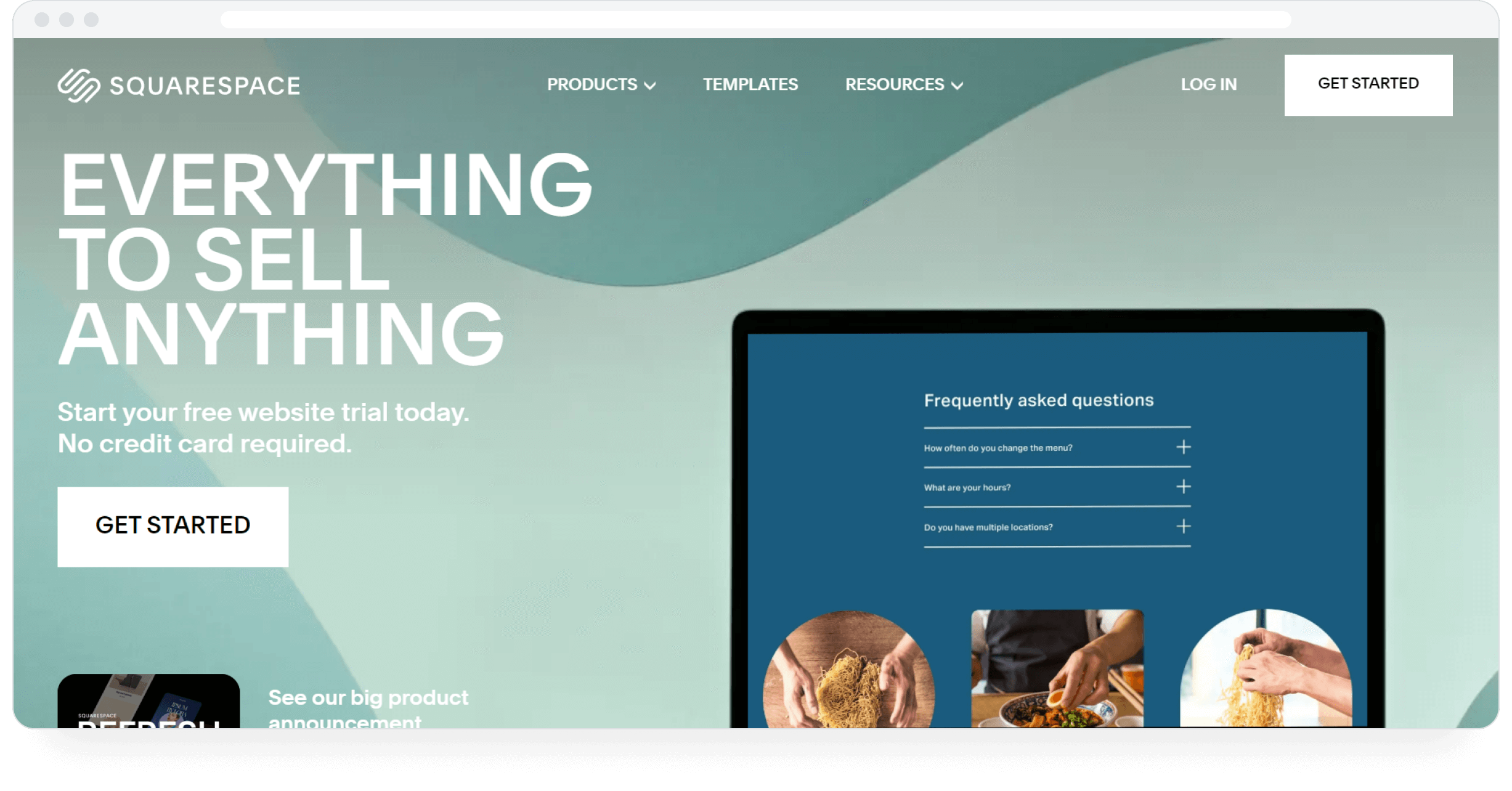 A fixture on most "best website builder" lists, Squarespace is the king of templates. Like all other niches, it also offers templates for creating your own portfolio.
You also get almost every necessary for site creators — search engine optimization, marketing tools, eCommerce capabilities, a free custom domain on all yearly plans, and the like.
Primary features of Squarespace
A wide range of uniquely designed templates tailored for different professions.
All templates are customizable and equipped with responsive design. They look great on different devices with different screen sizes/resolutions.
Templates come with specific sections you often see on websites — Contact, About Me, Blog, Products, Portfolio, and the like. Less work for you when setting up.
Allows and accepts multiple content types and page elements: text, photos, videos, audio, galleries, products, newsletter sign-ups, appointments, calendars, tour dates, reservations, menus, forms, maps, links, files, social links, buttons, quotes, custom code, charts, etc.
Allows password protection, whether for a single page or the entire site.
Provides in-built SEO for your entire portfolio.
Doesn't require plugins to expand website functionality.
Create an eCommerce section to sell your work with a few clicks.
A drag-and-drop editor for easy customization and setup of your portfolio.
Multiple extensions for integrating third-party tools that manage marketing, finance, sales, products, inventory, shipping, etc.
Squarespace's pricing plans
Personal Plan: $23/month
Business Plan: $33/month
Commerce Basic: $36/month
Commerce Advanced: $65/month
Portfolios created with Squarespace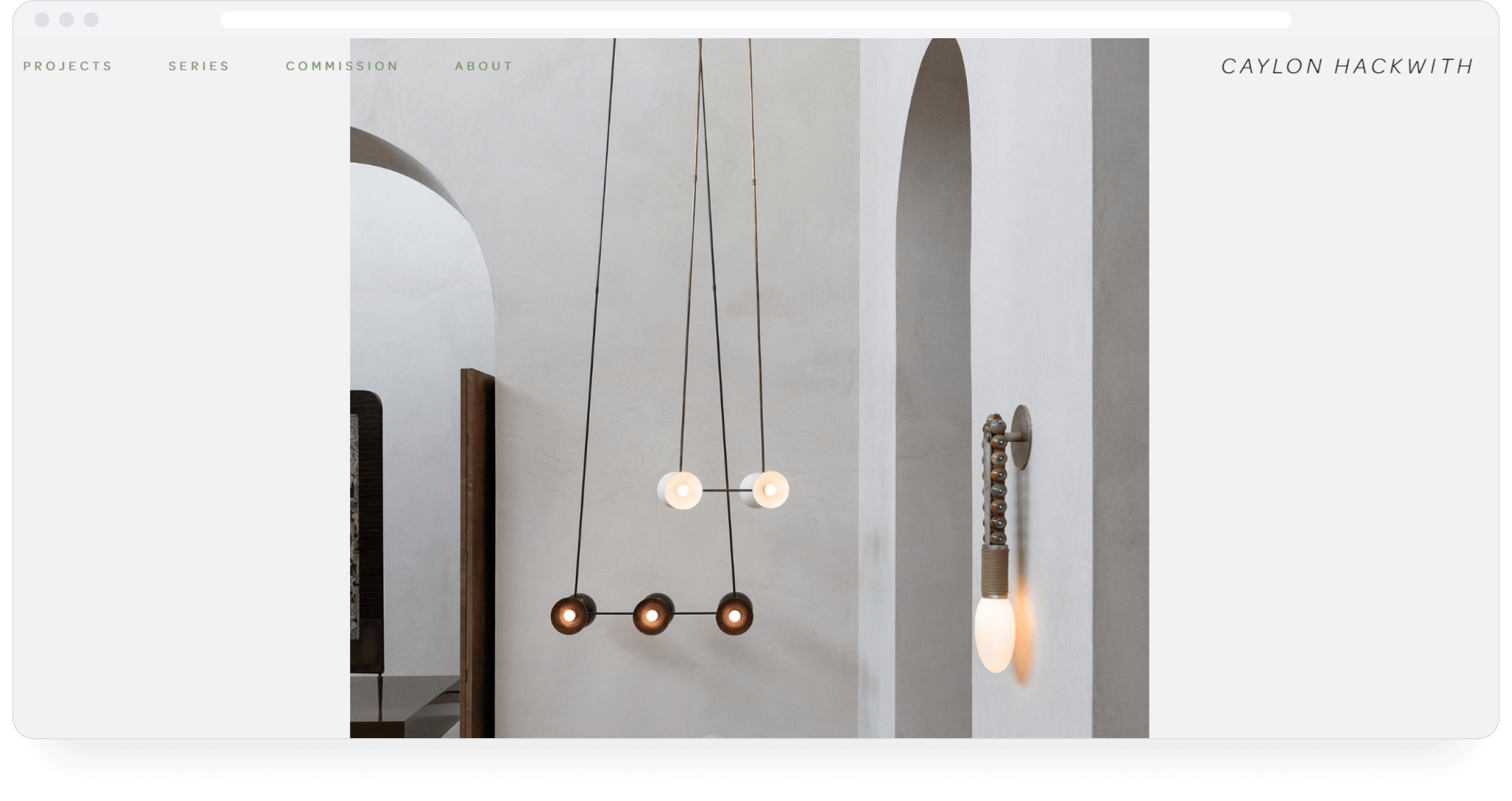 Caylon Hackwith is a photographer, videographer, and art director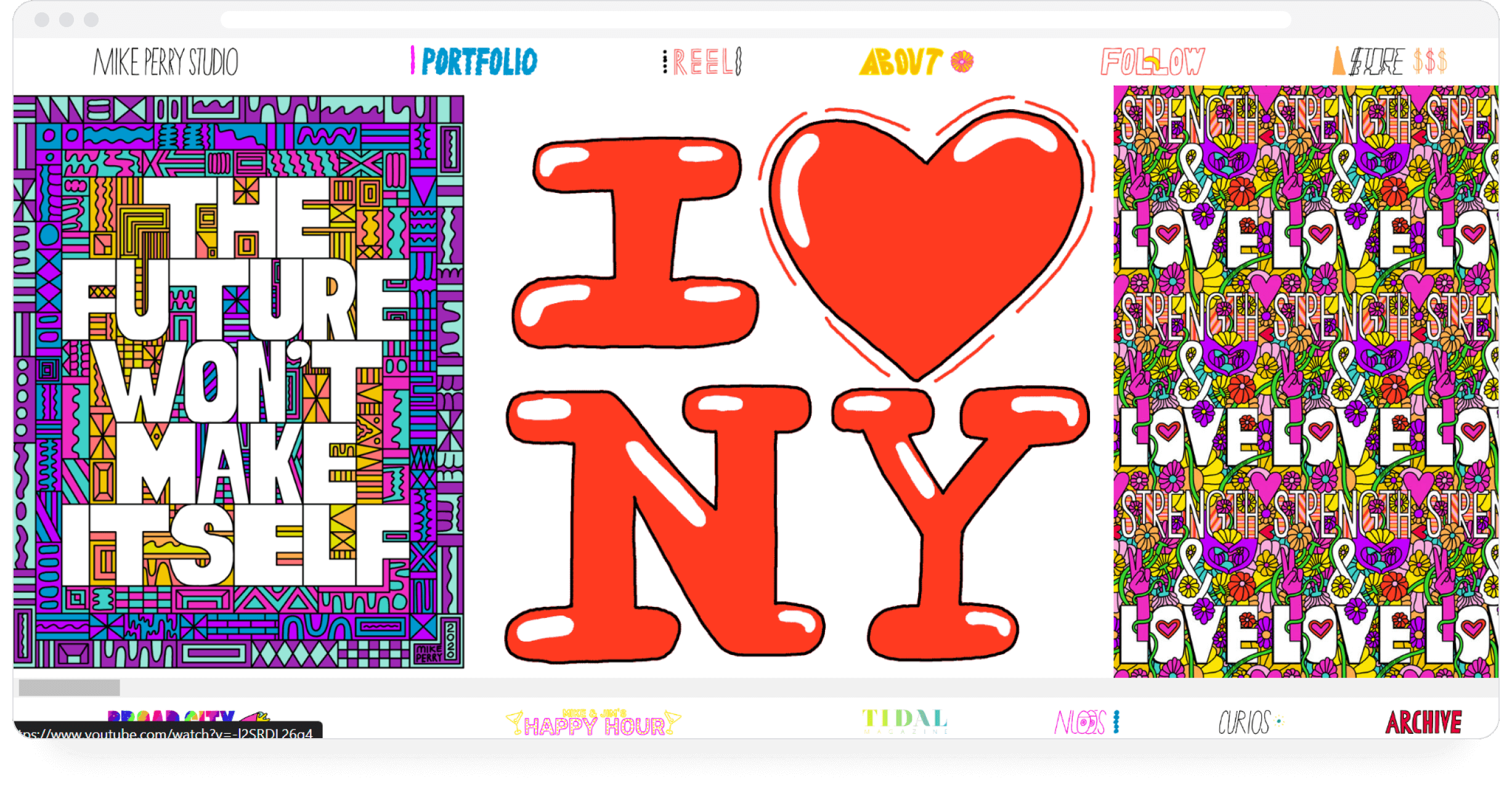 Mike Perry is an Emmy award-winning artist.
Authory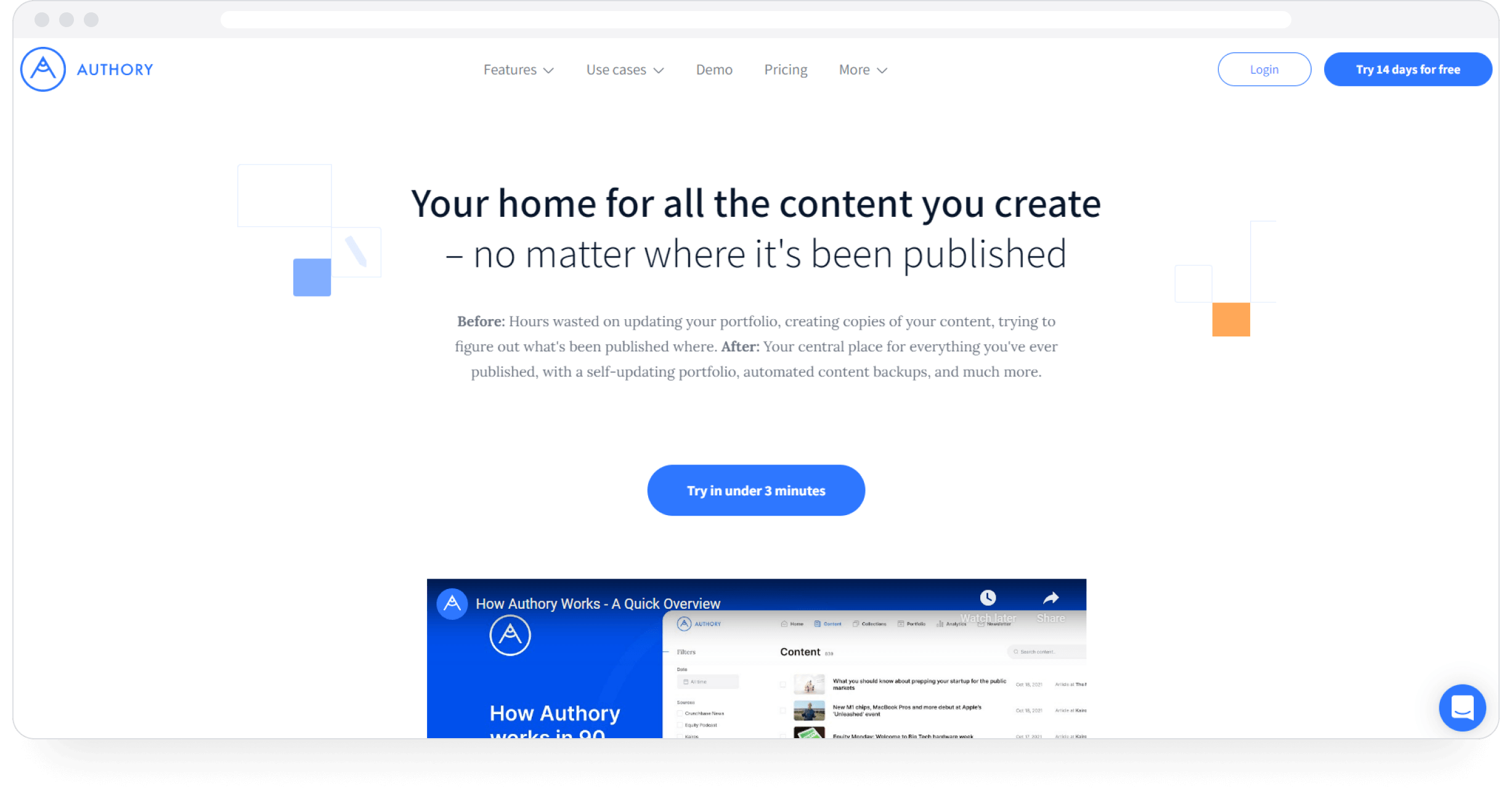 While other website builders have robust, market-ready features, they didn't give me what Authory did (and what I wanted the most): automatically importing ALL bylined content from ANY digital source.
You enter the source website, give the tool about 48 hours, and come back to find all your bylined pieces in one place. You can import from an unlimited number of sources. The tool won't just import all existing content from each source, but all pieces published in the future.
That means, you never have to copy-paste/manually upload any of your bylined pieces to your portfolio ever again. Of course, there is the option to manually add non-bylined content, if you so require.
Additionally, all imported content is permanently backed up. So, not only does Authory build your portfolio for you by bringing all your content into one place, but it also saves that content forever. And again, the entire process is automatic. All you do is enter the correct website URLs.
Primary features of Authory
All bylined content is imported automatically from any digital source — websites, social media, podcast platforms, YouTube, etc.). This applies to both existing and future content published on the specific source.
All imported content is permanently and automatically backed up. Irrespective of the status of the original link, you'll always have a copy of your content on Authory. There's no steep learning curve because Authory makes your portfolio for you.
All backups are in the content's original format (text/media) rather than just screenshots.
All imported content is downloadable as high-res PDFs or as HTML files at any time.
Effective customization options that don't require much work, but always end up making your portfolio look sharp and future-forward.
Email notifications alert you whenever one of your pieces is imported by Authory.
In-built search engine optimization and responsive design implementation for every portfolio.
Robust Analytics implementation that offers you real numbers on how your content performs across the web and popular social media sites every 30 days.
Create newsletters with a couple of clicks. The tool will send your newly published content to subscribers automatically.
Widgets to display your portfolio on other sites, such as your personal website (if you have one).
Portfolios created with Authory
David Pogue is a 6x Emmy award-winning writer, correspondent, and podcast host.
Melissa Kalt is an award-winning physician, mentor, and writer.
Authory's price
$8/month
Why Authory won this battle
While Carbonmade and Squarespace provide powerful features that would be non-negotiable for individuals in different professional situations, they did nothing to reduce my effort in building an online portfolio.
For both of these tools, I'd have to look for the content I want to showcase manually, and copy-paste/upload them by hand. There's also no assurance on storage/backup (unless you get the plugin/pay for a more expensive plan), so I'd also have to organize these pieces on my device or the cloud. Additionally, the content will be lost if the source link dies for some reason since I don't have a copy of any kind.
In light of these drawbacks, the advantages these tools offered didn't make sense. A visual editor or the promise of unlimited pages didn't do much to compensate for the labor I'd have to invest in putting together my portfolio.
Don't get me wrong. These tools are ideal for individuals with different requirements or ones in different domains. UX designers would probably appreciate Carbonmade's customizable layouts for their UX portfolio. Similarly, perhaps graphic designers want Squarespace's unique template to reflect their own artistic/aesthetic inclinations.
However, for a freelance writer for myself, the best website builder is the one that collated all my content, saved it, and expected me to put in about 3 to 5 minutes of work to receive a fully-finished portfolio.** There wasn't any need to go through video tutorials to set it up — though those are available for folks who need it.
Of course, it doesn't hurt that Authory is noticeably cheaper than the other tools in this list.
On average, using Authory saves me about five and a half hours every month — time I'd otherwise spend bothering clients for publication dates, copy-pasting links once my articles have been published, and scrambling to find relevant older articles in my six-year-long writing repertoire.
Additionally, I looked at Authory's user base and decided it was populated by people who have already achieved the success I am working towards. Take David Pogue (mentioned above) with his 6 Emmy awards, Steven Levy, Editor at Large, WIRED, or Brian Fung, a Technology Reporter at CNN. These individuals have the careers I want, and I'm not ashamed to say that I'm following their lead in choosing Authory over all other website builders.
However, you should not take my word for it or even the word of the stalwarts I mentioned. Just get started with Authory for free and gauge if you're getting what you want out of this premium portfolio builder.