If you've read my previous comparison piece Journo Portfolio vs WordPress vs Authory, you know that I spent a while looking for a tool to create the perfect portfolio website.
I had just quit a bad job, and I needed to create a portfolio that looked like a professional website to attract the kind of clients I really wanted. A linktree page or links in an email or Google Doc will not do (trust me, I already tried them). I needed a portfolio site that matched my skill level, experience, and client expectations.
I looked through the most popular website builders, including the popular online portfolio creation tools Adobe Portfolio and Squarespace. In fact, here's a link to another comparison piece with Squarespace: Portfoliobox vs Squarespace vs Authory.
This time, I'll compare Adobe Portfolio vs Squarespace vs Authory. Spoiler alert: I ended up choosing Authory. But you're not me, and your needs probably differ from mine, considering what you do, who your clients are, and what you're looking to get out of a job search. Therefore, I believe this comparison will help with your final decision.
My criteria for the ideal portfolio website builder
Ease of use — something that allowed me to put together a portfolio site quickly
Accommodating content in different formats — text, audio, video
Solid site customization features
Analytics support on my content (in-built or through Google Analytics)
Reasonable pricing
Adobe Portfolio
If you have an Adobe Creative Cloud subscription, you'll have default access to Adobe Portfolio. As the name suggests, this portfolio builder is specifically designed for just portfolios.
It started as a favored tool for photographers to present their work to the world. Multiple features, such as integration with Adobe Lightroom and Behance, helped catapult its reputation, especially with visual artists, photographers, illustrators — really anyone working with visual content.
Over time, Adobe Portfolio's features and offerings have made it popular amongst professionals in all fields. You can use it to create a full portfolio website or a single-page portfolio. Like the best website builders, it requires no coding knowledge.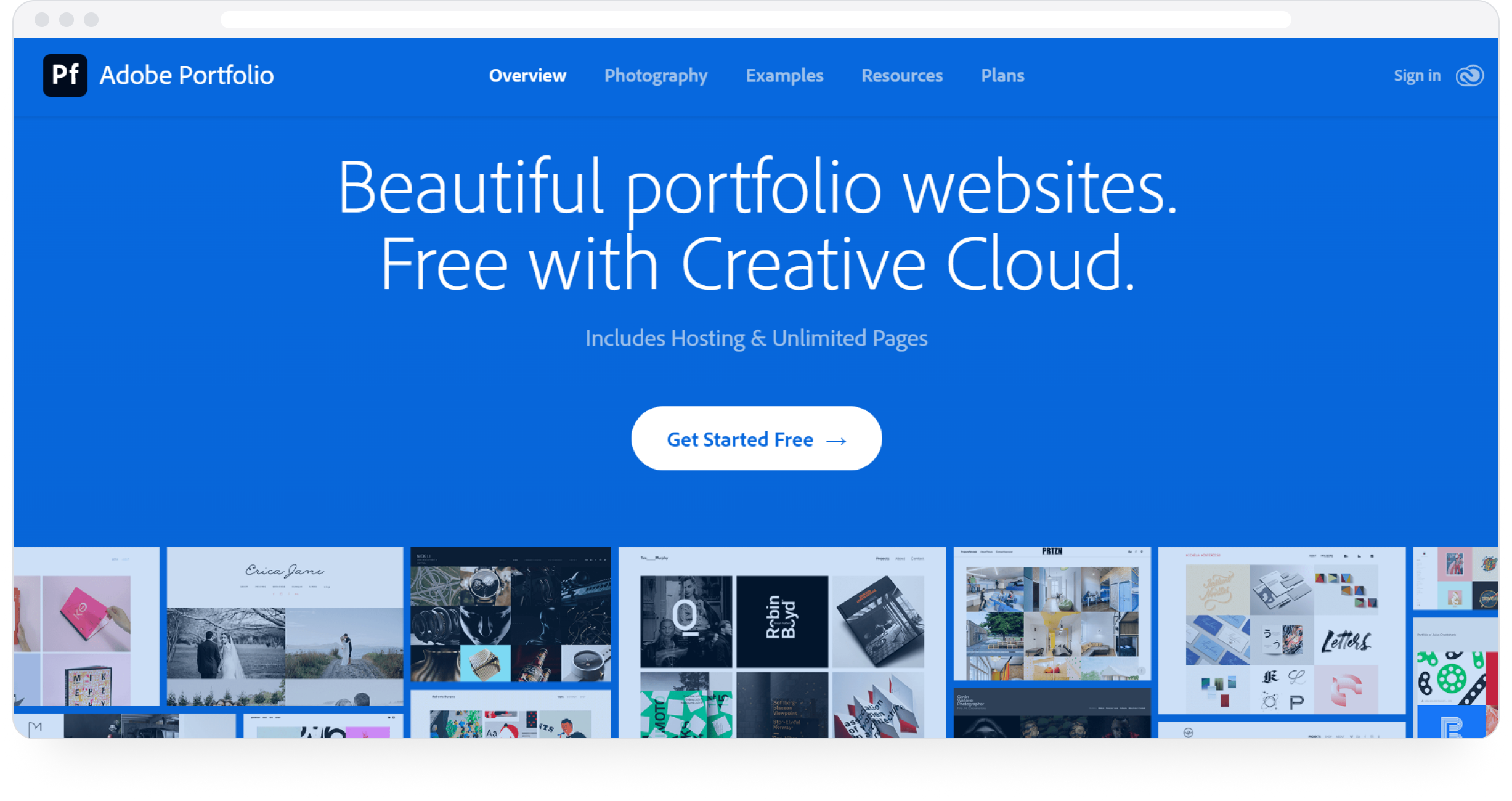 Adobe Portfolio Features
Included with Adobe Creative Cloud subscription
All themes are automatically responsive
Enables creation of single-page or multi-page portfolio websites
Multiple easy-to-customize themes
Integration with Behance
Allows importing of images from Adobe Lightroom
Offers access to Adobe Fonts
Enables use of your own domain name. But this website builder does not offer its own domain solution. You'll have to register and host your domain manually. If you buy a domain through Adobe Portfolio, you'll get your site hosted on Namecheap. But you'll have to set it all up yourself.
Enables dynamic galleries via photo grids (includes Lightroom photos)
Enables password protection of specific pages or your whole portfolio website
Adobe Portfolio's Price
Adobe Portfolio is offered as part of Adobe Creative Cloud. Creative Cloud subscriptions are priced at:
Creative Cloud — Photography: $9.99/month
Creative Cloud — All Apps: $54.99/month
Examples of Portfolios made with Adobe Portfolio
Here are a couple of profiles created with Adobe Portfolio templates and features:
Britt Martin is a photographer whose experience ranges all the way back to 2009 and across different project types and industries.
ilustraminacje (Kamila Romaniak) is a freelance illustrator from Poland. Her portfolio features gorgeous, impossibly quirky, and wildly memorable designs.
Van Orton Design comprises twin artists from Italy who have loud (but not disruptive), eye-catching and color-driven designs showcased in their portfolio.
Squarespace
Often a fixture on "best website builder" lists, Squarespace is known for its large number of templates and a slew of exceptionally useful features encompassing the most common website features.
Squarespace templates are not just aesthetically pleasing but also designed for specific purposes. For example, you'll find templates meant to serve as the foundation for portfolios, in particular. This makes the whole setup process much easier than if you had to start off with generic, all-purpose templates.
Additionally, a Squarespace site can also leverage advanced SEO settings, eCommerce tools, and even a free custom domain (as long as the plan is on annual billing).
Squarespace Features
Hundreds of templates with eye-catching designs, imbued with HTML, CSS, and JavaScript best practices. All templates are customized, which means you can edit existing templates as you see fit.
Pre-designed layouts with specific sections like Contact, About, Blog, Portfolio, Products, etc. Basically, templates are already equipped with common sections of most professional websites.
Accommodates a wide range of content types and web page elements: text, photos, videos, audio, galleries, products, newsletter sign-ups, appointments, calendars, tour dates, reservations, menus, forms, maps, links, files, social links, buttons, quotes, custom code, charts, etc.
Password protection capabilities, either for a single page or your whole portfolio website.
All designs are mobile responsive.
Built-in SEO tools, including image SEO.
No plugins are required for any functionality.
Robust eCommerce functionality — sell right out of your portfolio website.
A drag-and-drop editor that makes building your own site a cakewalk.
Extensions for multiple third-party tools for marketing, sales, finance, inventory, product, shipping, etc.
Squarespace's Price
Personal Plan: $23/month
Business Plan: $33/month
Commerce Basic: $36/month
Commerce Advanced: $65/month
Examples of Portfolios made with Squarespace
Here are a couple of profiles created with Squarespace templates and features: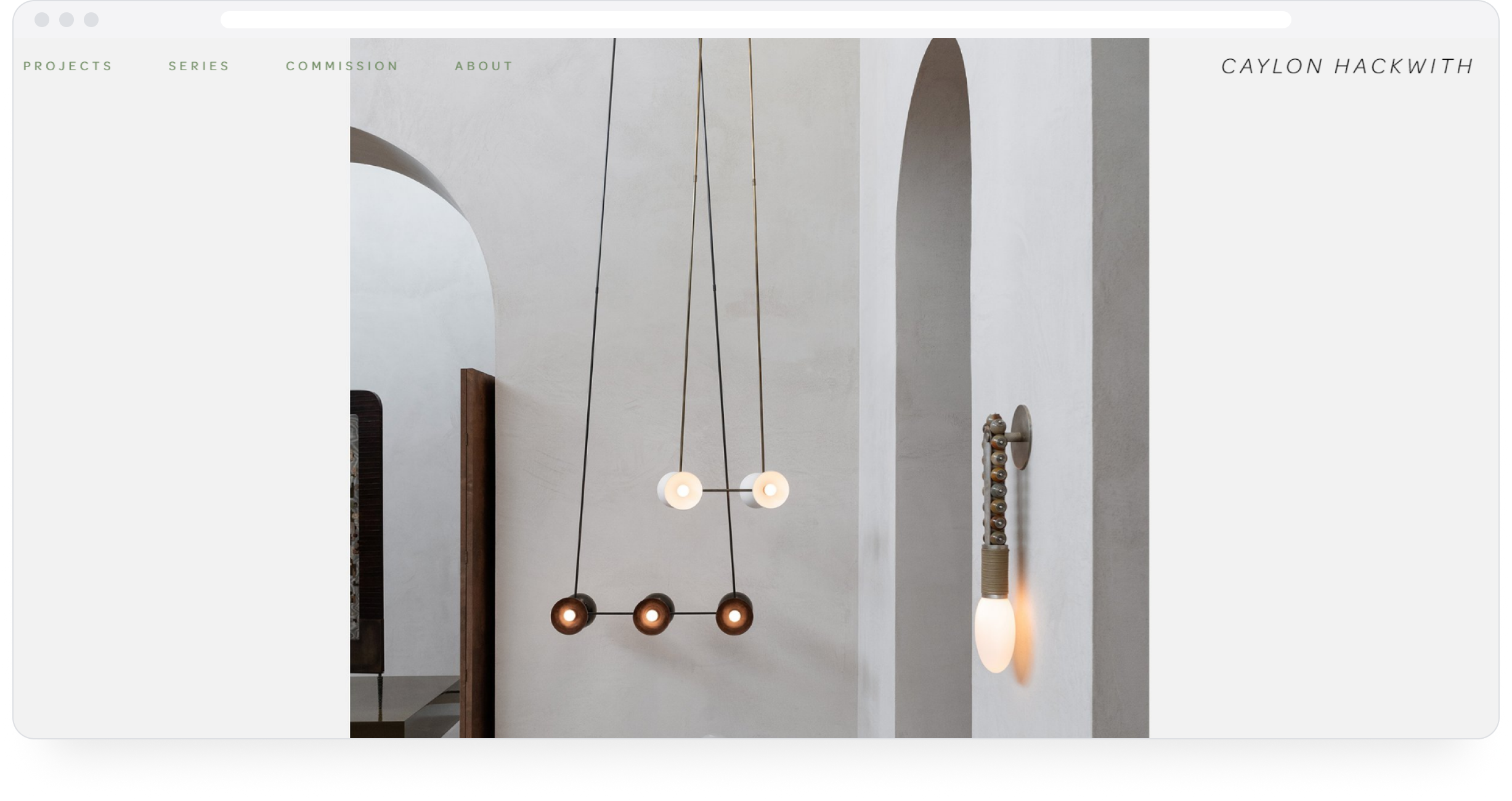 Caylon Hackwith is a photographer, videographer, and art director. He prioritizes a clean, minimalist aesthetic and works with architects, designers, hotels, and brands. He also has his own studio.
Mike Perry is an Emmy-winning artist who creates paintings, animation, sculptures, books, public art installations, monographs, exhibitions, drawings, silkscreens, and more.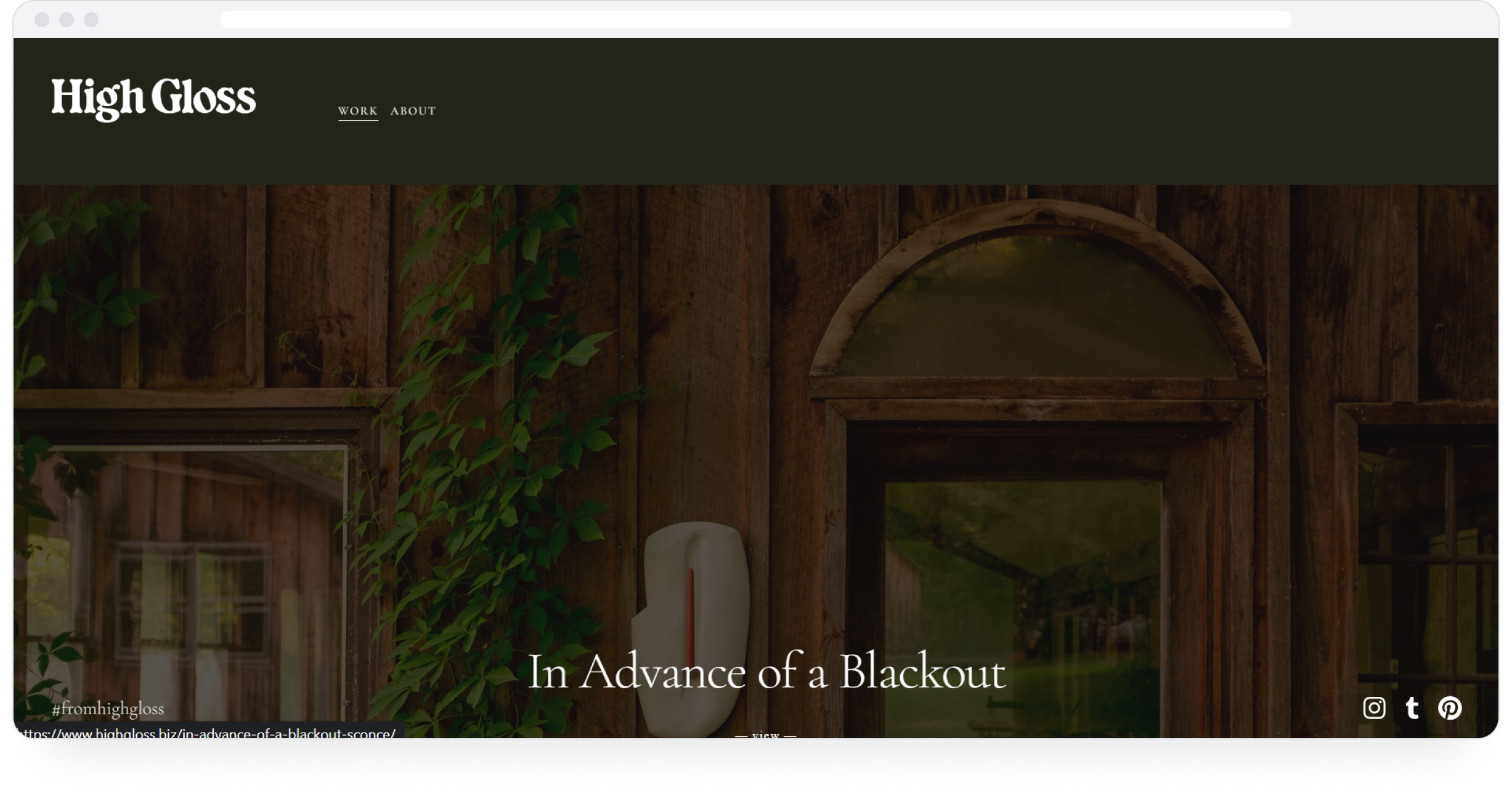 High Gloss is the studio practice of Natalie Herrera, an art director with a background in graphic design from the Rhode Island School of Design. She works with large branding agencies, in-house brand teams, 'boutique' design studios, and cultural institutions (such as MoMA).
Authory
And now, we're at Authory. This portfolio website builder stands out because of two major features — automatic importing of all bylined content from any digital source and automatic back of ALL imported content. In other words, this tool builds your portfolio for you.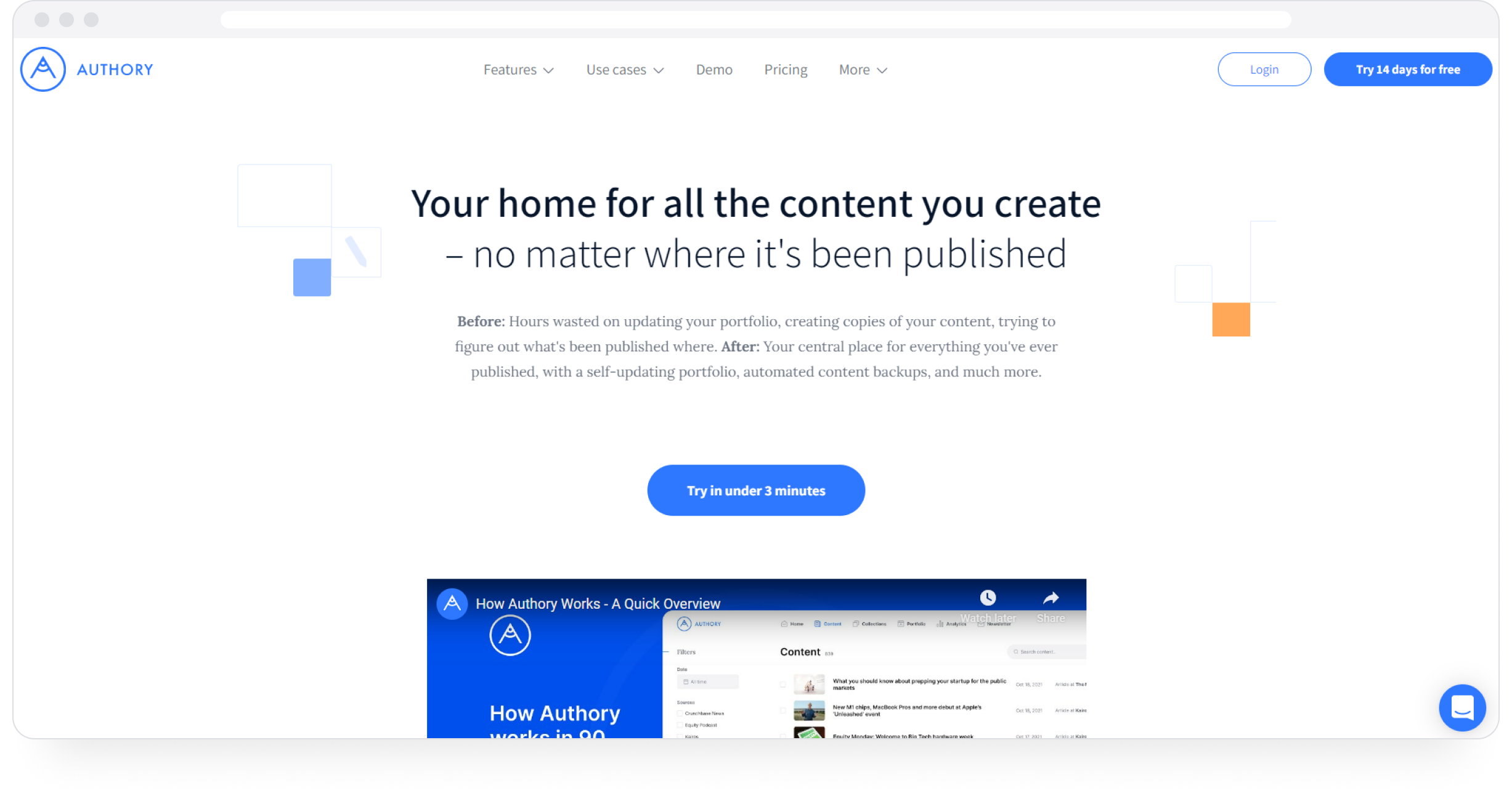 Primary Features of Authory
Automatic importation of ALL content from any digital source. Enter the URL of the source publication, and all bylined content will be imported. This includes your past and future content i.e. anything you've published in the past and any new publications added to the source site. As I mentioned above, it builds the portfolio for you.
All content is automatically and permanently backed up, even if the source site goes down, is deadlinked, or faces any issues whatsoever. Once again, this applies to both your past and future content.
Content is backed up in its original format i.e., the real text and/or media, not screenshots.
Simple but dynamic customization options that let you play around with your portfolio's aesthetics. Yes, there are pre-set designs (you can upload your own banner image), but whatever you do with them ends up looking really good.
Download your content anytime as high-quality PDFs. No lock-in period whatsoever.
Export your content as HTML files if you want.
Email notifications every time Authory imports a new article.
Robust in-built SEO features.
Optimized for mobile device screens.
Analytics support for all your imported content. You can check how your content is doing across popular social media sites in terms of readership, engagement, shares, etc. You don't have to link your personal social media accounts for this feature to work.
A newsletter creation tool that automatically sends out newly published content to your subscribers. You don't have to do anything for this to work.
Widgets to display your portfolio on other websites (such as your personal site if you have one).
Authory's Price
$8/month
Examples of portfolios made with Authory
David Pogue is a six-time Emmy winner, a New York Times bestselling author, and a five-time TED speaker.
Melissa Kalt calls herself a "Solver of Unsolvable Problems," "Master Healer," and "Antifragile Narcissist Survival Expert."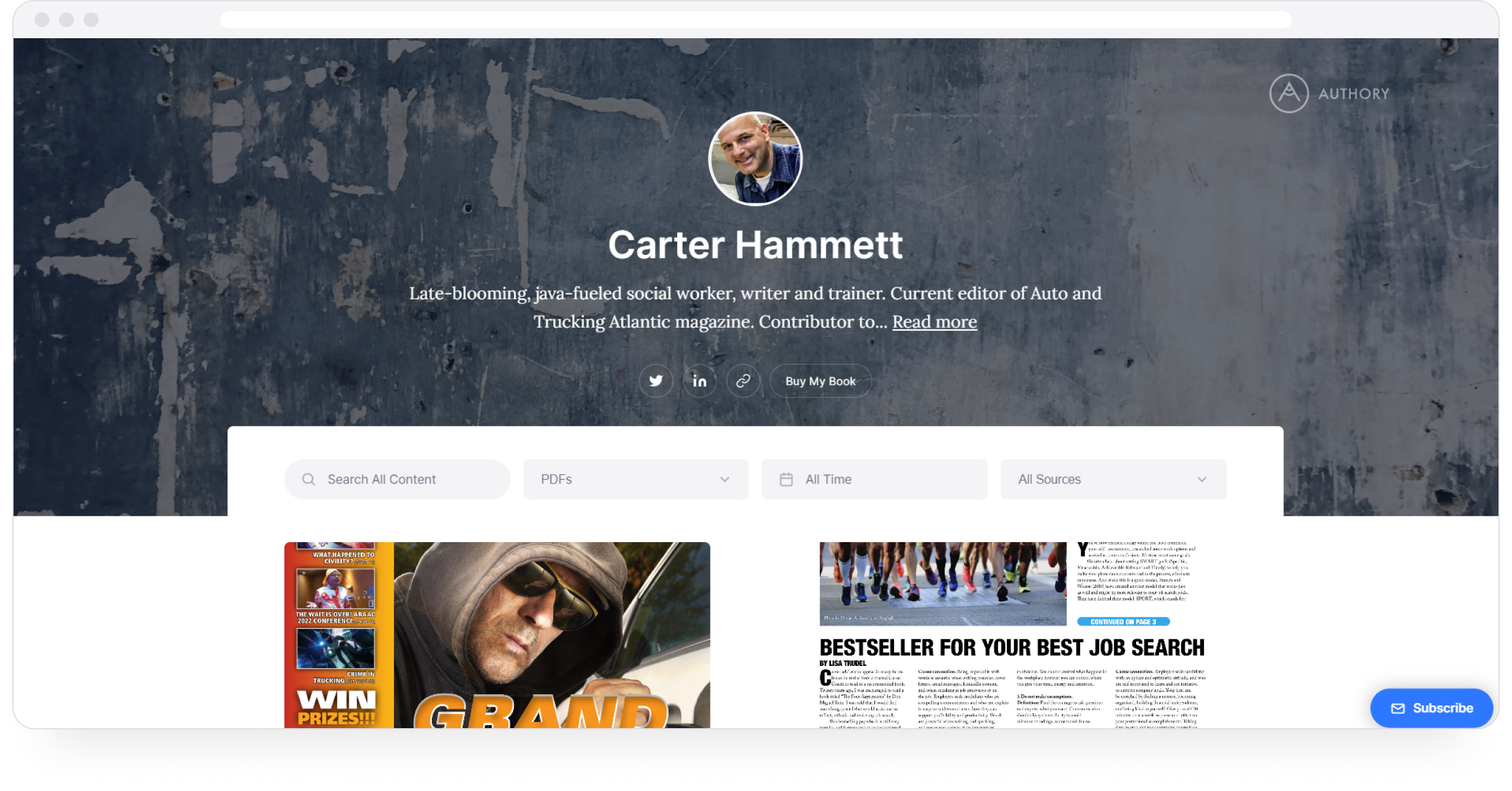 Carter Hammett is a social worker, writer, editor, and trainer who describes himself as "late-blooming" and "java-fueled."
Adobe Portfolio vs Squarespace vs Authory — Which is Better?
Adobe Portfolio is meant to build portfolios, so you don't get a huge range of different templates. That's fine since the available ones are quite sleek and easy on the eyes. The process of importing/uploading your content is quite intuitive. The tool integrates with Google Cloud so that you can upload your content from the cloud.
Photographers will especially like the options this tool provides to showcase your visual work. Dynamic galleries, editable cover page — the works. Everything looks sharp enough that you don't need any web design experience to make it click.
However, for a writer, I just didn't see the point of doing that much work (the same issue I had with Squarespace). I don't need to display high-res images, just clean, clickable text. Adobe Portfolio didn't make a lot of sense for my needs.
Squarespace, of course, has all the bells and whistles but is still easy to set up. You get more choices in terms of layouts, integrations, and website features — most of which are fairly easy to implement. The drag-and-drop editor is pretty sweet, and you can move each site element around until it looks good to you.
Adding your work is quite easy too, but like Adobe Portfolio, you upload everything manually. However, with so many options, it's easy to get bogged down and spend hours playing with different combinations — not saying that's a bad thing, but it just wasn't necessary for a writer like me. My clients don't care as long as they can access my work in an easy, organized, and somewhat aesthetically optimized way.
Authory won the game for me because it did the work for me. With a few clicks and everything I had ever written was being meticulously collated into a single dashboard. I literally just signed up, put in the source URLs, waited 48 hours, and my portfolio was ready.
Of course, I had to move my pieces around into collections so that I could categorize them as I wanted on my final portfolio. But, make no mistake, it was the easiest and fastest setup process I had ever encountered. All its other features are right on point and add a lot of value to your experience. But folks, automatic importing and backup of content? That took the cake.
Color me relieved that I never have to worry about losing any of my pieces ever again.
But again, which is better?
I swear I'm not covering my back when I answer this question with "depends on what you need". It seems like the diplomatic (cowardly?) answer, but it's true.
Use Adobe Photoshop...
... if you have incredible high-res images to display. It's very close to being the ideal tool if you are a photographer. Most major features, such as integrations with Lightroom and Photoshop, make sense only if your work is primarily visual.
Since Adobe Portfolio only comes as part of Adobe Creative Cloud, it makes even less sense to buy a subscription if you're not a photographer/visual artist. Authory is cheaper, and if you're a writer/editor/content marketer/journalist/thought leader, why would you spend so much on tools and integrations you won't end up using?
Use Squarespace...
... if you want a full-fledged website. If you're planning to upload your existing work, write new blogs, sell products out of your portfolio site, or create videos (yes, you can do that with Squarespace) for your business, Squarespace is your best bet. For someone like me, who just needs to showcase my work to prospective employers, these features are completely useless. Why pay more than Adobe Portfolio and Authory for capabilities I will literally never use?
Use Authory...
... if you're like me. If you need to have all your work collated in a single dashboard, never lose any of your publications, and get social media stats on how each piece is doing, Authory is your friend.
Don't forget that most of the work is automatic. No copy-pasting links of published content. Just enter source URLs, and take a nap or grab a coffee while the tool brings all your work in one place.
You can actually upload text, audio and video content to your portfolio — podcasts, interviews, music videos, etc. You can host video portfolios, audio portfolios, or portfolios that combine audio, video and text. Format is not a limitation in the least.
Authory is also the cheapest of all the options explored here. So, given that it built my portfolio for me, and cost the least, my choice speaks for itself, doesn't it?
In case you're curious, here's my portfolio on Authory: authory.com/shreya-bose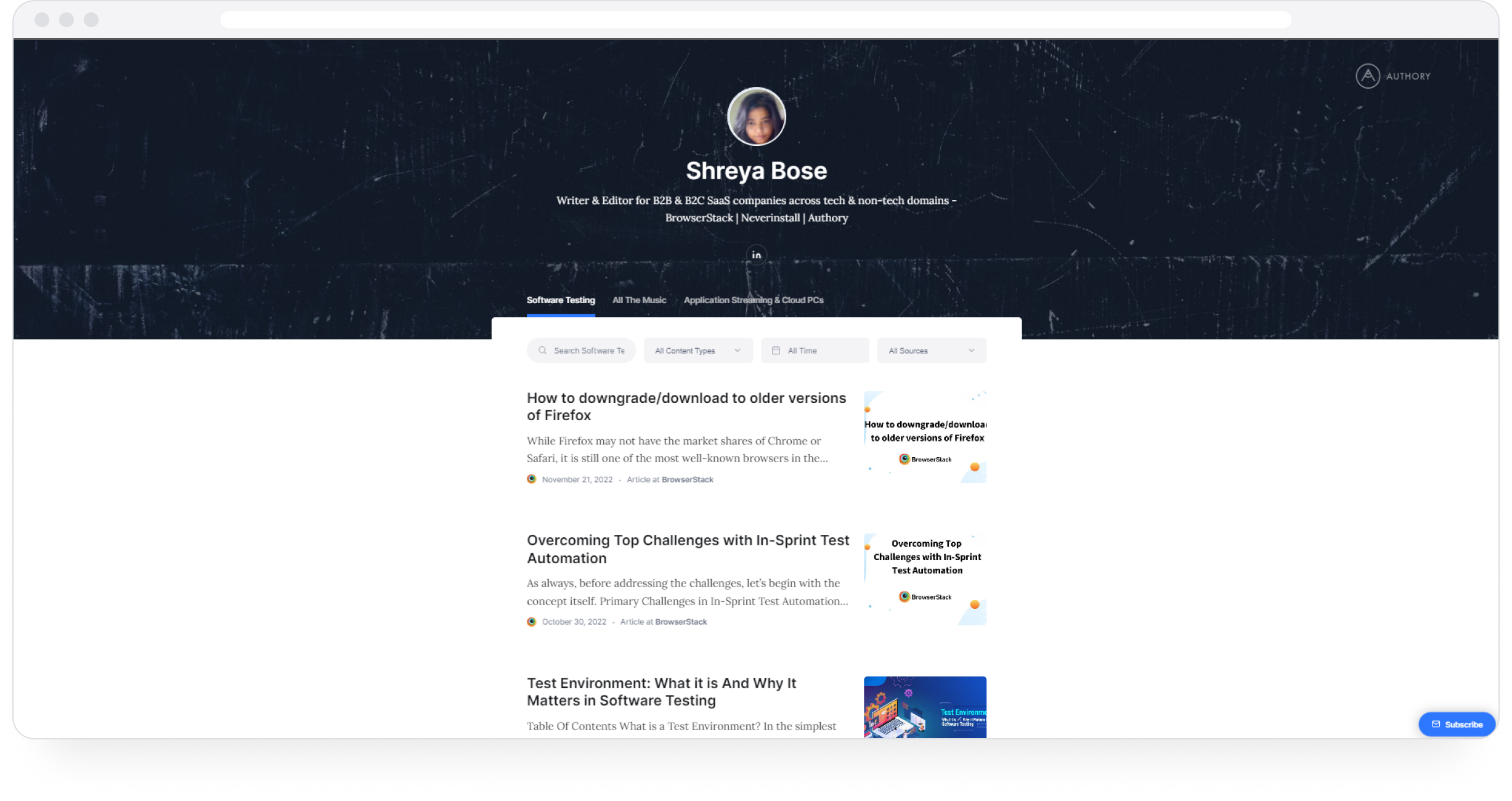 If you're curious, I'd suggest you sign up for free and judge Authory's capabilities for yourself. It turned out to be the ideal portfolio builder for me, and I'm willing to bet you'll be just as impressed by it as I was.