Great portfolio websites don't spin out of thin air. You need a fair amount of work, content curation, and (this is important) the right portfolio builder. As someone who tried to get through her job search by sending work samples in an email/Google Drive folder, don't do that. You end up coming across as unprofessional, low-effort, and generally unimaginative.
Of course, the right online portfolio builder is easier to speak about than find. It took me about two months to go through multiple solutions until I found one that met my exact needs. I've already examined a series of these tools in comparison with each other , and this article will be in the same vein.
In this piece, I'll be comparing Contently vs. Muck Rack vs. Authory.
📖
What you'll get out of this article:
• A detailed comparison of Content, Muck Rack, and Authory as portfolio builders
• Why I chose Authory to create my portfolio over the other two tools (and why you should use both Authory and Contently/Muck Rack simultaneously)
Contently vs MuckRack vs Authory
🗒️
Note
: If you're looking for a comprehensive list of the best portfolio builders (including Journo Portfolio, Squarespace, Writer's Residence, and the like), take a look at
The Best Portfolio Builder(s) for 2023
. None of these tools require any coding skills to get things started.
Contently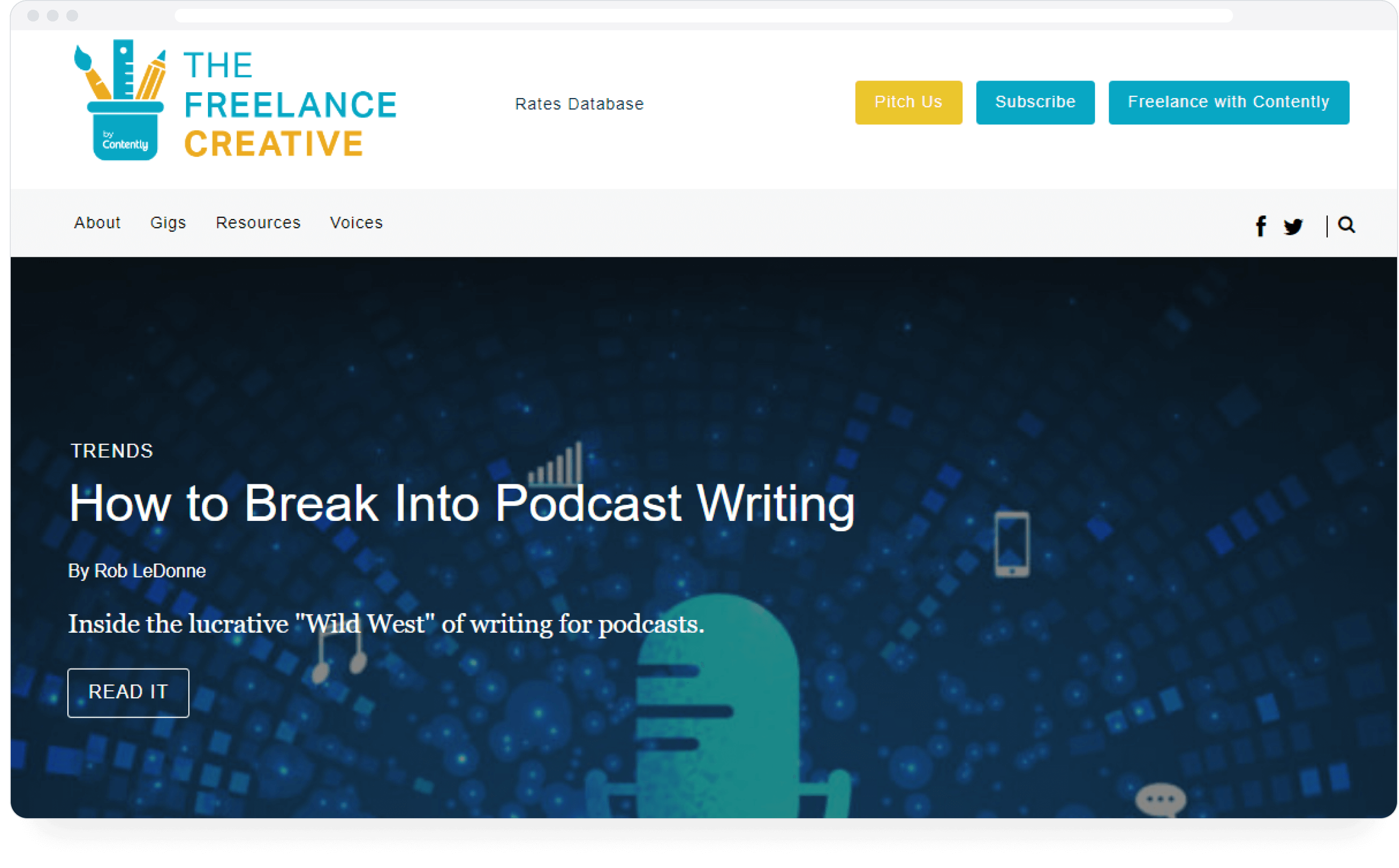 Unlike most portfolio makers (every other tool I have explored), your Contently portfolio only applies to Contently's freelancer platform. In other words, you sign up for Contently (a free account) and create a simple, single-page portfolio that the system matches with the right clients looking for freelancers.
A quick overview of the process:
Register/sign up, verify your email, and enter your basic details.
Shape your portfolio: add articles, blog posts, copywriting, photography, design, video... whatever you need to showcase your skills. You get a single-page, minimalist, no-frills portfolio that includes your bio, contact details and displays the work you've done so far in your career.
Wait for the Contently team to review and determine if your work makes you a good fit for any clients posting requests on the platform. Contently recommends that if they don't find a match immediately, you should continue adding newer work samples. You never know when a client requires the exact services you offer.
On receiving approval, you'll be taken through a tutorial describing best practices and guidelines concerning working with clients via this platform. On completing this tutorial, you become a legitimate, verified freelance in the Contently network.
In terms of the actual portfolio you're expected to make, there's not a lot to say. It's a reasonably run-of-the-mill format that includes only the essentials. Again, this portfolio is only useful for locating freelance work within the Contently network. I'd give Contently a pass if you're looking for a tool that offers an all-purpose portfolio (one you can send to all recruiters/potential employers).
However, I recommend setting up a Contently portfolio in addition to your primary portfolio — the one you can create using tools like Authory, Squarespace, and the like. It's an excellent way to access a robust freelance network, and who doesn't like more money?
Portfolios created with Contently
Nicole Dieker has been a full-time freelance writer since 2012. You can find her work at Bankrate, Vox, Haven Life, and CreditCards.com. She has also written for Lifehacker, and The Billfold, among other publications.
Sharon Hurley Hall writes authentic DEIB and JEDI content for brands and companies. She is also the founder of Sharon's Anti-Racism Newsletter.
Muck Rack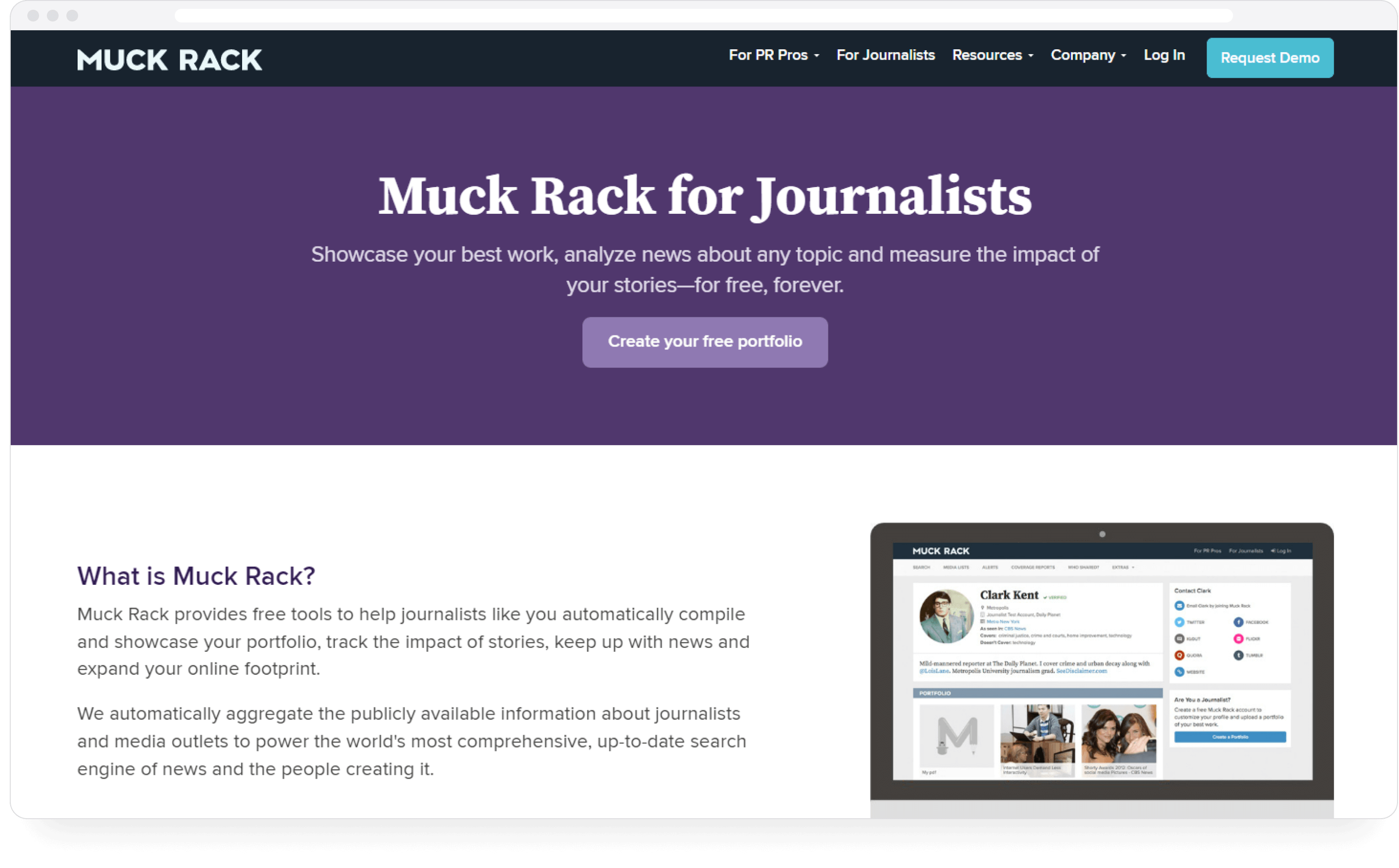 If you're a journalist, Muck Rack is free for you — forever.
Primarily meant to help PR professionals connect with and pitch stories to journalists, Muck Rack lets journalists set up a minimal, no-nonsense portfolio. Upload relevant information and work samples, and Muck Rack's in-house editorial team and search algorithms will allow the right PR folks to identify you as the best outlet to represent their story.
You can update your portfolios with pitching preferences, i.e., the kind of stories you want to broadcast through whichever media outlet(s) you are associated with.
Standout features of Muck Rack
Compiles and showcases their portfolio websites for free if you're a journalist.
Keep track of the impact of your stories, stay up to date with relevant news, and find avenues for widening your online presence.
Access to Muck Rack's automatically collated database of information and other journalists, publications, and media outlets. You essentially have a consistently refreshing index of global news and the people actually putting it out in the world.
Collects and displays all your work in a single, accessible online location.
Enables you to share pitching preferences so you only get pitches that align with your beat, niche, and career.
Leverage basic analytics: the number of articles published, top media outlets, and journalists.
See which journalists and bloggers have shared your work.
Get job updates in a tailored (that matches your requirements/domain). You can also receive updates in a daily email digest.
"Favorite" specific journalists so that you get updates whenever they publish a new article, make a social media post, or change jobs.
Get alerts if your stories get picked up by other publications or tweeted.
Much like Contently, Muck Rack provides the added advantage of connecting your portfolio to a job database. I'll analyze the tool in detail towards the end, but I also recommend creating a Muck Rack portfolio in addition to your primary one if you're a journalist.
Portfolios created with Muck Rack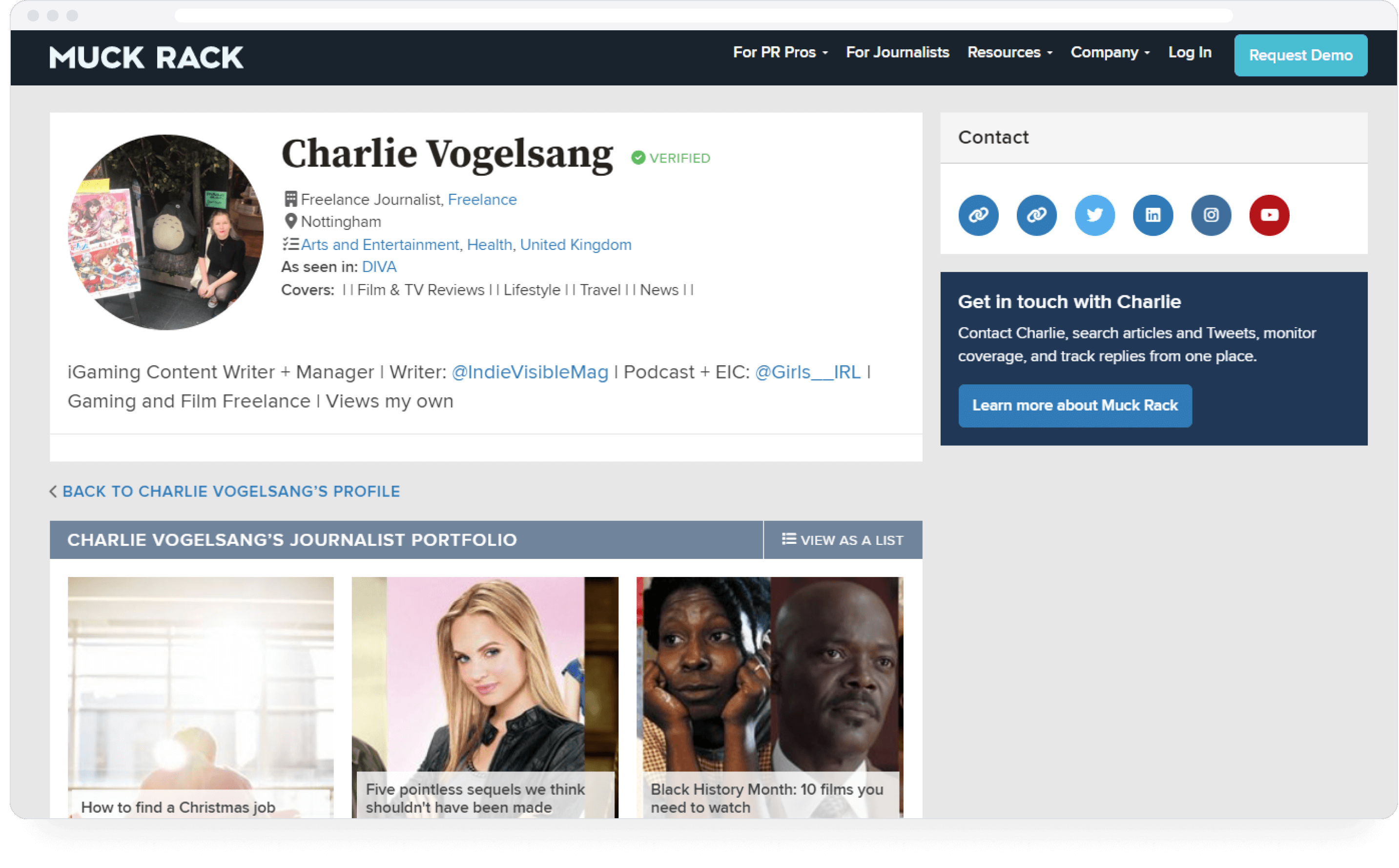 Charlie Vogelsang is a Nottingham-based freelance journalist who covers film, television, lifestyle, travel, and news stories.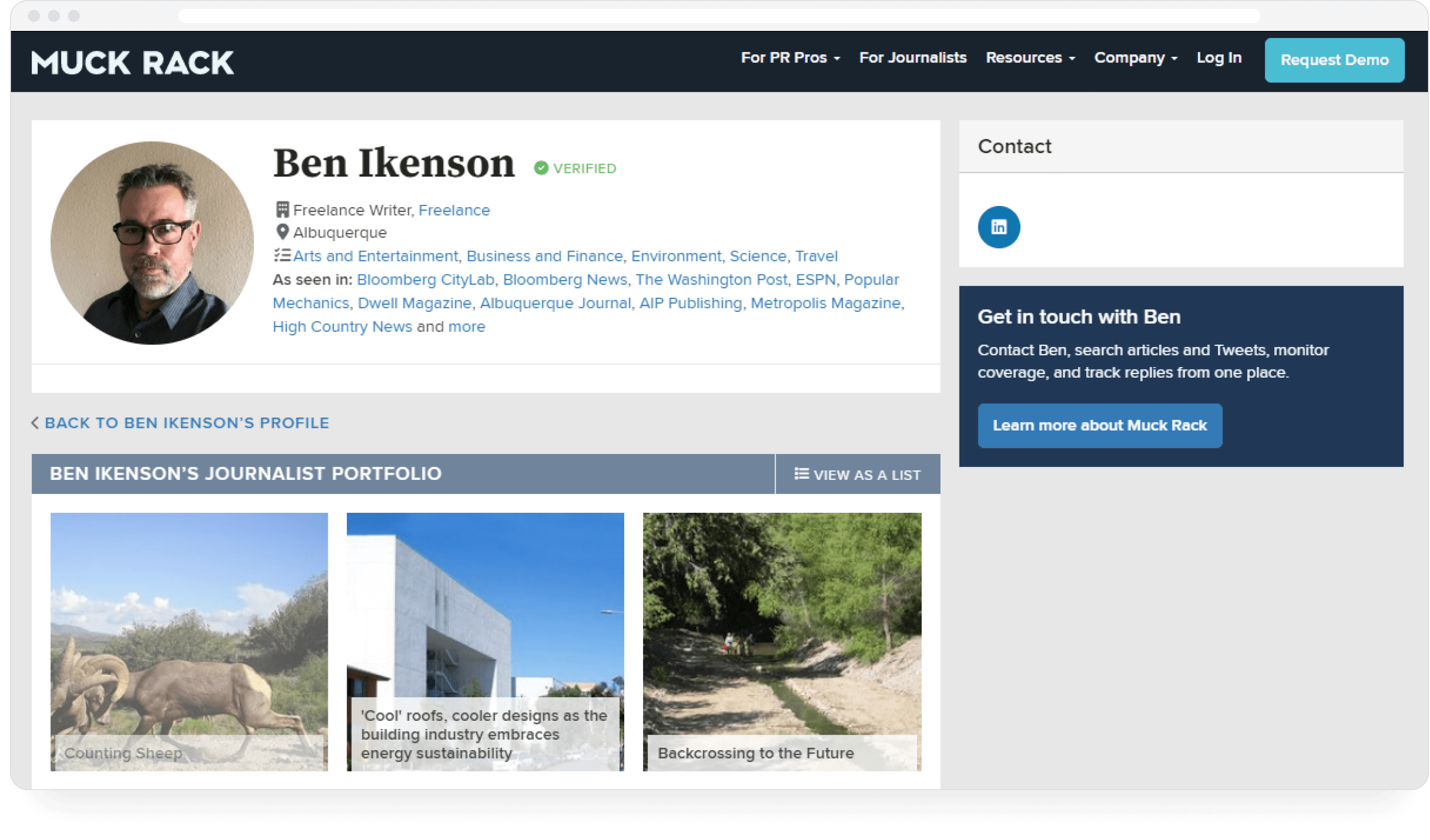 Ben Ikenson is an independent journalist who covers arts and entertainment, business, finance, environment, science, and travel. You'll see his work in multiple publications — Bloomberg CityLab, Bloomberg News, The Washington Post, ESPN, Popular Mechanics, Dwell Magazine, Albuquerque Journal, Metropolis Magazine, and more.
Authory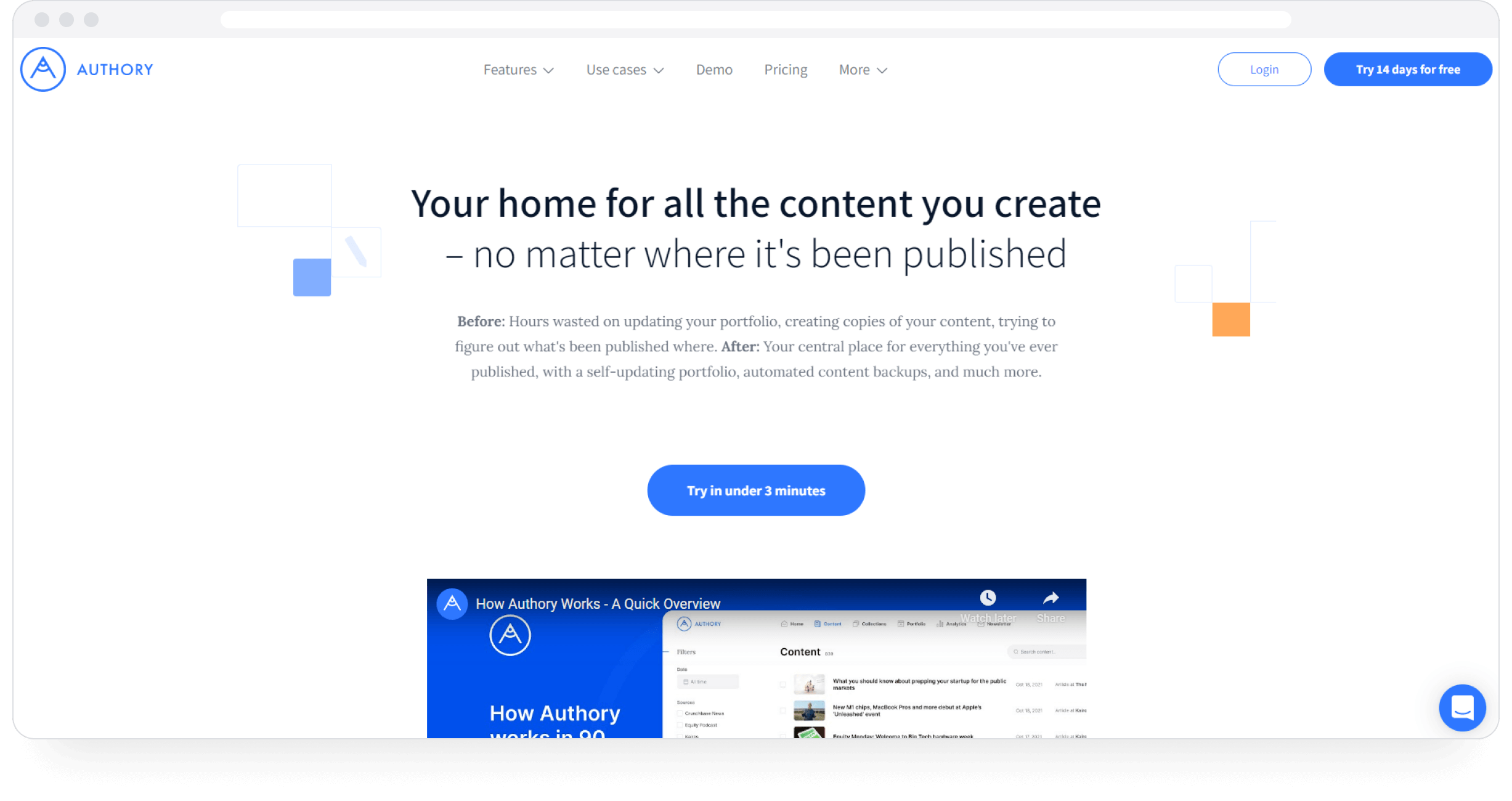 Authory literally builds your portfolio for you. And I am being very literal here.
Authory will literally find ALL your bylined content for you, extract copies of each piece and collate it in a database only accessible to you. You have all your content in one place and can add your chosen pieces to a professional portfolio with a couple of clicks.
You just need to know the website URL where your work is published. Once you feed the URL into Authory's system, the tool automatically extracts all your bylined content to its storage.
After that, you can organize your work into Collections and add relevant Collections to your portfolio with a click. The Collection names often act as the categories under which different content pieces are grouped.
As an example, here is my portfolio on Authory: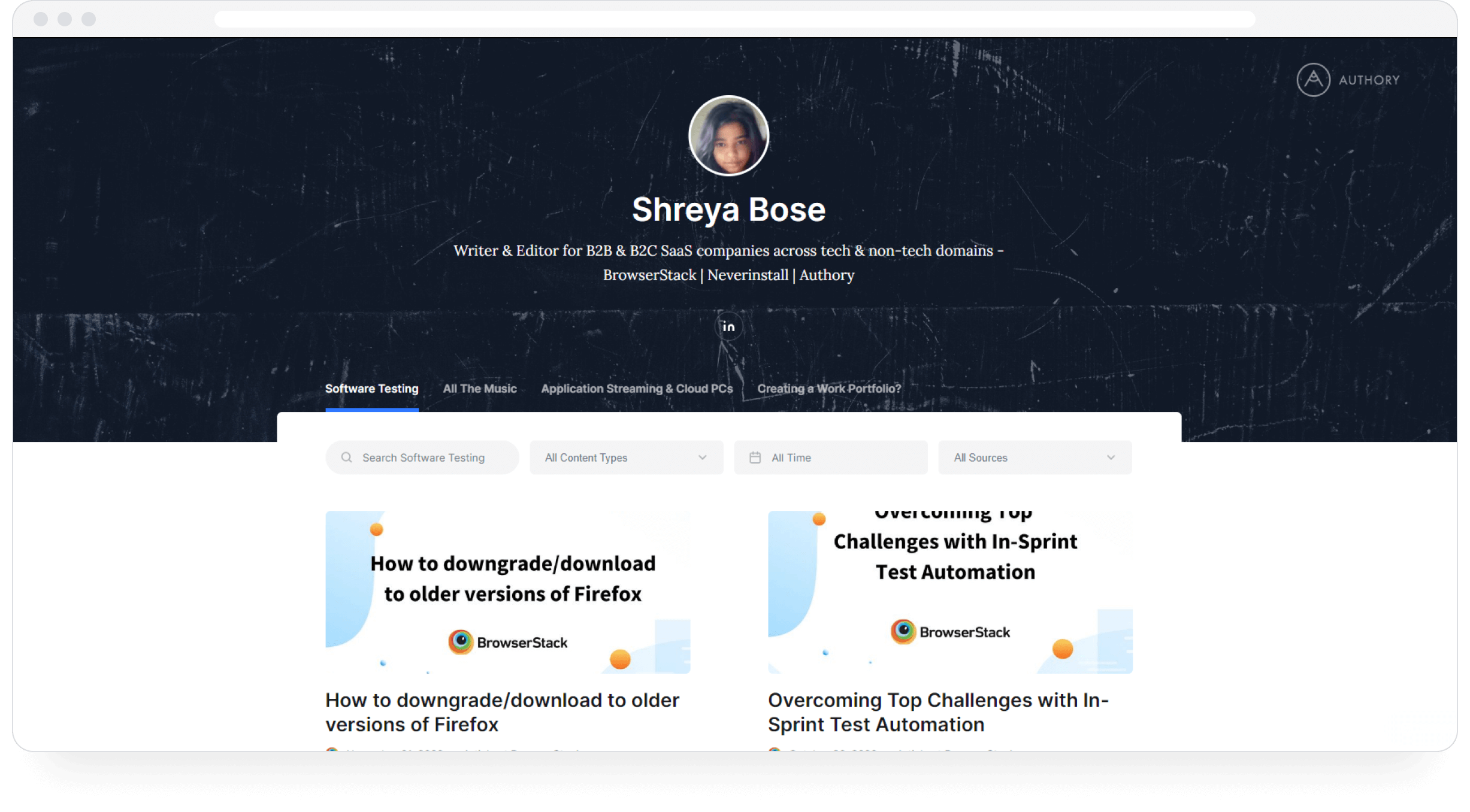 My content is grouped under headers corresponding to the domains I write within: software testing, music journalism, application streaming, and all things related to creating the perfect work portfolio. Clients can just click on each header to see the content it relates to.
Additionally, Authory will continue automatically importing any bylined pieces published on every website whose URL you've entered previously — importing your past and future content. So, you get a consistently updated portfolio without manually searching, recording, or saving anything yourself.
Also, Authory automatically and permanently saves all imported content. So, not only will you have an updated content database that you don't have to work for, but you'll also never worry about losing your work ever again.
Apart from these major offerings, here are a few other features that make a massive difference to your portfolio-building exercise.
Standout features of Authory
All imported data is permanently backed up in the ORIGINAL format (text/media) rather than screenshots.
Enables the creation of a custom domain for your portfolio.
All imported content is available for immediate download as high-res PDFs or exportable as HTML files — no lock-in period.
Multiple customization options to make your portfolio look future-forward and aesthetically appealing.
Built-in straightforward navigability of each portfolio. It's designed to be intuitive and scrollable.
Email notifications every time Authory imports a new content piece.
Allows the inclusion of text, audio, and video content.
In-built search engine optimization and responsive design. Your portfolio will shine on every device screen.
Advanced analytics integration that offers real numbers on how your content is performing — engagement, readership — across the internet, including popular social media sites.
Lets you create newsletters with a couple of clicks. Once you set it up, Authory automatically sends newly published content to all your subscribers.
Widgets to display your portfolio on other sites, such as your personal website (if you have one).
Portfolios created with Authory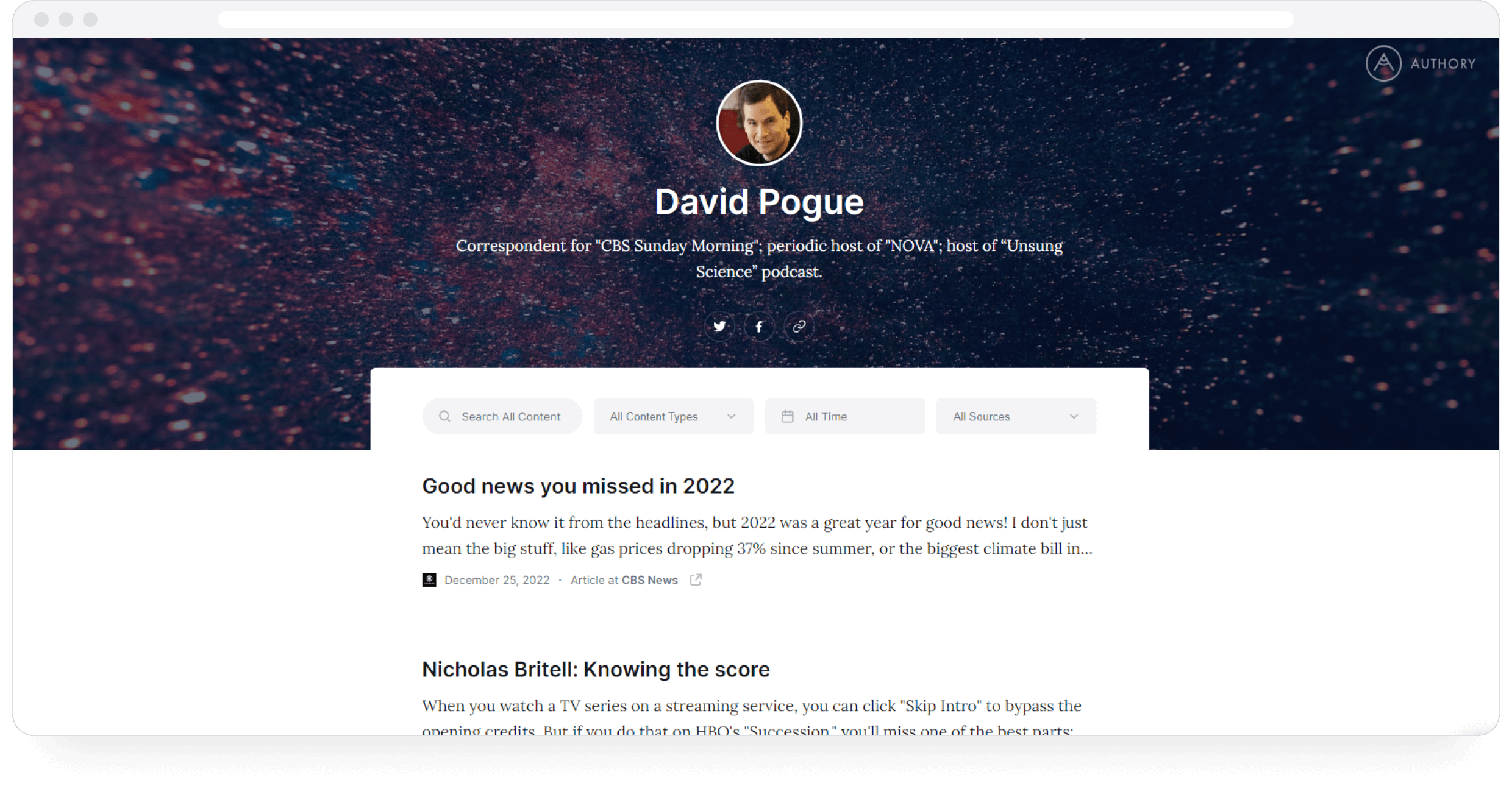 David Pogue is a six-time Emmy winner for his stories on CBS Sunday Morning, a New York Times bestselling author, a five-time TED speaker, host of 20 NOVA science specials on PBS, and creator/host of the CBS News/Simon & Schuster podcast Unsung Science.
Melissa Kalt is a triple-board-certified MD in Internal Medicine, Pediatrics, and Lipidology. She seeks to help victims of narcissistic abuse through her articles, videos, course, and even one-on-one consultations.
Why I chose Authory over Contently and Muck Rack
I can boil down my answer to two reasons:
Automatic content importation and backup
The fact that Authory is primarily a portfolio provider, while the others are not.
I've already discussed the first point, so let me dive into the second.
Both Contently and Muck Rack allow the creation of portfolios for free. While this sounds like a great deal, let's add some nuance.
These tools aren't primarily portfolio builders. Their main intent is not to help create exceptional portfolios. Contently provides a job board where clients post requirements and can reach the right freelancer. Muck Rack's primary intent is to connect PR executives with the right journalists to whom they can pitch their stories. Neither tool focuses on portfolio-building as its central offering.
This is why you get a pretty basic variant when you create a portfolio on Contently or Muck Rack. There's no room for customization; the design is fairly basic and isn't searchable. There are also no filters to narrow down searches, so recruiters/potential clients have to scroll through your whole portfolio to find relevant work samples.
You certainly don't get analytics support (Google analytics or anything else), search engine optimization, automatic responsive design, custom domain, widgets, newsletters, or any of the necessary benefits you'd expect from a professional builder.
That said, both Contently and Muck Rack are extremely useful in their niches. I recommend that you create free portfolios on Contently (if you're a freelancer of any kind) and/or Muck Rack (if you're a journalist) alongside your primary portfolio — one that is more aligned with current industry expectations. Leverage the networks that come with Contently and Muck Rack to get paid work consistently. I know many journalists who do precisely this. I asked, and all of them agreed that having an additional gateway for work is usually a pretty sweet deal.
However, do not use your Contently/Muck Rack portfolios when pitching work to clients outside that ecosystem. They simply do not stand up to modern clients' expectations. A single-page portfolio site that looks like it was made five years ago won't help you grab too many eyeballs.
Authory, on the other hand, is a portfolio builder first, and its primary purpose is to give you a portfolio that immediately attracts and retains the attention of possible employers. To this end, Authory comes with a plethora of features (listed previously) to give you more control over the process of creating such a portfolio.
Also, I'm just going to say this out loud. Authory is used by industry stalwarts I follow. These are people I want to emulate, with careers I want for myself. I'm talking about people like David Pogue (mentioned above) with his 6 Emmy awards, Steven Levy, Editor at Large, WIRED, or Brian Fung, a Technology Reporter at CNN.
If these folks chose Authory over all other portfolio builders, then I feel quite safe doing so myself.
Additionally, I came across multitudes of positive customer testimonials recommending Authory, some of which I'll leave below: