I'm quite a fan of Muck Rack myself. Granted, I'm not a journalist, but I have been writing long enough to recognize a great platform when I see it. This is especially true for freelance journalists.
Not only does Muck Rack let you create an (albeit basic) portfolio, it connects you to a network of other journalists and PR professionals who can pitch relevant stories. It's a prime avenue to gather relevant media contacts, establish profitable media relations, and keep track of one's own media coverage. You can also trace the impact of your own stories and follow other journalists and influential media contacts. Nothing to dislike here!
However, like most platforms, Muck Rack comes with its own gaps, which is probably why you are looking for Muck Rack alternatives. In this article, I'll discuss five such alternatives.
🗒️
Note: Muck Rack's main offering is to offer a space for professional interaction between journalists and PR folks — a media contacts database. However, it also allows journalists to create a professional portfolio for free.

In this piece, I'll specify tools that offer one or both of these offerings. For example, some tools are ideal as portfolio builders, while others provide a professional network that helps you deliver media coverage.
📖
What you'll get out of this article:
• A detailed discussion of five Muck Rack alternatives you can leverage to create your portfolio and access updated global media databases
Top 5 Muck Rack alternatives
Authory
(if you're looking for a portfolio builder)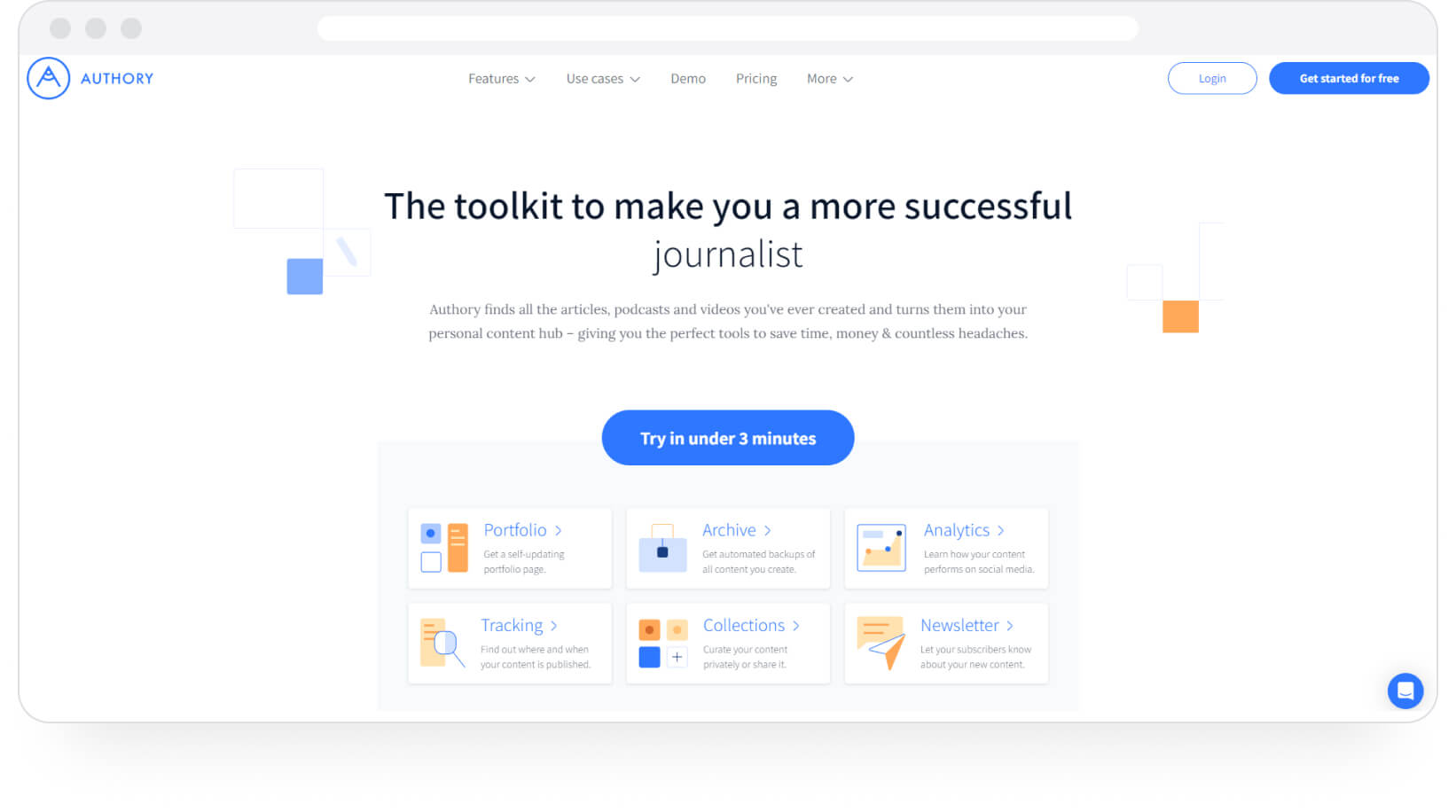 If you're looking to create a journalism portfolio (or any portfolio) that immediately catches the eyes of potential employers, Authory will give you a massive advantage in creating such a thing. Not only does it offer a customizable interface with sharp, professional designs, in-built searchability, SEO optimization, and responsive design, it actually creates your portfolio for you.
If you enter the URL of the websites (including social media networks and podcast platforms) where your content is published into Authory's system, the tool will literally find ALL your bylined pieces and extract a copy of each piece into its own database.
Essentially, all your published pieces become available at your fingertips. You can organize them into relevant Collections, and add these collections to your portfolio with a click. Basically, you let Authory bring all your work to you, and then you spend about 3 minutes placing it into an industry-best portfolio.
You don't have to go hunting for your pieces, especially older ones. Leave all of that to Authory.
The tool also backs up all the imported content in its database, so you'll never have to worry about losing any of your published work again. In the event that the original publication link does, you'll still have a copy of the piece safely stored in Authory.
Both automatic content importing and automatic, permanent backups will apply not just to your existing content (on the sites you have specified), but any future content you publish on those sites. In other words, Authory will continue to import and save your future content.
You literally never have to track down a bylined piece again. You don't have to copy-paste/upload your work to your portfolio. And, you certainly do not have to worry about saving your work. Authory handles everything.
There are a few other features that allow this tool to stand out:
All imported data is permanently backed up in the ORIGINAL format (text/media) rather than screenshots.
Enables the creation of a custom domain for your portfolio.
All imported content is available for immediate download as high-res PDFs or exportable as HTML files — no lock-in period.
Email notifications every time Authory imports a new content piece.
Allows the inclusion of text, audio, and video content.
Advanced analytics that offers real numbers on how your content is performing — engagement, readership — across the internet, including popular social media sites.
Lets you create newsletters with a couple of clicks. Once you set it up, Authory automatically sends newly published content to all your subscribers.
Widgets to display your portfolio on other sites, such as your personal website (if you have one).
Examples of Authory portfolios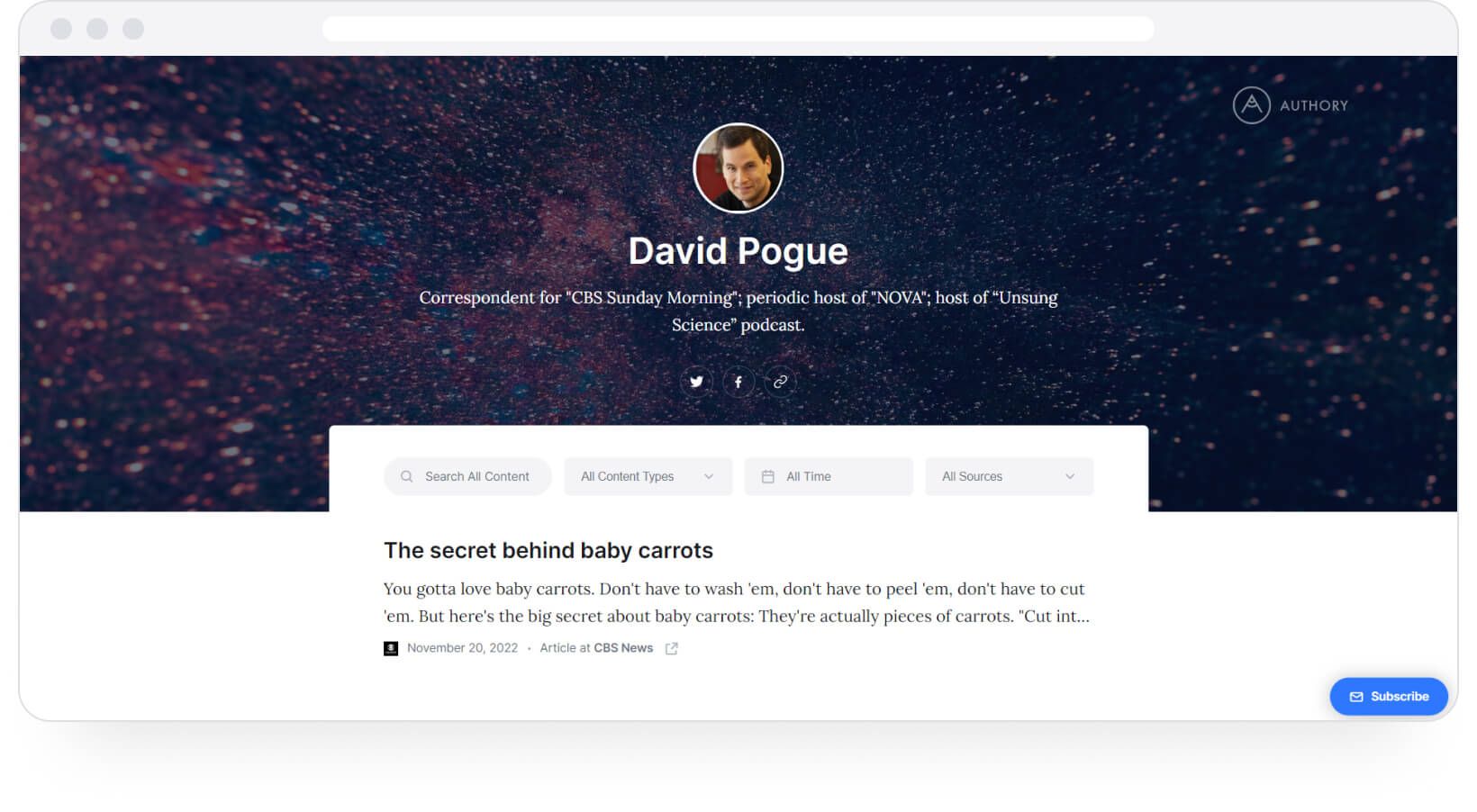 David Pogue is a six-time Emmy winner, a New York Times bestselling author, a five-time TED speaker, host of 20 NOVA science specials on PBS, and creator/host of the CBS News/Simon & Schuster podcast Unsung Science.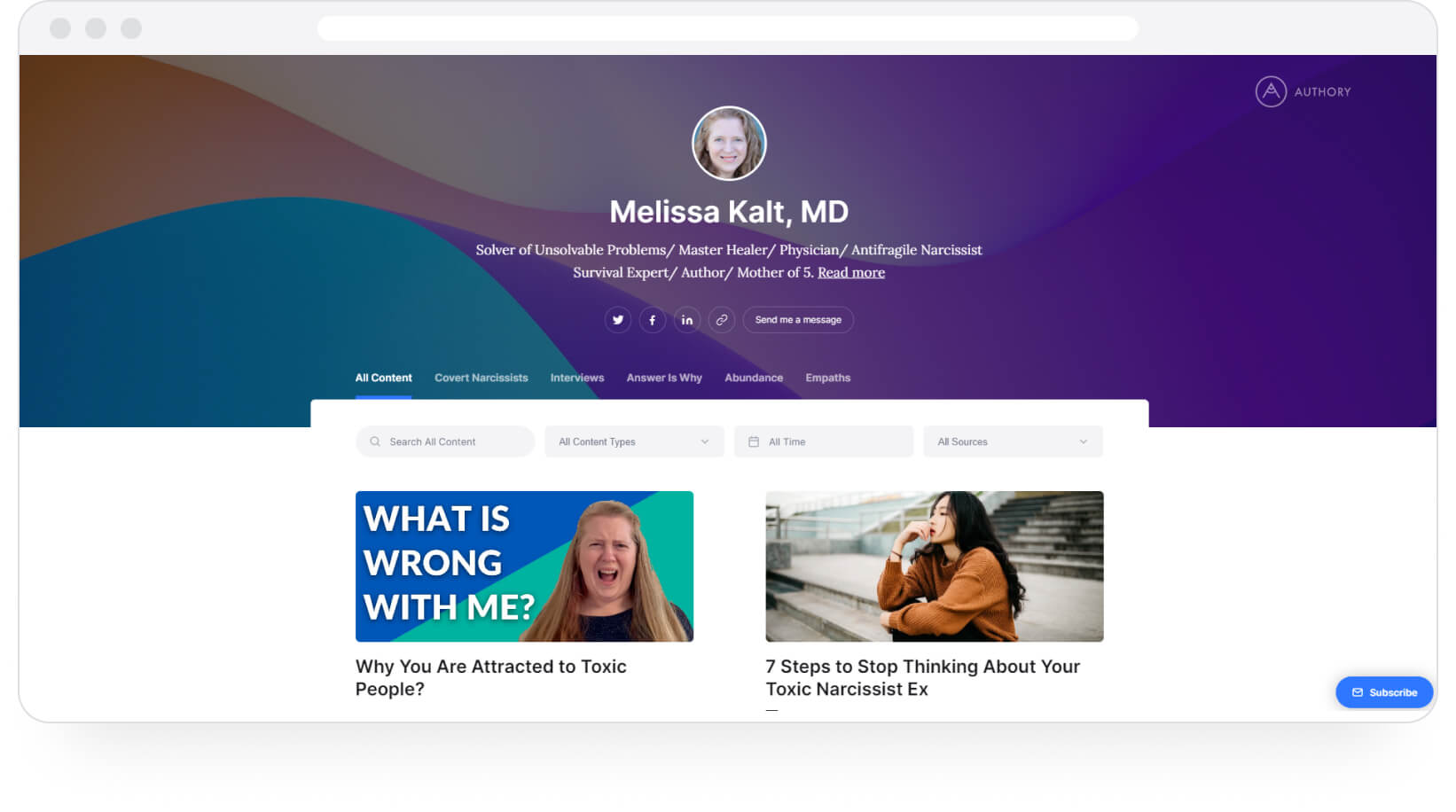 Melissa Kalt is an MD who guides and assists victims of narcissistic abuse through her articles, videos, course, and even one-on-one consultations.
Authory's price
Standard Plan: $12
Professional Plan: $18
Get started with Authory for FREE!
Journo Portfolio
(if you're looking for a portfolio builder)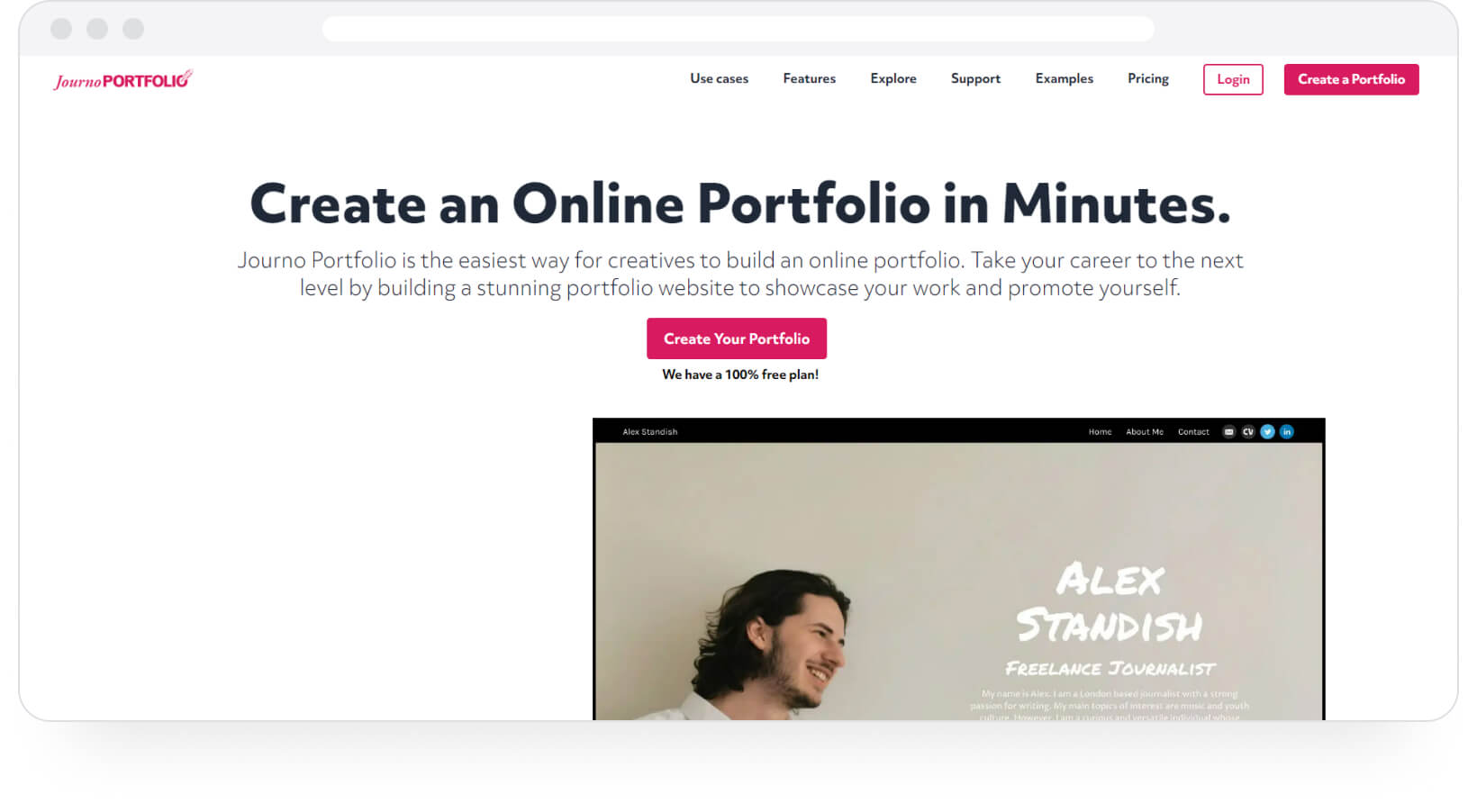 Despite having "journo" in the name, Journo Portfolio actually caters to a wider audience than just journalists — writers, journalists, copywriters, photographers, illustrators, artists, designers, etc. According to the website, more than 250,000 people have used Journo Portfolio to build their portfolios.
I'll dive right away into Journo Portfolio's standout features:
You can import content in multiple formats: PDF, image, URLs, and embed from multiple external sources like YouTube, SoundCloud, Vimeo, Spotify, Twitter, Facebook, Instagram, etc.
Feed the URL of any published content, and the tool will extract the title, publication date, image, description, and publication name.
A wide range of pre-designed sections and themes you can combine to create a portfolio relatively quickly.
Enough design options you can use to play around with your profile's appearance. For instance, you can showcase your work in a grid, a blog, a column, or an image gallery.
Imported content is backed up, so you won't lose your work. However, backup is in the form of screenshots, so you cannot edit anything (unlike Authory).
Use passwords and secure-link privacy options to limit access to the portfolio — either a single page or the whole thing.
Quick and private analytics support that tracks visits and engagement with your portfolio website. You can also integrate with Google Analytics.
Add a contact form and social media links to your portfolio if you want.
Use integrated blogging and newsletter features (linked with Mailchimp and social media accounts) to build a following.
Examples of Journo Portfolio portfolios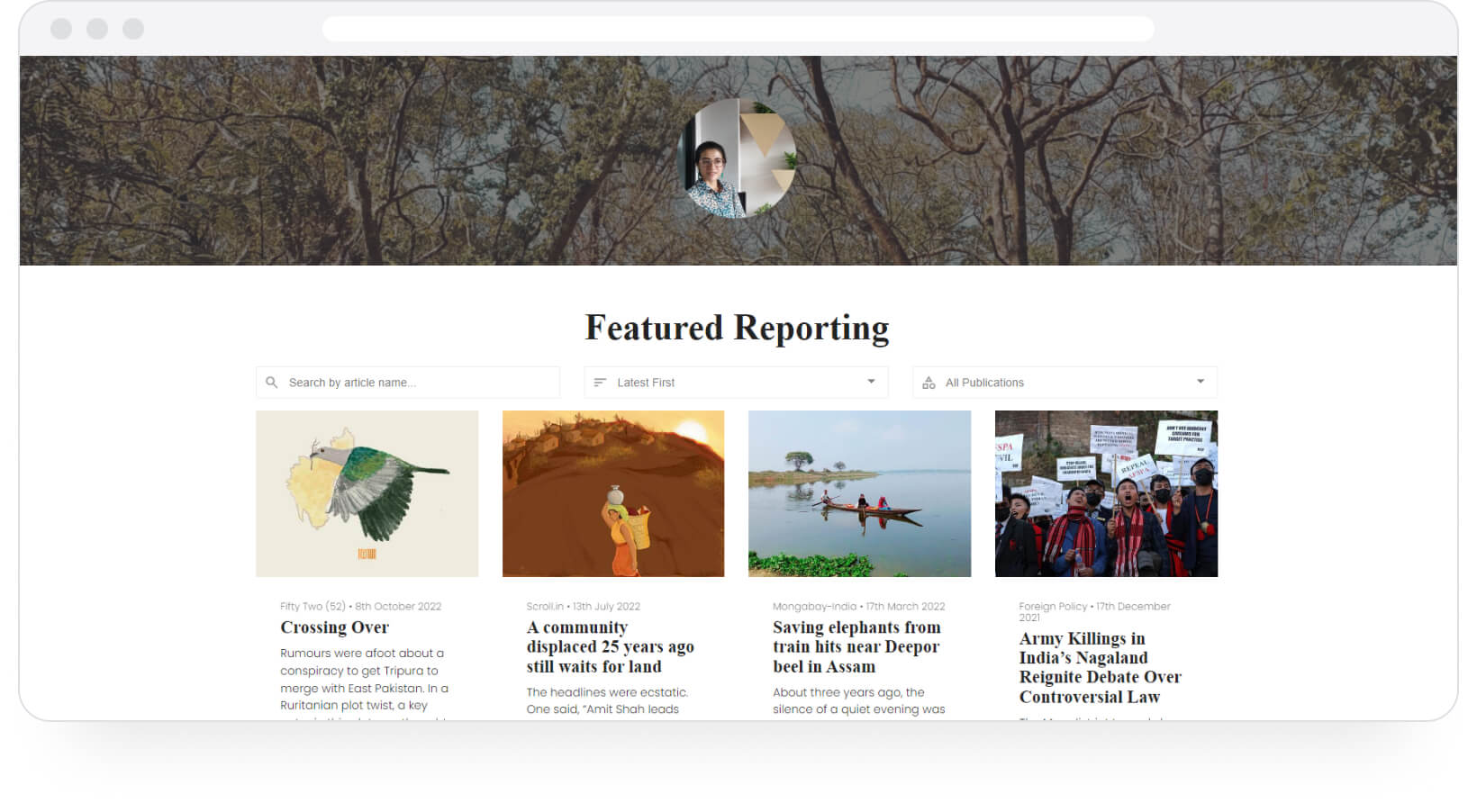 Sanskrita Bharadwaj is an independent journalist covering social justice, human rights, politics, culture, and occasionally on health and the environment.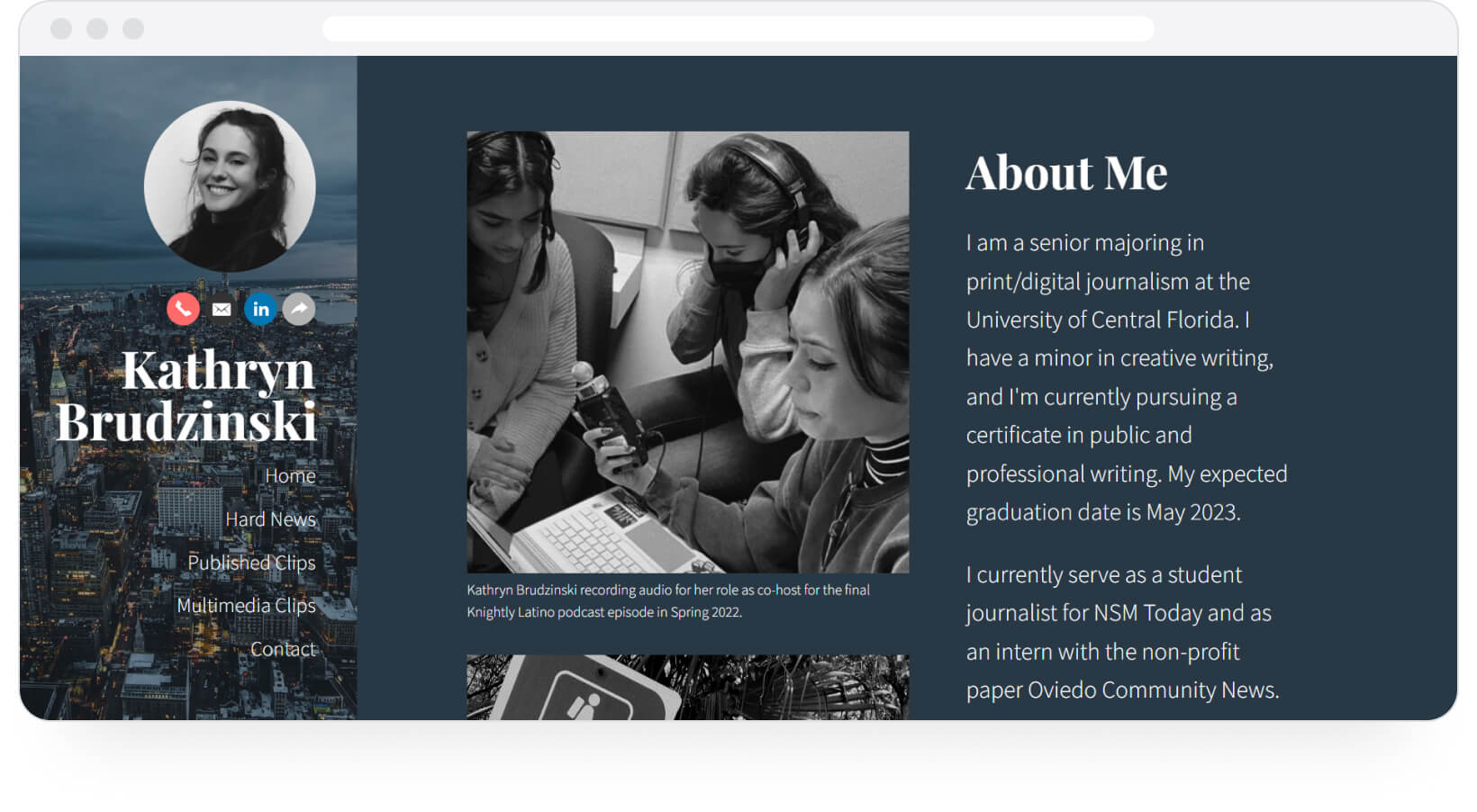 Kathryn Brudzinski's portfolio showcases the work she has accomplished as a student journalist at the University of Central Florida.
Journo Portfolio's price
PLUS plan: $8/month
PRO plan: $12/month
Anewstip
(if you're looking for a professional network)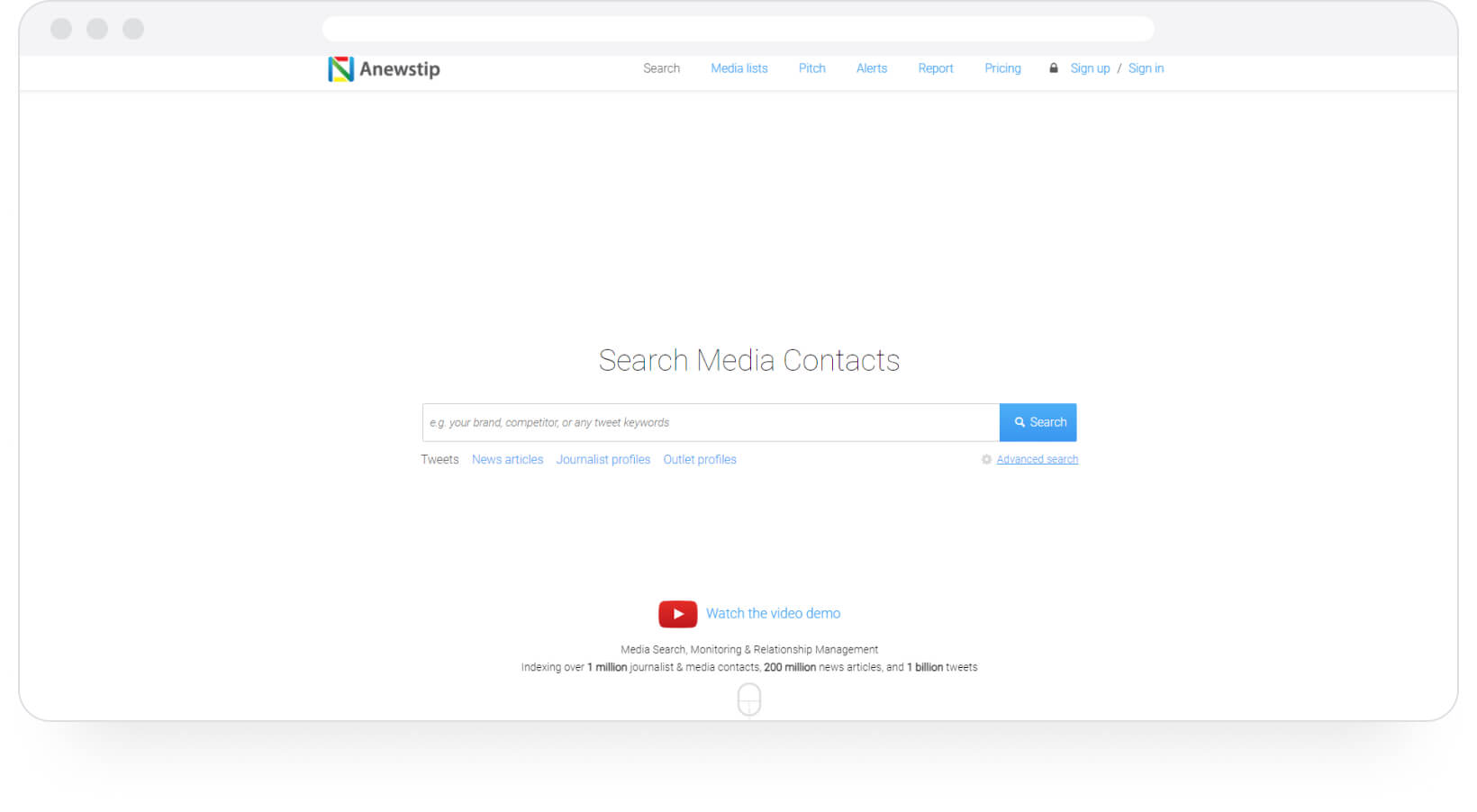 Anewstip provides an intelligent media monitoring platform that allows PR folks to connect with media influencers in specific domains so as to generate positive media coverage.
On their website, Anewstip claims to be the "world's largest database" of relevant media contacts for any industry. You can search for contacts based on their articles and/or tweets. The website mentions that this platform indexes almost 200 million + news articles/press releases and 1 billion tweets from 1 million + media professionals.
A few standout features of Anewstip:
Monitor articles and tweets from global media influencers from a single dashboard.
Get insight into how your brand and/or competitors are performing by simply entering the right keywords.
Get email alerts anytime new results show up, pertaining to your chosen keywords.
Create media lists so that you have all your media contacts in one place.
Use in-built search options to find the right contacts that align with your campaign.
All media contacts organized into a list will be automatically updated with their latest contact information.
Send highly personalized media pitches to journalists, and monitor the performance of said pitches via open rate and click numbers.
Once you enter your pitch or press release content, the tool's AI engine will analyze it and recommend journalists most likely to read said pitch.
The tool, if instructed to do so, can create media coverage reports automatically within Google Slides.
Flexible media monitoring packages to get work done.
Anewstip's price
There is a free plan available, with limited features.
Standard Plan: $200/month
Professional Plan: $400/month
Partners Plan: Custom Pricing
Propel
(if you're looking for a professional network)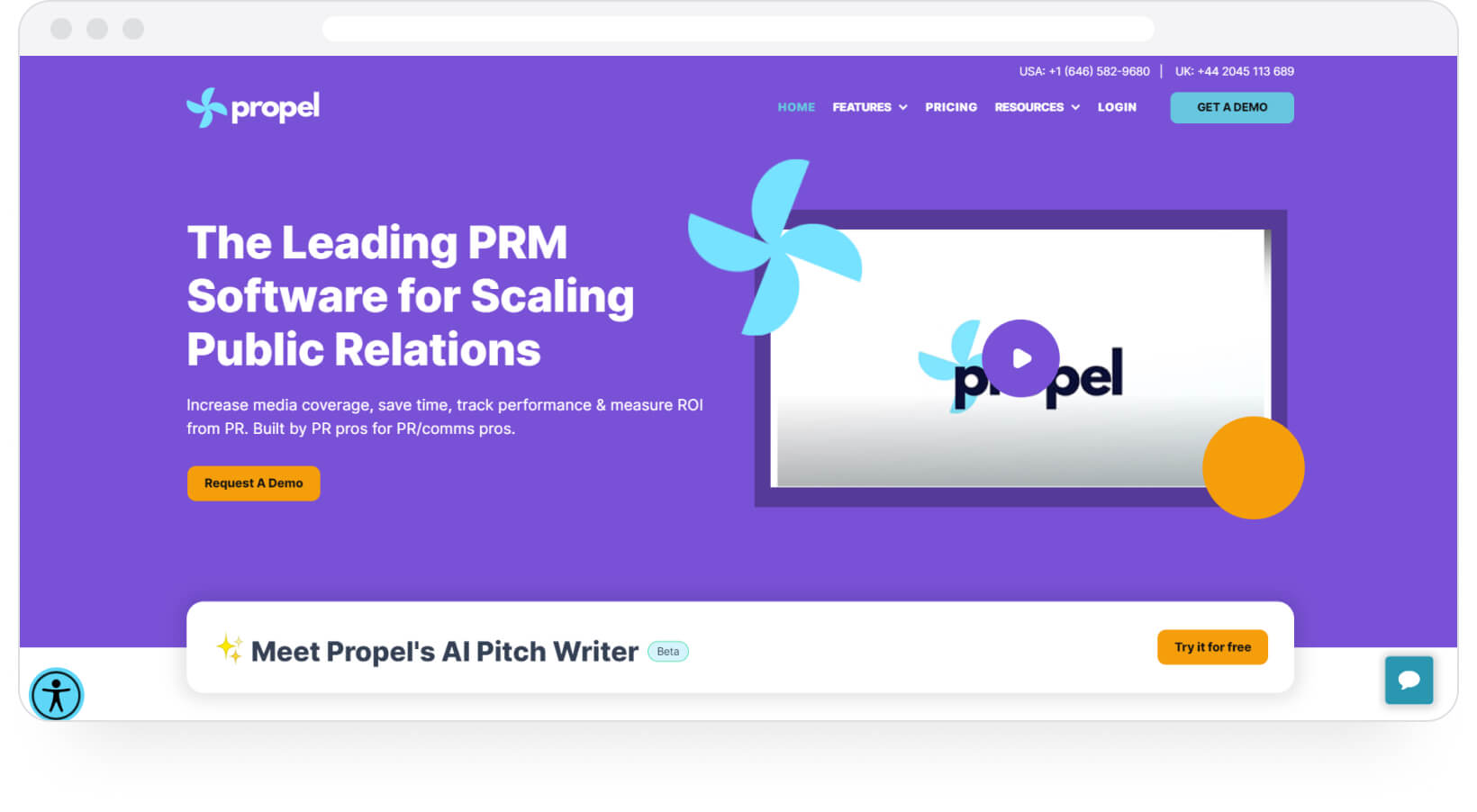 Propel offers CRM software designed to scale PR activities — pitching to journalists, accessing a media contacts database, increasing media coverage, track PR performance and ROI. Think of it as an integrated PR management system.
You can leverage advanced marketing technologies, ranging from media monitoring services, to individual team members' performance tracking and generally managing media relationships. Use automatic reporting, track productivity metrics like opens, responses, and publish numbers, analyze traffic coming from media coverage, and create detailed reports that establish ROI from PR.
Some notable features of Propel:
Get journalists' contact info, as well as their pitch preferences and a view of their recent articles.
Use Propel AI-driven pitch writer to increase the odds of having your message opened, read, and your story placed in target media outlets.
Manage media relations, contacts, and lists from a centralized dashboard.
Use Gmail and Outlook plug-ins to sync your email with Propel's platform. You can message media contacts from your personal inbox and still collect real-time data.
Automatically generate standard pitch drafts in your email (with the plugins). You can personalize each draft to match the stated preferences of the journalist you intend to email. No need to create each pitch from scratch.
Use a Kanban-style dashboard to view how each pitch progresses across all your campaigns, accounts, and teams.
Get a full suite of reports pertaining to your team's success and ROI.
Use media monitoring to track all your brand mentions online. No manual searches or reminders are needed. You can schedule weekly reports on brand mentions to be directly delivered to your inbox.
Propel's Price
PRM3: $6000/year
PRM4: $9000/year
Enterprise Plan: Custom pricing
PRmax
(if you're looking for a professional network)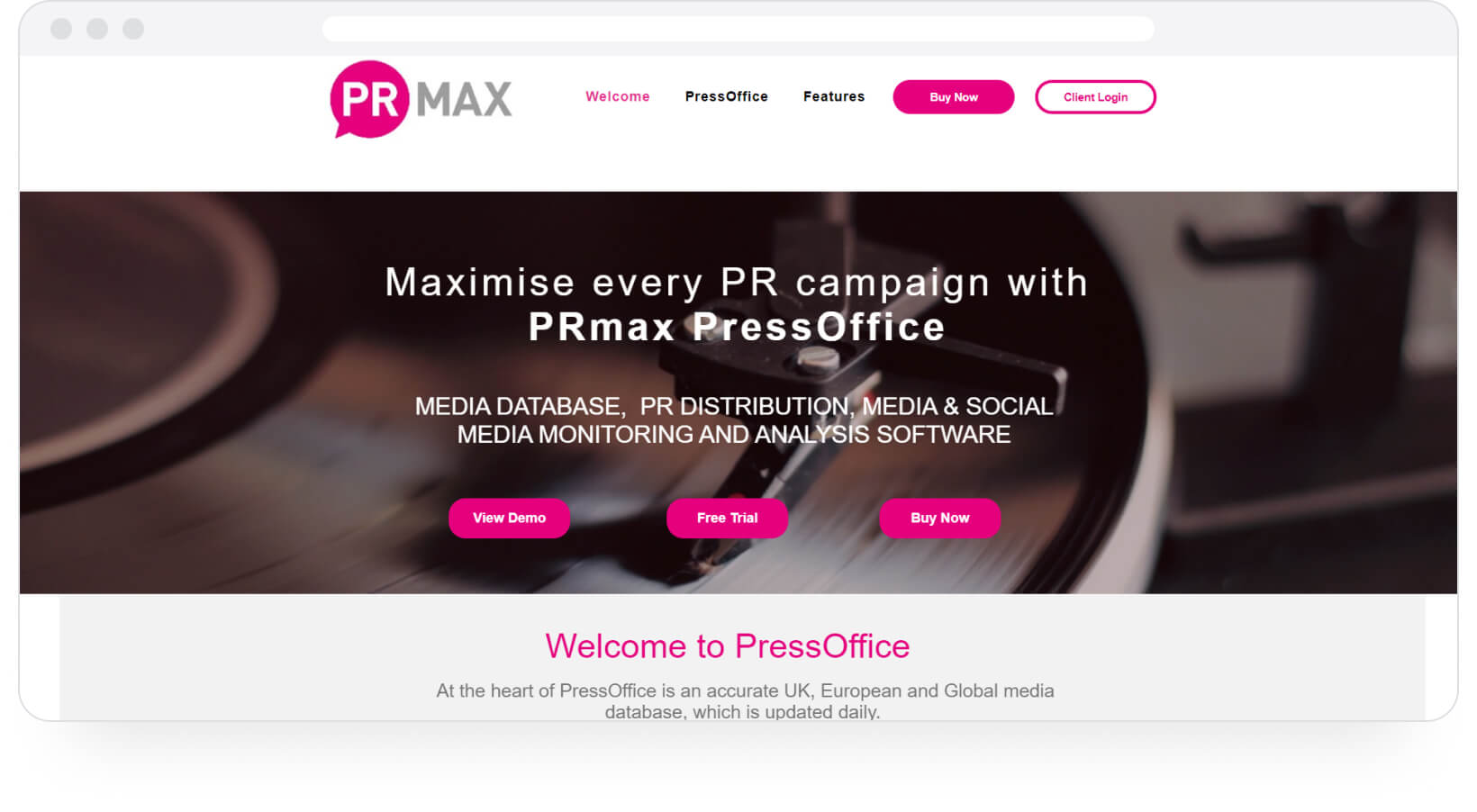 PRmax provides an accurate, constantly updating global media database, as well as software that lets you streamline every stage of a PR campaign called PressOffice. You get tools to distribute digital media, and social monitoring as well as analysis software.
In particular, you get access to an HTML press release distribution system, meant to ensure that your messages and pitches reach the right target audience.
Features of PRmax/PressOffice you should care about:
An accurate and updated database of media contacts across the UK, Europe, and the world.
Upload your pitches as Word files and they will automatically be converted to HTML emails.
Get automatically generated reports to check campaign effectiveness, PR ROI, and its impact on your digital marketing strategy.
Get real-time data on your story's performance in online and print distribution.
Use the relationship manager feature to keep clients fully updated on details of every stage of the campaign.
PRmax's Price
Freelance Plan:  £1,185 + VAT
Agency Plan: £1,895 + VAT
Enterprise Plan:  £4,950 +VAT
In Conclusion...
If you're looking for Muck Rack alternatives, you've got options. Good ones.
But I wasn't able to find a tool that provides a portfolio-making feature built into its networking aspect. Honestly, I do not consider that a drawback because Muck Rack portfolios are not industry-best specimens.
Don't get me wrong; they have all the basics. But the portfolios are not searchable, and it doesn't seem like you can categorize your work according to a topic or any other header.
The website doesn't mention anything like SEO optimization or responsive design, attributes quite necessary for your portfolio to appeal to a wide range of clients across industries.
Most importantly, you'll have to find and add all the content yourself, which is a challenge if you've been writing for a few years. You also have to back up all your content yourself, using a third-party service.
In terms of design, Muck Rack portfolios are quite basic. This might not be an immediate consideration for writers, but a few years of job search and interviews have revealed to me that recruiters like portfolios that look more professionally designed.
If you are looking to leverage both functionalities offered by Muck Rack, my suggestion is to use one tool to create a professional portfolio, and another one to access a database of media professionals and customized virtual press centers. While it may be more expensive than using Muck Rack, you'll end up impressing more clients with your new portfolio, and you'll get the added advantages provided by the media management tools mentioned above. Be assured that those advantages will translate to more work and higher revenue.
I don't usually disagree with The Notorious B.I.G, but guys....mo' money less problems.