Whether you're an aspiring freelance writer or an accomplished professional, you need to have a web presence to attract prospective clients. And portfolio websites are the best way to create online portfolios.
This list is a compilation of the best portfolio sites, especially if you're a freelance writer. Some of the tools below are totally free, others have a free plan, and the rest are paid.
Without further ado, let's get to it.
📖
What you'll get from this article:
• A side-by-side comparison overview of the best portfolio websites
• A deeper look at the 12 tools in detail
• Examples of writing portfolio websites from all types of writers
The best online portfolio websites if you're a freelance writer
| | Price | Auto-Updating Portfolio | Import Content | Backup |
| --- | --- | --- | --- | --- |
| Authory | $8/month | Yes | Yes, original format | Yes, original format |
| Muck Rack | Free | Yes | Yes, only links | No |
| Journo Portfolio | $5/month | No | Yes, only screenshots | Yes, only screenshots |
| The Freelance Creative by Contently | Free | No | No | No |
| Clippings.me | $9.99/month | No | No | No |
| Squarespace | $23/month | No | No | No |
| Carbonmade | $9/month | No | No | No |
| WordPress | $4/month | No | No | No |
| Wix | $16 | No | No | No |
| Writer's Residence | $9/month | No | No | No |
Authory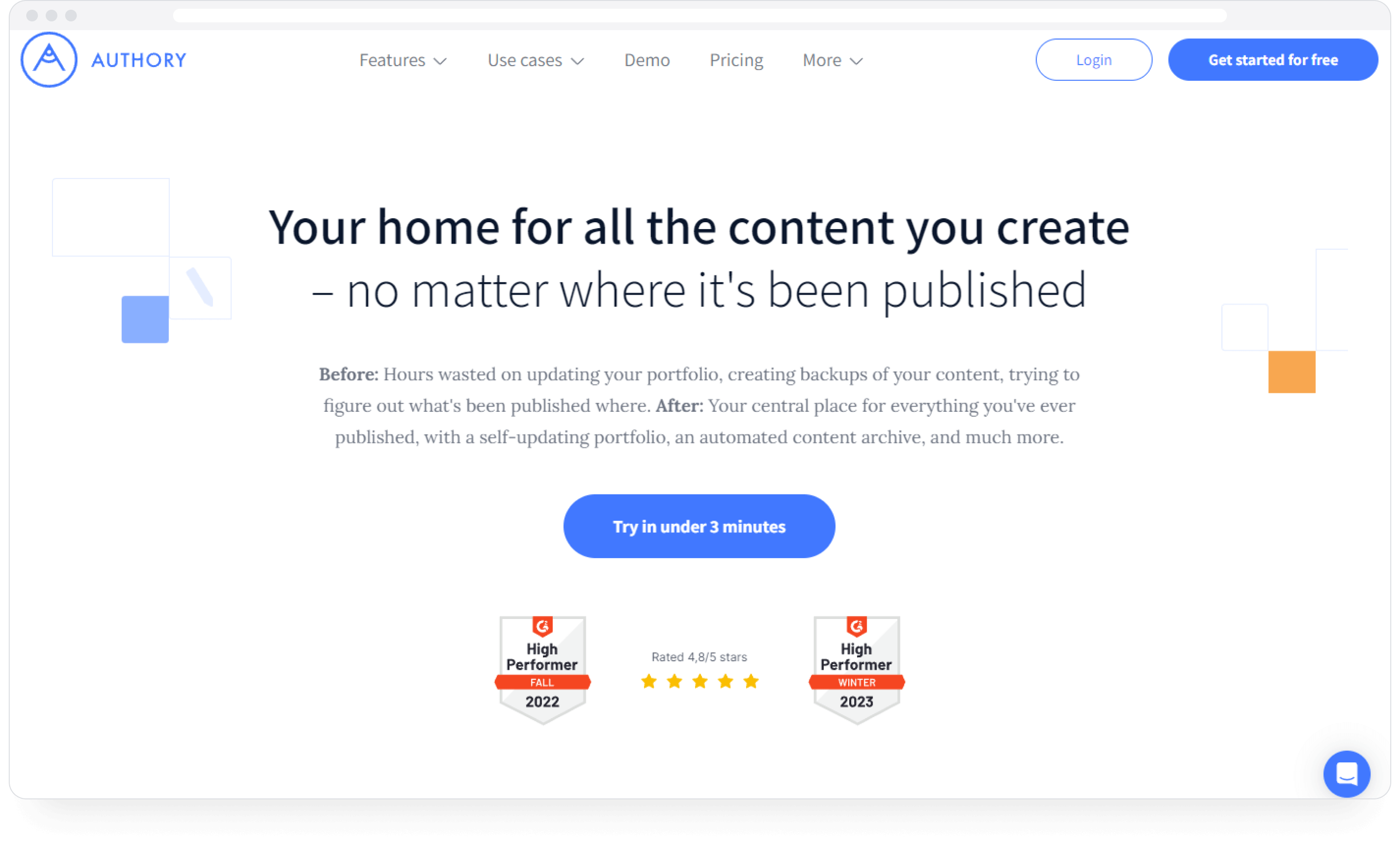 In all likelihood, as a freelance writer, you're creating a ton of content across various publications.
So, your writing portfolio website should, ideally, be able to organize all your freelance writing from all corners of the internet and present it in a beautiful template that's easily digestible for potential clients.
Well, with Authory, all of the above is super simple. Because Authory, unlike other portfolio sites in this list, makes your freelance writing portfolio for you.
Authory automatically imports ALL your bylined writing from ANY source that you enter in the original format that it was created in — no screenshots and the like — the actual text is imported. Moreover, Authory automatically imports all future writing that you'll publish on these websites.
All you need to do is enter your sources — and Authory works with audio, video, social media, PDFs, etc. — and in under 48 hours, your portfolio is ready for you. You can import unlimited articles from an unlimited number of sources.
Hence, you do away with the need to copy-paste or manually upload your freelance writing to your professional online portfolio. That said, if you're looking to add a single piece manually, Authory lets you do that as well.
On top of this, Authory backs up your writing forever. As a fellow writer, I've seen and heard of numerous occasions where a website takes down a freelance writer's content, or it's re-bylined, or heck, the publication goes bust. With Authory, your writing will be safe forever.
Authory's primary features
All your past and future writing samples are automatically imported from any website (including social media accounts), thus making your portfolio for you.
All your content is backed up forever. Even if the original website goes down, you'll have your article backups safe and sound.
All of your content is stored in the original format instead of just screenshots. Note: other services are restricted to screenshots.
You can download your content at any time in the original formats or as HTML files at any time.
Authory lets you customize your portfolio's look and feel while ensuring you don't need to be a designer to land up with a good-looking portfolio.
As soon as a new piece you've written goes live, you'll get an email notification. There's no need to follow up with editors and clients regarding your article's publication.
Authory employs the best SEO tactics to help your online writing portfolio show up for search results.
You get real-time social media data and analytics on how your articles perform— extremely useful for freelance writers.
You can also easily create a newsletter in a few clicks.
Finally, Authory also gives you widgets so that you can showcase your work on other websites — for example, say, if you have an existing personal website and you want to display your portfolio there, then you can just add the Authory widget.
Authory's pricing plans
You can create a free account and try the tool for 14 days.
At present, Authory has a simple $8/month plan. If you need your own domain, you can reach out to the team.
Writing portfolio website examples using Authory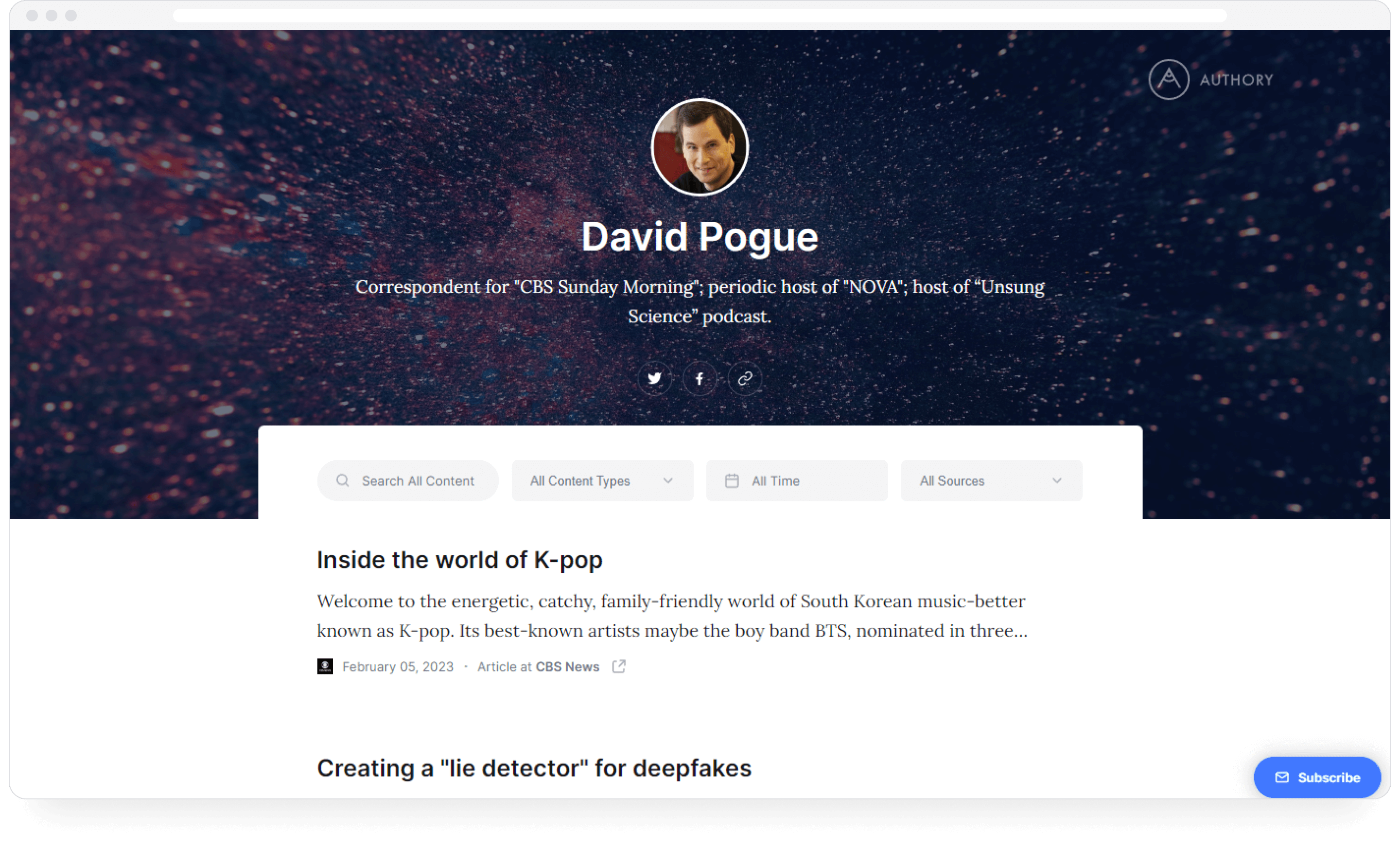 David Pogue is a 6x Emmy award-winning writer, correspondent, and podcast host.
Click here for more writing portfolio examples built on Authory.
Muck Rack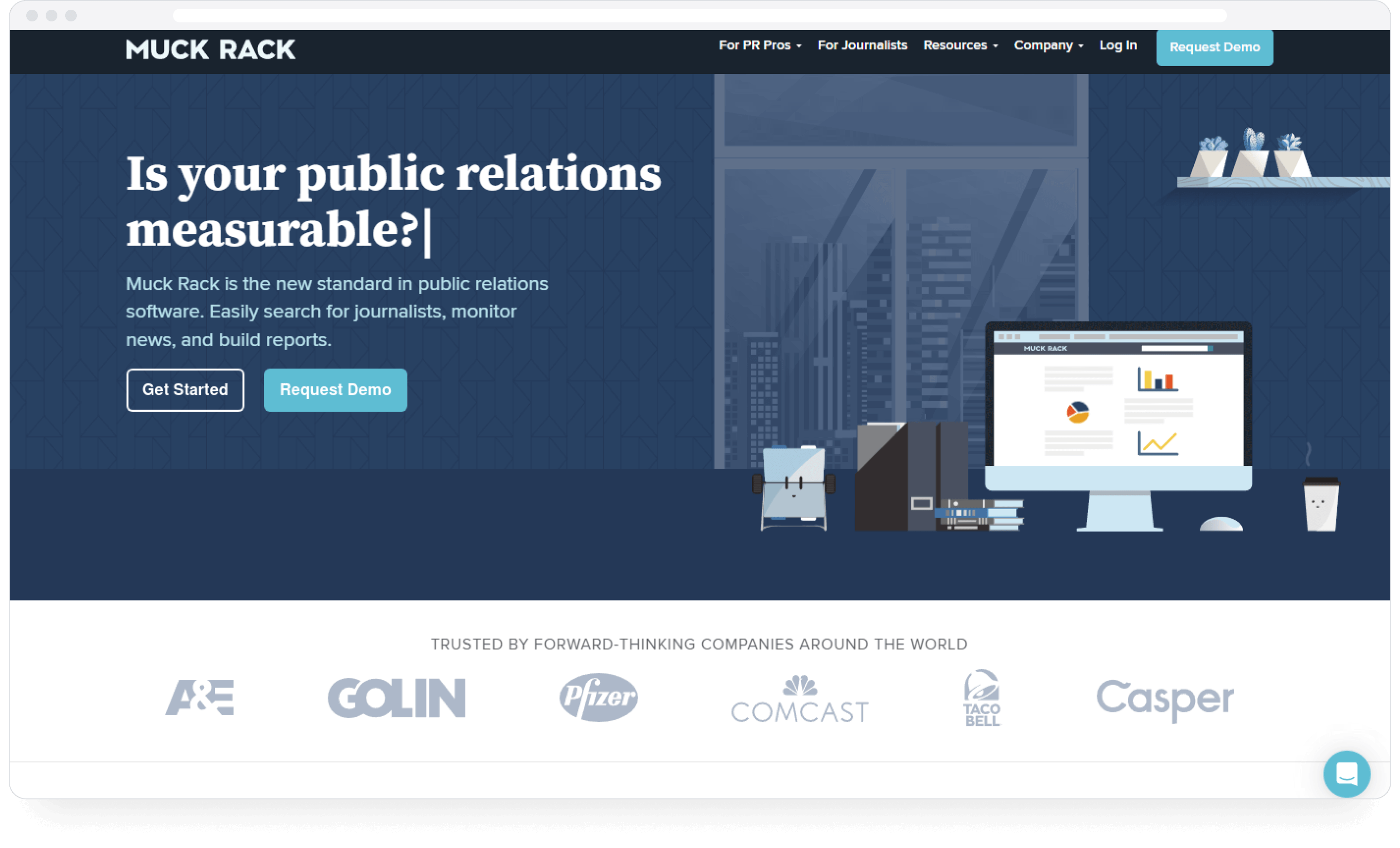 Muck Rack is primarily a media database for PR professionals, staff & freelance journalists. That said, it also offers a portfolio-building service. While Muck Rack helps connect journalists to PR folks, the portfolio builder can be used by freelance writers if you so choose.
Muck Rack try shines for journalists: providing analytics for news coverage in selected topics, number of shares, journalism job postings, automatically compiling articles, and more.
Muck Rack also automatically updates your profile if you're a journalist, provides news analysis, and sends you a daily digest of the top journalism stories via Muck Rack Daily.
Muck Rack's pricing plans
Most of Muck Rack's features are free. But media lists, alerts, database searches, and the like fall under the premium category.
These premium features are available to verified journalists and not other journalists.
Writing portfolio website example using Muck Rack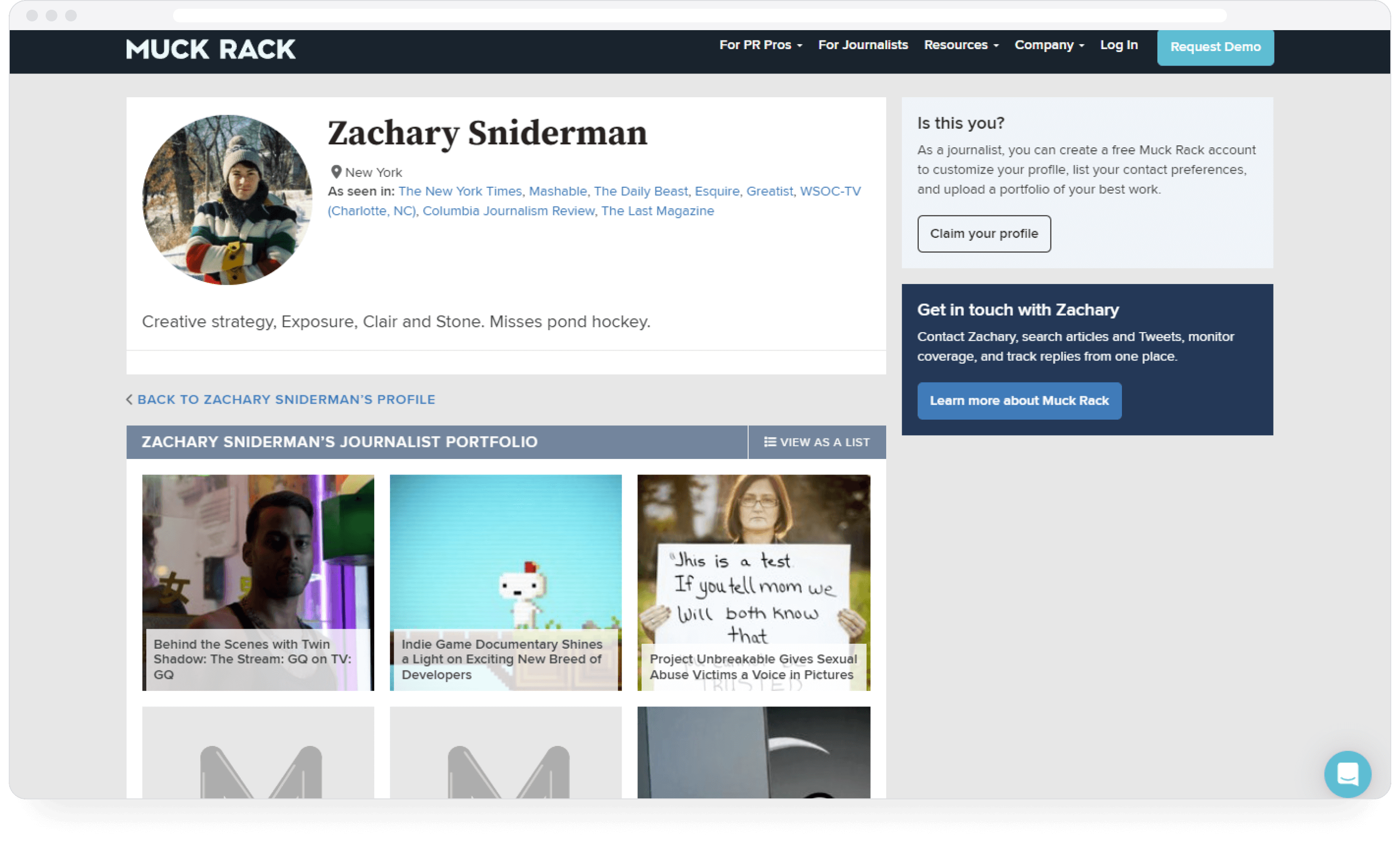 Zachary Sniderman is the Editorial Director at Greatist.com.
Journo Portfolio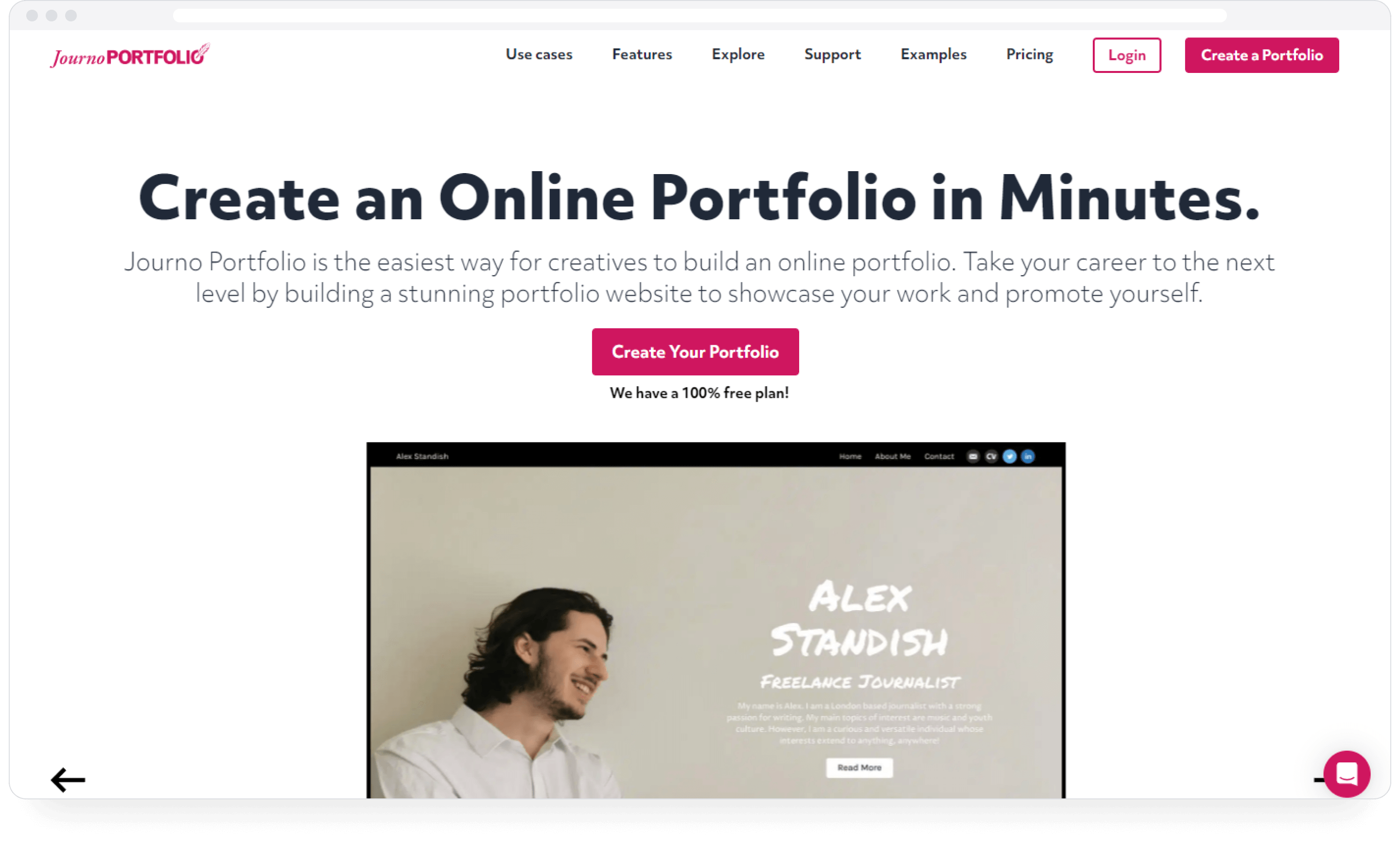 The "journo" in Journo Portfolio possibly refers to the act of journaling more than journalism because Journo Portfolio, like with all portfolio websites in this list, can be used by freelance writers of all kinds — content writers, journalists, copywriters, etc.
Journo Portfolio has eleven distinct themes allowing you to organize your writing in various pages or content blocks.
The tool also has an import feature, though it's restricted to taking screenshots of your content. Still, extremely useful.
Journo Portfolio's primary features
It's possible to import your content in various formats, such as images, social links, PDFs, etc.
When creating your online portfolio website, you can choose from a library of pre-designed sections. This is on top of the eleven themes you can initially pick from. Also, the content can be presented in various blocks or pages.
Journo Portfolio backs up all your imported content, though these backups are, again, in the form of screenshots and not in the original formats.
You can create password protected portfolio or use a secure link to restrict access to your writing portfolio (to a single page or the whole portfolio).
The tool gives your analytics of how many people visited and engaged with your writing portfolio page.
Journo Portfolio's pricing plans
PLUS plan: $8/month
PRO plan: $12/month
Writing portfolio website examples using Journo Portfolio
Kathryn Brudzinski's portfolio displays her work as a student journalist at the University of Central Florida.
The Freelance Creative by Contently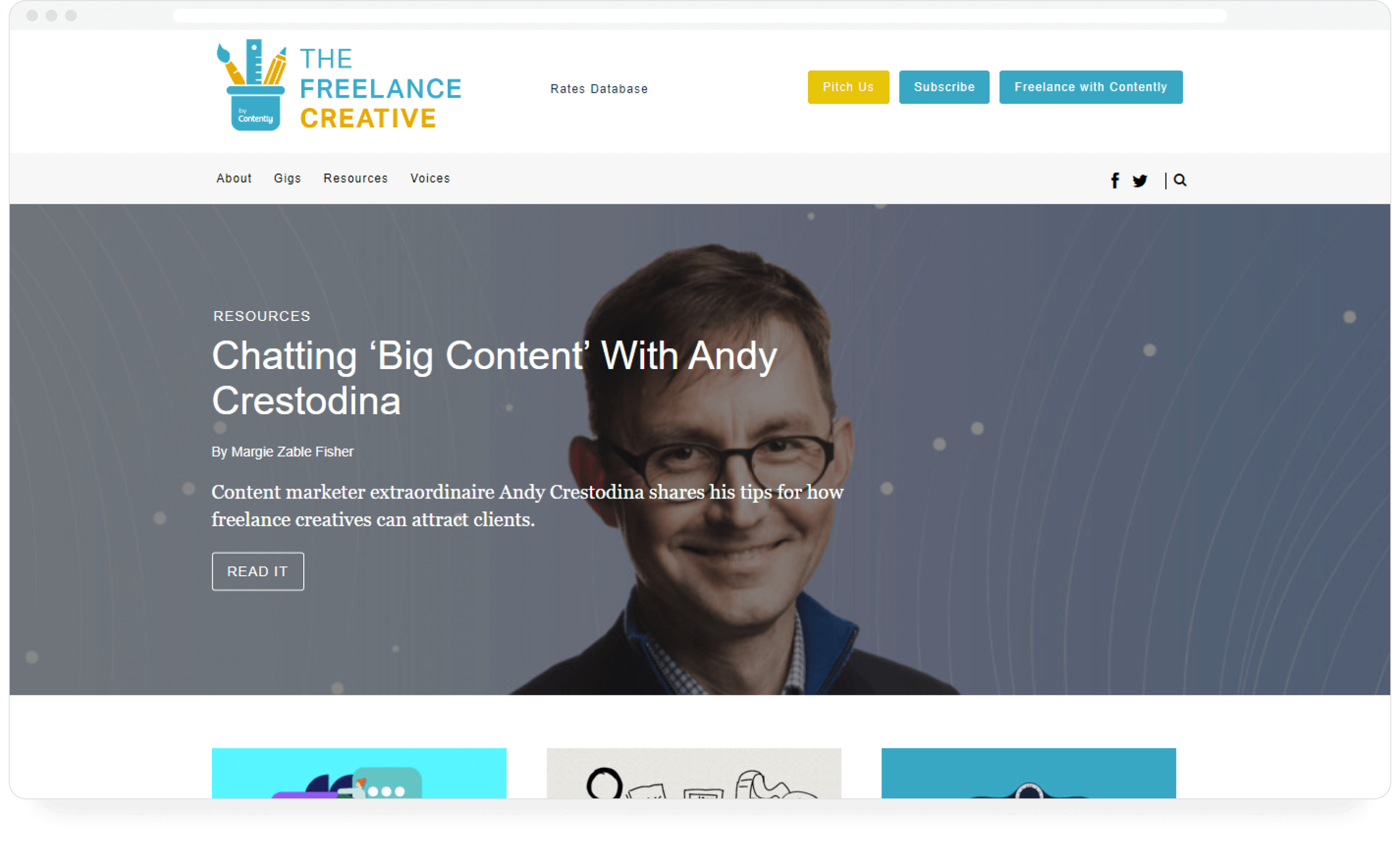 Similar to Muck Rack, which caters to journalists primarily, the Freelance Creative by Contently is a job database for freelance writers. You will need to create a portfolio when you register for a free account, which the prospective client will see when you apply for a particular job using the forum.
It's possible to display unlimited articles, videos, images, etc., on the portfolio to promote yourself. Contently's team will match your portfolio with potential clients that may be interested in your writing.
Contently/Freelance Creative's pricing plans
For setting up your online portfolio, Contently is free.
That said, you don't get features that you'll find on other services on this list, like automatic content importation, etc.
But since the functionality is more geared towards finding freelance opportunities, it shouldn't be an issue.
Writing portfolio website example from Contently/The Freelance Creative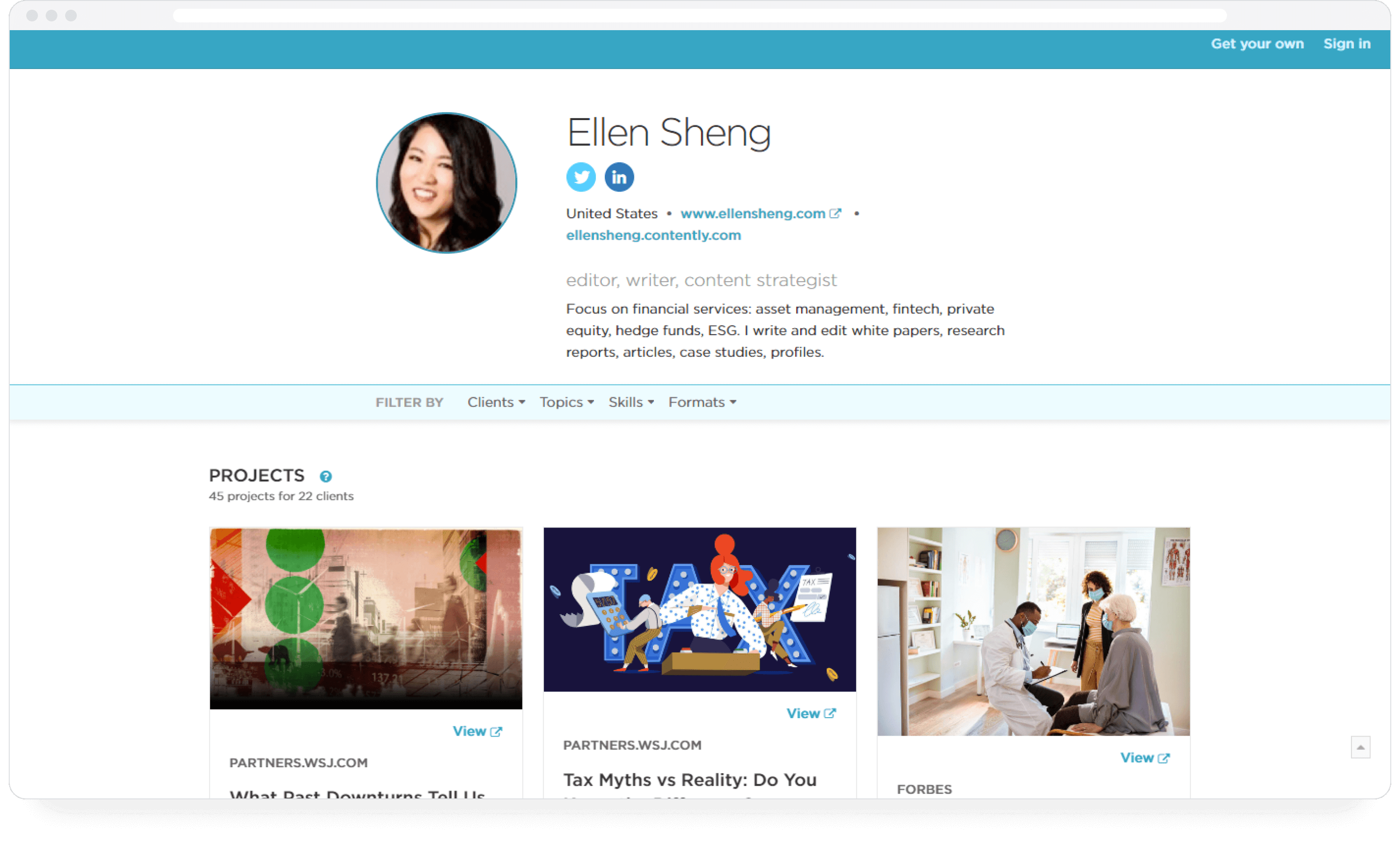 Ellen Sheng is an editor, writer, and content strategist focusing on financial services.
Clippings.me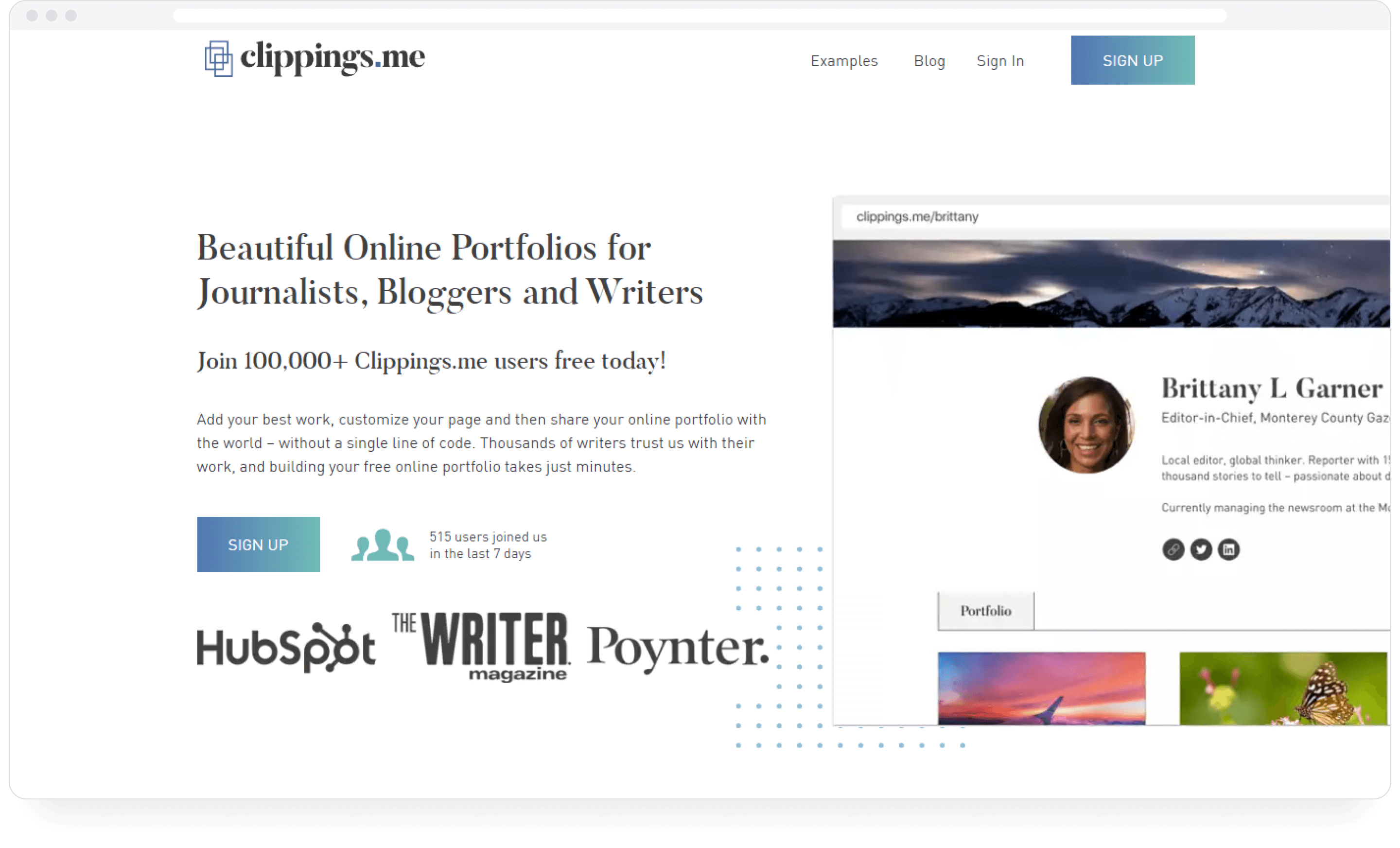 Clippings is targeted toward freelance writers and other folks in the writing and content marketing business. It has practically no learning curve because, like with most other tools in this list, you don't need any coding knowledge to set up your portfolio site.
All you need to do is create a free account, add links, and customize your free portfolio layout. It's possible to add PDFs, video, and audio files as well.
Clippings lets you use Google Analytics to track your online articles' performance.
Clippings' pricing plans
Clippings' free plan is free for life, though with limited features
Price for Clippings.me Premium: $9.99 per month
Writing portfolio website example using Clippings
Naomi Conrad is Deutsche Welle's political correspondent based in Berlin.
Squarespace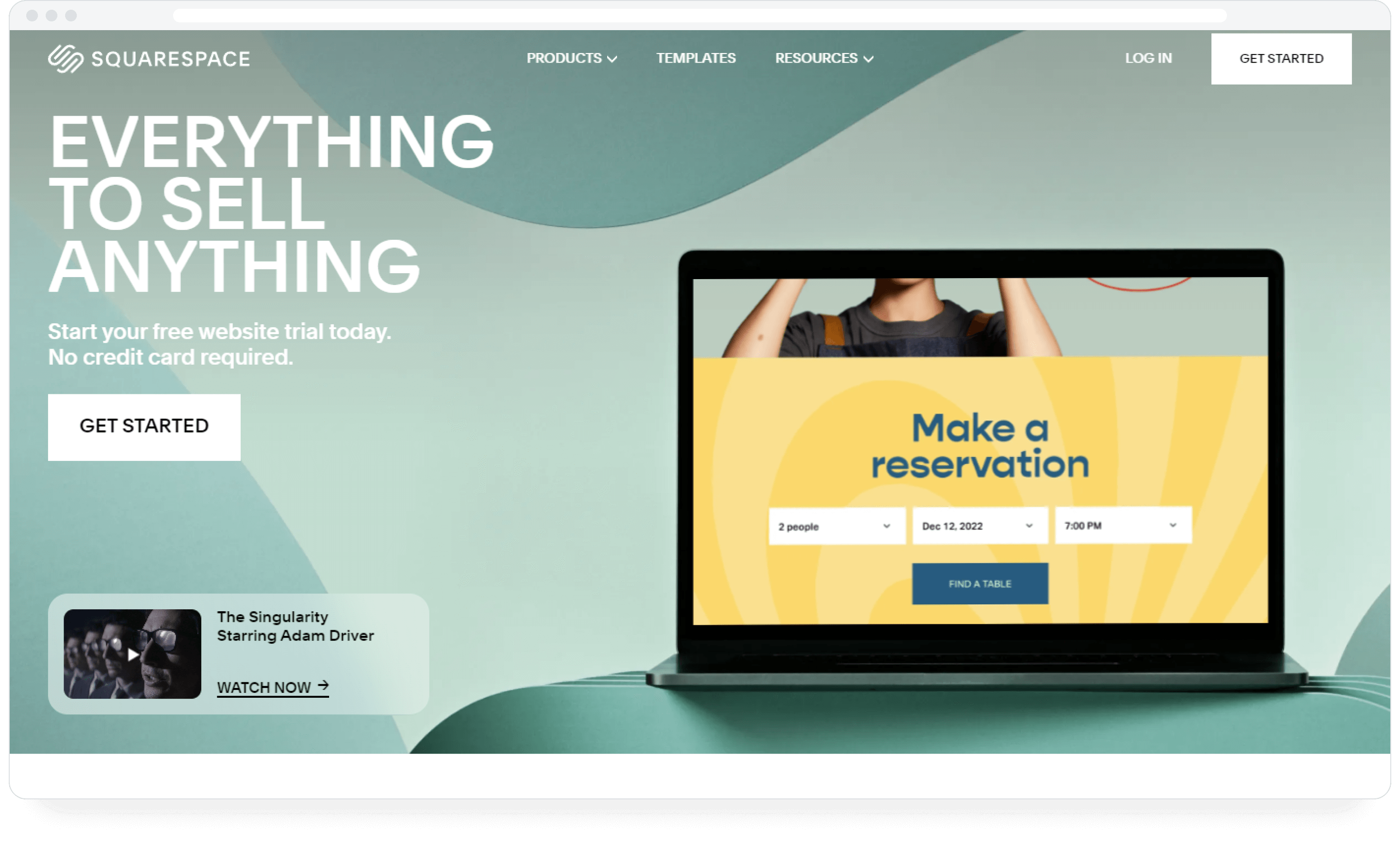 With over 230 templates, Squarespace ensures you're spoilt for choice when building your freelance writing portfolio using the tool. Unfortunately, there's no scope to create a free portfolio because Squarespace is paid.
That said, you get practically every feature you could ask for when building your own portfolio site: a site that's automatically optimized for search, a free custom domain on all the yearly plans, marketing tools, unlimited pages, etc.
Squarespace's primary features
Over 230 gorgeous customizable templates with responsive design for various professions.
Squarespace is basically a website builder, and you can create various sections with multiple content types and page elements.
Has password protection, in-built SEO, and a drag-and-drop editor for easy customization.
While it doesn't require plugins to expand website functionality, it has multiple extensions for integrating third-party tools that manage marketing, finance, etc.
Squarespace's pricing plans
Personal plan: $23/month
Business Plan: $33/month
Commerce Basic: $36/month
Commerce Advanced: $65/month
Writing portfolio website examples using Squarespace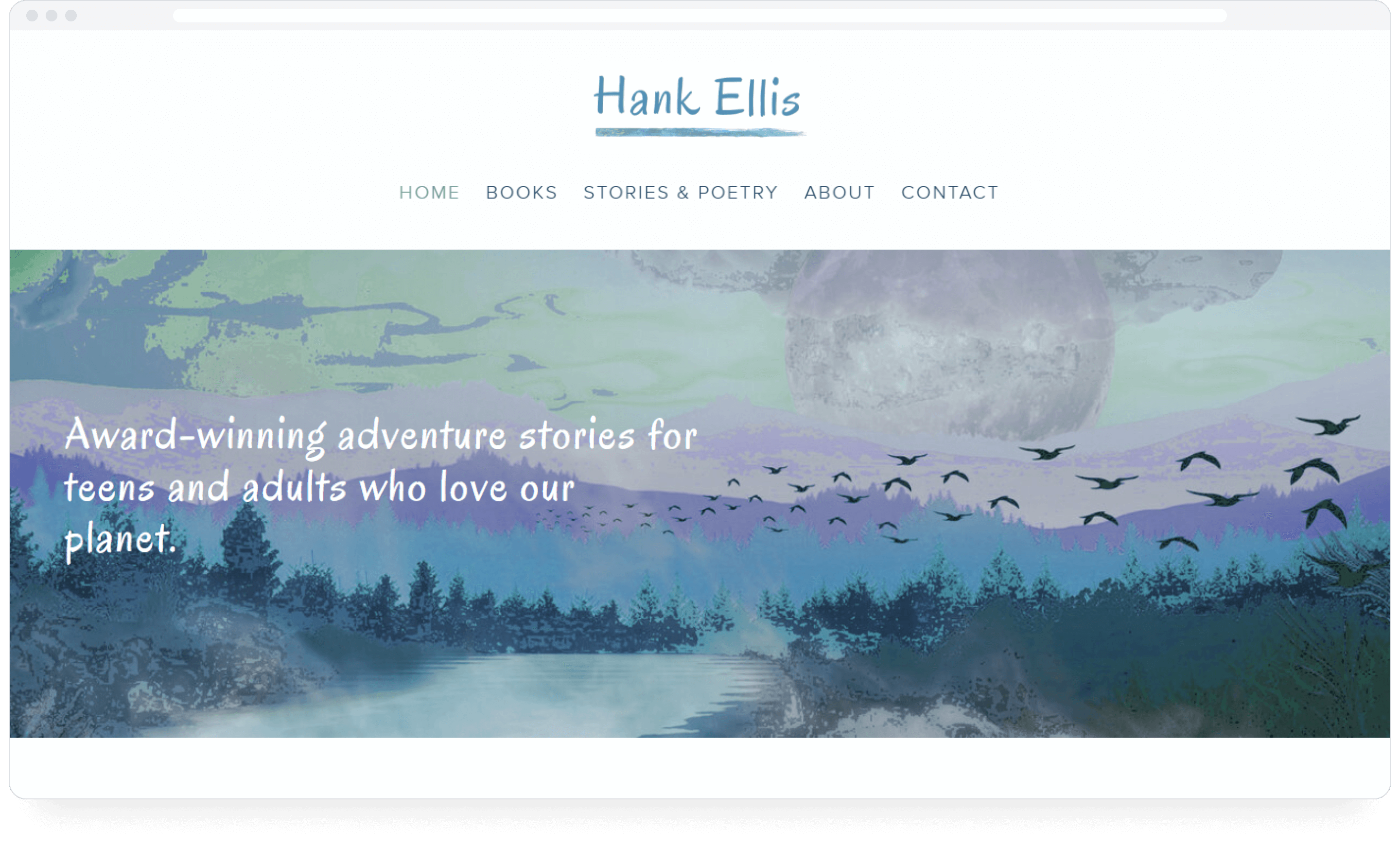 Hank Ellis is a former US Coast Guard serviceman, now author and poet.
For more Squarespace portfolios, click here.
Carbonmade
Carbonmade doesn't have templates, but you can use its plethora of striking design elements to create a genuinely unique responsive portfolio. While there are starting layouts, customizing everything from the portfolio grid to navigation to colors and fonts will probably be more tempting for most.
You can upload an unlimited number of images and videos — in fact, unlike other tools in this list, Carbonmade has a video player that lets you drag and drop 4K HD videos onto your portfolio without having to embed them elsewhere.
Another stand-out point is that the free trial doesn't require a credit card unless you want to go live with your portfolio.
Carbonmade's primary features
Super customizable layout blocks resulting in unlimited design possibilities.
Tons of galleries that support all image formats, videos, PDFs, etc.
All videos have full HD support while loading really quickly, and folks working with video can crop or loop the video inside the tool itself.
Your own domain name plus analytics data about your portfolio.
Carbonmade's pricing plans
Beginner Plan: $9/month
Pro Plan: $12/month
Unlimited plan: $22/month
Writing portfolio website examples using Carbonmade
Erna L Adelson is a copywriter with a decade and a half of experience.
For more examples of Carbonmade in action, click here.
WordPress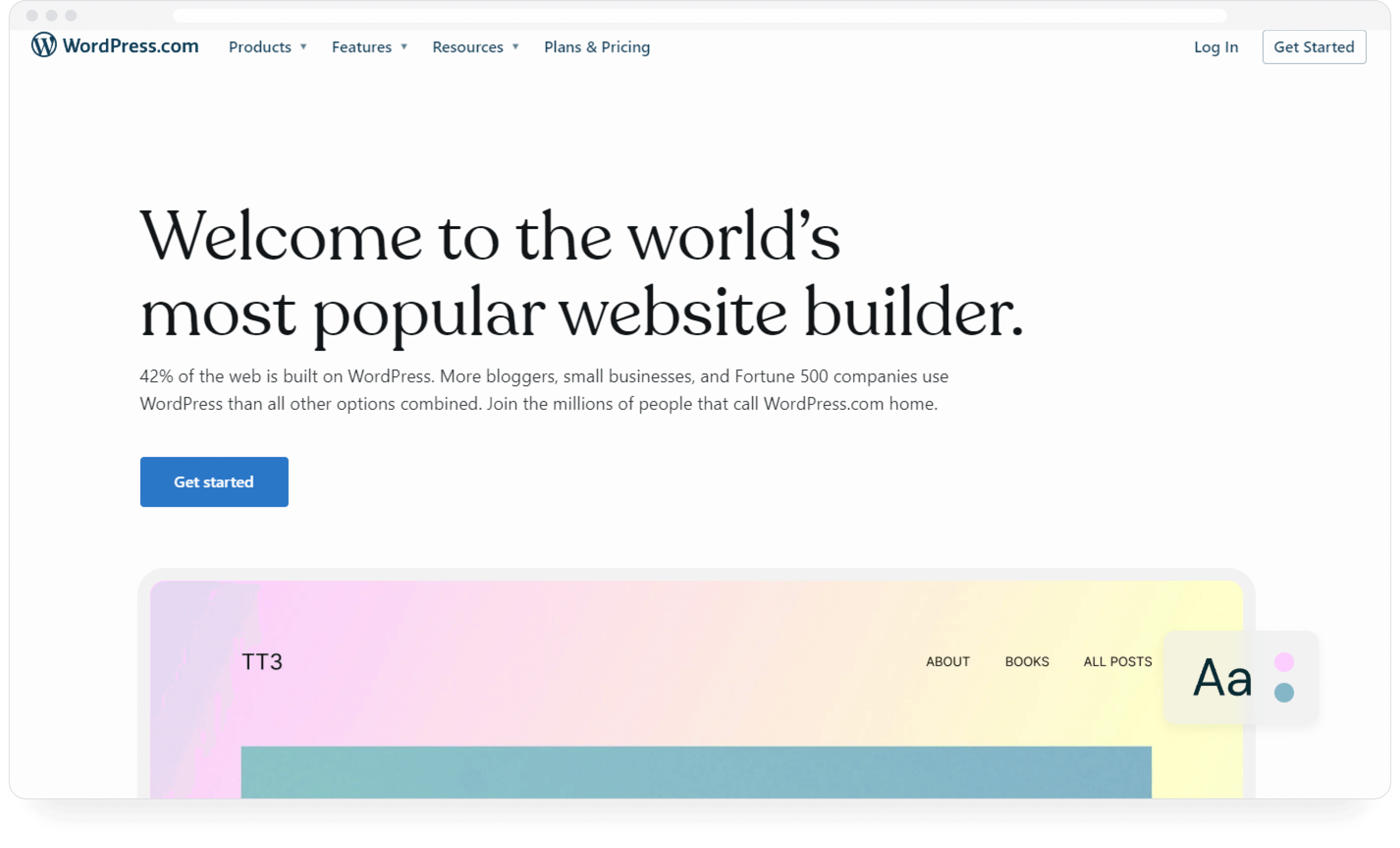 WordPress is arguably the most popular website builder and can be used to build your portfolio. Along with the standard WordPress themes, you also get exposed to unlimited premium themes, giving you total creative control to create a polished portfolio.
With unlimited storage, you can build unlimited pages or have a single page with your projects listed, each with a brief description. It's entirely up to you. You're essentially creating a website for yourself. And while that's wonderful, it can be overwhelming when starting. But there are tons of tutorials online that'll hold you in good stead.
WordPress' primary features
Practically thousands of beautiful templates, where quite a few are perfectly suited to building writing portfolios.
Depending on the template you pick, nearly everything is customizable.
There's an entire ecosystem of add-ons for almost any need that you may have.
Offers in-built SEO and a custom domain name.
WordPress' pricing plans
Personal plan: $4/month
Premium Plan: $8/month
Business Plan: $25/month
eCommerce Plan: $45/month
Writing portfolio website example using WordPress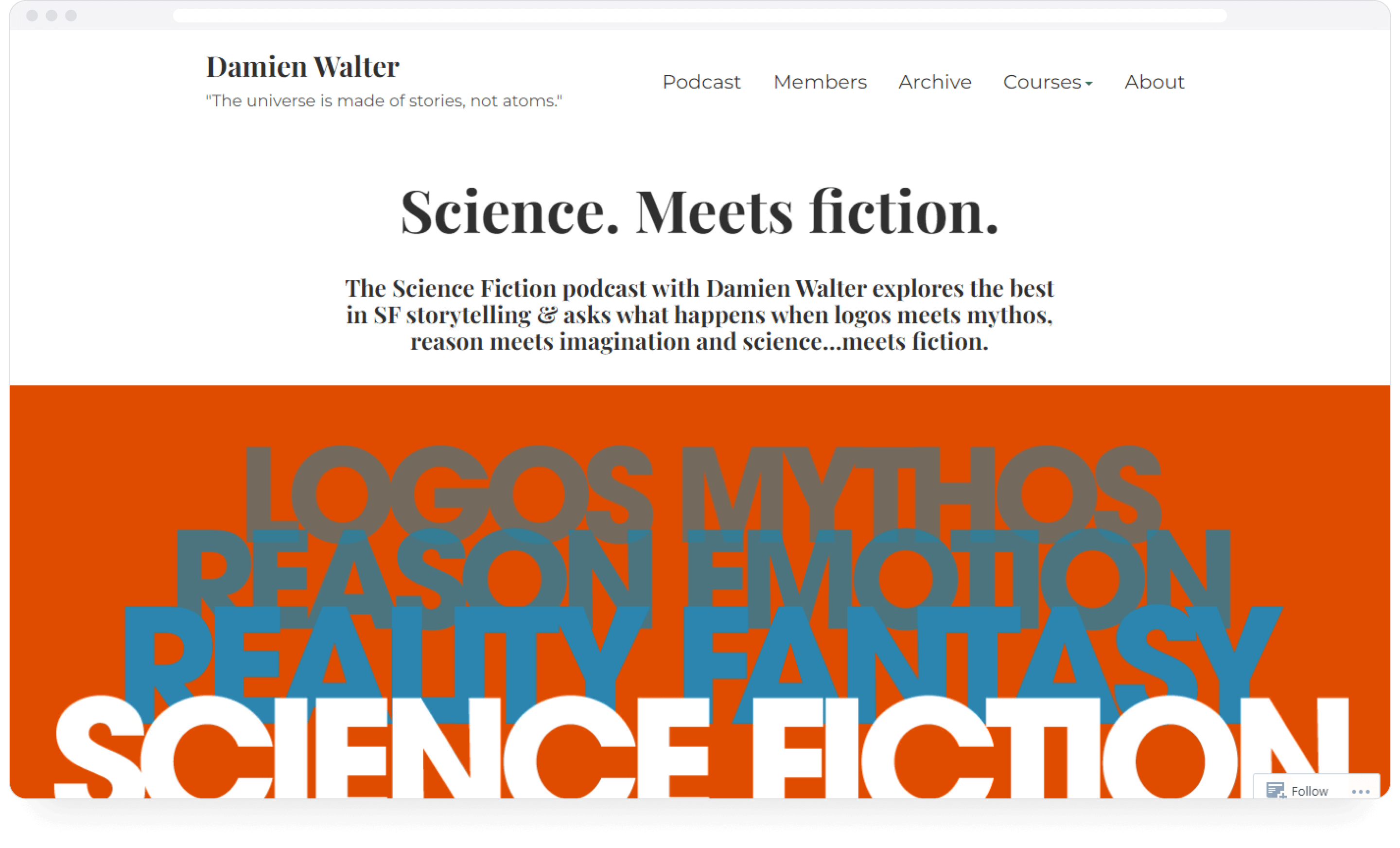 Damien Walter is a writer and storyteller with words in The Guardian, BBC, Wired, Independent, Aeon, and OUP.
Wix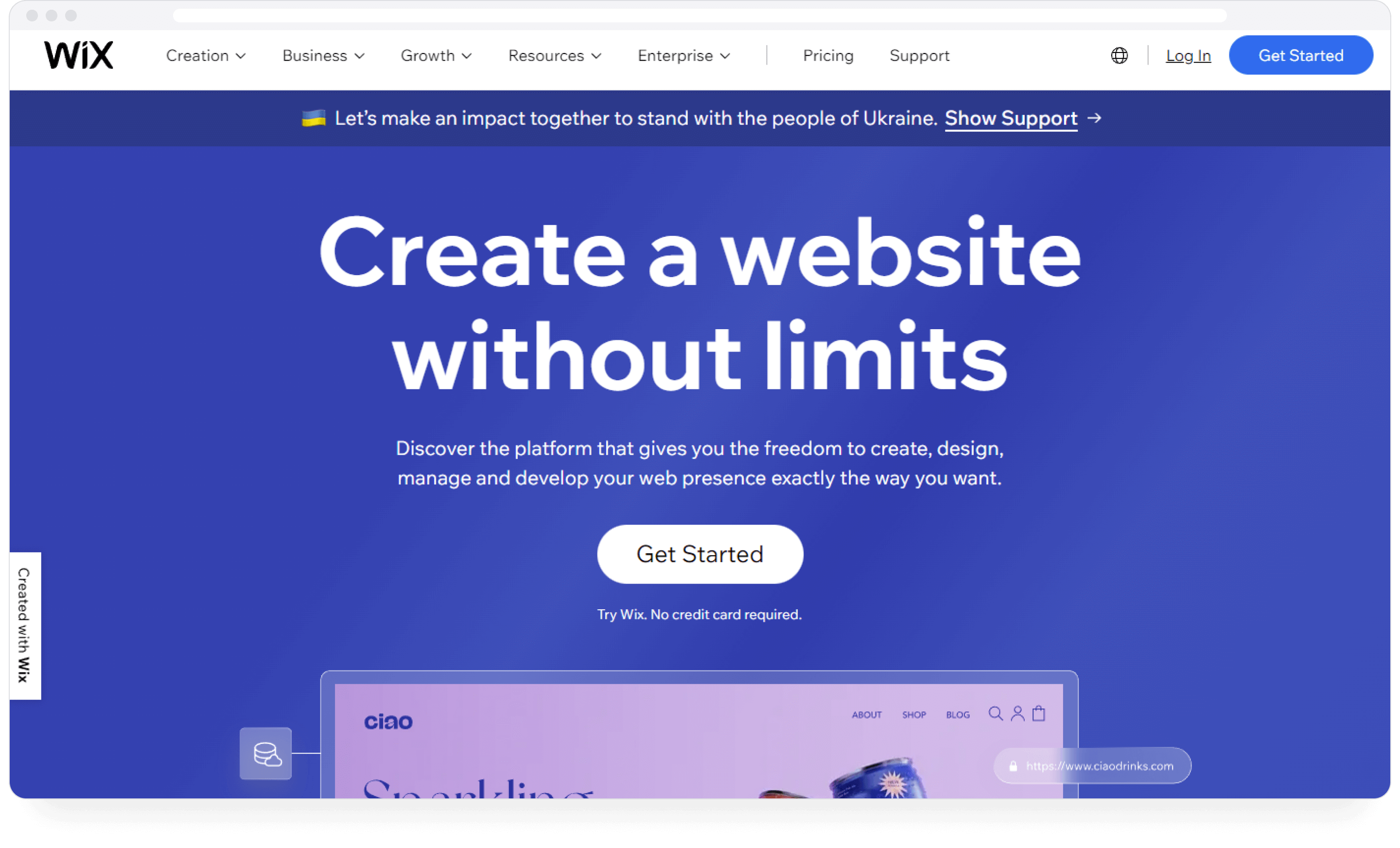 Like WordPress, Wix is a website builder. With over 500 templates, you can build your portfolio site relatively quickly. Wix is super customizable, and their drag-and-drop editor is very beginner friendly, unlike some other tools on this list.
Obviously, Wix can be used to build any kind of website, but there are more than enough templates to make a portfolio that is suited to your needs — images, video, audio, contact forms, etc.
Wix's primary features
More than five hundred exquisitely designed templates.
Complete control over website customizability.
Incredible in-built SEO tools that are industry-leading at present.
Expand your site's function by using the app market — for example, adding Google Analytics integration for your site.
Custom domain name, free web hosting, in-built analytics, SSL certification, and social media integration.
Wix's price
Combo Plan — $16
Unlimited plan — $22
Other plans exist but are targeted toward businesses.
An example of Wix in action
Christina Vanessa is a Fullbright scholar, artist, and designer.
Writer's Residence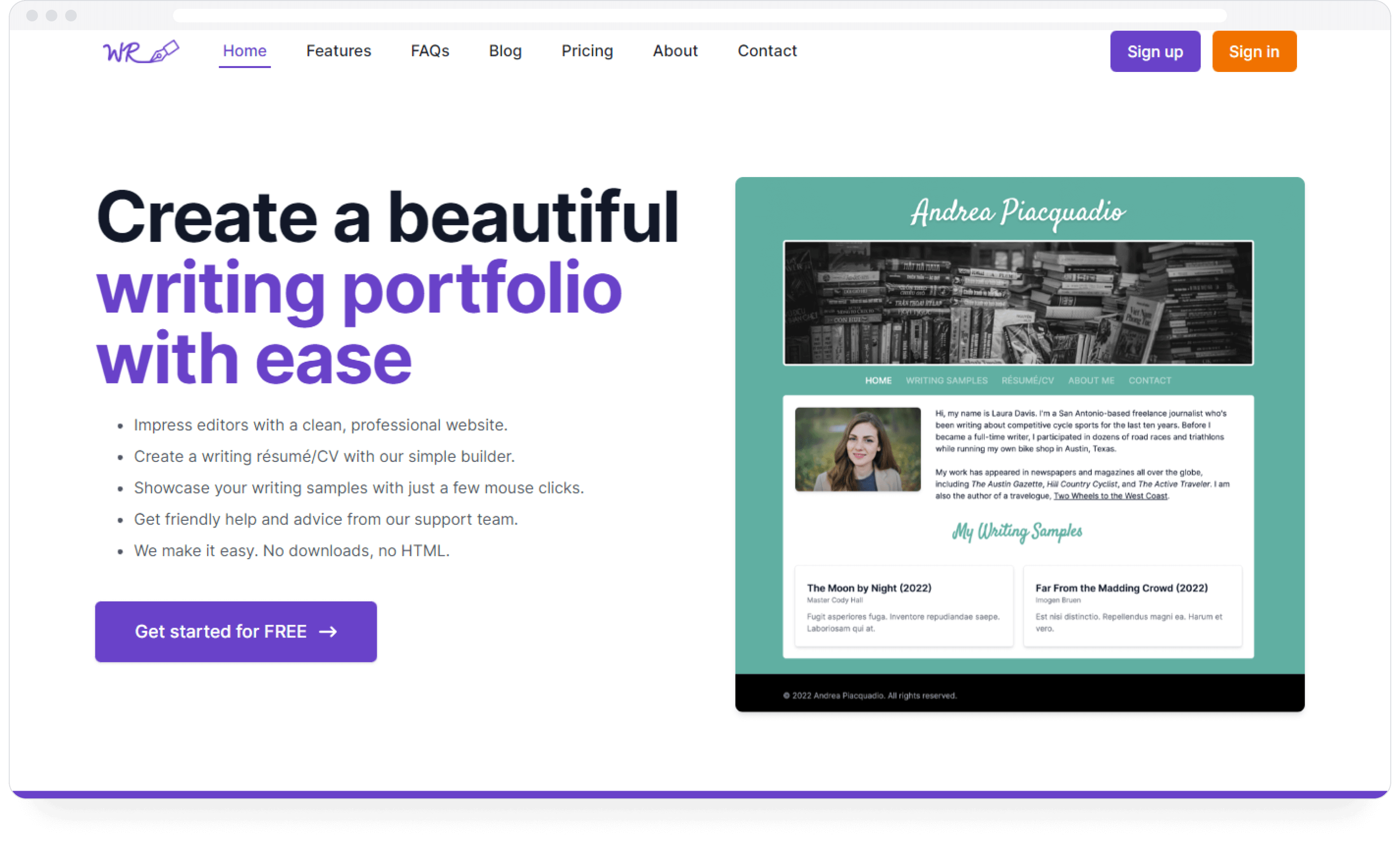 Writer's Residence was started by Monica Shaw, a freelance writer herself. The tool offers writers a basic "brain-dead simple system" for setting up their portfolio websites.
Bring your own domain or use one of theirs, and you can create a professional portfolio without requiring expert-level technical or design skills.
Writer's Residence's pricing plans
$9/month after a 30-day free trial.
An example of Writer's Residence in action
Monica Shaw is a writer and web consultant.
A humongous list of writing portfolio websites
Here's a comprehensive list of writing portfolio examples from writers of all kinds: