The efficacy of WordPress when it comes to website building doesn't need to be justified here. We've all aware that one of the most popular website builders in the world has plenty of great features to offer anyone who wants a 2023-ready site.
However, not every website is equal, and not every tool can build every website. When it comes to portfolio websites, WordPress can undoubtedly help you create an exquisite specimen, especially if you want a site with visual appeal. But, like anything else in the world, WordPress has its gaps.
In the context of portfolio building, there are tools that may actually suit you better (depending on your individual requirements), compared to WordPress. In this article, I'll discuss 10 such tools so that you can make a more informed decision when picking your online portfolio builder (and so that you don't have to spend two finds trying out each tool as I did).
📖
What you'll get out of this article:
• A detailed glimpse into ten exceptional portfolio-building tools that are perfect WordPress alternatives
• And our pick for the best WordPress alternative
10 exceptional WordPress alternatives
Authory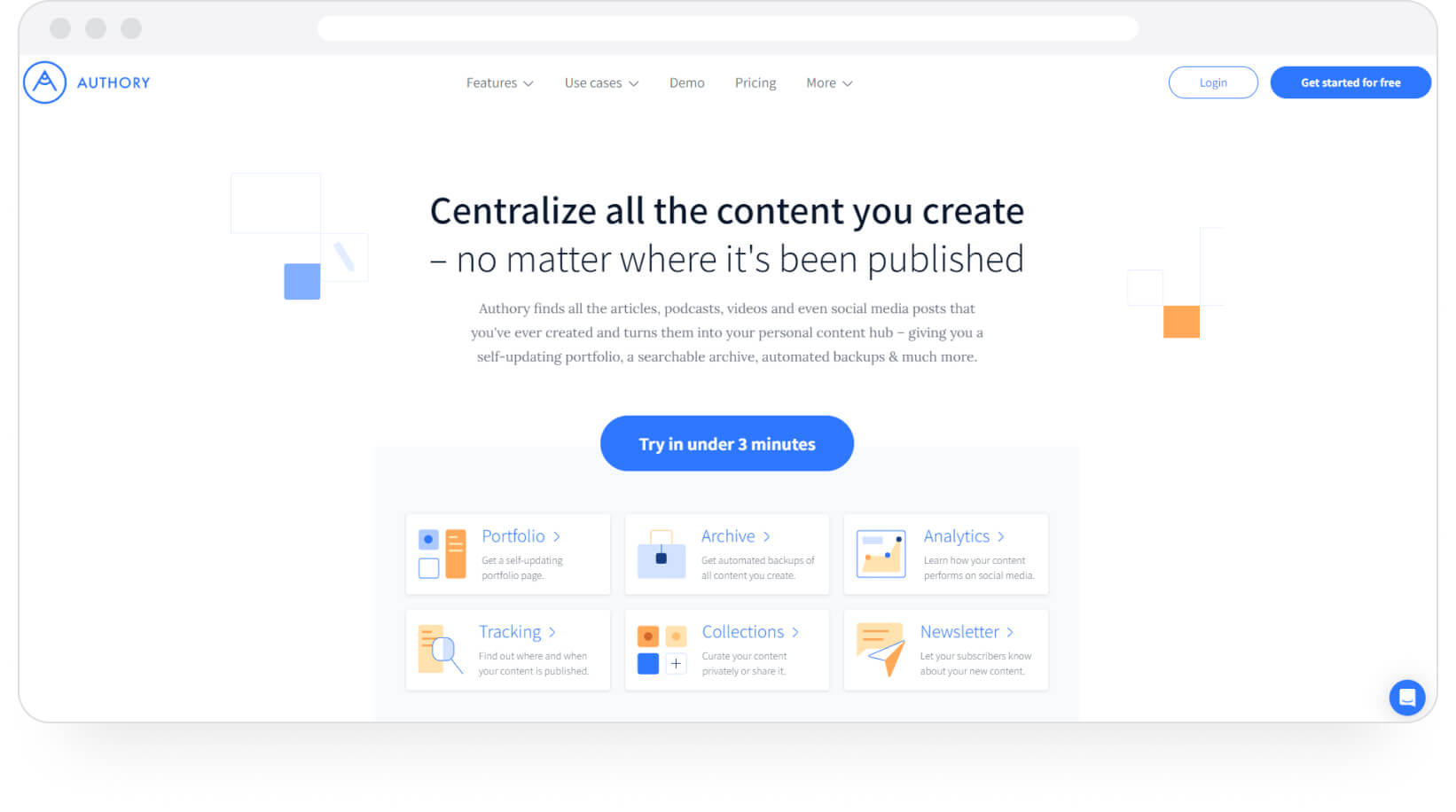 This WordPress alternative doesn't just offer a customizable interface with sharp, professional designs, in-built searchability, search engine optimization, and responsive design. It goes a step further and actually creates your portfolio for you.
When you enter the URL of the websites (including social media networks and podcast platforms) where your content is published into Authory's system, the tool will literally find ALL your bylined pieces and import a copy of each piece into its own servers.
In 48 hours or less, all your published pieces become available at one single location, only accessible to you. You can organize them into relevant Collections, and add these collections to your portfolio with a click. Basically, you let Authory bring all your work to you, and then you spend 3 minutes arranging them into a professional portfolio — FAR less than required to set up a WordPress site.
You no longer have to manually track down and save all your published pieces. That's Authory's job.
The tool also automatically saves all imported content in its database, so you'll never worry about losing any of your published work. In the event that the original publication link dies, you'll always have a copy safely stored with Authory.
Authory will automatically import and save not just your existing content (on the sites you previously specified), but any future content you publish on those sites. In other words, Authory will continue to import and save your future content.
Outside of the above, a few of Authory's secondary features also make it a favorite among its audience:
All imported data is permanently backed up in the ORIGINAL format (text/media) rather than screenshots.
Enables the creation of a custom domain name for your portfolio.
All imported content is available for immediate download as high-res PDFs or exportable as HTML files — no lock-in period.
Email notifications every time Authory imports a new content piece.
Allows the inclusion of text, audio, and video content.
Advanced analytics that offers real numbers on how your content is performing — engagement, readership — across the internet, including popular social media sites.
Lets you create newsletters with a couple of clicks. Once you set it up, Authory automatically sends newly published content to all your subscribers.
Widgets to display your portfolio on other sites, such as your personal website (if you have one).
Authory portfolio example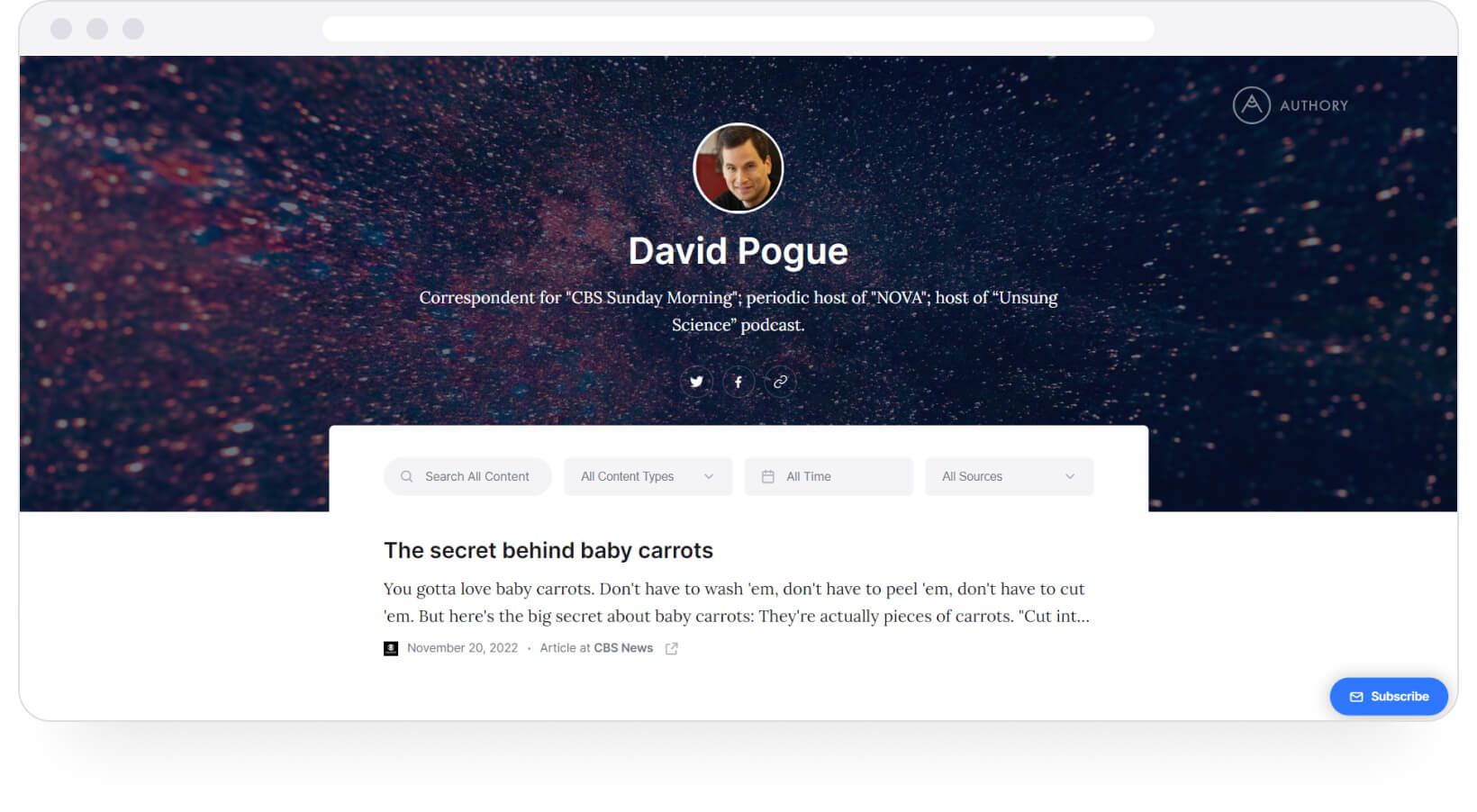 Journo Portfolio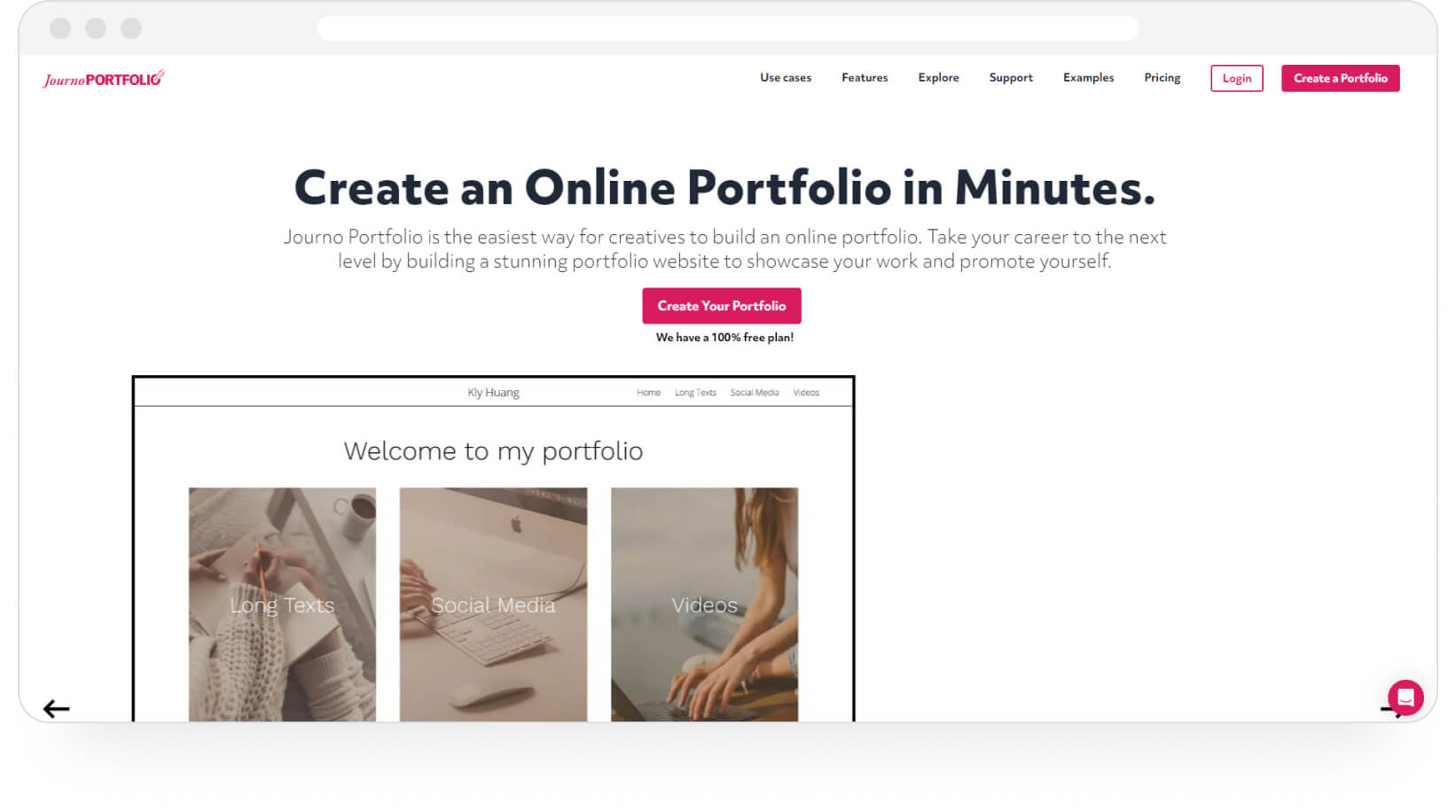 This portfolio website builder caters to writers, journalists, copywriters, photographers, illustrators, artists, designers, etc. According to the website, more than 250,000 people have used Journo Portfolio.
The following features make this tool one of the best WordPress alternatives in the market:
You can import content in multiple formats: PDF, image, URLs, and embed from multiple external sources like YouTube, SoundCloud, Vimeo, Spotify, Twitter, Facebook, Instagram, etc.
Feed the URL of any published content, and the tool will extract the title, publication date, image, description, and publication name.
A wide range of pre-designed sections and themes you can combine to create a portfolio relatively quickly.
Enough design options you can use to play around with your profile's appearance. For instance, you can showcase your work in a grid, a blog, a column, or an image gallery.
Imported content is backed up, so you won't lose your work. However, backup is in the form of screenshots, so you cannot edit anything (unlike Authory).
Use advanced features like passwords and secure-link privacy options to limit access to the portfolio — either a single page or the whole thing.
Quick and private analytics support to track visits and engagement with your portfolio website. You can also integrate with Google Analytics.
Add a contact form and social media links to your portfolio if you want.
Use integrated blogging and newsletter features (linked with Mailchimp and social media accounts) to send content automatically to subscribers.
Example of a portfolio made with Journo Portfolio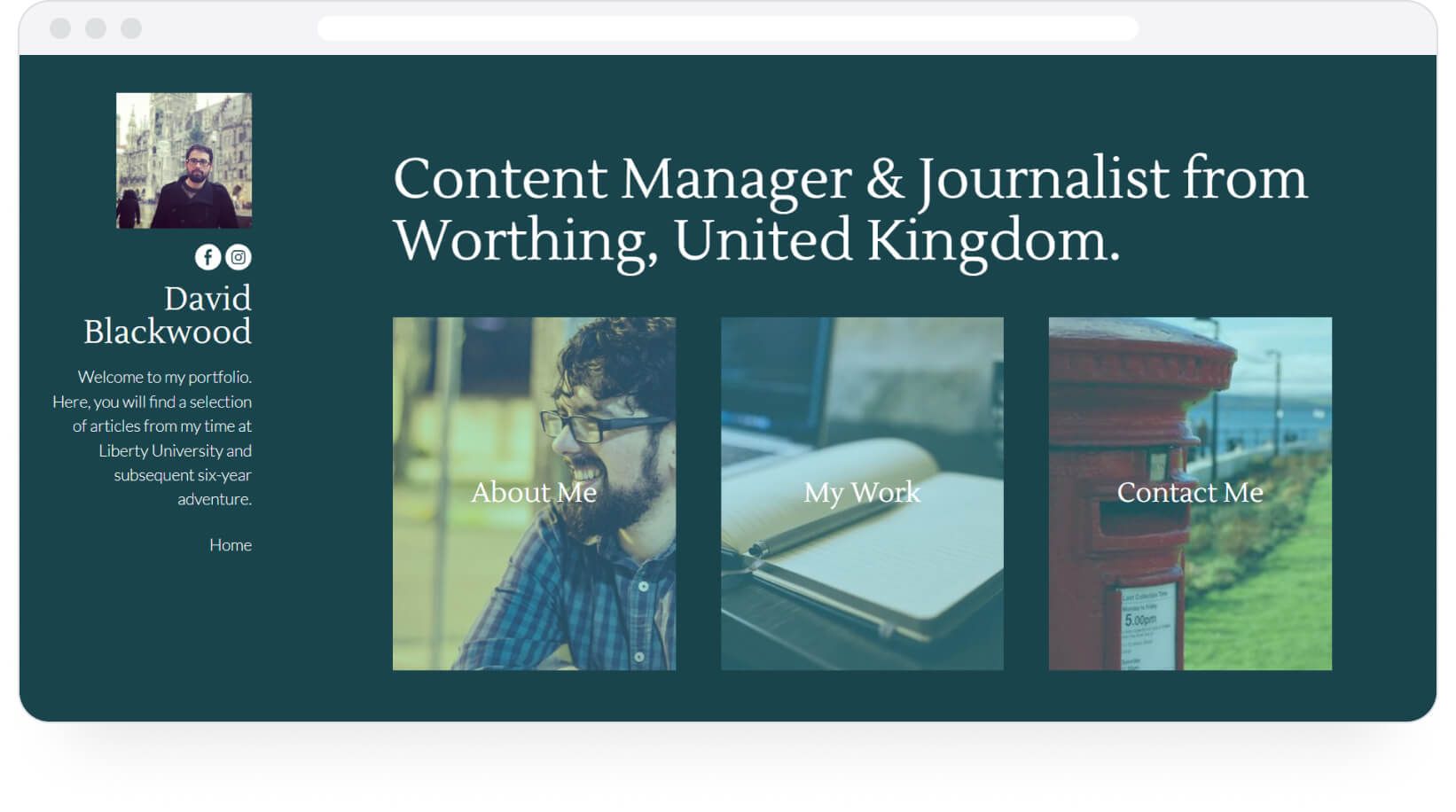 Portfoliobox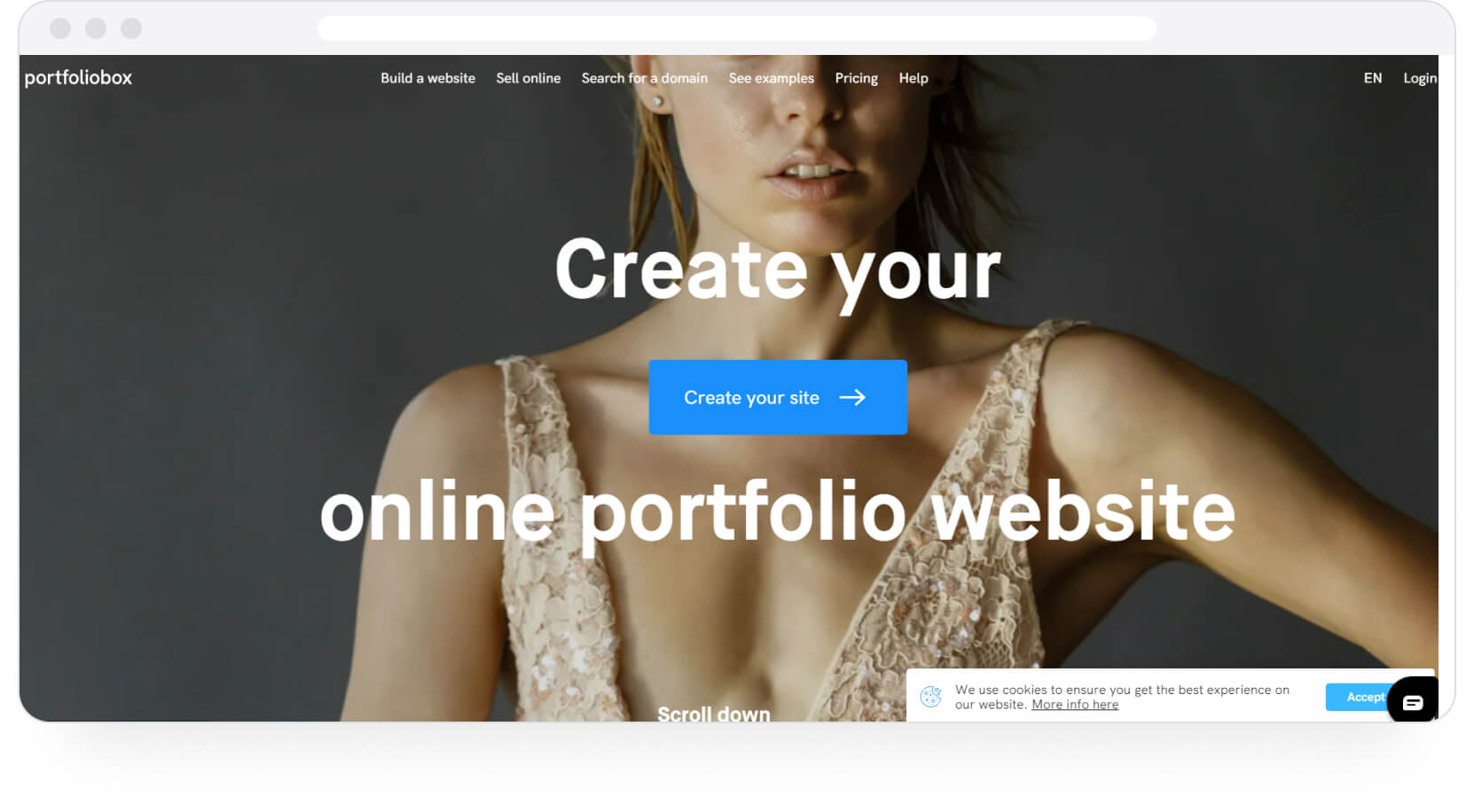 Portfoliobox helps you create lush, layered, visually alive portfolios, making it an excellent option if you work with visual media like photography and graphic design.
Unlike the other website-building tools I tried out, this one lets you use a different theme for every page of your website (if you're creating a multi-page portfolio). You can see why artists, designers, stylists, models, photographers, illustrators, and their kin can work magic with such a stylistically liberating ability.
Portfoliobox also offers responsive templates, dynamic galleries, and a project/content management system. You can send content to clients and receive feedback within the tool. You also have password protection for galleries so your work can be viewed without anyone downloading it.
There's also a watermarking tool so you can secure the images you own, as well as integration with Adobe Lightroom. You can use the tool's eCommerce features to sell your work directly from your portfolio's online store.
Example of a portfolio built with Portfoliobox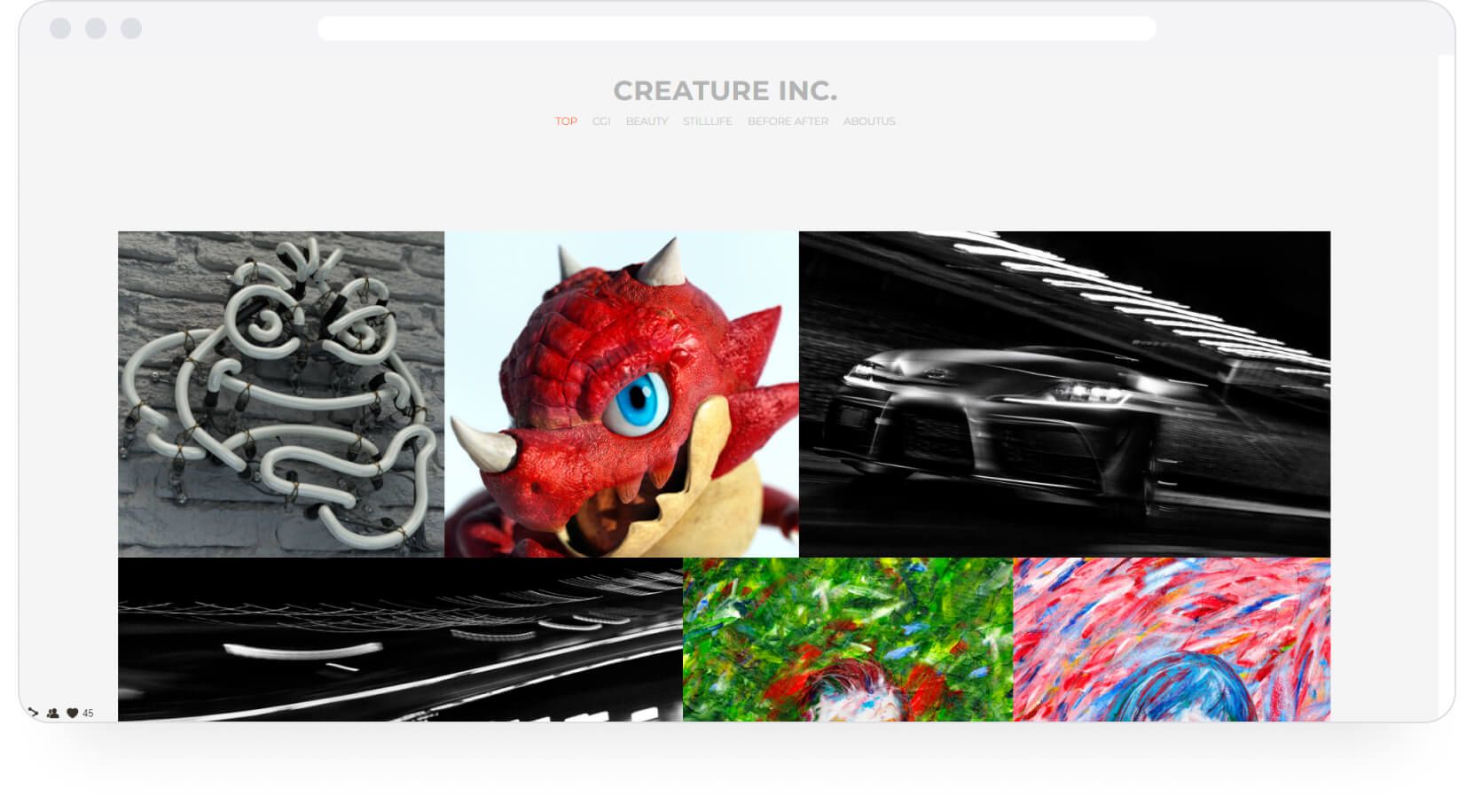 Squarespace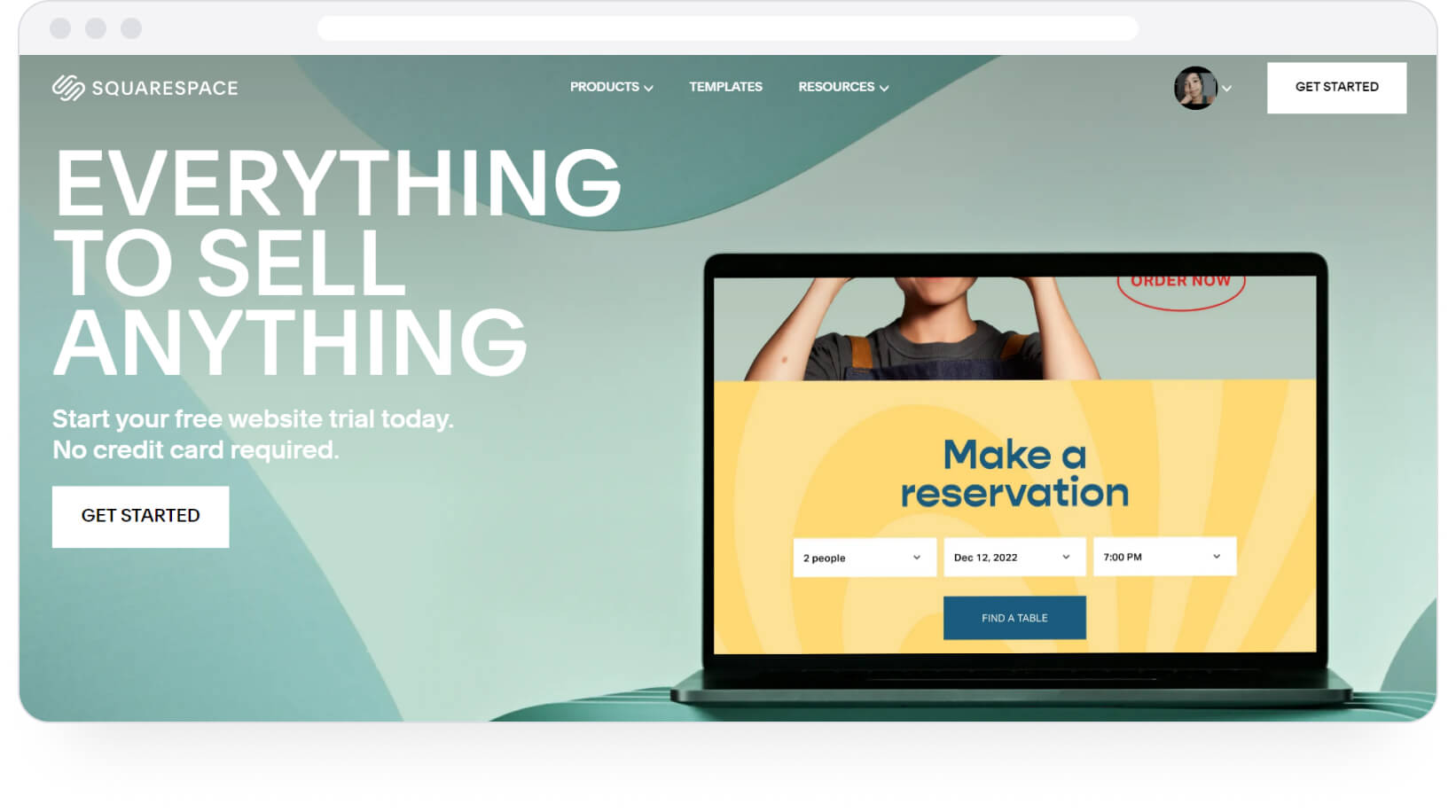 If you want to create visually expansive and textured websites, Squarespace is among the best WordPress alternatives you can choose. With gorgeous customizable templates tailored for different website types (personal, portfolio, company, business, etc.), getting started with Squarespace is fairly simple.
You can pick from among thousands of templates that come equipped with necessary site sections — Contact, About Me, Blog, Products, Portfolio, eCommerce store, and the like. Combine your out-of-the-box imagination with these elements (and much, much more), and you'll have an entirely unique portfolio website to call your own.
You can include multiple content types and page elements: text, photos, videos, audio, galleries, products, newsletter sign-ups, appointments, calendars, tour dates, reservations, menus, forms, maps, links, files, social links, buttons, quotes, custom code, charts, etc.
To boost your website's chances of success, you can also leverage SEO, password protection of single or multiple pages in your portfolio, in-built eCommerce features, and numerous extensions to manage marketing, finance, sales, products, inventory, shipping, and other necessary business functions.
Squarespace portfolio example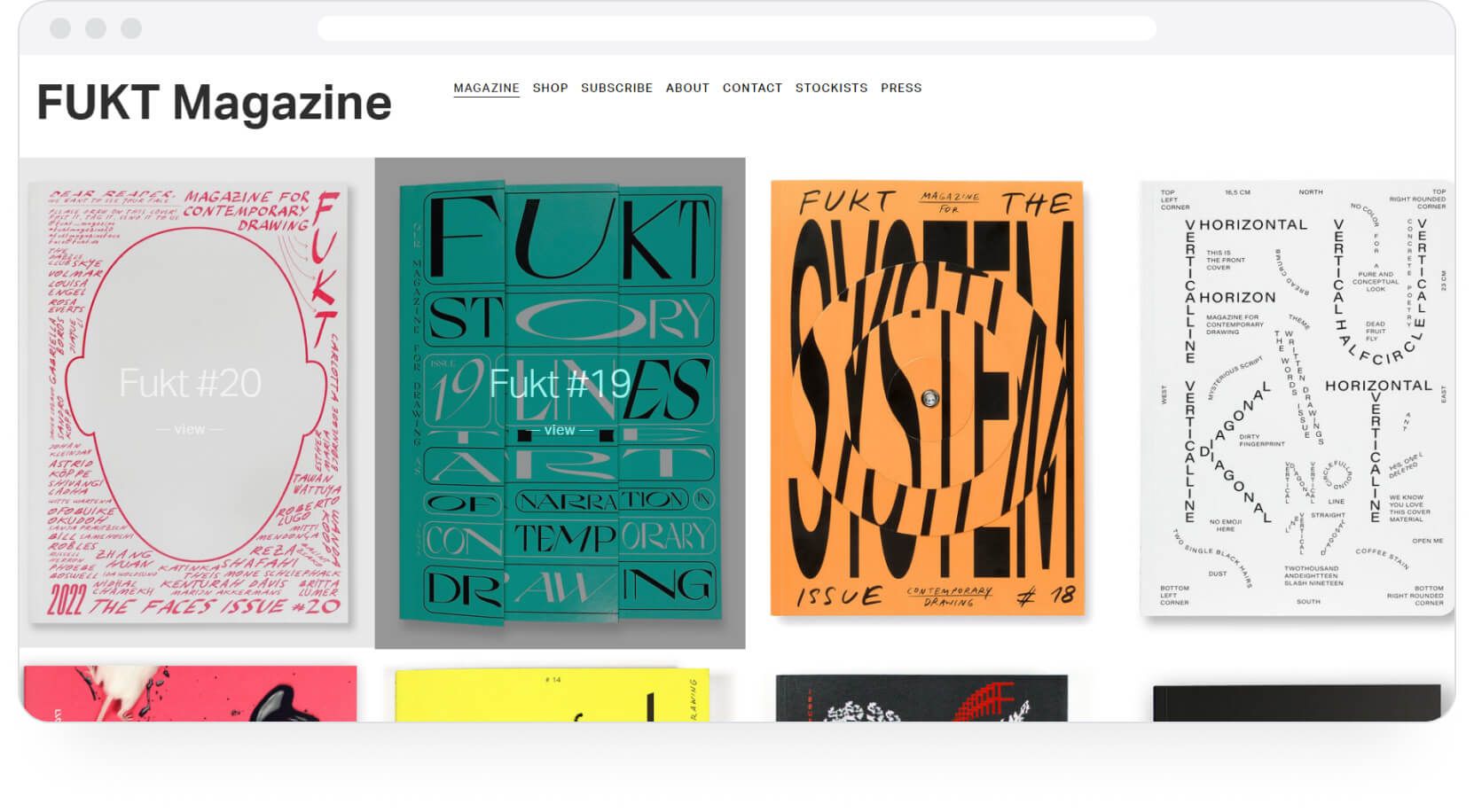 Format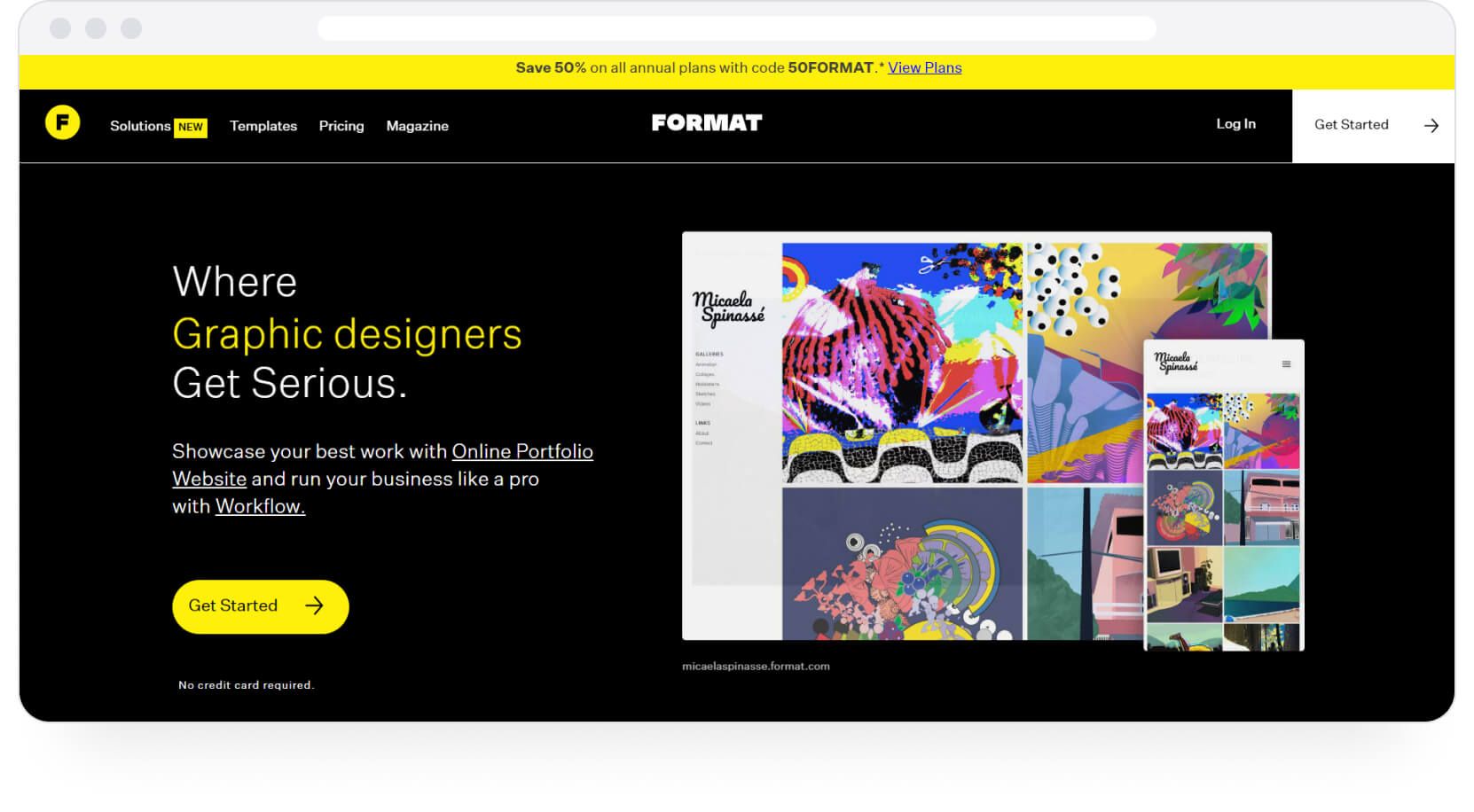 Much like Squarespace, Format is also an ideal tool for building websites (including portfolios) with a visual-first bend. The tool provides templates that feature award-winning designs and are especially meticulous about using white space.
All templates are optimized for mobile devices. Photographers, in particular, will get excellent use out of Format since it provides features to protect images from unauthorized usage as well as cloud storage for photos. You also get solid social media integrations so as to grow your online following on different, relevant platforms.
It's quite easy to switch between templates. You can even write blog posts (so you can treat it as a blogging platform when you need to) instantly within your Format portfolio itself. There are also some project management features that tend to be quite helpful.
Format portfolio example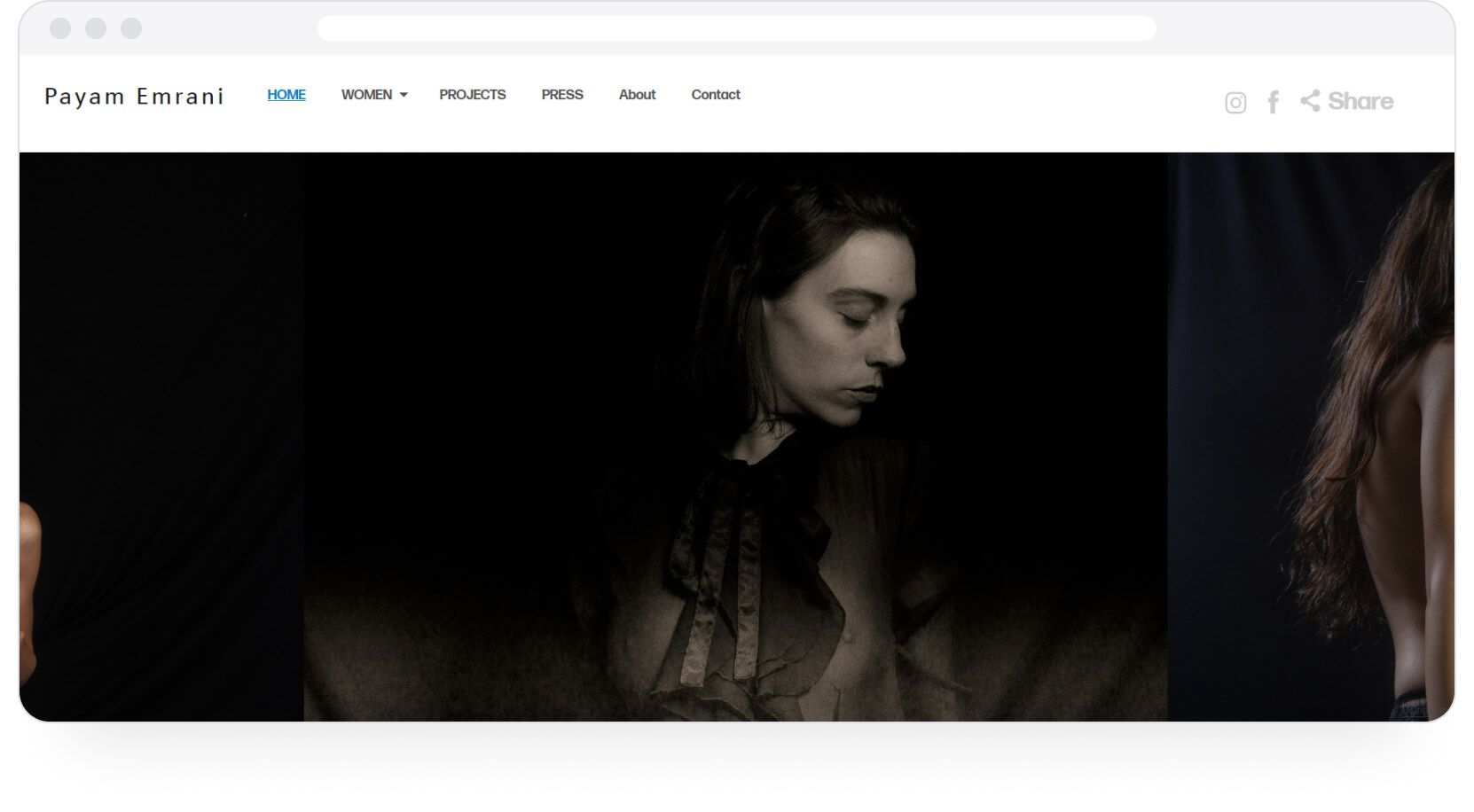 Jimdo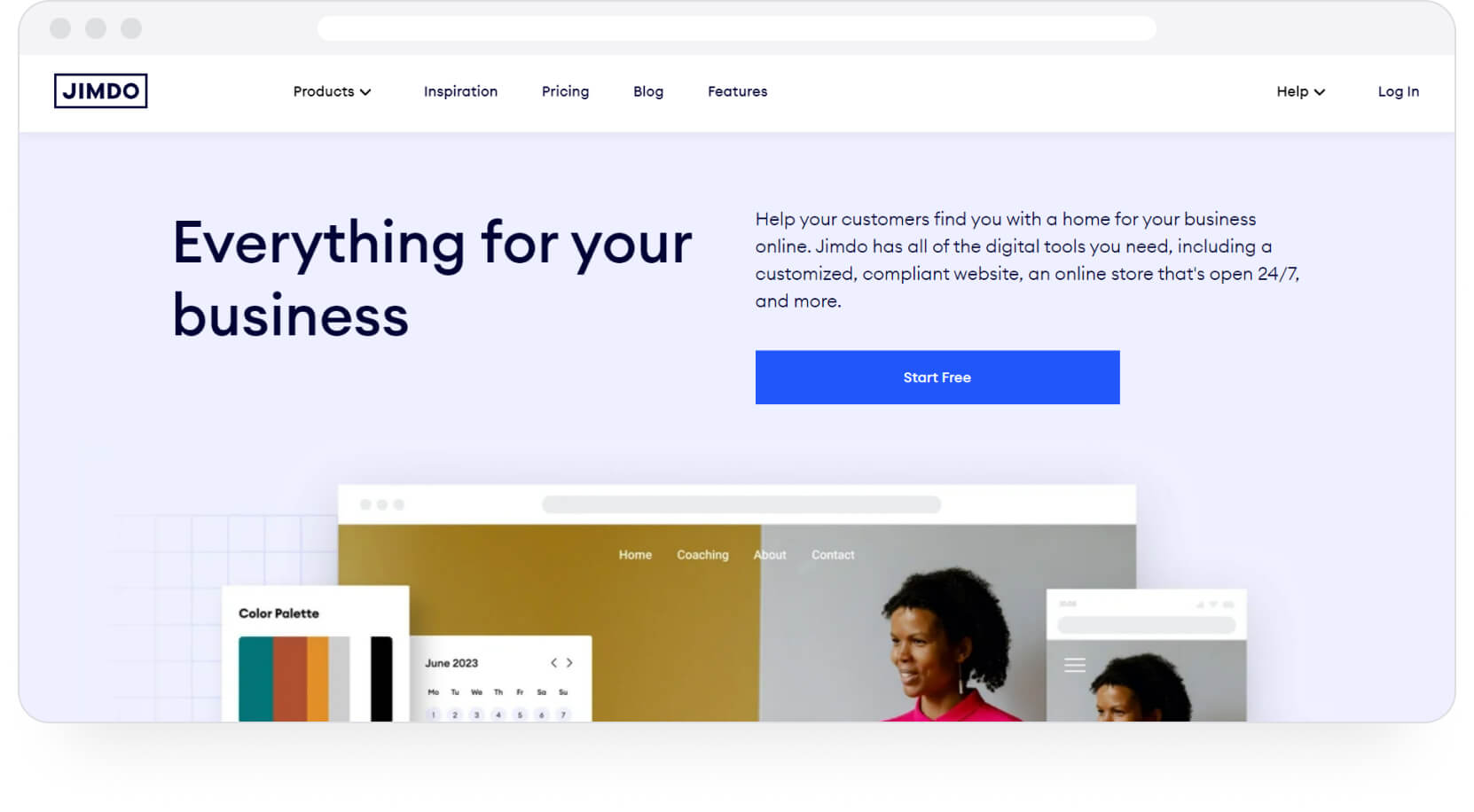 Jimdo might not come with a massive set of website-building capabilities, unlike WordPress. But it is easier to get started with, has all the basics & necessities, and, more importantly, is cheaper than WordPress. So, if you're working on a budget to create your own website, give Jimdo a gander.
While Jimdo's design options are more limited compared to some other tools on this list, they are more than enough for writers, journalists, and thought leaders. As long as your work isn't primarily in a visual format, you'll get what you need from Jimdo.
The templates are appealing enough, though they may not feature award-winning designs. You can also switch between templates, and use Jimdo's mobile editor and ADI builder to configure and set up your portfolio.
Jimdo's SEO tools aren't the best in the domain, but definitely provide everything required by beginners. There's an 'automatic SEO' option that will fill in basic information (SEO related) for you, which is, again, an exceptionally beginner-friendly feature. You also get a free logo and a free custom domain for your first year on Jimdo.
Last but definitely not least, Jimdo portfolios can integrate easily with popular social media sites.
Jimdo portfolio example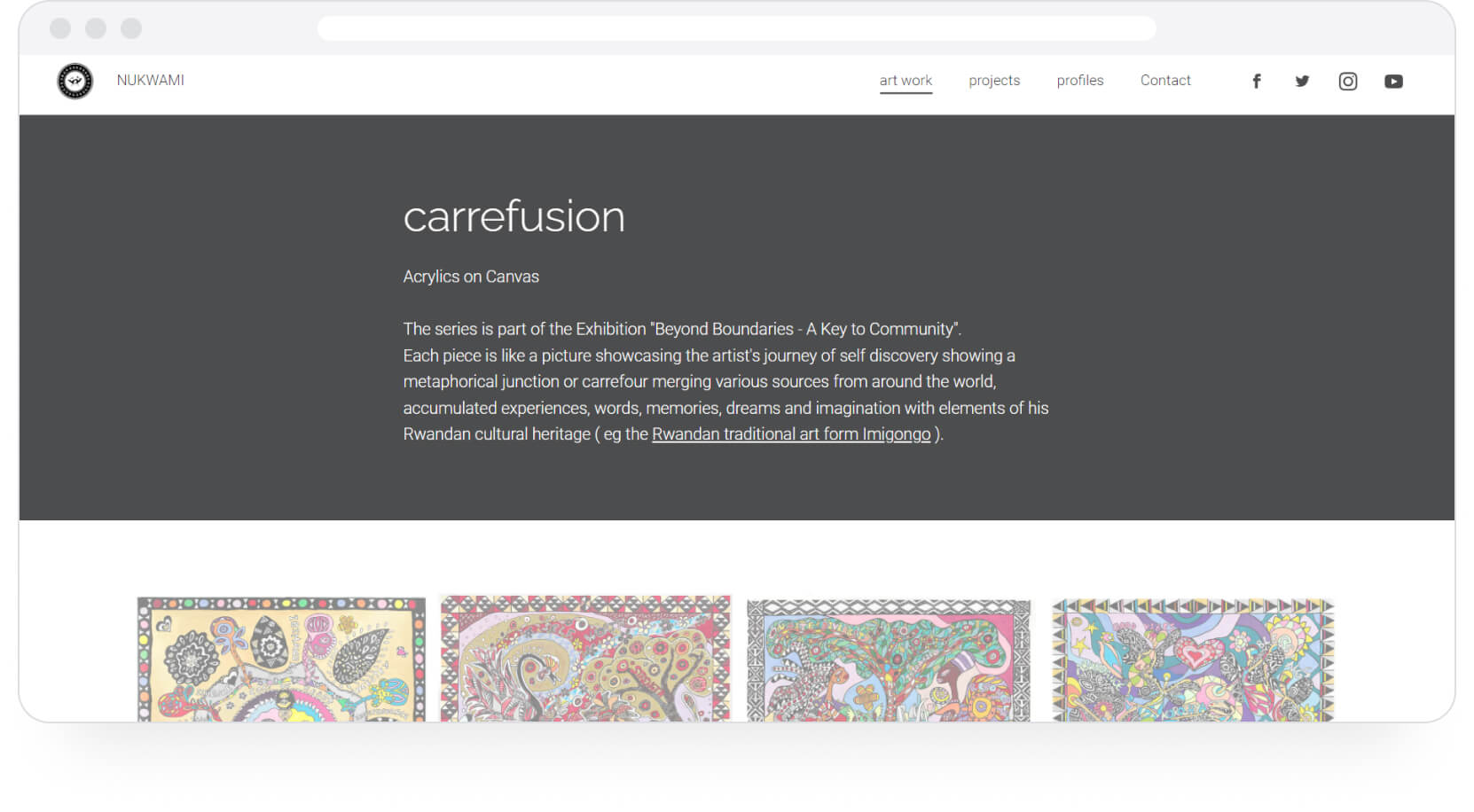 Contently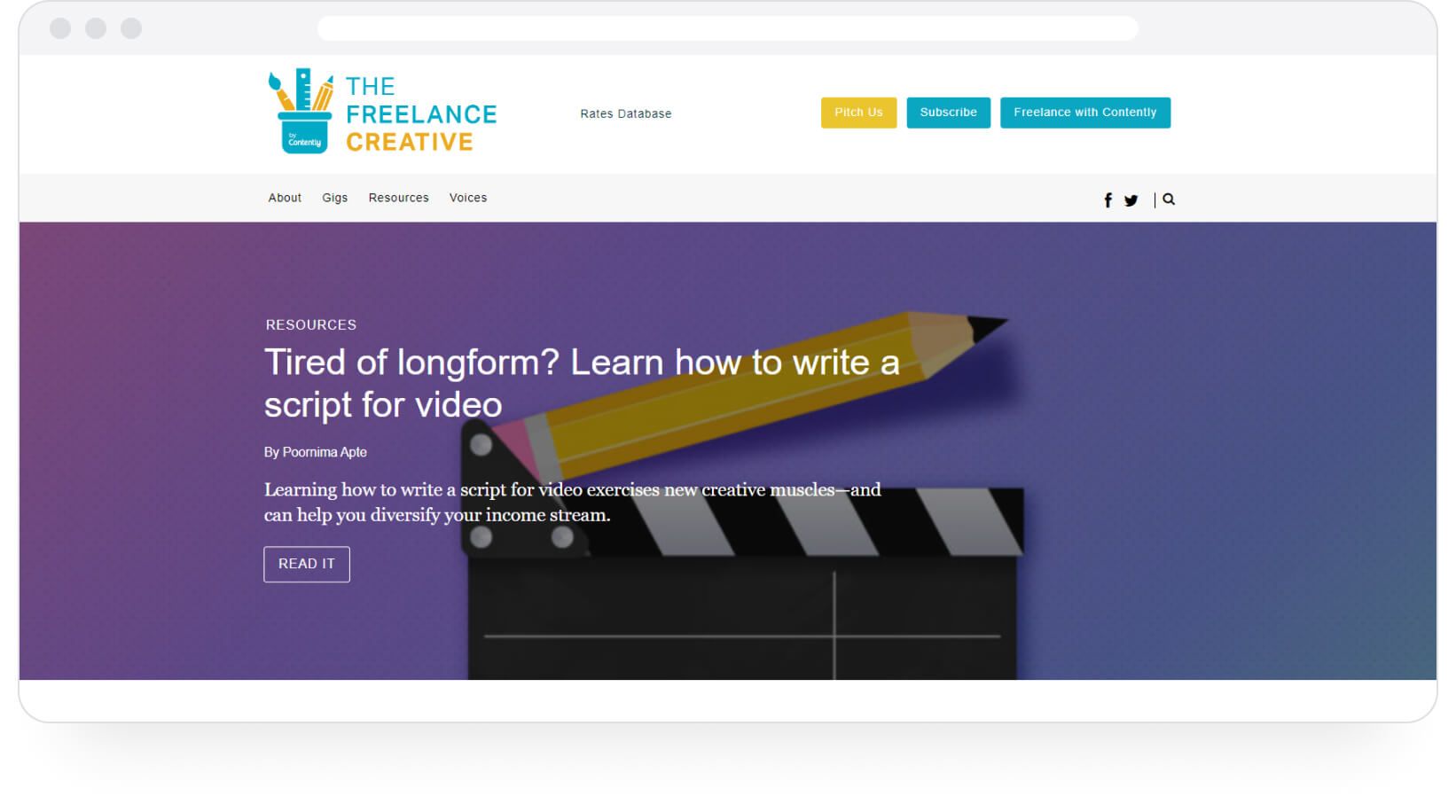 This free WordPress alternative is a goldmine for writers looking for freelance work. But there's a catch.
Your Contently portfolio is only really useful for soliciting work on Contently's freelancer platform. In other words, you sign up for Contently (a free account) and create a simple, single-page portfolio that the system matches with the right clients looking for freelancers.
You can certainly use your Contently portfolio to communicate with clients outside Contently. But these portfolios are basically online one-pagers with a disorganized list of work samples. They might not impress recruiters/employers who are used to much more "modern," feature-laden, online portfolio sites.
Contently portfolios use a run-of-the-mill format that includes only the essentials. Again, this portfolio is only useful for locating freelance work within the Contently network. I'd give Contently a pass if you're looking for a tool that offers an all-purpose portfolio (one you can send to all recruiters/potential employers).
However, I recommend setting up a Contently portfolio in addition to your primary portfolio — the one you can create using tools like Authory, Squarespace, and the like. It's an excellent way to access a robust freelance network, and who doesn't like more money? And again, it's totally free.
Contently portfolio example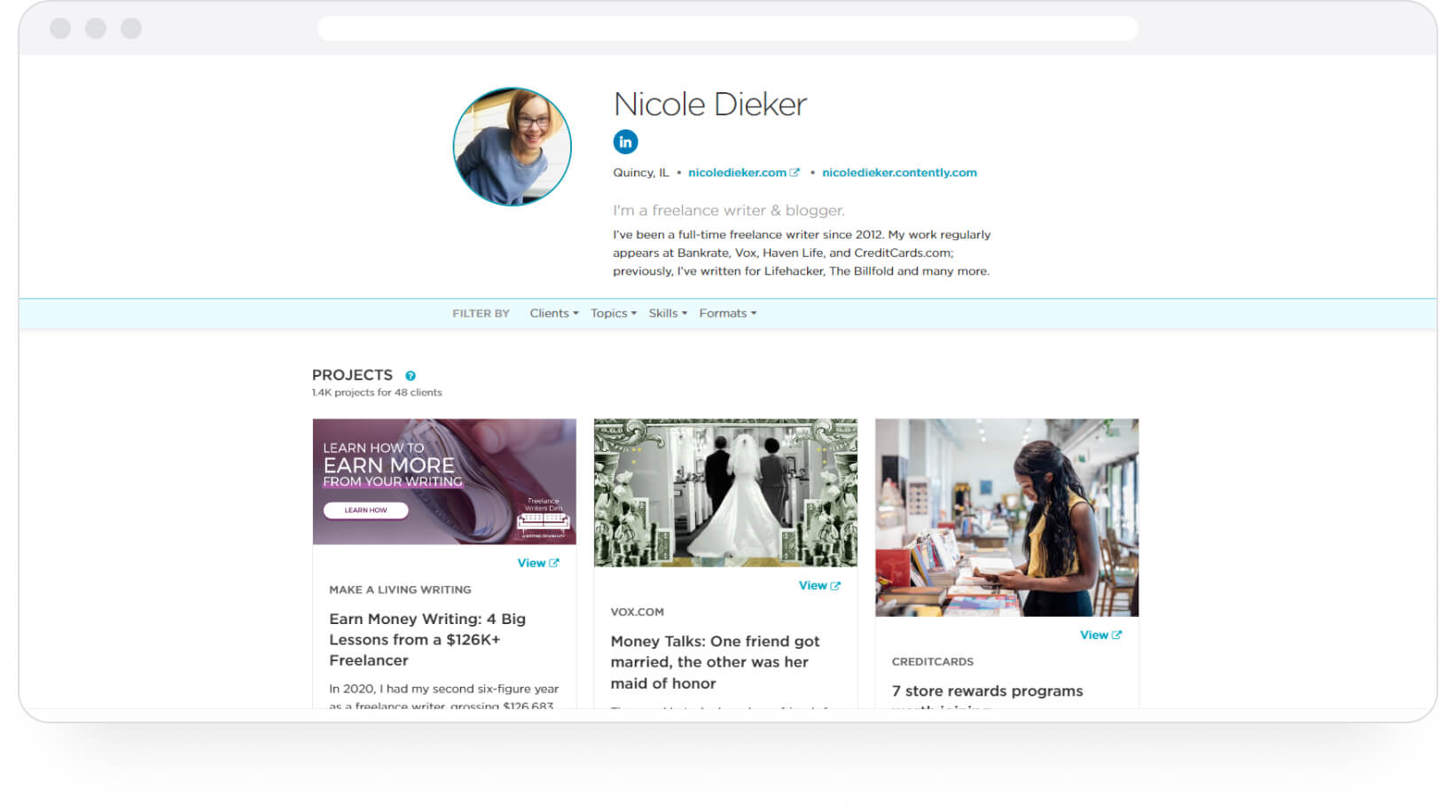 Muck Rack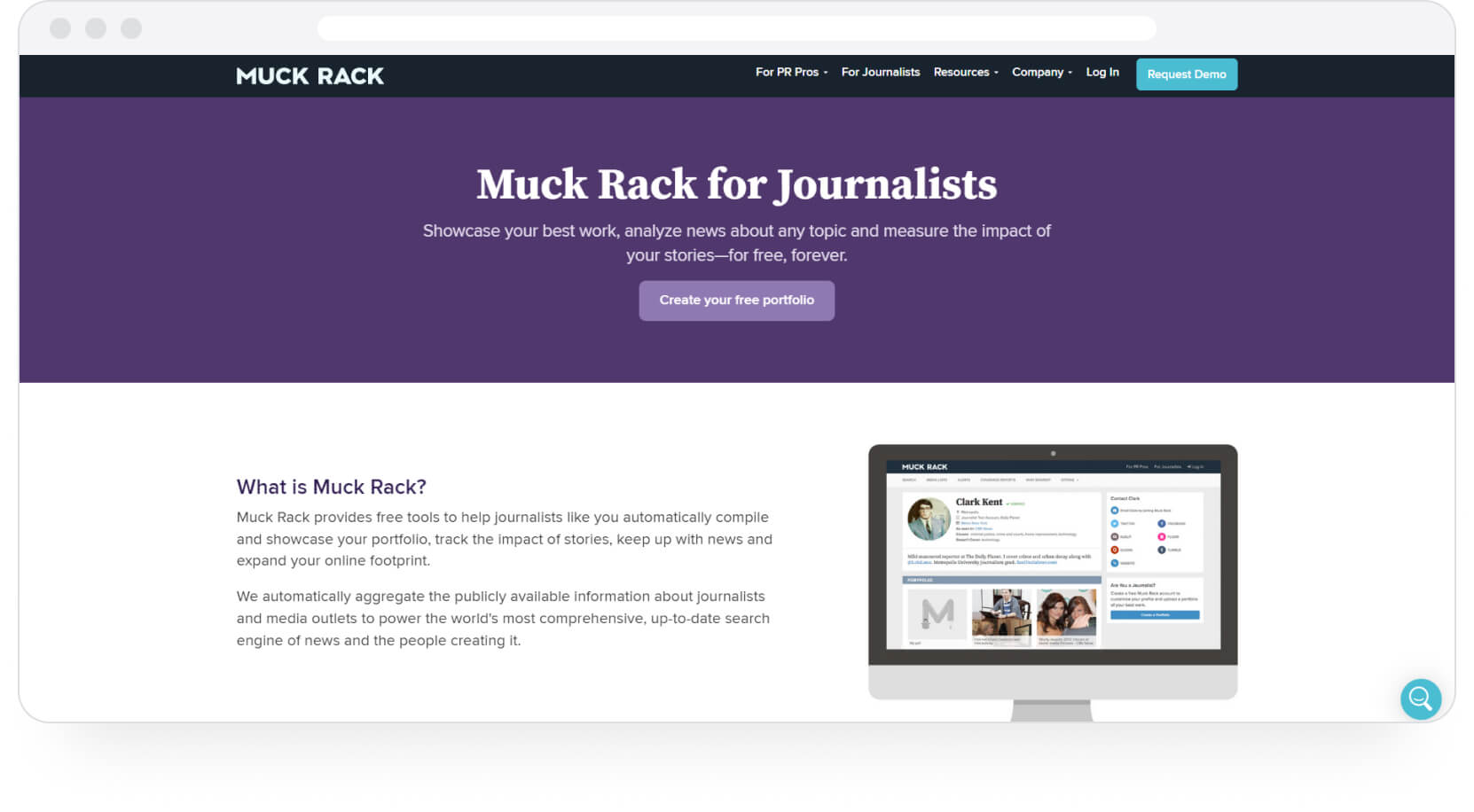 Muck Rack is primarily meant to help PR professionals connect with and pitch stories to journalists. For journalists to join the platform, they must create a minimal, no-nonsense portfolio, completely free (think of it as free web hosting). Upload relevant information and work samples, and Muck Rack's in-house editorial team and search algorithms will allow the right PR folks to identify you as the best outlet to represent their story.
🗒️
Note: Muck Rack is largely only useful to journalists because it connects them to an in-built PR network.
You can update your portfolios with pitching preferences, i.e., the kind of stories you want to broadcast through whichever media outlet(s) you are associated with.
Muck Rack also provides a set of interesting features that specifically make journalists' lives easier:
Compiles and showcases their portfolio websites for free if you're a journalist.
Provides access to Muck Rack's automatically collated database of information on other journalists, publications, and media outlets. You essentially have a consistently refreshing index of global news and the people actually putting it out in the world.
Enables you to share pitching preferences so you only get pitches that align with your beat, niche, and career.
Leverage basic analytics: the number of articles published, top media outlets, and journalists.
See which journalists and bloggers have shared your work.
Get job updates in a tailored (that matches your requirements/domain). You can also receive updates in a daily email digest.
"Favorite" specific journalists so that you get updates whenever they publish a new article, post on social media post, or change jobs.
Get alerts if your stories get picked up by other publications or tweeted.
Muck Rack portfolio example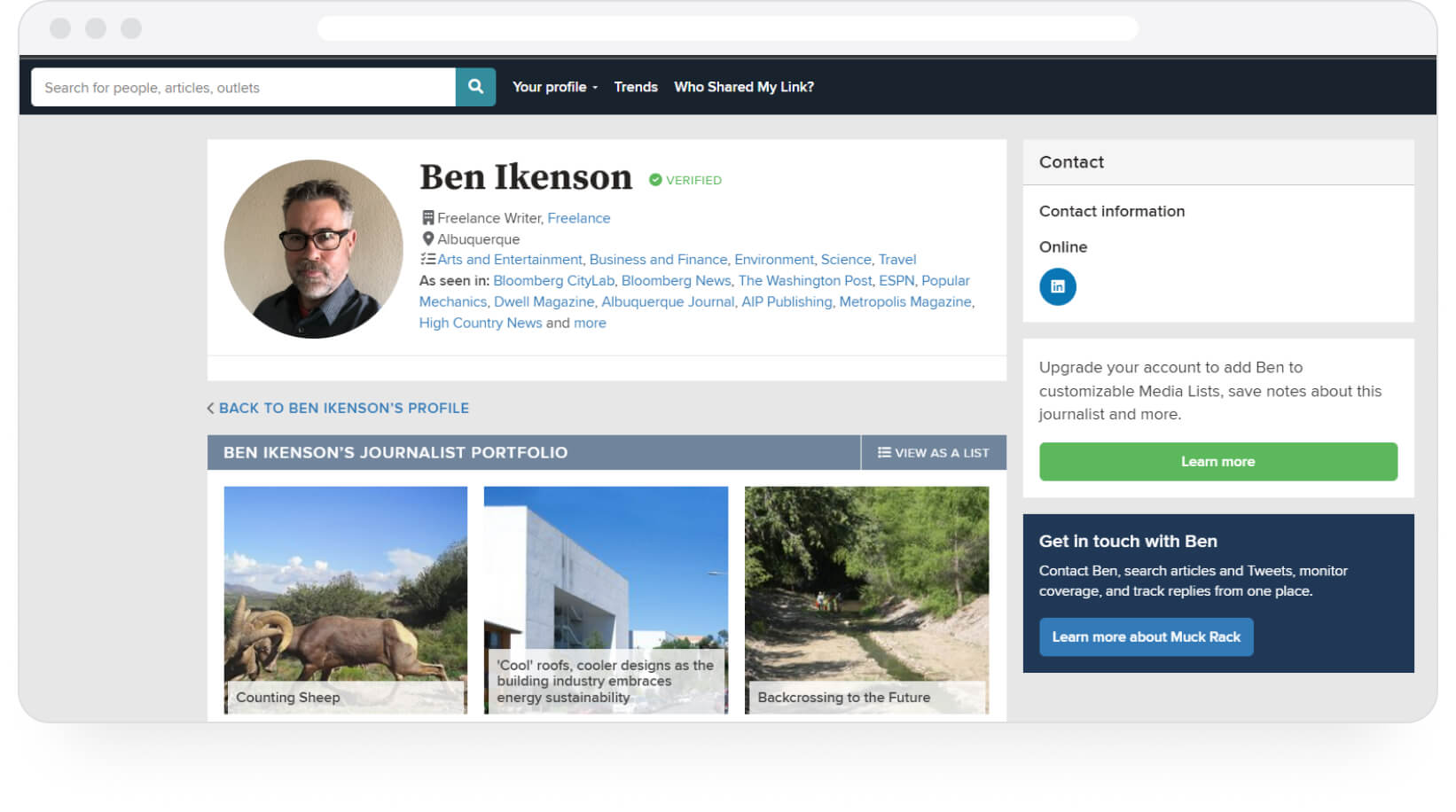 Carbonmade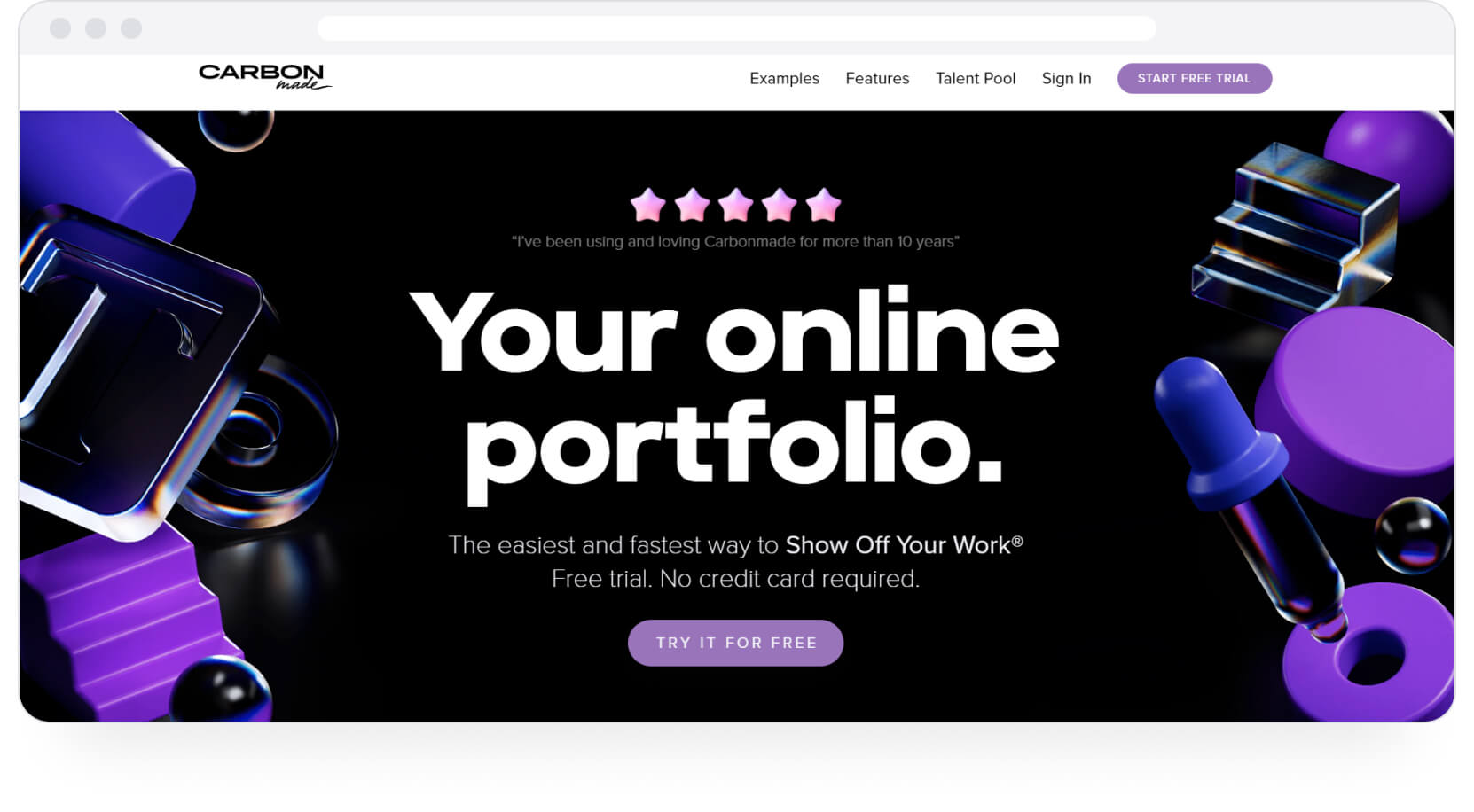 Instead of offering templates, Carbonmade offers customizable layouts in which every element is drag-and-drop (you get a great drag-and-drop editor too). You can customize everything — portfolio grid, navigation, colors, fonts — all with just a few clicks. You also get unlimited uploads of all file types with no file size limit.
Starting a free trial does not require a credit card. You only pay when you go live with your portfolio.
You get completely customizable layout blocks with no pre-set designs. Use gallery grids, gallery sliders, and other aesthetic options to showcase your work in all image formats, videos, and PDFs. All galleries are optimized for loading on mobile screens.
You can crop and/or loop video within the tool itself. All videos get full HD support with high-speed loading times. You can use dozens of typefaces, and leverage a custom domain name for your site.
Finally, you can study analytics numbers on how many people have visited your portfolio or which of your projects is most popular.
Carbonmade portfolio example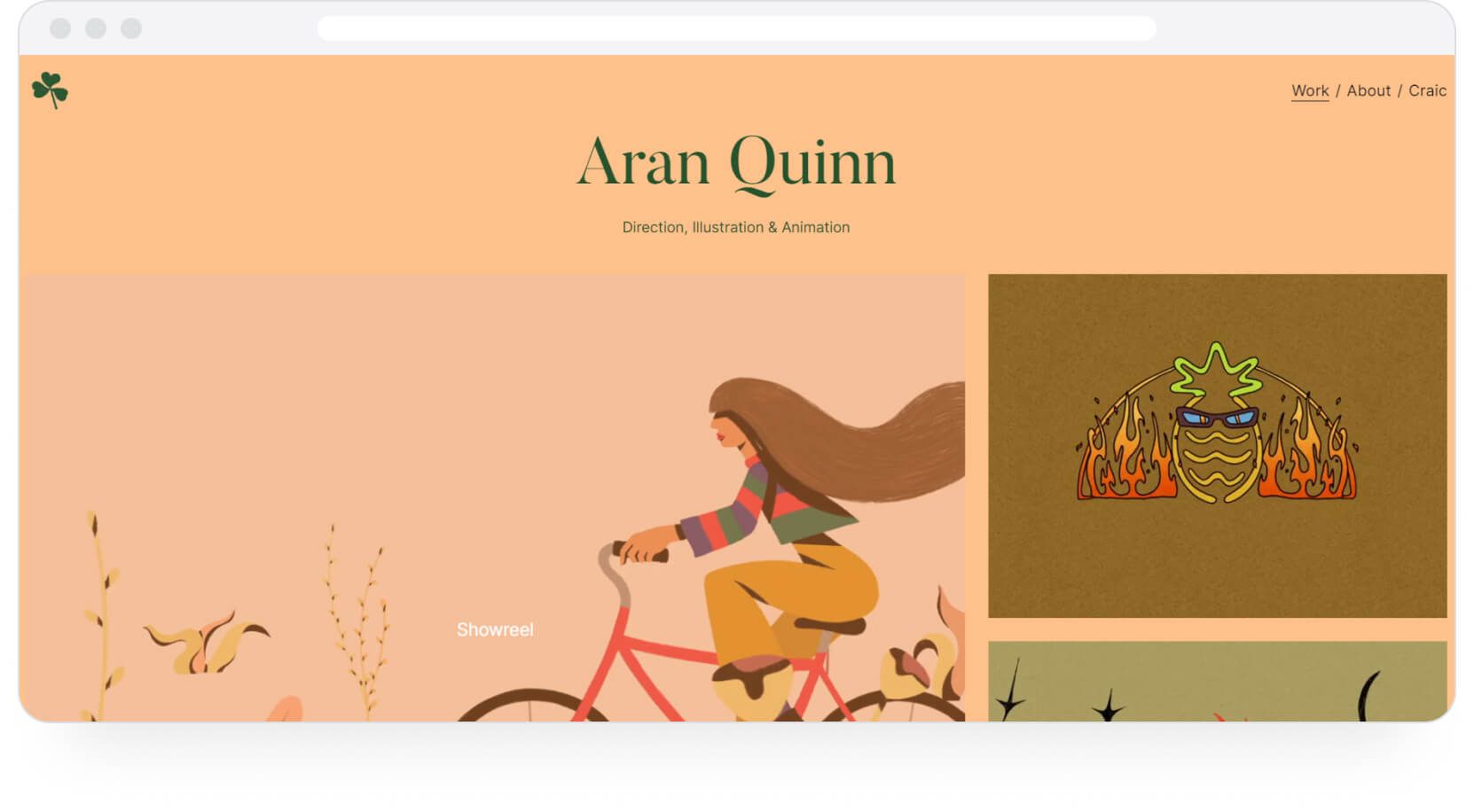 Writer's Residence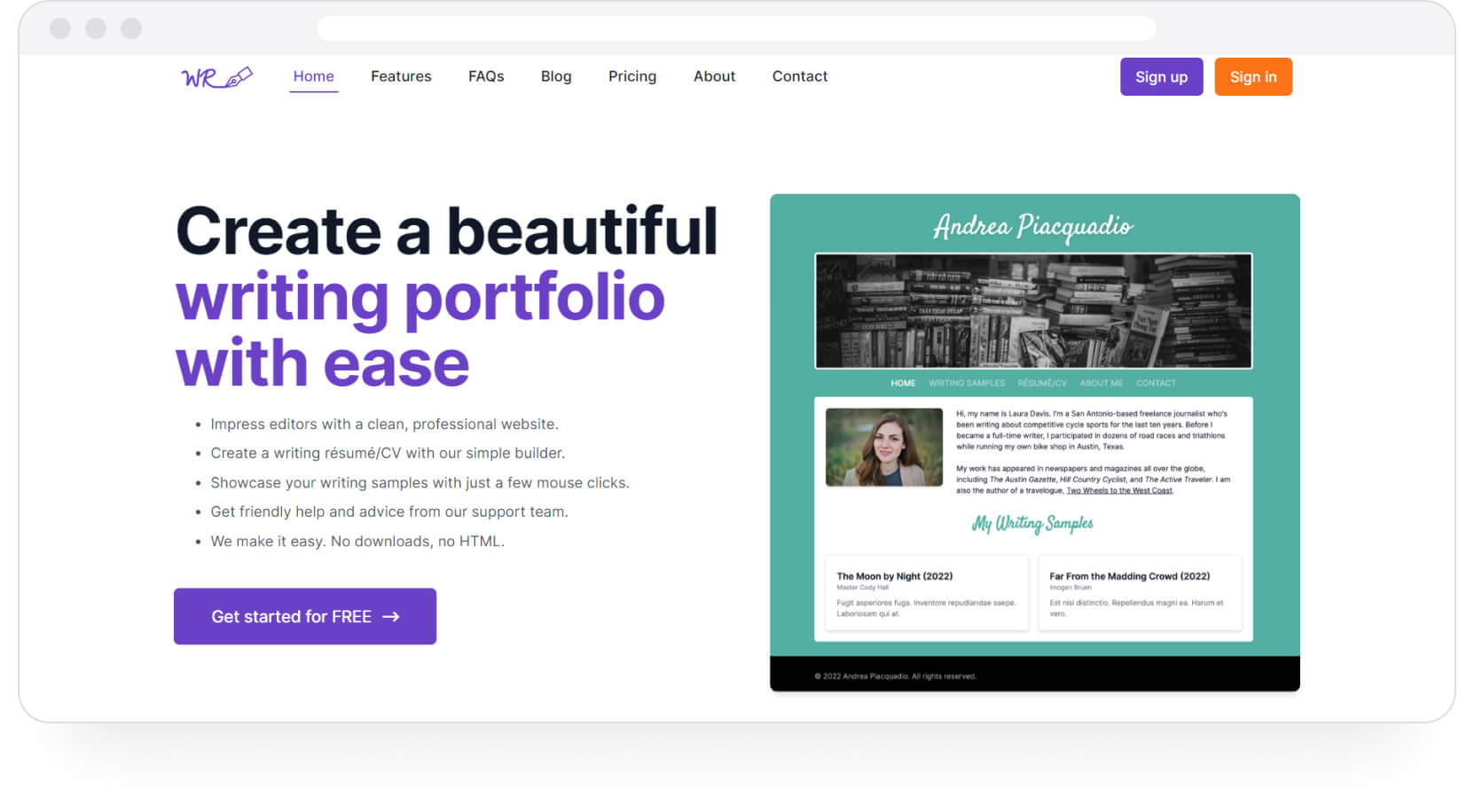 Created for aspiring freelance writers by a freelance writer, Writer's Residence is a portfolio builder with all the features writers specifically need when creating their work profiles. The portfolios themselves are a bit on the generic side, but this is another one of those beginner-friendly tools you use when you're just starting out.
You can pick one of the builder's ready-made themes or use an image of your own. You can also display work samples and client testimonials. After that, you just copy-paste links to your work, and you're done.
Since there isn't much in the way of SEO optimization, this tool is best for creating your first portfolio.
Writer's Residence portfolio example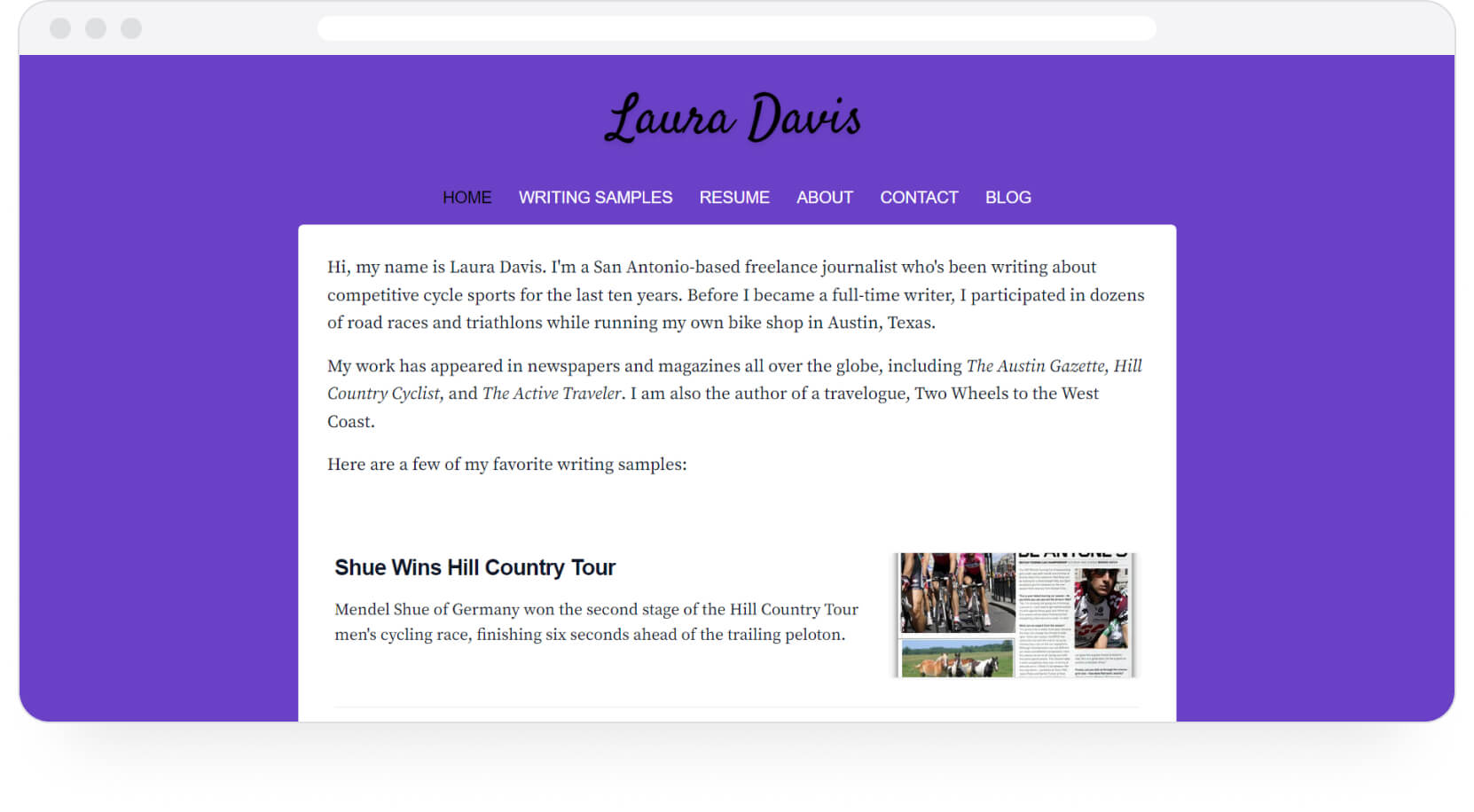 But which one do you pick?
Too many choices, too little time? I relate.
It took me about 2 months to find the right portfolio-building tool. This was right after I quit a terrible job and decided to switch to freelance writing, only to realize that I needed a "professional" portfolio, in the true sense of the term. Linktree lists and links to my publications in an email were not getting me anywhere.
However, if you cannot test out every tool as I did, allow me to recommend Authory. Unless you want a portfolio that looks like a Rembrandt or one with an online store (in which case, creating Squarespace or WordPress websites are excellent ideas), Authory will set you up with a future-proof portfolio that requires less than 3 minutes of effort from your end.
To further my point, here are a couple of customer testimonials:



Additionally, Authory is chosen by quite a few industry stalwarts. Take 6-time Emmy award winner, David Pogue, Steven Levy, Editor at Large, WIRED, and Brian Fung, a Technology Reporter at CNN. They lead in their respective domains in every sense of the word, and since they have attained a position I'd like to get to someday, I decided to follow in their footsteps, at least in terms of picking a portfolio maker.
You, however, should just get started with Authory for free, create a portfolio, try out every feature, and evaluate the value this platform can add to your life and career.