🗒️
Quick Disclaimer: Squarespace is an exceptional website builder and can be quite ideal for portfolios relating to specific professions.
But we live in a flawed world, and like literally everything else; it has its gaps. Since we live in a world that largely appreciates free choice, I decided to list out some Squarespace alternatives for those of us who need some of what Squarespace misses.
I'd encourage you to take free trials of all these tools (which is what I did before choosing Authory). However, if you don't have the time to do that, I'll also provide a short reasoning of why I chose Authory as my Squarespace alternative.
📖
What you'll get out of this article:
• An exploration of 10 exceptional alternatives to Squarespace (in the context of portfolio building)
• My take on what the best Squarespace alternative is
10 remarkable Squarespace alternatives
Authory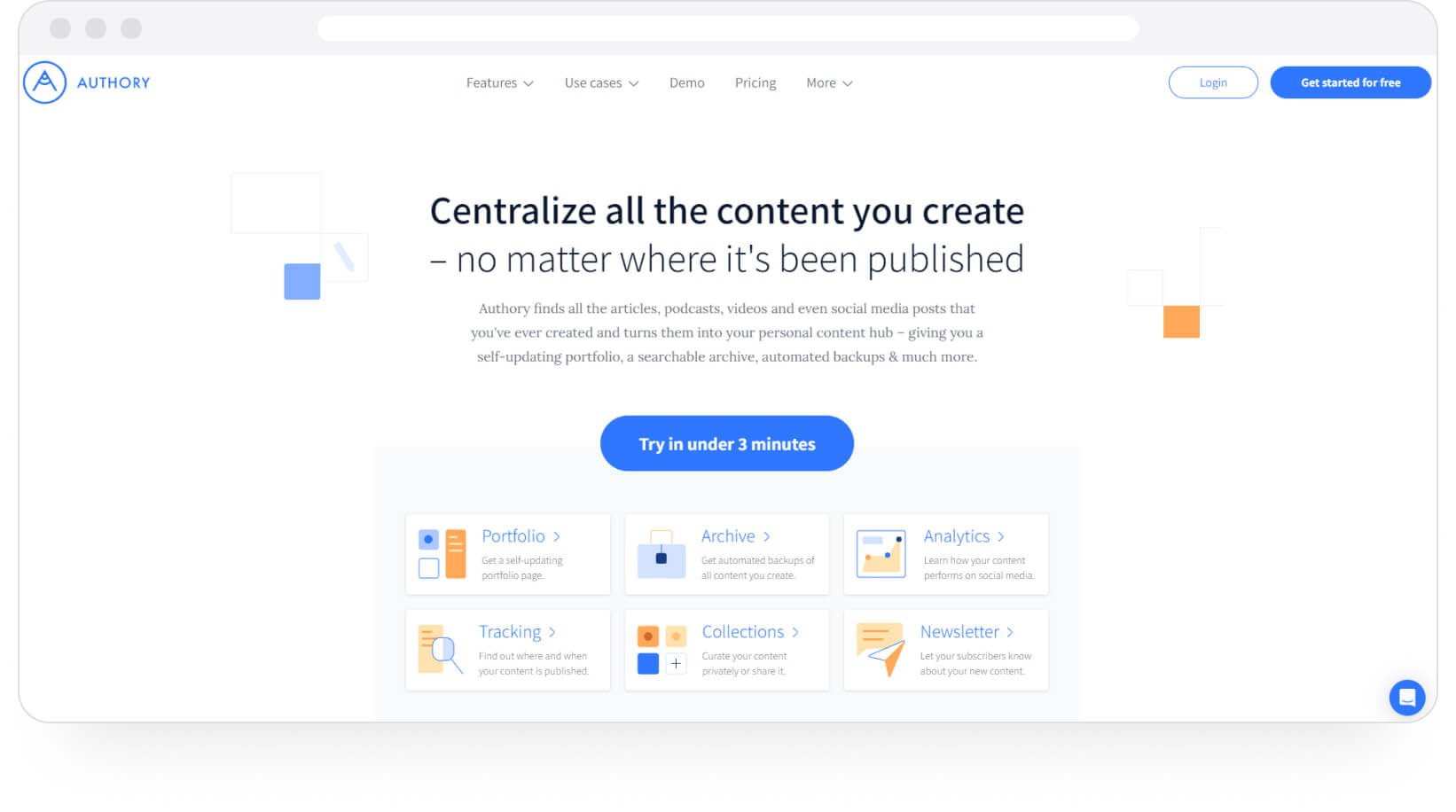 Authory doesn't just give you a digital platform to host your portfolio — it literally creates your portfolio for you.
You sign up, enter the URLs of the sites (called "sources" by Authory) where your writing is published, and Authory will import every bylined piece of yours ever published on that site under your name. You can enter the URLs of multiple "source" sites, and soon you'll have a content database containing every piece of content you have ever written/taken live.
Authory will also continue to import all future bylined pieces from each of those sources, forever. It can even extract content from behind some paywalls.
Additionally, all your imported content is automatically backed up forever, and you can download it (as PDFs or HTML files) if you choose. All backups are in the form of the original text/media, not screenshots.
The tool also provides in-built analytics for all your pieces, showcasing the number of social media shares over 30 days, offers a custom domain, as well as a plethora of other features that make it a fantastic portfolio website builder.
Example of an Authory portfolio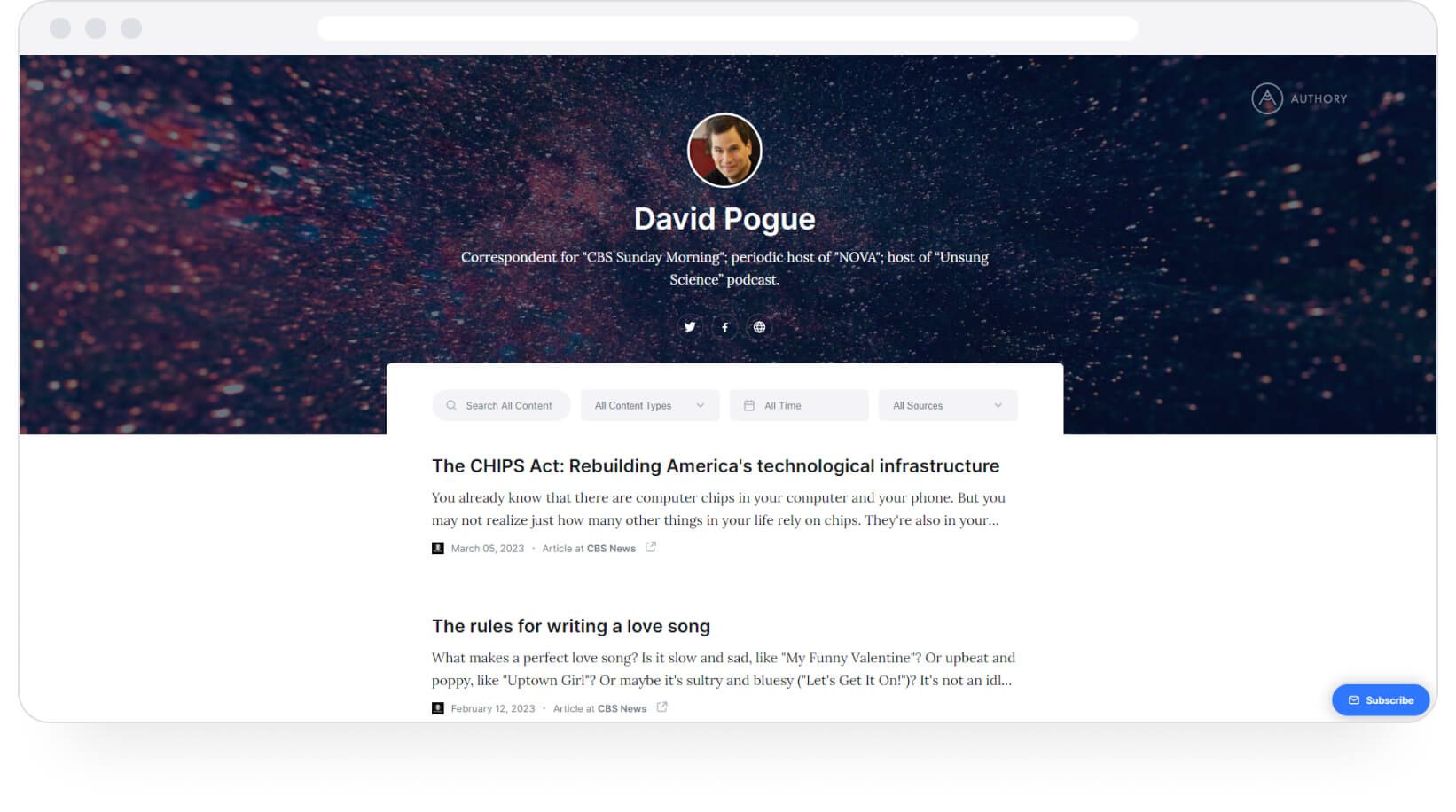 Journo Portfolio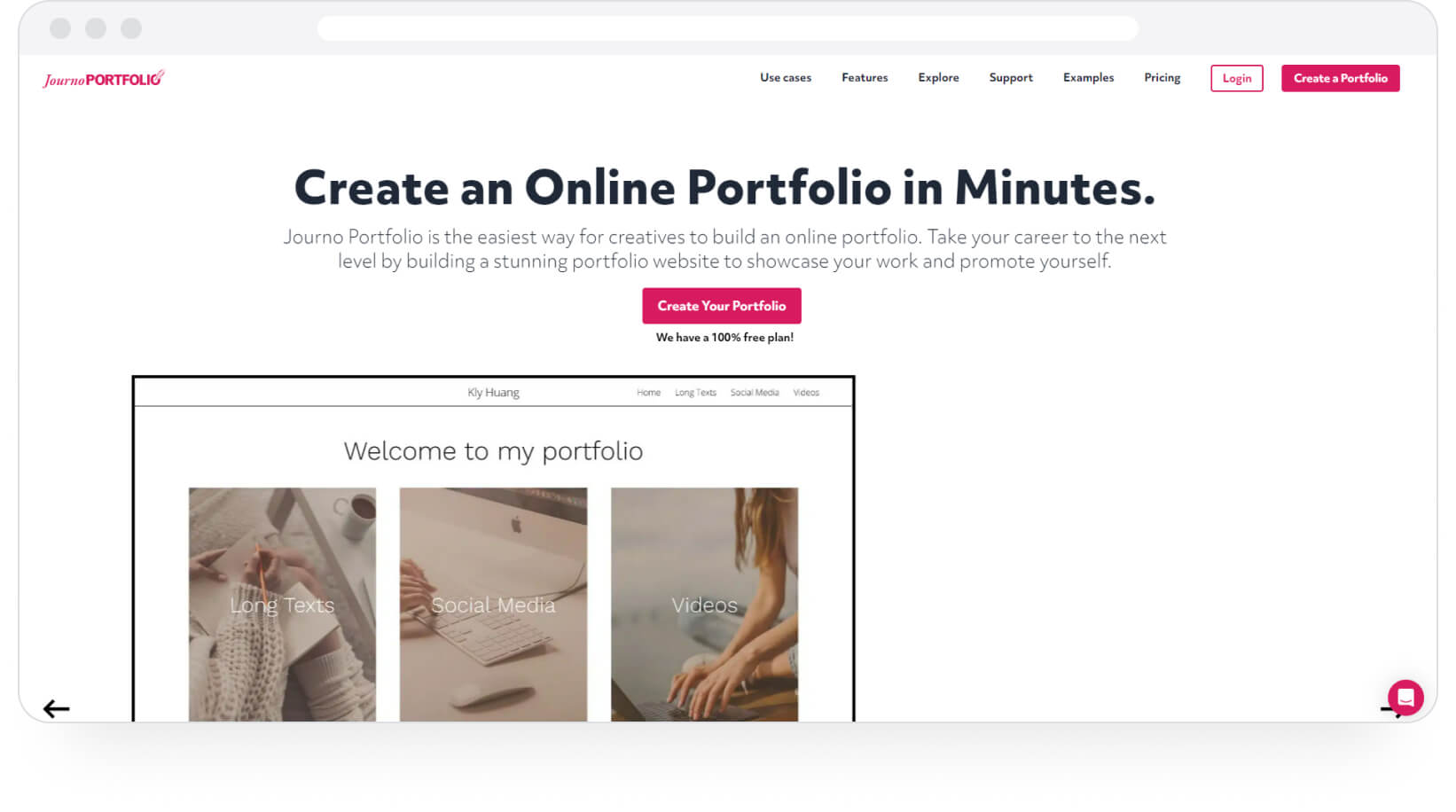 Journo Portfolio also often comes up in "best portfolio website builders" lists. Despite what the name suggests, it serves a target audience much wider than journalists — writers, designers, illustrators, artists, and even some photographers.
You get pretty decent customization options — showcase your work in a grid, a column, a blog, or an image gallery. The tool will save screenshots of all imported work so that, even if the source link degrades for some reason, you have some form of content backup. Of course, screenshot backups are not ideal because you cannot edit them.
Journo's privacy protection options are pretty interesting. You can restrict your portfolio from being viewed by your current employer. You can also use password protection and secure links to restrict access to their entire portfolio; for instance, you could only make a certain page publicly viewable. You can also hide the portfolio from search engines.
Example of a portfolio on Journo Portfolio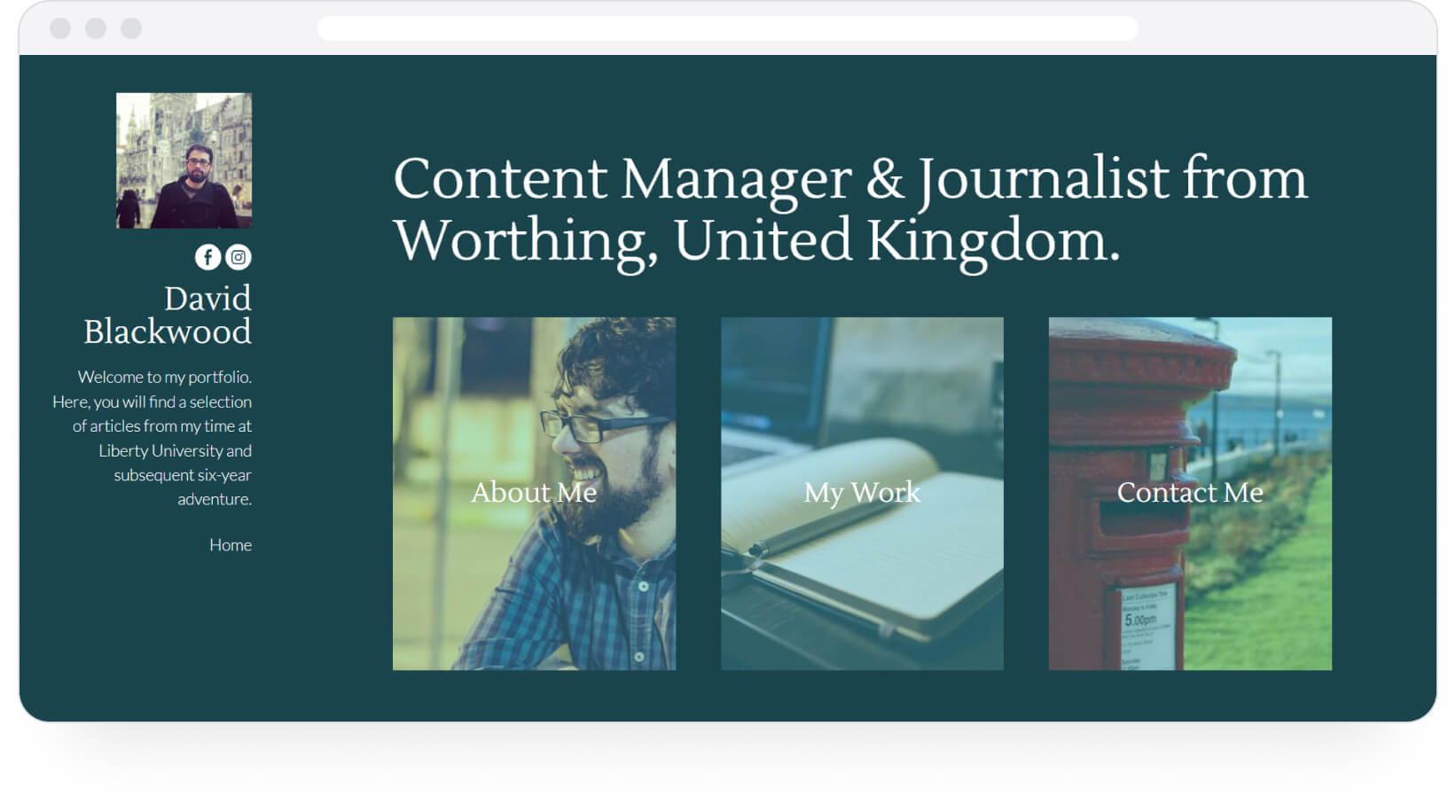 Clippings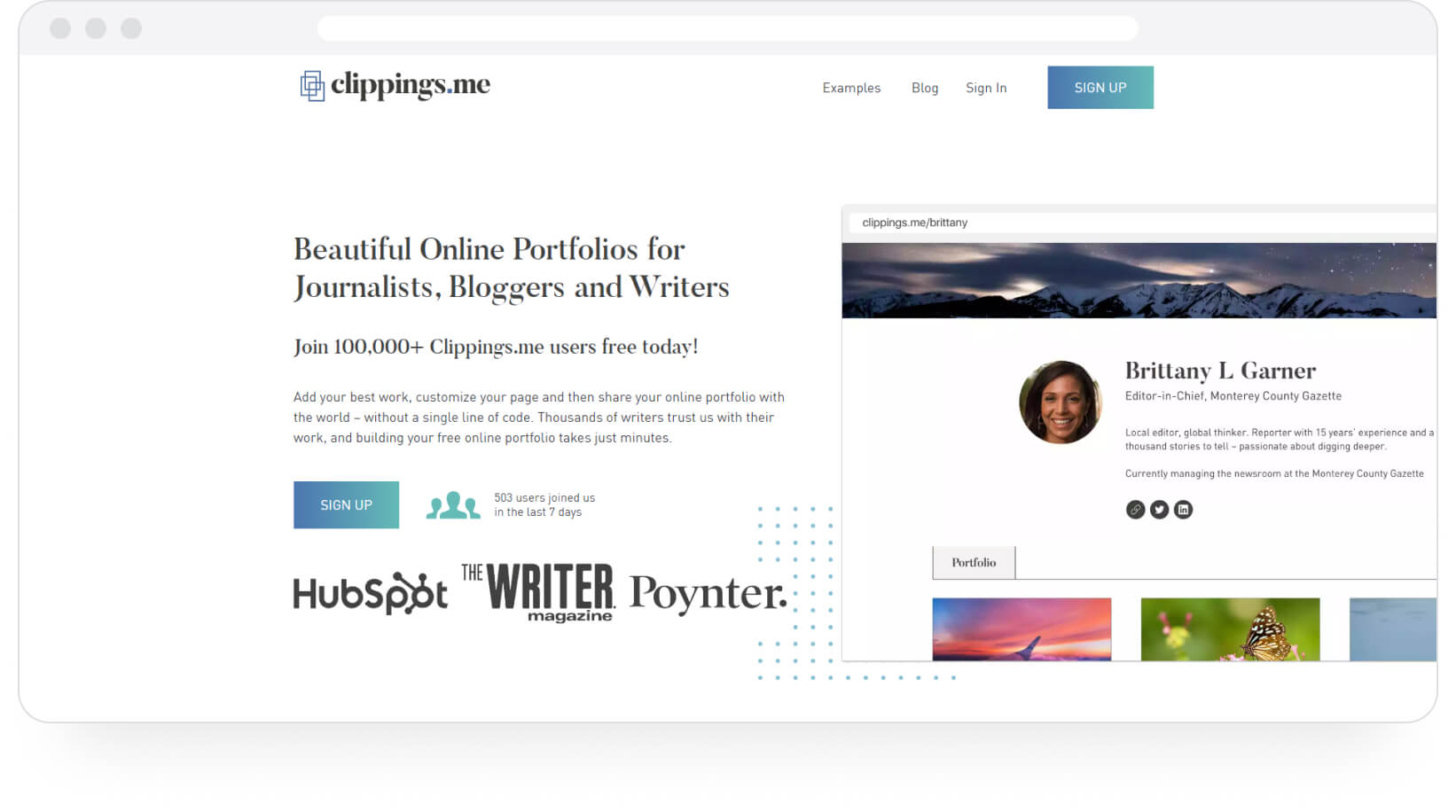 Clippings is strictly dedicated to helping writers, journalists, and bloggers create their portfolios. The setup is quite simple. You sign up, add links to/upload your work, add your own banner/background image (you can also use one from Clippings' gallery), and go live with your portfolio.
You can add online articles and PDFs as well as YouTube, Vimeo, or SoundCloud files to your online portfolio. You can also integrate the portfolio with Google Analytics for deeper insights into how your pieces are faring in terms of readership and shares.
Since it is meant specifically for writers, Clippings doesn't offer much in the way of design customization (outside of images). It has all the basic features to showcase work in an organized, visually pleasing manner, but you won't be able to do much to alter the appearance of your portfolio.
Interestingly, Clippings offers an international PayPal fee calculator at the bottom of their homepage, which is a handy tool for freelancers working with foreign clients. The calculator covers only a few major currencies, but it's still quite useful.
Example of a Clippings portfolio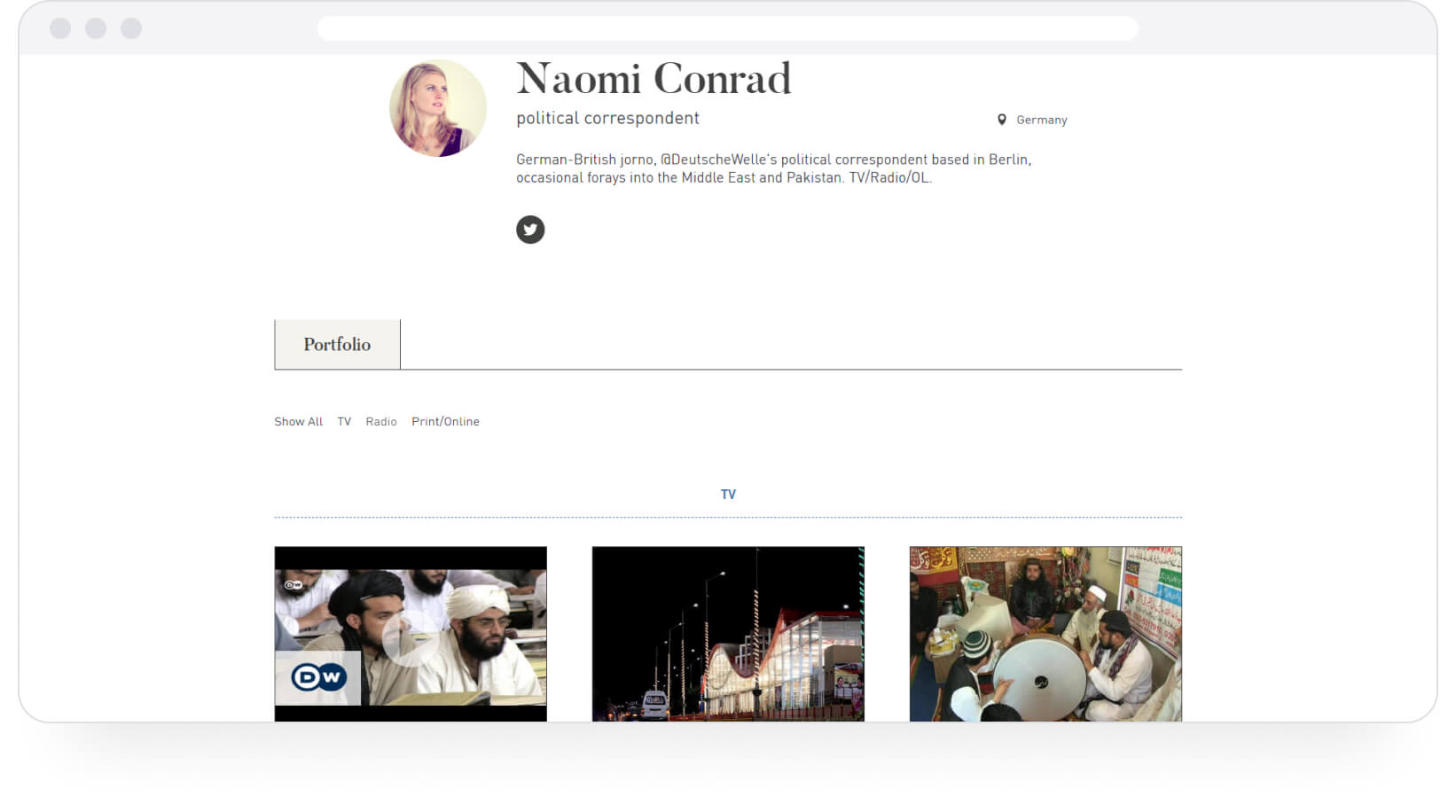 Wix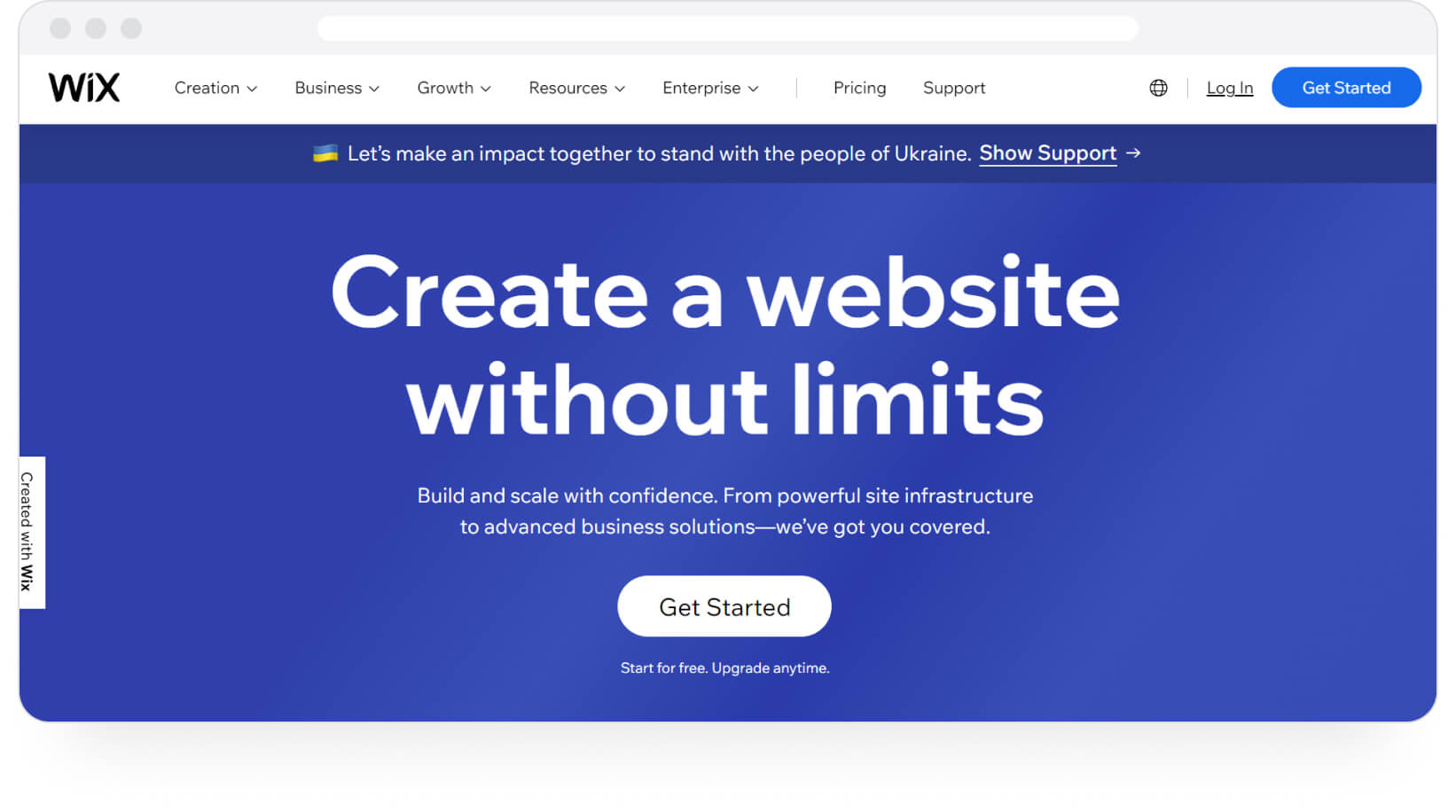 Wix is a great option for building your own website, especially if you want an online store. This might seem like an unlikely need for portfolio builders, but what if you're an author who wants to sell their books directly from their website?
Wix is no code (like all tools on this list). There's a drag-and-drop editor and no section-based limitations, which gives you complete control of your portfolio's design. It's fairly user-friendly, though the process of putting together a website from scratch will always be a fair amount of work.
You can use Wix's app library to add new functions and leverage integrations with third-party apps. You can use these app integrations to do things like making content shareable on social media. If you can actually code, Wix also gives you full-stack dev tools to customize your site from the ground up.
Example of a Wix portfolio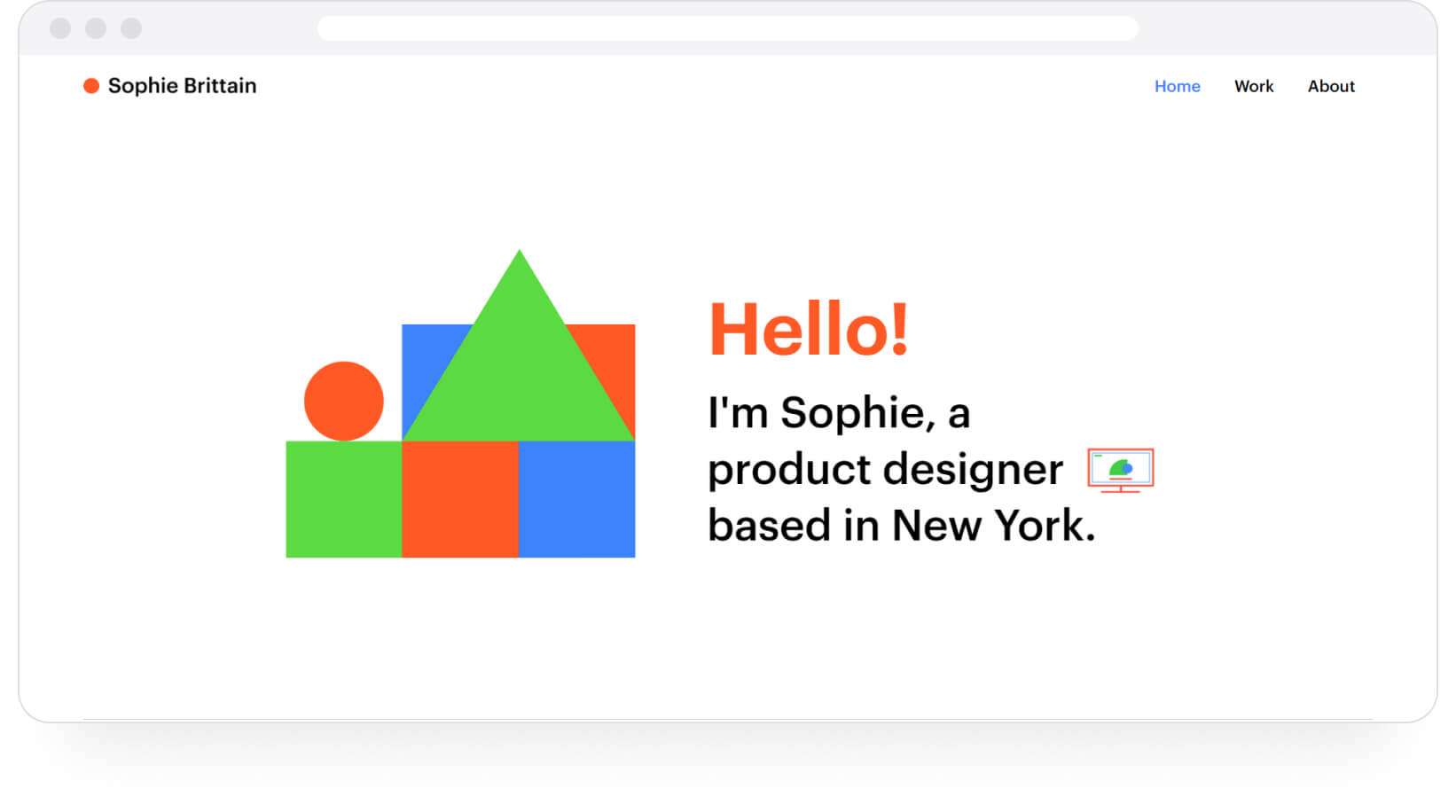 Portfoliobox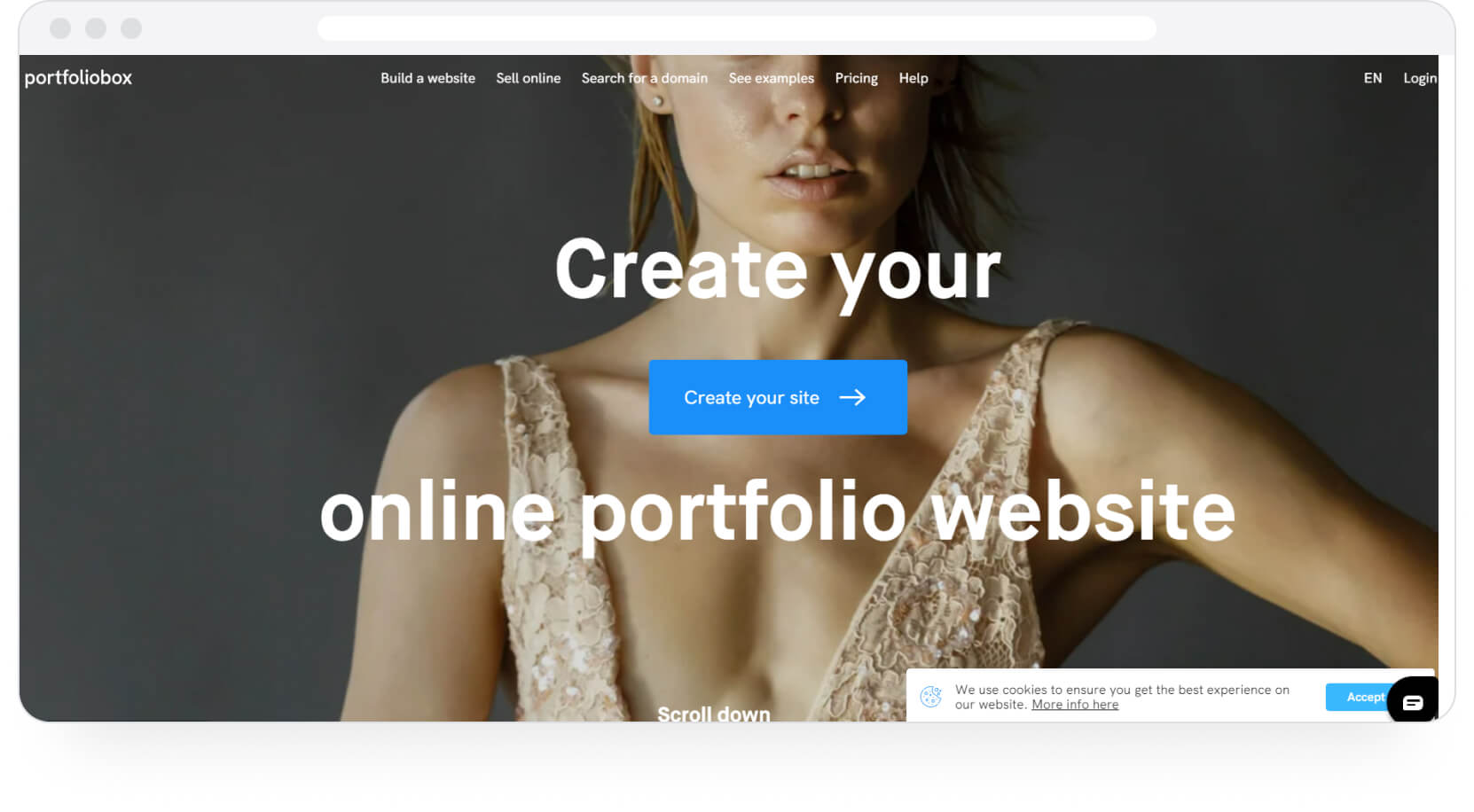 Portfoliobox, as its name suggests, is dedicated to building only portfolios, largely for creative folks. This is why you get a wide range of design customizability. A drag-and-drop editor makes it easy to move around everything so that you can present your portfolio as uniquely as your work.
You get everything from web hosting, password protection for individual pages, intuitive galleries, watermarking tools, and an in-built blog section.
Example of a Portfoliobox portfolio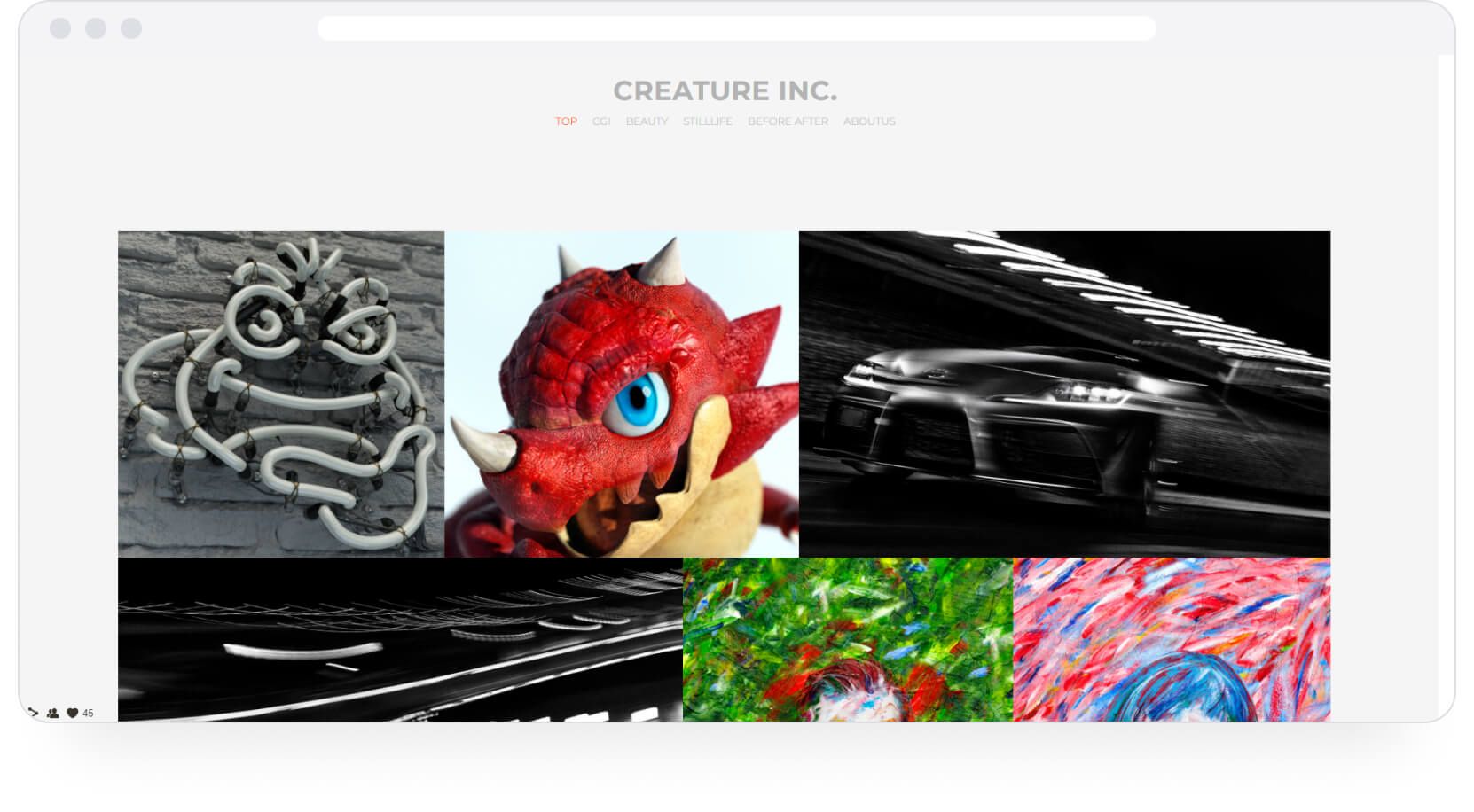 The Freelance Creative by Contently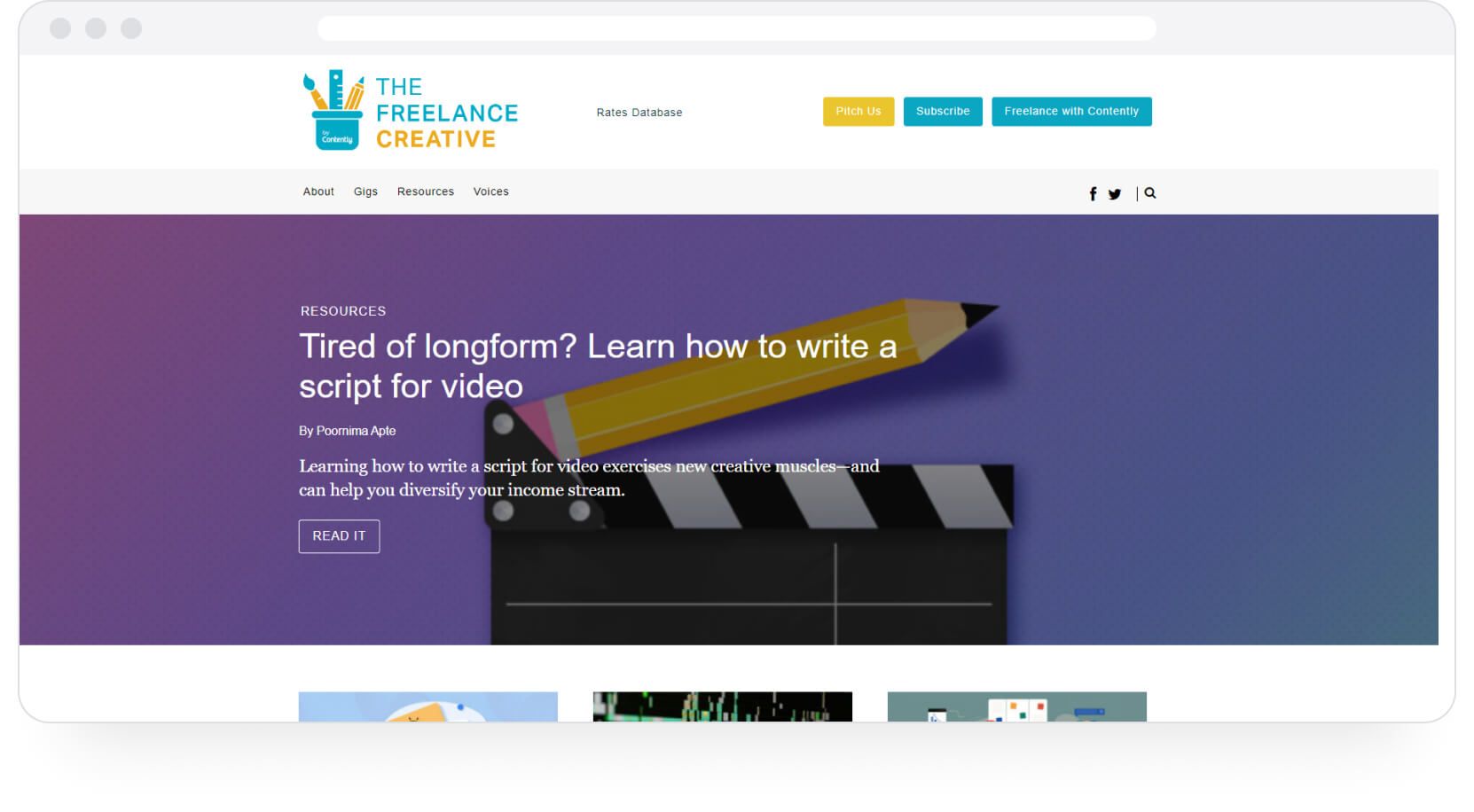 The Freelance Creative by Contently is an interesting option. It's not primarily a portfolio or website builder. Instead, it provides a freelance job platform where businesses/individuals post their requirements to find freelance professionals.
To showcase your skills and fitness for specific jobs/assignments, you must create a portfolio on Contently. It's a pretty straightforward affair. You sign up, enter basic personal details, add an unlimited number of work samples (articles, videos, audio files, images, etc.), and click "Finish."
Once you're done, Contently's internal team will review and match it with the right clients. In case you don't get a match when you first set up your portfolio, Contently recommends that you keep updating it, so that when the right client(s) for you show up, you can prove that you're the ideal fit for them.
However, the actual portfolio provides basic features like an 'about me' section and images, but there's no mention of advanced features like backups or automatic importing from sources. Then again, the portfolio is primarily meant to be connected to the Contently job network and not the larger employee pool on the internet — so it makes sense to keep things simple.
I would recommend creating a portfolio on Contently (it's a free plan) AND creating a more industry-aligned, feature and aesthetics-heavy portfolio on a tool like Authory. The former keeps you connected to an in-built job network, and the latter is the one you send to prospective clients outside the Contently network... the ones that expect a more future-forward, searchable portfolio.
Example of a Contently portfolio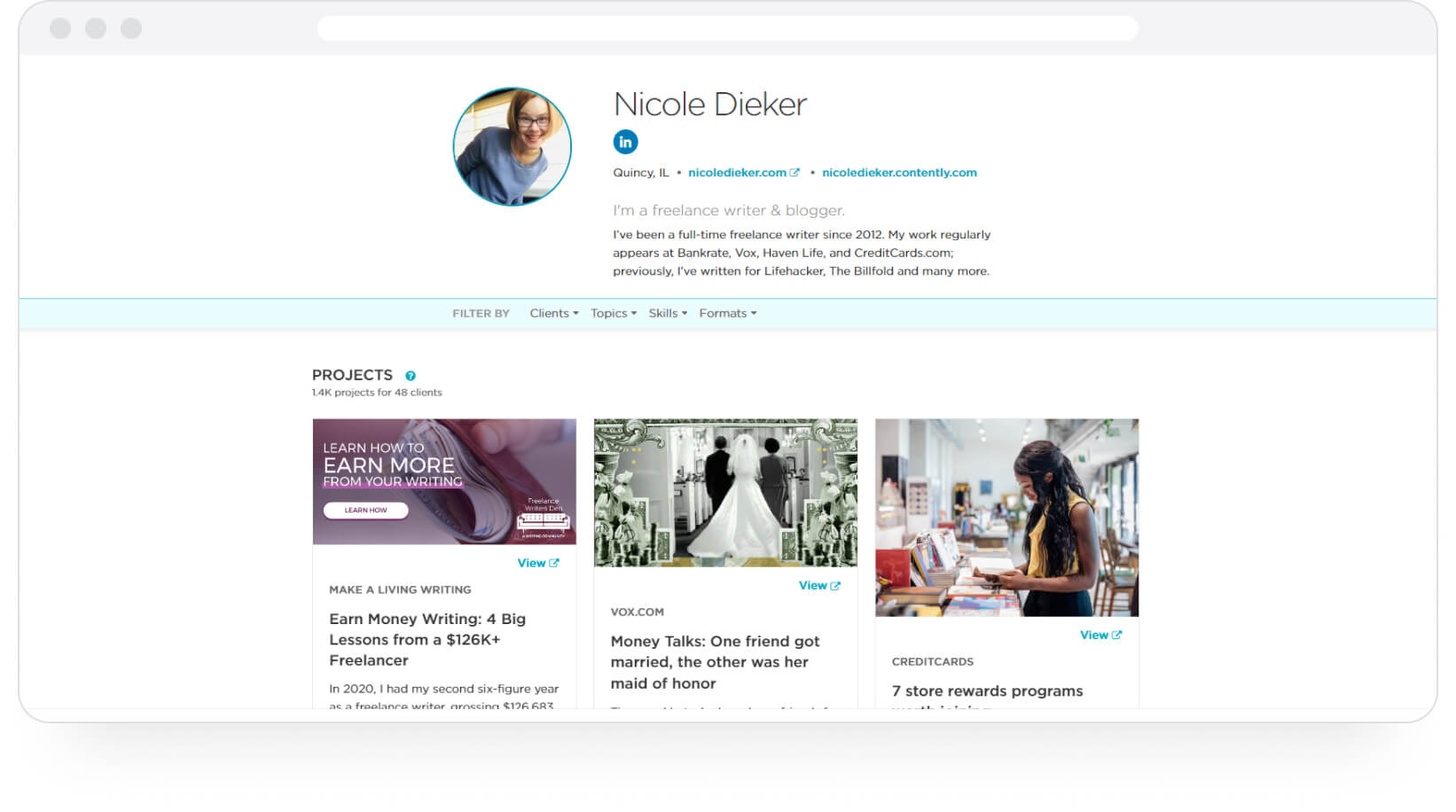 Carbonmade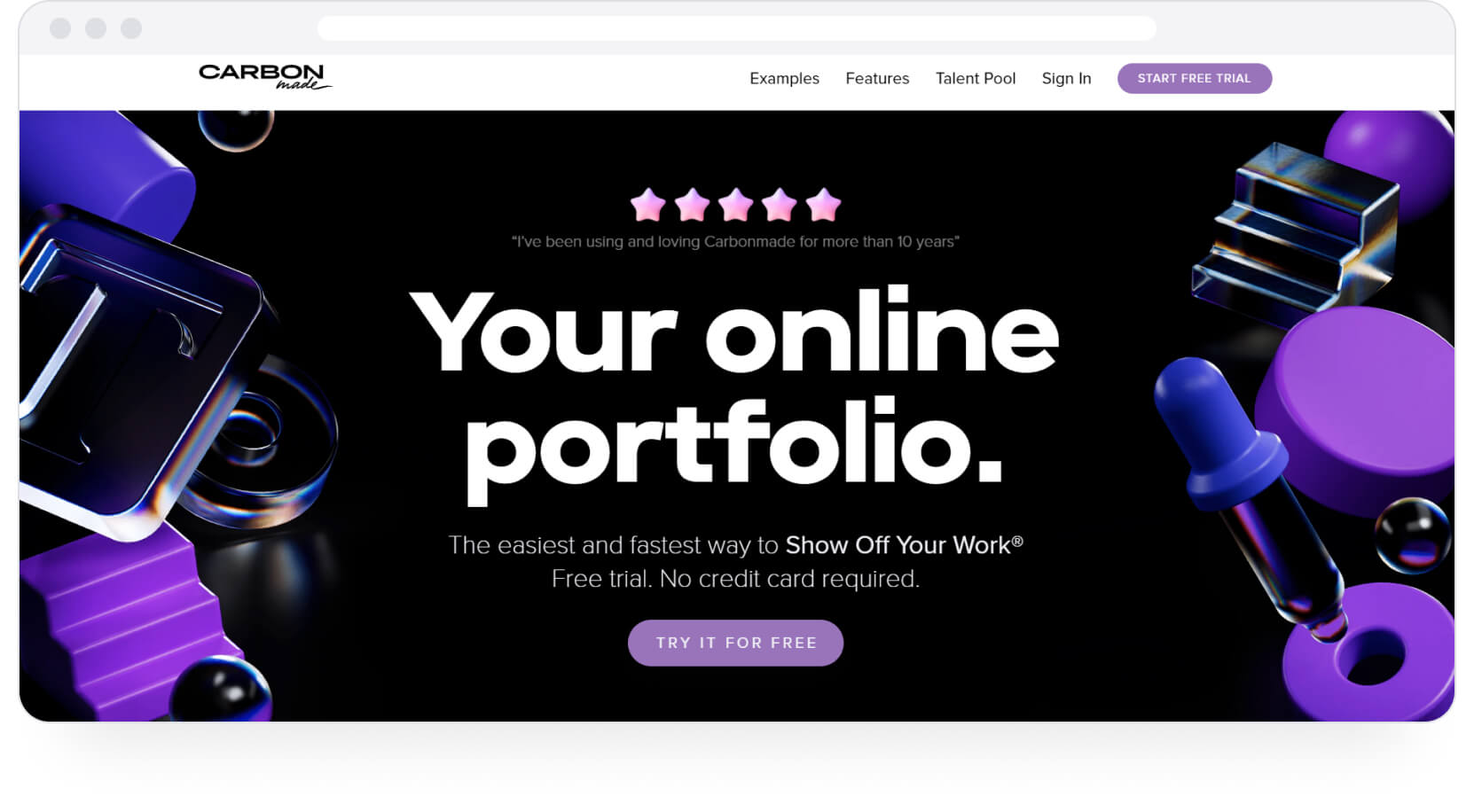 While Carbonmade does provide pre-built portfolio layouts tailored to your profession, this tool stands out because of the unlimited customizability it offers. You can play around with every design element and create your own website portfolio that matches the ethos of your work and personality.
I'm sure you've already guessed that this tool is largely useful for people who work with visual media — artists, illustrators, graphic designers, or designers of any kind. Your portfolio is automatically responsive and makes your profile accessible via all devices. You also get unlimited image and video uploads.
If you're a video creator/editor, you'll love Carbonmade's customizable video player, which lets you drag and drop 4K HD videos straight into the tool — no more embedding required.
Example of a Carbonmade portfolio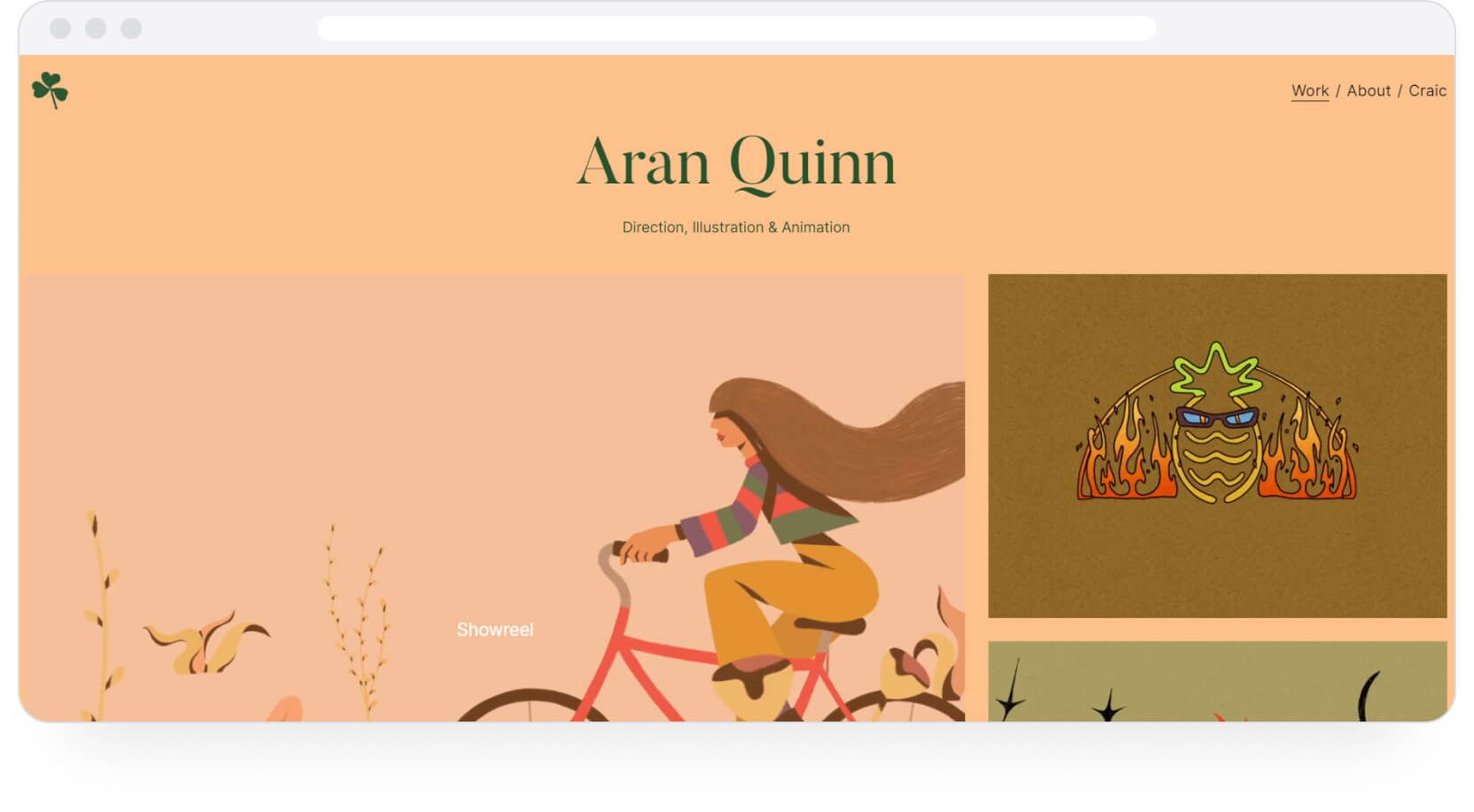 Format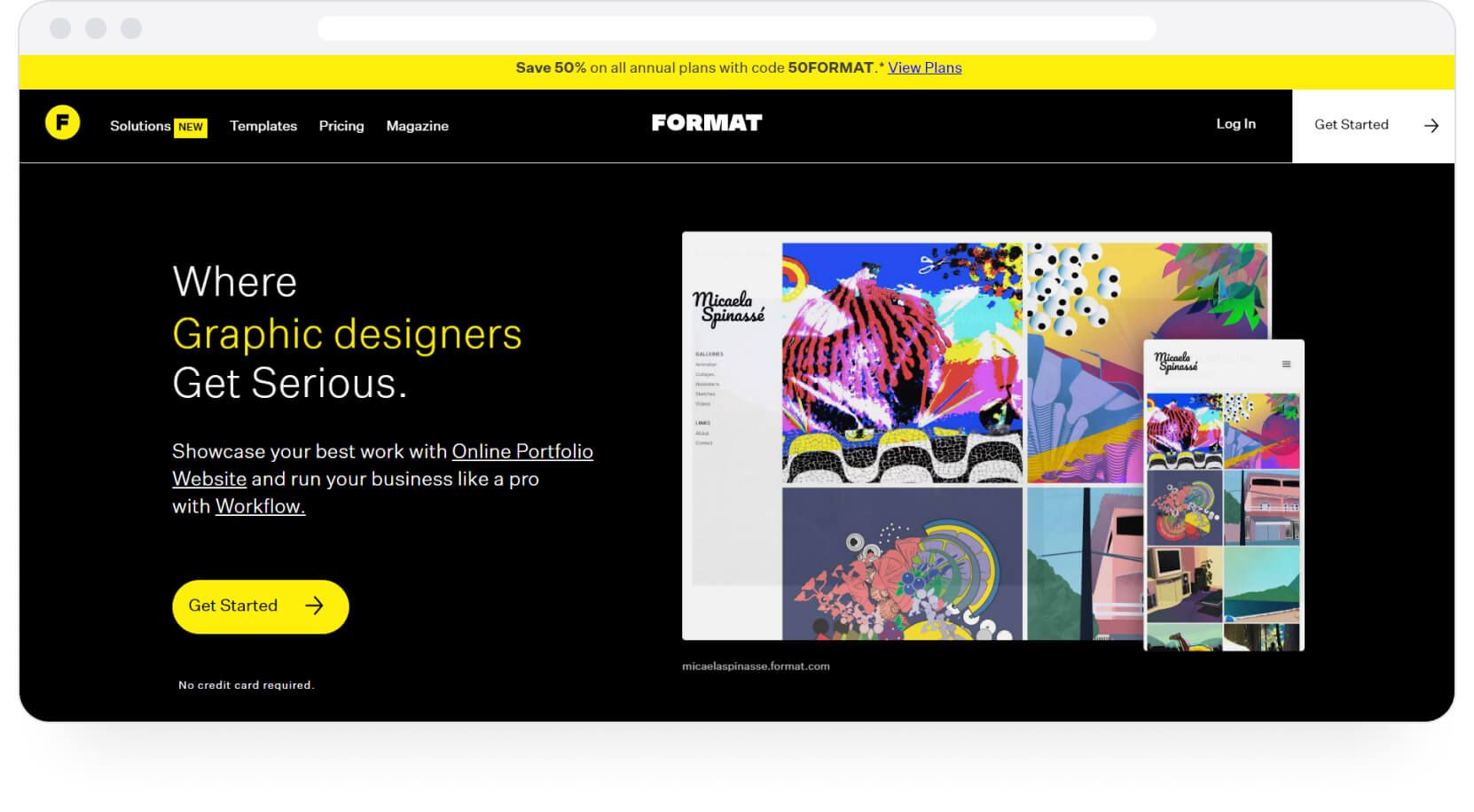 Format is among the best alternatives to Squarespace if you're a visual creator. It's ideal if you want a professional portfolio with templates featuring award-winning designs. The use of white space is especially striking. Like Squarespace, it's known for strikingly aesthetic templates, all of which are optimized for mobile..
It's best suited for photographers since it provides services like protecting images from unauthorized distribution and cloud storage for photos. Robust social media integration also comes with the territory.
You can also switch between templates easier, and write blog posts on the go. Everything is optimized for a mobile-first experience, which helps since more people are browsing the internet with their mobile phones than ever before. The tool also offers decent project management capabilities.
Example of a Format portfolio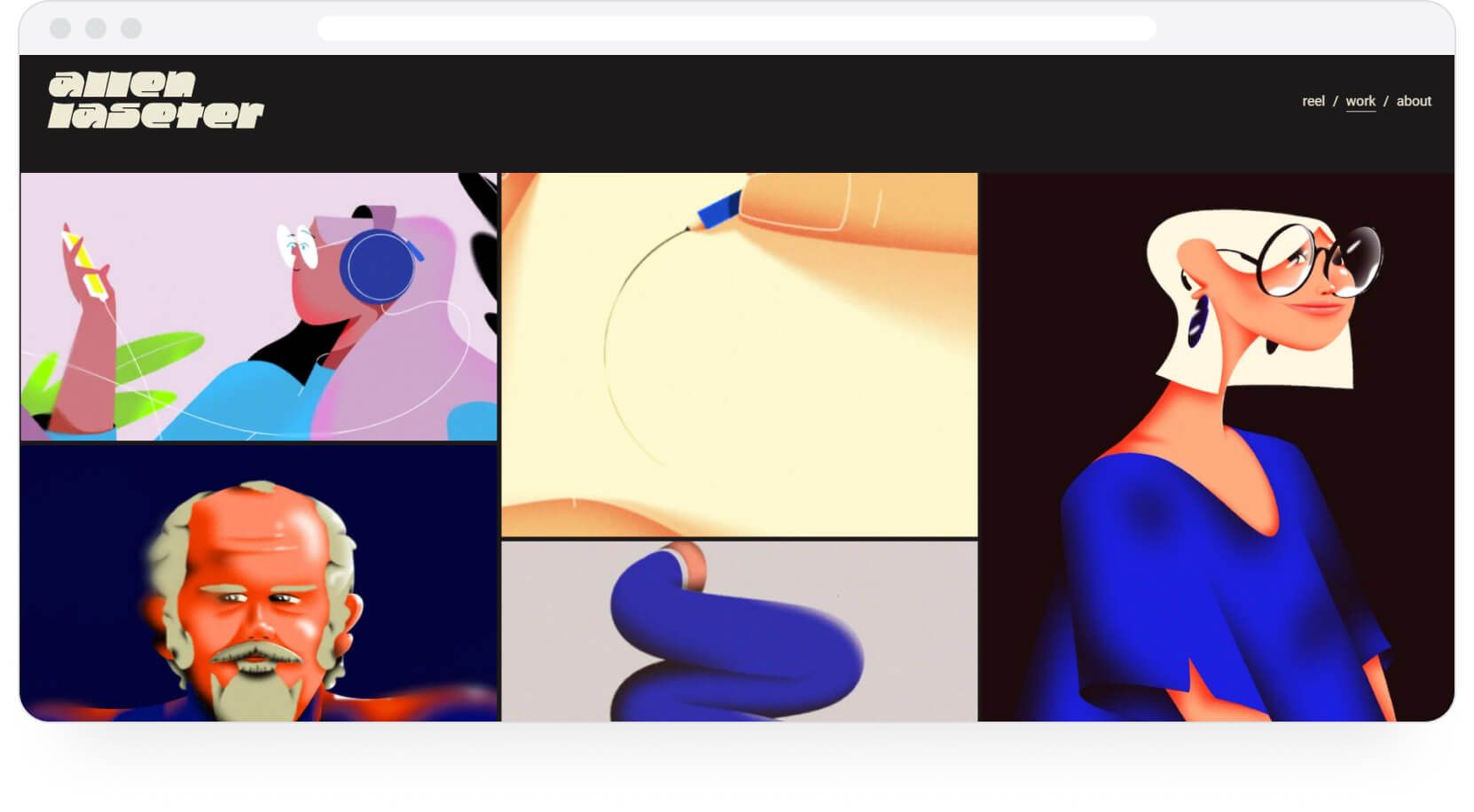 WordPress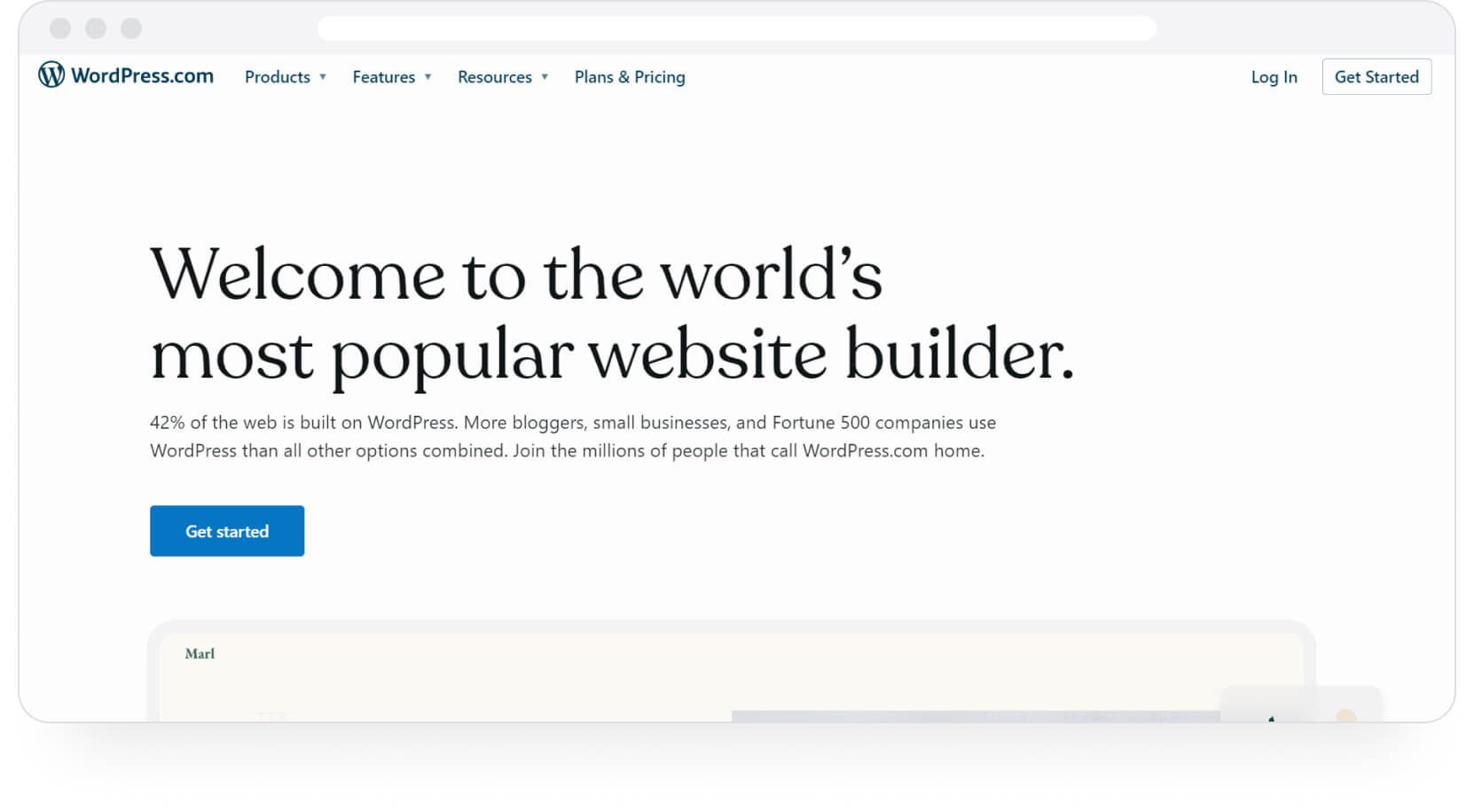 As one of the internet's favorite website builders, WordPress will absolutely help you create a unique portfolio equipped with everything from online stores, eCommerce features, social media integrations, SEO tools, and the like. Needless to say, WordPress is widely favored by small business owners and small businesses.
You have thousands of templates at your fingertips. Choose one, and then you can populate it with text, images, forms, Yelp reviews, testimonials, maps & everything else you might need.
It also offers thousands of easy-to-install add-ons, allowing the addition of new capabilities to your portfolio, be it collecting leads, creating subscription lists, triggering automatic backups, etc.
Example of a WordPress portfolio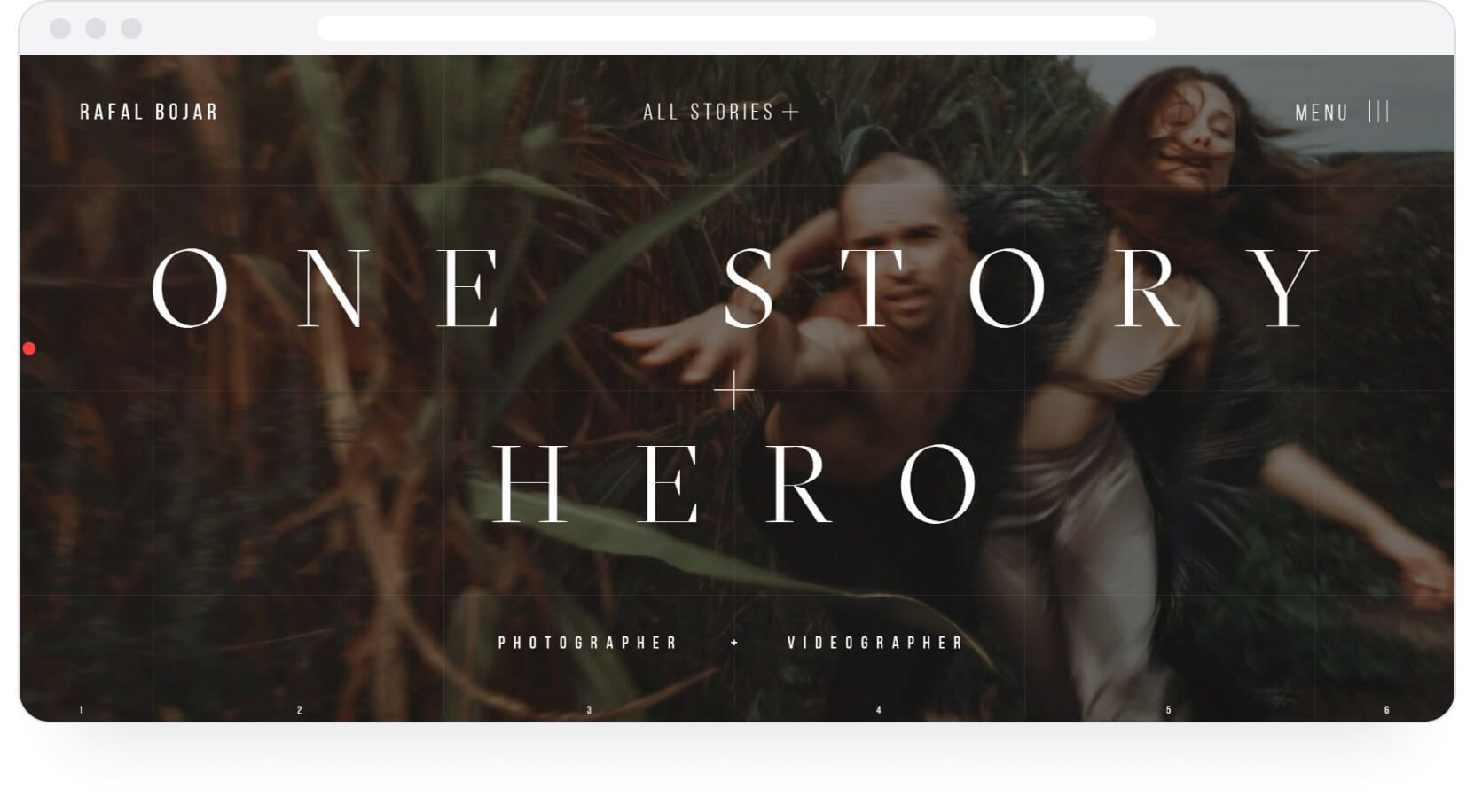 Muck Rack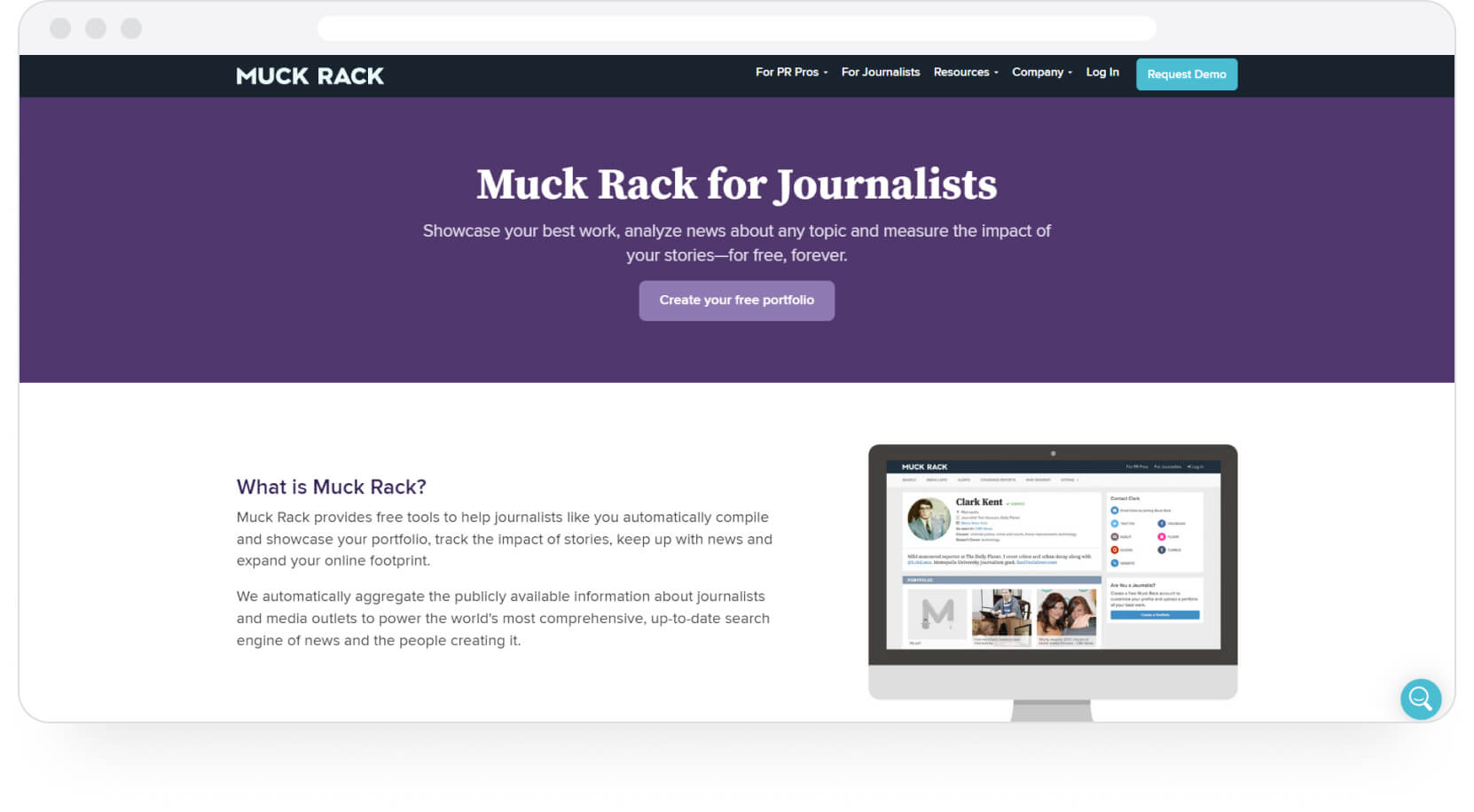 Muck Rack mainly serves as a database for PR personnel and journalists but also provides options for building a portfolio. The tool caters to journalists, but if writers need a quick, free & basic profile, they can use it too.
However, most of Muck Rack's standout features are best for journalists — analyzing news coverage of chosen topics, the number of journalists sharing a particular article, collating lists of top media outlets, industry job updates, etc.
If you're a journalist, you should absolutely create a portfolio on Muck Rack alongside another portfolio on a dedicated portfolio builder. You don't have to pay anything — all they have is a free version.
While most of these features are free, some premium features — database searches, media lists, and alerts — are available to verified journalists.
Example of a Muck Rack portfolio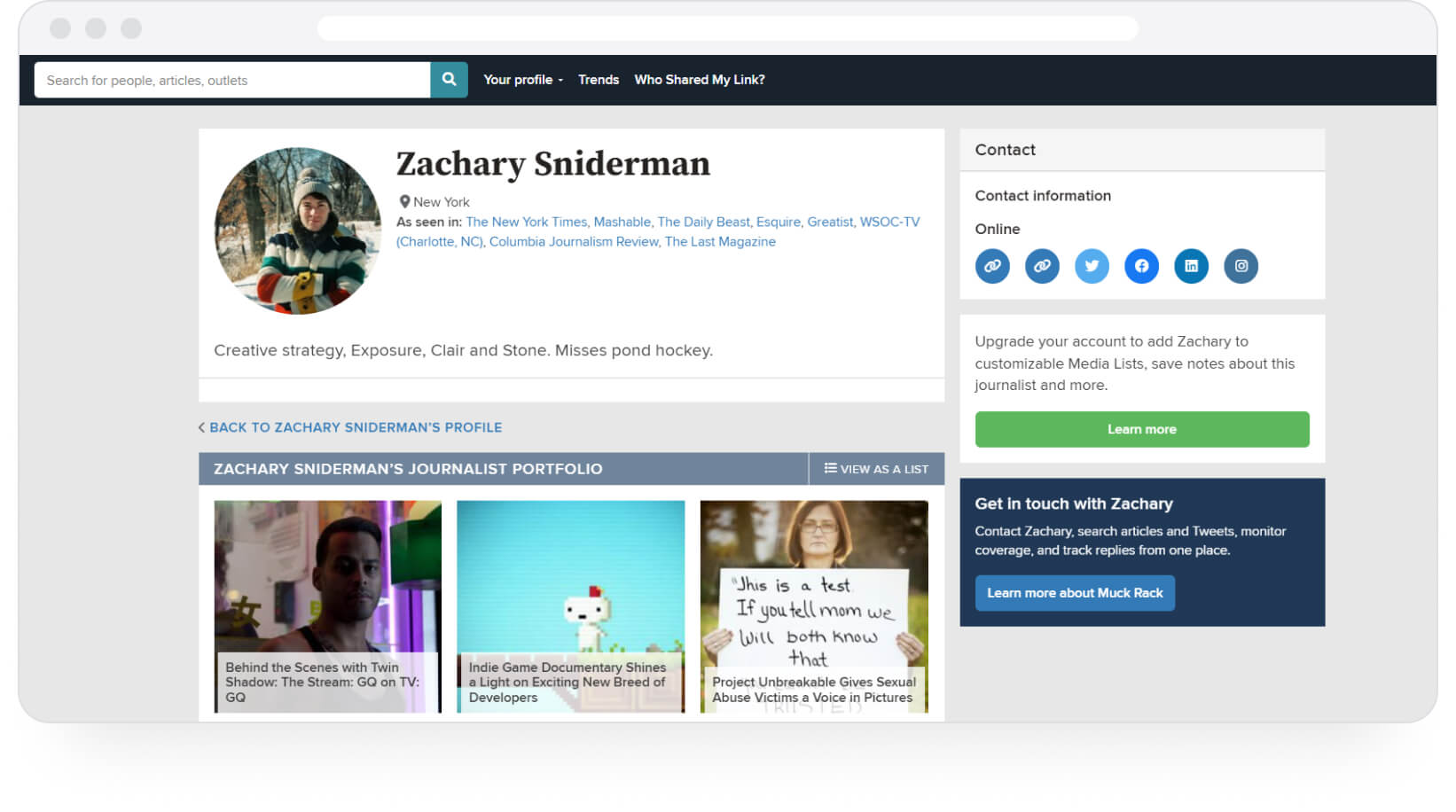 The Best Squarespace Alternative?
… depends entirely on what you want. I chose Authory because it created a state-of-the-art portfolio in about 3 minutes, automatically backed up all my content (six years' worth), provided a searchable database, and provided insights into reader engagement with my articles (since I am a writer).
If these features will serve you, Authory is your go-to portfolio builder. However, if you are looking for other features offered by Squarespace — templates, high levels of visual customizability, eCommerce sites, and other marketing capabilities, you might want to look at WordPress or Wix. If you want unforgettable visual appeal, play around with Carbonmade. If you're a journalist, Muck Rack + Authory (one portfolio on each) is the ideal mix, while Contently + Authory portfolios would hit the sweet spot for writers/audio-video creators.
My recommendation would be to get started with Authory for free. See exactly what this tool offers and how capable it is at meeting your portfolio-building requirements. No hidden costs, no muss, no fuss.