If you're a serious professional, and it's safe to assume that you are, you cannot make your portfolio just once and be done with it. It will always be a continuously evolving process that needs thought, consideration, and creativity.
Hence, the need for a portfolio that exhibits your career achievements over a period of time.
Without further ado, let's look at some of the top career portfolio examples around to inspire you to create yours.
📖
What you'll get from this article:
• A look at the type of careers that require professionals to have portfolios
• Ten professional portfolio examples showcasing work in PDFs
• Five examples of creative professional portfolios
• A review of Authory — a tool that helps you make your portfolios easily
What types of professionals need portfolios
For most professionals, it's great if you can showcase your work either through a professional portfolio or via case studies.
That said, artists, musicians, designers, writers, journalists, marketers (especially content marketers and social media marketers), video creators, and thought leaders, generally content creators of all kinds, will benefit from making a portfolio.
In other cases, a résumé (alternatively spelled "resume") could suffice, though a LinkedIn profile can be helpful in such situations.
Ten professional career portfolio examples (PDF)
These portfolio examples have been picked with the following things in mind:
These active professionals are at the top of their fields, with super impressive skills and qualifications
They all have significant work experience and will serve as references for what a complete career portfolio looks like
All of them have great-looking, well-organized professional portfolios that prove that a long career can still be concisely showcased
The PDF format is well-presented in their work samples (something that can be hard to do usually)
Hopefully, looking at these portfolio examples will help you create your own professional portfolio that is attractive to a future employer.
Career portfolio example 1: Carter Hammett
Carter Hammett is a social worker, writer, author, and trainer. He's written three books and is also the manager of employment services with Epilepsy Toronto, which supports the job search needs of people living with epilepsy and related disabilities.
Here's Carter's career portfolio (PDFs).
Career portfolio example 2: Susan Horsburgh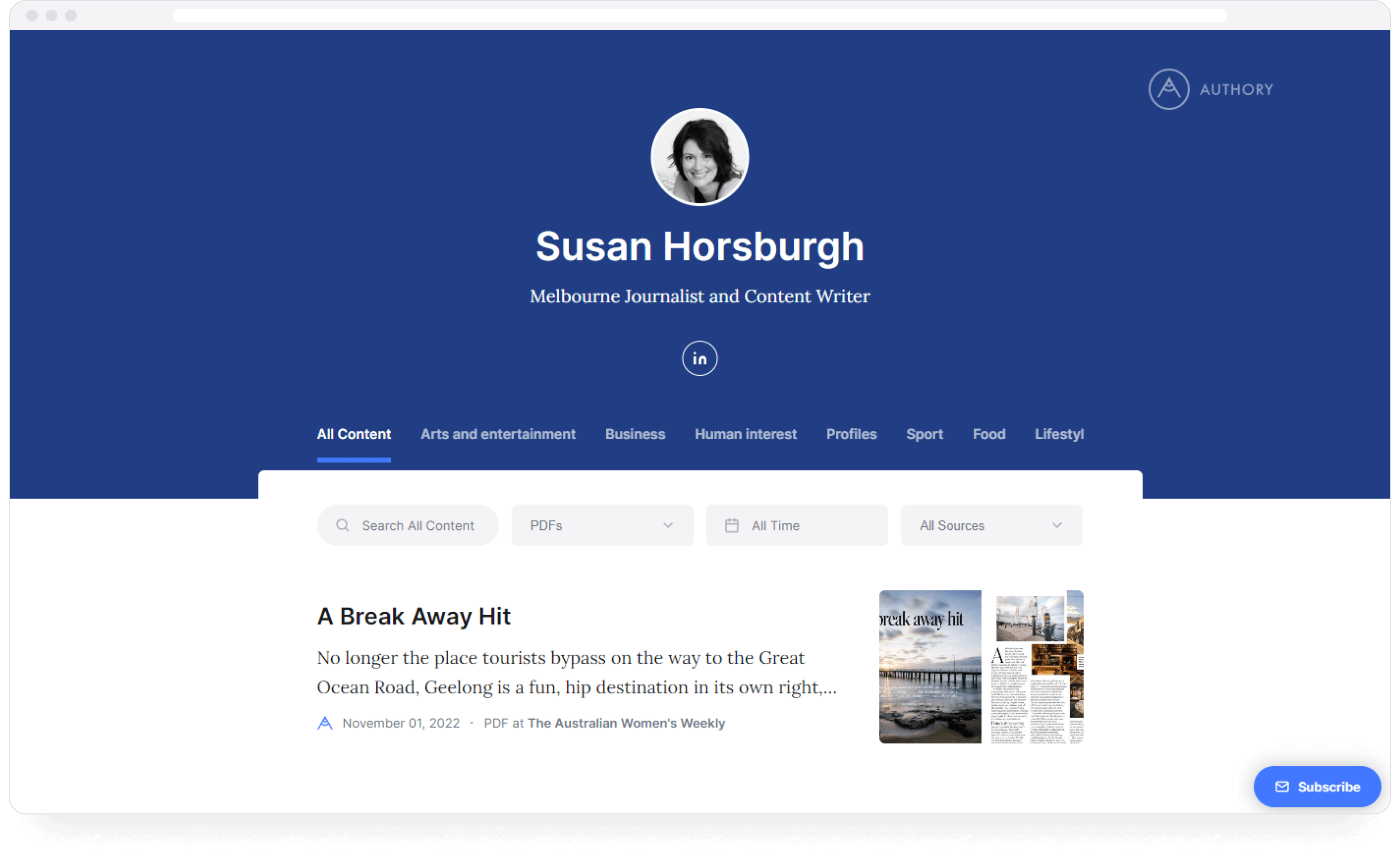 Susan Horsburgh is a journalist and writer with more than 25 years of experience writing news, features, and cover stories for leading international and Australian publications, including TIME, People, The Weekend Australian Magazine, The Australian Women's Weekly, Good Weekend, The Age (Melbourne) Magazine, The Australian Financial Review Magazine, and The Australian newspaper.
Here's Susan's career portfolio (PDFs).
Career portfolio example 3: Fabrizio Tonello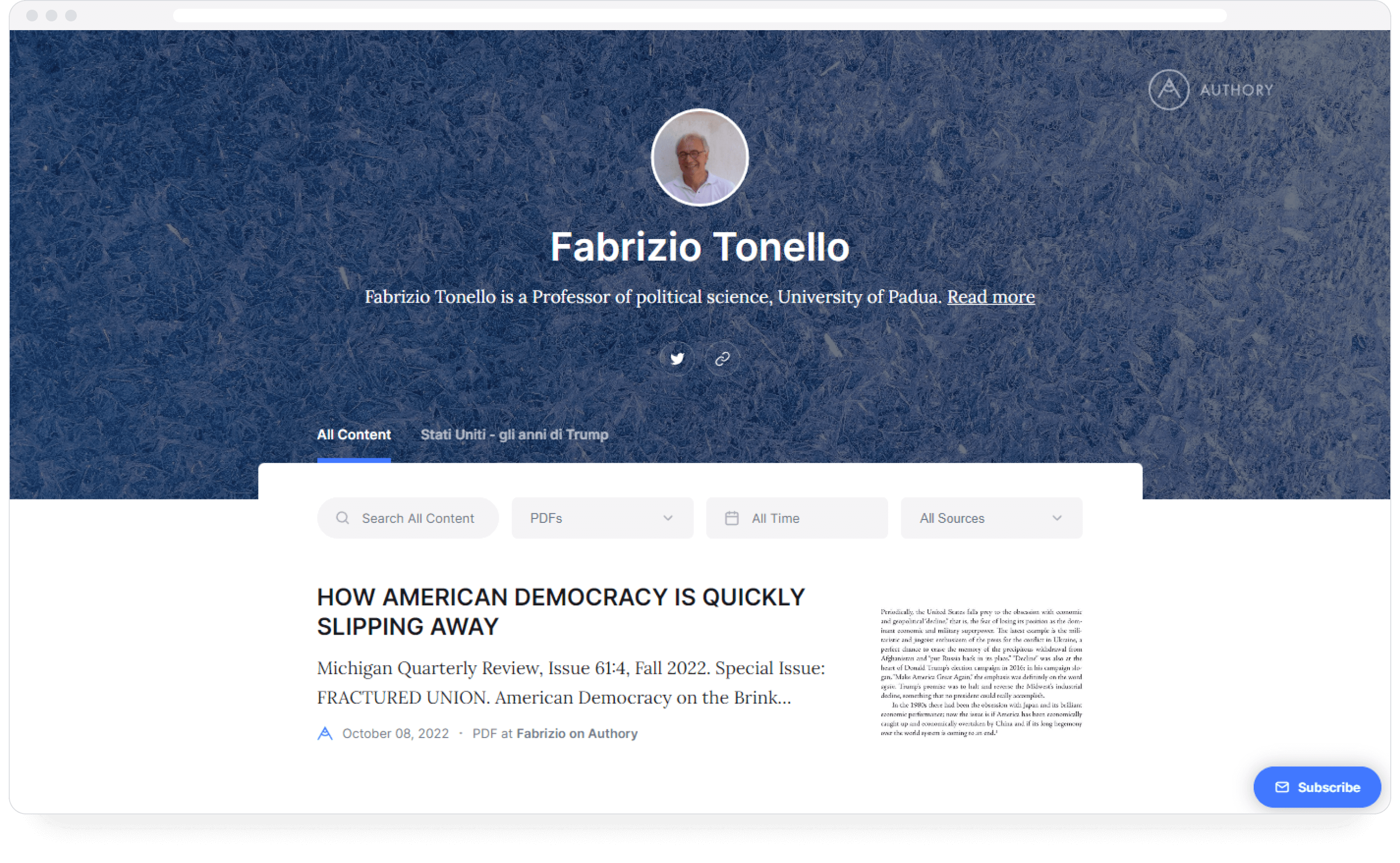 Fabrizio Tonello is a Professor of political science at the University of Padua.
Here's Fabrizio's career portfolio (PDFs).
Career portfolio example 4: Alex Hargrave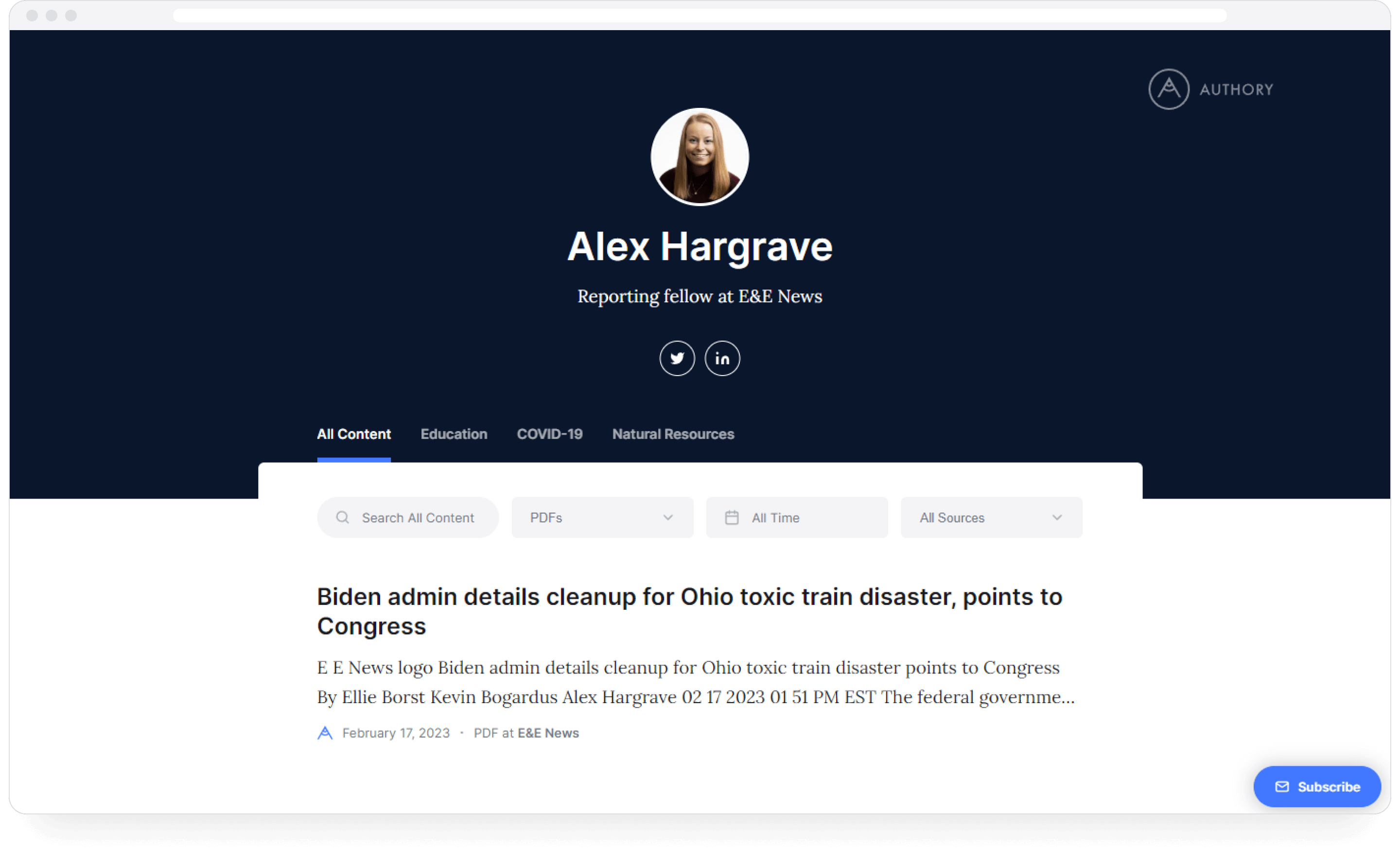 Alex Hargrave is a reporting fellow at E&E News.
Here's Alex's career portfolio (PDFs).
Career portfolio example 5: Kevin Johnston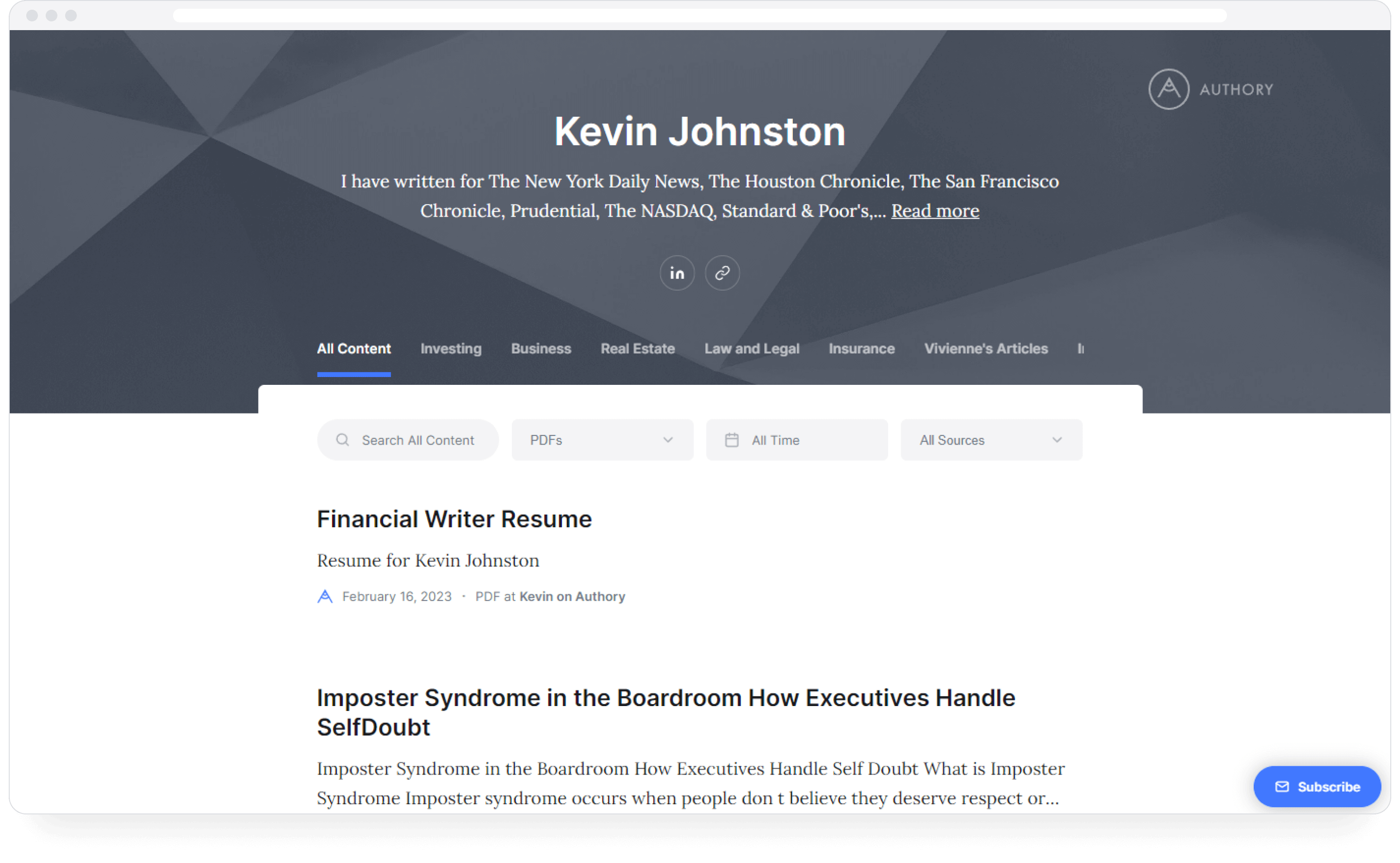 Kevin Johnston has written for The New York Daily News, The Houston Chronicle, The San Francisco Chronicle, Prudential, The NASDAQ, Standard & Poor's, and hundreds of online outlets.
Here's Kevin's career portfolio (PDFs).
Career portfolio example 6: Jan Servaes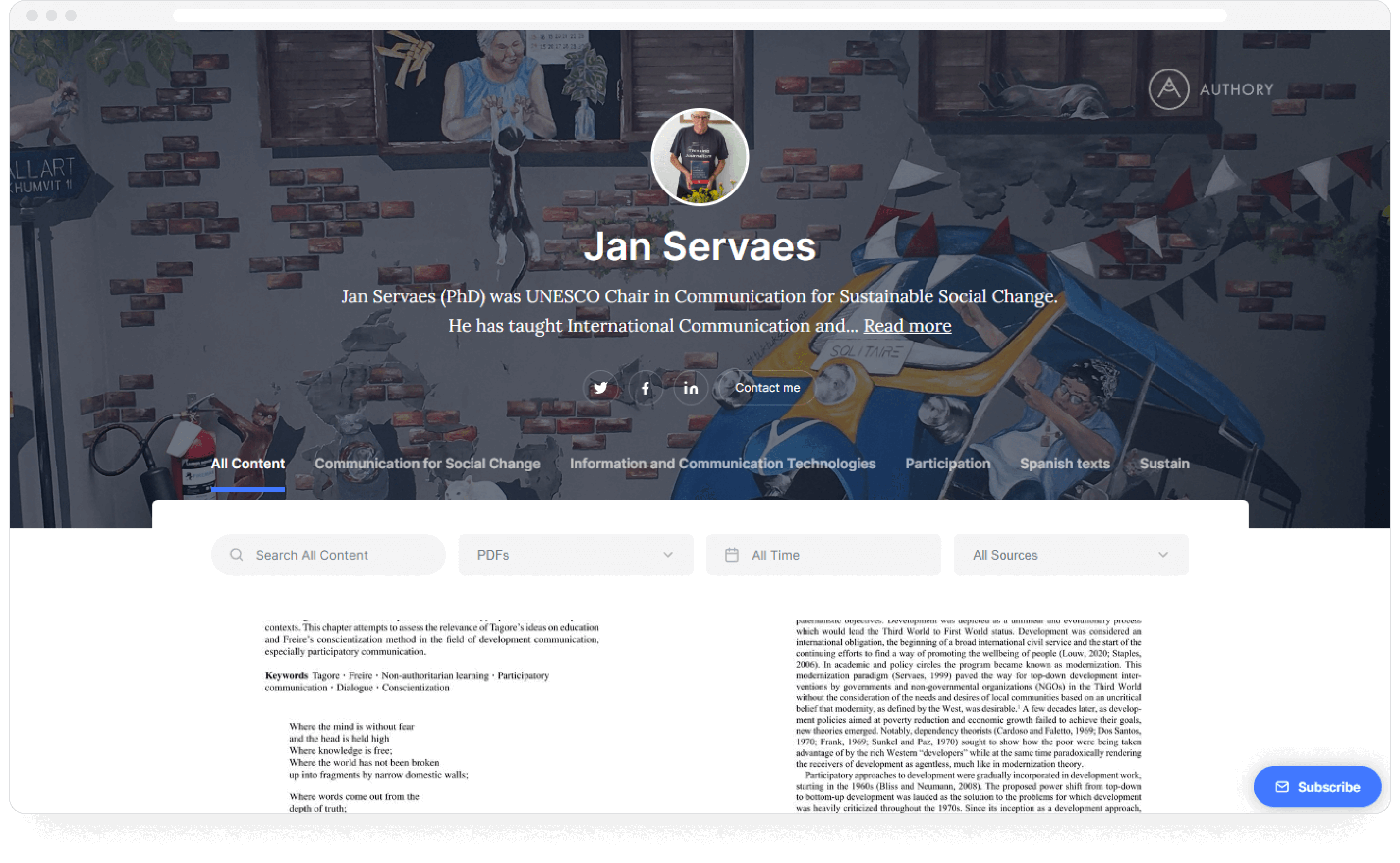 Jan Servaes (Ph.D.) was UNESCO Chair in Communication for Sustainable Social Change. He has taught International Communication and Communication for Social Change in Australia, Belgium, China, Hong Kong, the United States, the Netherlands, and Thailand, in addition to several teaching and research stints at about 120 universities in 55 countries.
Here's Jan's career portfolio (PDFs).
Career portfolio example 7: Randy Caparoso
Randy Caparoso is a full-time wine journalist/photographer living in Lodi, California. He is the author of "Lodi! The Definitive Guide and History of America's Largest Winegrowing Region."
Here's Randy's career portfolio (PDFs).
Career portfolio example 8: Christine Steele
Christine Steele is an award-winning journalist and content creator skilled in creating authentic SEO content that exceeds metrics and drives brand engagement.
Here's Christine's career portfolio (PDFs).
Career portfolio example 9: Howard M Cohen
Howard M. Cohen is a 35+ year executive veteran of the Information Technology industry, an authorized CompTIA instructor, and a regular contributor to many IT industry publications.
Here's Howard's career portfolio (PDFs).
Career portfolio example 10: Sundararaman T
Dr. Sundararaman is an award-winning Health Systems & Health Policy veteran, having been associated for over four decades across the best academic institutes in India, such as JNU, IIT Bombay, TISS, and JIPMER, to name a few. He has written over fifty books, mainly on health issues, in both popular communication and public health texts. He has also written several articles that have been published in peer-reviewed journals.
Here's Sundarararaman's career portfolio (PDFs).
Five creative portfolio examples
The following list of portfolio examples has been prepared with these aspects in mind:
These folks are highly creative professionals of note, ranging from business to sport
The portfolios highlight non-PDF format examples
Their professional portfolio examples are easy on the eye
They don't just post writing content
Seeing this list of professional portfolios will give candidates an idea of how to impress prospective employers.
Creative portfolio example 1: David Pogue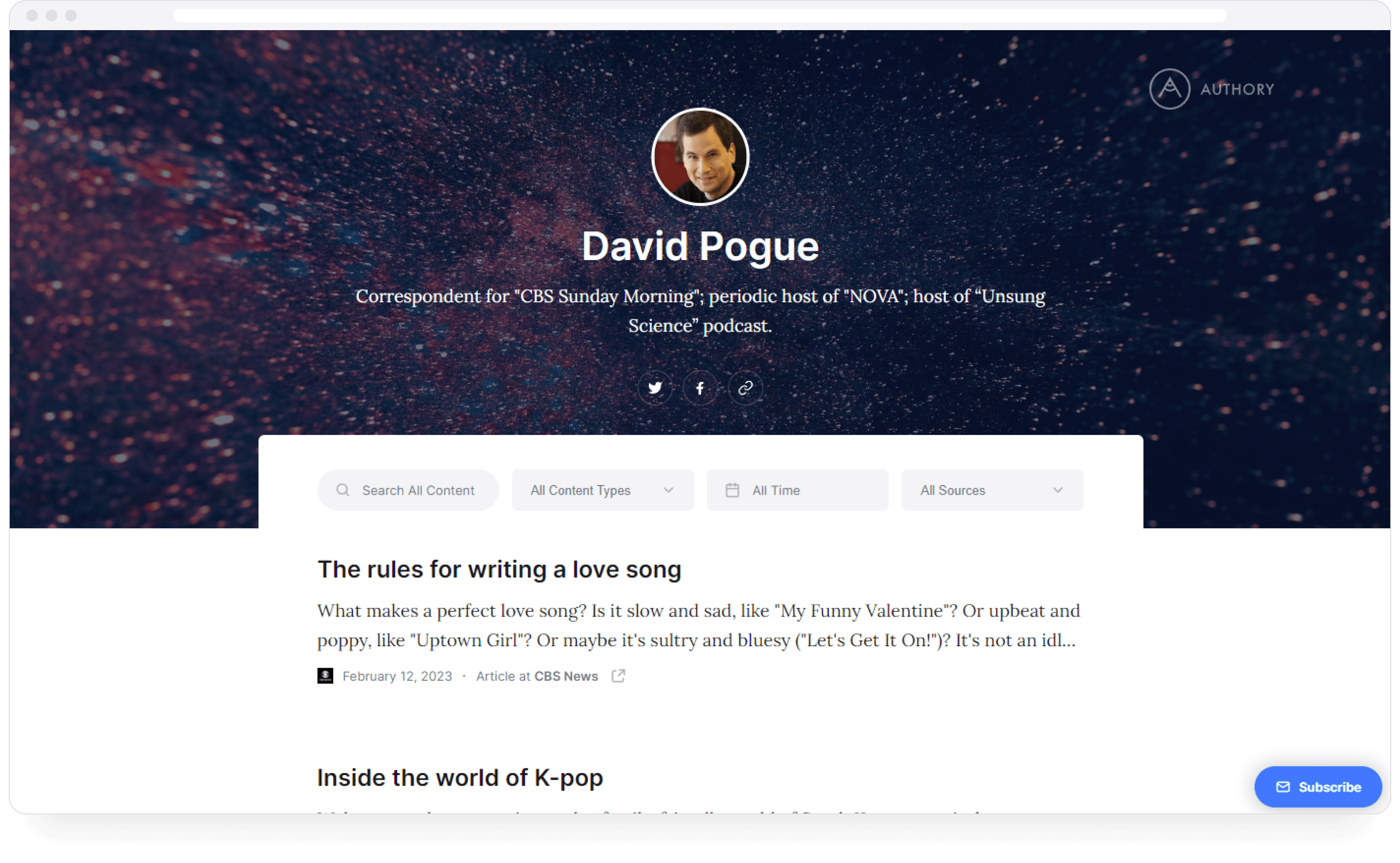 David Pogue is a six-time Emmy winner for his stories on CBS Sunday Morning, a New York Times bestselling author, a five-time TED speaker, host of 20 NOVA science specials on PBS, and creator/host of the CBS News/Simon & Schuster podcast Unsung Science. He's also written or co-written over 120 books!
Here's David's creative career portfolio.
Creative portfolio example 2: Steven Levy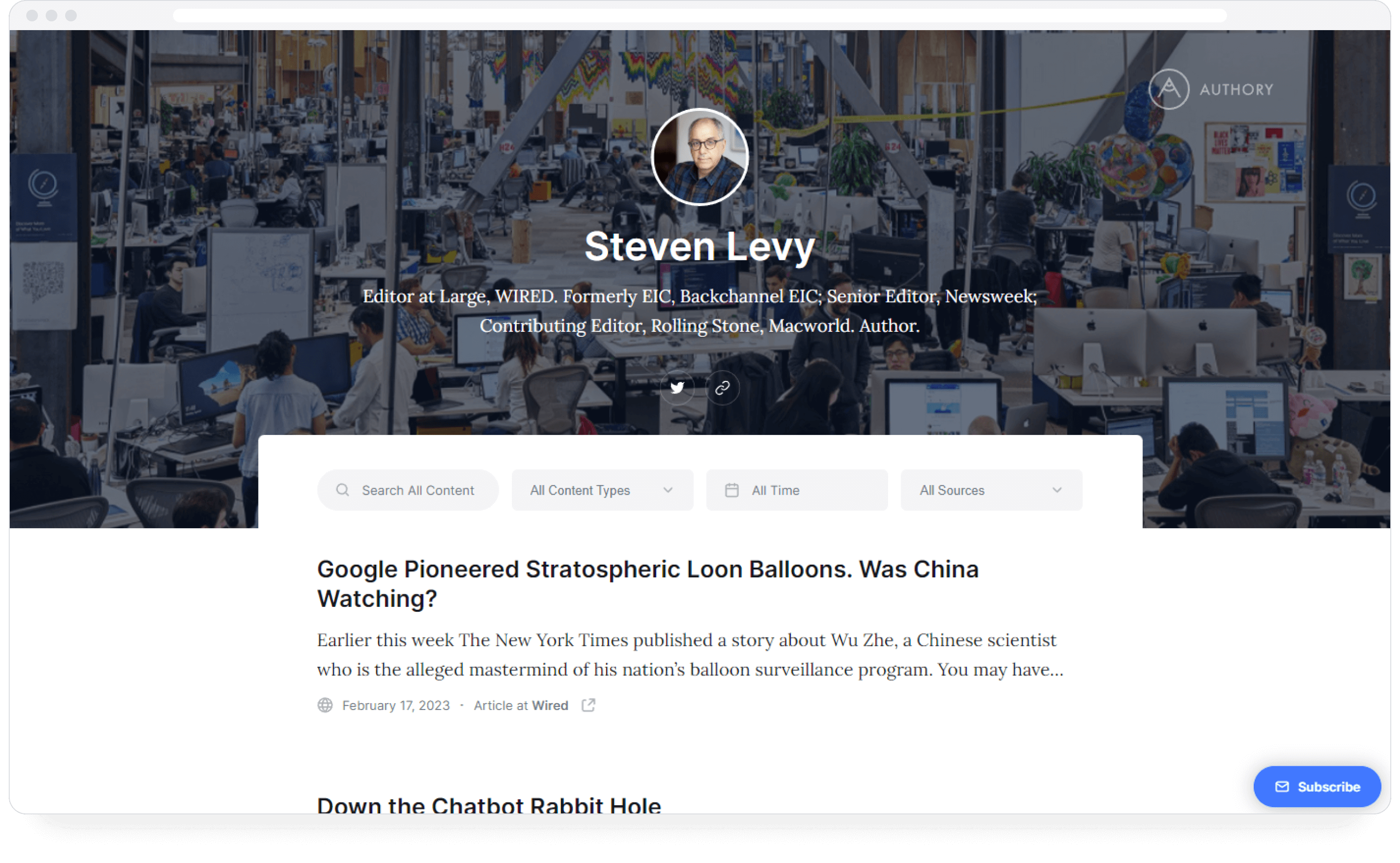 Steven Levy is Wired's editor at large. The Washington Post has called him "America's premier technology journalist." He has written the definitive books on Facebook, Google, the Macintosh, and the iPod. For almost four decades, he has chronicled the digital revolution, its impact on humanity, and the people behind it.
Here's Steven's creative career portfolio.
Creative portfolio example 3: Jarrod Kimber
Jarrod Kimber is a cricket commentator, analyst, presenter, YouTuber, and podcaster. He spent a decade with ESPN, with freelance gigs with places like Sports Illustrated, the Ringer, ABC, The Telegraph, BBC, and The Blizzard, and hosted various shows with Andy Zaltzman. He was also a General Manager of a T20 cricket franchise and has been a team analyst for many cricket teams.
Here's Jarrod's creative career portfolio.
Creative portfolio example 4: Carolyn Hinds
Carolyn Hinds is a film culture critic, journalist, podcaster, and YouTuber whose published work can be found on multiple online publications like ButWhyThoPodcast.com, Shondaland, Observer, Mediaversity Reviews, and many others.
Here's Carolyn's creative career portfolio.
Creative portfolio example 5: Jorden Makelle
Jorden Makelle is a writer, musician, and YouTuber talking about freelance writing, creative writing, entrepreneurship, books & reading, and creativity & self-development.
Here's Jorden's creative career portfolio.
Authory — an auto-updating portfolio builder for your career portfolio
When you create a career portfolio, you WILL need to maintain the content on it and keep it up-to-date. Authory is a brilliant portfolio builder because it auto-updates! Hence, it's super easy to maintain.
Setting up Authory is really simple — it takes just 3 minutes — just add your sources and/or byline, and Authory will scour the internet, find all your content, and add it to your account.
Authory is also really easy on the eye. Take a look at my portfolio below: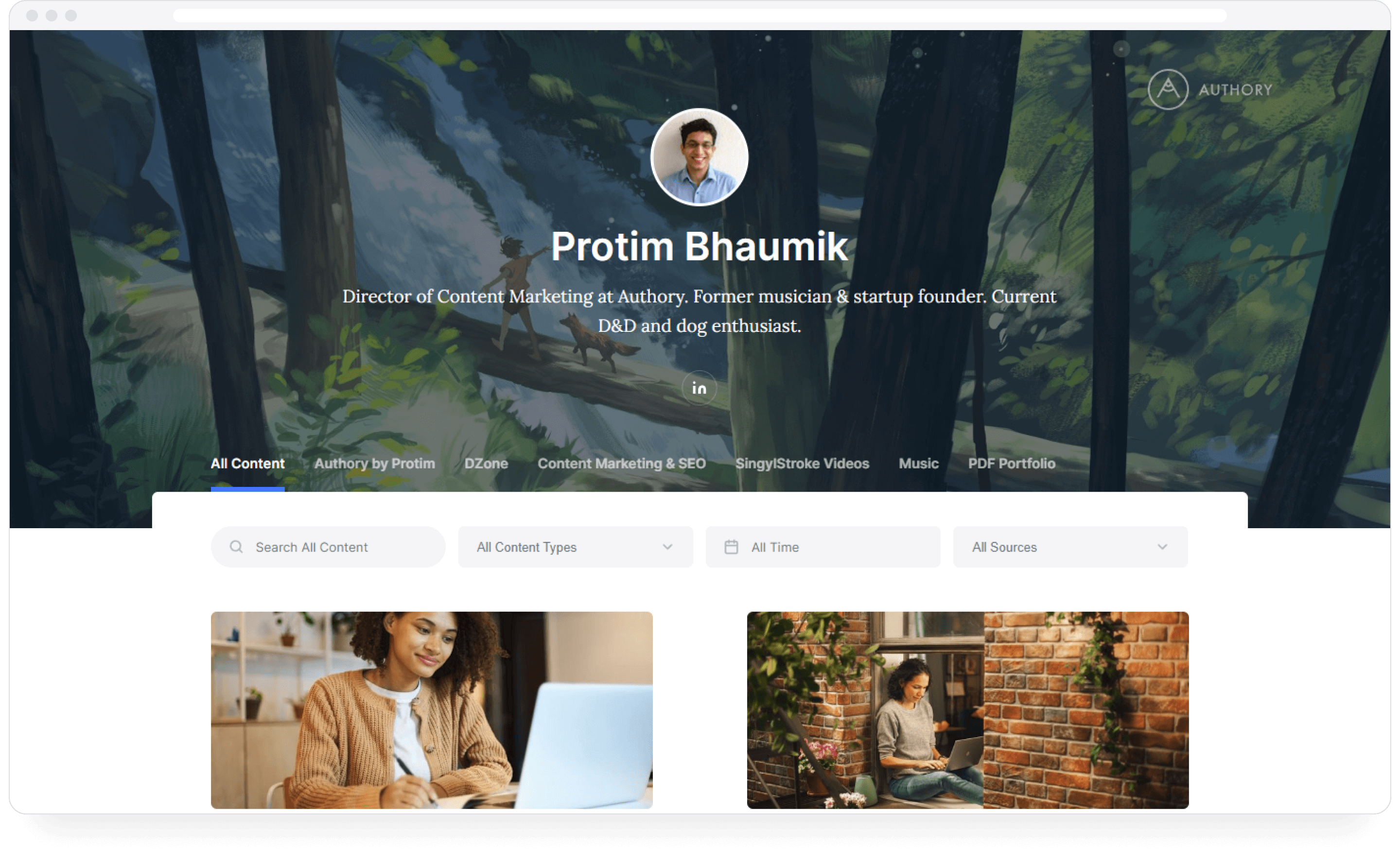 Authory also backs up all your work. Even if the original article goes down or is re-bylined, Authory will have a copy of the piece in its original format — no other portfolio builder does this, AFAIK.
Along with all this, Authory gives you social media analytics for all your content (without you needing to connect your social media account to Authory), and it's great if you're looking to set up a newsletter.
In a word, Authory is fantastic. Especially for writers, journalists, marketers, content creators, and thought leaders.
As a result, it's used by the best. Here's David Pogue on Authory:
Also, David speaks glowingly about Authory in this video on "This Week in Tech."
And finally, did I mention that Authory is superb for PDFs? Most portfolio builders genuinely struggle with PDFs. Here's my PDF portfolio as proof: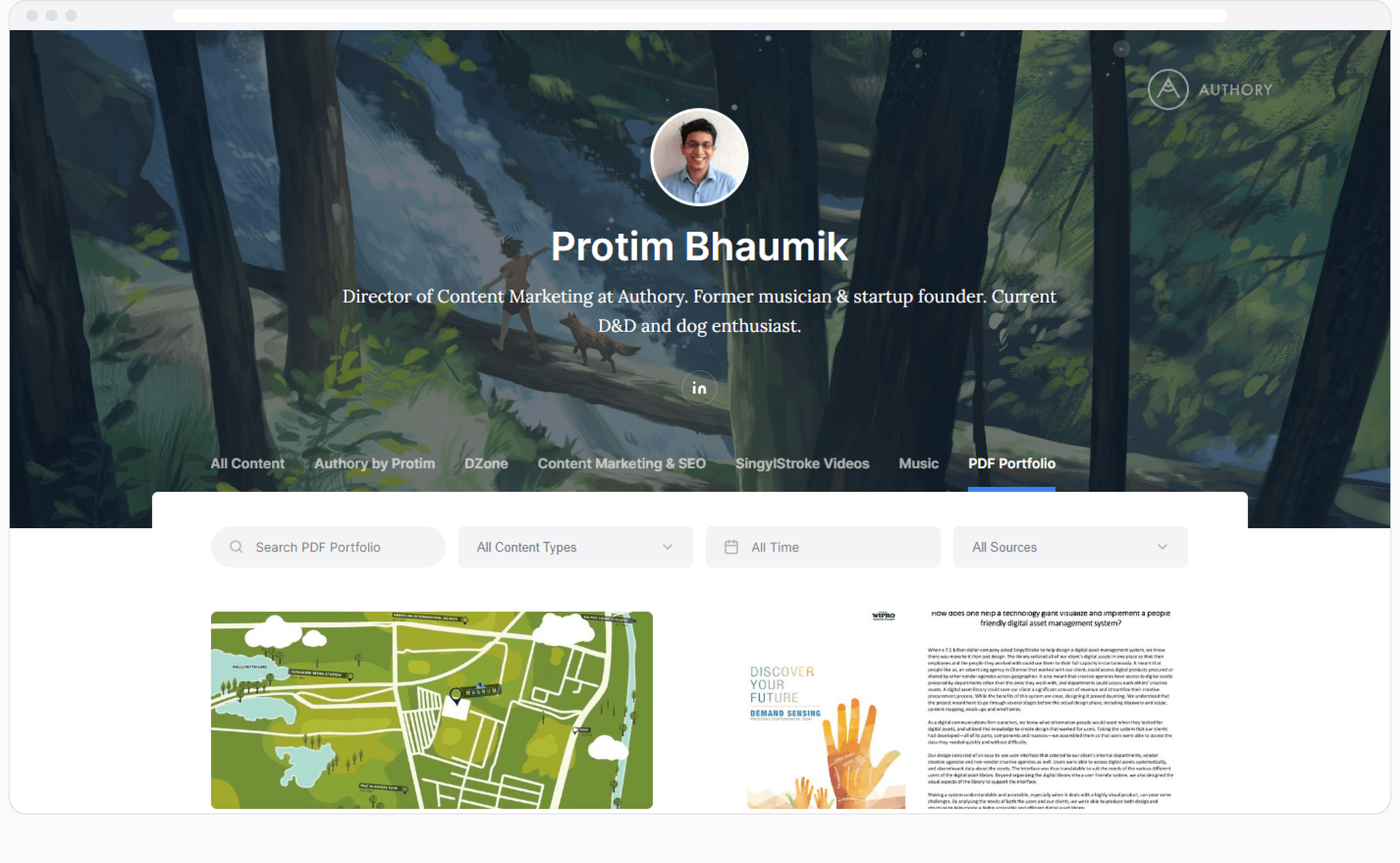 Get Authory for free today and join the thousands of serious professionals worldwide who enjoy all the benefits of an auto-updating portfolio with an in-built content backup system.