Looking for a website builder? Or maybe a portfolio website builder? Then you've probably heard of Wix. It appears in most "best website builders" lists, and with good reason.
While it's no Squarespace, Wix is a solid option for anyone seeking to create websites with varied features — an online store, custom domain, eCommerce features, images, blogs, etc. But it does have quite a few gaps, such as the fact that the free version is limited in features, and that you have to pay for every third-party app/plugin integration. The latter gets expensive really fast if you want a website with advanced features.
🗒️
In light of this, I'll discuss nine interesting alternatives to Wix. I'm approaching most of these from the POV of building a professional portfolio, but most of these tools (barring a few) can be used to create regular personal or business websites just as easily.
In light of this, I'll discuss nine interesting alternatives to Wix. I'm approaching most of these from the POV of building a professional portfolio, but most of these tools (barring a few) can be used to create regular personal or business websites just as easily.
📖
What you'll get out of this article:
• A summary of Wix and its offerings
• 9 incredible Wix alternatives that will help you build your online portfolio
• Why Authory is my chosen alternative to Wix
• Main features of Authory — automatic content importing, content backup, analytics & more
What is Wix?
Wix is a well-known cloud-based website builder that also provides web hosting and design capabilities. It is known for its in-built drag-and-drop functionality, 500+ ready-made templates, and its ability to integrate with third-party apps to expand a website's functionality. You can easily create an online store within your website and leverage powerful eCommerce features to earn revenue from products/services.
No coding skills are required to set up a Wix website. But, if you are familiar with website development at the code level, you can use Velo by Wix — an open development platform for building advanced web applications. It offers serverless computing, hassle-free coding, and total freedom of design.
Much like Squarespace and WordPress, Wix is favored by businesses of all sizes, including small and medium-sized ones, to create their web presence.
9 best Wix alternatives
🗒️
Disclaimer: I wasn't able to find a tool that offers a free domain, sadly.
Authory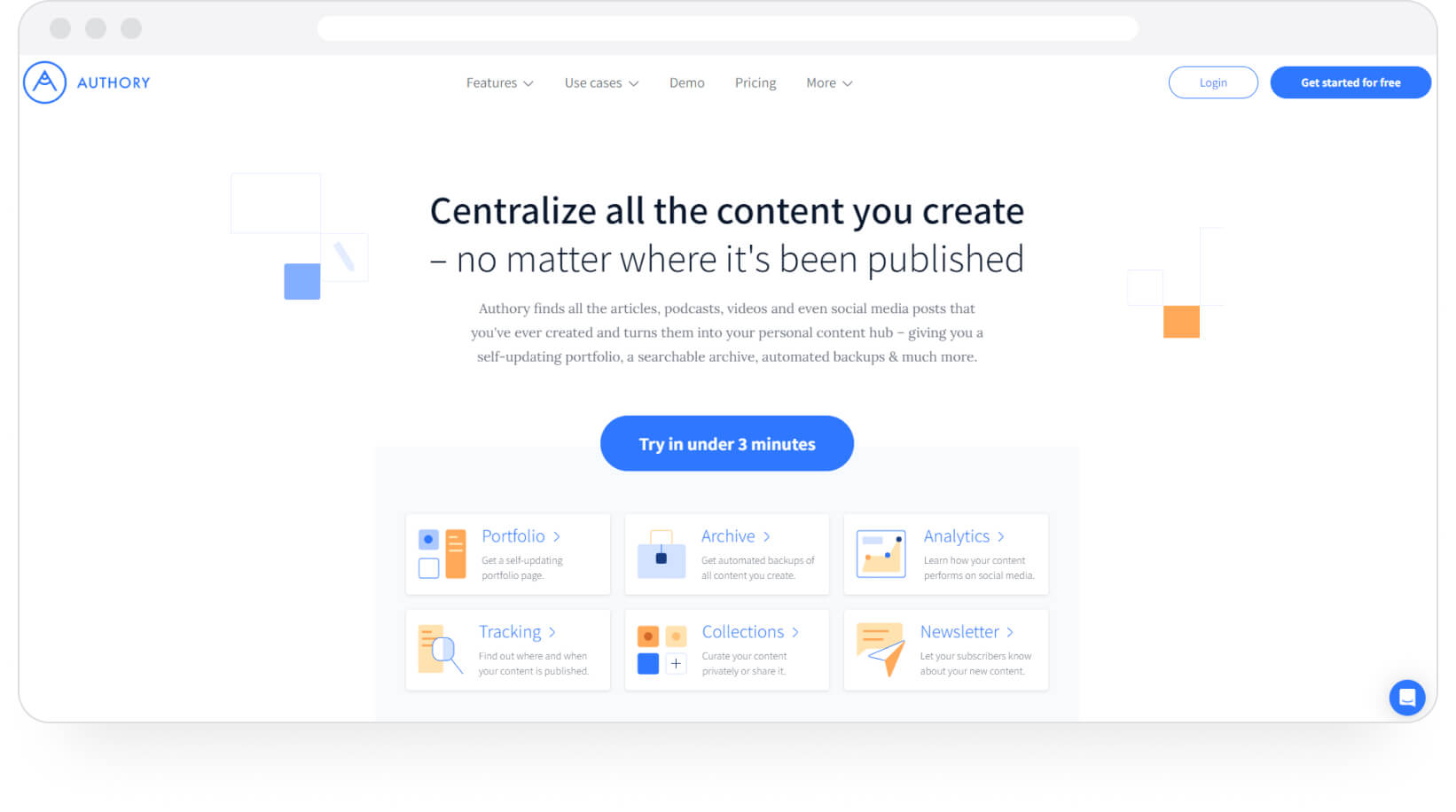 Among its many offerings, Authory stands out as an excellent portfolio builder because of two features: automatic importation of content from any website, as long as you enter the source website's URL, AND automatic backup of all imported content.
Here's how it works: you enter the URL of the website(s) on which your content is published, and within 48 hours of doing so, Authory will automatically import all your bylined content to its database, which is searchable and organize-able as you see fit. The tool will also continue to import all bylined content published in the future on the same sites you have previously entered into the system. You don't have to spend time manually tracking down published work or even worry about if a submitted piece has been published. If a piece of text/audio/video/social media content has been published with your byline, Authory will automatically bring it to you in its dashboard.
You can add, text, audio, and video content to your Authory portfolio. You can even add social media content by importing everything from your Facebook, Twitter, and LinkedIn accounts.
You can also manually add non-bylined content for safekeeping and storage. Once content has been imported, you slot them into folders called Collections. Then you add these collections to your portfolio with a click, and you're done. It takes less than 3 minutes to set up your portfolio.
Bonus: you can make any Collection private to protect your content, and send a link to the specific person/people you want to show your work (in that collection) to.
All imported content is automatically backed up. Anything imported to your Authory account is preserved forever, even if the original webpage with your content on it dies or disappears for some reason. All the backups are in the original content format (text, audio, image, and video), not screenshots.
There's also an Analytics feature that gives you solid numbers on content engagement every 30 days. You get to know about the number of site visitors as well as interactions.
Authory provides plenty of more advanced features (automatic search engine optimization, responsive templates, widgets, email notifications), but the ones I detailed above are more than enough to showcase how Authory builds your portfolio for you.
Example of an Authory portfolio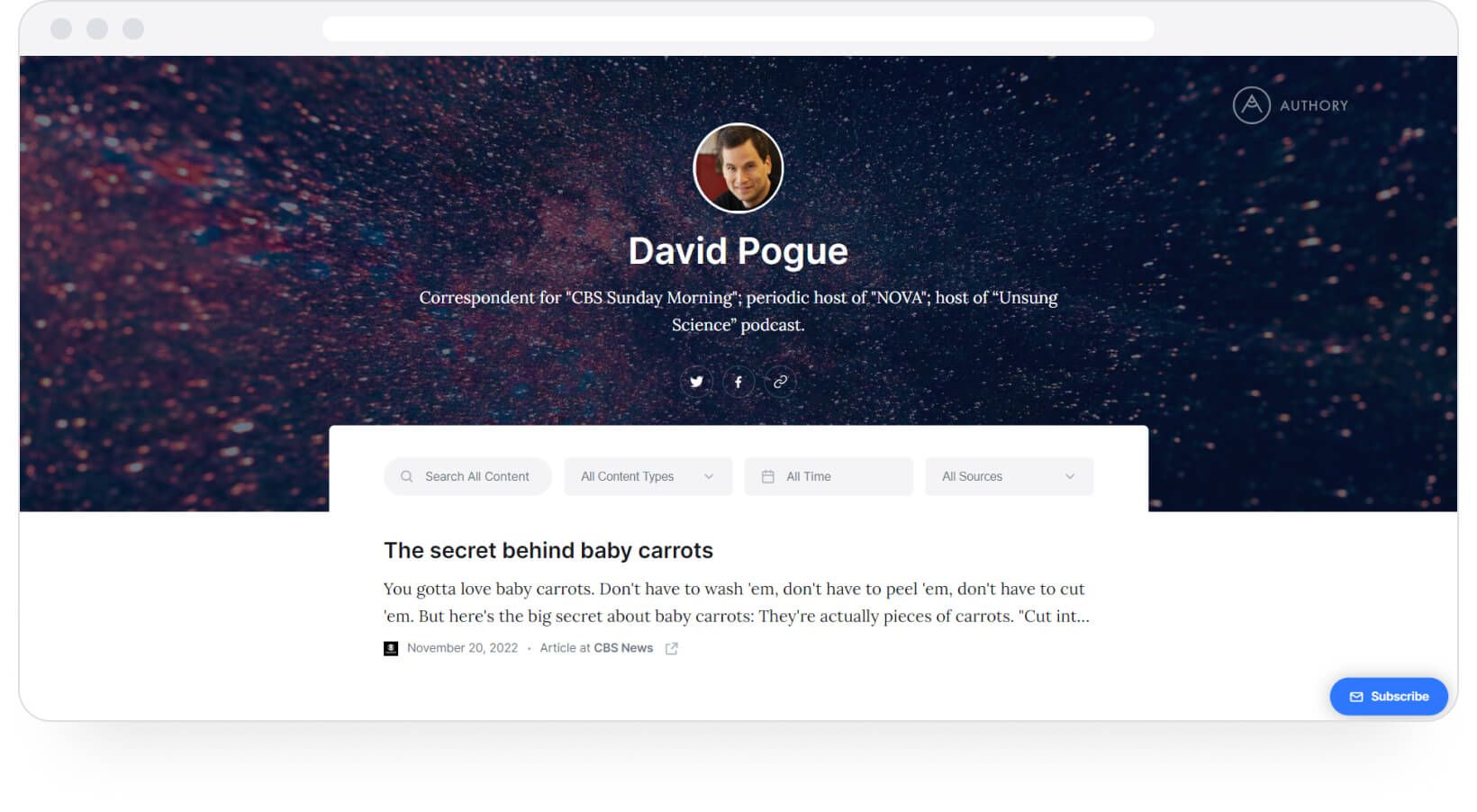 Squarespace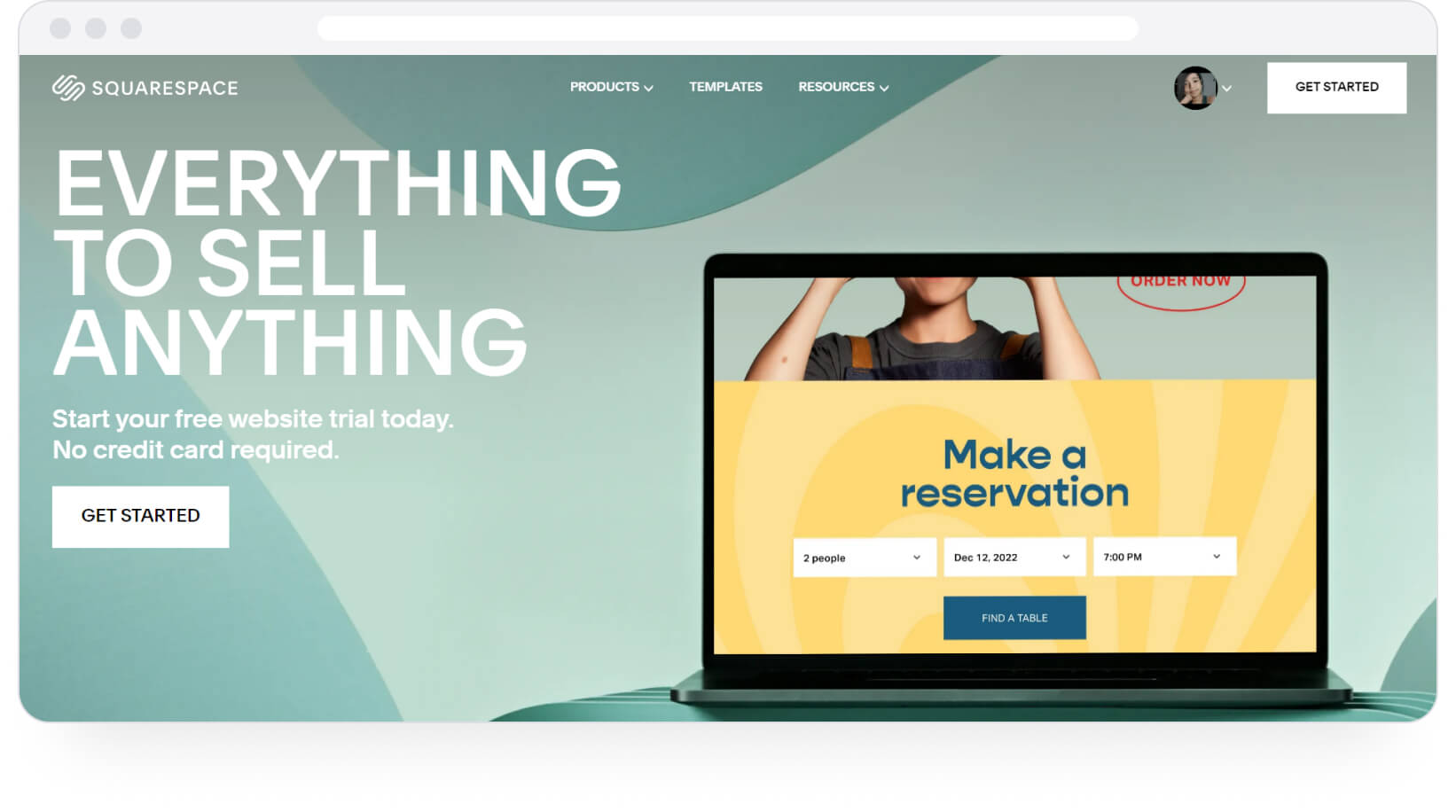 Squarespace is great for building any website, including portfolios. It provides everything you need to create professional portfolio sites, especially if you work with visual media. Beyond a doubt, Squarespace's best-known feature is its library of sharp, minimalist, and beautiful templates, designed to help you create any website you can imagine.
These templates are responsive and optimized for mobile screens. Writers can use an in-built blog section, create "about me" pages instantly, and insert contact forms with a click. They just have to drag and drop these sections to the exact position they want. You can launch online stores, and leverage marketing tools, SEO tools, blogging tools, and project management capabilities to better manage your online business.
However, I'd recommend using Squarespace only if your portfolio must be visually driven (like graphic design or artist portfolios). If you're just looking to present your best writing/podcast/video samples, you don't really need to do the work (or pay the higher cost) required to create a Squarespace site.
Example of a Squarespace portfolio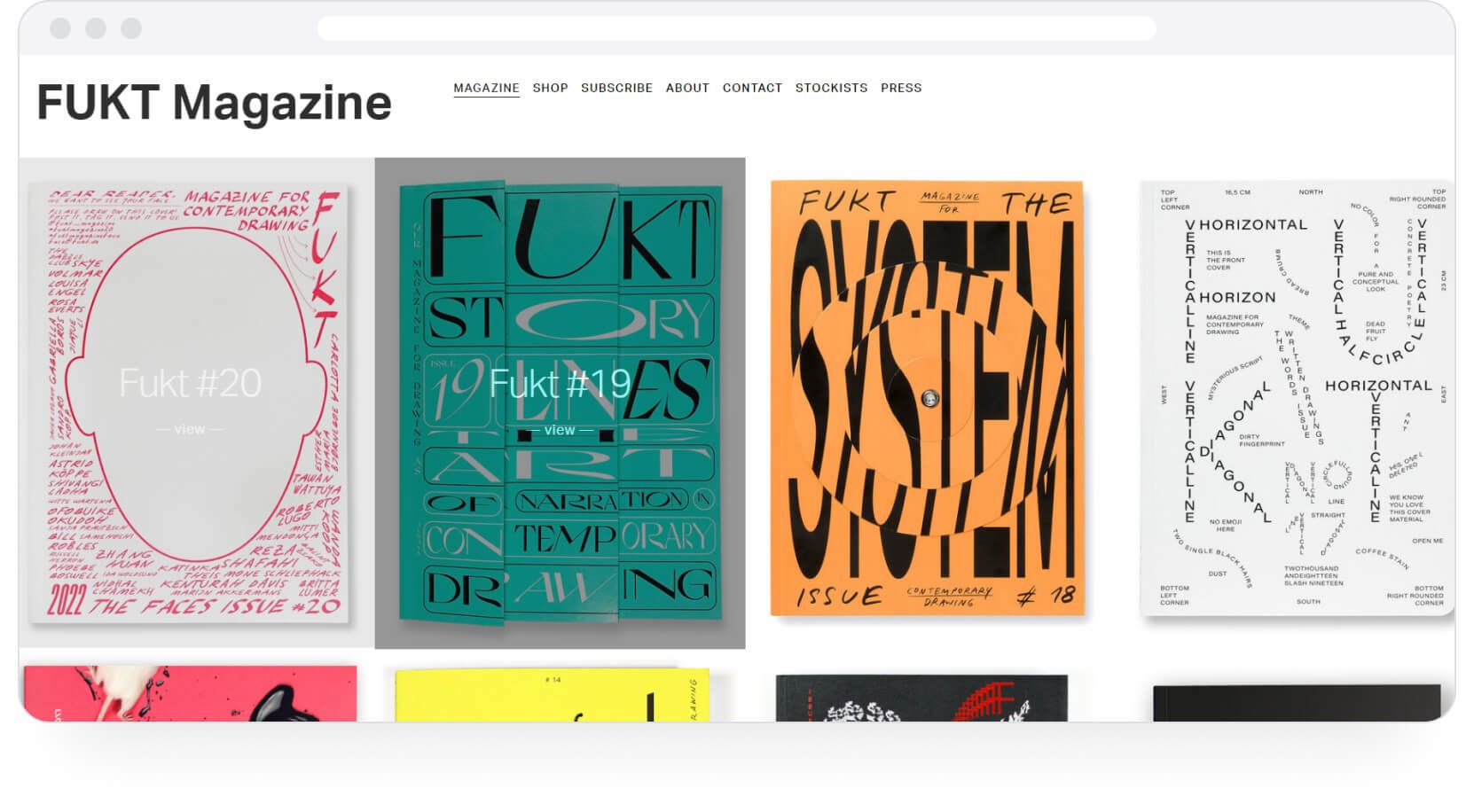 Portfoliobox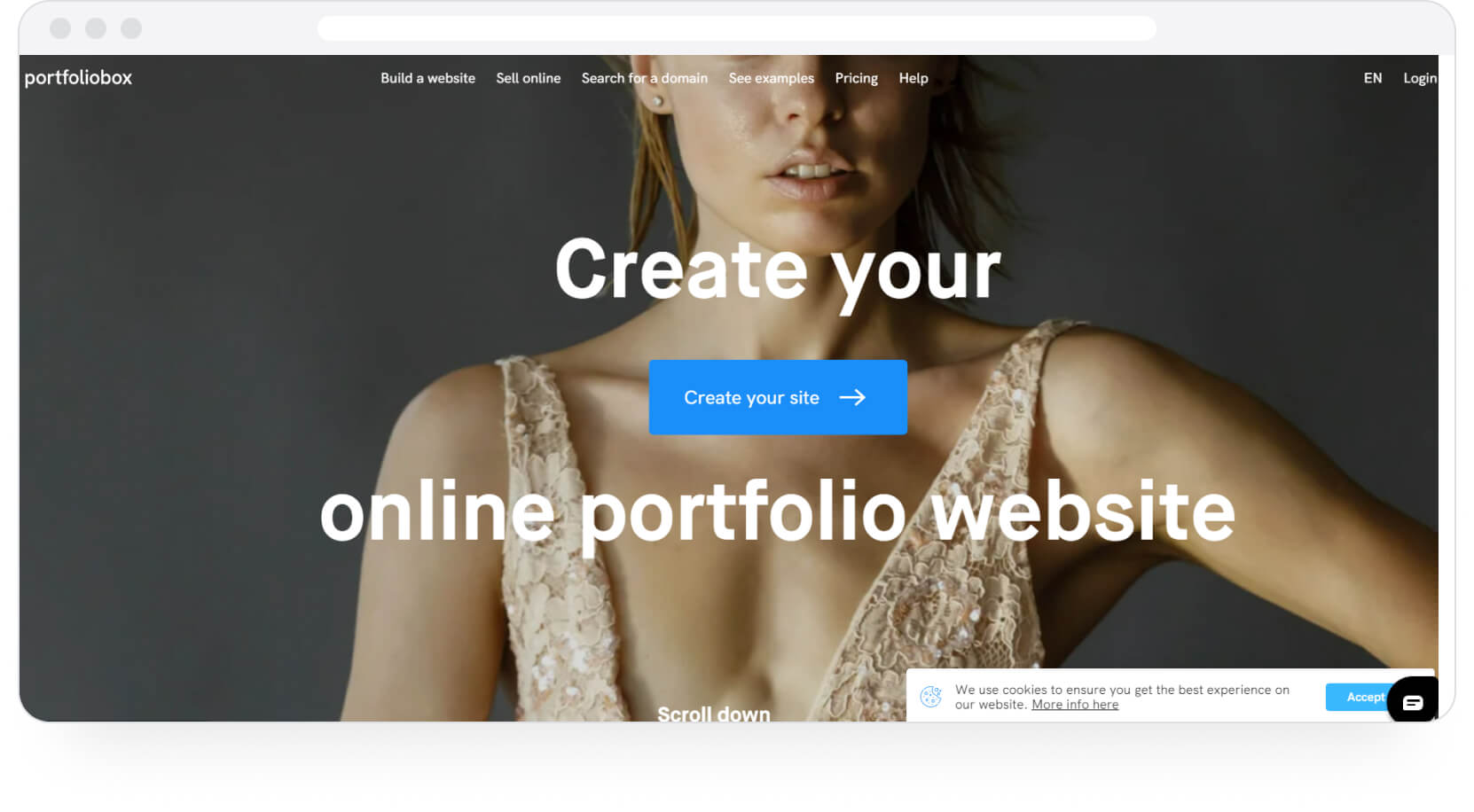 This dedicated portfolio builder caters to creative professionals in particular. Portfoliobox comes with a wide range of design tools (a cool drag-and-drop editor included), the ability to password-protect your pages, a watermarking tool, intuitive galleries, and a blog section to write blog posts directly within your portfolio.
You can also use a different template/background/layout for every page of your portfolio site (if you're creating one with multiple pages). You can also deliver work to clients and receive their feedback from within the tool.
Example of a Portfoliobox portfolio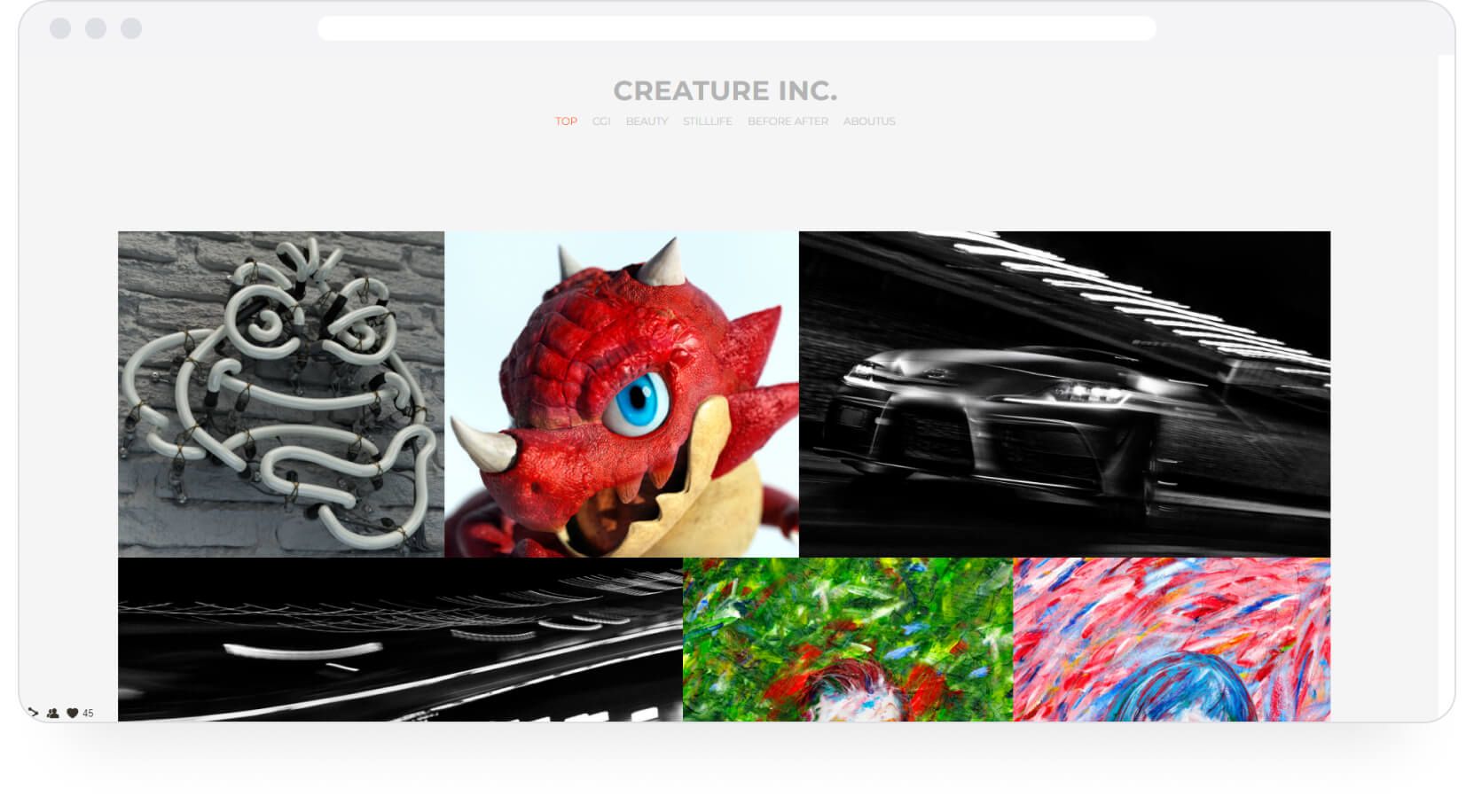 WordPress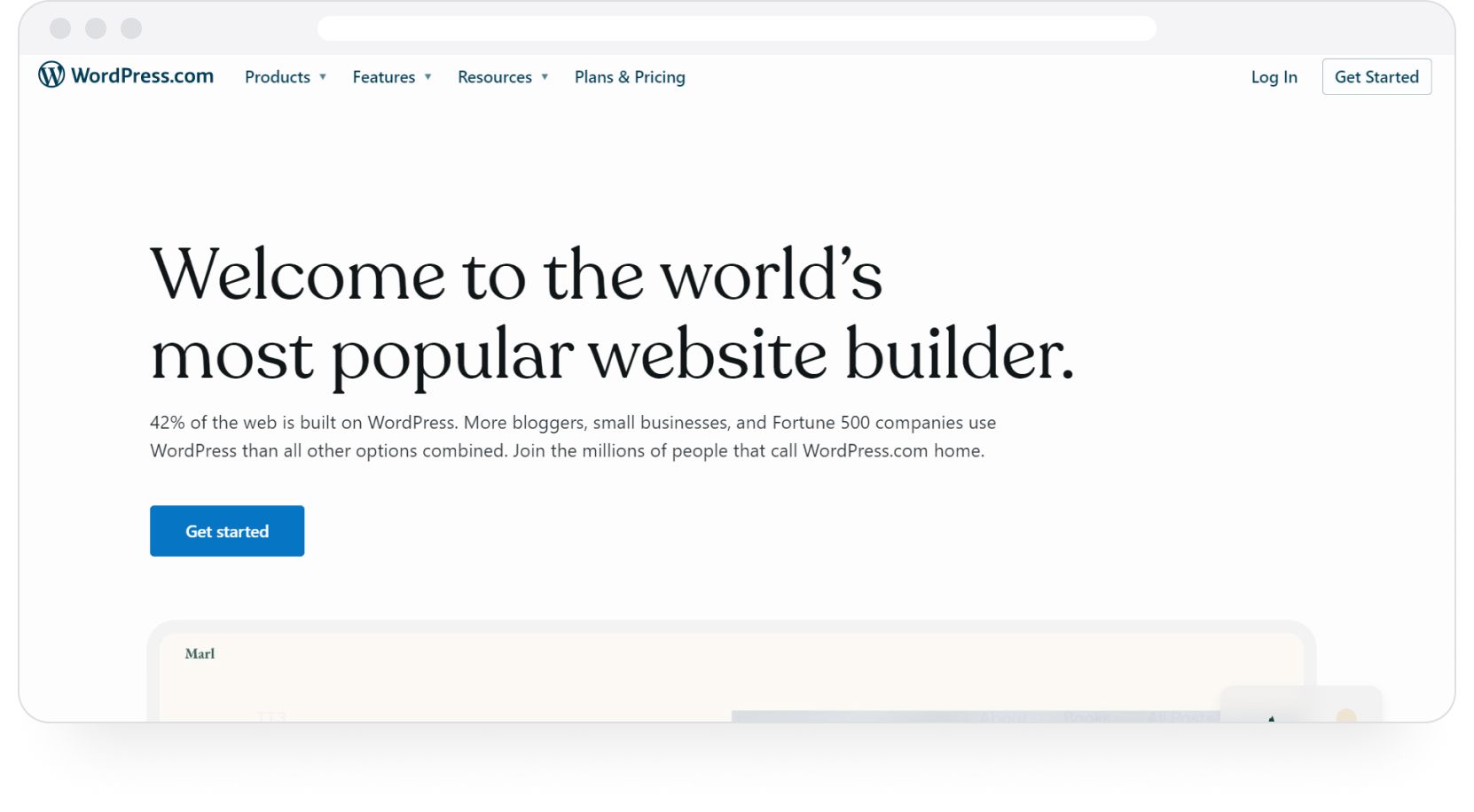 Everyone's heard of WordPress — it is the most popular website builder in the world; some would argue it is the most powerful website builder. Even if you disagree with the latter, there is no doubt that WordPress is among your best options for building a portfolio site.
Google "WordPress portfolio themes," and you'll find thousands of templates you can choose from to get started with your WordPress site. In a few minutes, you can add your work — anything from text, images, forms, Yelp reviews, testimonials, maps, music, etc.
If you really want to jazz up your profile, you can choose from WordPress' thousands of add-ons. They are easy to install and can be used to equip your site with every known capability under the sun: collecting leads, building subscription lists, ensuring automatic backups, checking how many visitors your page received, and so much more.
You also get user management and media management tools, as well as automatic compliance with every standard in the W3C (needed for compatibility with different browsers and browser versions) and search engine optimization. In other words, much of what you need to make your portfolio site "pop" is built into WordPress.
Example of a WordPress portfolio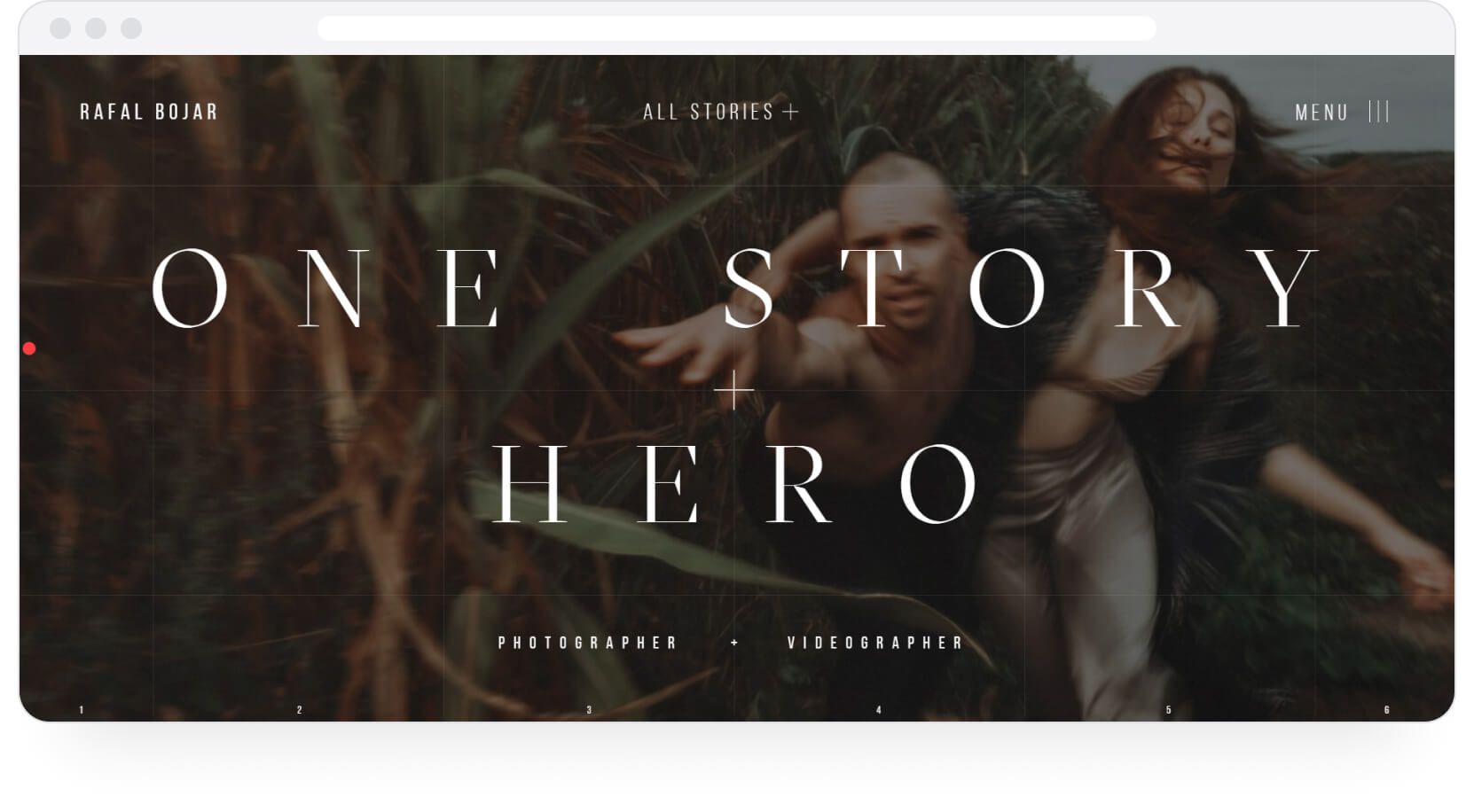 Carbonmade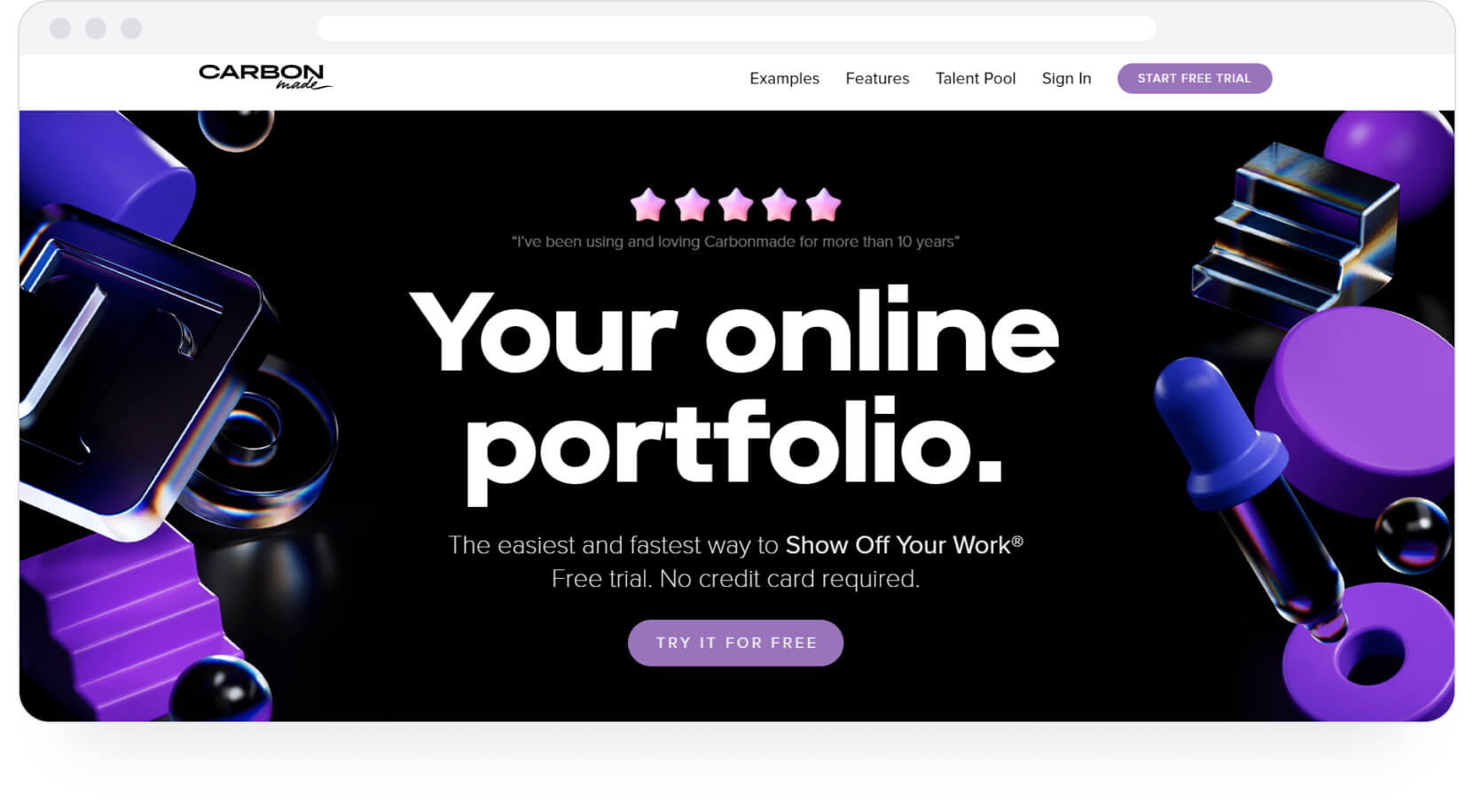 This alternative to Wix will be especially appealing to designers, illustrators, and artists. Instead of offering templates, Carbonmade offers a slew of incredible design elements that you can play around with to create a completely unique portfolio that matches your work and personality.
You can use some pre-made layouts when you're just starting out with website building on Carbonmade. But it's definitely more effective to play with different design elements and an irreplaceable aesthetic and functional angle for your own website. All profiles built with Carbonmade are automatically responsive, and you can also upload an unlimited number of images and videos.
Unlike the other tools in this list, Carbonmade also provides a customizable video player that lets you drag and drop 4K HD videos into your portfolio without having to embed them from YouTube, Vimeo, or similar sites.
Example of a Carbonmade portfolio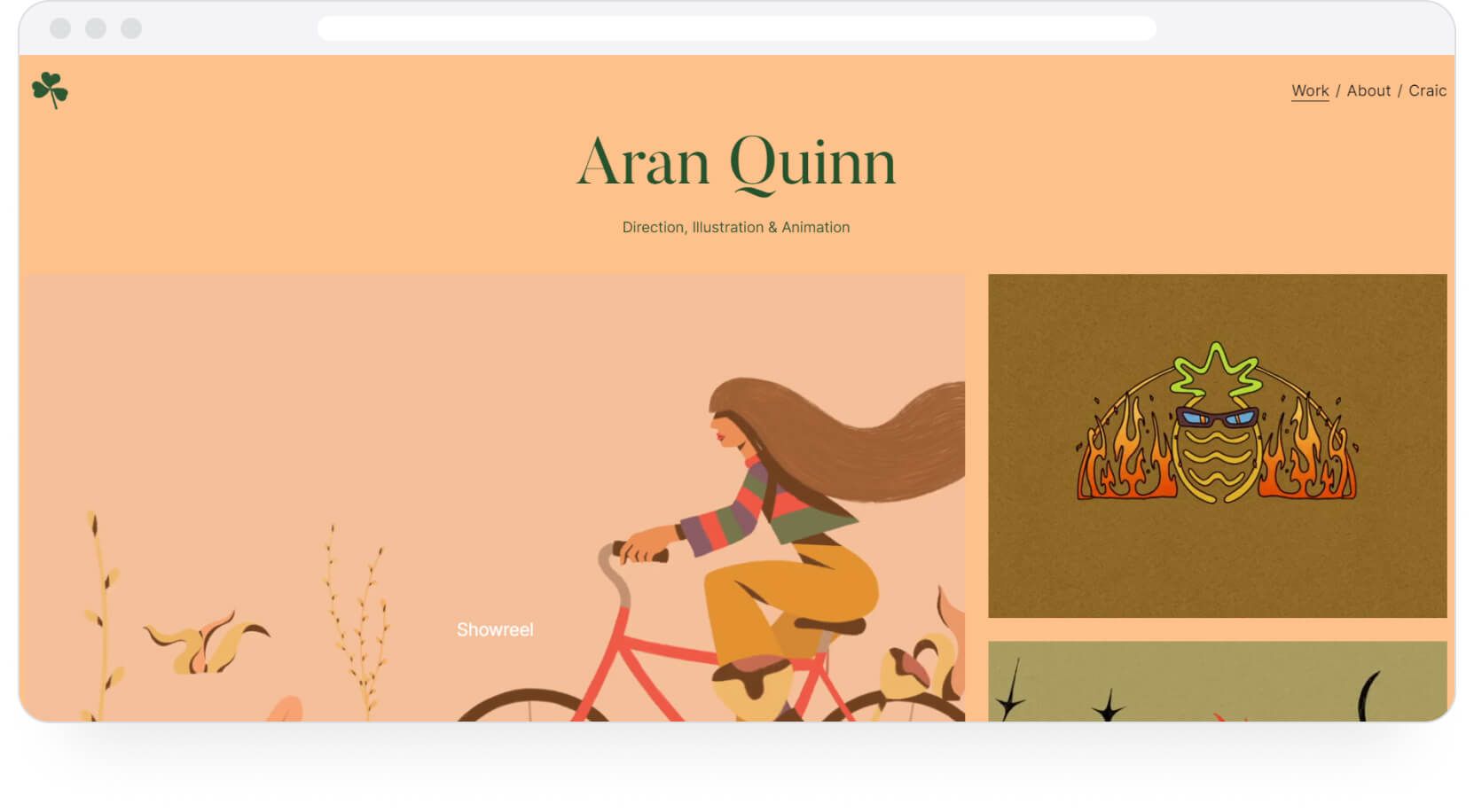 Journo Portfolio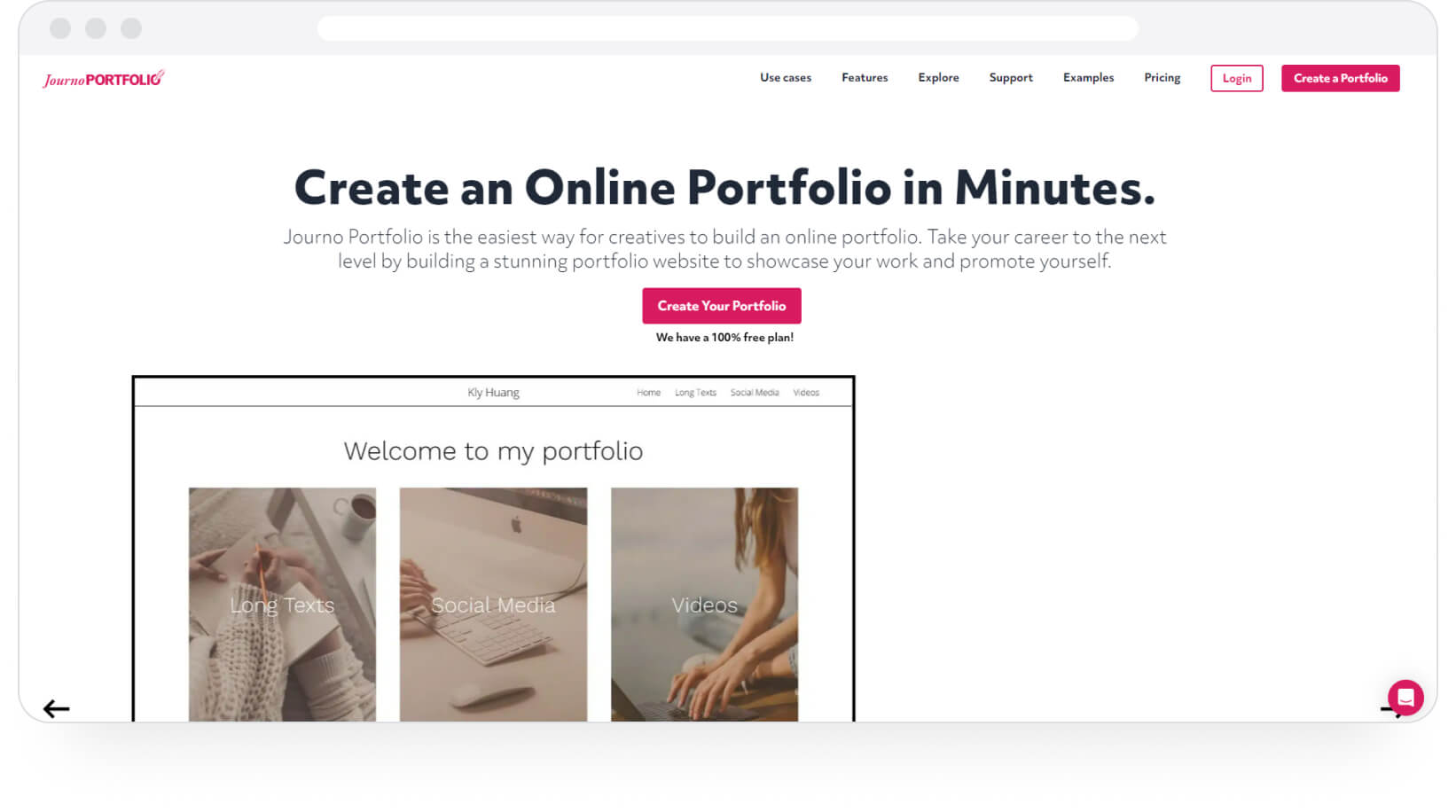 Journo Portfolio helps you create career portfolios across professions. It doesn't matter what you do — writers, journalists, designers, illustrators, artists, and even photographers can make their portfolio on Journo Portfolio.
You get reasonable customization abilities — showcase your work in a grid, a column, a blog, or an image gallery. The tool will save screenshots of all imported work so that, even if the source link degrades for some reason, you have some form of content backup. Of course, screenshot backups are not ideal because you cannot edit them, unlike the backup files on Authory.
Journo's privacy protection options let you restrict your portfolio from being viewed by your current employer. It's also simple enough to leverage password protection and secure links to restrict access to your entire portfolio. For example, you can make a certain page (or pages) publicly viewable. You can also hide the portfolio from search engines.
Example of a portfolio built with Journo Portfolio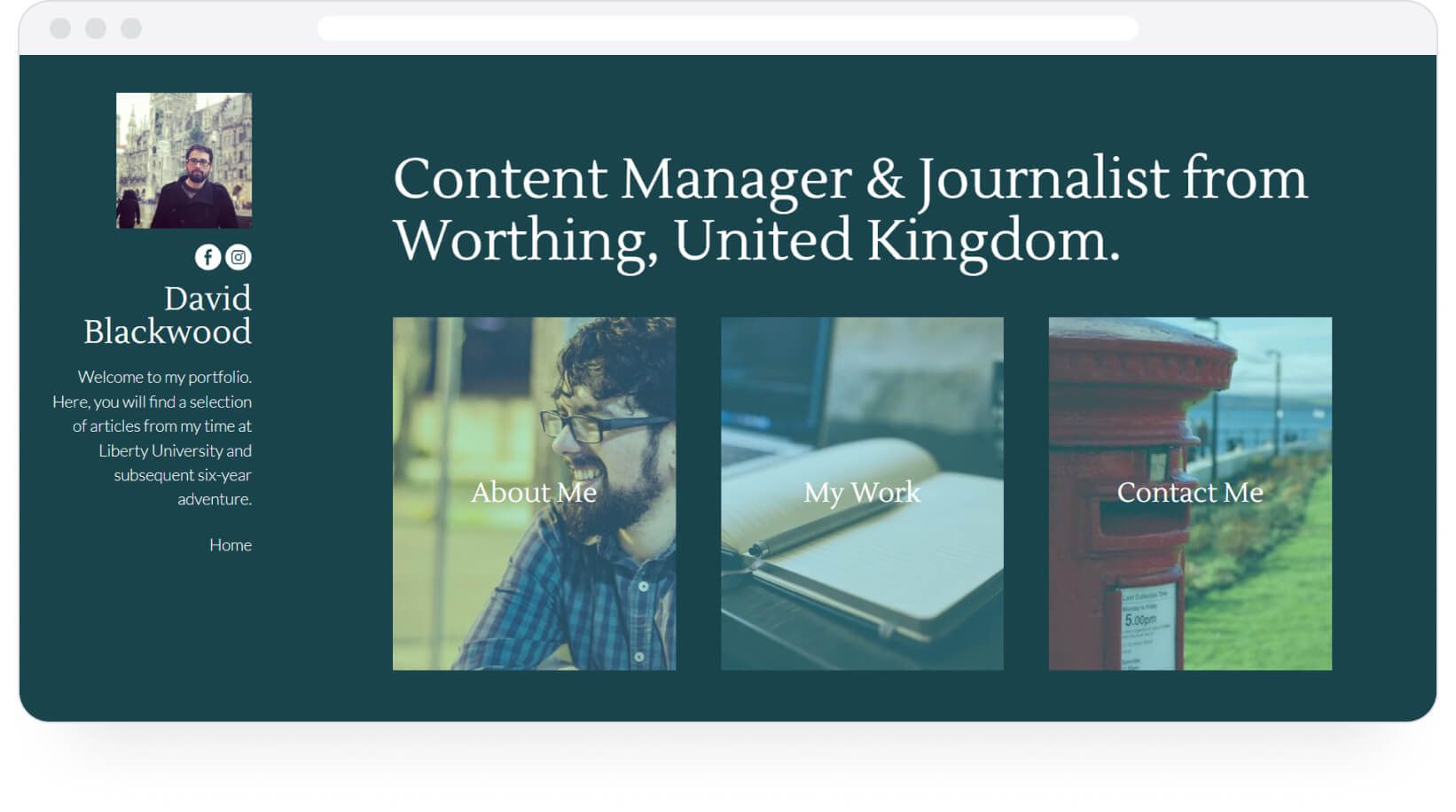 Clippings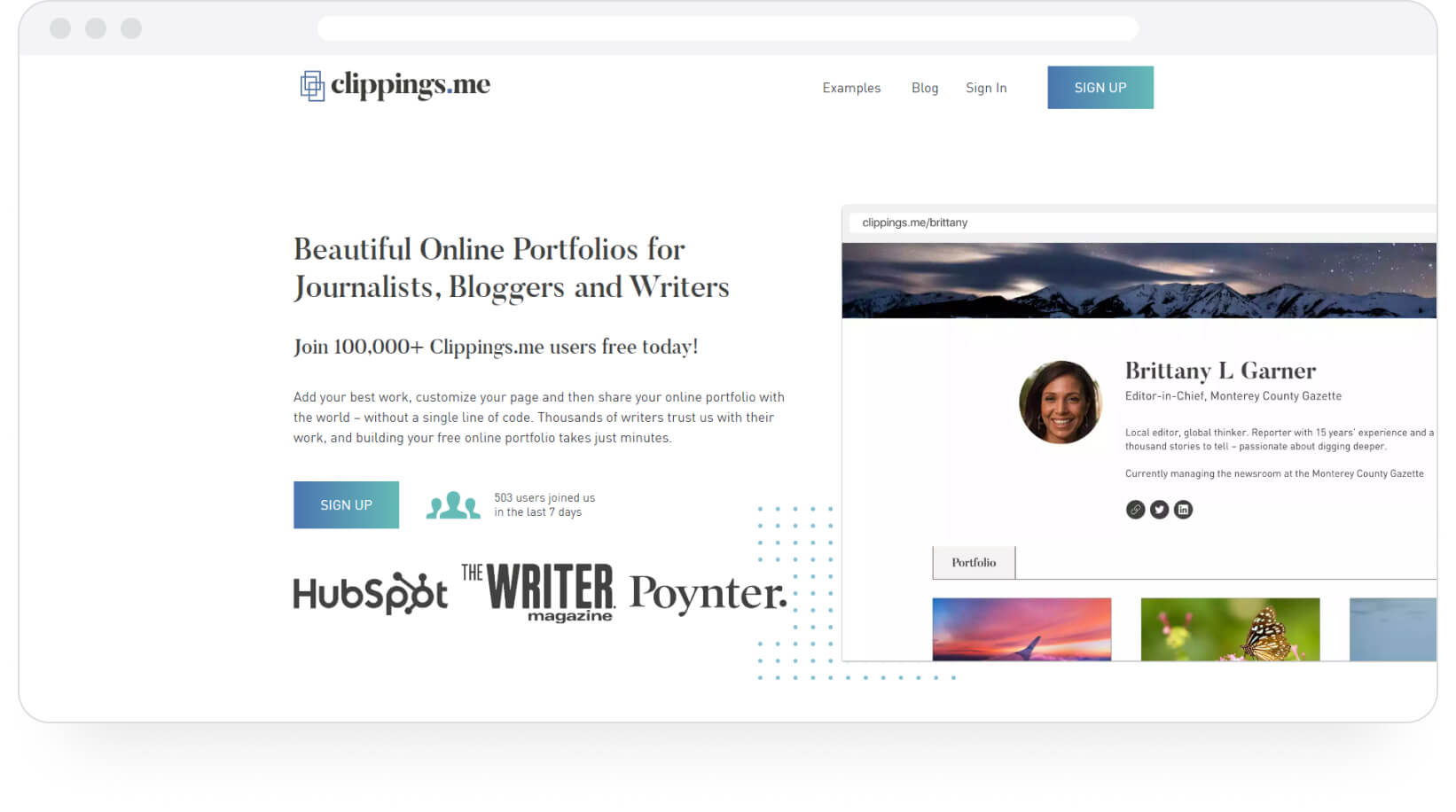 This Wix alternative is, once again, dedicated to portfolio creation. Clippings is ideal for writers, journalists, and bloggers looking to create a simple, straightforward, no-nonsense portfolio showcasing their work.
The setup is easy. You sign up, add links to/upload your work, add your own banner/background image (you can also use one from Clippings' gallery), and go live with your portfolio.
Feel free to add online articles and PDFs as well as YouTube, Vimeo, or SoundCloud files to your portfolio. It's also easy enough to integrate the portfolio with Google Analytics for deeper insights into how your pieces are faring in terms of readership and shares.
Since it is meant specifically for writers, Clippings doesn't bother much with design and customization (outside of images). It has all the basic features to showcase work in an organized, visually pleasing manner, but you won't be able to do much to change your portfolio's appearance.
Uniquely, Clippings offers an international PayPal fee calculator at the bottom of its homepage, which is a handy tool for freelancers working with foreign clients. The calculator, however, covers only a few major currencies.
Example of a Clippings portfolio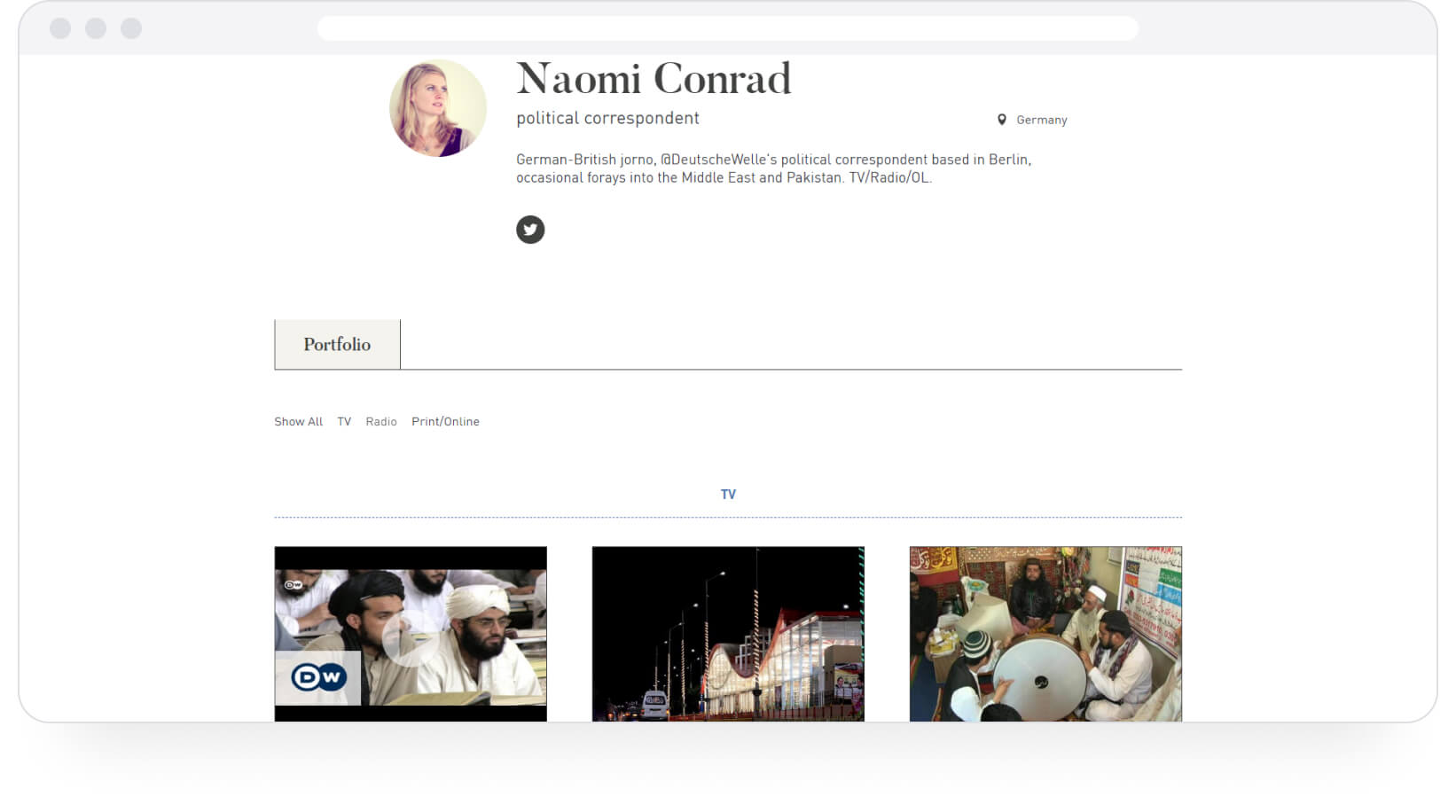 SITE123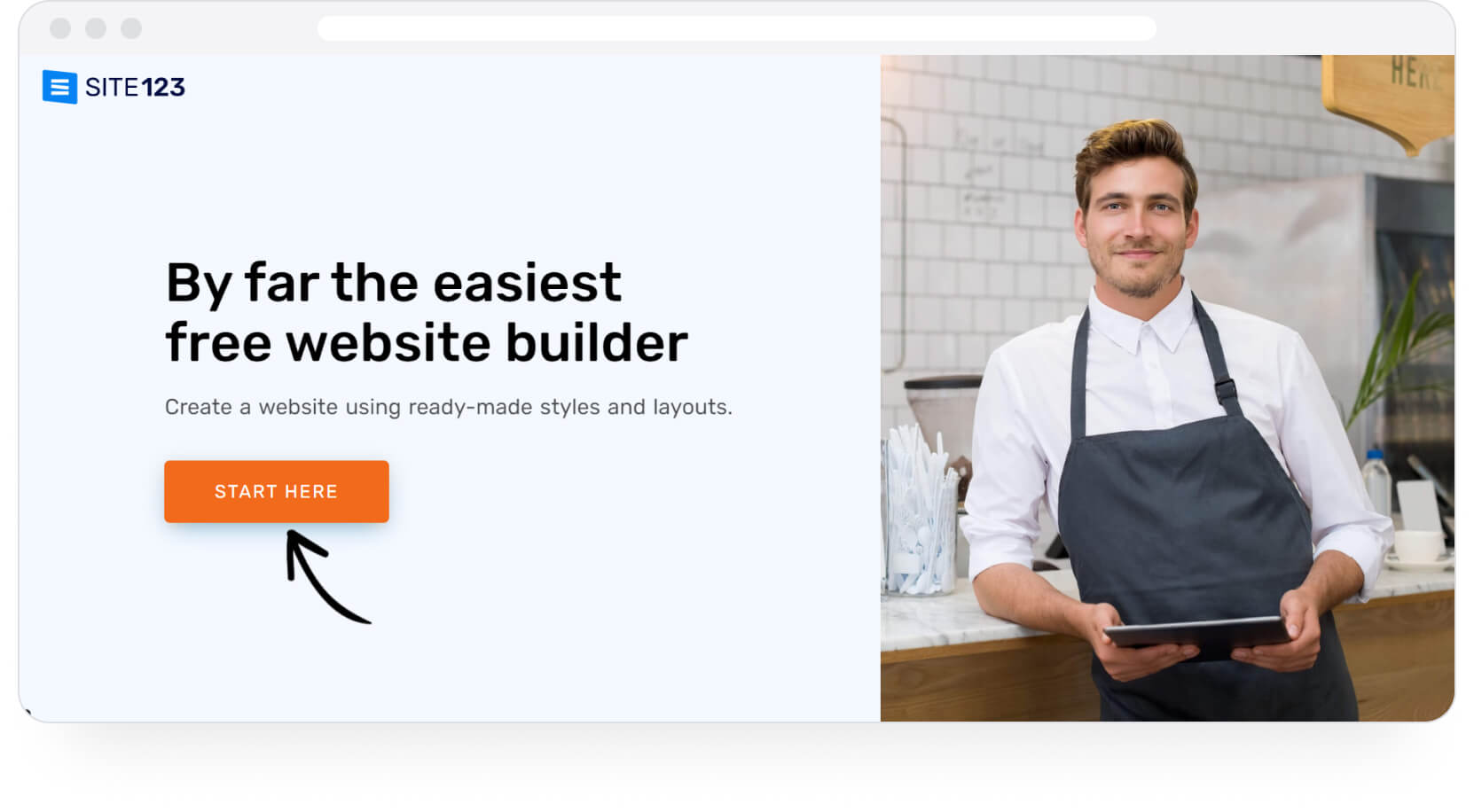 SITE123 is great for creating your first work portfolio. It offers a good number of appealing templates and an in-built editor that allows you to effortlessly edit profile segments, aesthetics, and functions on your portfolio page.
You can add your work, customize the background with your own images, add supplementary images (for aesthetic appeal or to showcase your work), buttons, videos, forms, audio files, and implement social media integrations for easier connectivity with the audience. Once you create a portfolio site on this tool, you can edit any existing section simply by clicking on it. The UI is quite easy-to-use and highly intuitive.
You can create single-page or multiple-page portfolios. No visible limits on the number of pages.
SITE123 provides a free plan, but you'll have to endure ads to keep using it. You could always upgrade to Premium to get rid of them. On the Premium version, you can also connect your own domain.
Example of a SITE 123 portfolio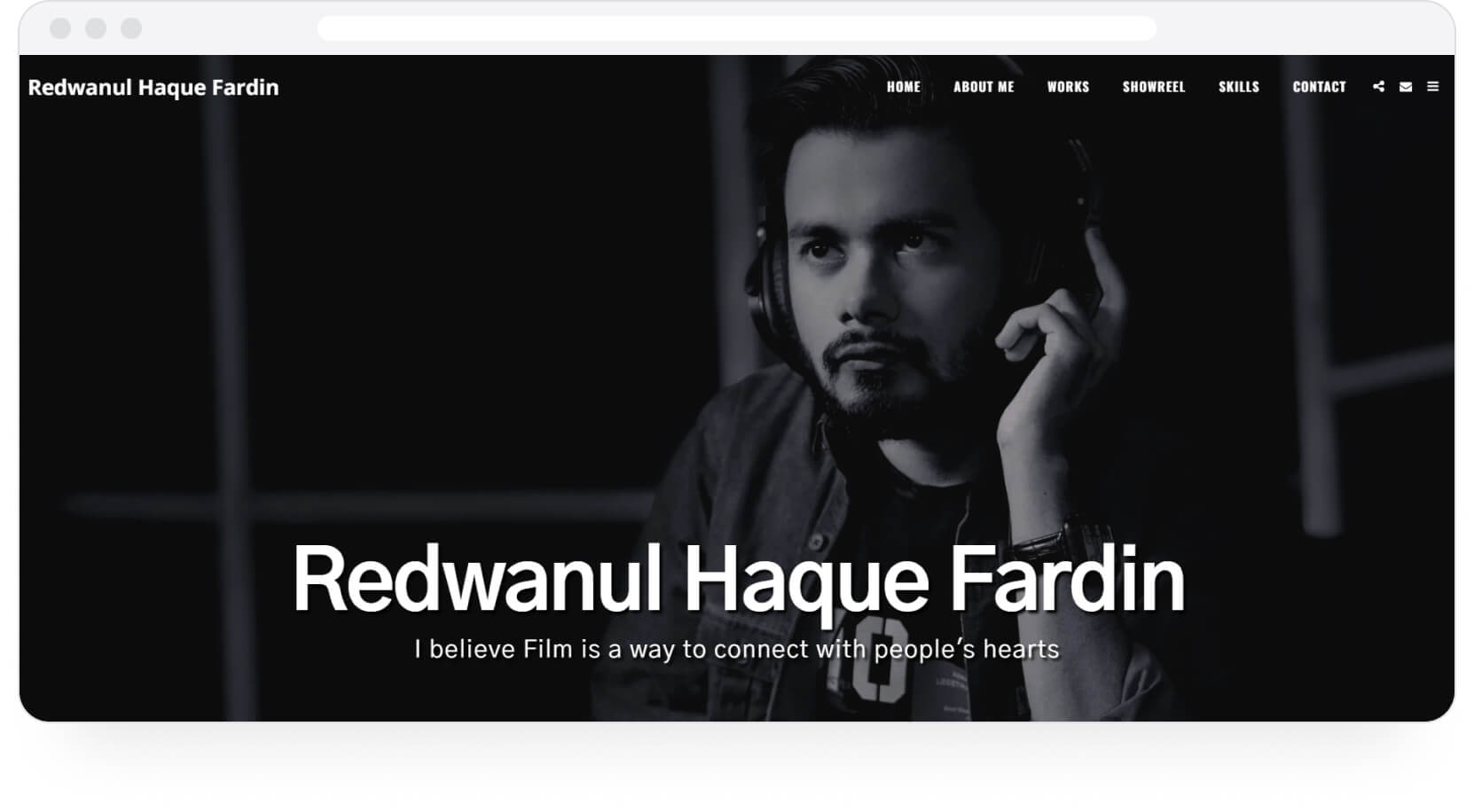 Muck Rack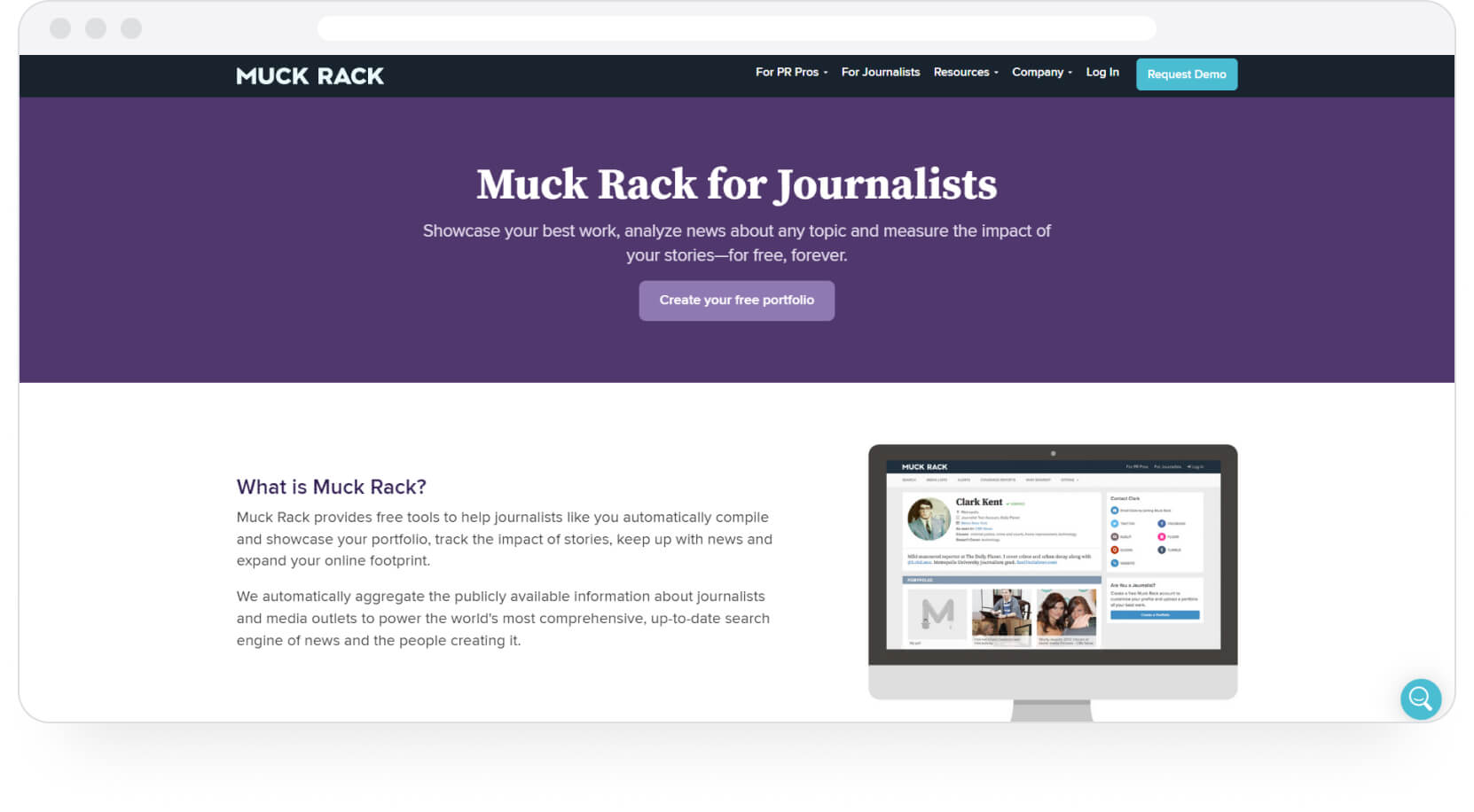 If you're a journalist, please create a portfolio on Muck Rack immediately.
Muck Rack's main offering is a database/platform for PR personnel and journalists to interact. PR folks use the platform to find the right journalists for their stories. To showcase the domain/industry experience of these journalists, Muck Rack allows them to create a single-page portfolio — something for the PR folks to look at and explore before reaching out.
Most of Muck Rack's features are designed to serve journalists. Some of these features are the tool's ability to analyze news coverage of chosen topics, the number of journalists sharing a particular article, collating lists of top media outlets, industry job updates, etc.
If you're a journalist, you should absolutely create a portfolio on Muck Rack alongside another portfolio on a dedicated portfolio builder. You basically get a portfolio connected to a network that will bring work to you.
While most of these features are free, some premium (pay-per-month) features — database searches, media lists, and alerts — are available to verified journalists.
Example of a Muck Rack portfolio
Why choose Authory as your Wix alternative?
While the other Wix alternatives discussed above are all excellent tools in their own right, Authory provides the exact mix of features someone like me (a freelance writer) needs when creating their portfolio. To reiterate a few of the previously mentioned points, Authory does the following:
Automatic importing of all your bylined content from any digital source you enter — from past and future
Ability to download all imported content to your device
Ability to manually include non-bylined content
Creation of a custom domain for your portfolio
Ability to import articles from behind paywalls
All imported content is backed up forever
All backups in the content's original format, not as screenshots
Analytics support for all imported content
Robust in-built SEO features.
Optimized for mobile device screens.
A newsletter creation tool that automatically sends out newly published content to your subscribers. You don't have to do anything for this to work.
Widgets to display your portfolio on other websites (such as your personal site if you have one).
Why not get started with Authory for free and see what the hype is about? No hidden costs, no fine print, and no hassle!