You need a writing portfolio for the following reasons:
To exhibit your writing services
To get you more work by helping you land writing jobs
To build a personal brand (that, in turn, will help you get even more work)
This article will teach you how to create a writing portfolio in just six steps, then round that off with some great freelance writing portfolio examples, and conclude with some more freelance writing career advice.
So, let's get right to it!
📖
What you'll get from this article:
• A step-by-step guide to help you create a writing portfolio
• A look at some brilliant writing portfolios
• A quick once-over on other stuff to think about as a freelance writer
• And a glance at Authory — an easy-to-set-up, auto-updating portfolio page builder
Step 1: Select a portfolio builder
There are a ton of online portfolio builders — just Google "portfolio builder," "portfolio maker," "portfolio creator," or "top portfolio websites" to see the plethora of results.
But choosing the right one is key.
To help you out, these are the four features your perfect writing portfolio solution should have:
Should look professional: A portfolio that's easy on the eye will help you showcase your writing skills in the best possible way to potential clients.
Should be easy to set up: You don't want to waste precious writing time creating your portfolio. Ideally, you should get your portfolio page up and running in minutes.
Should be easy to maintain: Again, you don't want to lose time by manually adding your newer writing samples as they get published. An auto-updating writing portfolio is what you should be in the market for.
Should back up your writing: If you lose years of writing samples, you'll have to start your freelance writing business from scratch. Hence, you shouldn't rely on past clients to safeguard your writing work — websites go down, articles are re-bylined, etc. Therefore, your portfolio builder should back up your writing as well.
Authory is a portfolio solution that has all these four features. I've written about it a bit more at the end of this piece.
Some other portfolio solutions that exist, but don't have all four essential attributes are Journo Portfolio, Squarespace, Wix, Portfoliobox, WordPress, and Carbonmade. All these solutions have their advantages, though.
But for now, I highly recommend using Authory for the reasons listed above. You can get Authory for free here.
Step 2: Figure out your niche
Now that you've chosen a solution to build out your writer website, the next step is to narrow down your niche.
The reason for this is simple: there are probably millions of writers around the world, and it's essential to stand out from the herd.
Hence, it's vital to "niche down" — figure out which niche suits your writing skills the best, and focus on that.
To do this:
First, look at the kind of writing you've done for past clients. Analyze your most successful articles, and identify which industry they belong to.
Next, list down topics that you're comfortable writing about.
And finally, write down subjects you'd like to write about in the future.
From this exercise, you should be able to pick out three niches that you've either been paid for before, that you're interested in, and/or that look viable for future work.
I advise picking one niche that will be your primary source of work. Ideally, you have proof of successful past work, expertise, and interest in this niche. At best, pick a maximum of three related niches; otherwise, you'll be spreading yourself too thin.
Step 3: Resolve which writing samples to include
Once you've honed in on your niche, it's time to figure out which writing samples to include in your online portfolio.
First, review your published samples to verify which ones to include in your writing portfolio. Basically, look at all the work from writing gigs done for past clients, and identify writing that will impress prospective clients in your niche.
Next, decide on the kind of writing portfolio you're going for — one with all your writing or your best. To be honest, this shouldn't be too much of an issue because most good portfolio builders let you divide your work into collections. And collections can be cleverly used to contain ALL your work, just your best writing samples, or a specific set of writing sorted by topic or industry.
Each approach has pros and cons that collections can mitigate.
All your writing samples
The advantage of showing all your past work is that you can exhibit both the breadth and depth of your work experience. This is especially true for journalists and other freelance writers who must show prolificity to their potential clients.
In my personal experience, I've sought to hire writers with a wealth of relevant experience to showcase. So, a freelance writing portfolio that illustrates this is exceptionally vital.
Just your best work
That said, it's also important to showcase your best work. Potential clients will likely only read some of your freelance writing in one go.
Hence, a collection showcasing your best writing should be curated and sent to potential clients.
Ghostwriting samples
Another set of writing that potential clients will be interested in, is ghostwritten content. By definition, ghostwriting content will not have your name attached to it. But it may be work that can be crucial in you getting your next writing gig.
So, a private collection of ghostwriting samples is the way to go. Certain portfolio sites like Authory can be extremely useful for this.
Step 4: Organize your portfolio into collections
As mentioned above, organizing your writing portfolio into collections is super important. So, once you've decided on the writing samples that will go into your portfolio site, segment your writing by topic, industry, and/or content type (online articles, PDFs, social media posts, etc.).
A solid writing portfolio will have relevant collections relevant to your particular niche that will entice prospective clients into engaging with you. So, take some time to consider which collections to include and how best to organize your portfolio for maximum impact.
Remember to consider building collections for your best work, all your work, and for ghostwriting content.
Private collections
To that end, as a freelance writer, you may have done some ghostwriting or, otherwise, have written content that's under an NDA. Here's where private collections can be super helpful.
A portfolio solution like Authory, lets you create private collections that can be shared only with a potential client, thus ensuring that you don't lose out on the work you've created under a different name or an NDA.
Build bespoke collections to apply to freelance writing jobs
Also, a portfolio builder like Authory lets you create bespoke collections that can be used to apply to specific freelance writer gigs.
For example, Maya Middlemiss, a freelance writer, uses the Content section in her Authory account to find the exact content pieces that best match the prospect's requirements.
When you can see all your content arrayed in a table, you can reflect on it from the prospective client's point of view: what will be the most relevant, interesting, and important clips, which demonstrate exactly what you have to offer? Once you put yourself in their shoes, it's usually obvious which items should be included.
You can read more about it here: It takes this freelance writer just a few minutes to make her every client pitch 100% personalized.
Step 5: Create your author bio with contact info
Next, create your author bio. This is where you need to encapsulate your offering as a freelance writer and speak about your career and experience.
A template that I use, and has stood me in good stead, is as follows:
I open with a title that coalesces my career into a few words
I then talk about the recent work that I've been doing
Next, I speak about some of the highlights from my past work
And finally, I cap it off with my contact information, social media links, etc.
In fact, go here to learn more about how to do this in more detail and to see more "about me" samples.
I've listed three author bios that I particularly like below.
Author bio example 1: Marijana Kay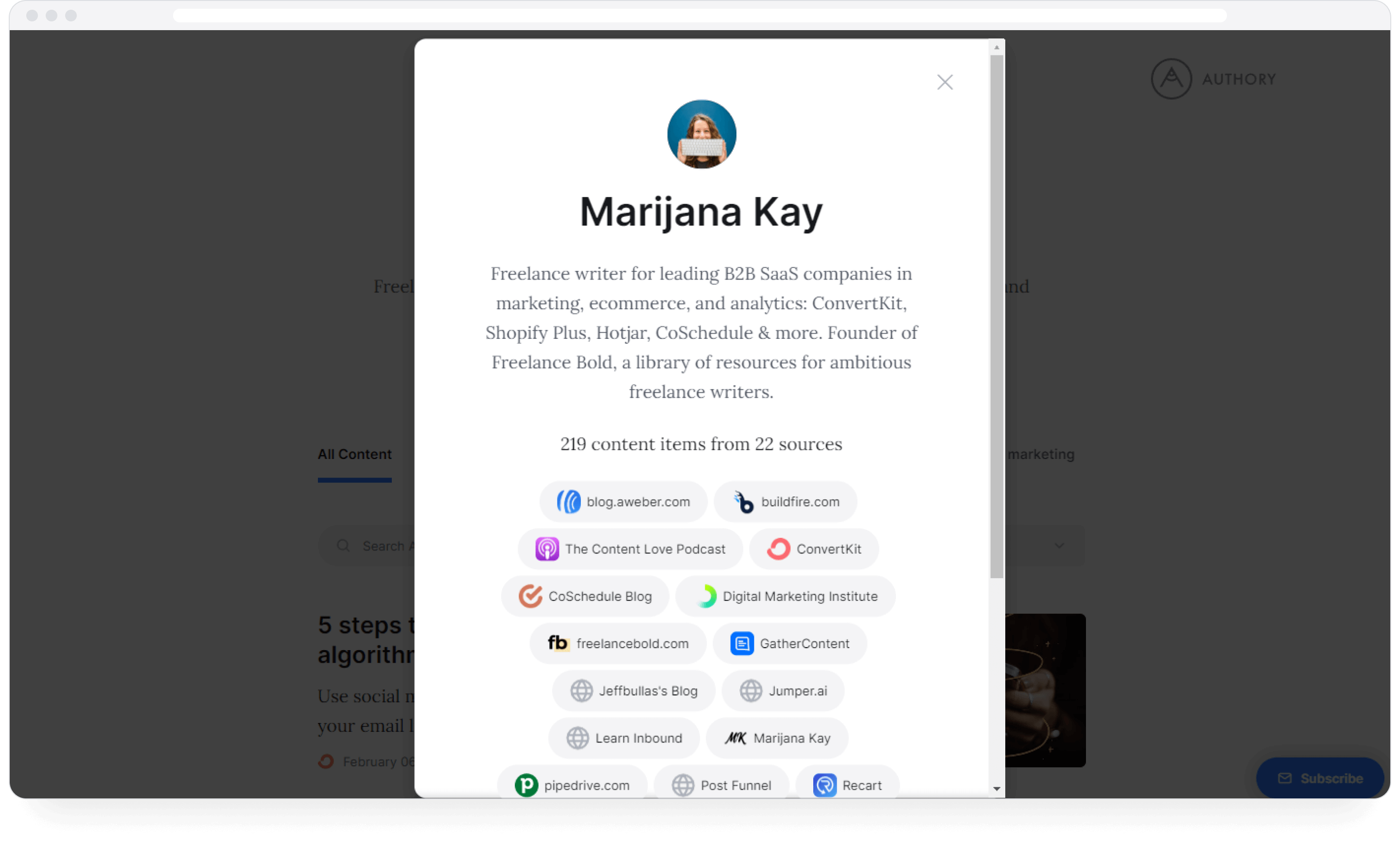 Marijana Kay's author bio is succinct and to the point. She has called herself a freelance writer and doubled down by mentioning how she's the founder of a resource catering to freelance writers. This is coupled with her dropping a few big names to drive home her experience and expertise.
Author bio example 2: Liz Fong-Jones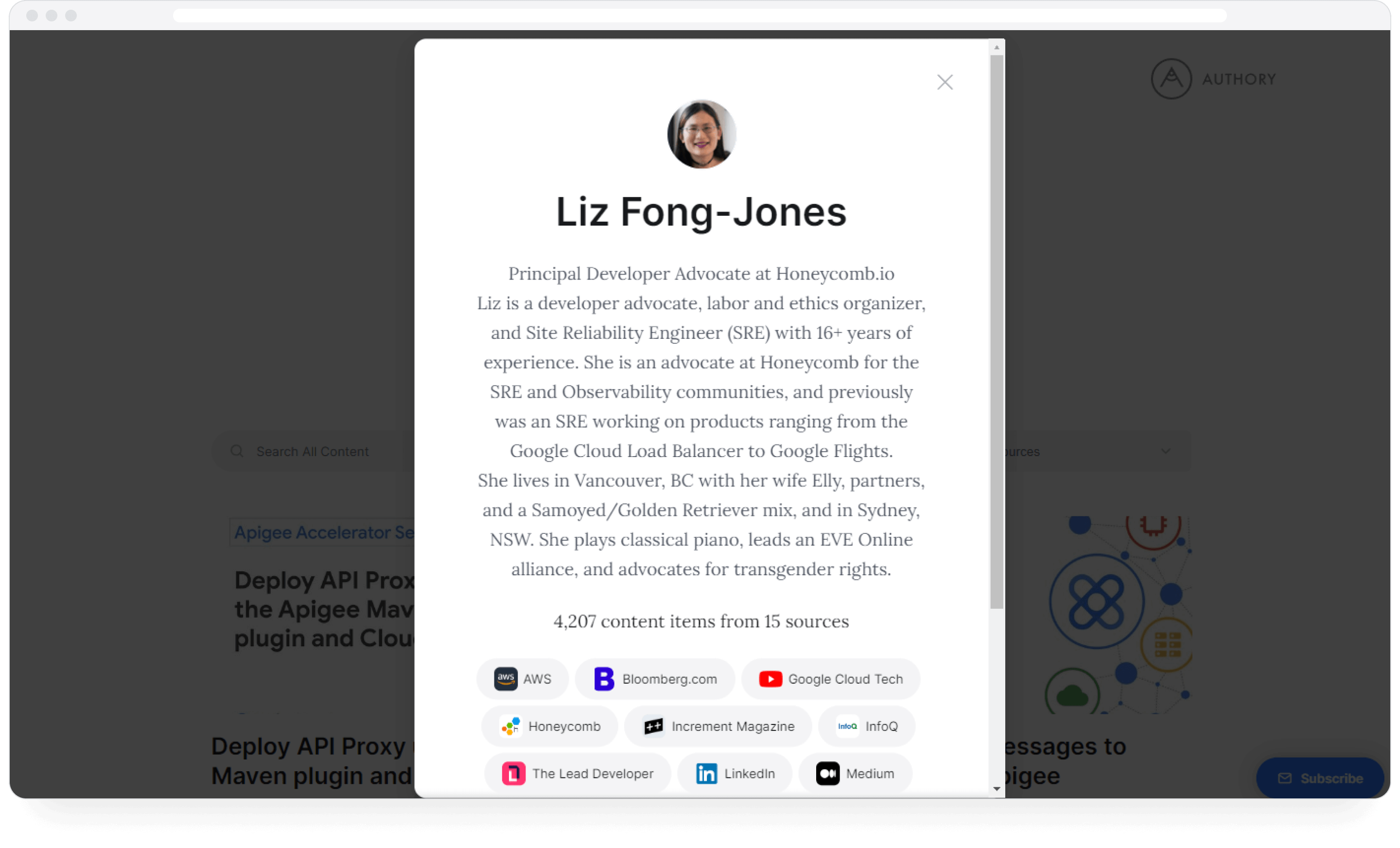 Liz Fong-Jones' author bio is arguably my favorite! She follows my template of opening with her title, then talks about her recent work, followed by her past work. But then she goes a step further and speaks to her personal life, which really gives you a complete feel of who Liz is.
Author bio example 3: Brian Clegg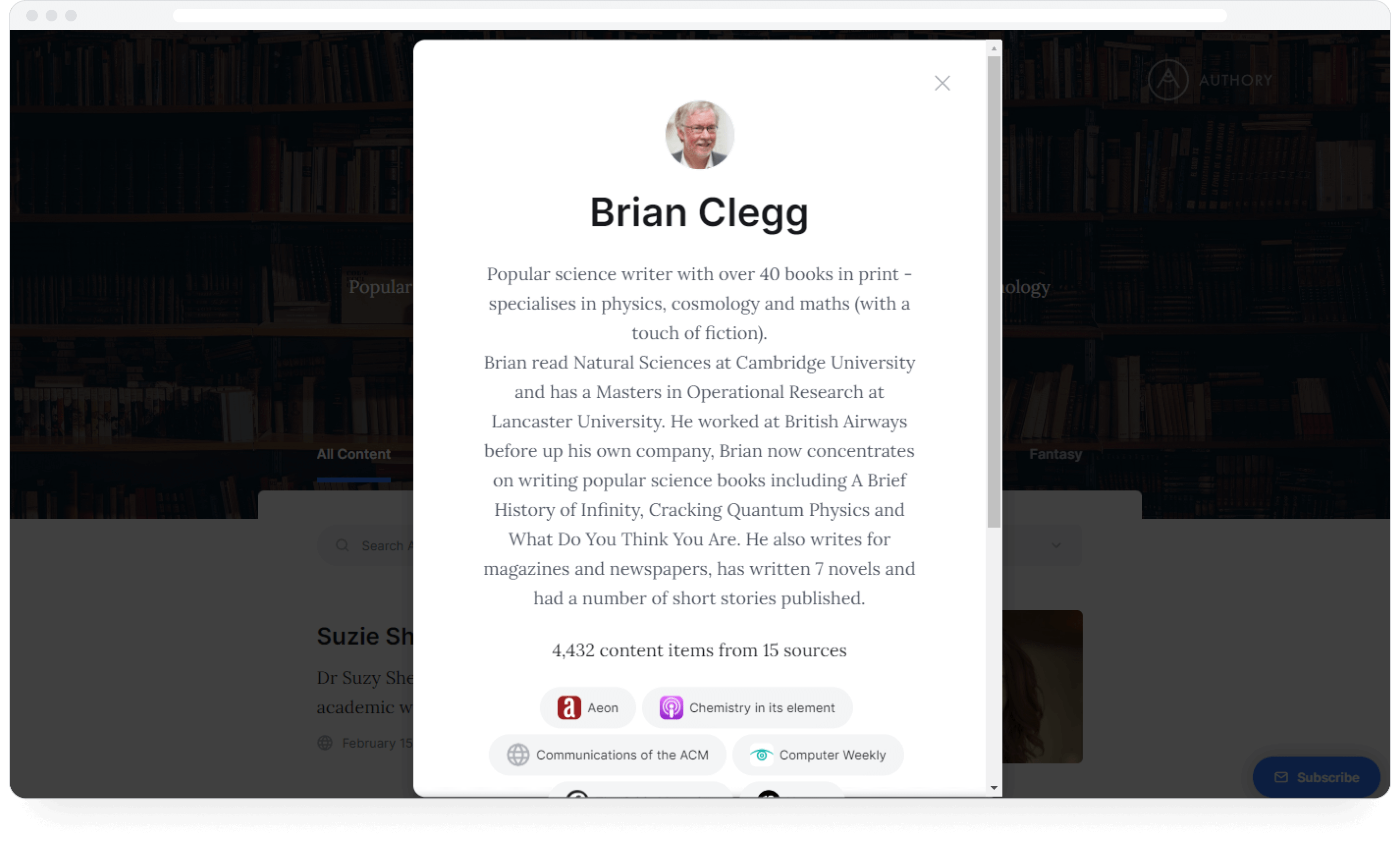 I've listed Brian Clegg's author bio here because it's a brilliant example of condensing a long and stellar career into a few words. He opens by mentioning his 40 books in print (wow!) and then explains more about his work, leaving you wanting to delve deeper.
Step 6: Keep your portfolio updated
The last step is to keep your portfolio updated. An outdated portfolio is of no use to you or potential clients. Clients will want to see recent work to be able to give you a writing gig. The entire point of having a writing portfolio is nullified if you aren't getting work. Hence, updating your portfolio regularly is super important.
That said, it can be a pain to do so. You could lose valuable time every week or so.
Hence, a solution like Authory is a godsend. Your portfolio is automatically updated with your latest writing as soon as it's published.
Anyhow, whether you use Authory or not, it's vital to keep your portfolio updated to make the most of all the work you've put in.
Professional writing portfolio examples
So, those are the six steps you need to do to build a writing portfolio. To get an idea of what the best writing portfolios look like, here's a curated list for your benefit.
Writing portfolio example 1: Carrie Back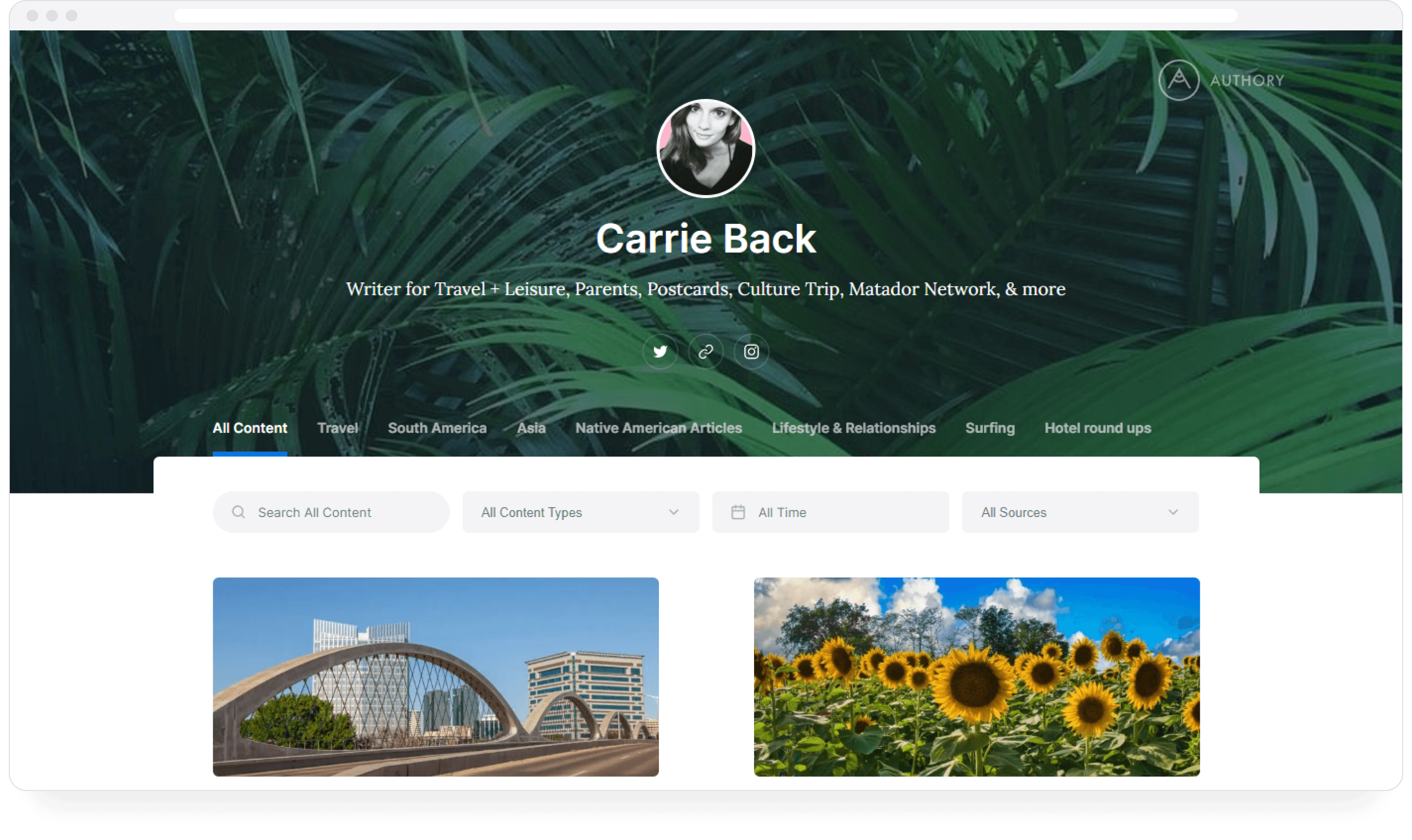 Carrie Back is a writer for Travel + Leisure, Parents, Postcards, Culture Trip, Matador Network, & more.
Writing portfolio example 2: Simon Denyer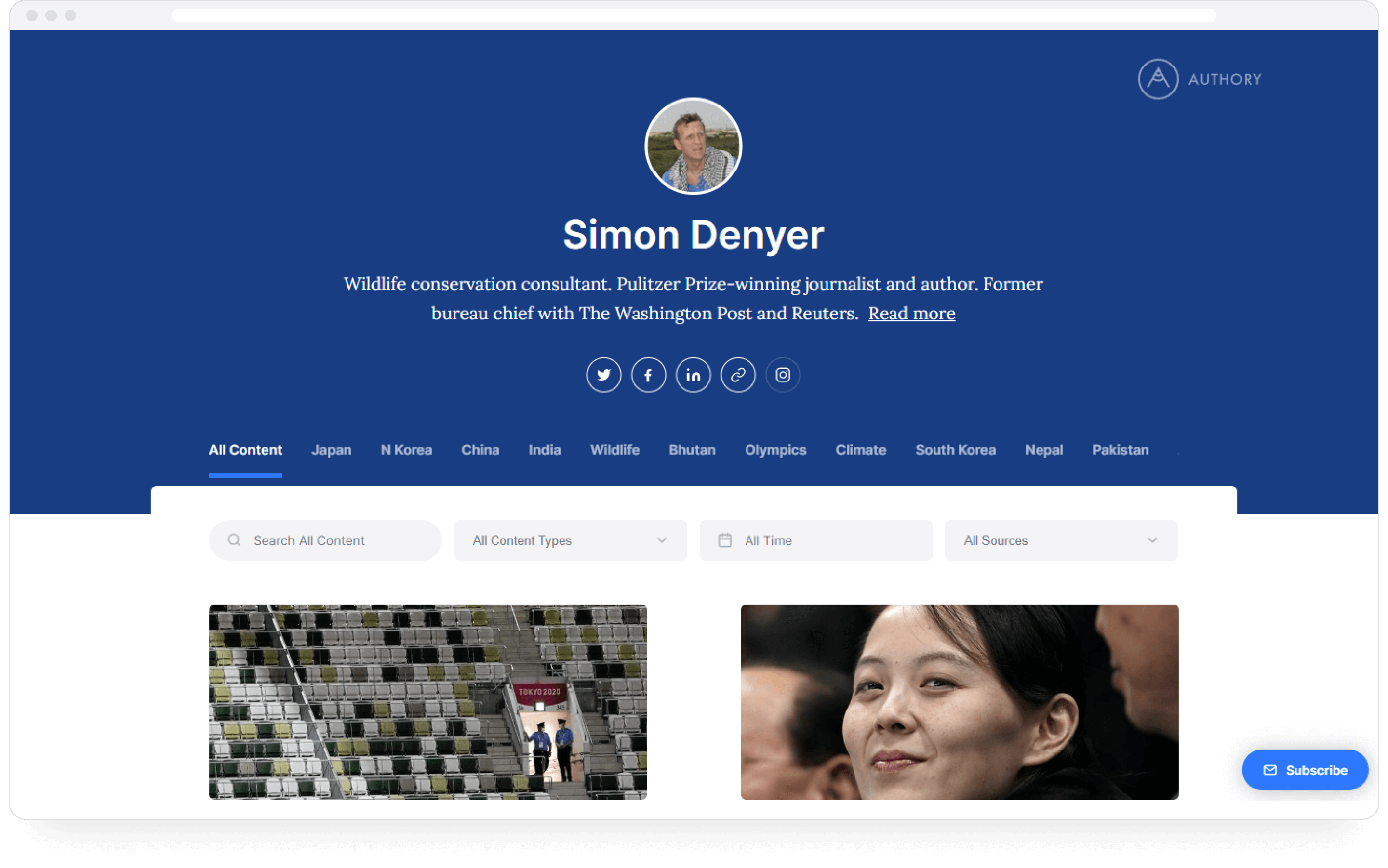 Simon Denyer is a wildlife conservation consultant, Pulitzer Prize-winning journalist, and author. He was the former bureau chief with The Washington Post and Reuters.
Writing portfolio example 3: Pam Moore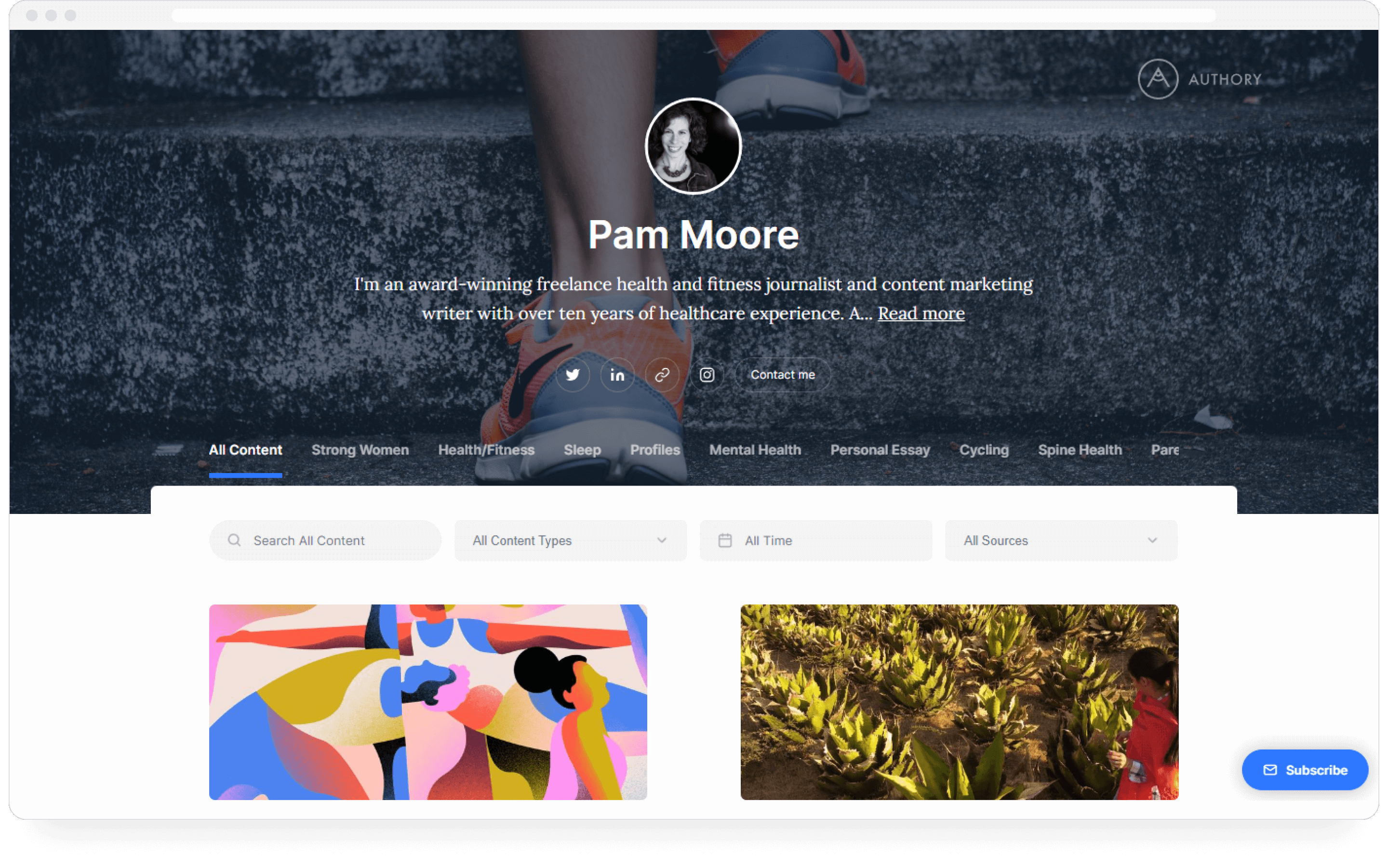 Pam Moore is an award-winning freelance health and fitness journalist and content marketing writer. She is a regular contributor to The Washington Post's Wellness section and has also written for Time, The Guardian, Runner's World, SELF, Outside, Forbes, and many others.
Writing portfolio example 4: Kathy Parker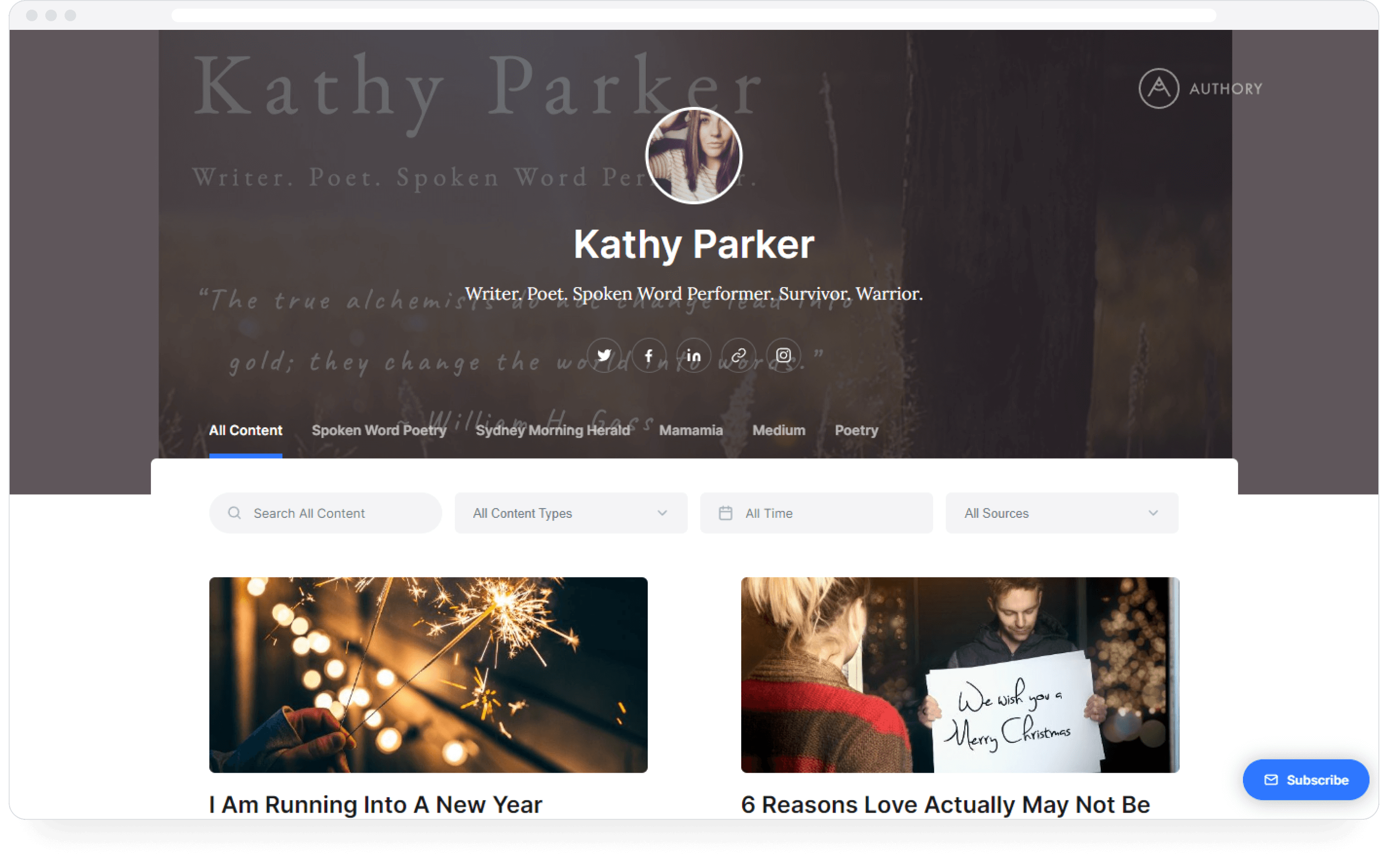 Kathy Parker is a freelance journalist, writer, poet, and spoken word performer based in the Limestone Coast of South Australia whose work has been widely published across national and international news platforms.
Writing portfolio example 5: Brian Clegg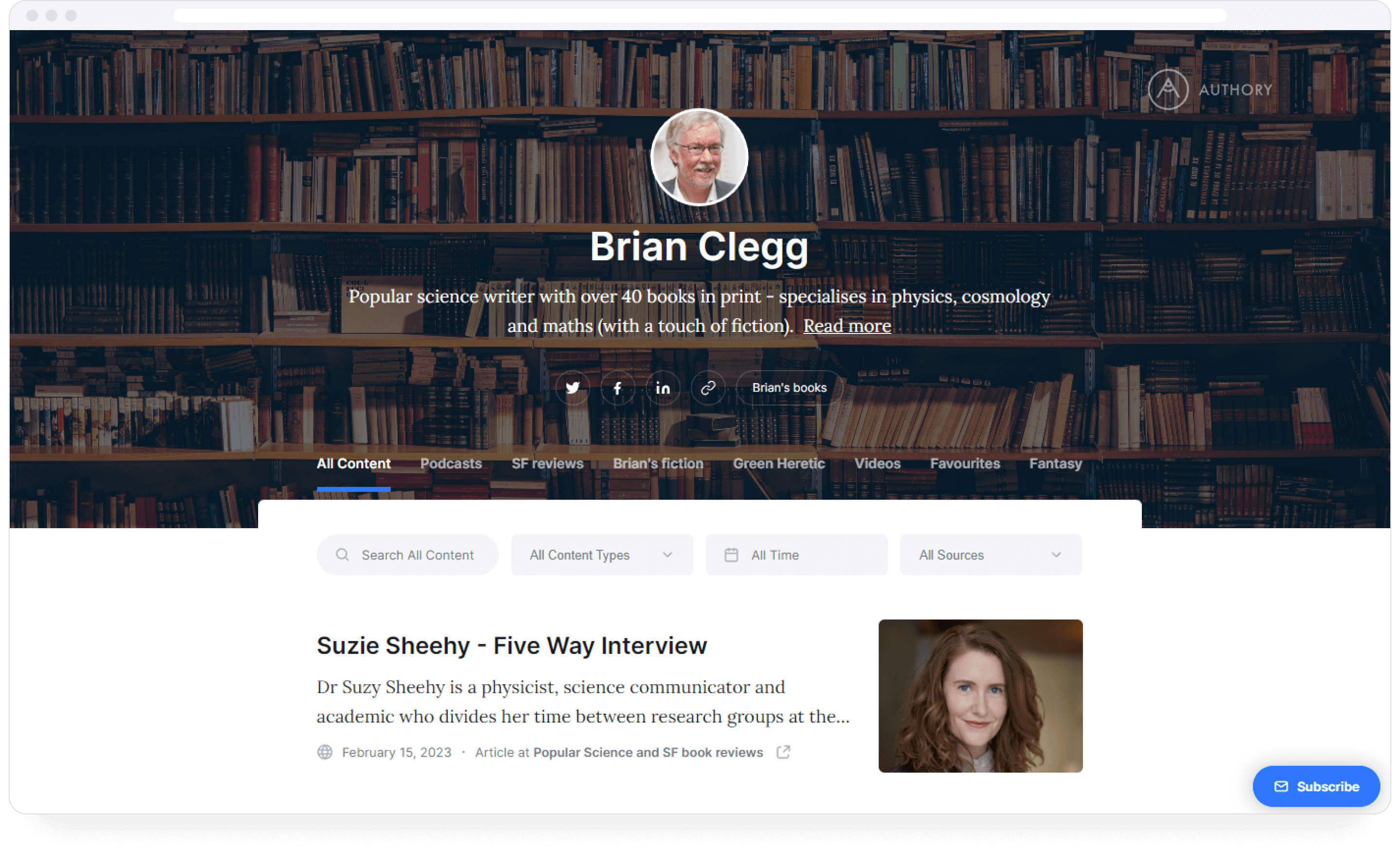 Brian Clegg is a popular science writer with over 40 books in print. He also writes for magazines and newspapers, has written seven novels, and has several short stories published.
For more writing portfolio examples, go here.
Other things to consider as a freelance writer
If you're a freelance writer who is just starting out, you may want to consider having a presence on LinkedIn as well as guest posting to build up a writing catalog.
LinkedIn portfolio
Quite a few companies look for writers on LinkedIn. Hence, it's an excellent idea to build out your LinkedIn presence along with having a portfolio.
A couple of things to ensure: fill in all the details pertaining to each position that you hold and link out to your portfolio page.
As an example, you can see my LinkedIn page. I've positioned myself as a content marketer because that's who I am, but you can portray yourself as a freelance writer, author, or whatever you think fits best. Remember to include your niche in your positioning. Also, note how I've linked out to my Authory portfolio page at the very top.
Guest posts
When you begin your writing career, you may not have a lot of work to showcase. That's absolutely fine. Everyone needs to start somewhere.
That's where guest posts come in. If you can guest post on big websites in your niche, these articles can be added to your writing portfolio.
To do this, go to Google and type: <niche> + "guest post"
where <niche> is your writing niche. Remember to use quotes for best results. Alternatively, you can try variants of "guest post" such as "guest posting," "guest posts," "write for us," etc.
Once you find these opportunities, reach out to the website with your writing pitch. Do your homework on the kind of writing they're looking for to maximize your chances of getting picked. And you should be on your way to building a writing catalog to exhibit on your portfolio.
Authory — create an auto-updating writing portfolio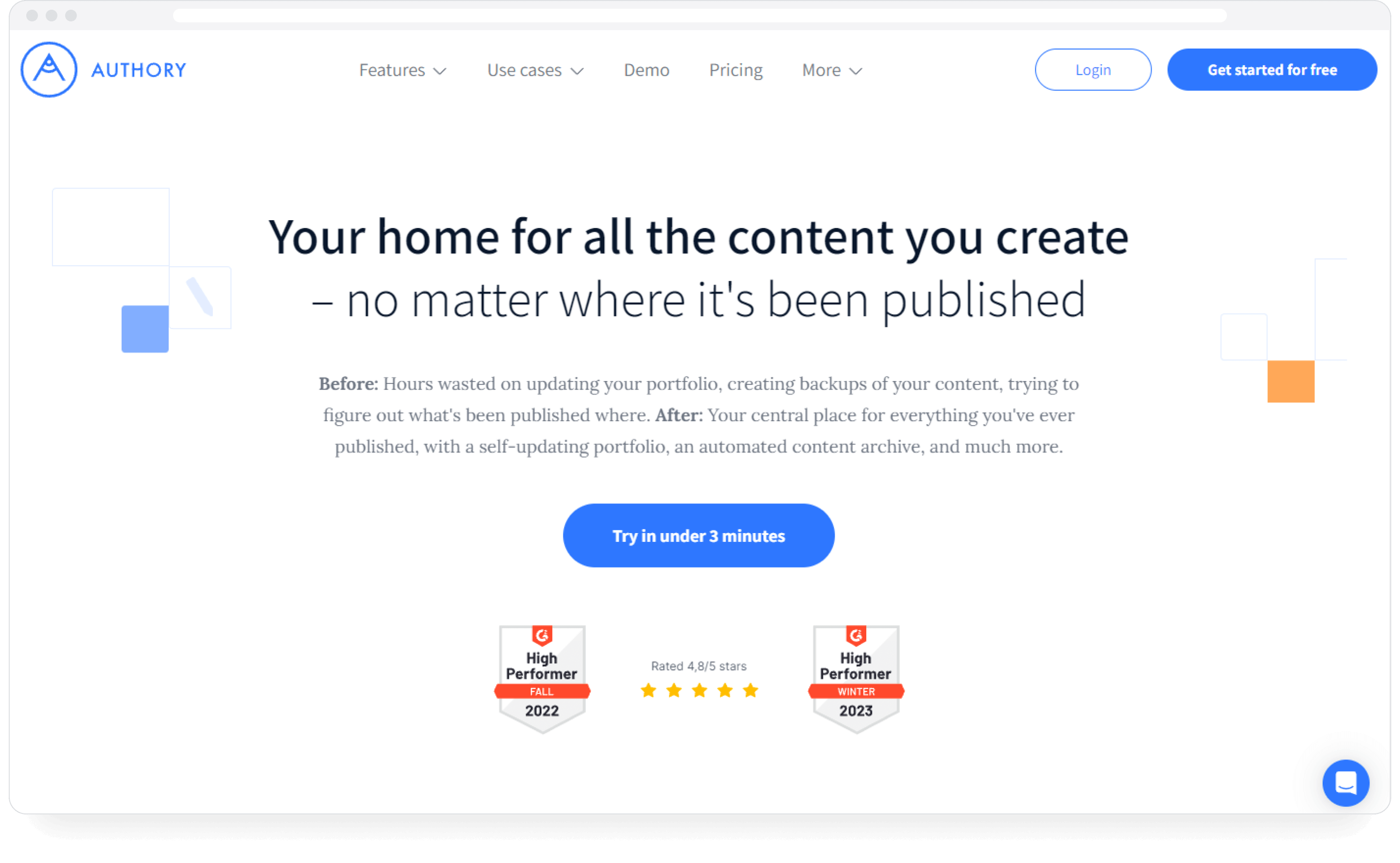 I've spoken about Authory throughout this article, because, in my opinion, it's an excellent portfolio builder for the busy professional.
At the outset, I mentioned that you want a portfolio that looks great, is easy to set up, is easy to maintain, and also backs up your writing.
Authory does all this and more.
You get a professional, auto-updating portfolio that backs up your content. The setup time is under 3 minutes.
So, build a writing portfolio on Authory for free now.
FAQs
What should be included in a portfolio for writing?
Writers create portfolios so that they can get more work. Therefore, include writing works that help you stand out from others. This can depend on your writing skill — so, for example, some may include blog post content while others may include landing page copy in their freelance writer portfolio. In a word, include work that shows off your writing ability.
How do I make a free writing portfolio?
You can use the free version of Authory to make your freelance writer portfolio. Remember to include a writing sample that speaks to your ideal clients. Also, include content that you enjoy writing so that you get more of it.
Where can I create a writing portfolio?
You can use Authory to create your freelance writer portfolio. With Authory, you get a great-looking, easy-to-set-up, auto-updating portfolio that also backs up your work.