Some cliches stand true. First impressions do last, especially if you're looking for jobs. Whoever you want to work for is getting tens, perhaps hundreds of applications to look through. They'll have to make lightning-fast decisions, especially at the initial stages of deciding which CVs and portfolios make the cut for further exploration and interviews.
Naturally, your portfolio has to look good, grab attention, appropriately represent your skills and achievements — and do all of this within a few minutes. Additionally, since the world has gone online, it'll have to be an online portfolio. A bit of a tall order, right?
Thankfully, putting such a portfolio together isn't the Feat of Hercules it sounds like it would be. There are multiple professional-grade online portfolio builders you can use for this purpose. Depending on the specific portfolio maker, you should be able to create a sharp, stunning, and memorable digital portfolio.
In this piece, I'll give you a detailed down-low on portfolio makers, how they work, how you can use one, and a few options you can choose from to create your world-winning portfolio website.
📖
What you'll get from this article:
• Definitions and benefits of portfolio makers
• A list of 10 portfolio makers for you to choose from
• A step-by-step tutorial on how to make your own portfolio (with Authory)
• A quick overview of Authory: an online portfolio maker that automatically imports and backs up ALL your content
What is a portfolio maker?
A portfolio maker is any tool that helps you put together a portfolio without having to do everything from scratch. In the context of this article (and the 21st century), we'll be talking about the online portfolio (or, interchangeably, digital portfolio).
Therefore, a portfolio maker is an online tool that helps you structure, design, and customize a portfolio online. Essentially, the tool imports your published content (like Authory does) and or helps you control the shape, design, and general aesthetics of your own portfolio (like Squarespace or Wix does).
I'll be including a list of my favorite portfolio makers later in this piece, so you'll have a few names to start with.
Major advantages of using a portfolio maker
Unless you're an expert back-end and front-end coder (who also has serious time on their hands), you won't have much luck creating a portfolio that stands out every time. This isn't a condemnation of your skills; it's a question of practicality.
Creating your own templates, shaping the portfolio website's design from scratch, and imbuing it with necessary abilities (like SEO optimization, automatic permanent backup, and social media account integration) will take months in the best-case scenario. It'll also require you to be constantly on your toes and on the lookout for any issues, whether with the UI or the databases. It's all on you to maintain, upgrade, and secure your online portfolio.
On the other hand, using an online portfolio maker offers the following advantages:
The ability to use pre-built templates and design components. You mostly select, drag, and drop. No coding is required.
A good online portfolio maker will be SEO-optimized.
The ability to use in-built tools like widgets, social media sharing capabilities, subscription collection, and newsletter creation.
Automatic importing of past and future content published on a digital source.
Permanent backup of all content that has been imported.
Social media analytics on imported content.
🗒️
Note: The availability of the aforementioned features depends on the particular online portfolio maker you select. Not all of them offer every feature by default, but the ones I'll describe later in the article will have most of these offerings.
What goes into a great portfolio?
To create a professional portfolio online, consider including the following elements ,at the very least:
A quick professional introduction
Start with a couple of lines to introduce yourself as a professional. Mention what you do, notable organizations you've worked with, and/or any outstanding achievements (awards, Guinness Book Record for bungee jumping, etc.)
Work samples
This is the meat of a good digital portfolio, so to speak. If you're a writer or journalist, showcase your articles. If you're a photographer, display your best photos. If you're a graphic designer, display videos, websites, animated elements, and still images you've worked on.
It's ideal if you can present work in different formats — text, audio, video, still image, animated images, etc. This indicates that you're comfortable working with multiple content avenues and makes you an asset for companies looking to expand their presence on numerous social channels.
🗒️
Note: While it has been traditionally recommended that a good portfolio puts forth your best work, there's been a recent shift in employers' preferences.

According to every editor I have ever worked with (and many more that I've been interviewed by and spoken to), they're no longer just looking for good work but good, consistent work.

Potential employers want to see that you stay good at your job over time and aren't just a one-hit-wonder. The fact that you've written one great article a year is much less desirable than you writing one great article each month.

Your digital portfolio should display this, and the best way to do so is to import ALL (or most) of your work and arrange it chronologically.
Real-world results
As much as future clients want to evaluate your work themselves, they also want to see what results you've already achieved. If you've got a few years of experience, you should have some numbers to indicate your competence. In this case, hard numbers are your best friends.
Have you written 50 articles in a year, perhaps? Have these articles driven organic traffic up 34% during that year? As a content marketer, have your skills driven greater engagement with a site or an even higher number of signups or purchases? There are few things that will get prospective clients more interested in you than stats indicating success.
Contact Information
Ensure that your contact information is upfront and easy to find. In case your portfolio is searched out on Google or maybe even forwarded from one potential employer to someone in their network, you should be easy to reach.
Two examples of great online portfolios
Secret Wood is a collective of filmmakers and videographers.
Freelance colorist Jacob McKee has worked with the likes of Apple, Adidas, Reebok, Joji, Khalid, and more.
How to use a portfolio maker (Authory) to create a portfolio
Step 1: Sign Up for Authory (for free)
Create an account on Authory for free using this signup link.
Step 2: Import and add your content
Navigate to the Content tab on your dashboard. Then, click on Add Content at the bottom left.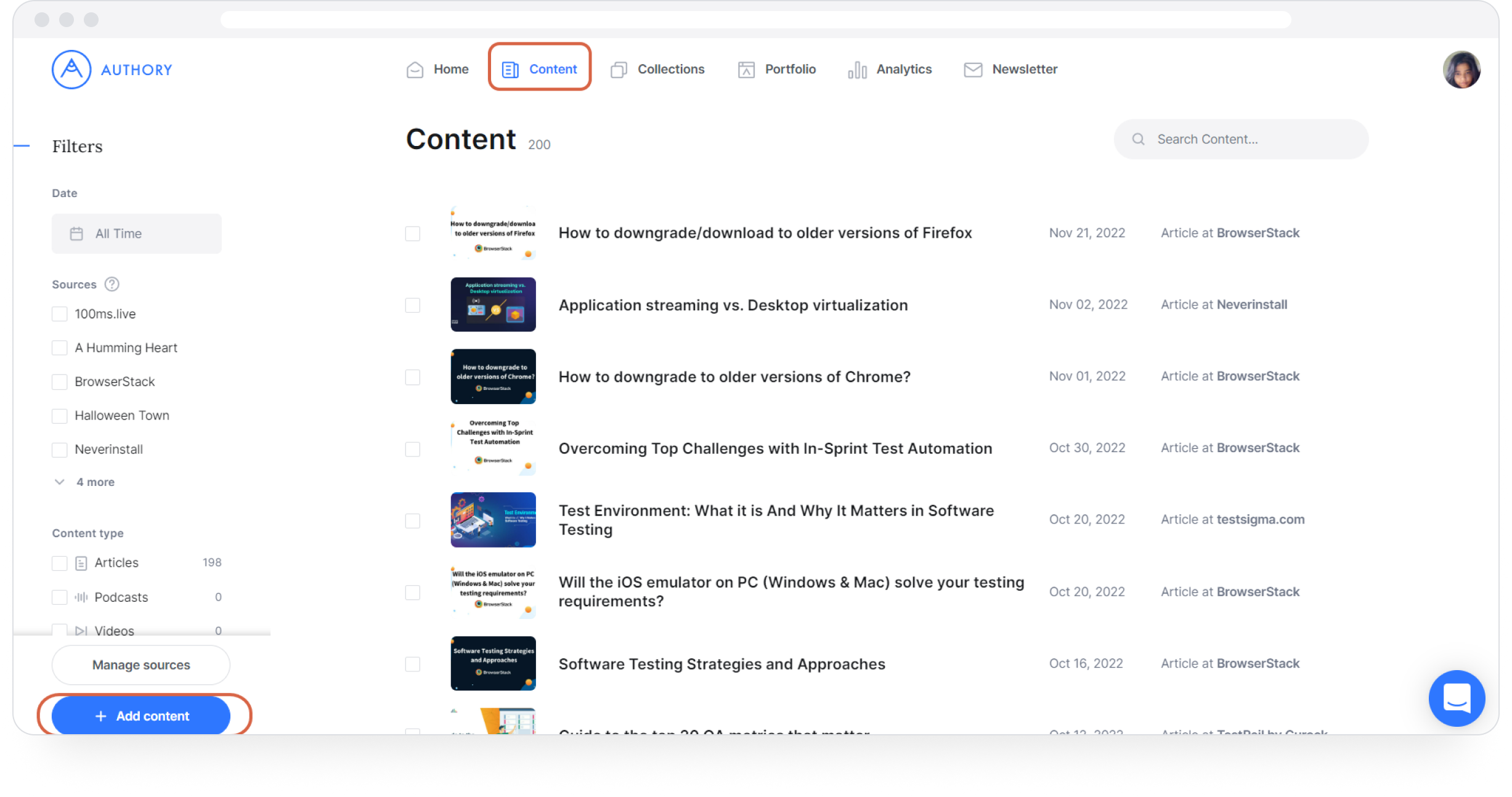 Once you click on Add Content, you'll get the option to provide a source site from which all your content (audio, video, text) will be automatically imported. You'll also be able to manually add content by simply pasting the URL.
For automatic importing, click on the Automated import option that shows up when you click Add Content.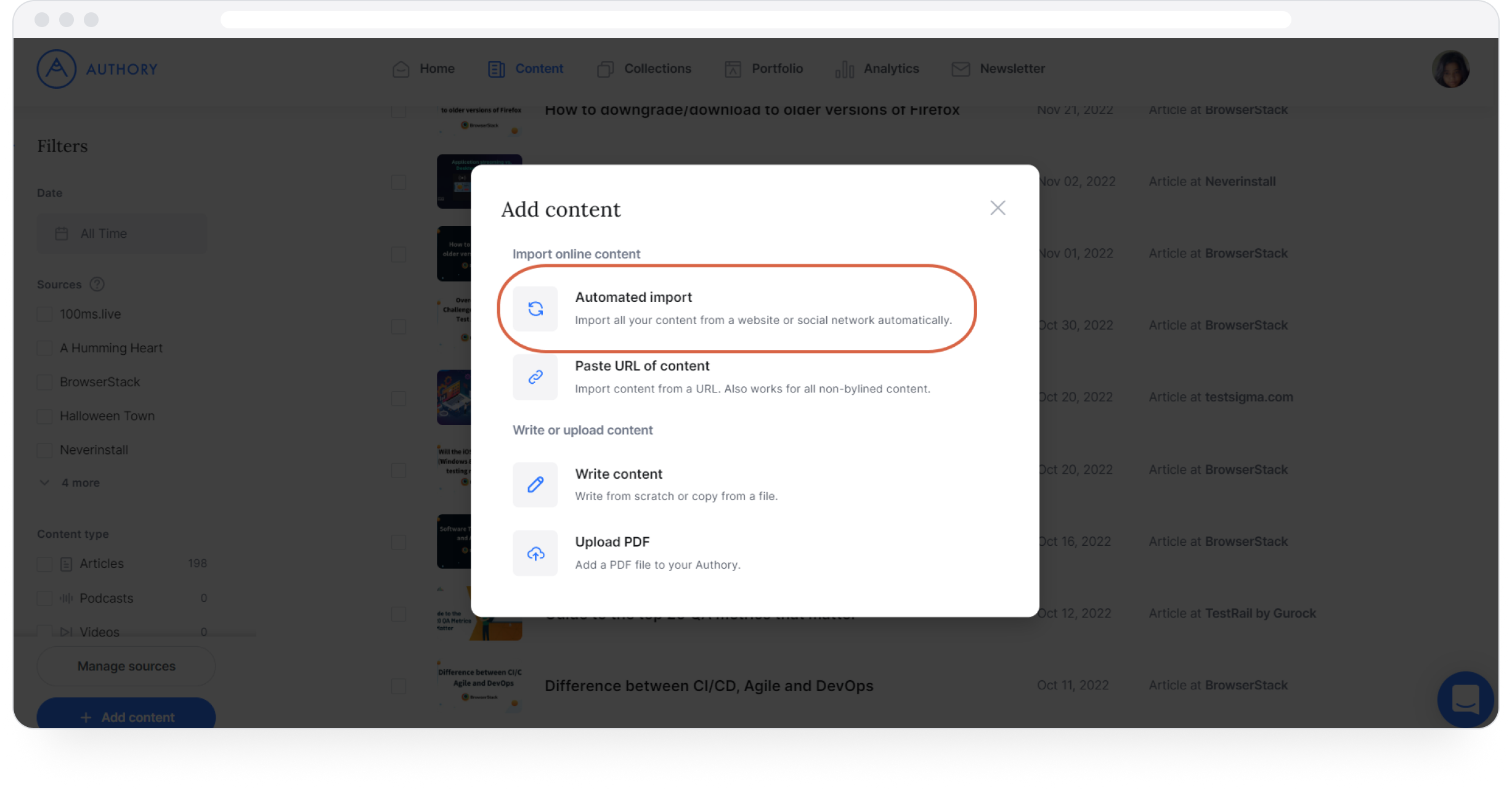 Click on Add Source to insert the digital source where your video is published.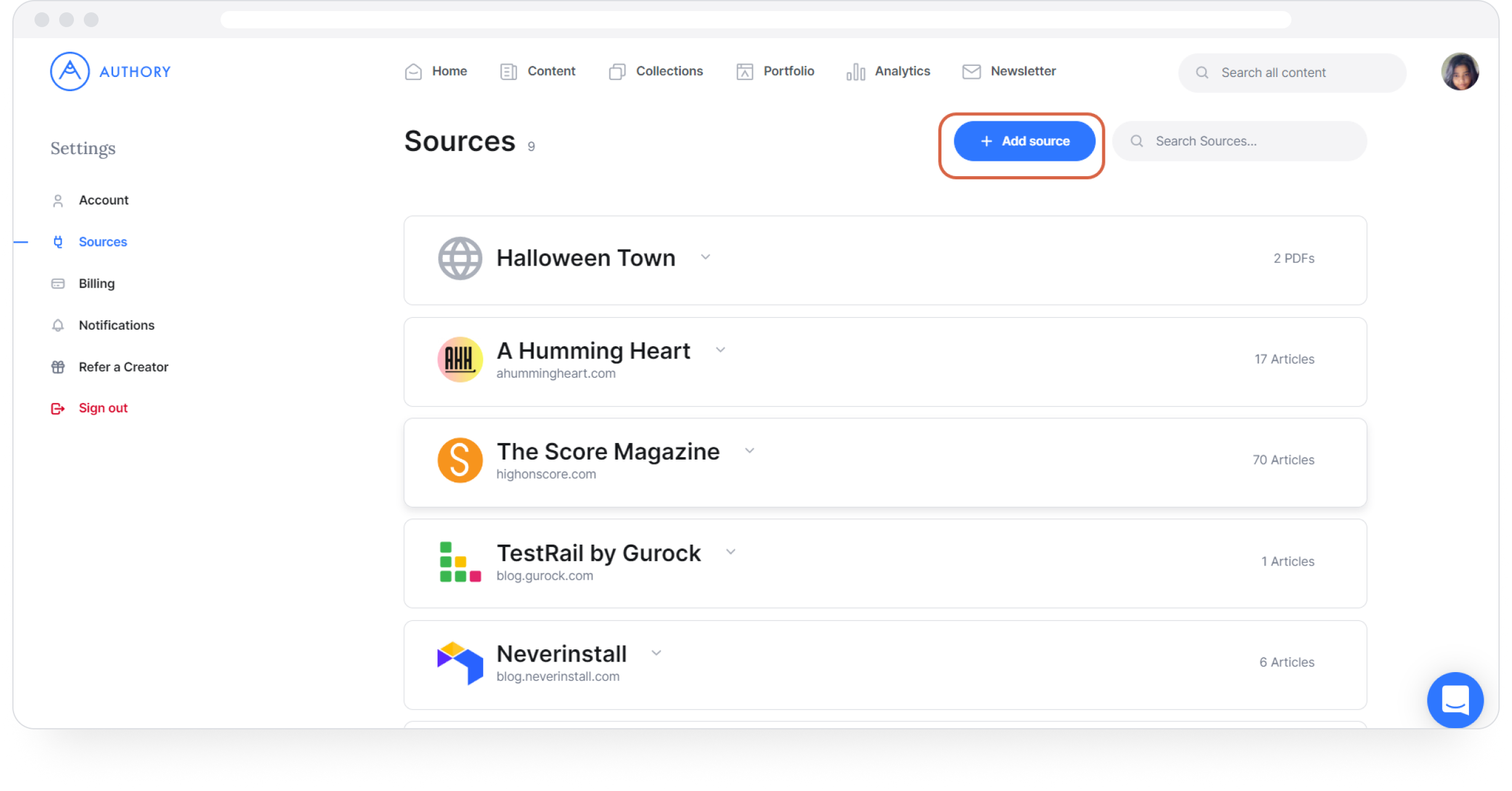 I'm choosing a website as the source for importing content. So, I'll click on the Web option.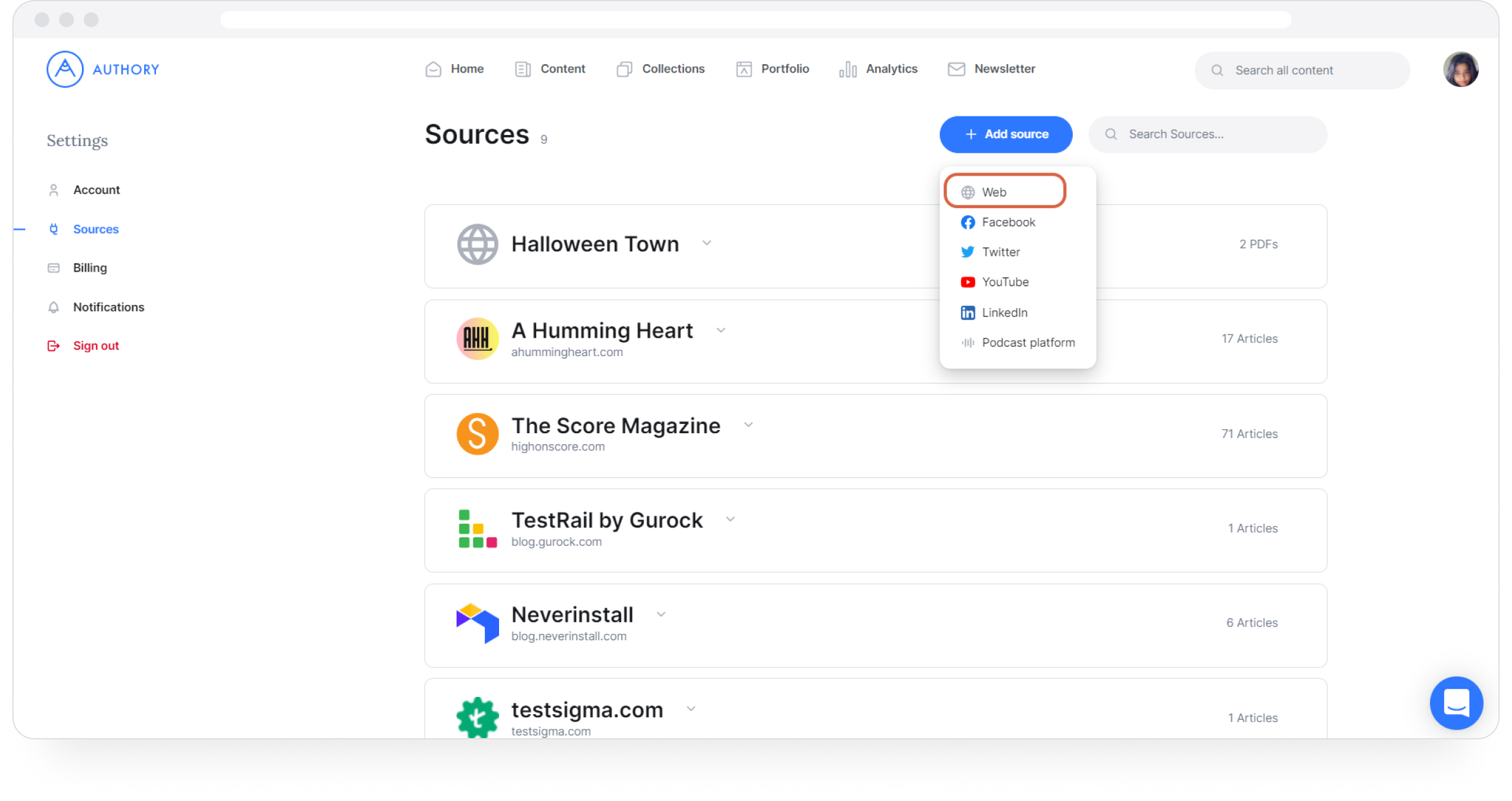 Enter the source site name and URL. Click Start Import. It will start the process of importing all your content from this source.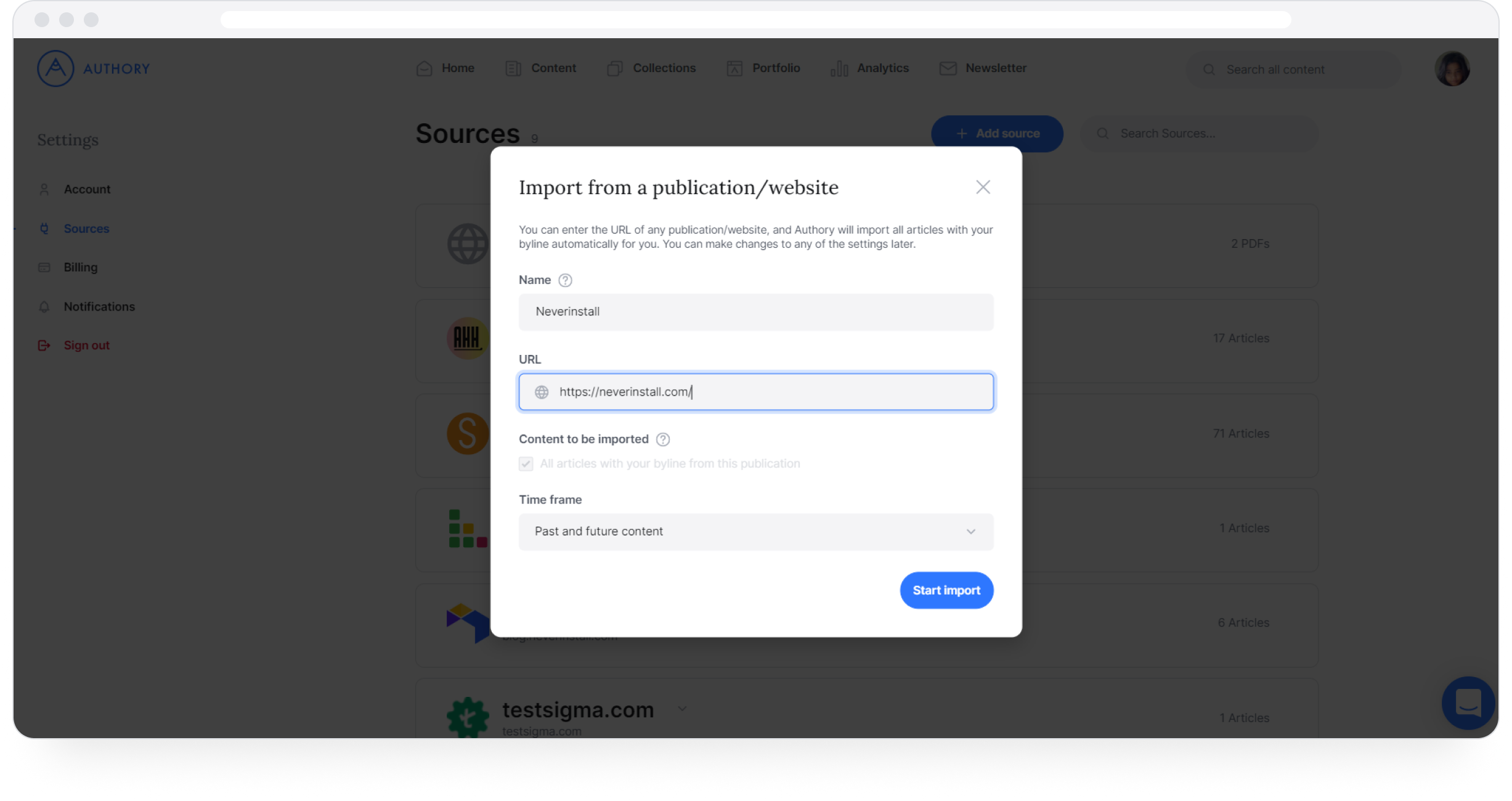 🗒️
Note: It takes up to 48 hours from Authory to import all your existing content from a new source. After that time, all new content you publish on this site will be imported instantly.
Once the import is completed, you'll get a notification in your email.
Step 3: Create a collection and add it to your portfolio
On receiving the notification, go back to the Content tab, as shown earlier. You'll see the new source (Neverinstall, in this example below) in your list of sources to the left.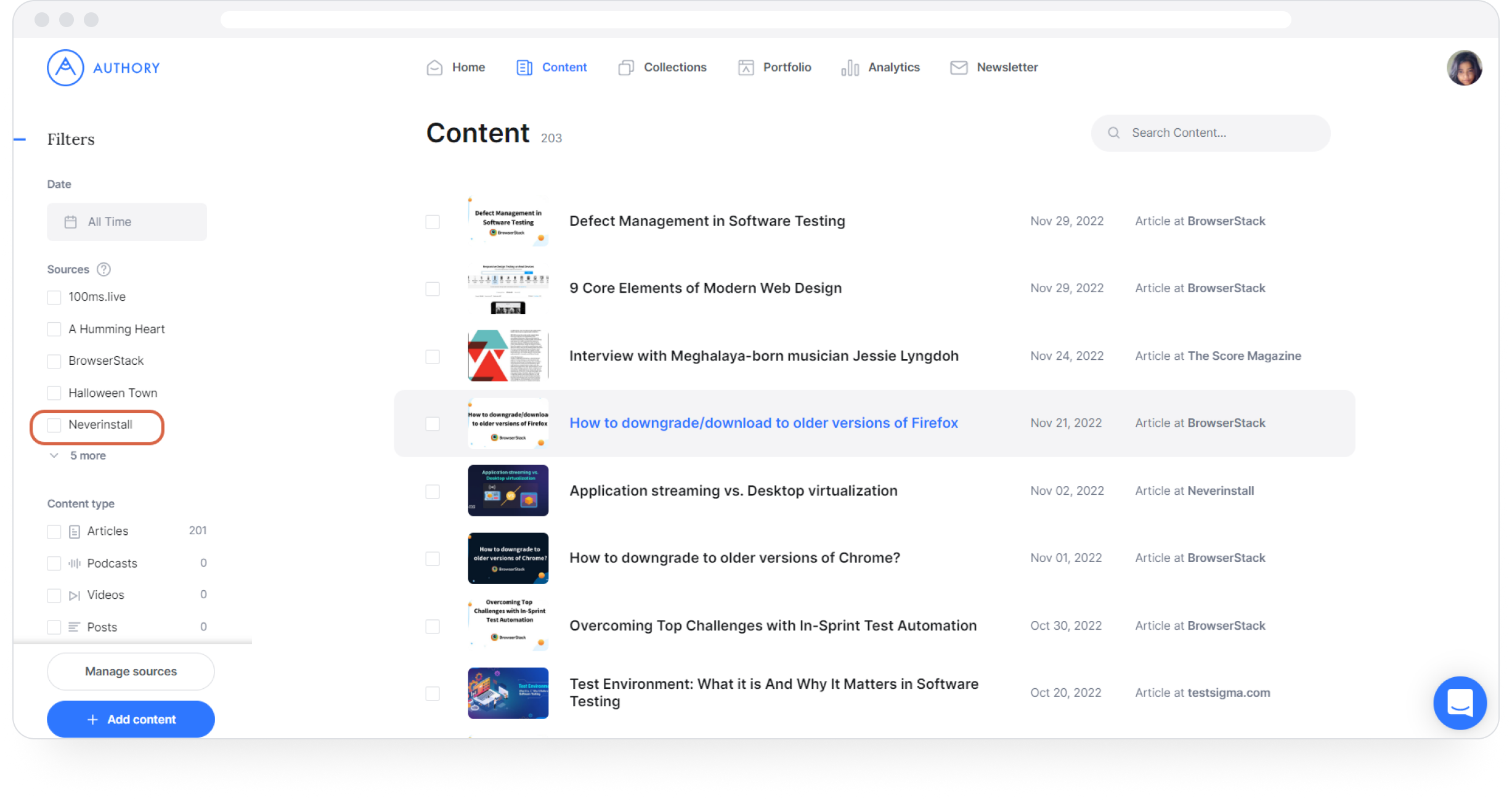 Click on the source name. Once you do, you'll see all the imported content. Next, click on Create automated collection at the top right.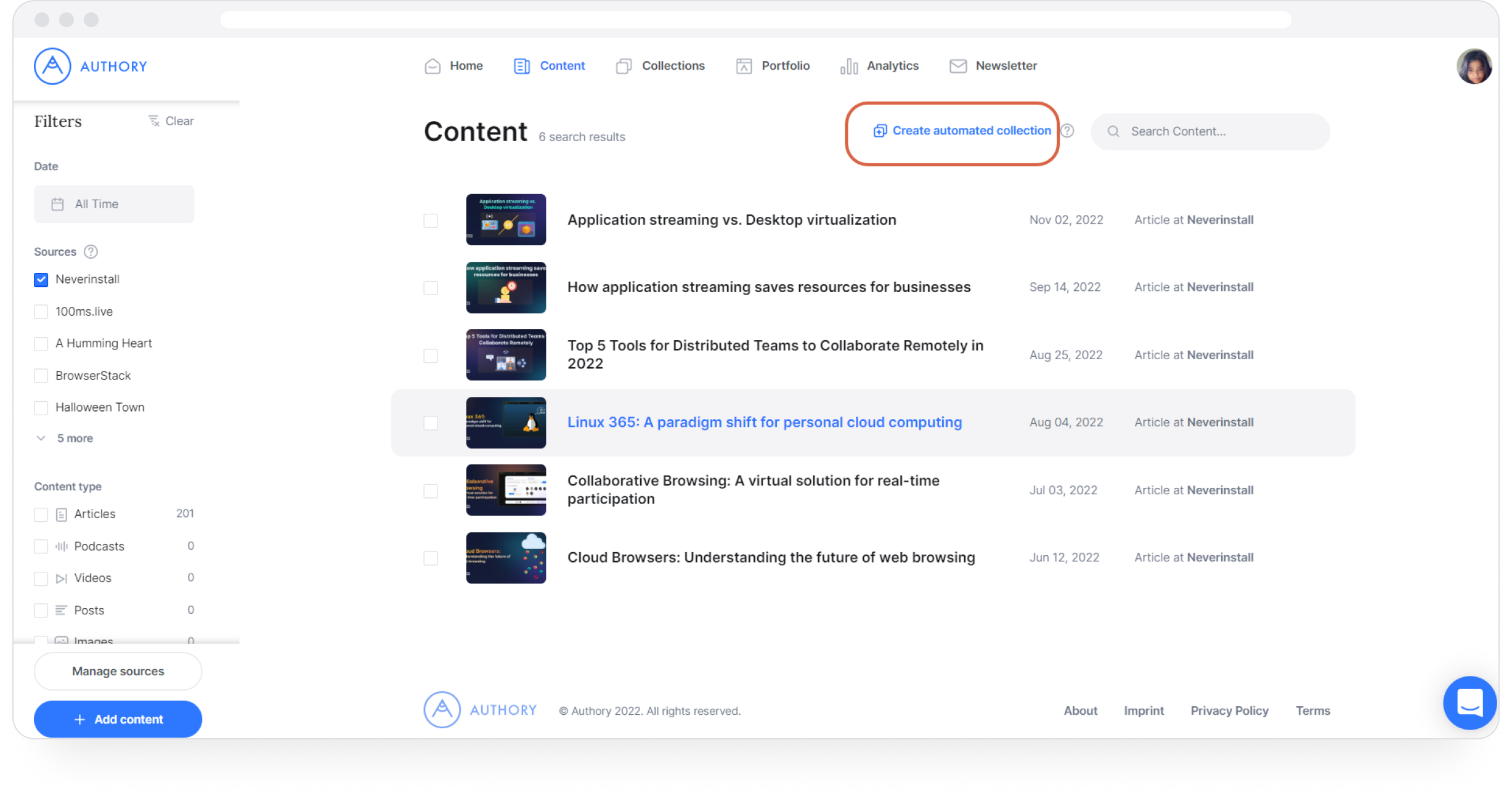 Enter a name and description for the collection. Click Add.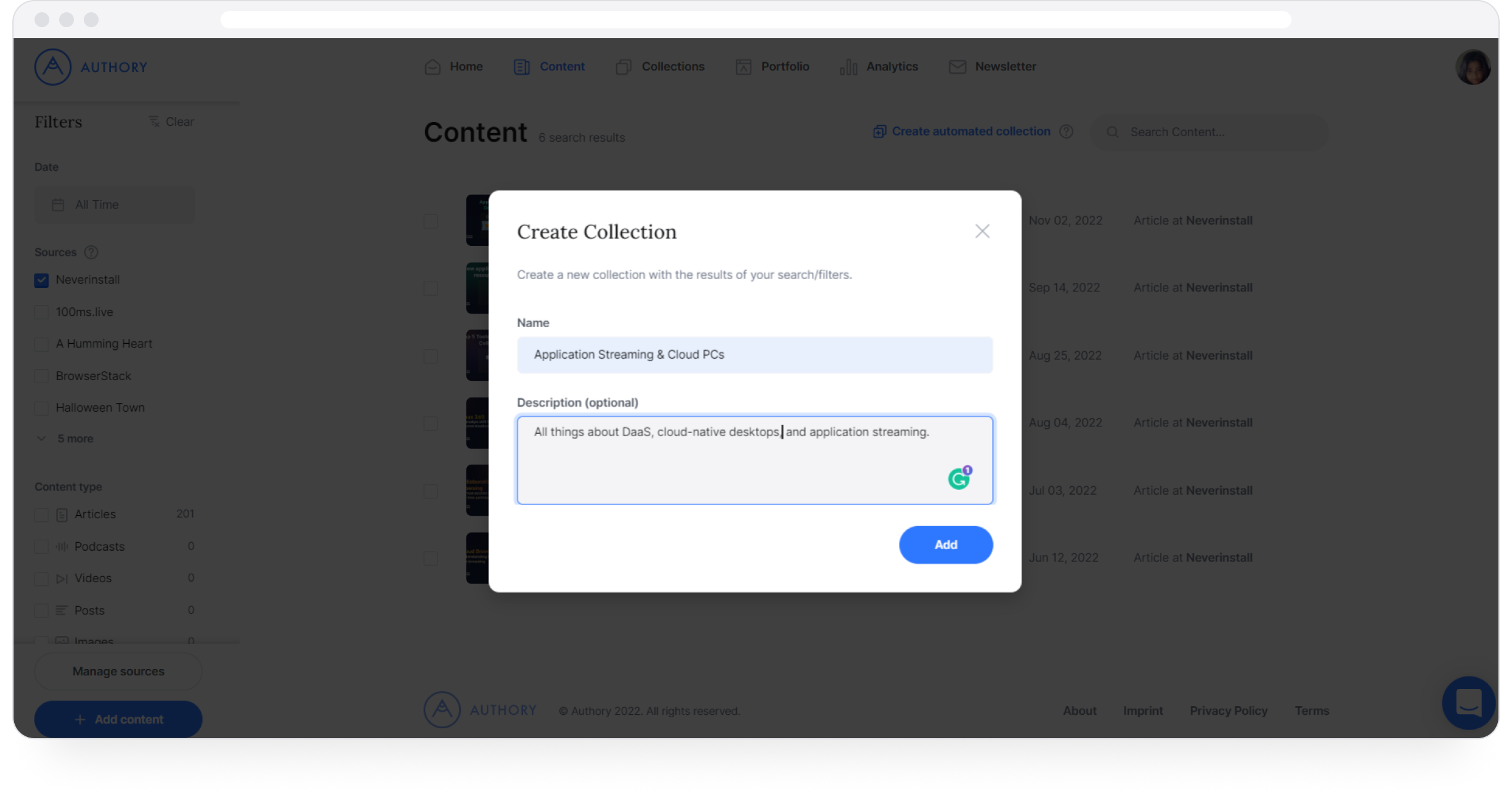 Next, go to the Collection tab. You'll see the various content collections you might have already created. If this is your first collection, you'll only see the collection you just created and the default My Content.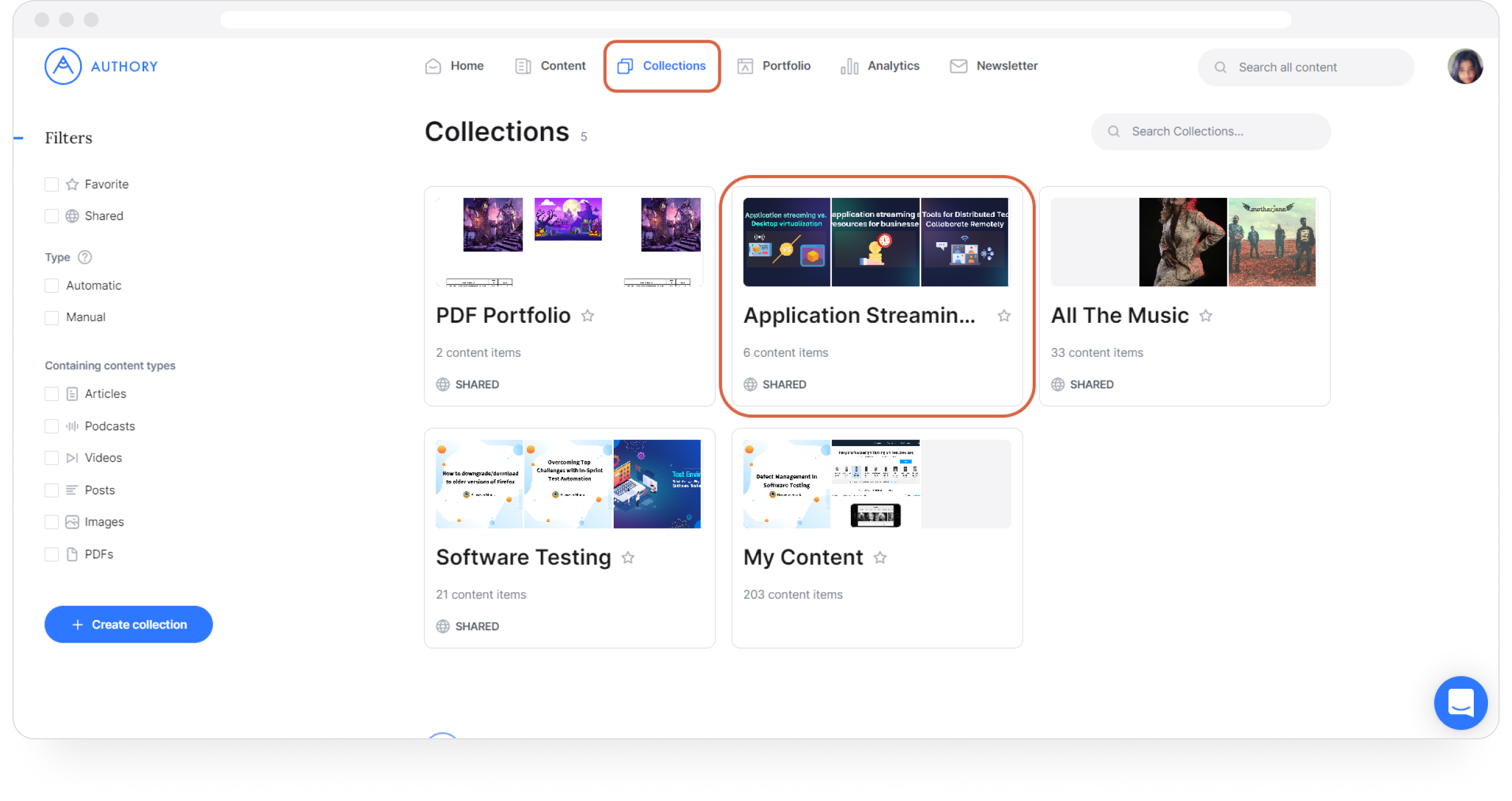 Now, go to the Portfolio tab. Then, click on Content in the menu to the left. It will open up, and you'll see an Add collection option. Click on it.
It will showcase all your collections. Since I just created the Application Streaming collection, I'll choose that by clicking on it.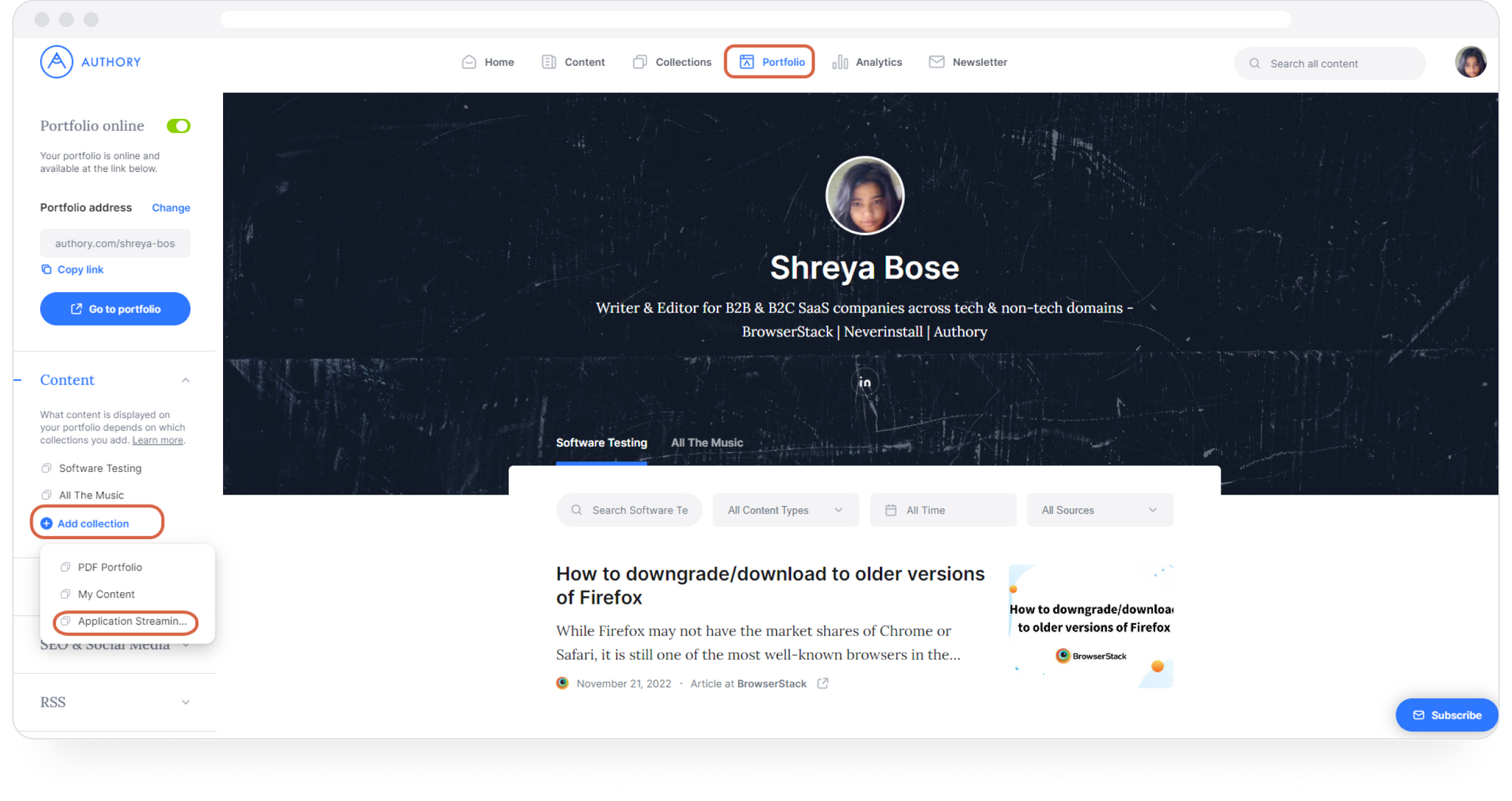 With a single click, the collection has been added to my portfolio.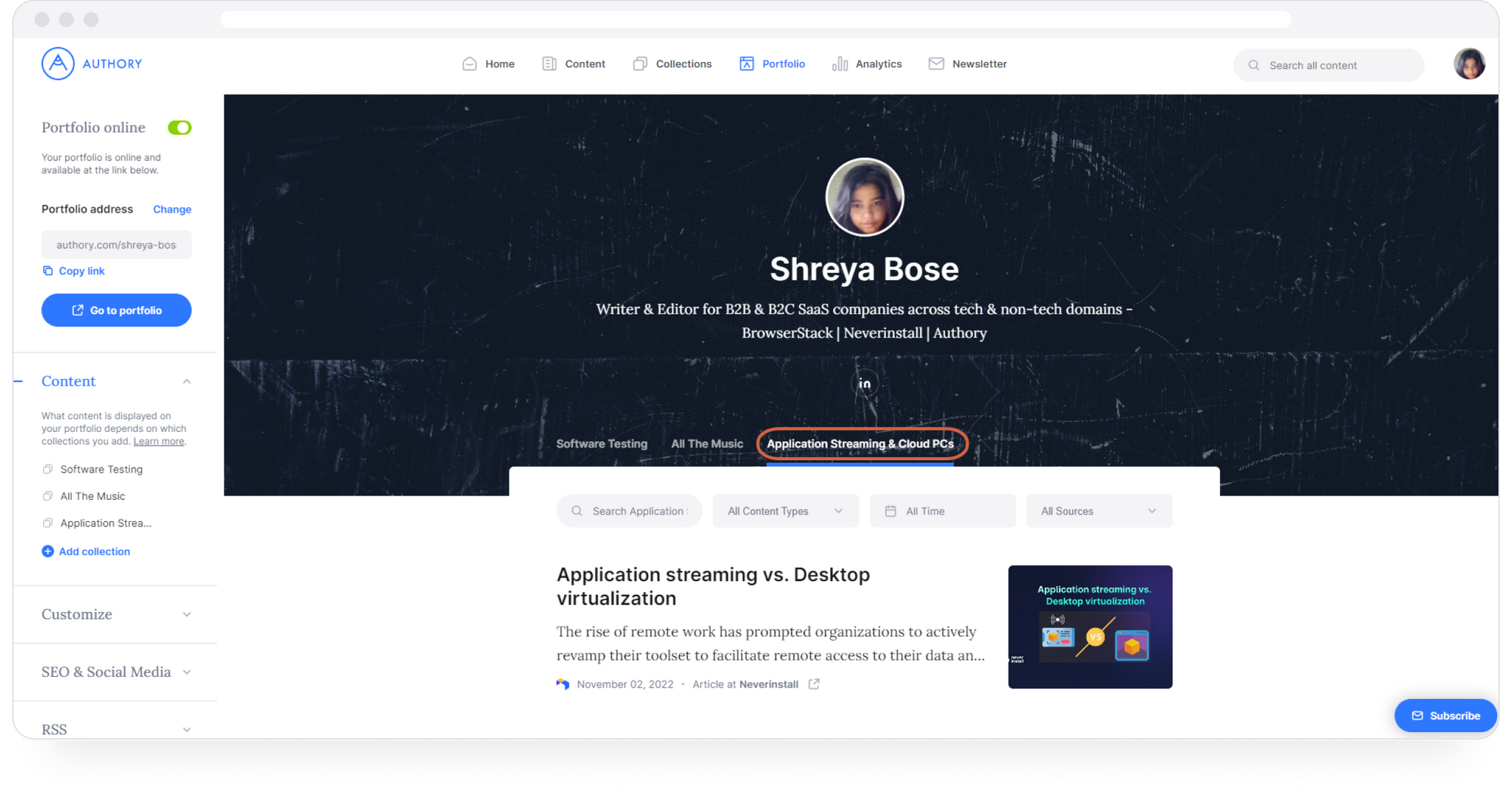 And this is what my final portfolio looks like.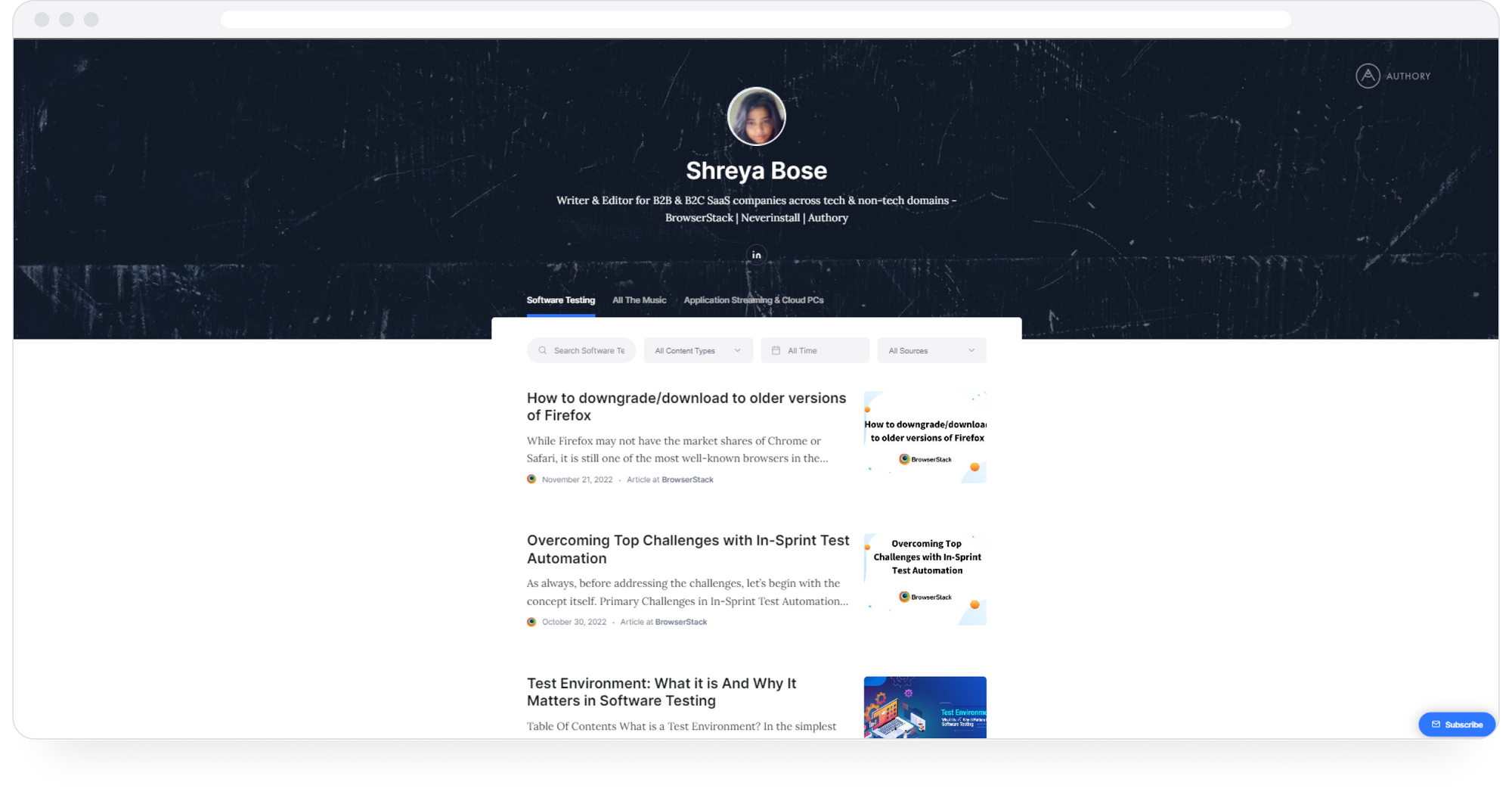 Top 10 Online Portfolio Makers to Get Started
🗒️
Note: Some portfolio makers can serve as free portfolio websites or a free online portfolio with their free plan (like clippings.me), but I've found that the paid plans work better. I'm not saying that you start off paying, but do sign up for as many free trials as possible to figure out which works best for you. That's what I did.
Portfolio Maker 1: Authory
I actually started writing for Authory after I started using it (lucky break), so including it in this list isn't coming from bias.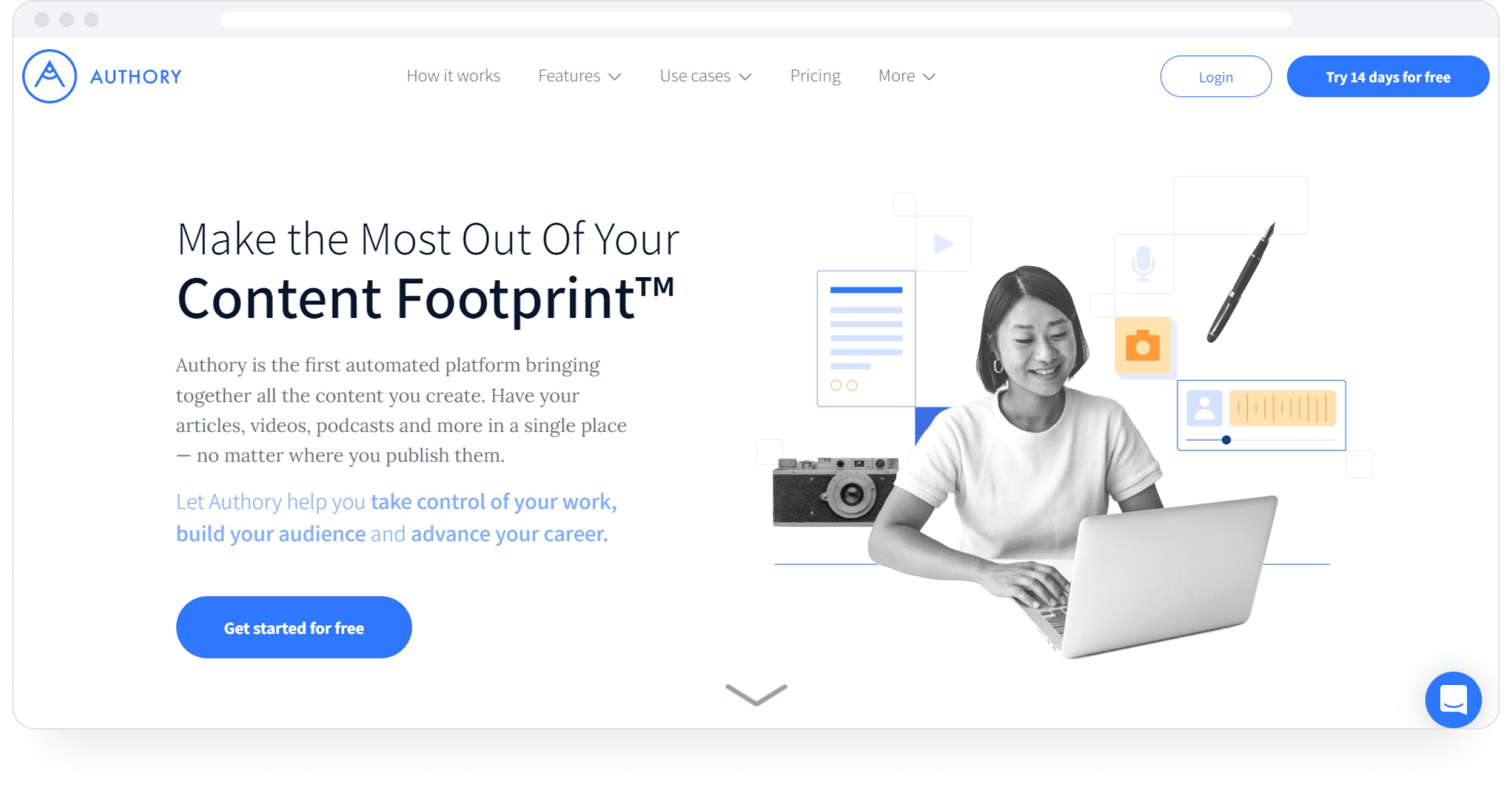 Price: $8 per month
Sign up for Authory, enter the URL of the websites where your content has been published, and ALL content with your byline on that site will be automatically imported and backed up forever.
What's more, the tool will continue to automatically import all new pieces published with your byline on the same site. In other words, once you enter your sources, Authory builds your portfolio for you.
Additionally, the tool lets you import and showcase textual, audio, and video content. Doing all this takes just a few clicks, thanks to Authory's exceptionally user-friendly UI. You can download all your content from the dashboard with no lock-in period whatsoever.
You also get in-built social media analytics for all your content — the tool tracks engagement numbers for each piece on popular social media sites.
Example of an Authory portfolio: authory.com/DavidPogue
Portfolio Maker 2: Squarespace
Squarespace's popularity is not unfounded. While it offers many advantages, it is best known for visually striking templates you can choose from.
Price: $16 per month
Squarespace is a great choice if your portfolio has to showcase design-centric or visually significant work. It's ideal for a photography portfolio, a graphic design portfolio, or anyone else who wants to display their eye for design and aesthetic symmetry.
Squarespace templates are mobile-friendly. You get in-built blog sections, an about me page, and contact forms. Each element is drag-and-drop; you just pull it to the right position on the page and you're done.
The tool also comes with in-built marketing tools and SEO optimization. You also get unlimited storage on all plans.
Example of a Squarespace portfolio: www.fuktmagazine.com
Portfolio Maker 3: Wix
Wix also offers beautiful templates, but I personally think Squarespace has more variant designs to choose from. Of course, Wix is still an excellent portfolio maker. I definitely recommend you try it out.
Price: $16 per month
This no-code portfolio maker also comes with a drag-and-drop editor, and the design elements don't have any limitations on where they can be placed on your page. This high-grade level of customization, however, doesn't take away from the tool's user-friendliness.
Like Squarespace, Wix provides multiple templates meant specifically for portfolios. You also get some tools to set up SEO (which aren't as advanced as Squarespace), as well as a library of apps to integrate with and widen their portfolio's capabilities.
Example of a Wix portfolio: www.sophiebritt.com
Portfolio Maker 4: Portfoliobox
Meant specifically for creating portfolios, this tool caters to creative individuals seeking to depict desirably the work they're most proud of.
Price: $3.50 per month
While this portfolio maker does not provide as many features as some of the other contenders on this list, it's perfect if you're watching your purse strings.
Don't get me wrong. Portfoliobox has plenty to offer. It comes with a set of solid design tools, including a drag-and-drop editor. You can also password-protect your pages, use intuitive galleries, watermark images and create content in a blog section.
Bonus: You get a free domain with all plans.
Example of a Portfoliobox portfolio: www.creatureintl.com
Portfolio Maker 5: Clippings.me
Another tool dedicated to building portfolios, clippings caters largely to writers, bloggers, and journalists.
Price: $9.99 per month
clippings.me gets the basics right. You add your work, play with the layout by adding your own image or choosing from clippings' gallery, and voila!
This portfolio maker supports online articles, PDFs, YouTube, Vimeo, and SoundCloud files. For deeper insight into how your work fares with its audience, you can integrate your portfolio website with Google Analytics.
There's not much in terms of design and customization, but given its primary user base, this isn't a massive drawback. Portfolios built with clipping will be optimized for SEO and mobile access.
An interesting feature is an international PayPal fee calculator, which is useful for anyone receiving payments from foreign clients. The calculator, however, works with currencies of only a few countries.
Example of a Clippings portfolio: www.clippings.me/naomiconrad
Portfolio Maker 6: Journo Portfolio
Just because it's got "journo" in its name doesn't mean this portfolio maker is for journalists alone. It's a great option for photographers, illustrators, designers, artists, and individuals from multiple other domains.
Price: $5 per month
With this builder, you can import bylined content from digital publication sources in multiple formats. It also offers an impressive range of customization options — structure your pieces as a column, grid, blog, or image gallery.
All imported work is automatically backed up, but as screenshots, not the original text/media it was published as. For me, this was a big differentiator when I chose between the two — Authory backs up content in the original format, not screenshots.
Major points for this tool's privacy options — you can restrict your portfolio from your current employer, use password protection, and secure links to restrict access for certain pages or your whole portfolio. You can even hide your portfolio from search engines.
Example of a Journo Portfolio portfolio: blackwoodd90.journoportfolio.com
Portfolio Maker 7: WordPress
Of course, the world's most popular website builder is an excellent option for building a sophisticated portfolio.
Price: $4 per month
There are literally thousands of templates you can choose from, ones specifically designed for portfolio building. Add work samples, text, images, forms, Yelp reviews, testimonials, maps, and…honestly, you can let your imagination run wild here.
One of WordPress' best offerings is the thousands of easily installable add-ones that can empower your portfolio website to do everything from running automatic backups, gathering leads, building subscription lists, and so much more.
Example of a WordPress portfolio: https://graphicdesignireland.com/
Portfolio Maker 8: Carbonmade
This portfolio maker calls layout "so 2004" on its homepage, so it certainly gets your attention.
Price: $9 per month
With Carbonmade, you don't depend on templates as much. The tool offers multiple design elements, and you have perfect freedom to mix, match, and modulate them until you like the look. These customization features are seriously advanced and perfect for visual artists and designers.
All portfolios are automatically responsive, and you can upload unlimited images and videos. Its most unique offering is a customizable video player that lets you drag and drop 4K HD videos right into your page. No more video embedding. Host them directly on your portfolio.
Example of a Carbonmade portfolio: aranquinn.com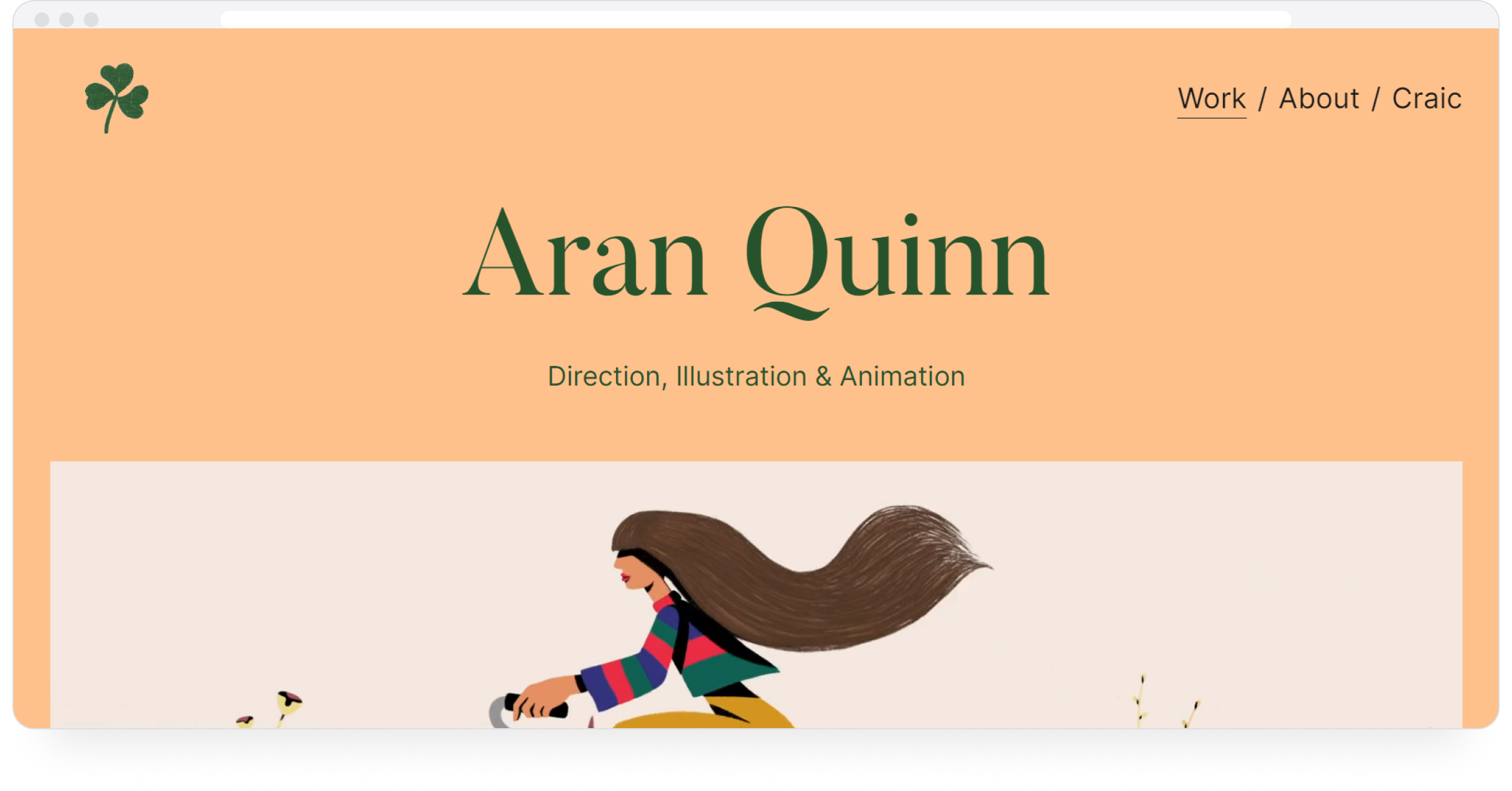 Portfolio Maker 9: Format
When a portfolio maker has templates featuring award-winning designs, you're already halfway to creating your perfect portfolio.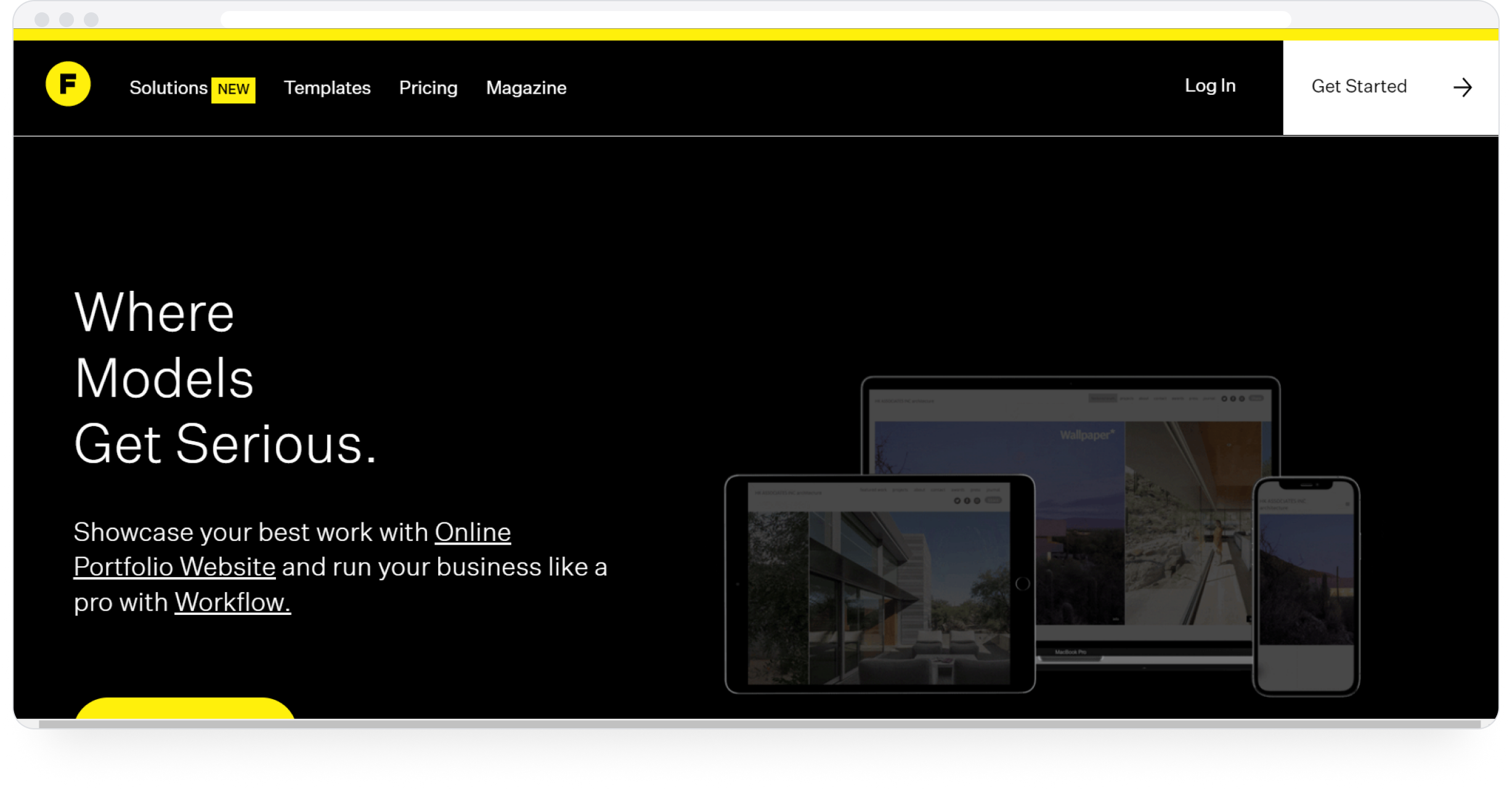 Price: $3.50 per month
Format works well for everyone, but it's a special favorite of photographers because of its ability to protect your images from unauthorized distribution. You also get cloud storage for photos.
Alongside this, the tool also provides mobile-optimized templates (the ones with magnificent designs) and powerful social media integration.
Putting together a portfolio on Format is quite fun since you can switch between templates to check what works. It's quite a visual treat. You can also leverage project management features, and even write blog posts from within the dashboard.
Example of a Format portfolio: www.ngareinio.com
Portfolio Maker 10: Jimdo
Another great option for you to start out with, similar to Portfoliobox.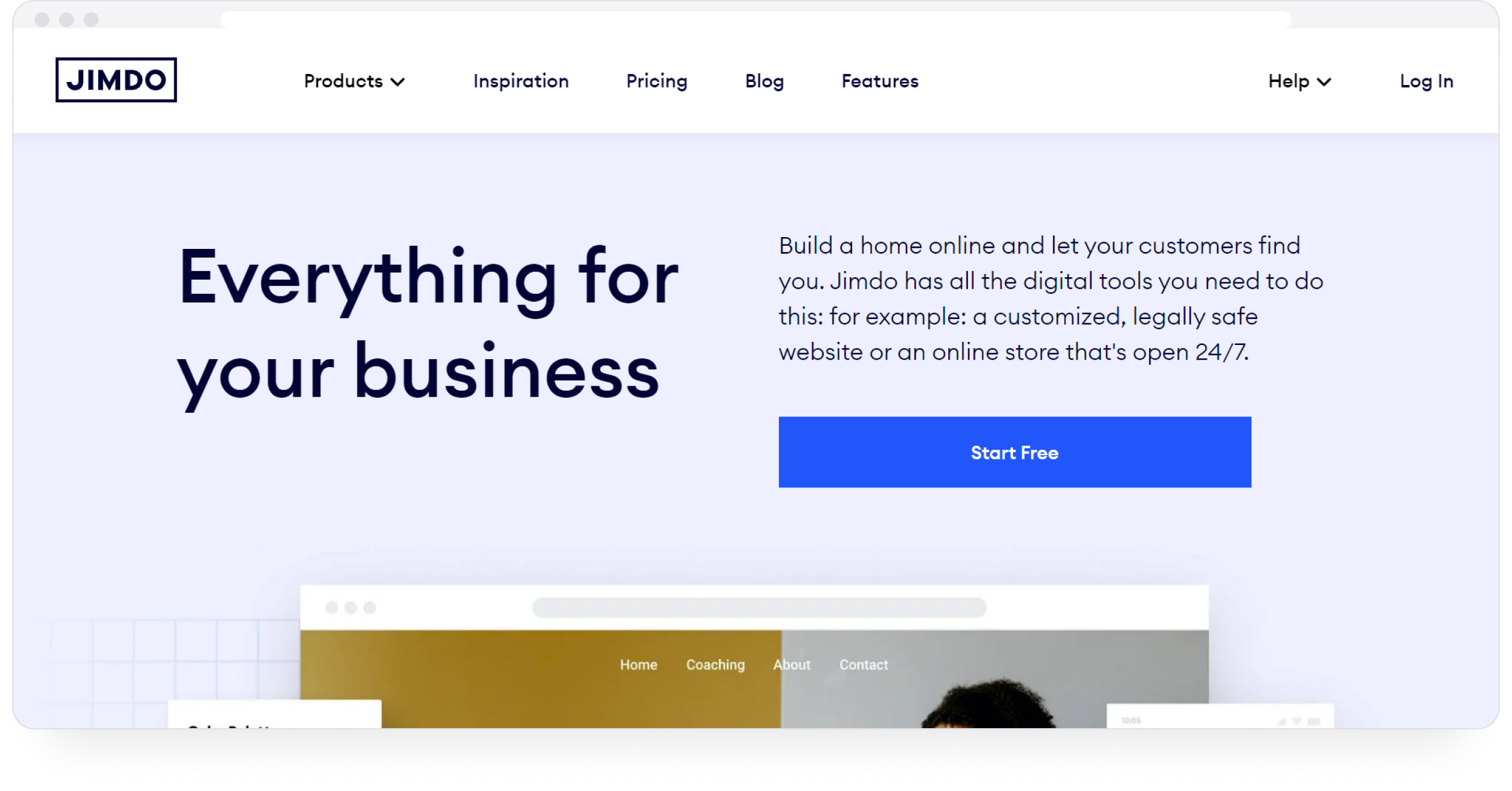 Price: $9 per month
Jimdo provides limited design options, so it works best for writers, journalists, thought leaders…. anyone comfortable with limited visual variety on their profile. Their mobile-optimized templates are pleasant, but not breath-stoppingly unique as in the case of Format or Squarespace. Still, they get the job done quite well.
Switch between templates and use a mobile editor to set up your portfolio. While Jimdo's SEO and marketing tools aren't 10/10 (yet), they are good enough for your first portfolio. Don't forget to use the 'automatic SEO' feature that fills in SEO settings for you. An ADI builder helps create portfolios within a few clicks, and you get a free logo too. You also get a free custom domain name for the first year of signup.
Not too many app integrations yet, but Jimdo provides robust connections with social media sites.
Example of a Jimdo portfolio: ristorante-geranio.jimdosite.com
Authory — a smart online portfolio maker that does all the work for you
Authory doesn't just display your work to prospective clients. It works on overdrive to make your life as a content creator infinitely easier.
If you think I'm exaggerating, just have a look at Authory's primary features:
Automatic importing of all your bylined content from any digital source you enter — from past and future
All imported content is backed up forever
Download all imported content to your device at any time; no lock-in period
Manually include non-bylined content
All backups in the content's original format (the real text/media), not as screenshots
Analytics support for all imported content across major social media sites
There's a lot more you get with Authory, and the best way to figure it out is to sign up and try it for a free 30-day trial period. Just enter your sources, and the tool will do the rest.
My life as a writer has undoubtedly been easier since I started using this portfolio tool. All my work is in one place, and I no longer have to run around frantically googling for an article of mine published five years ago.
If you're curious, here's what my portfolio looks like: https://authory.com/shreya-bose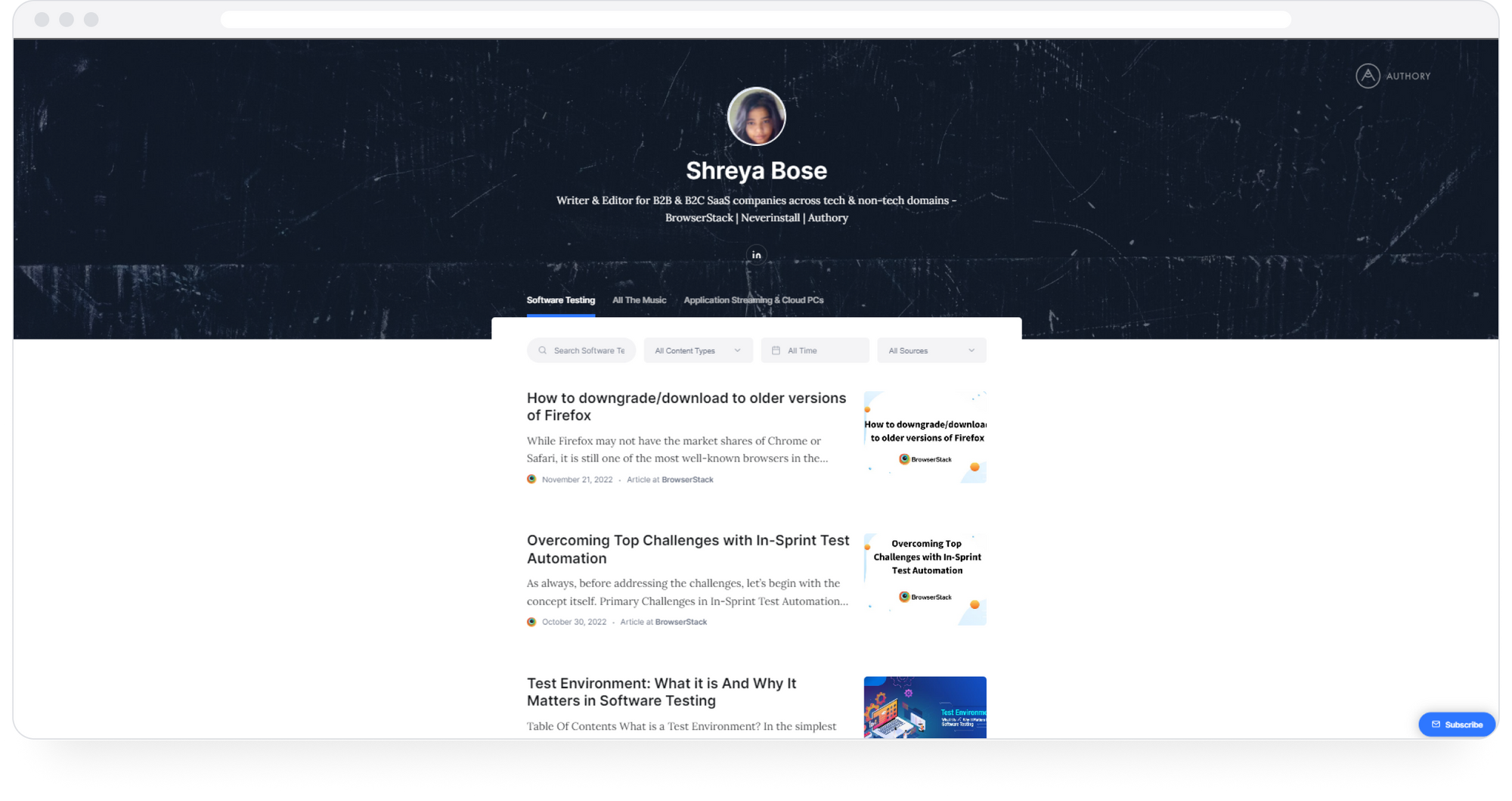 And here are a couple more Authory portfolios that I particularly love
Jarrod Kimber is a former global writer with ESPN. He continues to write about sports and more, around the world.
Melissa Kalt, MD, calls herself a "Solver of Unsolvable Problems," "Master Healer," and "Antifragile Narcissist Survival Expert."