Whether you are a staff writer, editor, or columnist for a single publication or whether you are a freelancer, blogger, or thought leader and publish at multiple publications at the same time, you have probably come across a number of issues that make your professional life harder than it should be.
Hand on heart, can't you identify with any or even all of these problems?
1. Problem: You lose access to your own articles
Once your articles are published, they are literally not in your hands anymore. It might sound harsh, but the reality is: Your content is unsafe. If your publisher takes it down, it's gone for good.
And there are many reasons why a publisher would do exactly that: They botch a move to a new CMS, they consider older content not important anymore, they get sold or they go bust. The list of reasons is pretty much endless.
And the sad truth is, it's almost always completely unexpected, leaving the authors of said content devastated and with no recourse.
2. Problem: You struggle to keep track of your articles
Your articles are plentiful, and at one point it's difficult to keep track of them all. That's important though for your own future reference or anybody interested in your work (a.k.a. editors).
Creating a portfolio page is a great start but that means you'll have to painstakingly update your portfolio all the time. In the beginning that might feel easy, but give it some time and you start to forget to update your portfolio. Then you feel guilty about it and try to think about your portfolio page even less. A vicious circle that eventually leaves you with an outdated portfolio.
And that is achieving the exact opposite of what your portfolio page should do, as an out-of-date portfolio makes you look like you aren't on top of things.
3. Problem: You don't own your audience
Regardless of whether you are on staff or work as a freelancer, it's usually your publisher who is in charge of the connection to your readers. How exactly? Well, they own the website, they own the newsletters, they own the social media channels. In other words, they own the entire audience.
Now, you might say "so what?". But think about it. Given your publisher is in control of if, how, and when the content you produce reaches its audience, where does that leave you?
Think of how much time and effort you've spent building your audience at Publication A — and what a waste it is to ABANDON them when you move to Publication B!
— David Pogue, Tech Columnist at the New York Times
Your readers love the content you create, they trust you. Yet when you move on to the next gig (and that will happen in today's media landscape), the audience stays with your publisher. You'll have to start from scratch. There is no way of taking your audience with you, no way of making your publisher's audience your own audience. That's a bad balance of power.
Now, before you say "I've got Twitter/FB/Instagram, so people can follow me": True. But aren't these platforms just another gatekeeper that controls your audience? Aren't you at the whim of their algorithms deciding whether your followers see your content or not?
4. Problem: You don't know how successful your articles are
Writing great content is one thing, but it's another to understand how popular it is. Social media is a great proxy for this. In other words, how often are your articles being shared, liked, retweeted, and commented on?
It's easy to find these metrics for your personal social media account and everything you post there. But knowing how often your article was shared by anyone out there? That's usually data that only your publisher has and they are paying a lot of money for it. They might give you access now if you are lucky, but it's uncertain you'll have that kind of information about your articles in the future.
And that's bad. Because knowing how all your past and current articles perform on social media and being able to compare the performance over time, that's a real asset for you for your personal advance and for any future job.
There is a better way: Try Authory
Now comes the good news: With Authory you get the superpowers to solve all of these problems. You'll be in control of your content, your audience, the way you look online, and your social media impact — once and for all.
Authory gives you access to tools that usually only big publishers or corporations can afford to develop. In essence, it's helping you level the playing field.
Authory is one of the greatest inventions for writers.
— @asksienna
Here is how it works in two simple steps:
STEP 1: During signup, you tell us where you've published in the past. Authory will automatically go to these publication websites and fetch all your previous articles. Next, a member of our team will personally check if your articles have been imported correctly, if nothing is missing, etc. If we are satisfied and trust you'll be too, we'll activate your account and let you know via email.
STEP 2: This whole process takes max. 48h, regardless of how many articles we'll import for you and how old they might be. In fact, we've picked up articles from the 1970s for some of our members, and for some, we've imported more than 10,000 unique pieces. All within 48h after signup.
Authory isn't just about your previous articles though! Our system will monitor your publications 24/7 for any new articles of yours and import them automatically as soon as they've been published (you'll get a short notification email in that case).
We've perfected this continuous monitoring and it fetches every single new article of yours. Period. (ok, one more: the results are so much better than what you could ever get when using Google).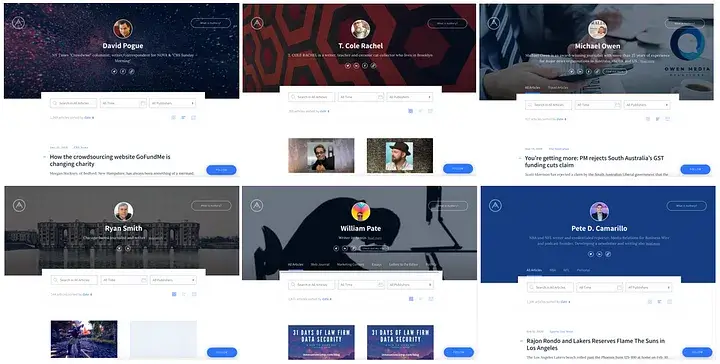 Once your account is active, you can log in to your very own, brand new Authory page. It's available at authory.com/YourName (e.g. authory.com/DavidPogue) and here is what you'll get with it:
All your articles backed up
When you log in to your Authory account, you can click on the headline of any article and you'll find a beautifully backed-up version of the respective article, including all images. Whatever happens to the original article at the publication, this backed-up version in your Authory account is yours, no matter what.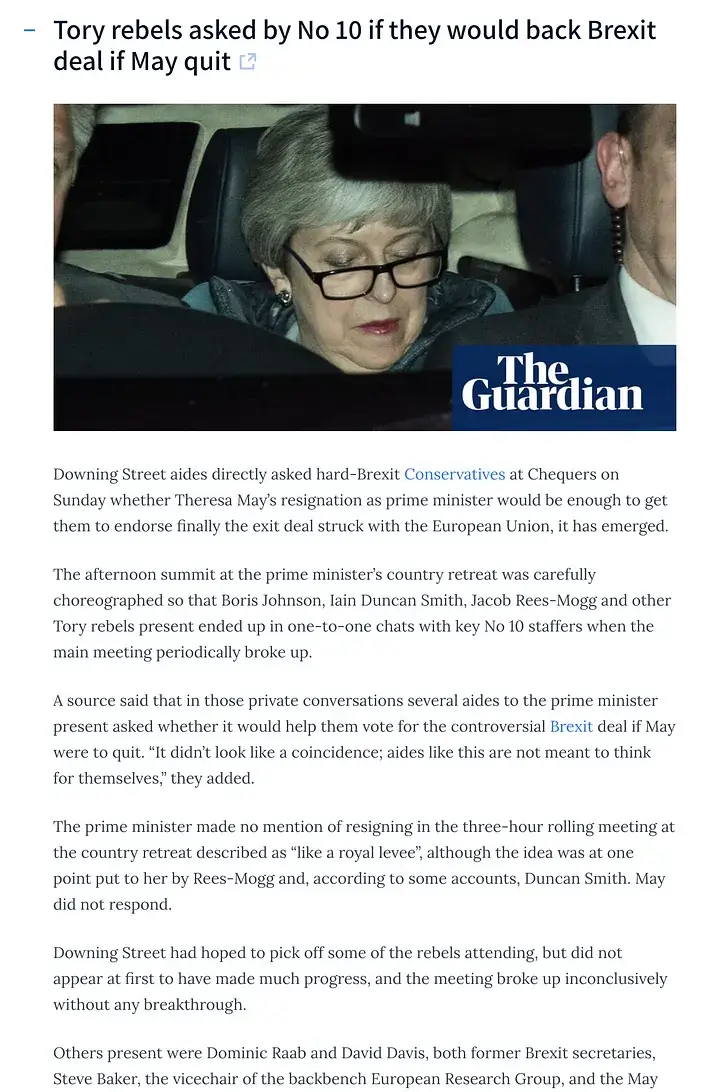 That's not all of it though, because you can use extensive search and filters to find any article you've ever written within seconds. Whether it's at the office or with your smartphone on the go, your entire body of work will be at your fingertips anytime. And that applies to every new piece too since it will be automatically backed up right after publishing.
Your articles are perfectly safe in your Authory account, but if you like you can download them to your local computer anytime too. It just takes a click to download your entire article archive.
Oh, and let's assume for a moment that an article of yours is not available at the original publication anymore. You have the backed-up version in your Authory account, but since the original is gone from the web, you'd like to make the backed-up version available to anyone? Nothing could be simpler: Simply switch the article in your Authory account to "public" and you are set.
A self-updating portfolio page
Anybody who visits your Authory page will see it much the same that you do when you are logged in, with one big difference: If they click on an article headline they are forwarded to the original article at the respective publication, not to the backed-up version that you see. By making sure that only you have access to the backed-up articles, we make it perfectly legal for you to use Authory because it's no re-publishing.
This public version of your Authory page is a very special portfolio. Unlike other portfolios, it displays the whole breadth and depth of your capabilities. Some of our members have more than 10k articles on their Authory pages. It's one thing to show a few examples to an editor interested in your work, but it's in another league to enable them to search and look through everything you've done up to now. Nothing says "I know my stuff" better than proving it with the work you did.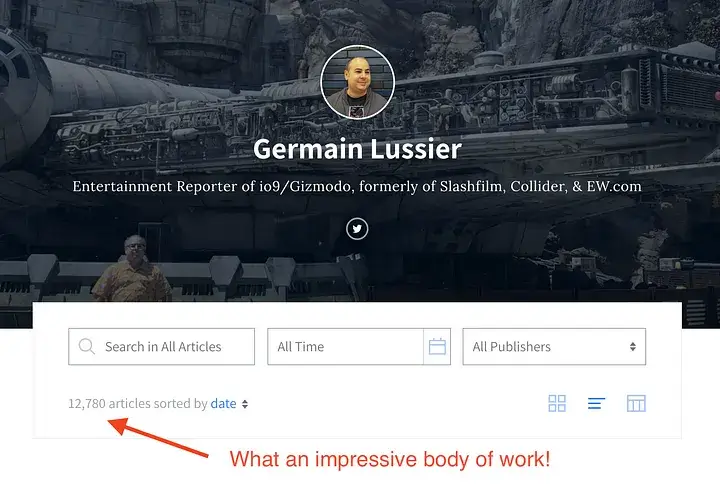 No, you might say "But my content varies, it can't be all on the same page". Good point! That's why we have Collections that you can use to curate your articles. Group them by topic. No problem. Put all interviews or long reads in the same collection? With our automated rules, it takes just a few seconds.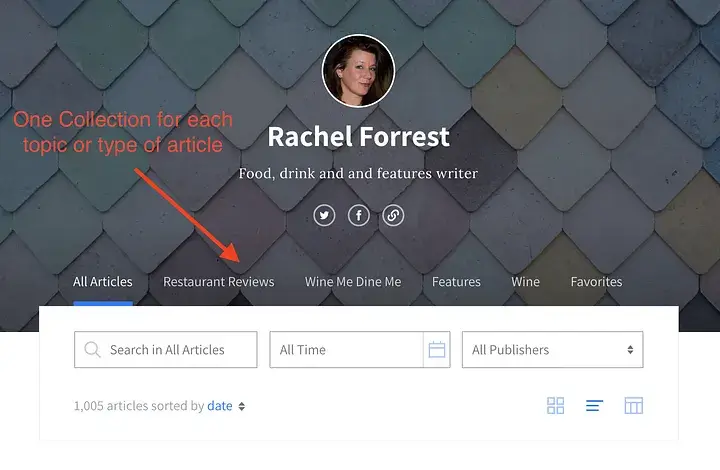 But there is more (the best always comes at the end): Unlike any other portfolio page, your Authory page is always up to date with your new pieces. And you don't have to lift a finger. As your new articles appear on your Authory page as if by magic shortly after they've been published, you signal to anybody out there that you care about how you present your work, that you are on top of things.
And in order to make your content look as good as possible, you can customize the looks of your Authory page to make it 100% yours.
Email subscribers
You want your own audience, that makes a lot of sense. But how? Setting up your own newsletter is difficult enough, but regularly sending it? That requires plenty of work. Not to speak of the fact that you'd need to entice your readers to sign up in the first place. All in all, a lot of hassle.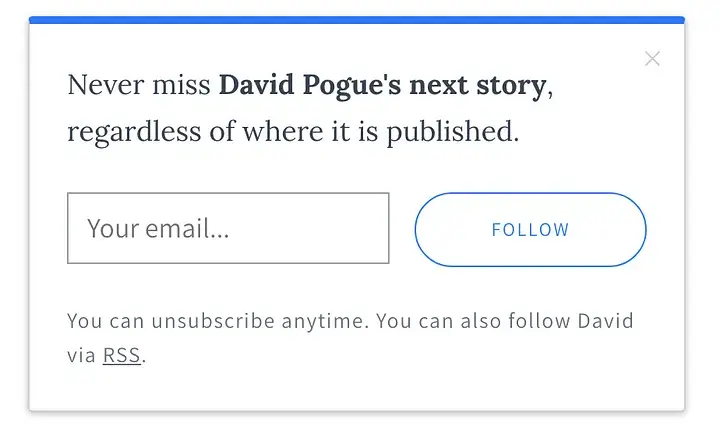 Not so with Authory: On your public Authory page, your readers (or anybody else interested in your work) find the option to leave their email addresses to be notified about your future articles.
As soon as you publish a new piece anywhere, all subscribers automatically receive an elegant yet short email with a direct link to the original source publication. That's zero work for you. And it's easy to convince readers to follow you via email: Not only does your Authory page look very inviting, but readers know upfront what they get (they'll be able to easily keep up with your work), and it's straightforward and easy to understand.
With Authory, journalists offer readers like me a genius way to follow them. The ease-of-use and the highly convenient email format ensure that I never miss a story by my favorite journalist.
— Eliska Went, a happy subscriber of Ron Miller
Authory establishes a direct connection to your readers for you, controlled by nobody but you. Yes, you've read that right. You own all the email addresses of your subscribers, you can download and leave with them anytime. Authory helps you, but you could decide to do it yourself at any point. Your email subscribers are a real asset, and they are your asset. Compare that to followers on Facebook and Twitter that are entirely worthless without the platform.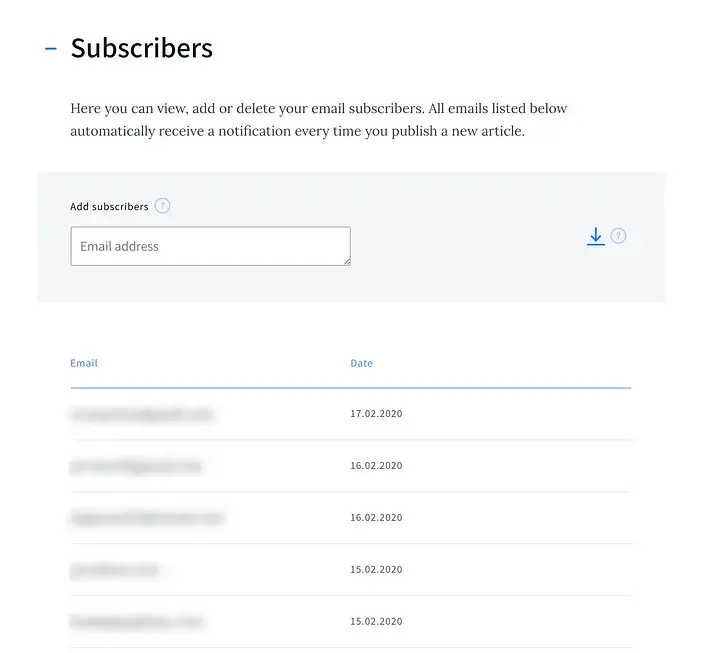 Speaking of which, staying connected to your readers via email has another major advantage over social networks: Emails get read while social media posts hardly do. Case in point, 30% of all subscribers via Authory read every article that they are notified about. Compare that to 1 in 200 on Twitter and Facebook.
Long story short, regardless of where you publish in the future, your personal email subscribers will always stay with you and they will read what you wrote.
Social media analytics
With Authory you don't only have all your articles in one place. You'll also have detailed social media analytics for every single article. In your account, you'll find the number of interactions (retweets, shares, likes, comments) for Facebook, Twitter, and Pinterest.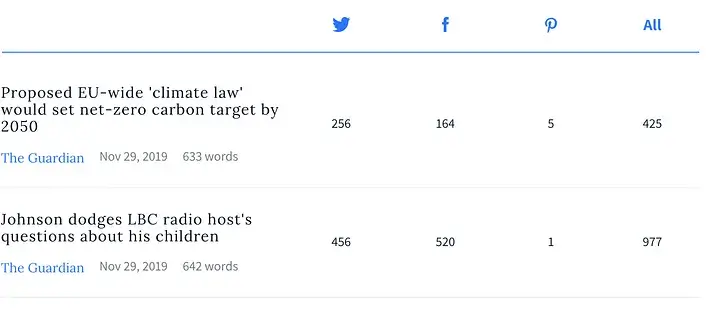 The good news: This doesn't apply to new articles only. Even all your old articles will display these metrics once they are in your Authory account. And thanks to our extensive filters (keyword, date, publication), you can easily find out things like:
What was my most shared article on Facebook in August 2019?
How many retweets did my article "All on the same page" receive?
What's my article with the most social media interactions so far?
Which article on Apple has been my most successful one on social media?
That's not all though: These per-article metrics are updated on a continuous basis for all articles in your Authory account. An oldie-but-goodie piece of yours is gaining traction on social media again? You'll know.
You can jump into social media analytics at any time. For an easy overview, you'll get your personal Weekly Social Shares report every Sunday. It shows the articles you've published in the previous week and their social media performance. And it also shows your most active articles that are older than a week. Only during that timeframe of one week.
Ready to give Authory a try?
David Pogue and thousands of other journalists are using Authory to take control of their content and their audience every single day. Join David for free at authory.com