Say you've come across an offering for a new job or gig. It fits your profile perfectly as you've written articles on exactly the topics that are required. Naturally, you want to send over a sample of your work as quickly as possible.
Now starts the hectic search: Where are my articles that showcase my skills for this job best? Are they still online? Should I send direct links to the articles or turn them into PDFs? How can I actually turn them into PDFs? Will they look good at the recipient?
Of course, every new job offering is different and requires a different work sample. So this happens over and over and over again… Utterly stressful and terribly time-consuming!
Wouldn't it be great to immediately find the articles you have in mind, turn them into a beautiful collection with a few clicks and send then send them over, knowing they'll look great regardless of where and how the recipient will look at them?
Turns out, with a SHARED COLLECTION you can do exactly that now!
Here is how in 3 easy steps:
If you haven't done so, create an Authory account.
Step 1
Create a private Collection in your Collection settings. We'll call it "My Long Reads" in this example. Give the Collection a powerful description and make sure you set the Visibility of this collection to "Private". That way, nobody visiting your public Authory page will be able to see this collection.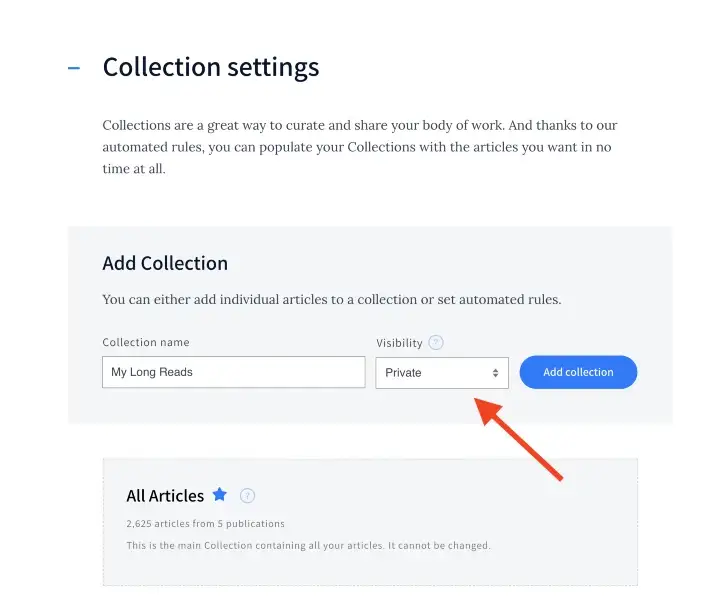 Step 2
Add the articles that showcase your skills for this job best. Either manually by going to the respective article in your Authory account or by adding an automated rule to the Collection. Since your Authory account already contains all your articles and enables you to filter and search your entire body of work easily, this step becomes a piece of cake!
Step 3
Create a Share Link once you are happy with the content of your Collection.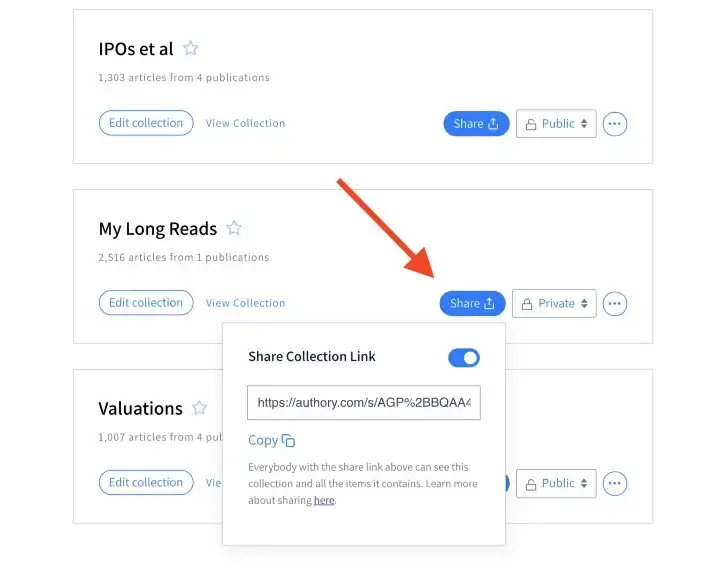 Add this share link to your job/gig application. The recipient will be able to see everything in the collection in full text, without having to leave your Authory page. It's going to be a seamless experience, leaving an absolutely great impression: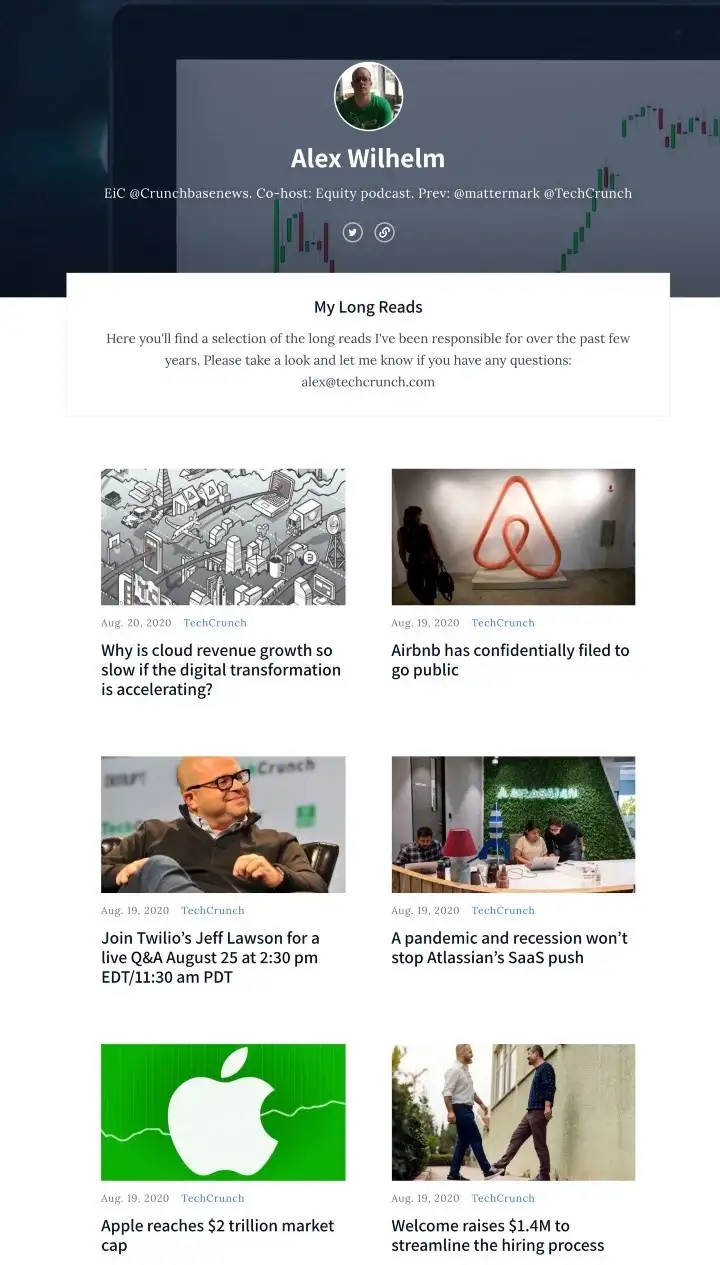 If you don't want to share your Collection anymore, simply disable the Share link and the recipient won't have access anymore.
---
---
Why using a Shared Collection is a really good idea
This whole process of creating a Shared Collection takes a few minutes at the most. And it has some killer advantages:
1. Your articles will look brilliant
Instead of having to forward the interested party to the original article page that's often overwrought with ads or even behind a paywall, they'll be able to see your articles in full text on your Authory page. Beautifully rendered, loading lightening fast, and optimized for desktop and mobile (which makes it way superior to PDFs as well).
2. You'll save a lot of time
Finding and adding articles to a Collection is literally done within a few minutes (if not even less time). It doesn't compare to what you have to go through when you want to create PDFs or collect links to live articles. All so that you can send off this application quicker than anybody else!
3. You can make a pitch that perfectly matches the requirements
All your previous articles are in your Authory account, with new ones being added automatically as soon as they've been published. You can search your archive for keywords or filter by source or date. In other words: Your entire body of work is at your fingertips anytime. That way you won't only find the articles you are looking for but also some that you haven't even thought of but that fits perfectly.
4. You can show proof of publication
More often than not, your articles will not be available on the original source website at one point. They move behind a paywall, are deleted, or are made inaccessible otherwise. And with them goes your proof of publication. Except if you have an Authory account, you'll always have a copy of each and every article in your account and can make it available to anybody interested, eg. via the Shared Collection.
5. You can revoke access anytime
You stay in control of who can access your content and when. If you choose to do so, you can switch off the Share Link for your collection anytime, hereby revoking access to anybody whom you've sent the Share Link to. That is a lot more flexible than sending over PDFs that you can never take back.
6. You can be confident that your work is being presented in the best light possible
Your work speaks for itself. But it needs to be given the chance to do so. That's why a Shared Collection, where you control everything from the selection of content to the look and feel to the access rights, will give you the sound feeling of having created the absolute best environment for your content to shine.