Building a writing portfolio is hard — questions like what you should include, where you should host it, and how to effectively create something that gets you work, need answering!
To that end, I've put together a list of 25 writing portfolio examples that should inspire you to make your own. This is a collection of amazing writers, top journalists, and more.
Another aspect of creating a writing portfolio is the issue of PDFs. Some clients and employers ask for PDFs, and building that into a portfolio website can be tricky. So, we'll cover how to do that by showing you 5 PDF writing portfolio examples and then 20 regular writing portfolio examples.
And then, I'll cover some useful tips on how to create your writing portfolio easily!
5 Writing portfolio examples in PDF format
1. Alex Hargrave
Alex Hargrave's PDF portfolio.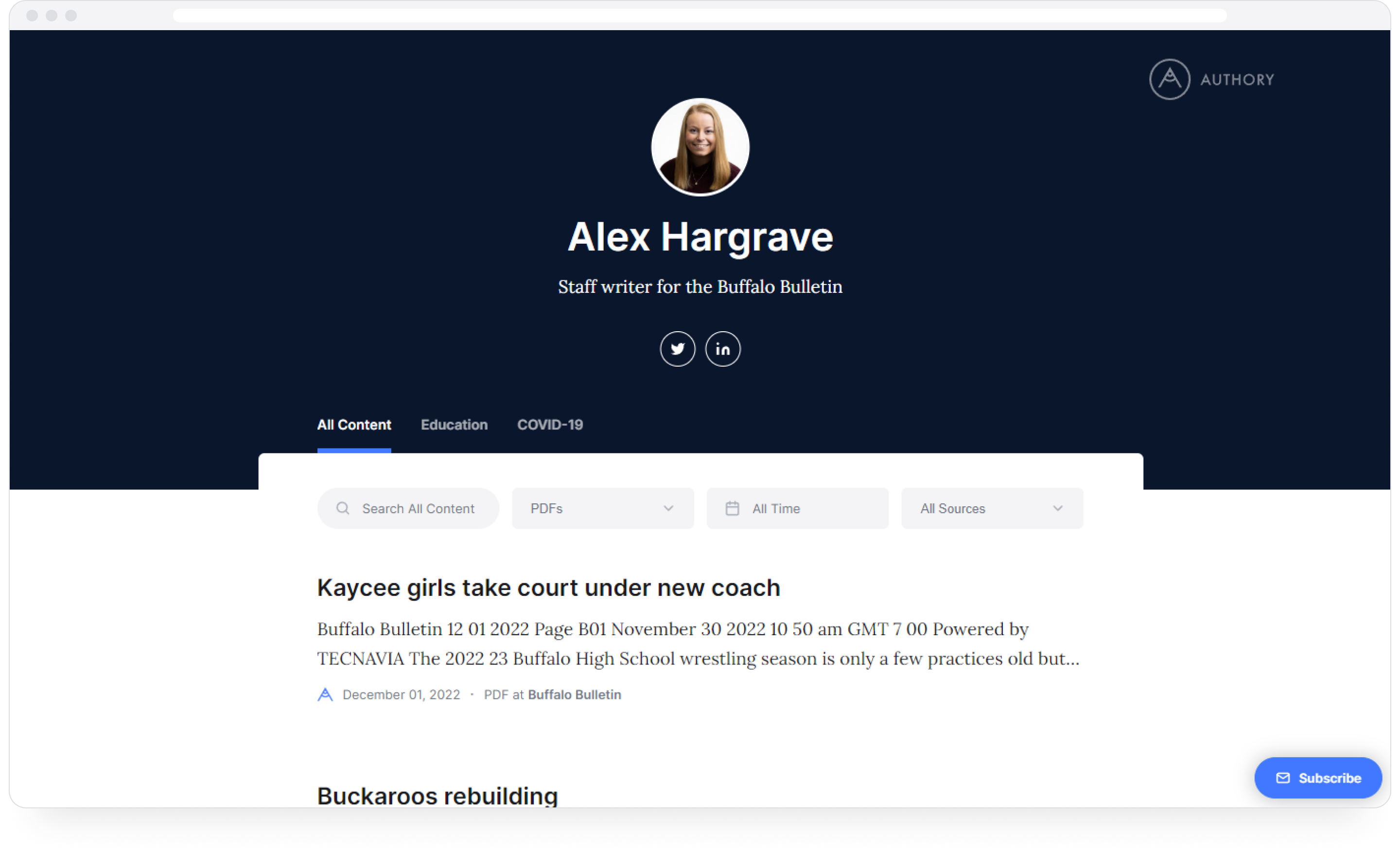 2. Kevin Johnston
Kevin Johnston's PDF portfolio.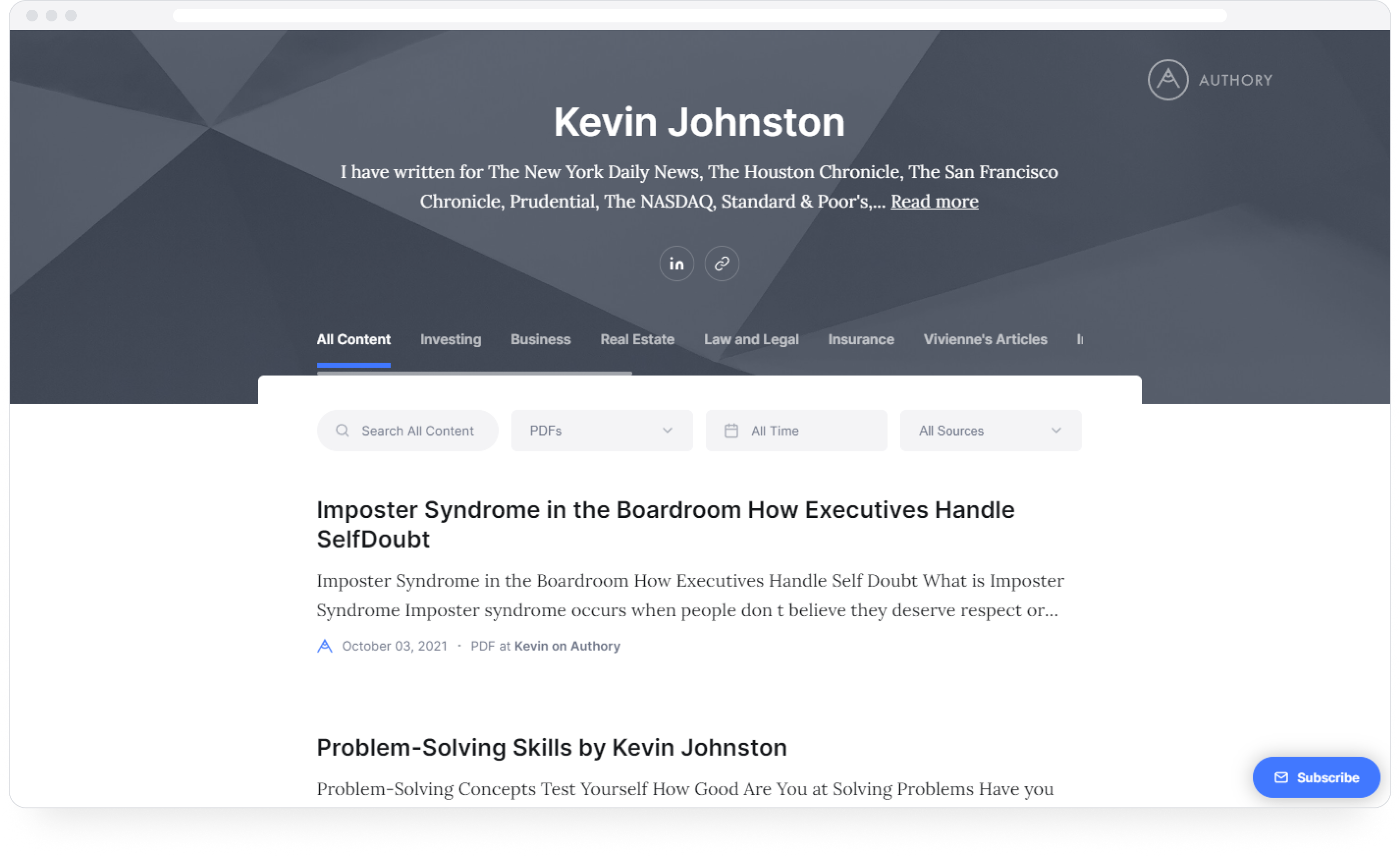 3. Sarah Sparks
4. Kerry Sunderland
Kerry Sunderland's PDF portfolio.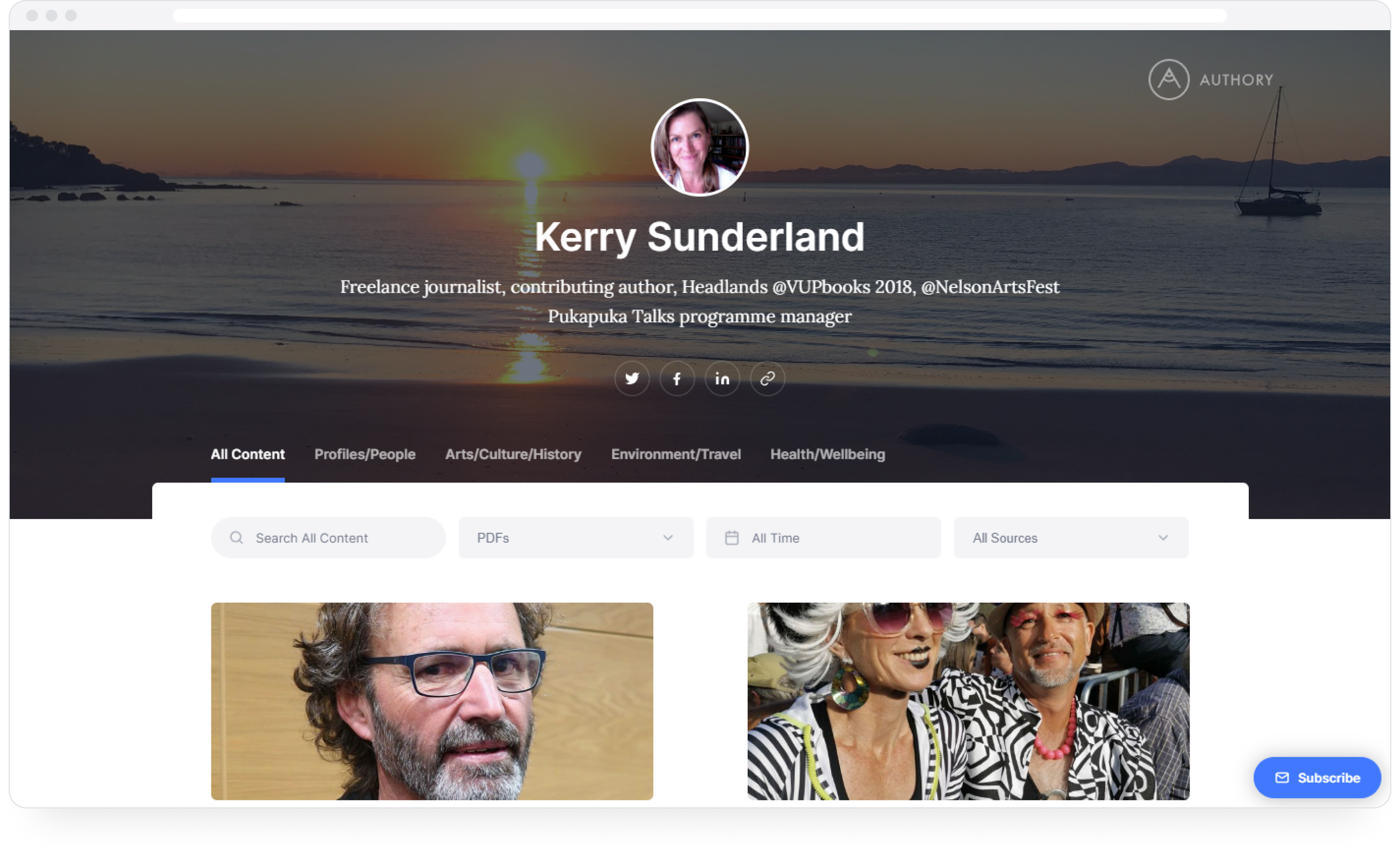 5. Urvashi Aneja
Urvashi Aneja's PDF portfolio.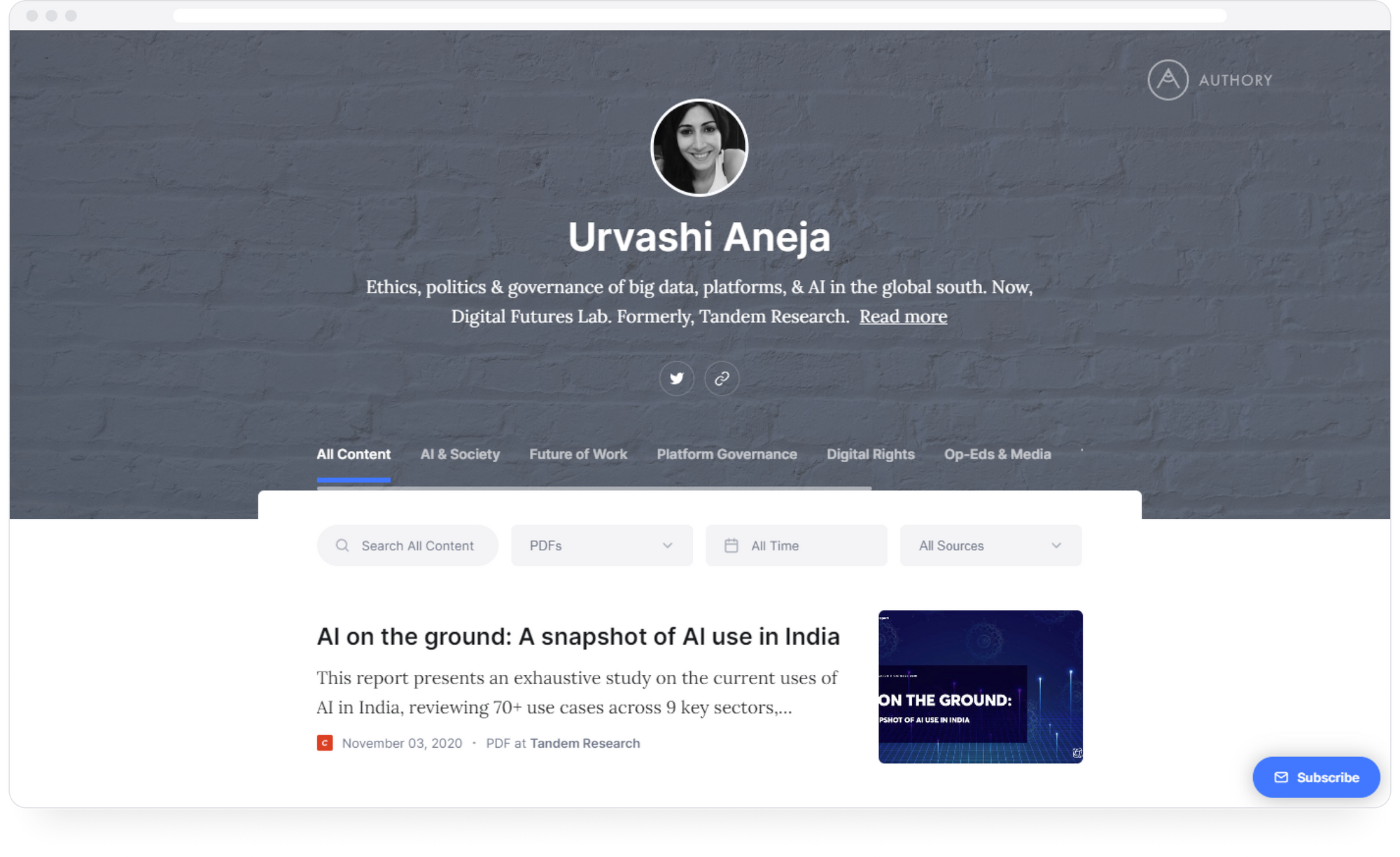 ---
---
20 Writing portfolio examples in other formats
1. Brian Clegg
Brian Clegg's writing portfolio.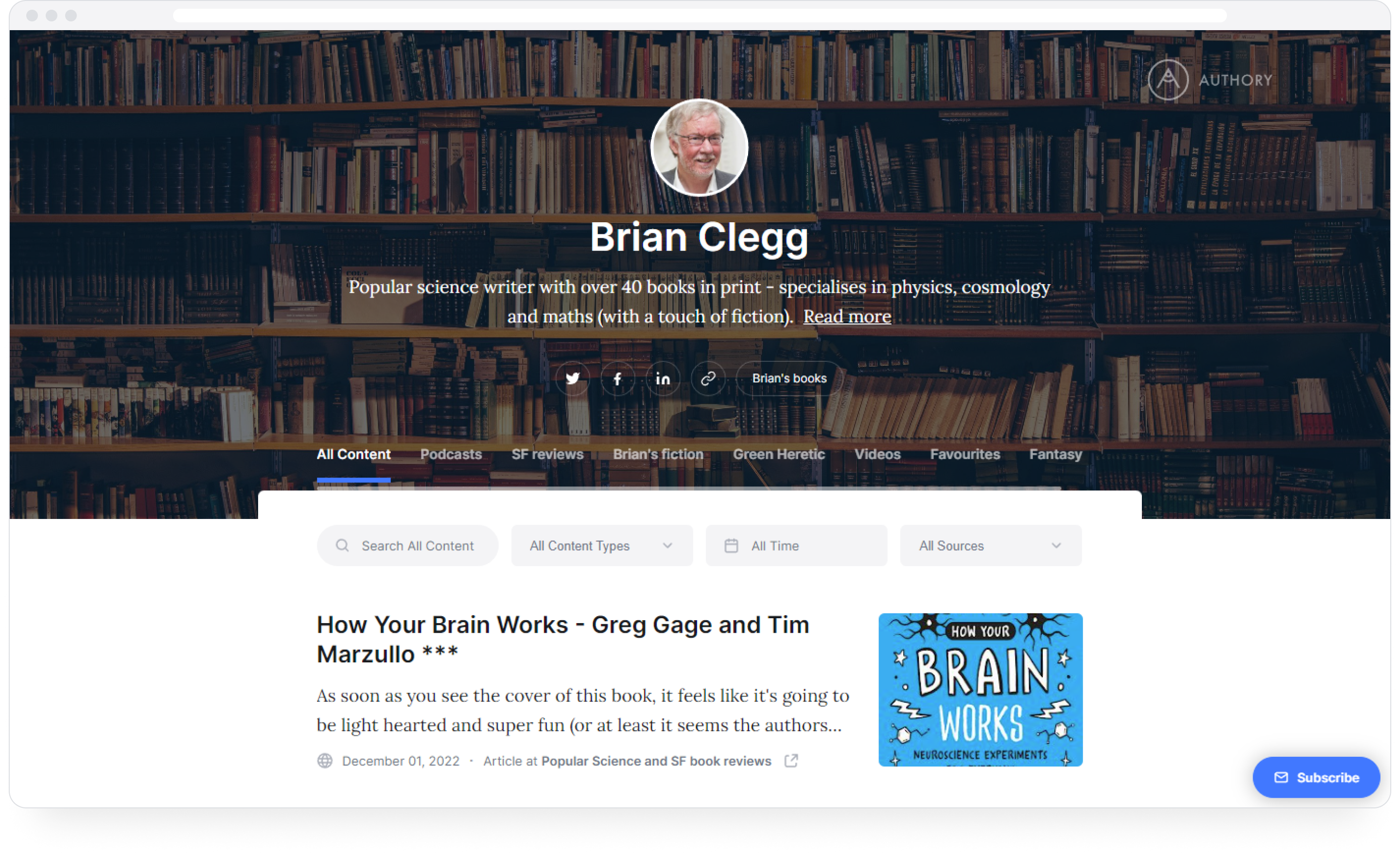 2. Diana Rosen
Diana Rosen's writing portfolio.
3. Kathy Parker
Kathy Parker's writing portfolio.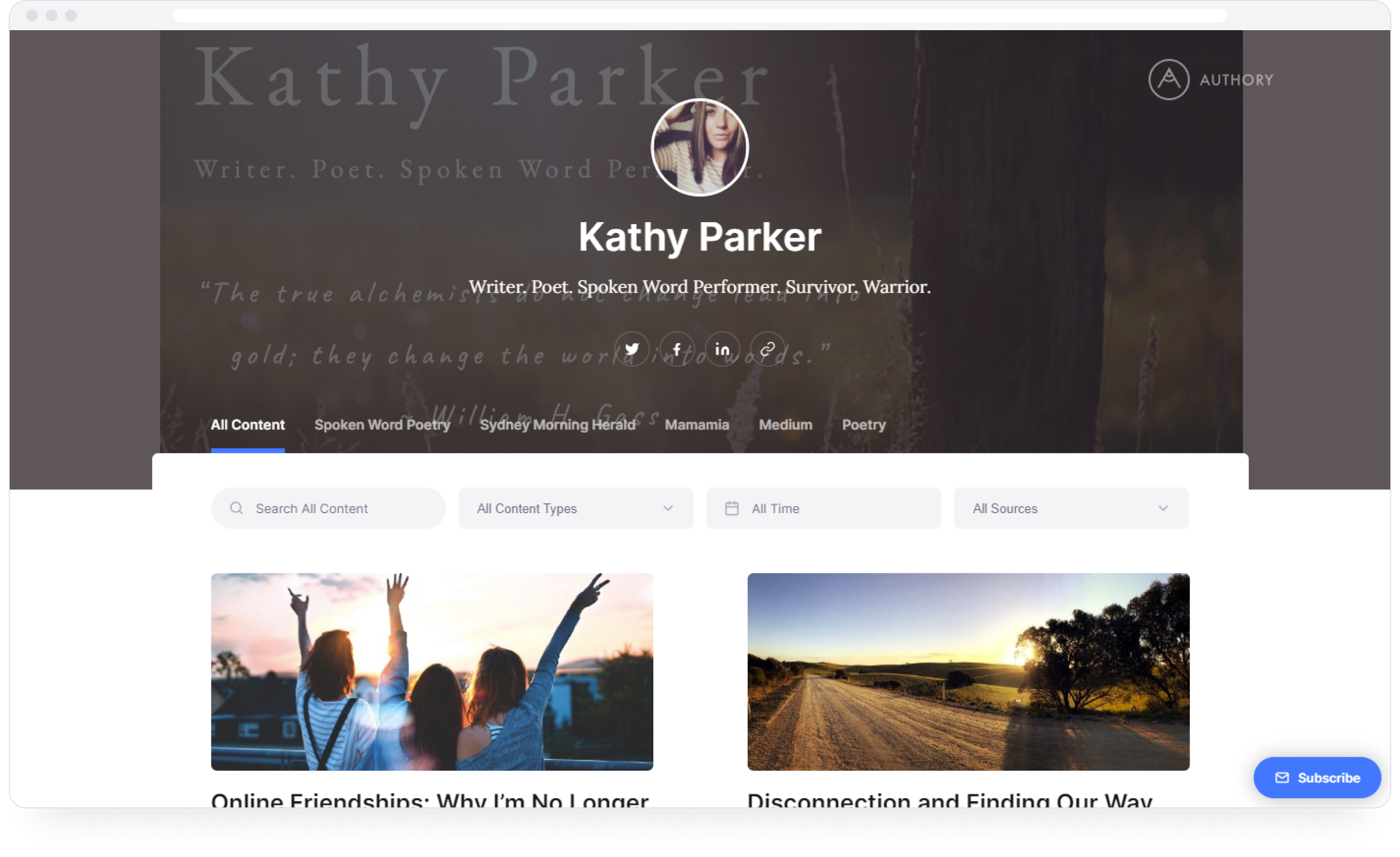 4. Geraldine Brook
Geraldine Brook's writing portfolio.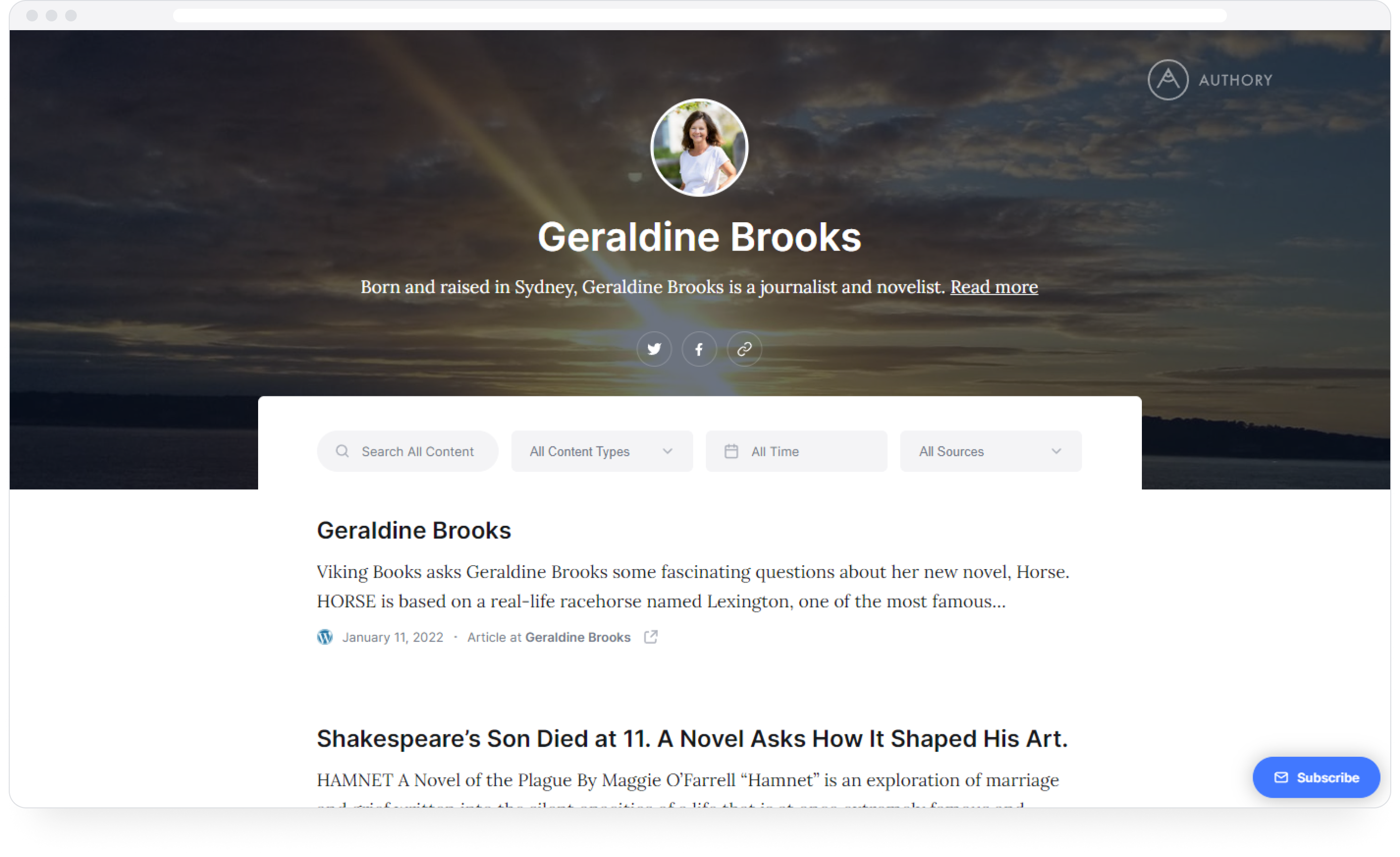 5. Tabitha Potts
Tabitha Potts' writing portfolio.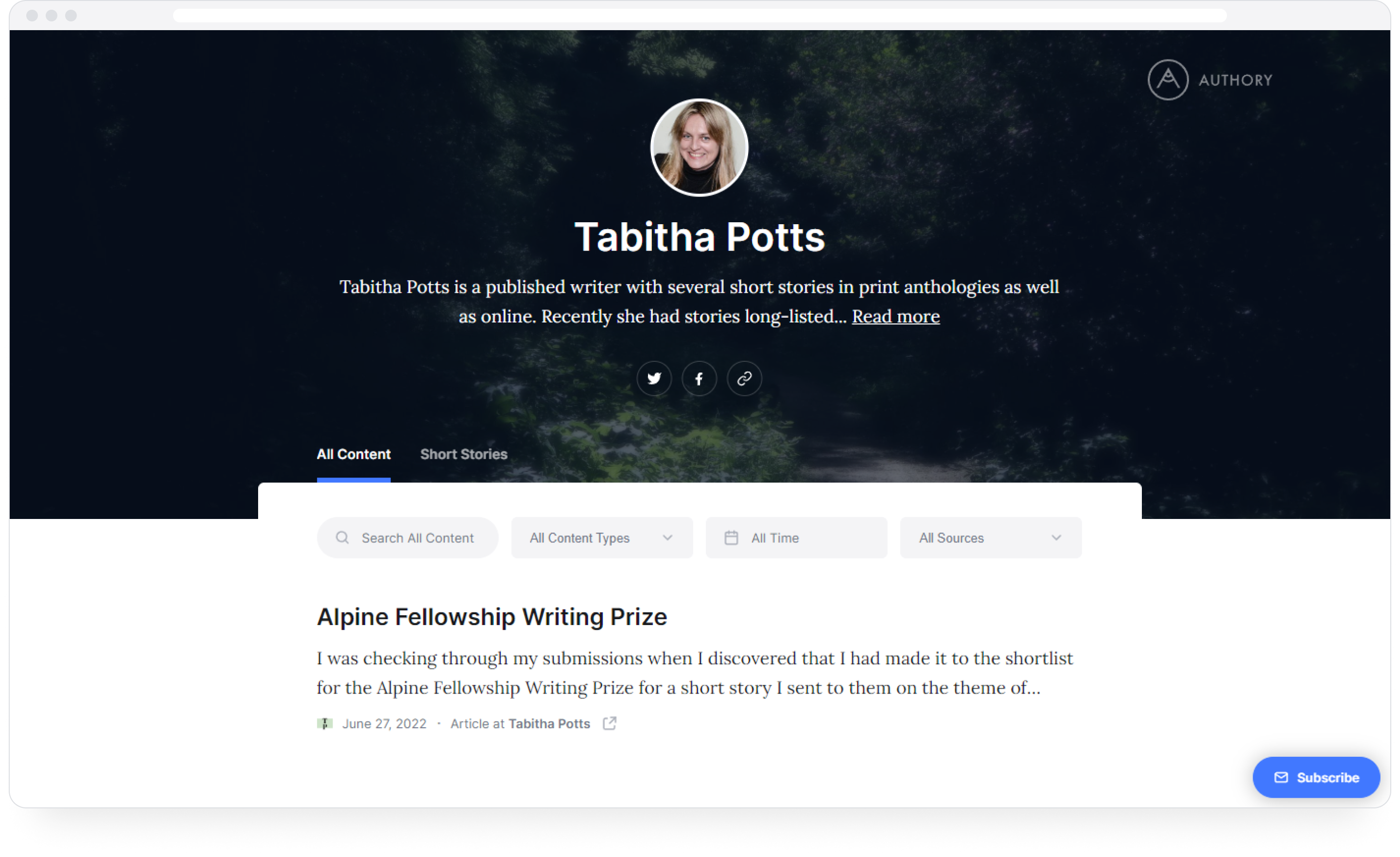 ---
---
6. Pam Moore
Pam Moore's writing portfolio.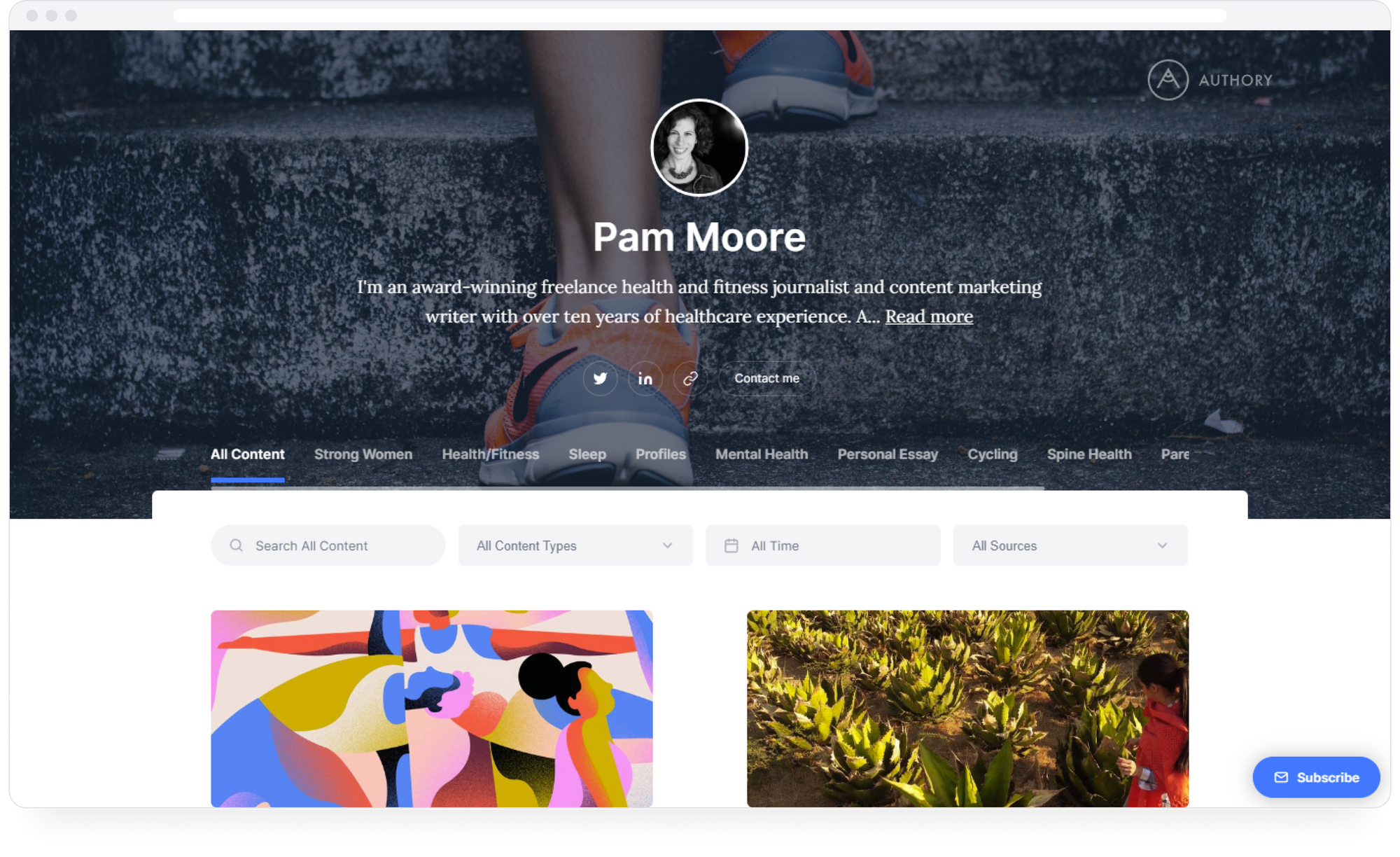 7. Stephanie Bernaba
Stephanie Bernaba's writing portfolio.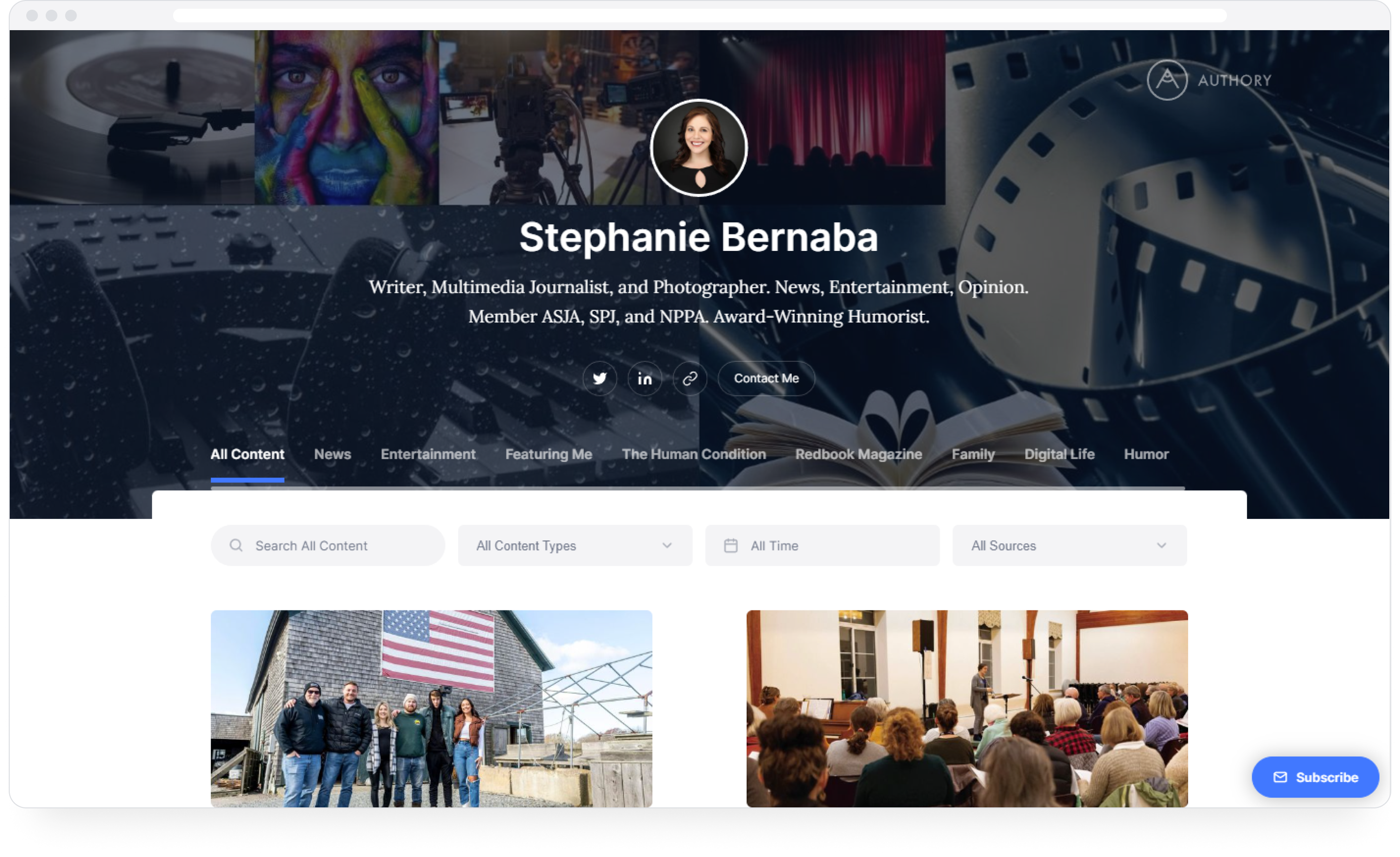 8. Mary Ann Gwinn
Mary Ann Gwinn's writing portfolio.
9. Simon Denyer
Simon Denyer's writing portfolio.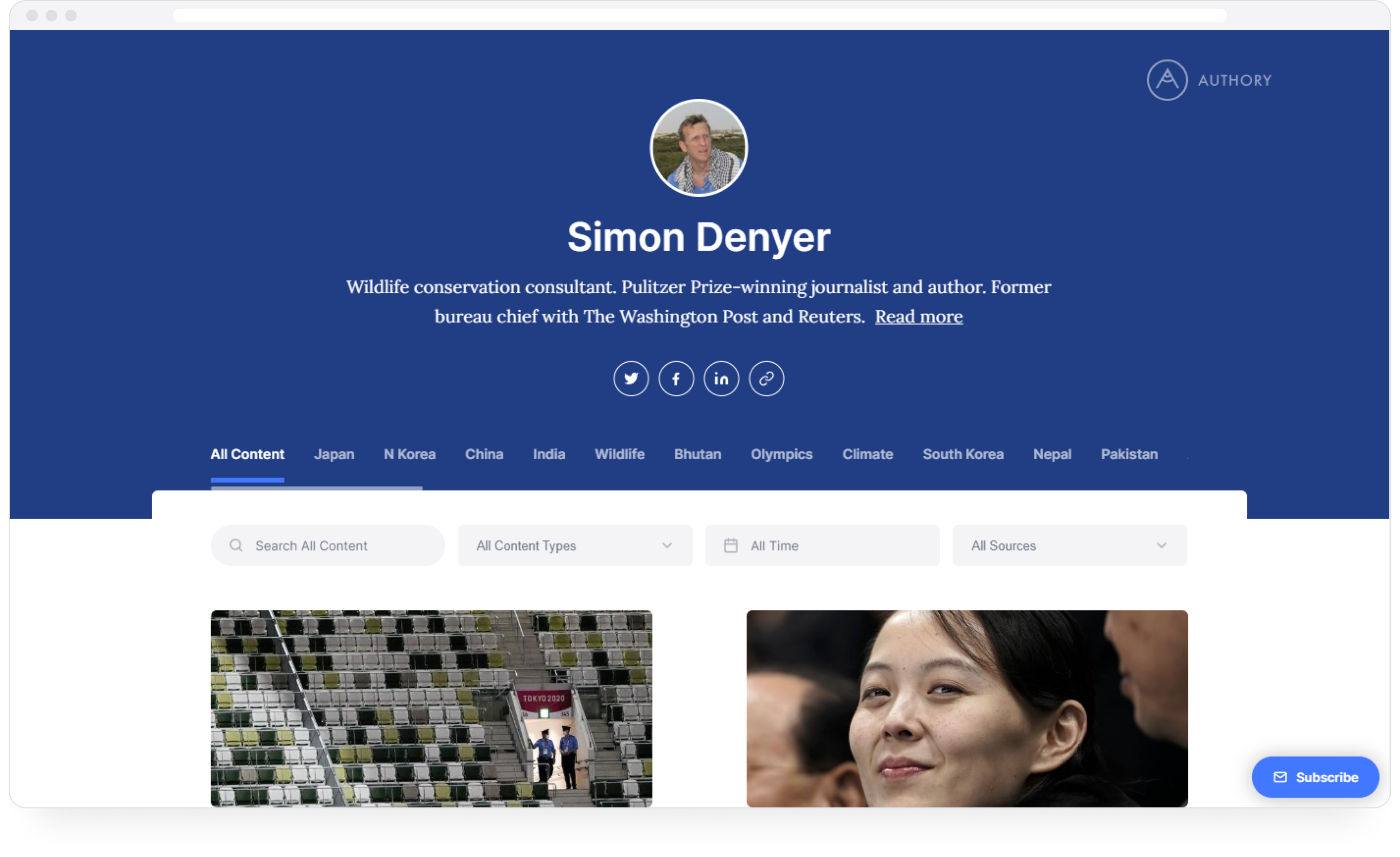 10. Scott Matthewman
Scott Matthewman's writing portfolio.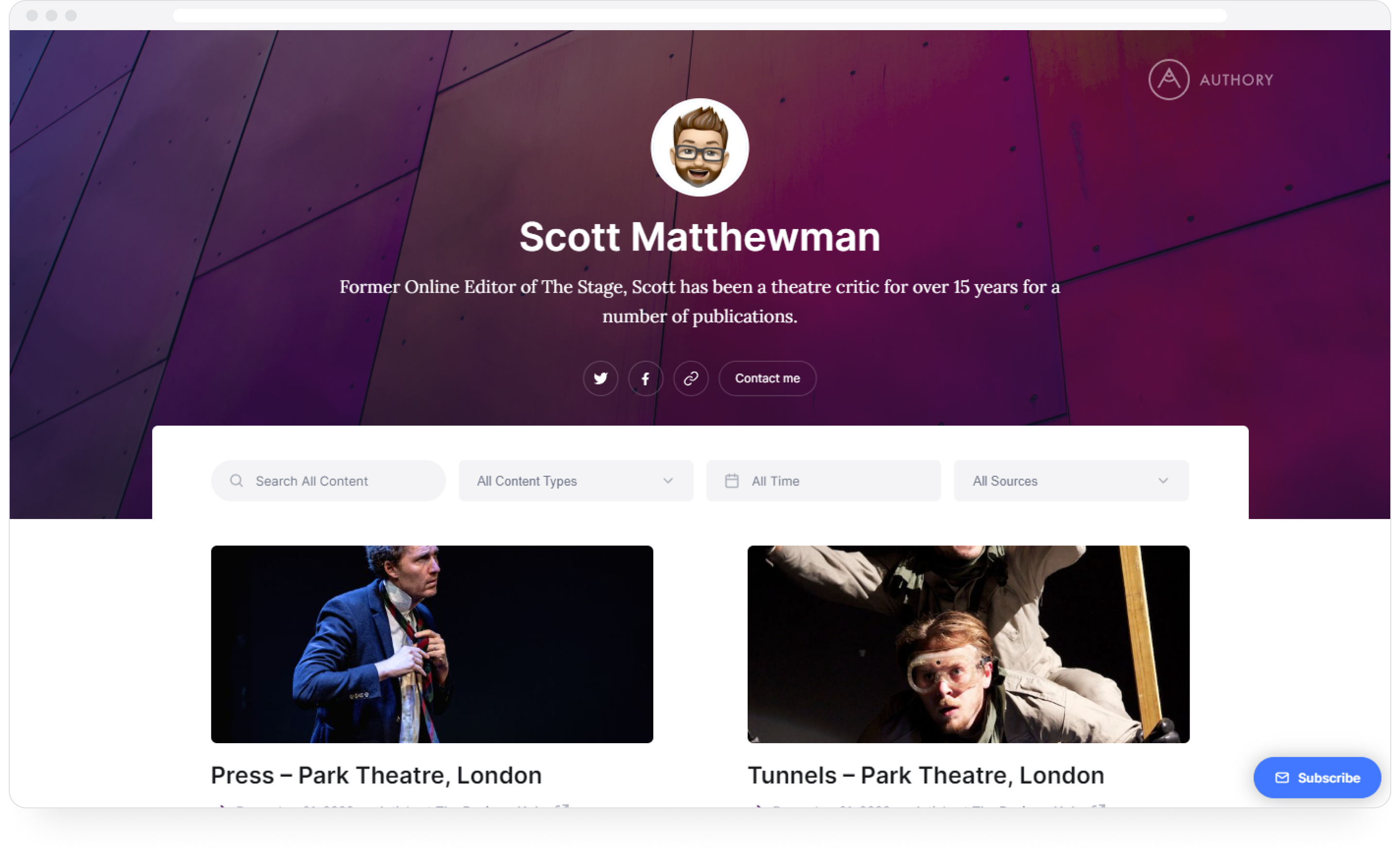 ---
---
11. Jarrod Kimber
Jarrod Kimber's writing portfolio.
12. Carrie Back
Carrie Back's writing portfolio.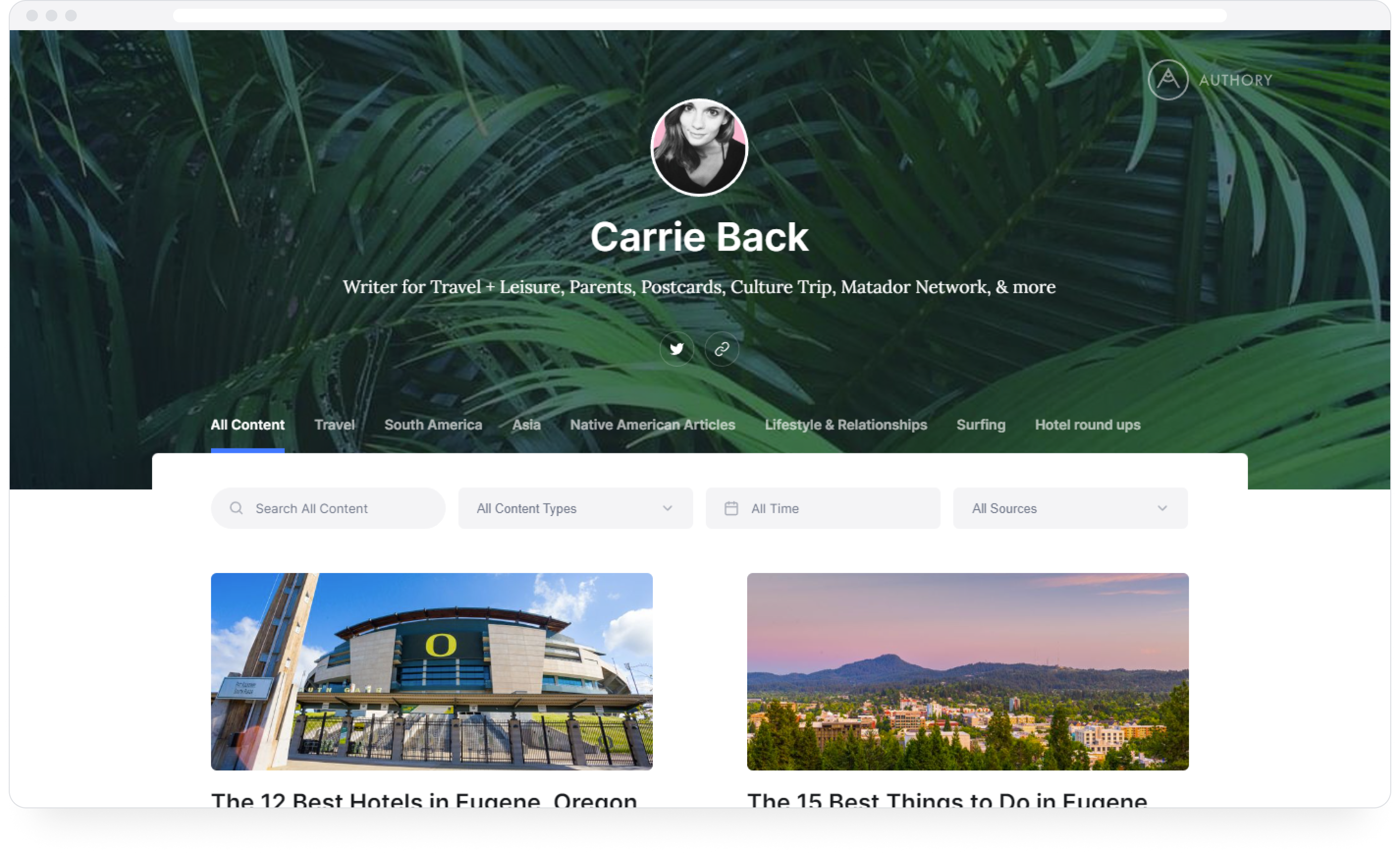 13. Crystal Housman
Crystal Housman's writing portfolio.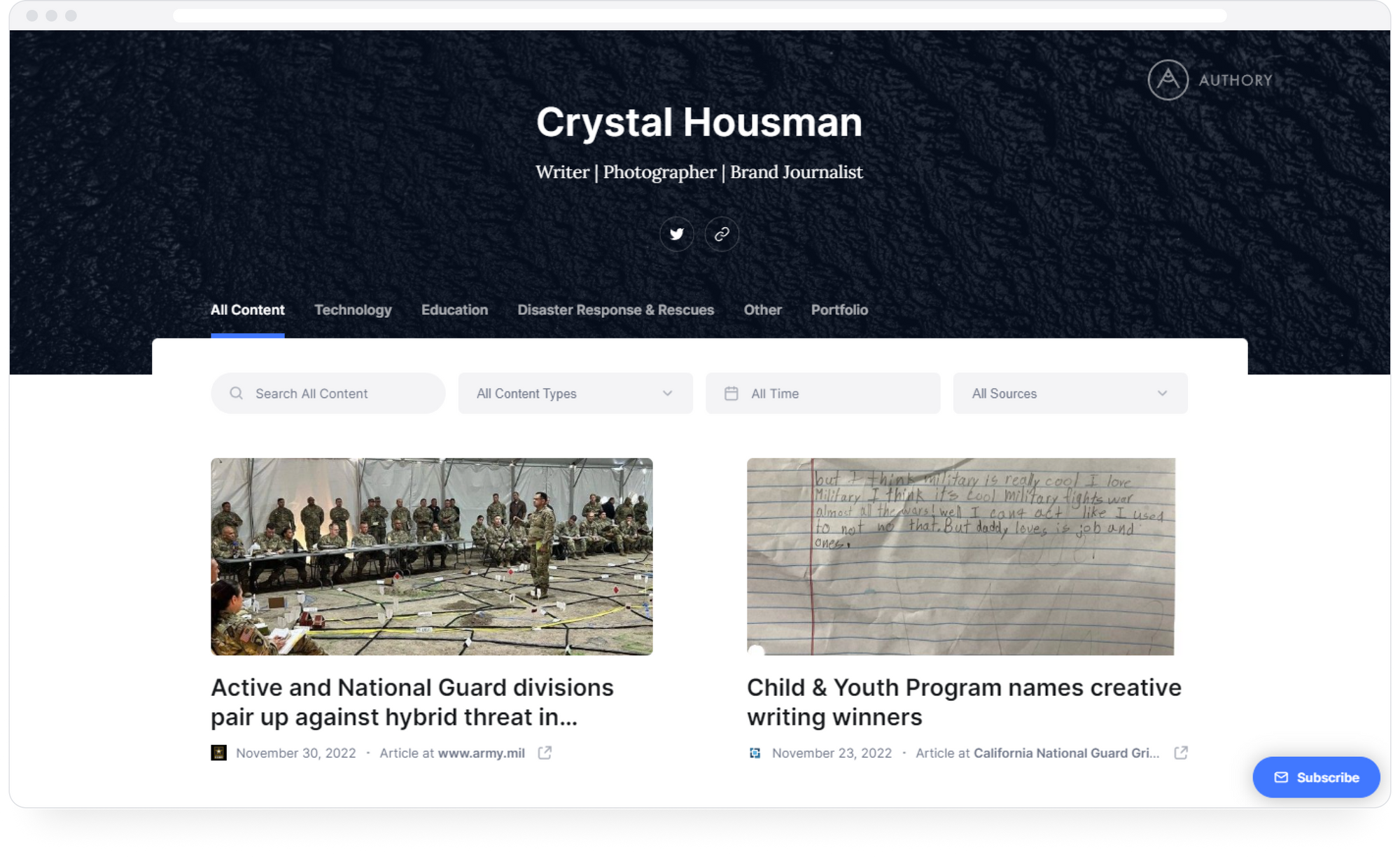 14. Steven Levy
Steven Levy's writing portfolio.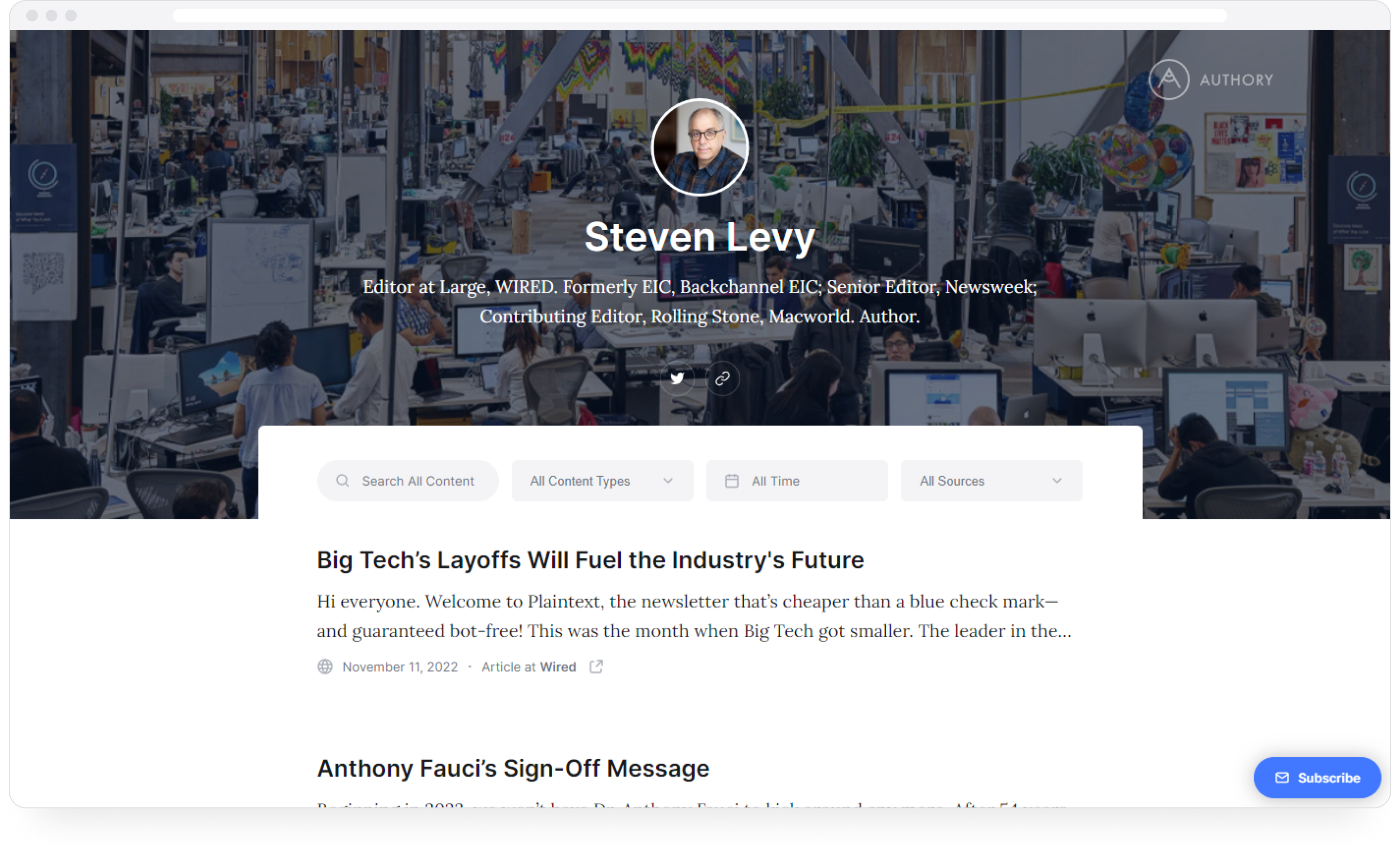 15. Brandon Hill
Brandon Hill's writing portfolio.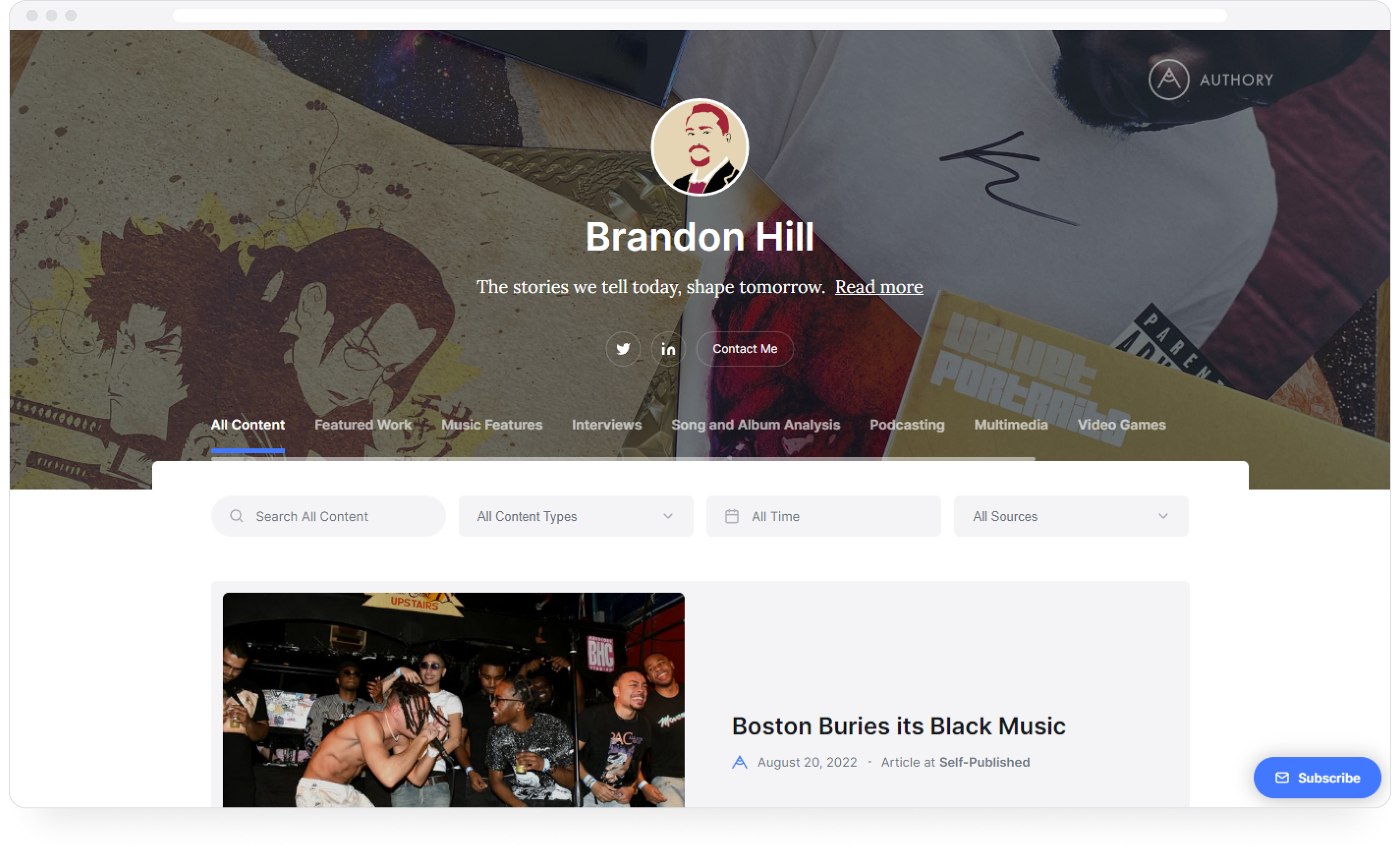 ---
---
16. David Worsfold
David Worsfold's writing portfolio.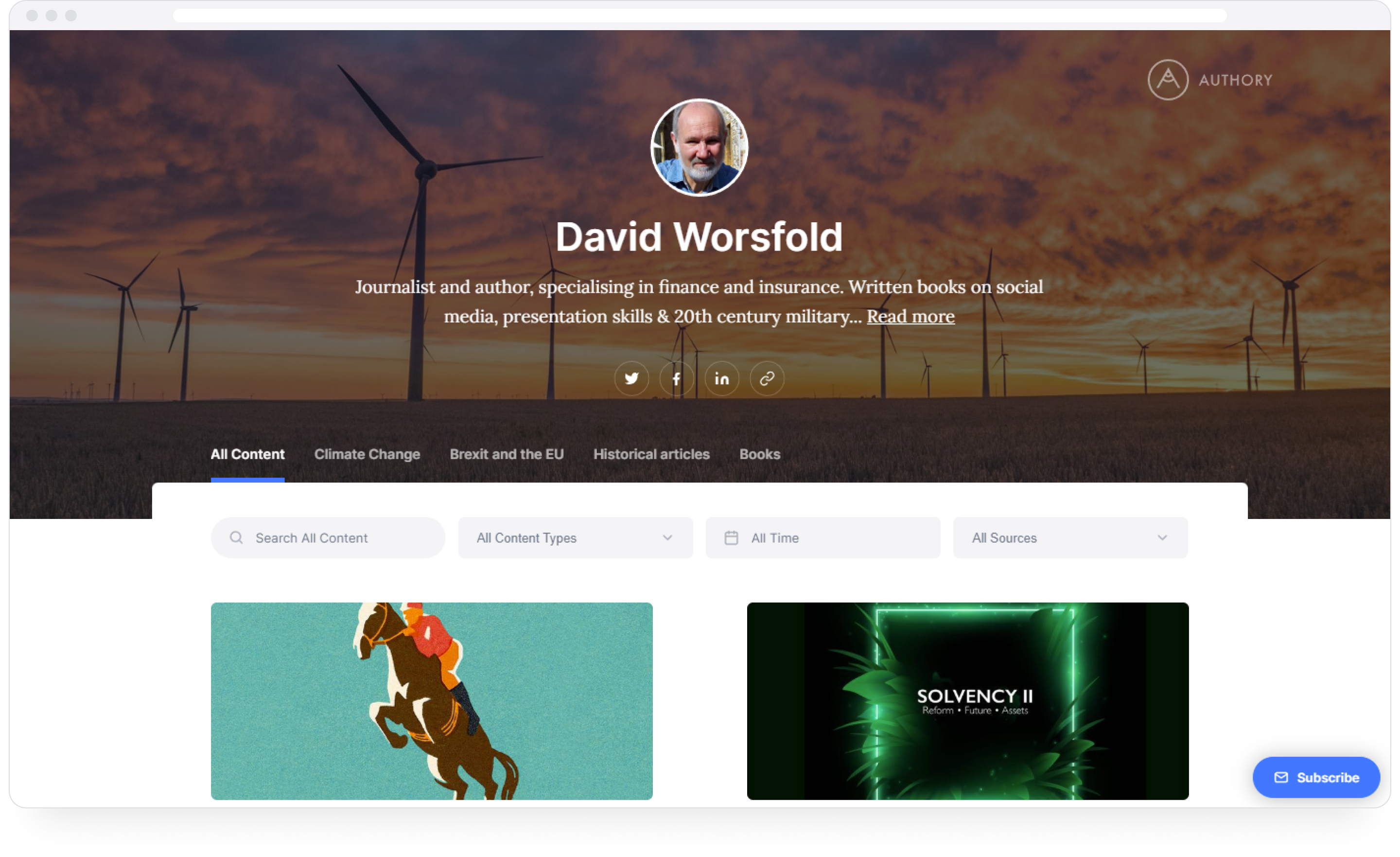 17. Carin Marais
Carin Marais' writing portfolio.
18. Rosanne Barrett
Rosanne Barrett's writing portfolio.
19. Dan Rosenbaum
Dan Rosenbaum's writing portfolio.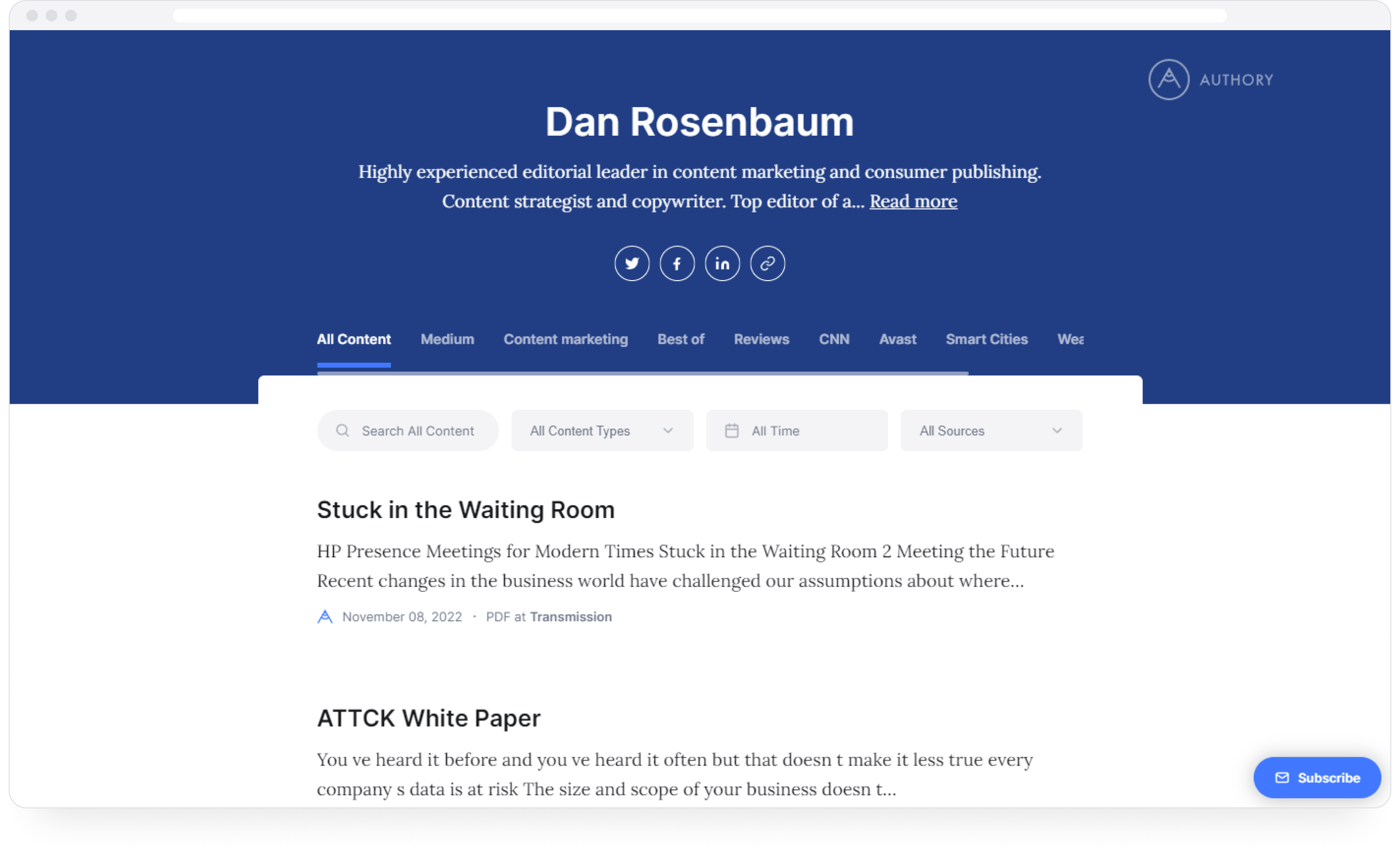 20. Carrie Cousins
Carrie Cousins' writing portfolio.
---
---
What your takeaways should be from these writing portfolio examples
What a writer portfolio is, and why you need a writing portfolio
A writing portfolio is a collection of your best (and possibly all) writing samples put together on a website so that potential clients and employers can make a "buying" decision — in essence, all the information that they may need to engage you for your writing services.
An online writing portfolio can also do wonders for your personal branding if managed well. So, in a word, your portfolio is a single place through which you can source work.
Curating the perfect set of writing samples for your portfolio
It's important to figure out what kind of writer you are and the type of writing work you're looking for. This process will inform the writing samples that you'll highlight in your writing portfolio.
Remember, writers come in all shapes and sizes (literally!), and you could be a content writer, copywriter, novelist, author, non-fiction writer, poet, journalist, and more... the list is practically endless.
With that in mind, it's essential that you curate the content on your writing portfolio with examples that will impress upon readers your specific set (and type) of writing skills so that they can make an informed decision when hiring you.
To that end, if you feel that you don't have a good set of writing samples to upload to your portfolio, then it might be best to get writing!
To help you build out your writing portfolio, I've put together a small set of ideas/resources that I turn to for inspiration, support, and general diversion:
Subreddits like r/writingpromts, r/thedailyprompt, and r/promptoftheday are excellent for trying out amateur storytelling.
Other subreddits like r/writing, r/freelancewriters, r/keepwriting, r/writers, r/selfpublish, r/blogging, r/copywriting, r/technicalwriting, r/wordcount, r/writingmotivation, offer up a plethora of options for3 you to explore as writer.
To find work, subreddits like r/hireawriter, r/forhire, r/b2bforhire, r/writersforhire, r/jobbit, and r/writingopportunities can be a source for work if you're lucky.
What's more in your control is writing for your personal social media accounts to build up that personal brand.
You could also provide your services for free or reduced rates to friends and family who run a business — this can be for their social media accounts or even their websites.
Form a writing group with a friend — I have a weekly writing meetup with a close friend, and this can be an online meetup — my friend is half a planet away!
Write about what you know: everyone knows something and has a lot to offer, even if it's a personal experience. For example, when I am stuck, I write about content marketing and SEO — I don't publish these pieces necessarily, but they're great for getting the juices flowing. That said, I could post them in my writing portfolio.
Seven tips for creating the ideal writing portfolio website based on the writing portfolio examples above
The writing portfolio examples above should give you a great idea of what a writing portfolio must look like, and the various ways other writers choose to exhibit their work.
We've also gone over why you need a writing portfolio and how you can create a few writing samples in case you feel the need to.
Now, let's get down to how you should create a writing portfolio website. We'll go over the best and most efficient ways to go about creating it.
1. Make your website more organized for simpler navigation.
It's vital to organize your online writing portfolio in a way that's easy for your readers to follow. Place your top projects front and center for simple accessibility. Note: what the ideal projects are may differ from client to client. So, suppose you divide your work into carefully curated collections with different URLs. In that case, that specific URL that contains projects pertaining to that particular client can be shared with them.
2. The "correct" number of your projects for easy viewability
The conventional wisdom is that you should limit the number of projects on your online writing portfolio so that a prospective client can make a quick and easy assessment.
I think this is WRONG.
Your portfolio website HAS to have ALL your content. Why? Well, because hiring managers, clients, and employers are looking for both quality AND quantity. Yes, they aren't going to read your entire portfolio website, but they are looking for consistency and experience.
Obviously, if you wrote a terrible article long ago as a young budding freelance writer, don't include it. So, I'll change my caveat to "nearly ALL your content."
Hence, the navigation of your writing portfolio becomes super important. Remember how I spoke about dividing your work into collections? Well, that is a must if you're including a ton of content. Split it by topic, type, publication, etc., and then share the correct URL with your prospect. Let them begin their journey through your writing portfolio from a starting point that you have determined for them.
Place your contact information in an easy-to-find spot so that when a prospect is satisfied with your writing, they can contact you immediately.
3. Imagery for better conversion rates
Human beings positively respond to visual stimuli, especially faces, which means if you're able to include graphics in your writing sample, you have a better chance of converting your readers.
4. Write case studies to exhibit results
If you have the bandwidth to do so, then you should take some time to write case studies for the work that you have done. A simple format to follow for writing case studies is as follows:
Start with the results: usually exhibited in the form of "increase X by Y." So, for example, I could say I increased traffic to the blog by 11X.
Then outline the problems and challenges that the client was facing before you joined the project.
Next, explain how you solved those problems with your writing, your work, and general professionalism.
And finally, round it off by digging into the details of the results you achieved a bit more and touch upon how the client is doing now.
5. Add social proof to lend credibility to your work
Unfortunately, writing is a creative art, and there are always critics. If you can get a past client to vouch for you and your writing, then that social proof can stand you in good stead when soliciting even more work. Add all the social proof (read: testimonials) you can in your writing portfolio to bump up that conversion rate.
If you have done work for friends and family, this would be a great place to begin hunting for testimonials.
6. Present your contact info in an easily accessible place
I've mentioned this before, but it bears repeating because it's so important. The whole point of having a writer's portfolio is to get work. If people cannot contact you or can't find your contact details, that will severely affect your chances of getting new projects. Social media handles will do if you're uncomfortable with sharing your email address or phone number publicly.
7. Use a website builder for writers like Authory to create your portfolio quickly and back up your work
All of the tips here are excellent (if I say so myself!), but that said, creating a writer's portfolio is a lot of work!
So, leaving the best for last: my final piece of advice is to use a portfolio website builder so that you can cut down the time to build one.
A couple of major issues that writers face are:
Updating their writing portfolios when they write new content, especially when creating a portfolio from scratch, takes effort. So, in essence, most writing portfolios are out-of-date.
And writers also lose access to their work when websites go down, and content gets re-bylined, etc.
That's why a service like Authory is perfect for writers worldwide. With Authory, you get a self-updating portfolio plus a full auto-updating backup of ALL your content. It's super simple to set up your Authory portfolio:
Add your sources, i.e., all the places where you've published content on the web. Authory will automatically find your bylined content from these sources and import it into your Authory account.
Build a collection from the collection tab: click "+ Create collection" and follow the instructions.
Then go to the portfolio tab: go to the "Content" tab on the left menu and add the collection you just created.
And then, toggle your portfolio on from the "Portfolio" tab on the left menu, and check out your portfolio!
And now you'll have a self-updating portfolio that also automatically backs up all your content!
To see more writing portfolio examples, check out our other collection: