A few weeks ago, I watched one of my editors work through a mountain of writer-editor-designer applications — and reject them all. The team desperately needed someone to come on board, but my editor couldn't get past the bad portfolios. According to her, the effort someone puts in their portfolio tends to indicate the effort they'd be willing to put into the job.
If you're reading this, you already know the importance of having a great portfolio. Employers are much less likely to take you seriously if you send a list of links in a Google doc or in an email.
So, I've curated a list of 20 sample portfolios that should get you inspired to create a portfolio that would impress most prospective employers — including my aforementioned editor. I've tried to include a mix of examples from writers, journalists, content marketers, and thought leaders with portfolios hosted on different websites and platforms.
📖
What you're going to get from this article:
• A quick overview of different portfolio types
• The criteria used to pick out the portfolios listed here
• A list of 20 exceptional portfolios that draw and retain attention
• A quick summary of Authory — a self-updating portfolio builder that can back up ALL your published content & more
Different types of portfolios
Writing portfolios
A writing portfolio should include all your written publications showcased for evaluation. You can choose to include unpublished works, but expect editors to pay more attention to the published pieces.
Journalism portfolios
In a journalism portfolio, you include all your journalistic pieces for consideration. However, you can also include snippets of any video reports and/or news coverage that you've conducted.
Content marketing portfolios
Unlike writers or journalists, content marketers work with multiple stages of a content generation pipeline — idea generation, creating/editing content, publication, social media, tracking analytics & more.
A content marketing portfolio displays everything a content marketer might have created, contributed to, and published. This could be website pages, blog content, audio-video content, audio content, social media content, entire campaigns, etc. The only criteria for being included is that the marketer should have participated in or led the effort to create/edit/publish the content in question.
Social media portfolios
Largely used by social media marketers, a social media portfolio collates all of their work samples. This could range from creating, ideating, and managing social media content across multiple platforms. Social media content often varies across text, audio, video, design, and literally any creative format.
Thought leader portfolios
Thought leader portfolios also showcase content across different channels and platforms (articles, video talks, podcasts). The unifying factor is that all content is created by an industry leader who brings real-world insight and experience to solve problems in their domain.
Video/podcast portfolios
Primarily used by graphic designers and video editors, a video portfolio includes samples of your creative, design, and editing work related to video content. Videographers, directors, and creative agencies use it to showcase their work in the industry.
However, people in unrelated industries, such as writing & publishing, also find them useful for displaying their skills, experience & achievements via visual storytelling.
This is also true of podcast portfolios, which collate all podcasts you may have appeared on, and spoken about something related to your field. For example, writers or journalists can showcase any podcast in which they've spoken about themselves, their work, or their area of expertise — helping prospective employers understand how they think and work.
The process for selecting these sample portfolios as examples
Among the profiles we looked through to curate this list, the ones that stood out shared the following features:
Quality-driven: The creator showcased high-quality pieces that immediately displayed their skillset & experience.
Consistent output: Employers don't just look for talent but also consistency. It won't matter if someone wrote five great pieces in 2019, four in 2021, and nothing since. The creator must show consistent productivity over time.
Easily navigable: Anyone can easily scroll through the portfolio and read/watch/listen to any of the pieces with a couple of clicks.
Reveals variety: The creator's work appears across multiple industries and expertise levels. It clearly indicates skills applicable in different fields.
Elegant: The portfolio uses a few choice elements (text, image, maybe video) to convey everything it needs to. It stays away from cluttering the screen and bombarding the user with too much content.
Now, let's dive into the real reason you're here — the sample portfolios to get you inspired!
A curated collection of brilliant sample portfolios for 2022
Sample portfolio no. 1: Ali M Latifi
Kabul-based freelance journalist Ali M Latifi is a seasoned contributor to major journalistic names — Al Jazeera English, The LA Times, CNN, The New York Times, VICE, Deutsche Welle, Foreign Policy, and Business Insider. He has also appeared on TV and the radio for CNN, Deutsche Welle, PBS, Al Jazeera English, and NPR.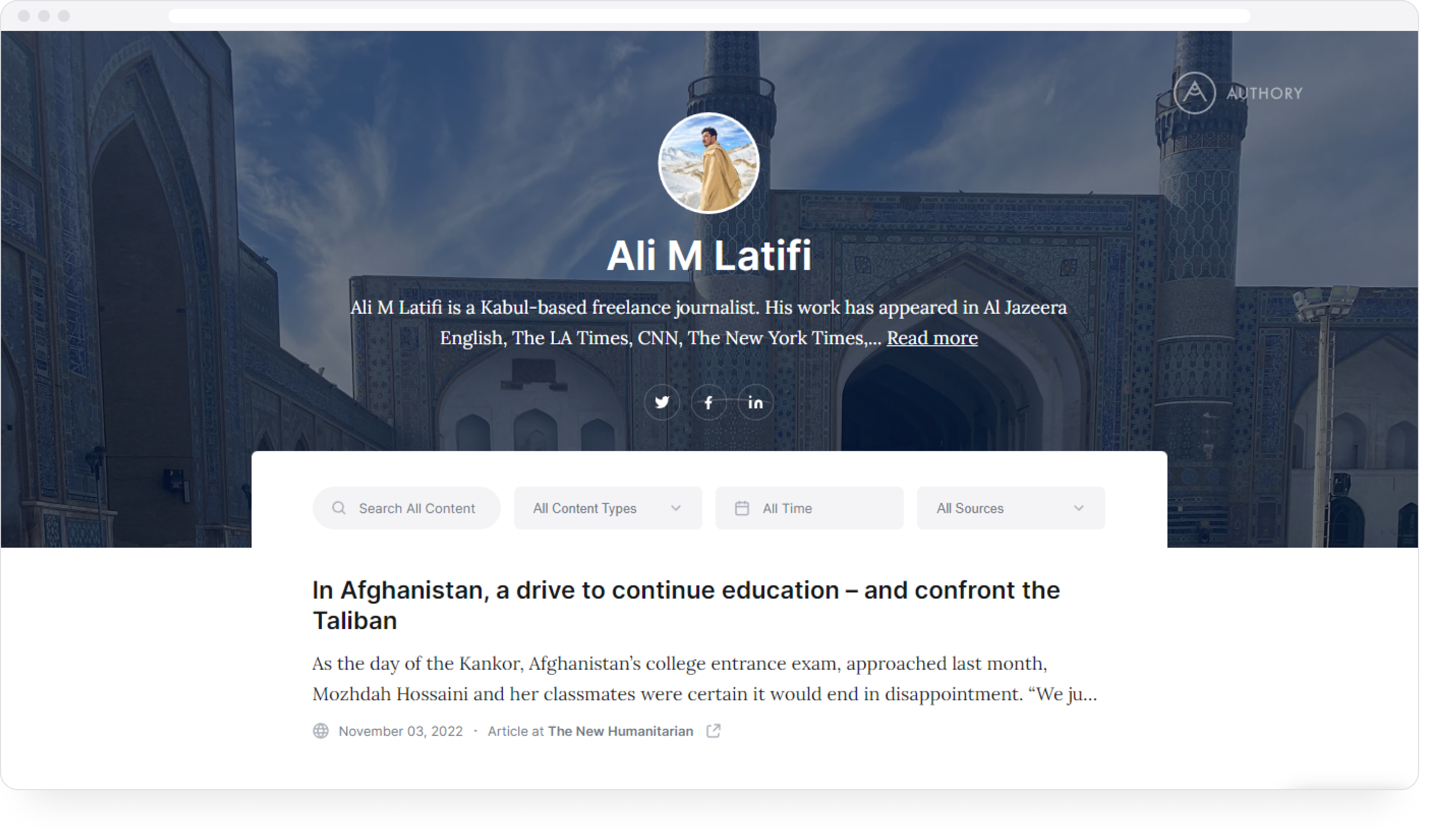 What stands out is the no-frills, no-nonsense tone. You get a short introduction, his socials, and immediately dive into his work. A quick scan of just the titles will reveal that he has expertise in Afghanistan's political and social dynamics. Any employer looking for someone to cover this particular country would be immediately interested in exploring Ali's experience.
Here's Ali's portfolio in full: authory.com/Ali
Sample portfolio no. 2: Nisreen Galloway
Content marketer and social media specialist Nisreen's portfolio shows variety, is easily navigable, and gets the message across at one glance. Compelling visuals, curated details, and a quick but comprehensive overview of their skillset make this profile a winner. Don't miss the fun, cannot-miss way in which she has conveyed her proficiency with multiple social channels.
A short overview of Nisreen's skills in the first fold is sure to get employers drawn in, and likely to scroll further. Lower down, she has outlined bullet points describing three high-value projects that achieved major success — making an immediate case for hiring Nisreen.
Here's Nisreen's portfolio in full: nisreengalloway.org/content-specialist-portfolio
Sample portfolio no. 3: Hank Herman
The first thing that strikes you about Hank's profile is the Watterson-ish illustration of (we assume) him and his dog. As a humorist and writer, he has definitely put his comic foot forward, right off the bat.
You get an immediate intro to what Hank is good at — writing, teaching, and being funny. The NYT quote ensures that you know he isn't just bragging or making tall claims; one of the world's most respected publications approves of his work.
Scroll down (as you most probably will), and you'll see immaculately organized details on Hank's skills and achievements. The profile has more text than you'd usually want, but it has been designed to remain easy on the eyes and fun to read.
Here's Hank's portfolio in full: hankherman.com
Sample portfolio no. 4: Murad Murad
Bright, adorable, and delightful. Dubai-based digital marketer Murad seems to have hit the sweet spot between these three qualities. There's plenty to catch the eye, but none of it, despite being almost youthful in tone, makes you take him less seriously.
The profile is also super simple to navigate. Just click on one of the links beneath the name, and you'll be taken to the relevant page fold. Don't forget to miss the social icons on top, making it easy to find and follow him across platforms.
If you scroll further, you'll see custom avatars and icons to represent himself and his skills. This immediately speaks to the fact that Murad puts exceptional effort into what he does — something out of every employer's dreams.
Here's Murad's portfolio in full: muradmurad.com
Sample portfolio no. 5: David Pogue
David Pogue leads with his work. You wouldn't know from his portfolio that he is a six-time Emmy winner, a New York Times bestselling author, and a five-time TED speaker. All he mentions is "Correspondent for "CBS Sunday Morning"; periodic host of "NOVA"; host of "Unsung Science" podcast." Considering that this is more than enough to grab your attention, you're bound to admire his minimalism.
A one-liner intro, a couple of social icons, and a list of exceptional publications do the perfect job of showcasing David's expertise. He doesn't need to claim that he knows what he is talking about — his work does that for him.
Here's David's portfolio in full: authory.com/DavidPogue
Sample portfolio no. 6: Melissa Kalt
Very few people introduce themselves as well as Melissa does. Instead of leaving it at "author" or "physician," she mixes in "Solver of Unsolvable Problems," "Master Healer," and "Antifragile Narcissist Survival Expert." Whether you prefer such non-obvious descriptions or not, chances are that you'll be curious enough to explore Melissa's curiosity, at least.
Notice that she presents both video and written content as part of her work. This instantly conveys the cross-platform appeal of her content.
Don't miss the way she has categorized her work, right underneath her social icons. Clearly, unconventional labels are her thing — and it's quite clear that she's good at balancing helpful information with a touch of quirk.
Here's Melissa's portfolio in full: authory.com/MelissaKaltMD
Sample portfolio no. 7: Kayla Hollatz
Apart from the sparse but sophisticated layout, Kayla's tagline "selling with soul," really speaks to her copywriting skills. At one glance, you get a sense of the kind of talent she brings to the table.
In a couple of scrolls, you learn about what she does, what she has achieved, and real-life examples of her success. Additionally, she allows you to take a unique quiz to figure out what your brand voice should be depending on various factors — how old the business is, your preferred writing style, your strengths, and how you like your hot chocolate (a real question in the quiz!).
Here's Kayla's portfolio in full: kaylahollatz.com
Sample portfolio no. 8: Nick Moore
Content marketer Nick caters to a very specific niche — software developers, engineering managers, and CTOs. To these folks, what matters is the depth of his knowledge and industry insight, which is why showcasing the list of publications is the only real priority.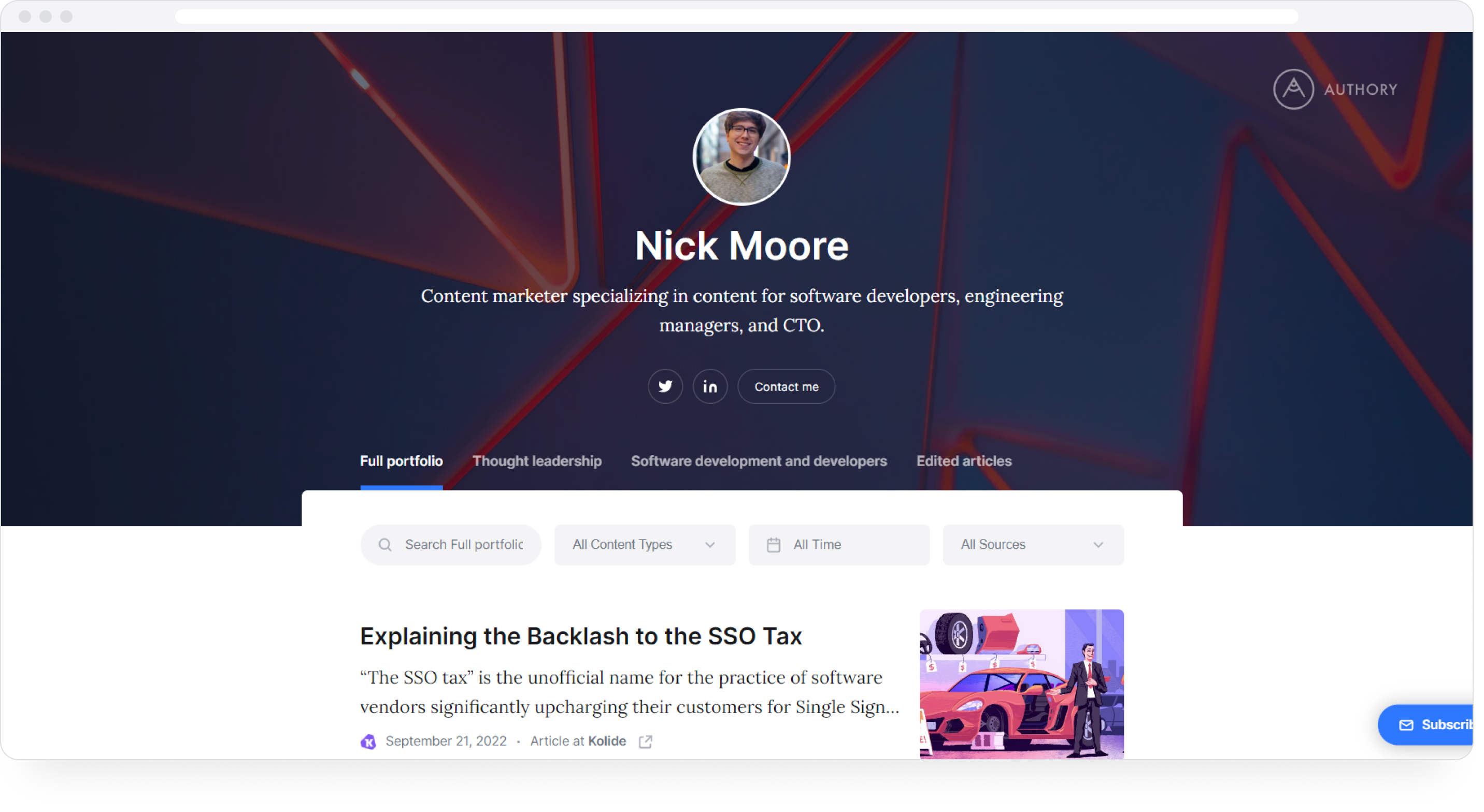 The content categories also speak for themselves and allow easy navigation. Once an employer looks through his work, they can effortlessly contact Nick via his embedded social or Contact Me button.
Here's Nick's portfolio in full: authory.com/NickMoore
Sample portfolio no. 9: Muriel Vega
You'll see Muriel Vega's portfolio listed in another article on our blog. The immediate visual impact of her homepage is just too good to pass up.
This writer and editor writes about tech, art, travel, food & more, and her design reflects this diversity. The playful whimsy and capricious coloring over a white background make you itch to click on the icons.
Uniquely, her portfolio is only one-fold long. You don't have to scroll for any further information. Everything you need to explore her work can be clicked through via the icons or the links on top. However, she does have social icons at the bottom.
The entire layout gives off the impression of organized creativity. She conveys the message without needing too much space, by virtue of design alone.
Here's Muriel's portfolio in full: murielvega.net
Sample portfolio no. 10: Drew Tewksbury
Drew is a jack of many trades and has mastered them all. This journalist-strategist-photographer-multimedia producer goes straight to the point about his formidable achievements.
This depicts his no-nonsense approach to work, and his choice of imagery is a clear indication of his unconventional originality. As you keep scrolling, you get options to explore his work across different media — photography, video, audio & editing. But honestly, the first fold of his portfolio is more than enough to sway prospective employers in his favor.
Here's Drew's portfolio in full: drewtewksbury.com
Sample portfolio no. 11: John Green
Celebrated author John Green keeps his portfolio clean. He's a fairly well-known face in publishing circles, which is why it makes sense for him to have an image of himself upfront.
If you scroll further, you'll notice that, despite being a writer, his homepage presents audio and video content. Text is at a minimum, and mostly shows up in paragraphs when you click "More about John."
This is an interesting take since our generation's preference for audio-video content is well known by now. This is an attractive, unconventional approach, especially for authors who also produce video content like John does on YouTube.
Here's John's portfolio in full: johngreenbooks.com
Sample portfolio no. 12: Jennifer Fernandez
While brevity is generally the soul of wit, writer-editor Jenifer has converted it into an amazing portfolio. She says a lot with very few words and a single image that draws you into an ambiance of elegance, sophistication, and contemplative quiet.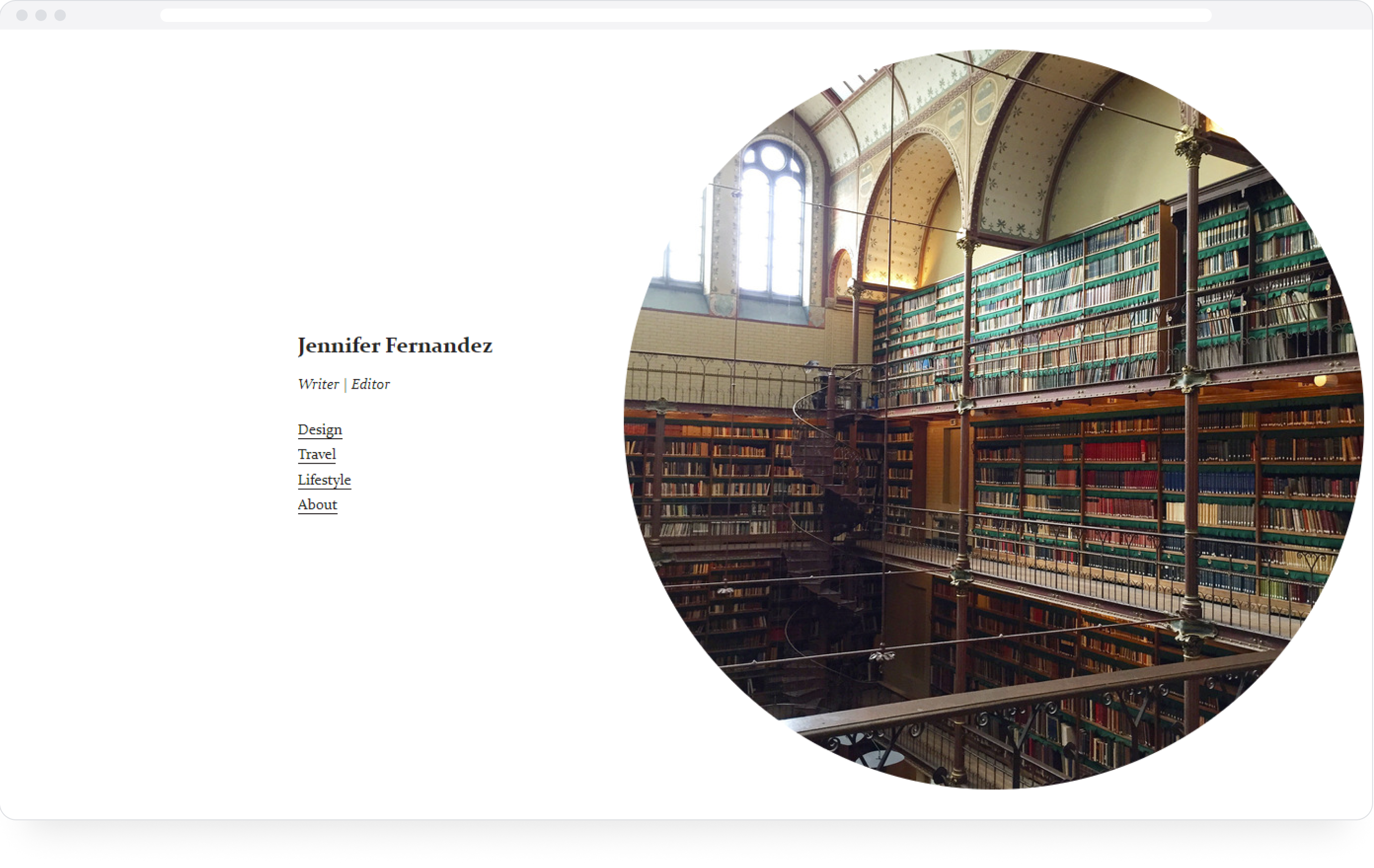 The lack of busy text/visual elements is a sudden, pleasant shock to the eye. She draws attention by not trying to draw attention. There's nothing to distract you; she gets straight to the point in her "About" section. The portfolio gives off the impression of a no-nonsense individual who doesn't believe in unnecessary flourish.
Here's Jenifer's portfolio in full: jennifermfernandez.com
Sample portfolio no. 13: Melanie Daveid
Much like Jennifer's portfolio, Melanie's also delivers a visual shock. However, this UX designer and art director uses almost avant-garde imagery to stand out. She keeps it minimal on text as her work itself is "loud" and captivating.
The simple, intuitive, and unforgettable UX on her own portfolio says great things about the quality this UX designer can bring to projects.
Here's Melanie's portfolio in full: melaniedaveid.com
Sample portfolio no. 14: Lone Palmus
Not too many programmer profiles show up on these lists, but Lone Palmus's eye for design and sophistication makes her hard to pass up.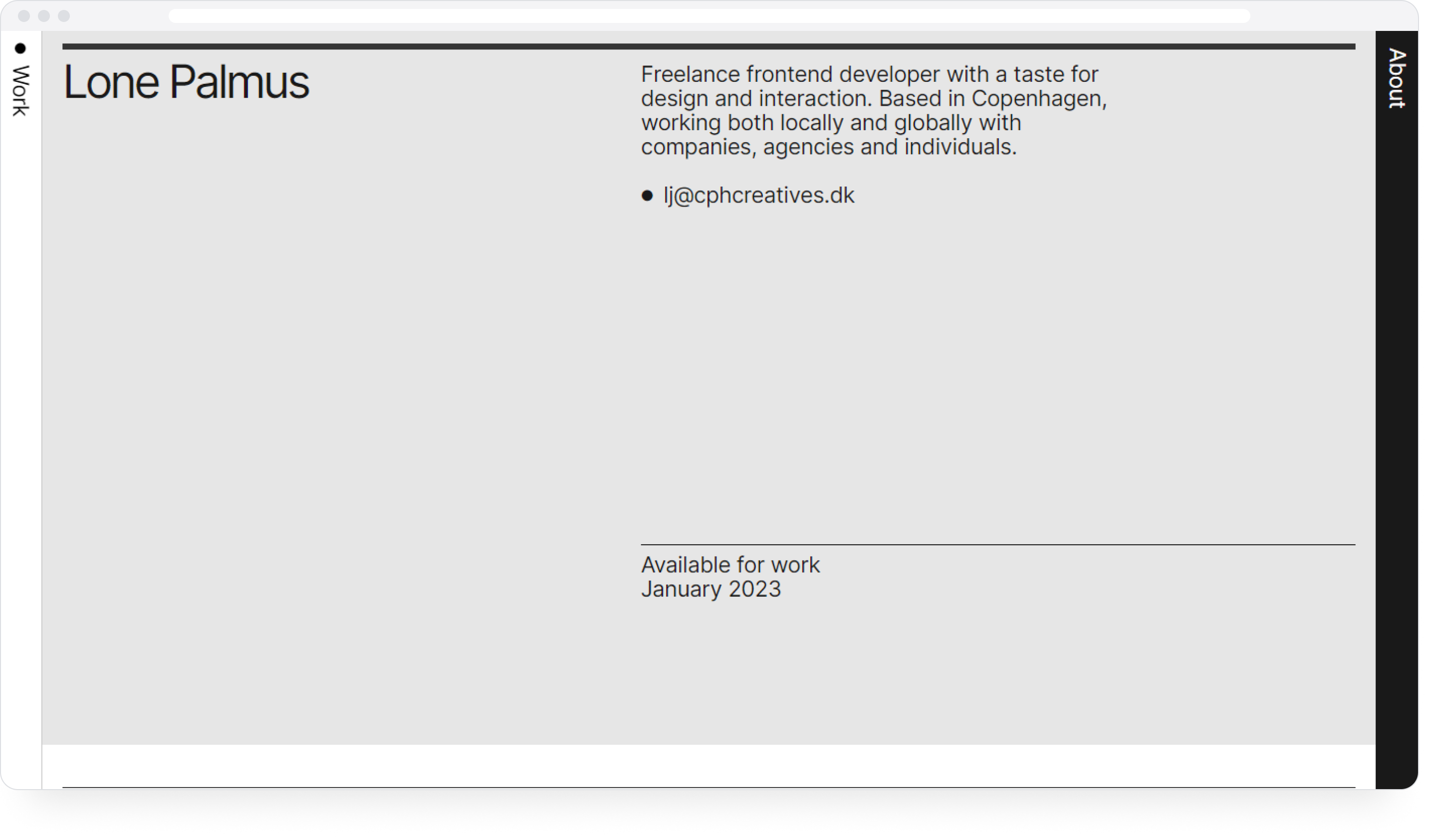 She plays around with static elements, white space, and scroll-to-load videos to communicate skills & successes in very little space. Lone's "taste for design" is immediately validated by the portfolio; you know she's someone who knows how to say a lot with very little.
Here's Lone's portfolio in full: lonepalmusjensen.dk
Sample portfolio no. 15: Akwaeke Emezi
Award-winning Igbo and Tamil writer and artist Akwaeke Emezi presents a combination of authorship and artistry in her portfolio. Images of herself, her books, and her work offer a quick glimpse into her world without wasting space.
Easy navigation, adequate white space, and interesting imagery are the stars of her portfolio. Even her book covers (seen in one of the images in the carousel) trigger immediate curiosity about the inner content — a key ingredient of an author's success.
Here's Akwaeke's portfolio in full: akwaeke.com
Sample portfolio no. 16: Tara Pixley
Visual journalist Tara Pixley's portfolio is a great example of how to use white space judiciously. There are plenty of images on the page, but the space between them does a lot to drive their impact.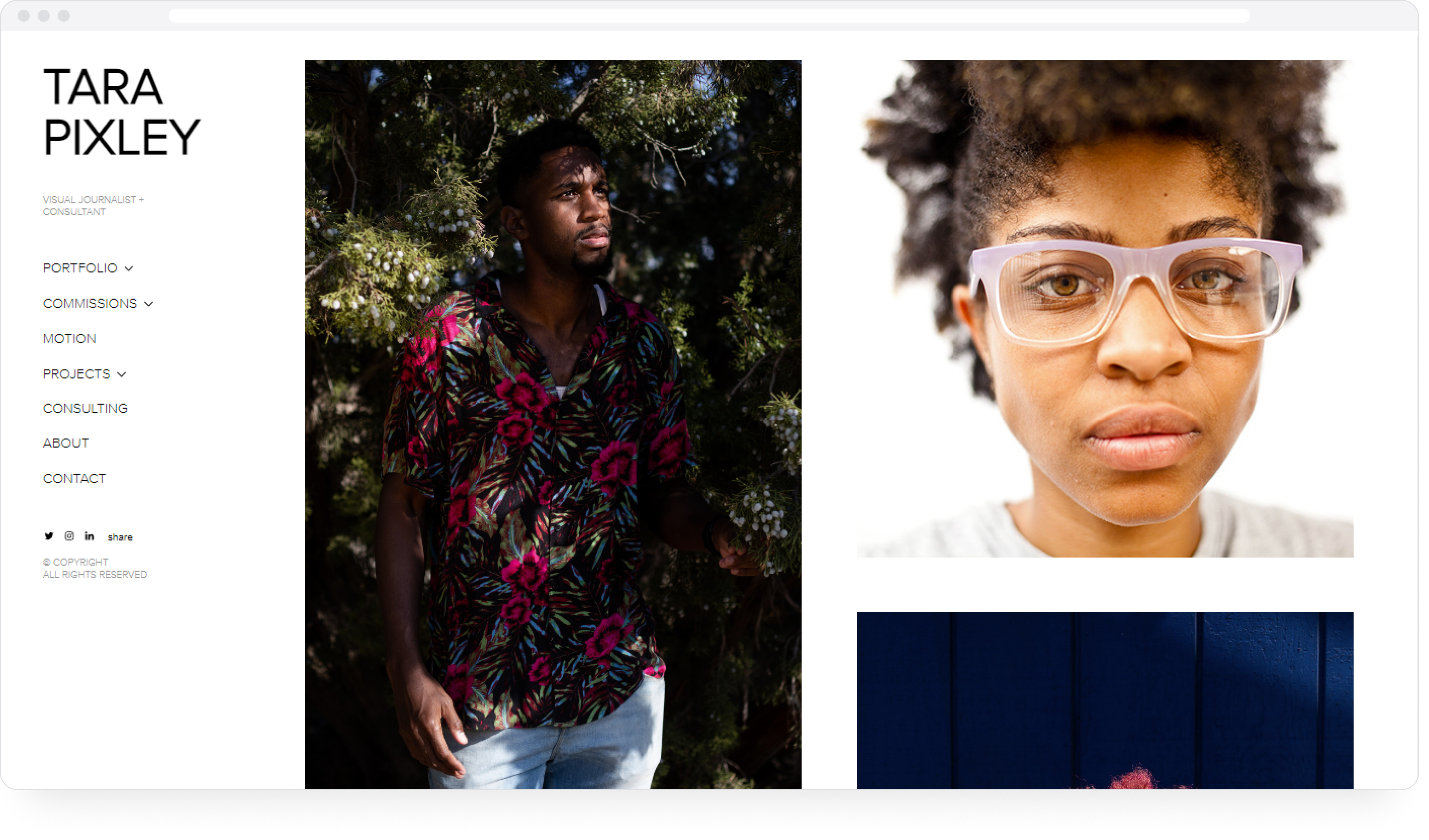 Notice how the font (except the name) almost merges into the background, as if the text is an afterthought. As you scroll, you'll notice that Tara's work is almost exclusively human-centric — faces, postures, limbs. She comes across as compassionate, unique, and experimental in her artistry.
Here's Tara's portfolio in full: tarapixley.com
Sample portfolio no. 17: Sophie-Claire Hoeller
Insider's first-ever travel correspondent Sophie-Claire gets an eyebrow raise with her cover image. Add to that the headline of her first article, and you're probably at least a little curious.
Like most good authors, she leaves her written words to do the talking. As with most Authory portfolios, it's easy to navigate and accommodates a significant number of pieces — allowing employers to evaluate quality and productivity.
Here's Sophie-Claire's portfolio in full: authory.com/SophieClaireHoeller
Sample portfolio no. 18: Jenn Chen
When writer-photographer-marketer Jenn Chen describes herself as "inspired by coffee, powered by chips," I see myself. And I'm sure plenty of her prospective employers do too.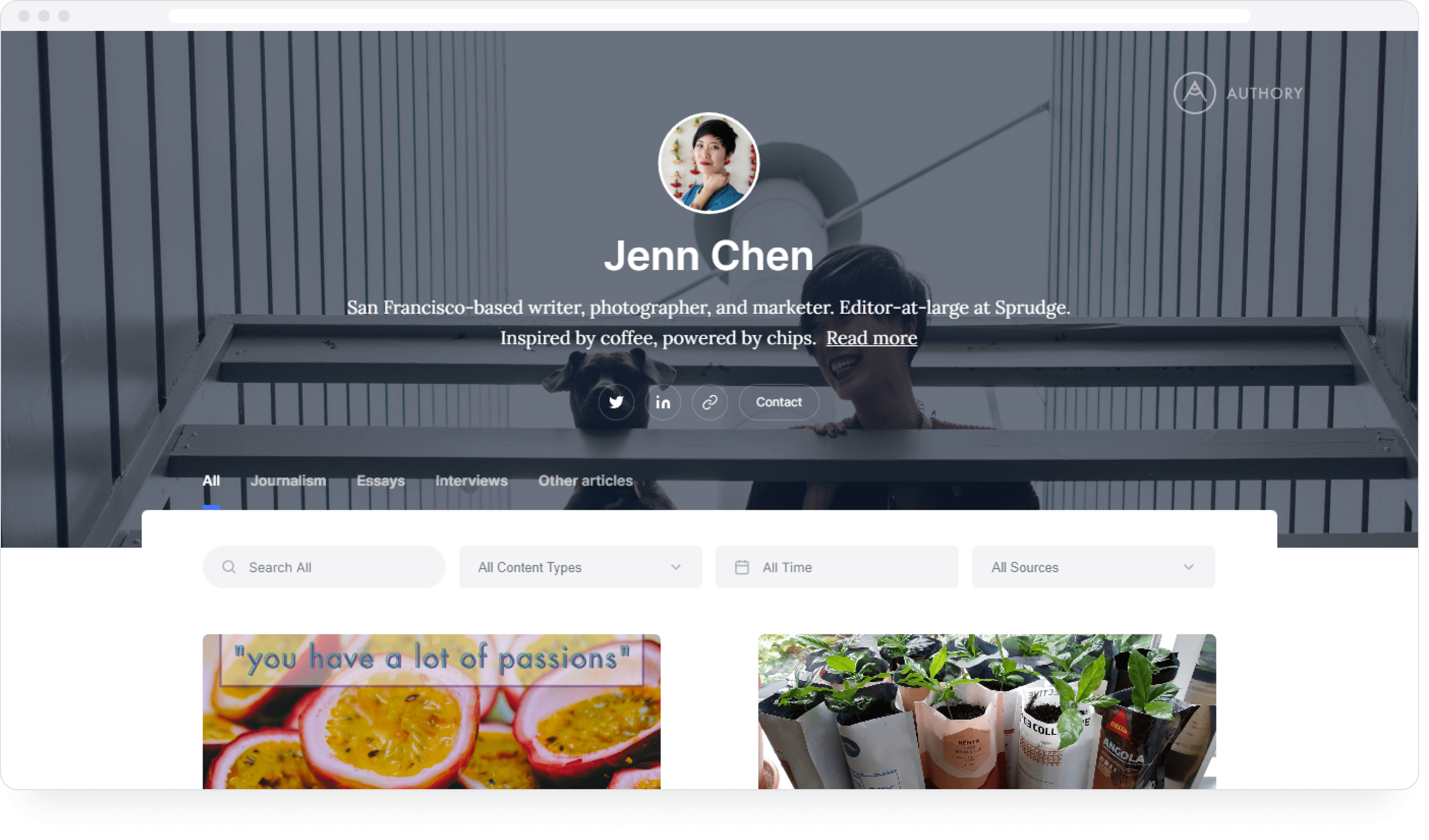 Something else that stands out is the use of colorful, sprightly images — header and banner images for her articles. Keep scrolling, and you'll be inspired to click on articles based on the banner image alone. Her eye for curating relevant yet fun visuals is a valuable skill in our currently visually-driven world.
Here's Jenn's portfolio in full: authory.com/JennChen
Sample portfolio no. 19: Kim Gillick
Kim Gillick calls herself "the content strategist." This is an interesting way to stand out — being known by your role first.
With a few memorable illustrations, Kim gives you a good reason to explore her work. Her case studies page is also organized quite attractively — bright colors, clear division by category, and a somewhat "fun" vibe that would appeal to Gen Z consumers especially.
Here's Kim's portfolio in full: thecontentstrategist.ie
Sample portfolio no. 20: Rebekah Wolf
Rebekah's portfolio is certainly taking a long shot. By describing herself with a single life and a single image, she's likely to polarize prospective employers — some might appreciate the brevity, and some might expect to know much more about her at first glance.
Of course, there are easily accessible links to her work and experience. If you're planning to go this minimal, however, I would suggest getting some opinions on a design prototype from fellow writers, strategists, and, if possible, managers in your preferred industry.
Here's Rebekah's portfolio in full: rebekahwolf.com
Authory — A self-updating portfolio builder for ALL kinds of portfolios
If you're building a portfolio, wouldn't you prefer it to contain ALL your work? What about if it automatically updated itself with all your new publications — again, automatically? Additionally, it might be nice if the portfolio backed up all that content, including older AND newer publications. Don't forget the ability to look at social metrics related to your content — social shares, for example.
Authory provides exactly this. With this intelligent portfolio builder, you never have to worry about losing any of your content (new or old) or about adding new content to keep your portfolio updated (done automatically).
Simply sign up, add your sources, and Authory will search for and import ALL your bylined content to your account. Any new content published on the source websites will also be automatically added to your portfolio.
Try now today!