Whoever said, "Don't judge a book by its cover," doesn't know much about the modern job market.
First impressions last. Your prospective employers will, most likely, make split-second judgments based on a cursory glance through your resume and, more importantly, your portfolio. In 2023, "portfolio" usually means a digital one, i.e., a portfolio website.
This applies to marketing, just as it does to any other domain. So, if you're a marketer (social media, content, anything really), you'll need a portfolio website that will metaphorically knock employers' socks off.
In this article, I'll be listing a few marketing portfolio examples that should give you good ideas for creating one of your own.
But before that, let's take a moment to discuss the "marketing portfolio" itself.
📖
What you'll get from this article:
• Definition of a marketing portfolio
• Essential aspects of the perfect marketing portfolio
• Five marketing portfolio (PDF) examples for inspiration
• A quick look at Authory — a self-updating portfolio builder that also backs up all your content
What is a marketing portfolio?
Similar to a writing portfolio, journalism portfolio, or design portfolio, a marketing portfolio comprises all the work you've done as a marketer, be it ideating and implementing campaigns, building or publishing content, or any services you provide to further the marketing goals of a freelance client or full-time employer.
As a marketer, your marketing portfolio website projects your professional identity to your particular job market. It is meant to showcase what you're good at and what you have accomplished so far.
🗒️
Note: While common wisdom states that you should put only your best work samples on your marketing portfolio, modern employers want evidence of quality AND quantity. They want to see that you've done good work consistently over a significant period of time. No one wants to hire a one-hit-wonder.
What goes in the perfect marketing portfolio website?
Quality and Quantity
As mentioned above, you should be showcasing all or at least a large portion of the work you have done in your career. To quote my editor,
How can years of work be reduced to four or five content pieces? It can't. Résumés already try to condense one's entire life into a single page, and let's be honest, nobody is that boring that just one page will suffice.
Your marketing portfolio website should display that you're capable of developing precise strategies and executing them frequently. It doesn't matter if you had a great idea two years ago or executed a killer campaign three years ago; the employer will ask, "What have you done in the last three years?"
P.S.: Don't forget to add numbers, maybe a case study or two. Essentially, let your results speak for you.
Adequate organization
If you have a significant amount of content on your portfolio, don't expect recruiters and managers to sift through them painstakingly. It's on you to organize your marketing portfolio for easy navigation.
As an example, here's Marijana Kay's portfolio.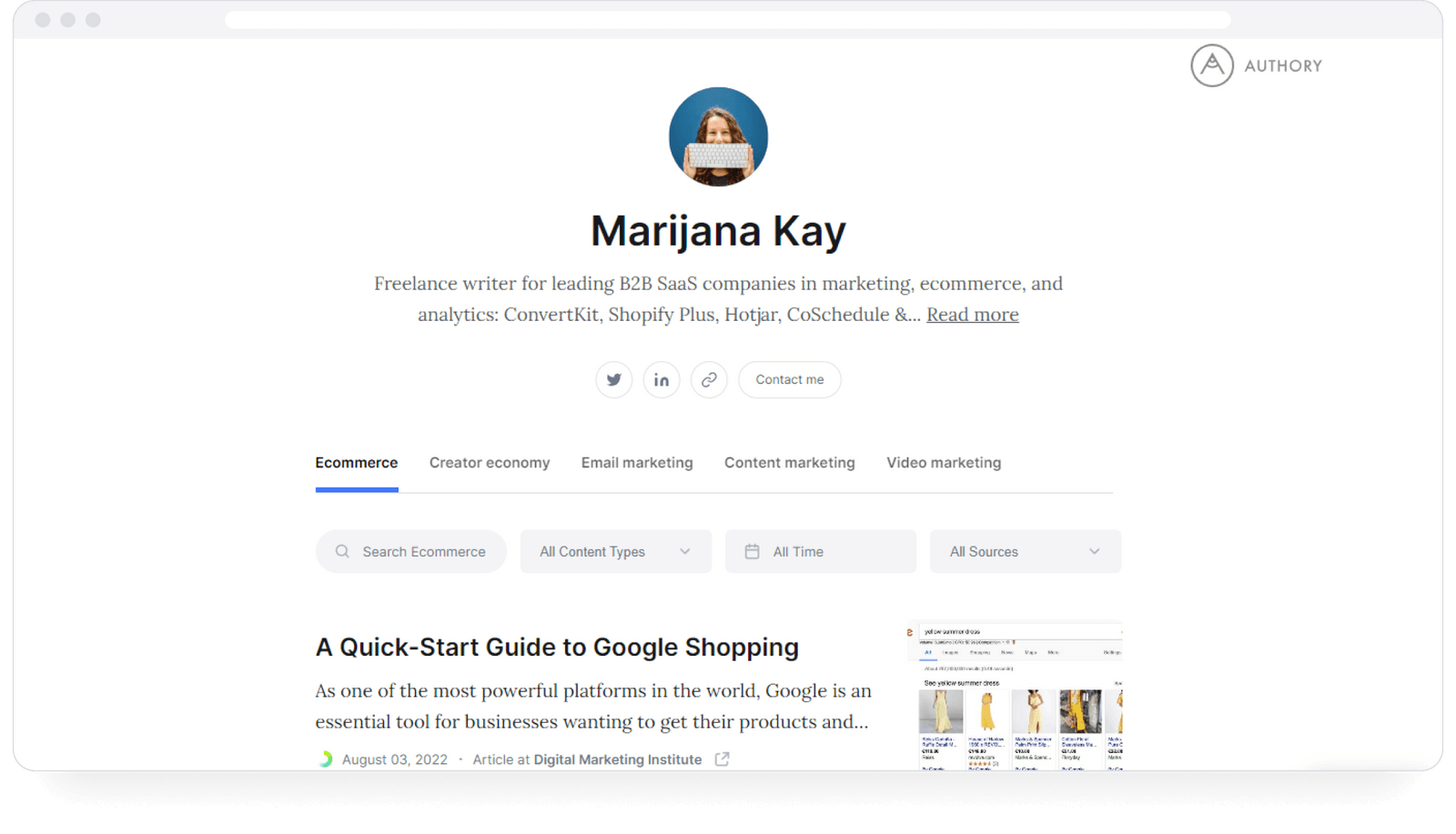 Notice how she has categorized her into Collections — E-commerce, Creator Economy, Email Marketing, Content Marketing, and Video Marketing. It is exceptionally easy for a client to view her work based on the niche they're looking to hire in.
While I would recommend using Authory to build your portfolio, any portfolio template you choose (on whichever tool you prefer) should give you options to structure, categorize and streamline your work.
Ghostwritten & agency content — but mindfully
Marketers, especially freelancers, often have to produce ghostwritten content or work with agencies that do not directly credit them by name on relevant projects. However, such work is often essential to showcase a marketer's skillset and achievements; they must be included in the marketing portfolio.
Once again, I'll use an Authory portfolio to demonstrate how this can be achieved.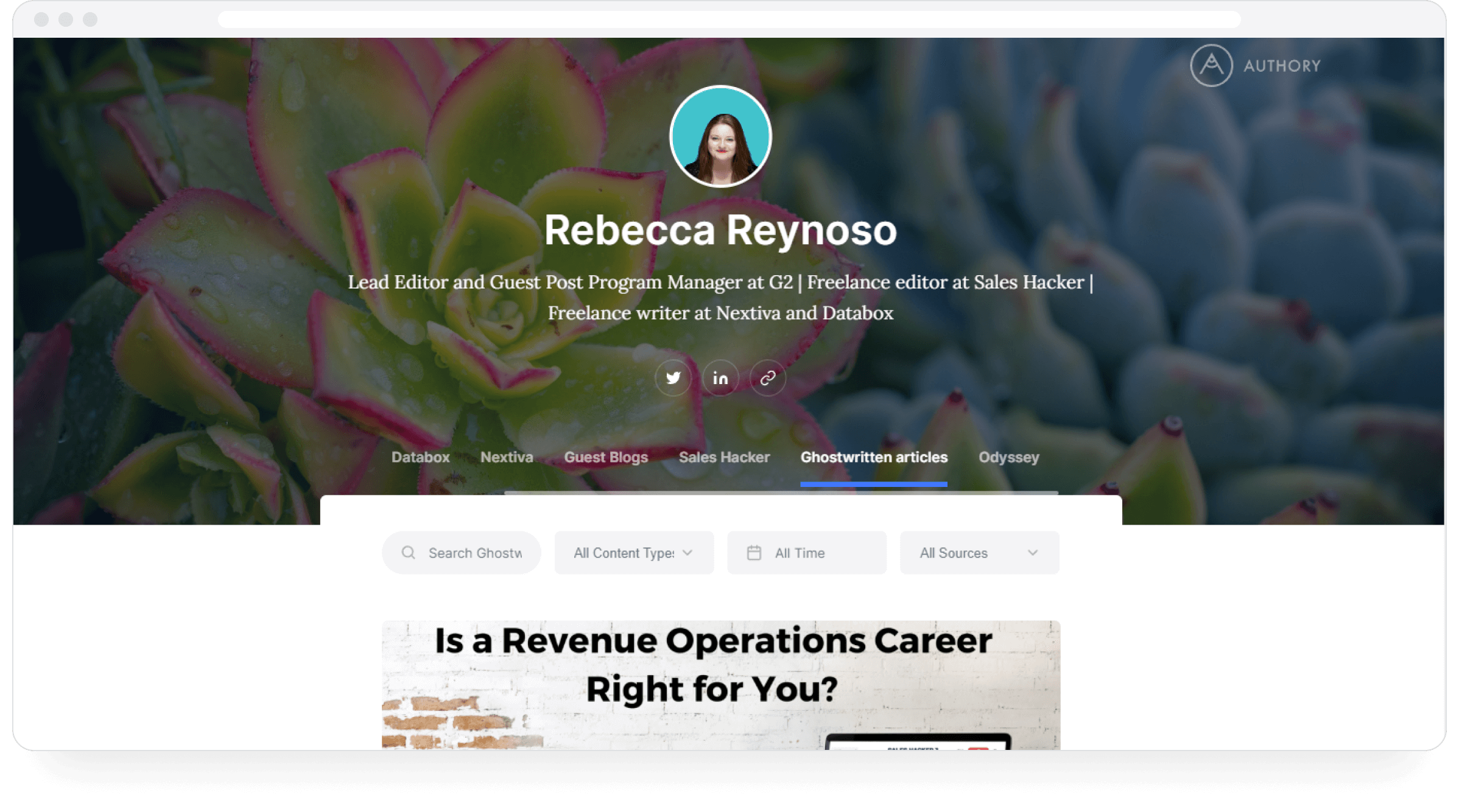 Notice how Rebecca Reynoso has created a separate collection for Ghostwritten content. This is an easy and upfront way to include non-bylined content in her portfolio.
Ability to search and filter
With all or a majority of your work on your marketing portfolio, you'll need it to be equipped with a search and filter function so that clients can search for any specific content topics most relevant to their organization. However, having this functionality depends on the portfolio template builder you select to build your portfolio.
A tool like Authory will automatically equip every portfolio with a search bar so as to facilitate easier navigation through all your work samples, projects, and the like.
A memorable "About Me"
Your "About Me" section needs to succinctly talk about your skills, greatest achievements, and the services you provide. Think of it as a snapshot introduction of yourself to possible employers. It can also serve as your contact page.
Once again, an example of a great About Me section from an Authory portfolio: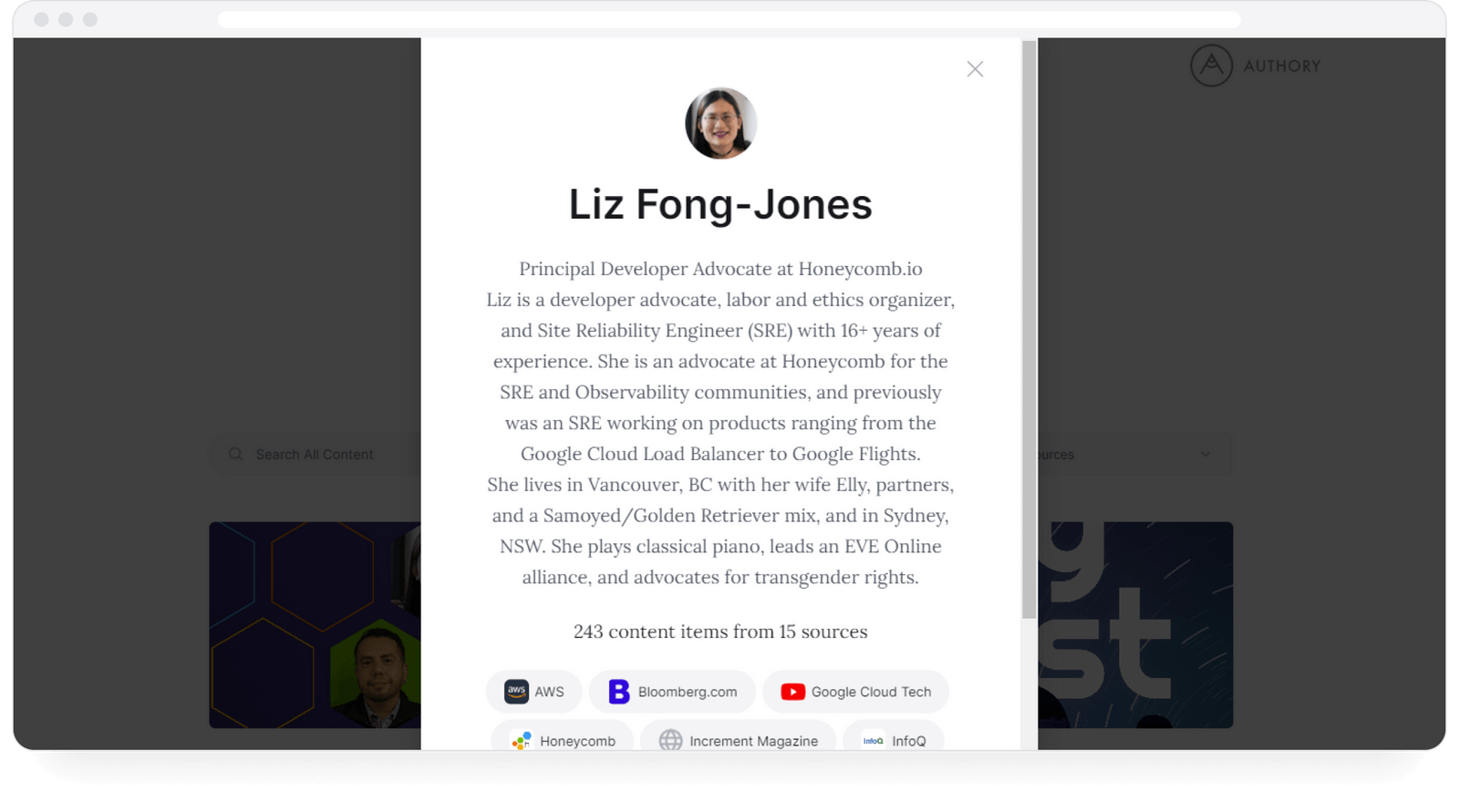 I particularly like how she talks not just about what she does and her work experience but also a little bit about her life (she loves dogs!), her hobbies, and her beliefs. You feel like you get to know a bit about her as a person rather than just a possible employee.
---
🖱️
Authory is, amongst other things, a portfolio builder & content backup service, used by thousands of top professionals worldwide.
Get started for free now.
---
Marketing portfolio examples (PDF) to grab great ideas from
NJ Graphica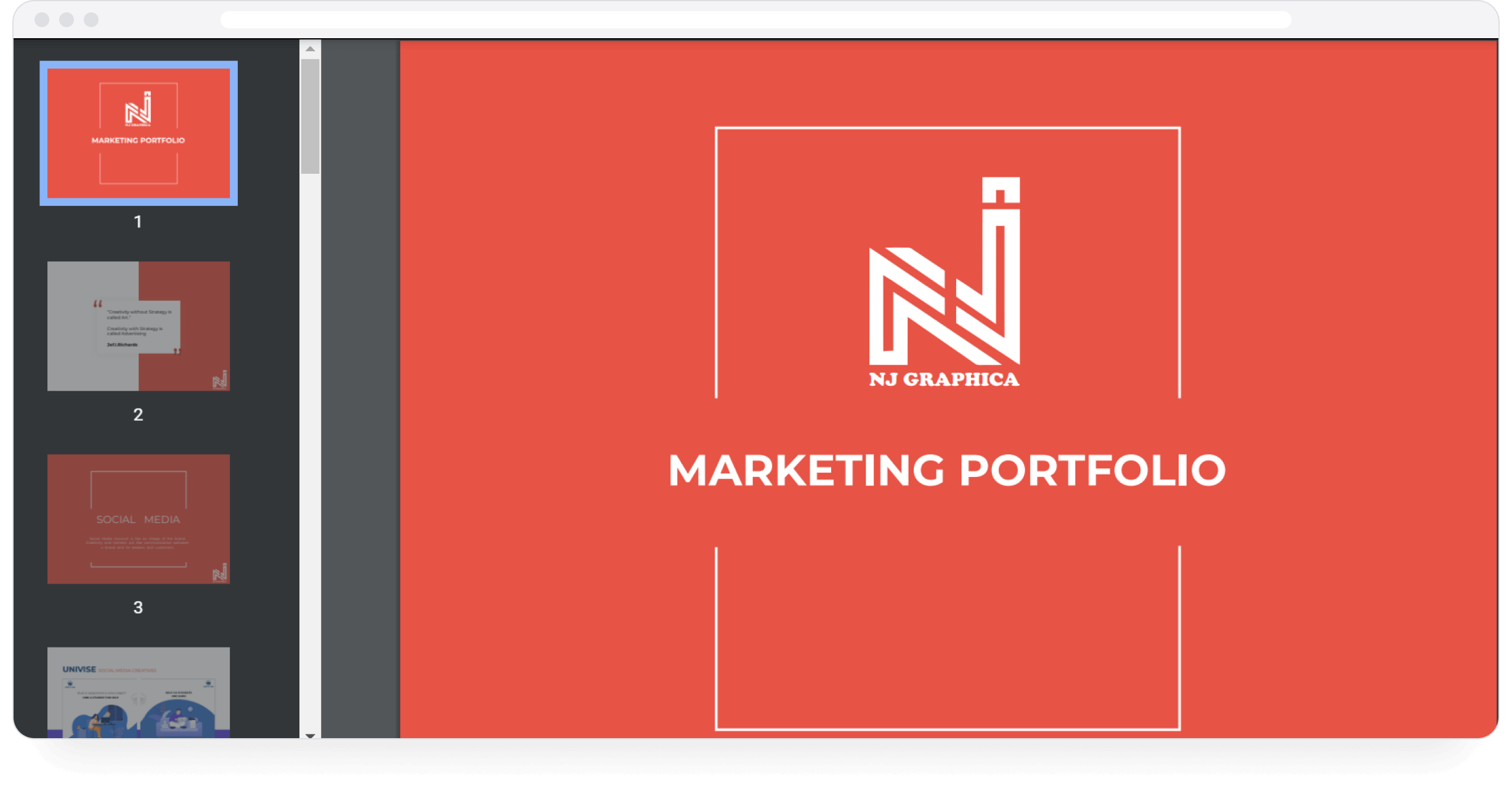 NJ Graphica provides a host of digital marketing services, including social media strategization. Interestingly, they've worked on case studies along with the usual brand awareness campaigns, ads, lead generation, and the like.
Here's their marketing portfolio (PDF).
Jack
Jack is an agency that provides marketing services that range across the whole spectrum — branding, creating content, graphic design services, strategy, media placement, writing & translation… the works. They also have some cool work samples with a real standout aesthetic bend.
Here's their marketing portfolio (PDF).
Mohammed Shehu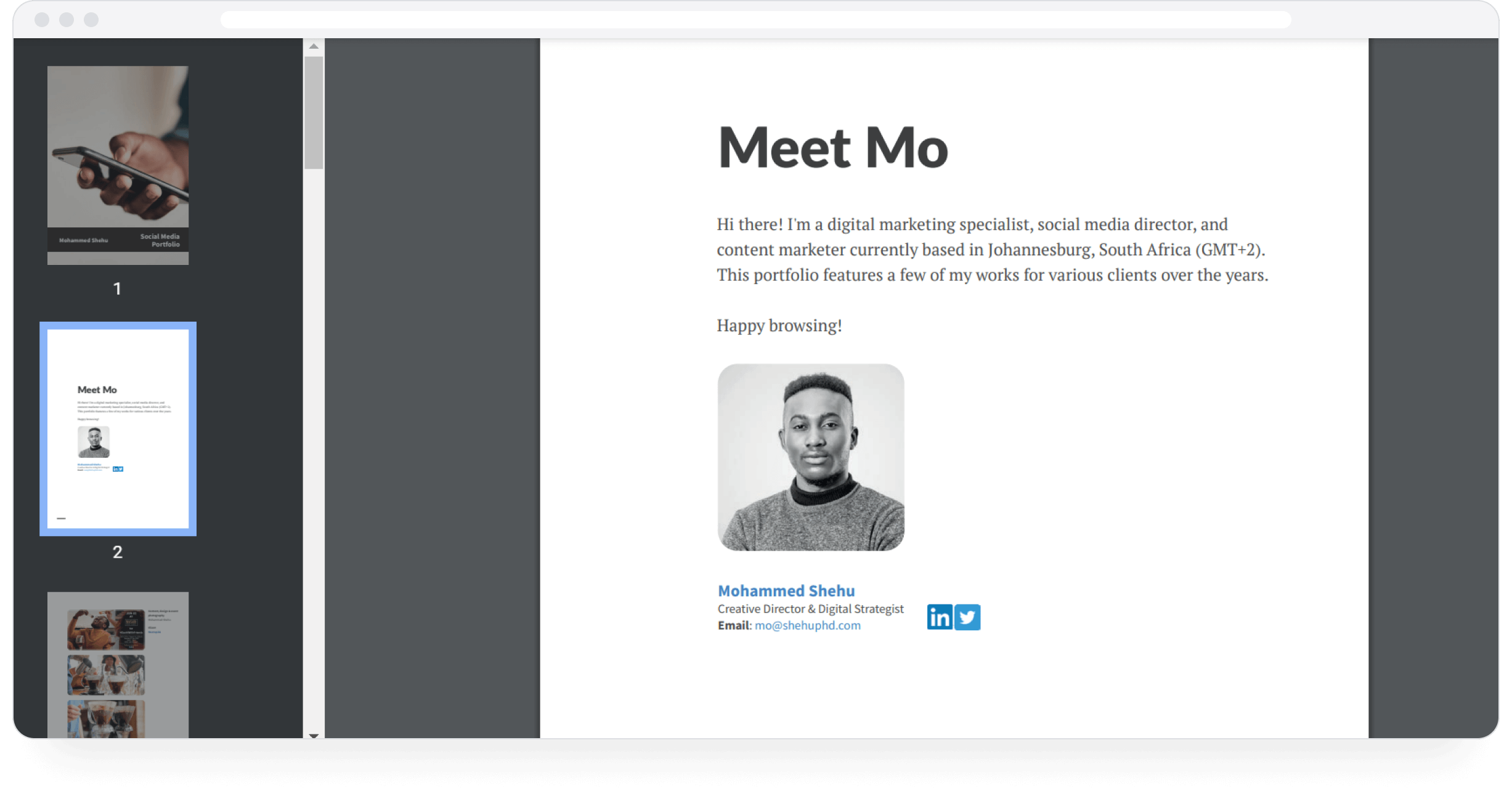 Mohammed Shehu (Mo) is a digital marketing specialist, social media manager, and content marketer. His portfolio largely features a quick introduction and quite a few interesting work samples that immediately convey that he brings proof to back up his claims of expertise.
Here's his marketing portfolio (PDF).
Madhatters Media
Madhatters Media also provides a wide range of marketing services, as showcased in its marketing portfolio. You get digital marketing, branding, SEO, Google Ad support, graphic design, copywriting, event marketing, lead generation, content marketing... the list keeps going on.
Here's their marketing portfolio (PDF).
Kayla Machlica
Kayla Machlica provides creative digital marketing services. She has worked with clients in a diverse set of industries — sports, fashion, sneakers, lifestyle, luxury, hospitality, fitness, and more. Again, her introduction also gives some insight into her personal values and beliefs, which is always a nice touch.
Here's her marketing portfolio (PDF).
---
🖱️
Authory is, amongst other things, a portfolio builder & content backup service, used by thousands of top professionals worldwide.
Get started for free now.
---
A few bonus portfolios...
I'll leave a couple of marketing portfolios hosted on Authory below to showcase what this tool helps you create within a few minutes. If it's especially important for you to be showcasing your marketing portfolio in PDF format, Authory is right up your alley. You can upload and display PDF files with effortless ease.
Carrie Cousins
With more than 15 years of experience, Carrie knows content and marketing. She combines her marketing expertise with her skills as a writer and designer to create exceptional, hard-to-ignore pieces. And if you're curious about what her readership loves, you can always check out the "Most Loved" category on her content marketing portfolio.
Here's her marketing portfolio.
Pam Moore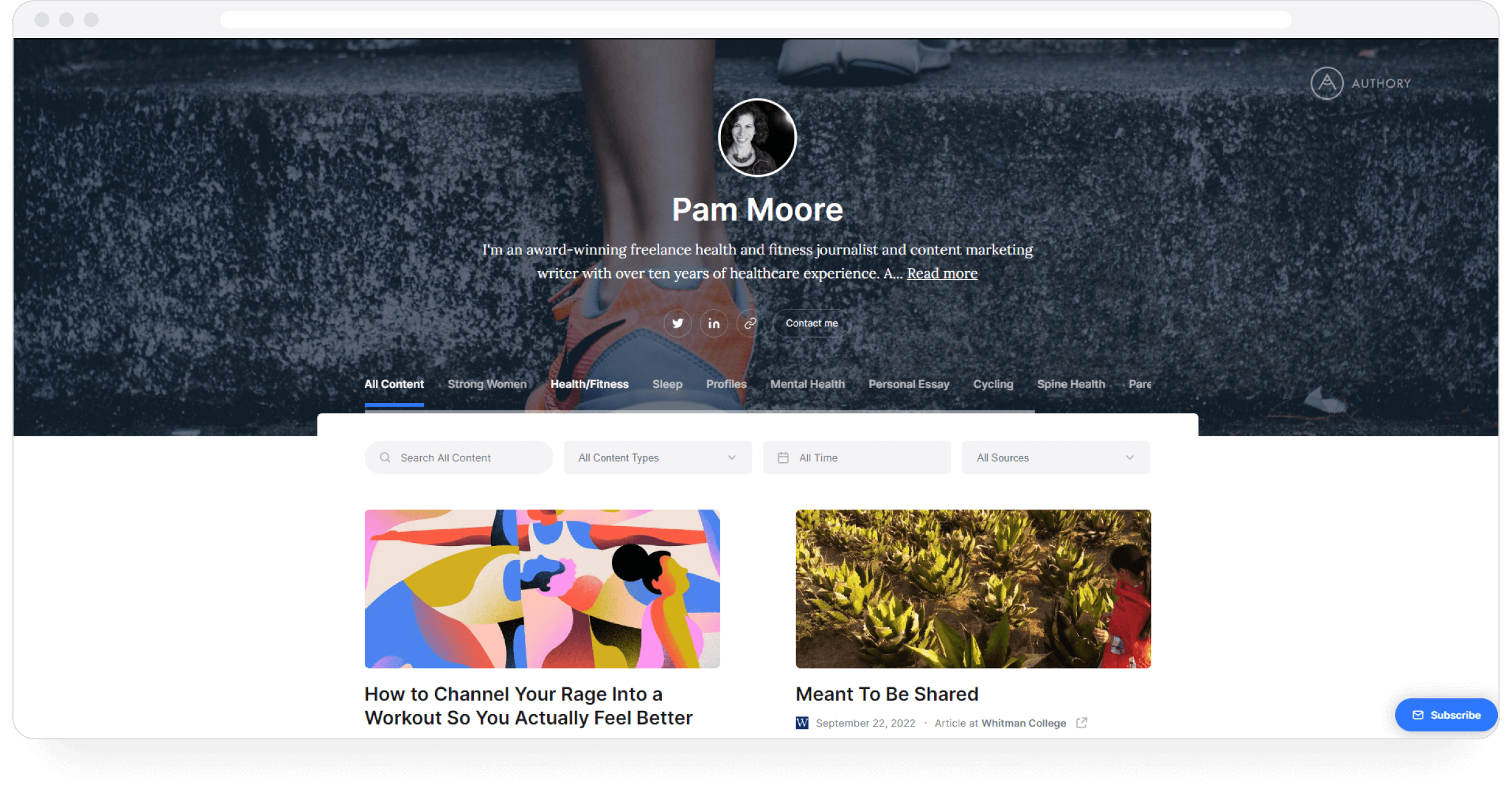 Award-winning freelance content marketing writer Pam regularly contributes to The Washing Post. She has also been published in Time, The Guardian, Forbes, and other significant publications. She also writes about health and fitness.
Here's her marketing portfolio.
And a couple of PDF portfolios on Authory…
Nala Rogers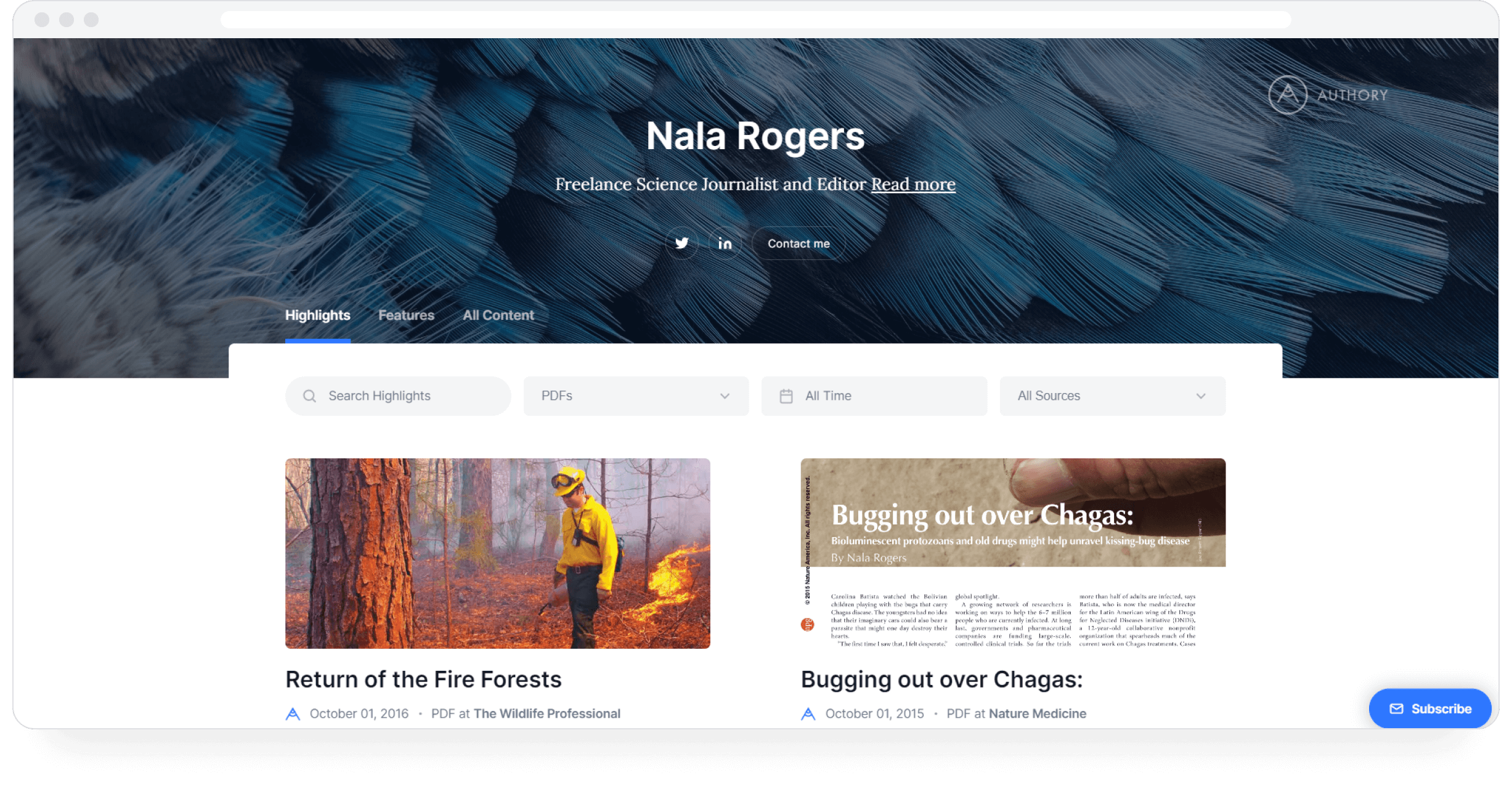 Nala is an award-winning freelance science journalist and editor who has been published in Science, Nature, Scientific American, and Discover Magazine. She has also been a staff writer and editor at Inside Science.
Additionally, she writes cover stories and news items for The Wildlife Society's professional magazine, The Wildlife Professional.
Here's her PDF portfolio.
Carter Hammett
Carter is presently the editor of Auto and Trucking Atlantic Magazine and also contributes to multiple publications — Convenience and Carwash Canada, CareerWise, Canadian Immigrant Magazine, and others. He has also written three books.
Here's his PDF portfolio.
Why choose Authory — a self-updating portfolio builder that also backs up all your content?
Honestly, I wouldn't be talking up Authory unless I was personally aware of its many benefits.
If you're curious, here's my portfolio on Authory: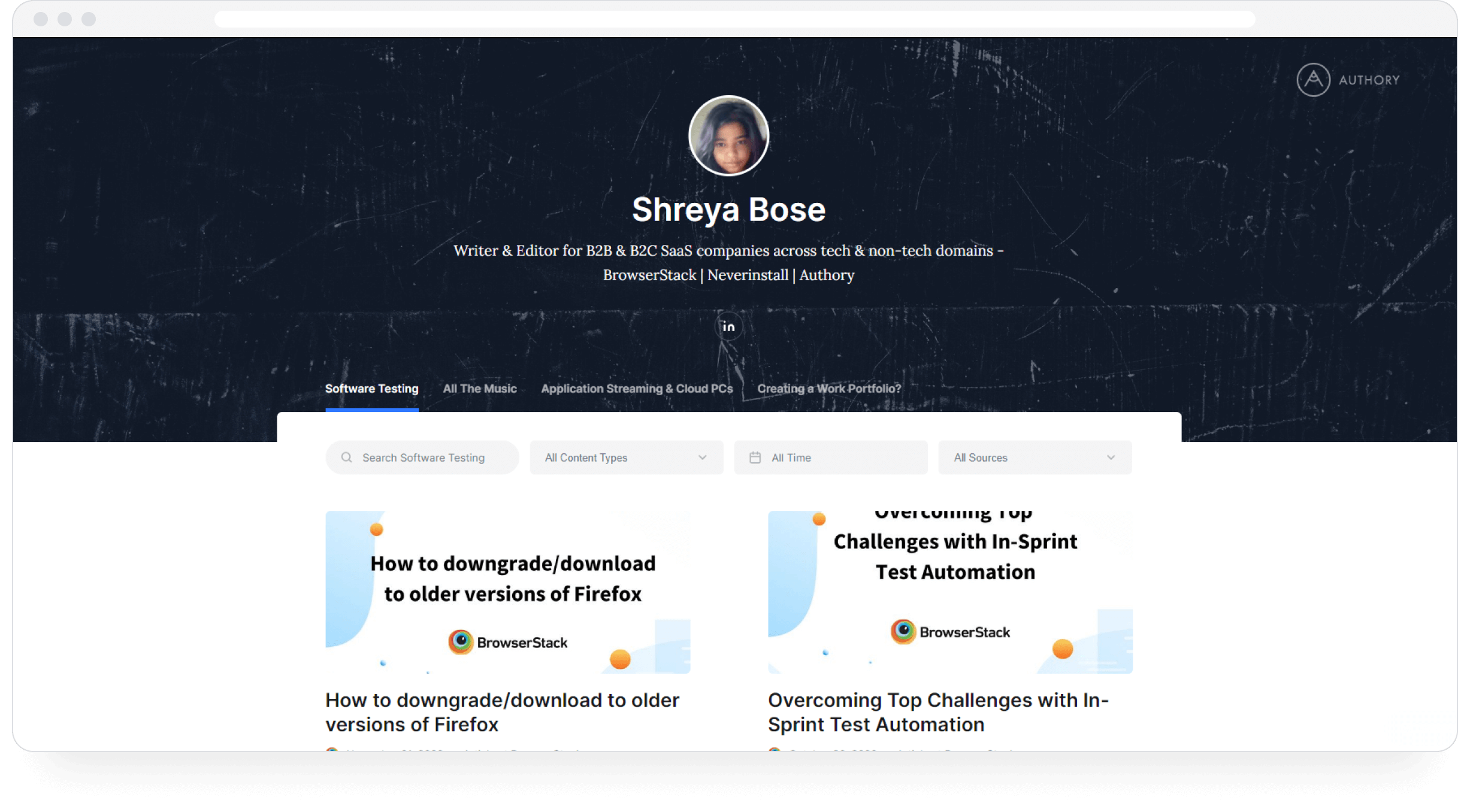 Let's take a quick look at Authory's standout features:
Automatic importing of ALL content from any digital source. You can enter the URL of the source publication, and all your bylined content will be imported. The tool will also continue to import all future pieces you may publish on the source. In other words, Authory builds your portfolio for you.
All imported content is automatically and permanently backed up. Even if the source link dies or the site goes down, your work is safe on Authory's database.
All content backups are in the original text/media format rather than screenshots.
It is easy to download your work as PDF files or export them as HTML files whenever you want. No lock-in periods whatsoever.
You get an email notification every time Authory imports a new content piece.
Analytics support for all your imported content. You can check how your pieces/campaigns are performing across major social media sites in terms of shares, readership/viewership, engagement, etc. What's more, you don't have to link your personal social media accounts to use this feature.
No templates are required. Authory allows visual customizations that inherently make your portfolio look good.
There's plenty more the tool offers, so I'd like to encourage you to sign up for Authory for free and evaluate the tool's effectiveness for yourself!