You can add articles (= text content) from any website, podcasts from any podcast platform, videos from YouTube or your social media posts from LinkedIn, Twitter and Facebook to your Authory account.
The great benefit of Authory is that it can import your previous and future content fully automatically for you. And once the content is in your Authory account, it's fully backed up.
In order to add new content, go to your Content section and select the button "Add content":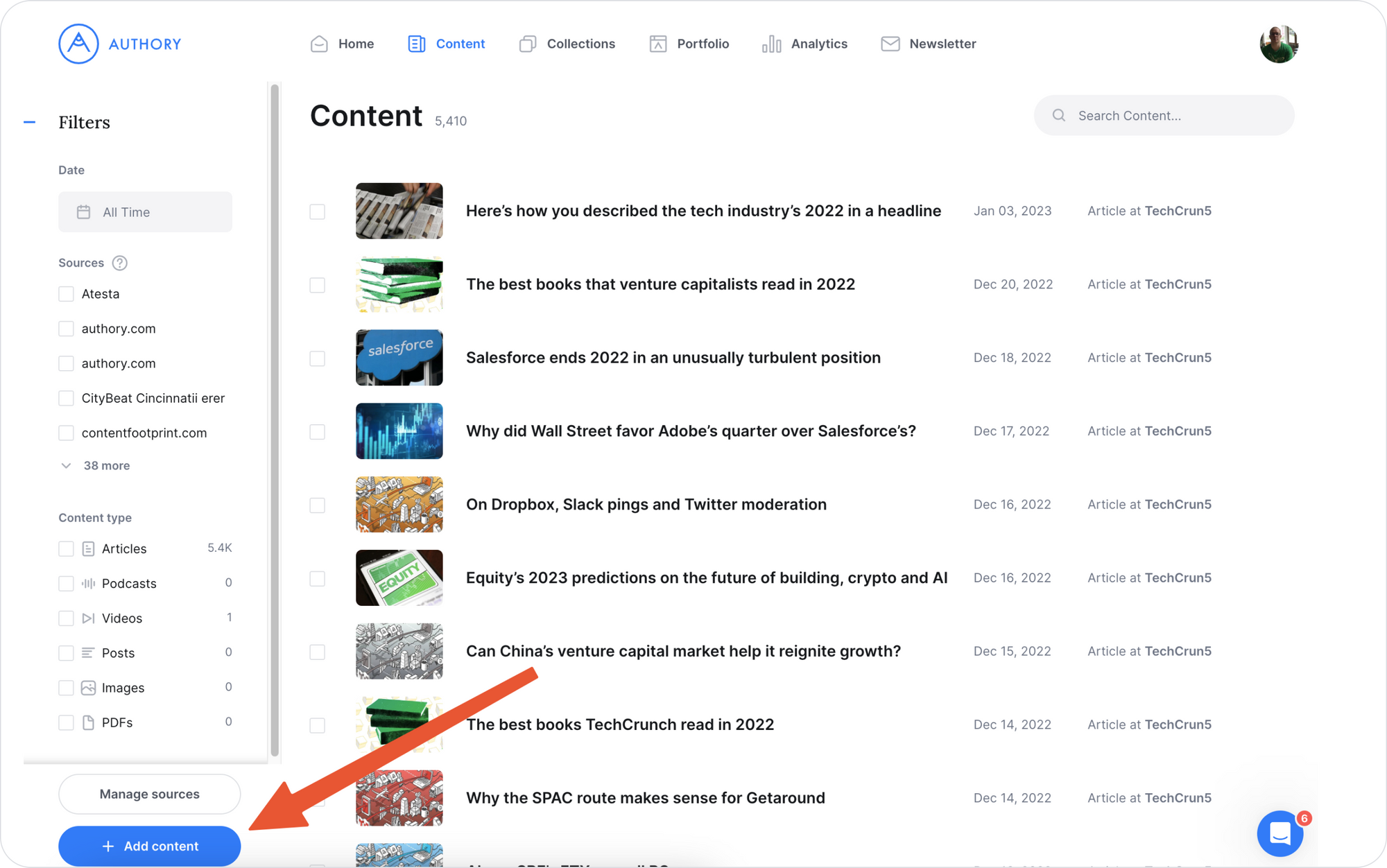 You'll see a screen giving you a number of options. In order to automatically import new content, select the button "automated import":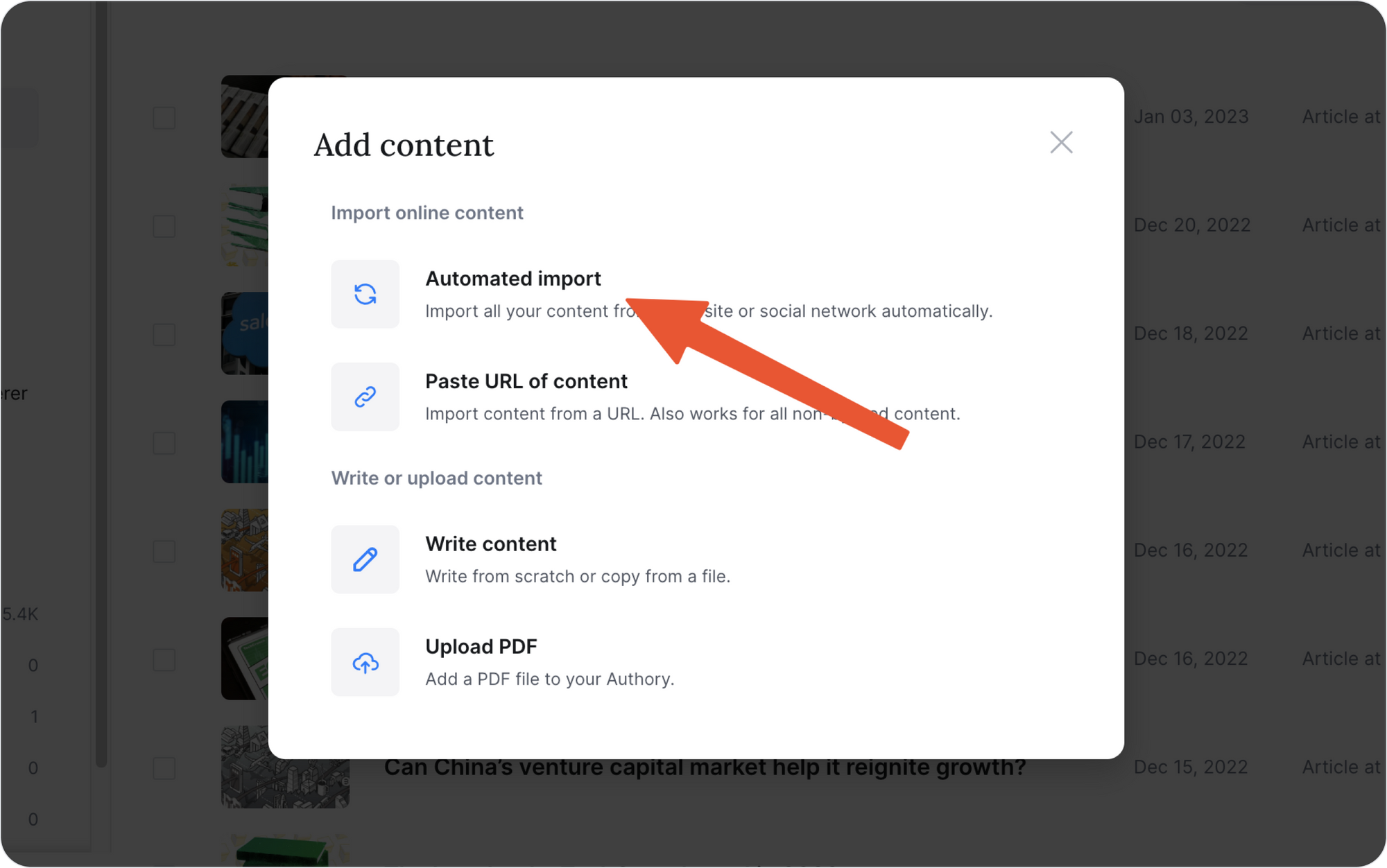 You'll be forwarded to your Source settings. Each publication, podcast series, video channel or social media account is an individual source in your Authory account.
To import automatically, select "Add source". You'll see a dropdown that shows all the options available: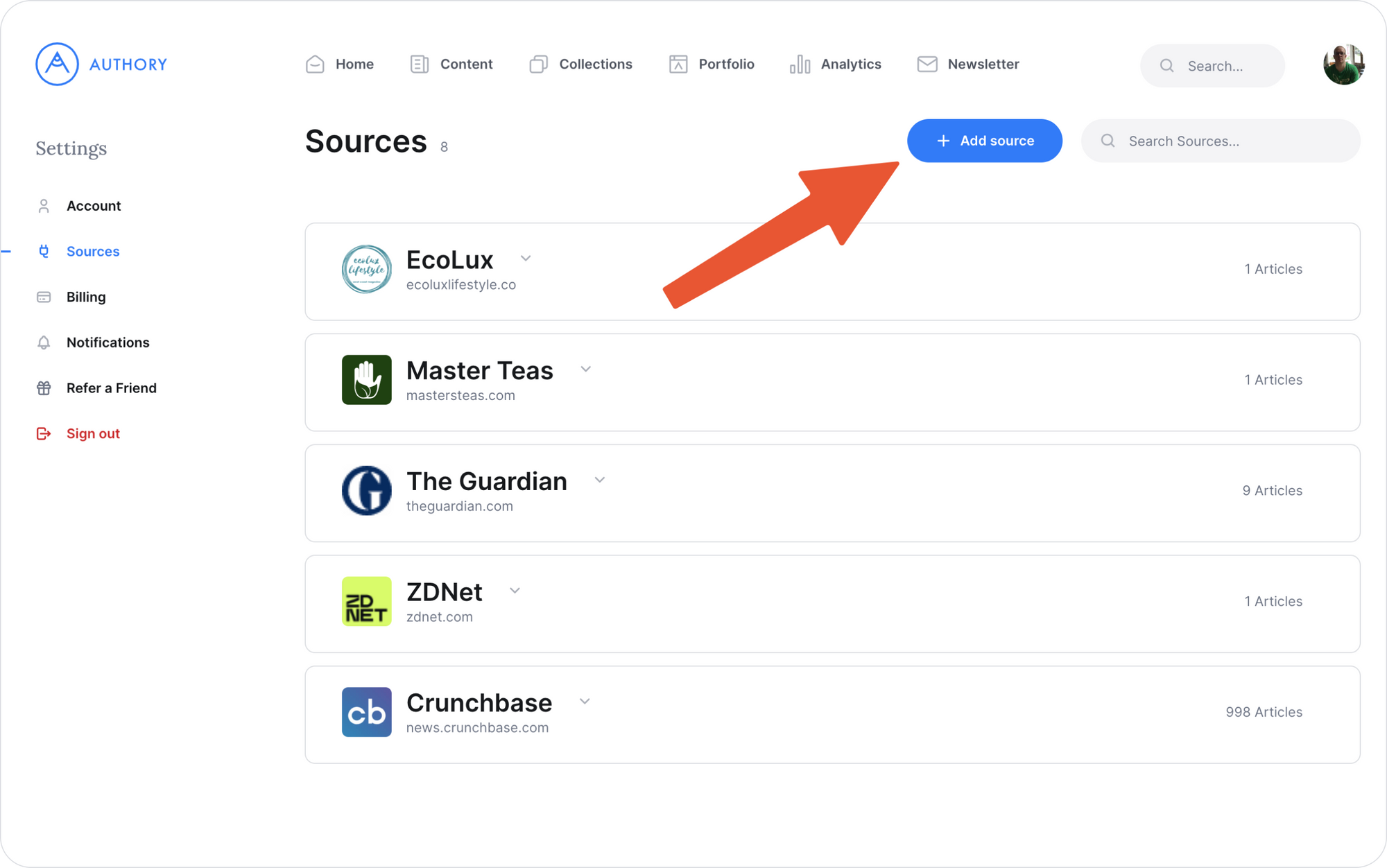 1. Import articles/web content
Select this to import your articles from any website. The way Authory will find your articles is by looking for your byline. Make sure you have an up-to-date list of your bylines/aliases in your Settings.
2. Import Twitter content
You can add any Twitter account here and Authory will import all posts of that account. Many Authory users don't want their Twitter content to appear publicly, and it's easy to keep it only in your Authory archive for record keeping purposes. We have a guide here.
3. Import Facebook content
Currently in development

4. Import YouTube content
You can import the videos from any YouTube channel or playlist to your Authory account. Simply add the respective URL.
5. Import LinkedIn content
You can import the content from any LinkedIn account (posts, videos, articles). Simply add the respective URL.
6. Import podcasts
You can import any podcast series to your Authory account. Simply add the respective URL from any of the popular podcast platforms (e.g. Apple Podcast or Google Podcasts).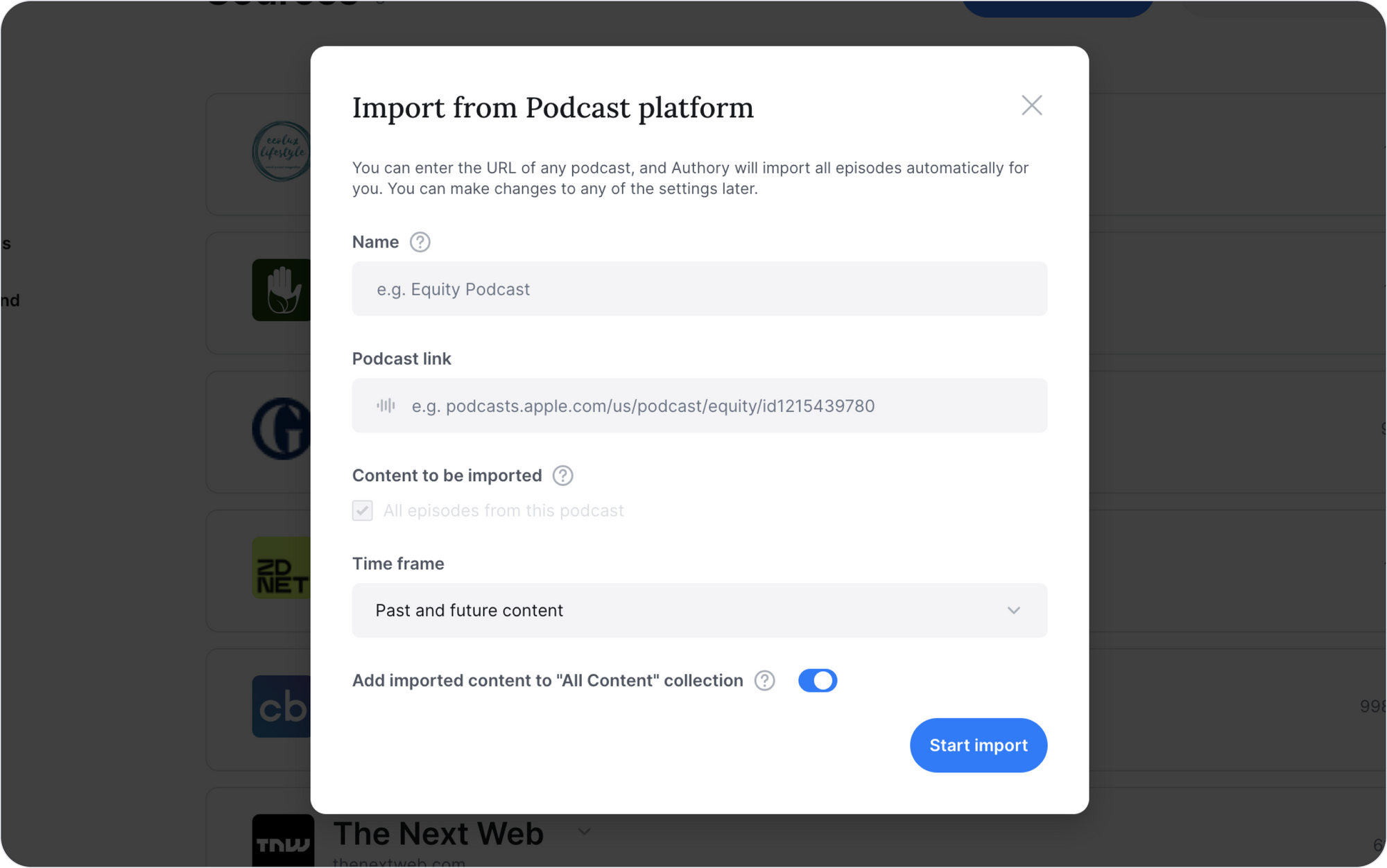 7. How long the importing takes
Note that after you added a new source, the initial importing can take up to 48h. You'll see the status in your Source settings and you'll receive an email once it's ready. This is only the case for the initial importing, new pieces will be found and imported right after being published at the respective source.
8. Auto-updating
If you click on any source in your Source settings, you'll see the source details.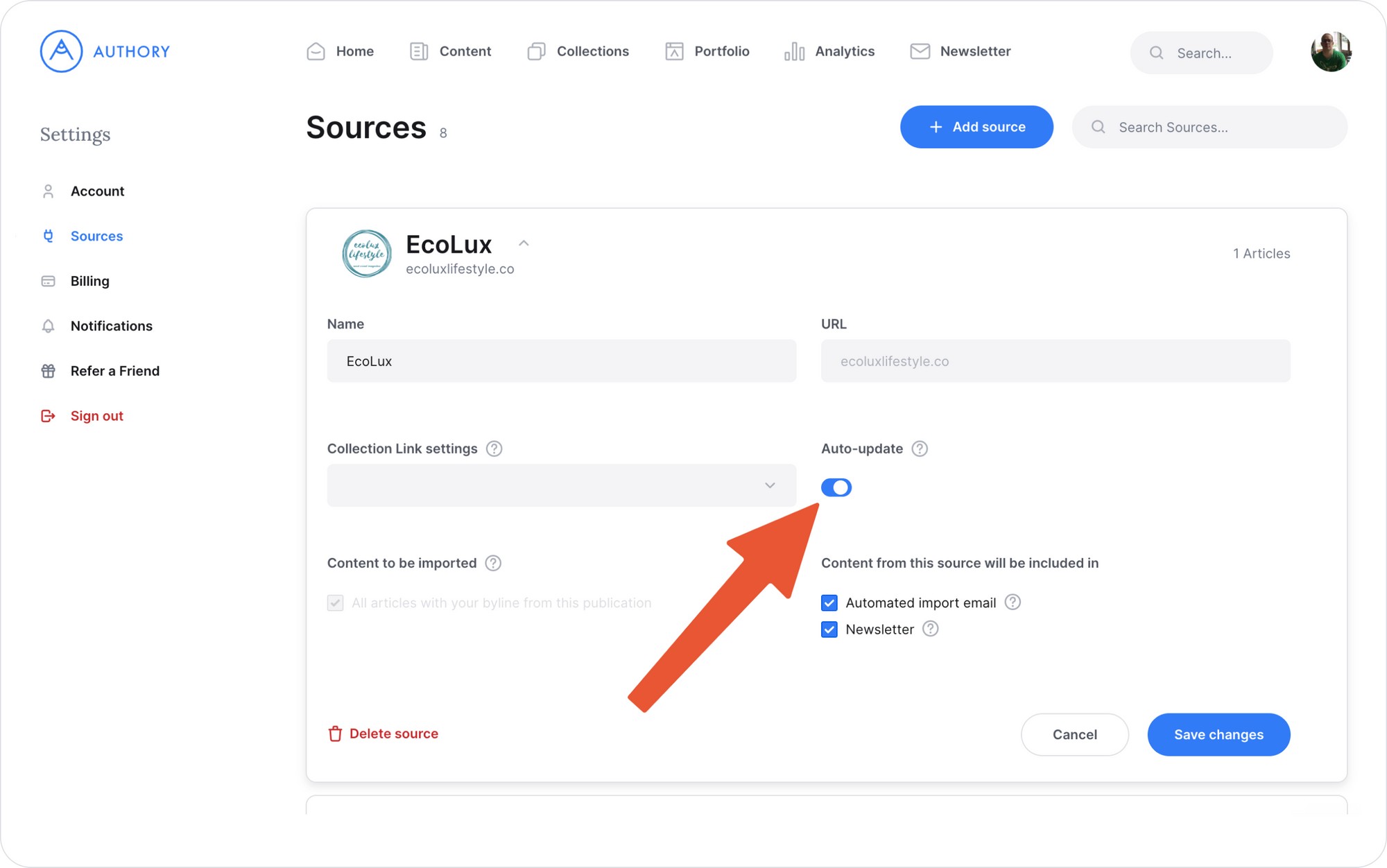 The toggle labeled "Auto-updating" determines whether Authory will continuously look for new content items of yours at the respective source. If the setting has been enabled, and you publish something new at the source, then the content item will be imported to your Authory account automatically, and you'll receive an email notifying you.
9. Aliases
When Authory imports your content automatically, the identifier for our system is your name. Many content creators have changed their names over time (e.g. maiden names) or create under different versions of their name (e.g. John Doe and John F. Doe), or they even have fictional aliases (e.g. Doctor Who). To make sure we'll get all your content, no matter what your byline is, you have the option to add as many bylines to your account as you like.
Simply go to your Account settings and then select "Edit" in the row labelled "Aliases / alternative bylines":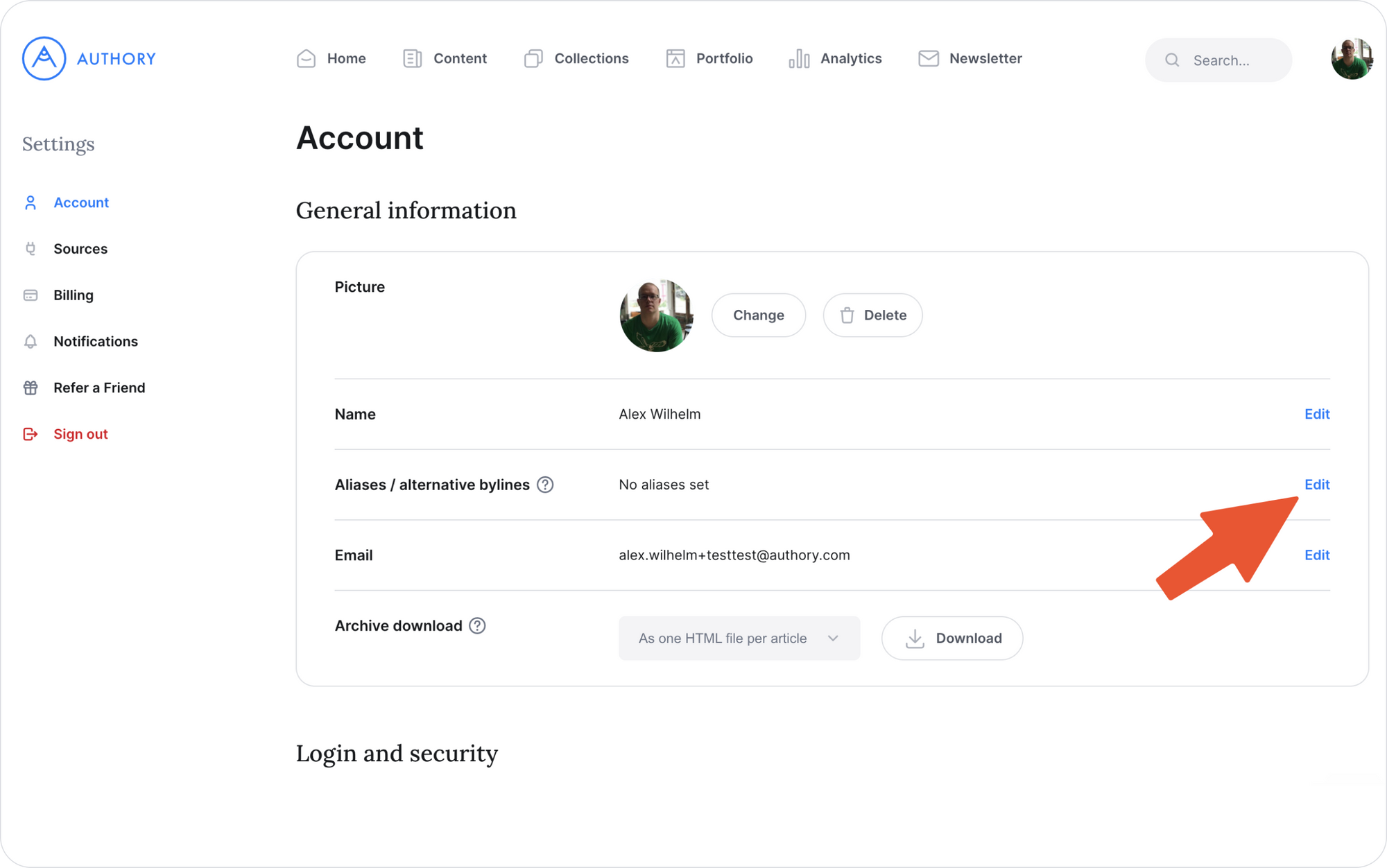 The aliases added here won't be displayed anywhere publicly, they are solely for the purpose of finding your content automatically.
10. Adding content manually
Besides adding content automatically, you can also add content by copy&pasting the respective URL. Go to your Content section, select the "Add content" button and then "Manual import".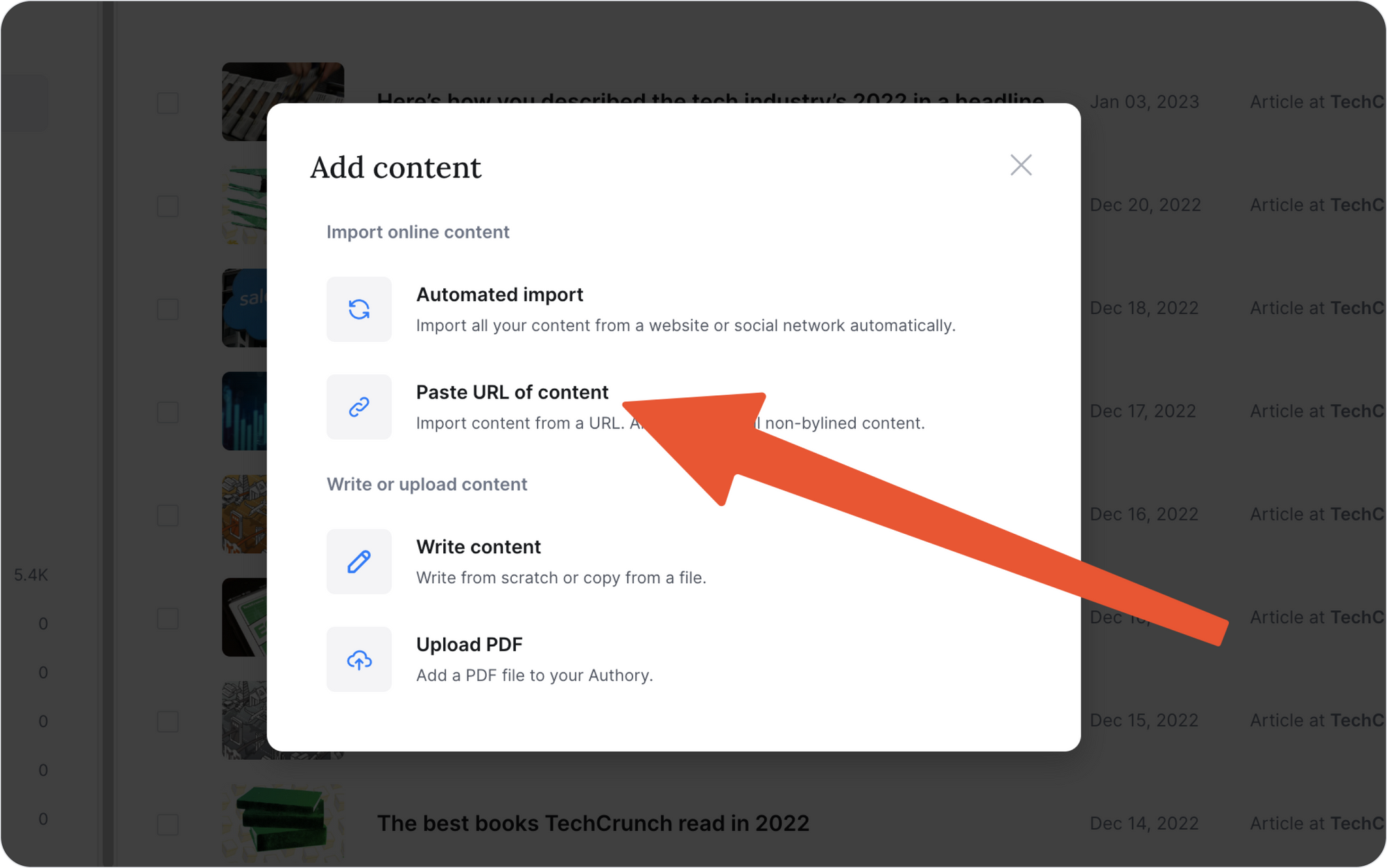 Next you'll see an input where you can paste the URL of the following content types:
Any article, e.g. https://www.nytimes.com/2023/04/05/sports/soccer/gerard-pique-barcelona-kings-league.html
Any podcast episode, e.g. https://podcasts.apple.com/us/podcast/272-escape-rooms-side-project-marketing-and-getting/id1206165808
Any YouTube video, e.g. https://www.youtube.com/watch?v=S_rJ5oP2XMI
Any LinkedIn post, e.g. https://www.linkedin.com/in/eric-hauch-612504184/
Any Tweet, e.g. https://twitter.com/julijagifford/status/1643526524954370048
Any Facebook post, (in development)
The respective content item will be added to your account automatically, no matter what the respective byline/author of the content is that you added.
In other words, this is great for all written content that doesn't carry your byline, or for the podcasts, videos and social media posts that are not coming form your own account and where you only want to add the single piece.
Paste the URL and click "Add". Next you'll see a confirmation that the content item has been added, and you'll also see to which collections the content item has been added automatically.

11. Paywalled content
It's increasingly likely that your content is behind a paywall or that it's gated in some other way. Luckily, Authory can import your content from all soft paywalls and most hard paywalls too. You don't need to pay special attention to this: If there is a paywall at a source that you add, Authory will automatically get your content, just as if there was no paywall.