Nothing opens our minds quite like travel, does it? However, not all of us are lucky enough to travel more than once or twice a year (if that) while juggling a 9-5, school/housework, kids/pets, and everything else in between.
But there are certain people who actually choose to live a life of travel. No, I am not talking about trust fund babies but about the travel blogger.
Giving up the secure desk job to pursue travel stories, writing them, and getting paid is not the life for everybody. But I won't be lying if I say quite a few of us secretly (or not-so-secretly) wish we could live that life.
If you're thinking of embarking on a "job" that takes you around the world, and you think you can write travel blogs that delight and educate every reader, this article is for you. To get started, have a look at these 10 travel blog writing examples. The individuals discussed in this blog post are living the life you want, and exploring their work is a good way to start your travel writing career before building your unique voice and brand.
📖
What you'll get out of this article:
• 10 incredible travel blog writing examples
• Why you should consider creating a travel writing portfolio along with your blog
• Why Authory is THE tool to help you create your travel writing portfolio

10 Amazing travel bloggers & their work (to inspire you to write your first blog)
Elizabeth Chorney-Booth
Elizabeth Chorney-Booth is a Canadian writer exploring food, drink, travel, medical writing, and general interest topics. She is the weekly restaurant columnist for the Calgary Herald, a regular columnist on CBC Radio, and a weekly contributor to Canada.com's travel section.

Her work has appeared in multiple publications like the Globe and Mail, Culinaire, Bold Travel, Savour, Leap, OnBoard, and more.
Gwendolyn Richards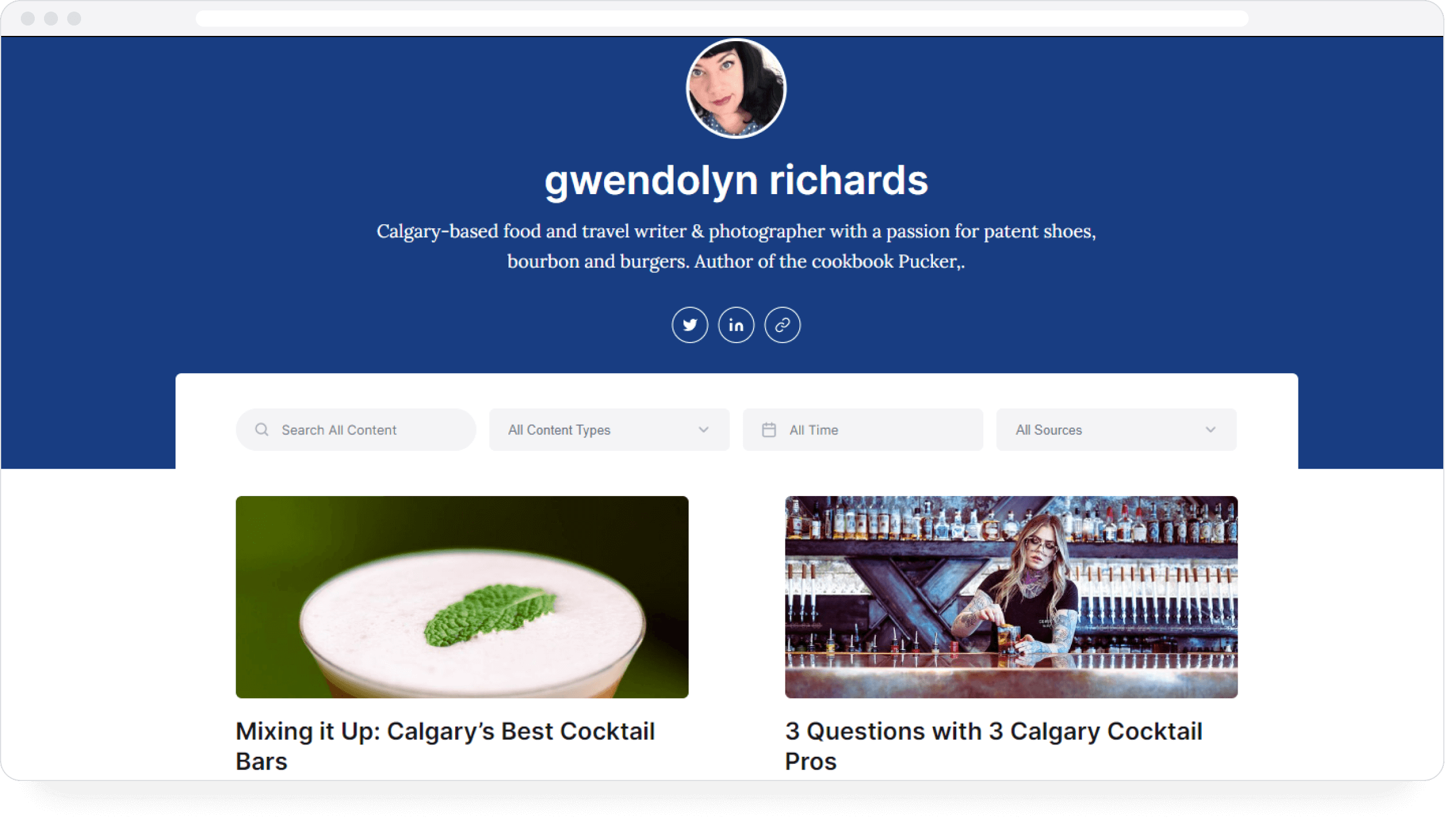 Gwendolyn Richards is a Calgary-based food and travel writer & photographer who loves patent shoes, bourbon, and burgers. She has also written and published a cookbook named Pucker. If you're looking to have travel adventures (of the stomach especially) in and around Calgary, her portfolio and blog are must-reads.
Jamie Carter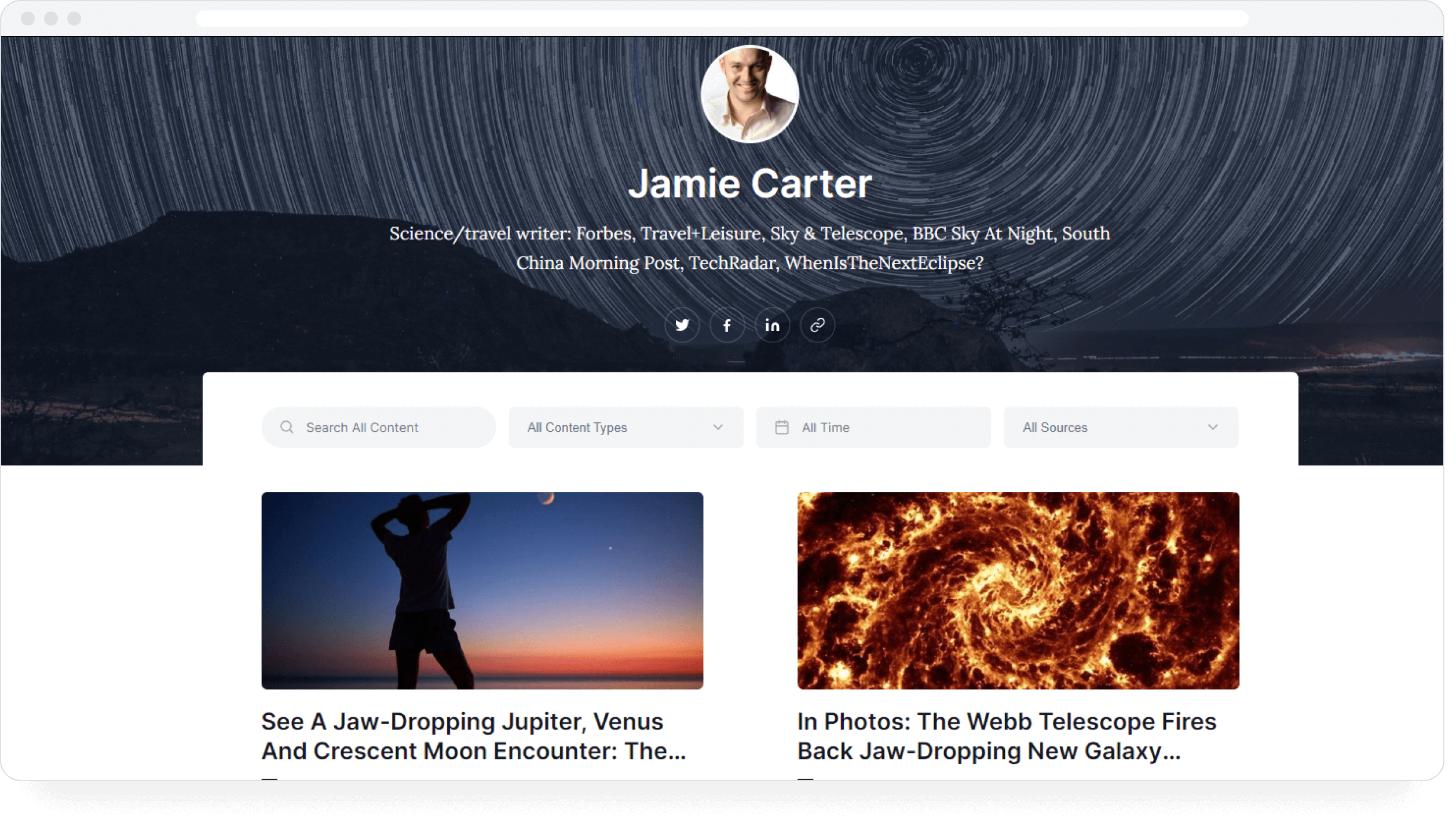 Jamie Carter combines travel blogging with writing about science, and his portfolio and blog showcase the coolest, most eclectic collection of articles and images you'll come across. His work has been published in Forbes, Travel+Leisure, Sky & Telescope, BBC Sky At Night, South China Morning Post, TechRadar, and WhenIsTheNextEclipse?
Jamie's blog: jamieacarter.com
Louise Goldsbury
Louise Goldsbury runs a famous travel blog that has won her the Best Travel Writer award at the National Travel Industry Awards twice. She has also been a 2022 finalist for the same. She writes as a freelance for The Australian, Escape, and Explore. She is also the Editor-at-large at Cruise & Travel magazine (Big Splash Media)
Louise's blog: louisegoldsbury.substack.com
Gina Rich
Gina Rich is an award-winning freelance writer exploring topics around parenting, health, travel, and the natural world. She's also quite a coffee enthusiast, as her own travel blog will showcase.
Gina's blog: lovehopeandcoffee.com
Vicki Reeve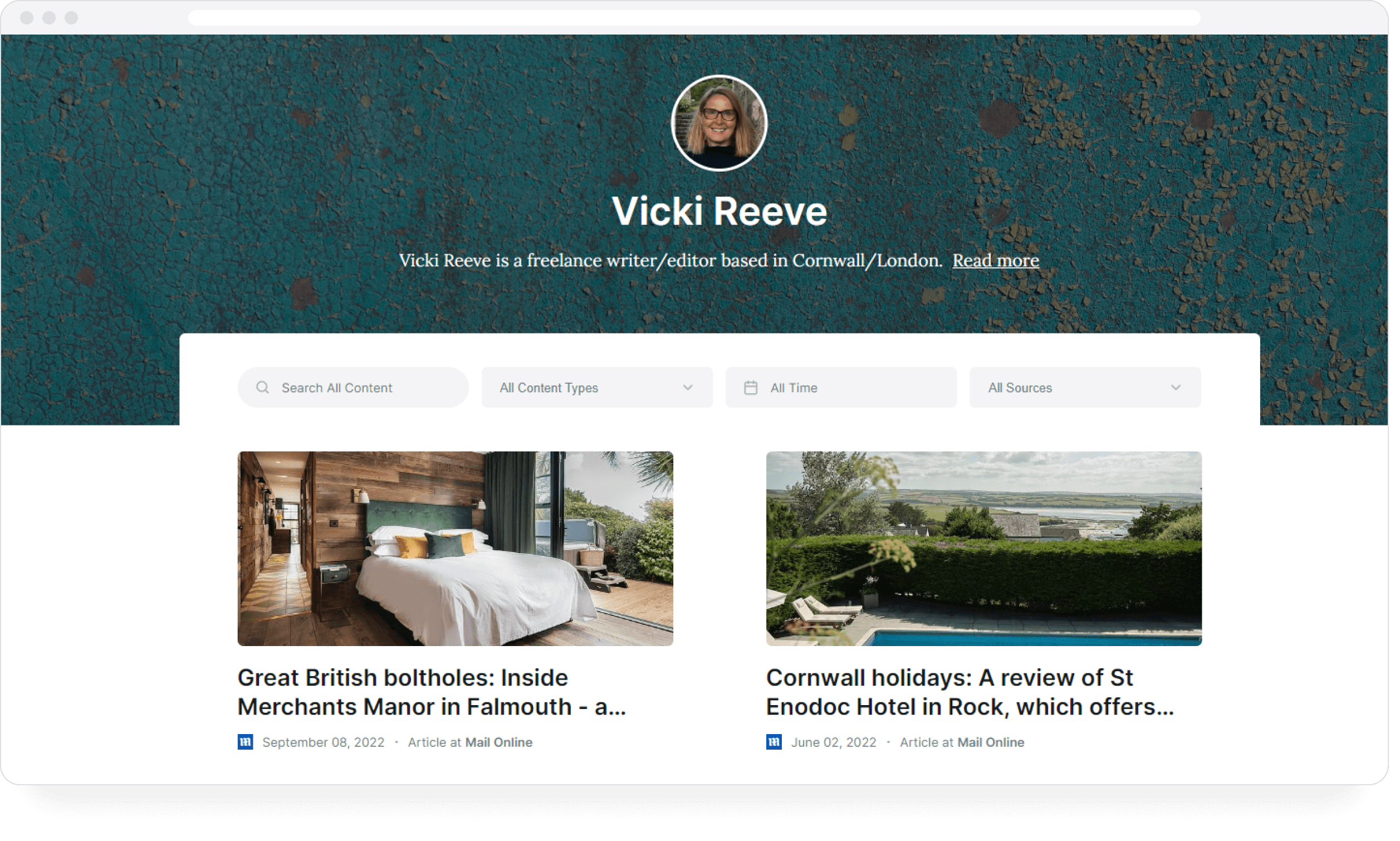 Vicki Reeve is a Cornwall/London-based freelance writer & editor who works on Departures International, Centurion, Compendium, and NetJets magazines, Vogue, Art Fund's Art Quarterly magazine, Elephant magazine, and Wylde (among others), and writes about Cornwall for the Mail on Sunday's travel section.
She is also a senior editor at Ultratravel magazine.
Salt in our Hair
Run by Hannah and Nick, two travel bloggers from the Netherlands, this award-winning blog has it all — travel stories, travel photography, travel tips, and even information for solo travelers.
By detailing their own travel adventures, Hannah and Nick provide helpful information and fun-laden itineraries for anyone looking to jet-set around the world.
This is a great travel blog example, encompassing everything from an adventure travel blog to laid-back travel ideas.
Hannah & Nick's blog: saltinourhair.com
The Blonde Abroad
Kiki has been traveling solo for years and collecting her experiences in her travel blog. She has visited over 70 countries and collates information specifically for solo female travelers. Of course, she also covers other categories like adventure travel, budget travel, couple travel, etc. But it's her tips for women traveling alone that really get her blog to stand out.
Kiki's blog: theblondeabroad.com
The Travel Book
Is it possible to travel while being environmentally conscious? The Travel Book says Yes!
It doesn't matter what your travel destination is, this blog will tell you how to have amazing trips without leaving too much of a negative impact on the ecology. This is a great resource if you're looking to travel internationally since those long plane rides are just the start of expanding our carbon footprint. Tips from Karoline and Rasmus (who run the blog) help you counteract that, without missing out on the most beautiful places on this planet.
Karoline and Rasmus' blog: thetravelbook.world
Be My Travel Muse
Much like Kiki, Kristin has also been traveling solo for over 9 years. Her tips about saving money and traveling safely without missing out on any adventures have led her blog to be one of the most popular ones in its niche. She attracts about five million readers per year, and I don't have to tell you how impressive that is.
Kristin's blog: bemytravelmuse.com
Now that you've seen some top-shelf travel blog writing examples, let's move on to a related question.
Are you planning to create a travel writing portfolio?
You've obviously noticed that the first few examples are portfolios rather than blogs. I included them on purpose because these portfolios actually provide a more comprehensive view of the writer's work at one glance than a blog would. In a blog, you'd have to click through different sections or scroll around to find actual articles.
In a portfolio, it's all right there on the front page. Moreover, if you're planning to write about travel for magazines, editorials, and other third-party publications, you need a portfolio. Clients usually don't have the patience to scan through your blog to find relevant articles. Additionally, if you're a professional writer of any kind, you're expected to have an updated portfolio that can be sent out in a second. Failure to meet this expectation immediately demotes you from their list of potential candidates.
Moreover, clients may not end up actually reading/viewing your best work if they are left to scroll by themselves. On the other hand, you can curate your portfolio so that your best work shows up first, and you get to your best professional foot forward.
Ok, so... how do I create a travel writing portfolio?
There are an overwhelming number of portfolio builders available today. You've probably already heard of some — Squarespace, WordPress, Clippings, etc. They're all excellent options, depending on your profession, requirement, and professional seniority.
Before creating my own writer portfolio, I went through quite a few of these tools before choosing Authory. I'm not saying you should choose it too (but you should if you're a writer), but just telling you why it stood out to me over the other, more established, name-brand portfolio makers.
Automatic importing of ALL your bylined content from ANY digital source you enter. You enter the source website, and Authory finds all your bylined pieces and imports them into its database. You can import from an unlimited number of sources. Moreover, Authory won't just import all existing content from each source, but all pieces published in the future as well. You never have to copy-paste/manually upload any of your bylined pieces to your portfolio ever again. You can, of course, manually upload, non-bylined content if you want.
All imported content is permanently backed up, in the ORIGINAL format (text/media) rather than screenshots.
All imported content is downloadable as high-res PDFs or exportable as HTML files. No lock-in period.
Multiple, low-effort customization options to make your portfolio visually appealing and easily navigable.
Email notifications every time a new article is imported by Authory.
In-built search engine optimization and responsive design so your portfolio looks good on mobile screens and shows up on search engine results.
In-built analytics that provides real numbers on content performance (engagement, readership) across the web and popular social media sites every 30 days.
Allows creation of newsletters with a couple of clicks. Post setup, Authory will automatically send your newly published content to subscribers.
Widgets to display your portfolio on other sites, such as your personal website (if you have one).
If you're someone who reads reviews before making a purchase, I've got you covered. Check out these testimonials from Authory users:
Jimmy Daly
Adel
Christina
Emma Wilkinson
Is it any wonder that Authory is chosen by 6X Emmy winner David Pogue, Steven Levy, Editor at Large, WIRED, Brian Fung, a Technology Reporter at CNN, and other industry stalwarts to create their portfolio?