Like every other domain, if you want to make it in the speaking industry (as an individual speaker or someone running a speaking business), you need a professional speaker portfolio. In this article, I'll take you through the essentials of creating such a portfolio. I'll also take you through Authory, and how it can be an ideal tool for creating a speaker portfolio.
📖
What you'll get out of this article:
• The must-have elements of your speaker portfolio
• 5 awesome speaker portfolio examples
• Why Authory is the best tool to create your speaker portfolio
Essential elements of your speaker portfolio
Name, Image, Contact information
Sounds obvious, but you wouldn't believe how many speaking portfolios or speaking services I've come across that don't put this basic information upfront. If potential clients have to scroll through your portfolio to find your email, most of them will simply bounce.
Include an image of yourself (or the speakers you represent). Knowing what you look like creates reliability; people like putting a face to a name.
Try adding a strong CTA... something like "Is Evan Jacobs the right motivational speaker for your team? Call 555-888-6642 to book a 1-on-1 session with Evan and find out!"
Put your best foot forward
What do you speak about? Who do you speak to? What value do you add to your listeners and spectators?
These are the most fundamental question professional speakers are expected to answer within their portfolio. Present a brief but information-rich bio that quickly, concisely, and accurately describes what you offer to events, organizations, and/or teams. Mention the domains you speak within, name-drop a couple of well-known clients if possible, and offer a booking link. Don't forget to mention accolades and awards you may be earned.
Put your money where your mouth is (literally & figuratively)
Nothing is a substitute for real-world proof. Showcase yourself in action. Provide video/audio of your speeches. They're meant to not just depict your public speaking capabilities, but also the depth of your expertise on the chosen topic.
If possible, attach a transcript to each. If you want to go the extra mile, you can even attach relevant secondary material for a few of your speeches. For example, if you speak on topics related to marketing and marketing tools, include a set of marketing materials relevant to one of your talks.
The idea is to provide an initial bout of value. This doesn't just let possible employers accurately gauge your skills, but also casts you in an immediate positive light. Not only do you have nothing to hide, you appear eager to genuinely help the people you work with.
Highlight the most popular topics & presentation
Statistically, which are the topics that get you the most listeners and are more requested by clients? Those should be highlighted somewhere on your portfolio. You can choose to put in on your bio, or you could just post video/audio content of speaking engagements where you explored these topics.
Show off those client testimonials
This is a no-brainer. Ask your clients to write a few lines about their experience of working with you. Their words hold more water than anything you might say. In particular, if you have a few big-name clients, their testimonials tend to grab more eyeballs.
The testimonials are also a great way to subtly indicate which clients you've worked with, or at least the most remarkable/memorable/recognizable ones. Again, this immediately builds trust. Event planners/meeting planners looking to offer speaking opportunities are much more likely to take you seriously when your clients are willing to vouch for you.
If you've worked with other speakers who are also well-known for their expertise, you can showcase their testimonials as well.
Examples of excellent speaker portfolios
Gary Boyle
Gary Boyle is an astronomy educator, guest speaker, and columnist for the Royal Astronomical Society of Canada. He is also an accredited STEM educator.
Laurie Reuttimann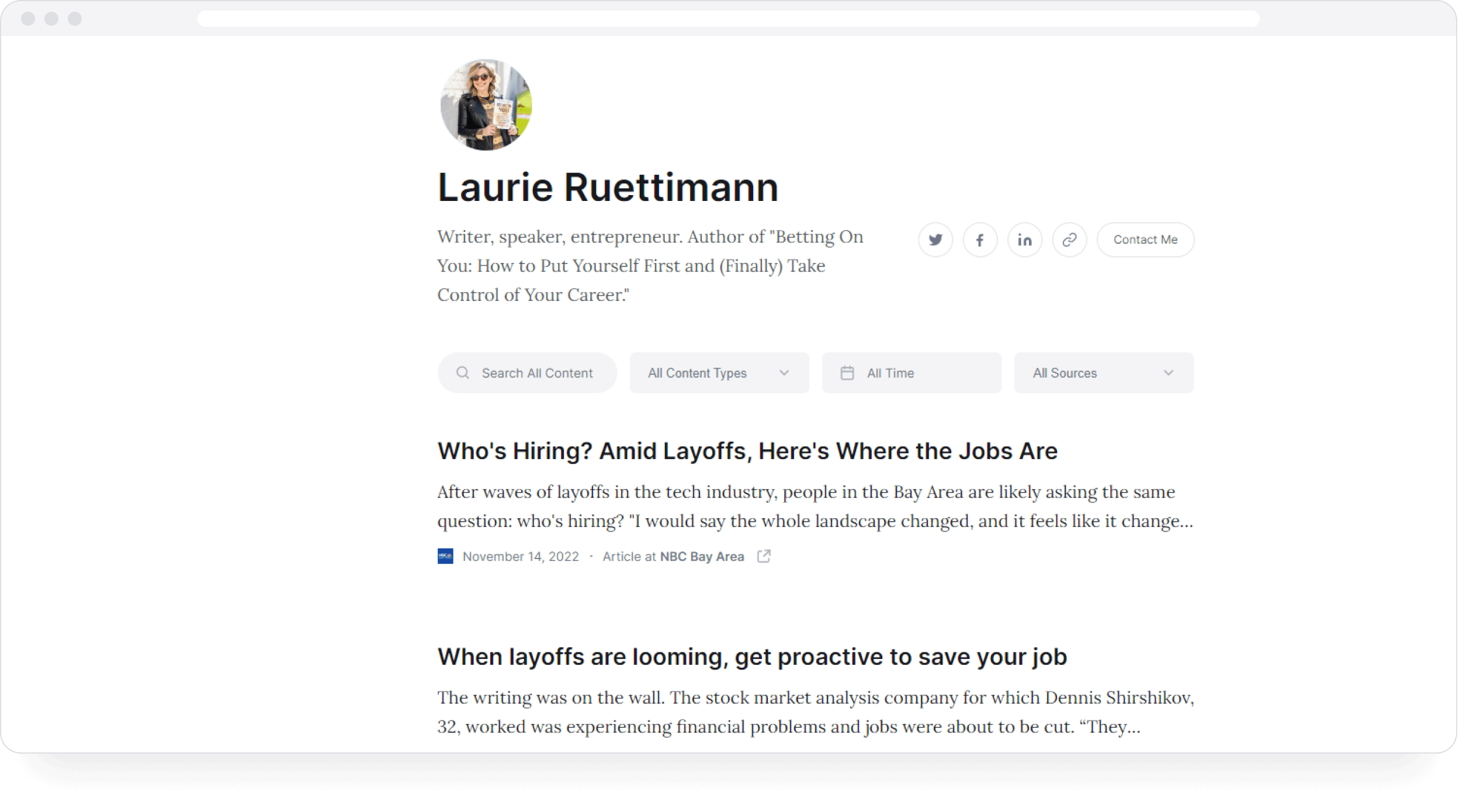 Laurie Ruettimann is a speaker, writer, HR, and entrepreneur.
---
🖱️
Authory is, amongst other things, a portfolio builder & content backup service, used by thousands of top professionals worldwide.
Get started for free now.
---
John Toomey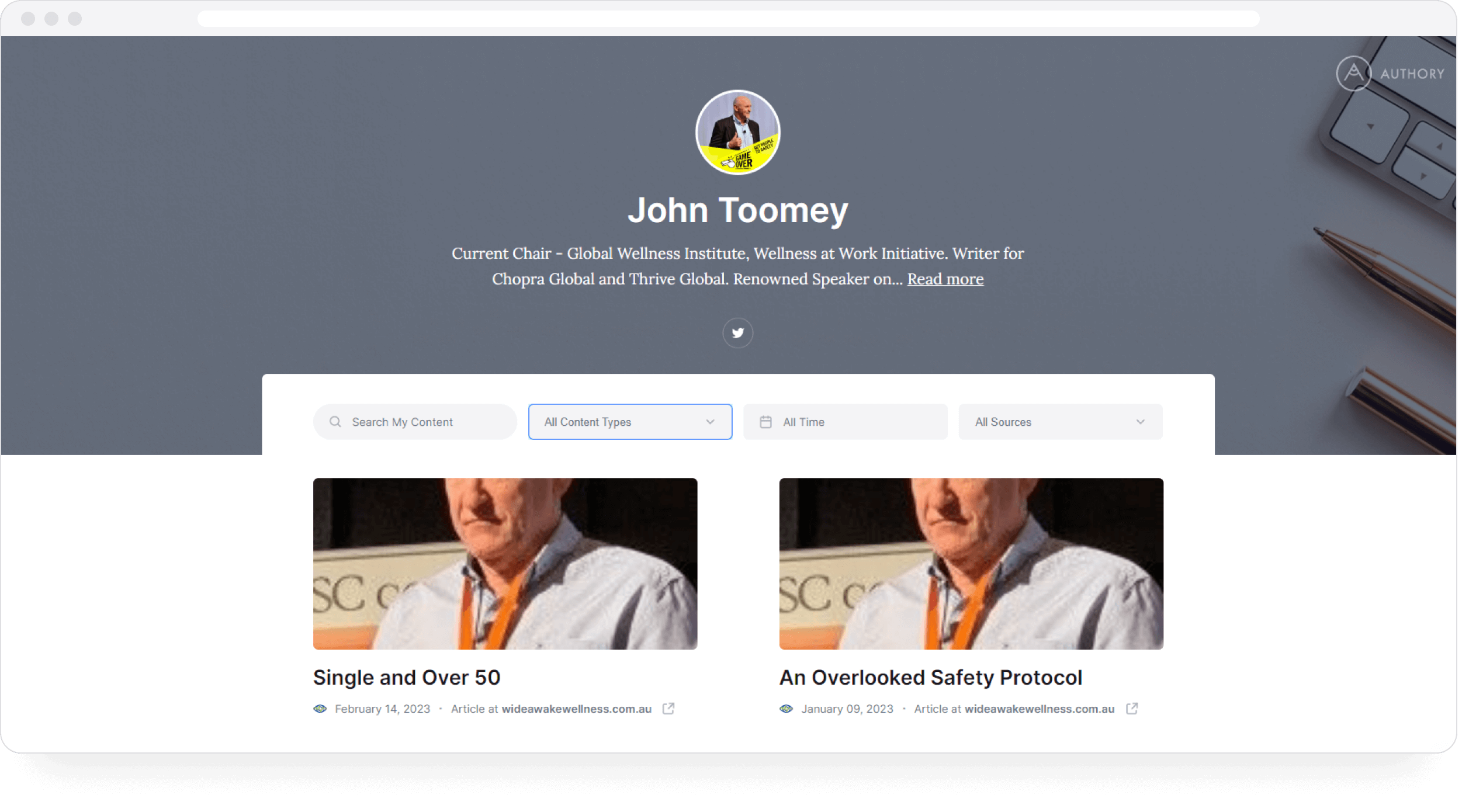 John Toomey is a renowned speaker on topics related to mental health.
Brittany Hodak
Brittany Hodak is an award-winning entrepreneur, author, and customer experience speaker who has worked with some of the world's best-known brands and organizations such as American Express and the United Nations.
Cassandra Worthy
Cassandra Worthy speaks about various methodologies, approaches, and tools to help organizations deal with drastic changes that lead to sustainable, real-world growth.
How Authory can help you create your speaker portfolio
In the simplest words, Authory creates your portfolio for you.
🗒️
Here's how it works: you enter the URL of the site(s) where your speeches/content is published into Authory. After that, give Authory 48 hours, and it will automatically import every piece of bylined content to its database from every source site that you've fed into the system.

Authory doesn't just import your existing content but continues to import all future publications on those source sites.
In other words, every time a bylined video/audio/text-based piece of content is published on these sites, Authory will automatically import it.
You never have to copy-paste/upload any of your bylined content to your portfolio ever again.
Once all your content is in one place, you can organize them into Collections, and add those collections to your portfolio. The whole process takes about three minutes (once your content is imported), and you end up with a professional portfolio guaranteed to meet any clients' standards, no matter how exacting they might be.
Additionally, ALL imported content is automatically backed up FOREVER. It doesn't matter if the original dies or becomes a redirect; you'll always have a copy of your work saved in Authory's database.
Of course, you can add non-bylined content manually, if you so require.
Get started for free, and you'll see exactly why it's the chosen tool for 6X Emmy winner David Pogue, Steven Levy, Editor at Large, WIRED, Brian Fung, a Technology Reporter at CNN, and other industry stalwarts like them.