Hi Stephen, thanks for agreeing to share your experience with Authory so far. Please tell us a little bit about your background as a journalist.
I started in magazines out of college, as an assistant; from there I moved to copy-editing at a newspaper. This was the 90s when papers were fat and always looking for copy, so I started freelancing reviews and interviews for them as well. Eventually, I became a staff critic and columnist. I've been covering movies now for about 30 years.
Name: Stephen Whitty
Authory page: authory.com/StephenWhitty
Number of articles: more than 1,000
Number of publications: 13
You have been using Authory for more than a year now. What did you look for initially when you signed up?
At that time I knew I was probably leaving a staff job after two decades; I had a loyal readership I wanted to be able to follow me. I joined Authory and in my farewell column, I mentioned the site; by now I have several hundred people following me.
And how has Authory worked for you? Have your expectations been fulfilled?
I've been very satisfied. With so many sites disappearing and taking their content with them, it's great to know there's a one-stop site where my work is archived. I've also been able to use my membership list to assemble names for email blasts, so I can keep people in touch with the other kinds of work I'm doing, like lectures and seminars.
With everything that goes into being a journalist, particularly a freelancer, who wouldn't want some of the chores handled for them?
I know that you changed jobs a few weeks after signing up for Authory. What did that mean for your audience of readers at that point? What did it mean with regard to the articles you had written?
I sort of knew this change was coming. Authory helped make the transition smoother and, again, provided constant and continued access to my work — for readers as well as potential new employers.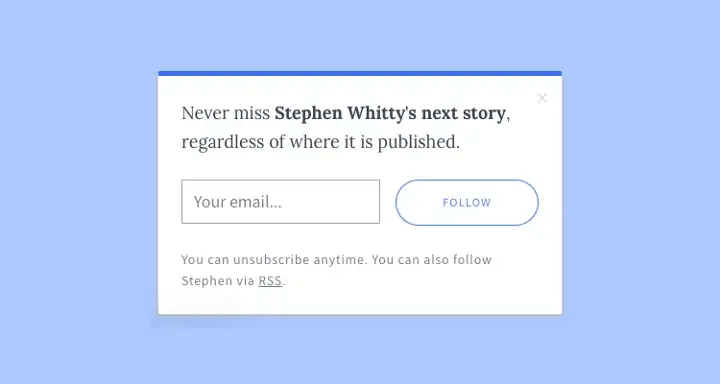 ---
---
What about Twitter and Facebook? Couldn't they do the job?
I continue to use both, and they're valuable for reaching a wide variety of people, outside of the fans who are already following me on Authory. But they're not easy to search and access, whereas on Authory once they're on my page, they can browse content easily. It's an easier and more pleasant experience for writer and reader — there are no ads and I don't have to worry about algorithms deciding what content gets displayed and to whom.
What's the feedback like from your readers since using Authory?
I haven't heard a single complaint, and every time I mention the service again I pick up a few more follows. It's great to have a simple answer to the question "Where can I read you?"
What would you say to journalists about Authory?
I'd recommend it. It's like having your own website (without having to run it) or your own email alerts (without having to compile them) — a simple way to collect and archive your work, wherever it appears, and then tell loyal readers where to find it. With everything else that goes into being a journalist, particularly a freelancer, who wouldn't want those two chores handled for them?
Thanks, Stephen!
Stephen and thousands of other journalists are using Authory to take control of their content and their audience. Join Stephen for free at authory.com