How long did it take for you to create your online work portfolio? For me, it took 3 minutes.
A lot has changed about the world, especially since Covid took over for a couple of years. However, what hasn't changed is the saying "time is money." I spent two months looking for a CMS to create my portfolio, and then realized that I had been wasting time I could have used to find new clients (more work, more money) or even catch up on my reading.
The truth is that unless you want a portfolio that looks like a Rembrandt-inspired palette (and some professionals really do need it), you don't have to spend time dragging and dropping website elements and filling in the text for every header, footer, and description field.
Instead, you can choose a dedicated portfolio-building tool right from the start. There are multiple options out there, and they let you create a future-ready, professional portfolio without a CMS.
In this article, I'll show you how to create a portfolio that looks great and works exceptionally well, right out of the box.
📖
What you'll get out of this article:
• How to create a portfolio almost instantly with every feature you want (with Authory)
• How to customize your Authory portfolio
• Authory features you should care about when building a portfolio — automatic content importing AND automatic backup of all your content
How to create a portfolio that looks (and works great) out of the box
🗣️
Note: In this article, I'll showcase how to build a portfolio using Authory. However, there are multiple other portfolio builders out there, ones that will also let you create a portfolio quickly. Some of the well-known tools are Journo Portfolio, Clippings, Writerfolio, and Writer's Residence.
I'll discuss Authory's main features in more detail later in the article, but for now, let's start with a quick glimpse into the tool.
Authory is a dedicated portfolio-building platform, which allows users to create a professional, future-forward work portfolio in a few minutes. The main perk of using Authory is it's content importing feature — the tool automatically finds and imports ALL your published, bylined work from the internet. All you have to do is enter the URL of every website where your work exists (with a byline), and Authory will extract a copy of every single piece (text, audio, video, social media posts) authored/created by you.
With regard to the actual process of creating a portfolio, follow the steps below:
🗣️
Note: I'll be using my own Authory account and portfolio to demonstrate the signup and portfolio setup process on Authory.
Sign up for Authory (for FREE) using this link.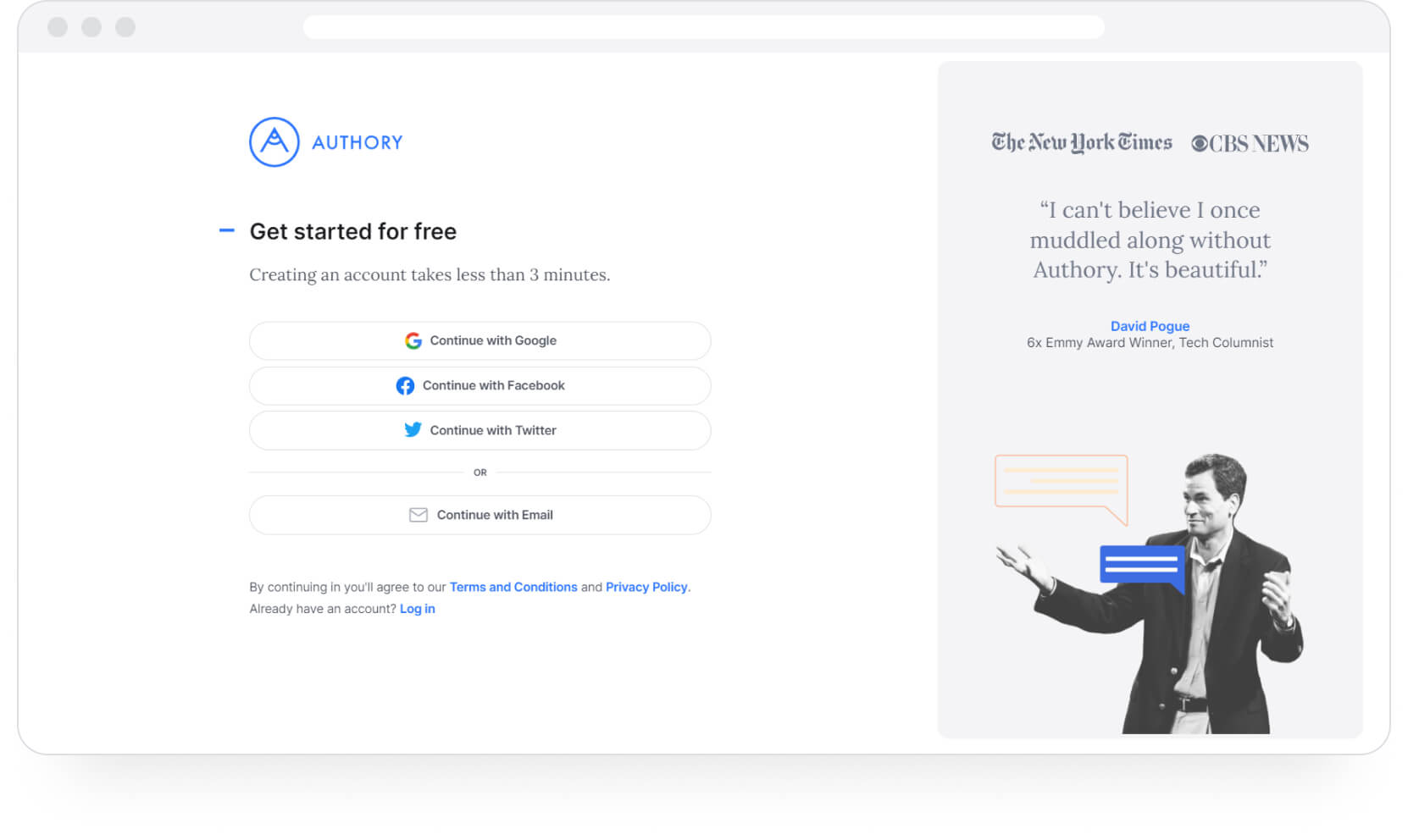 Once I choose "Continue with Google" and enter my email ID, the tool automatically fills in the fields for my name (taken from my email data).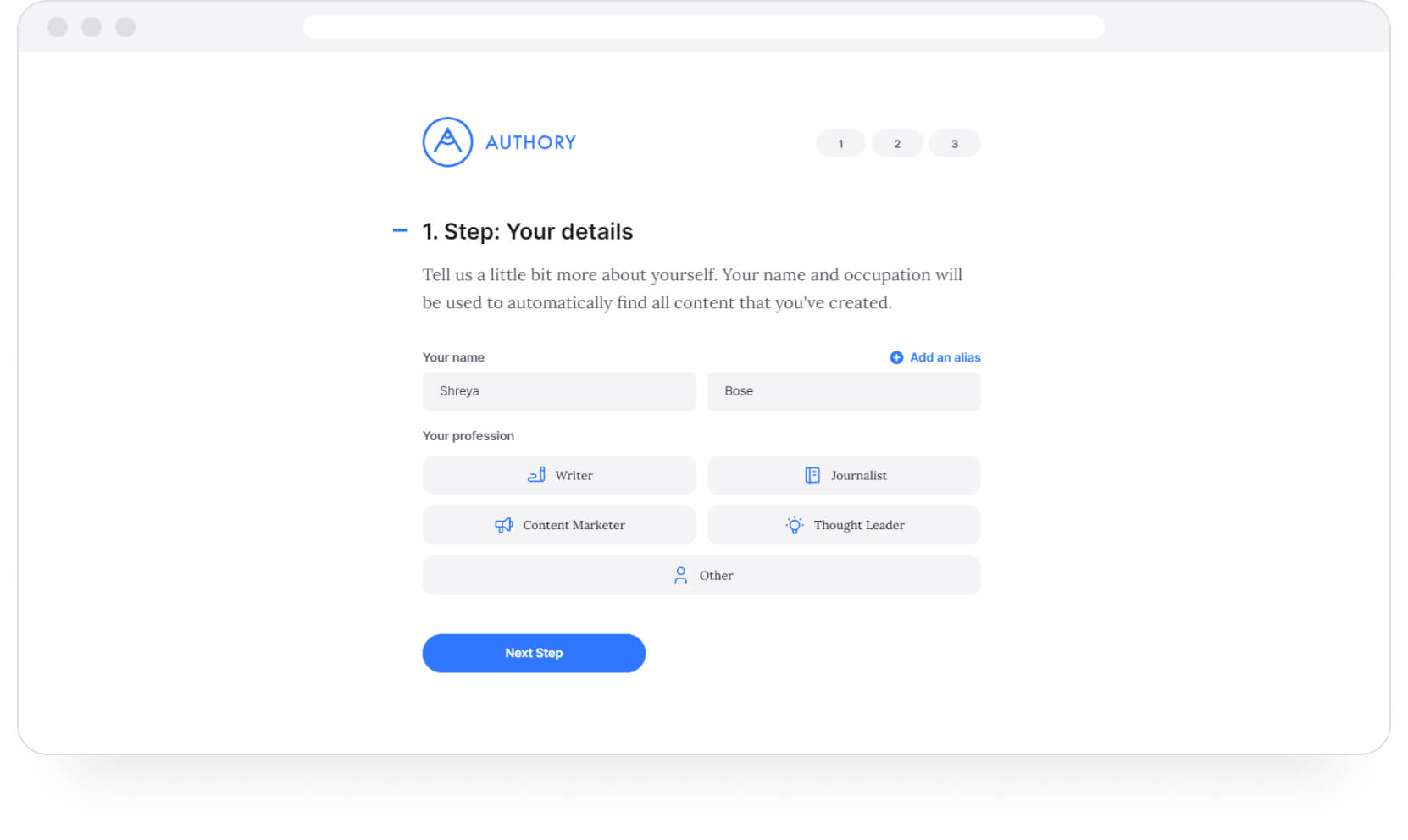 I chose my profession as "Writer" and then clicked "Next Step."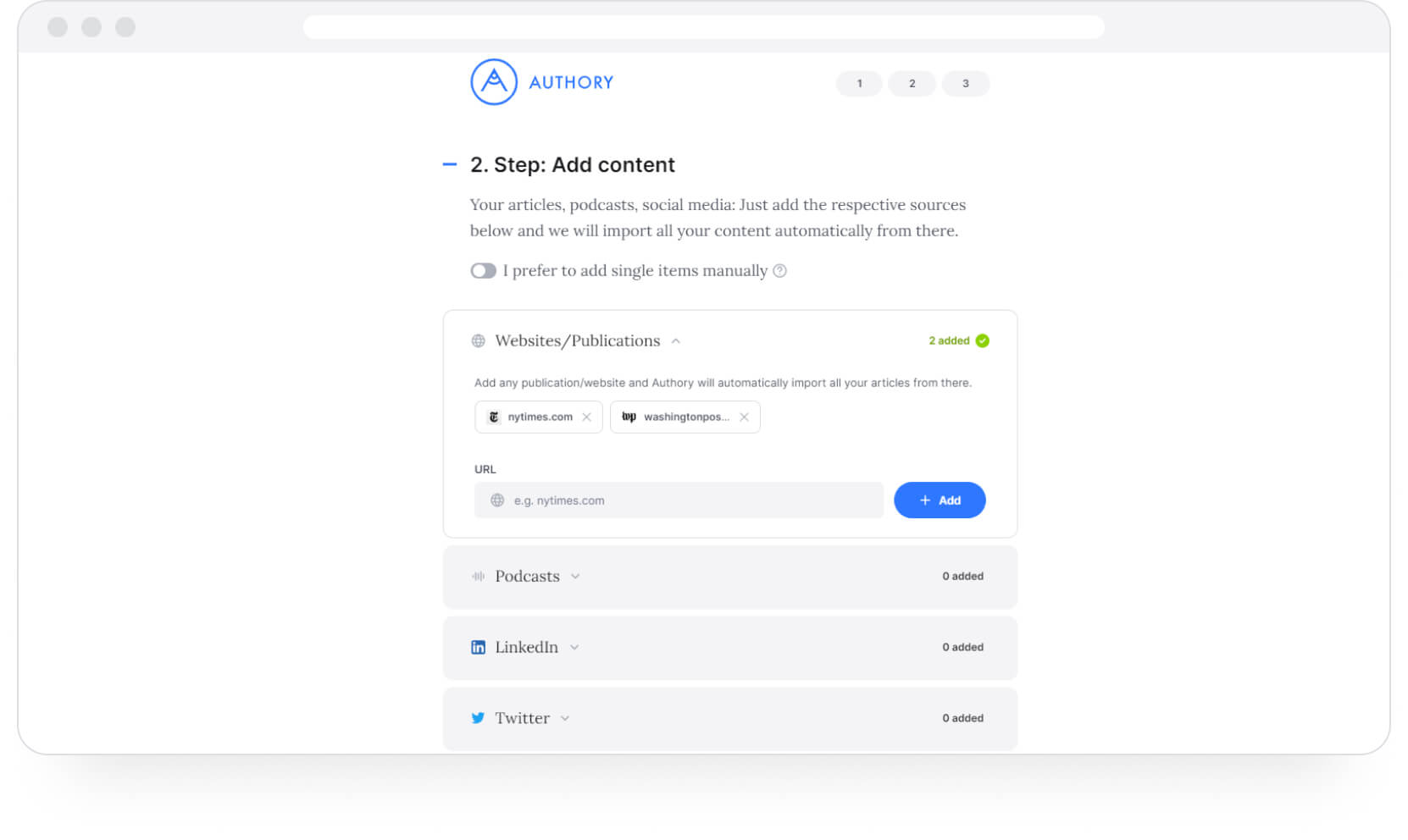 Authory Sign-Up Flow — Step 3
In the next screen, I see that Authory has already automatically found the "sources" — websites where my bylined articles are published (nytimes.com & washingtonpost.com, for example). Of course, if it has missed a source, I can add it manually (just the site URL), OR I can choose to add all my sources manually.
⏲️
Authory will take about 48 hours (often less) to import every bylined article to its database. Once the process is complete, you can segment your articles/videos/podcasts/audio files/social media posts into relevant "Collections" — think of them as folders within your Authory database.
Creating a Collection on Authory
Once all your work has been imported by Authory, go to the "Collections" tab on your Authory dashboard.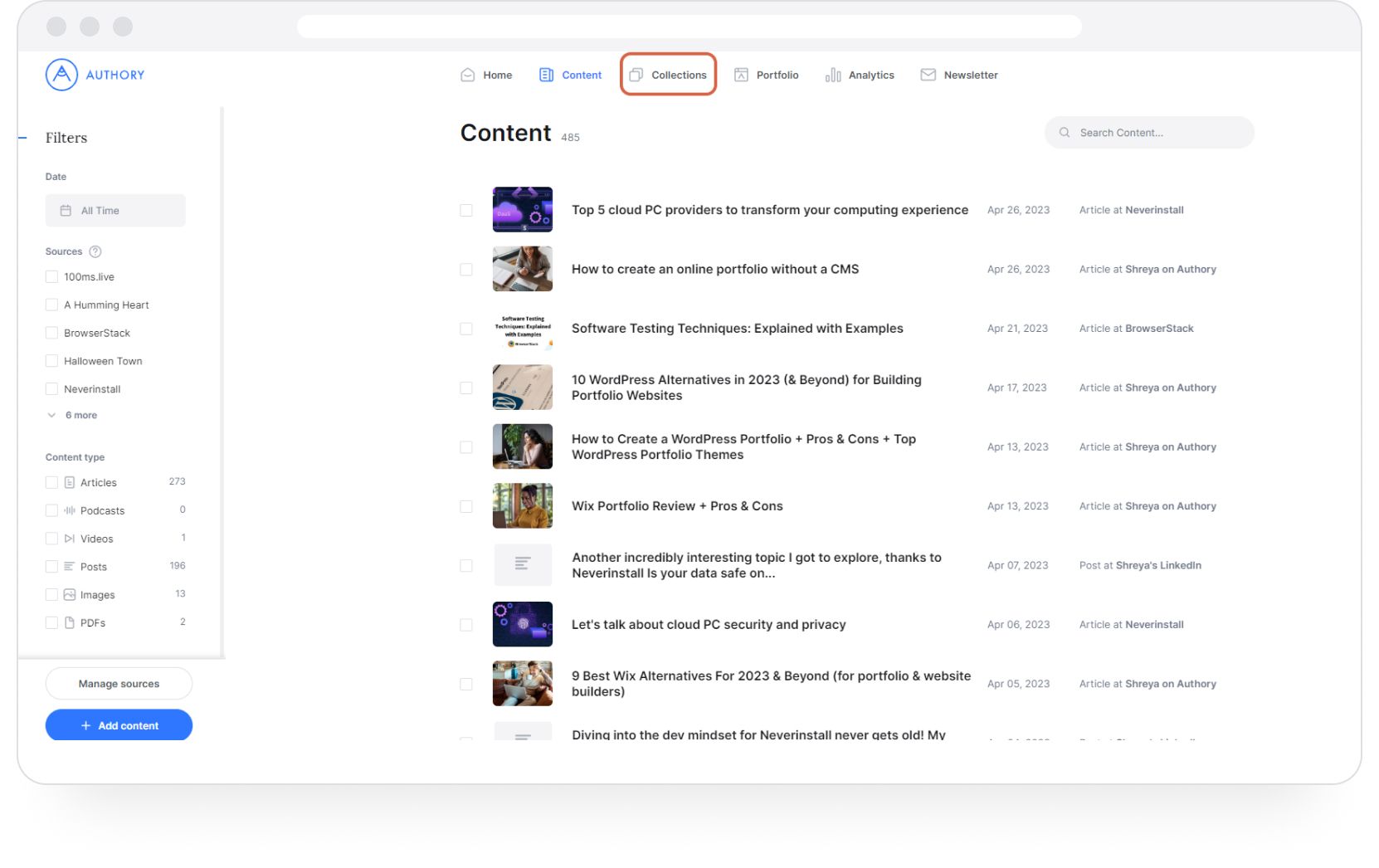 Click "+Create Collection." You'll see that I already have a set of Collections in the mix.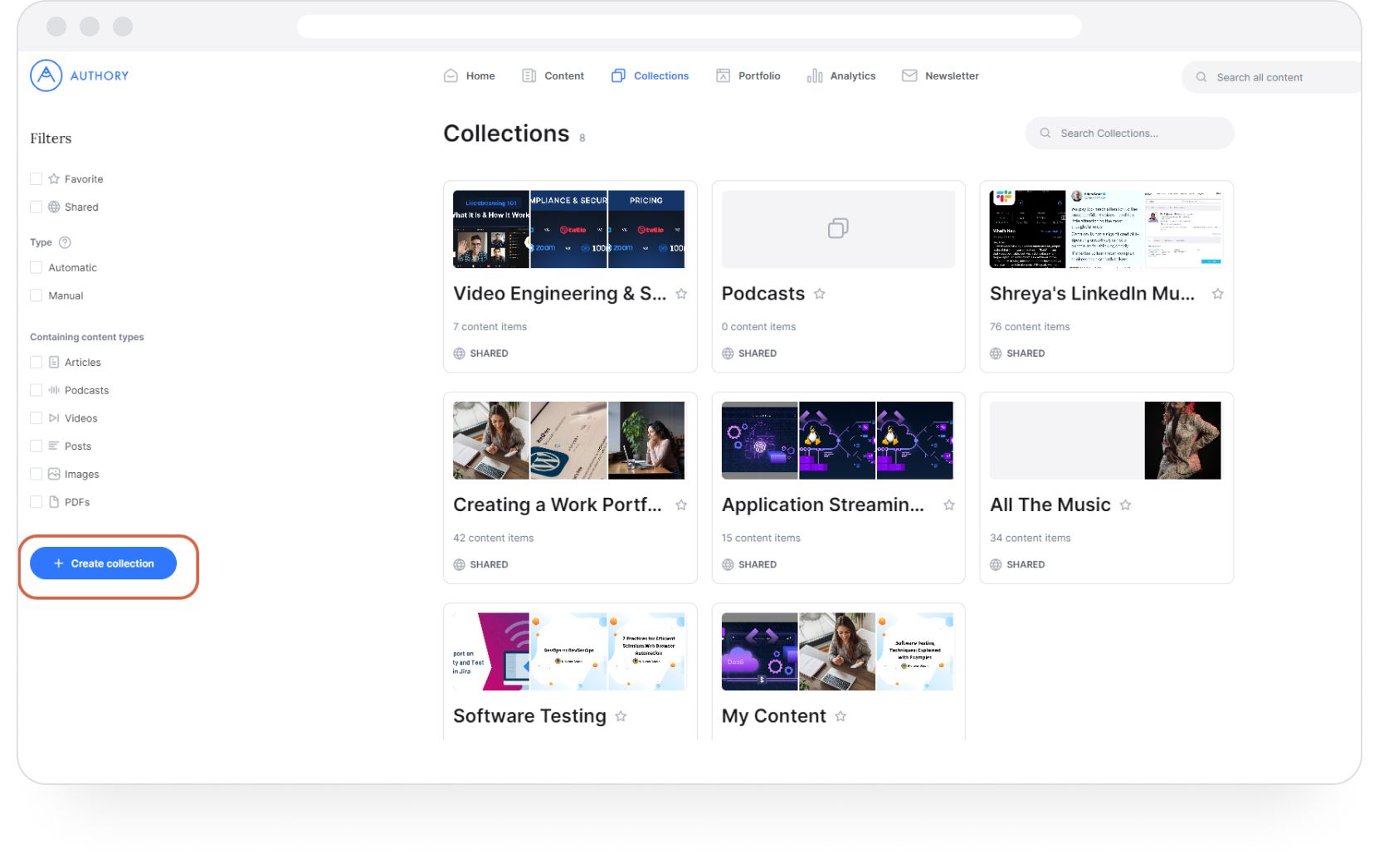 Add a name and description to your new Collection. Click "Add."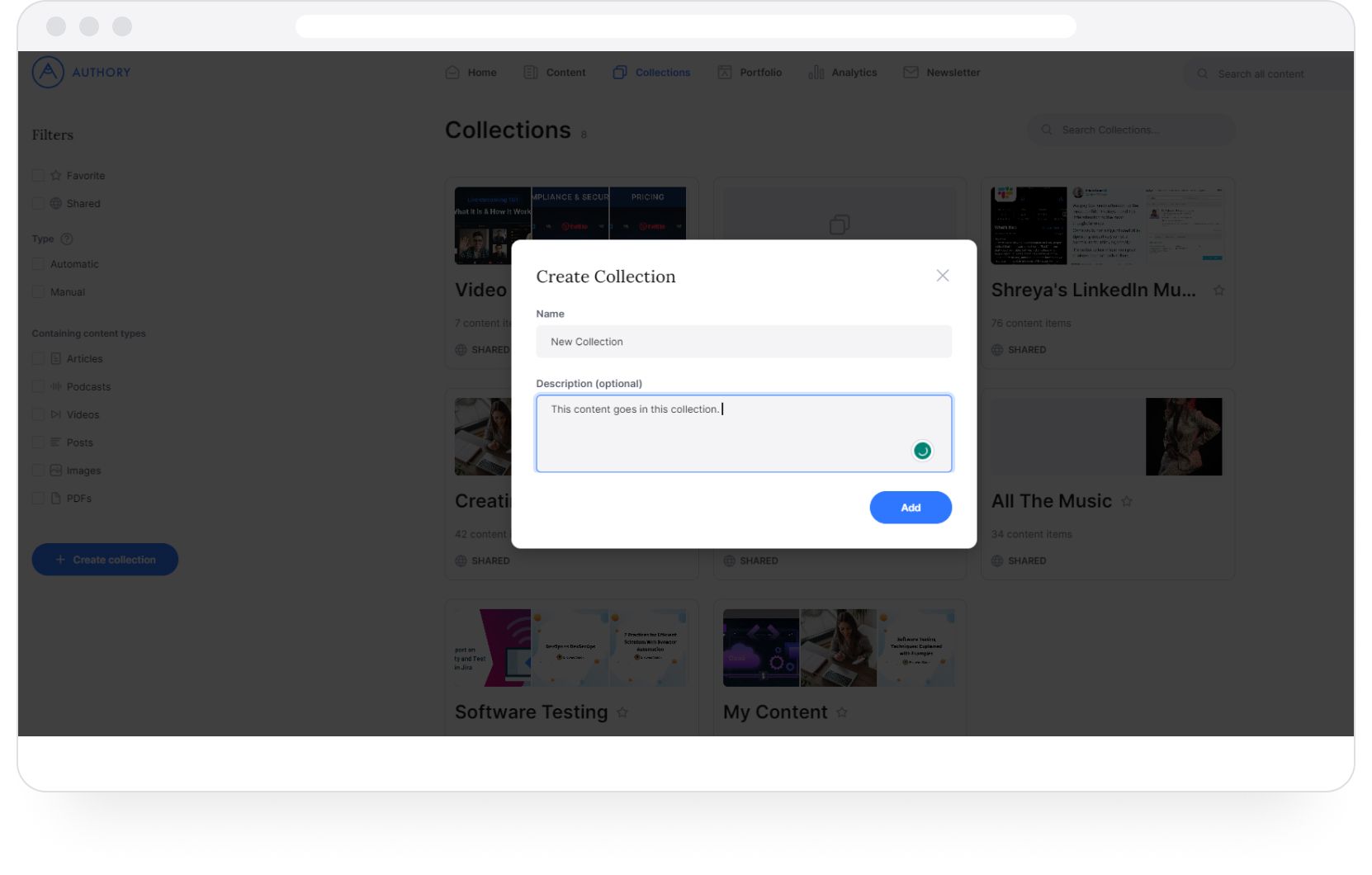 You'll be taken inside your new Collection. Click "Go to Content" next to the "Manually" option.
🗒️
Note: You can automate content importing to your new Collection. You just have to click on "Set Rules" next to the "Automatically" option. A pop-up will emerge, in which you can specify keywords, sources (the target sites with your work), and content types (audio/video/text). Once rules are in place, all bylined content matching those rules will be automatically added to this Collection.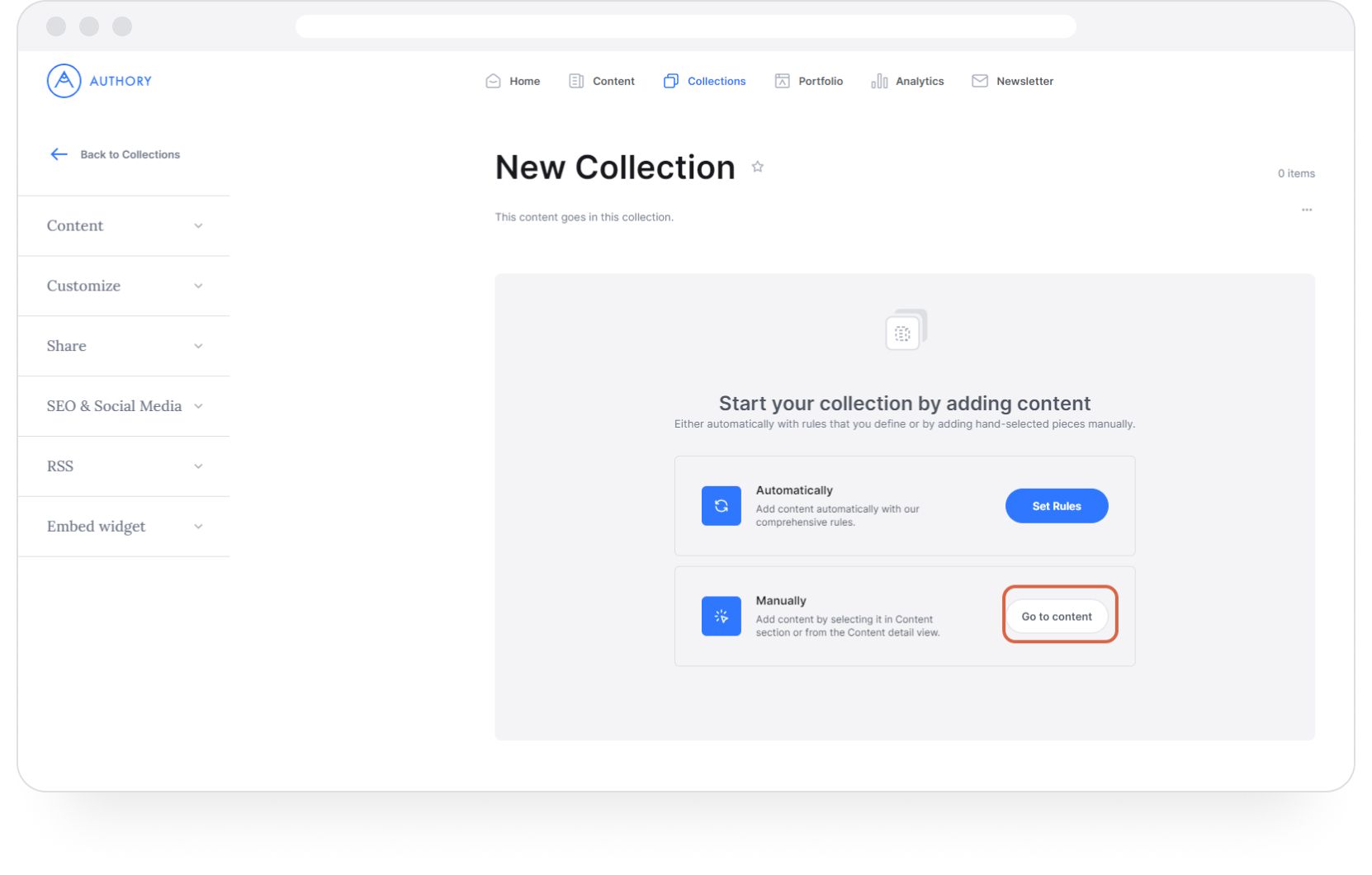 Once you click "Go to Content," you'll be taken back to your main content dashboard. Since Authory has already imported your pieces, you can select the ones you want to slot into this particular Collection.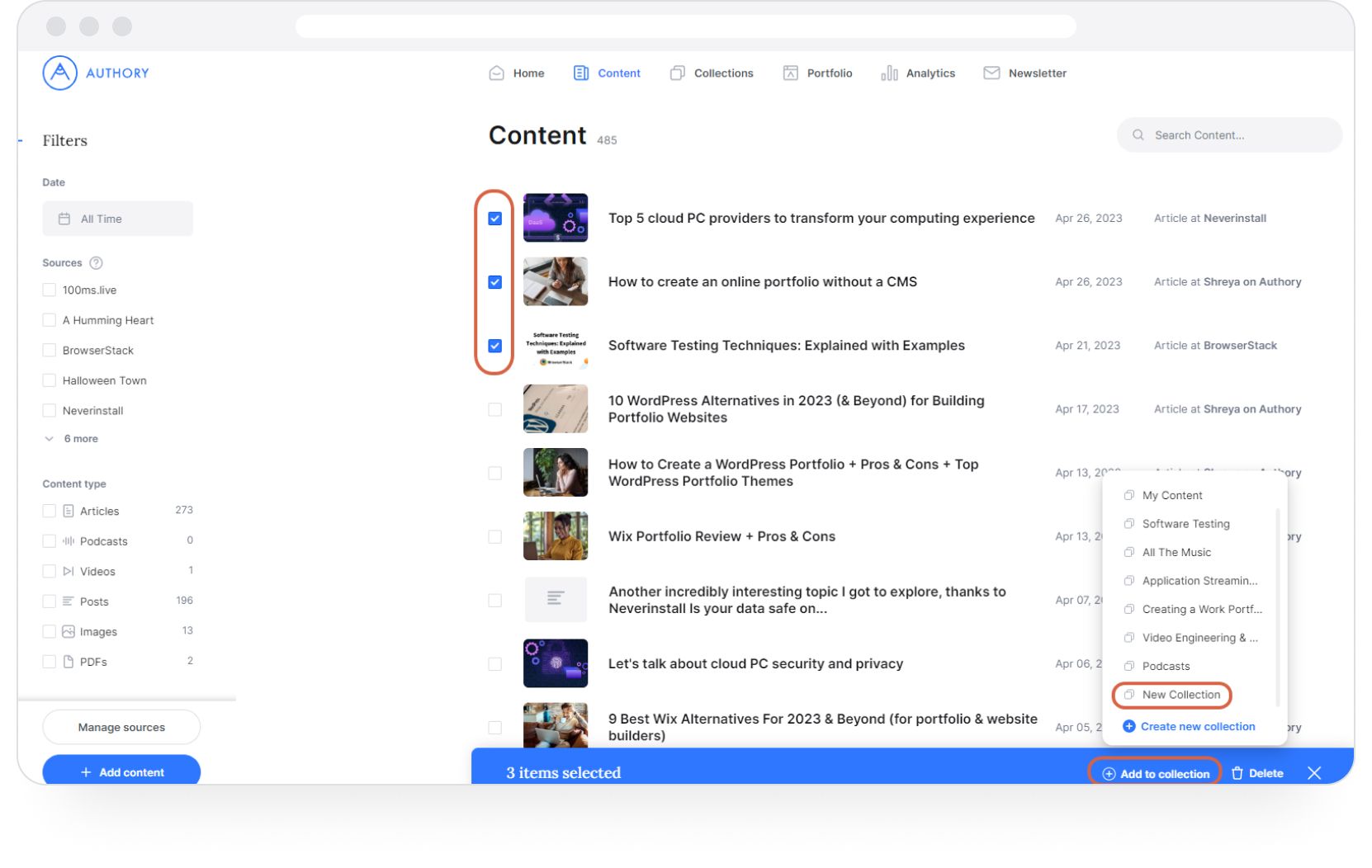 Select the relevant files (articles in my case), click "+Add to collection" to the bottom right (highlighted above), find the name of the Collection you created, and click on it.
Go back to the "Collection" tab you clicked before on the dashboard. You'll see your new Collection.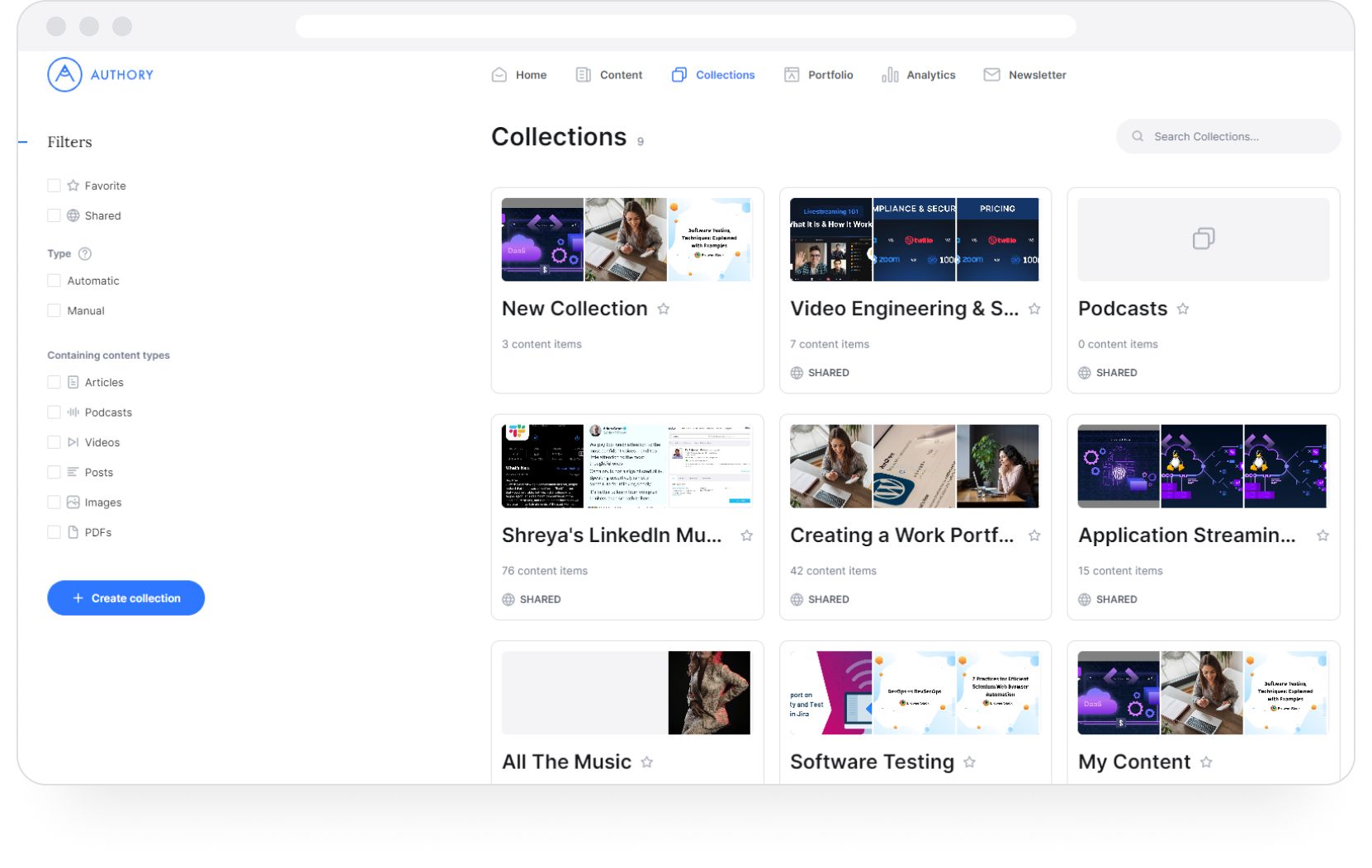 Adding your Collection to your Authory portfolio
Now that you're done creating a Collection(s), it's time to add it to your portfolio. Go to the "Portfolio" option on your dashboard.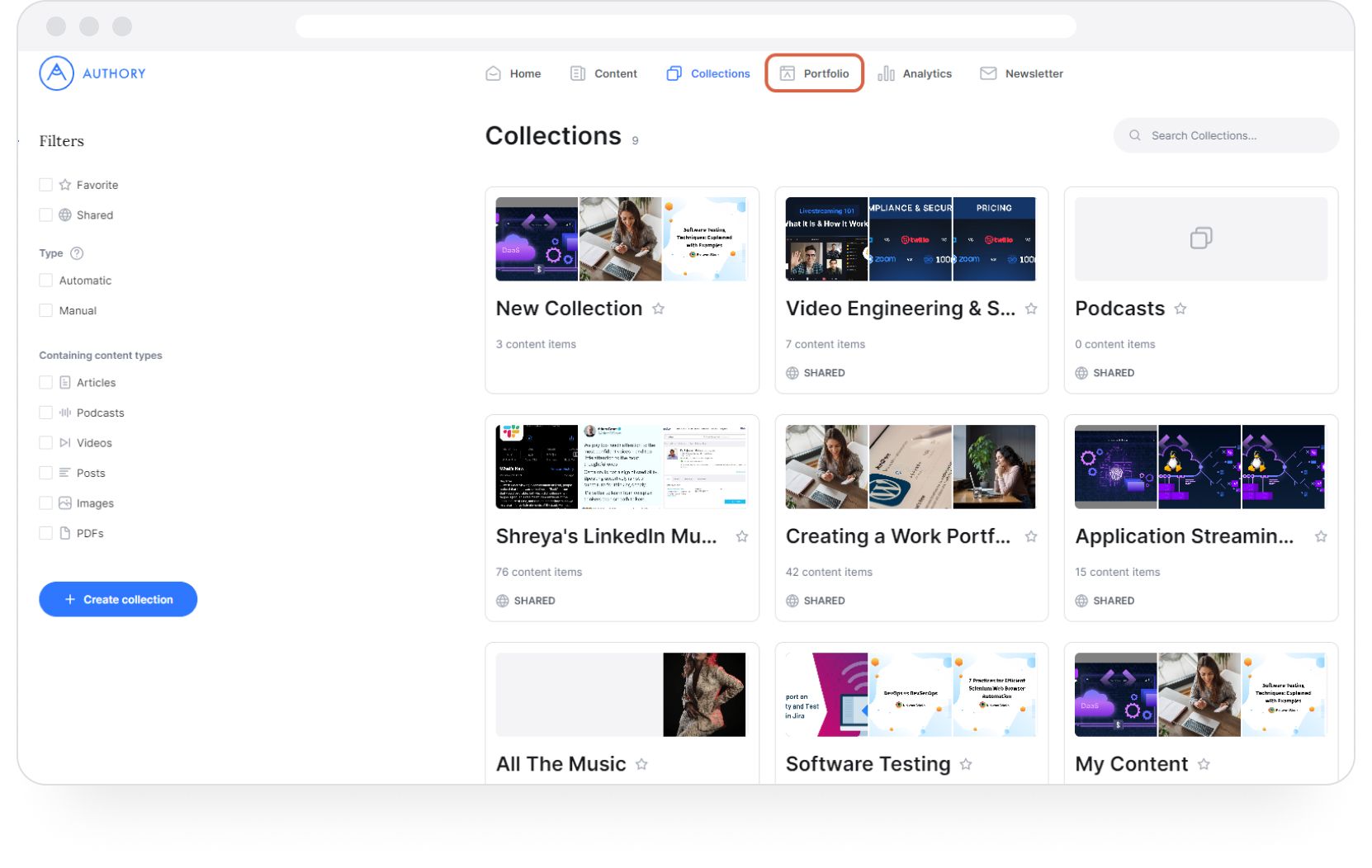 Click the "Content" drop-down to the left. Click "Add collection."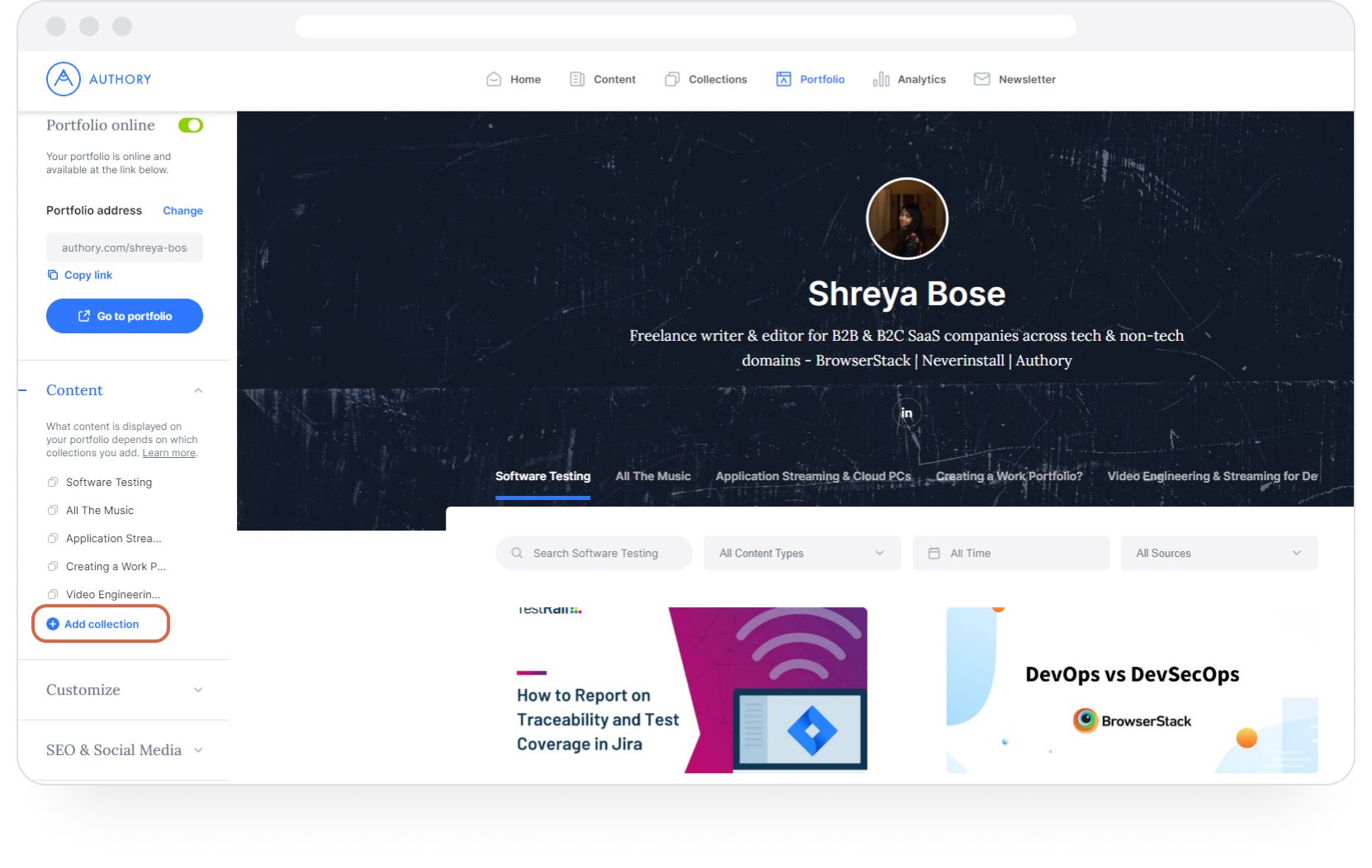 Choose the Collection you just created — "New Collection," in my case.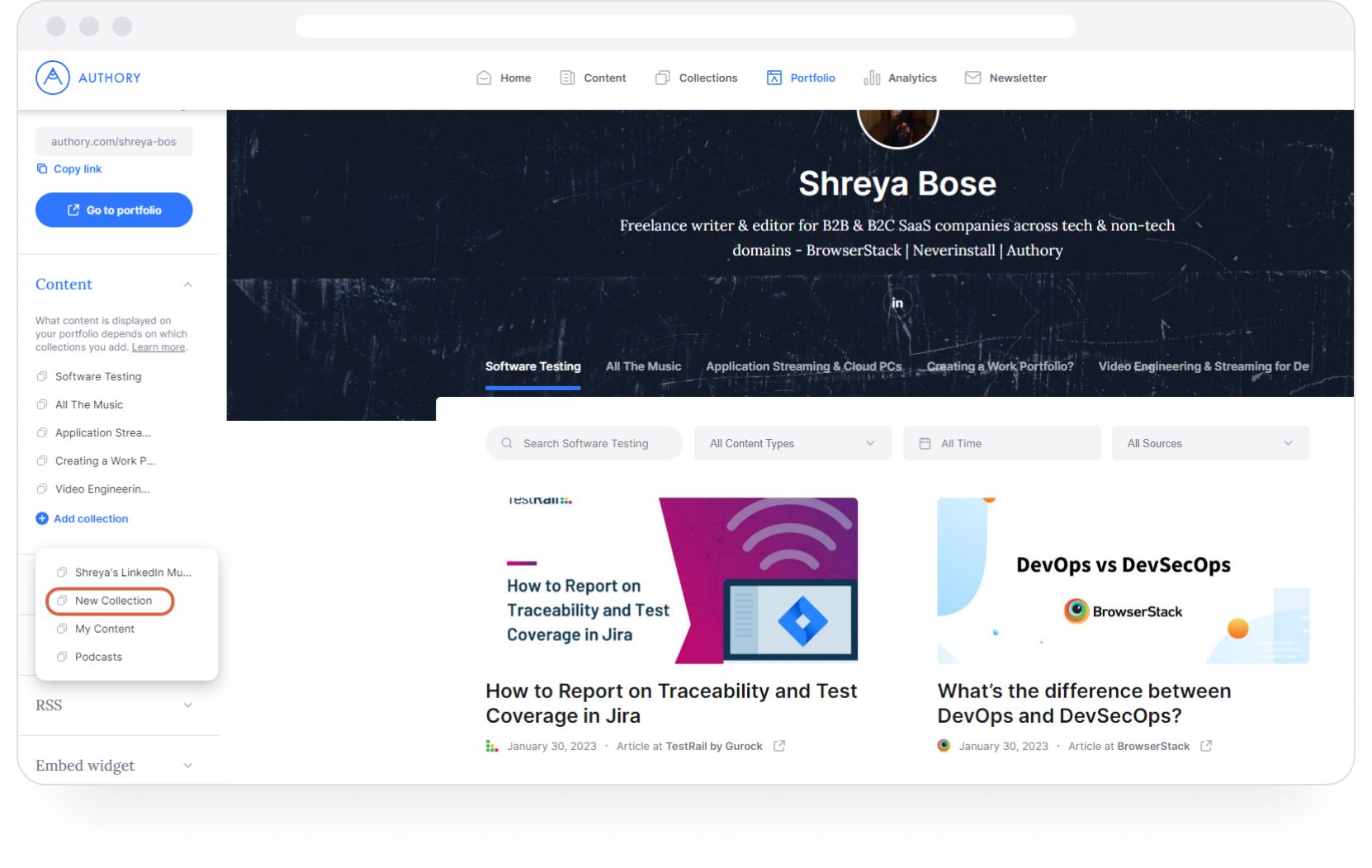 And voila! Your new collection has been added to your portfolio.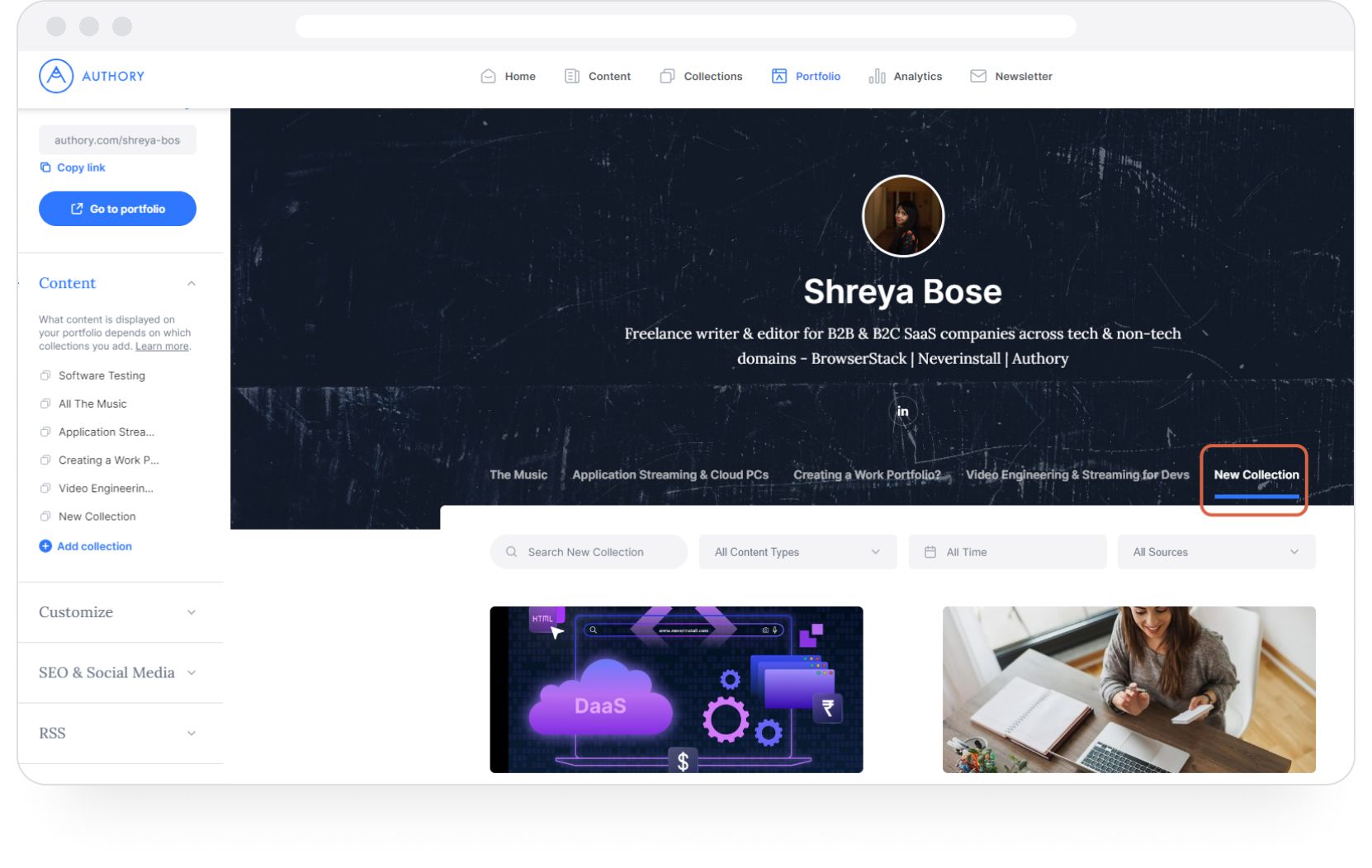 To check the final product, click "Go to portfolio" on the left.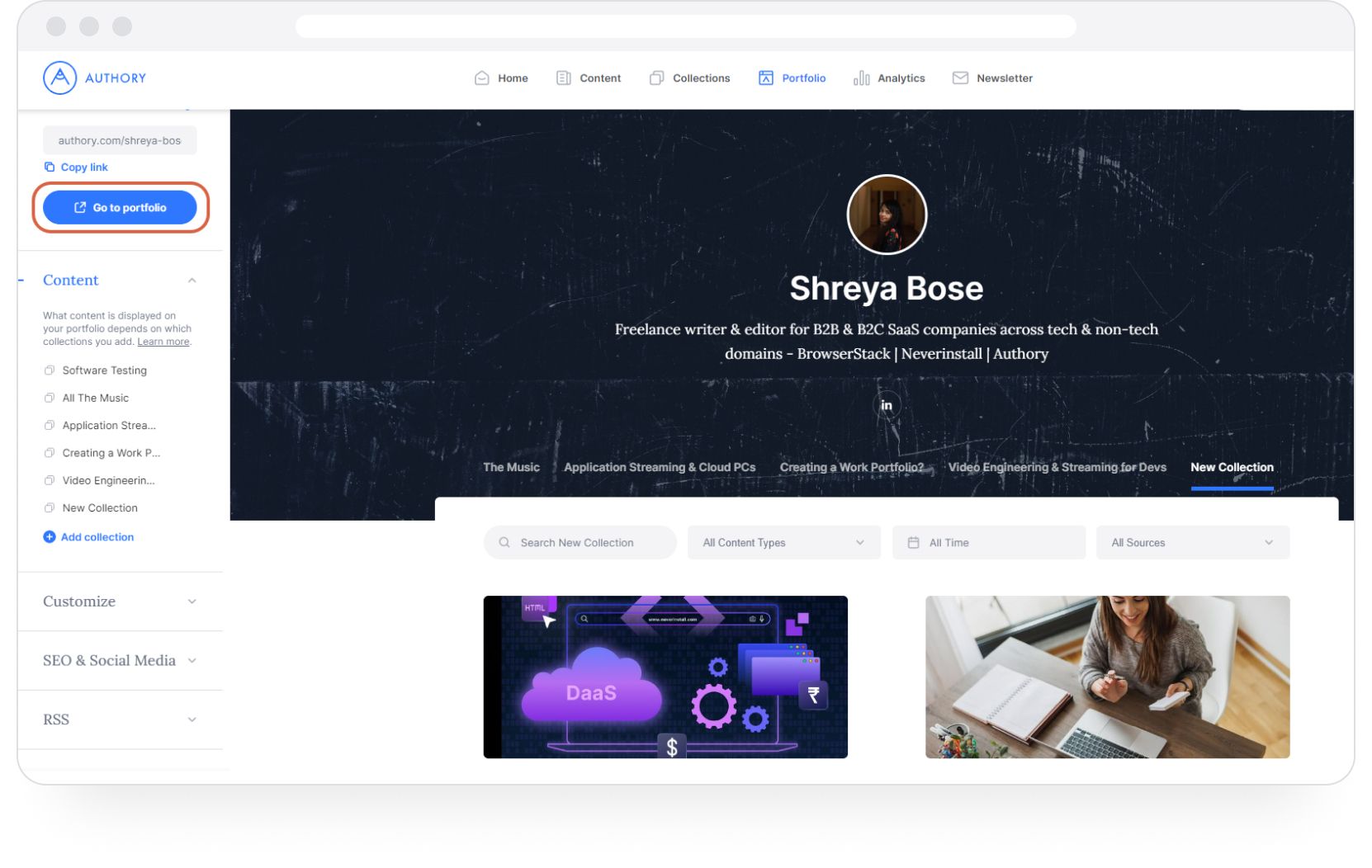 You'll be taken to your portfolio in a separate window. This is what clients will see when you send them your Authory portfolio.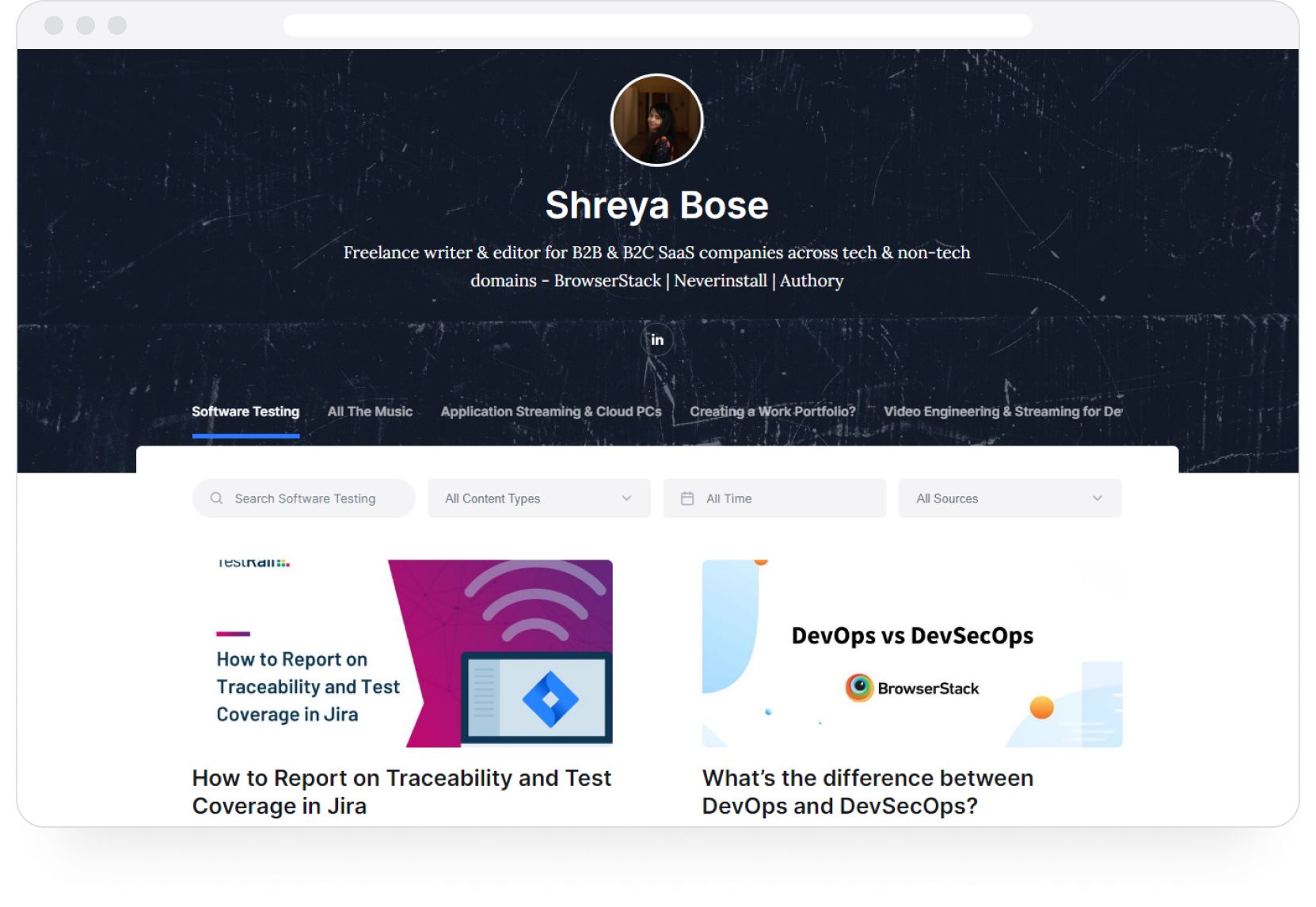 If you'd like to explore this example portfolio, feel free to do so: https://authory.com/shreya-bose

Customizing your Authory portfolio
Alright, you have your great-looking portfolio in one piece, out of the box. No coding, no moving around site elements/segments, and no filling in headers, footers, and description fields on a website. All you've had to do is enter your name, professional, sources, contact details, and social media links. Already, you have a perfectly usable and impeccably designed portfolio by default.
But that doesn't mean you shouldn't have the freedom to customize your portfolio, or at least, view a few visual alternatives for it. Authory hits the exact sweet spot between complete customizability (like Squarespace or Carbonmade) and zero changeability (like Muck Rack). You don't have to spend hours upon hours figuring out the alignment for your footer text, but you can still do a fair bit with your portfolio's appearance.
For example, you can:
Add/Edit your name and bio
Click on the "Customize" option that you'll find when you click the "Portfolio" option on your Authory dashboard (shown above).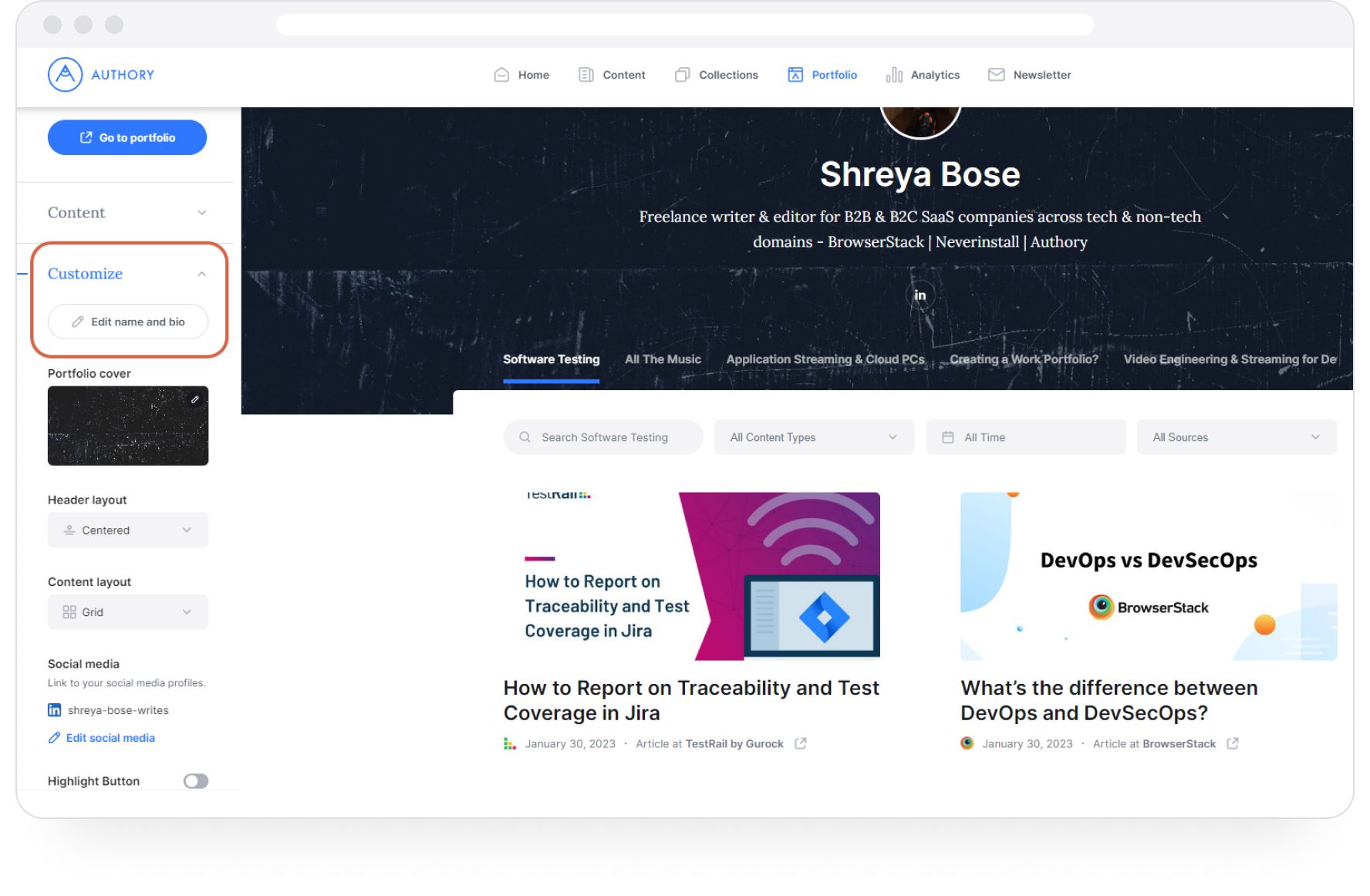 Change/renew/delete your information as you see fit.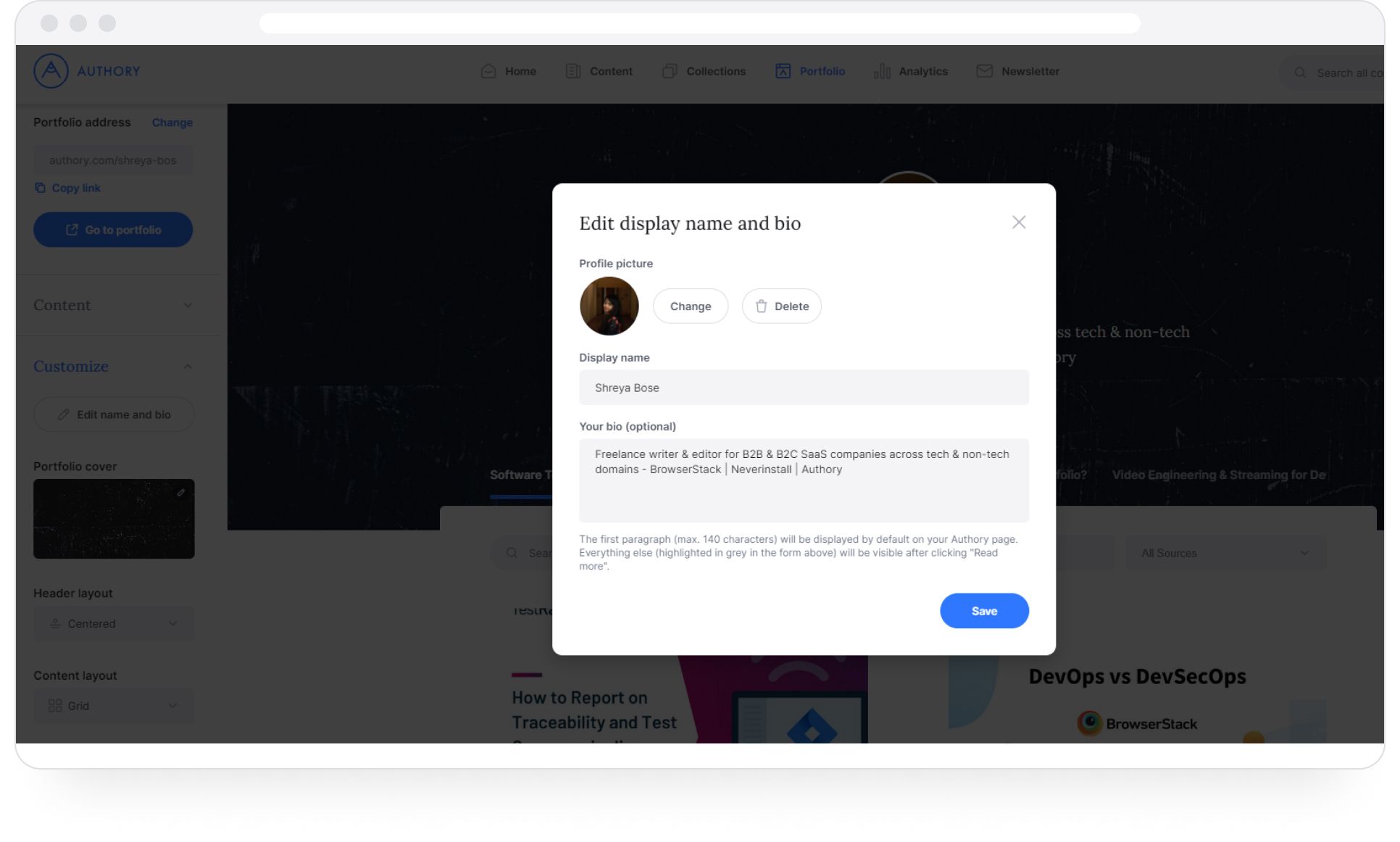 Change your portfolio cover/banner
Click "Portfolio cover" to the left.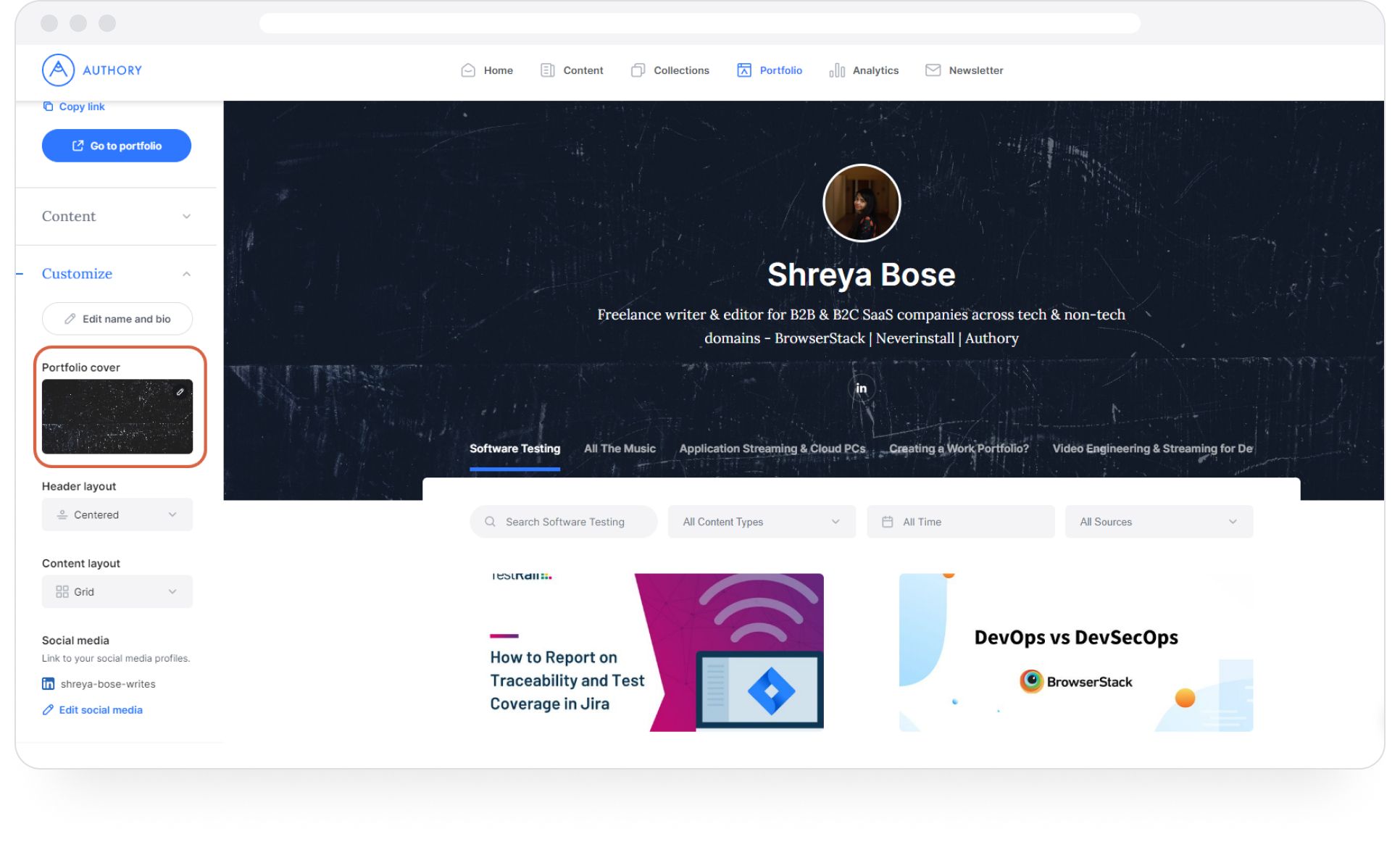 2. Choose your cover/banner image.
3. I like Authory's image library well enough, so I chose an image from there. You can upload your own image or just choose a solid color. Choose an image, and click "Save".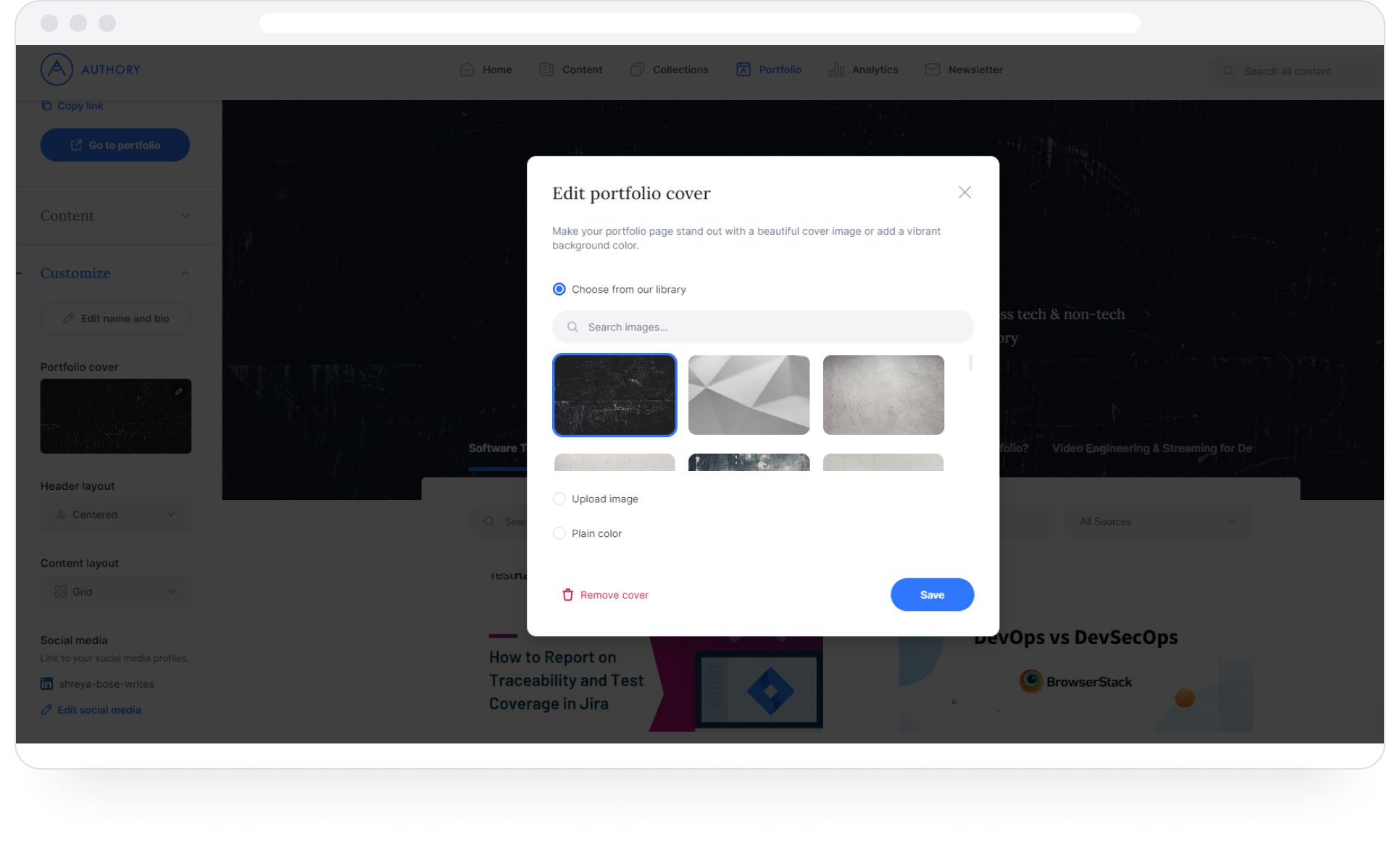 Change your header layout
Click on the "Header layout" option to the left.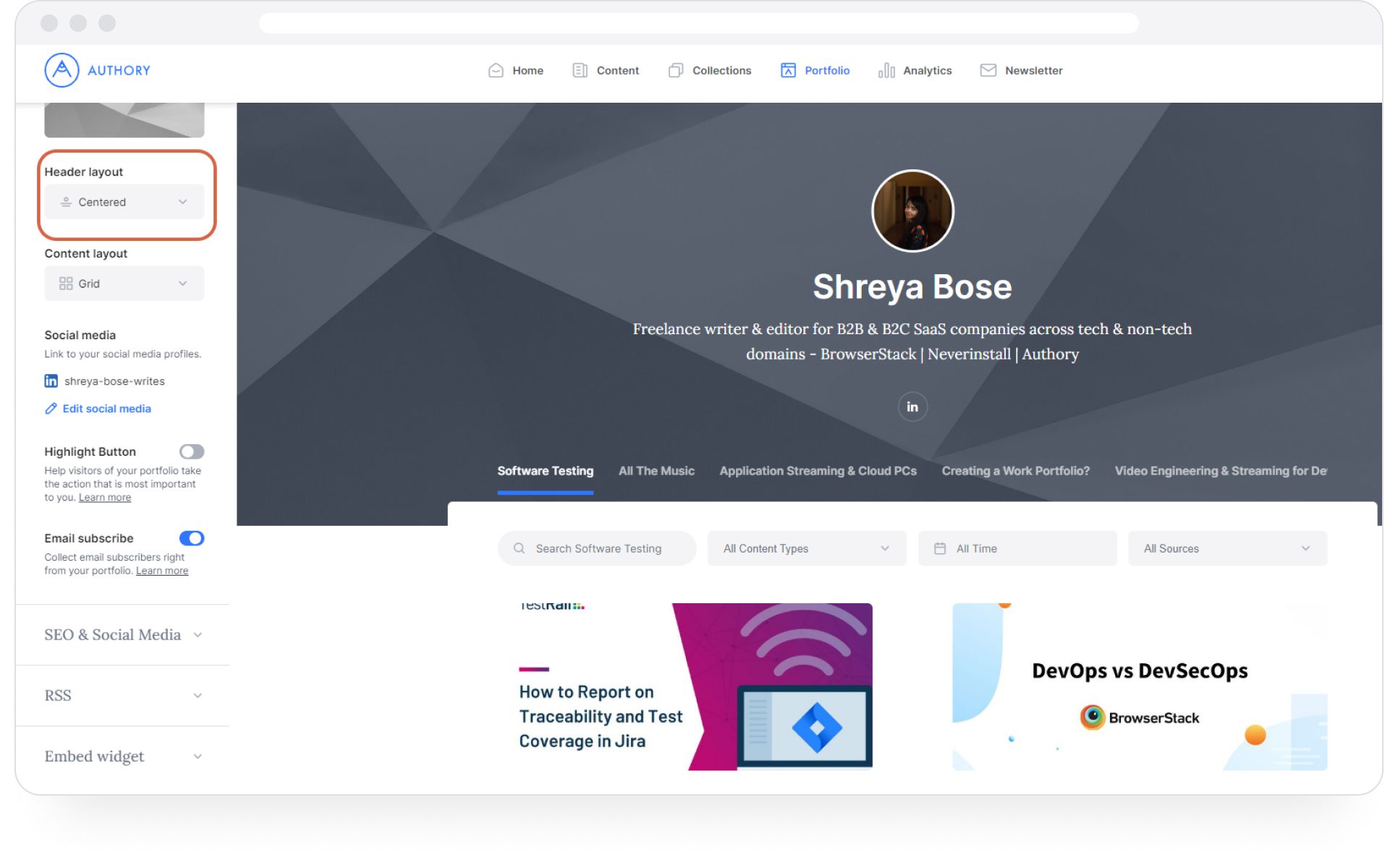 2. You've already seen my portfolio with "Centered" headers. Let's try the "Left aligned" option.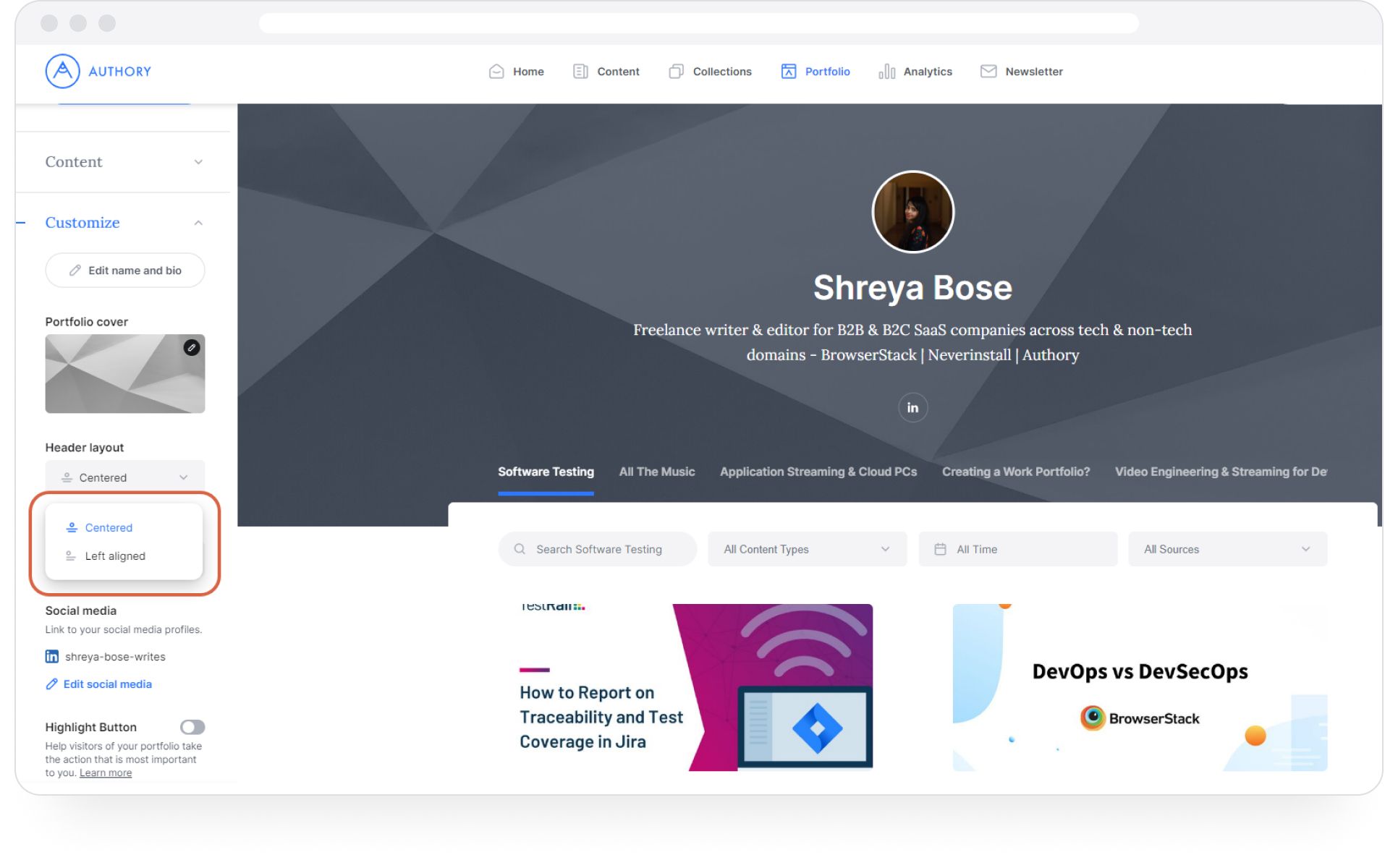 3. Now, check out what your portfolio looks like in this mode.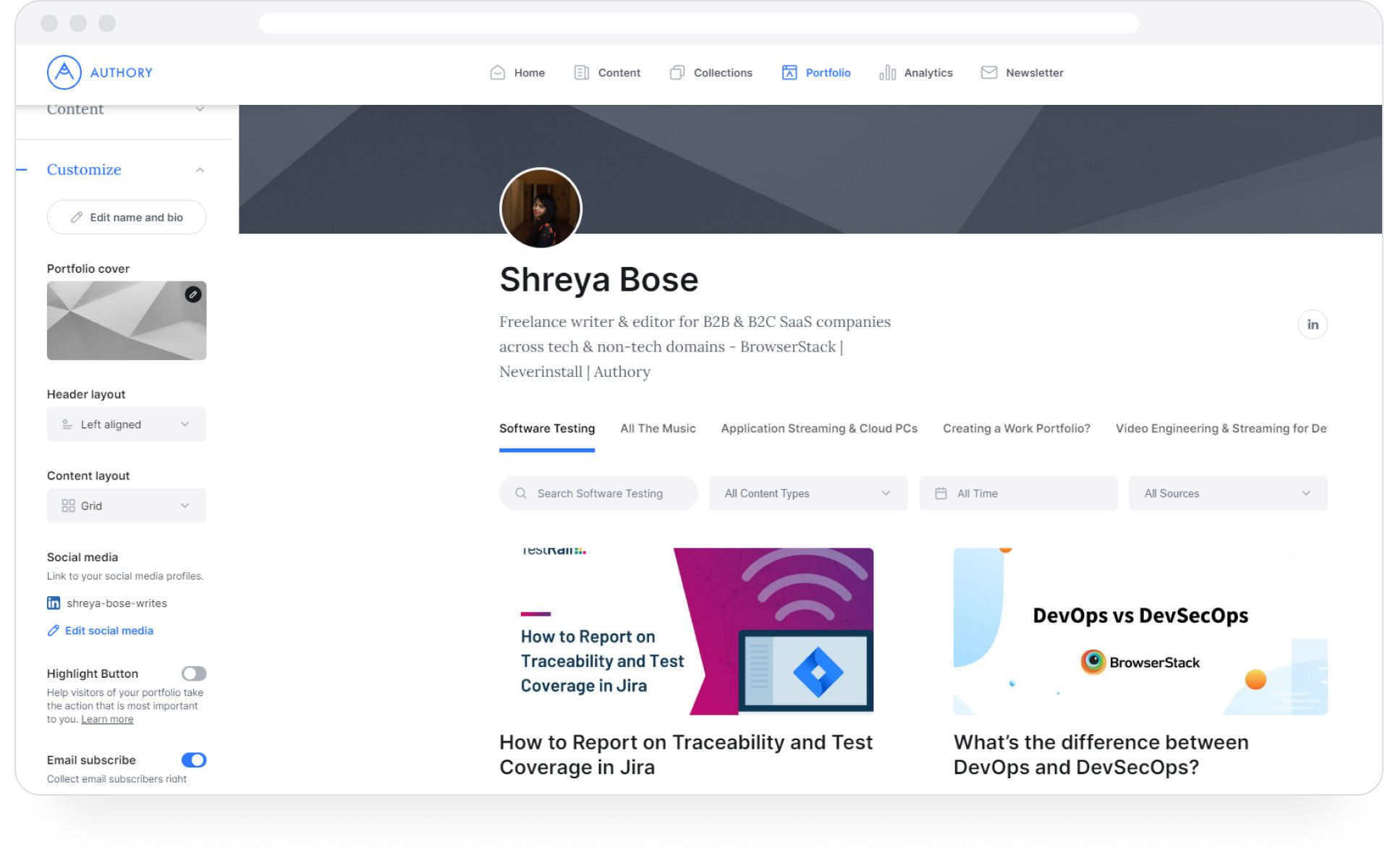 Change your content layout
Click the drop-down menu under the "Content layout" option to the left.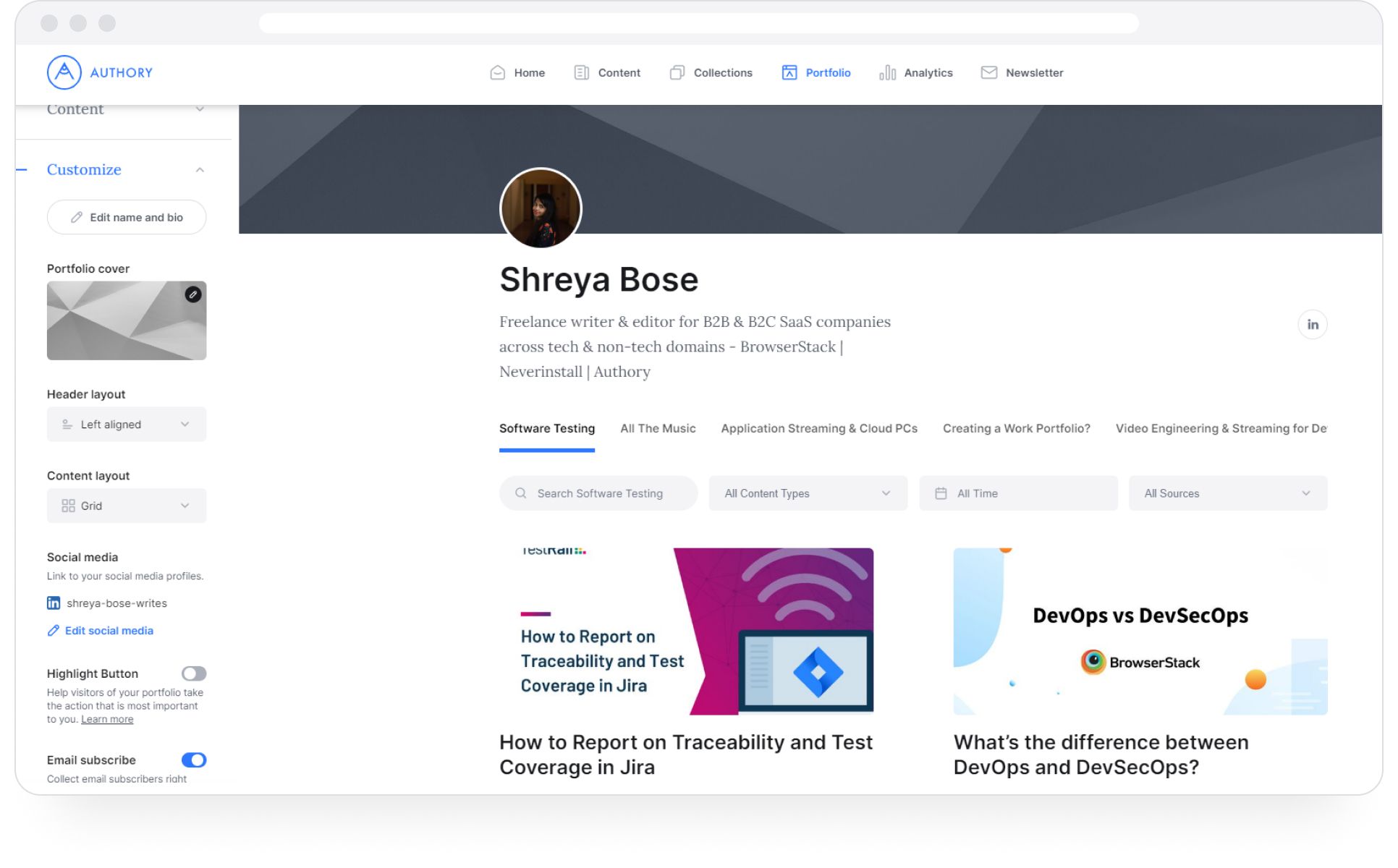 2. My portfolio is already in the grid layout. So let's try the other options — stacked, list, and text.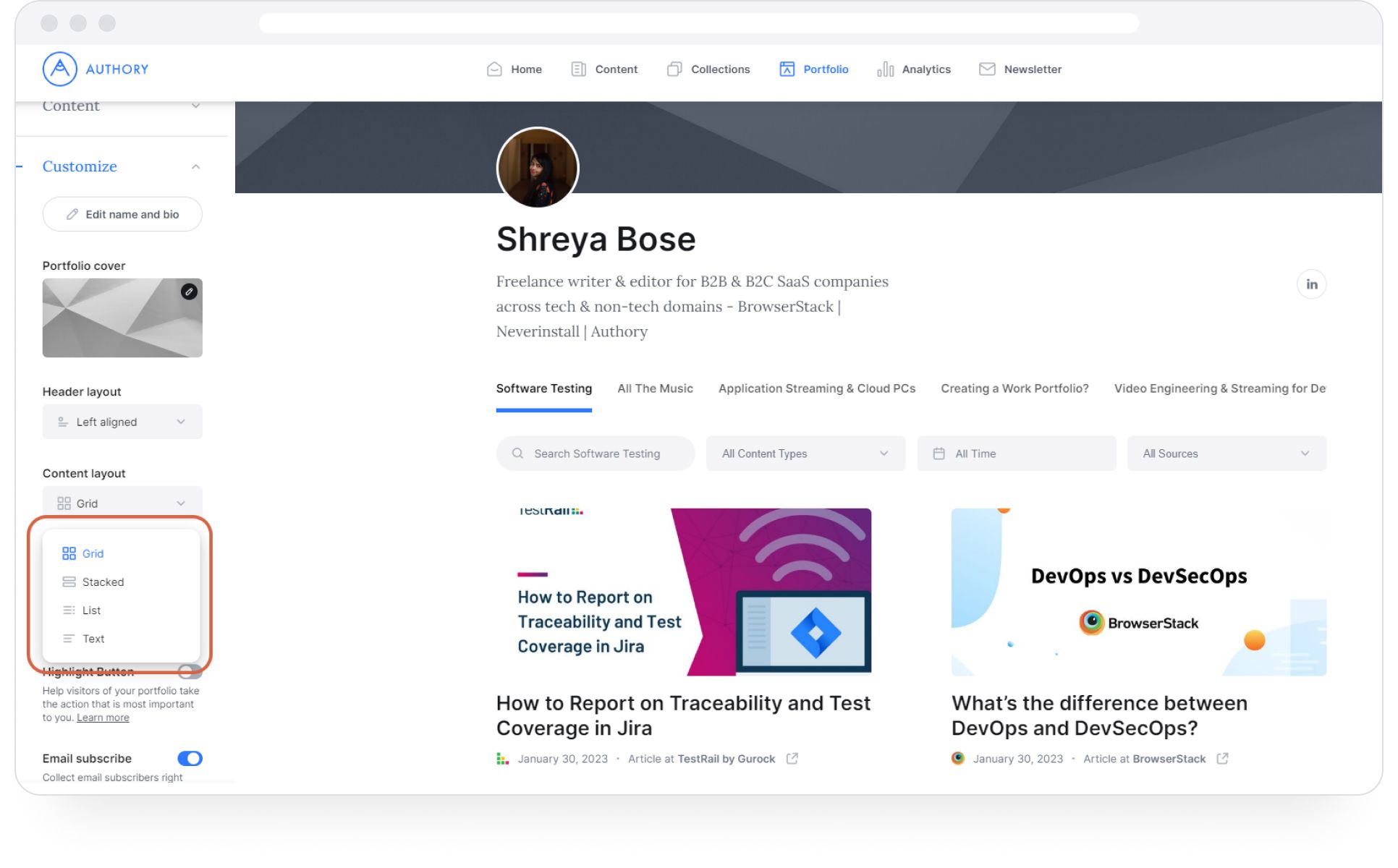 Your portfolio in the "Stacked" layout: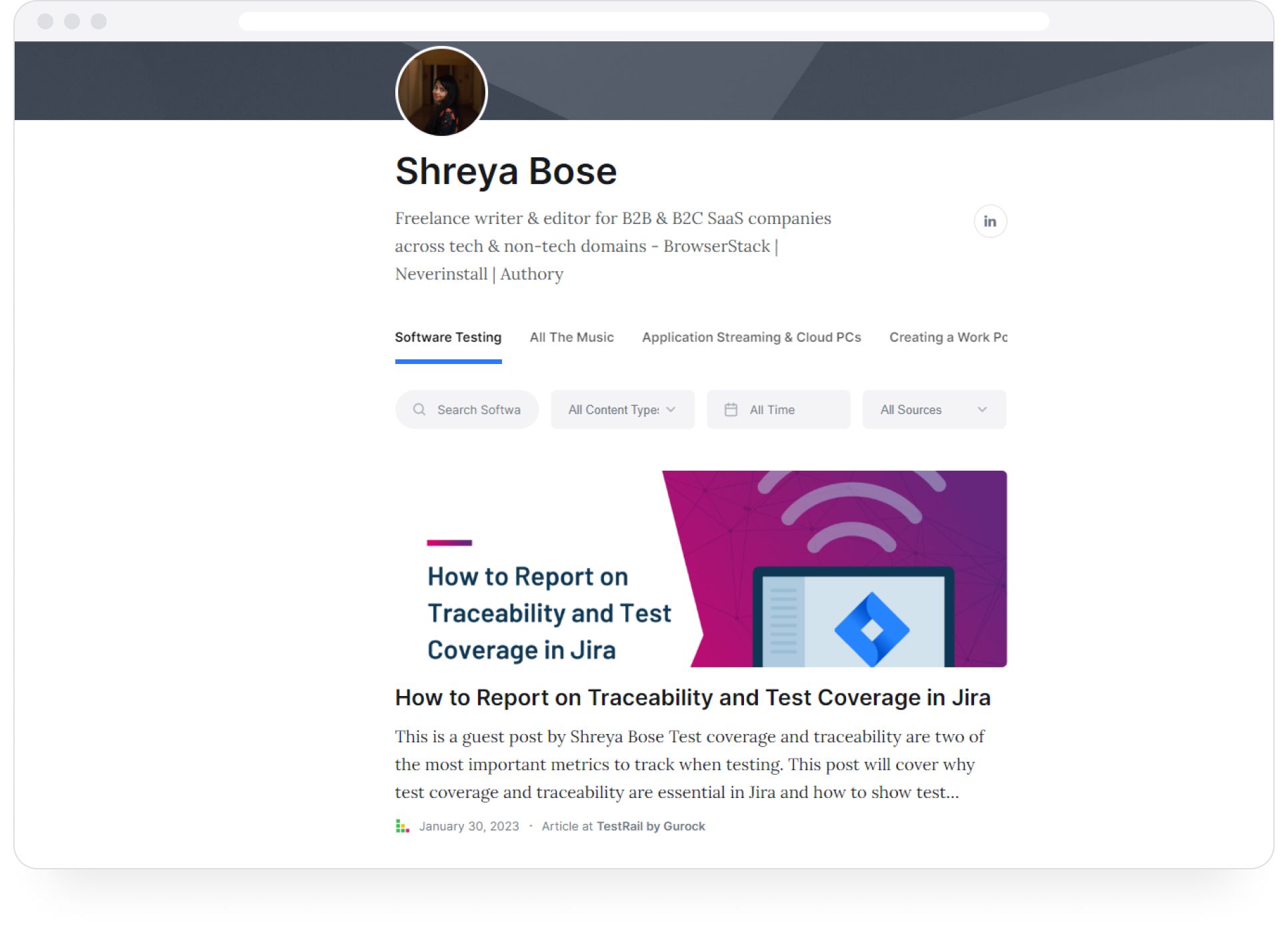 Your portfolio in the "List" view":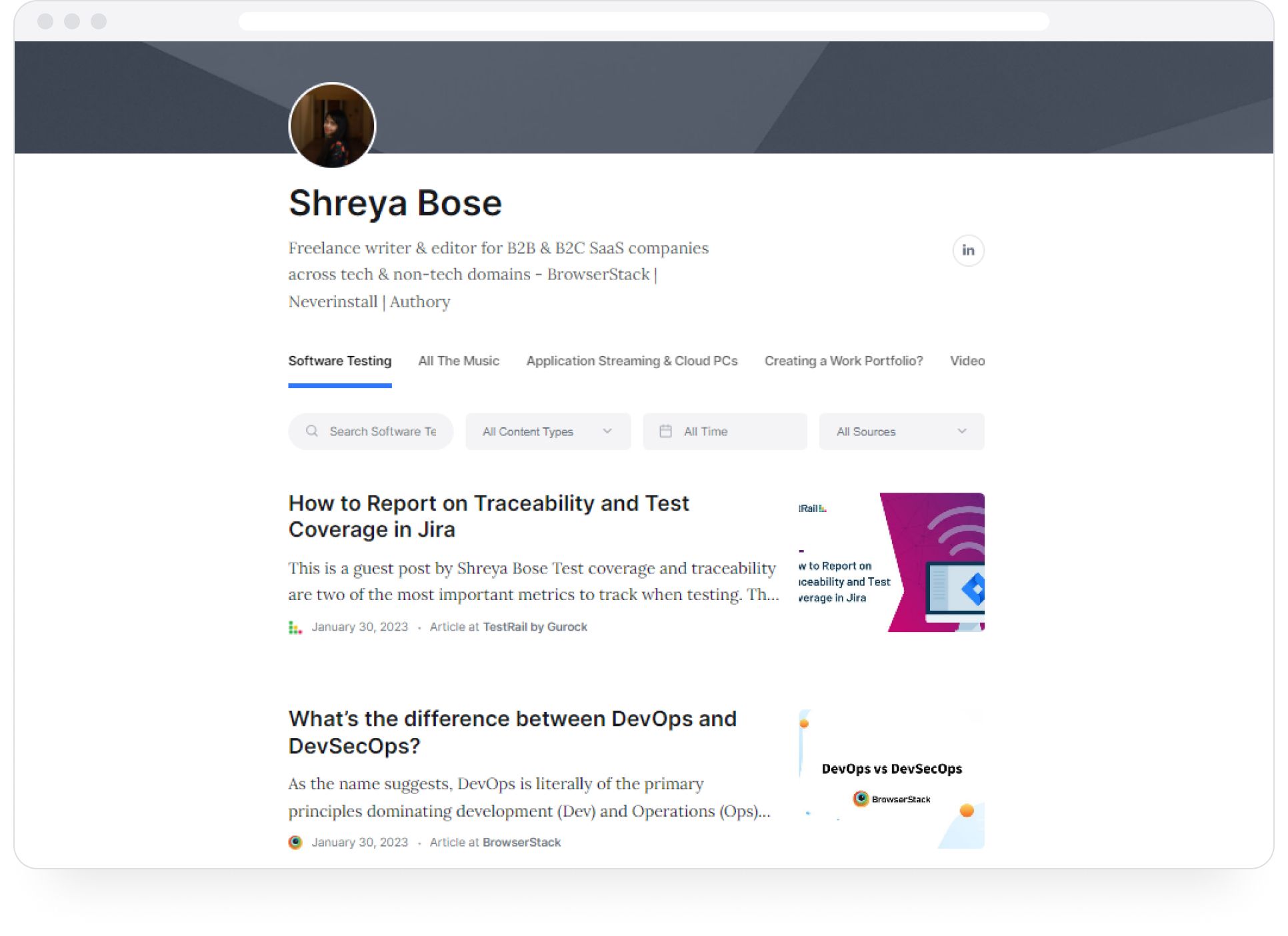 Your portfolio in the "Text" view: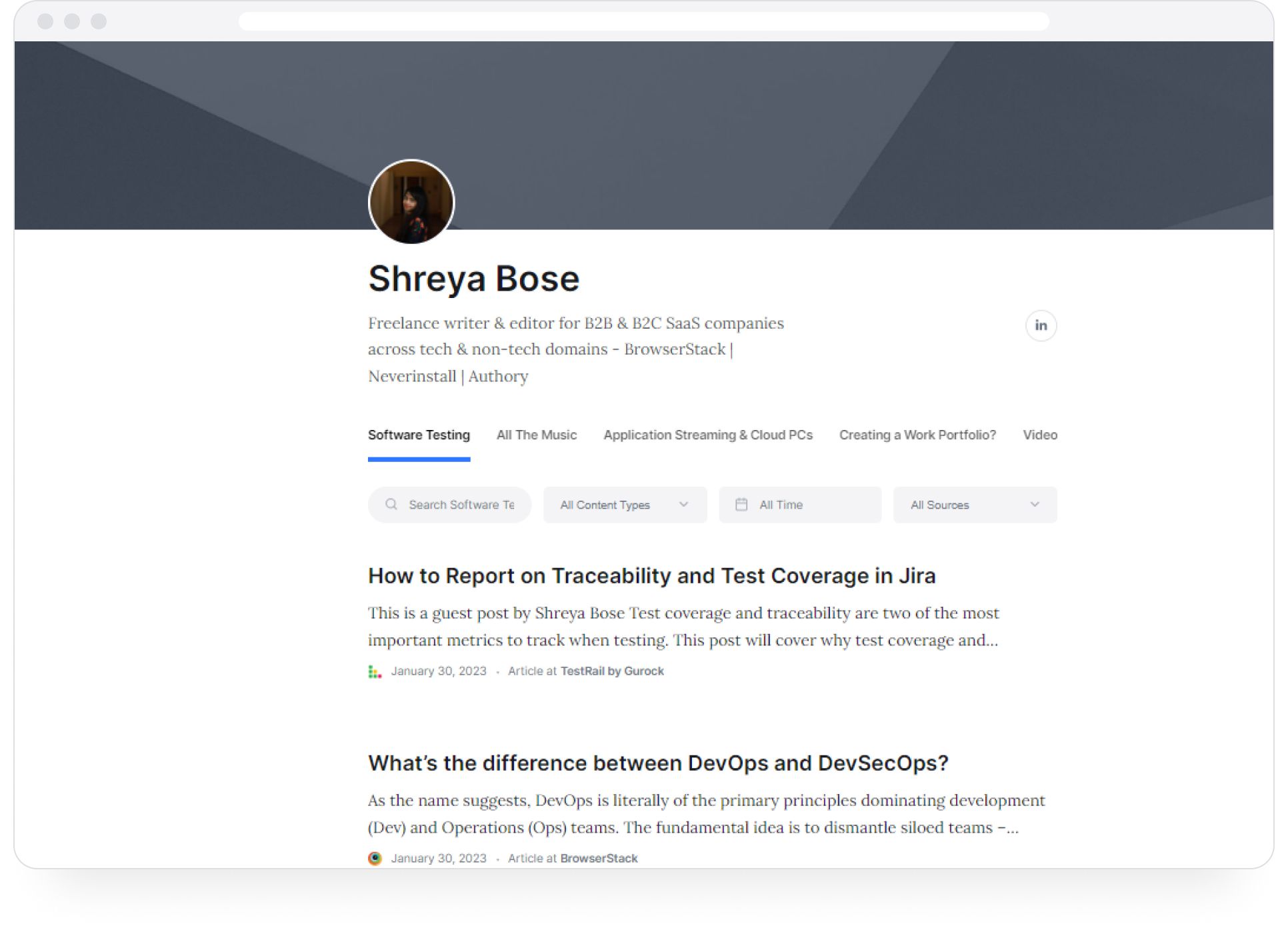 In each case described above, you'll see that the portfolio looks sharp by default, no matter which customization option you select. You don't have to split hairs aligning each content block — Authory's in-built design is sleek and eye-catching in every avatar.

Authory features you should care about
I'm well aware that a simple setup mechanism and wide-ranging customizability are not enough to make you choose a portfolio builder. You need more, and rightly so.
So, here are a few Authory features that depict how this tool goes above and beyond to facilitate the creation of industry-best portfolios quickly.
A self-updating portfolio (no need to keep adding new work manually)
As I mentioned above, Authory will AUTOMATICALLY import a copy of every bylined piece from every site into its own database.
These sites are called "sources" in Authory's internal terminology. You add as many sources as you want, and every single bylined piece from every single source will be imported automatically.
You don't have to track down links to your published work (especially older pieces). As long as you remember the URL of the site where your work exists, Authory will collate all your content for you in one dashboard.
💡
Authory can import content from behind most soft paywalls (as long as it is a bylined piece) and some hard paywalls. However, it cannot be used to import copies of articles/podcasts/videos you haven't created or featured in.
No need to manually upload/copy-paste your content. Of course, if you have any non-bylined content, you can run a manual upload.
💡
It took Authory less than 48 hours to find EVERY SINGLE article I wrote and extract a copy of each to its own database.
Automated backups (never lose your content)
All the content that Authory imports from different sources is saved permanently. You'll never have to worry about losing any of your published work. Even if the original website where it's published goes defunct for any reason, you'll always have a copy safely stored on Authory's server.
All backups are in the original format — text and/or media. No screenshots.
💡
Authory imports content from websites, podcast platforms, YouTube, and social media sites like LinkedIn, Twitter, and Facebook. You can add content in text, audio, and video formats.
Once I confirmed that the sources were correct and/or added new ones (anything the tool missed, which it didn't) and clicked "Continue," Authory got to work, identifying and saving copies of every single article I have ever written.
Continued importing of past and future content (less effort for a 100% updated portfolio)
Once you enter a source, Authory won't just import your existing publications. Anything you publish on the same site (after you've fed its URL into Authory) in the future will also be imported automatically. In other words, Authory will import your past and future content.
Authory also sends email notifications for every new piece it imports, so you'll always know if something you submitted has been published.
💡
If you choose Authory's Professional Plan, you can utilize a Zapier integration to get Slack notifications about published articles.
Many Authory customers have observed that Authory notifications reached their inboxes faster than Google Alerts.
Collections for easy organization (easy site navigability)
You've already seen how to create and use Collections on Authory. On your portfolio, these "Collections" show up as header links. They become the categories under which your content is organized, making your portfolio easier to navigate instantly.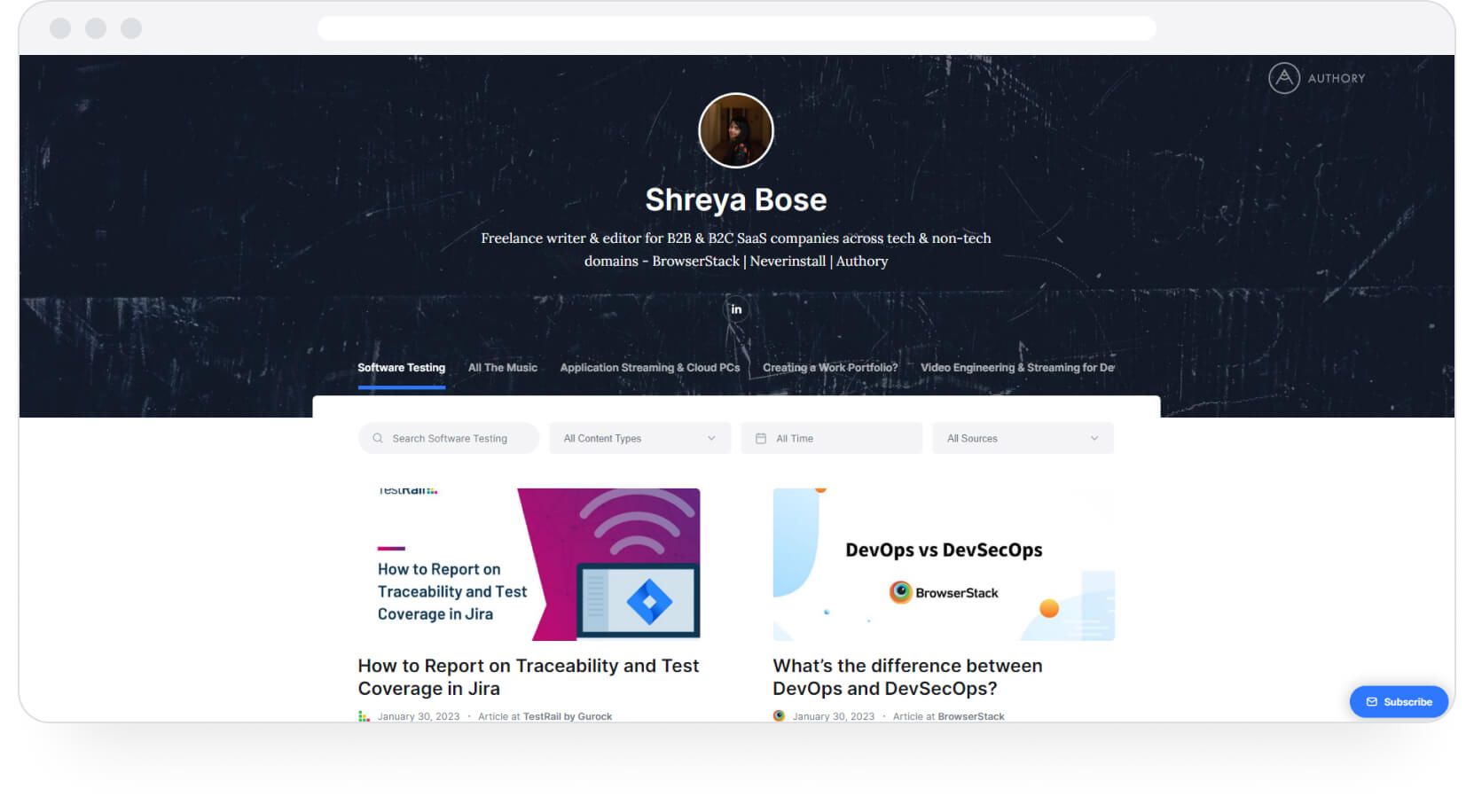 In my case, the Collections I create simply separate articles based on domains — Software testing, All The Music (music journalism), Application Streaming & Cloud PCs, Creating a Work Portfolio (for my Authory pieces), and Video Engineering & Streaming for Devs.
Analytics, tracking, newsletter, RSS, & more
Authory doesn't just provide a digital space to display your work. You also get ancillary features like:
Ability to search through both your portfolio and your content database to find articles/audio/video based on keywords. Prospective employers can use this to look for topics on your portfolio, and you can use it to find specific pieces within your Authory content bank.
All imported content can be downloaded as high-res PDFs or exportable as HTML files — no lock-in period.
No separate web hosting charges.
Get a custom domain and further personalize your portfolio (no extra charge).
Multiple, low-effort options for customization to make your portfolio visually appealing and easy to navigate.
In-built analytics that provides real numbers on content performance (engagement, readership) across the web and popular social media sites every 30 days. You get to see how your readers/viewers are responding to your work.
Allows creation of newsletters with a couple of clicks. After setup, Authory will automatically send your newly published content to subscribers.
Widgets to display your personal portfolio on other sites, such as your personal website (if you have one).
Portfolios created with Authory
David Pogue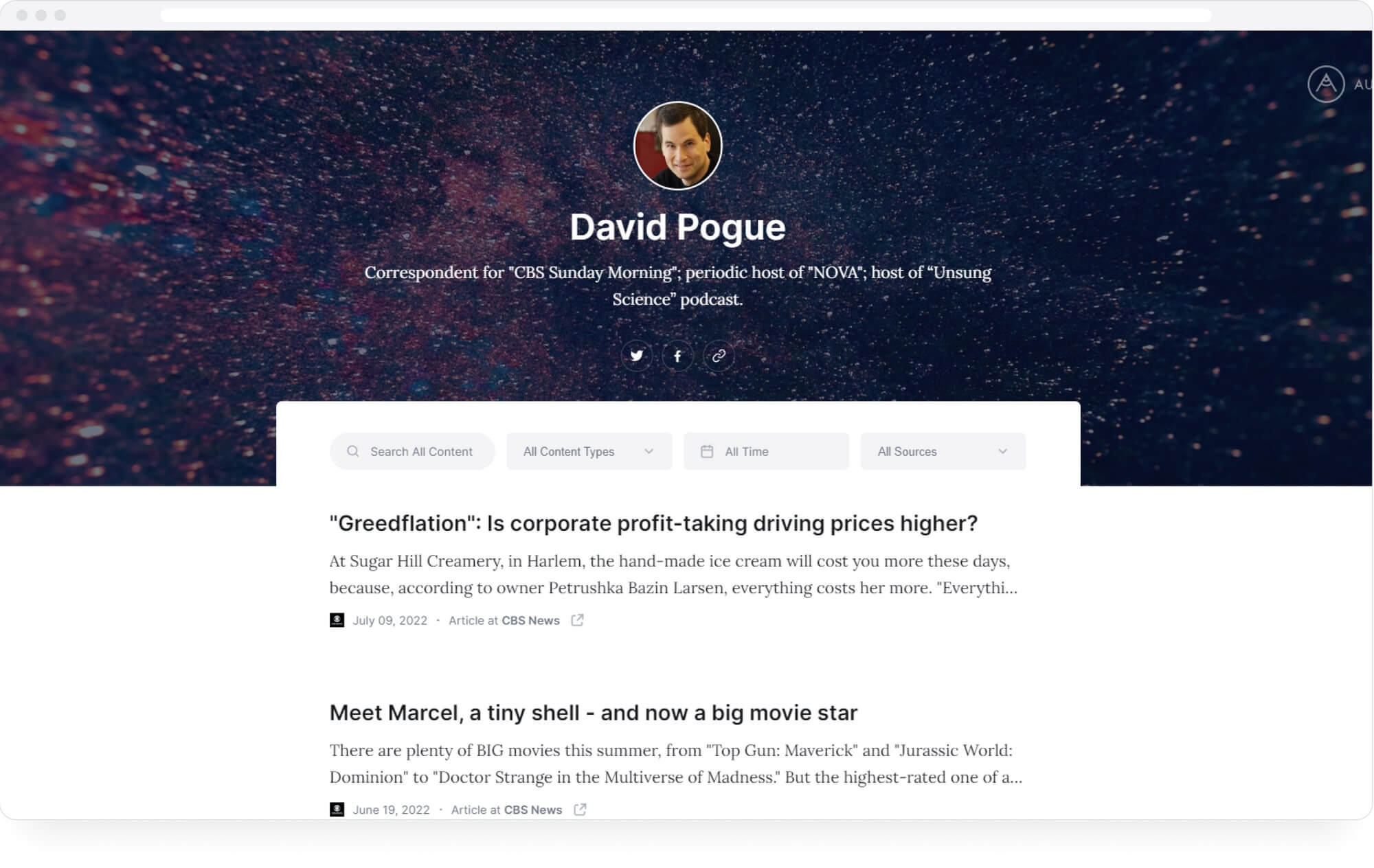 6X Grammy winner David Pogue is a correspondent for "CBS Sunday Morning," a periodic host of "NOVA," and host of the Emmy award-winning "Unsung Science" podcast.
Melissa Kalt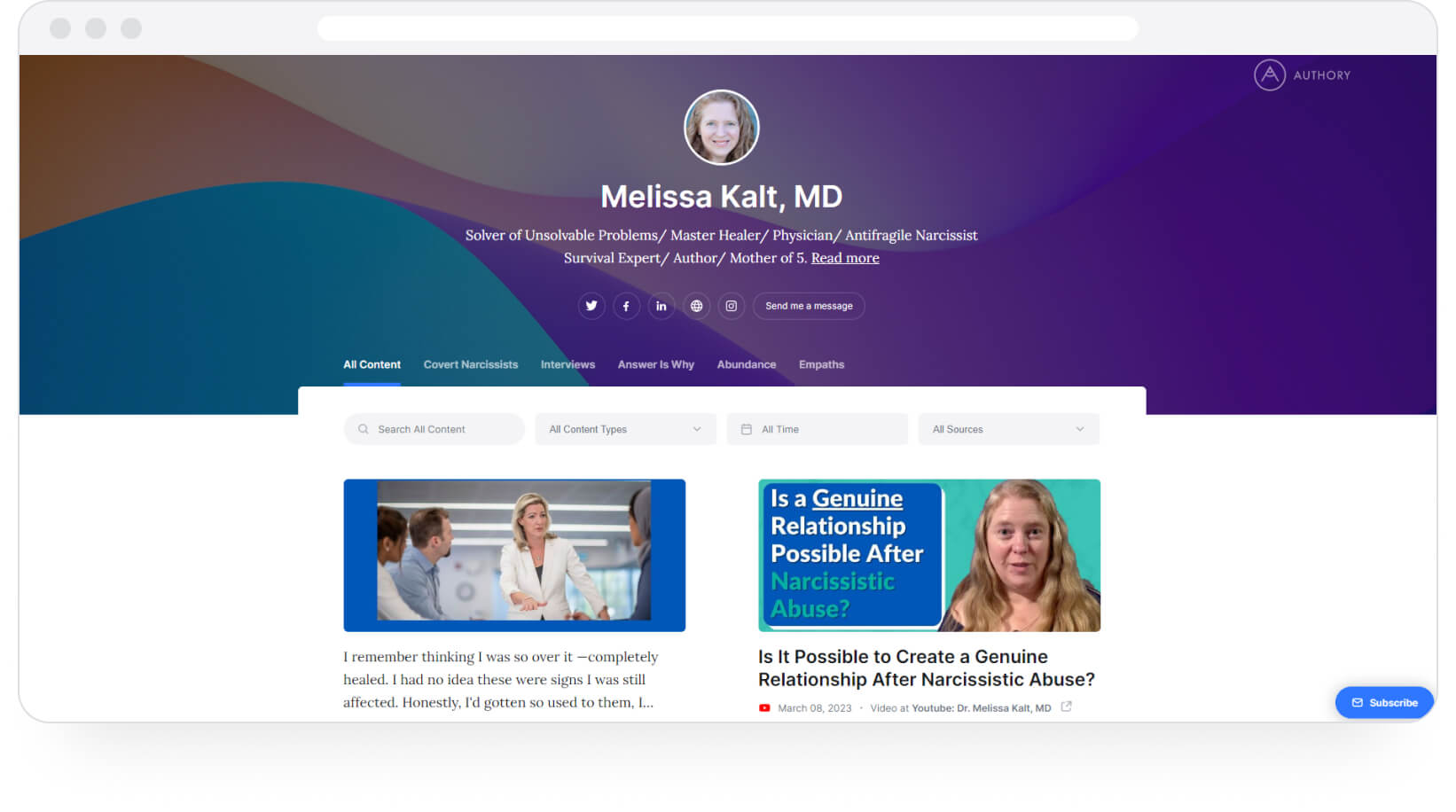 Melissa Kalt is an MD and author who creates videos discussing mental and physical issues from a real-world-brass-tacks perspective.
Ali M Latifi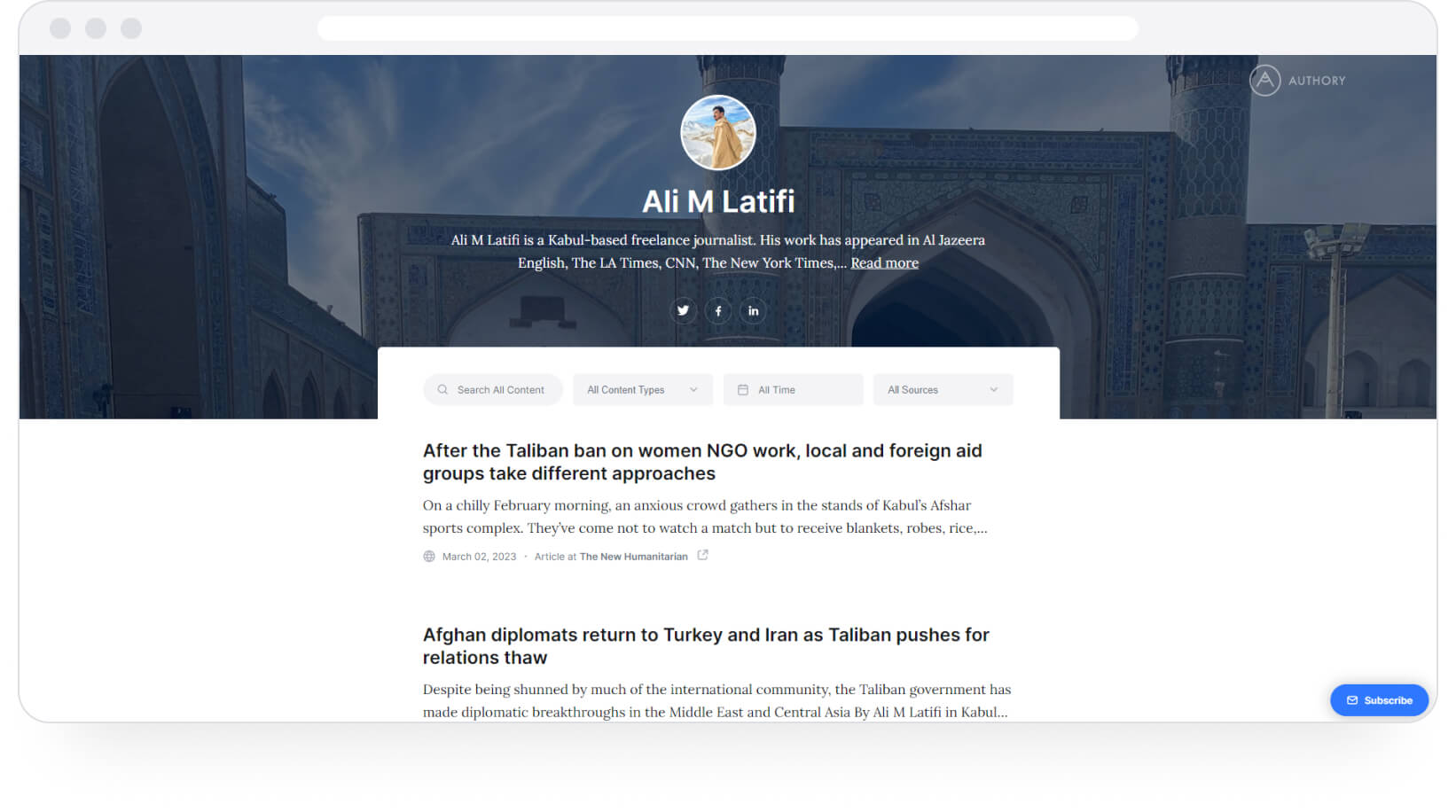 Kabul-based freelance journalist Ali M Latifi has contributed to major publications on issues specific to Afghanistan and the Afghan people. His portfolio showcases an impressive range of hard-hitting investigative pieces.

What customers say about Authory
Industry leaders and experts like 6-time Emmy award winner David Pogue, Steven Levy, Editor at Large, WIRED, and Brian Fung, a Technology Reporter at CNN, do not have the time to build a portfolio from scratch using a CMS or a website builder of any kind.
They are looking for speed, accuracy, and efficiency — qualities at the core of Authory's product architecture. Someone like Derek Strickland (tweet above) states that Authory found 10,000 articles he wrote.
If you're a writer/journalist/podcaster/video creator/thought leader/content marketer, wouldn't you like to have your portfolio updated automatically without lifting a finger, no matter how much you've written, spoken, or posted?
But why Authory in particular?
… is the central question.
If you're me and you don't completely trust third-party reviews, then I suggest doing what I did — signing up and taking free trials of every tool you're considering. It took a ridiculous amount of time and effort, but I played around with every tool (and CMS) until I could verify for myself that Authory was indeed the best option.
My personal experience with these tools showed that Authory offers the perfect balance between "build everything from scratch" and "you get what you get, ok?" Sure, you cannot use Impressionist templates and create multi-page portfolio websites with a different design for every page like you can with a tool with Portfoliobox.
But you also don't have to be stuck with a singular design and immovable content tiles (something you'd get with Muck Rack, for example). Authory gives you multiple options to personalize your portfolio, and each option comes out looking sophisticated and naturally sharp. With a couple of clicks, you can end up with a portfolio that the most picky clients will approve of.
Not to mention, you'll get an amazing portfolio that will get your paid work with significantly lower effort than it would take you to create such a portfolio on a CMS or website builder.
In case you want to dive deeper, I've actually analyzed a few popular portfolio-building tools in comparison with Authory:
Are you a tad curious yet? If so, why not get started with Authory for free? Explore the tool with a 14-day free trial, and you'll see exactly what you're getting. No hidden fees, no agenda, no fuss.