The threat of losing all (or any) of your painstakingly done, published work looms like an invisible cloud around every content creator, especially those working with digital media. Our work isn't just a one-and-done. It's proof that we know what we're talking about, that we're good enough to be published (and paid for it), and of the fact that we have specific skills that make us valuable in a professional market.
No wonder prospective clients/employers always ask for a record of our existing work. To this end, content creators will always need an accessible archive of their created and published work. In other words, we need data archiving software or archive tools.
📖
What you'll get from this article:
• Definition of archive tools and why both individual creators and businesses need them
• A detailed exploration of the key features of 10 awesome archive tools (2 for individuals, 8 for businesses)
• Why Authory is the perfect archive tool
What are archive tools?
In B2B circles, the term "archive tools" refers to software that manages, structures, and guards essential but not frequently used data — receipts, financial history, administrative records, etc. Since this information is necessary to prove an organization's compliance with legal regulations like HIPPA or GDPR, it cannot be deleted. Archiving solutions (software, in this case) ensures that it's never deleted.
B2C versions of archiving tools also exist. The logic is the same: store and protect data to protect it from unauthorized or undesirable deletion. Some tools, like Authory, also take the service a bit further and provide automatic import of content from specified websites/social media.
Why do you need archiving software?
I'm a freelancer, so I'll largely speak from my perspective. Any content you've created always stands the risk of being deleted if it's hosted on a third-party website. Be it YouTube, The New Yorker, or BuzzFeed, you have no control over your content once it's published (unless it's on your own site).
Showcasing your content over the years is a great way to convey to employers how you've grown in craft and expertise. To do so, you need immediate access to every piece you've written in the past (or at least a sizeable portion of it). Archiving software ensures that you have that access at all times.
Web pages are commonly taken down for legal reasons, mistakenly dismantled, thrown into redirects, or pruned from blogs. Basically, there are a million ways your work can disappear.
An archiving tool prevents the above from happening and guarantees you secure access to all your work at all times.
🗒️
Note: For the benefit of some readers, I've included tools that are more suited to data storage management and archiving for businesses. Archived data is essential to establish regulatory compliance and facilitate daily workflows, so it's a consistent priority for all legitimate businesses.
Top archive tools (for individuals & businesses)
I've listed out some tools that definitely qualify for the title of "best data archiving software."
Authory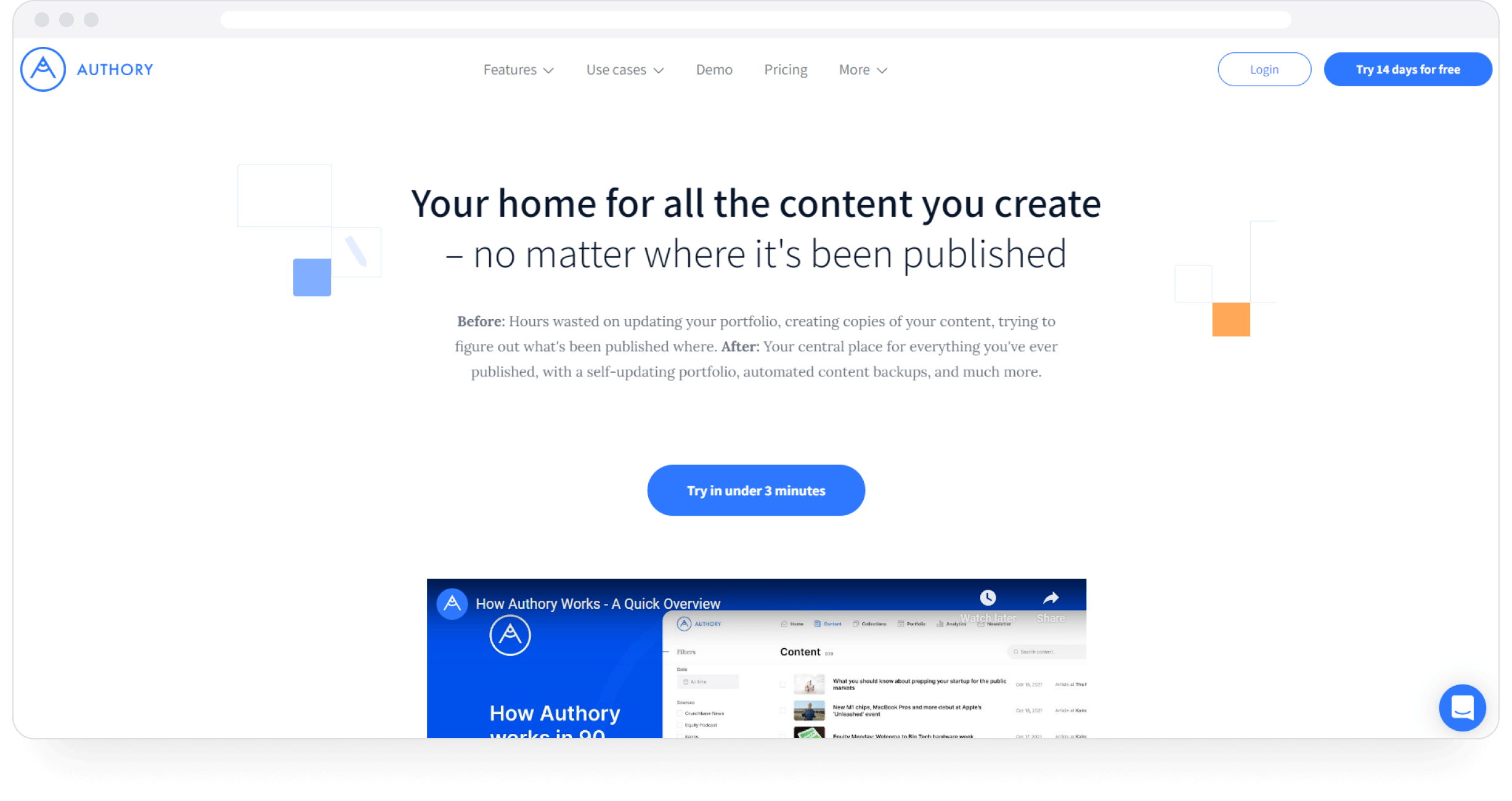 While Authory's primary offering is that of automatic portfolio creation, it provides robust archiving features for individuals looking to back up all their work, no matter where it's published or in what format.
Here's how it works: you just enter the websites/social media pages where your content is published. Once you do that, Authory automatically imports every piece of bylined content on every website you've entered. For example, if you have pieces published on, say, Vice and Scientific America, then all you have to do is provide links to those websites. Authory will automatically create copies of every piece attributed to you on these sites, and import them to its own database. It will also maintain redirections to the article's original publication address so that you can visit it with one click.
Additionally, Authory will continue to import and back up all future pieces published under your name on the sites you've specified. In other words, all your content will always be in one place with no possibility of being lost.
The imported pieces are stacked in an archive that's auto-updating and searchable. You can also add individual pieces normally, and they, too, shall be backed up in this archive.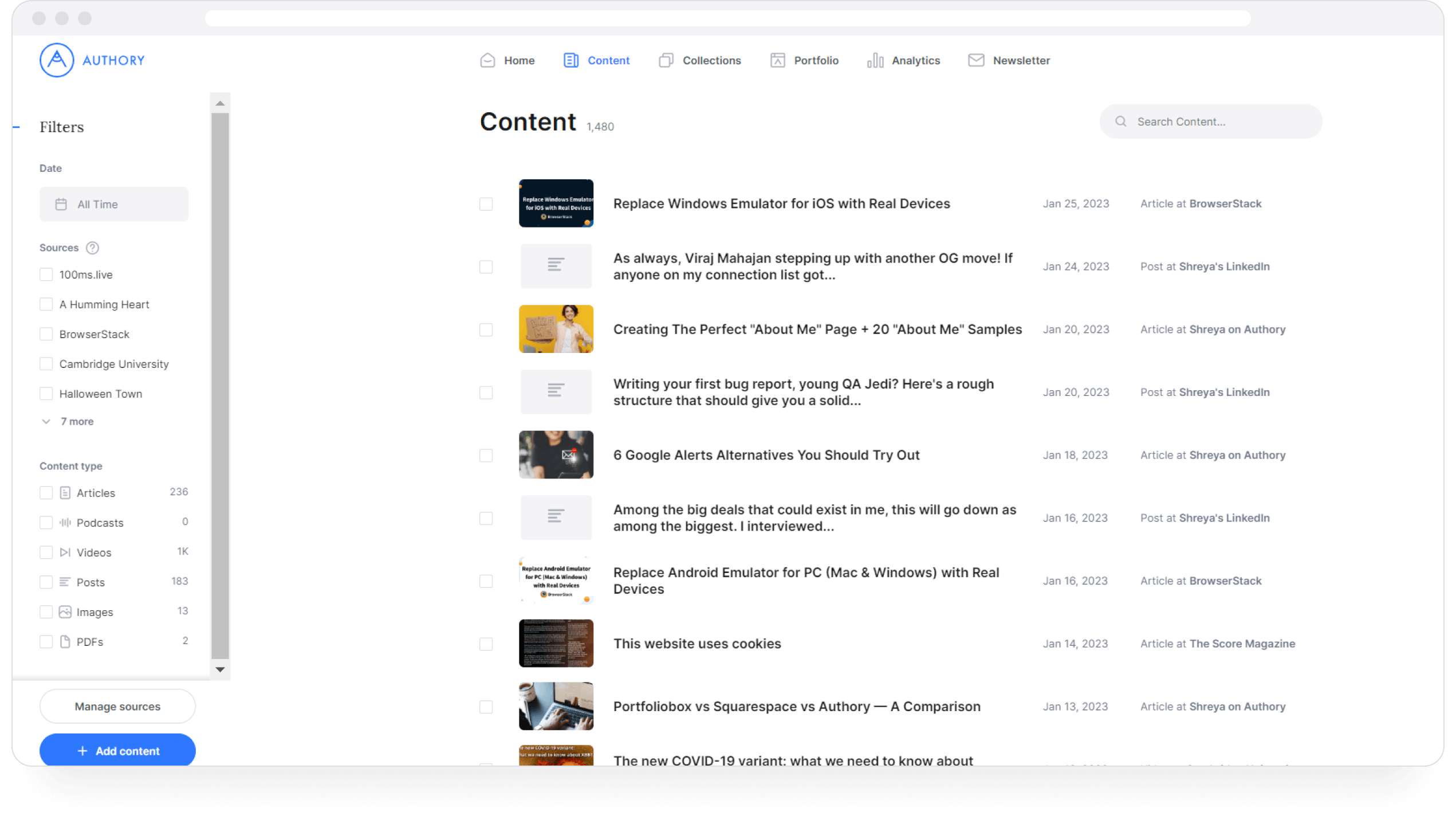 You can filter content by source and/or type. You can also organize all your imported content into Collections and use them as you see fit.
Authory's price
$8/month.
If you're curious, sign up for a 14-day free trial of Authory.
Internet Archive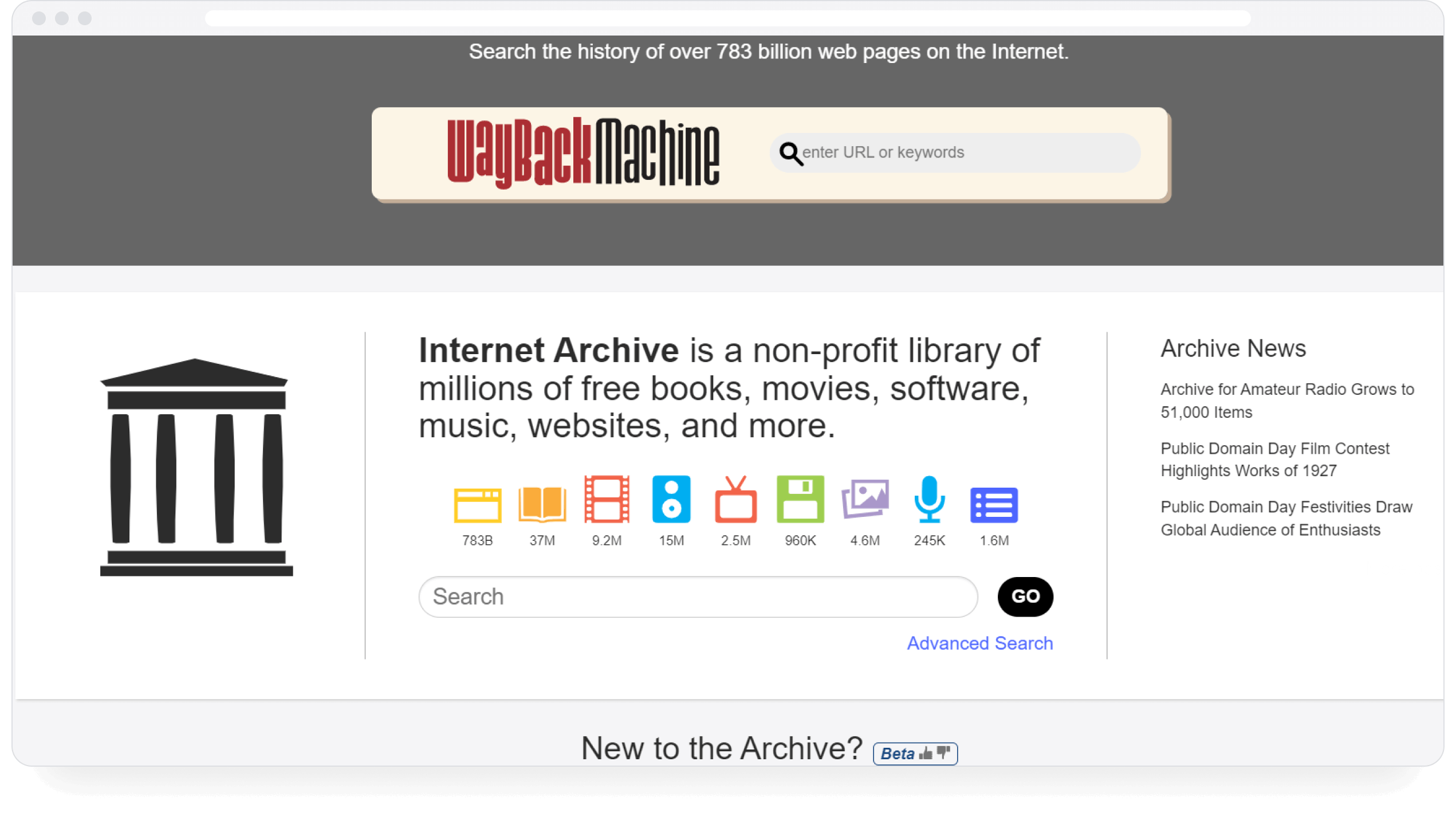 The Internet Archive, residing at archive.org, is one of the oldest and most respected public information archives on the internet. Think of it as a publicly accessible digital library of websites, digital books, web pages, audio and video content, images, and software programs. As of today, this archive holds the following:
735 billion web pages
41 million books and texts
14.7 million audio recordings (including 240,000 live concerts)
8.4 million videos (including 2.4 million Television News programs)
4.4 million images
890,000 software programs
Anyone can make a free account and upload media files to the archive. You also have to fill in metadata for your pieces. You'll have to upload your pieces one at a time, and if you want to upload files in bulk, it'll take a long time. Unless, of course, you can use the Internet Archive Command-Line Tool to script your upload. This requires you to be comfortable using Unix.
The archive is public and fully searchable. Anything you upload can be read/watched/listened to by users of the archive.
Internet Archive's price
Free
iDrive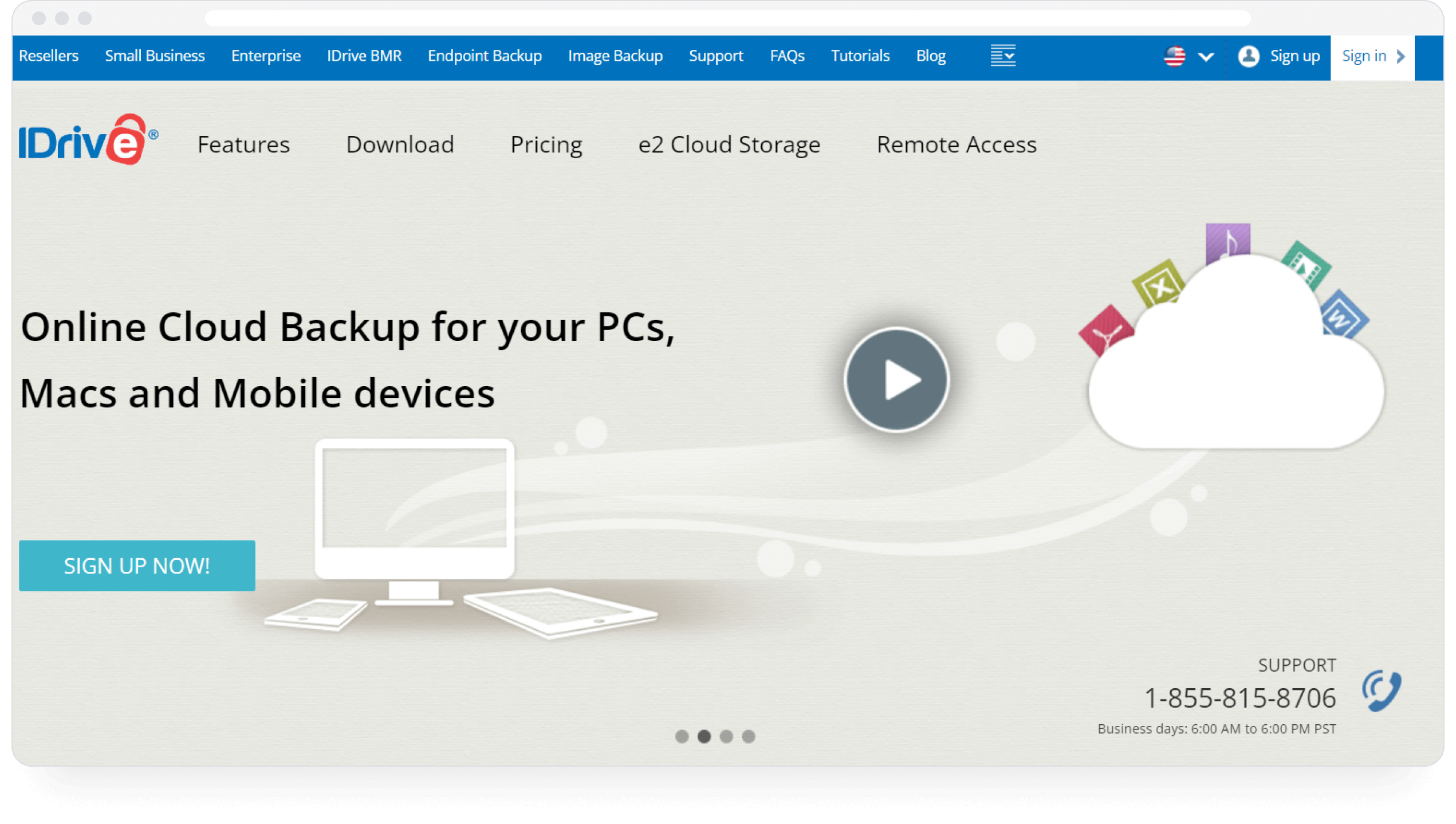 iDrive provides online cloud storage for PCs, Macs, and mobile devices (iOS, Android). You can back up the data on all your devices with a single account. Depending on the plan you purchase, you can also backup data from external hard drives and even backup content from different sets of devices, each belonging to a single user.
All your files are synced in real-time across all devices you link to your account. In case you do lose your data, you can retrieve it within a week, as iDrive will ship a physical storage device with said data to you.
You get historical data so that you can pinpoint the time of malfunction and data loss and recover everything before that point. All previous versions of files are also saved for 30 days.
You can manage all your data backups via the web console from any computer. It's a simple task to search for files as long as you have the internet and your login credentials. You can also recover deleted files within 30 days.
In case you modify any part of a file, it's automatically detected and backed up by iDrive. Most important, none of your data will be deleted from iDrive unless you manually delete it or run an "Archive Cleanup" so that your account matches the data on your device(s).
iDrive's price
iDrive Mini: $9.95/year
iDrive Personal: $79.50/year
iDrive Team: $99.50/year
iDrive Business: $99.50/year
Stillo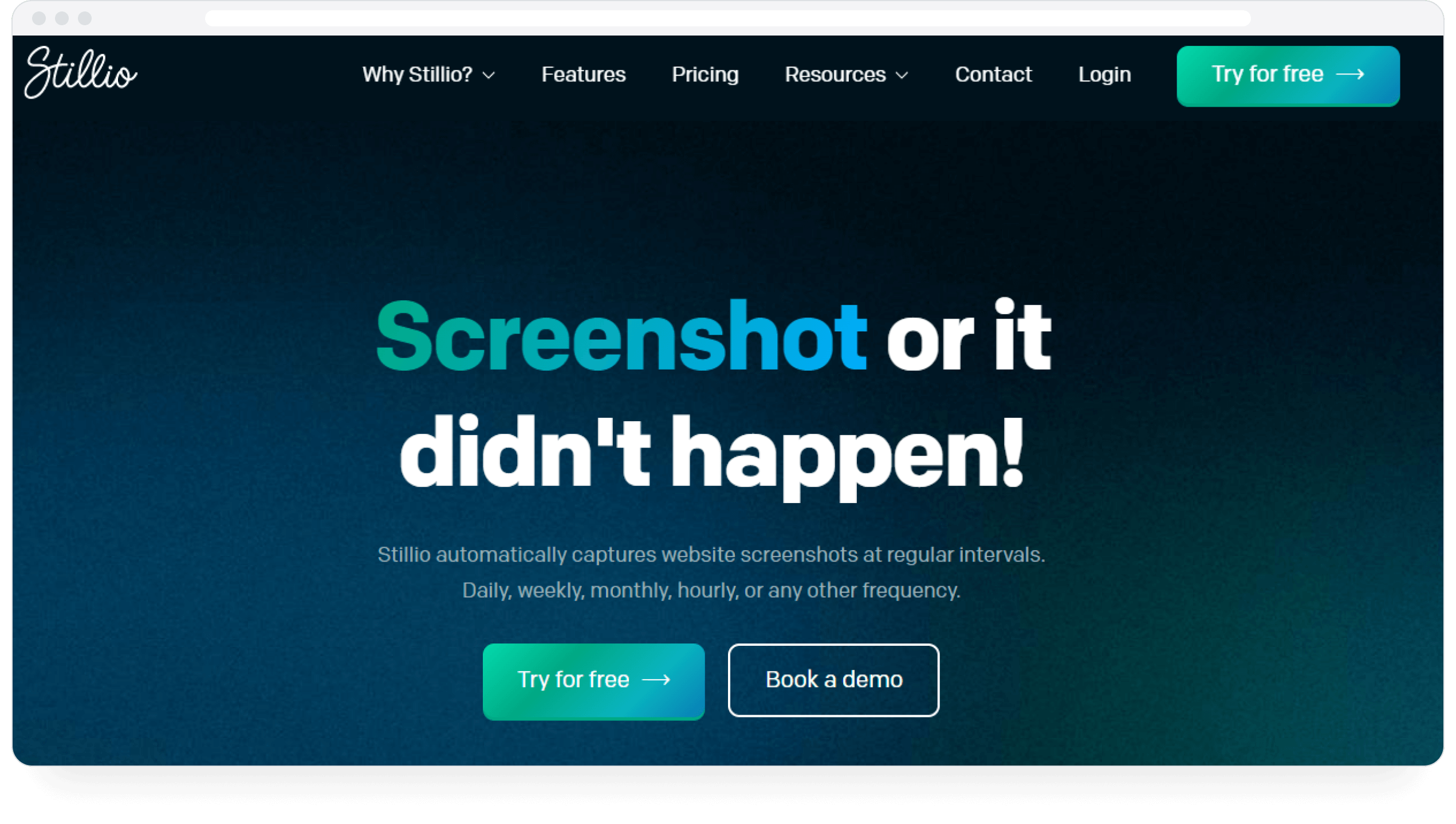 Stillo can serve as a marketing, analytics, or compliance archive rather than one for your own published work. It automatically captures screenshots of specific websites at specified intervals. You enter the addresses of the web pages you want to track and set the time intervals at which the tool should take a screenshot, and the tool continues to do so unless you change the frequency or direct it to stop.
The tool can take full mobile screenshots of responsive websites and full-page screenshots. All screenshots are automatically archived, and you can download them as zip folders. These screenshots can also be automatically saved to Google Drive and Dropbox, so you can access them without tying up your device storage.
You can even instruct the tool to take screenshots from different geolocations, as website content is often optimized to cater to local, regional, and national traffic.
The primary use cases for Stillo's services lie in the realms of website compliance, trend tracking, content verification, SEO tracking, competitor research, and brand image management.
Stillo's price
Snap Shot Plan: $29/month
Hot Shot Plan: $79/month
Big Shot Plan: $199/month
Top Shot Plan: $299/month
OwnBackup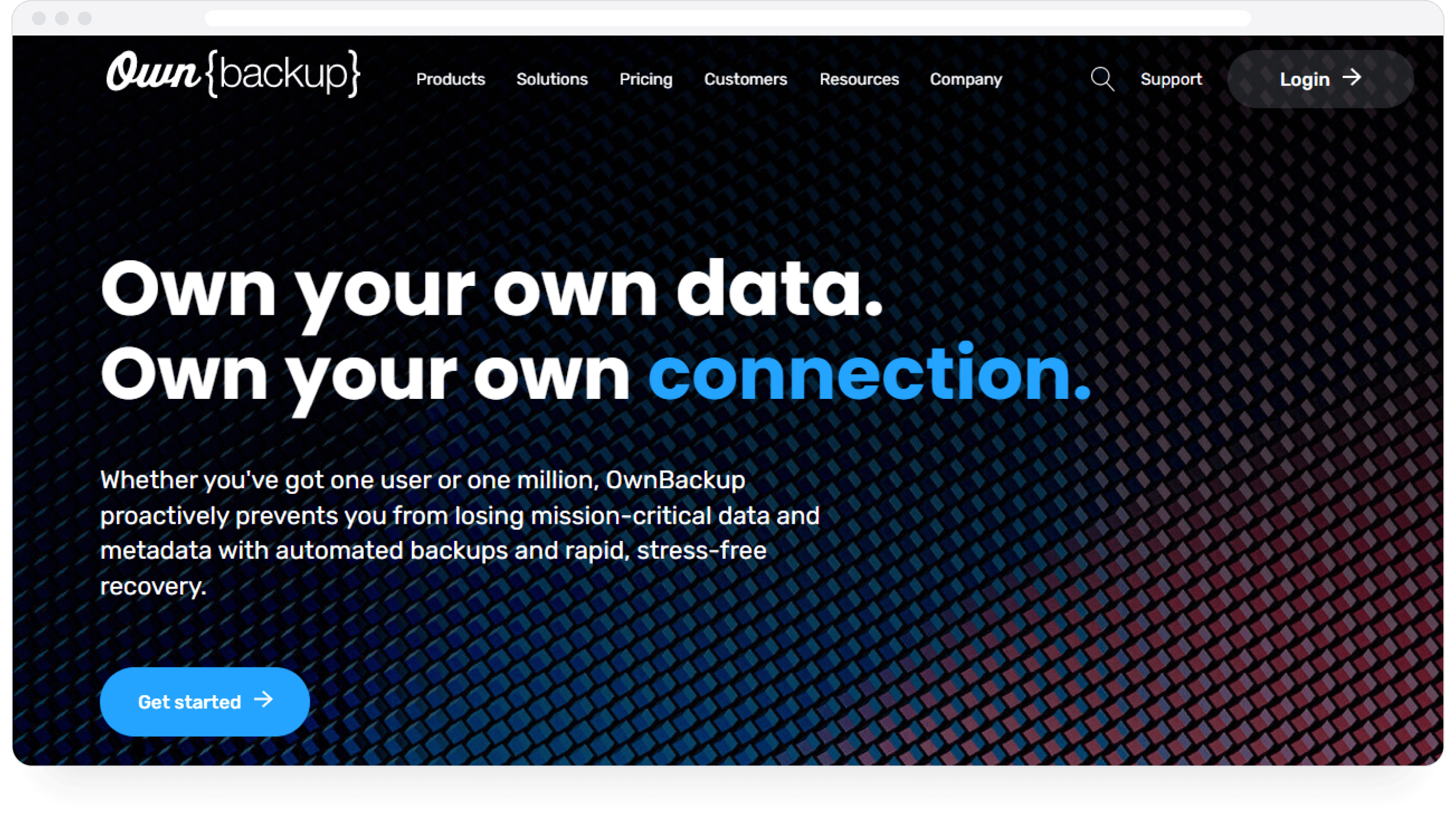 OwnBackup is a B2B tool providing backup and recovery services. Its primary goal is to prevent the loss of mission-critical data. It also saves the data and metadata with quick, hassle-free recovery in the event of any data loss.
It's quite useful for archiving sensitive data, especially legacy data. You can use it to save original documents and guard the data often required during compliance checks and audits.
It's possible to customize and test the flexible archiving policies of OwnBackup in order to specify what data to store, how often to back it up, how long to retain it, and who has permission to restore this data.
You can view and manage all archiving activity from a single dashboard, which also allows you to edit permission and data governance protocols. Feel free to restore data one file at a time or in bulk, and specify permission for certain users to be able to trigger the restoration process.
OwnBackup's price
Prices depend on your computing environment (which the tool will have to work with).
Environment — Salesforce
OwnBackup Secure for Shield: $3.45/user/month
OwnBackup Secure: $5.85/user/month
Environment — Microsoft Dynamics 365
$3.655/user/month
Environment — ServiceNow
Pricing is available upon request.

GFI Archiver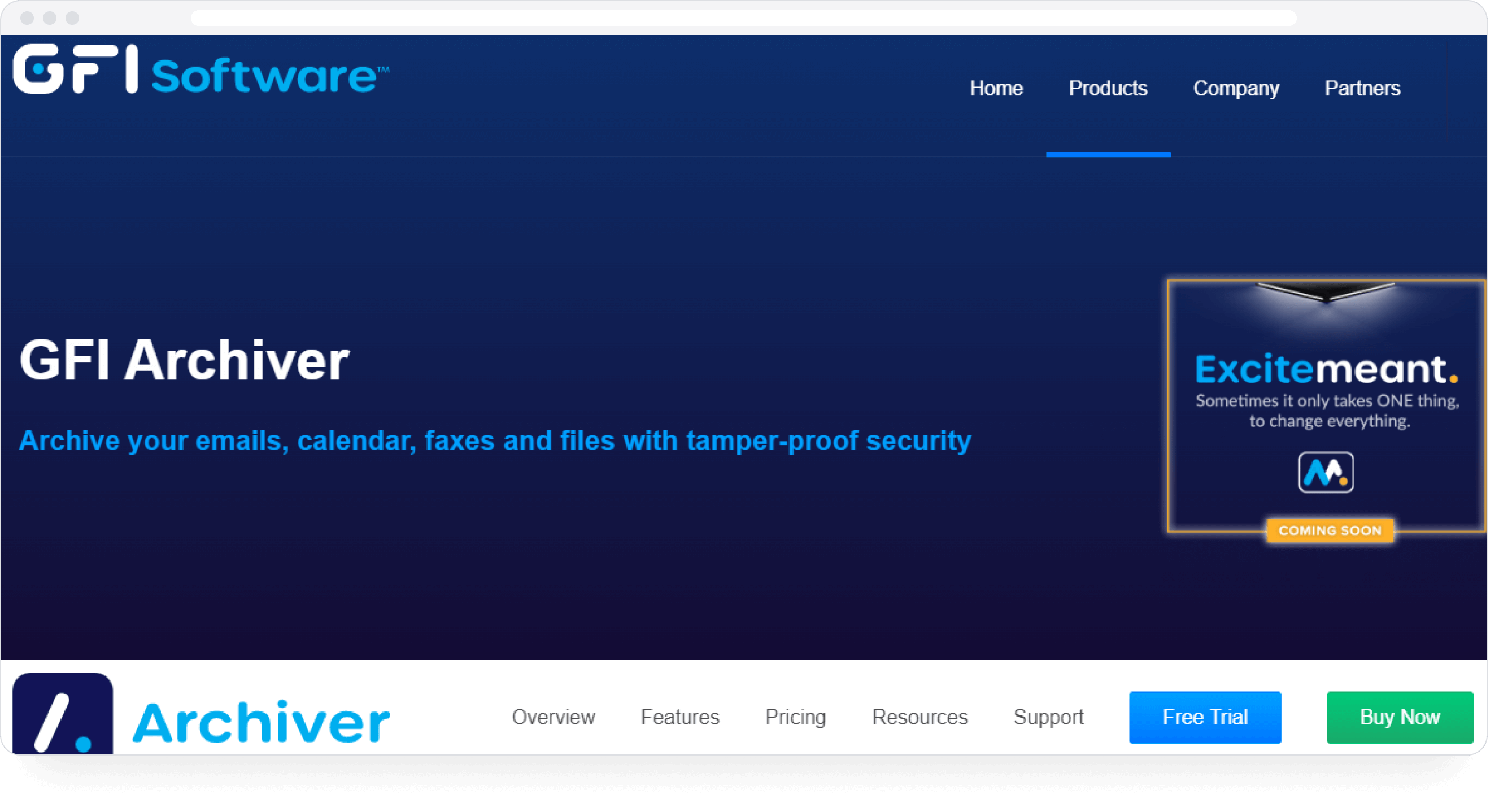 GFI Archiver works to archive and secure your electronic communications — emails, calendar activity, file history, etc. Everything is stored in one easily accessible location. The tool is another ideal option for those looking to meet compliance requirements, minimize server space usage, boost email performance and lower the overall cost of data management.
The tool provides a central storage location for your electronic communications history, often including email archiving along with files, calendar entries, faxes, attachments, etc. You can archive original emails in a tamper-proof archive and use message auditing to verify that stored emails are the real ones.
All documents are automatically indexed before they are archived, so you can search for and retrieve them in case of data deletion. You can search through email history or files through the tool's desktop portal or mobile app.
Bonus: The tool archives electronic communications separately from applications so as to save server space and allow for better system performance. It uses SIS (single-instance storage) to save one copy of an email with multiple recipients instead of making copies for every recipient. In other words, it implements data deduplication.
When storing email attachments, GFI Archiver compresses them so as to make optimal use of storage space.
GFI Archiver's price
Small Plan (10 to 49 users): $14.85
Medium Plan (50 to 249 users): $12.62
Large Plan (250+ users): $7.43
Redstor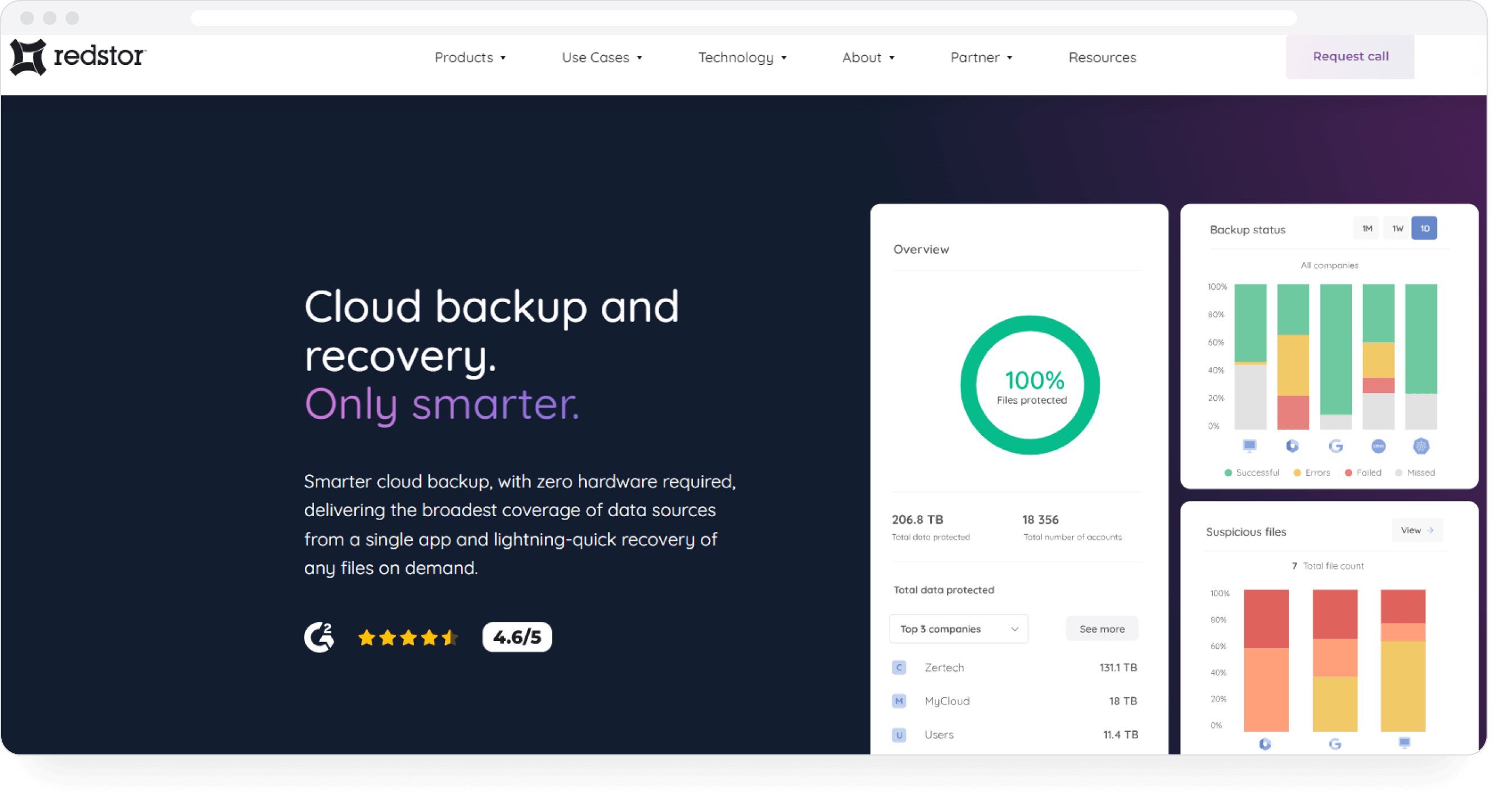 Redstor provides cloud-first back and recovery services without any hardware requirements. It can archive and secure data from multiple sources from one app, and restore any files on demand, in an instant.
Redstor's proprietary technology lets you recover the data for entire systems in moments, which is essential to prevent major dips in productivity. You need no hardware and about 60 seconds to set things up, after which you can manage all archiving activities from a central dashboard.
Additionally, all your archived data is protected by Redstor's AI-powered malware detection and data protection technology, which consistently detects and neutralizes cyber threats. It will also scan all your existing backs and quarantine/flag any suspicious files for your investigation.
Redstor's price
Redstor has a wide range of products, whose prices differ based on what you're using them for and which environment it's running on. So I recommend you directly check out their pricing page.
Micro Focus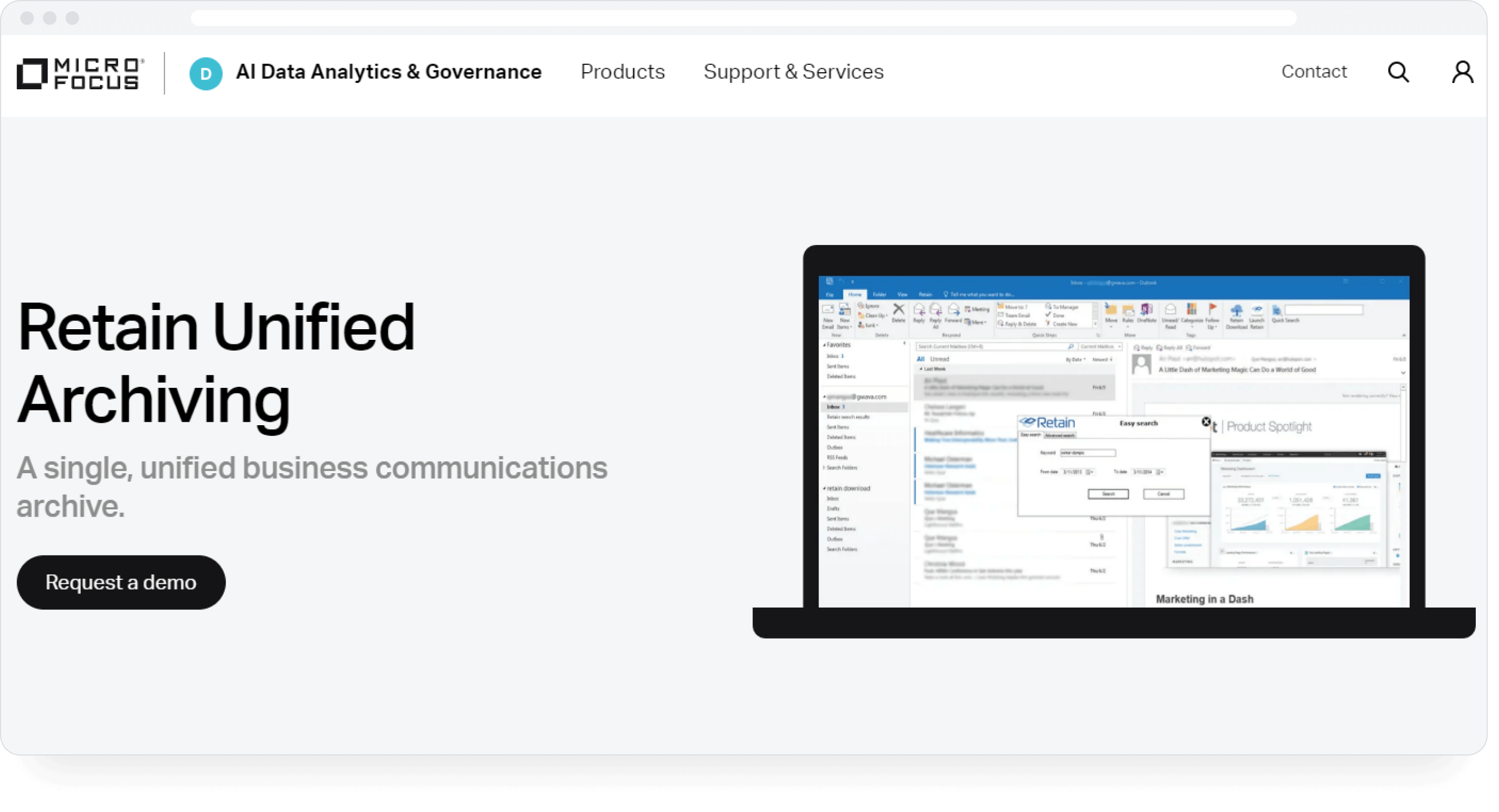 Micro Focus provides a single, unified archive for all business communication in an organization. It archives all emails, mobile data, and social collaboration from platforms into one online location.
The tool also provides content management, as well as backup and recovery services. You can archive your emails and text messages on your mobile devices, and even encrypted text and phone number data across iOS and Android.
Micro Focus lets you migrate between platforms. Administrators can configure and customize policies to define what email, social media, and mobile data the tool should archive. Filters include mailbox type, age, attachments, and status.
As with some other tools on this list, Micro Focus helps organizations meet regulatory and data privacy guidelines, and, more importantly, keeps essential data safe from mistaken deletion or malicious infiltration through robust access controls.
Micro Focus' price
Microfocus also has a massive number of products under its umbrella, about 101. You can request free trials of each product (or whichever you most require) from here.
Vobesoft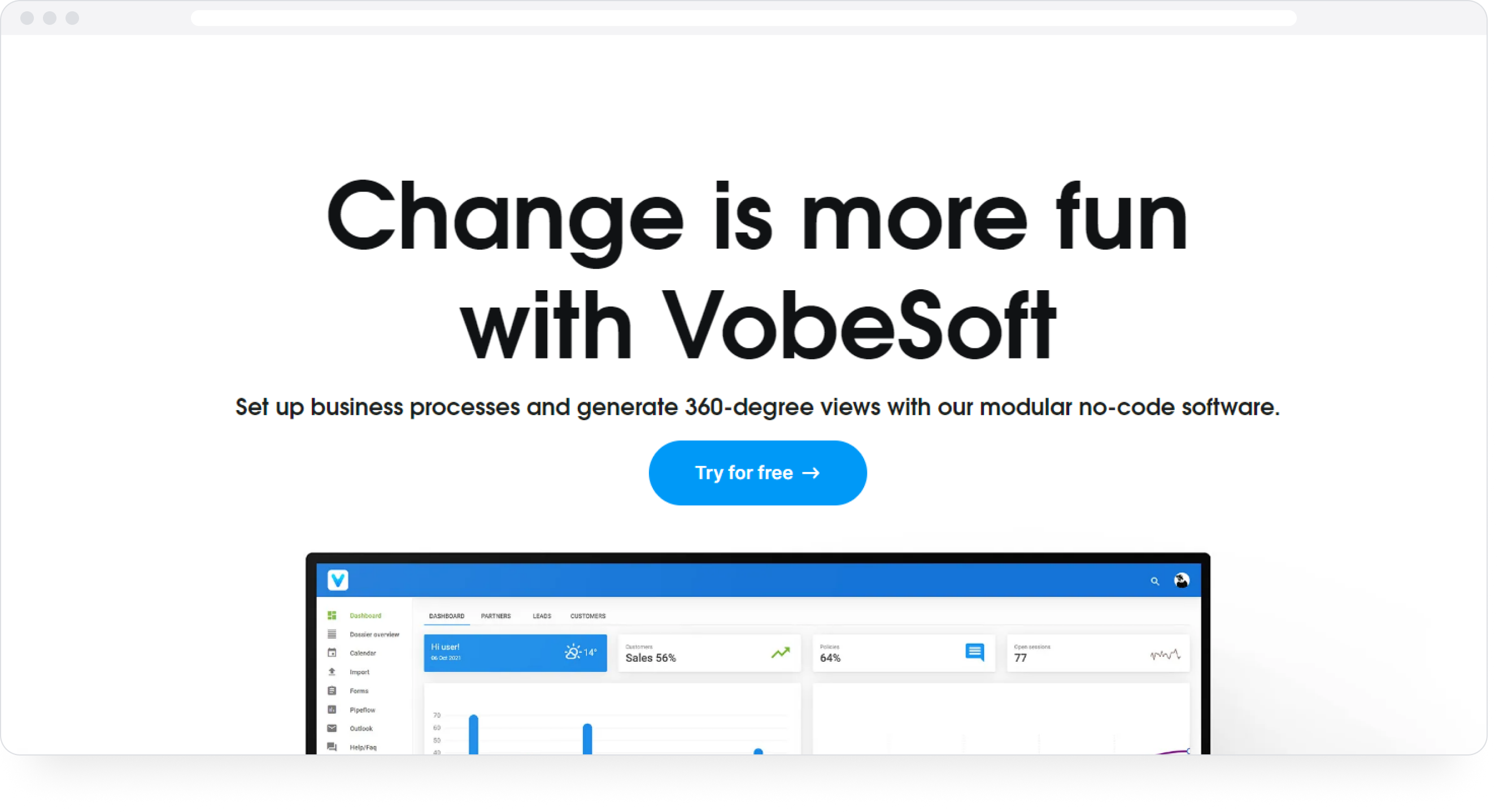 Vobesoft does much more than archive data. It's a sort of 360-degree business software that also provides archiving services. In this section, I'll only be talking about this aspect of its many functions.
Vobesoft allows users to automatically generate blueprints of all records, files, and/or objects within a company, and then archive them for safekeeping. Using this tool, you can snap blueprints of all business-relevant files, process, label, and archive them all in the cloud. The system is customizable and configurable at all times (to the individuals with the right permissions).
Since the tool organizes and stores all important documents in one central digital location, it can be used as a cloud-based archive and a document management system. All data (company information, files, historical data) can be retrieved instantly within the cloud. Vobe Archiving provides a handy REST API to enable easy integration with any business' technology ecosystem.
This dynamic, customizable database allows you, the user, to decide how work gets done and what data should be saved. The system is set up to be responsive to the customer's functional context and offers its own prepared templates for easy setup. Of course, you can also choose to configure the tool from scratch.
🗒️
Note: While this is an exceptional tool, it also comes with a set of other business functions, which puts the archiving software cost on the higher side. If you're ONLY looking for archiving features and nothing else, this might not be the most economically feasible option, despite its quality of service.
Vobesoft's price
There is a free plan with limited features.
Basic Plan: €100/month
Standard Plan: €600/month
Pro Plan: €3000/month
Share Archiver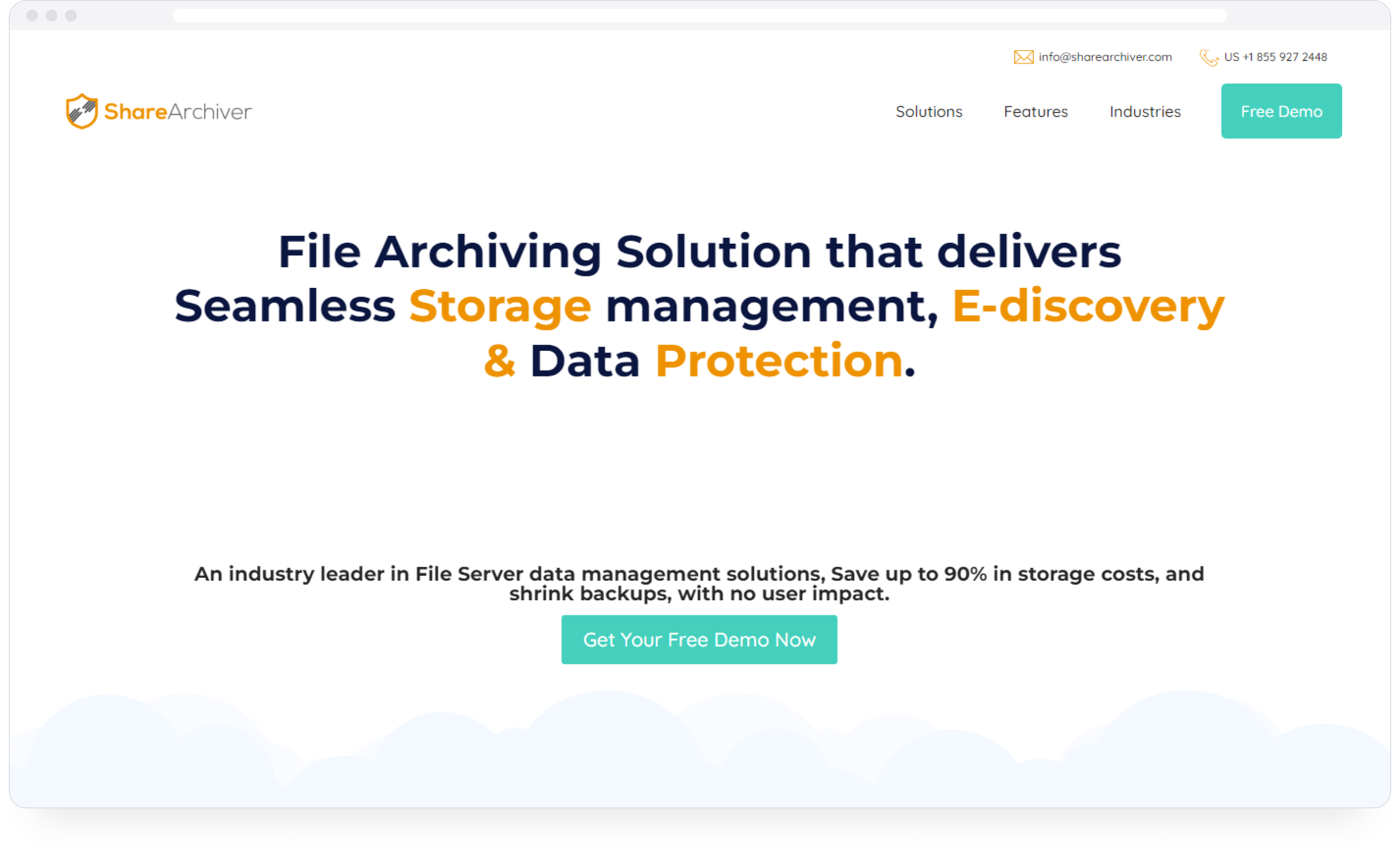 Share Archiver is designed to archive huge volumes of data. This holistic data storage and management tool provides Archiving as a Service (AaaS). It can be deployed as an on-premise tool or an on-cloud solution.
Here's how it works: you sign up for the tool, choose your plan, analyze data, and detect data patterns. Based on those patterns, you can set archiving policies and let the tool archive data according to said policies. You can also examine unstructured data to discover more sophisticated data patterns.
The solution is scalable; it can accommodate your data, no matter how much it expands. You might just have to upgrade the plan. Price is volume-based — you pay for the data you store.
Share Archiver's price
You have to request a quote, depending on your archiving needs, via the website.

Why Authory?
As the above list shows, most of the top archiving software is meant to serve organizations rather than individual content creators. I've personally used both Internet Archive and Authory and chose the latter because it requires me to make less effort.
While Internet Archive is free, it requires me to manually upload each content piece (articles, in my case). I've been writing for over half a decade now, and there is a large number of published pieces I had forgotten about until Authory imported them for me.
Basically, with Authory, I don't have to be responsible for finding my content and then archiving it. I just have to remember the websites on which they are published, enter those site names and addresses, and let Authory find and archive all my articles while I take a longer nap.
Naturally, I was more than willing to pay 8 dollars every month. It was much easier and far more affordable than manually finding what I wrote three years ago. Internet Archive also provides a publicly searchable database, and I wasn't sure I was comfortable with that just yet.
Of course, I'm aware that an archive tool must suit very specific requirements, depending on the person/organization looking for it. If you're looking for company-wide data backups, you are spoilt for choice, as seen in the list above. However, if you're like me and want all your published content (text, audio, video) automatically organized and archived in one place, give Authory a shot.