Would you believe me if I said I spent about three years as a full-time technical writer at a couple of tech startups (one fairly well-known in the industry) but never actually created a technical writer portfolio until I quit both?
Well, it's true. I only realized the need for one when I decided to try freelancing and received confused looks from recruiters who couldn't fathom the fact that I didn't have a portfolio.
(At the time, my technical writing samples were basically article links in an email. Don't do that. Don't be me.)
Technical writers, like anyone else with a job, need a portfolio dedicated to showcasing their work and achievements. I had to learn this the hard way, so I figured I'd save you some trouble.
In this article, I'll take you through the what and how of technical writer portfolios — what it is, what goes into it, and how to create one.
📖
What you'll get out of this article:
• A definition of technical writing
• Essential elements & features of a technical writing portfolio
• Why Authory is THE tool to create your technical writing portfolio (coming straight from a technical writer)
What exactly is technical writing?
Technical writing, in its basic definition, involves taking complex concepts and disentangling them into formats that are easier to understand — manuals, white papers, documentation pages, guides, etc.
Generally, technical writing has to do with dissecting and diluting concepts related to technology of some kind (it's right there in the name). Writers in this domain, especially those working on technical documentation, usually carry some form of industry expertise, commonly in the realms of engineering, software development and usage, healthcare management, and the like.
A task that technical writers often undertake is creating educational material that helps customers with using one or more products. It can also be helpful for a company's internal functions, allowing employees to use a project management tool effectively, generate appropriate reports for management, or navigate issues with back-end systems.
In my case, I wrote hundreds of articles explaining concepts related to software testing, quality assurance, and video engineering. I remember working on a few documentation pages, but they were a rare occurrence in my career at the time.
What goes into your technical writer portfolio?
I've already mentioned above that your technical writer's portfolio should include the obvious — work samples, professional information, contact info, etc. In this bit, I'll highlight three somewhat uncommon aspects that will make your technical writing portfolio stand out from the competition.
ALL or much of your published writing
A good technical writing portfolio shouldn't just show your best work if it's like 10 articles. Employers in 2023 are looking for quantity and quality. If possible, include all or most of your articles/blogs/docs pages/guides/manuals in your portfolio.
Not only does this assure employers that you're a reliable writer who doesn't take unreasonably long pauses between publications. It's also an excellent way for them to map your intellectual and professional growth from your earlier days.
💡
Pro-Tip: Authory can actually automatically import content from ANY digital source (websites, social media sites, etc.) as long as you enter the URL of said site.

For example, let's say I have 12 pieces on Medium, 14 articles on dev.to, and 5 on DZone. Instead of going to each site and copy-pasting each article's URL to my portfolio, I can just feed the site URL into Authory. Authory will automatically extract a copy of every BYLINED article.

These copies are saved permanently in Authory's database, where I can edit and organize them as I see fit before adding them to my portfolio.

Note that automatic content importing ONLY applies to bylined content. However, you can add non-bylined pieces manually to Authory.
Be careful of how you present ghostwritten/non-bylined content
If you're working on technical writing projects, you've probably created technical documentation that carries no byline by design. Or, you've also possibly done some ghostwritten content published under the name of anyone from a product manager to a C-suite executive.
Such writing, however, is a legitimate representation of your abilities, which is why they need to be included in portfolios. However, clients may not always consent to your inclusion of what is, essentially, their proprietary content. In such cases, you'll have to find a balance between giving yourself a fair representation and not risking NDA violations.
💡
Pro-Tip: It's been quite easy for me to showcase ghostwritten content ever since I started using Authory. You can categorize your content into collections and make those collections private.

Hence, if I have to display any ghostwritten content, I simply place it in a private collection and share it with ONLY the client in question. It never becomes public, but it also doesn't stop me from proving my expertise with real-world evidence.
Include content in all formats (if possible)
Yes, I'm aware that this article is about creating a good technical writing portfolio, but I'm including this just in case. If you have been featured on a podcast talking about your craft or perhaps led a talk on technical writing while at your current position… include video or audio evidence of it, if possible.
Anyone hiring for technical writing jobs would be extremely impressed by the fact that you are both verbally and textually gifted with regard to your profession. This makes you more than just a great writer. If you can verbally explain technical writing to those less experienced than you, you're probably a great team leader and trainer.
Examples of technical writing portfolios (for a little inspiration)
Williesha Morris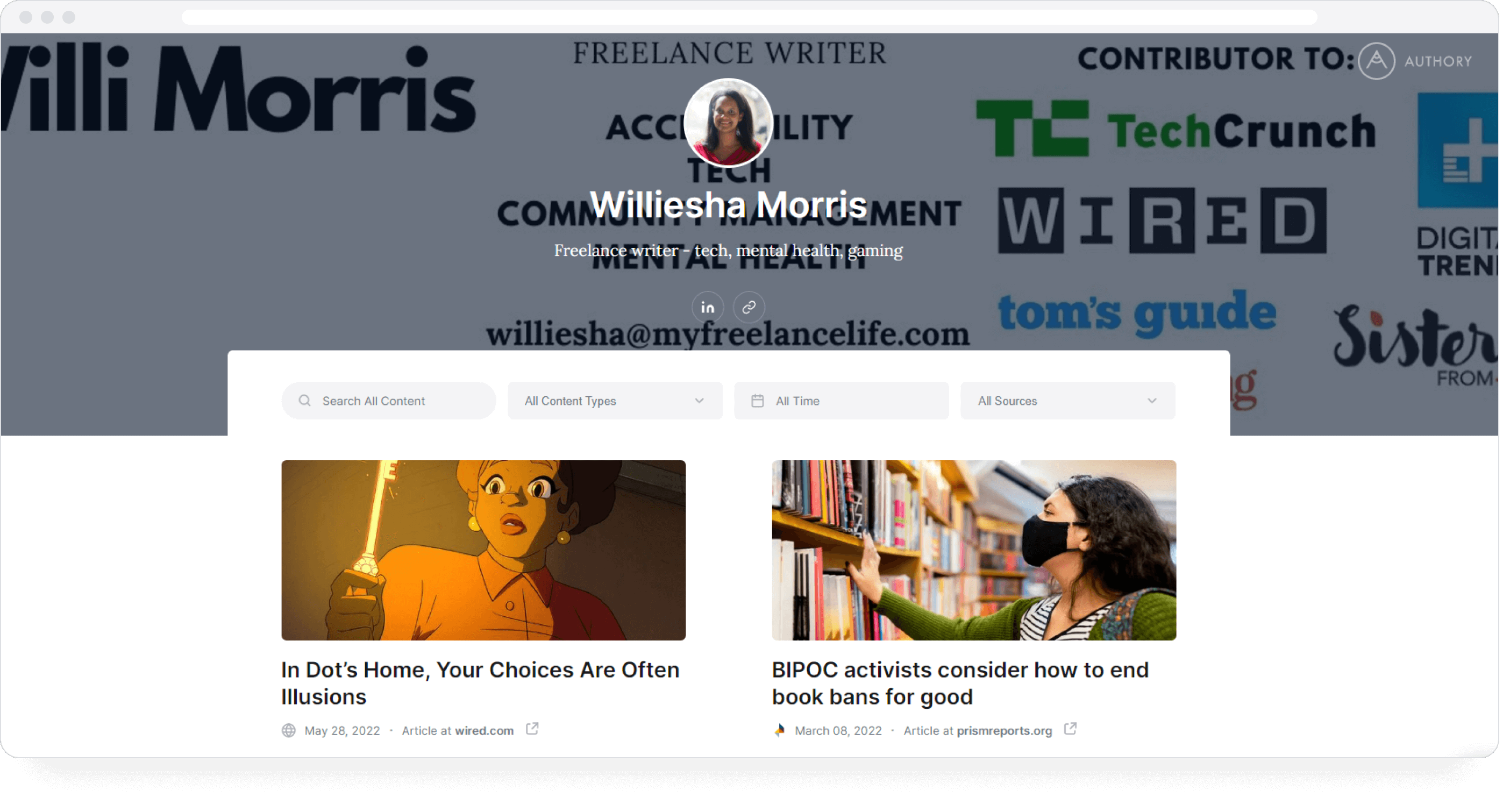 Williesha Morris is an Alabama-based freelance who writes extensively about technology, gadgets, criminal justice, and travel, among other topics.
Joshua Poh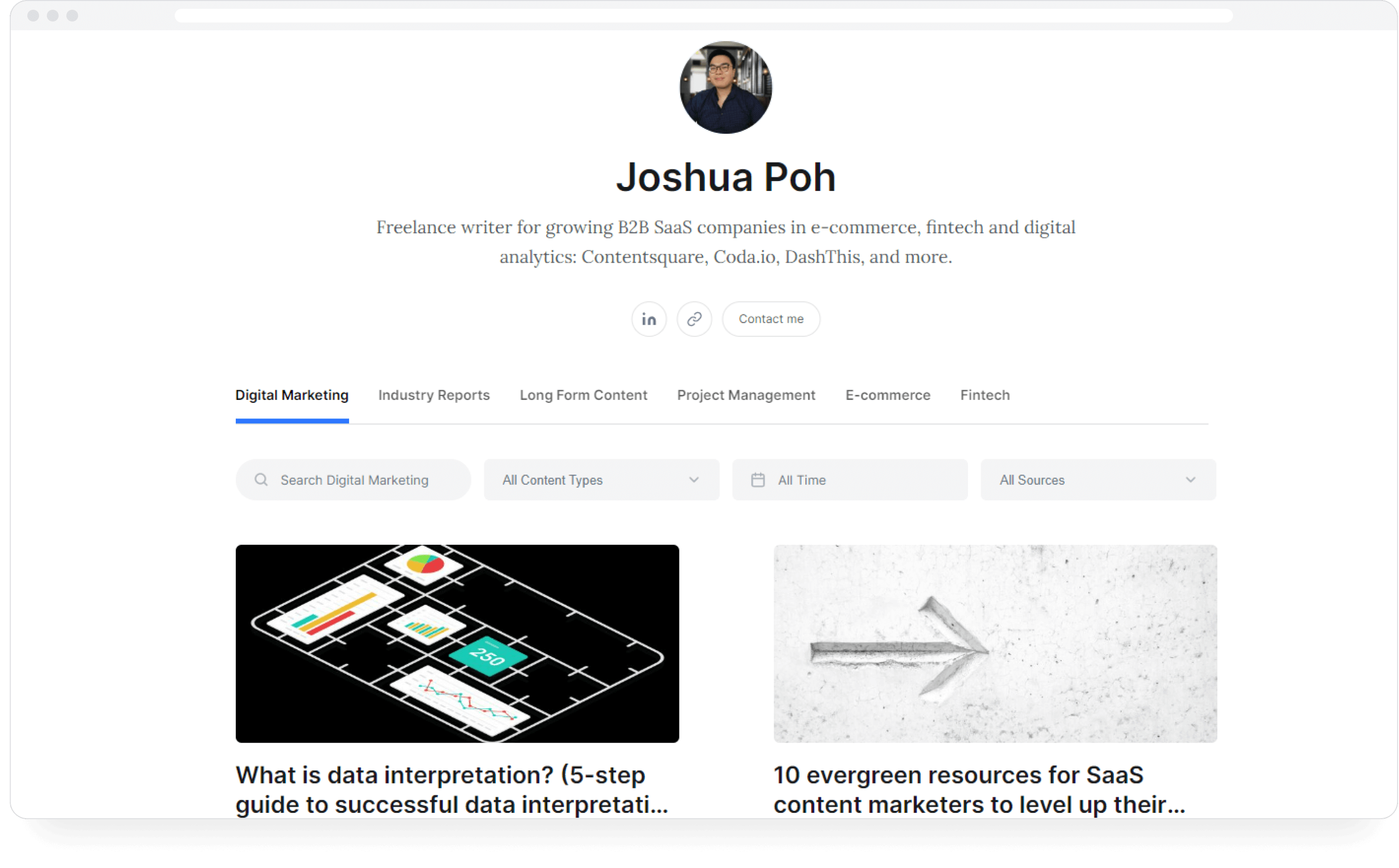 Joshua Poh writes for growing B2B SaaS companies in e-commerce, fintech, and digital analytics domains, some of these companies being Contentsquare, Coda.io, DashThis, and more.
Alexa Phillips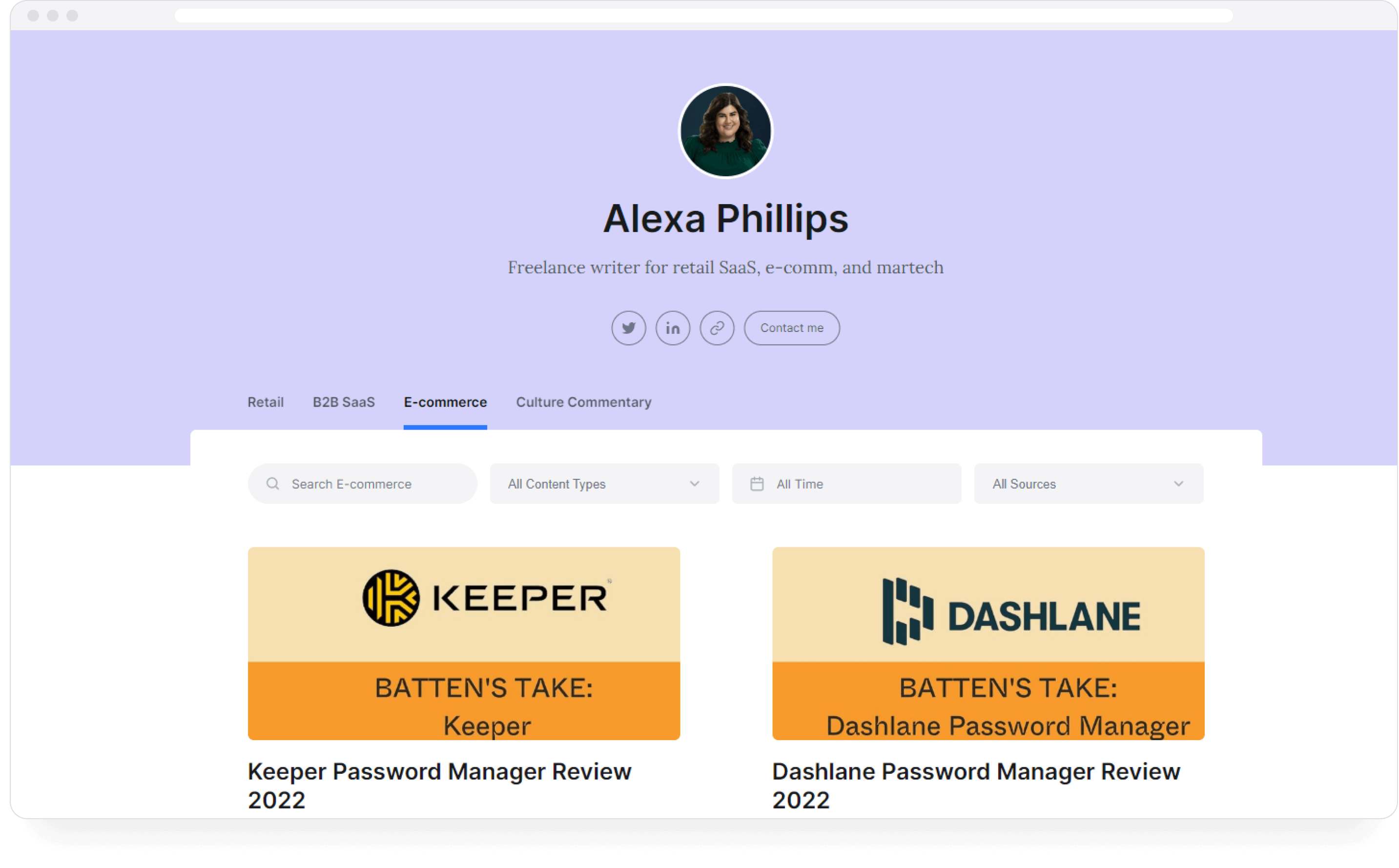 Alexa Phillips writes long-form content for retail SaaS, e-commerce, and MarTech companies, largely intended to build brand awareness, establish domain authority, and accelerate conversions.
Caissa McClinton
Caissa McClinton doesn't say much about herself in her portfolio, except that she went from craft blogging to technical writing. However, a quick look through her tech writing portfolio quickly establishes her as an authority in her field.
Why use Authory to create your technical writing portfolio?
As someone who has been delivering technical writing services for more than five years, I am very comfortable recommending Authory as THE portfolio builder for you. I've already mentioned a couple of its flagship features above, but let me go into a bit more detail.
Automating importing of ALL your bylined content: You enter the source website URL, and Authory finds all your bylined pieces and imports them into its database. You can import from an unlimited number of sources.
Authory won't just import all existing content from each source but all pieces published in the future on those websites as well. You never have to manually track and collate links to your content ever again. Authory takes care of everything.
You can, of course, manually upload non-bylined content if you want.
Permanent backup of imported content: That means exactly what it says. All the content Authory imports is automatically and permanently backed up in its database. In the event that the original publication link dies, you still have a copy of your work safely stored with Authory.
Backup copies are in the content's original text format rather than screenshots.
A searchable database: Let's say Authory has imported 1,000 articles for you. Now, you're looking for a specific one in which you had written an extensive breakdown of Pokemon Go, but from the game dev's POV. Instead of having to scroll through 1,000 titles, Authory lets you type in a keyword in its search box, and voila! You find what you're looking for in a couple of seconds.
Analytics on all your imported content: Authory gives you real numbers on readership and engagement for all your content every 30 days. This is a massive perk, as it lets you (or it did for me) figure out which topics/writing styles work well with your audience and which might need some work.
To that end, here's a customer testimonial on this particular feature:
"I was blown away that your platform picked up regular shares on content I'd written for a client more than five years ago." — Margaret Paton
A few other features that make Authory among the best portfolio builders available right now:
All imported content can be downloaded as high-res PDFs or exportable as HTML files. No lock-in period.
Multiple, low-effort options for customization to make your portfolio visually appealing and easy to navigate.
Email notifications every time a new article is imported by Authory.
In-built search engine optimization and responsive design so your portfolio looks good on mobile screens and shows up on search engine results.
In-built analytics that provides real numbers on content performance (engagement, readership) across the web and popular social media sites every 30 days.
Allows creation of newsletters with a couple of clicks. After setup, Authory will automatically send your newly published content to subscribers.
Widgets to display your portfolio on other sites, such as your personal website (if you have one).
Of course, I write for Authory, so I understand you may take my recommendation with a grain or two of salt. Therefore, I'll just leave some more testimonials right here:
Jimmy Daly
Adel
Christina
Emma Wilkinson