If you're a working professional in 2022-2023 and you're not on LinkedIn, you've probably misplaced your time machine (to go back to a simpler time).
As THE most popular online portal for professional networking and job searches, LinkedIn is a fixture in most working folks' lives. However, unlike most job databases, LinkedIn also allows you to express your expertise, be it in the form of showcasing articles, videos, podcasts, or writing posts about your industry or the world at large.
A lot of what industry leaders say on LinkedIn posts are valuable ideas that don't just help their followers but also establish the author as someone who knows what they are talking about and worthy of listening to.
Naturally, if such individuals (the experts) want to build a portfolio, they don't just want their work samples on it. Adding their LinkedIn thoughts, opinions, and declarations can be just as appealing to prospective employers.
In other words, their profile should ideally include a LinkedIn portfolio.
In this piece, I'll talk about why you need a LinkedIn portfolio and how to actually create one.
📖
What you'll get out of this article:
• What is a LinkedIn portfolio and why do you need one?
• How to create a LinkedIn portfolio (that automatically imports your content and backs it up forever)
• Linkedin portfolio examples
• How to add your portfolio to LinkedIn
• Why use Authory to create your LinkedIn portfolio?
What is a LinkedIn portfolio and why do you need one?
Simply put, a LinkedIn portfolio collates all of your LinkedIn activity into a single location. As an example, have a look at Aaron Agius's Linkedin portfolio on Authory: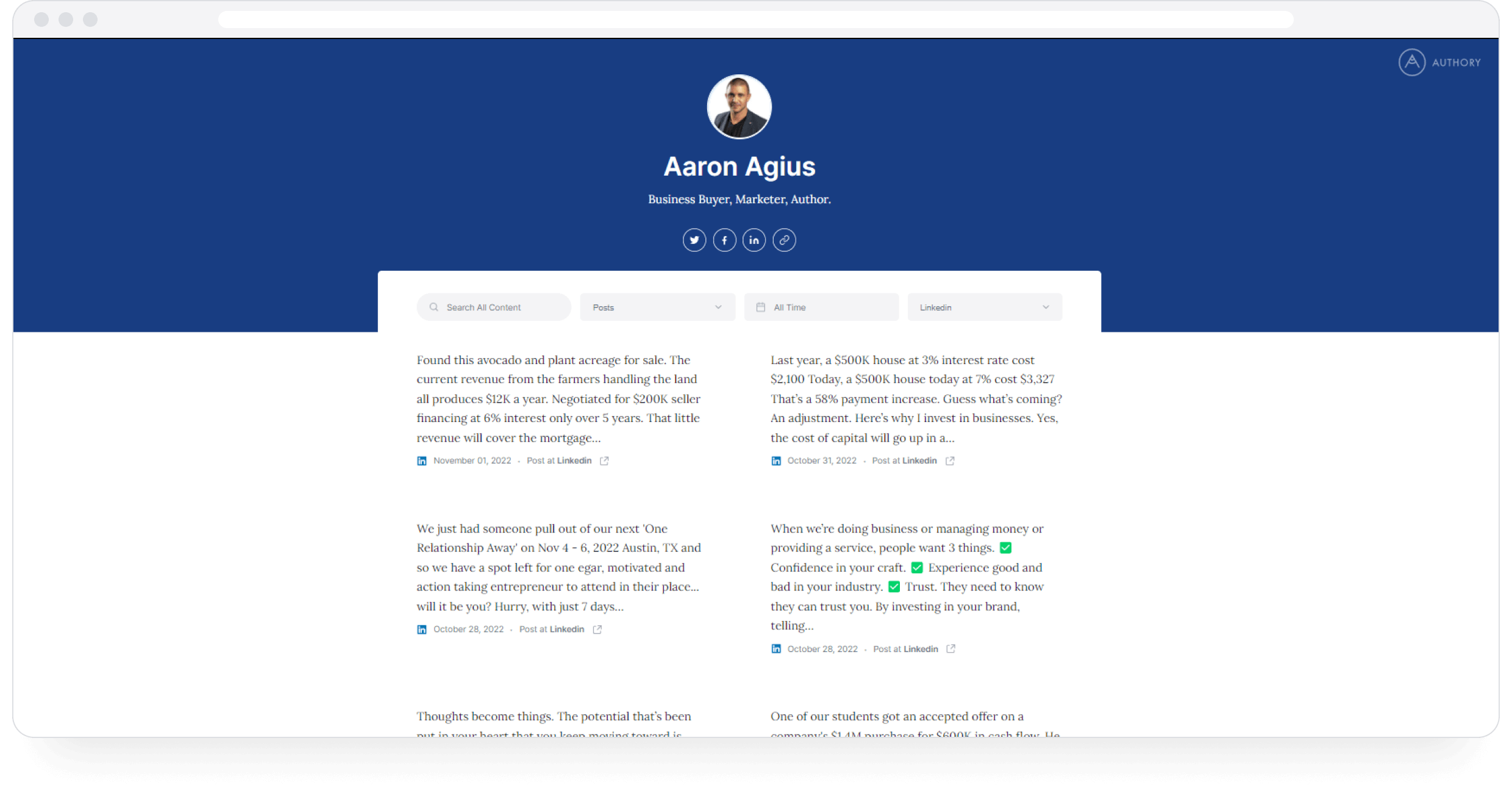 As you see above, all of Aaron's LinkedIn posts appear on his professional portfolio. Authory allows prospective employers (well, anyone) to filter a portfolio's content by source (among other metrics). Once you do so and choose "LinkedIn" as the source on Aaron's portfolio, you'll see all his LinkedIn content.
But why do I need my LinkedIn content on my portfolio?
I personally don't do this much, but many people I follow or am connected to on LinkedIn use their profiles as a mouthpiece for disseminating their knowledge and industry opinions.
For example, one of my connections, Viraj Mahajan, gives excellent advice on how to pursue a freelance writing career, especially for newcomers. He also highlights exploitative practices within the industry, and mentors quite a few people, all within his LinkedIn profile.
The content he puts out on his LinkedIn profile is a direct representation of his knowledge, industry experience, and willingness to help others. If Viraj ever wanted to work for someone else, hiring managers should be able to see these posts so as to gain a holistic understanding of the capabilities and attitudes he can bring to the table.
However, it wouldn't make sense for Viraj to provide a link to his LinkedIn profile and expect potential clients to painstakingly navigate through each post.
Instead, he can just add his LinkedIn content to his online portfolio so that only his posts stand out, and clients can look through them without having to be interrupted by irrelevant content popping up (as it often does on any social networking site).
Additionally, don't forget that any LinkedIn post can be taken down or removed if they have been reported as inappropriate or offensive. While in many cases such posts are not the kind that anyone would want to show off to an employer, it's still best to have your content organized and backed up somewhere. After all, it's your content, and you should always have access to it.
Alright, now that you know why you should create a LinkedIn portfolio, let's move on to the how.
How to create a LinkedIn portfolio (that automatically imports your content and backs it up forever)
To create a LinkedIn portfolio, follow the steps outlined below:
Step 1: Sign Up for Authory (for free)
Step 2: Import your LinkedIn content
Navigate to the "Content" tab on your dashboard. Then, click on "Add Content" at the bottom left.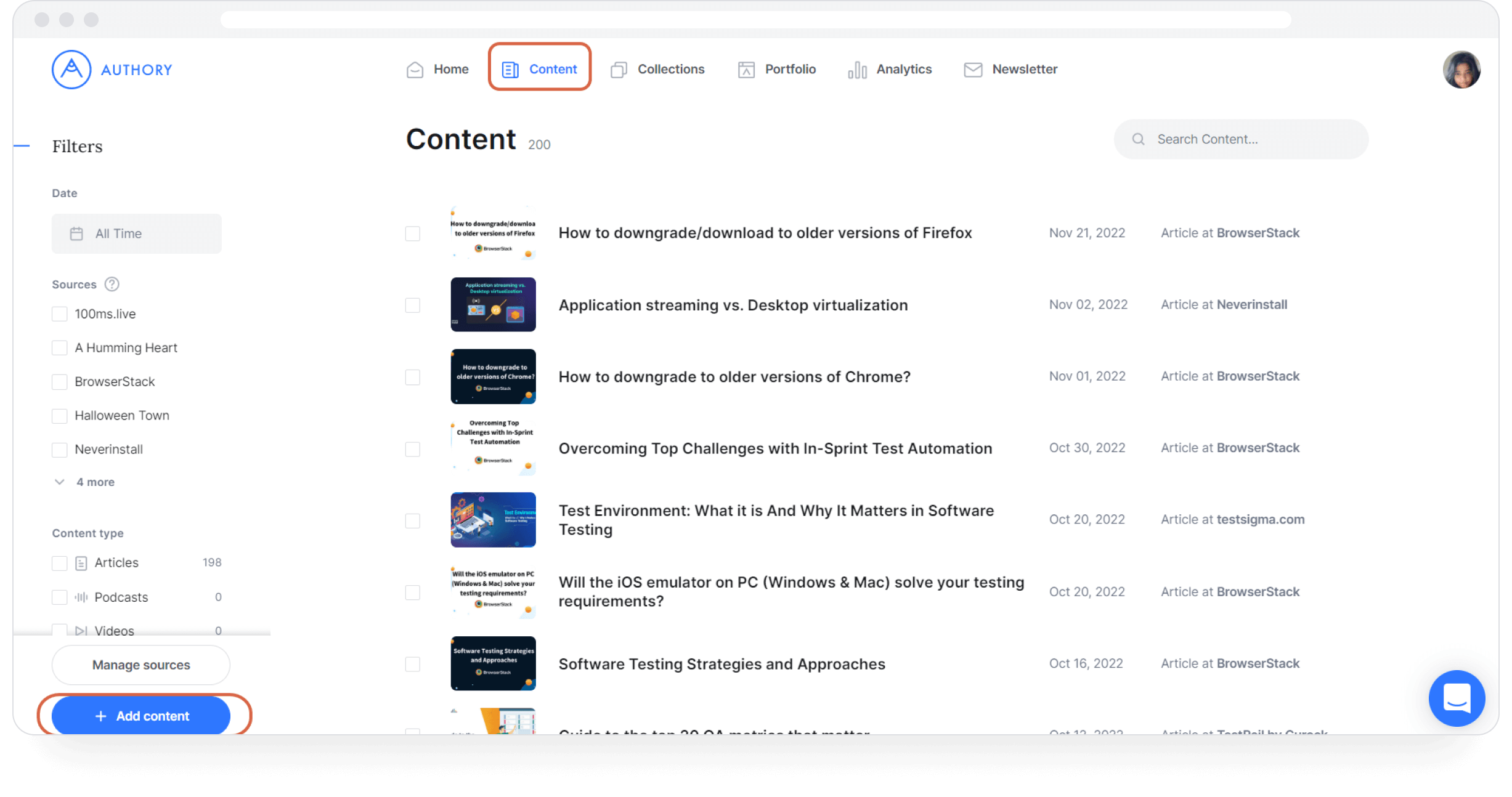 On clicking "Add Content," a pop-up will appear, giving you the option to provide a source site from which your content will be automatically imported.
For automatic importing, click on the "Automated import" option.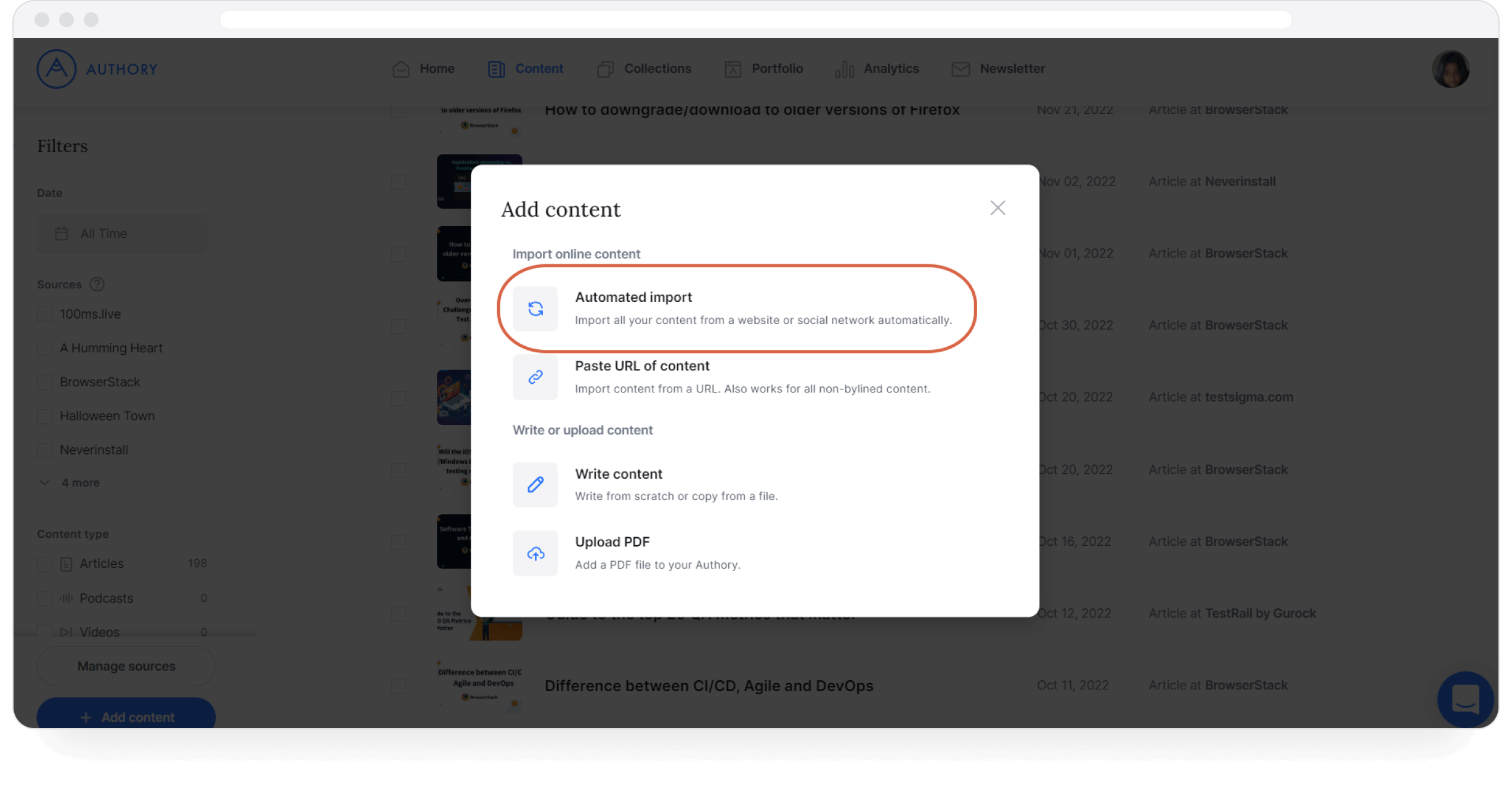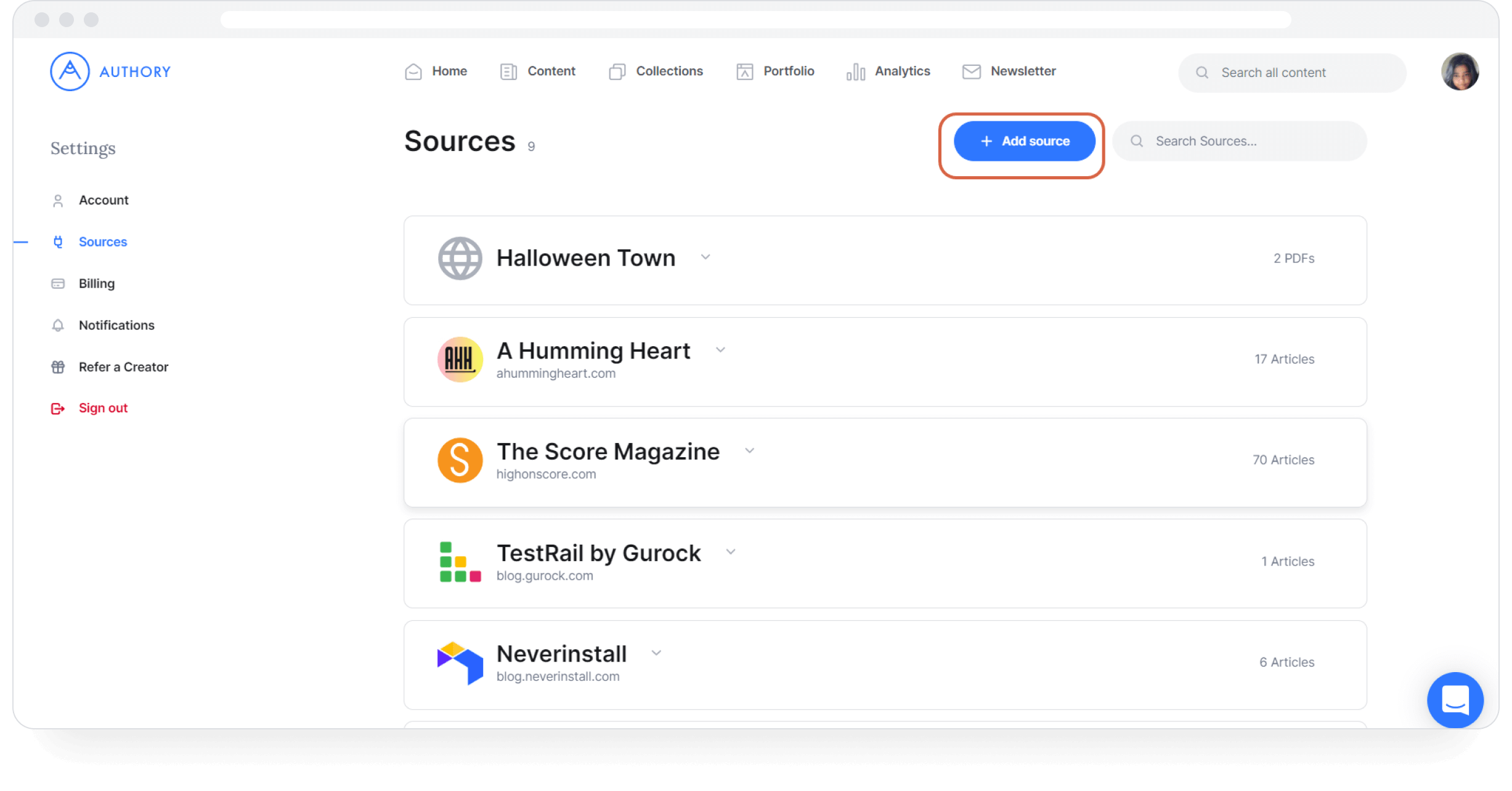 I'm choosing LinkedIn as the source for importing content.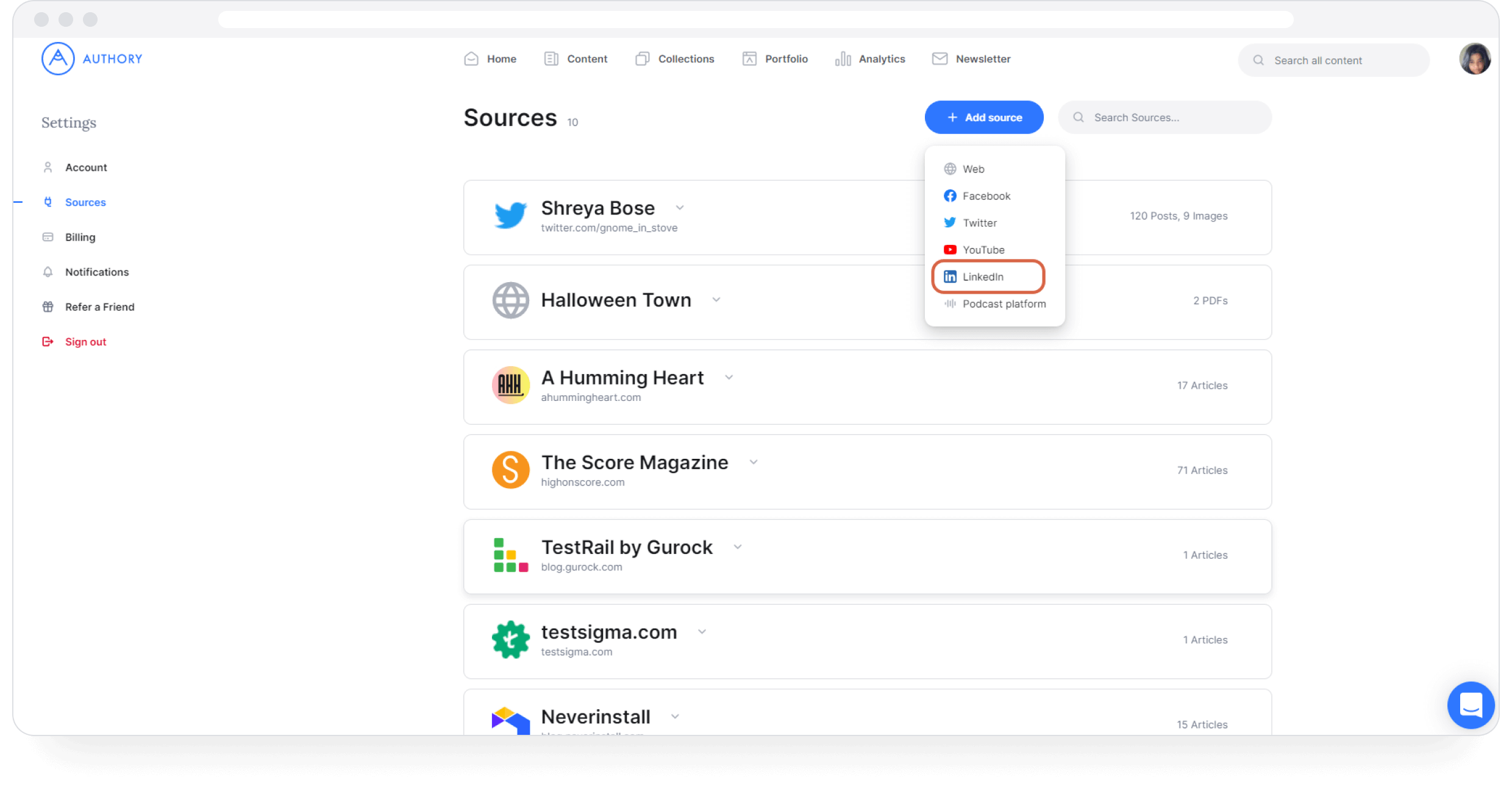 Click on LinkedIn. After that, enter the name of your LinkedIn account channel and its URL.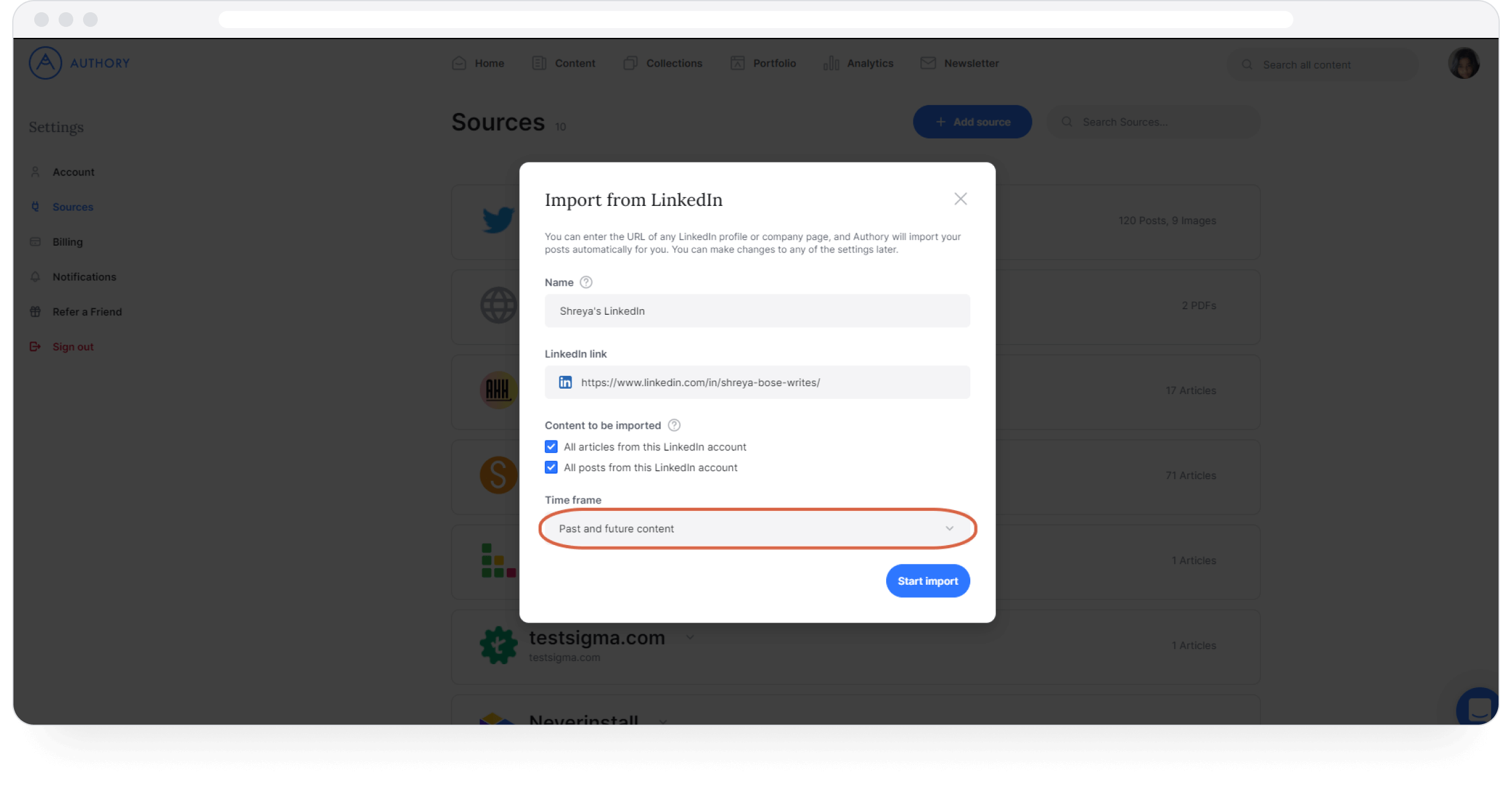 Notice that I have highlighted the "time frame." It is set to "Past and Future content," meaning that Authory will automatically import everything you've already published on your LinkedIn, as well as everything you'll publish in the future.
Click on "Start Import." You'll see that your LinkedIn account has been added to your list of sources on Authory.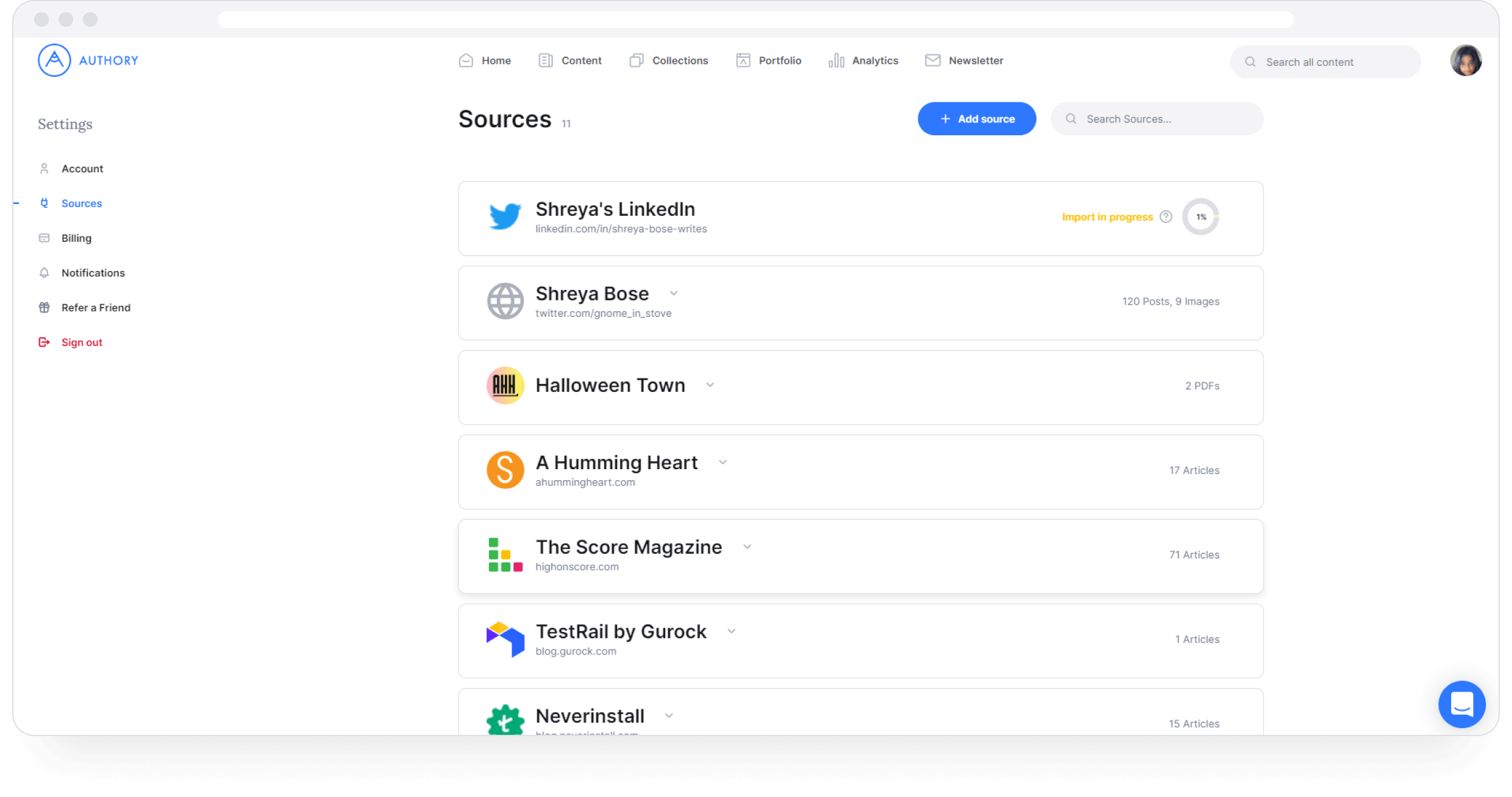 🗒️
Note: It takes about 48 hours for Authory to import all your existing content from a new source. Once the process is complete, you'll receive an email notifying you of the same After that, all new content that you publish will be imported instantly.
Step 3: Add LinkedIn content to a Collection
Go back to the "Content" tab. You'll see a list of sources on the left side of the screen. Since I have many sources, I'll have to click on "6 more" to see the full list.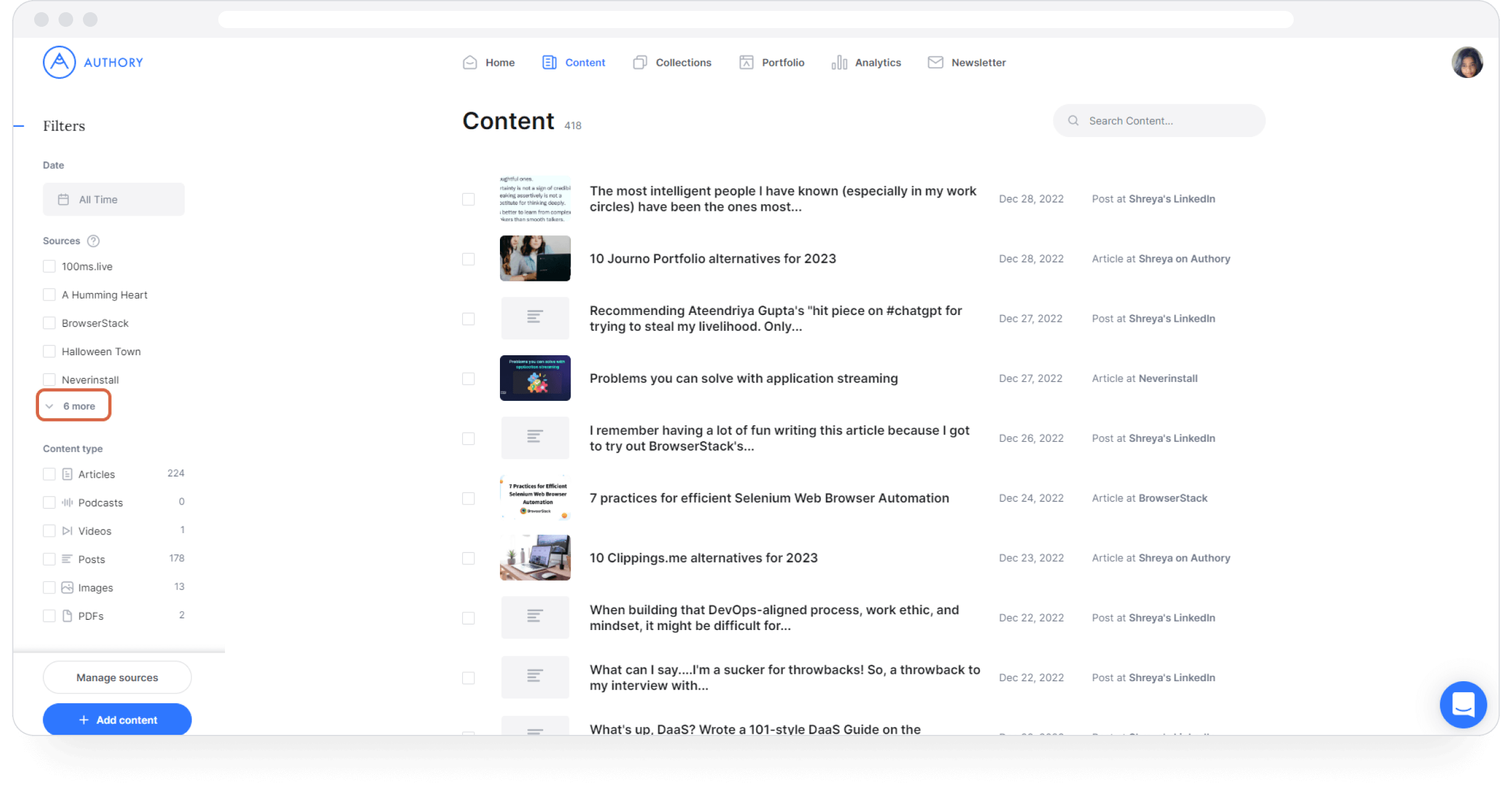 When the full list of sources shows up, choose LinkedIn. In this case, it is "Shreya's LinkedIn." I select that checkbox and click "Apply Filters."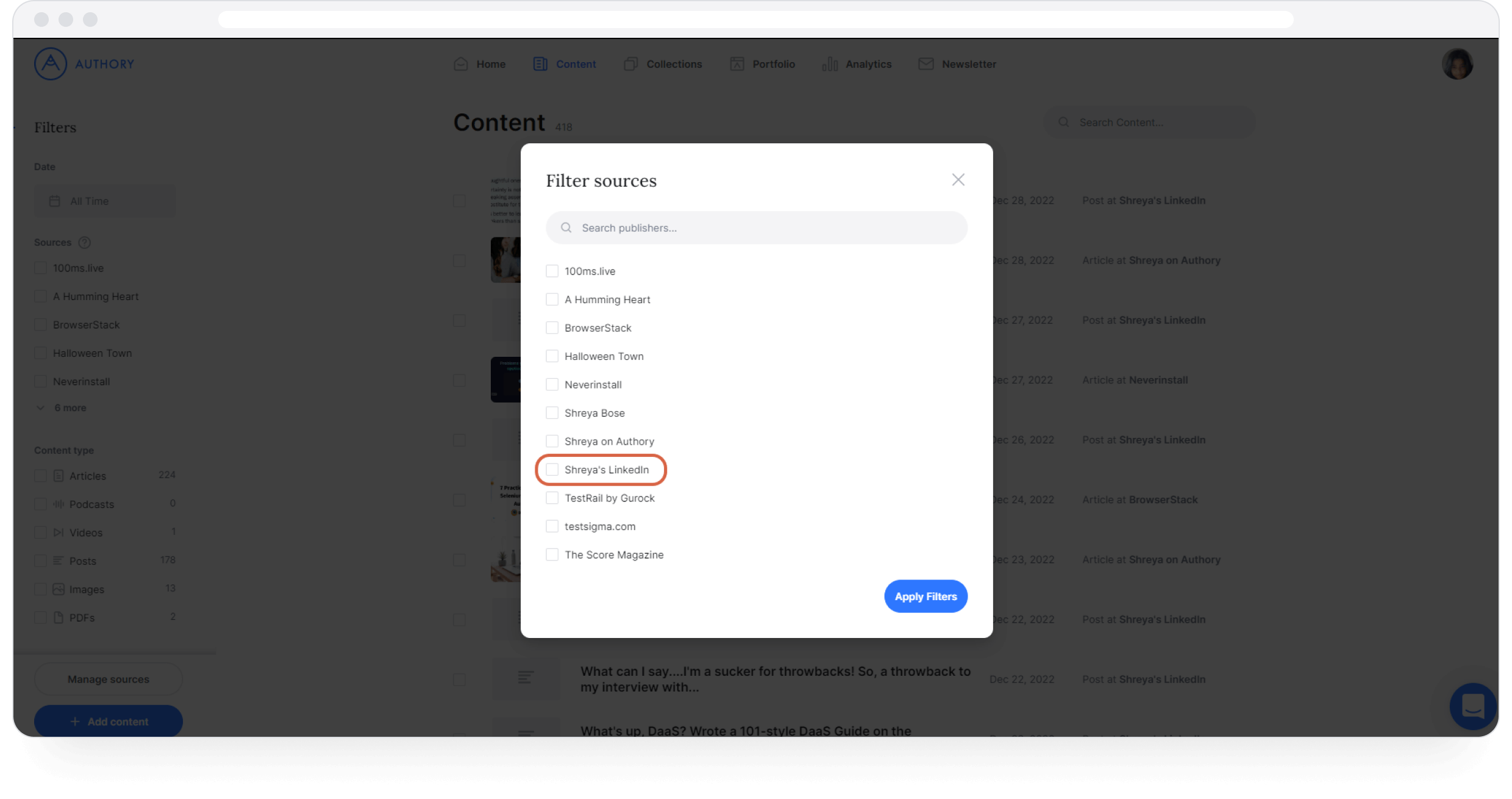 On selecting the source, only the content imported from my LinkedIn account will show up. Now, click "Create automated collection" at the top right of the screen.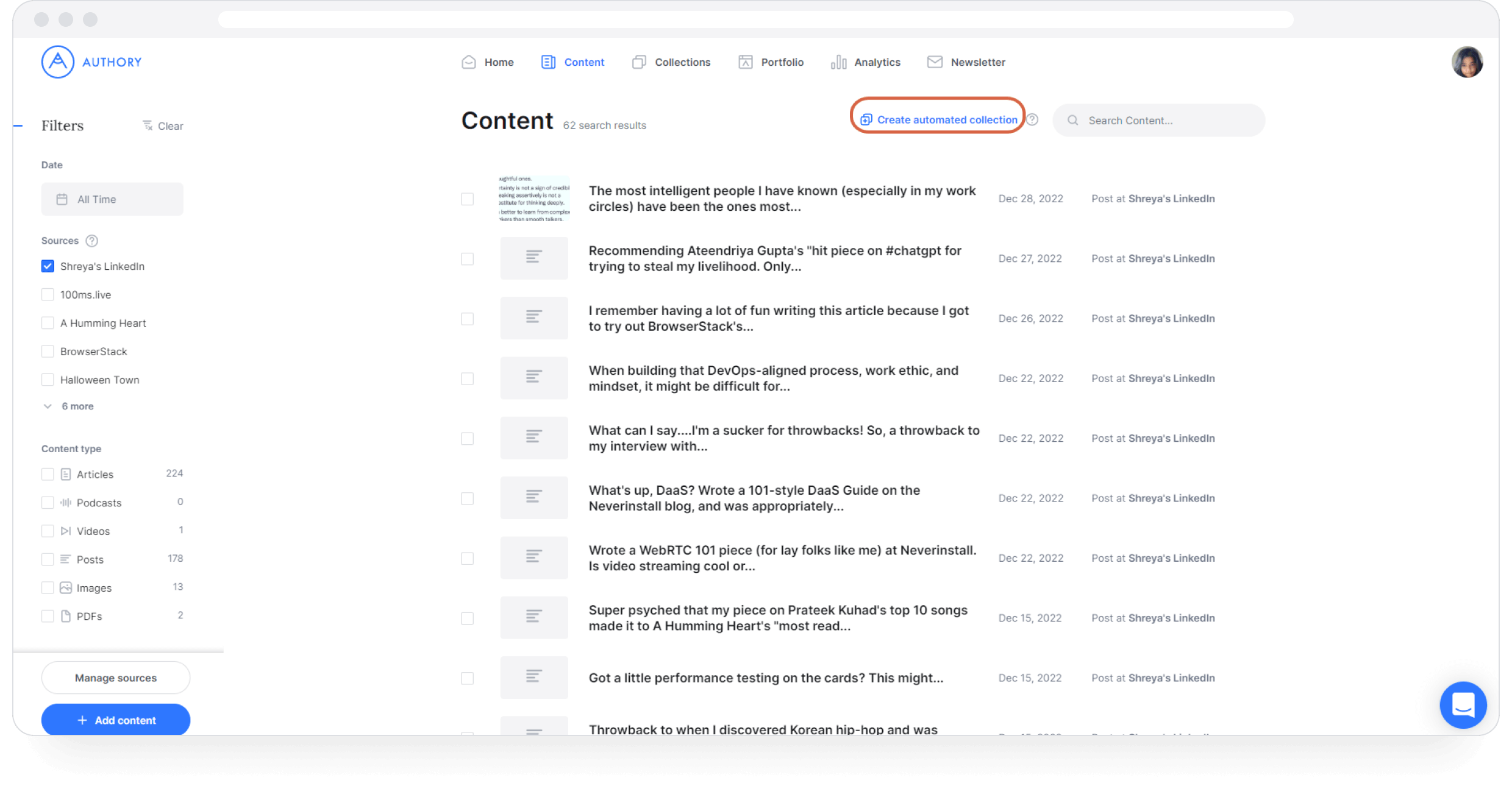 Enter the name and description of the collection. Click "Add."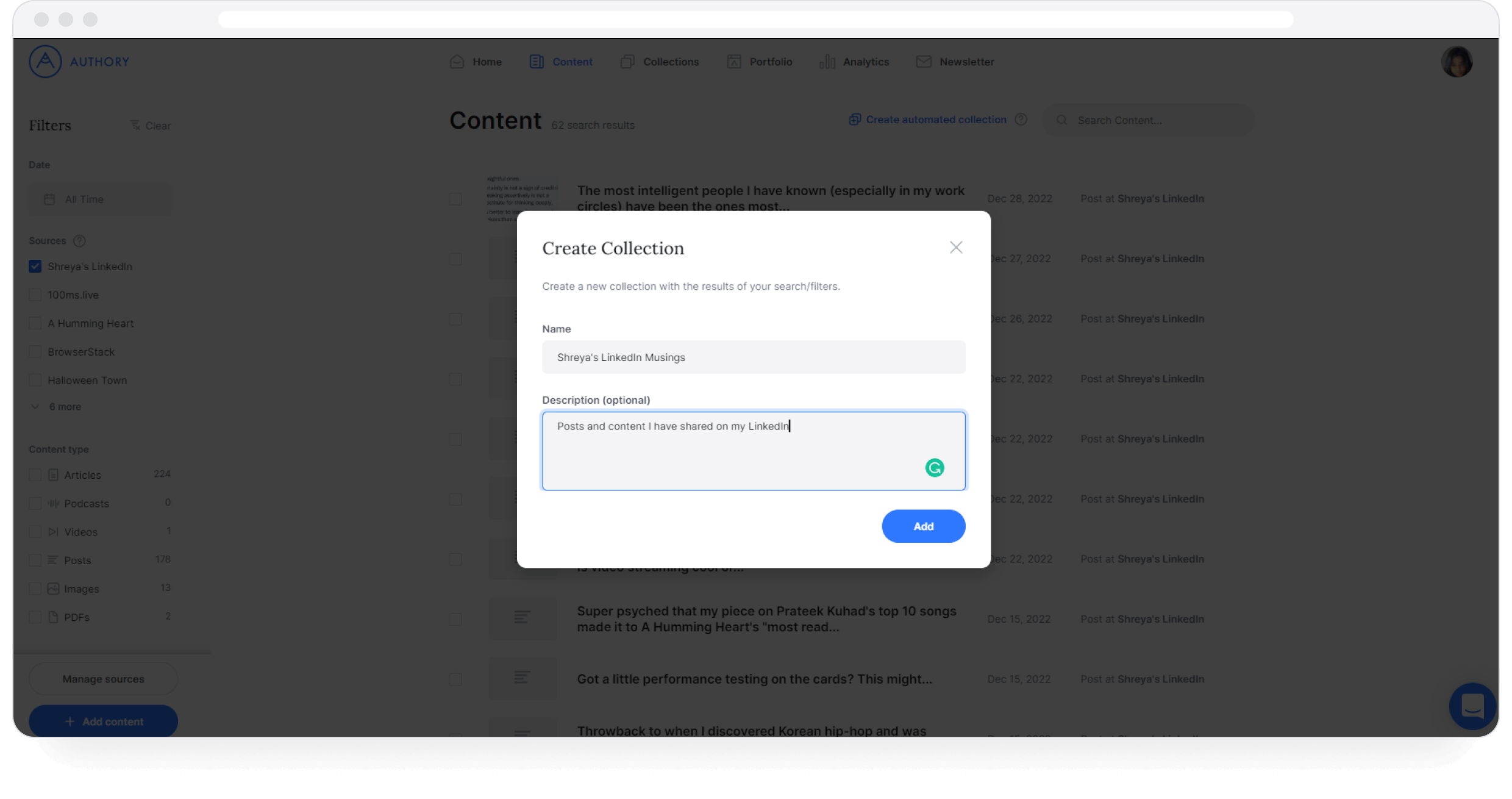 Go to the "Collections" tab to see what your LinkedIn collection looks like.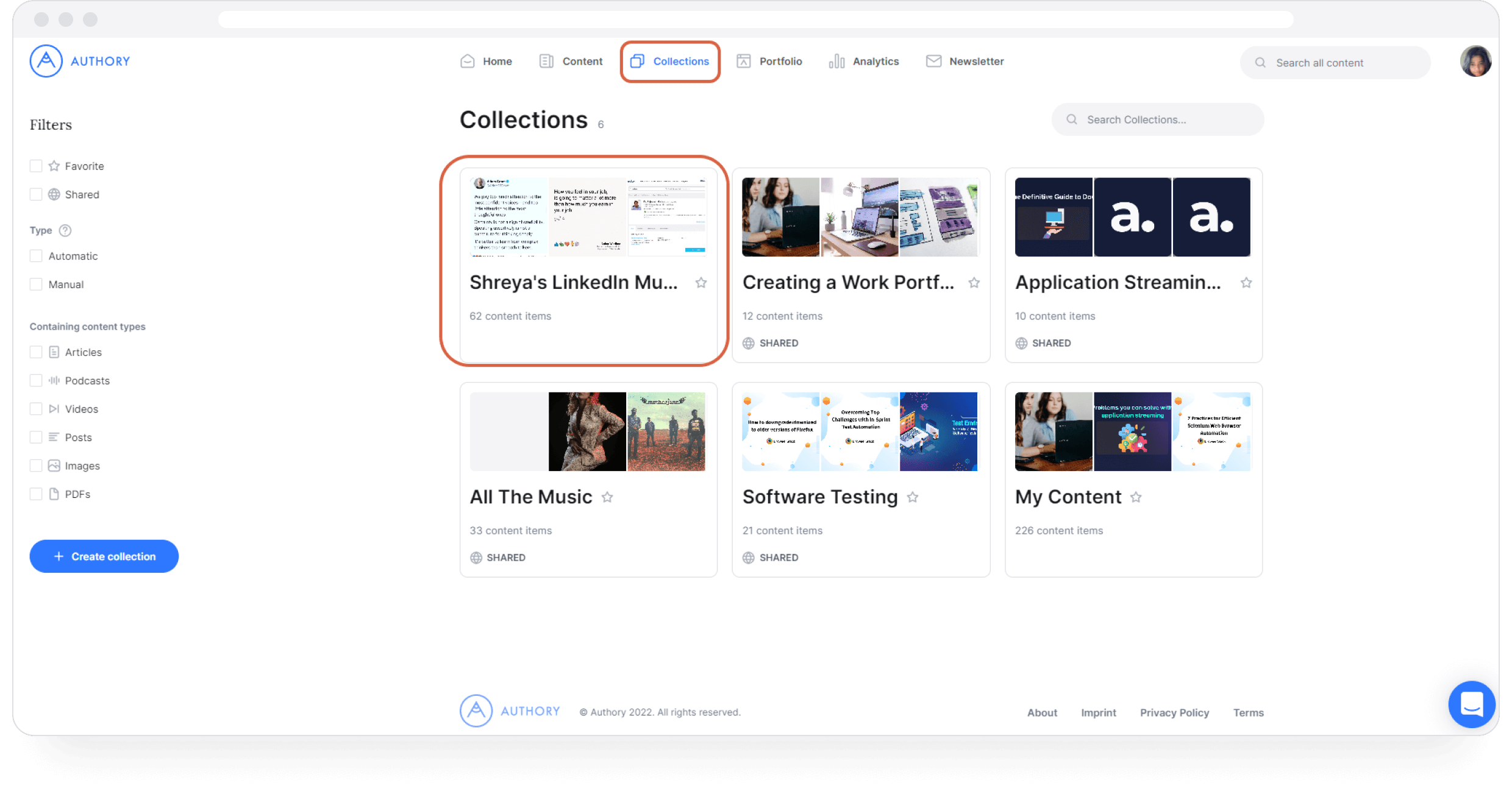 Here's what my LinkedIn collection looks like on Authory.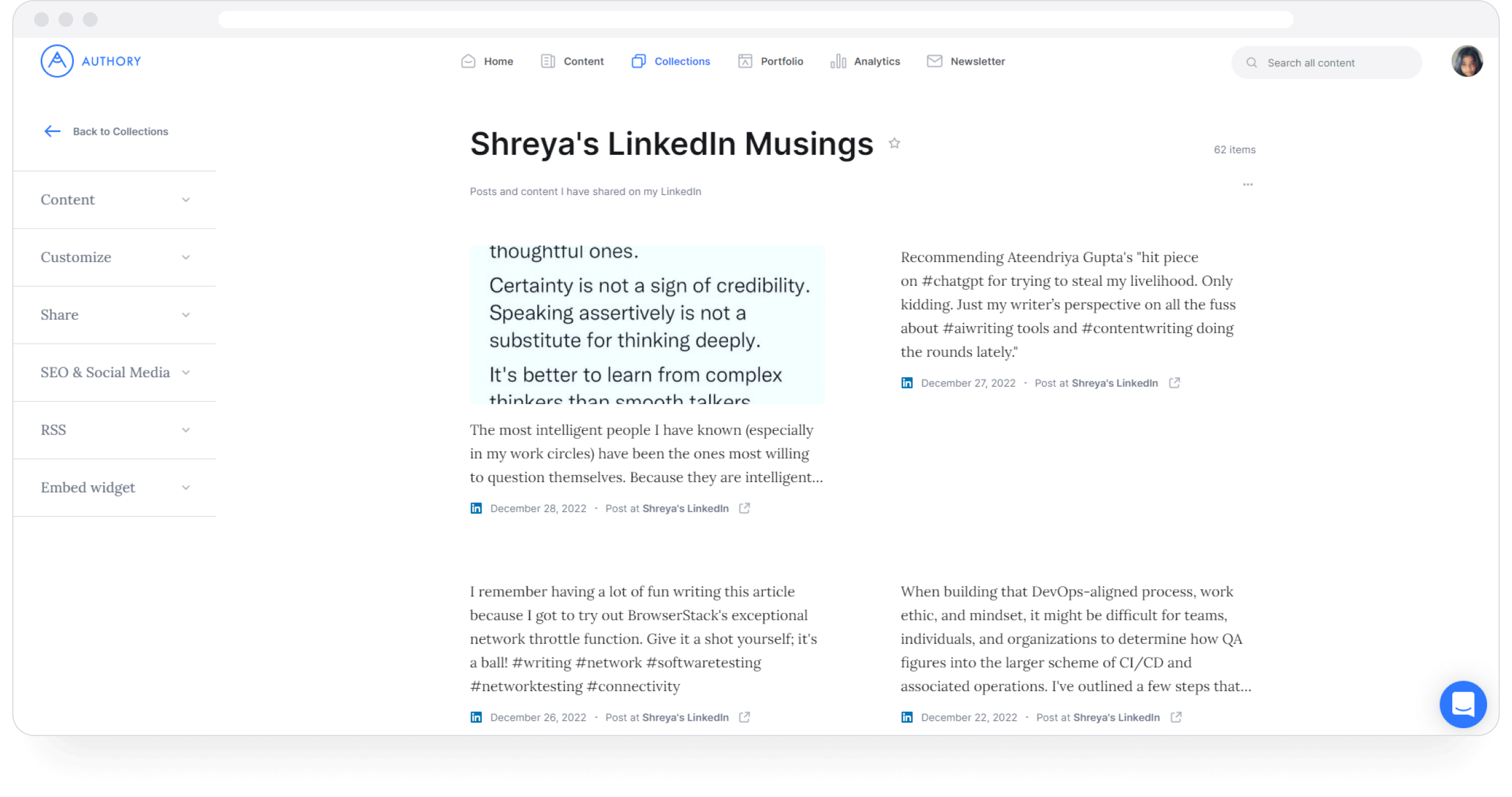 Step 4: Add LinkedIn collection to portfolio
Quick Note: If you're importing your LinkedIn content, make sure that your Authory portfolio displays the same job title as your LinkedIn profile.
Go to the "Portfolio" tab on your dashboard. Click on "Content" to the left of the screen.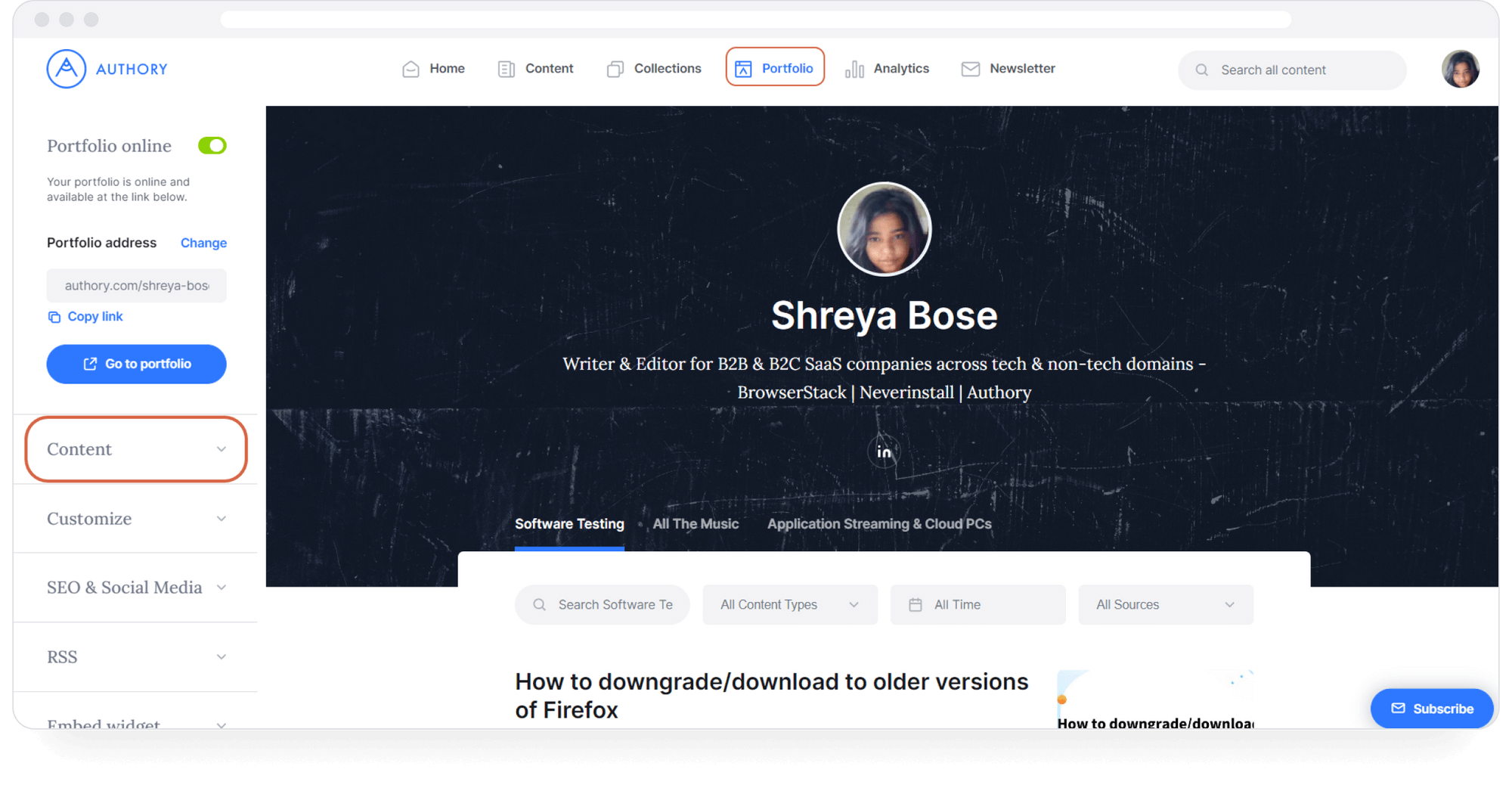 When the Content menu opens up, add the LinkedIn collection (Shreya's LinkedIn Musings) we just created.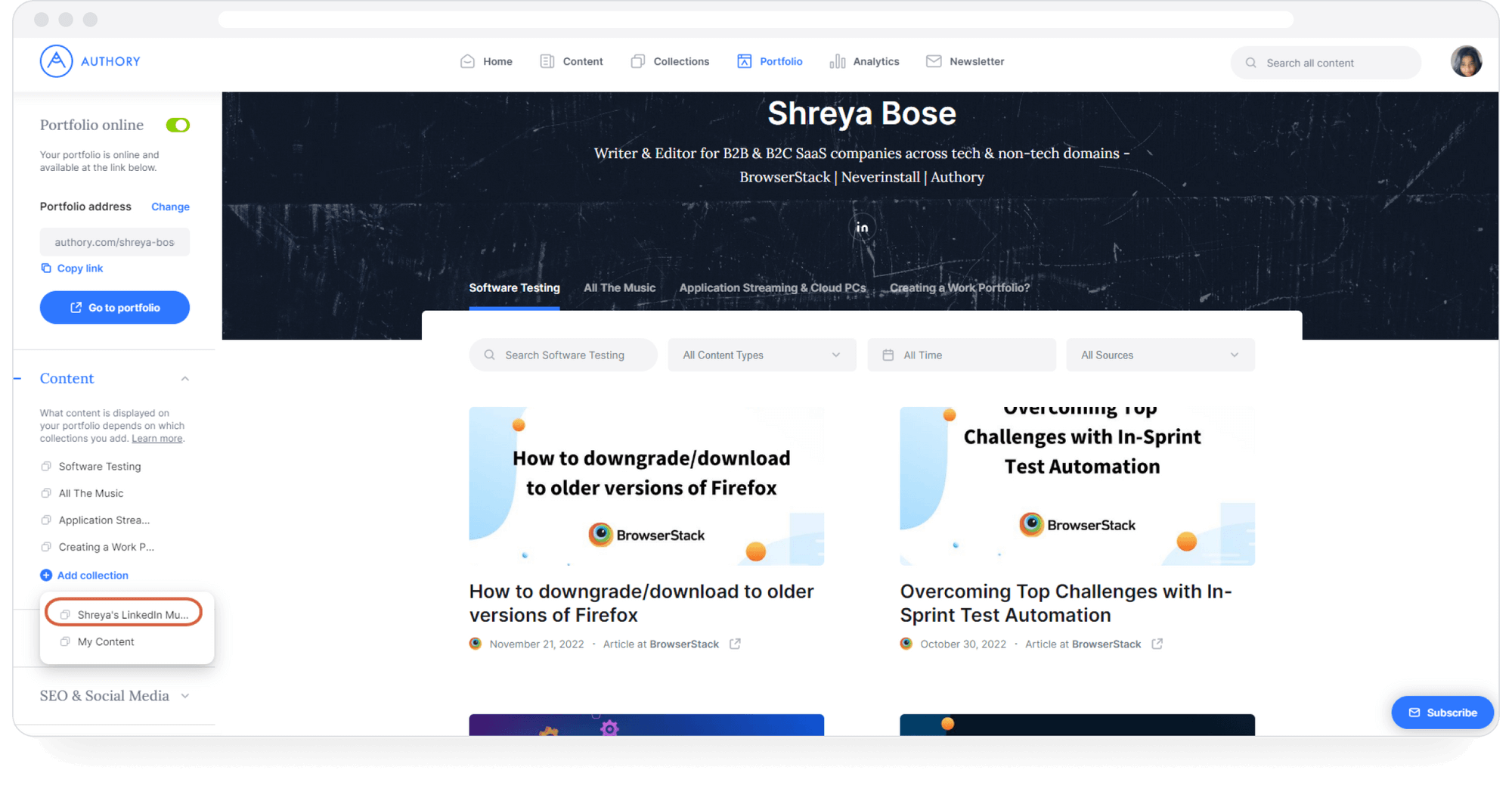 Once you click on the collection name, it will instantly be added to the portfolio.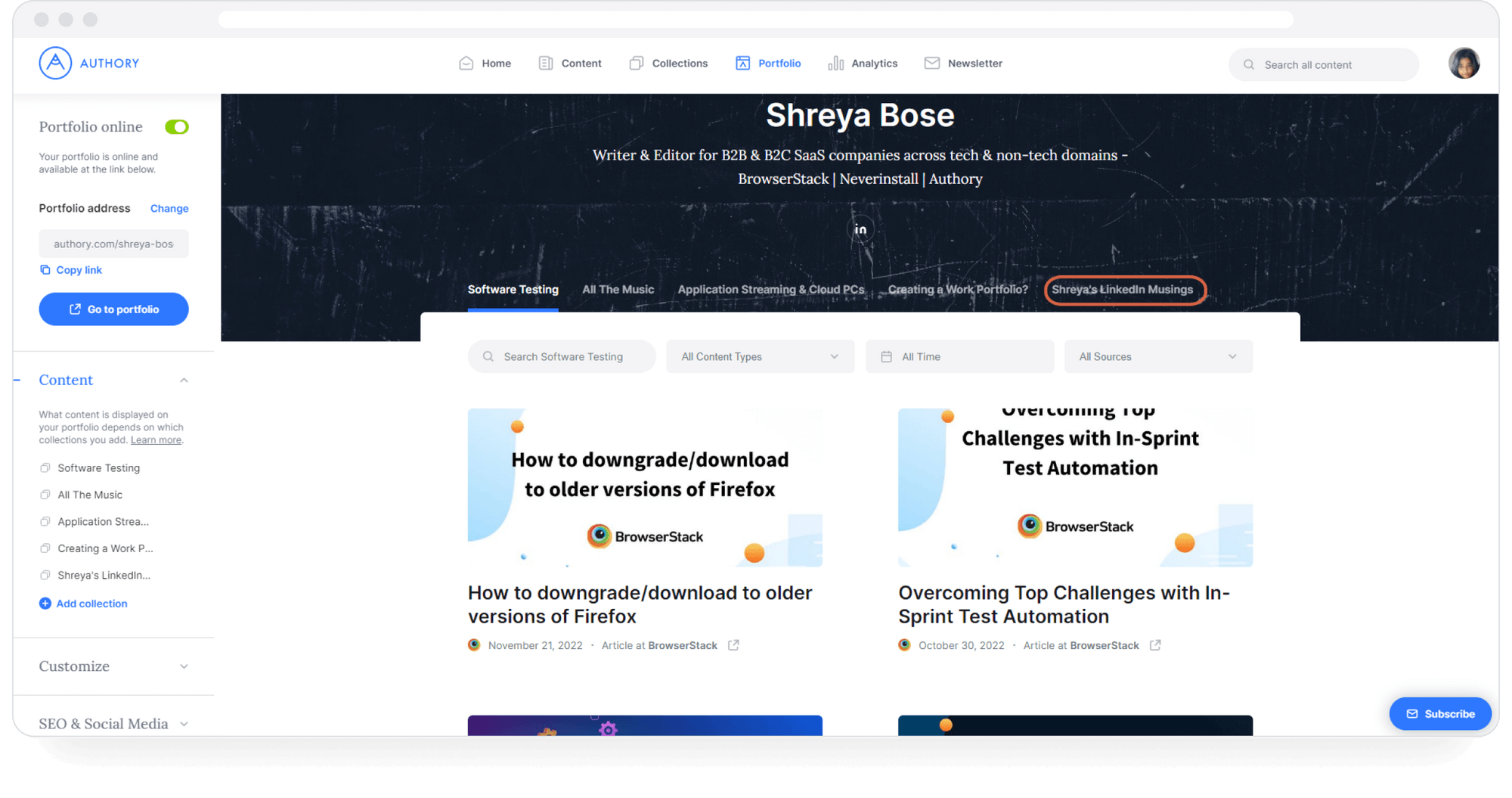 Click on "Go to portfolio" to the left to see what the final portfolio looks like.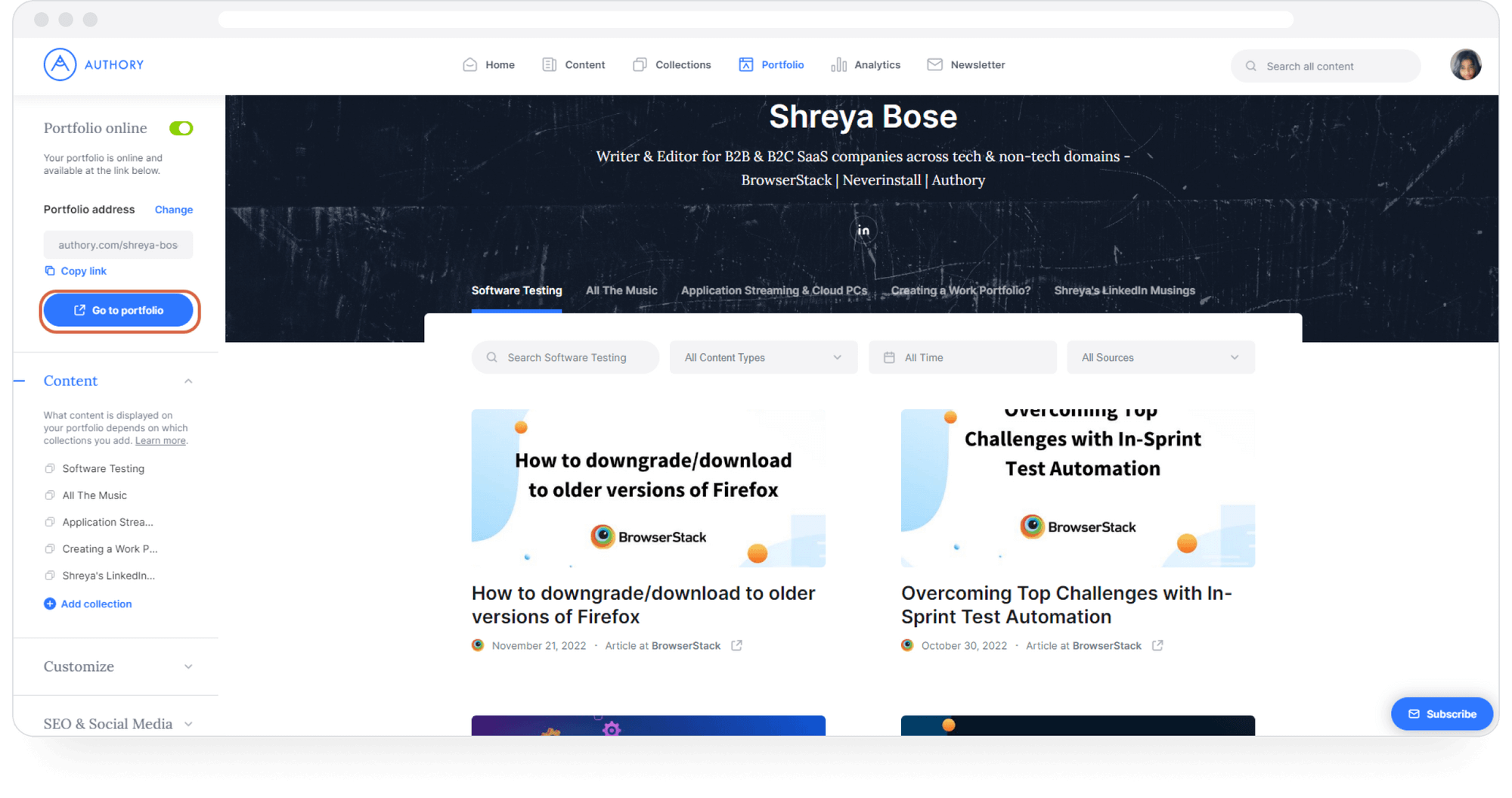 This is what potential clients will see when I send them my portfolio link.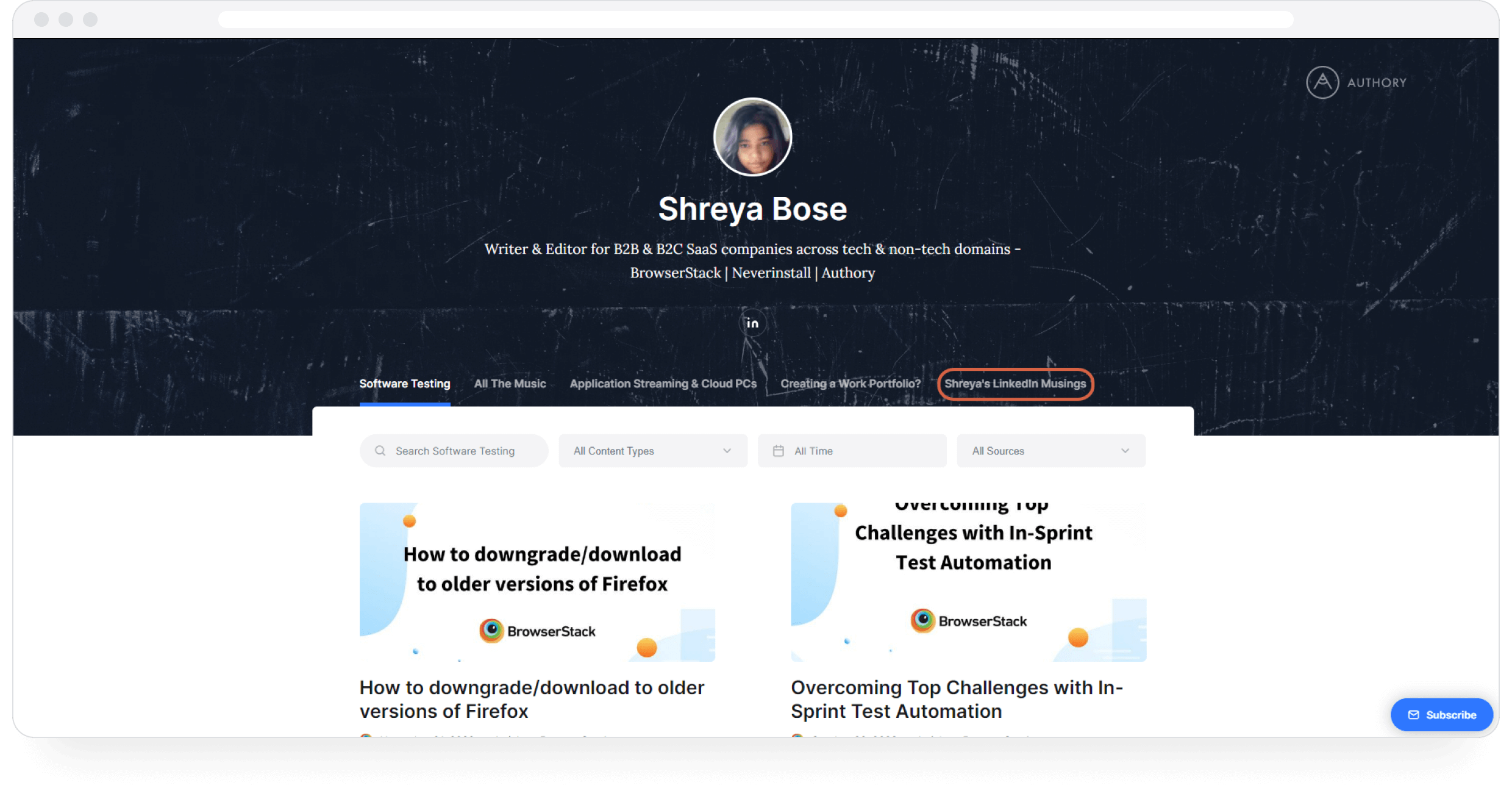 Linkedin portfolio examples
Here are a few examples of LinkedIn portfolios on Authory. Browsing through these should give you a solid idea of the end result of using Authory to build your LinkedIn portfolio:
Adam Houlahan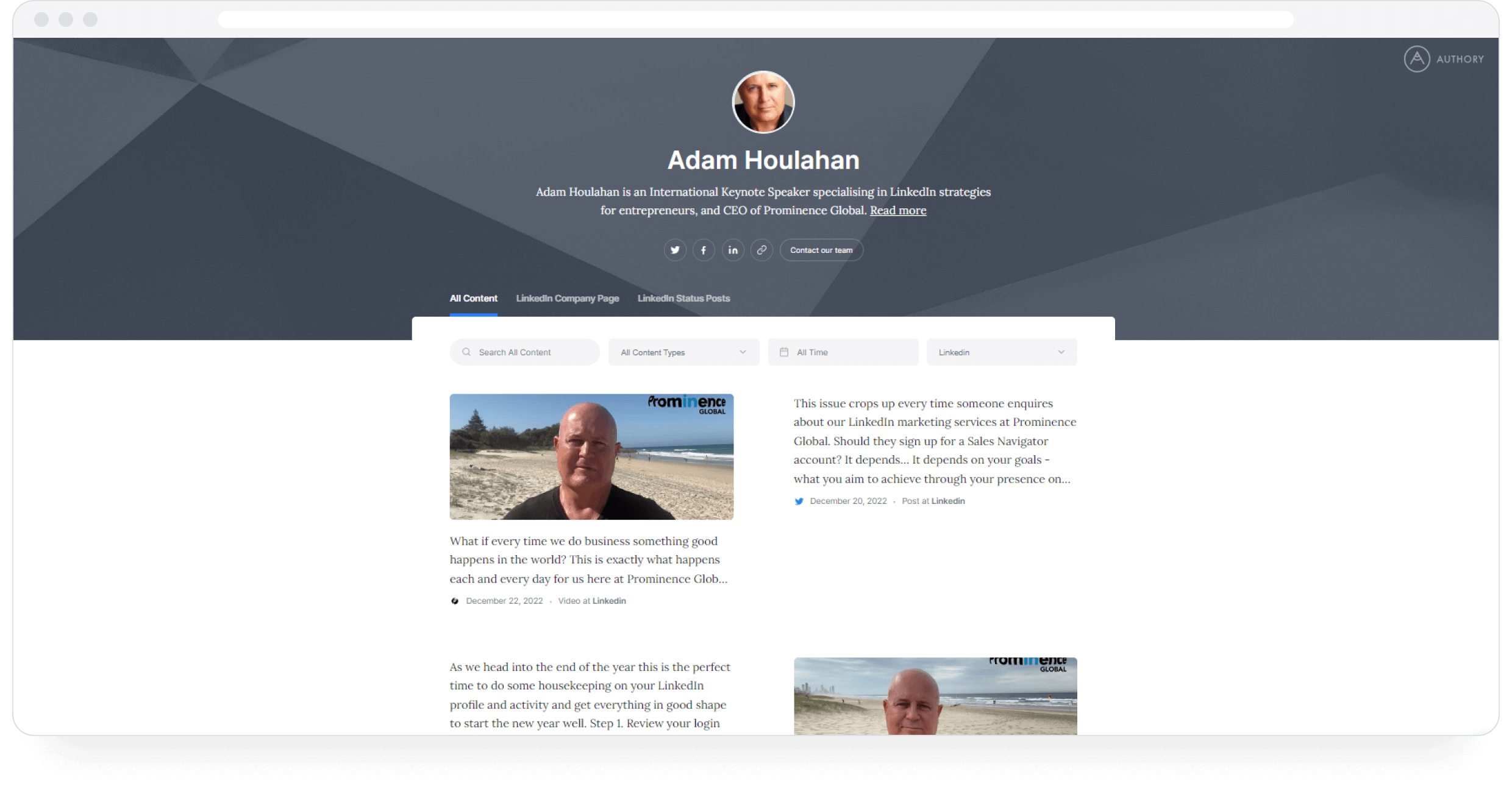 Adam Houlahan is an International Keynote Speaker who specializes in LinkedIn strategies for entrepreneurs. He is also the CEO of Prominence Global. Note that he has both LinkedIn posts and videos showing up on his portfolio.
Alexa Phillips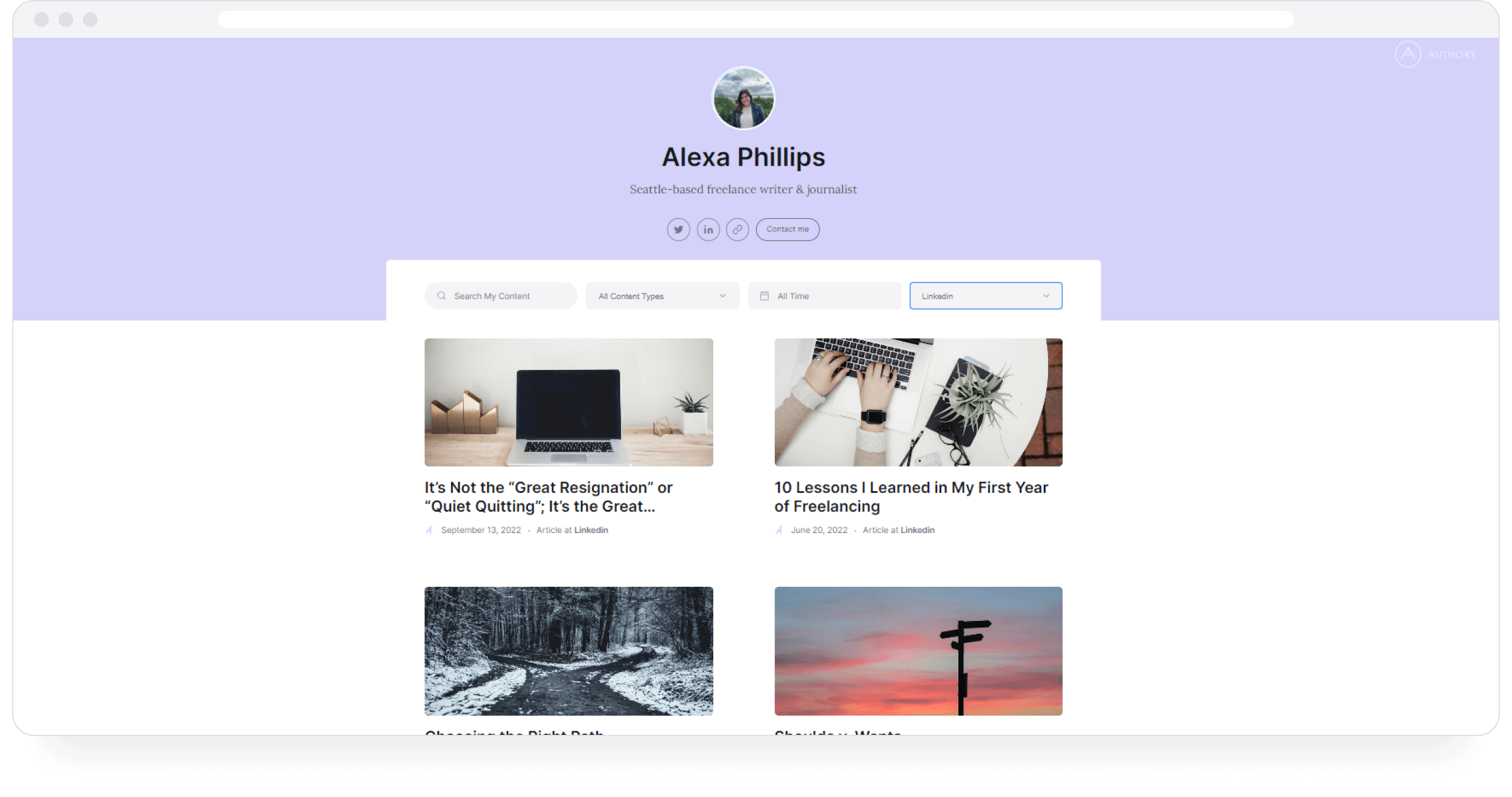 Alexa Phillips is a Seattle-based freelance writer & journalist who mostly has articles (imported from LinkedIn) on her LinkedIn portfolio.
Andrew McGarry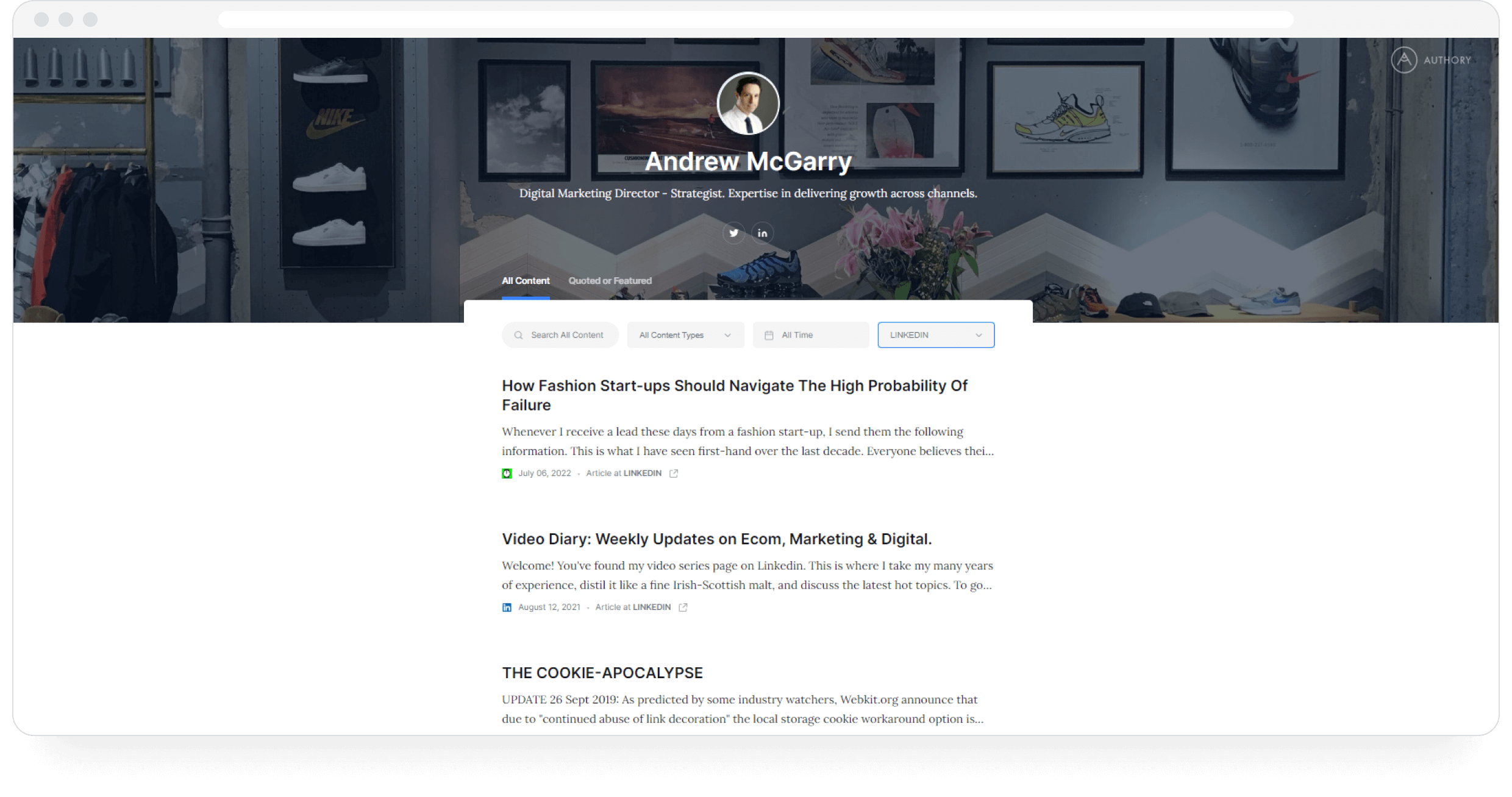 Andrew McGarry is a digital marketing director and strategist who has proven expertise in delivering growth across multiple online channels. He too has a large number of articles (published on LinkedIn) on his LinkedIn portfolio.
Andria Gillis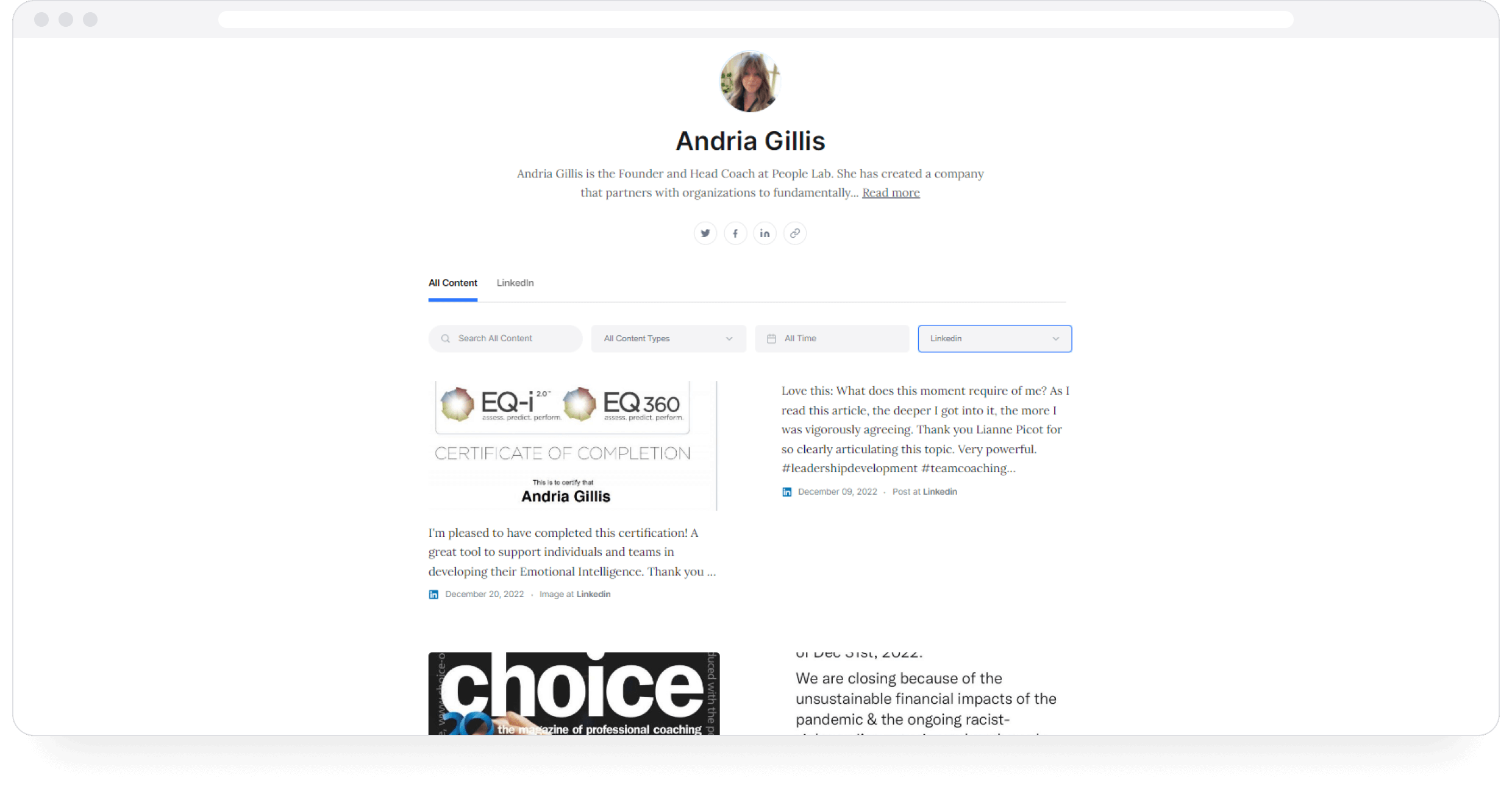 Andria Gillis is the Founder and Head Coach at People Lab — a company that partners with organizations to recognize and emphasize the value of people in said organizations. She mostly has images and posts (published on LinkedIn) in her LinkedIn portfolio.
How to add your portfolio to LinkedIn
Don't let your LinkedIn act as just an online resume. A list of where you've worked and what you've done (in words) will attract attention, but not as much as showcasing actual work samples.
In other words, why not convert your LinkedIn account into a LinkedIn portfolio?
Follow the steps below to add work samples to your LinkedIn account.
Log in to your LinkedIn account. Click on "View Profile."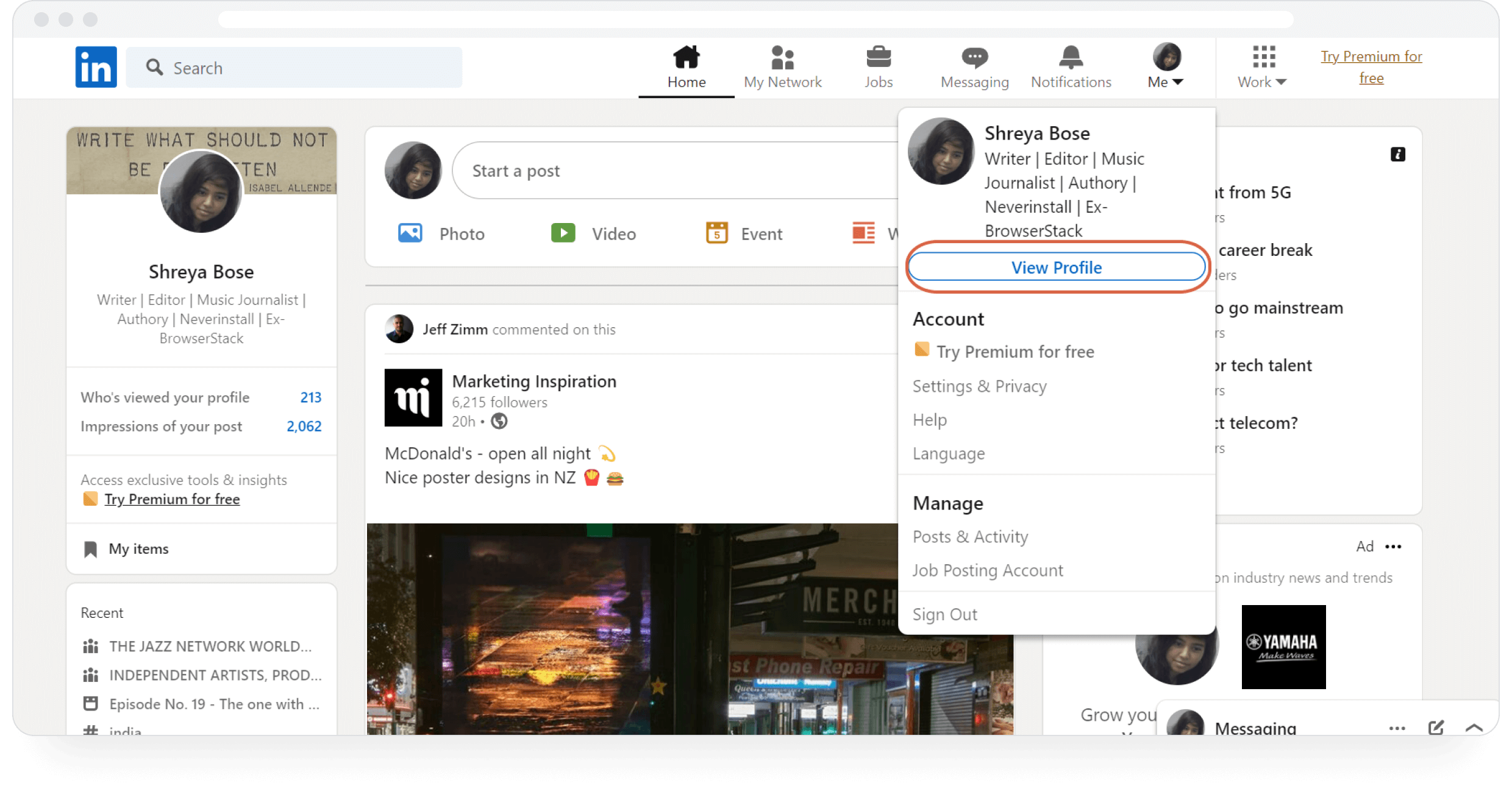 Once you're redirected to your profile, click on "Add profile section."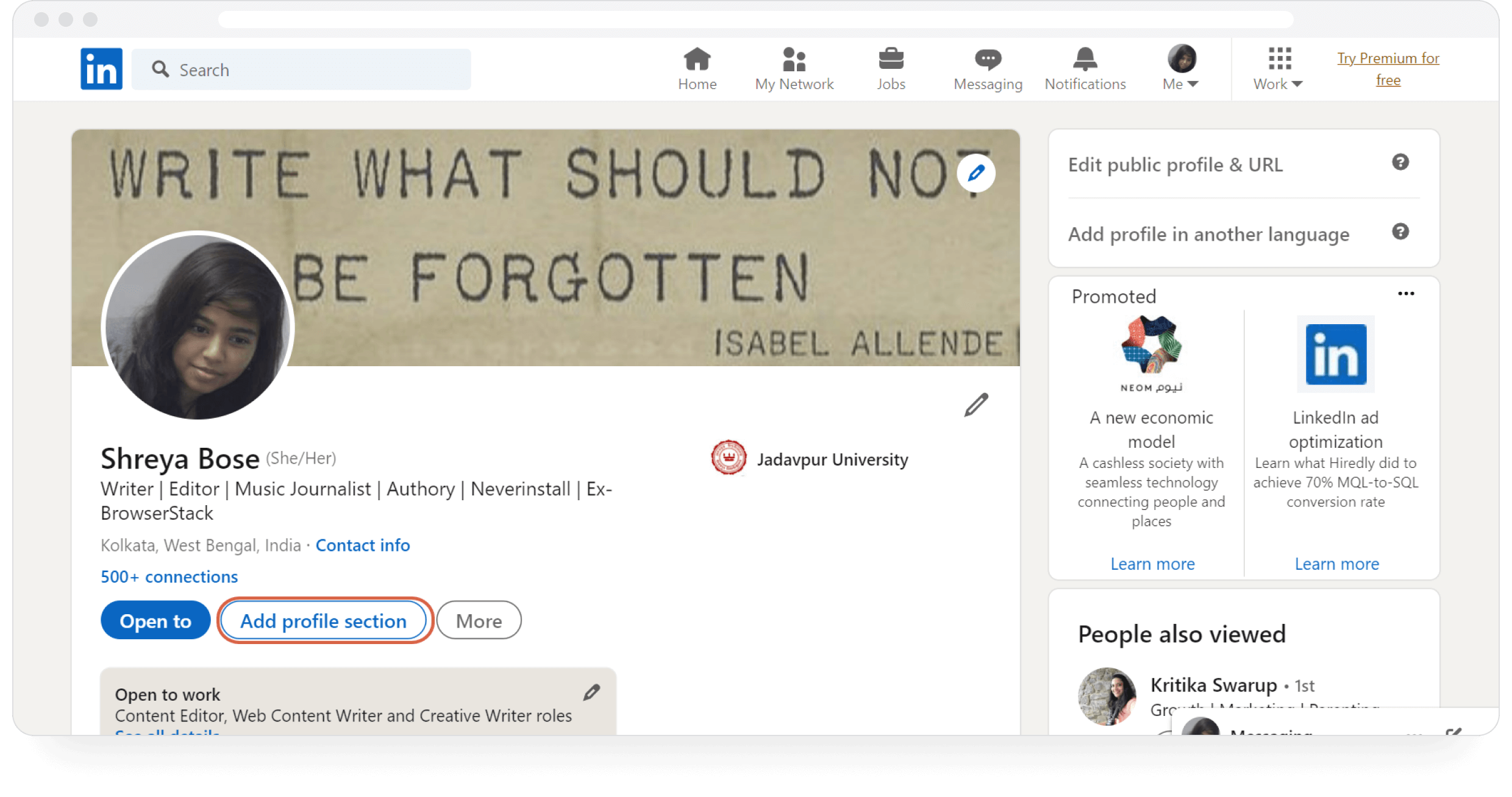 Among the options that show up, click "Recommended."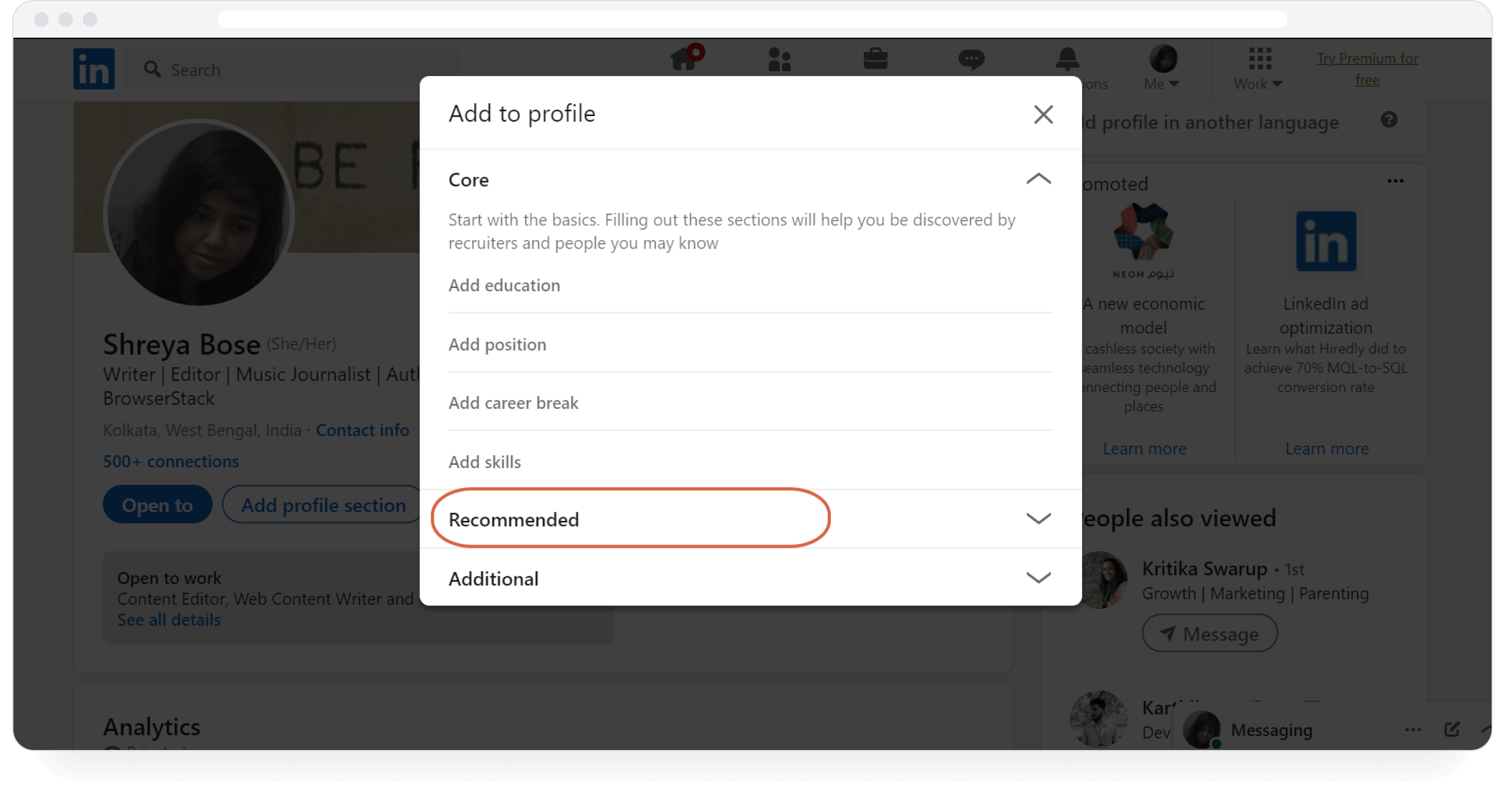 You'll see the "Add featured" option under "Recommended." Click on it.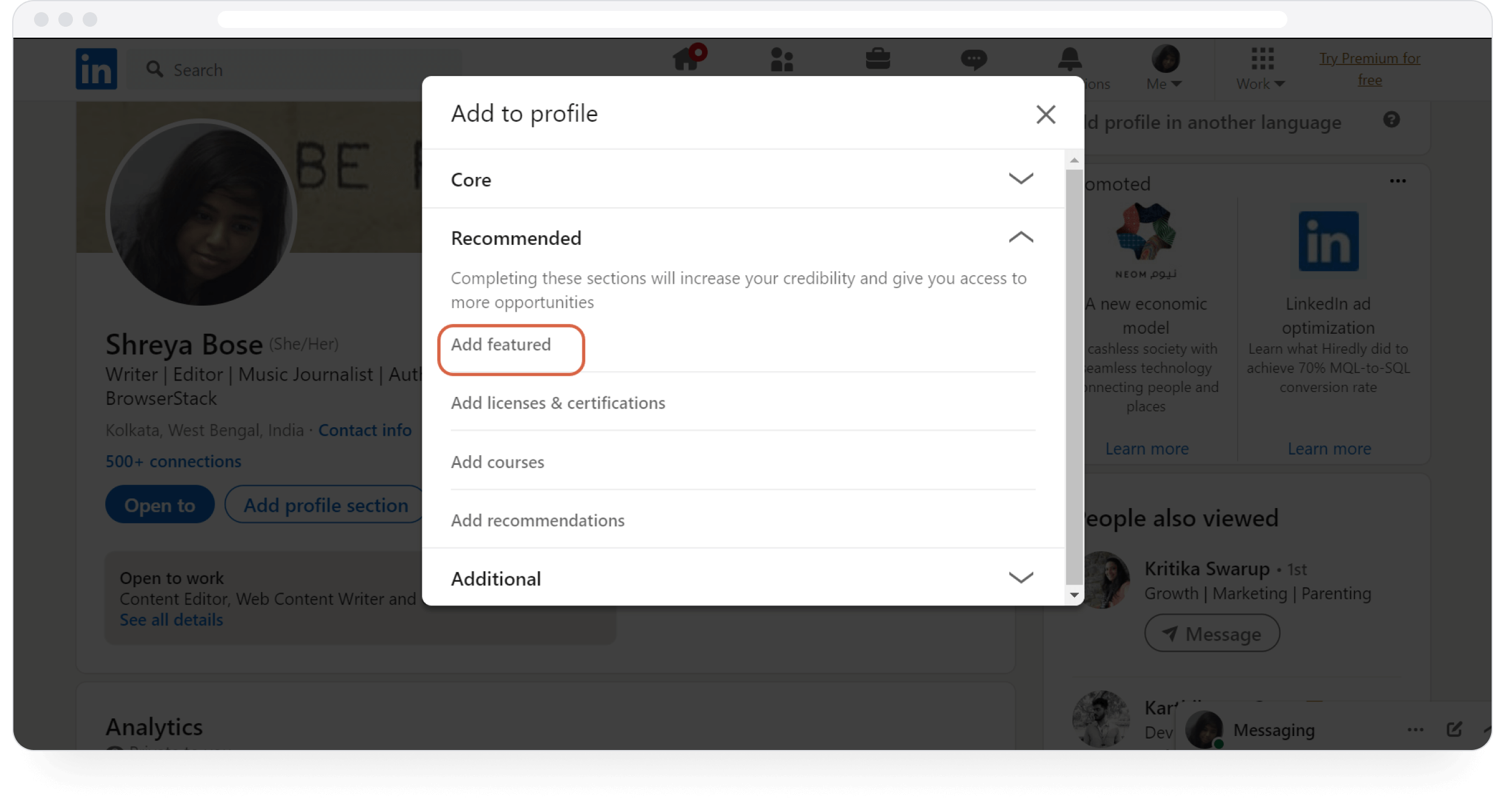 Once you click on "Add featured," the following screen will show up. Click on the "+" sign to add your best work samples.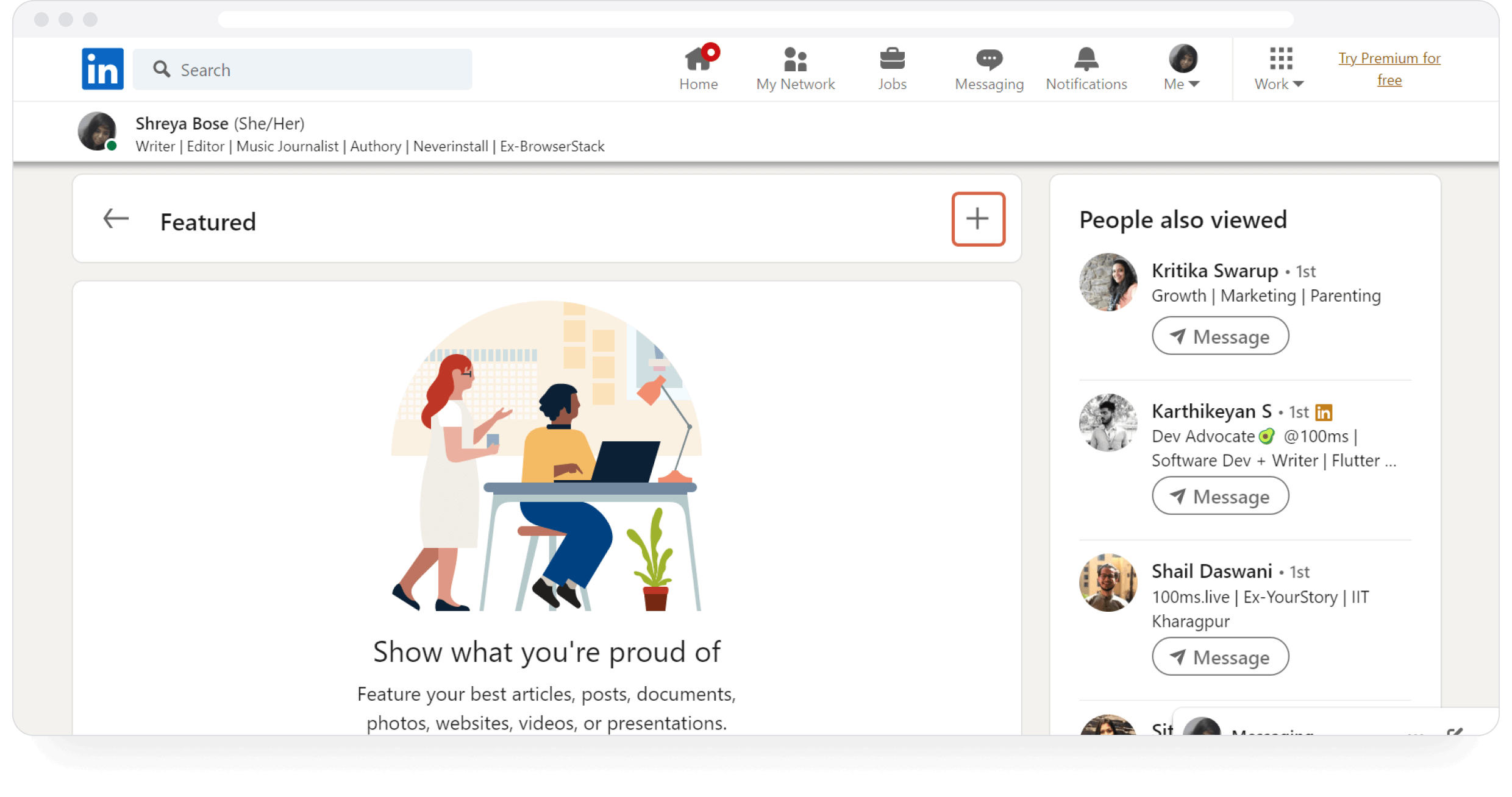 You can add posts, articles, links, or media under the "Featured" section.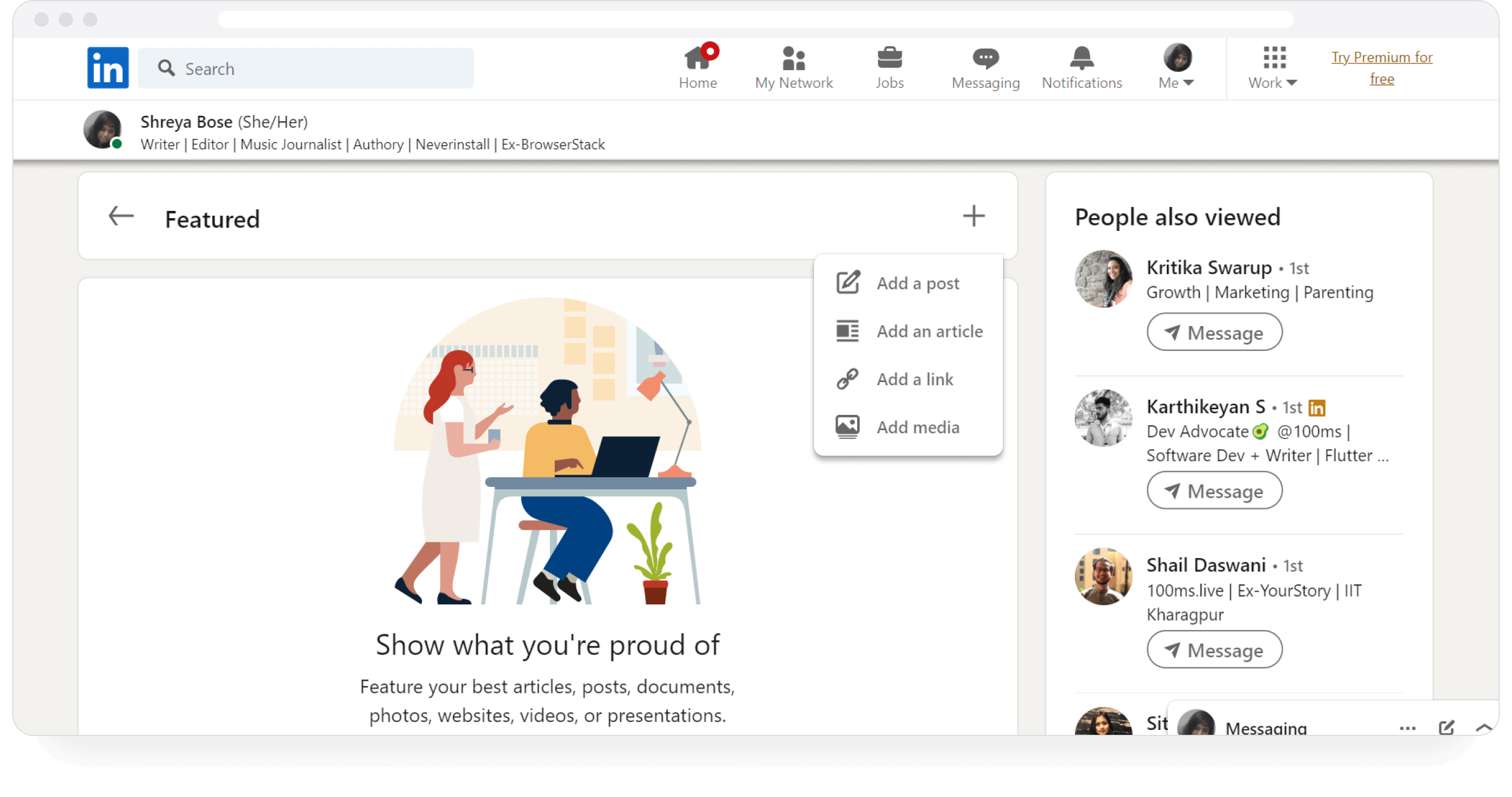 I clicked "Add a link", and entered the URL of one of my published pieces. You can also add a description of the piece if you want.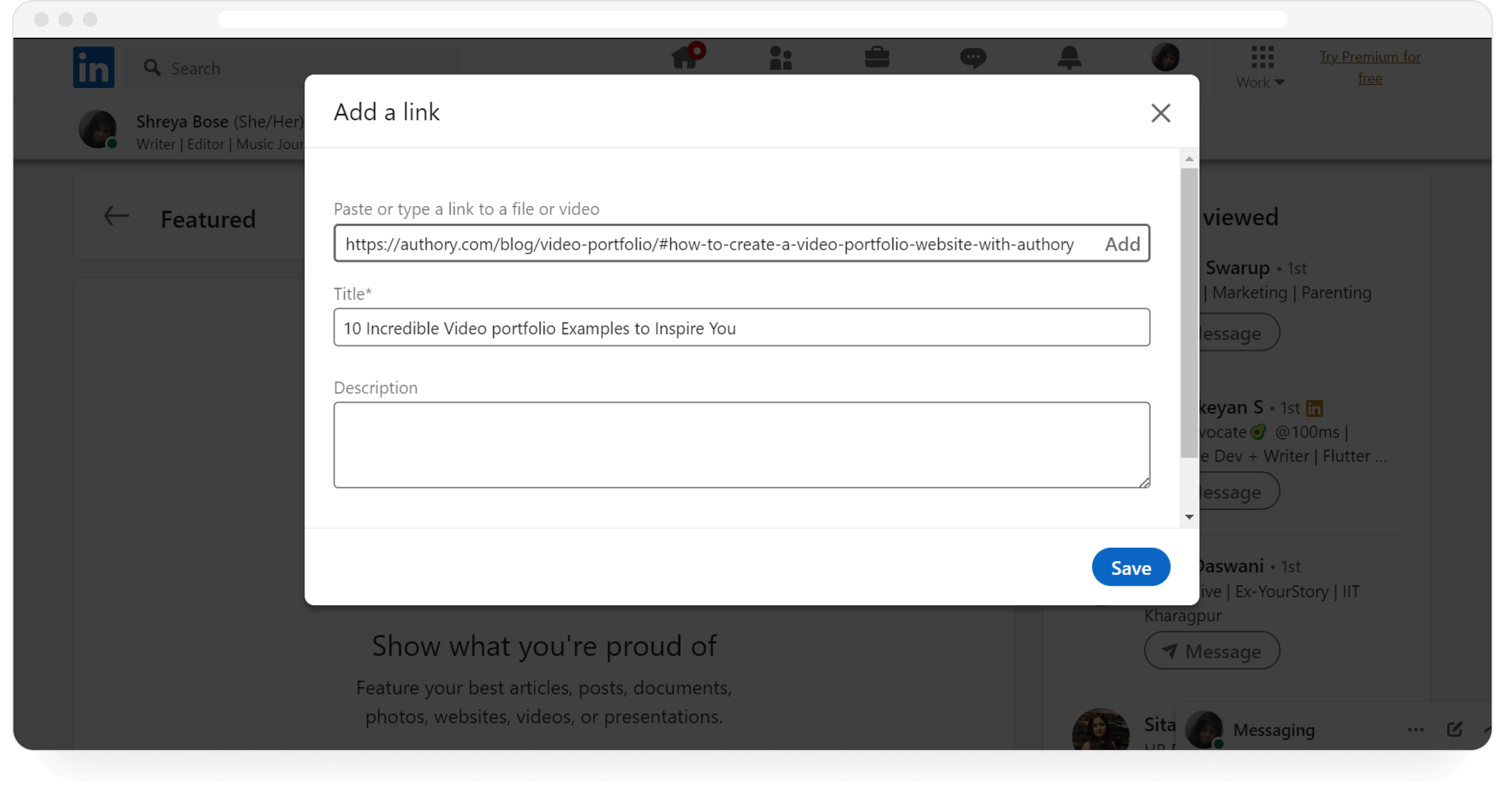 When you're done, click "Save." The Featured article has now been added.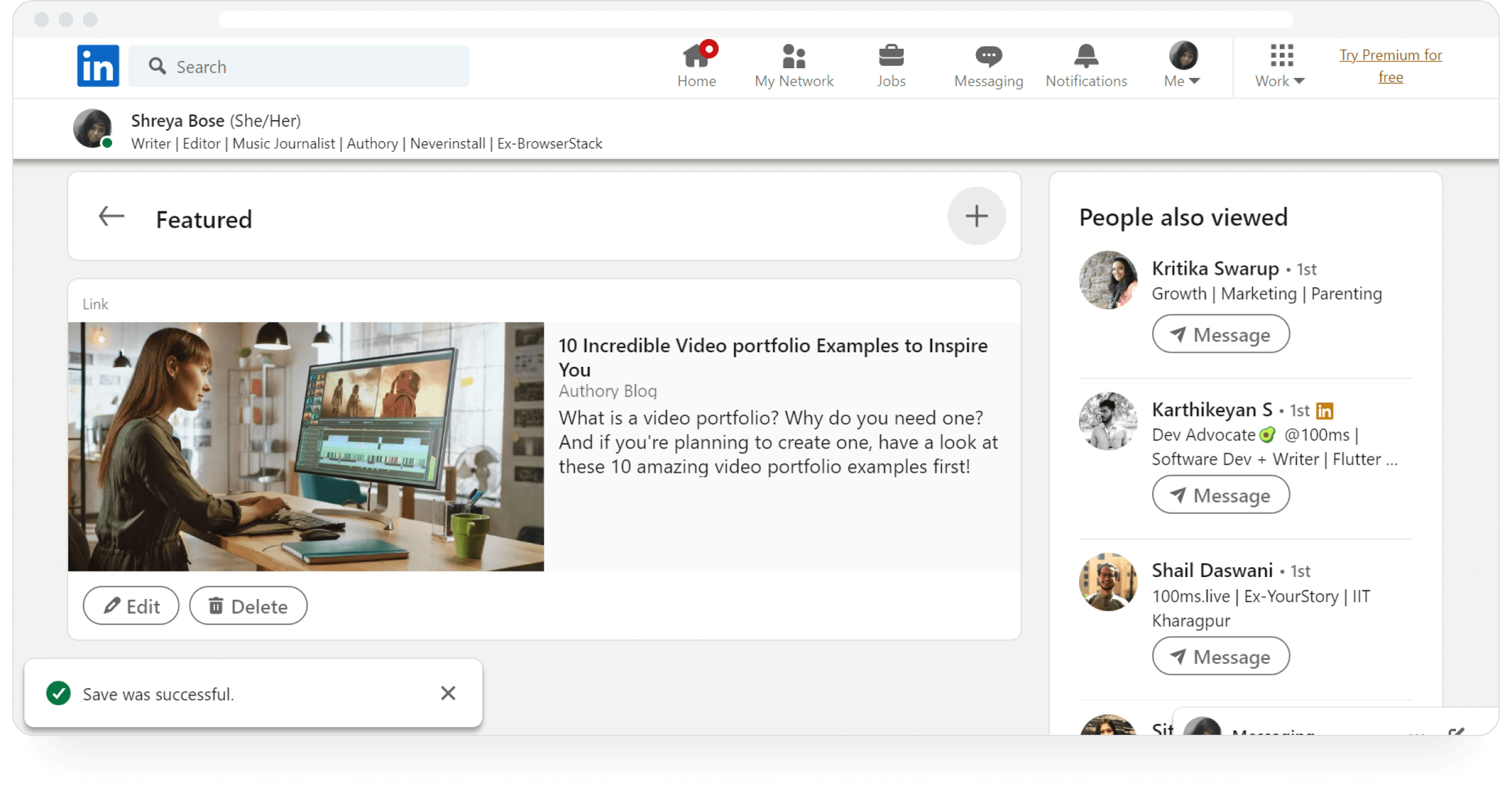 To check what the "Featured" piece looks like on your profile, click on "View Profile" again. Scroll down, and you'll see the content you've added under the "Featured" section, between the "About" and "Activity" sections.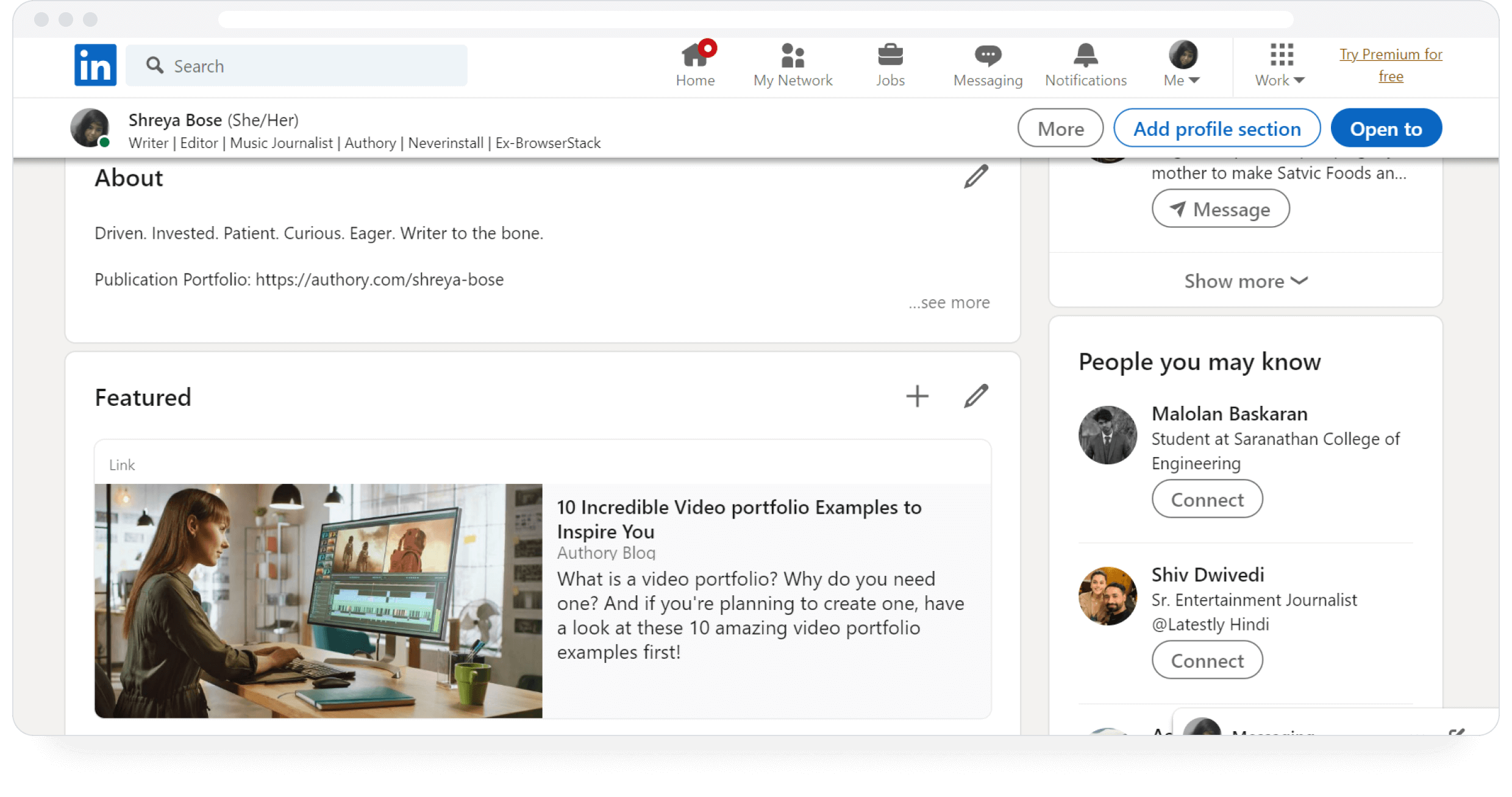 And, there you go. You can add your work samples to your LinkedIn, turning the site into a portfolio for potential clients to explore.
Why use Authory to create your LinkedIn portfolio?
I selected Authory to create and host my portfolio (before I started writing for them, believe it or not) after a couple of months of trying out multiple other portfolio makers. The reason I went for this portfolio builder over many other excellent options are:
Automatic importing of all your bylined content. Once you've entered a digital source, all your bylined content published (both previously published or published in the future) is automatically collated into Authory's database. You categorize the imported content into "Collections" for easy navigability and place them on your portfolio. No copy-pasting links (unless you want to add non-bylined content). In other words, Authory builds your portfolio for you.
Download all imported content anytime you wish to. No lock-in periods.
Ability to manually include non-bylined content.
All imported content is backed up forever.
All backups are in the content's original text/media format, not as screenshots.
Analytics support for all imported content.
Robust in-built SEO features.
Optimized for mobile device screens.
In-built newsletter building and management. Once you set it up with a couple of clicks, the tool will automatically send newly published content to your subscribers.
Widgets to display add your portfolio to other sites if you so choose.
At $8 a month, this is a pretty good deal, wouldn't you say?
If you're curious, here's what my portfolio looks like on Authory: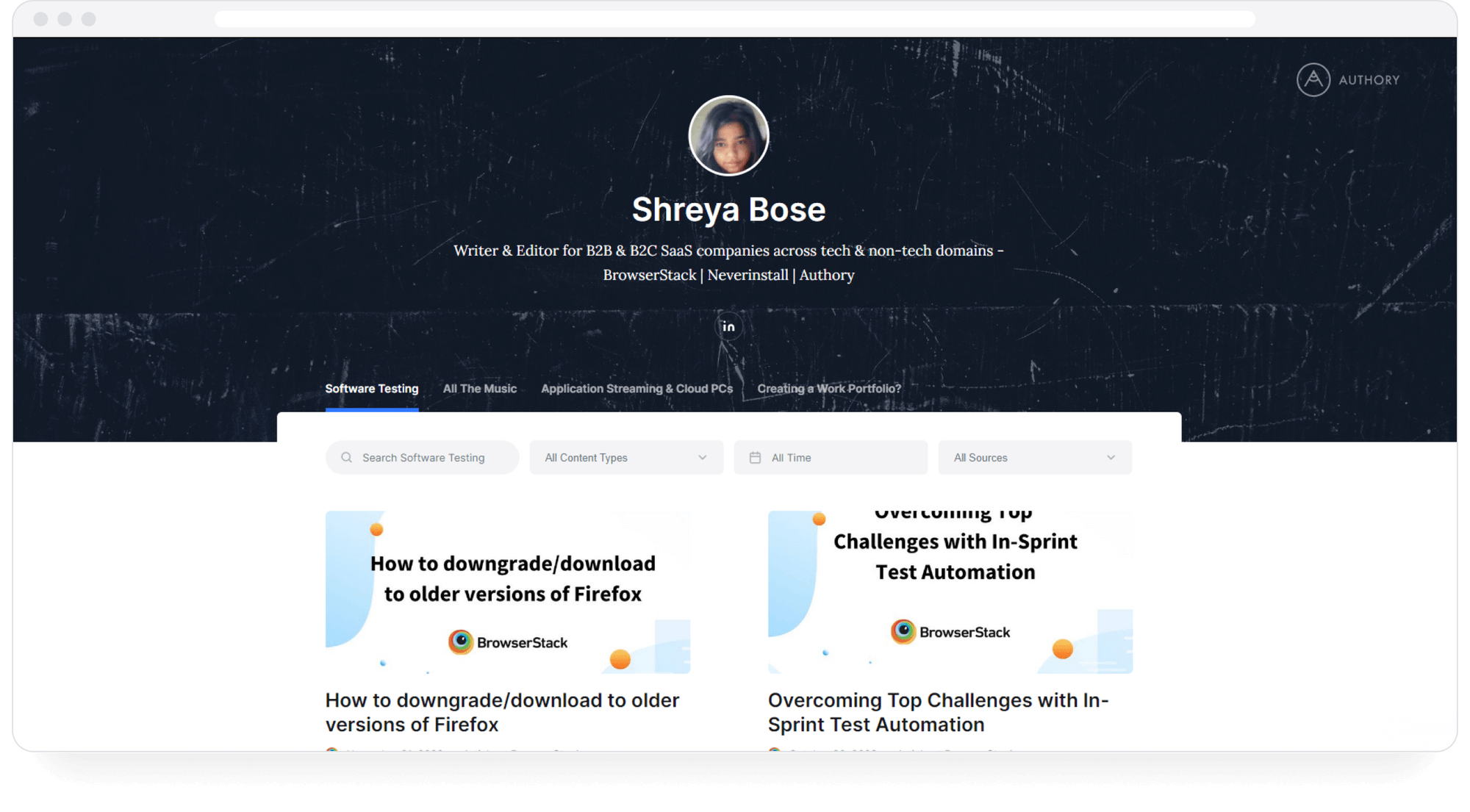 If you're interested in getting a sense of what Authory can do for you, sign up for the 30-day free trial, and evaluate if the tool makes sense for your portfolio-building requirements.