So, let's get straight to it, shall we? You want to backup your Twitter account data because, well, Musk isn't inspiring you with confidence, or you're looking to deactivate your account and jump to a social network like Post or Mastodon, or heck, you're looking to stay on Twitter forever, but you'd like some insurance against the entropic force of nature that are billionaires.
You have a few options:
Request data from Twitter itself and then download an archive of your data — but this is a static snapshot
In this article, we'll show you how to do the first two options above and touch upon the third. Let's get to it!
📖
What you'll get from this article:
• Learn how to set up a free auto-updating Twitter backup with Authory in under an hour and why you should use this over Twitter's native archiving system
• See how to download your Twitter account data using Twitter's native archive system in case you want to use Twitter's method directly
• Discover the added benefits of a paid Authory account, like fuzzy search & "true-reach" analytics
Backup your Twitter data with Authory's free tool
Go to our "Back up my Twitter" tool by clicking this link.
You'll see this page: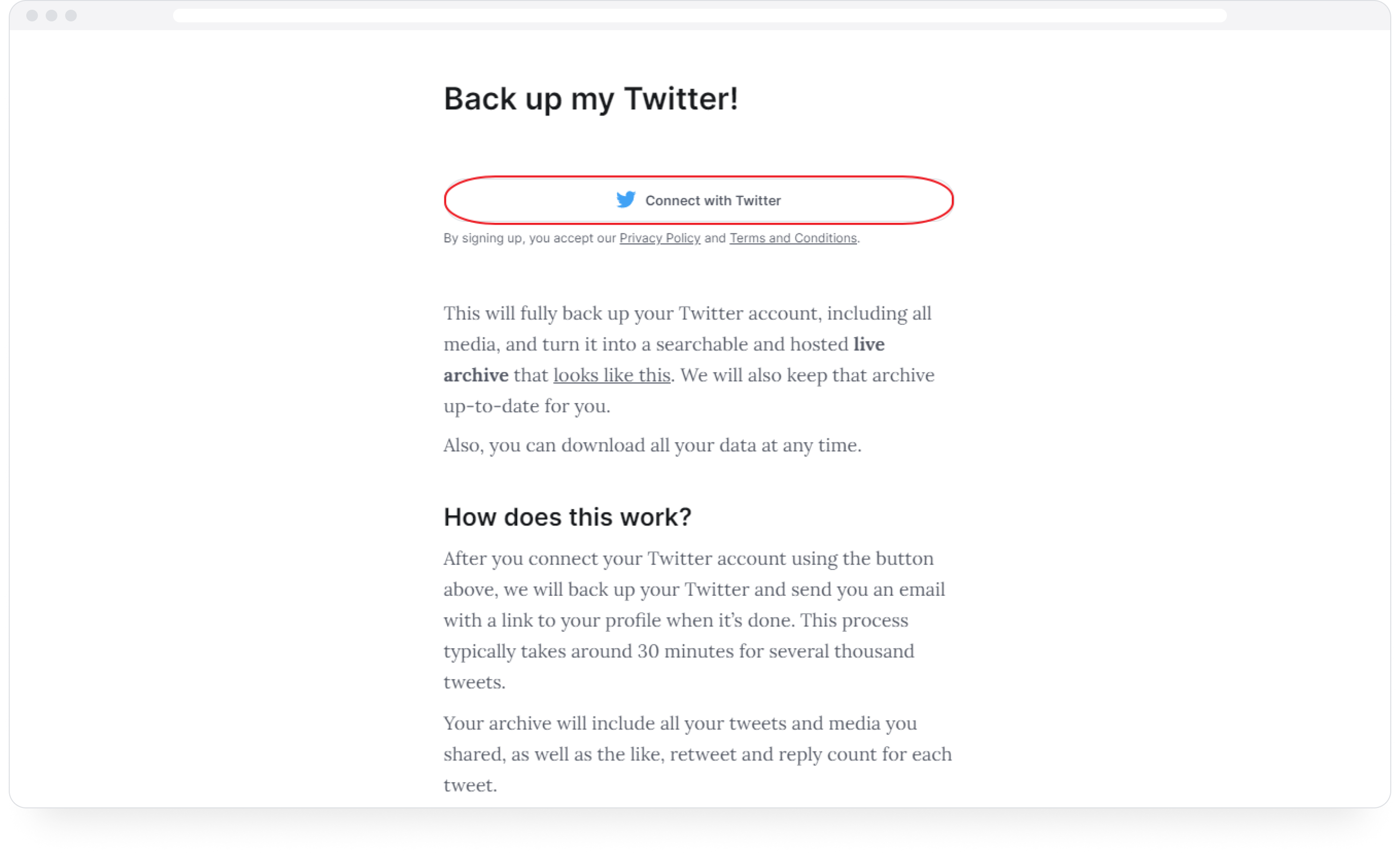 As shown above, click on the Connect with Twitter button and follow the steps to link your account to the app.
Once your Twitter backup is ready, which is usually in under 30 minutes but can take up to an hour for bigger accounts, you'll get an email saying your Twitter backup is ready.
Click on the Go to backup button in the email, and you'll be taken to your self-updating Twitter archive!
Your Twitter data will look like this: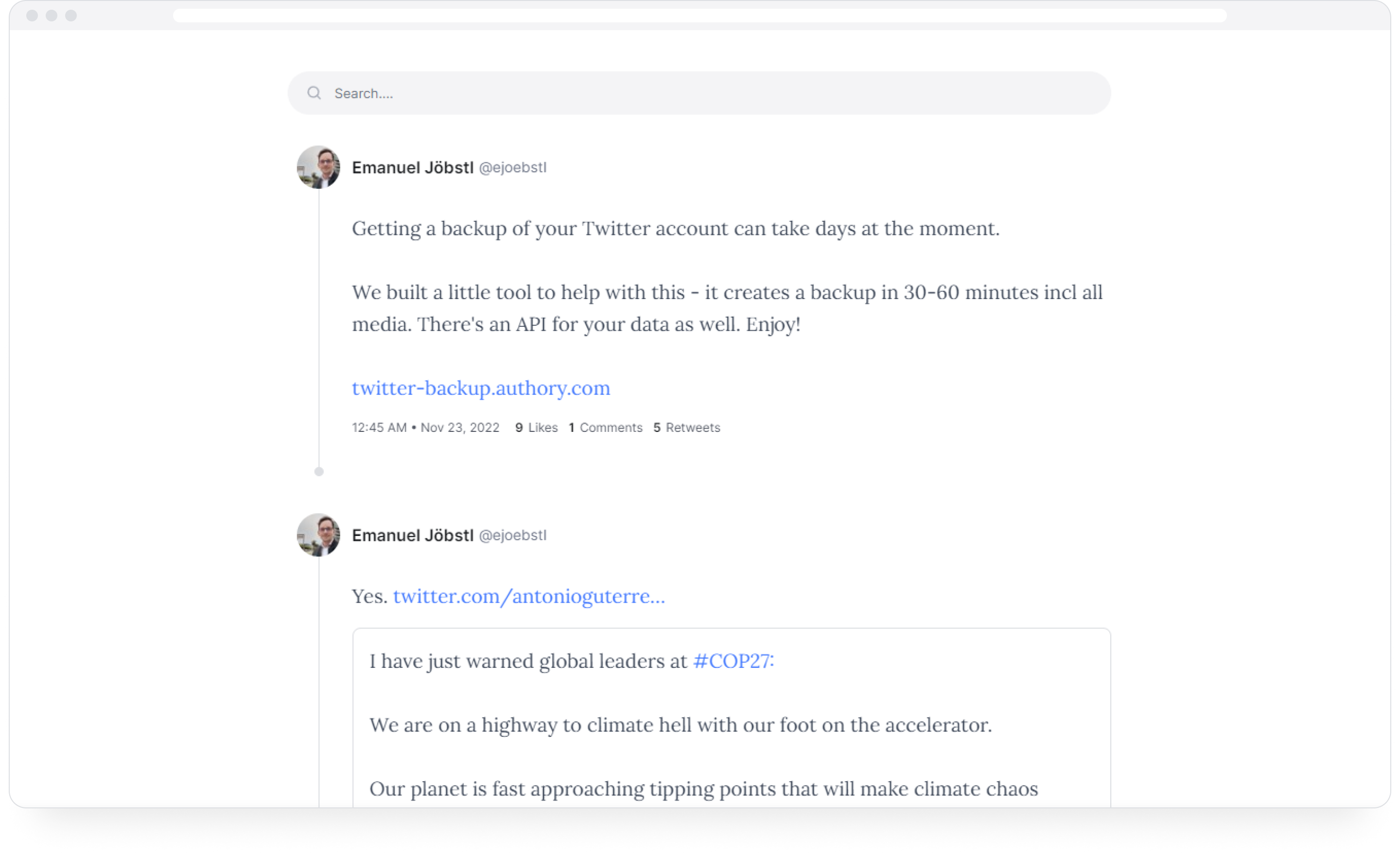 Your Twitter archive will include all your tweets and media you shared, as well as the like, retweet, and reply count for each tweet.
🗒️
Note: You can download your data anytime, whenever you feel like it.
Why not just download data from your Twitter account directly?
Well, you can, and we'll show you how to do so in just a bit. But there are a few issues with Twitter's own archive system:
The Twitter archive you get from Twitter's own export system is a zip file that contains an HTML file for easy access. You also get a machine-readable archive in the form of JSON files. That said, this is an offline archive of your data and, thus, not shareable. Meanwhile, Authory's free self-updating Twitter backup is online and shareable.
As mentioned above, the zip file you receive when you download an archive of your data from Twitter's native system is, by design, a static snapshot of your Twitter data at that moment in time. If you continue to use Twitter, you'll need to keep re-downloading your Twitter data every now and again. Again, Authory's free tool is auto-updating, and hence you get a "live" Twitter archive that's always up-to-date.
Twitter takes at least 24 to 48 hours to give you your Twitter account data. And there have been instances where it has taken even longer. Well, there's no need to wait too long — Authory's system will give your Twitter data in 30 minutes for several thousand tweets and maybe up to an hour for 10,000 tweets. If you need more than 10K tweets backed up, do reach out to us!
Creating a Twitter backup using Twitter's own system
If you're still more comfortable using Twitter's own system, we'll show you how to do so.
How to download an archive on the mobile
Step 1: On the phone, if you have the Twitter app installed, open it and tap on your profile photo to bring up the side menu. Alternatively, you can swipe from right to left on the screen to bring up the menu.
Next, go to your account settings by navigating to Settings and privacy, as shown below.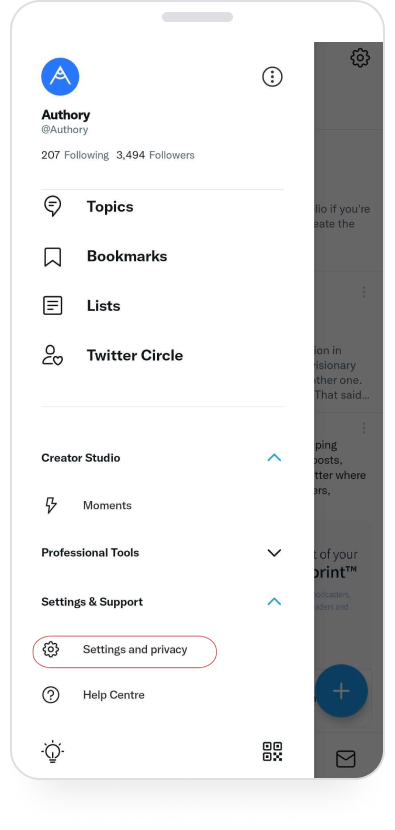 Step 2: Tap on Your account.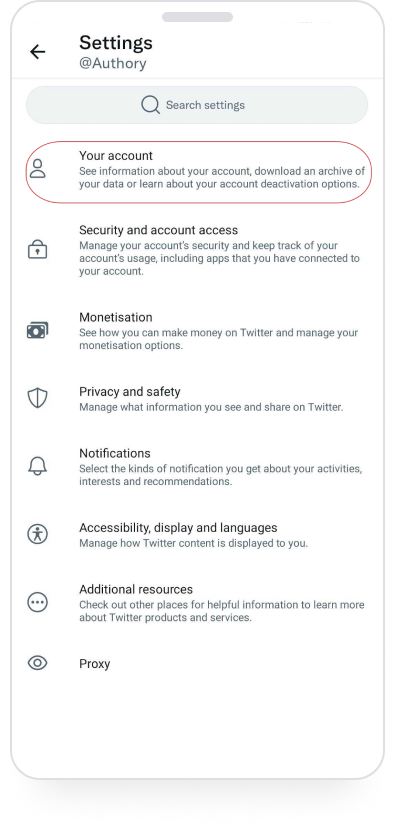 Step 3: Lastly, hit Download an archive of your data.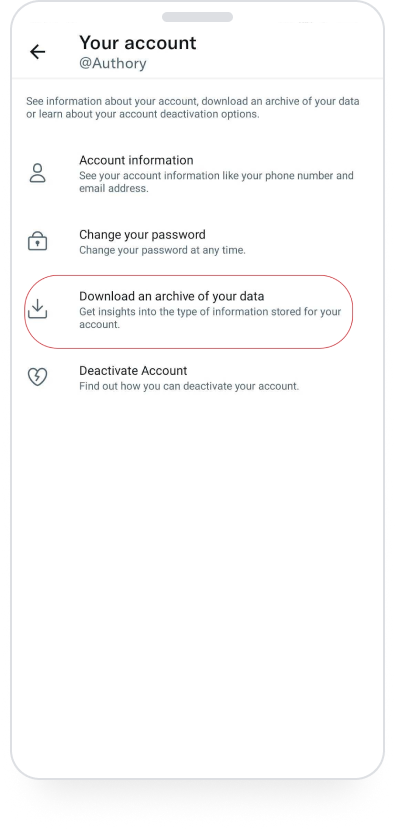 Next, enter your password on the in-app browser that opens up, and finally, click on Request archive.
How to download your Twitter backup on the desktop
Step 1: Go to Twitter and then click More on the left-hand side menu, and under Settings and Support, click Settings and privacy.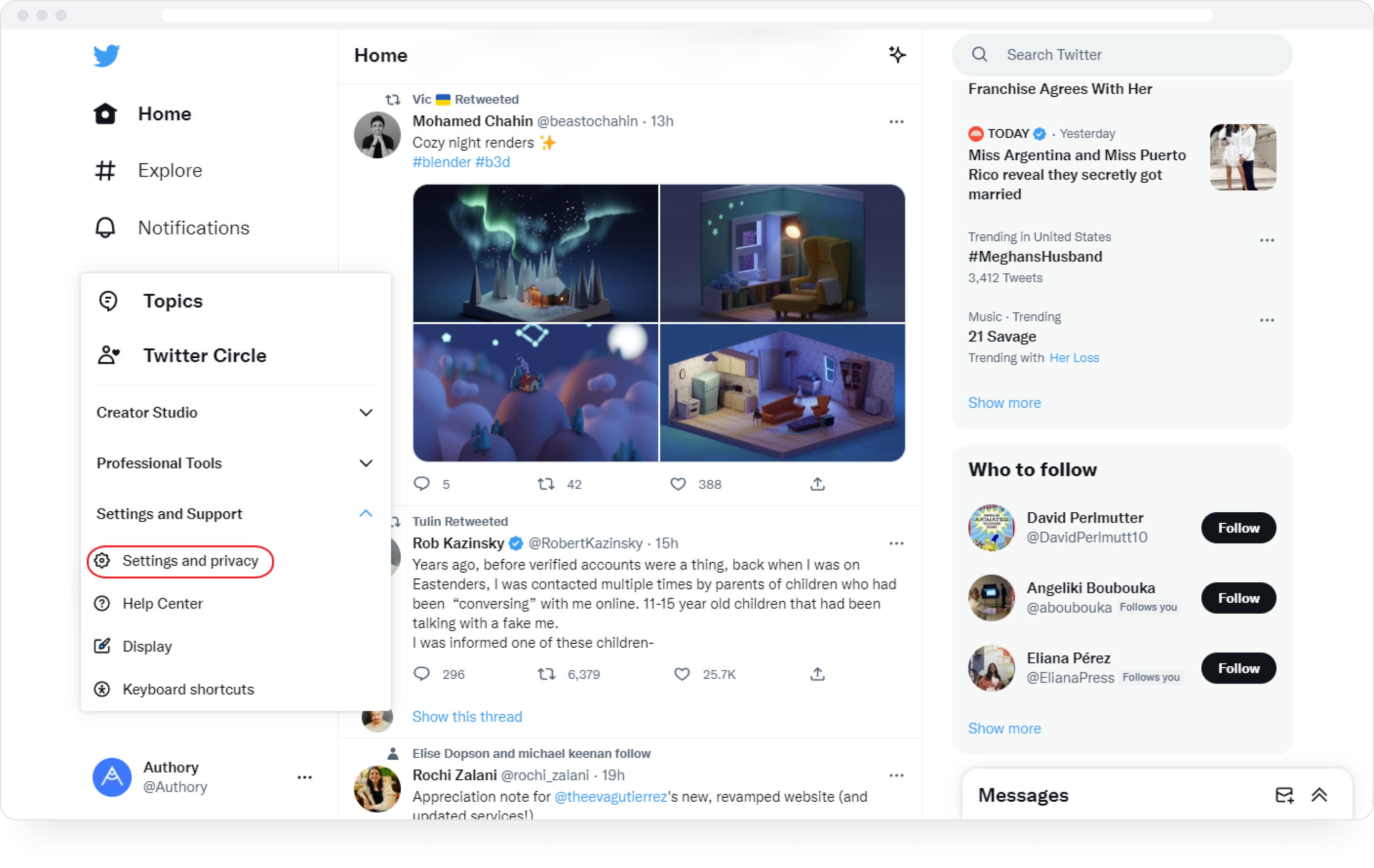 Step 2: Now, click on Download an archive of your data.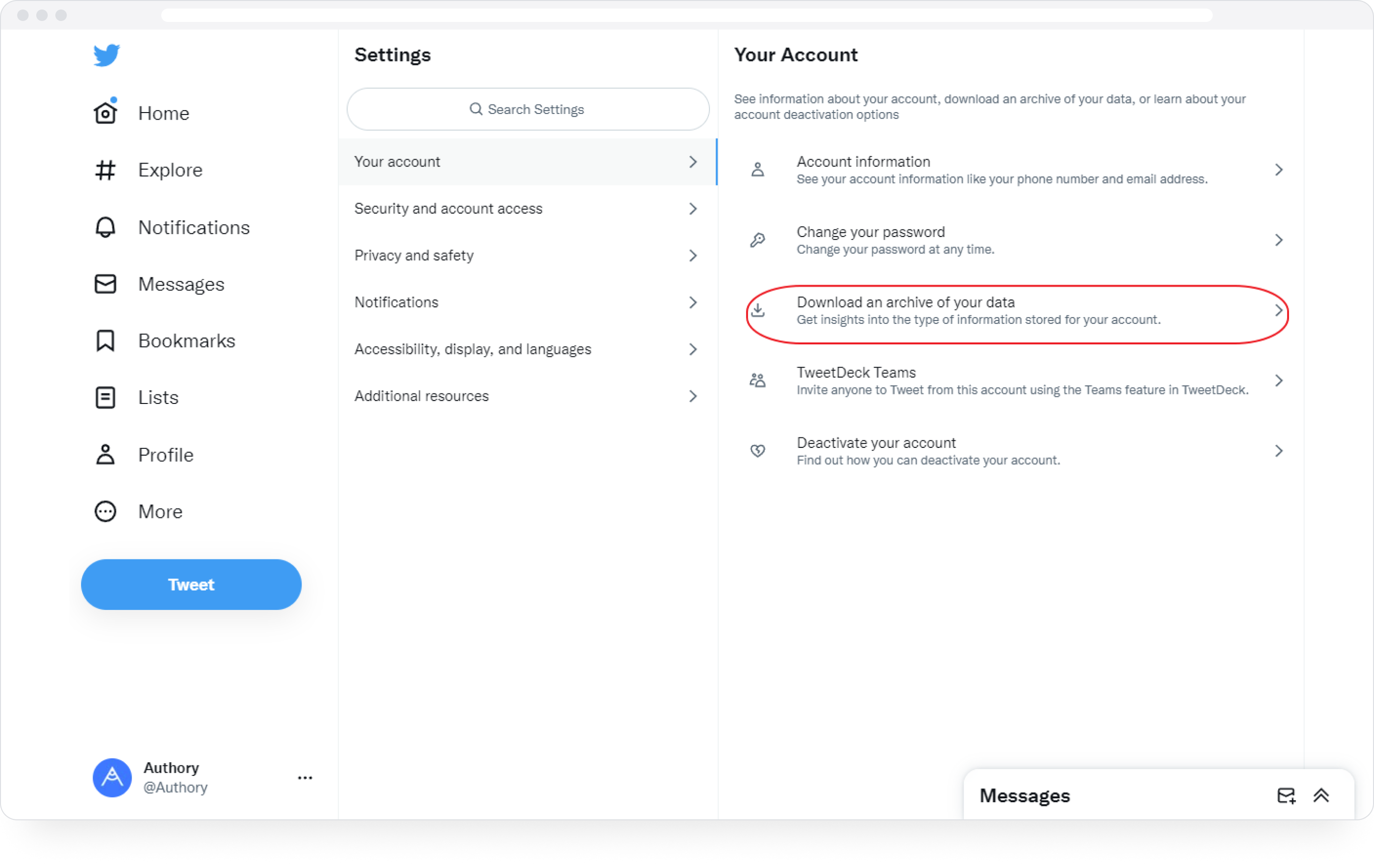 Finally, enter your password when prompted and click on Request archive, which, in essence, is the download link.
If your Twitter account is connected to Periscope, you'll have the option to request an archive of your Periscope data on Periscope directly.
Next steps, once the Twitter archive is ready
You'll get a push notification on your Twitter app and an email saying your Twitter archive is ready. Click on either the notification or the download link in the email to go to your Twitter archive and then unzip the zip file.
Open the HTML file named Your Archive, which will open in a new tab in the same browser you're using — remember, this is just an HTML version of your local files and not an online copy. It's essentially a simple method of accessing your information easily.
You can now search for specific posts, and deleted tweets and also go through the media folders, which will have all the photos, videos, and GIFs that you've received or sent, including direct messages.
You can also download a machine-readable archive of information associated with your account in HTML and JSON files. We've included the information we believe is most relevant and useful to you, including your profile information, your Tweets, your Direct Messages, your Moments, your media (images, videos, and GIFs you've attached to Tweets, Direct Messages, or Moments), a list of your followers, a list of accounts that you are following, your address book, Lists that you've created, are a member of or follow, interest and demographic information that we have inferred about you, information about ads that you've seen or engaged with on Twitter, and more.
Authory's paid version for advanced search and analytics
Authory is a content backup service plus portfolio builder, amongst other things. With Authory's paid version, you get the following:
An auto-updating, living, breathing Twitter archive
Excellent search & filtering functionality
Analytics that show true reach: i.e., the total number of interactions a post has received, not just on your account but on Twitter as a whole.
A Twitter portfolio if you need one
To learn more on how to set this up, click here.
And here's the link again for the free auto-updating Twitter archive tool.