Have you ever just… suddenly lost something you created? An article, podcast, or video? It was sitting pretty on the internet, published on a legitimate website, and then suddenly… gone.
There are a million things that could cause any digitally published content to disappear without any warning. I'll discuss them in detail below, but whatever the reason, it doesn't remotely compensate for the fact that something you poured your blood, sweat & tears into is no longer yours (or anyone's) to view, listen to, and/or watch.
Needless to say, you need all your content backed up at all times. Most creators know this and use a variety of tools (Google Drive) being a popular choice to save their work. However, a list of GDoc links will be considered fairly unprofessional by prospective clients — especially if you're claiming that this is published work (but isn't available on the interwebs anymore).
You know you're not lying, but the client would probably raise their eyebrows when you say, "So, I had this article published on xyz.com, but the company closed shutters, and the website went down. I've saved what I wrote, though… here's a Google Doc." They can still judge your writing, but they are quite likely to think that sending published work in an unpublished avatar is unprofessional and low effort on your part. This is not an assumption; actual editors offered me this feedback back when I was applying for jobs.
Thankfully, this doesn't have to be the case. For about $12 a month, you can have all your bylined work automatically saved in an editable format that still looks like a web page.
If that sounds a bit convoluted or far-fetched, just take a moment to read on. You'll see exactly what I mean (and how this tool and technique benefits you).
📖
What you'll get out of this article:
• Why you might lose your published work out of the blue
• Why you should consider choosing Authory as your content backup tool
But why would you lose your published content in the first place?
You can't control the publication sites
The Problem
Let's take a real-world example. Swapna Krishna, an incredible writer, wrote an article (an amazing article, let me add) about Michelle Yeoh and Start Trek in 2017. Michelle Yeoh HERSELF read and loved this article, so it's safe to say this piece was a big deal for Swapna.
However, the publication she wrote for suddenly deleted all pre-2019 content, which meant that Swapna's hard work in creating this article would have been for nothing. She would have lost the article forever, and there was nothing she could do about it.
The Solution
Thankfully, she did not. She used Authory, a tool that automatically imports and permanently saves a user's bylined content. As soon as she entered the URL of the publication site, Authory found and extracted a copy of all her pieces with her name on it. Since she did it before 2019, her article remained safe in Authory's servers, even though the original website decided to remove it.
Note: If you love Star Trek and/or Michelle Yeoh (who doesn't?), you should definitely check out Swapna's article here.
With websites, even established ones shutting shop for any reason under the sun (from new management to unsatisfactory results), you can't count on them to preserve your work in posterity. It isn't uncommon for major publications to give writers little notice before taking down their work. But with a tool like Authory, you'll always have a copy of your content, no matter what happens to its original presence on the internet.
🗣️
If you're worried about losing your work because a client/employer has stated that they'll be shutting down/pruning their online content, give Authory a shot.
Get Started for FREE
and judge for yourself.
Most backup tools don't save your work in a professional format
The Problem
As I previously mentioned, you can certainly use tools like GDocs to back up your content. A list of GDoc links in an email is a paltry substitute for actual publication URLs. Additionally, how does the client actually trust that you're sending across content that has actually been published where you say it has been? It's easy for me to claim that I've published articles for The Atlantic and send GDocs with articles whose provenance is impossible to verify.
Your prospective clients are well aware of this, which is why regular backup mechanisms like GDrive and screenshots are not taken as seriously as publication links.
The Solution
A tool like Authory backs up your content in a more palatable, professional format — your piece is still hosted on a web page with an active URL.
For example, if I want to share one of my articles, The Linux Advantage: Why developers should consider switching to Linux-Based Cloud PCs, with a prospective client (and it no longer exists on the original site), I share the backup link with the piece safely preserved in a web page format: https://authory.com/shreya-bose/The-Linux-Advantage-Why-developers-should-consider-switching-to-Linux-Based-Cloud-PCs-a33cff0479d46488ea6298ea4f65bb789
The backed-up content included not just text, but images. Authory's engine will import text, audio, and video content, as long as your work is bylined and you have the website URL. If you need to import/back up non-bylined work, you can simply add it by manually copy-pasting the article/audio/video URL.
You have to depend on clients to tell you when your work is published
The Problem
Every time I submit an article, I had to keep following up with my client/keep checking their blog to figure out if it has actually been published. Even with a set of 6-7 clients, this is a tiring exercise, especially if I am writing multiple pieces for each one.
Add this to the fact that I have had to manually backup every article after it is published… and I was spending a massive chunk of my time doing grunt work — time I could be spending writing more, doing research, pitching to new clients, or even catching up on my sleep.
The Solution
Thankfully, I have been able to stop wasting time with this utterly tedious and pointlessly time-consuming activity (every month). Once you feed a URL into Authory, it automates both your current and future content. So, if I enter "www.natgeo.com" as a "source" (publication website), Authory will import all my existing articles AND every other article I publish on the website in the future.
What's more, Authory sends email notifications to inform you that it has imported a new article (every single time). Consequently, you don't have to wait around wondering if your piece is out for public reading/viewing. Authory will import your work the minute it becomes publicly available, and you get an email notification the minute Authory imports your piece.
Like me, you no longer need to ask clients, "Hey, did you guys publish my article yet?" or trawl through their website hoping to see your byline. When it is published, you will instantly know.
Okay, but why Authory over other tools?
To put it simply, you get more bang for your buck. Authory doesn't JUST back up your content — it creates an online portfolio and content repository that updates itself regularly so you don't have to.
To make my point, let me take you through a few of Authory's primary features:
Geared for individual creators
Most automated content backup tools are designed to serve entire businesses. They aren't meant to identify and safeguard individual content units like single articles, e-books, videos, podcasts, or even social media posts (yes, they count as valuable content if you are commenting on your industry and demonstrating your expertise).
These tools are aimed toward B2B workflows, in which they back up entire companies'/teams' documentation — including technical data, financial records, audit history, and the like. Not only are they completely incapable of searching for, accurately spotting, and preserving your bylined/non-bylined work, but they are also wildly expensive — since they aren't meant for individual customers. Oh, and let's not forget all of them come with a complicated setup process.
Authory, however, is a dedicated B2C tool. It's fundamentally designed to serve individual creators by enabling the creation of a state-of-the-art portfolio and a digital content stockroom that protects your work from unauthorized deletion, forever. You pay a reasonable price and set up the tool in literally 3 steps and fewer than 3 minutes.
A self-updating portfolio (no need to keep adding new work manually)
Authory will AUTOMATICALLY import a copy of every bylined piece from every site into its own database.
These sites are called "sources" in Authory's internal terminology. You add as many sources as you want, and every single bylined piece from every single source will be imported automatically.
You don't have to track down links to your published work (especially older pieces). As long as you remember the URL of the site where your work exists, Authory will collate all your content for you in one dashboard.
✅
Authory can even import content from behind most soft paywalls (as long as it is a bylined piece) and some hard paywalls. However, it cannot be used to import copies of articles/podcasts/videos you haven't created or featured in.
Automated backups (never lose your content, ever)
All the content that Authory imports from different sources is saved permanently. You'll never have to worry about losing any of your published work. Even if the original website where it's published goes defunct for any reason, you'll always have a copy safely stored on Authory's server.
All backups are in the original format — text and/or media. No screenshots. You get fully editable copies that are accessible to you alone.
Continued importing of past and future content (less effort for a 100% updated portfolio)
Once you enter a source, Authory won't just import your existing publications. Anything you publish on the same site (after you've fed its URL into Authory) in the future will also be imported automatically. In other words, Authory will import your past and future content.
Authory also sends email notifications for every new piece it imports, so you'll always know if something you submitted has been published.
💡
If you choose Authory's Professional Plan, you can utilize a Zapier integration to get Slack notifications about published articles.
Many Authory customers have observed that Authory notifications reached their inboxes faster than Google Alerts.
Collections for easy organization (easy site navigability)
Once Authory imports your content, you can put each piece into folders called "Collections" right within your dashboard. Select the pieces that go into each Collection, name these "Collections," and add them to your portfolio with a single click.
On your Authory portfolio, you'll see that these "Collections" show up as headers. They become the categories under which your content is organized, making your portfolio easier to navigate instantly.
Analytics, tracking, newsletter, RSS, & more
Ability to search through both your portfolio and your content database to find articles/audio/video based on keywords. Prospective employers can use this to look for topics on your portfolio, and you can use it to find specific pieces within your Authory content bank.
All imported content can be downloaded as high-res PDFs or exportable as HTML files — no lock-in period.
No separate web hosting charges.
Get a custom domain and further personalize your portfolio (no extra charge).
Multiple, low-effort options for customization to make your portfolio visually appealing and easy to navigate.
In-built analytics that provides real numbers on content performance (engagement, readership) across the web and popular social media sites every 30 days. You get to see how your readers/viewers are responding to your work.
Allows creation of newsletters with a couple of clicks. After setup, Authory will automatically send your newly published content to subscribers.
Widgets to display your personal portfolio on other sites, such as your personal website (if you have one).
Example of Content Backup on Authory
When I joined Authory (as a user, not a writer), I had been writing professionally for a little over 5 years. I have published articles all over the internet, on client websites I had forgotten about at that point.
The tool expected me to do nothing but enter the URLs of sites where my work might be published (sources). I remembered about 6 of them (might have missed a few from my early years), typed them into the right fields, and was notified that Authory would take about 48 hours to collate all the bylined content they could find on these sites.
In 30 hours, I got an email notification that ALL the content (credited to me) on these sites had been imported to a single location. I kid you not, the tool found EVERYTHING — including many articles I forgot I had written in the first place. I logged in to see a content inbox that looked like this: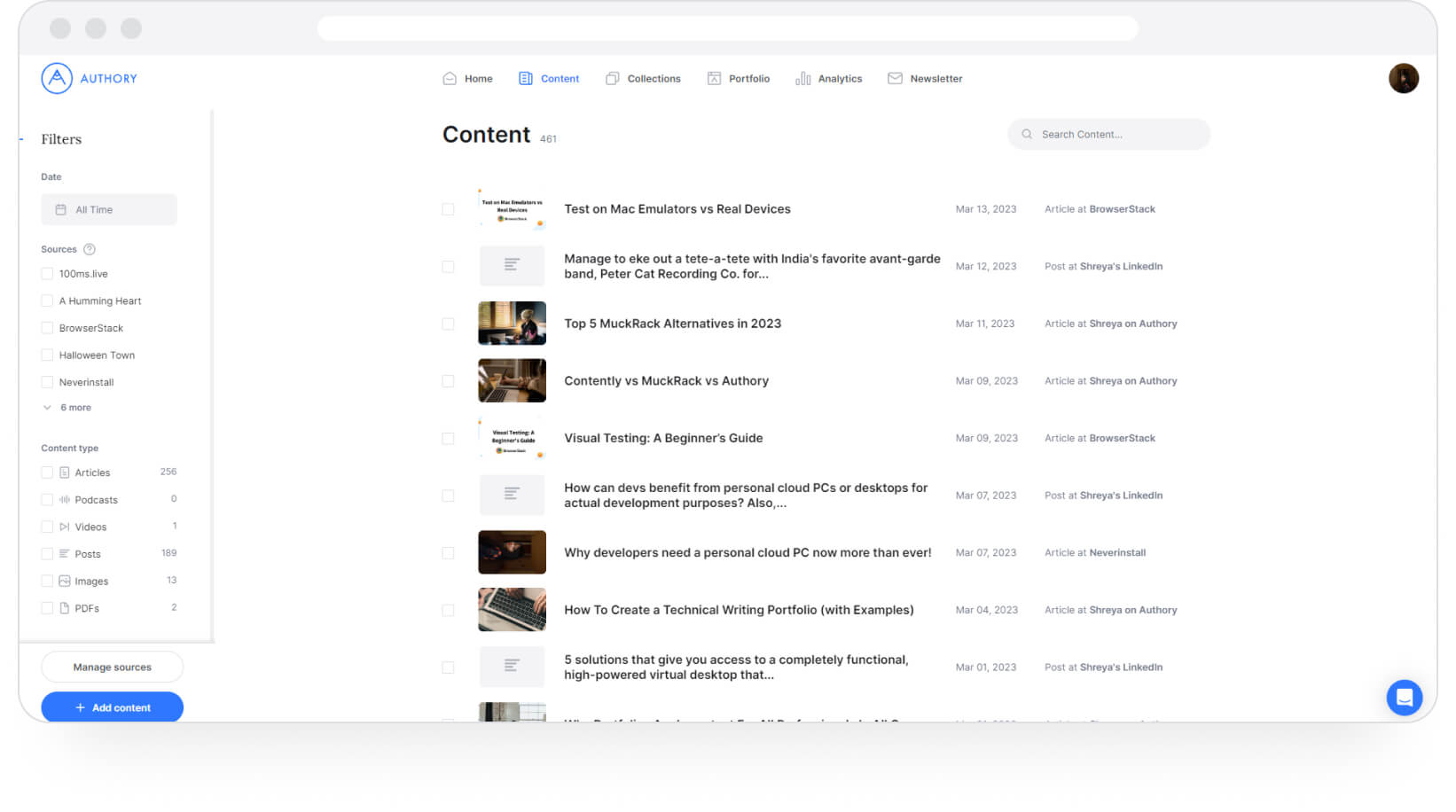 Not only was every article there, but they were also categorized by source (where they were published) and content type (articles, podcasts, videos, social media posts, images, and PDFs). Most importantly, the database is SERACHABLE, which meant I could search through my old work and find specific pieces with a couple of keywords.
Even if I wasn't going to use Authory to create a portfolio, the backup feature alone was worth the money. Allow me to repeat that Authory continues to import my bylined articles from every source I have entered, to this day. The minute my pieces show up on these websites, a copy is IMMEDIATELY imported and backed up in Authory's servers.
Customer Testimonials for Authory
In Conclusion
Content creators have enough to worry about without splitting hairs about saving them for posterity. You shouldn't have to freak out every time a client decides (for reasons completely outside your control) that they are removing your content or that the publication itself is going the way of the Dodo bird. You need that time to do more work, find more clients and pursue ways to up your game so that the paycheck keeps getting bigger. Manual backups are an absolute time sink, and completely unnecessary in this day and age.
Of course, the only person whose opinion matters is yours. So, why not give Authory a shot? Get started for free, import & back up your content, and get a sense of what it's like to ever worry about losing your content again.