Content creation in the 21st century is hard work. Sure, you don't have to send submissions by post to a handful of newspapers & magazines, hoping one of them will like your piece and feature it. Nowadays, you get to publish your work (text, audio, or video) with a couple of clicks on a seemingly infinite number of digital platforms.
However, since nothing is perfect, the digital domination of our world has brought about new challenges in the realm of content creation. Not only do you have to create good content to get reader/viewer attention (you have more competitors now than ever before), but you also have to guard your content against plagiarism, outright theft, unauthorized and unpaid usage, as well as unauthorized deletion from its publication platform.
In this article, I'll zero in on the last point. If you're creating any online content, be it articles, e-Books, podcasts, videos, SoundCloud tracks… anything, you need to have a consistent backup mechanism in place.
It doesn't matter if you're publishing on your own website or third-party sites; there is always the possibility that your content will be taken down and/or will be lost and irrecoverable. Considering that we put in an enormous amount of time and effort creating each piece, this is pretty much the worst thing that can happen to a content creator.
You can use cloud-based backup tools like GDocs and Dropbox, but they don't always get the job done, especially if you're making a living off your content. I'll explain why I make this claim and discuss a backup tool better suited for professional content creators.
📖
What you'll get out of this article:
• Why need a content backup tool to save all your published work
• Why free backup tools like GDrive and Dropbox don't work for professional content creators
• Why you should consider Authory as your content backup tool — automatic importing of bylined content AND automatic, permanent backup of ALL imported content
Why do you need content backup in the first place?
If you're a professional content creator, chances are you're working with multiple clients and publications on whose sites your content appears. As a video/podcast creator, you can have your own channels on sites like YouTube and Apple Podcasts, but having your own channel doesn't protect you from losing your work.
Any platform you choose to host your content on will claim, in its Terms of Service, that it has the right to remove any content that does not align with community guidelines. For example, Atlas VPN noted that with 5.8 million channels, due to channel-level suspension, more than 5.6 million YouTube videos were removed in the third quarter of 2022.
This is true of every platform — YouTube, Facebook, Twitter, Medium, Apple Podcasts, Spotify — you name it. As part of maintaining business profitability and legal neutrality, these platforms retain full rights to remove your content at any time, for any reason whatsoever.
For example, let's take the case of Swapna Krishna, a skilled writer who would have lost all her work, as one of the publications she worked with took down all the pre-2019 content they published.
In fact, this was an article that Michelle Yeoh herself read and loved, so losing it would have been a particularly rough blow to a writer of Sapna's caliber.
Thankfully, she didn't lose anything, as she already had Authory backing up everything she ever wrote and published (more on that later).
But this incident proves that the simple fact of online publication doesn't guarantee your content's perpetual existence. Any piece can be taken down at any time for any reason whatsoever, and without an adequate backup setup, you'll lose it forever.
Before you ask… no, this is not an isolated event.
Multiple Authory users have been victims of the same issue, which is why they see the value in a tool like Authory.
Needless to say, a content backup system is essential to prevent such instances from cannibalizing your content repertoire and ruining your portfolio.
Why can't you use free backup tools?
I'm a freelance writer myself, and I know how meticulously we need to manage the costs of producing content. Free backup tools like Google Drive and Dropbox are always preferred because of the cost savings, but they don't exactly get the whole job done.
Most backup tools don't save your work in a professional format
Tools like GDocs back up your content but don't convey professionalism when you're mailing a list of GDoc links to a prospective client. You're expected to have a professional portfolio with live URLs of published, bylined content. GDoc pieces are just basic content drafts in their appearance and character.
Moreover, how does the client trust that you're sending across content that has actually been published where you say it has been? It's easy for me to claim that I've written articles for The Atlantic and send GDocs with articles whose provenance is impossible to verify.
Your prospective clients are well aware of this, so regular backup mechanisms like GDrive and screenshots are not taken as seriously as live publication links.
A tool like Authory backs up your content in a more palatable, professional format — your piece remains hosted on a web page with an active URL.
For example, if I want to share one of my articles (and it no longer exists on the original site), The Linux Advantage: Why developers should consider switching to Linux-Based Cloud PCs, with a prospective client, I share the backup link with the piece safely preserved in a web page format: https://authory.com/shreya-bose/The-Linux-Advantage-Why-developers-should-consider-switching-to-Linux-Based-Cloud-PCs-a33cff0479d46488ea6298ea4f65bb789
Compare this link with any GDoc you might have saved your content drafts to, and you'll see the difference.
The backed-up content includes not just text but images. It's a legitimate webpage, not a document the client can edit if you permit them to do so. The Authory link showcases PUBLISHED content, not a draft on a cloud-based text editor.
You have to chase clients or continually check their blogs to know when your work is published
Whenever I submit an article, I have to keep following up with my client or keep checking their blog to figure out if my article has been published. Even with a set of 6-7 clients, this is a tiring exercise, especially if I write multiple pieces for each.
Add this to the fact that I have had to manually backup every article after it is published… and I was spending a massive chunk of my time doing grunt work — time I could be spending writing more, doing research, pitching to new clients, or even catching up on my sleep.
Once you feed a URL into Authory, it automates the backup of your current and future content. So, if I enter "www.natgeo.com" as a "source" (publication website), Authory will import all my existing articles AND every other article I publish on the website in the future.
On top of that, Authory sends email notifications to inform you that it has imported a new article every single time it does so. So, you don't have to wait around wondering if your piece is out for public viewing. Authory will import your work the minute it becomes available, and you will get an email notification when Authory imports your piece.
You'll always know when your work is out there for the world to see.
What makes Authory better than other backup tools?
Authory isn't JUST a content backup tool. But even in the realm of backups, it provides more extensive and relevant features when compared to more run-of-the-mill backup tools that require far too much manual input from your end.
Geared for individual creators
Most automated content backup tools are designed to serve entire businesses. They aren't meant to identify and safeguard individual content units like single articles, e-books, videos, podcasts, or even social media posts.
These tools are aimed toward B2B workflows, which back up entire companies'/teams' documentation — including technical data, financial records, audit history, etc. Not only are they incapable of searching for, accurately spotting, and preserving your bylined/non-bylined work, but they are also wildly expensive — since they aren't meant for individual customers. Oh, and let's not forget they have complicated setup processes.
Authory, however, is a dedicated B2C tool. It's fundamentally designed to serve individual creators by enabling the creation of a state-of-the-art portfolio and a digital content stockroom that protects your work from unauthorized deletion, forever. You pay a reasonable price and set up the tool in literally three steps and in fewer than 3 minutes.
A fully automated backup process
When using Authory as a backup tool, all you need to do is to enter your "sources" — URLs of sites where your work exists. For example, I entered the likes of every site where my articles appear.
Once you've entered these sources, Authory scours each site, finds EVERY piece of your bylined content, and extracts a copy of each piece to its own database.
So, you get a comprehensive, searchable repository of all your work, and it's ALL automatically backed up. You don't have to do a thing to ensure content backup except type out the URLs of the source sites. That is all.
Moreover, Authory continues to monitor each "source" for new content published with your byline. Once you enter the URL, you can be assured that all your content from said sites will be automatically imported and permanently saved, no matter what happens to the original publication.
You get more than just a backup tool; you get a self-updating portfolio
You need a professional portfolio showcasing your best work if you're a content creator. How else will you go about getting more paid work?
Authory doesn't just stop at backing up your content. It's a state-of-the-art portfolio builder that helps you collate your work and display it in a sharp & sleek format meant to grab the attention of the most exacting recruiters.
Thanks to Authory's content importing feature, you don't have to track down links to your published work (especially older pieces). As long as you remember the URL of the site where your work exists, Authory will collate all your content for you in one dashboard.
Once you have them in a single, accessible (only to you) location, you can pick and choose which pieces to feature on your Authory portfolio. It takes a few clicks and about three minutes to set the whole thing up.
Analytics, tracking, newsletter, RSS, & more
Once you sign up (for free) for an Authory account, you get (in addition to automatic content importing, automatic backups, and an industry-best portfolio) the following capabilities at your fingertips:
Ability to search both your portfolio and content database to find articles/audio/video based on keywords. Prospective employers can use this to look for topics on your portfolio, and you can use it to find specific pieces within your Authory content bank.
All imported content can be downloaded as high-res PDFs or exportable as HTML files — no lock-in period.
No separate web hosting charges.
Get a custom domain and further personalize your portfolio (no extra charge).
Multiple, low-effort options for customization to make your portfolio visually appealing and easy to navigate.
In-built analytics that provides real numbers on content performance (engagement, readership) across the web and popular social media sites every 30 days. You get to see how your readers/viewers are responding to your work.
Allows creation of newsletters with a couple of clicks. After setup, Authory will automatically send your newly published content to subscribers.
Widgets to display your personal portfolio on other sites, such as your website (if you have one).
What content backups look like on Authory
When I joined Authory (as a user, not a writer), I had been writing professionally for a little over five years. I had published articles all over the internet, some on client websites that even I had forgotten about.
The tool expected me to do nothing but enter the URLs of sites where my work might be published (sources). I remembered about 6 of them (I might have missed a few from my early years), typed them into the correct fields, and was notified that Authory would take about 48 hours to collate all the bylined content they could find on these sites.
In 30 hours, I got an email notification that ALL the content (credited to me) on these sites had been imported to a single location. I kid you not; the tool found EVERYTHING — including many articles I forgot I had written in the first place. I logged in to see a personal content directory: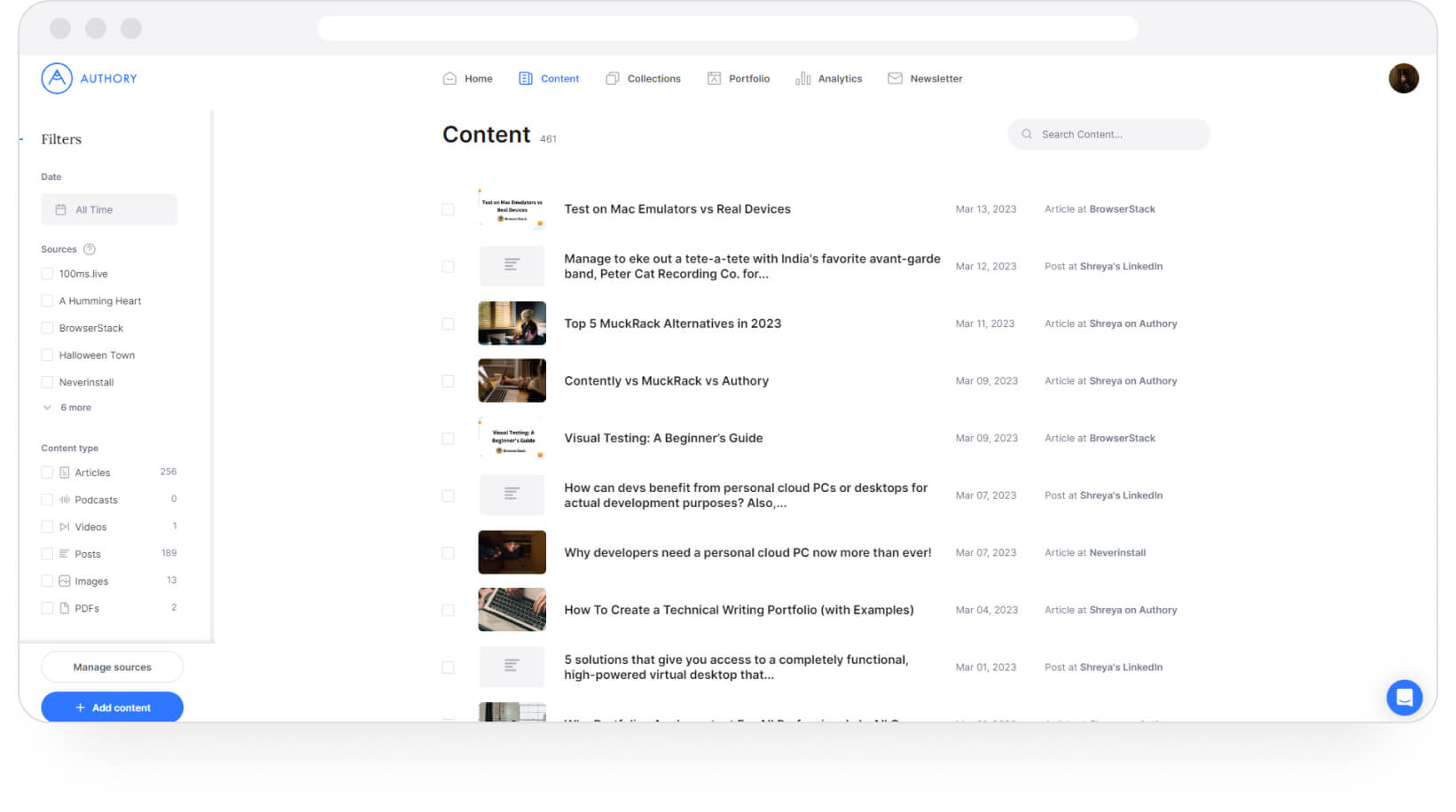 Not only was every article there, but they were also arranged by source (where they were published) and content type (articles, podcasts, videos, social media posts, images, and PDFs). Most importantly, the database is searchable, meaning I could search through my old work and find specific pieces with a few keywords.
Even if I didn't use this tool to create a portfolio, the backup feature alone is worth the $12 per month I pay. Authory continues to import my bylined articles from every source I have entered, to this day. The minute my pieces show up on these websites, a copy is IMMEDIATELY imported and backed up within Authory's servers.
You shouldn't have to worry about backing up your own content
Spending time & energy on manually backing up your work is a time sink. You're not getting paid for this labor, but it's still work that needs to be done at regular intervals. So, why not let a tool handle the grunt work while you use the time to find new work, do existing paid work, catch up on your domain research, or just take a much-needed break?
Try Authory. Get started for free, enter your sources, let the tool work its magic, and get a glimpse of the difference it would make to your work life.